Warmth, cosiness and comfort are just three of the feelings that wooden bathrooms can bring to your home. Being a natural material, wooden surfaces are eco-friendly, timeless and will look great for years to come. Most people would shy away from using wood in a bathroom,  however if it's looked after properly with oil-based sealants and waterproofing, wood can be a great choice. Utilising wood in your bathroom can also add a lot of character, especially if you preserve and feature the natural grains and textures of the wood.
When I initially thought of using wood in a bathroom, I thought of hardwood floors… However, timber can be added throughout nearly all aspects, including your walls, ceilings, basins, bathtubs and cabinetry. Check out these trendy wooden designs that will surely give your boring bathroom lots of personality and pizzazz!
1. Wooden all around
What better place to kick off all these wooden bathrooms than with a bathroom that literally has wood all the way around. The same grain of timber has been used on the walls, ceiling and cabinetry. The floor has been tiled with grey tiles to contrast with all the timber.
Want some fabulous grey tiles like these? Get in touch with a bathroom tiler.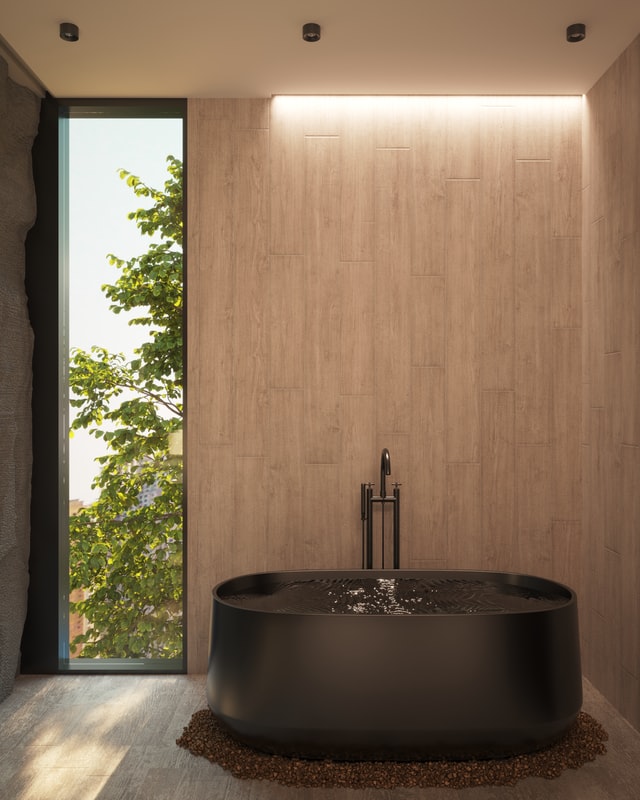 2. Small space
This small bathroom incorporates a large chest of wooden drawers that bring warmth to the space. When you're trying to design for a small space, the most valuable element is plentiful storage opportunities. So, having a chest of drawers that has lots of different compartments will keep your bathroom clean and uncluttered.
Here are some more handy bathroom storage ideas.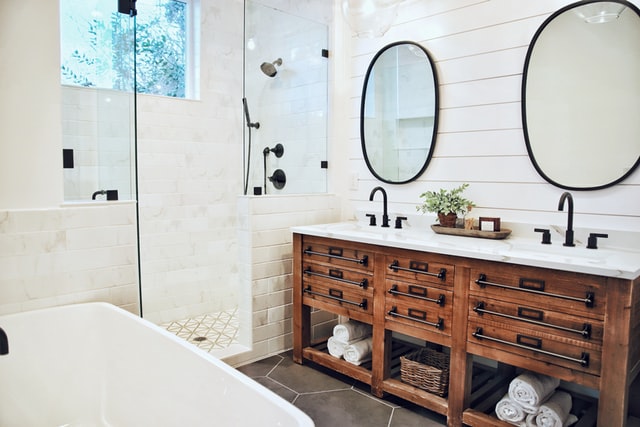 3. Exposed natural edging
If I was to ever have the opportunity to remodel my vanity I would definitely use an exposed wooden plank for my sink area. I just love how with exposed planks, the surface looks like it has literally just been sliced from a tree and placed in the space.
4. Feminine meets urban
This sweet bathroom is the epitome of feminine touches meets urban fixtures. The wooden accessories, soft dried flowers and cute apothecary style bottles and the chunky wooden mirror all add a bit more interest to this space. And a contemporary sink and tapware brings in that urban and trendy edge.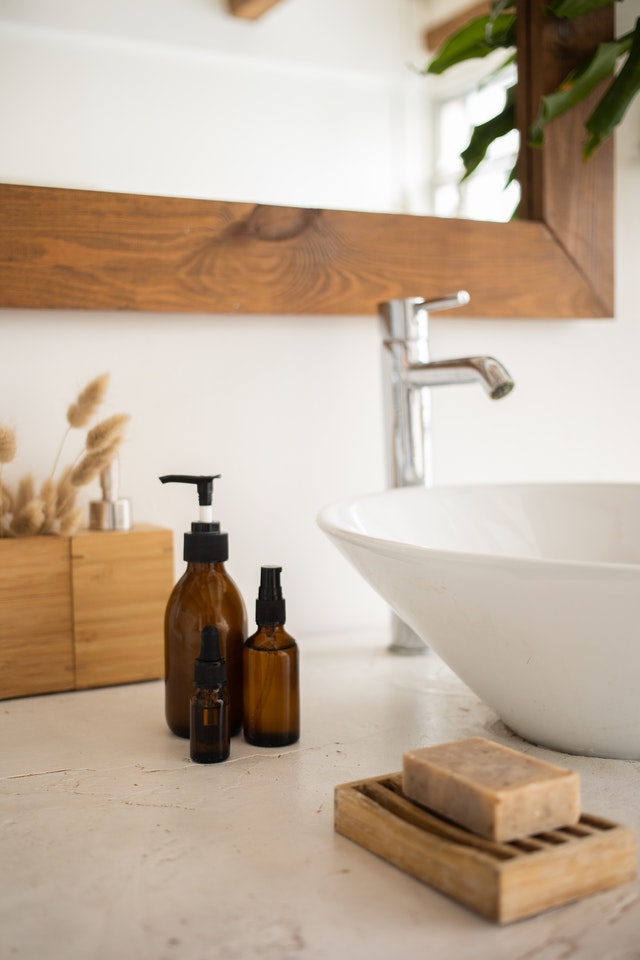 5. Branching out
For something a little different that truly embraces the wooden bathroom trend, how about using a literal tree trunk not only as a stand for your sink but also to hold toilet paper rolls, or even hang a mirror or light from it?
6. Light and bright
This gorgeous light and bright bathroom has plenty of contemporary character with the geo metal light fitting, round black-framed mirror and organic oval sink. I also love the subtle textured tiling in this bathroom. Meanwhile the timber vanity adds warmth and cosiness. Don't forget to add a touch of greenery!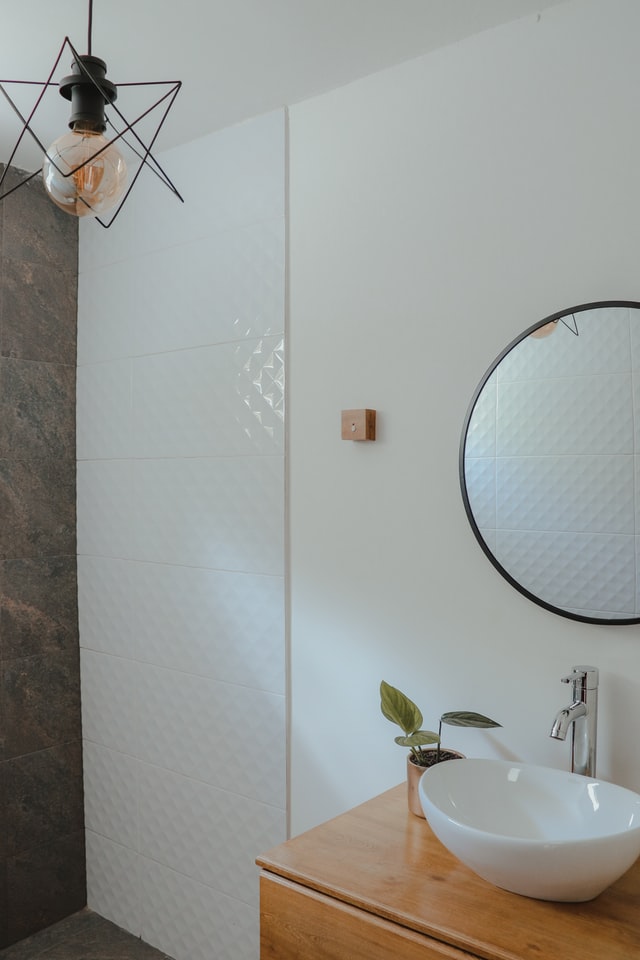 7. Trunk for a sink
If you love the idea of incorporating wooden elements in their most natural form, you could look into unusual wooden log sinks which are both creative and functional. It's something you could discuss with a cabinetmaker to create a unique bespoke vanity!
Also, you might like to check out this article for more interesting vanity ideas.
8. Barrel charm
Another quirky idea is to convert a whiskey barrel to a sink! Something like a barrel sink would perfect for a guest bathroom which connects to a man cave.
9. Rustic touches
Not only does this bathroom feature a beautiful wooden ceiling, but check out that incredible tiled wall. Olde wordle charm in abundance in this bathroom with its farmhouse sink and deep soaking tub. I like how timber Venetians have been added to tie in with the timber ceiling.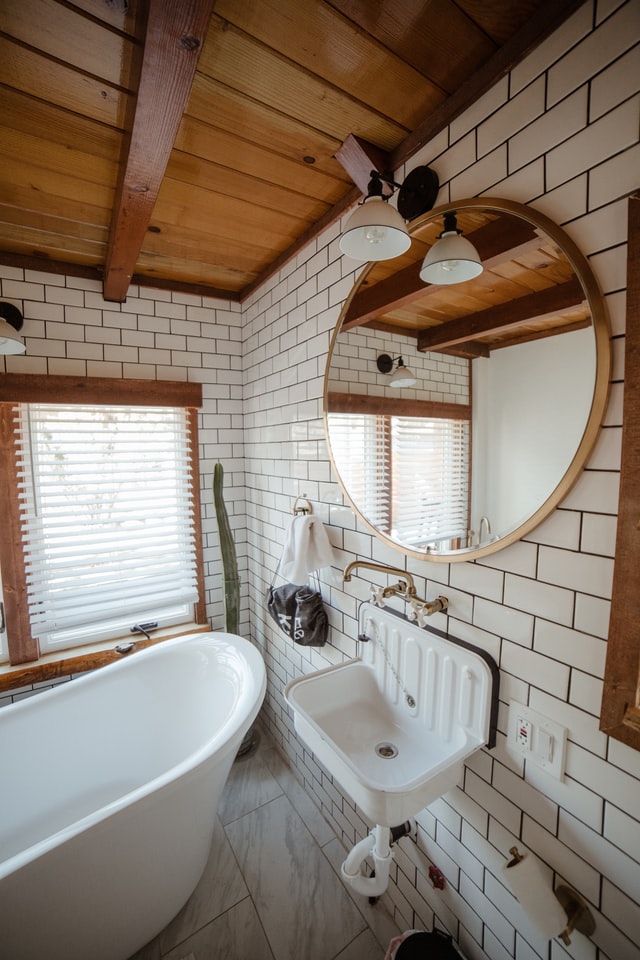 10. Shower room
Have a shower room? They're ideal if you have kids who can splash around and get the whole room wet without getting scolded! And if you opt for wooden floorboards, they'll provide a non-slip surface whilst having slick white tiled walls will allow water to easily drip down.
11. Elegant guest bathroom
This elegant guest bathroom is both trendy and inviting. I love the combination of light wooden walls contrasted with all the black elements in the space. And I also love how black fixtures have been incorporated—and how about that awesome black toilet (who ever thought you'd call a toilet awesome!).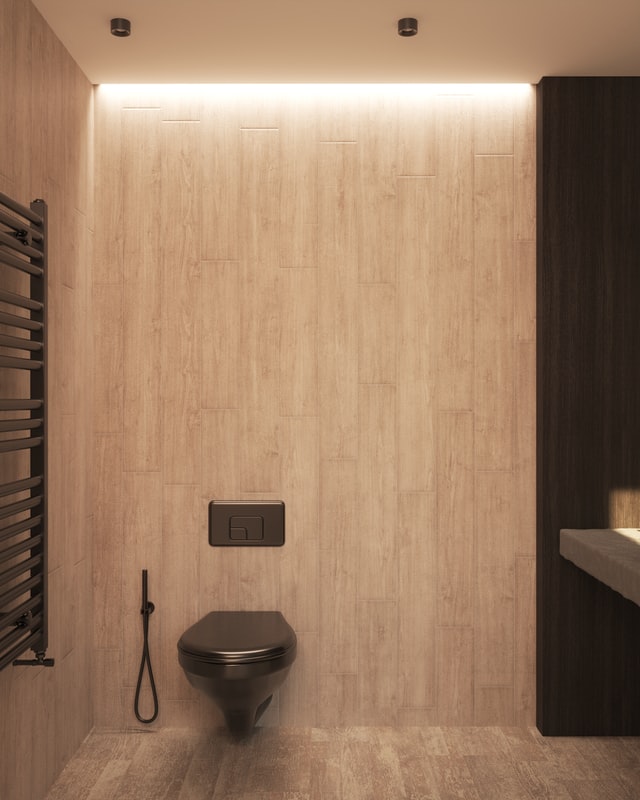 12. Family comfort with luxurious touches
This family bathroom has everything you need for all your loved ones with added luxurious touches. Wood tiling has been used on the floor, with the linear pattern repeated in the grey wall tiles. How great is the niche? And I like how wooden stools have been incorporated to enhance the warmth of the timber flooring.
13. Log ceiling feature
Adding wooden logs to cover your ceiling space is so clever and such a creative feature of a bathroom. You can then complement the logs with wooden flooring or furniture and timber accessories.
14. Weathered and Boho
This bathroom has so much character with the weathered and rustic Boho features. The wooden cabinetry adds a weathered look throughout the space, while the timber marries well with the other natural materials in the space, from the woven rug to the pampas in the vase.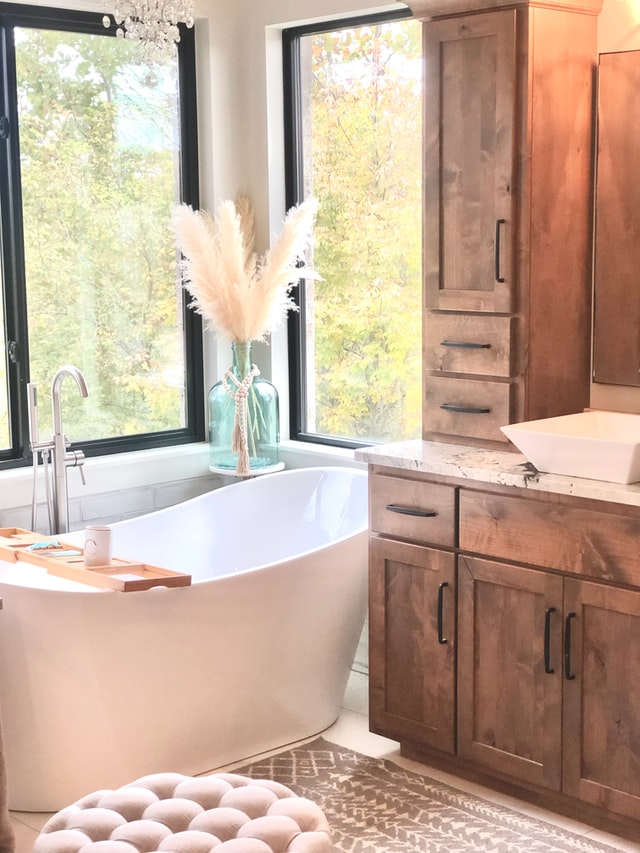 15. Exposed shelving
Exposed shelving is so beautiful and on-trend. You could go for rustic planks of wood that look like they've just been carved off a tree. Or, opt for wood that's more refine and neatened up.
When it comes to shelves like these, don't forget to get some help with your custom shelving.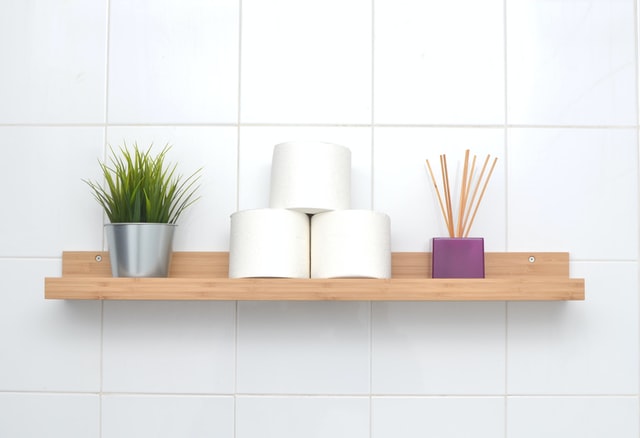 16. Terracotta tones
Wondering what colour scheme works best with timber? Consider terracotta tones. It might be in the tone of your wooden cabinetry, or a rattan mirror frame, or décor items like vases or baskets. These tones would definitely wow your guests – they're so in fashion right now!
17. Vanity frame
An easy way to bring in wooden elements is through your vanity frame, shelving, stools for holding towels, or if you are lucky, even glorious exposed beams in the roofing. For some more vanity inspo, see these bathroom vanity ideas.
18. Trendy details
Simple yet trendy – this bathroom has all the essential features like a mirror, a place to wash, a rack to hang your hand towel and storage in the floating vanity. It's really interesting to use two different tones of wood, such as this classic wood plus white look. But you could also play around with using combinations of other timbers as well.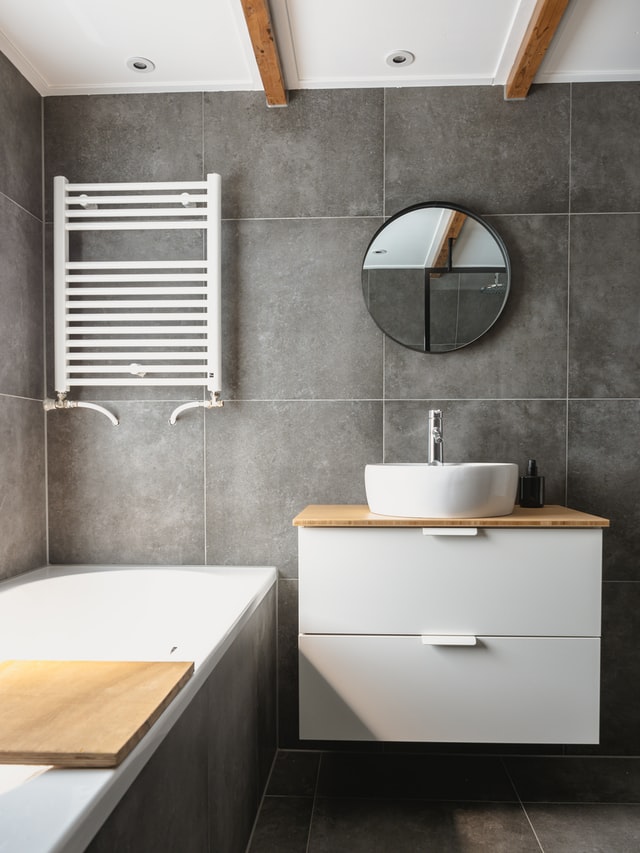 19. Wooden mirror frame
I absolutely love the wooden details in this bathroom. They are not too much, but just enough. The unusual panelled wooden frame on the mirror goes really well with the timber accent in the vanity.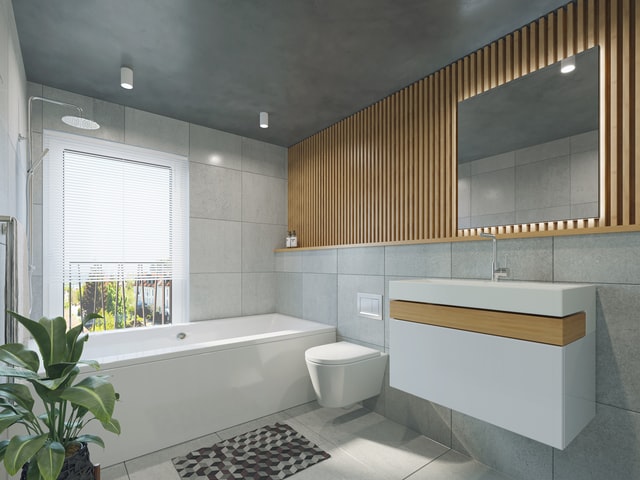 20. Outdoor tub time
If you've ever considered creating an outdoor bathroom, this is your sign to just do it! You could opt for a charming vintage tub with clawed feet which will look amazing in any garden setting. You could also create a timber privacy screen—even better if it has room to hang your plant friends off it!
Love the idea of an outdoor bathroom? To get your creative juices flowing, check out these  outdoor bathroom ideas!
21. Dark and wooden
If you love a dark bathroom, you can use timber elements to your advantage to warm things up and prevent them looking gloomy. Here, it's blonde wood detailing on the ceiling and door frame and the simple rectangular timber vanity.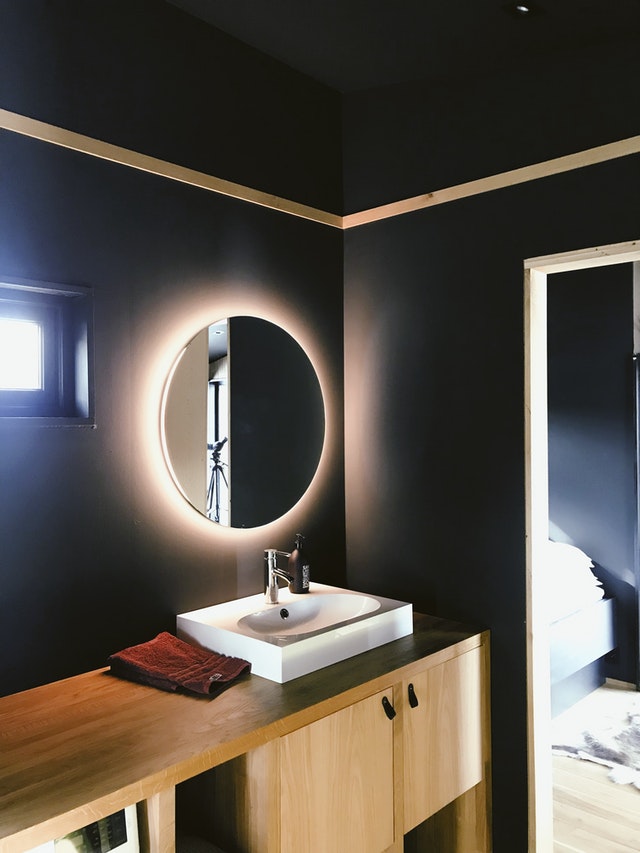 22. Barn door
I just love a barn door moment. Putting a barn door in any room will cleverly make the most of y our space, leaving room for all the other features you want to include. Consider a fabulous barn door made of different coloured planks of wood. It makes for a creative, fun feature in a farmhouse bathroom.
23. Urban living
This beautiful urban bathroom is symmetrical and minimal with quite clinical and angular surfaces, but the wooden vanity and flooring bring warmth and a sense of comfort to the area. Adding wooden canisters to the vanity completes the look.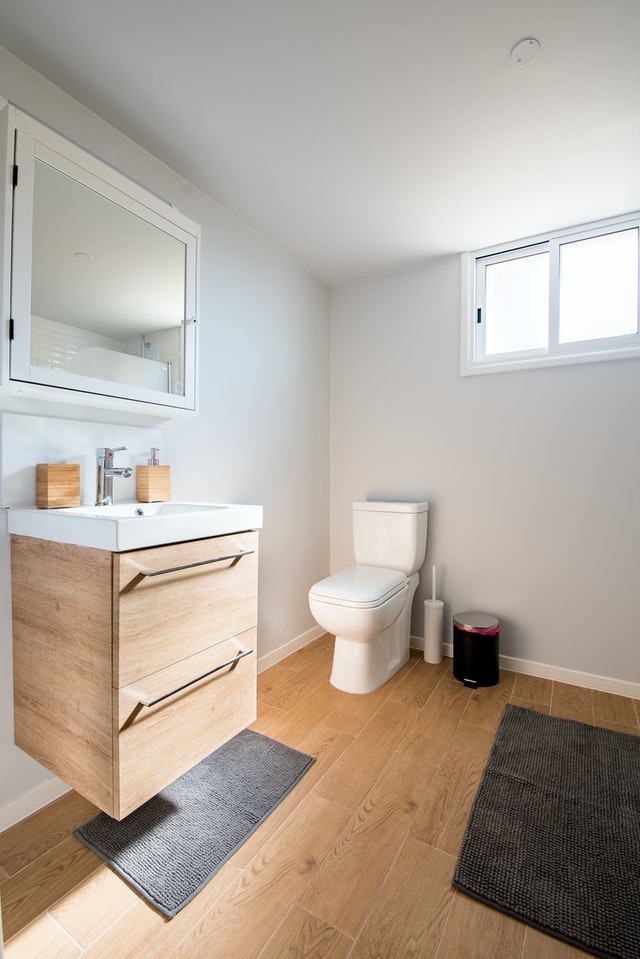 24. Little details
Finally, even if you don't want to switch out your larger elements for timber ones, you can still get in on the wooden bathroom trend by incorporating a few select small pieces of beautiful timber in the décor. For instance, a slatted timber bath rack or floor mat.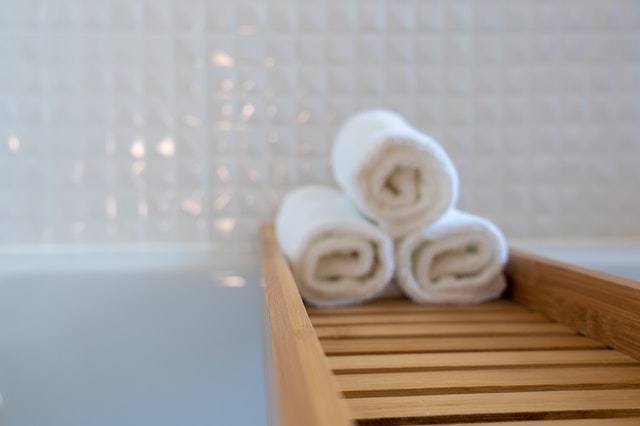 So there we have it, 24 wooden bathroom ideas for your next bathroom renovation! My personal favourite is definitely the exposed wooden vanities where the wood looks as if it has been freshly cut off a tree. What about you? What are your favourite ways to incorporate wood in your bathroom? I'd love to hear below!