When designing your bathroom, it can be easy to focus all of your attention on the fancy new fit-out, the colour scheme, patterns, tiles and all of the other style elements. But one of the most important, yet often overlooked, is the bathroom storage space. Many people simply skip over this essential element, leaving them frustrated when it comes time to find a place for everything to go.
To avoid running out of space, spend some time planning out your storage solutions. Here are a few essential items you should consider.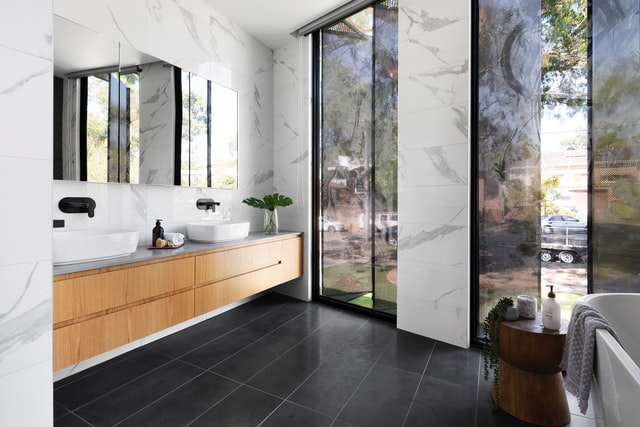 Vanity
The amount of space you can allow for in your vanity will totally depend on the size of your room. If you have a large bathroom, you may have the freedom to include a large vanity with plenty of drawers. However, if you have a tiny bathroom, it may not be practical to have any storage at all. In this case, you might want to think about keeping your toiletries and other essentials to a minimum or including a nifty niche in the wall.
Wall cabinets
Add extra storage with handy cabinets. I personally think a thin tall cabinet is the best use of space, especially in a smaller room. You can use a cabinet to store all of your fresh towels, so they're in close reach when you need a new one!
Floating shelves
These are a great choice if you want to put some pretty decor or other nice items on display. While you can use floating shelves for displaying your towels, I'd make sure they're your nicest, newest towels (not the old ones with the rips and stains!). And add other little additions like candles, diffusers, soaps, and more.
With these three storage solutions in mind, let's take a look at some beautiful bathroom storage ideas for inspiration.
1. Floating shelves
Add timber floating shelves to your white bathroom to add warmth and a spot to put things. This is a really easy way to create extra storage space when your room is lacking good solutions.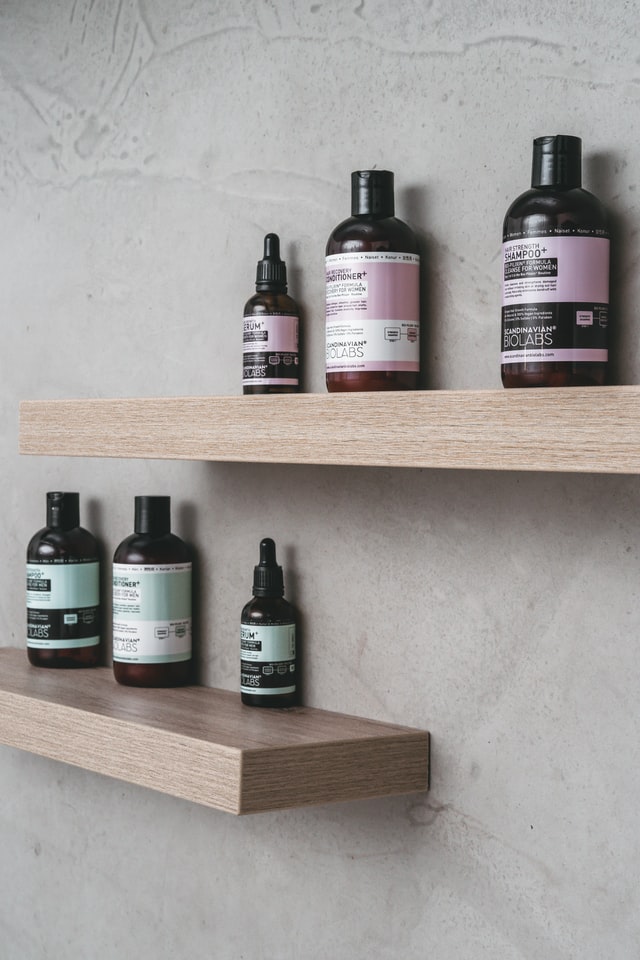 2. Clever shelving
You may be squashed for space with a small bathroom, but my bet is that there's probably a sliver of space that can be used for storage. For example you may be able to fit thin, vertical open shelving into the corner of your bathroom. This makes for a great place to store anything and everything – from towels to makeup to toiletries and everything in between.
3. Stand-alone tiered shelving
If you have a spare wall or nook, add in a simple three-tiered stand-alone shelving unit. Look for a design where each shelf is like a drawer, which is super handy so things won't fall out! You can stack all sorts of things in these – from towels to soap to toiletries.
4. Vanity drawers with dividers
Keep your drawers nice and tidy with plenty of dividers. The good news is that there are so many types of choose from. So whether you have a super-luxe vanity or a more casual simple vanity, there's bound to be something for you. You'll avoid the frustration of misplaced items by installing handy dividers in your drawers. IKEA is a great place to start – it has plenty of amazing options for a bargain.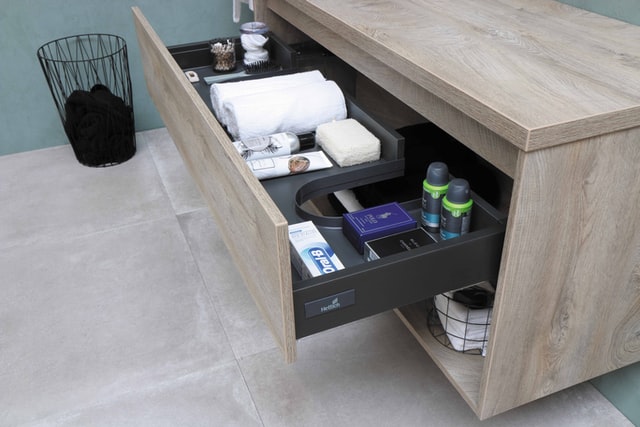 If you want to change up your vanity, here are plenty of other bathroom vanity ideas to consider.
5. Long vertical ladder shelf
A floor-to-ceiling shelving is perfectly suited to a smaller bathroom space. It will have enough space for everything, even potted plants. We tend to think that plants should only belong in the living room… but they work wonderfully in the bathroom too. They not only look great but they will purify your air for you as well.
6. Corner shelving
Corner shelving is one way to make the most of every nook and cranny in your bathroom. Smart open shelving is a practical solution to any tiny space, but especially bathrooms. You can use it to stack up everything that won't fit inside your cupboards.
7. Natural touches
Create a more natural-looking bathroom by including greenery, woven baskets and other rustic elements. Stick to a consistent colour palette to create a beautiful finish.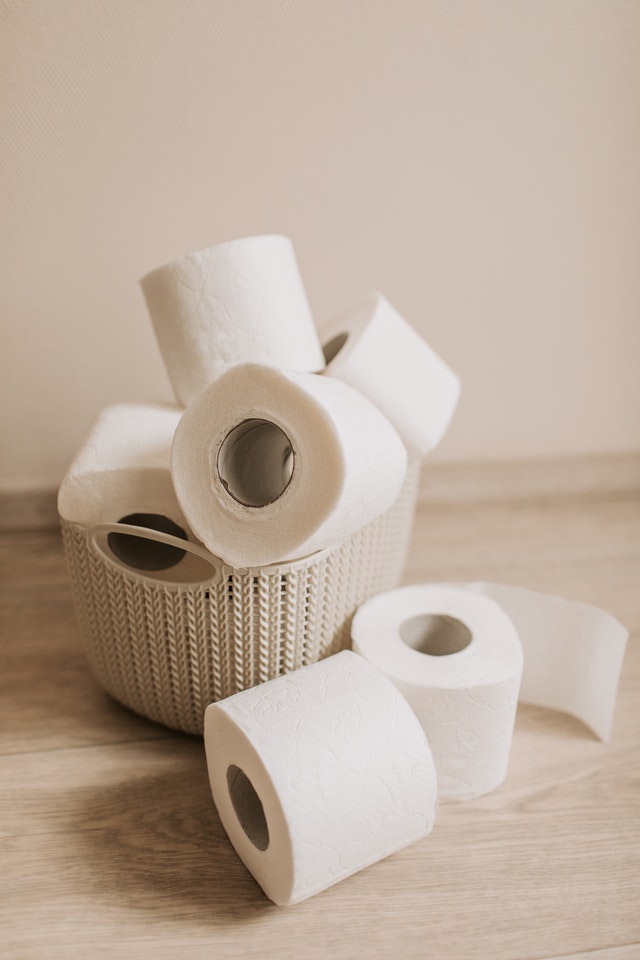 8. Makeup storage
If you're anything like me, then your makeup is probably stashed away in your vanity drawer where you can hardly see it. (Sigh, the frustrations of small bathrooms). But if you have the privilege of owning a large bathroom, make the most of your space by creating a dedicated area for your makeup! You can do this by setting up a makeup table or simply by prioritising one half of your vanity countertop to display your pretties.
9. Linen cupboard
If you have a larger bathroom, why not set up an entire linen cupboard inside? This will mean that you won't have to walk down the hallway to find your towels, hand towels and other important items – they'll be within arm's reach, yipee!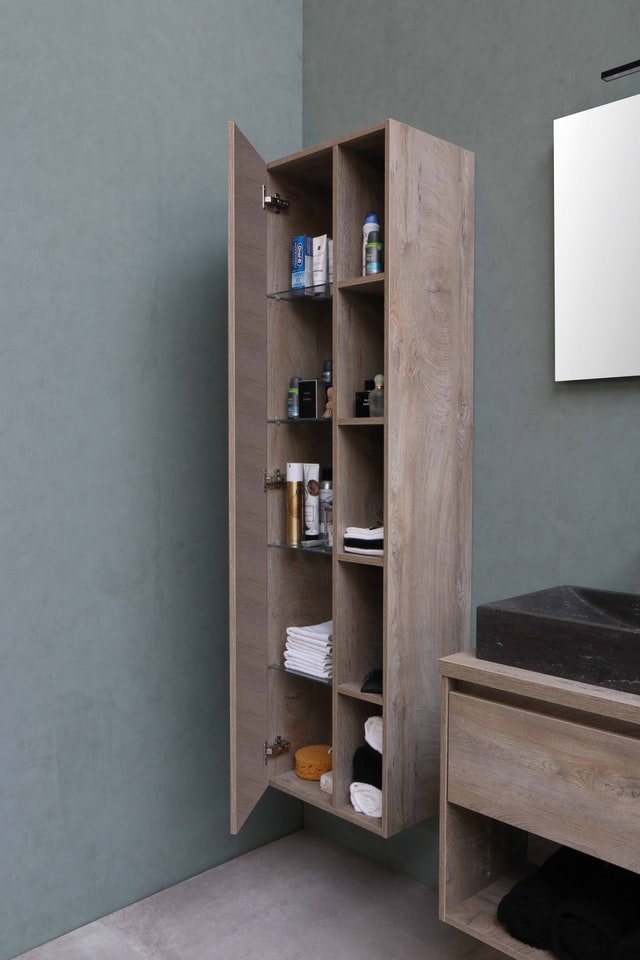 10. Stick-on holders
Don't have a permanent caddy in your shower? No problem. Check out your local storage store to find plenty of great temporary solutions. There's nothing handier than having small containers that stick on the wall with suction pieces, so you can move them about to wherever you like.
11. Pay attention to the details
When you're designing your new bathroom, it can be easy to focus so much on the big picture that you forget about the small things. Choosing a streamlined  soap dispenser, soap holder and toothbrush holder is one way to make your bathroom look finished.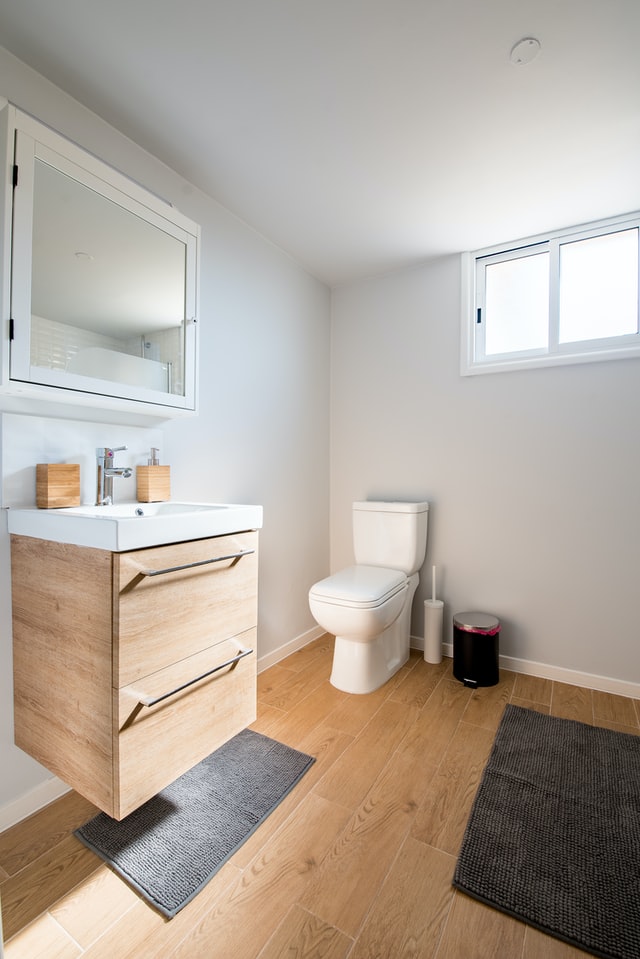 12. Shelving either side of your mirror
Your bathroom mirror doesn't have to sit on the wall alone. You can create an entire practical storage solution around it by installing handy shelving. If you choose a  piece that completely encases the mirror you'll have a seamless finish.
13. Mirrored wall cabinet
Are you renovating the bathroom from scratch? If your bathroom has a cavity wall, you could create a pocket within it into which you could install a storage cabinet. Better still, if the cabinet has a mirrored front, the bulk of the cabinet will be reduced and neatly disguised!
If you're looking for a bespoke solution, it's best to get a custom bathroom cabinet maker to get the right storage for your needs.
14. Vanity and shelving in one
Make your bathroom design look consistent by using the same style of timber and colour for your vanity and vertical shelving. This narrow bathroom packs a lot of storage space in!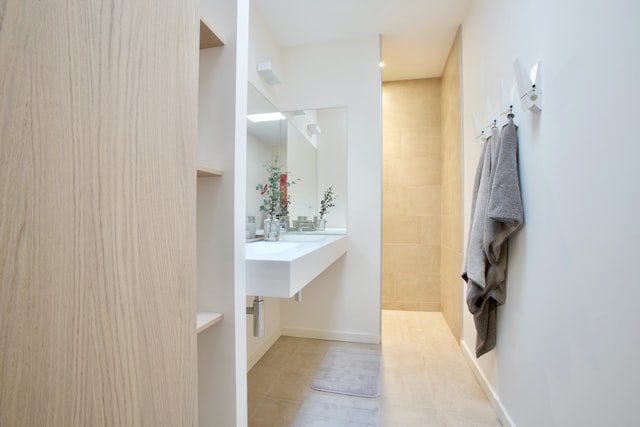 15. Ladder towel rail
A ladder towel rail is a cheap buy that can make a big difference to your space. While your small bathroom may not have much room for a large cabinet, you can lean a timber ladder against the wall which can be used to hold towels or clothes.
16. Freestanding storage
If you're looking for additional storage for your bathroom, then you should turn your attention to standalone pieces. Purchasing something that you can move around is a practical solution because then you're not limited to only using it in your bathroom. How about choosing something vintage with a whole lot of character?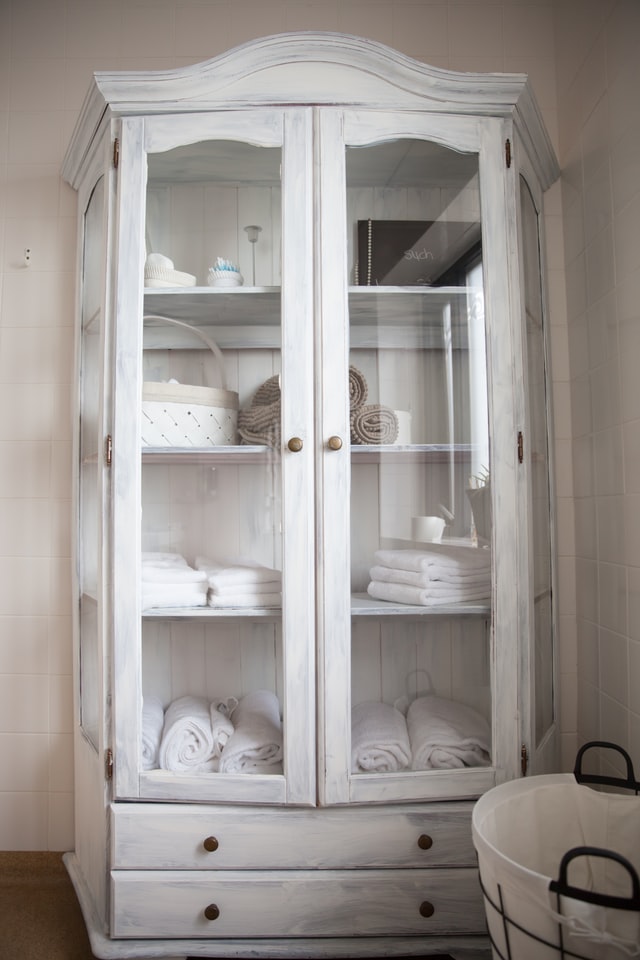 17. Woven basket with towels
If you don't have drawers or cupboards in your bathroom, simply use woven baskets to store fresh towels. You can never have enough woven baskets, and the beauty is that you don't need to stick to one design–mix and match woven styles for texture and visual interest.
18. Keep the countertop clear
A clean space is a clean mind, and this is very true for your countertops. If they're filled with bits and pieces, it can feel overwhelming. Keep everything simple and minimal by only placing the essentials on your benchtop or in open shelving like this.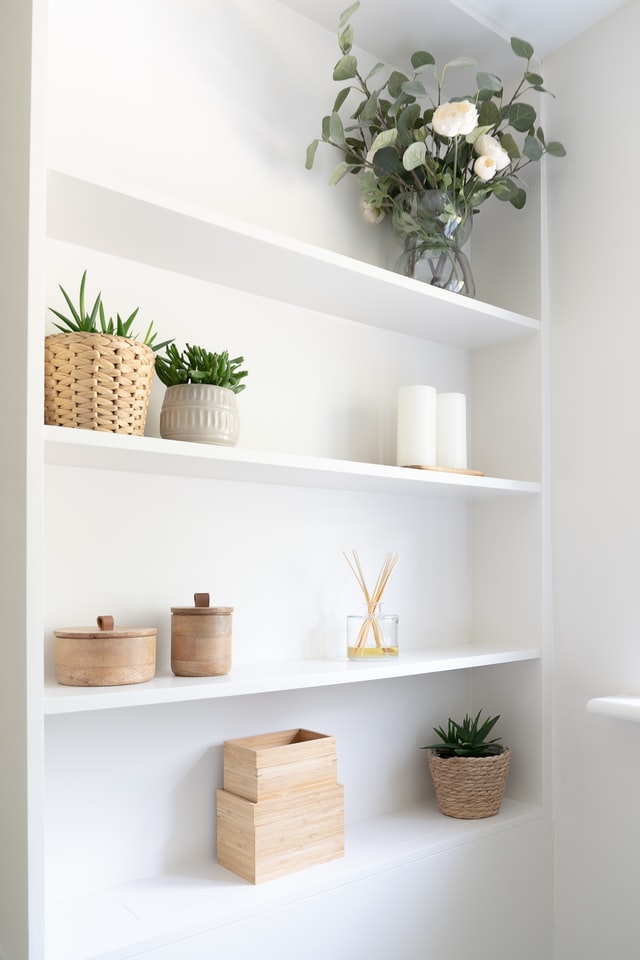 19. Hooks in the shower
This has got to be one of the smartest bathroom inventions ever. No-one likes going out of the shower to grab the towel, and sometimes your towel can get soaking wet if it's just hanging over the top of the glass (or fall on the ground). Hooks inside the shower keep both of these things from happening!
20. Add a stool
Maximise your surface space with the addition of a little stool. You can choose from a simple three-legged stool or a small timber step. Whatever you choose, make sure you select something that ties into your existing design.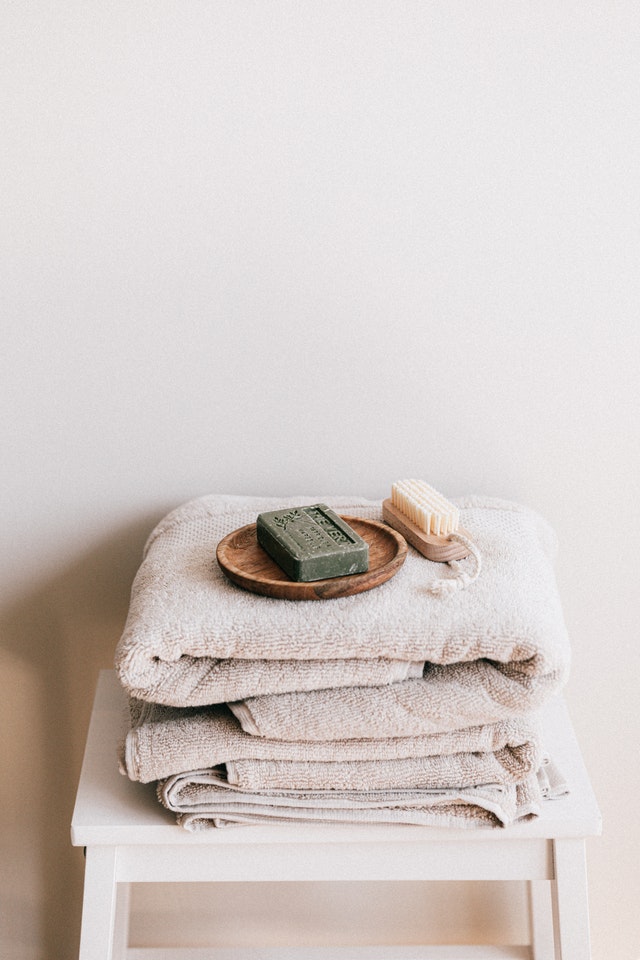 21. Baskets, baskets, baskets
I'm all about baskets at the moment. Why? Because they're just so easy! You can pop them in the corner of your bathroom, you can use them to hold house plants, or you can store them underneath your open vanity for extra visual detail.
22. Hooks for towels
Display your towels with ease using beautifully crafted hooks on the wall. This design uses matte black and clear perspex hooks, keeping things modern and fresh.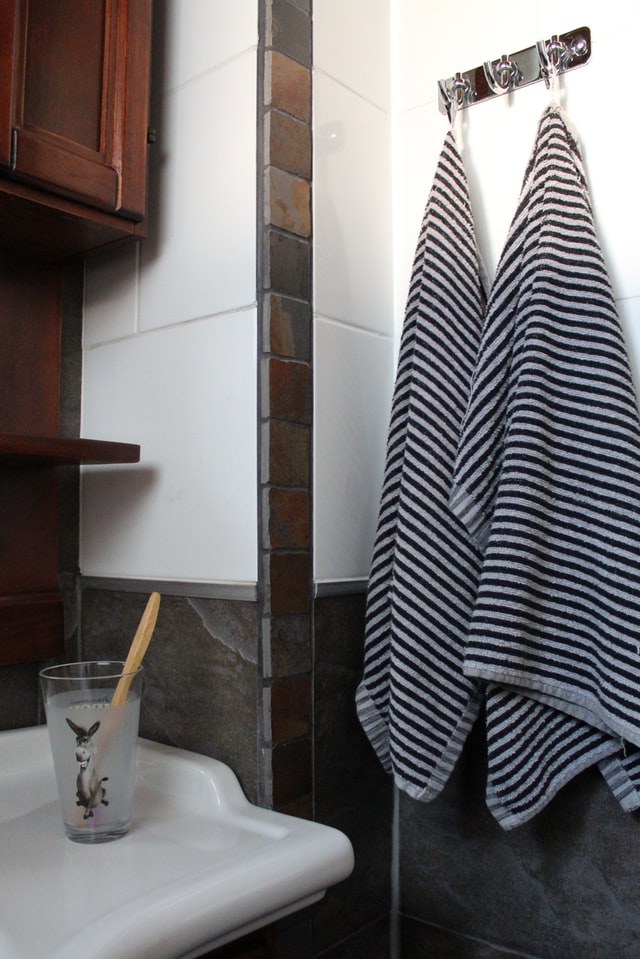 23. Floating vanity
If you only have a small space to work with for your new bathroom, then you need to be very careful to make sure it doesn't look squashed. Introducing overly large pieces of furniture can make your environment feel awkward. But this little bathroom incorporating a cute little floating vanity has hit the right mark.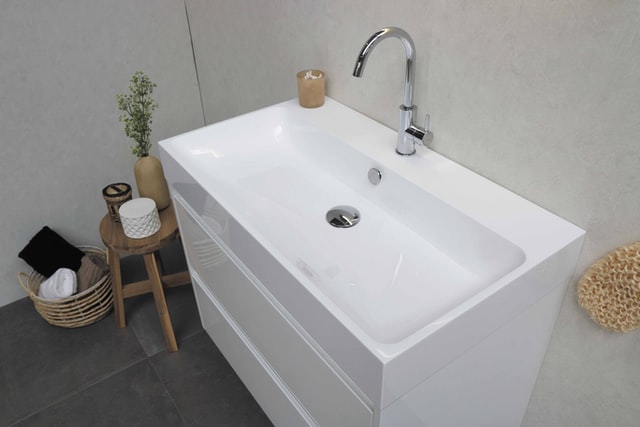 24. Organic materials
Natural material is all the rage right now and it's no wonder why. People are tired of overly done-up spaces, and just want to return to a breath of fresh air. And that's just what natural materials do – they allow your space to breathe, bringing in feelings of calm and serenity. And it can be as easily achieved as by adding a little timber bench stocked with natural coloured towels.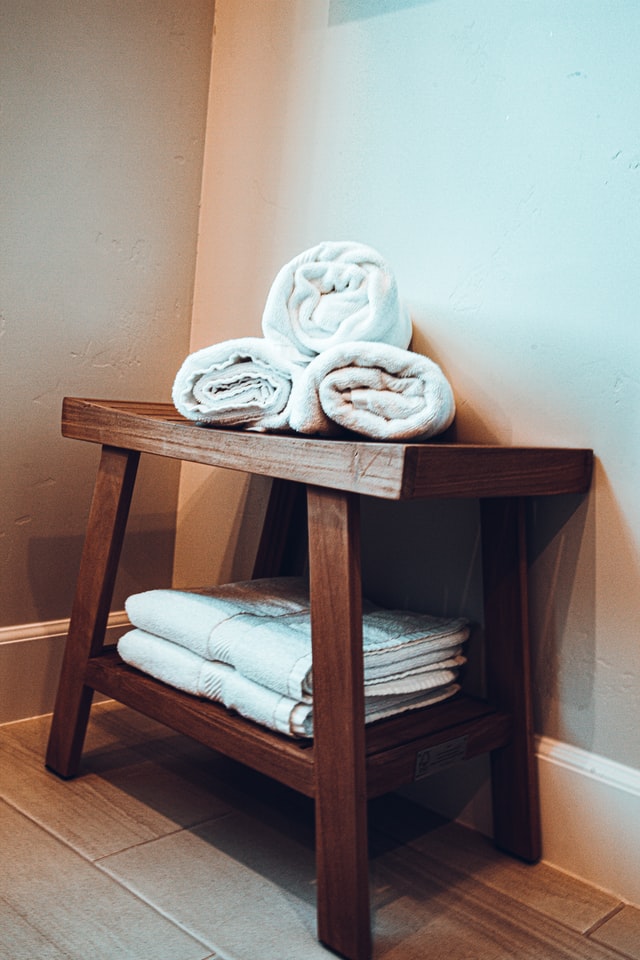 25. Maximise the space over the toilet
Sure, this spot isn't exactly front of mind when it comes to styling your bathroom space, but it can be a great place to install a handy storage solution. And this little shelf is not only practical (holding plants, air freshener, and other bathroom decor items), but they add interest to the very plain space.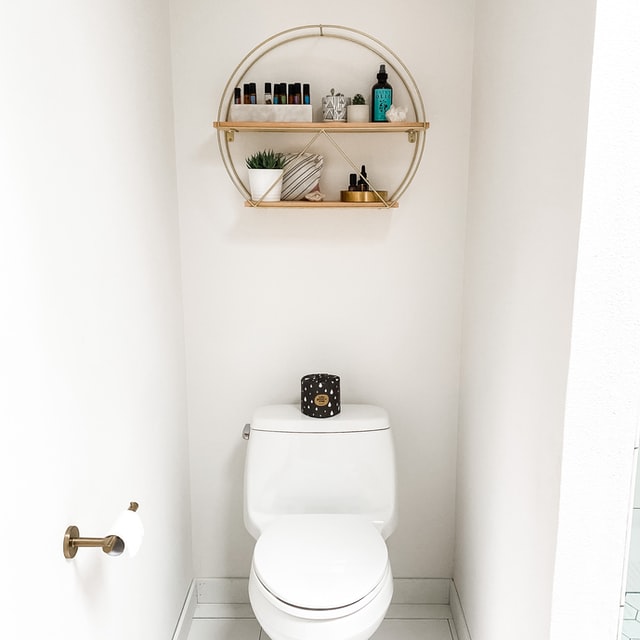 26. Include a shower niche
Gone are the days of the old steel or plastic toiletries holder that would hang over your shower taps. While they may be helpful for holding all of your essentials, they can also become a hotspot for mould, grime and old products.
Instead, have a smart shower niche that's built directly into the wall. This not only looks great (it's seamless!) but it's also very practical when it comes to cleaning time. And we all appreciate an easy clean, right?
27. Style it up
Finally, when we hear the word 'storage' we can so easily think of boring plastic containers. But storage doesn't just have to be a practical solution, it can be a pretty one too! Glass containers with timber lids look beautiful.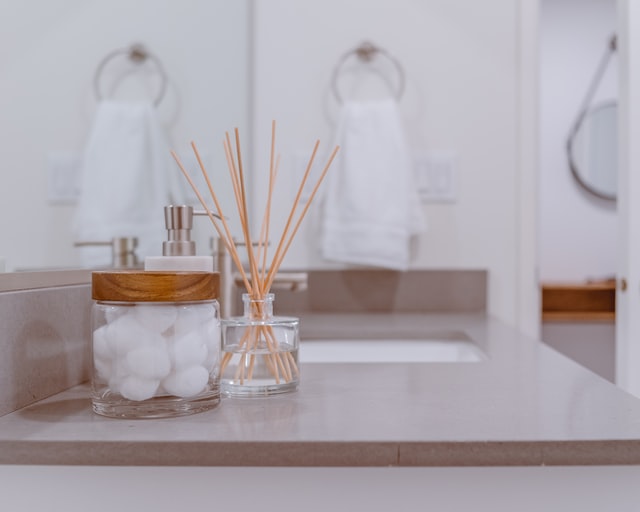 There you have it – 25+ bathroom storage ideas. I hope you were able to draw on some inspiration for your own design!
But before you go, I'd love to hear from you – which style stood out to you the most? Was it the handy shower caddy, natural baskets, large vanity drawers, timber steps and stools, clever floating shelving, or something else? Comment and tell me!