The essence of a Jack and Jill bathroom, also known as a his-and-hers ensuite, is that it's a shared space featuring both communal and individual elements. A genuine Jack and Jill arrangement is when a bathroom has two entrances and serves two bedrooms, while a his-and-hers ensuite obviously serves two members of a couple sharing one bedroom.
Both are typically set up with a single toilet and bath/shower area, but with two separate sinks (or a double-sized shared sink with two taps), two mirrors (or a double-sized one) and often two sets of storage.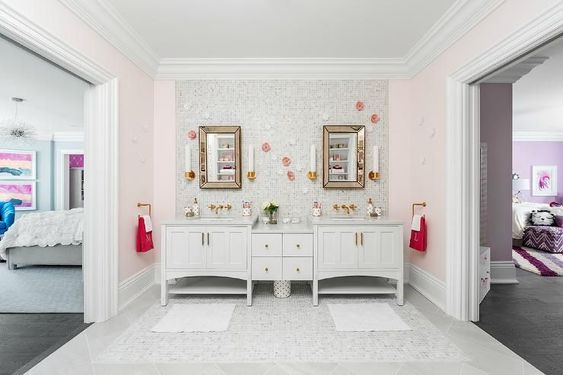 Why two sinks? Simply because bathroom users will more often need to share the space while carrying out frequent self-care tasks like toothbrushing, shaving and hairstyling. However, having a double shower can be very practical as well to allow two people to shower at once, plus they always look aesthetically symmetrical.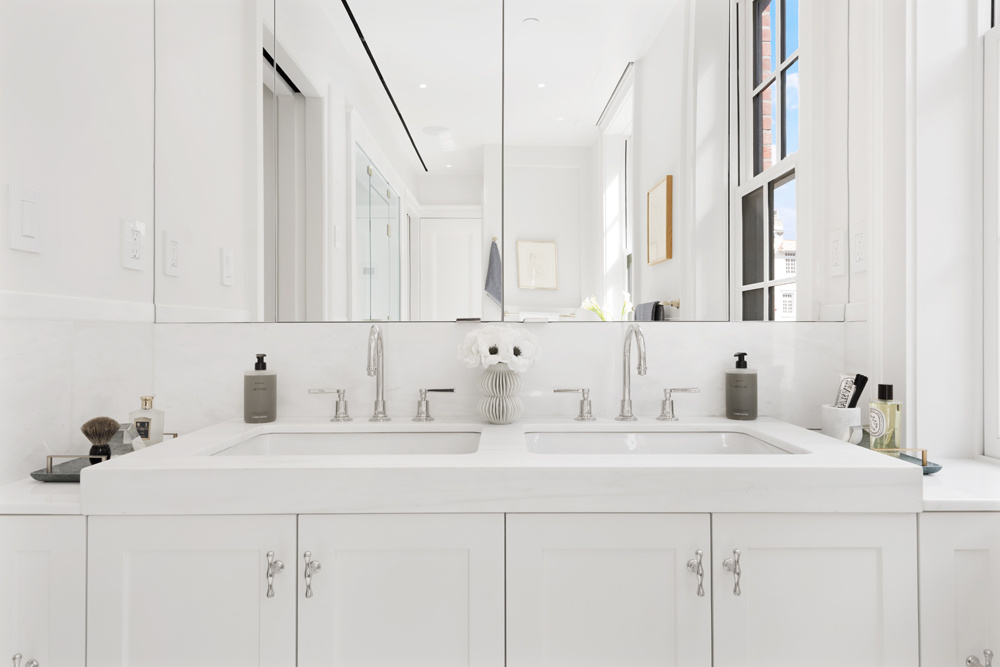 With a his-and-hers ensuite, you may be worried about a lack of space — but I've found plenty of bathroom designs which pack a whole lot into a limited square footage. While it looks nicely symmetrical and feels luxurious to double up on everything, you can have some shared elements such as a communal storage space in the middle for toiletries.
Below are 35 examples of Jack and Jill bathrooms and his-and-hers ensuites to give you an idea of how others have set up a bathroom specifically designed to be shared. There's sure to be a style you like in here! You can also find more inspo in our article on master bathroom ideas.
1. Twice as nice
When you're designing an en-suite, take advantage of the doubling up of symmetrical elements by incorporating two sets of stunning fixtures that truly deserve to be celebrated. Here, a matching pair of hob-mounted gooseneck spouts with a minimalist profile look even more beautiful in tandem.  These gorgeous taps and faucets are made of solid brass and are designed to patina with age.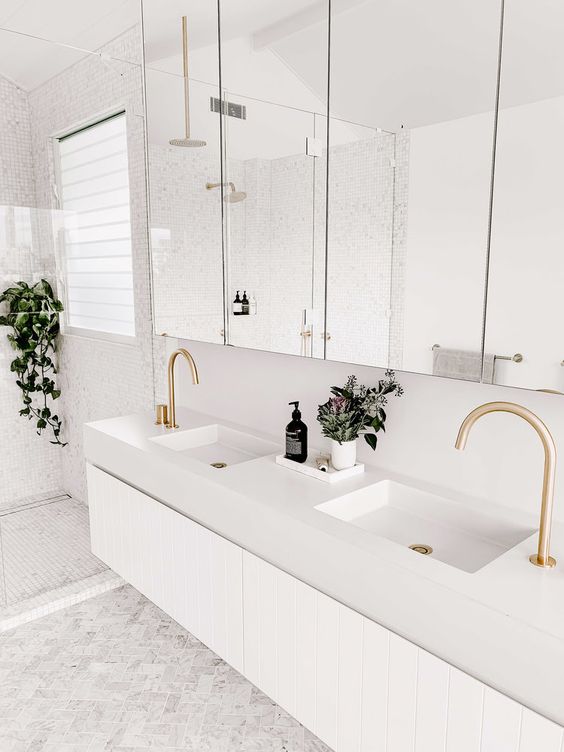 2. Twin pedestals in glam bathroom
Simple, classic white pedestal sinks keep this space light and airy and allow the focus to fall on the gorgeous shared trolley cart, brushed metal mirrors and matching pretty wall sconces. If you like this look, then you'll love these Art Deco bathroom ideas too.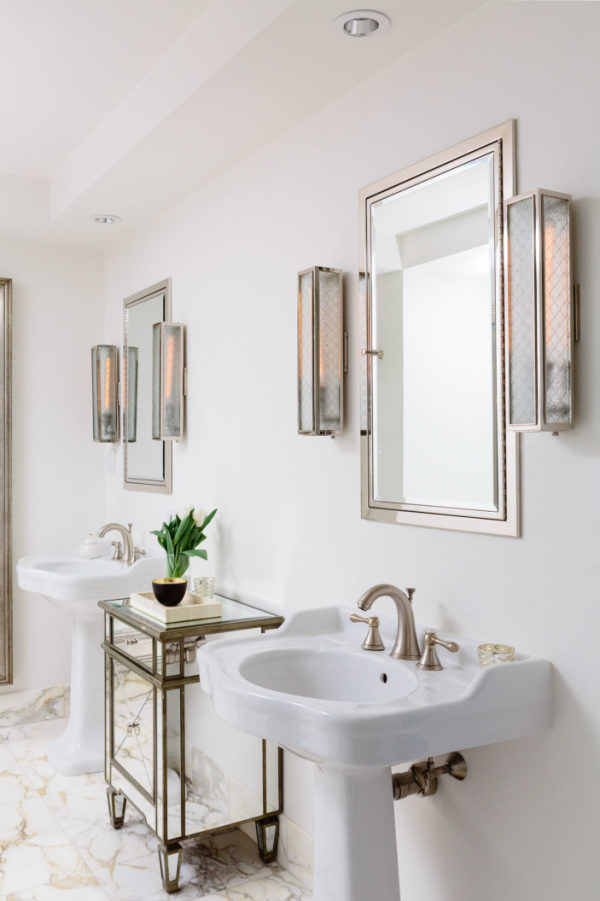 3. Crisp modernity
Bright and white with a gorgeous patterned floor tile, the twin black concrete basins inject modernity and tie together the monochromatic look perfectly. A hanging plant and a wooden stool add some warmth and give a little nod to nature. Love bathroom greenery? Make sure to check out our article on the best bathroom plants.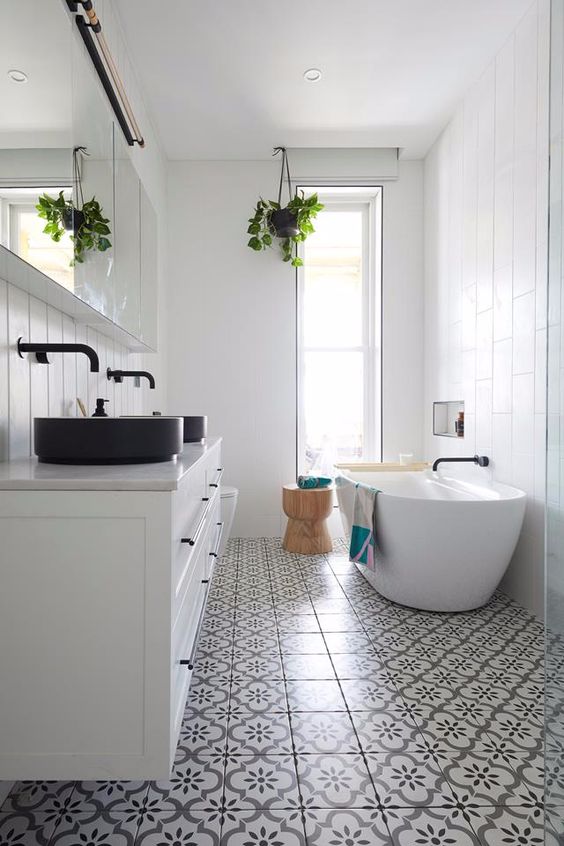 4. Modern ensuite
When you have two mirrors, three lights typically work best– one on either side of mirrors and one in the middle – to provide even light for both users. Here's a popular contemporary look: sleek minimalism with neat soft grey wall tile, boxy mirrors to complement the simple rectangular vanity, streamlined wall-mounted fixtures and unobtrusive spotlight wall sconces.
I like how this bathroom is full of circular and rectangular forms which add interest despite the basic colour scheme and simplicity of elements. Have feature tile in your bathroom? You can get an expert to give it a thorough clean. Find out how much tile and grout cleaning costs.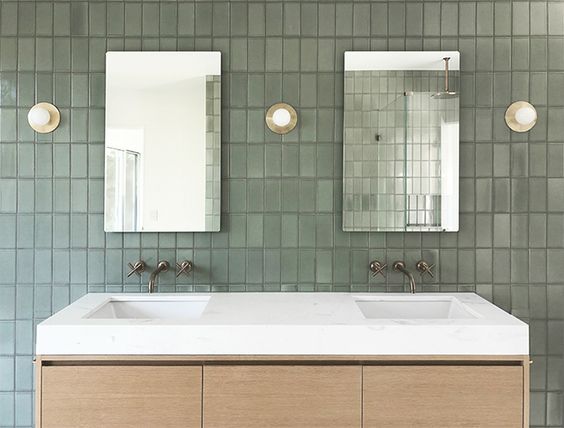 5. Scandi vibes
A soothing Scandi colour palette and streamlined contemporary setup here, with a statement double vanity made of custom curved timber-look laminate. The soft rounded lines of the vanity are echoed in the mirrors and round basins, while the warm grey large format wall tiles extend across the floor to create an enveloping, calming aesthetic. All powerpoints are cleverly hidden within the cabinetry to add to the uncluttered, seamless effect.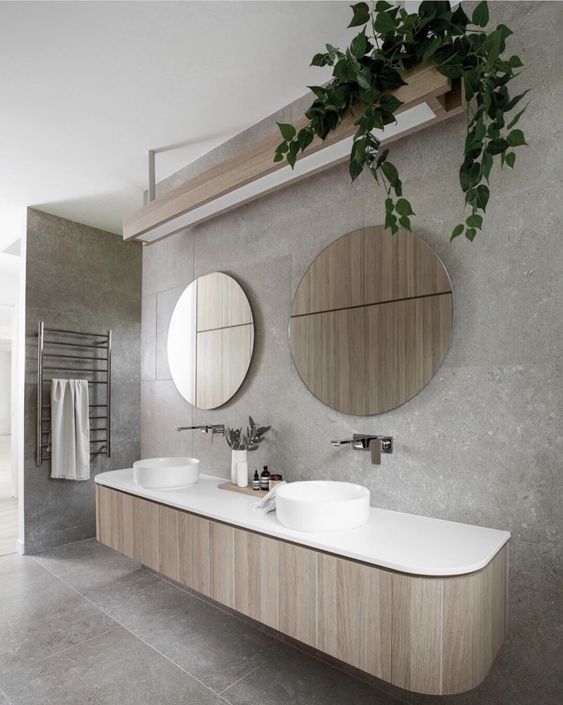 If you like the idea of a custom vanity, why not speak to an expert bathroom cabinet maker?
6. Ensuite with double shower
This little en-suite is highly functional for a couple, featuring two rainfall showerheads as well as a high-pressure handheld showerhead on a riser rail. The addition of a long inset ledge is perfect to allow enough space for both users' self-care products.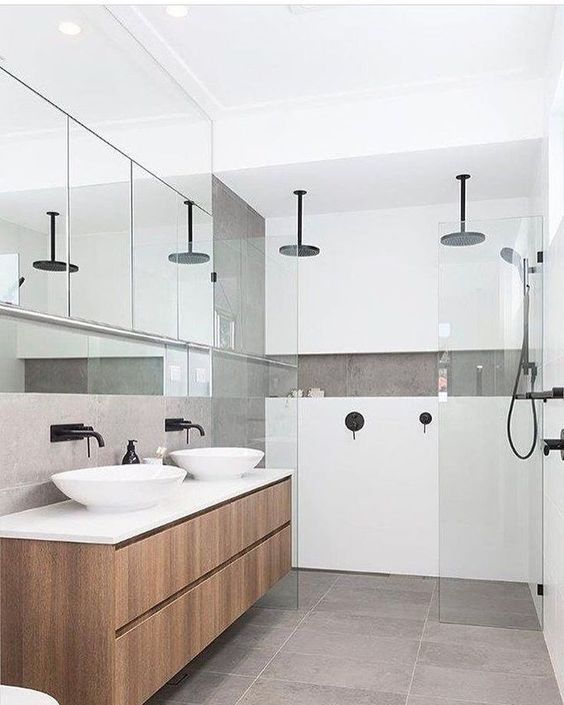 For more shower ideas, you can also see our recent article on bathroom shower ideas. And if you need someone to help with updating your shower get the right help with professional showerhead installation.
7. A shared sink
A shared double-sized sink is perfect for tight spaces. How about this concrete trough sink featuring push-down taps and hidden faucets? The two mirrors demarcate the space for each user while triple wall sconces ensure an even distribution of light at eye level for both mirrors. I love the use of pattern in this en-suite, through the herringbone floor tile and the eclectic ceramic sculpture arrangement on the wall.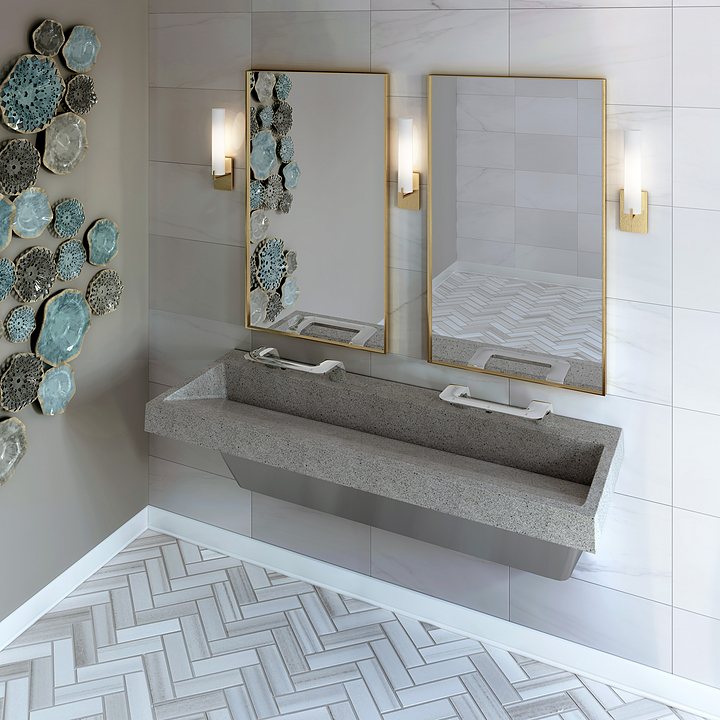 8. White charm
This sundrenched coastal-style bathroom is quite small, but the oversized mirror dramatically enlarges the space. I love the whitewashed cabinets with white sinks sunk into a marble countertop, and the contrast of the mosaic penny floor tile with the larger glossy white wall tiles. It would complement a bohemian interior styled home.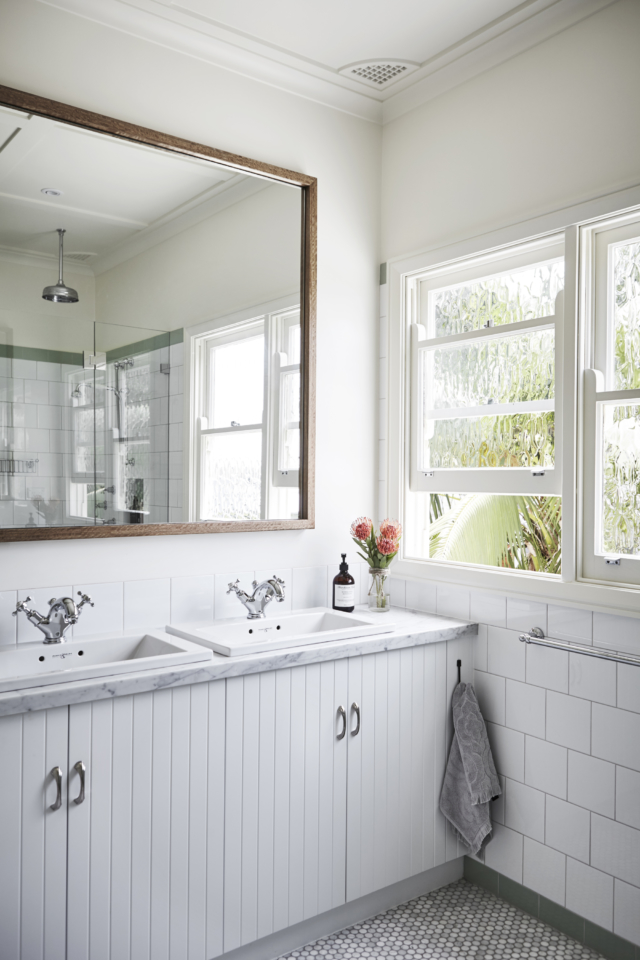 9. Unify the space
This classic en-suite setup boasts plenty of symmetry, with the two users' spaces almost mirror images except for the central shared drawers of the vanity. Each space is defined by its own small potplant while the larger, statement vase in the middle serves to both unify the two spaces.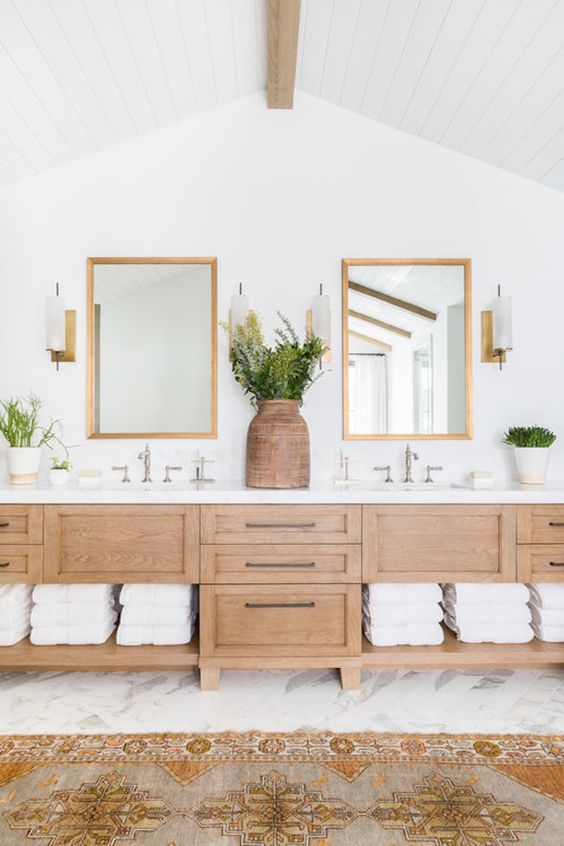 I think that this is a pretty amazing vanity and here are some other bathroom vanity ideas that I love too!
10. Asymmetrical layout
This is a more uncommon layout for an en-suite, with separate vanities at right angles, rather than side by side, and the freestanding soaker tub nestled in between. Best suited to a large bathroom, the layout gives each user more than enough space at their own sink.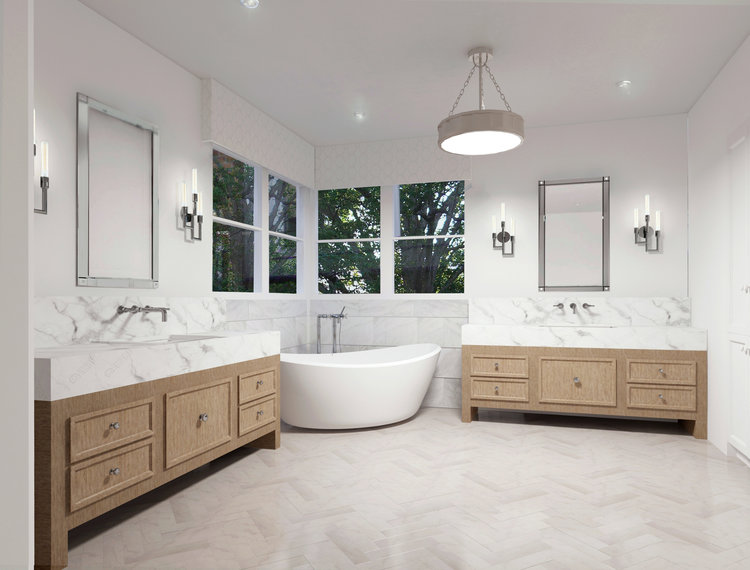 11. All-in-one becomes two
A large floor-to-ceiling cupboard has been transformed by adding dual freestanding basins and feature lights within the cabinet to create an all-in-one, hotel-style recessed vanity area. The simple lines of the cabinet and the contemporary tub contrast nicely with the patterned feature wall tile.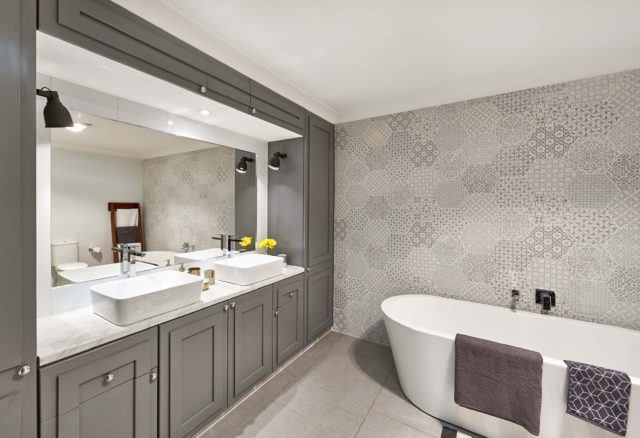 12. Double duty bench seat
This Jack and Jill arrangement allows both bathroom users to make the most of the shared window by creating a comfy bench seat in between the two vanities. The vanities' top drawer handle can double as a towel rail and with each person having their own rail, it will be obvious who the culprit is who always leaves their towel on the floor!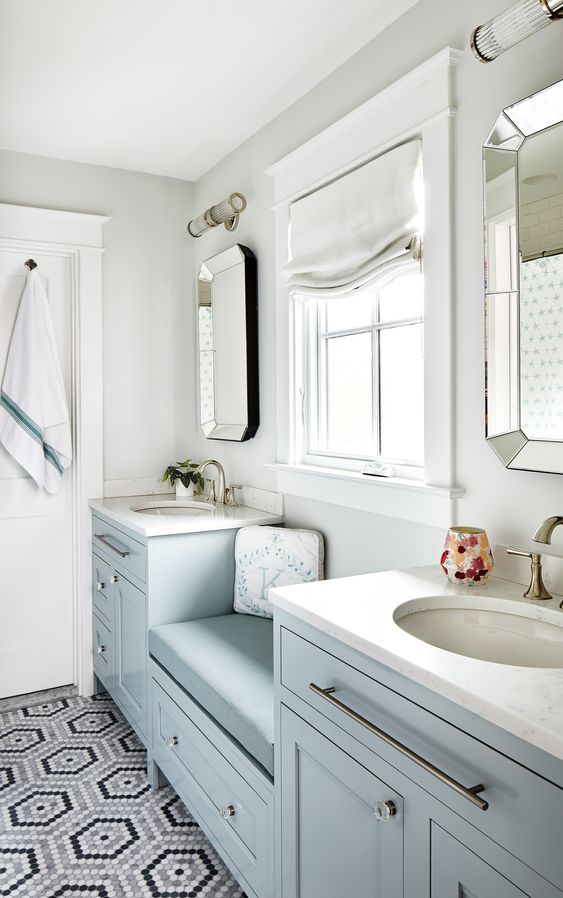 13. Twin stools
If two vanities or sinks aren't enough to signal that this is a shared space, make it really obvious with the addition of two small stools. This Jack and Jill bathroom could serve two children or it could just be a cute nod to a couple's "his" and "hers" space allocation. Either way, this bathroom is definitely sophisticated, featuring a grey marble countertop with Art Deco mirrors, brass fixtures and cream and brass wall sconces. Loving the pale blue penny floor tile and the intricately patterned cabinet.
14. Double concrete basins
Another example of a stunning contemporary his and hers en-suite that doubles up on style, with pretty pale pink concrete freestanding basins complementing the pink penny wall tile, and two sets of brass wall-mounted taps matching the floor-mounted bath filler spout.
A floating vanity, as well as, two tones of marble for the wall and floor ensure this bathroom earns its place on the chic list. You can also check out plenty more contemporary bathrooms.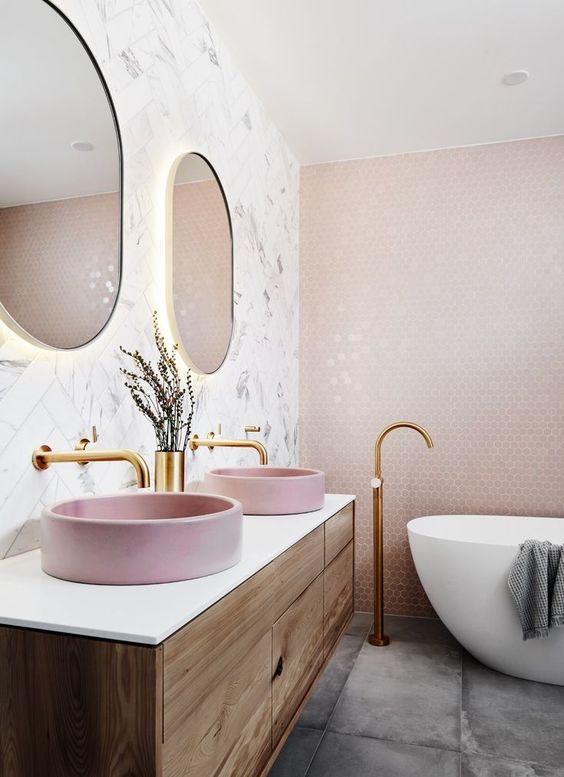 15. Moody minimalist
If you love industrial style bathrooms, this en-suite may appeal. It features the use of the Moroccan "tadelakt" technique for creating a seamless, watertight, mould resistant wall treatment that suits the industrial aesthetic perfectly. Simple and minimalist yet embracing a strong materiality thanks to all the concrete and metals, it's a statement bathroom not for the faint-hearted.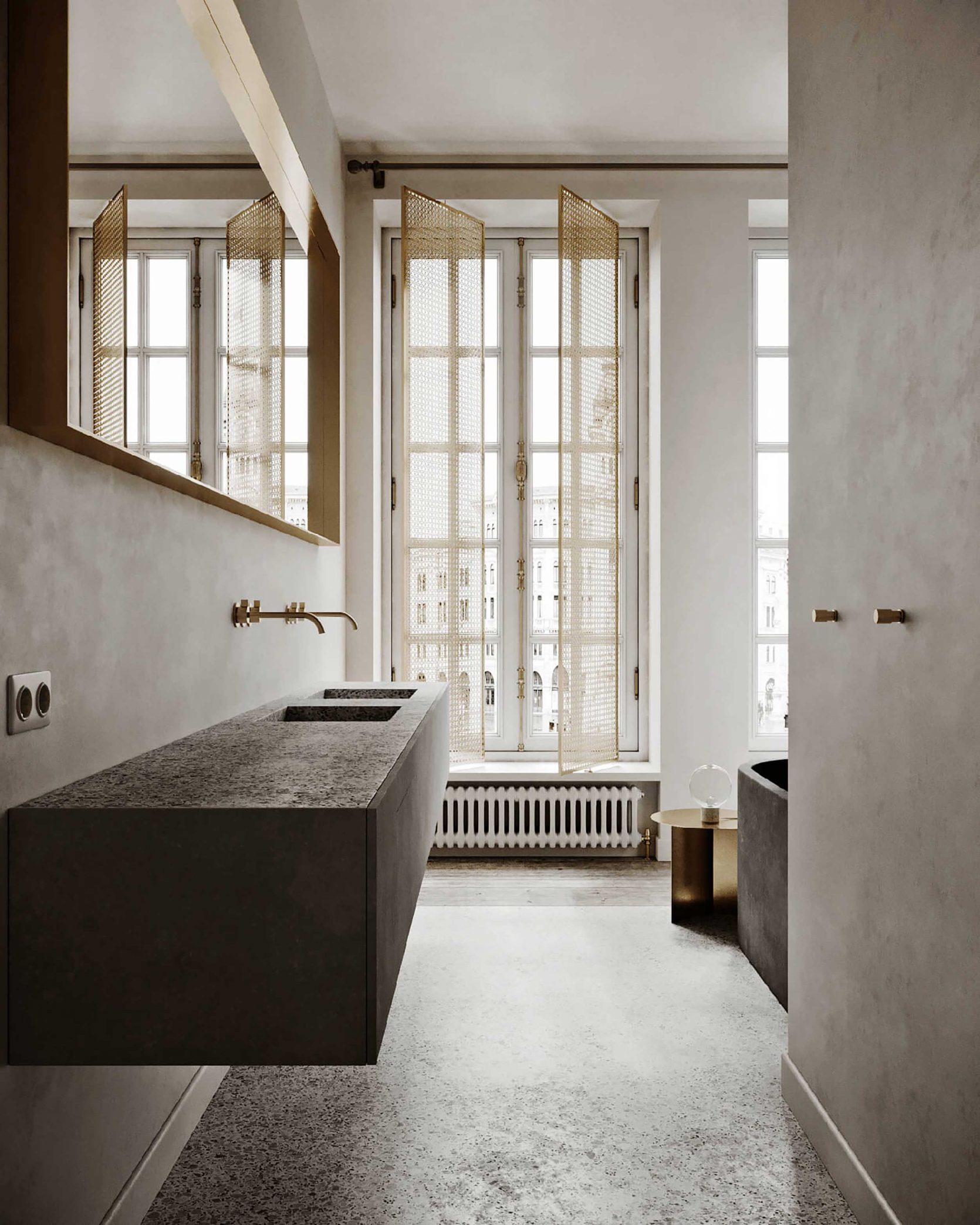 16. Go natural
An alternative to crisp whites or broody darks, warm timber tones in your bathroom create a humble, welcoming space. Here there's an emphasis on natural materials, with limestone used in the vanity countertop, contrasting with plenty of pale wood.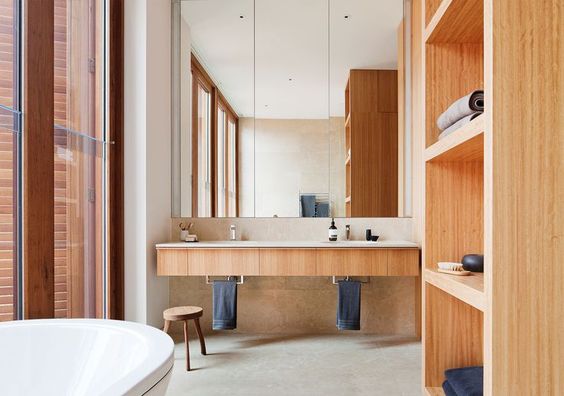 17. Teak and limestone vanity
Although more luxurious, this en-suite in a New York brownstone also features a limestone-topped vanity, here combined with darker wood tones and a good dose of white. Freestanding white basins, beautiful brassware and a soaker bathtub are de rigeur contemporary touches. But the standout features here are probably the dramatic chiselled limestone feature wall behind the tub and the teak wooden flooring in the tub area.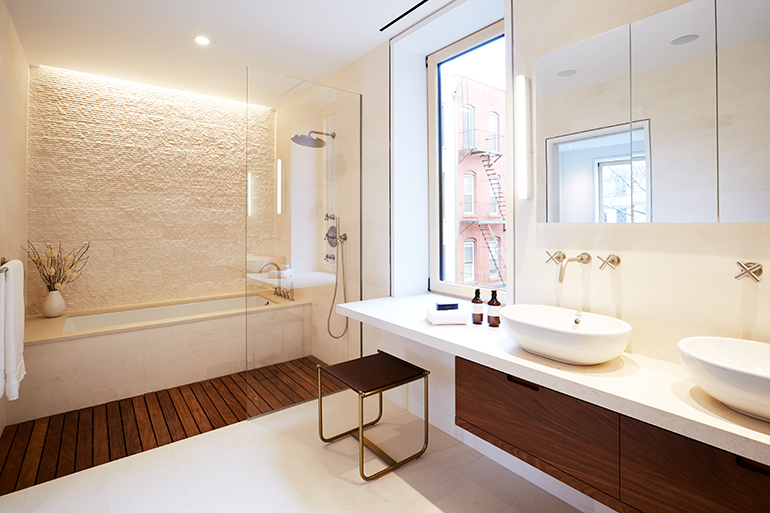 18. Modern farmhouse ensuite
And how's this for a dramatic feature wall?! It really highlights the massively high ceilings here, with the gorgeous chandelier further drawing attention to the generous space. As they say, if you've got it, flaunt it! This pretty farmhouse ensuite features a lot of white timber to complement the inlaid timber wall, with all other elements kept to a minimum.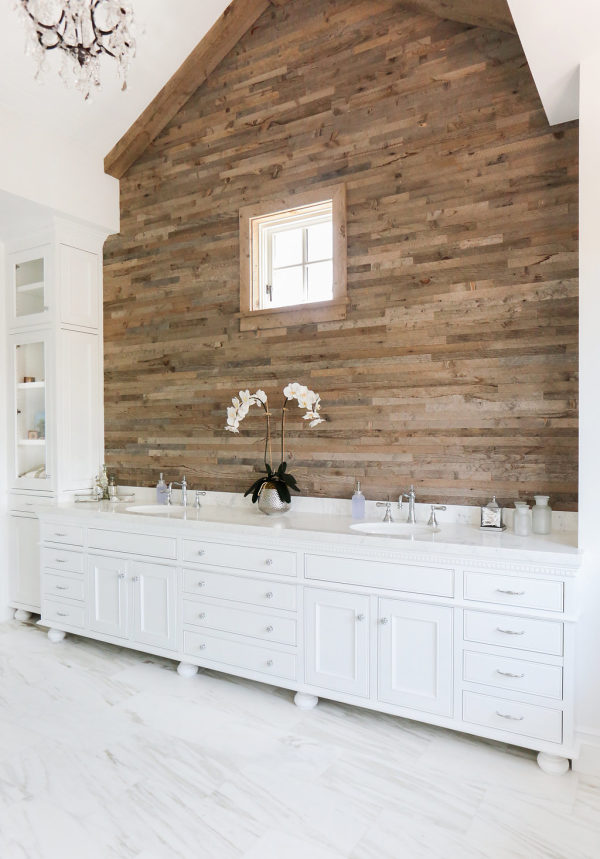 19. Traditional sophistication
This Jack and Jill bathroom has enough room for two large floating vanities and two huge mirrors flanking either side of a hallway entrance. The light coloured walls and vanities contrast beautifully with the wood-effect porcelain floor tiles, while the sense of luxury created by the spaciousness is amplified through the use of high-end materials like the white quartz fitted oval sinks.
Pretty wall sconces and chrome gooseneck faucets also add sophistication, and the overall symmetry is enhanced by the two matching vases of fresh magenta flowers. For more tile inspo, you might also like to view our article on bathroom tile ideas.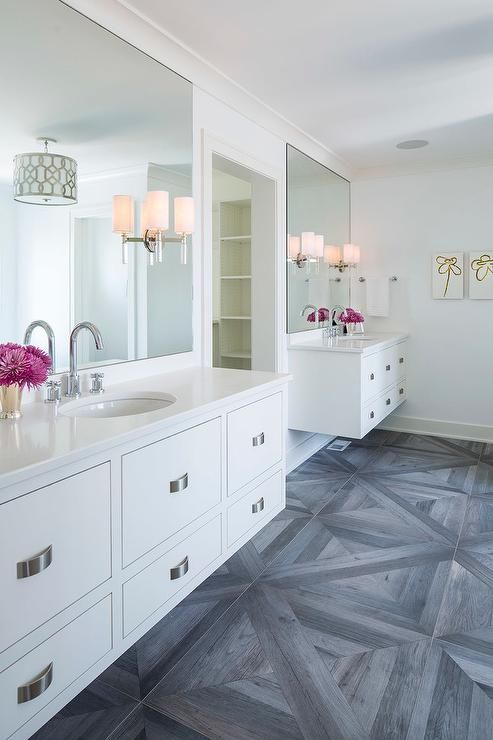 20. Modern monochrome
Stylish simplicity in this en-suite, thanks to the spacious white cabinetry with its sleek chrome handles and tapware. The mirrors and lights are equally understated, allowing the dramatic floor tile to attract all the attention. The charcoal grey shower tile picks up the tones in the flooring for an overall harmonious look.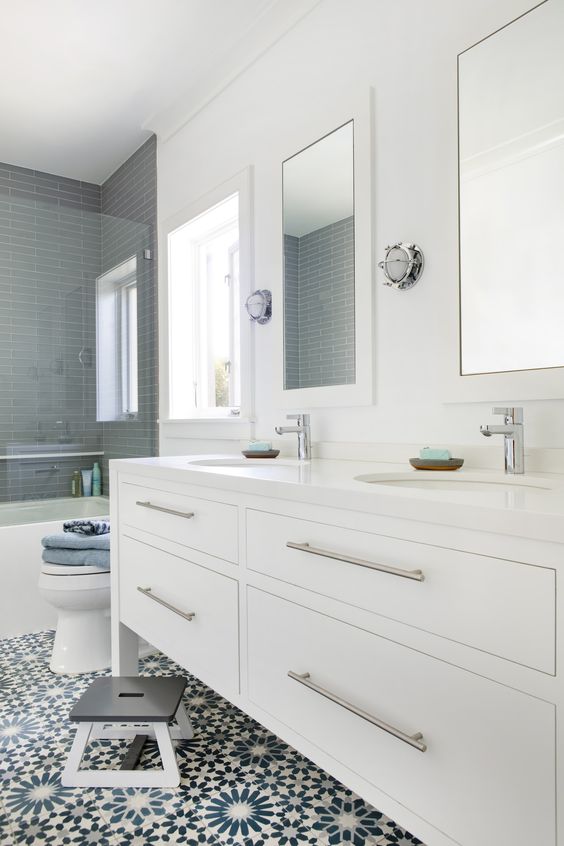 21. French minimalism
This en-suite conveys lightly industrial Parisian chic with its marble counter, striated wood vanity front and gorgeous slimline black light fixture. So simple yet so stylish!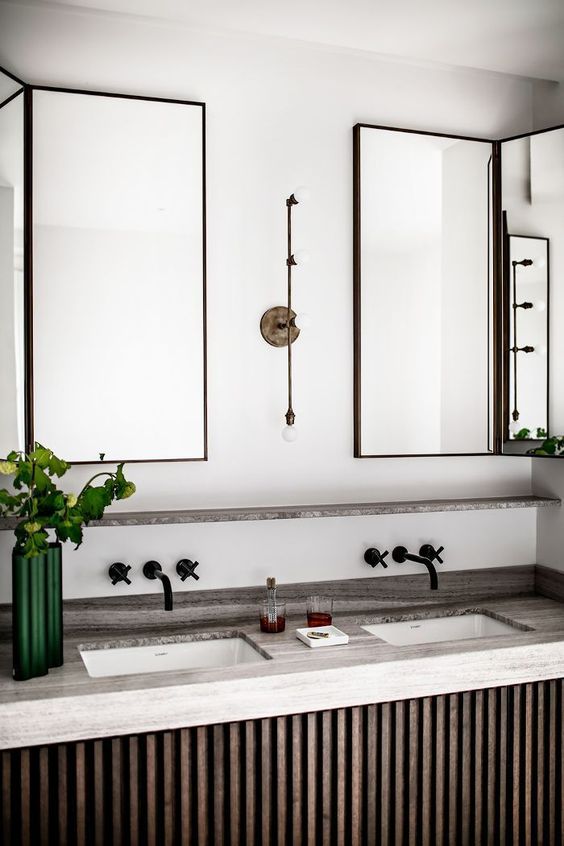 Source: My Domaine
22. Mid-Century Jack and Jill bathroom
Apart from the stunning tile floor, the hero element of this bathroom is the restored 1950s floating vanity. Mix with mint-coloured tile backsplash and glass pendant lights and you have an en-suite with timeless charm.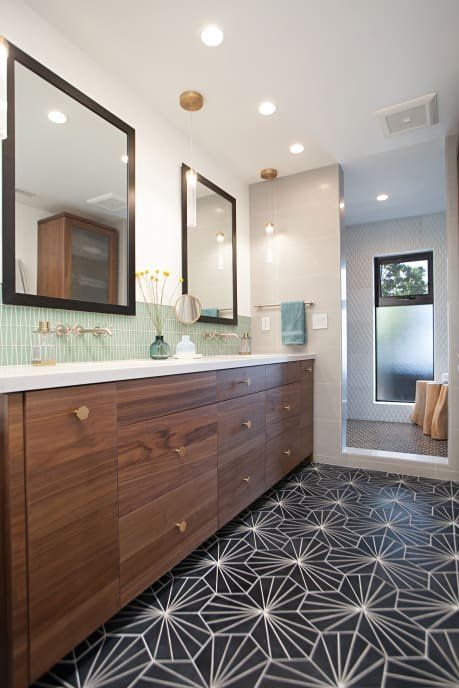 23. Twin wooden stools
Another example of how the simple addition of two stools instantly conveys the shared nature of the space. I love this unusual black vanity with its recessed handles, the lighter wood mirror frame and the gold-toned wall-mounted taps and faucets.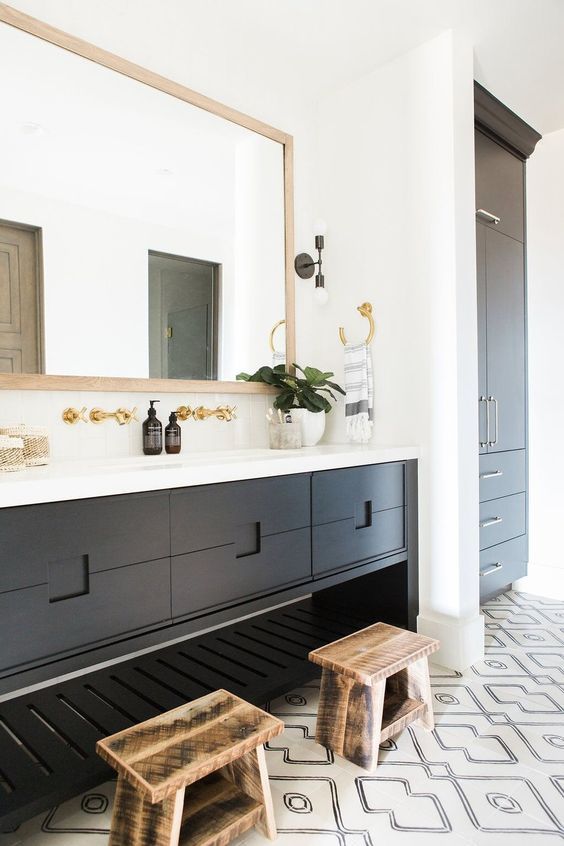 24. Navy and marble
A classic traditional en-suite look featuring the timeless combo of navy and marble. With the mix of metals used here, it could easily turn into a hot mess (chrome taps and faucets, brass hardware on the cabinet, gold-toned mirror frames, black metal lights). But somehow it still works! I love the transparent lampshades and the massive spray of foliage.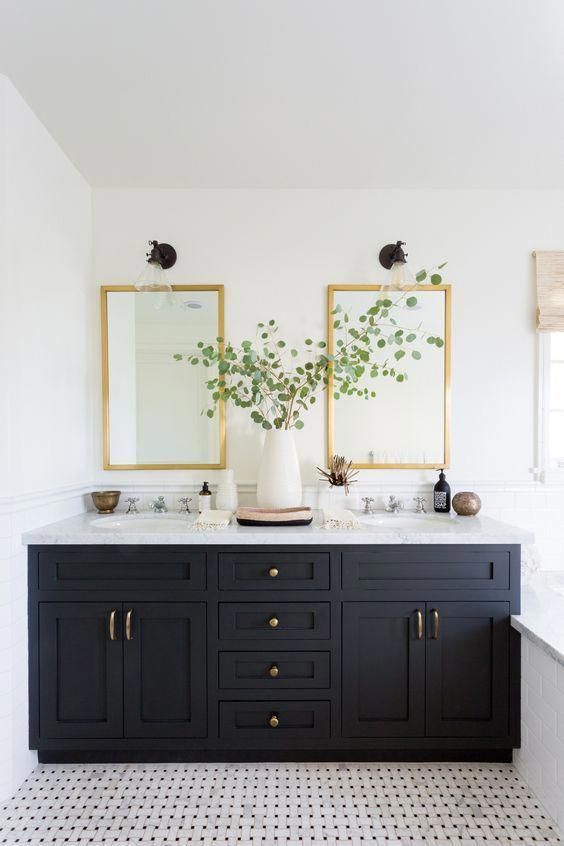 If you love blue tones in a bathroom, be sure to look at our article on blue bathrooms for more inspo.
25. Simple kids' Jack and Jill bathroom
When you're designing a Jack and Jill bathroom specifically for the kids, try to go for something that can grow with them rather than something that looks too childish. This one is a great example of the stylish simplicity that will work for both younger and older kids. The all-white aesthetic is bright, airy and cheery, with a white quartz countertop and cabinets with glass knobs. I like how the pretty basket also blends in with its white base.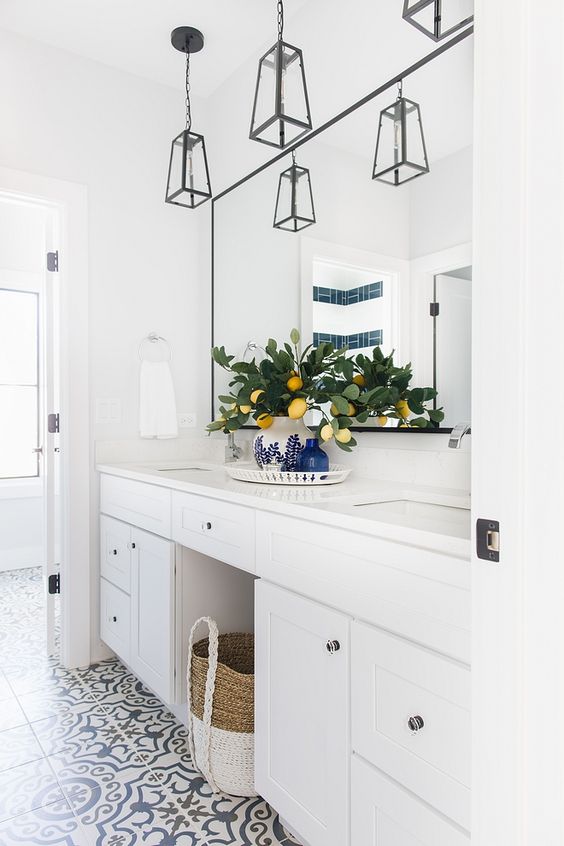 26. Tiny but functional
A sweet little en-suite or Jack and Jill arrangement here with classic white pedestal sinks. Everything is symmetrical—cute light fittings, simple mirrors and towel holders—except for the single woven basket for towels which helps unify the space. I love the beadboard panelling combined with pale blue paint, which enlarges the room more than if it were all one colour.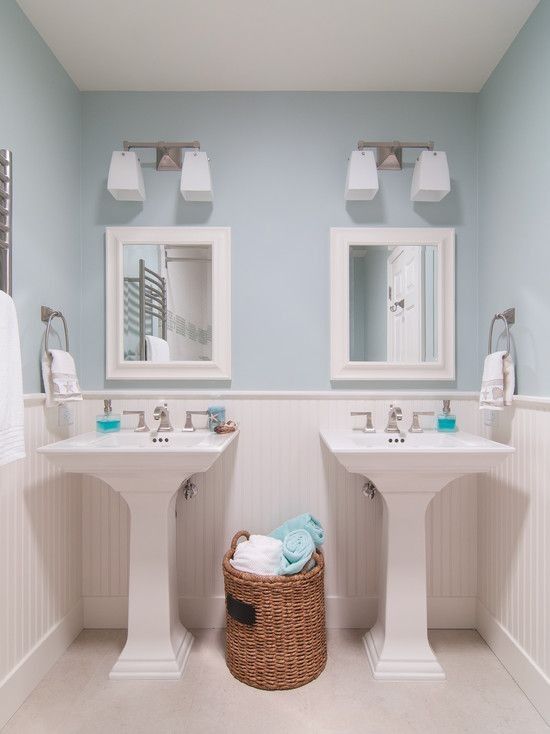 27. Hotel glam
Glam it up with an en-suite that's absolutely saturated in marble and gold. How about these metallic basins with their slim gooseneck faucets, and the gorgeous ceiling-hung geo mirrors? Just add loads of fluffy white towels for five-star hotel vibes.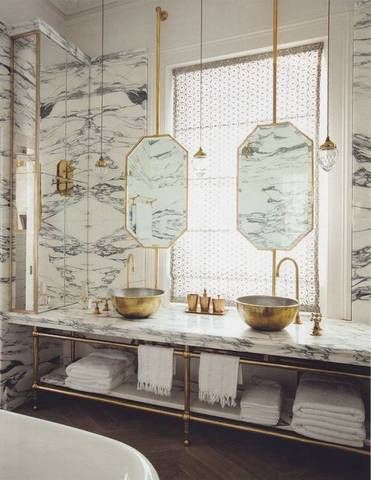 28. Large cabinet with heaps of storage
There's certainly plenty of room for everything in this contemporary industrial Jack and Jill setup. The concrete countertop contrasts well with the warm timber tones and the glossy subway tile, while the black lights and mirror frames add modern flavour. The clever wooden ledge is unobtrusive but can manage to hold not only the mirrors but even vases or other decorative elements.
If you love concrete bathroom décor, make sure you take a look at our recent article on concrete bathrooms.
29. Soft grey double cabinet
So much to love in this en-suite. From the simple clean lines of the cabinetry and the massive double sink countertop, to the brass lever taps and elegant gooseneck faucets with harmoniously matching light fittings, to the dramatic patterned floor tile–this modern farmhouse bathroom oozes character.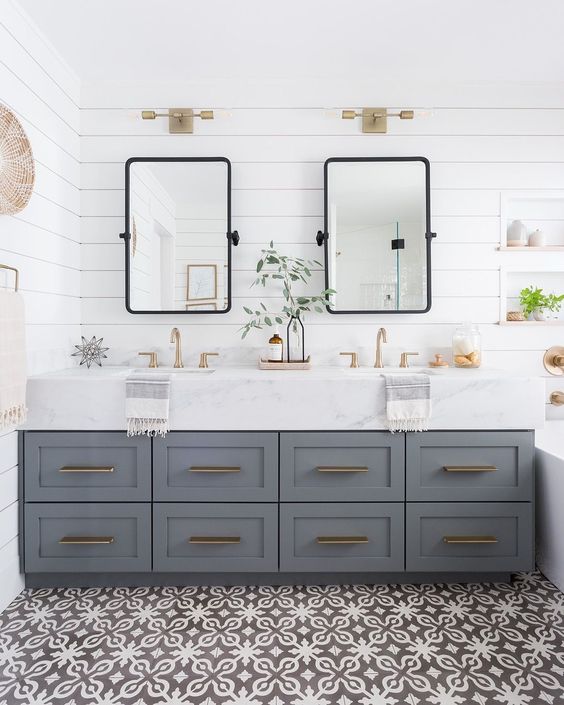 30. Sharing a small space
A double farmhouse sink with two sets of mixer taps allows two to share this tight space. The timber wall panelling and the dark-toned vanity matching the ceiling and wall paint contribute to an overall cosiness, while the glass ball pendant lamps add sophistication.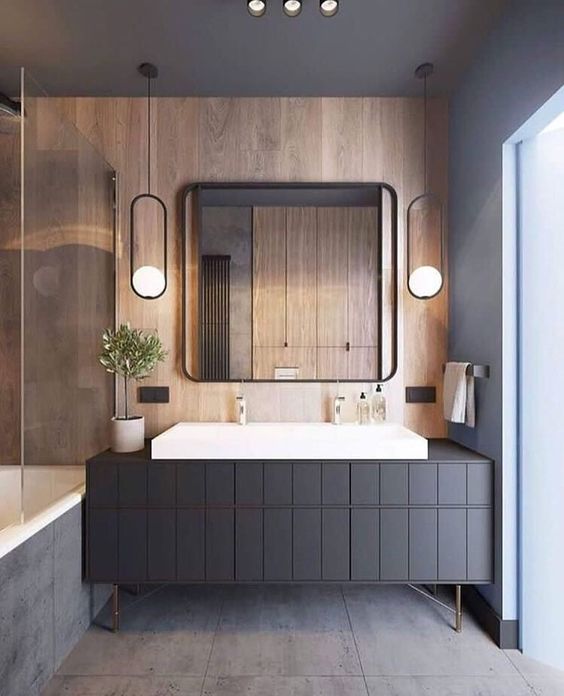 31. Luxe Jack and Jill bathroom
Gorgeous statement vanity here covered in slabs of Arashi marble. This marble is named for the Japanese word for storm, reflecting the appearance of the white stone with its natural dark veins. With one entire bathroom wall covered in mirror, it actually creates an optical illusion of there being two of these vanities for a double dose of drama.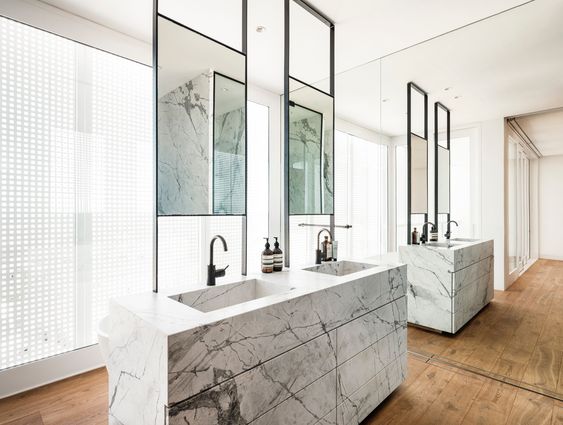 32. Kids' double trough
If you want to set up a shared bathroom for your little Jack and Jill but have limited space and can't double up on vanities, consider a double trough sink with two sets of taps and faucets. So that the littlies can reach the sink and see themselves in the twin mirrors, add a sturdy wooden bench like this whitewashed one.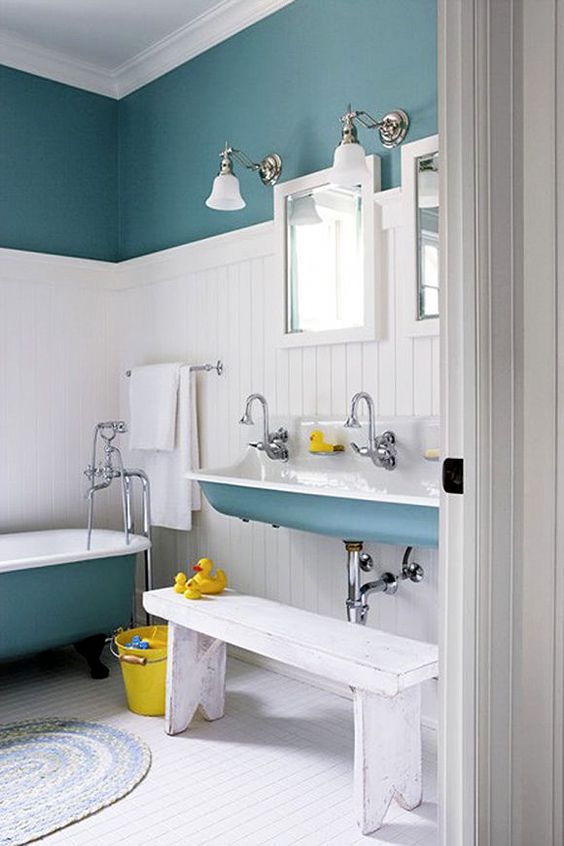 33. Double vanity with gold detail
A chic little his and hers ensuite with a shared vanity featuring two sinks and a shared but oversized mirror. When you only have one mirror, you can get away with just two wall sconces on either side, but you will probably need to add more ambient overhead light to ensure there are no strange sideways shadows at face level.
Gorgeous use of pattern for texture here, with two kinds of tile and an unusual striated cabinet front that complements the fluted reed glass in the lights.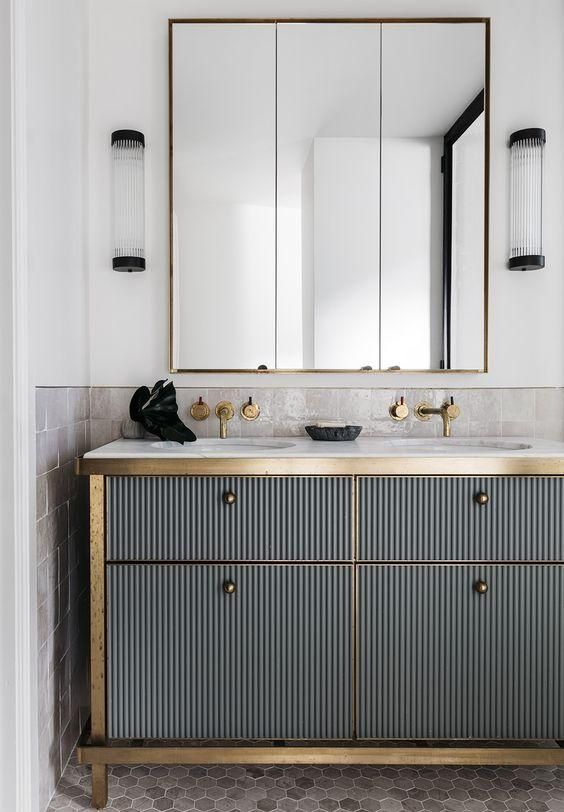 For more bathroom lighting ideas, you might also like to see our recent article on bathroom lighting options.
34. Ultra-modern bathroom
Love an avant garde look? This statement en-suite is an example of how modern interior designers are using classic natural materials like marble but reinterpreting them in imaginative ways to create even more dynamic surfaces. I love the geometry of the metal segments that cleverly frame the individual elements of taps, products, mirror and towel rack.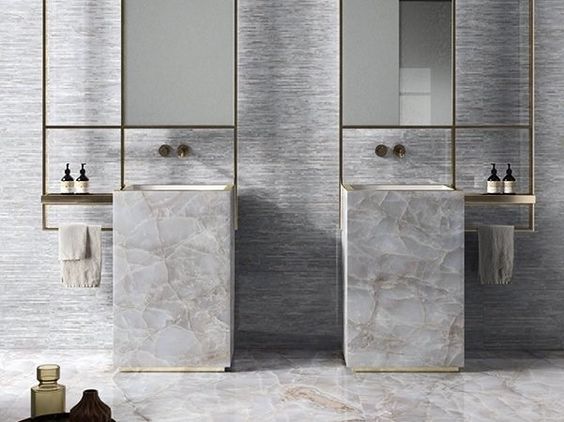 For loads more examples of contemporary interiors, check out our blog on modern house designs as well.
35. Individual black vanities
Perfect symmetry and balance in this modern en-suite with its boxy marble-topped black individual vanities. The stunning marble wall contrasts wonderfully with the black penny mosaic backsplash with its white grout, and the monochrome colour scheme is offset by the warm brass fixtures and accessories and rustic-look floor tile. Heaps of storage here in the generous mirror cabinets too.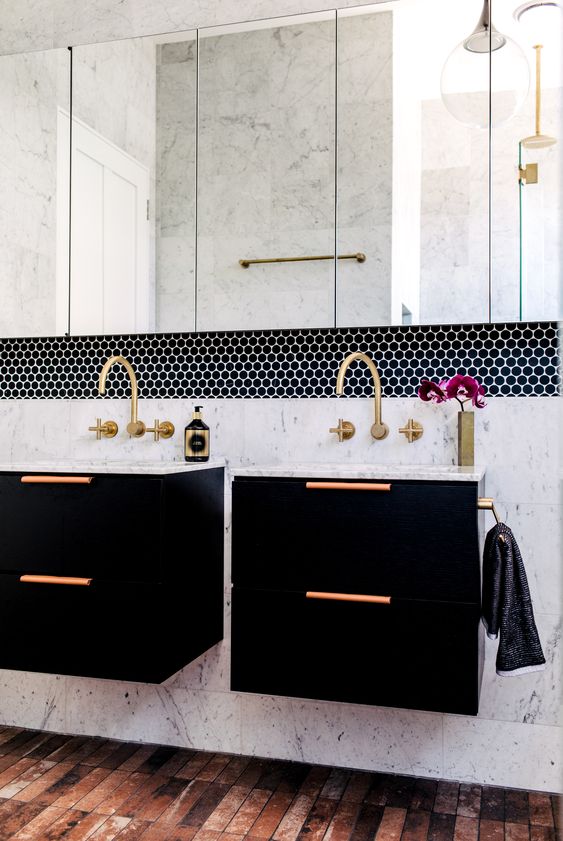 If you love the monochrome look, you can check out heaps more black and white bathroom ideas.
As you can see, designing a "his and hers" en-suite or a multi-user "Jack and Jill" bathroom gives you the chance to have double the fun, allowing you to bring in twice the elements you love while creating a super functional space.
There are plenty of free Jack and Jill bathroom layout design plans available online, so you can easily explore the possible configurations and find what works for you. Or you might like to speak to an expert in bathroom renovation about your ideas and how to achieve them.
Do you have a Jack and Jill bathroom in your home? Why not let me know what works for you in the comments!