Your master bathroom is so much more than a practical space – it's an oasis to get ready in as the sun comes up and unwind in as the sun goes down. So when it comes to designing this room, it's important to make sure it fits your lifestyle. Are you someone who enjoys a relaxing bath? Or would you rather have a large open shower? And what about your vanity – do you want a single or double sink?
With so many details to consider, I've put in the hard yards for you and dug up 30+ of the very best master bathroom ideas. You'll be inspired to start your bathroom project right away!
1. Natural touches
When it comes to styling, I think the more natural elements you can add the better. You can use hanging pots filled with greenery, small vases filled with vines and big ceramic jugs teaming with luscious flowers – how peaceful!
2. Perfect symmetry
Streamline your bathroom design by positioning all of your pieces of furniture and décor in perfect symmetry. This master bathroom is a beautiful example of this. It has a huge, peacock blue timber vanity, a double sink fitted with chic black tapware, two  blue-rimmed rectangular mirrors, triple wall lights beside the mirrors  plenty of his-and-hers storage.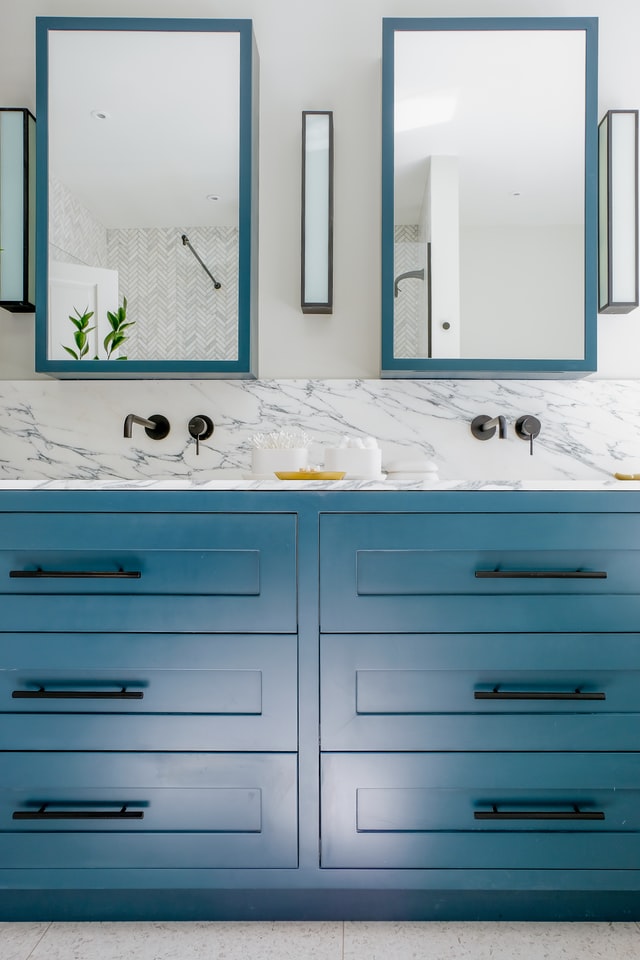 3. Design it around your lifestyle
If having a bath is on your list of favourite things, then make it a priority when it comes to your master bathroom. And the addition of a timber tray will prove a handy spot to place a cup of tea and a book of your choice!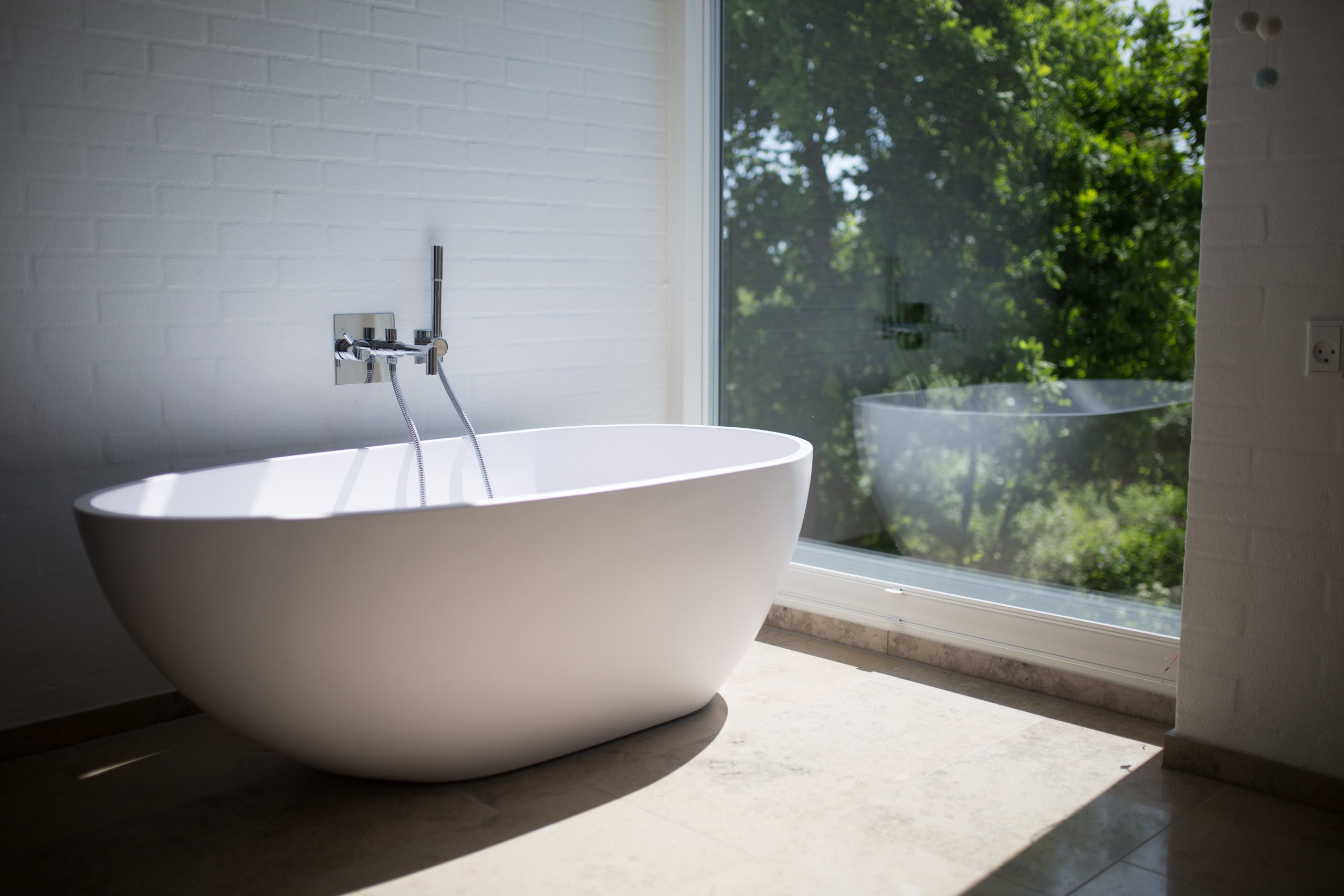 4. Repurposed timber
Why buy an expensive brand new piece of furniture when you can purchase it secondhand and make it even better? And this classic vanity is the perfect example of this in action. It's probably an old piece of furniture that no one wanted anymore. But with a little bit of love and a lot of contemporary styling, it's been transformed into a beautiful new piece. You know what they say – one man's trash is another man's treasure! Time to start scouring the vintage furniture store!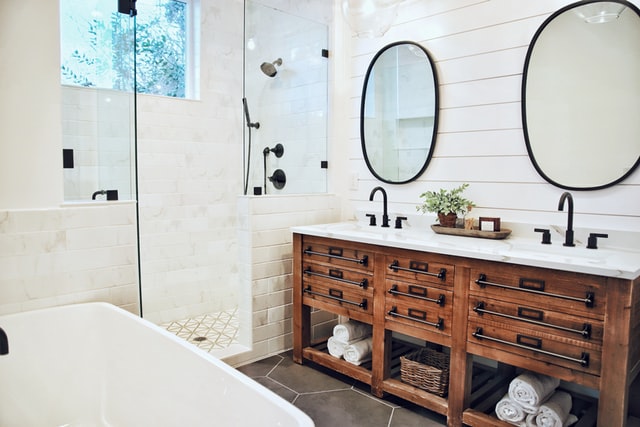 5. Black and white master bathroom
Does anything really beat black and white? This colour palette is simple yet serious. However you play it, you can't go wrong with this classic take on the master bathroom. This classic combo is so popular, that I've actually put all my black and white bathroom favourites in the one spot.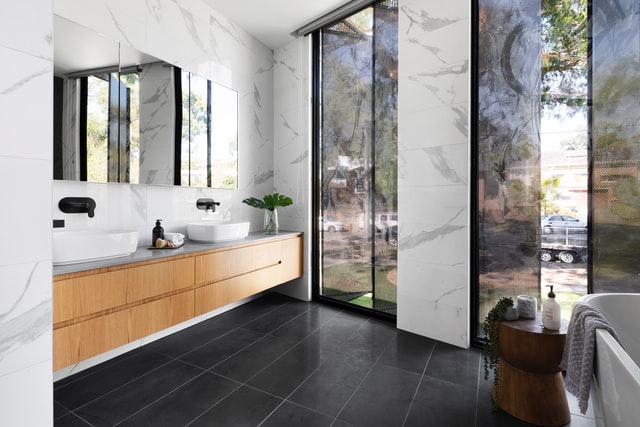 6. Double vanity master bathroom
If you share your master bathroom with a significant other, then you know the frustrations of fighting over the sink in the morning… or is it just me? Leave all arguments with your old bathroom when you upgrade to a practical double vanity.
7. Brass hardware
For many the master bathroom is the statement piece of the house. What better way to make a statement than the addition of some heavy brass finishes? These are great for maintaining that high-end aesthetic that makes the master bathroom just so grand.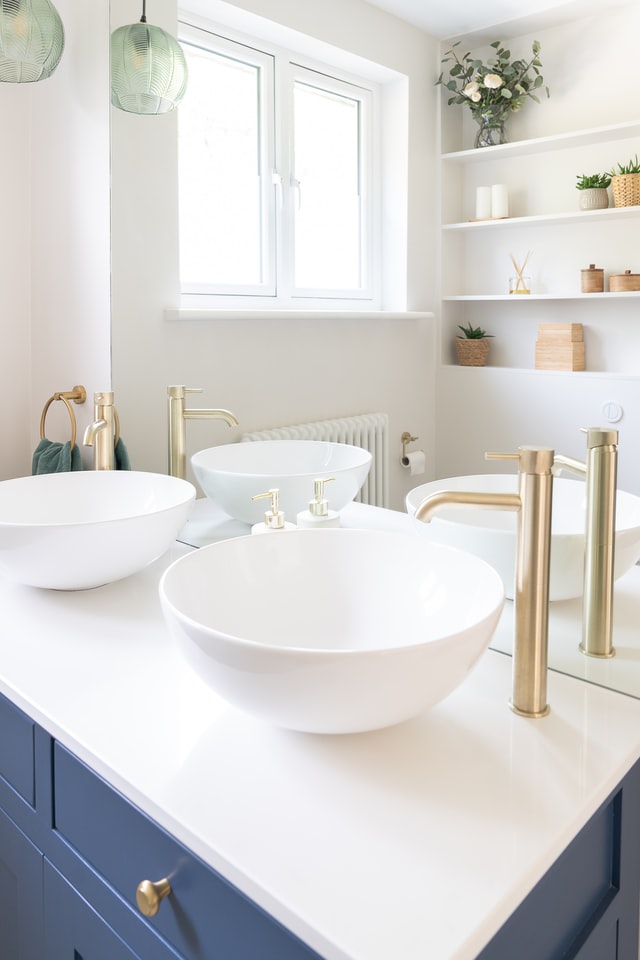 8. Exposed pipes
Take a look at the sink in this master bathroom – it's pretty cool, isn't it? I love that it's so simple yet utterly unique. And the real stand out here is the exposed pipe. It's these small touches that make a space truly special.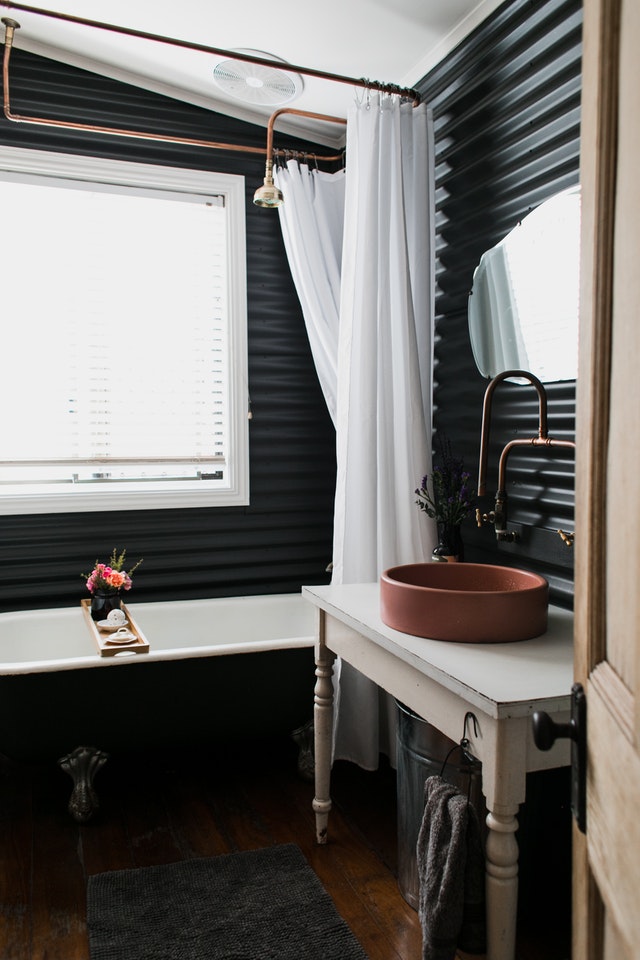 9. Bathtub master bathroom
Who doesn't love a good bathtub? It's a place of rest, peace and ultimate privacy. Wall to wall bathtubs, such as the one shown below, are a great option for those looking to maximise their space.
There are so many different types of baths that you could think about fitting into your bathroom and you can see through these different bathroom ideas what options you can have in your home.
10. Black and white
Ah, give me a classic black and white bathroom any day! This colour scheme always looks good, especially with a fun feature wall like a sleek black tiled shower wall with white grout. And don't forget to consider installing shower niches. They are indented in the wall and look especially chic framed with black edging!
11. Classic moulding
Take a leaf out of the book of the bathrooms of yesteryear and craft unique moulding into your cabinets. This is something that's often seen in kitchens but there's no reason why this style can't make its way into your master bathroom!
12. Warm timber tones
Make your master bathroom feel tranquil and calm by using natural materials. My favourite material of choice is timber – you simply can't go wrong with it. Use warm timber tones for your vanity and shelving around your mirror. And to top it off, you can weave in touches of gold.
To get a double vanity like this, you'll need to find a great bathroom cabinet maker that can help customise it for your room.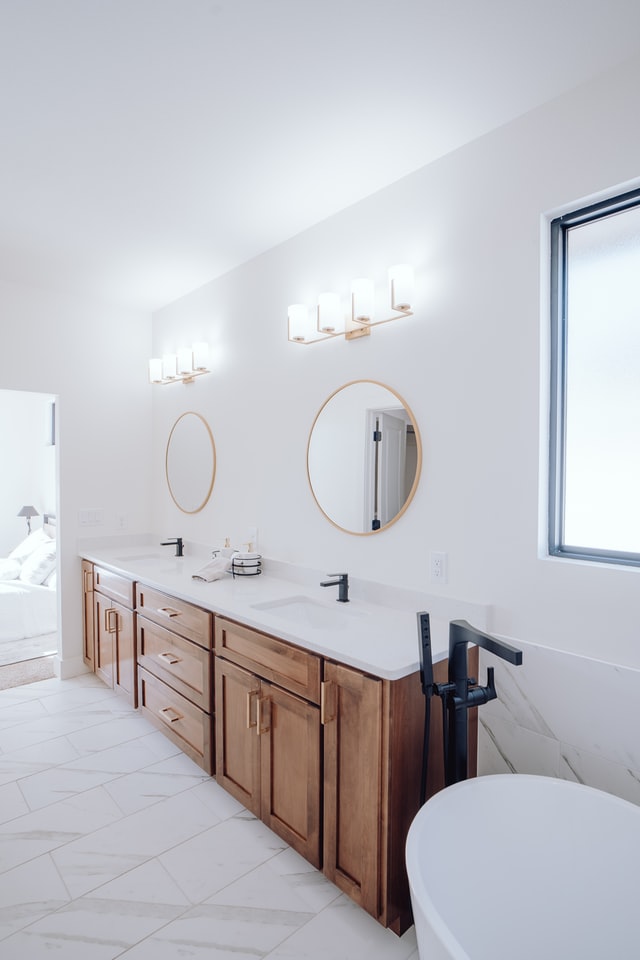 13. Square tiles
While subway tiles have been taking over the design world as the minimalist tile of choice, there are some other options that you should consider. And these simple square tiles should be at the top of your list. They are so easy to style, and they look fantastic with grey grout!
14. Glam touches
Make your master bathroom extra comfortable by adding a luxe bench seat. I bet you probably haven't thought of this detail before, but it might make a huge difference to your space! It's an especially great choice if you have any awkward open space underneath your windows or next to your shelving.
15 A room with a view
Natural light is key when it comes to creating a relaxing light master bathroom. So if you've got the room to build a large window to outside, do it! I love a gorgeous timber-framed window that lets so much light in!
16. Colour coordination
It's important to colour your bathrooms strategically. Think about your detailing and ensure colour consistency. When looking into master bathroom décor remember to always interweave your colours throughout the room (even in the smallest of items).
17. Large soaking tub
There's nothing better than a warm soak in the tub, especially after a long day at work. I mean, can you imagine coming home to this bathroom? Ahh, what a dream. Well, imagine no more… If you've got the space, install a glorious large bathtub fit with gold or silver hardware and getting ready to relax!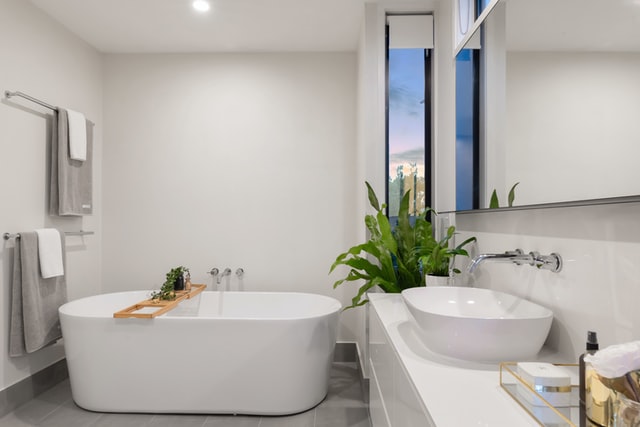 18. Simple down lighting
Don't forget to think about your lighting! It will make a huge difference to your master bathroom. Of course, there are the usual installed ceiling lights. But then there are lights like these simple white and black ones. The nature of the downlight allows the light to bounce around the room, creating a soft glowing atmosphere.
19. Strategic lighting
While often forgotten, lighting really can make or break a bathroom. What I love about this bathroom is the sheer balance between practically viable yet design heavy lights. The downlighting not only acts as the main source of light for the room but highlights the room's statement piece – the white farmhouse vanity and floor tile.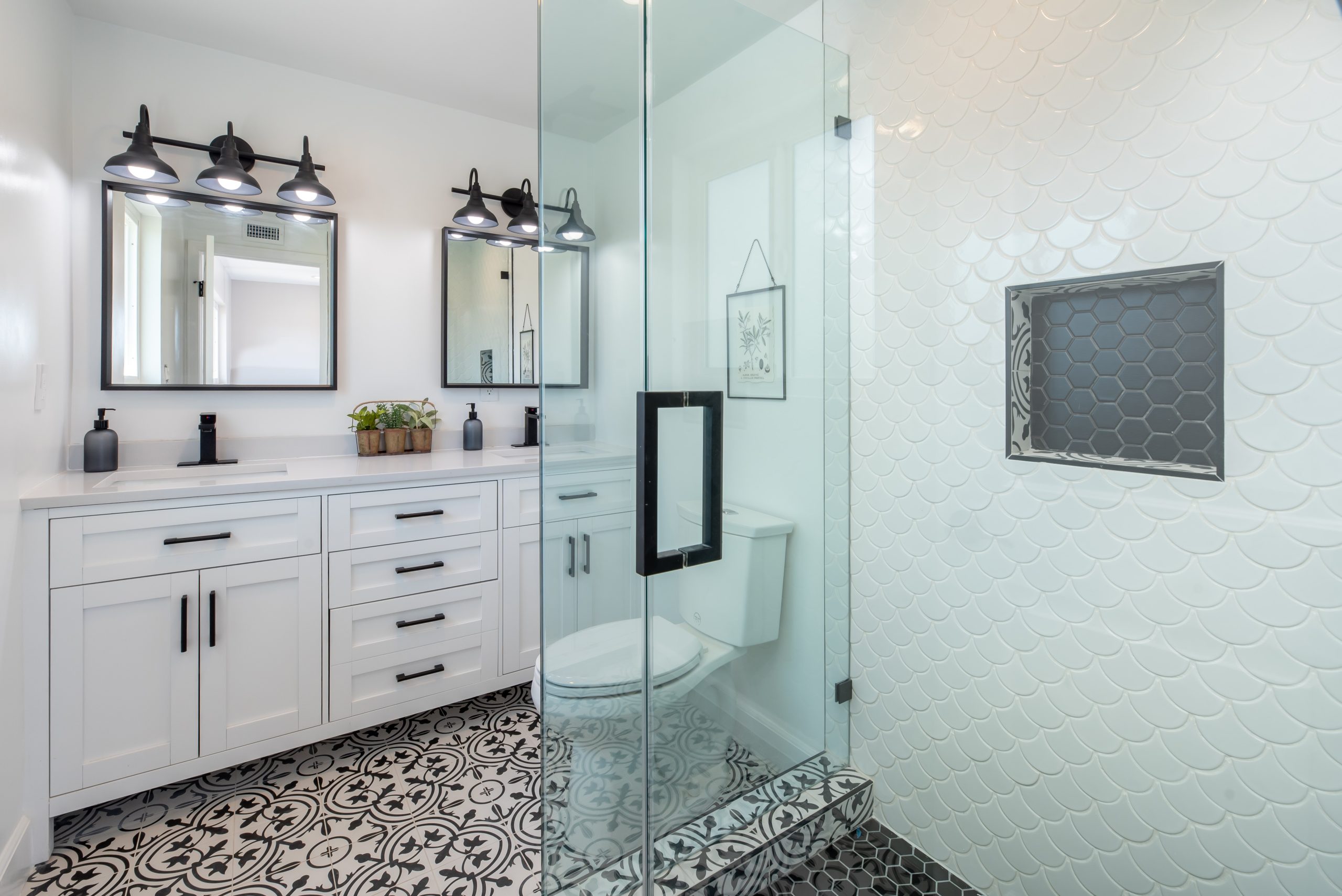 There are different kinds of lighting that you should make sure you have installed. See these illuminating bathroom lighting ideas that will work in your home.
20. Handy storage
If you have a small master bathroom, then it's really important to think about how you're going to store everything. Get smart with your storage by adding hooks to the walls for towels, installing floating shelves above the toilet and adding railings to the side of the wall.
If storage isn't something you've thought too much about yet, allow these bathroom storage ideas to change your mind.
21. Decorative wallpaper
You may cringe at the idea of lining your walls with wallpaper. Yes, it can be old and drab. But it can also be modern and fresh. Op for a blue watercolour inspired wallpaper, for example. It feels light, fresh and airy. It's a type of bathroom wallpaper that would be the perfect choice for a seaside home.
22. Classic approach
There's something about this traditional bathroom that really draws me to it! To me, this bathroom feels special. It honours the art of tradition and the styles of yesteryear. I love the mix of vintage pieces in all shapes, colours and sizes. And the warm white, grey and gold palette provides the perfect base for the architectural pieces to really shine!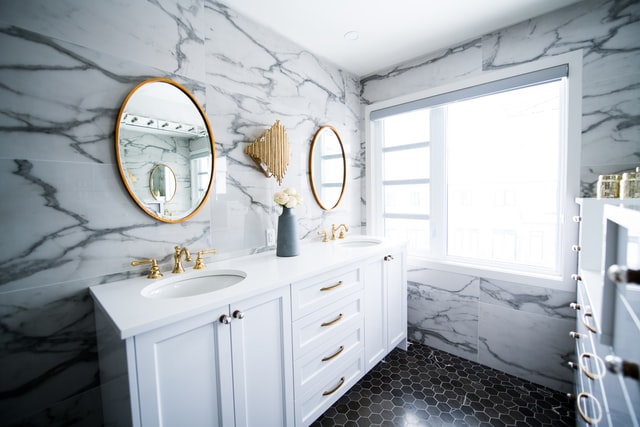 23. Bright master bathroom
Create a fancy feature wall with some bold tiles, like shiny green ones. This is one sure-fire way to inject a lot of fun into your master bathroom. And while you're at it, why not lay pretty pink-and-clay-coloured ceramic tiles on the floor?
24. Clean lines
Keep things simple in your master bathroom with clean lines and complementary décor pieces. For example, look for a vanity that is large, bold and strongly framed to set the stage for the rest of the space. You could also incorporate a beautiful rectangular mirror with rounded edges.
25. Nature's touch
Whether it's a glass doorway or just some simple plants, nature is a great way to bring life into your home. With its vibrant colours, a natural touch can go miles for any master bdathroom, especially those suffering from a colder, clinical atmosphere.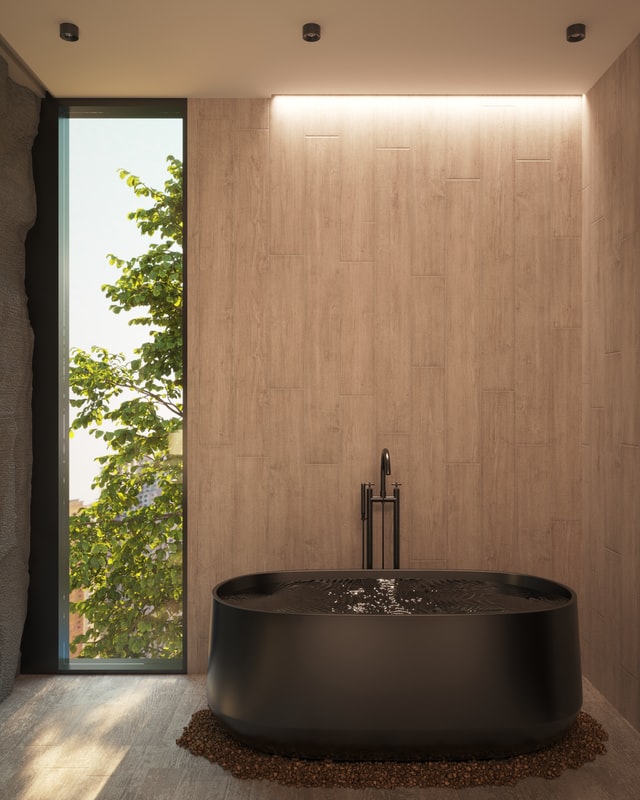 26. Modern farmhouse style
If you want to change up your existing master bathroom style but don't have the budget for a complete overhaul, the good news is that you can still do it. A modern design can be completely transformed into a country-style space with the addition of décor such as a woven basket or a vase full of greenery. Sometimes the smallest pieces of décor can make the biggest difference!
27. Warm touches
While it may be grand, no master bathroom is complete without some warm touches. It is often easy to lose yourself in the cold, clinical style of the modern white bathroom. This bathroom perfectly balances these two styles using gold-toned fittings with a vintage silhouette to bring back the warmth and character into the room.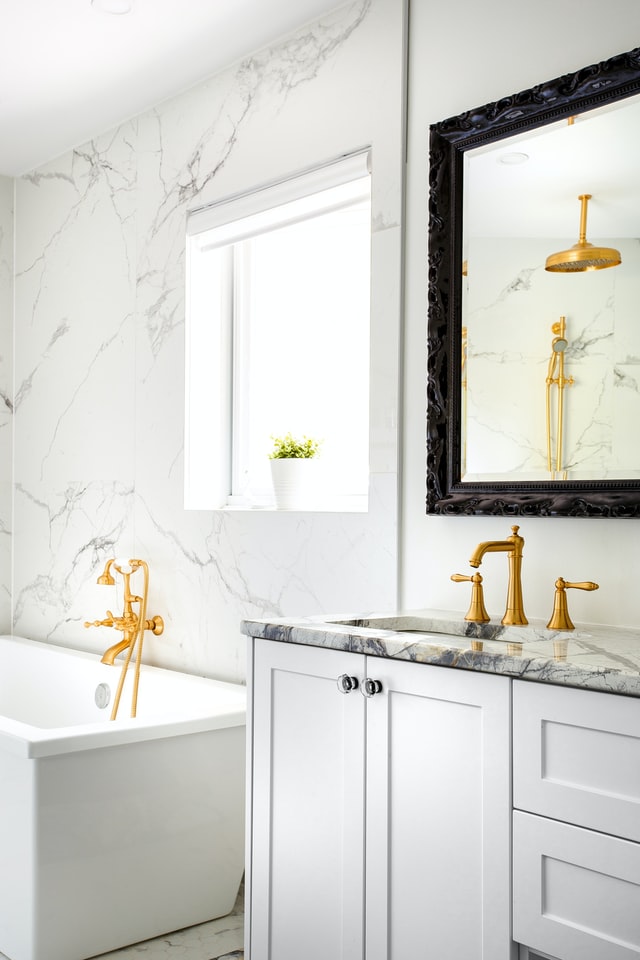 28. Interesting shapes
While choosing a mirror for your master bathroom may seem like a pretty straightforward procedure, there are actually a lot of options out there! Why not go for something out of the box, like bespoke curvy timber-framed mirrors – they're a whole heap of fun!
29. Textured tiling
Sometimes you just need a simple backdrop. That's exactly what this is about with this bathroom tiling in natural simplistic colours. Keep it clean with a basic white or black colour scheme and allow your statement pieces to flourish.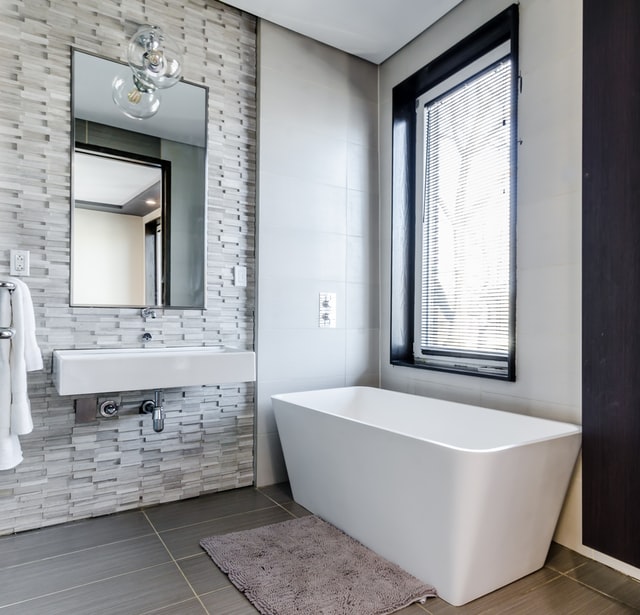 30. Rectangular wall tiles
Make a statement with a wraparound vertical subway. You don't often see subway tiles patterned in this direction – they're usually horizontal. But I like how the vertical nature of the tiles makes a bathroom really stand out.
There are so many potential tiling options so if you want to explore some more, check out these 50 bathroom tile ideas.
31. Understand your mirrors
Mirrors are a major part of the master bathroom. When implementing a mirror it's important to understand a variety of factors that may affect your space. The most important of these lies in the positioning and visual lining.
I love a mirror that spreads the entirety of the wall. This creates an atmosphere of grandeur and feels less clunky than most alternatives due to its reflective, open nature.
32. Take it to the dark side
I'm a sucker for all light, white bathrooms and spaces. And I'm obsessed with how well gold hardware works with a white colour scheme. But I've got to admit, it's totally OK to break things up with a bit of black from time to time. And this black bathroom is a standout! It really is the statement piece in this master bathroom, adding depth and contrast to the shades of white and grey. Plus, the black hardware looks great on it.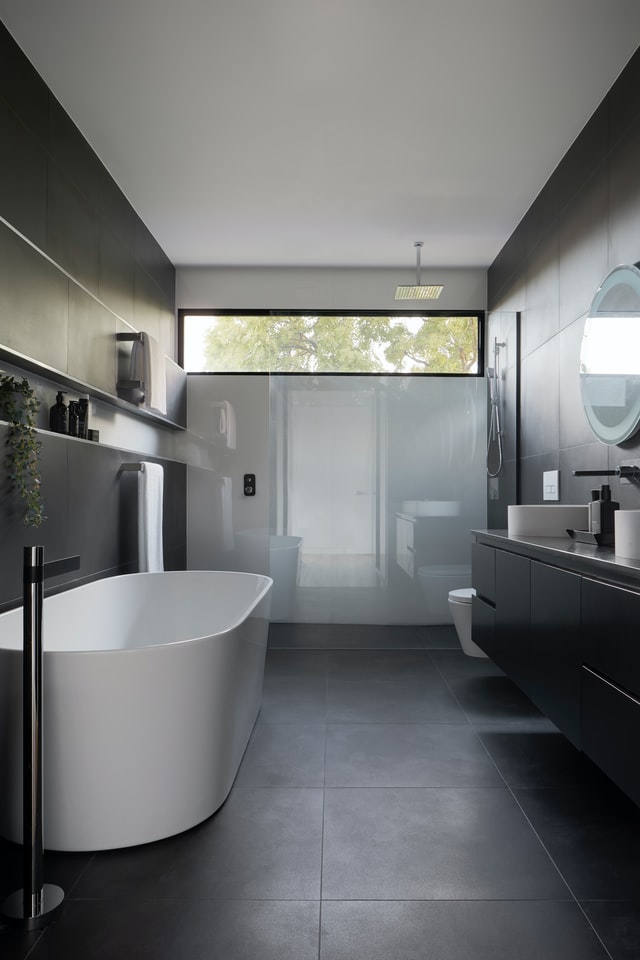 33. Green vanity
On the other hand, if you prefer to keep things bright and natural, then green is a great choice. And a stunning shade of turquoise green is a beautiful option for a vanity. But you can integrate green without having to change up your furniture. Simply fill a couple of pots with lush greenery and you're done – voila!
And so there you have it, the ultimate collection of master bathroom ideas with everything from contemporary 21st-century spaces to old school classic designs.
I hope that this has given you all the inspiration you need to create your very own master bathroom. Remember, a master bathroom isn't just a purely functional space. It's a room that should make you feel relaxed, and one that you should love to be in! So, as you design, make smart practical choices but don't be afraid to have a lot of fun with it too. Play with colours, patterns and textures for a bathroom that truly represents your personality.
And before you go, I'd love to hear from you. Which master bathroom idea did you like the best? And which design concept are you going to implement in your home? If you think I've missed something and you've got some other bright ideas, comment and share them too!