Concrete bathrooms are an increasingly growing trend in interior design and it's no wonder why… Not only does concrete suit industrial interior design aesthetic, but new modern concrete finishes has transformed concrete into a chic alternative for any style.
It's an inexpensive material which can be easily used to give your bathroom a luxurious and expensive feel. Being waterproof and easy to clean, concrete is a great option for the home and it's not at all limited in style, either. You can do almost anything with concrete to achieve your desired aesthetic for your bathroom. Whether you are going for the more traditional industrial concrete bathroom, a Spanish inspired powder room or just something minimal and kid-friendly, concrete has you covered! Plus, the masculine feel of concrete can easily be balanced with warmer textured accessories or bathroom fixtures.
While there are some disadvantages to using concrete in your bathroom; it can be slippery, cold and may stain, all of these issues can be easily resolved with the right finish to your concrete feature. So, make sure you speak to your concreting builder about the style elements that are important for you to get out of your concrete tiles, benchtop or basin.
Before you decide on how you might use concrete in your bathroom, make sure you consider these brilliant ways to use concrete in your home. You will find unique and inspiring ideas ranging from cost-effective makeovers to luxurious ideas for your new bathroom renovation!
1. Statement concrete feature
Another way to incorporate the industrial trend of concrete, whilst maintaining a soothing ambience is to minimise the concrete to just one element within your bathroom. This will not only keep your bathroom feeling fresh and not too dark, but it will also maximise the impact of your chosen feature; think concrete bathtub or basin!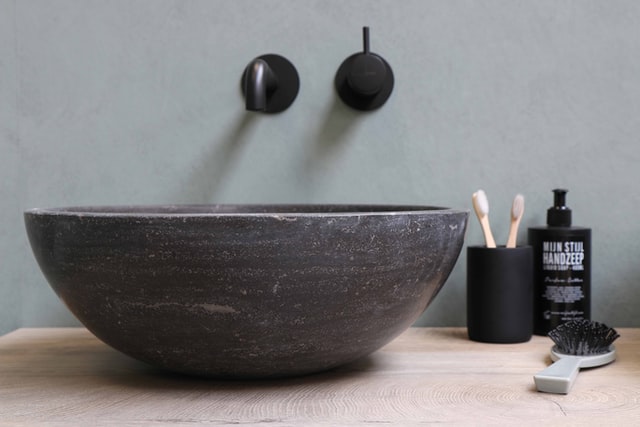 2. Paint it
Most people think grey when they consider using concrete in their bathroom. However, mixing paint into the cement mixtures can create a whole new vibrant and unique feature in your bathroom. This matte burnt orange basin is a perfect example of concrete done differently!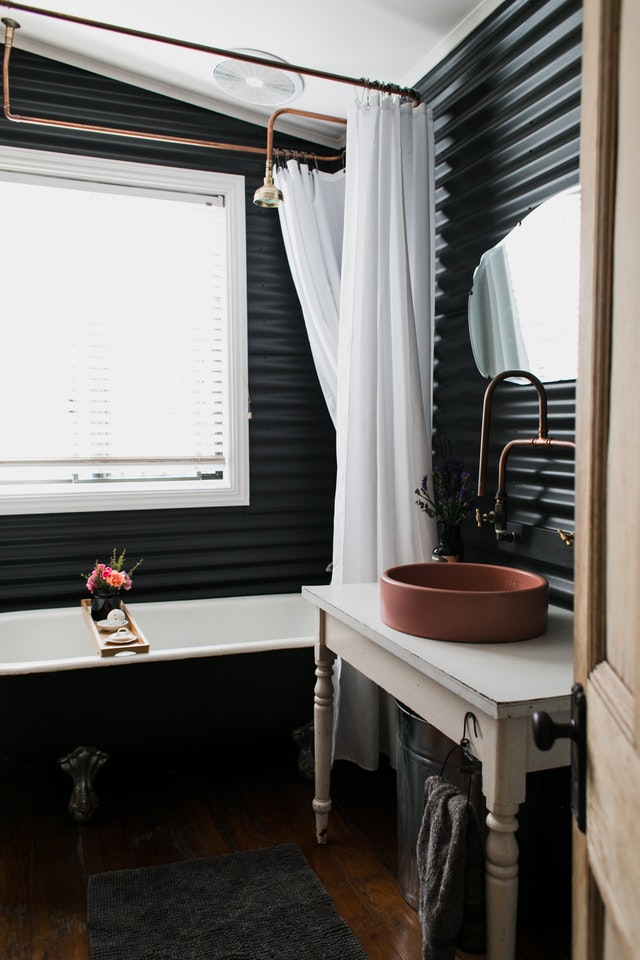 3. Use brown tones
Concrete can come across as quite masculine, so in order to avoid your bathroom feeling like a man cave, pair your concrete features with shades of natural brown. For example, clay is a beautifully organic way to do this; think clay tiles or a large oversized clay basin to bring a touch of femininity.
4. Balance with brick
Another way to incorporate some warmer shades is to balance your concrete feature with a brick feature! This is very on-trend with an industrial designed home. You could do a whole wall or even just half a wall depending on how much of a statement you were willing to make! Leave the bricks unpolished for a really inner-city vibe!
If you're after more industrial ideas, here are our favourite industrial kitchen designs.
5. From top to bottom
Finding it difficult to match tiles? Why not keep it simple and go with cement all over to create a minimal industrial vibe in your bathroom. One way to achieve this is through using a thin cement plaster that can be used on any interior wall. This will create an elegant and grounded space for your morning and evening bath time rituals.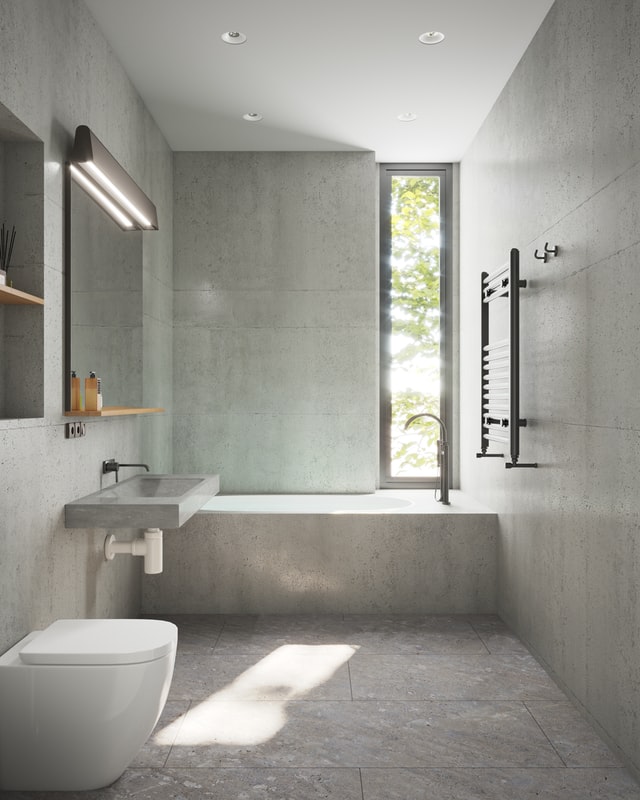 6. Terrazzo concrete
Spice your concrete finish up a little with a terrazzo style finish. This means that there are chunkier bits left in the concrete so that when it is polished, a beautiful pebbled surface is revealed. Terrazzo can come in many different styles and colour variants so which makes it easy to choose one that flows nicely on from the rest of your house. And for a cost-effective alternative, there are also terrazzo tiles that can be used on floors and walls.
7. Square subway tiles
Nothing loves a cement bathroom more than a subway tile. It's a minimalist style which creates a stylish, yet blank canvas for any home. Mix and match out your bathroom towels to add whatever flavour you want to your concrete bathroom, or keep it neutral as it is super stylish on its own!
For more tile inspo, here's our most-read article on top 50 bathroom tile ideas.
8. Balance surfaces
The key to achieving a successful concrete bathroom is always going to be balance. Using concrete as a surface can sometimes come across as too cold if it is not balanced with the right accessories. This contemporary concrete tile bathroom is balanced beautifully with the warmth of some bright yellow bulbs.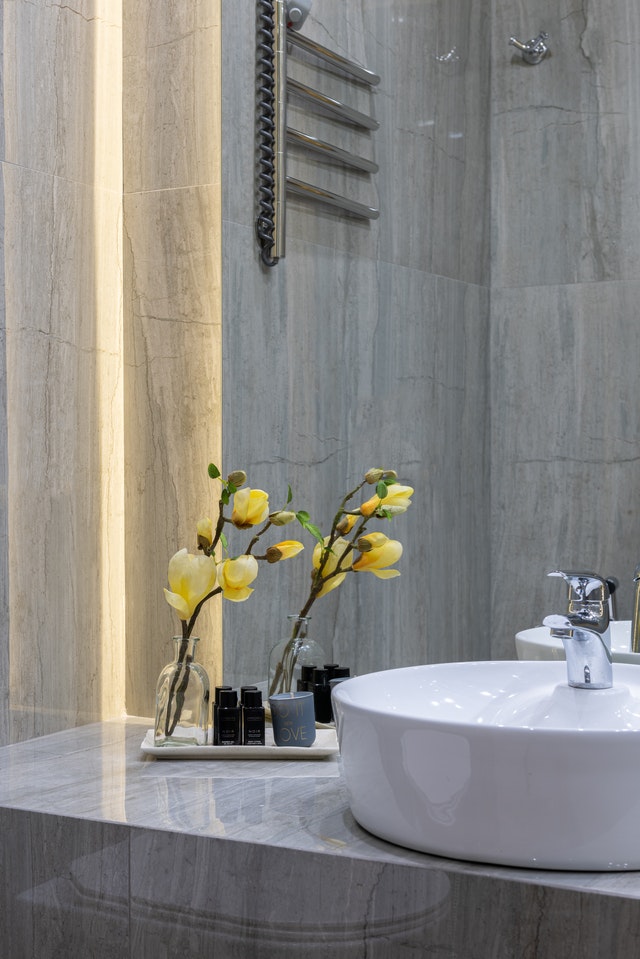 9. Beautiful arches
Patterned tiles are not the only way to play with shapes in your bathroom! Couple your concrete sink with an arched doorway or nook in your bathroom wall to create a French provincial vibe. A nook is also another way to display some unique items that give your bathroom personality.
10. Playful geometry
Another way to add a bit of personality to a minimalist all-over concrete finish is to get playful with other lines in your bathroom. Think outside the box! Where can you round out an edge that would normally be sharp? This will help to create a point of difference in your bathroom.
11. Utilise natural light
Another way to keep a concrete bathroom feeling fresh and tranquil is to utilise all the natural light you can. If possible, think about installing a large skylight in your building plans or keep window dressings sheer and breezy.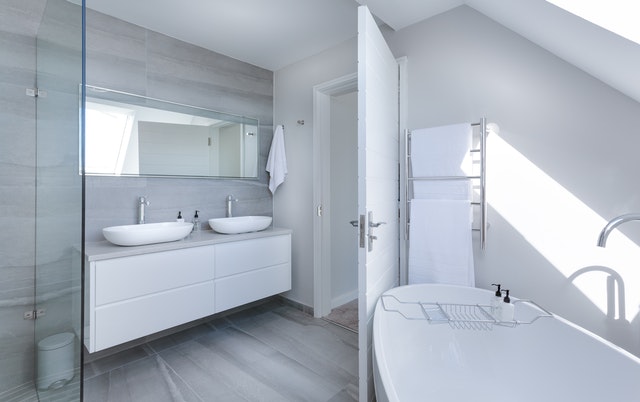 12. Rough it up a little
Not all concrete needs to be polished! Leave the edge of your concrete basin raw and a little bit rough. This will create a more natural, earthy feel in your bathroom. It is also a way to be a little bit unique when incorporating such a popular trend into your home.
Vanities are something that you can renovate easily for maximum impact, why not take a look at some of the best bathroom vanity ideas we've found.
13. Pebbles and concrete
Create a resort vibe in your home by combining pebbles and concrete for a natural feel. Create a space using smooth pebbles etched into the walls and simple concrete flooring. And it'll have you feeling like you're on a tropical island!
14. Accessorise with cement
Not feeling bold enough to incorporate the cement trend permanently into your home? Why not try incorporating it into your bathroom accessories. It's also a way to embrace the trend without spending thousands on a whole bathroom renovation.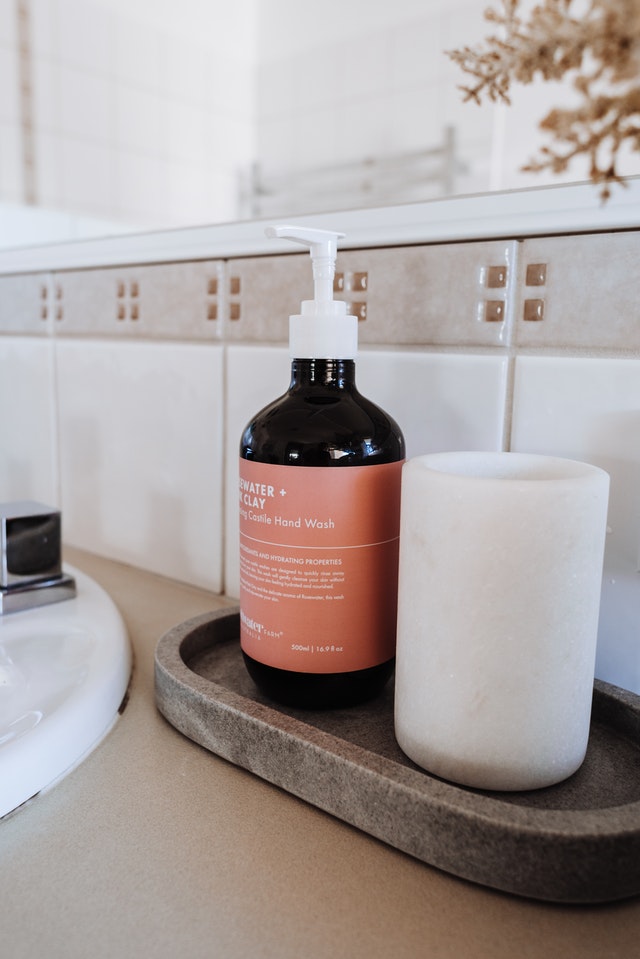 15. Go to the dark side
Don't be afraid to go with a darker coloured concrete than you might normally consider. Dark colours in a home can be quite soothing when paired with enough natural lighting and the right fixtures. Think skylights, candles and textured towelling. It will also help hide any mess between cleans!
16. Floor pebbles
Pair your cement tiles with a pebbled floor to create an outdoor-in feel in your bathroom. Not only do the cool pebbles pair beautifully with the earthiness of the cement, but they feel great under your feet. Pebbles will add texture and detail, without overpowering what could otherwise be a quite neutral and minimal space.
17. Marble and cement bathroom
Love cement tiles, but also love a marble herringbone? The large and gorgeous cement bathroom tilinghere are complemented wonderfully by the marble herringbone tile on the feature wall in this bathroom.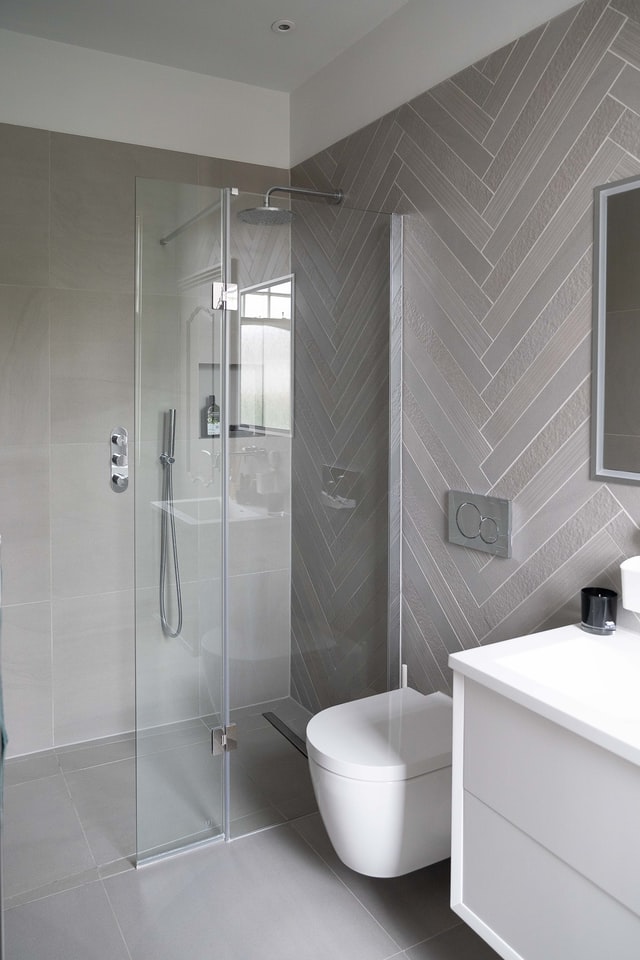 18. Take it outdoors
Who said outdoor showers were reserved for holidays only? Take your concrete bathroom to the outdoors through an open ceiling over your shower. Concrete is a great material to make this dream of yours happen as it is easy to clean and maintain!
Here are plenty more bathroom shower ideas if you've suddenly been inspired to re-do your shower.
19. Moroccan concrete bathroom
Combine a concrete basin with patterned tiles for a fancy backsplash. And leave a jagged etch for a little extra detailing.
20. Hardwood
Another way to balance out the coolness of your concrete feature, is to go with some beautiful natural materials like hardwood in other areas of your bathroom. If you have hardwood throughout your house, why not use as your bathroom flooring too? Speak to your builder about waterproofing options you have.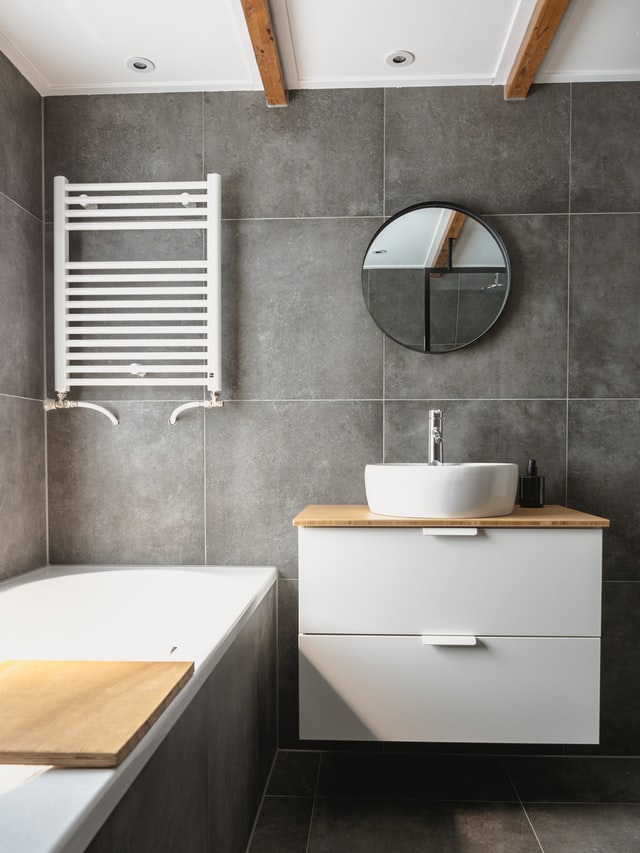 21. Open it up
Open planned living is a trend that isn't going anywhere fast! Who doesn't want to feel unrestricted and free in their own home?  Especially the master bathroom! One great advantage of cement in a bathroom is that the waterproof flooring can flow into the rest of your home for continuity.
22. Concrete sink
Rose-coloured anything is a beautiful thing! And how cool is a rose red concrete sink? A colour like this will add warmth into any space, especially if it's otherwise cool like a cement heavy bathroom.
23. Don't forget your greenery!
Every modern bathroom needs a bit of greenery. Bring your cement bathroom to life with a hanging pot of Devil's Ivy, or place a healthy Peace Lily or luscious Orchid on your basin to finish off your room. The addition of plants will make you feel calm and peaceful while adding extra oxygen so you can breathe easy.
See what the best bathroom plants are for your climate, space and style.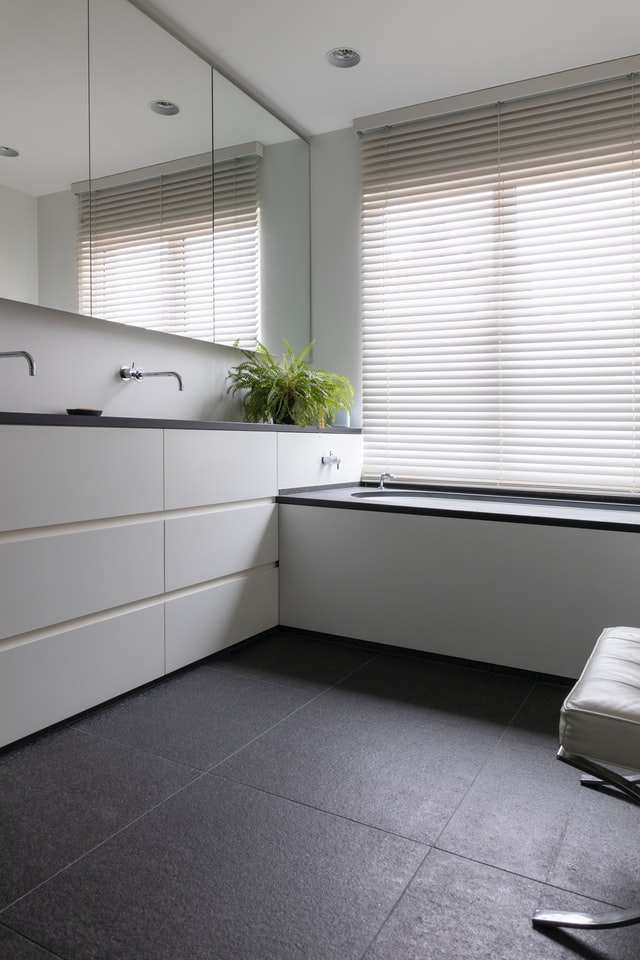 24. Paint it white
Ever wanted to escape to the Greek Islands? Why not let the luxury of Santorini spill into your home through a white-washed concrete bathroom? Creating the whitewashed concrete look in your bathroom will fill your home with serenity and romance. You will want to spend hours pampering yourself in your white concrete bathroom.
25. Minimal artwork
Bring a cool urban vibe to your cement bathroom with some minimalistic artwork. Think black and white line drawings and simple patterns in matching or mismatched frames. On a budget? Have a go at creating some art yourself and bring your own personality into the room! Almost anything can be considered art these days, the quirkier the better!
26. Luxurious marble
Add an element of glamour and luxury by pairing your concrete tiles with some elegant marble. To maintain a moodier bathroom, go with a darker marble with some beautiful veins to add a little bit of unique detail. Alternatively, lighten up your concrete bathroom with a bright nude or white marble. You really can't go wrong with marble!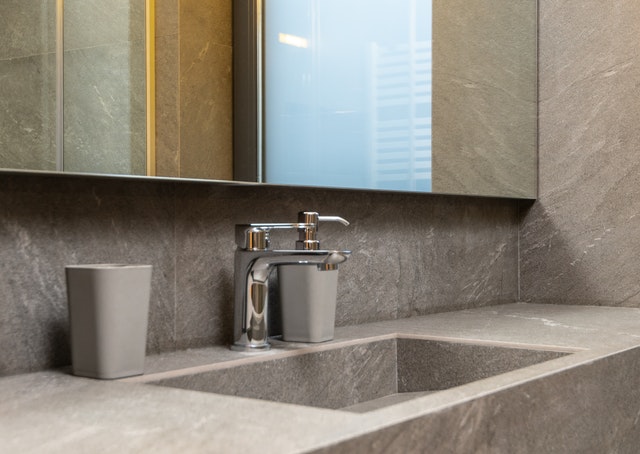 27. Go Boho
Who said you can't mix genres in a bathroom and end up with a well put together result? Add a splash of colour, fun and adventure with a Bohemian style rug to give your bathroom that 'well-travelled' feel.
28. Organic pendant lights
For a beautifully light and airy bathroom, opt for loosely woven artisan baskets as pendant lights. Cement bathroom flooring is the perfect base to direct your gaze upwards towards the gorgeous lighting, whilst maintaining an effortless feel.
29. Shallow basin
We love a shallow basin, it creates a relaxed yet luxury feel in any bathroom. Using cement for your basin and benchtop will allow you to choose from a vast array of depths and widths. You won't have to worry about basin overflow or splashback either and because it's all one piece, it is so much easier to clean.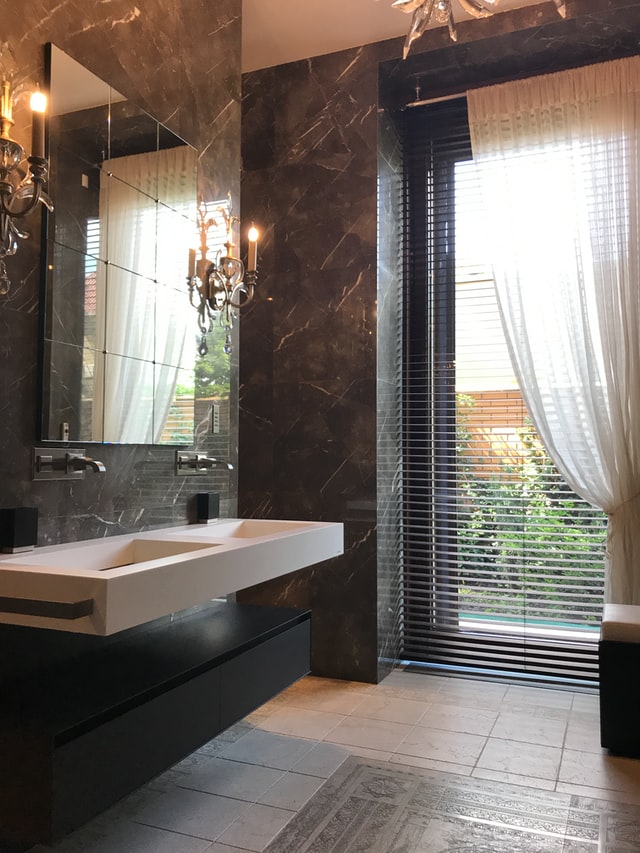 30. Blackout
We've talked about brass and rose gold fixtures… But really, you can't go past a simple matte black finish for your tapware. Again, this is a more masculine finish for an already masculine cement bathroom, but add a few fresh flowers in a glass vase to your benchtop and that masculine energy will be balanced perfectly. Black fixtures are also a lot simpler to keep clean and looking new.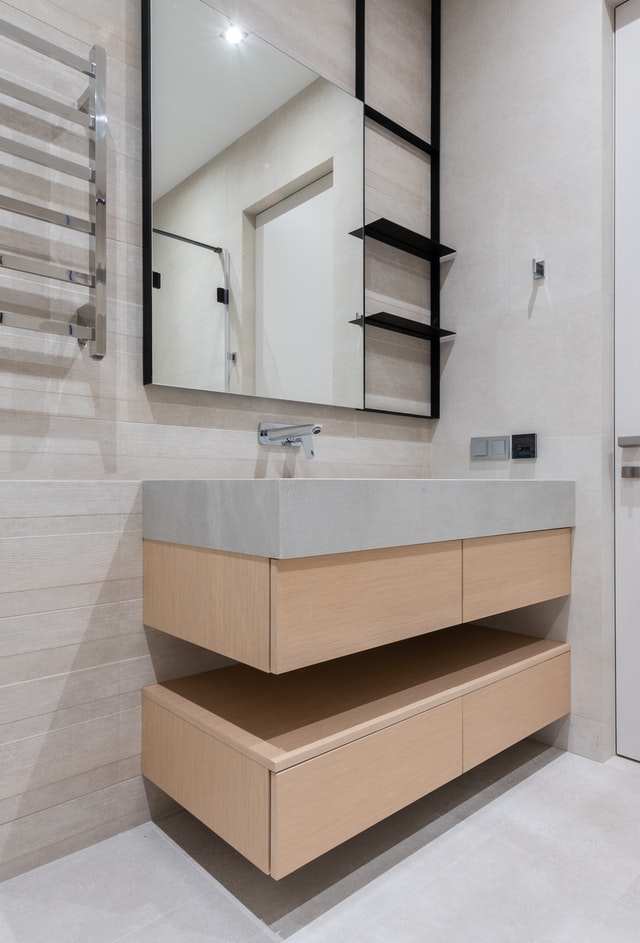 31. In-built shelving
Save space in your bathroom by building your shelves into your cement walls. Not only will this maximise storage in your bathroom in a very sleek and elegant way, but it will save on costs of cabinetry. Plus, it'll keep your bathroom feeling open, spacious and minimal.
Stack your open shelves with some beautifully textured towels and rotate through different colours to keep your bathroom looking interesting.
32. A fresh look
Now the best kind of cement bathroom (in my personal opinion, anyway) is one that maintains a fresh, light and airy feel. Using a lighter concrete for your choice of basin and pairing it with a pastel tile, like hydraulic tiles in a vibrant blue, creates a dreamy Mallorca-inspired bathroom.
There you have it – 30+ brilliant and unique bathroom ideas for using concrete in your home! There is literally a type of concrete for every kind of bathroom makeover.
I'd love to hear – which concrete bathroom ideas are your favourite? How about natural pebbles on the floor or as a feature wall? What about going to the dark side with a near-black painted concrete tile? Comment and tell me which one you liked best.