If you've ever tried to style a narrow bathroom before, you'll know it can be a tight squeeze… While you may face a few more challenges than you would in a large spacious space, you may be surprised that you can make it work well. And the trick to designing a fabulous narrow bathroom lies in how you maximise the area, ensuring you let in enough light, install nifty bathroom storage ideas and make it functional.
I'm going to dive into 35+ narrow bathroom ideas but before I do that, I want to cover off on the essentials so you can understand how this all works.
Make the most of your space
Let's start by talking about optimising your space. You can do this in so many ways but the first one that may come to my mind is combining your shower and bath. Yes, I know we've all seen those terribly old and gross shower-bath combos, but it really doesn't have to be like this. You can install a large modern bathtub and team it up with a fancy modern shower head and tapware for a great finish.
Choose light colours
Another way you can make sure your narrow bathroom doesn't feel cramped is to use light colours like white, light grey, cream, soft yellow and other neutrals. These combinations will make your space appear so much larger than it is.
Decorate, decorate, decorate
While you may not want to stuff your narrow bathroom full of too many things, a few choice pieces of decor can help. In fact, you can use small details to spruce up a tiny space without making it cluttered.
Let the light in
It's an age-old truth that when you've got a small space, you need to let the light in. So when it comes to designing your narrow bathroom, make sure you install as many windows as possible. If you don't have enough spare wall room, why not consider a skylight? It'll be sure to let the light and allow you to look up at the stars!
Now that we've set the foundations of narrow bathroom designs, let's dive into 35+ fabulous ideas. Read on to get the creative juices flowing!
1. Quirky wallpaper
Well, this is a fun option to start with! Take a look at the quirky bathroom wallpaper in this toilet room. The wallpaper itself has so much personality that you don't need to add any other pieces of decor to the space. Plus, the green sink perfectly complements the wallpaper to give a cohesive feel.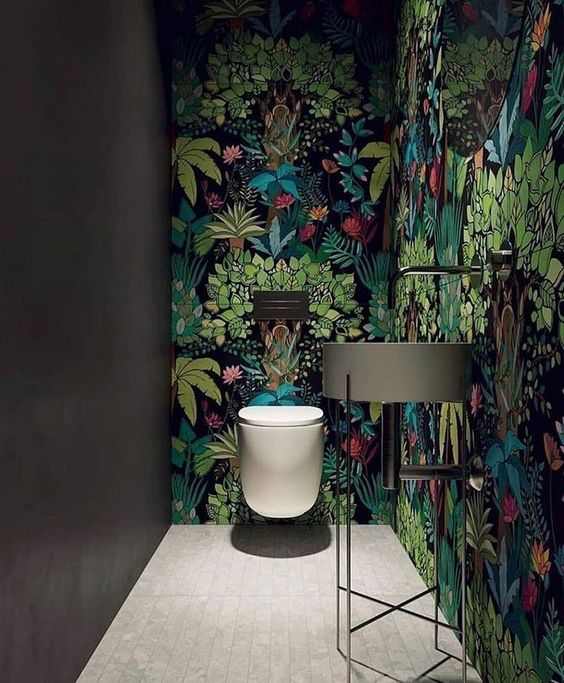 2. Minimalistic approach
This is a great simple narrow bathroom for any kind of house. As it's classic and minimal, it would be suited to most people's taste. And if minimalism isn't your thing, you could decorate this blank canvas with colourful pieces of decor, prints and other fancy items to bring life into the space.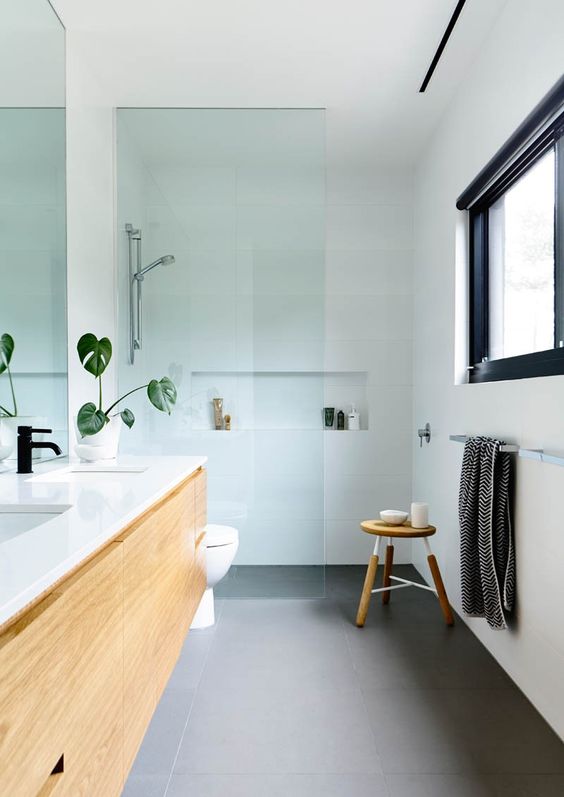 3. Grey tones
Grey bathrooms are modern and provide an alternative to the classic plain white bathroom. In this space, the dark grey painted feature wall is paired perfectly with the tiled floor and shower tiles as well as the silver fixtures. I also love the addition of the wooden storage unit that cleverly makes the most of the tight space.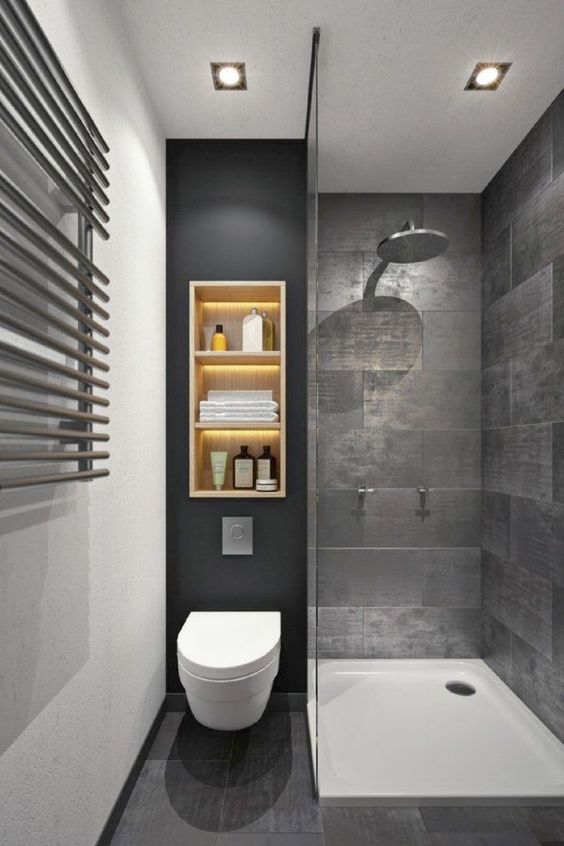 If you're a fan of grey, here are plenty of grey kitchens and grey living rooms that you'll love.
4. Skylight bright
When I build my own bathroom, I'll definitely be asking my builder to install a large skylight to brighten up the area. The skylight in this bathroom brings so much natural light into the space which makes it look clean and inviting.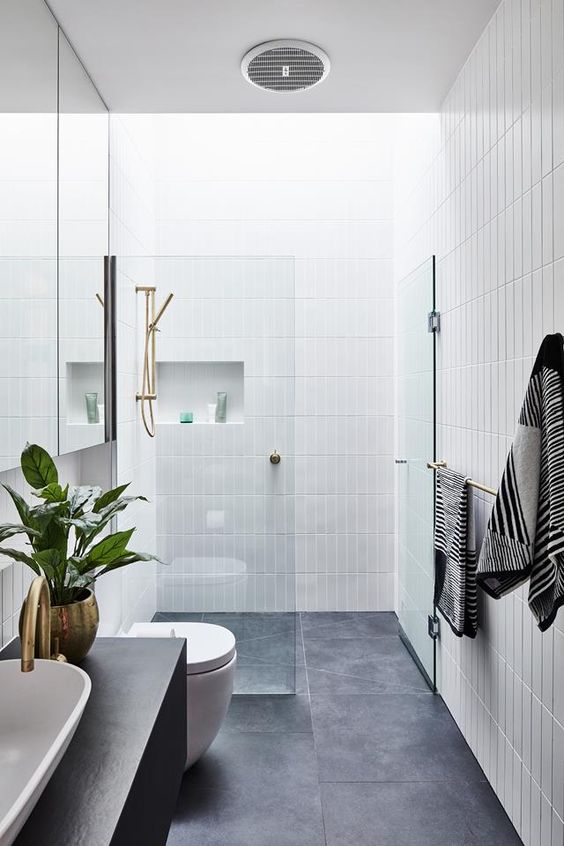 When it comes to skylights, always get your builder to help point you in the right direction.
5. Marbled magic
The marbled details in this bathroom are beautifully thought out through the tiling of the walls and table-top surface. I love how the grey accents from the marble carry through to the tiled bathroom flooring and are combined with white accents to create cohesiveness.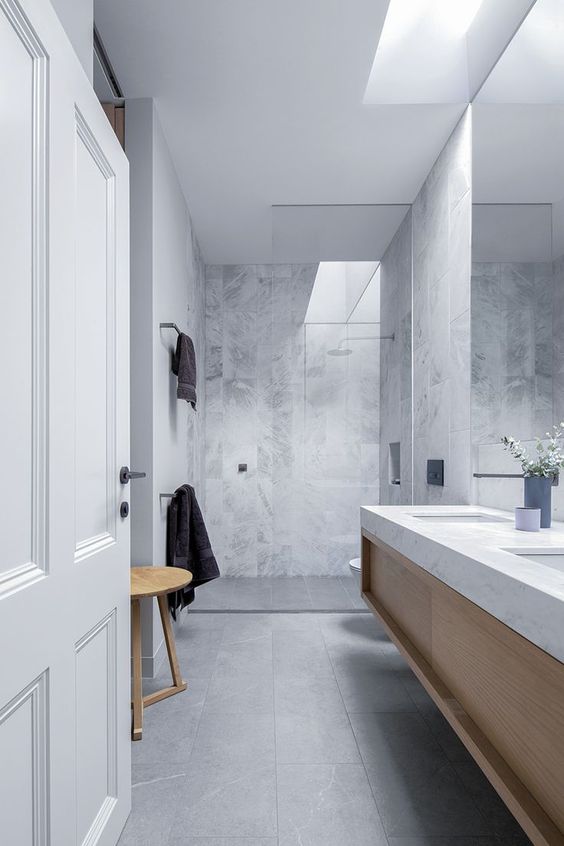 6. Herringbone blues
It is no secret that I absolutely love herringbone bathroom tiling and these blue hues are no exception. I love how the tiling makes a grand feature wall and brings a pop of colour to this narrow bathroom. This space would work perfectly as a guest bathroom as it has all the essentials!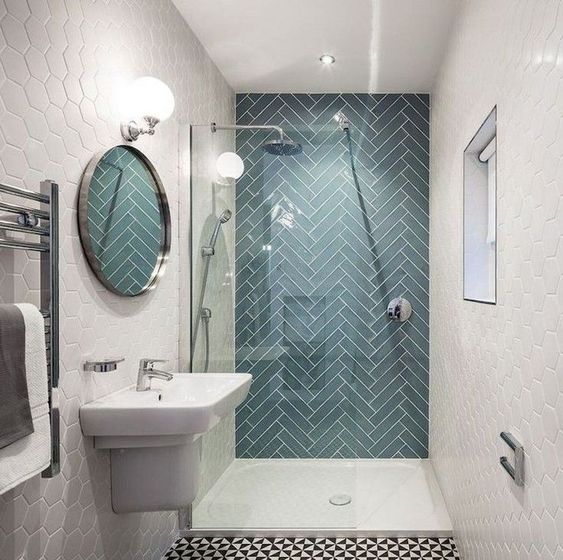 Check out some more blue bathrooms if you love the bathroom above.
7. Delicate details
The details in this bathroom are very delicate and elegant with the chandelier fixture, white orchid sitting on the window sill and marbled tile on the floor and bath area. The designer of this bathroom has strategically placed the bath, vanity and toilet so that everything you need is all in the one place.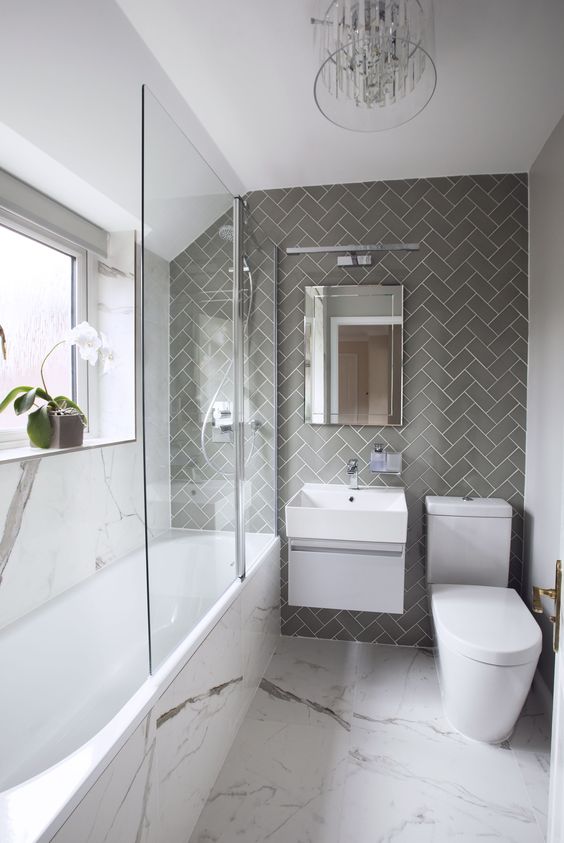 8. Black fixtures
I love how black fixtures have been used in this narrow bathroom to frame and draw attention to the right areas, which detracts from how small the space is. The rectangular black shower screen draws your eye to the shower area which makes this bathroom seem bigger than it is. Plus, I love the large oval mirror – this helps to bounce light around the room.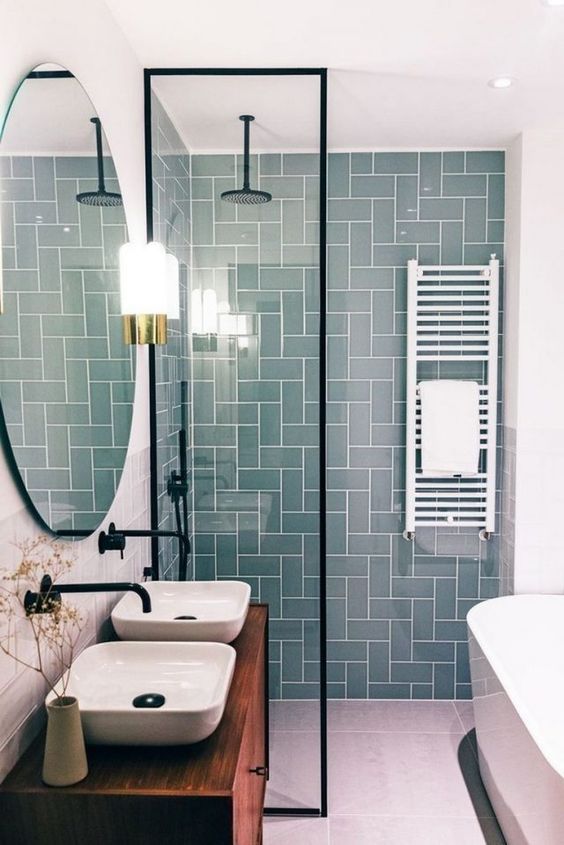 Want more dark colours, here are some black and white bathrooms and industrial bathrooms.
9. Power to the pewter
This bathroom combines tones of grey and pewter to bring an urban touch to this slim space. If you're wanting to recreate this design, consider installing a solid wall between your bathtub and the toilet area for privacy and better aesthetics.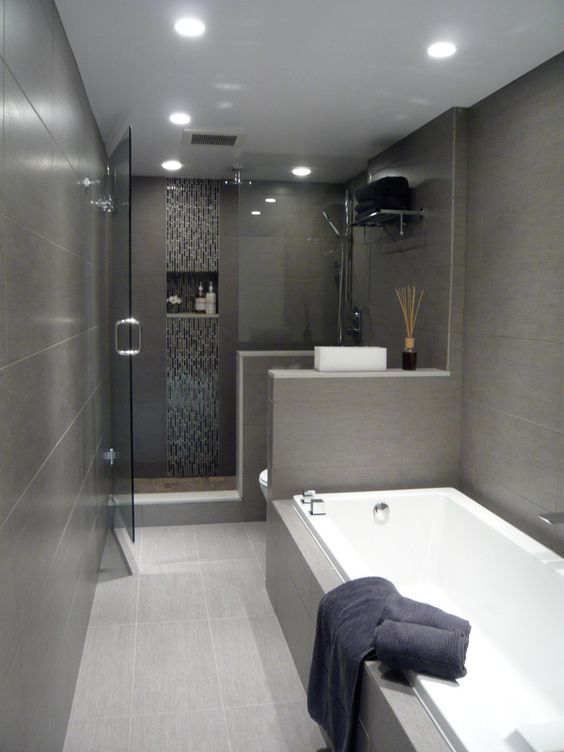 10. Seating in shower
What a fabulous idea to have a little seating area in the shower. A bench like this can be used as a shelf or even a place to prop your leg up while you're shaving. Plus, the floor to ceiling tiling makes the room look more spacious.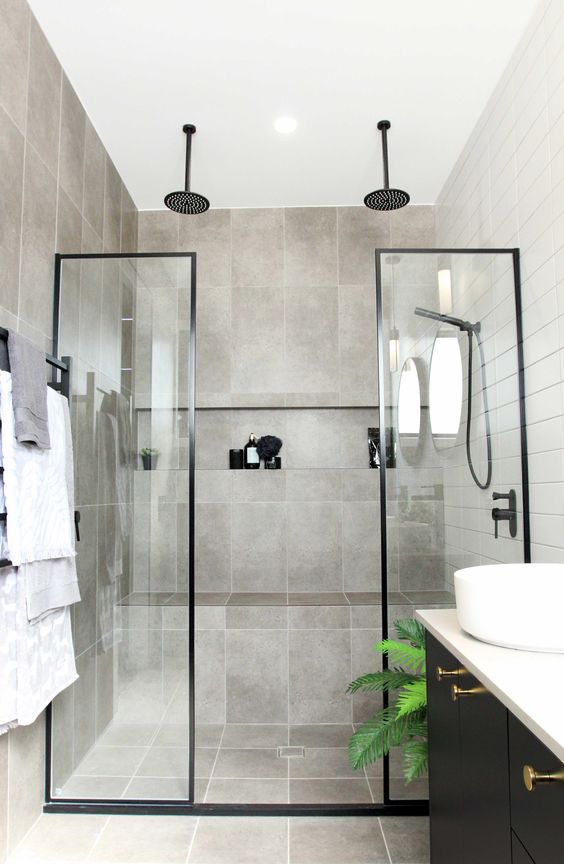 11. Small space
This small space has everything you need – a toilet, tub, shower, sink and storage. The different textures from the various bathroom tiling add a bit of interest whereas adding a vase of bright flowers really brightens up the space, making it feel more homely.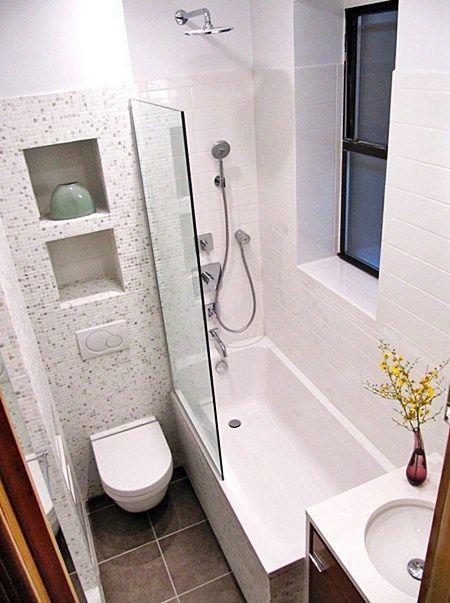 12. Wet room
Making your bath and shower a 2 in 1 will save space, especially if you have a small area to work with. This contemporary bathroom design makes use of the high ceilings by adding wooden planks so that your eye goes to the high ceiling rather than focusing on the small space. The addition of a glass screen also creates the illusion of a larger area.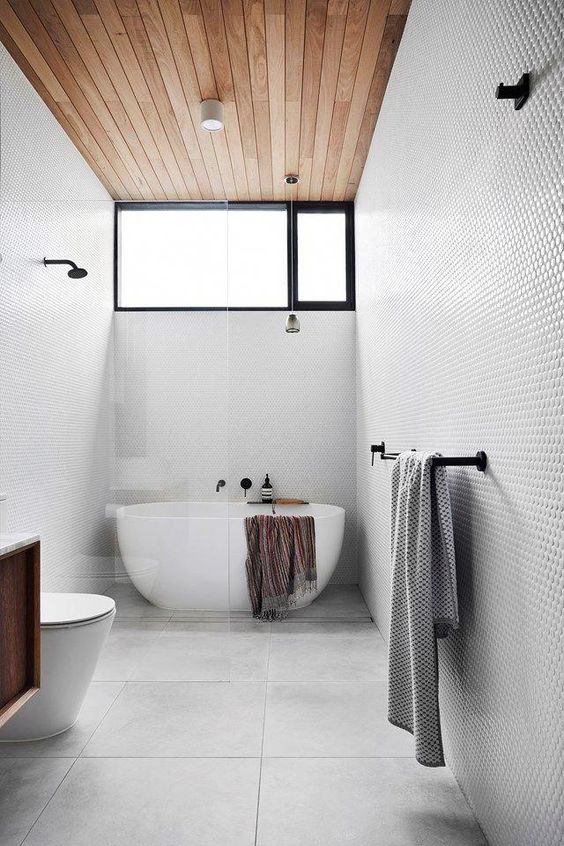 13. Ceiling space
This pointed ceiling is a standout feature in this space. I love how the bathroom is mostly white with wooden accents. And the choice of gold for the fixtures really makes the overall space pop. Plus, the greenery dotted around the room makes the space feel more natural.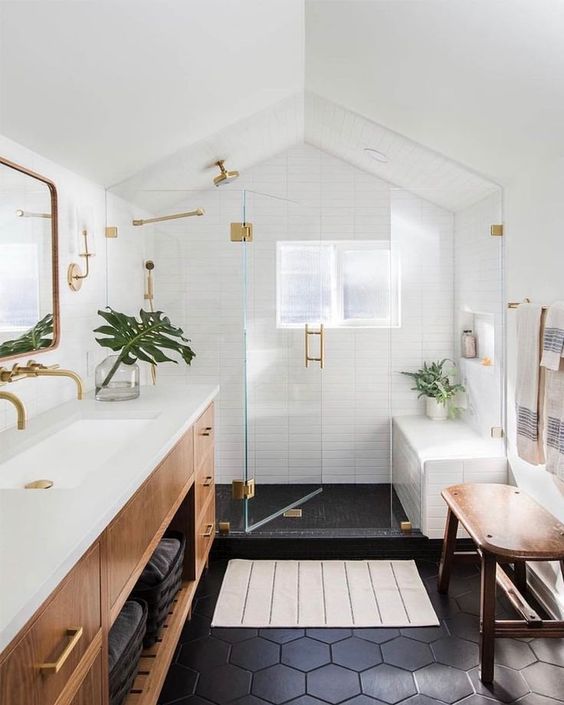 14. Wooden textures
I love when natural elements are used, especially when wood is the hero piece. This narrow bathroom utilises wooden-look cabinetry, a mirror frame, lampshade and a towel rack that also features towels that are light brown to match the other timber details.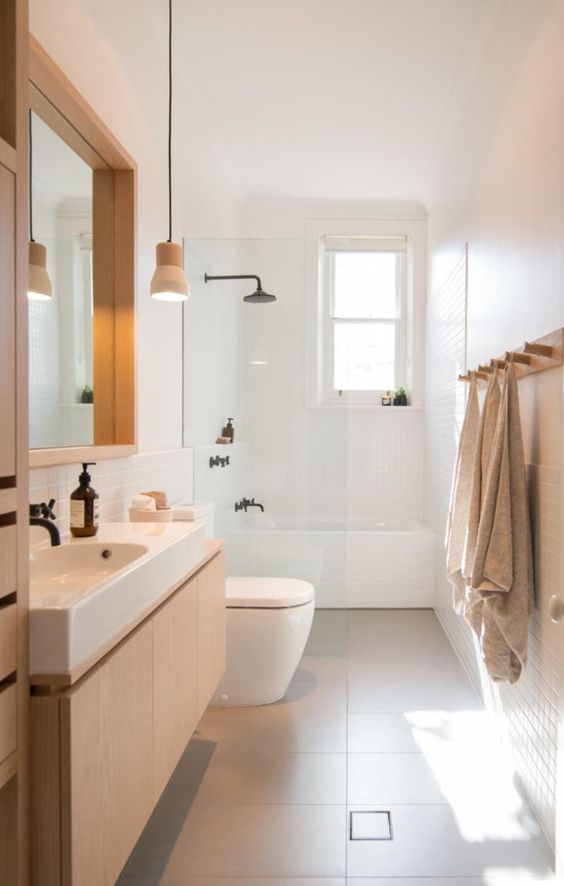 15. Towel storage
This elegant bathroom is classy and clean. I especially love the towel storage with the towels rolled up, making this bathroom feel like a hotel. The addition of the flowers along with the green soap add colour and bring vibrancy to this space.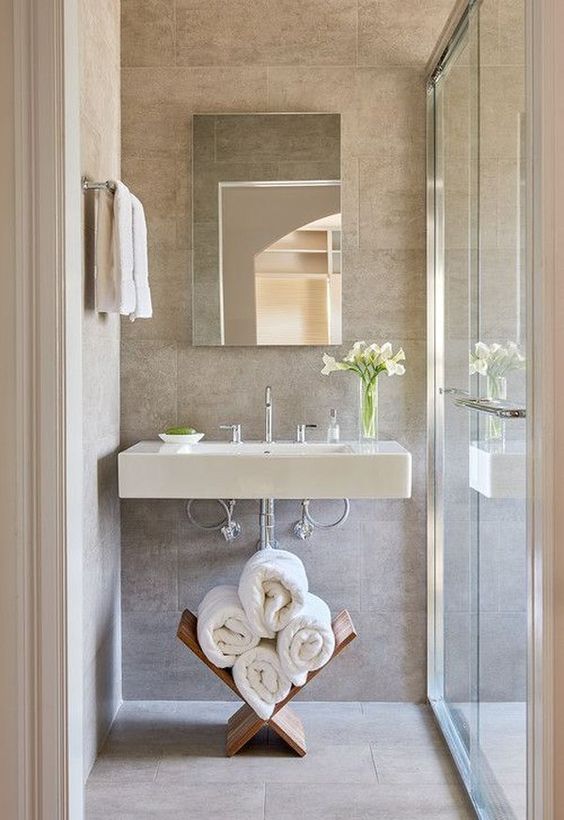 16. Clean and bright
Here is another bathroom that has a skylight installed. Using a skylight brings natural light into your space without you having to turn the lights on and use electricity. The light beaming in makes this bathroom seem clean, bright and bigger than it is.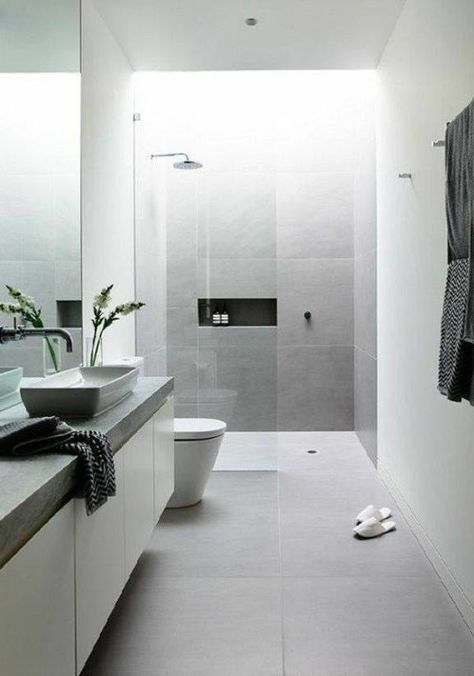 17. Creative tiling
The tiling in this shower room is such a fantastic feature with the black and white pattern that is almost reminiscent of a trendy rug trailing through the corridor. This whole room is a shower room with two shower fixtures hanging from the walls and one in the middle of the ceiling. Plus, the addition of greenery is a nice touch. And – plants like this are sure to thrive from the water and steam created by the shower!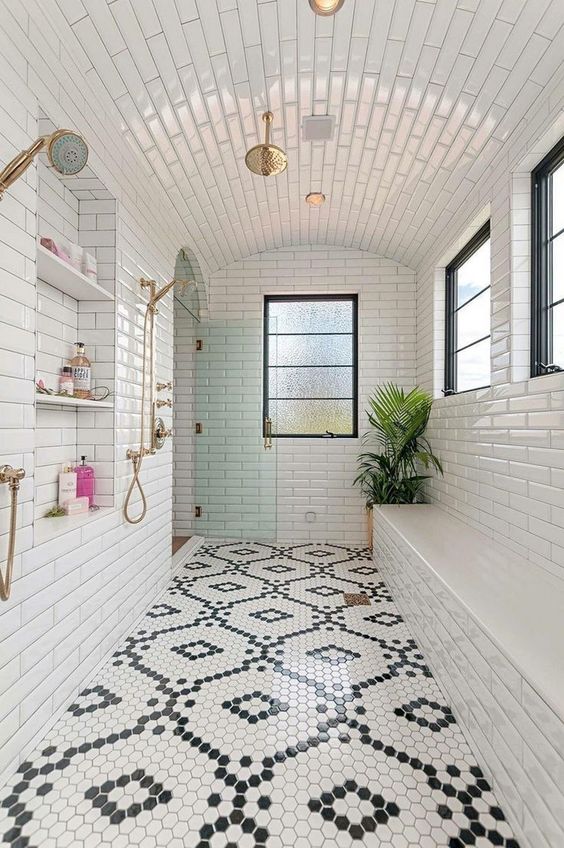 18. Streamlined surfaces
All the surfaces in this bathroom are extremely streamlined and minimalist with the angular edges and no-fuss approach. Plus, the mirrors with built-in storage are a great idea as you can store all your bathroom essentials behind them rather than cluttering your surfaces.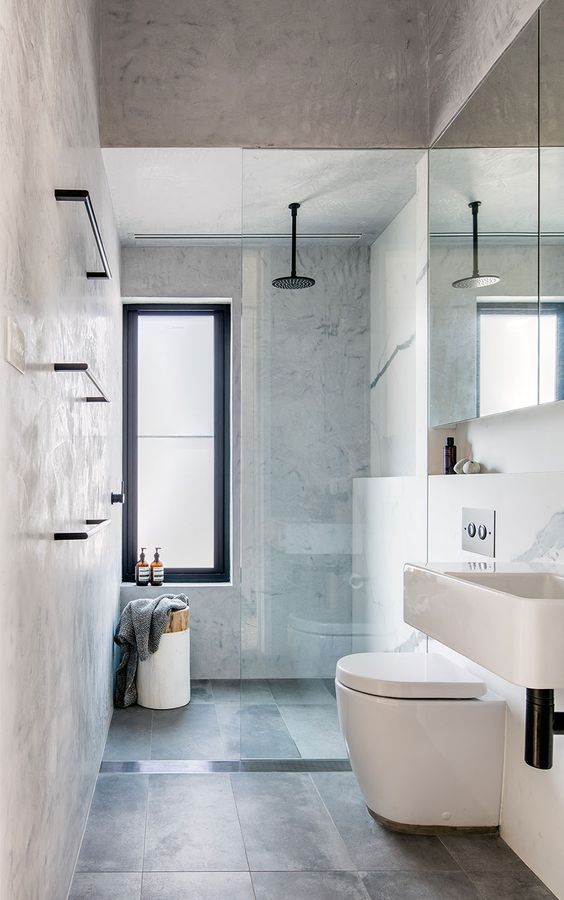 19. Moroccan mix
The tiling used here really gives this bathroom a Moroccan feel along with the ornate mirror that reminds me of one of those glorious and extravagant doors that you would find in Marrakesh. The black-framed details on the shower screen, mirror frame and tap fixture bring the two areas together nicely.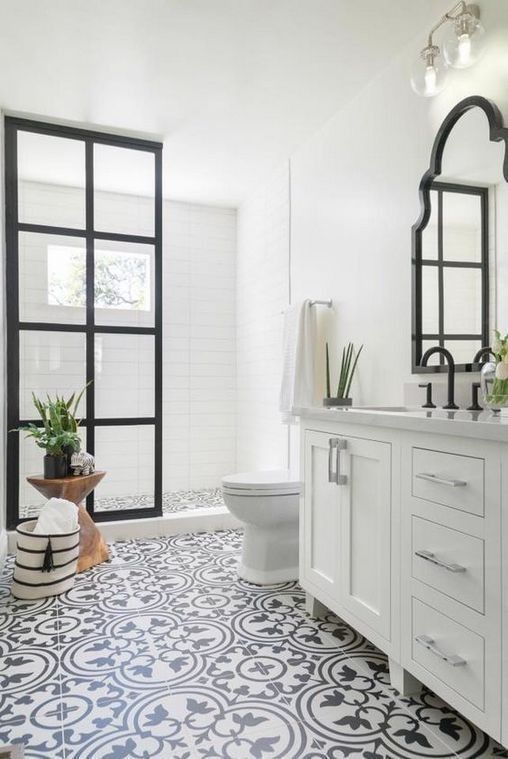 20. Pretty in pink
Without the pink details, this bathroom would probably be an ordinary-looking bathroom. However, the feminine touches in the curtains, robe thrown over the ottoman and beautiful flowers really bring a girly feel to this bathroom. By making small changes with your decor, you can seriously change the whole feel of your space!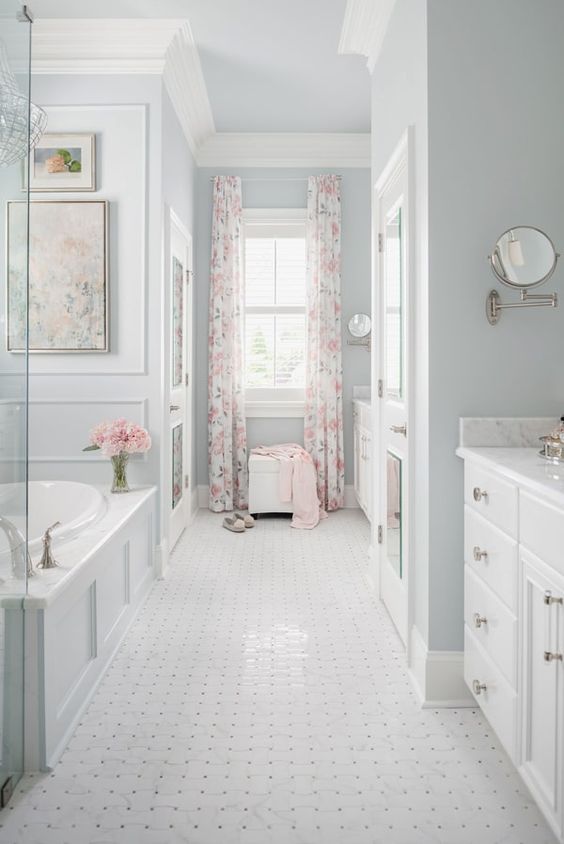 21. Homely meets trendy
I love the creativity of this narrow bathroom. If you look at the top of this picture, you'll see that the builder has cut into the attic space making a feature with the roof. The extended roof makes the narrow space feel so much larger. And I love the homely details of the plant and products, which are paired with the on-trend brass fixtures and stone-look tiles.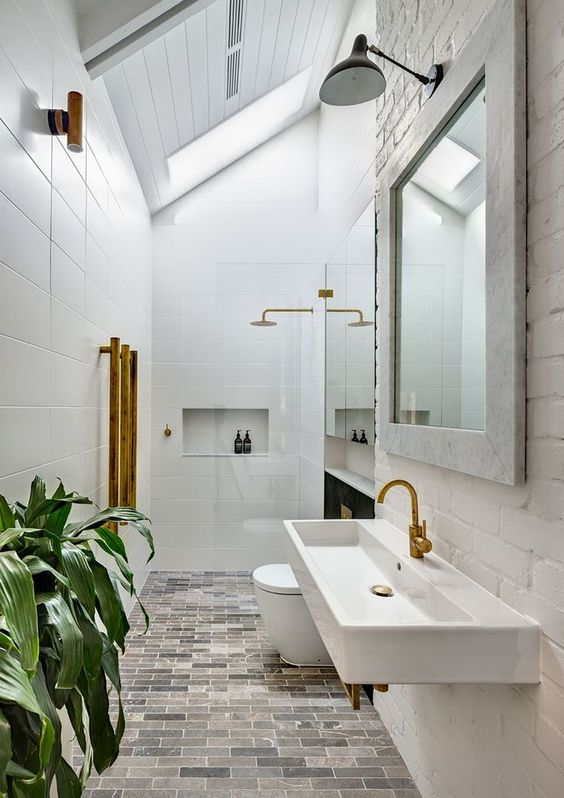 22. Textured details
The addition of textural details will make any space that little bit more interesting. There are many textures and patterns going on here. First, there's the wooden cabinetry, then there's the fancy patterned tiled floor, then there are the brick-like tiles in the shower area, and lastly, there are the white horizontal rows in the main bathroom area.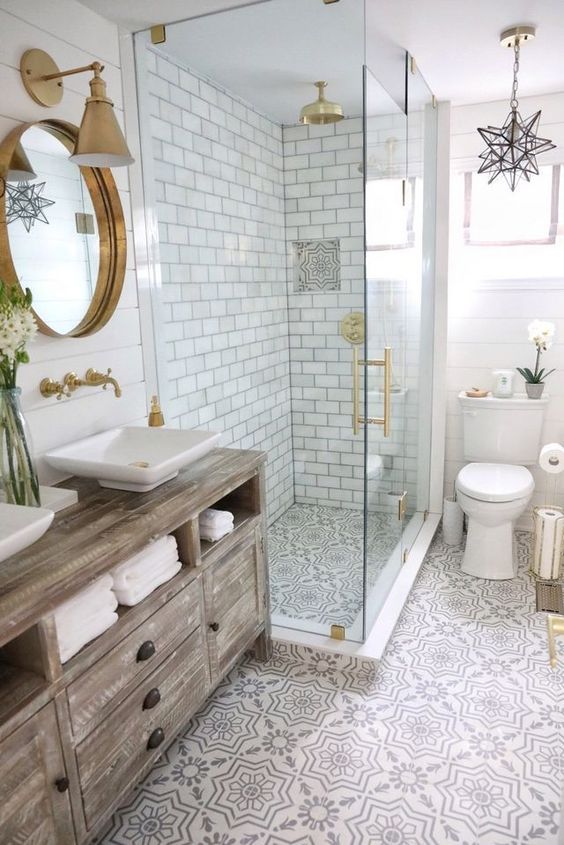 23. Modern mosaics
This bathroom is trendy and classic all in one with the modern mosaic tiling, dark grey door feature and the golden-toned cabinetry, mirror and fixtures. I also love the addition of the fiddle leaf fig and orchid which are both on-trend choices for interior greenery.
24. Guest styling
I can just imagine walking into this bathroom as a guest at someone's house and being absolutely wowed by it. The use of navy for the walls along with the white details and hardwood floors really make this bathroom feel welcoming and comfortable.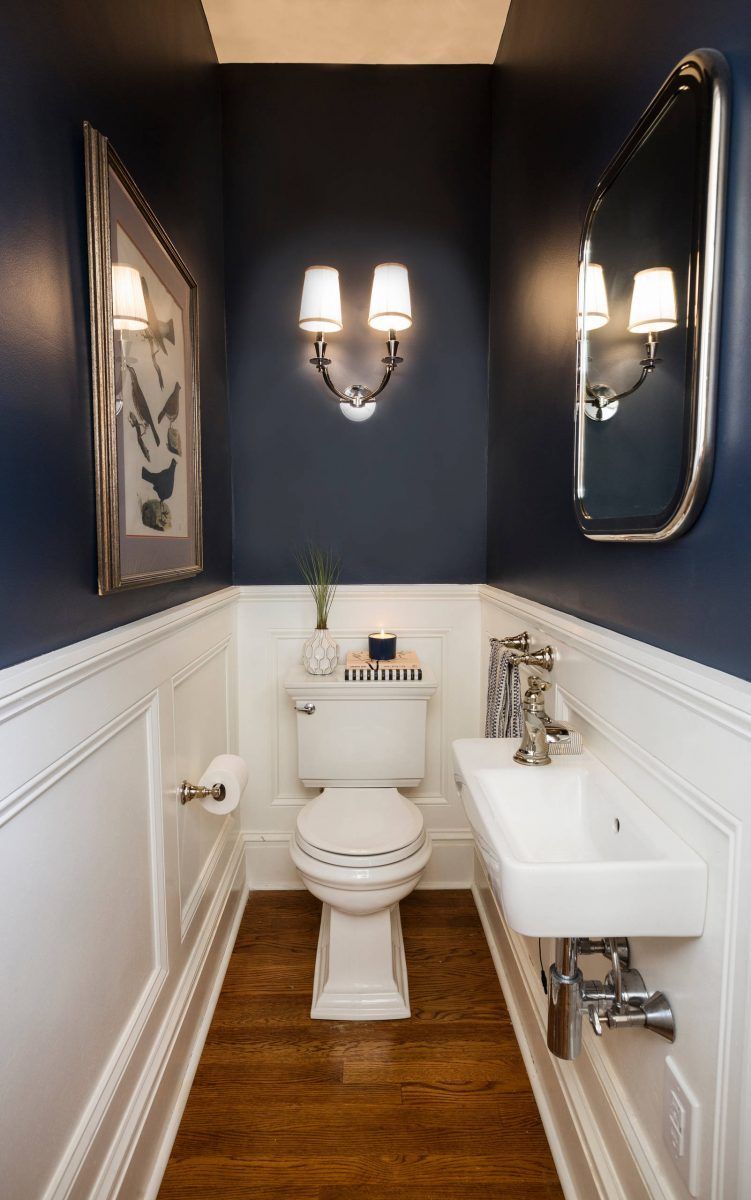 25. Light blue hues
The light blue hues on the cabinetry in this bathroom are perfectly paired with the cool-toned tiling, towel and soap dispenser. The diamond-like knobs on the cupboards and drawer also go well with the silver fixtures and mirror.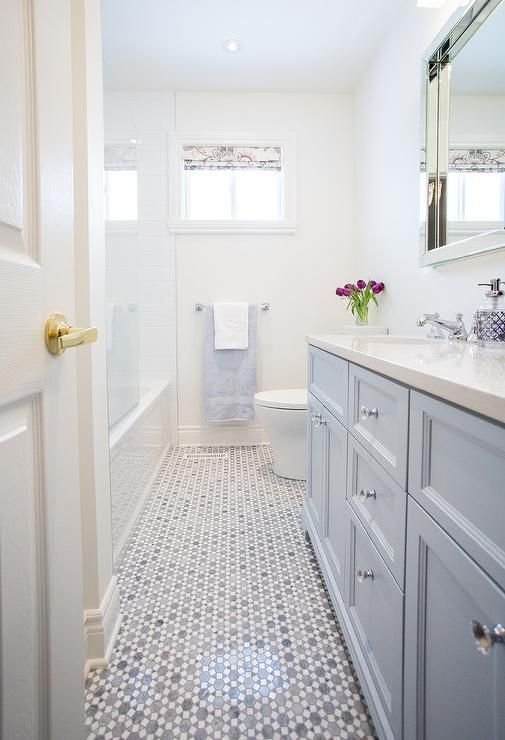 26. Cute reminders
I love this cute little reminder to 'wash your hands'. What a poignant reminder, especially in a bathroom! The tone of colour through the soap image really works with the wood detailing on the floating shelves and wood border around the mirror.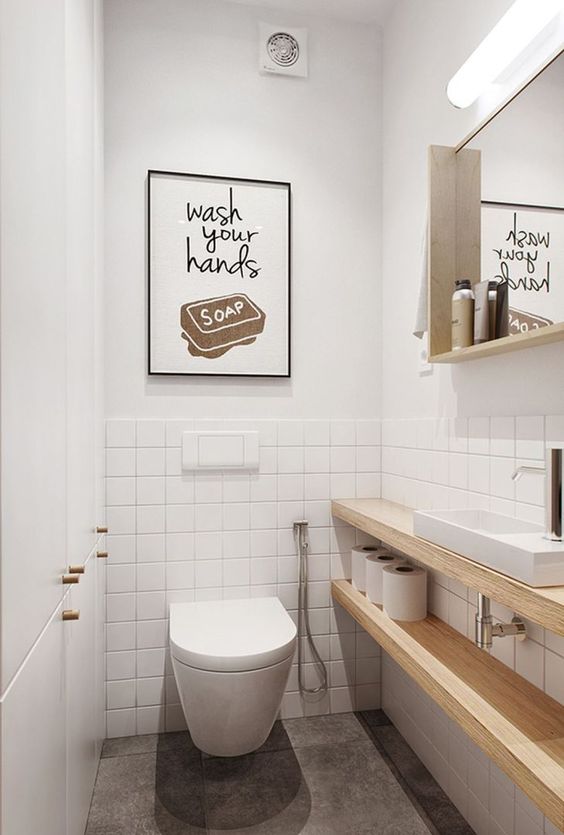 27. Bringing the outside in
Due to the smallness of the window in this place, white has been used to make the space appear larger. And I also love the addition of the monstera plant, wooden detailing in the cabinetry and exposed brick wall which really gives the feeling of bringing the outside in.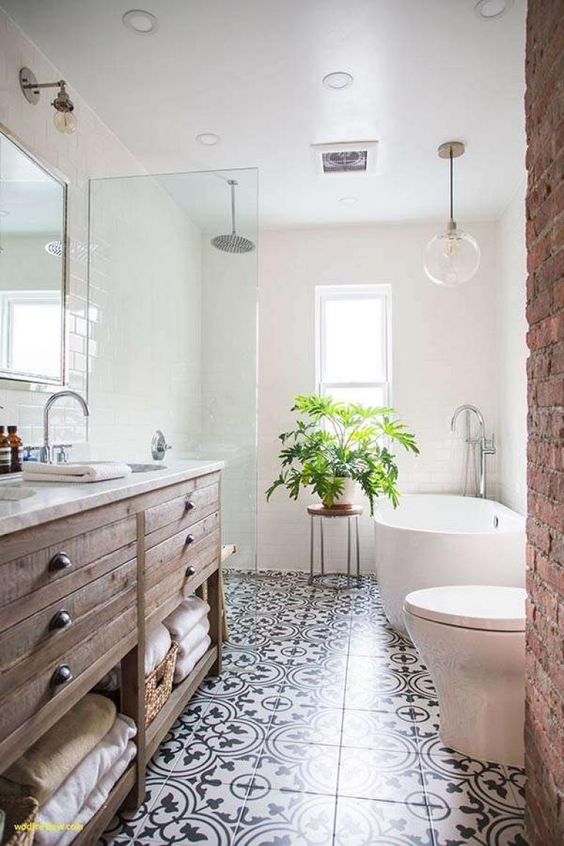 There are certain plants that really thrive in a damp and humid environment, so here are the bathroom plants that you should think about for your home.
28. Stylised tiles
The various tiles used in this narrow bathroom have been thoughtfully installed. The hexagonal tiling arrangement is interesting yet still serves a purpose. And a simple white square tile has been used for the flooring so that the hexagonal tile is a nice feature piece.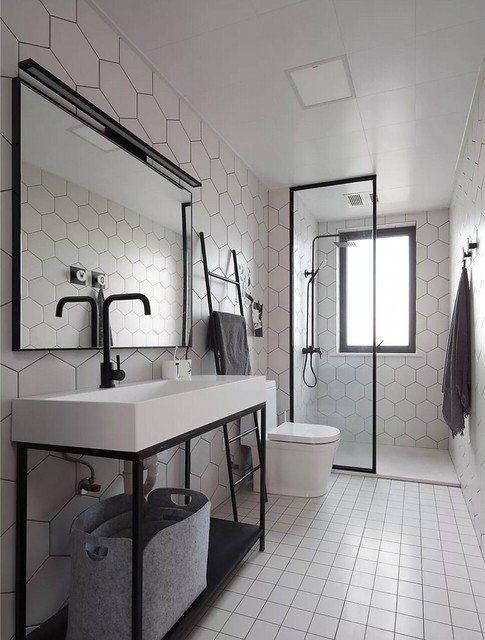 29. Rattan baskets
For a narrow bathroom, this space makes the most of the space by including lots of storage. As well as the drawers, rattan baskets have been added for extra storage. You could store your clean towels, robes, spare toilet paper, kids bath toys or even your additional beauty products in here.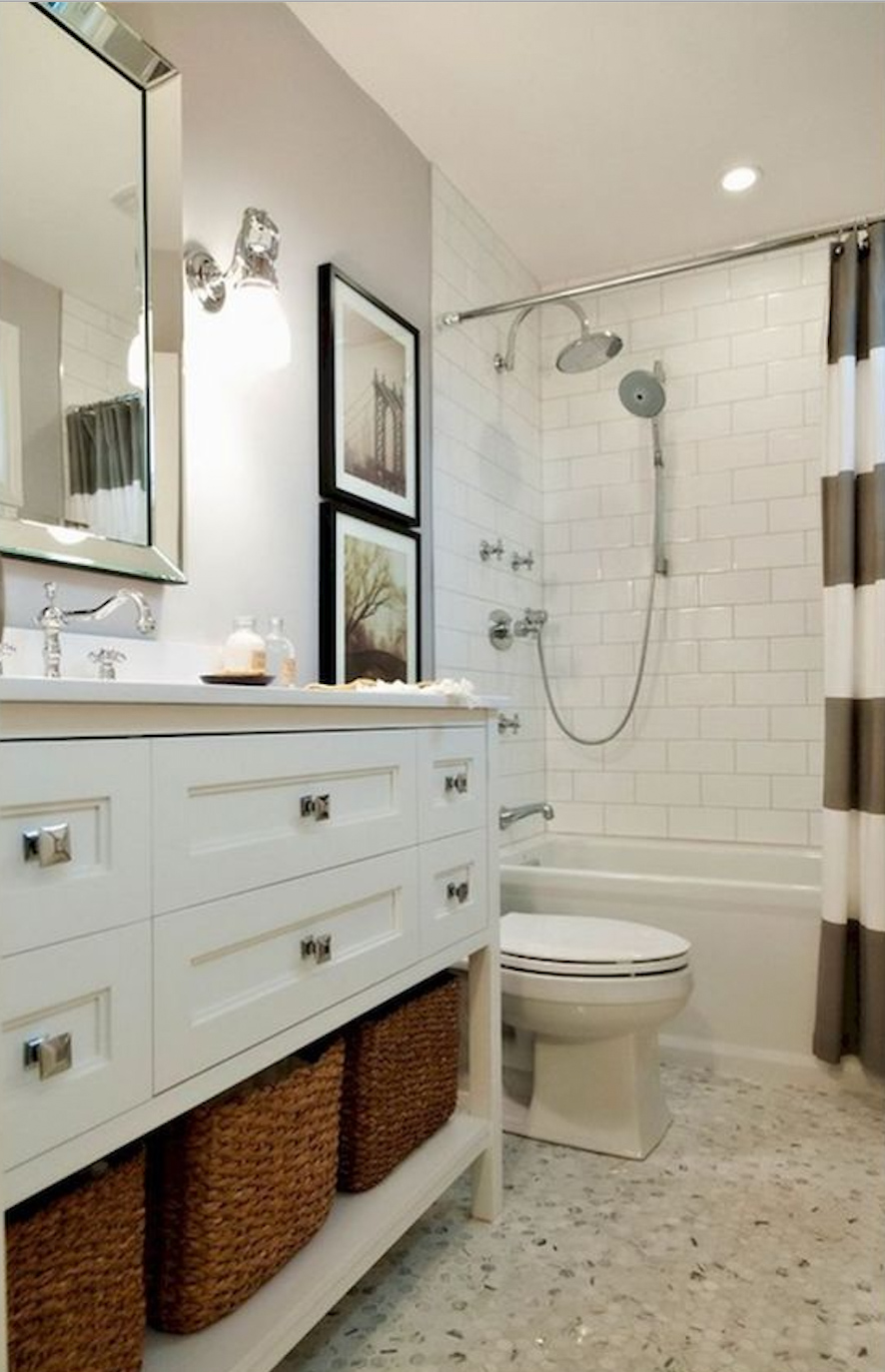 30. Creative details
Creative details will turn your bathroom from ordinary to exciting. These creative tiles not only add a pop of colour to this otherwise neutral bathroom, but they also make this bathroom look so much more fun and quirky. I also love the hanging filament light bulbs that add another exciting feature to this bathroom.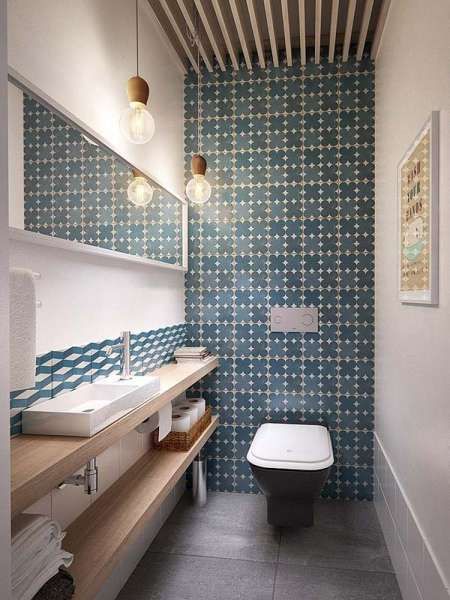 31. Barn door
Instead of having a door that opens up into your bathroom and takes up space, install a barn door that slides across your wall! I love the rustic bathroom nature of this space especially with the barn door, matching mirror frame to the door and cute little shelving unit with all the essentials in.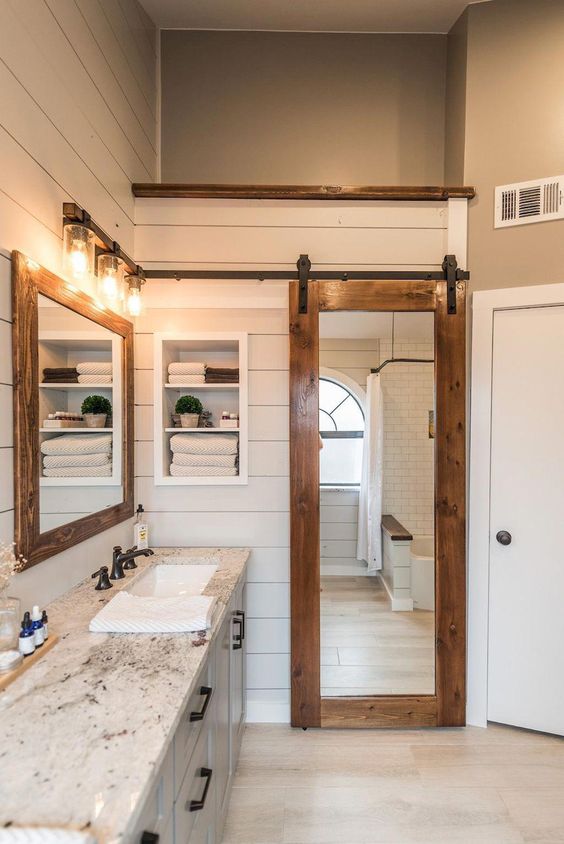 32. Large window
This narrow bathroom has been made so much larger by the beautiful large window at the end of it. I love how half the glass has been frosted for privacy, however you can still see greenery coming through. And the large window brings lots of natural light into the space which brightens and freshens it up.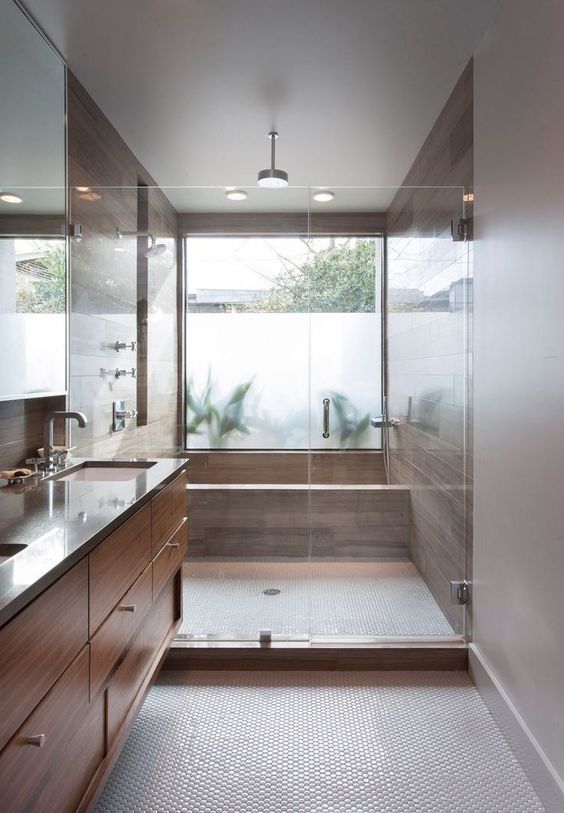 33. Exposed brick
Whether you use wallpaper or paint your existing bricks white, an exposed brick wall can be an effective feature in any space. And this bathroom design proves that it can look stylish and modern! As this space is very narrow, my eye is drawn right down to the very end where that beautiful large and inviting tub is sitting by the window.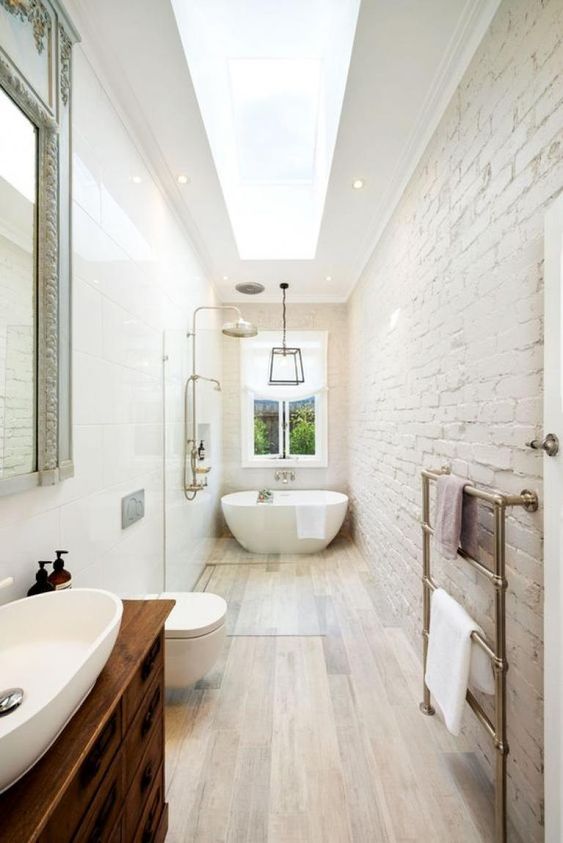 34. Storage solutions
Although this bathroom is narrow, the designer of this bathroom definitely knows the importance of lots of storage solutions. If you're wanting to add some more storage in your space, call on a bathroom cabinet maker who will be able to design effective storage solutions that will work perfectly in even the tightest spaces.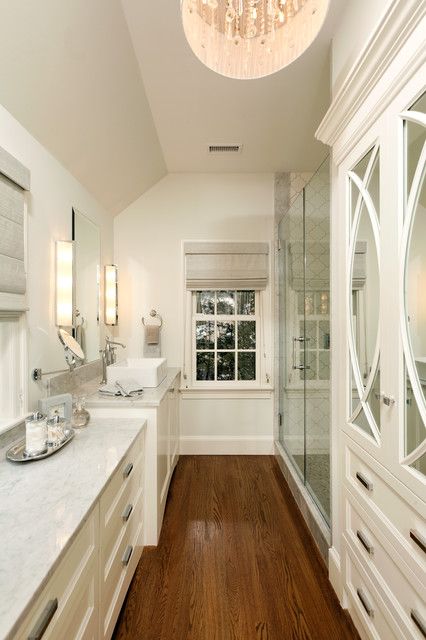 35. Inner-city living
If you live in an apartment (especially in a city), you'll already know that space can be scarce. So a cleverly designed bathroom layout is important for getting all the essentials in. Although there is no shower screen separating the areas in this bathroom, all the surfaces are hard, so the water can easily run off them. Plus, this makes the bathroom super easy to clean!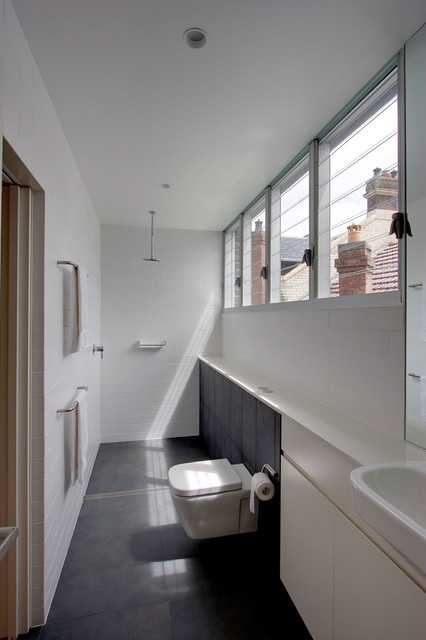 And that's a wrap on 35+ narrow bathroom designs. I love how each of these spaces maximises functionality by keeping things stylish. My favourites are the bathrooms with the skylights, the quirky barn door and the interesting mosaic tile designs. What did you like the best? Let me know in the comments below!