Home

/

Ceiling Painting Cost Guide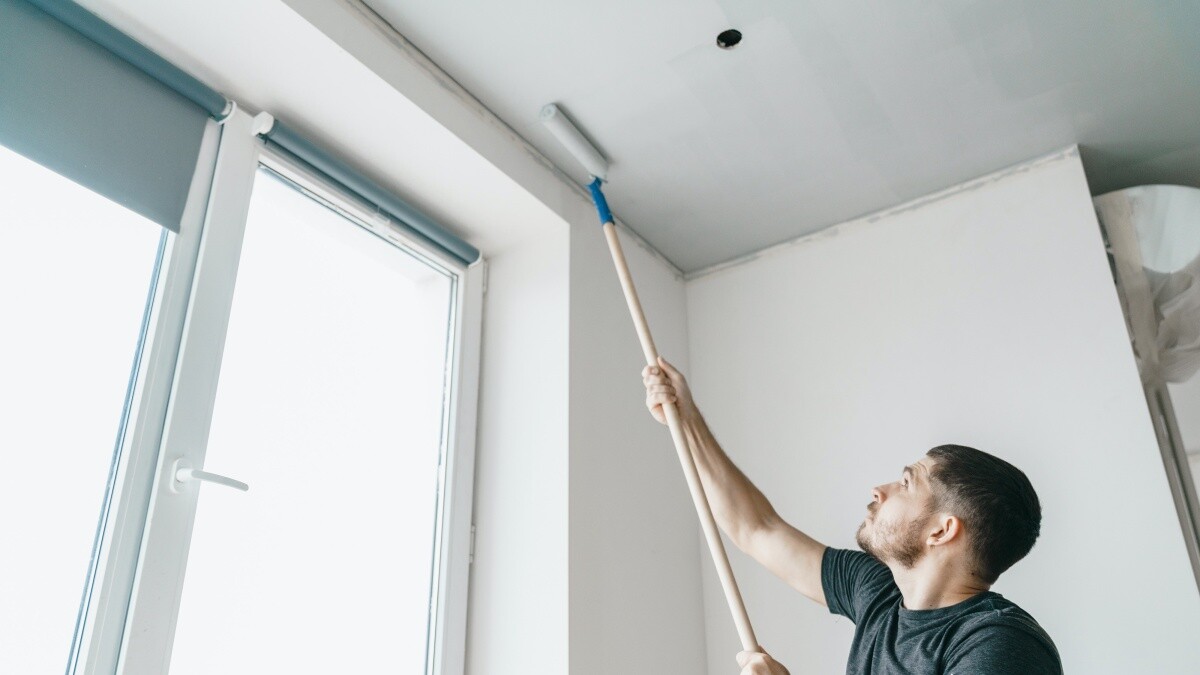 How much does it cost to paint a ceiling?
Get a free quote now
Post to find a price. It's free and only takes a minute.
Price guide
$300 - $1,152
Find ceiling painters, fast

Post a task with your price in mind, then get offers.

It's free and takes only a minute.

See how it works
There's always that one spot in our house that we always miss during household chores - the ceiling. We don't always look at it often, which might be why we always miss it. Whether it's new or during renovation, we should give importance to this part of our house. If you're planning to work on it, you must be wondering how much it is to paint a ceiling.
The average cost to paint a ceiling is $300 to $1152, with the price per square meter ranging from $1 to $8 per square ft. Ceiling paint prices go as low as $25 to $60 and they're usually thicker than wall paints. In this article, we'll answer all the things you need to know about the costs to paint a ceiling, including:
What is the average cost to paint a room and ceiling?

How much does it cost to paint a bathroom ceiling?

What is the cost to paint the bedroom ceiling?

What is the cost to paint the ceiling grid?
Ceiling painting price list
The ceiling isn't the first thing you look at upon arriving at your house, but it's the last thing you'll see before turning the lights off. Save yourself the neck pain and hire a professional to work on painting your bedroom ceiling! It doesn't take more than a day to finish one bedroom ceiling, and if you get to hire a good painter, they can do the job in half a day.
Painters may ask you to pay them per square meter, day or hour. Paint prices per liter are estimated at around $25 to $60, with other materials like a paint roller, paint tray, sandpaper, and ladder. 

To get an estimate, we'll provide a sample computation on how to compute your total cost if your painter prefers to get paid through the size of the room. If you want to know how much does it cost to paint a 12x12 ceiling, first get the area of the room in meters: length x width = area. 
Sample: 12 meters (L) x 12 meters (W) = 144 m2
| | | | | |
| --- | --- | --- | --- | --- |
| State | Per hour | Per day (8 hrs) | Materials | Total cost  |
| California | $20 - $60 | $160 - $480 | $60 | $340 - $420 |
| Texas | $20 - $40 | $160 - $320 | $60 | $340 - $420 |
| Florida | $30 - $50 | $240 - $400 | $60 | $300 - $380 |
| New York | $50 - $100 | $400 - $800 | $60 | $340 - $420 |
| Ohio | $20 - $60 | $160 - $480 | $60 | $300 - $380 |
| Nevada | $20 - $50 | $160 - $400 | $60 | $340 - $420 |

Here's a table showing the total cost to paint a bedroom ceiling, priced per square meter:
| | | | | |
| --- | --- | --- | --- | --- |
| State | Price per sq. ft. | 50 sq ft | 100 m2 | 144 sq ft |
| California | $3 - $5 | $150 - $250 | $300 - $500 | $432 - $720 |
| Texas | $2.25 - $5 | $112.50 - $250 | $225 - $500 | $324 - $720 |
| Florida | $1 - $6 | $50 - $300 | $100 - $600 | $144 - $864 |
| New York | $2.75 - $8 | $137.50 - $400 | $275 - $800 | $396 - $1152 |
| Ohio | $2 - $5 | $100 - $250 | $200 - $500 | $288 - $720 |
| Nevada | $4 - $7 | $200 - $350 | $400 - $700 | $576 - $1008 |


Factors that affect the price of ceiling painting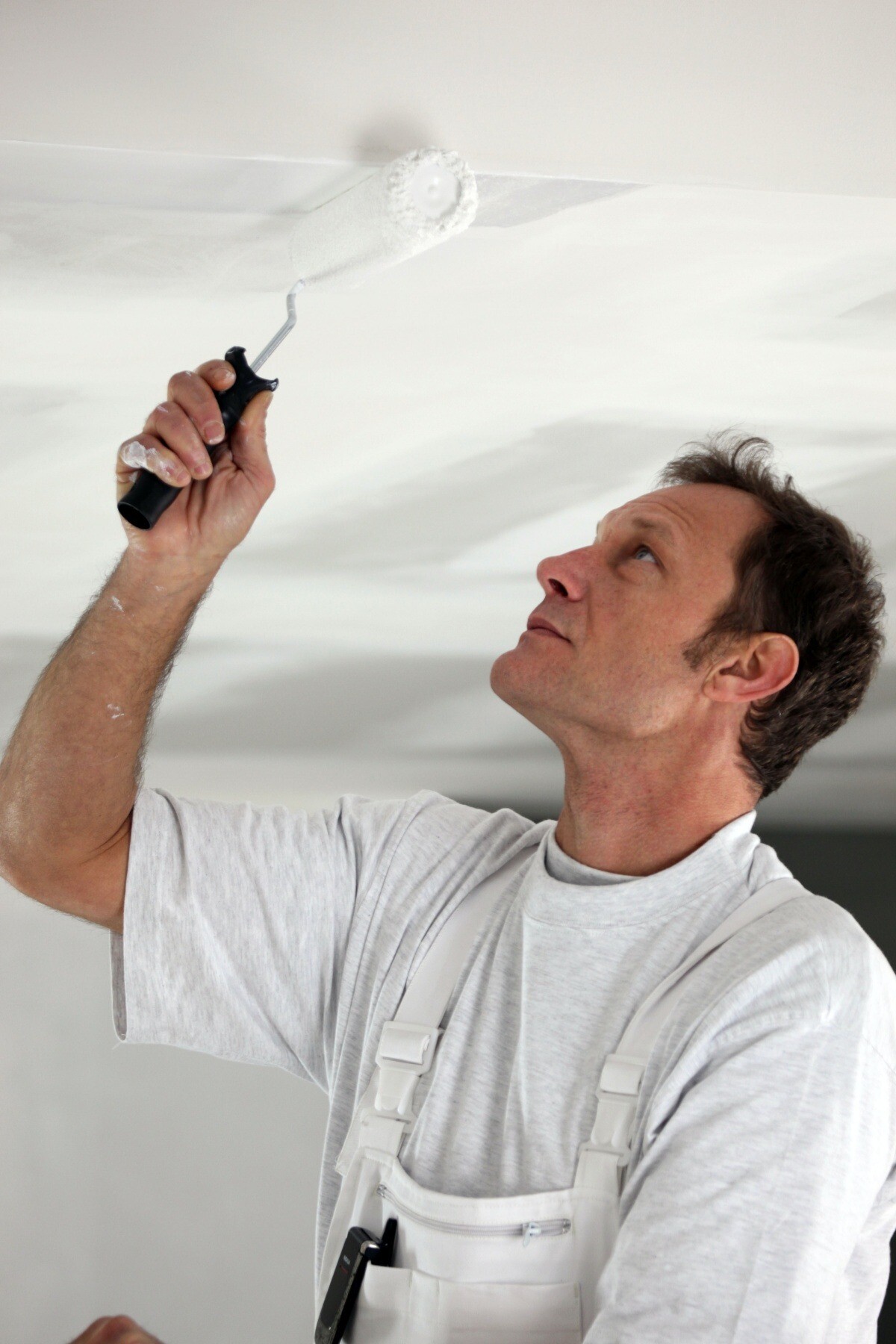 The bulk of what you're paying for is the labor cost of the painter. However, other factors may increase or decrease the price to paint a ceiling. Here are other factors that might affect your total cost:
Location. 

Those who live within a downtown area can expect a higher labor cost than those in the suburbs. You may also encounter issues like parking as your painters will bring in their materials and need a space to park their vehicle. 

Height. 

The higher the ceiling, the more difficult the painting job will be! You'll also need more materials such as a ladder and a longer paint roll.

Type and quality of materials. A gallon of paint can cover a 365 sq ft room.

 Your ceiling will need two coats of paint. Depending on the area of your room, you might need more than one liter. It's better to discuss this with your painter before proceeding. By experience, they should already know how to estimate your needs. The brand of paint you will be choosing can also affect your final cost.     

Ceiling condition. 

If you or the previous owner is a smoker or a tobacco smoker, your ceiling would have probably caught stains. This isn't just unsightly, but it can also damage the paint. A dirty ceiling won't be able to hold the paint very well, and cracks can develop over time. However, they are easily fixed by painting. Note that water damage or mould can add around $45 to $90 per sq ft to your labor cost. 

Inclusion of other parts of the rooms. 

You may be able to save more if you prefer to include walls and other rooms of your house. 

Get a painter and decorator

 

who 

can readily work on the whole interior of your house! If you would like to 

have your bathroom painted

 or 

include your bedroom

 in the renovation, you might save more, especially when you pay your laborers per day. The average cost to paint a room and a ceiling is around $20 to $30 per sqm.

Painting ceiling grid or drop tiles. 

Painting ceiling grids or drop tiles range from $10 to $30 per square meter. It's relatively the same as normal painting prices. Drop tiles are secondary ceilings usually hung below the main ceiling structure. On the other hand, ceiling grids are covered in the labor cost. This kind of ceiling is generally used in commercial and office spaces.
Types of ceiling paint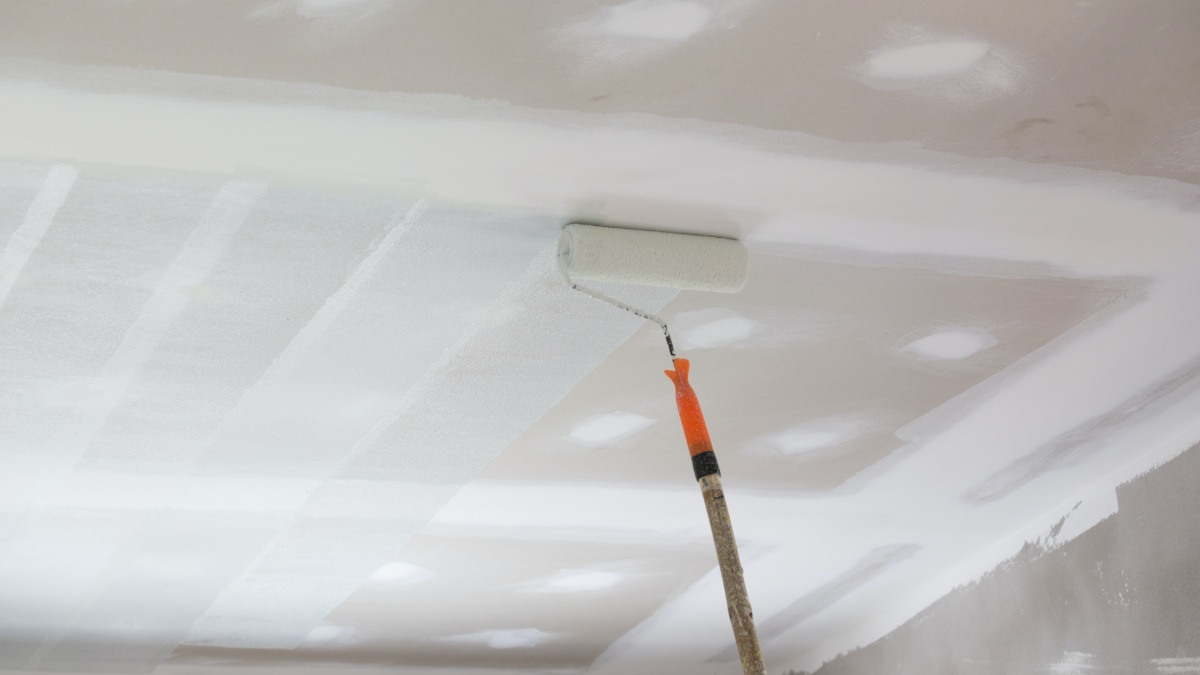 There are three major types of ceiling paint, namely:
Flat acrylic ceiling paint. 

This type of ceiling paint is mostly used in bedrooms and living rooms. It's suitable for less damp areas, as it may chip or peel. Flat paint does not reflect too much light and has a minimal dripping and quick-dry formula.

Satin sheen acrylic ceiling paint. 

Satin sheen paint is suitable for areas with high humidity, such as the bathroom and laundry room. 

Semi-gloss acrylic ceiling paint. 

For more water resistance, semi-gloss is your best choice. It's least likely to crack and chip. You may use this for areas directly under a heap sight of humidity like showers or tubs. If you're wondering how much does it cost to paint a bathroom ceiling, then you must consider the prices for satin sheen acrylic or semi-gloss acrylic ceiling paints.
Tips in looking for a ceiling painter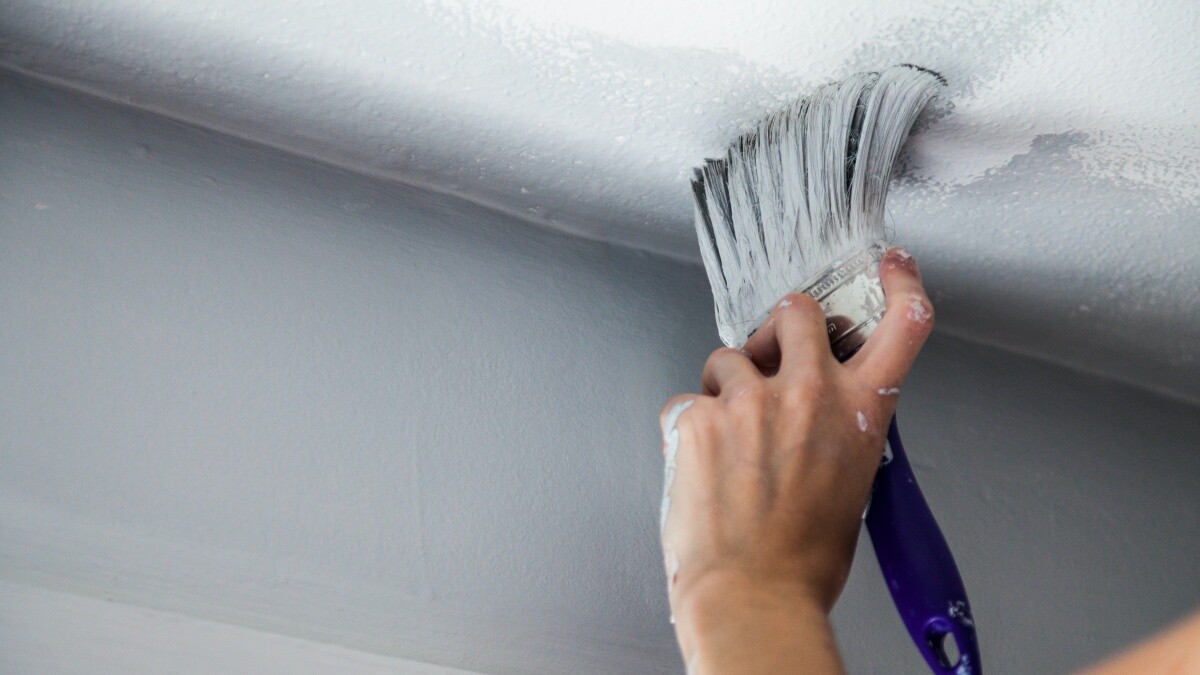 We may often neglect our ceilings, but a good painting job gives a fresh look and often reflects the lighting of our entire house. That's why it's important to find a painter that can do an excellent job. DIY might be cheaper, but it doesn't guarantee that you get a smooth finish. Plus, it may strain your neck. Get help from a pro! Here are a few tips in looking for a painter near you:
Ask friends and relatives for any recommendations. 

Check reviews and portfolios. This will indicate their skill level and the quality of their work.

Always ask first about their payment system, and compare the prices for each inquiry. Check which can give you quality results at the best price.

Check your painter or contractor's qualifications and licenses. This, however, varies from state to state. For example, if you are from California, a C-33 California License is needed for painting and decorating. Painters from New Jersey need to be registered with the Division of Consumer Affairs to legally operate. Other states require the passing of trade exams and must be able to present their experience to earn a license.
Find contractors who are members of the Painting Contractors Association.

 Before joining the organization, their qualifications are checked and screened. If your chosen painter is a member, you'll be more at ease with your finished product.
Getting ready to hire a Tasker
Go the easier way and hire on Airtasker! We'll connect you to reliable painters who can guide you in calculating ceiling paint prices so you don't have to go over your budget! Here are a few tips when posting your task:
Address. Indicate your complete address so we'll match you with the painters nearest you.

Ceiling size. Indicate concrete measurements of your ceiling in square meters to reach Taskers who can accommodate your needs.

Budget. Since we're talking about costs, it's also important that you include how much you are willing to shell out for your project.

Preparation. Indicate whether you need cleaning and other prepping measures, so your painter knows what to prepare.

Time. Indicate whether you're in a hurry for the project to be finished. If you have a large area that needs a quick job, you may need to hire more painters for the job.
Being as specific as possible in your task post makes it easy to find Taskers who can give you a better quote according to your needs. Start your ceiling painting project and post a task on Airtasker today!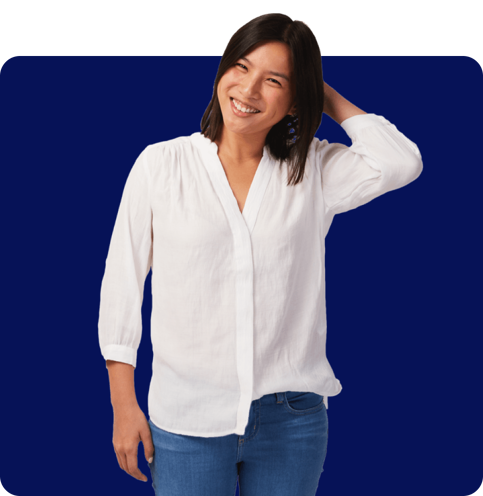 FAQs
One liter of paint costs around $25 to $60, and can cover an area of 365 sq ft room. You may confirm with your painter so they can give you the right estimate.
Some people may prefer to match the color of their walls and ceiling. However, you can opt to paint your ceiling with a lighter shade to make the room feel lighter. The best recommendation for ceiling painting is white to be paired with any wall color.
Minimal repairs to the ceiling range from $40 to $90 per square feet. Repainting can cost you $1 to $8, depending on the size of your area. You may check the size of your room and compute using the table given above.
It's free and takes only a minute.