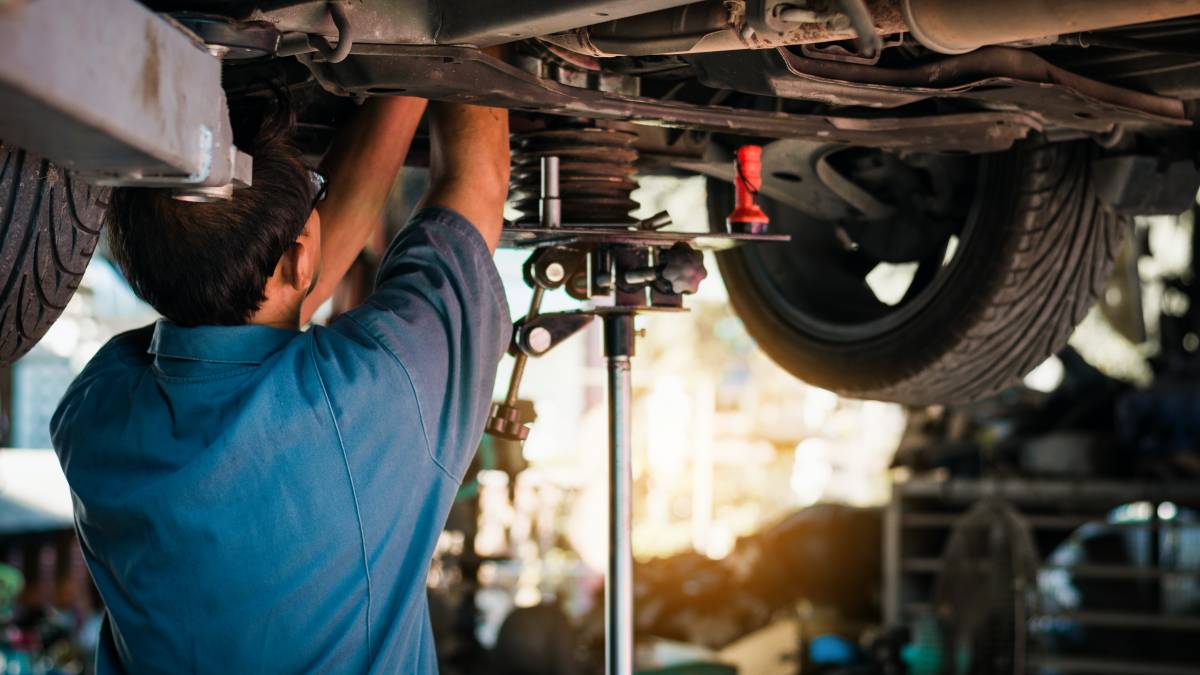 How much does it cost to replace a catalytic converter?
Get a free quote now
Post to find a price. It's free and only takes a minute.
Price guide
£150 - £800
Find mechanic, fast

Post a task with your price in mind, then get offers.

It's free and takes only a minute.

See how it works
How much for a catalytic converter?
The cost of a catalytic converter ranges from £150 to £500, with some high-performance or specialized converters costing even more. It can vary depending on factors such as the make and model of the vehicle, the type of converter needed, and the supplier. It's advisable to consult with local automotive shops or suppliers to get accurate pricing and find a suitable catalytic converter for your vehicle.
Defining the catalytic converter
A catalytic converter is an important car part. It's fitted inside your exhaust pipe before the muffler to reduce harmful emissions and turn unused fuel particles into harmless gases. The outside of a catalytic converter has a steel shell, and the inside looks a bit like a honeycomb. This 'honeycomb' does all the work of filtering gases.
Catalytic converter prices for different car models
Depending on availability, you can get a new catalytic converter or save some money by buying a secondhand/reconditioned one. Your mechanic will advise you on specific costs and help you source the right parts. The average cost of replacing a catalytic converter is £150 to £800. However, if you're looking for a converter for a specific brand, refer to the list below:
| | |
| --- | --- |
| Car make and model | Catalytic converter price |
| Citroen C1 | £318 |
| Vauxhall Corsavan | £406 |
| Ford Fiesta | £450 |
| Volkswagen Caddy | £535 |
| Mazda 6 | £558 |
| Audi TT | £822 |
| Peugeot 308 | £937 |

You can also get universal catalytic converters. Their prices depend on unit shape and size. They can be a good option if your converter is difficult to source in the UK and is no longer manufactured.
Catalytic converter replacement costs
You can estimate your total catalytic converter replacement costs with this simple formula: converter cost + (hourly rate x total time) = total cost. First, check the table above for the cost of your converter. Second, add it to the product of your mechanic's hourly rate* and expected project duration. 
*Mechanics usually charge £40 to £120 per hour. If your mechanic is a specialist or works for a dealership, they'll be on the higher end of the scale. Private and independent mechanics tend to charge lower hourly rates.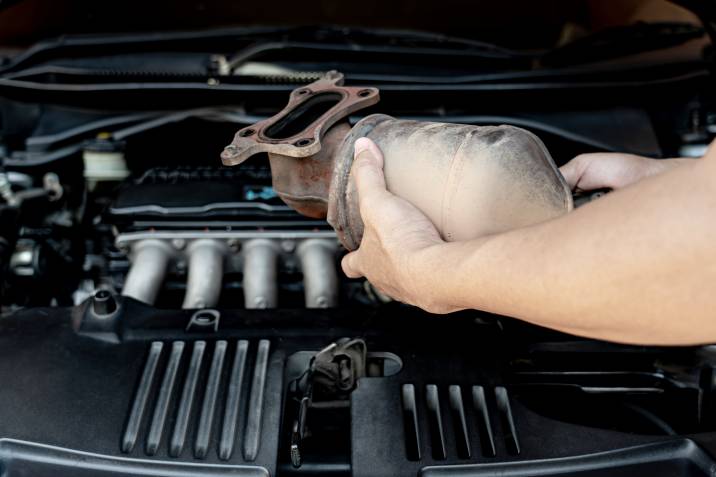 Factors affecting catalytic converter replacement costs
How complex the replacement job is for your car type
The year your car was made
Whether it's a diesel or petrol model
Whether you or your mechanic will source the parts
Extras (like a car service or engine flush)
Your location/suburb
Whether you book a mobile mechanic or bring your car to a workshop
Whether you need them to work on a weekend or weekday
Signs of catalytic converter damage
The only way to know if your catalytic converter needs replacing is to consult a mechanic. They'll check your car and run some tests. Before then, here are some warning signs:
| | |
| --- | --- |
| Car issue | Description |
| Your vehicle isn't performing like it used to | If your converter isn't functioning well, it will make your engine dirty and sluggish. |
| Your check engine light is on | This could mean a lot of things, including converter damage. |
| Your exhaust is smelly | If you smell rotten eggs coming from your car's exhaust, perhaps your catalytic converter isn't burning all the particles and pollutants properly. |
| You refuel your car often | If you're going through fuel a bit faster than usual, there's something wrong with your engine, and this might be due to an ineffective converter. |
The process of catalytic converter replacement
When you book a mechanic to replace your catalytic converter, they will:
Use their equipment to confirm if your catalytic converter is the problem

Raise your car to work underneath it

Unclamp, unbolt, or extract (depending on the make and model) your old catalytic converter from your exhaust pipe

Fit your new convert securely

Lower your car and run the engine

Perform tests, including a road test, to make sure it's working properly
Other services after replacing your catalytic converter
Your mechanic can look at your car's other parts and offer more services. You can request the following:
| | |
| --- | --- |
| Service | Inclusions |
| General car service | an oil and filter change, a fluid top-up, a safety inspection, and a brake check |
| Full car service | spark plug replacement, component QA, logbook entries, and suspension adjustment |
| Tire service | wheel alignment, rotation, repair, and tyre replacement |
If you're planning to sell your car, some mechanics can provide roadworthy certificates. You can book these services simultaneously for a better deal.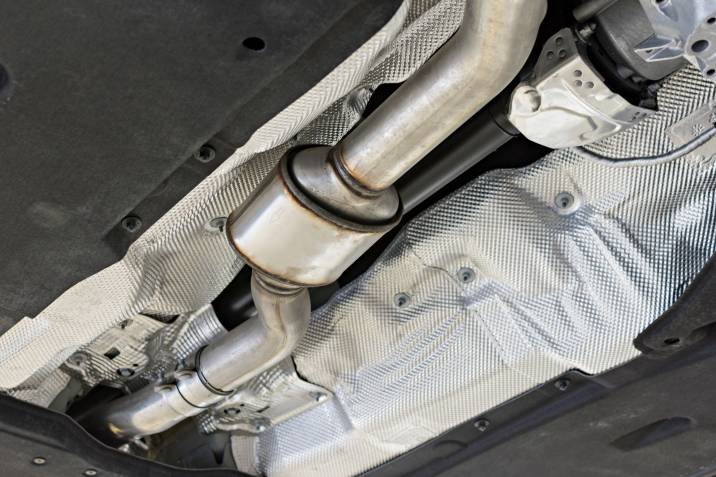 Post a task for catalytic converter replacement
The best way to get an accurate price is to ask for some quotes or post a description of what you need on Airtasker's marketplace. Just post a task, review offers, and choose someone who meets your requirements. If you're curious, check out how it works.
Here's are some details to include:
Timing and budget

Location

Car make and model

Issues noticed

Equipment and parts provided

Additional services required
The more info you include, the easier it will be for your mechanic to give an accurate quote. They'll rely on your task description when they start working on your car.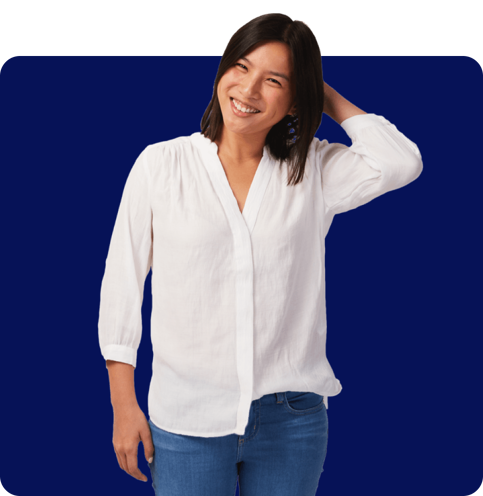 FAQs
Usually, catalytic converters fail due to engine problems causing too much heat. Using the wrong fuel can also cause converter failure.
Your converter breaks down exhaust fumes from your car. If it breaks, your car's exhaust will be a lot smellier than usual. Moreover, your engine will run less smoothly.
Many catalytic converters last indefinitely (longer than many other parts that need replacing). Still, if you experience engine or exhaust issues, you might need a new catalytic converter. Don't delay the replacement for too long because it can impact your engine.
It's free and takes only a minute.