Home

/

Wedding Dress Alterations Cost Guide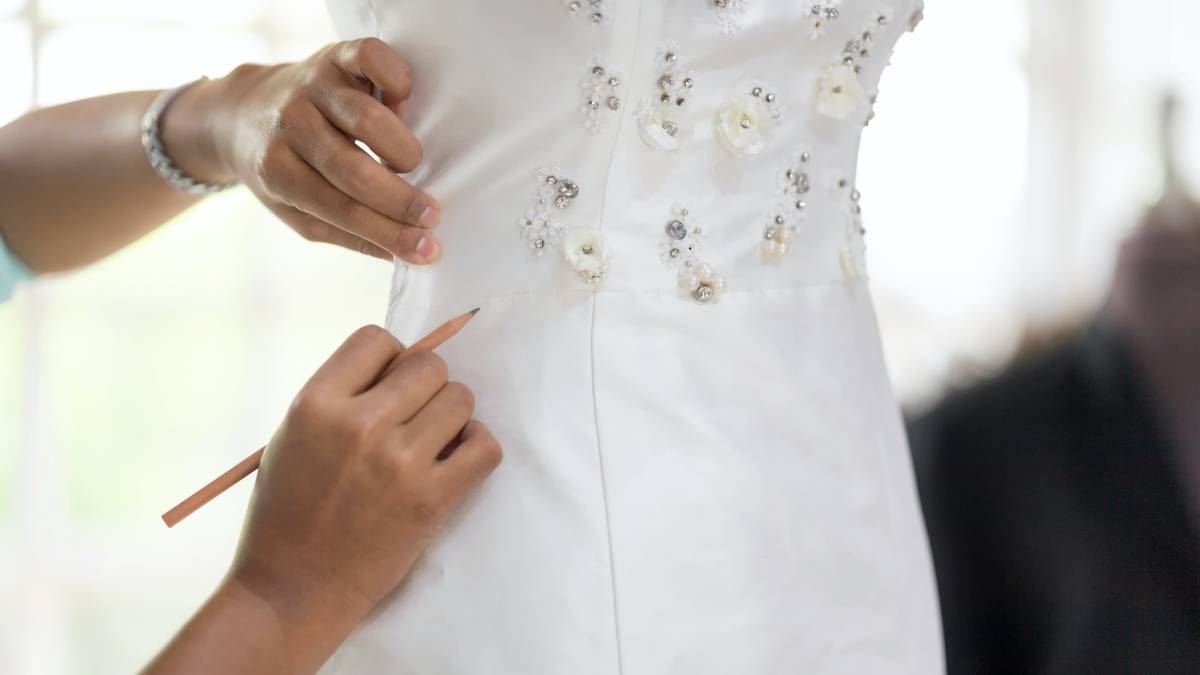 How much do wedding dress alterations cost in the UK?
Get a free quote now
Post to find a price. It's free and only takes a minute.
Price guide
£20 - £300
Find wedding dress alterations, fast

Post a task with your price in mind, then get offers.

It's free and takes only a minute.

See how it works
Finding the right wedding dress seamstress or fitter might be one of the most important tasks for you to achieve your dream wedding. Aside from hiring someone good, it's important to be familiar with wedding dress alteration prices in the UK. This way, you'll know if the quotation is too high or too good to be true.
Depending on the extent of work, the average price for wedding dress alterations ranges from £20 for minor tweaks, like changing a button or fixing a zipper, up to £300 for major or extensive fixes.
Price list for wedding dress alterations
There's so much you can do to turn a regular white dress into a wedding gown perfectly fit for you. This isn't just about size but includes changes to the design to match your style. A dress with a low neckline can instantly look classier with an added lace sleeve. On the flip side, a dated design can get a modern twist if you add trendier elements. So how much are wedding dress alterations? Refer to this table:
| | |
| --- | --- |
| Alteration | Average price |
| Hem (standard designs) | £80 |
| Hem (delicate fabrics) | £100 |
| Side seams adjustment | £60 |
| Skirt adjustment | £60 |
| Changing train ribbon | £5 |
| Adding back panel | £30 |
| Beadwork or finishing | £25 (per hour) |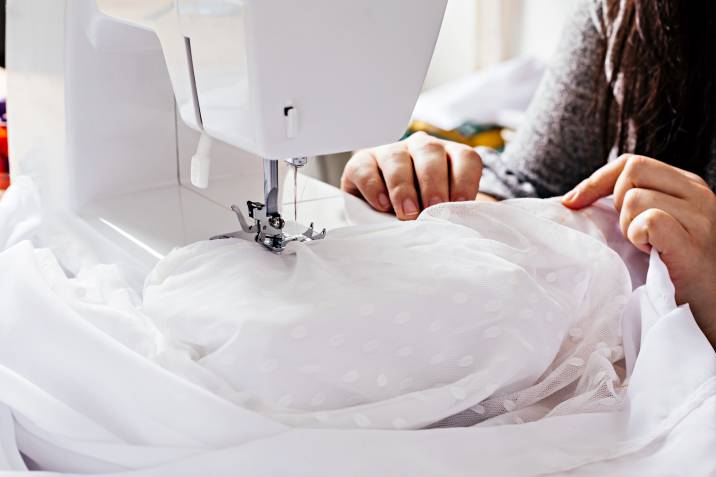 Take note that these prices were derived from market research and previously completed tasks. The final cost will be agreed upon between you and your Tasker.
When should you have your wedding dress altered?
Considering all your other wedding expenses, spending more on your dress seems too much. However, your wedding is a special day, so you deserve to look your best. Even minor alterations can upgrade your look! Here are some signs that you need to book a service for wedding dress alteration: 


1. You bought a ready-to-wear dress
Every woman's body is different, so a dress made for a few body types won't hug your shape properly. Aside from how you look, this can affect comfort, confidence, and even safety! Don't worry, though. Buying off the rack might save you a hundred dollars, especially when the dress just needs minor adjustments. 
Once you have found the best one, schedule the dress for an alteration. A common service requested is hem adjustment to prevent mishaps while walking down the aisle. Hem adjustments usually cost £80 for slim hems but can go up to £150 for delicate fabrics, like lace or chiffon.


2. You lost or gained weight
Wedding planning is stressful! Even if you have a team of event organizers and the best suppliers, there will be a considerable amount of work left. This can lead to unexpected fluctuations in your weight. Don't panic if this is the case, because the wedding dress should fit you. Not the other way around. 
A seamstress can take in or let out the side seams for around £60 to £80. Another option is to have the zip back changed to a corset back. This can give you more room for adjustments on the wedding day itself and the photoshoot after! Usually, Taskers charge £100 for zipper-to-corset-back alterations.


3. You're not happy with the design
It's your wedding, so you should feel your absolute best. Brides who love their gowns will probably enjoy the ceremony and party more than one who feels self-conscious the whole time. Think about this. How much do wedding dress alterations cost now? A few hundred dollars. How about you being happy with how you look on your wedding day? That's priceless! 
If you want a bigger ball gown, adding layers starts at £15. Reshaping the neckline will probably cost £60 to £100, depending on the material.
Things to do before having your wedding dress altered
We know you want to look your best on your wedding day. We also know that you don't want to go over budget with just the dress! So how do you strike the right balance? Here's what you need to do before you finally have your dress altered.
Make a list of the changes you want. Be as detailed as possible, marking which ones are priority alterations and which ones are negotiable.
Be honest with yourself if you think you will lose or gain weight before the wedding.
During the fitting, bring your shoes, accessories, and undergarments for your wedding day. This way, you can envision how you would look.
Ask a stylish and trusted family member for their honest opinion on your dress.

What factors increase wedding dress alteration prices?
When computing how much it costs to get your wedding dress altered, consider these things:
The amount of work required
The type of fabric
Additional beadwork 
If the alterations are rushed
Your location
If it's a busy season, like the holidays or around school prom
The state of the gown before alteration
The experience of the seamstress
Post a task for wedding dress alteration
Now that you know how much it costs to have your wedding dress altered, it's time to hire a professional. Just post a task on our platform to receive offers. You can provide as many details as you want regarding how you want your dress to look. Once your task is up, you'll be connected to our pool of nearby Taskers and be able to choose the best one for your needs.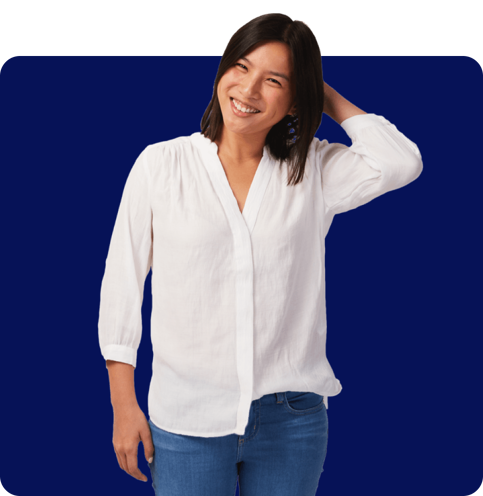 FAQs
Most seamstresses and designers suggest three fittings on average, or, at least, don't go lower than two times. If you need more fittings before the wedding, most Taskers can accommodate, but it might cost more to compensate for their time. It would also mean more alterations to your bridal gown.
Not all stores will have in-house service. If they do, there might be a lot of dresses that need to be altered. This could mean delays or missed details. Having a Tasker work on your dress can help you assess if a Tasker can really take on the job even before you book them. Airtasker also connects you to local services, so transporting the dress won't be a problem!
This depends on how much work needs to be done, but allot at least six weeks for relatively minor alterations. For rush alterations, communicate with your Tasker often and ensure that they can finish it on time.
While it's tempting to order a dress one size smaller for you to wear after you lose weight, consider that this factors into how much it costs to get the wedding dress altered. Taking in the dress might need a few stitches and adjustments, but taking it out or adding a panel in the bodice and skirt might cost you double the amount.
It's highly recommended to have someone to consult for the decisions you'll be making during that fitting. Should you have the dress hemmed shorter? Should you size down? If you're bringing more than one friend, ask the Tasker first if there's enough space to accommodate your party.
Yes, definitely! Taskers who send you offers will have their ratings and reviews from previous projects on their profile when you put up a task. This allows you to see if their clients were satisfied with their work. You can also request their portfolio through the internal messaging feature on our platform. This is available even before you hire a Tasker.
It's free and takes only a minute.