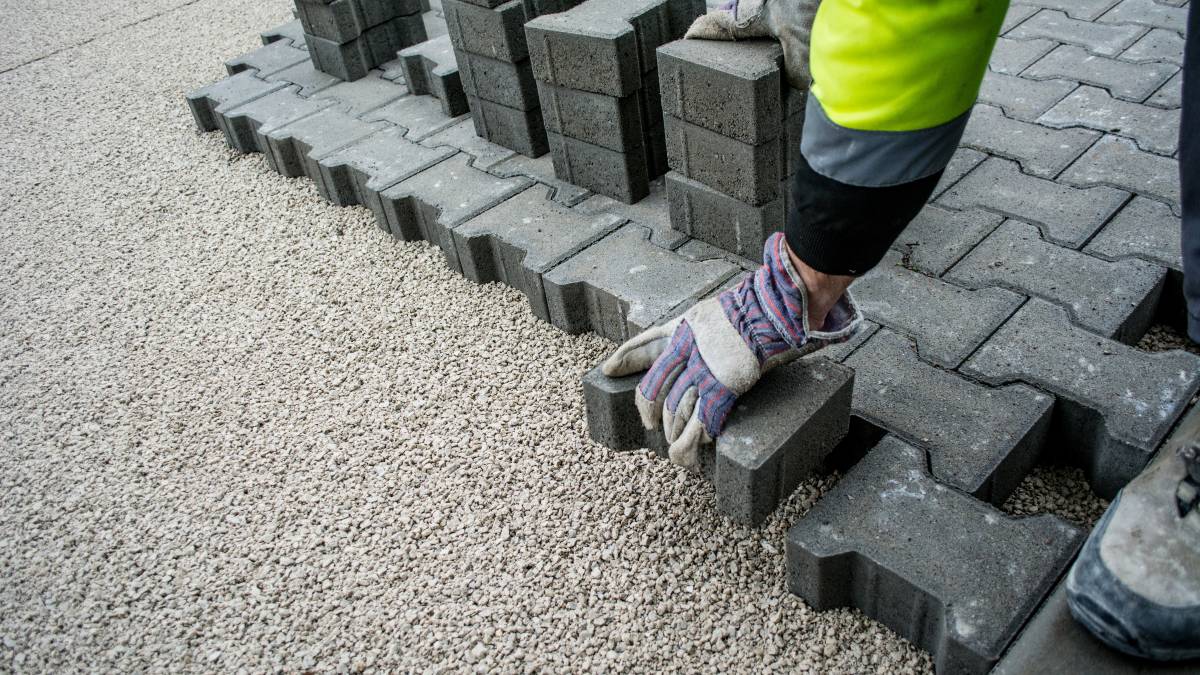 How much does outdoor paving cost?
Get a free quote now
Post to find a price. It's free and only takes a minute.
Price guide
£10,000 - £12,000
Find outdoor paving experts, fast

Post a task with your price in mind, then get offers.

It's free and takes only a minute.

See how it works
Do you want your backyard, garden, or pool area to look new and more appealing? Replace your old outdoor paving with new ones that improve your curb appeal. Consider hiring outdoor paving services to lay pavers that create beautiful patios, driveways, and garden paths. 
Before starting this project, you might ask how much paving costs. The typical outdoor paving cost is around £10,000 to £12,000 for a driveway or garden-sized project. The material and additional services will also add to your total outdoor paving costs.
Cost of outdoor paving
Here is a table showing the average cost per task for outdoor paving. 
| | |
| --- | --- |
| Task | Average costs |
| Patio design (Includes site analysis, survey, concept plans, masterplan) | £1,500–£6,000 |
| Excavation | £5,000–£6,000 |
| Waste removal | £120–£500 |
| Drainage | £600–£1,200 |
☞ Related guide: How much does it cost to pave a driveway 
Types of outdoor paving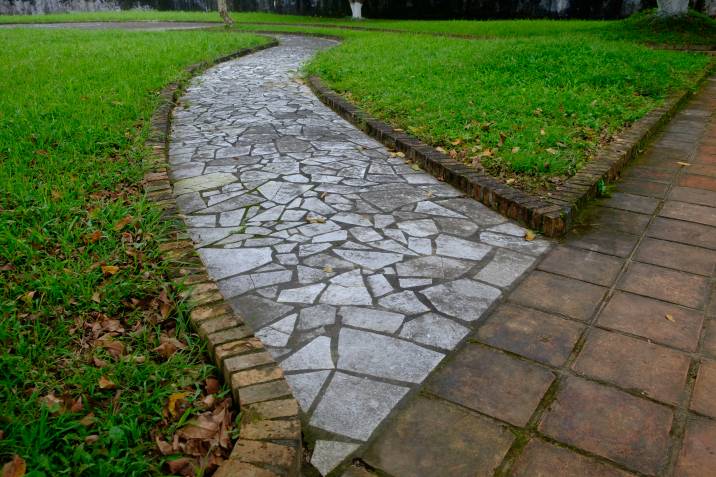 Learn about the different types of outdoor paving materials and methods that may be included in your garden paving cost. Read this before finalising your budget for the total paving installation price. Note that these are only estimates for the material costs. You'll need to account for the installation fee considering the cost variables that come with it. 
| | |
| --- | --- |
| Material type | Average prices per square metre |
| Brick | £40–£75  |
| Flagstone | £55–£100  |
| Concrete | £40–£60  |
| Marble | £70–£100  |
| Vinyl/Plastic | £3–£4  |
| Rubber | £4–£5  |
Concrete
Concrete is a durable and affordable material. This material dries relatively fast once poured. However, concrete slabs might sometimes crack due to heat and heavy loads. When this happens, reach out to paving repair professionals to fix the cracks right away. 
Material-wise, using concrete costs about £40 to £60 per square metre. It can cost around £1,500 to £6,000 or more to complete a concrete patio or other concrete paving projects.
Brick
Red bricks bring elegance and warmth to your garden or pathways. Their appearance and strength make them popular for many walkways, fireplaces, and garden paths. This type also comes in various colours and custom shapes, allowing you to personalise your brick paving. Add character to your pavement and trust expert brick pavers for this project. 
When creating your budget, consider that bricks cost £40 to £75 per square metre and around a total of £11,000 inclusive of labour for a typical project.
Flagstone
Flagstone is a natural sedimentary rock that can handle average foot traffic. Its non-slip surface makes it a great choice for rainy areas with high humidity. They also make your exteriors more charming because of their non-uniform pattern. 
Flagstone is a good investment despite its above-average paving labour cost per square metre, which is typical with other natural stone paving materials due to their weight and installation requirements. If flagstone feels right for you, it can set you back about £55 to £120 per square metre. You might see a total estimate of £10,000, including excavation and installation labour for pool area paving.
Marble
Most marble pavements are available in various colours and patterns. Their pleasing polish makes their surface stand out and improves durability. The elegance of marble isn't too expensive; it costs about £70 to £100 per square metre. Not too bad for a small courtyard paving. 
Rubber
Want a slip-resistant paver that isn't too hard on your wallet? Rubber pavers are an excellent choice. They're eco-friendly, sturdy, and have a lengthy lifespan. Most homes use them for parking areas, garden walkways, and driveways for extra tire grip. 
Its only downside is its radical expansion during hot weather. Since rubber pavements are £4 to £5 per square metre, you may receive an £8,000 total labour and material estimate quotation to level your driveway with them.
Plastic
Plastic pavers are an excellent alternative to rubber pavements. They're made from recycled plastic materials with good strength and durability. Due to plastic's malleable nature, homeowners can choose the shape, size, and colour they want for their pavements. 
However, one of its cons is it lacks the same strength as sturdy stone pavers. Plastic pavers can cost about £3 to £4 per square metre.
Factors affecting the costs of outdoor paving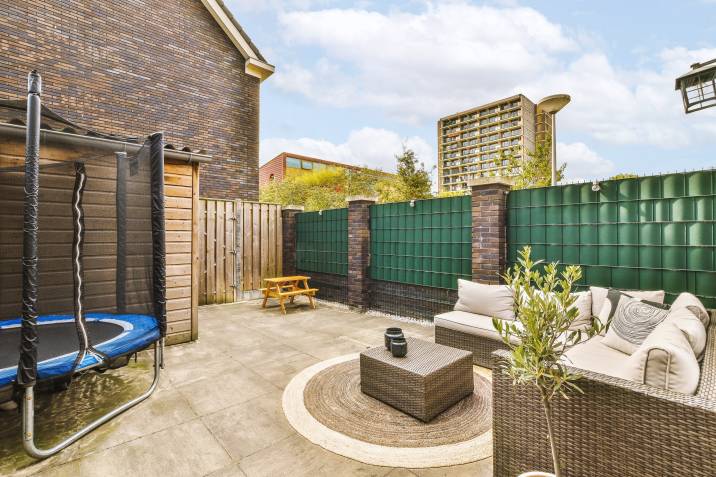 Paving material
The material can increase your total outdoor paving costs. Each material has its pros and cons and comes in various colours, sizes, and finishes; some materials are worth more than others. For example, natural stone paving is rare compared to other materials listed above. Once you've chosen a paving material, you can find experienced patio pavers to do the arduous task for you.
Number of tiles
Paving a walkway is more affordable than paving a wide swimming pool because you'll only fill a smaller space. For instance, it can take about 14 tiles to fill out a 14-square-metre walkway. It would take about 20 tiles to fill out a 19 to 20-square-metre swimming pool pavement area. You'll also want extra tiles if you're getting a small size or if an unlikely accident breaks a few during the project. 
Labour
Hiring skilled contractors will set you back £20 to £45 for laying pavements per square metre. Consider working with experienced pavement installers to help you with ground preparation, tile positioning, and building your paving design the way you want it to look. Moreover, it will take much longer to create if you want your patio or outdoor space to reflect a particular and possibly intricate pattern.
Delivery costs
Delivery is a cost factor you shouldn't overlook since the fee depends on your items' weight. For example, concrete delivery is much cheaper than heavy and dense natural stone deliveries. The density and weight of some stone pavements require the delivery team to move them around the site using a forklift. Consider your location, too, as delivery in remote locations can cost higher.
Terrain accessibility
If the terrain makes the delivery challenging, you will likely see extra delivery and labour costs. Paving work may take a bit longer if the workers have to deal with a sloping surface or if access to the worksite is restricted in any way. Trucks must strain their components and use more fuel to go uphill since the stone slabs can weigh them down.
Post a task for outdoor paving
Several factors can affect your outdoor paving service's costs. When you're ready to kickstart your outdoor paving project, consider posting a task to find skilled outdoor pavers. Creating a task that encourages many Taskers to respond is easy. Mention the following details to get responses and accurate quotes:
Measurement for paving

Preferred material and paving area

Prospective project schedule

Location

Budget
Taskers are well-vetted and experienced outdoor pavers who can design and construct the driveway, garden, or shed pavement of your dreams. Post a task today and get started on your project.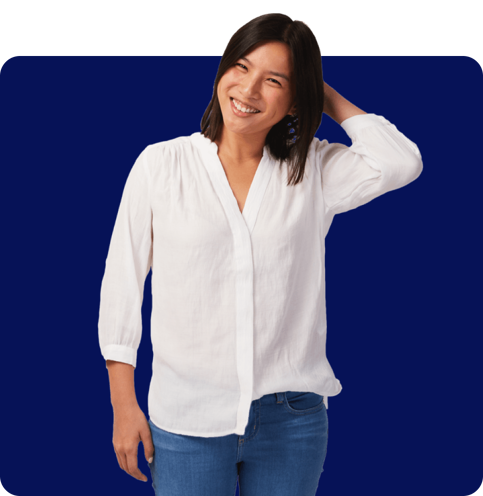 FAQs about outdoor paving
Rubber and plastic paving are two of the most affordable pavement materials. Rubber costs about £4 to £5 per square metre, while vinyl or plastic costs around £3 to £4. 
It depends on the foot traffic or weight that will press against it. For instance, a 50mm granite slab is the perfect thickness for driveways because it can handle the weight of most vehicles. On the other hand, thin stone tiles are great as garden walkways because they will only face light foot traffic.
Wood decking requires more labour and specialised equipment to fulfil. A wooden deck patio material can cost about £80 per square metre, while a brick patio can cost about £40 per square metre. 
It depends. Some soil can be loose and affect the slab's positioning after a few years. On the other hand, some can grip paving slabs and keep them stationary for decades, such as heavy clay soil. To have a definite answer, ask your Tasker to know if your soil can support laid paving slabs.
It's free and takes only a minute.