Home

/

Vinyl Flooring Cost Guide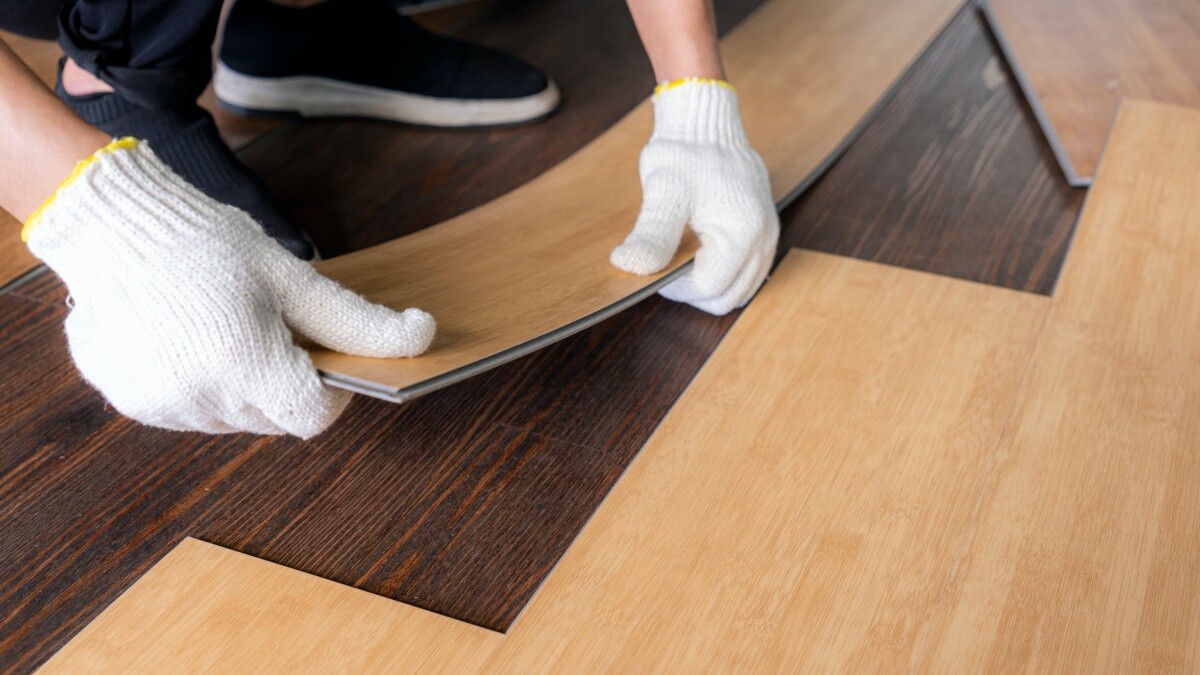 How much does vinyl flooring cost?
Get a free quote now
Post to find a price. It's free and only takes a minute.
Price guide
£180 - £300
Find vinyl flooring installers, fast

Post a task with your price in mind, then get offers.

It's free and takes only a minute.

See how it works
Does your carpet look like it's been there since the beginning of time? Does your kitchen floor need a makeover due to its worn-out look? If it needs more than floor polishing and floor sanding, maybe you need to install a new one! Update the appearance of your floorings using vinyl! Whether you want the traditional vinyl sheet or the more luxurious modern vinyl tiles, you have to know how much vinyl flooring costs in the UK to make an informed decision. 
Floor installations such as laminate flooring and vinyl flooring are best done by a professional tradesman. Vinyl flooring is durable and is easy to maintain. That's why it's appropriate for use in the busy areas of your home. It's affordable, water-resistant, does not discolour or rot if exposed to moisture. It is also very easy to install as it usually comes with adhesive. 
But how much does vinyl flooring installation cost? The average price of vinyl flooring ranges between £200 to £400. To know the factors that affect vinyl flooring prices as well as the fitting or installation cost, read on!
What are the factors that affect the cost of vinyl flooring?
You may keep in mind a few considerations while planning your new flooring, as these may affect vinyl flooring fitting costs per square metre.
Type of vinyl flooring
Vinyl flooring types significantly affect residential and commercial vinyl flooring costs. Vinyl as a material is durable, waterproof, and resistant to moisture. It's also affordable and is generally quick to install. It also comes in various types, depending on the look you want to achieve. Below are the common types of vinyl flooring.
| | |
| --- | --- |
| Type | Description |
| Vinyl plank | Installed plank by plank. Easier to install than sheet, but can be dented or scratched.  |
| Vinyl sheet | Good barrier against moisture. Easy to clean and comes in large rolls with no seams.  |
| Vinyl tile | Can mimic stone or ceramic tile. It's easy to clean. Moisture-resistant. However, the seams may let water seep through. Overall it's easy to install and repair. |
| Luxury vinyl planks (LVP) | Can have a real hardwood look. Also has scraping or embossing to achieve a realistic look. |
| Luxury vinyl tile (LVT) | Can have a ceramic or stone tile look, with its natural colours and realistic textures. |


Size of your area
The size of your room will determine the length of the sheet or the number of tiles or planks required to cover the entire floor; therefore, it will heavily affect the overall cost of the materials. It will also determine the length of job duration for the labour costs, since the larger the room, the longer it will take for the job to finish.
Gluedown or loose lay
Vinyl flooring costs also depend on the type of adhesive material to be used. Glueing vinyl flooring helps provide excellent room acoustics. And if you're using underfloor heating, this alternative is more advantageous for you. Since the bond firmly adheres to the subsurface, it provides higher thermal conductivity. Hence, the heat is transferred directly from the subsurface. The firmness of glueing the vinyl flooring prevents slipping even under heavy loads. 
On the other hand, loose lay is when vinyl flooring is just laid over most subfloors with zero preparation and zero underlays.
Old floor removal
In some cases, vinyl flooring can be laid on old floors provided that it is even, firm, dry, free from cracks, free from oils and impurities, and is dust-free. However, some old floors should be removed first, especially if your old floor is a carpet. The cost of old carpet or old floor removal can range from around £15 to £20 per square metre. 
Labour costs
From surface preparation to vinyl flooring fitting, the average labour cost may range from £3 to £12 per square metre and can go as high as £40 per sqm. Labour costs usually make up about 50% of the total costs for the whole project. This is due to the complex procedures in preparing the surface before installation. In some cases, an old flooring, such as an old carpet, must be removed first. 
Vinyl flooring price list
Here's a price list to compare vinyl flooring cost per square metre in the UK.
Specifics

Duration of job

Cost of material

Cost of labour

Budget vinyl sheets

Less than 1 day

£7 to £15 

per square metre

£100 to £200 

per day

Luxury vinyl sheets

Less than 1 day

£20 to £30 

per square metre

£150 to £200 

per day

Vinyl planks

1-3 days

£15 to £20 

per square metre

£100 to £200 

per day
| | |
| --- | --- |
| Service | Cost |
| Surface preparation per square metre | £3  |
| Skirting boards installation per square metre | £3 to £6 |
| Installing vinyl or linoleum flooring per hour | £15 to £20 |
| Fitting vinyl or linoleum flooring per square metre | £12 to £40 |
| | | | | |
| --- | --- | --- | --- | --- |
| Type of vinyl and surface | Material Cost | Surface preparation | Fitting cost | Total per square metre |
| Vinyl sheets, loose on screet floor  | £10 | £3 | £9 | £22 |
| Vinyl tiles, glued, on stone tiles | £17 | £12 | £15 | £44 |
| Click vinyl, loose, on screet/stone/wood | £28 | £4 | £11 | £43 |
What processes does vinyl flooring involve?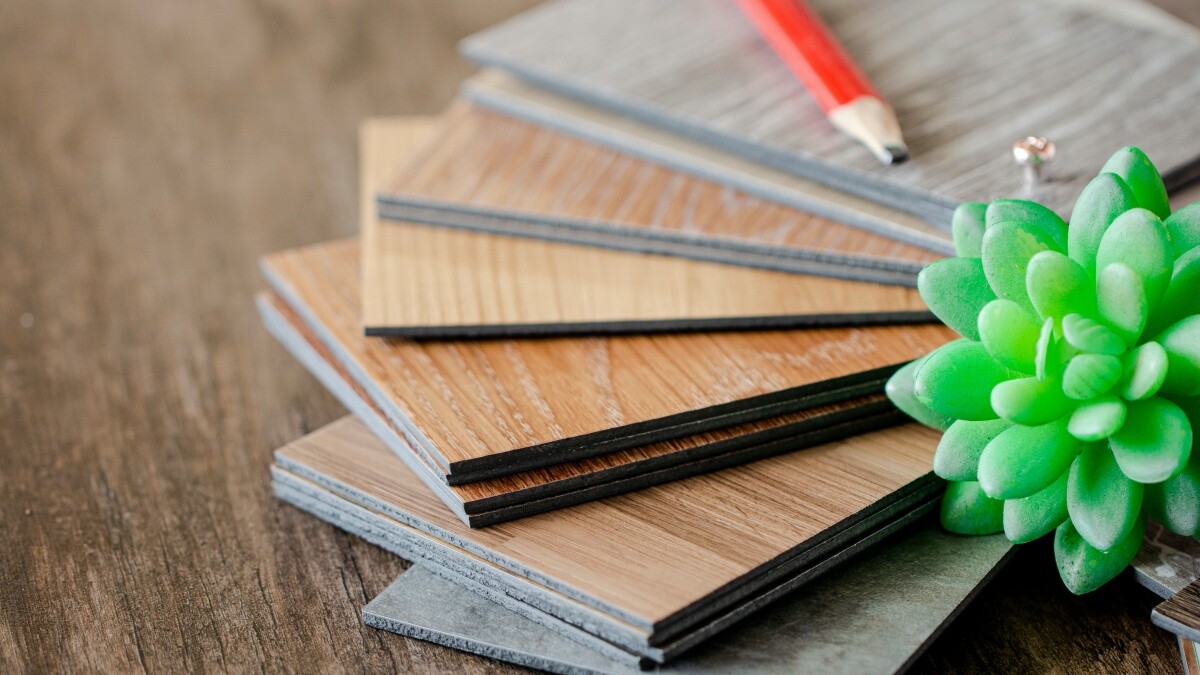 You can install vinyl flooring by yourself. However, for best results, it's always a better choice to seek the services of a licensed tradesman. This gives you the smoothest, professional-looking finish.
At least two days before installing the vinyl, The tradesman will tell you to keep the material in the area or room where it will be installed. This gives it the time to properly adjust to room temperature, preventing the vinyl from becoming brittle when laid.

On the installation day, the tradesman will unroll the vinyl flooring. He will position the longest of the sheet against the longest clear wall, with a 25 mm gap between the flooring and the skirting. The flooring will then be scribed to outline the skirting to the vinyl material. Then the sheet will then be cut using a knife or a pair of scissors.

The tradesman will then cut a notch triangular-shaped at each internal corner of the vinyl sheet. This allows the material to lay flat for installation. 

The vinyl is then pressed into the space between the skirting board and the floor using a chelsea to create a neat crease. A metal straightedge or a ruler is used along the ridge, and a pair of scissors is used to cut it out.

Use a professional vinyl adhesive to stick the edges and the corners. Don't forget to apply pressure to securely seal the vinyl to the floor.
DIY vinyl flooring tips
Ensure the floor is clean has no debris or protruding objects such as floor nails. These will show through the vinyl floors.

Check for moisture or dampness before laying the vinyl flooring. Rectify first, if any.

Any existing surface damage should be repaired first to ensure an even and tidy finish.

Take note of the length and width of the area, and don't forget to include doorways and recesses.

Do not place joins in wet areas to avoid water from getting underneath the vinyl.

Some vinyl types require full adhesion to the floor. You can use an adhesive spray for that. But some types may just need a perimeter bond, so check the manufacturer's instructions first.

Floorings for busy areas like bathrooms and kitchens need a silicone sealant around the edges. This avoids the damage due to water ingress. 
Vinyl flooring price quotes from Taskers
Vinyl flooring jobs cost around £200 to £350, depending on the type of material, the need to remove the old floor, the size of the area covered, etc. For a more accurate quotation, you may talk to a Tasker and provide the details of your vinyl flooring requirements. 
Save time and make sure that your vinyl flooring project is done properly. To get an accurate quote, put up a task now and connect with a reliable Tasker in minutes! It's a fuss-free, convenient, and cost-effective choice.
How to put up a vinyl flooring task
Ready to hire a Tasker to do your vinyl flooring? Create your first task! It's easy! Just write out your task, post your listing, review your offers, choose someone, and they'll arrange to come and do your vinyl flooring. Skip scouring the web for vinyl flooring cost calculators in the UK, and post a task to find a Tasker who can readily handle your needs! Here's what you might include in your listing:
Timing and budget

Location

Number of rooms and approximate sizes

Type of vinyl

Need old flooring removal?

Any access issues?

Is the job likely to be challenging or time-consuming?

Equipment provided?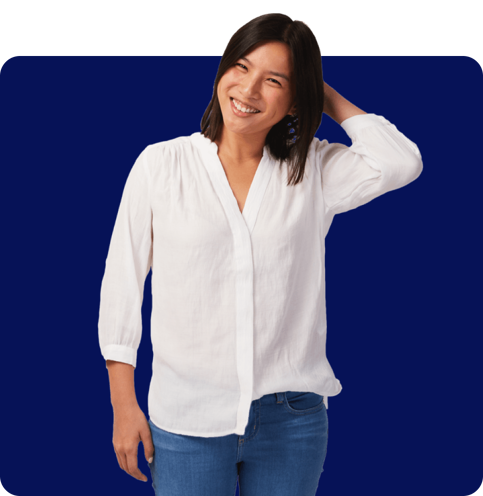 FAQs
It can be installed in almost all rooms. However, you must ensure that the vinyl type you are using is appropriate for the type of room where you will install it. For instance, if you need to install vinyl flooring in the bathroom, use an extra-thick, water-repellent vinyl flooring that is glued down over the entire surface and sealed with silicone at the expansion joint.
Advantages include versatility, easy-to-clean surface, suitability for allergy sufferers, warmth to the feet, robustness, and moisture resistance. On the other hand, the need for old floor removal and the difficulty of glued vinyl floor removal are some of its disadvantages.
Just use neutral and natural ingredients for vinyl floor cleaning. This is to avoid damaging the protective topcoat. A diluted mixture of apple cider vinegar and warm water can do the trick.
The average lifespan of vinyl floors is usually less than that of wood, tiles or natural stone flooring. On average, a good quality vinyl flooring lasts about 10 to 20 years. Note that the best thickness depends on how much the floor is subjected to wear and tear.
It's free and takes only a minute.