Home

/

How to Create a DIY Projector Screen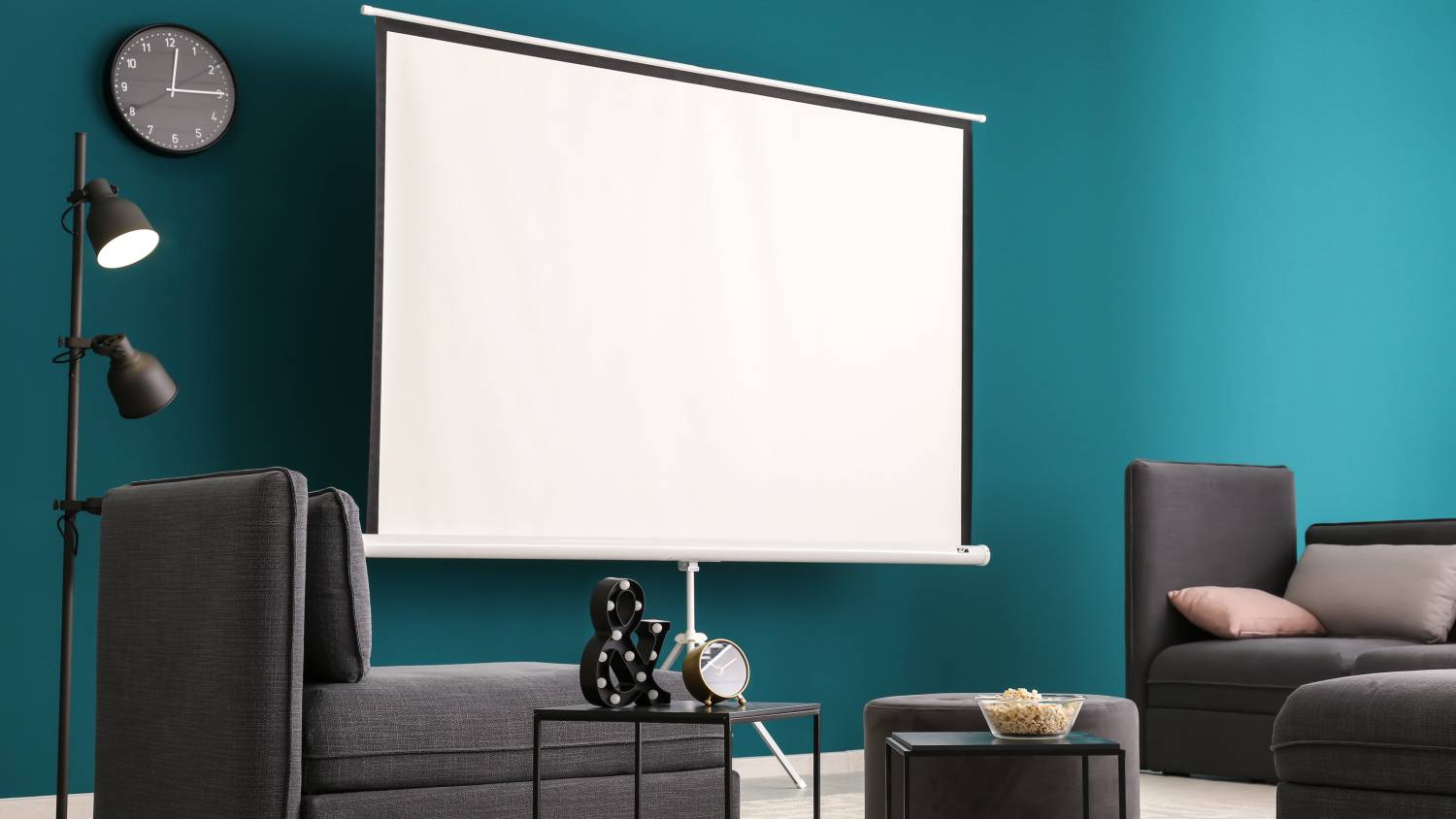 Find projector installation, fast

Post a task with your price in mind, then get offers.

It's free and takes only a minute.

See how it works
Are you a hard-core movie buff? Do you secretly love school holidays when you and the kids can make a batch of popcorn, build a blanket fort and watch children's classics, pretending you're in your own private movie theatre? Ever wanted to up the ante and create your own DIY projector screen for a home theatre? Read on to learn how!
Why DIY movie projectors are worth the effort
In terms of history, motion pictures are a relatively recent cultural norm that has only been made possible by the unprecedented technological advancements of approximately the last hundred years.
The first projected motion picture presented to an audience was achieved by the Lumière brothers in Paris, France, in 1895. Since then, the technology explosion of the last 60 to 70-years has seen silent, grainy black and white movies and television shows evolve into stunning 8K high-resolution motion pictures with crystal clear high-definition surround sound.
Traditionally, home theatres have been a luxury afforded only by the rich and famous. However, as technology has become more affordable, compact, and powerful, people worldwide have been making their childhood dreams come true by creating epic home theatres for their families and friends to enjoy.
For those of us that have felt the pinch of recent international economic instability, this dream still feels allusive. So the question is, can you achieve your dream home theatre on a budget? Well, for those of you who don't mind a bit of a do-it-yourself challenge and putting in some elbow grease, the answer is yes! 
Read on to learn how you can make your home-cinema dreams come true with some ideas and tips on how you can install a DIY projector screen into your home.
Source: Tusik Only via Unsplash
How to make a DIY projector
Step 1: Find a projector
Although big-screen TVs have been a dominating force in the world of modern audio/visual media, real cinephiles, like audiophiles with vinyl records, believe nothing beats a projected image via a projector.
Projectors have, in the past, been a hefty financial investment, one that generally does not make the budget essentials list. However, with the rise of e-commerce, finding a high-definition projector at a budget price online has become easier than ever before, and you have the added benefit of having access to a global market.
Online shopping has made projector sales a competitive market, and many traditional retailers are more than happy to close a good deal. Make sure you use this to your advantage when bargaining at your local hi-fi store; you'd be surprised how much you can knock off the ticketed price.
Another bargain hunter's paradise is the second-hand projector market. You can often find high-quality, brand-name projectors on social media marketplaces or websites like eBay and Gumtree. 
Projector owners often treasure their projectors and take good care of their investment. Usually, the owner is either selling their projector due to lack of use or upgrading to a later model.
Of course, online spending does come with risks, like complicated returns if faults are found or no after-sales warranties or guarantees. If this kind of possible outcome bothers you, then your bargaining skills at a new or refurbished goods retailer may be a better option.
However, the fact remains that achieving a quality DIY projector screen solution for your home will require a good quality projector. Although there are bargains out waiting for you, like all purchases, you will generally get what you pay for.
DIY projector screens and projector screen paint
Now that you have secured your most crucial piece of home theatre equipment, your projector, you will now need to decide how and what you will project your favorite films onto.
There are many different options when choosing the right projection application, including:
Freestanding projector screens
Wall hung projector screens
Retractable electric projector screens
DIY projector screen paint and more
Read on to learn more about the most common DIY projector screen solutions for your home theatre.
Freestanding projector screens
If you want a home theatre setup that you can pack down after each use, this may be the best option. These types of screens come in a wide range of designs and sizes and vary in price considerably depending on the brand and design.
Sizes can range from anywhere between 60-inches to 120-inches. Some may have a pack-down frame that requires assembly, which then has the material screen hung on fastening points.
Other freestanding projector screens may have manual, springloaded, or electronic systems that retract the screen after use and keep it crease-free, protected, and clean. These can cost a little more but are worth the investment long-term. This is best for DIY outdoor projector screens.
Wall-mounted and retractable projector screens
Wall-mounted projector screens can be removable, permanent, or retractable. Generally made of the same material as a freestanding projector screen, these screens can be stretched and fastened onto hooks or permanently adhered to the wall.
Some wall-mounted projectors have a manual or electronic retraction system. However, these wall-mounted DIY projector screens can be pricey, and a central unit must be fitted to the wall. 
If you choose a powered retractable wall-mounted projector screen, power may need to be run by a qualified electrician also if you want the unit to be wire-free.
If you want to get really fancy and have some dollars to spend, then you can get an electronic retractable projector screen that can be installed into the roof, making the screen invisible until you need it. 
Again, you can find bargains online, and online prices may give you some bartering leverage if you want to buy retail. 
If buying online, do your research, make sure the supplier is reputable, and return policies are in place. For example, if you are purchasing an adhesive or wall fastened DIY projector screen, the chance of a fault would be unlikely.
DIY black projector screens
For the most part, projector screens have been uniformly white to maximize the projector's image quality. However, as projector resolution has evolved into high-definition, black screens have been developed.
The main benefit of using a DIY black projector screen is that a black surface better reproduces the darker portions of the image. This is similar to dark, backlit LED flatscreens.
DIY black projector screens have not been perfected. This means particularly bright images can give off a rainbow or shimmer effect. Some viewers may find this unpleasant to the eye. 
Step 2: Using DIY projector screen paint as
You may not have considered that you have a perfectly good projector screen already installed in most rooms; the wall!
The main issue with using a plain white, untreated wall as a DIY projector screen is that the undulation, imperfection, and rough finish of the wall can dramatically reduce your image resolution quality.
DIY projector screen paint is designed to produce an ideal surface for a clean and clear projected image. 
There is a range of specialty DIY projector screen paints on the market. The right one for you depends on factors such as:
The power or "Lumen" rating of your projector
Ambient light in the room
What kind of images you will be projecting
Either way, DIY projector paint is effective, both for image quality and affordability. This space can also double as a live projection picture show. Show family photos, holiday snaps, and memories while entertaining friends and guests.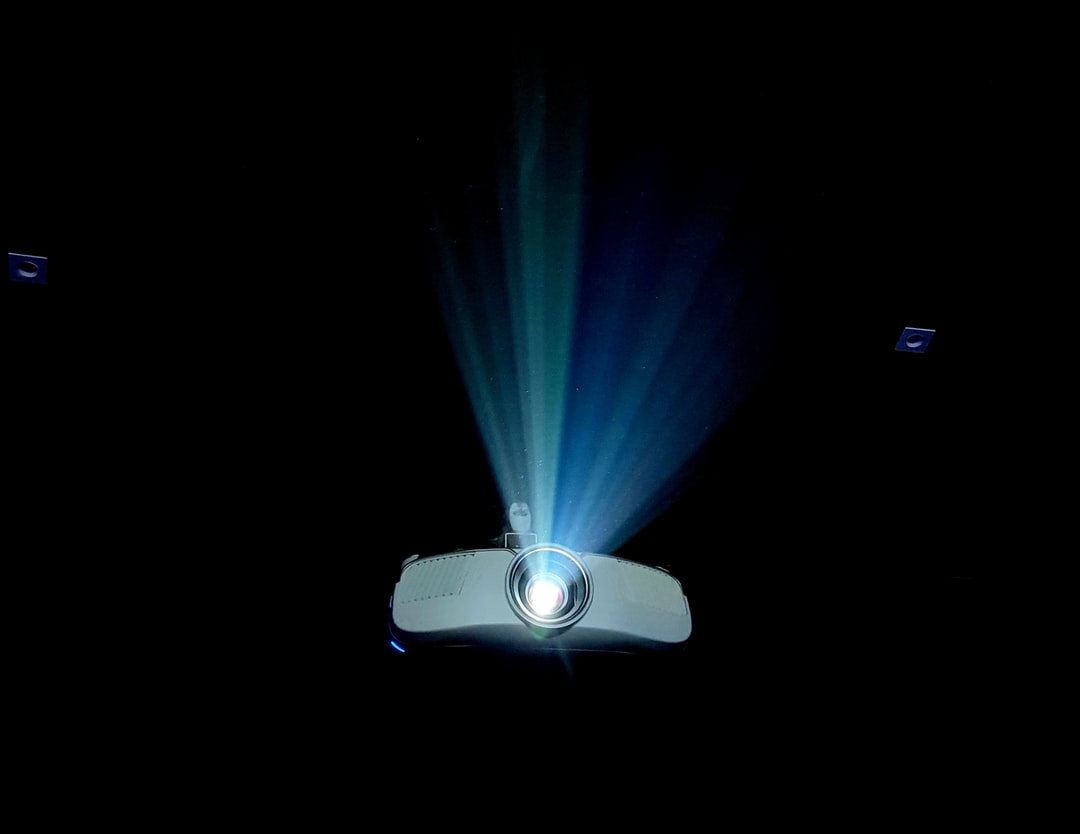 Source: Chirayu Trivedi via Unsplash
Step 3: Get the popcorn ready
Now that you have a bunch of DIY projector options, it's time to plan the movie night. If you really want to level up your home cinema game, there are some people who can help! Search a range of taskers who offer home theatre set-up, wall hanging and mounting services, and home theatre design.
We also have another article that can provide some outdoor entertaining ideas. Pretty soon, your home will be the ultimate place to hang!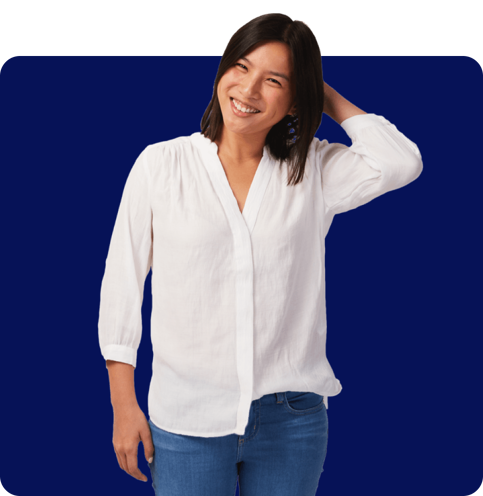 Frequently asked questions
The answer to this question is yes, with a maybe. Standard white fabric may be too thin and lack density to give you a high-quality image. The white, reverse side of the blackout curtain cloth can be a good alternative; however, you may be able to pick up a real screen for cheaper than the blackout cloth. So, unless you have some extra laying around, a screen may cost a lot less than you think.
As a rule of thumb, the blacker the room, the better. However, depending on what you are watching, some ambient light can be better. This is especially the case when watching personal footage, documentaries, or sports. Anything where interaction and conversation are likely. If a dimmer switch and downlights fall within your budget, all your bases are covered. Easily move between pitch black and mood lighting with one of these!
Unless you are buying an older projector model, most modern projector units have HDMI, USB and high-definition media ports. These allow you to run DVD and Blu-Ray players or attach your PC, laptop, tablet or smartphone directly into the system.
It's free and takes only a minute.