More homeowners around the UK are transforming their homes with a variety of home extensions. And top of the list for many homeowners is a kitchen extension renovation, which is why we've put together these kitchen extension ideas for you!
If you've been struggling for kitchen space at home, an extension is a perfect solution to add volume and floor space. Gaining more space here is not only important for functional and aesthetic reasons, but it will also improve the sociability of your home.
A kitchen extension can create a wonderfully light-filled, spacious kitchen/diner, with more storage space, functionality and a better flow into the garden. And the beauty is that an extension is a surefire way to increase your home's resale value, making it a wise investment as well as a way to improve your current living arrangements.
What about planning permission? Surprisingly, lots of kitchen extension ideas are actually achievable under permitted development rights. However, formal consent from authorities will be necessary in other cases. Your architect or builder is best placed to assist you with their expert knowledge of local policy.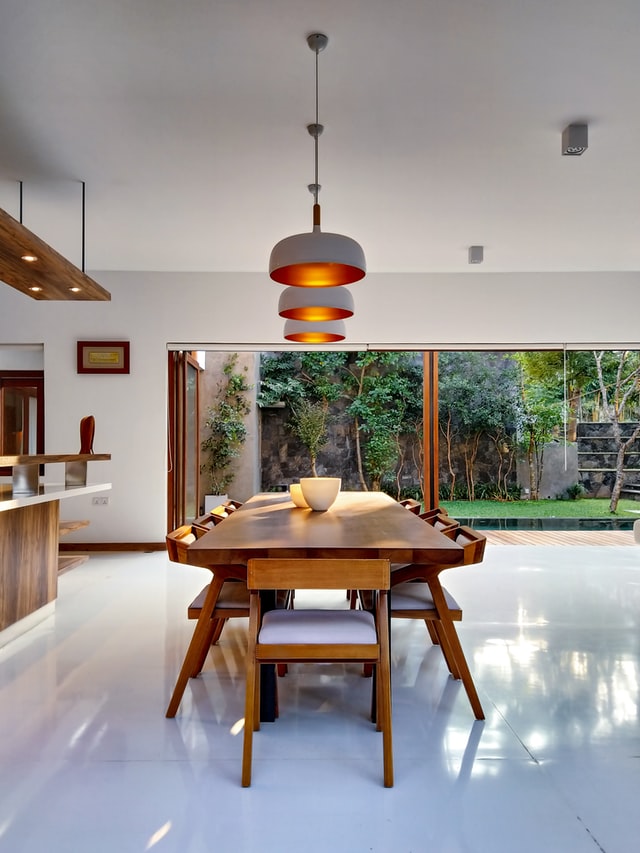 Choosing between kitchen extension ideas
There are plenty of options to consider when it comes to kitchen extension ideas: extend at the rear or side, or perhaps both? If in a terraced house, convert with a side return extension? These are often permission-friendly and won't swallow up too much of your valuable garden space. This is something to watch if planning a rear kitchen extension.
Sometimes, a loft conversion or extension is built to create a new kitchen space, but these are less common than rear or side kitchen extensions. Clever planning of the interior layout is vital too to make the most of your kitchen extension. In terms of kitchen layouts, open plan or semi-open plan are popular choices.
So, are you dreaming of a kitchen extension—or maybe even already in the exciting process of initial planning? Our collection of kitchen extension ideas should inspire you on ways to transform your cramped kitchen into a welcoming open plan modern space for cooking, dining and entertaining. Let's get into it!
1. Aim to connect old and new
Whether you decide to match the materials and finishes of your existing space to the new addition or go for a bold contrast, it's always good to establish a connection between old and new in some way, to ensure a pleasing transition. For example, contemporary 'glass box' extensions to period homes often feature pitched roofs to mimic the traditional home silhouette. Or modern extensions utilising reclaimed heritage brick, such as Coffey Architects' Modern Side Extension.
2. Convert your side return
Side return extensions are fantastic for opening up small spaces. And they're a great way to access open-plan living on a limited budget. When it comes to kitchen renovations, a side return extension often creates a space that fits both a dining area and a galley kitchen.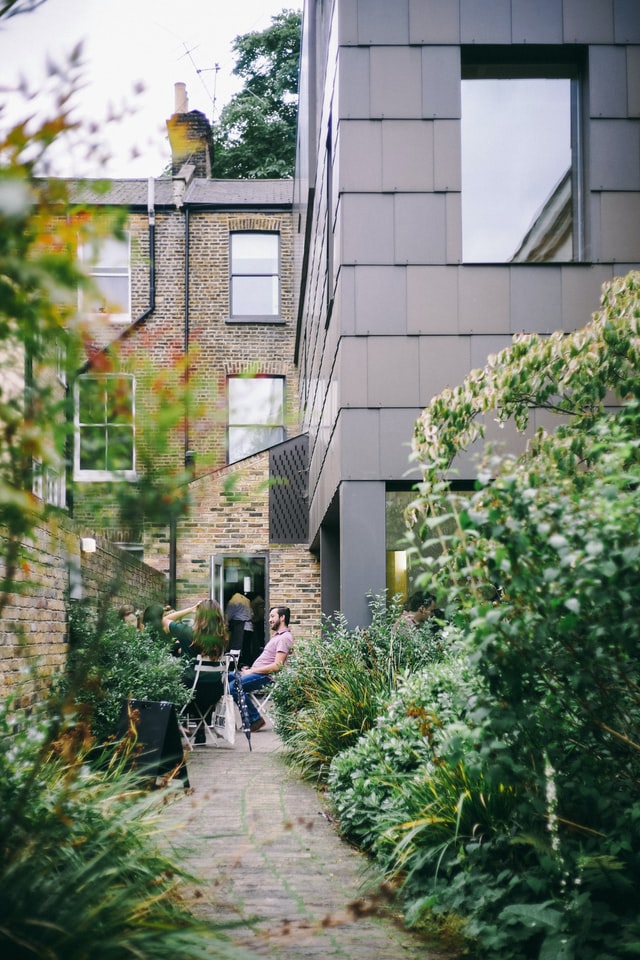 3. Go for a glass box
The award-winning Hoxton House extension (Mikhail Riches Architects) in London packs a lot into just a one-metre addition of horizontal space. The home features a two-storey double-glazed façade that utilises that extra metre to visually extend the lower-level dining space. The double-height space feels extravagant and has also created a tiny mezzanine level that functions as an extra living area. Another double-story glazed extension to admire is Slot House by Studio Octopi. And if you like the heavily glazed look, why not also look at these conservatory ideas that you can add to your home.
4. Add sliding, pivoting or swing doors
If you've created a new dining space on your ground floor with a rear extension, you might like to add glass sliding doors or a large, glazed pivoting or swing door to allow maximum light capacity as well as open up the space to the garden. The frame can match kitchen window frames as well. A massive swinging door enables full enjoyment of your garden for a tranquil indoor/outdoor social space. For inspo, see the lovely oak-framed glass sliding door of Extension One (Denizon Works), the fully-openable sliding doors of Brackenbury House (Neil Dusheiko Architects) and the massive pivot doors of House of Agnes (Tigg Coll Architects).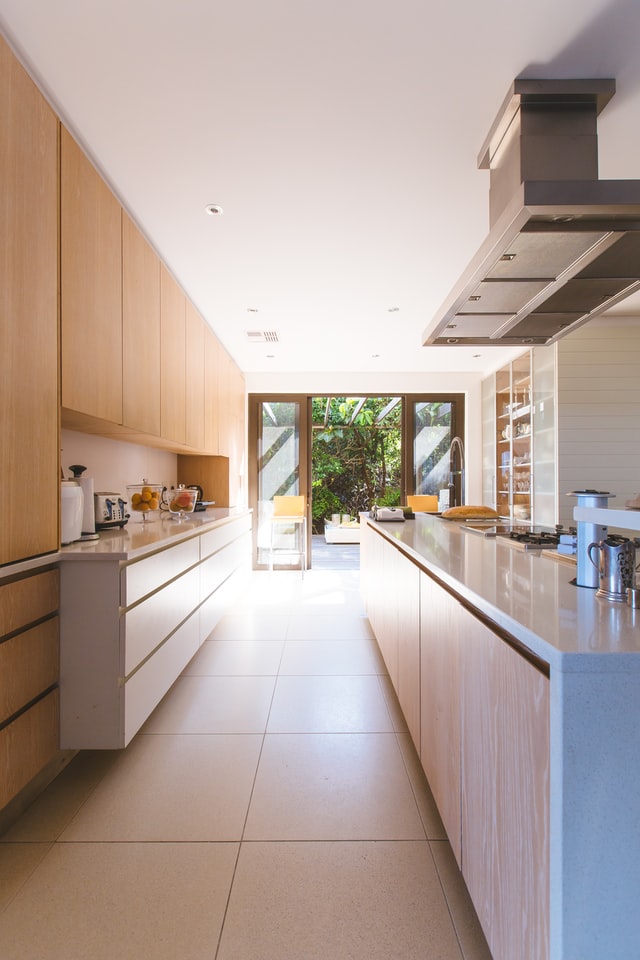 5. Choose simple materials
When it comes to kitchen extension ideas, it's very popular to stick to a simple material palette to keep things feeling as streamlined, uncluttered and spacious as possible. And to ensure the new area is seamlessly integrated with the old, it pays to have a continuity of materials. For instance, the garden might become more connected to the kitchen through the use of timber cladding indoor and out.
6. Choose a simple colour scheme
No matter what kind of extension you go with, sticking to a simple colour palette is a good idea to enhance a sense of spaciousness. Ideally, go for a soft, light, nature-toned, muted colour scheme (such as has been done at Lambeth Marsh House by Fraher Architects). Or perhaps a dramatic but soft matte black in a greyscale context.
7. Aim for pattern and texture
A kitchen extension presents the perfect opportunity to showcase gorgeously textured and coloured materials, whether timbers or natural stone or reclaimed brick. If your existing home is heritage brick, consider an extension clad in warm, paler brick and add raw timber decking.
8. Embrace zig zag rooflines
When adding to a period home, it can be harmonious to add a pitched roof to your extension. You may even go as far as creating an exaggerated, striking zig zag roof  from a series of narrow pitched roof sections), as the architects Outpost achieved with Albion Terrace. Zinc is one option for cladding your new volume, if you are keen on strong contrast as it is intensely different from original brick. Not only does this provide a unique exterior appearance and reference the original building, but it also creates what the architects call a "beautiful internal ceiling-scape".
9. Mix gorgeous materials
There are so many gorgeous materials to choose from when it comes to cladding your extension and fitting ou the interior. Outside, a mix of salvaged, marled bricks looks amazing paired with monochrome, strongly contemporary materials like steel. Or you might like a material palette of birch-faced plywood, stainless steel and lino flooring. Polished concrete floors and limestone tile for your patio area look contemporary with stainless steel finishes in your kitchen. Some other ideas worth considering:
Douglas Fir window and door frames, for adding warmth and connecting indoors to outdoors;
Zinc cladding for a strong contemporary look;
Oak and ash timbers for softness and an organic flavour;
Cedar with glass panels for Mid-Centurny Modern vibes;
Budget friendly fibre-cement panels (eg. Landells Road by Alma-nac).
Also cheap, black engineering brick (eg. Archer + Braun's Picture Frame House)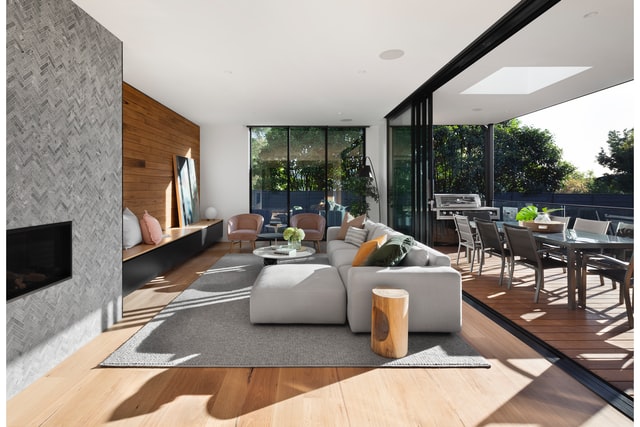 10. Consider unusual materials
There seems to be an increase in recent times in architects experimenting more with materials, for instance, charred wood (Japanese shou sugi ban) cladding or eco-friendly timber larch, which develops a silvery, textured patina over time. If you're going to go for something intentionally different, then keep all elements simple and let the unusual material speak for itself. For inspo, see Chris Dyson Architects' use of blackened cedar for Kenworthy House, SAM Architects' use of black charred larch cladding at Brockley House, or the mix of reclaimed London brick and Welsh slate at Oliphant House by Paper House Project.
11. Create privacy
If you have a rear extension and would like to increase the privacy of your new living space, you might like to design a façade that incorporates a series of deep, vertical 'fins' on the plinth, which afford side-on privacy.
12. Pick up brick tones
Conscious to create a rear kitchen extension that feels contemporary but melds authentically with the rest of your period home? Consider cladding your extension in a complementary brick. For instance, Brunel smooth blue brick was chosen to clad Zigzag Roof House by 4 S Architecture, as it complements the 'dark blue iron spot' that original London stock brick is known for.
13. Create zones
Plan your kitchen extension to have distinct functional zones for cooking, dining, casual eating. You can ensure it all ties together by the continuity of the colour palette or materials. For example, the use of continuous grey limestone flooring extending into the garden connects the spaces and is also a clever way to blur those indoor/outdoor boundaries. Also, aim for an efficient and safety-conscious layout (where traffic is routed away from the stove/hob).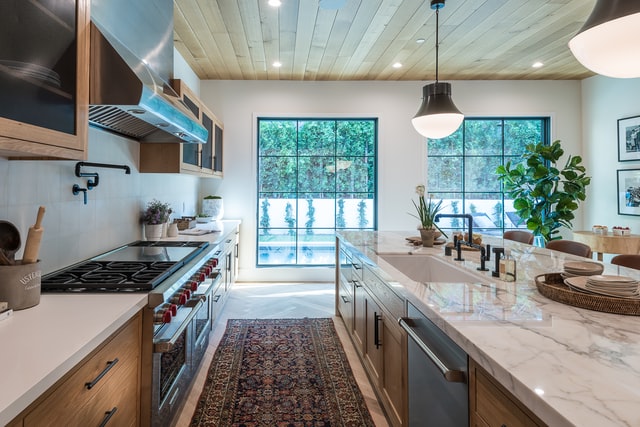 14. Have muted colours
If you are updating a Victorian with typical faded brick, adopting a muted colour palette of soft browns and greys will ensure your new volume blends in well. For example, an extension façade consisting of panels of glazing set into batons of untreated larch. Larch will charmingly weather over time and is becoming a popular choice for cladding extensions.
15. Opt for white steel
Although black steel framing is really popular in contemporary homes, steel-framed windows and doors can be painted any colour. A structural glass roof supported by steel sections finished in white blends well with light interior finishes and helps maintain the overall lightness of a space. For example, see House of Trace, Lewisham by Tsuruta Architects and Victoria Park House by Brian O'Tuama Architects.
16. Go monochrome
If you have a whitewashed interior, marrying it with black wooden cladding extending around the perimeter has the effect of creating a frame. It's a very high contrast look that is bold and striking.
17. Blend in with surrounds
Even if your kitchen extension looks seriously modern on the inside, you might like to blend the exterior harmoniously with neighbhouring architecture. This might mean choosing a similar brick to its surrounding homes, or a pitched roof design to conform to the skyline silhouette.
18. Go Scandi
Clean, minimalist Nordic style is a mainstay of contemporary interiors and the organic, streamlined and light-filled aesthetic is just perfect for kitchen extensions. Go for bright and airy with a simple Scandi monochrome colour palette. Then add warmth with natural materials and contemporary industrial touches in the lighting and use of black steel.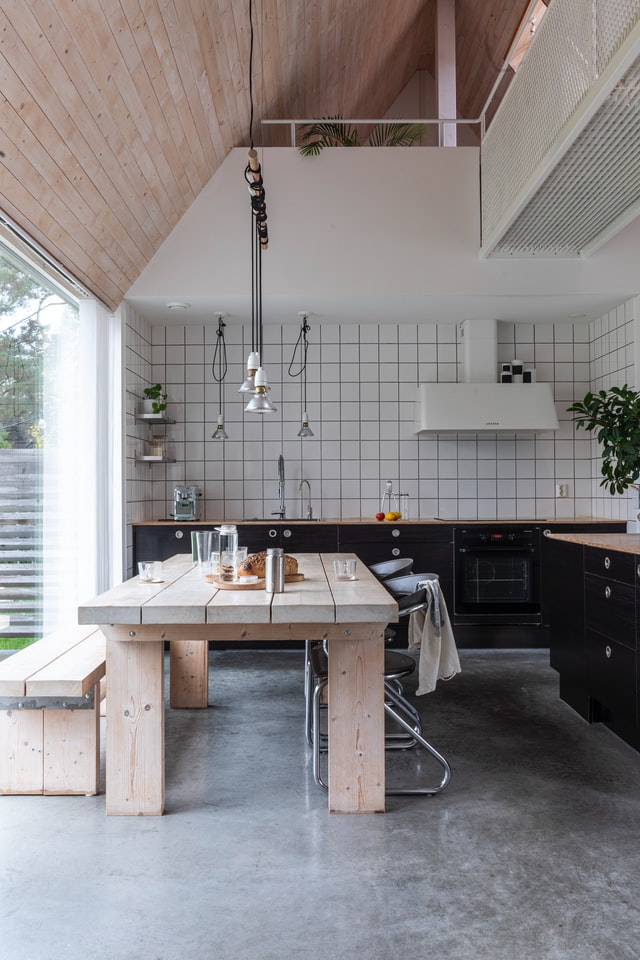 19. Enjoy a zig-zag roof interior
Love those dramatic zig-zag or multi-gabled roofs? From the inside, a zig-zag roof structure soars above your new space, adding drama and lofty volume. The roof becomes the focal element so you can keep the rest of your interior spare and minimal with lots of natural materials. For inspo, I love the beautiful light interiors that feature in the work of Bradley Van Der Straeten Architects.
20. Choose soft timbers
Some of the most stylish kitchen extensions I've seen have incorporated the use of oak, such as for lining the extension portals. There's something so lovely and soft-looking about oak, and it's also such a durable, versatile timber. Lining your side return with white-oiled oak at the thresholds (as was beautifully done with The Lined Extension by Yard Architects) will create gorgeous passageways and beautifully frame a garden view. Contrast this pale timber with black accents and a stunning contemporary light fitting.
21. Keep it light and bright
A renovation and extension can create a wonderful light-filled space perfect for multifunction living and strongly connected to the outdoors. Plentiful glazing allows so much light in, whether it's skylights or full-length roof lights, picture windows or massive glazed doors leading to the garden. Rooflights ensure the airiest and sunniest space possible and work especially well above a dining table in a kitchen diner extension. Incorporating a number of different types of lights is a good idea as well. So it's worth looking into interior lighting designers and then an electrician is able to help with downlight installation.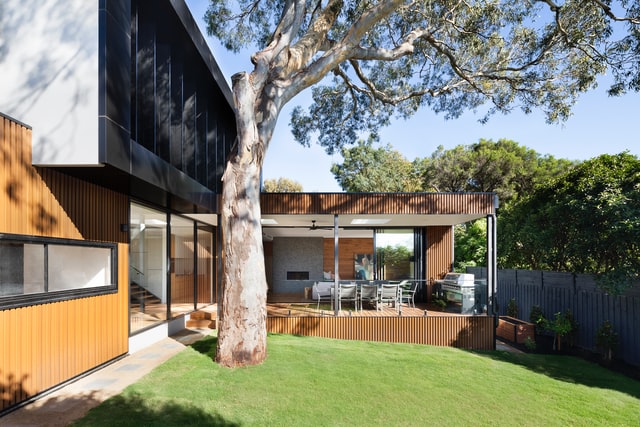 22. Try Belgian flavours
Who else loves the emerging Belgian design style that's been dubbed "the new antique" thanks to its artful balance of the old world and new? Almost like a kind of understated but luxe modern farmhouse style, this distinctive aesthetic favours simplicity, beautiful organic materials like raw wood and linen, and strong inspiration from nature, such as the use of forest colours and greyscales.
23. Opt for elegant and timeless
Want to stay true to the elegance of your period home? Add sophisticated classic décor elements, like brass accent lighting and ribbed glass panels. These will still meld with contemporary touches like tinted poured concrete floors and counters and exposed steel beams.
24. Expose a brick wall
A contemporary extension can retain the character of its original period home through the use of reclaimed bricks in an exposed brick feature wall. This was done beautifully by Coffey Architects' at their Modern Side Extension, for example.
25. Go for curves and arches
Add visual interest to your space by incorporating an array of arched windows or doors. You might also like to add curves with decor, with banquette seating, round bar stools, spherical statement lights or oversized gooseneck faucets. These will all harmoniously echo the rounded forms of your arches as well. You might also consider cladding your extension façade in scalloped shingles as was done by Office S&M at Valetta House.
26. Bring the tropical vibes
For a tranquil and serene kitchen/dining, design your kitchen extension interior to evoke tropical climates and an outdoor, al fresco lifestyle. Aim to create an urban oasis, with copious natural timber and organic materials and plenty of glazing to let the sun in.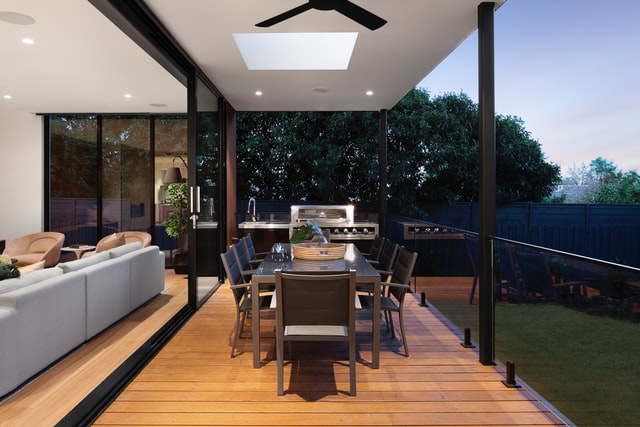 27. Make it timber-heavy
A strongly organic material palette with lots of wood ensures your kitchen extension feels warm and relaxing and engages with the landscaped wilderness of your garden. Many kitchen extensions are incorporating gorgeous bespoke timber craftsmanship, from wall to wall French doors to tilt-up windows to custom joinery and shelving. Blonde woods always work well with vintage brick and have a pleasing homespun, rustic look. You can then add steel framed sliding doors to bring a contemporary touch to your vignette.
28. Make it modern
When you update your home, you have the chance to take advantage of contemporary materials such as micro-cement for your floors (these being more eco-friendly than concrete). Now's your chance to improve on yesterday's materials and be future-forward!
29. Keep it simple
When it comes to kitchen extension ideas, keeping it simple is inevitably a good idea, whether we're talking design, materials or finishes. After all, a dwelling in use is subject to a constant interplay of colour, pattern and movement thanks to the everchanging appearance of family members–and the meals they create. In reality, life adds plenty of ornamentation—so a minimalist interior makes a great backdrop.
30. Play with colour and shapes
Some people prefer to create a more fun, colourful space. Perhaps with unusual colours like eggplant or soft orange, or even vibrant yellow in a greyscale context. Or how about a bank of coloured, painted kitchen cabinets to add a visual pop? 
31. Luxe it up
Finally, as with all British extensions, you'll always want to put in underfloor heating, new fire alarms fitted and automated home lighting for that extra wow factor.
And there you have 31 kitchen extension ideas – which of these resonate most with you? Let me know in the comments below!
Want to fast track your kitchen extension? For the best kitchen extension ideas that truly maximise the potential of your space, search now for a highly-rated local architect, builder, interior designer or an expert in kitchen design.
For more inspo when it comes to kitchen design, you might also like to look at these kitchen renovation ideas and kitchen lighting ideas.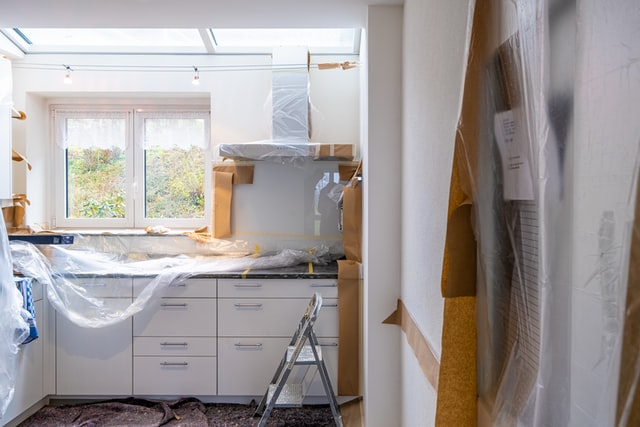 Looking for trades? Here's a handy list of links that you might need for your kitchen extension – bookmark this page!