It's no secret the kitchen is one of the toughest tasks when it comes to the modern renovation. While this is true, the kitchen remains one of the best opportunities to show off your unique personality and style. You can design with traditional timber features or luxurious silver finishes. Or, you can keep it simple with a black-and-white design, perfect for those looking for a more contemporary approach.
But before you get carried away with the huge array of kitchen renovation ideas, there are a few things that you should consider.
How to plan a kitchen renovation
Set a budget

It's no fun having to scramble for cash when you're in the middle of a renovation. So, first things first, you need to know how much you have to spend before you get carried away with the research. As you start to plan for your kitchen, it's important to be realistic about all of the costs involved. If your renovation is on the larger scale, then it's a good idea to keep your budget conservative, so you can allow for any extra costs that may crop up along the way.
As a rule of thumb, it's reasonable to set aside an additional 10 to 20 per cent of your overall budget for unexpected expenses.
Think about 'hidden' costs

Remember, your kitchen renovation costs don't just involve the price for the physical items. You also need to consider the cost of labour and materials, as well as taxes and additional shipping fees. Also, think about whether there are any processes that you can undertake yourself, or that you can get a friend or family member to help you with. Taking on a few simple tasks yourself can save you a lot of money in the long run.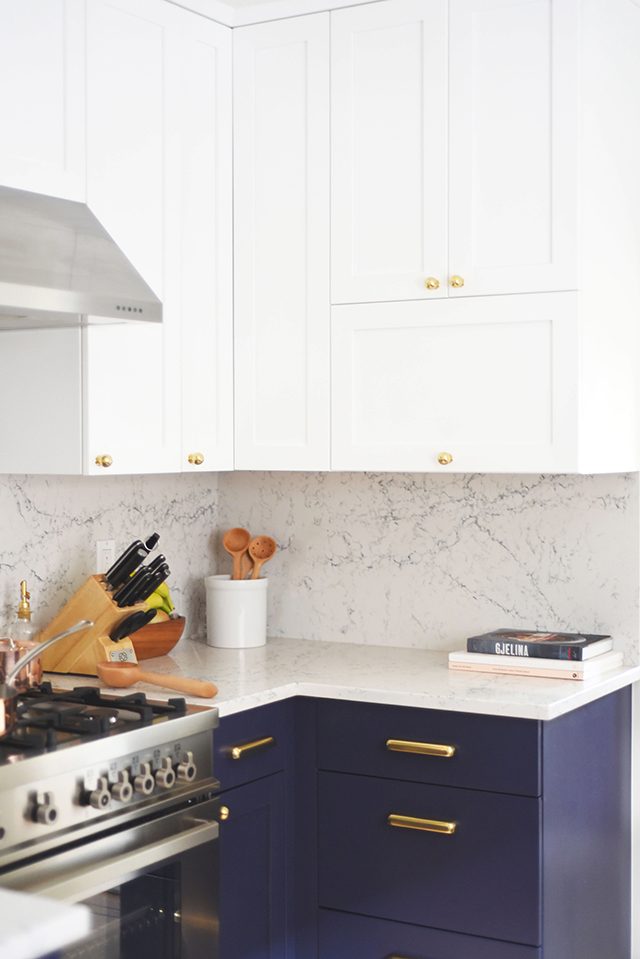 Do plenty of research

Once you've set your budget, dive into the fun stuff! You can get started by visiting kitchen showrooms and home stores or looking online to gather an estimate of what kitchen items cost and what items you'll need. You can also attend open homes of newly-renovated houses to draw inspiration and see what kitchen layouts are popular right now.
Consider your needs vs. wants

When you're designing your dream kitchen, it can be really easy to get carried away with all of the possibilities. Instead of being tempted to purchase a whole bunch of fancy appliances and gadgets, think about the pieces that you really need in your kitchen. Start this process by making a list of the reliable basics that you simply can't go without!
Carefully plan your layout

Before you talk to a builder, think about the kind of functionality you want to create in your space. Do you want an L-shaped kitchen or a U-shaped kitchen? What about a kitchen island? And how are you going to integrate storage? Make sure you give a lot of thought to this part of the process because your kitchen layout needs to serve you for a long time to come!
However you design your kitchen, it will remain a staple of your modern home. And now is the opportunity for you to design and decorate it just the way you want. So you don't have to sift through endless ideas on your own, I've compiled a list of 50+ renovation ideas to help you create that perfect balance between function and style no matter what the size of your space!
1. Mirrored splashback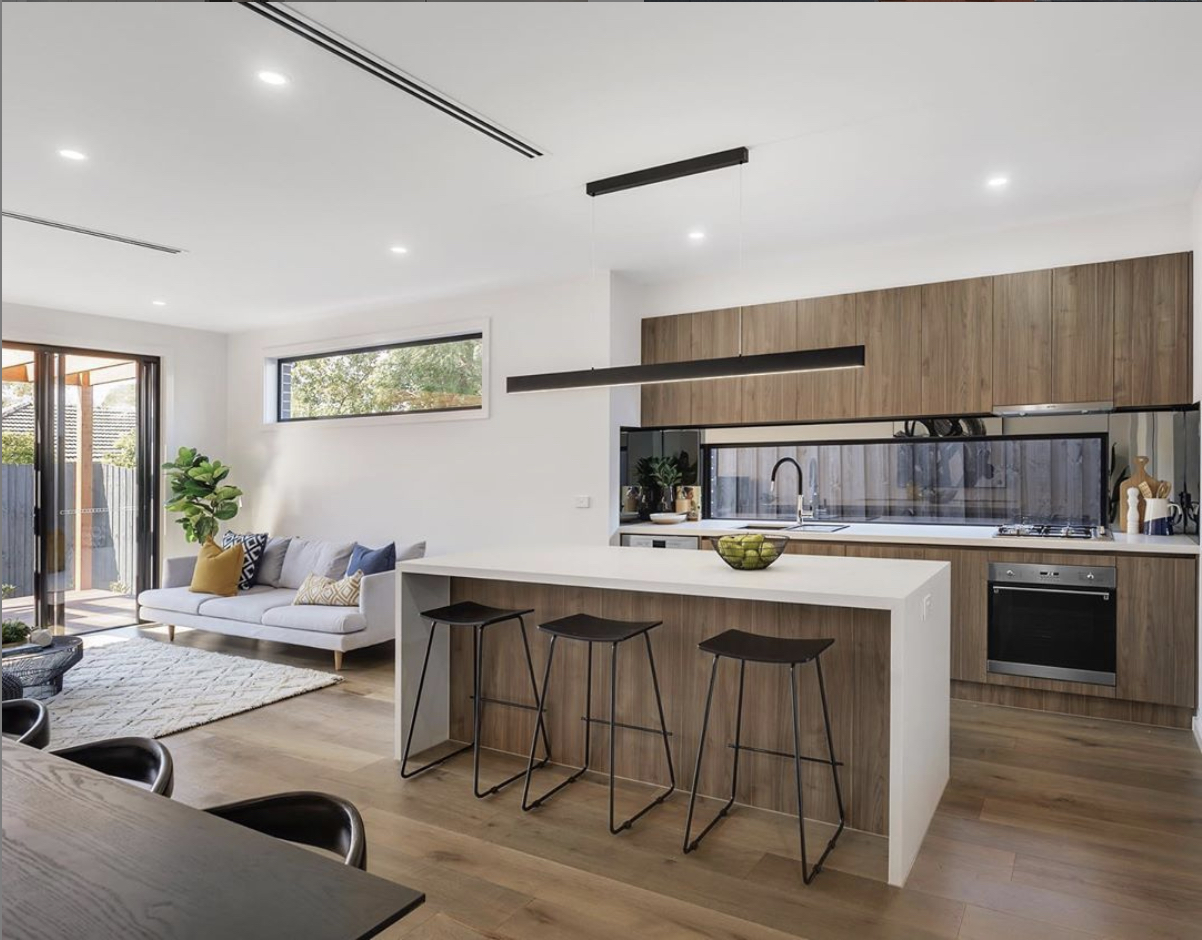 Why not surprise your visitors with a mirrored splashback? This unique, stylish feature creates an open, functional kitchen! Reflecting a quality, inspired kitchen, this piece makes the most of what you already have and amplifies it even more. If you're proud of what you've designed, why not do your best to show it off, right?
2. Gold and white
Create the perfect contrast with this gorgeous colour scheme. First, lay a white backdrop with some character. Tiles are a great option for this, creatively blending simplicity with personality. Next, for a more high-end finish, add in those gold touches. That white is sure to make the gold pop!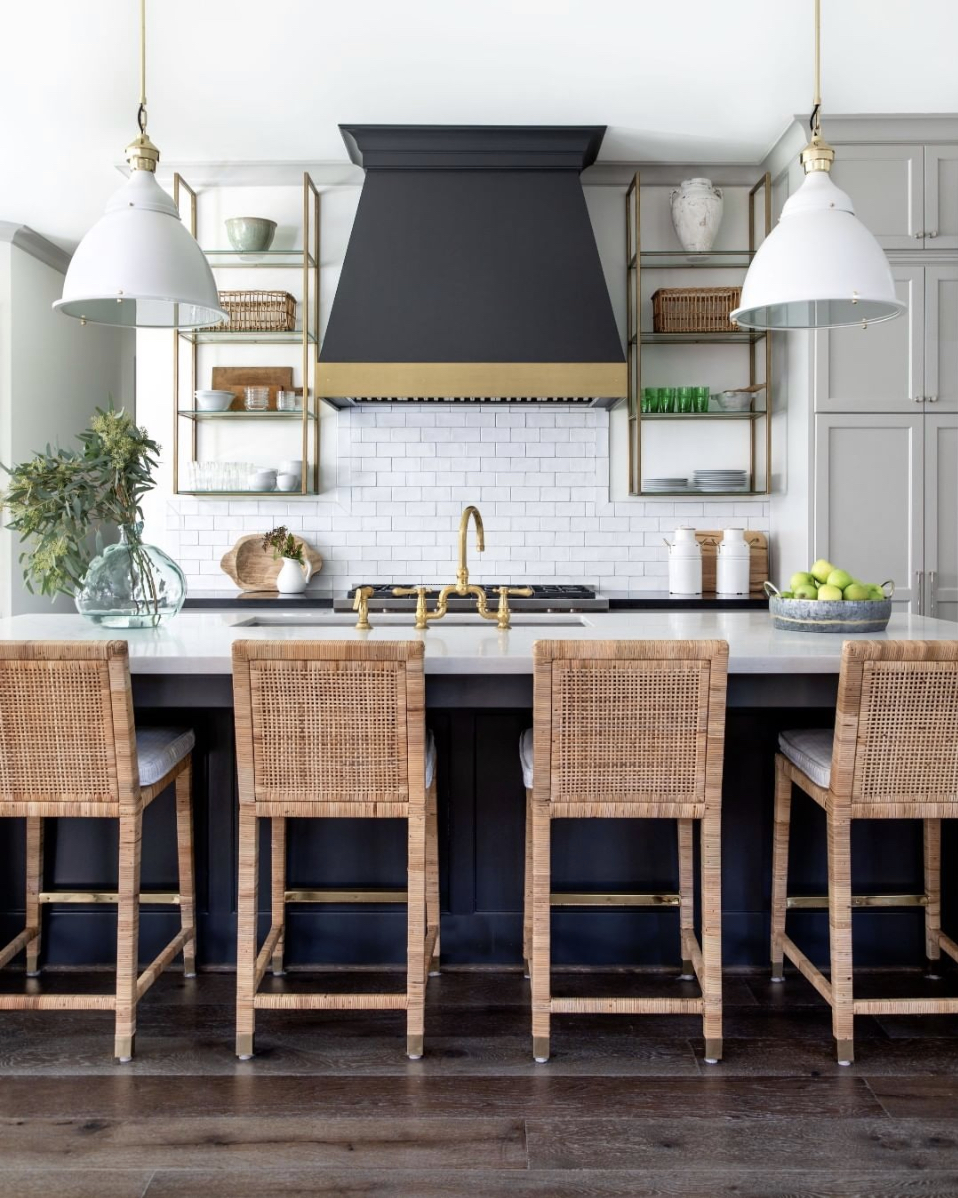 3. Wallpaper and art
Spice up your kitchen with some true patterns. These feature pieces give your kitchen that personality that many just seem to lack. But it's not all florals when it comes to wallpaper and when you see all of these kitchen wallpaper ideas, you'll know why.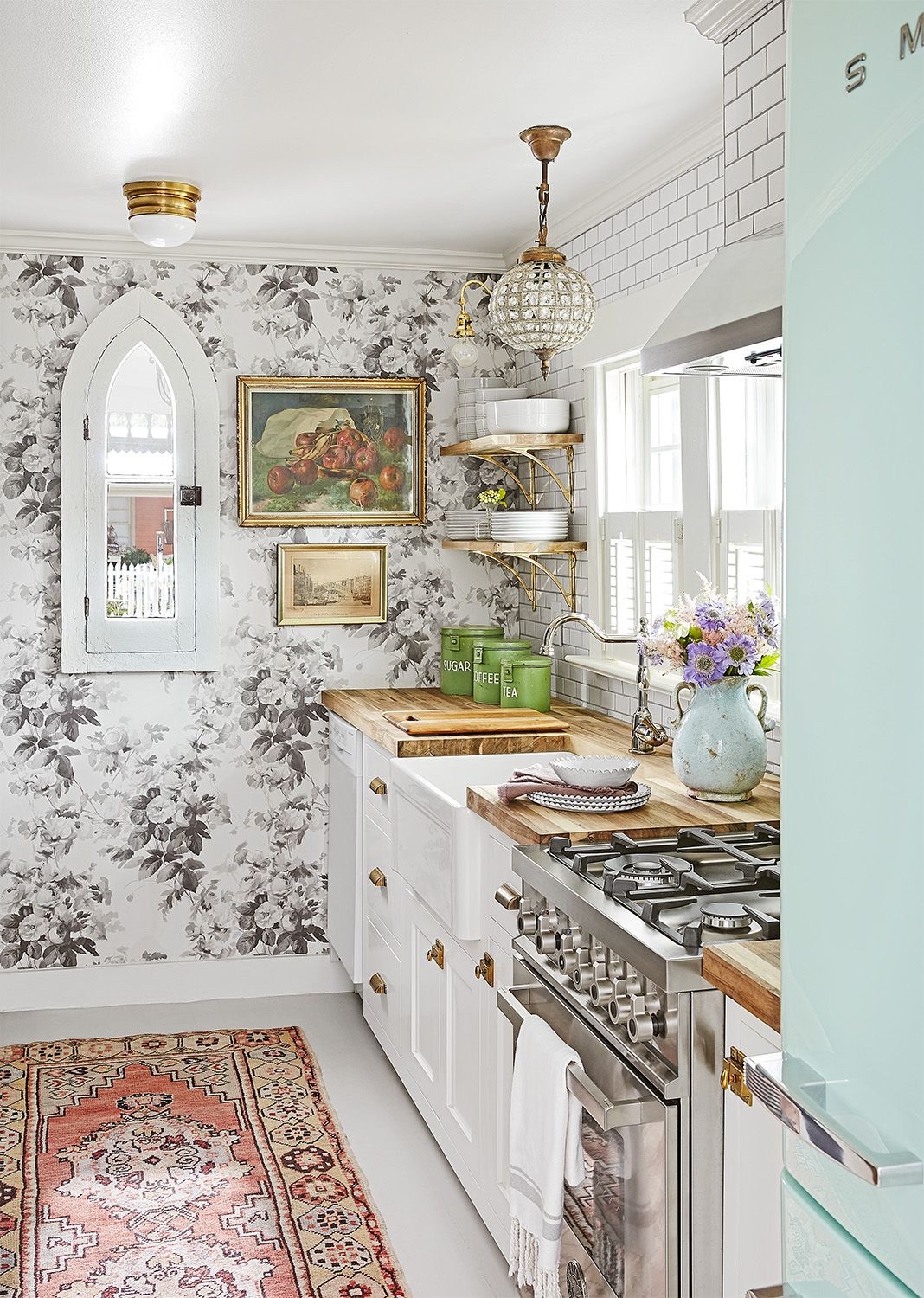 4. Small touches of colour
I love this one! The design is so simple yet bright and fresh. What makes this space pop is the clean white backdrop contrasted with a few statement pieces. In doing so, the colours are so much more vibrant. If you recreate this look, make sure to use a lighter colour scheme to brighten the area, while not opposing the white completely.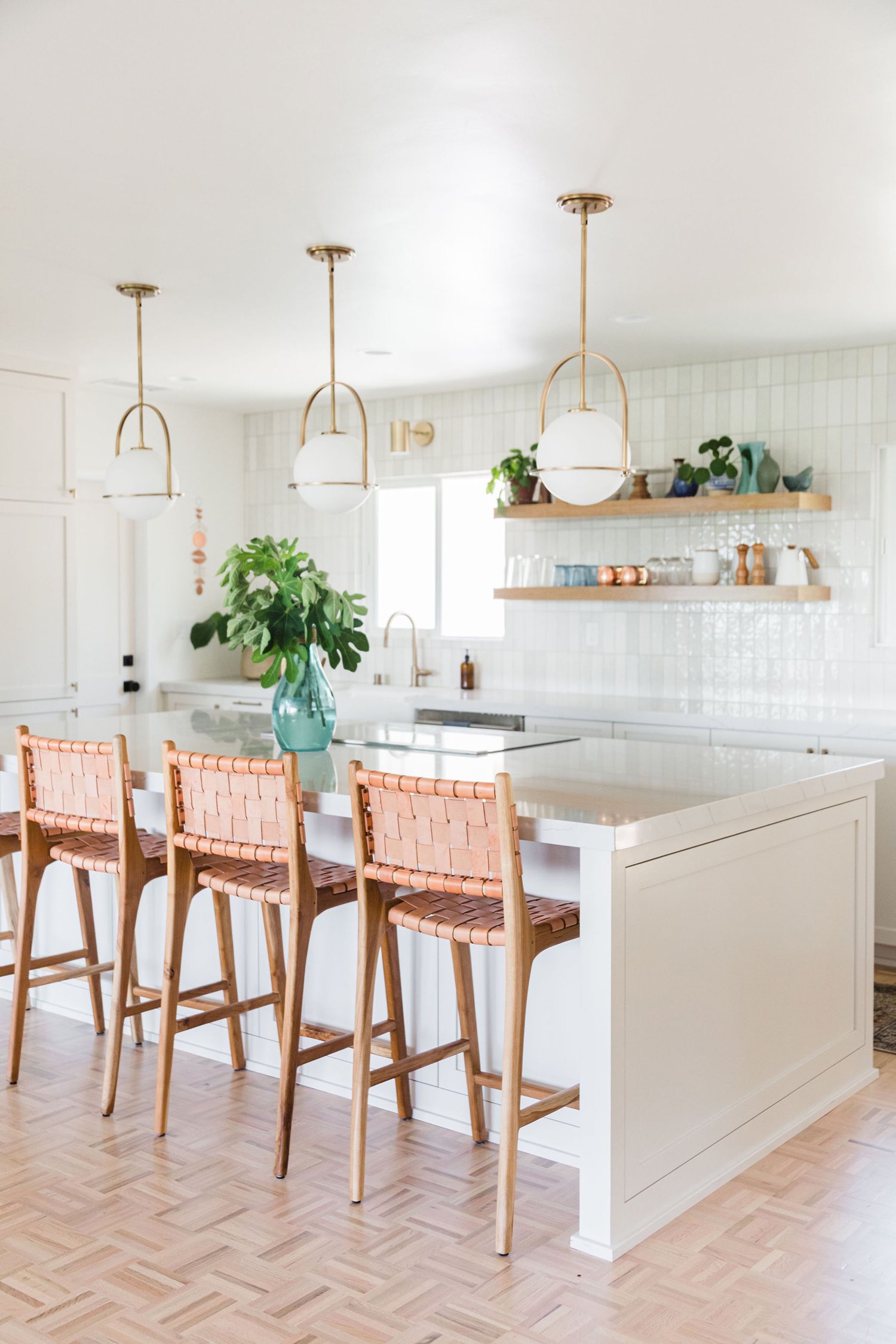 5. Give the bench some character
How many times have you seen a plain white bench and thought nothing of it? What I love about this design is how simple it is. It doesn't take away from the kitchen but adds character with the subtle addition of a fun pattern.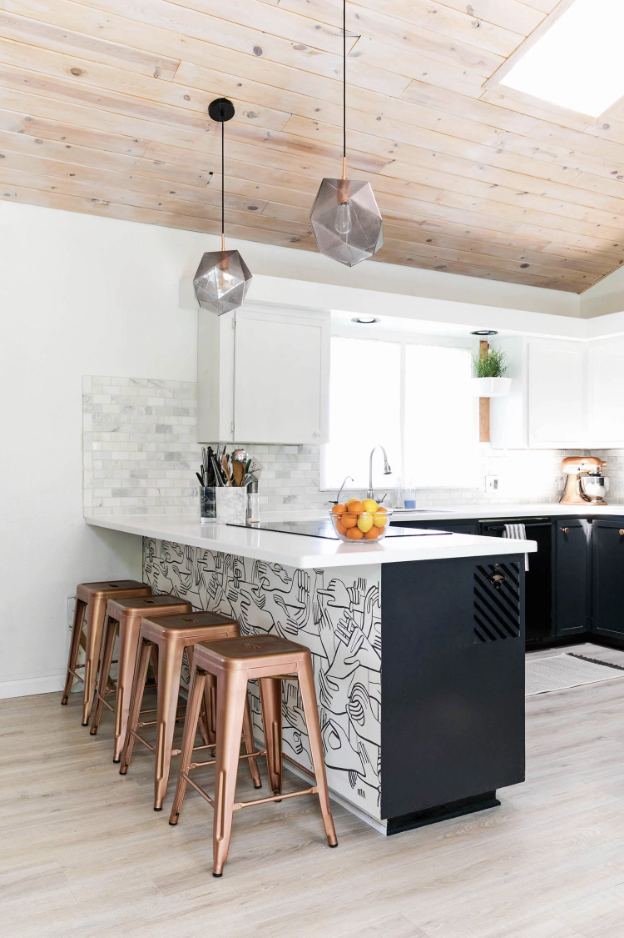 6. Windows with purpose
Never forget the power of a good view! Whether you're living in the suburbs or the city there's always a view to show off. So don't waste what you already have. Plus, natural light is always a winner.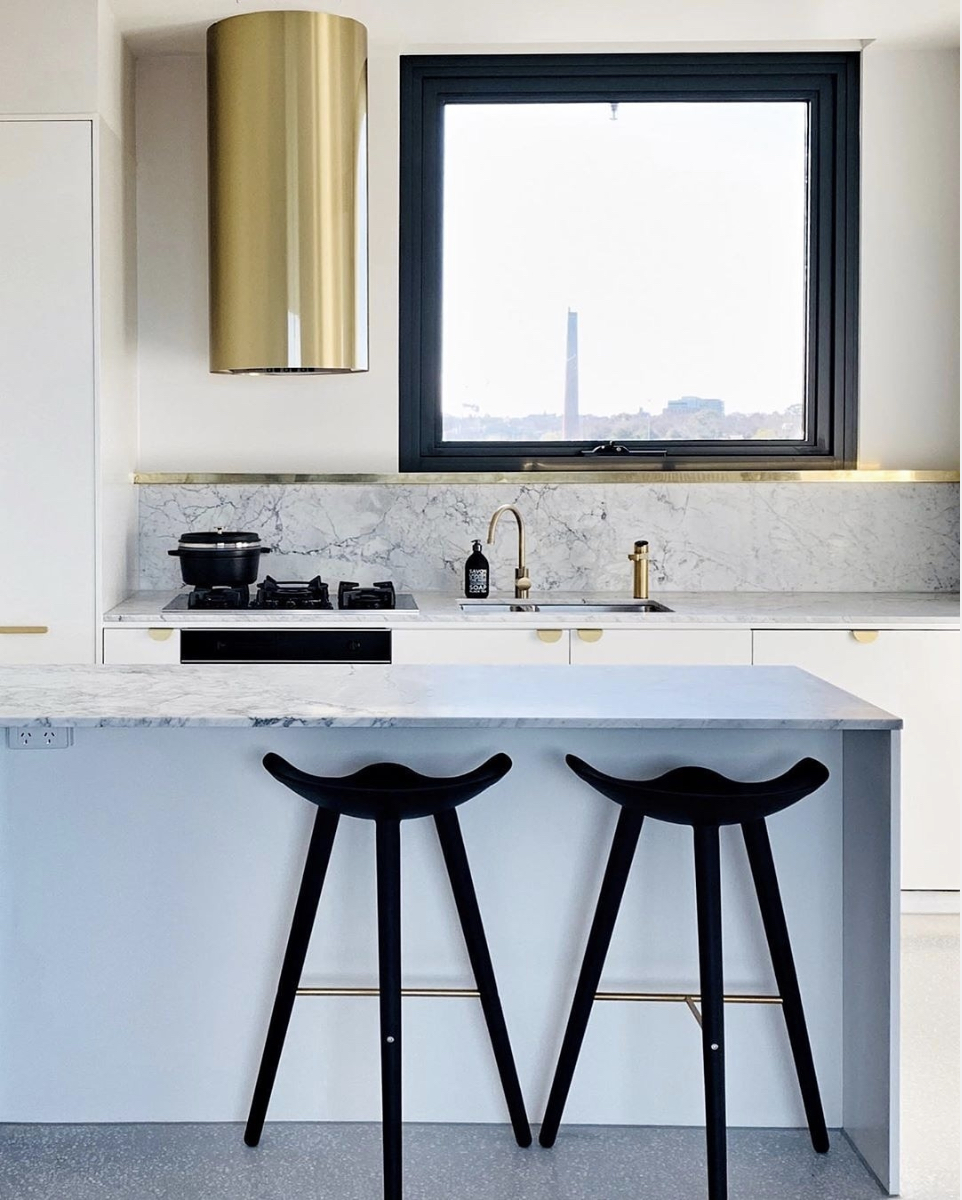 7. Industrial lighting
Never sleep on the lighting. A good set of lights is functional and stylish. Here we see the industrial kitchen design at its best. Add in a touch of natural wood and some clean metallic finishes and you have the perfect start to designing your industrial-inspired kitchen.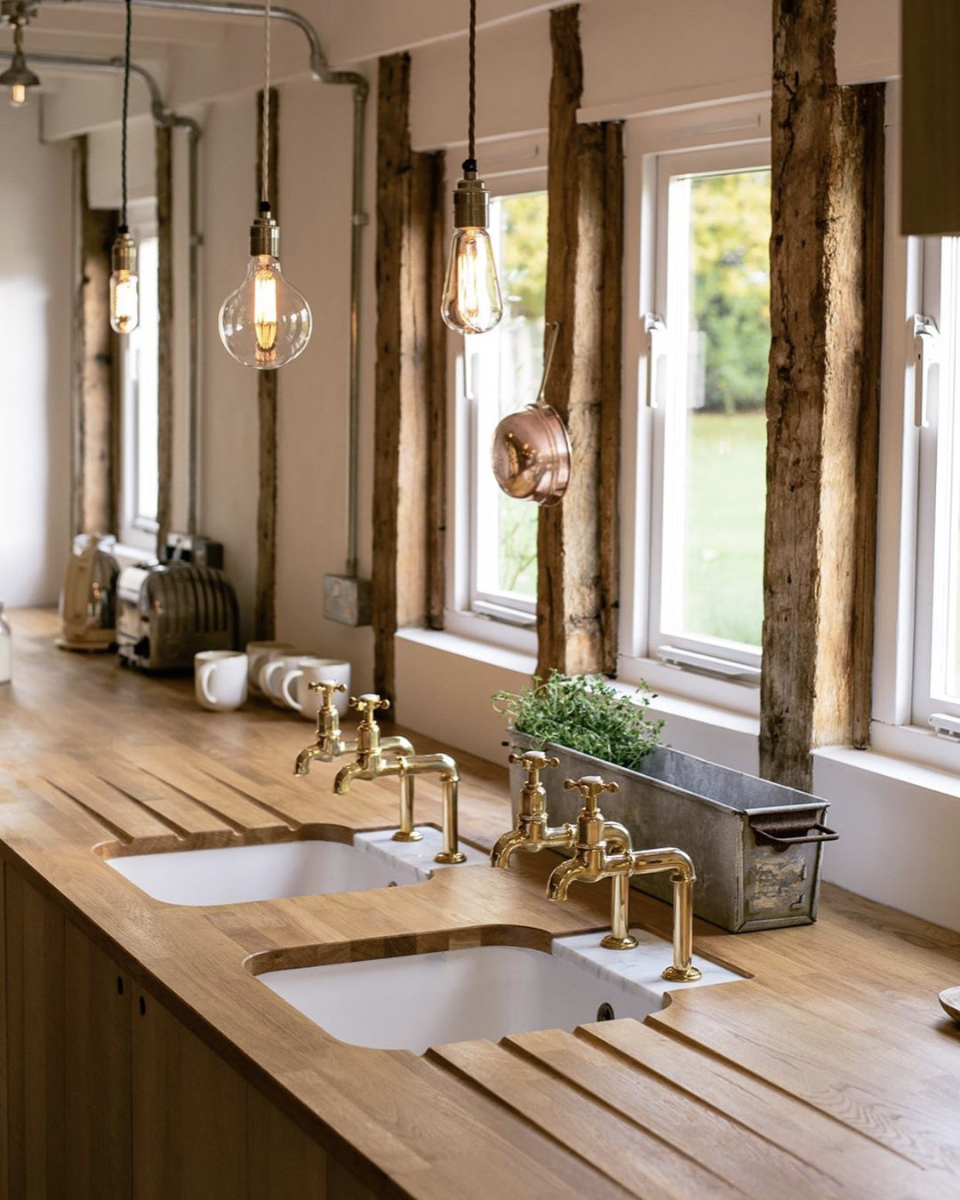 8. Positioning
As I mentioned before, a good window is always a winner….when it's in the right place, that is. Make sure to evenly space your kitchen, keeping the shapes and lines consistent, clean and symmetrical.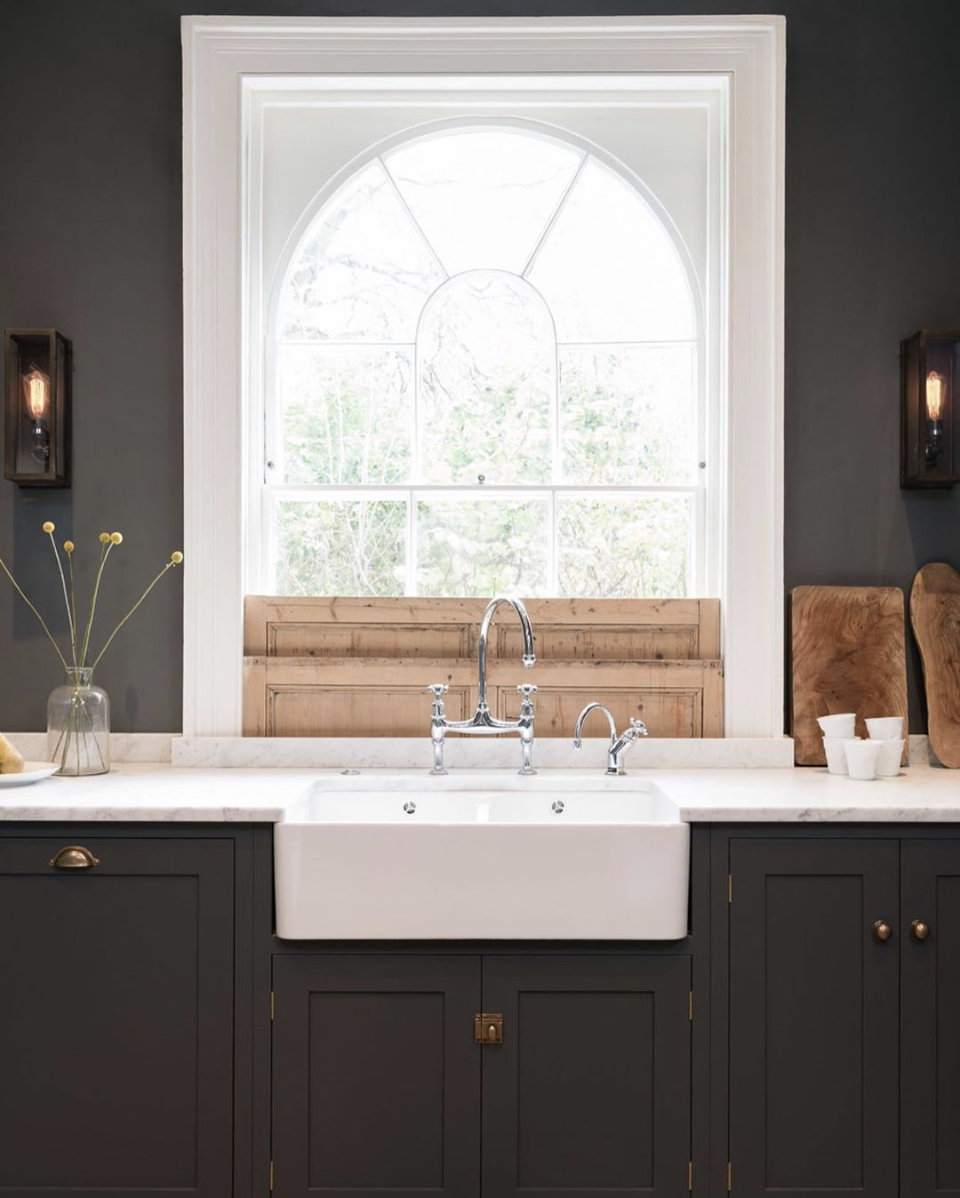 9. The perfect large island
Modern kitchens are made by their kitchen island. So keep yours simple and sleek. Remember, kitchen islands aren't all style. To maximise your space, add in cupboards and slots for additional storage.
10. Display your cutlery
In the perfect kitchen, everything has a purpose, in practicality and design. Why not show off your cutlery by making it a standout feature of your kitchen. This design is visually stunning, all while keeping your cutlery within an arm's reach.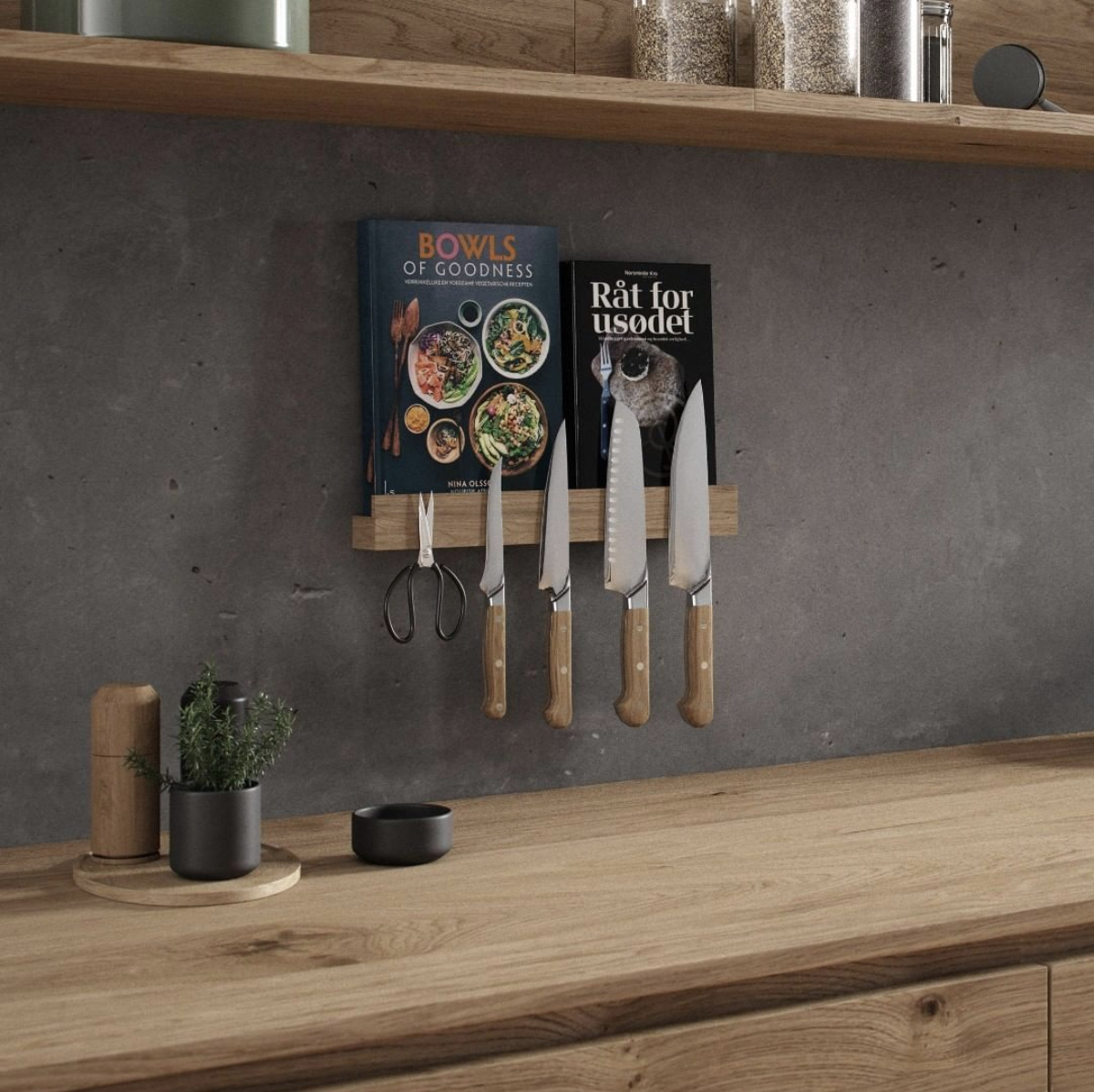 11. Patterned splashback
Now, we've spoken about the mirrored flashback but, if that's not your taste, why not add your own personal touch. Symmetrically patterned tiles are a great, easy option that is sure to make your splashback stand out.
Remember, when positioning that standout design, make sure to surround it with simple gradients such as that of the timber shown below. This helps to not only draw attention to the splashback but keeps your kitchen clean and visually clutter-free.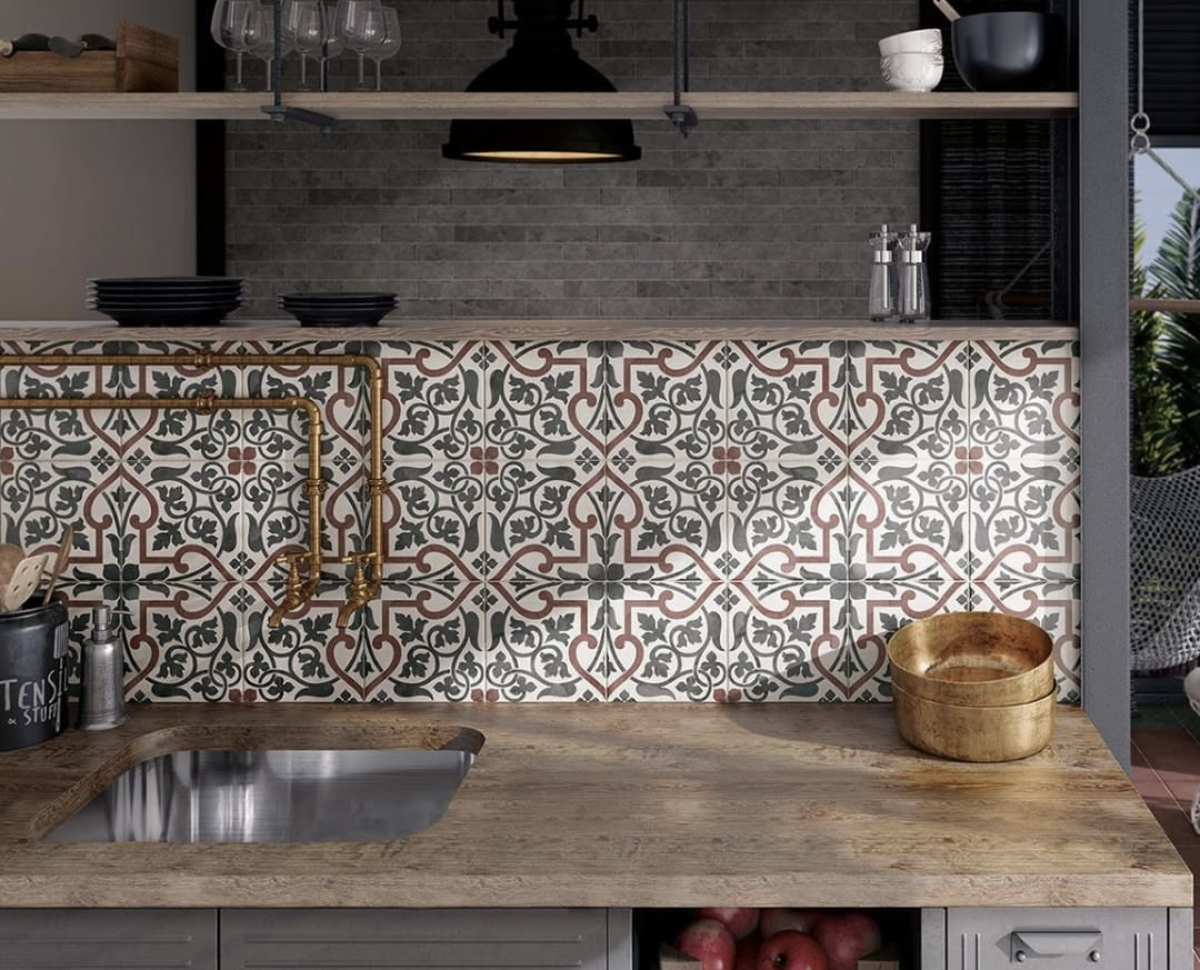 After some different inspiration? Check out these other kitchen splashback ideas.
12. Centralise your oven
By placing your oven in the centre of your kitchen, you create a focus upon which your kitchen can be expanded. This is especially useful for those of you looking for a simple, structured design.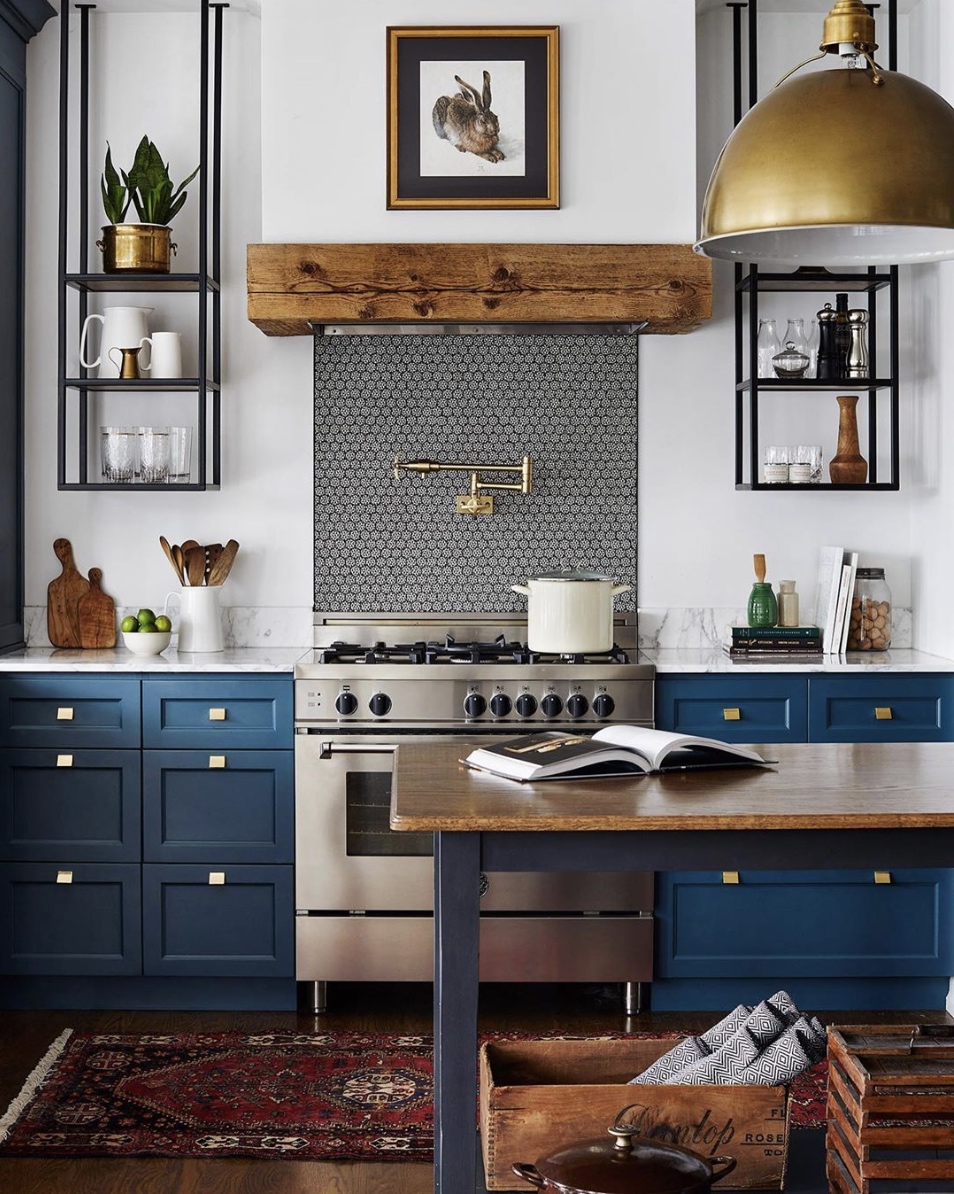 13. Simple shelving
One of the best ways to maximise your storage is to consider your kitchen's unique vertical spaces. Simple, white shelving is an easy way to add to the practicality of your kitchen making it your saving grace when it comes to small spaces.
14. Make your brickwork a statement
This one is a budget must. By stripping down those plastered walls, you can expose the true beauty of your house without barely any stress on your budget. Why spend big for more when you can make a statement for less?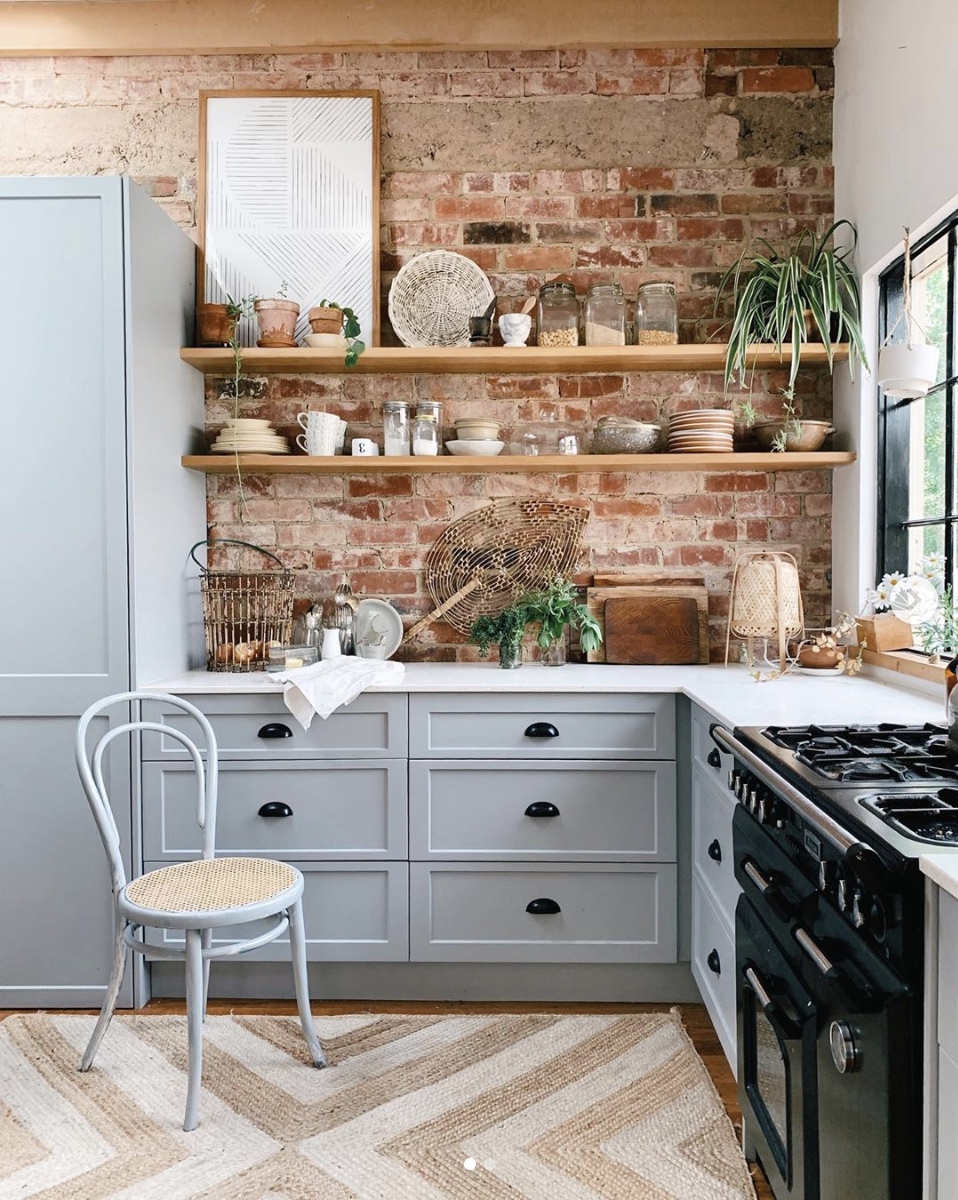 15. The modern stovetop
Modernise your kitchen with a metallic stovetop. Finish it off with a contrasting overhead fan and you can bring any kitchen into the 21st century. Also, how's that gorgeous Moroccan tile pattern in the background? I'm obsessed with it!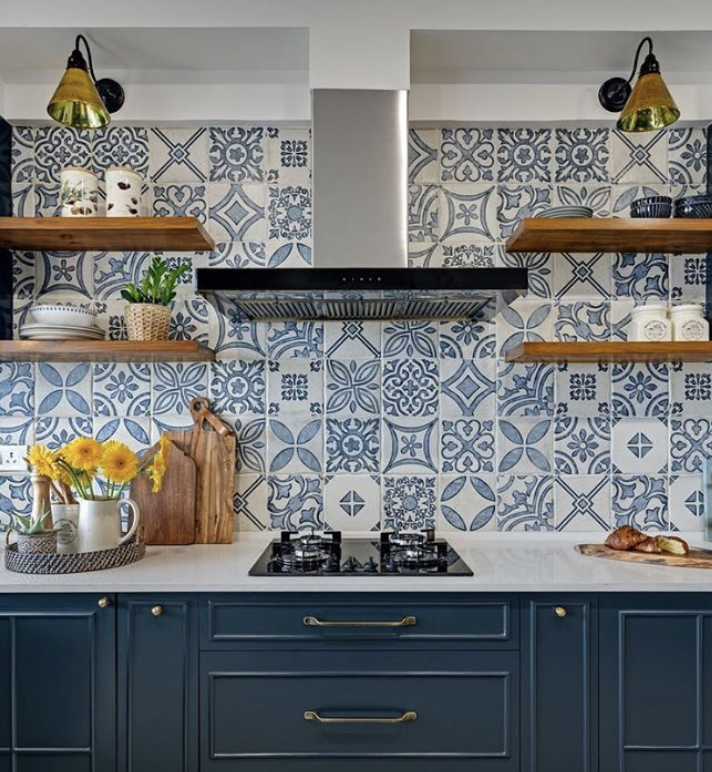 16.
Black and white
This one is a classic that will never go out of fashion. There's a reason why black and white is still in style after all these years – it's just so clean. So, if you want a simple design that brings in that modern touch, there's no better way to go than a black-and-white kitchen colour scheme. It'll be sure to age perfectly.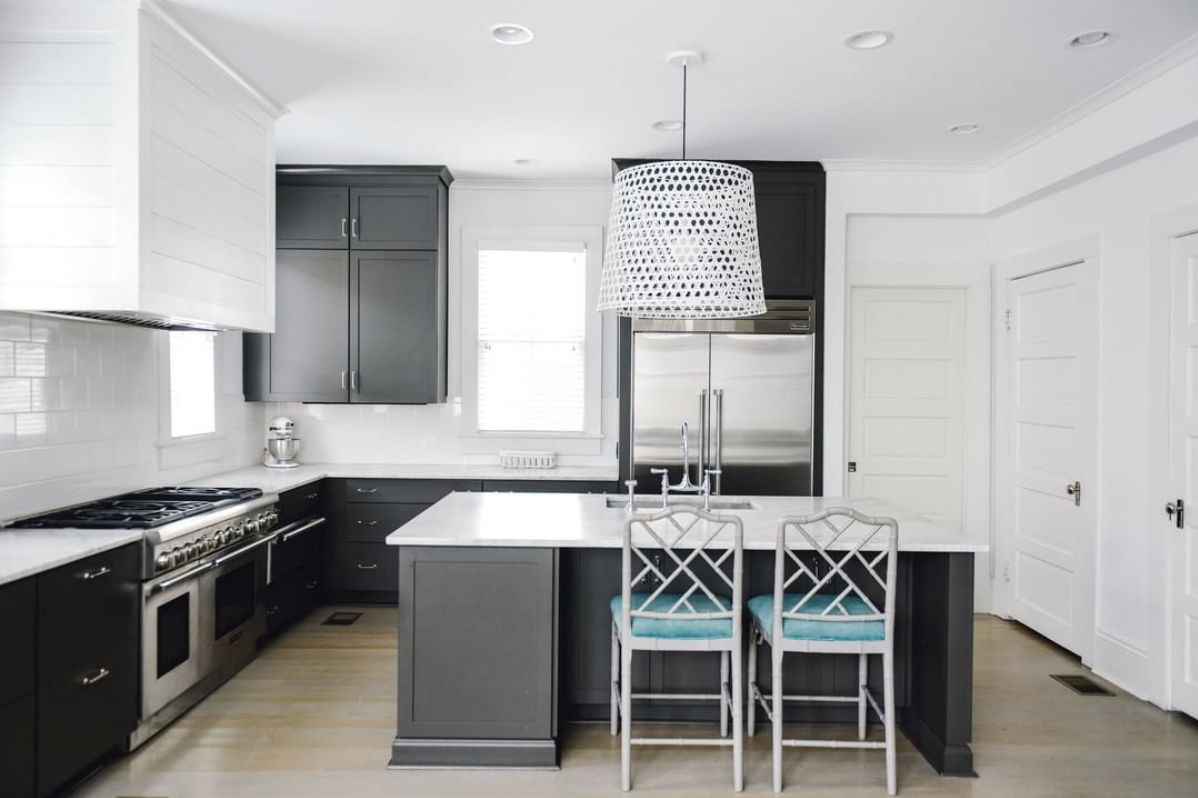 17. Bring in nature
Nature has never looked so good as in the home. Ok, maybe that's an overstatement but seriously do not sleep on this one. By bringing greenery, in the form of pots, plants and herbs, into your home, you're sure to not only brighten up the area but inject new life into your kitchen design.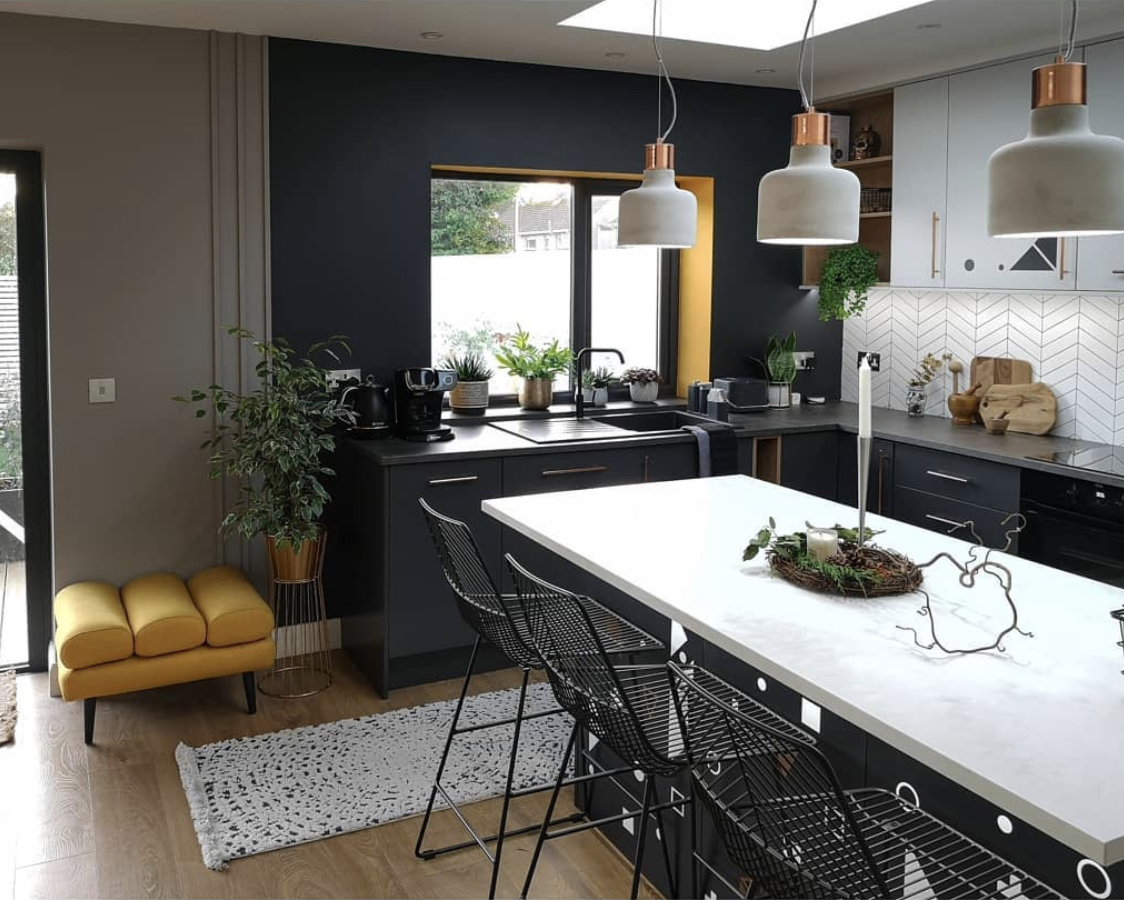 18. Modern sink
Sure, it's a kitchen staple, but we need to discuss the sink. For those of you looking for that modern edge, then you can't look past a stainless steel sink. While it may seem basic, this does not need to be a standout item. Use this design for a sleek, humble take on the kitchen sink.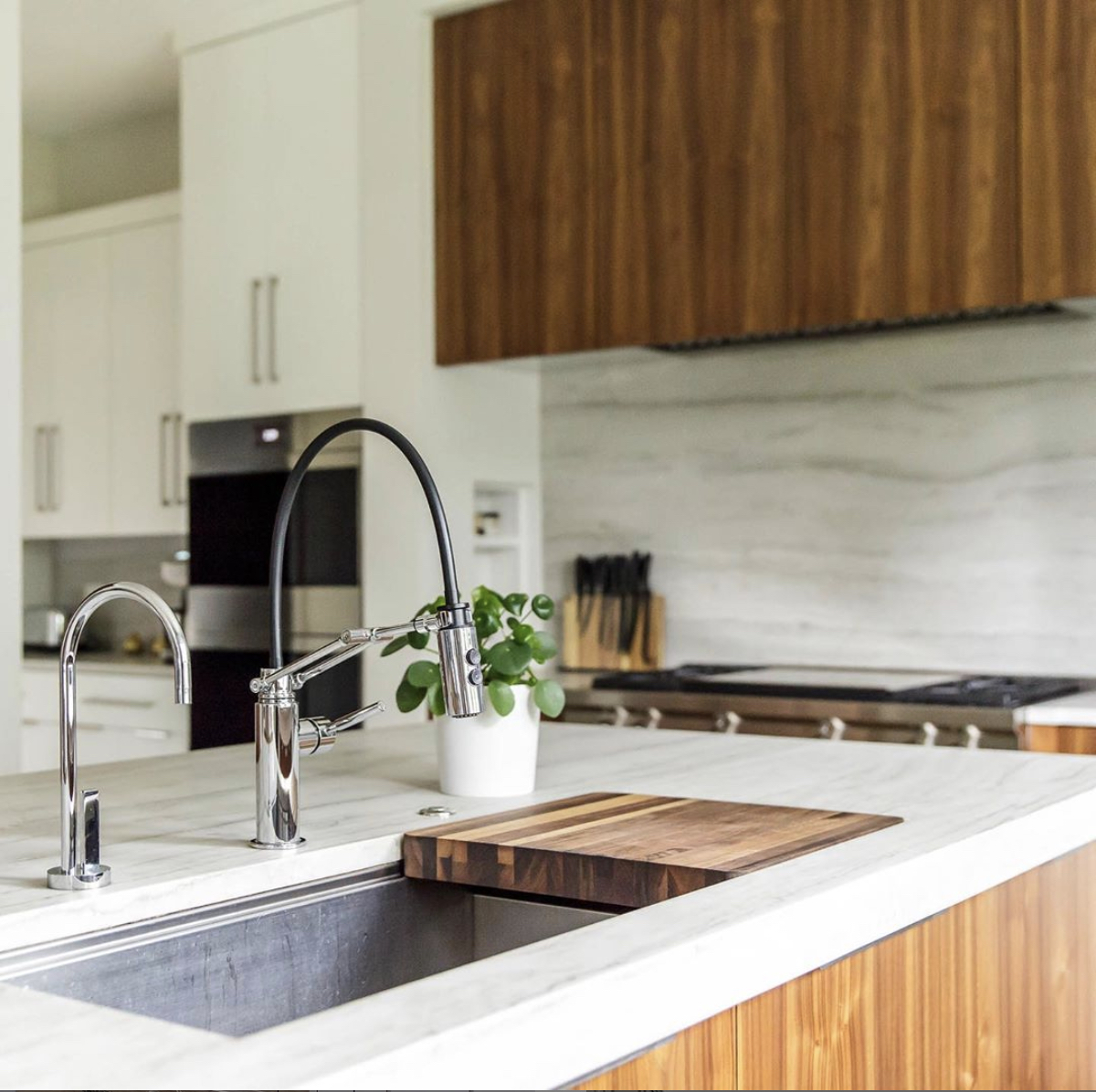 19. Style with food
It's the kitchen, right? So why not show off your best cooking skills with some baked goods or a classic bowl of fruit. It's an easy fix that is one way to inject your personality into any kitchen.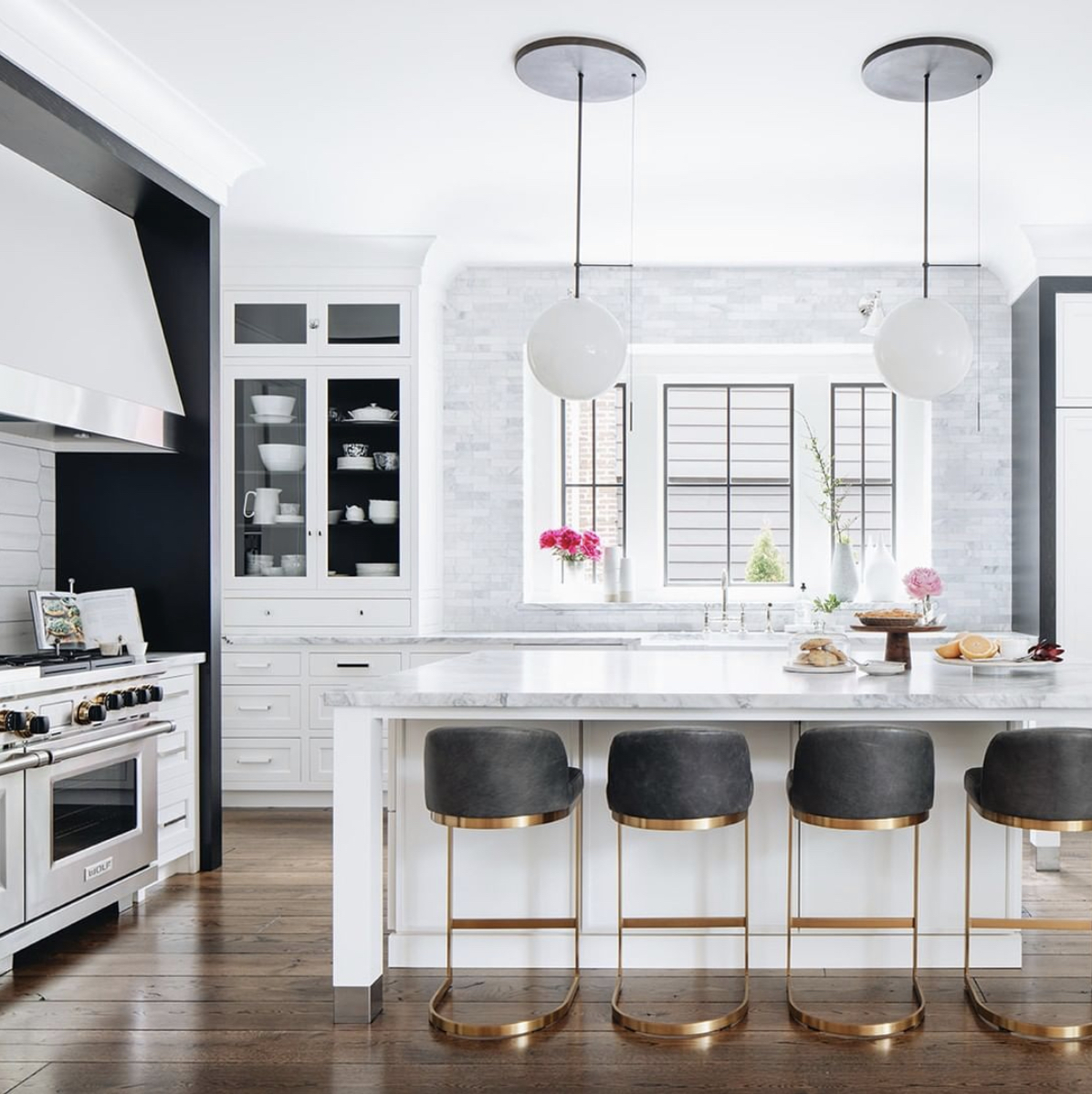 20. Always watch the lines
Lines of view are notoriously important when it comes to a good open plan kitchen design. What I love about this kitchen is the way it positions the kitchen tap with the centre of the room. This draws your attention to the tap, making a statement with even the most simple of items.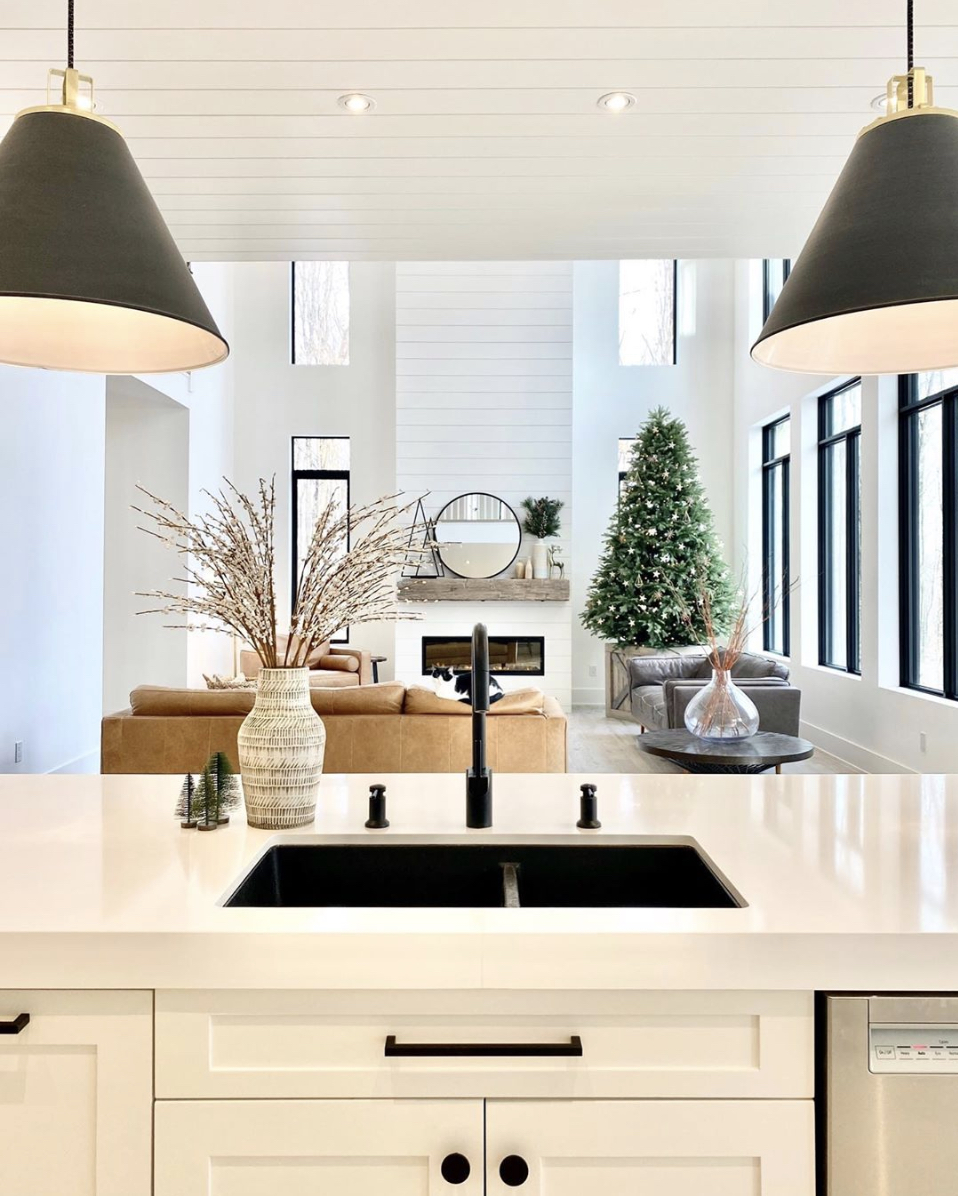 21. Contrast your cabinets
Don't be scared to mix things up. Picking the right colours is essential to your overall kitchen design. Keep it clean with a bold colour and contrast it with something lighter so it can bounce off the heaviness of the other. Two bold colours are likely to clash so if this is your focus, choose wisely.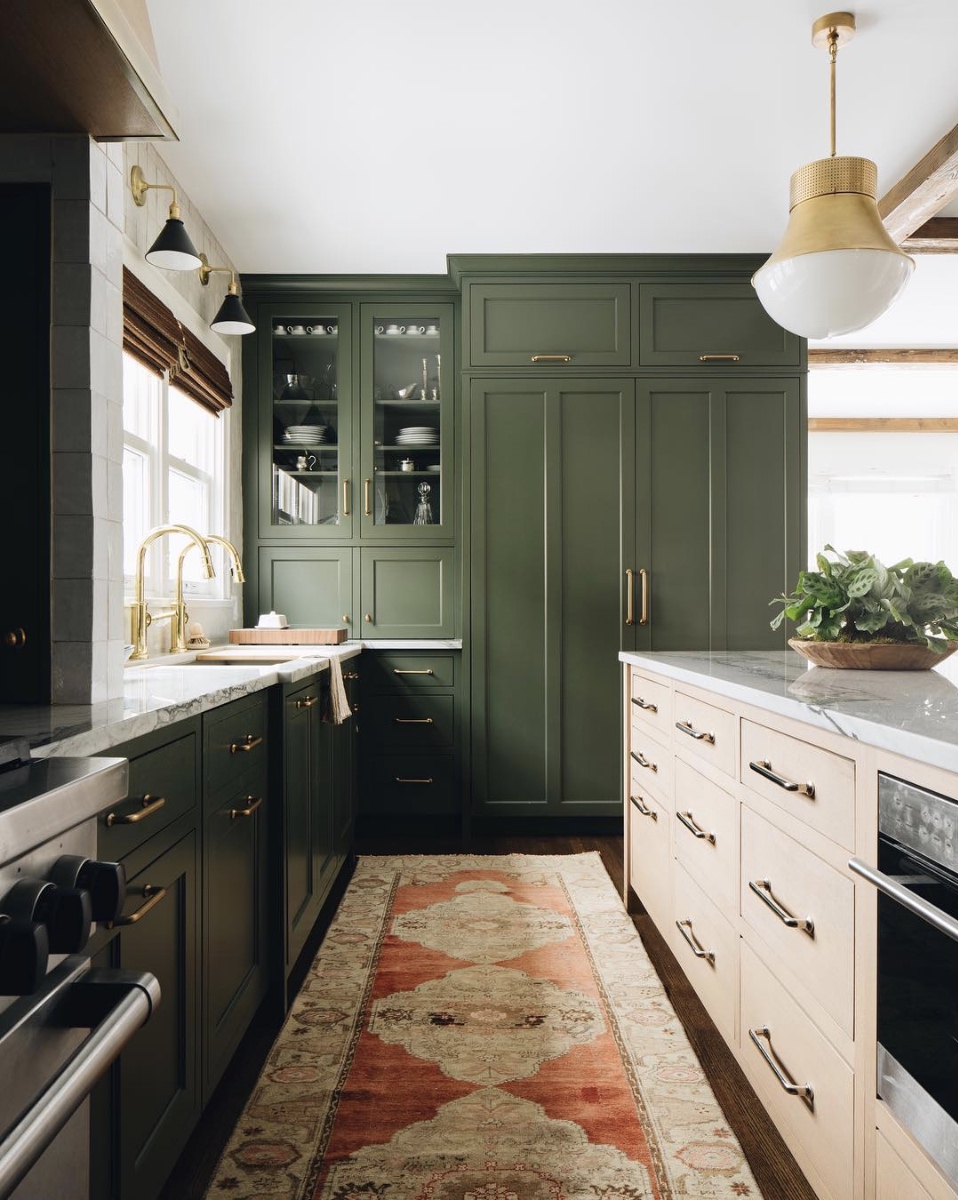 You can always get a professional to come out and help with the planning phase of your kitchen renovation. Find a kitchen cabinet maker near you.
22.
Bring back the old fashioned
There is an argument to be made that bringing back the old as new is a much more tasteful way to design your kitchen than the flashy modern items of the 21st century. These black-and-white tiles really bring back that 80s diner aesthetic. Add a little gloss and they're perfect for your 21st century home.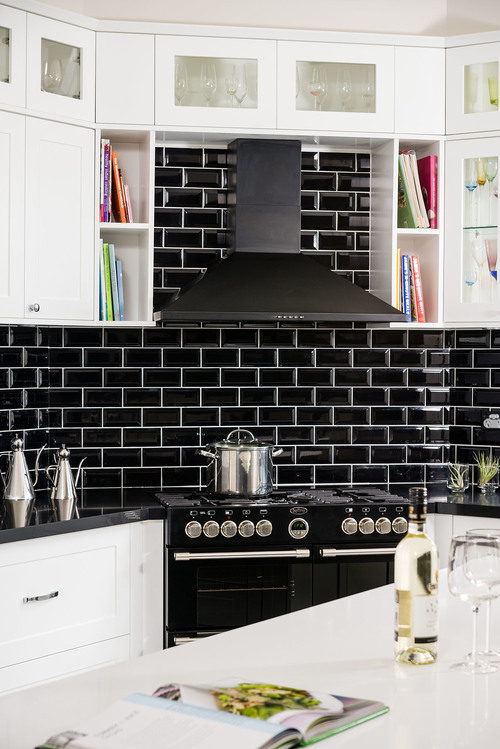 23. Sleek seating
All good islands are accompanied by a well-contrasted set of seats. The simplicity is really what makes this one. Flashy island seats are hardly ever successful and, when they are, they always feel just a bit too much. A metallic grey is a great option, especially teamed up with a lighter kitchen, like this white one.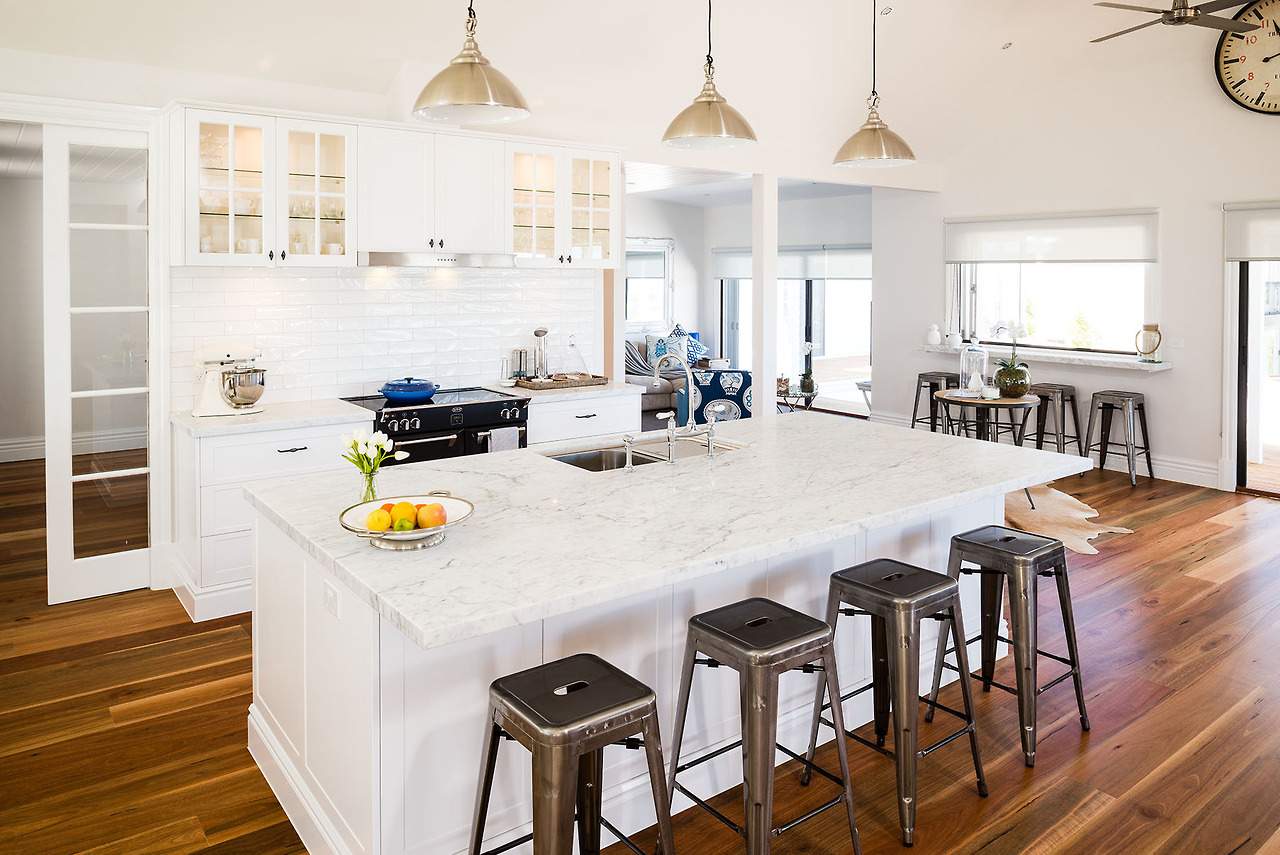 24. Small features
The devil lies in the detail. And this really stands true when it comes to designing a diverse clutter-free kitchen. What sparks my interest in this design is the smart use of the small metallic pole to store your frequently used items. This brings some diversity to the standard cupboards and overhead shelving surrounding the pole and provides. By incorporating a design like this, you'll be able to make your kitchen stand out from the rest.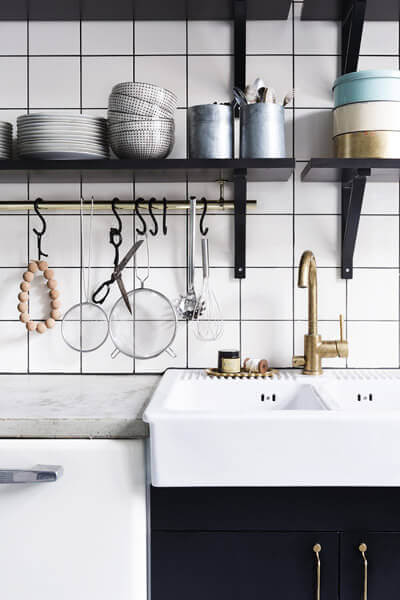 25. Stone, stone and more stone
This is one of your best friends when it comes to designing the kitchen. Usually accompanied by some greenery, the stone is the perfect balance between gritty and sleek for the modern kitchen.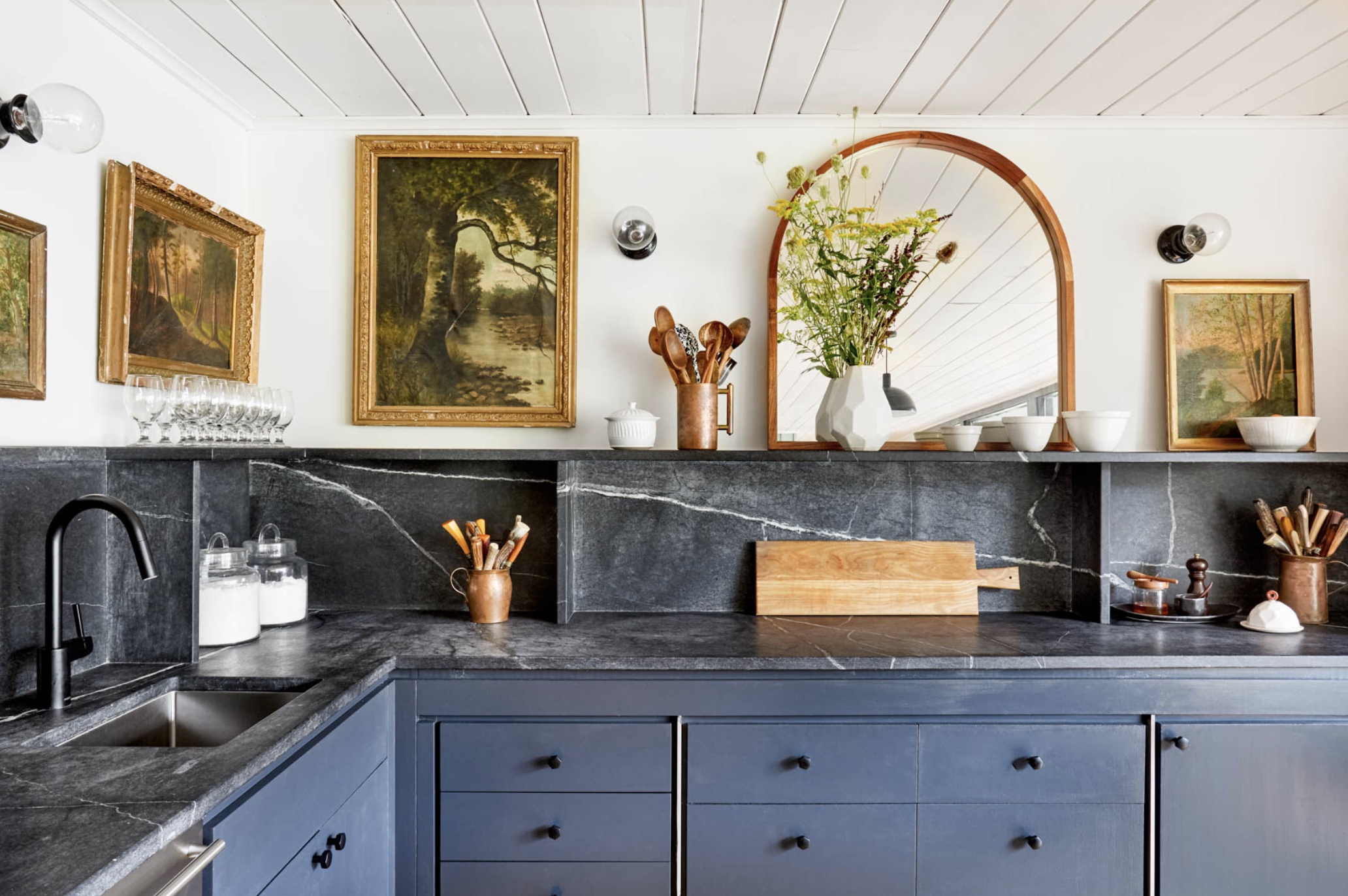 26. Let's talk dishwashers
It's always been a tough trick to try and fit a modern dishwasher into a retro kitchen. However, there is one secret that makes this effortless. Give it a clean, single-coloured base aesthetic. Next, add some metallic finishes (copper is always a good choice). And make sure this contrasts appropriately with your metal selections throughout your kitchen.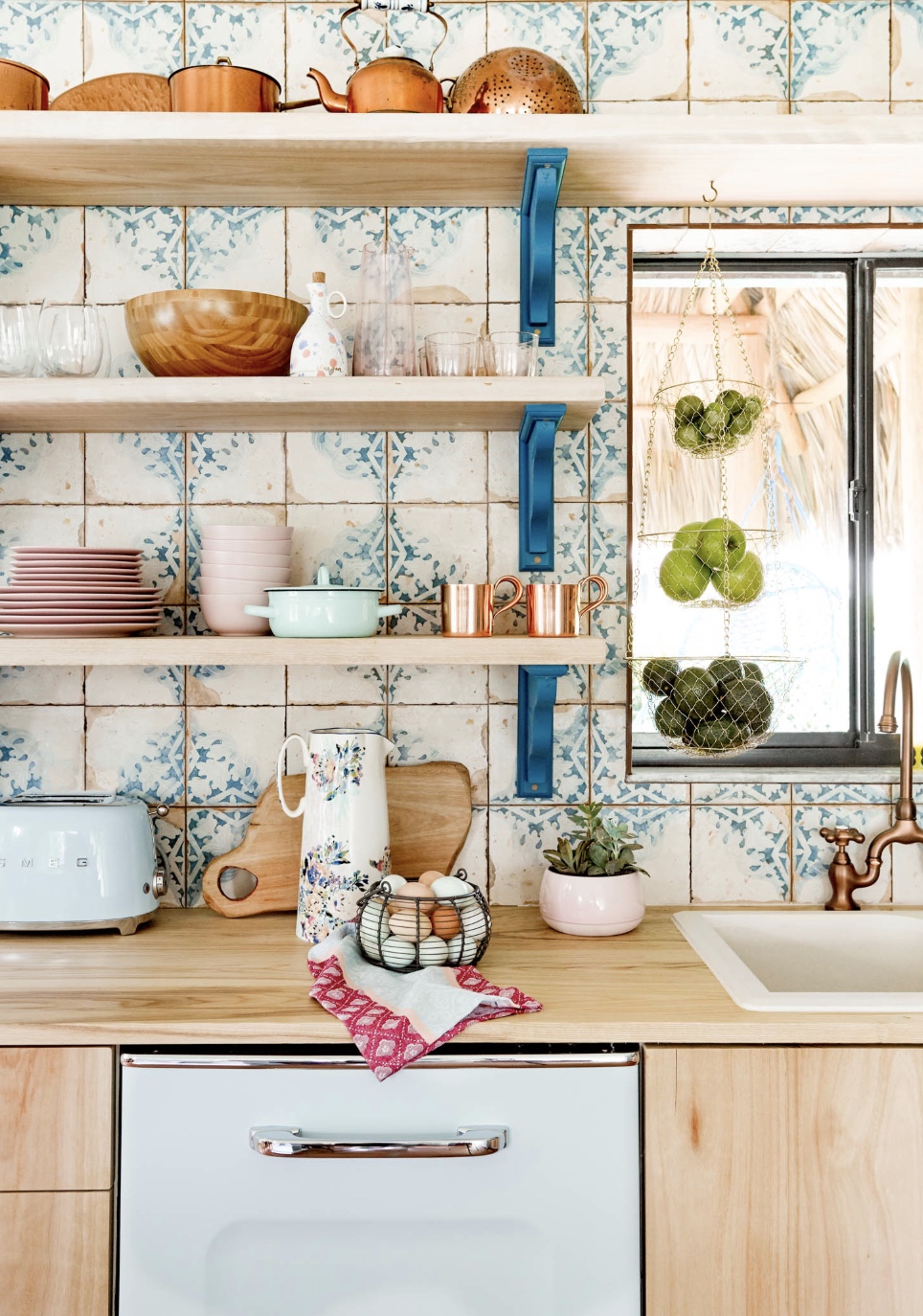 27. Open it up
Nature is key to a good kitchen. A great way to utilise your space is to position your kitchen with a view of the outside world. This is particularly great if you can face your bench or island so visitors can take in the natural beauty. This tip really opens up your space and lets the air flow throughout the home.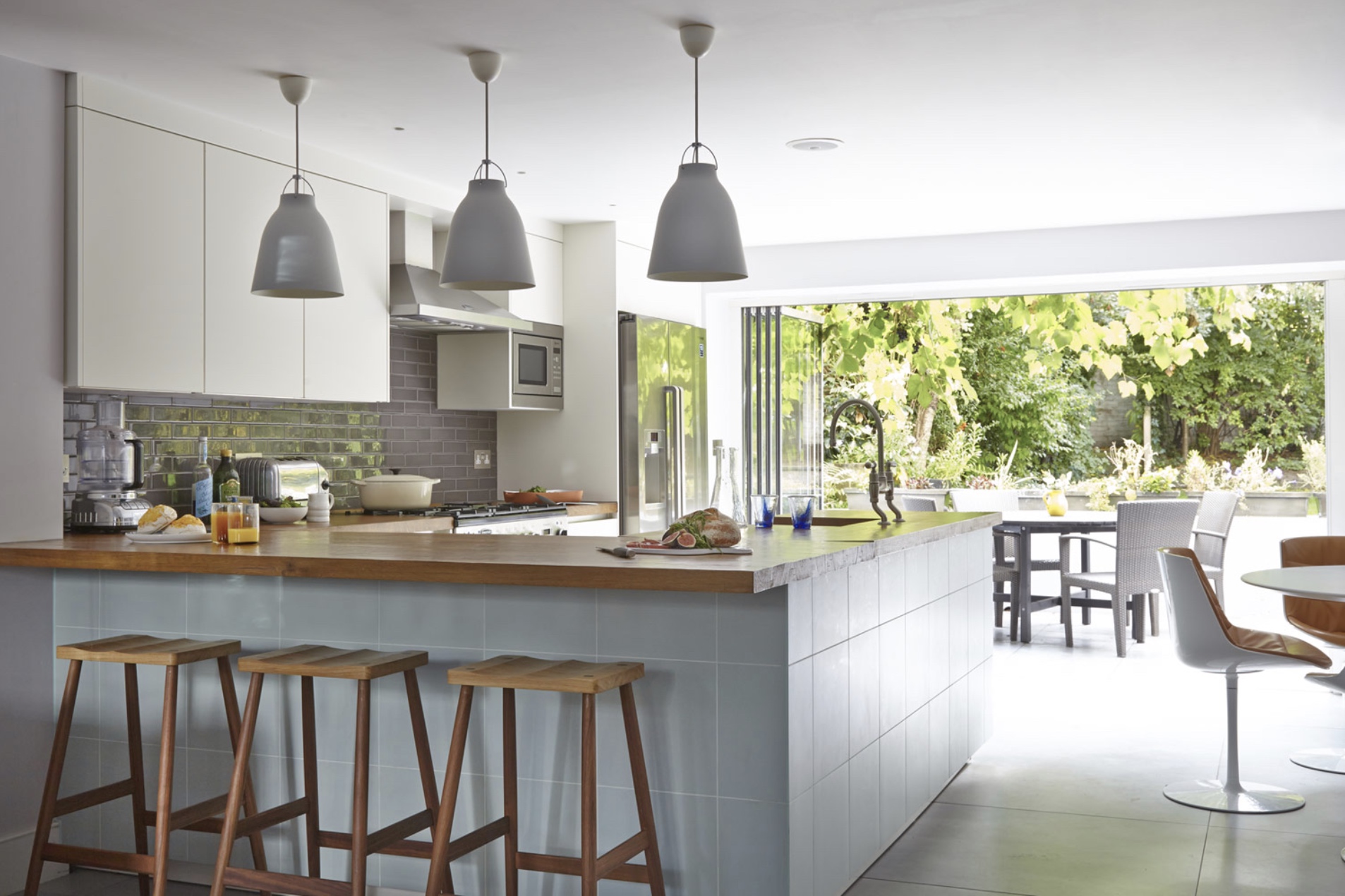 28. The wine fridge
The wine fridge is one of the easiest ways to produce that high-end aesthetic you're looking for in your kitchen. Build it into your butler's pantry and you'll be ready to entertain when guests come around!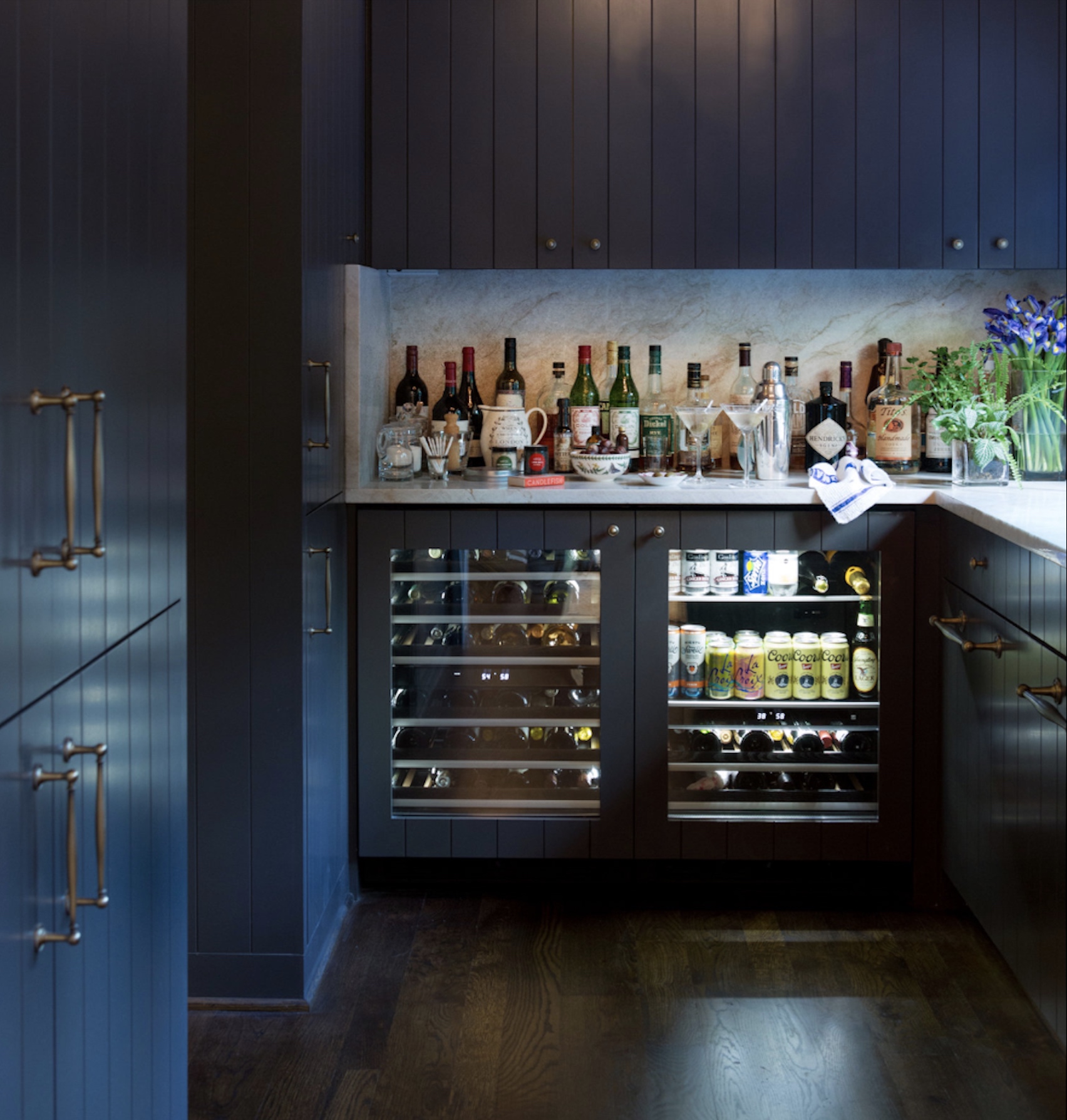 29. Black timber
Timber is a staple in any modern kitchen. And there are so many ways to use it. You can integrate it into your kitchen island or your rangehood or even your bench seats, like these ones. And, of course, timber is always a great option for your flooring!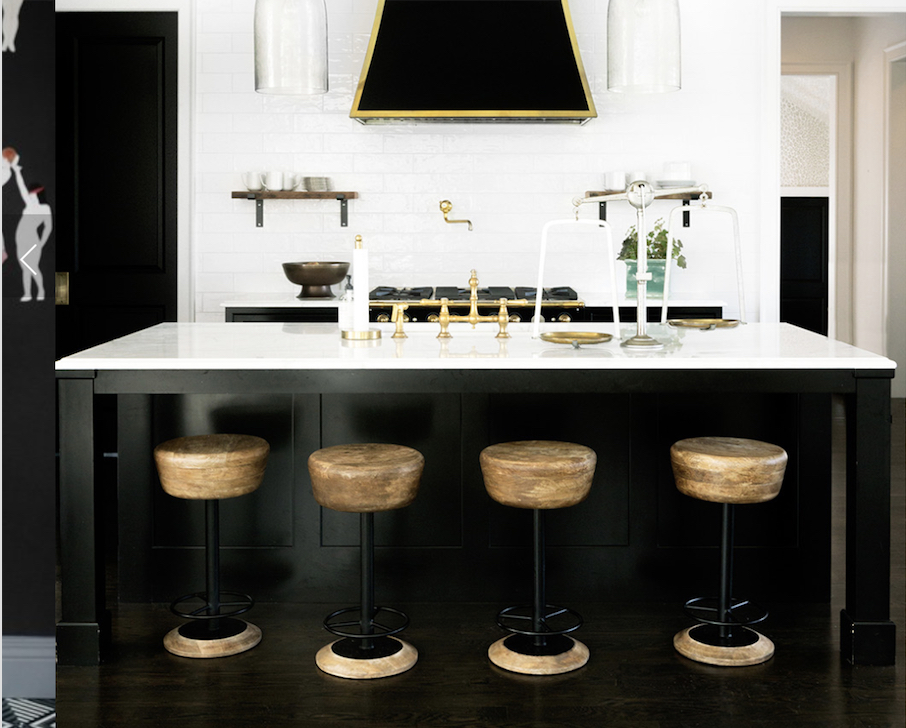 30. Everything wood
So we've spoken about wood, but does anything really beat the timber kitchen? Maybe for some people, but nonetheless this is a great option for those wanting a natural feel to their modern home. Contrast this with some vibrant greenery and you're good to go!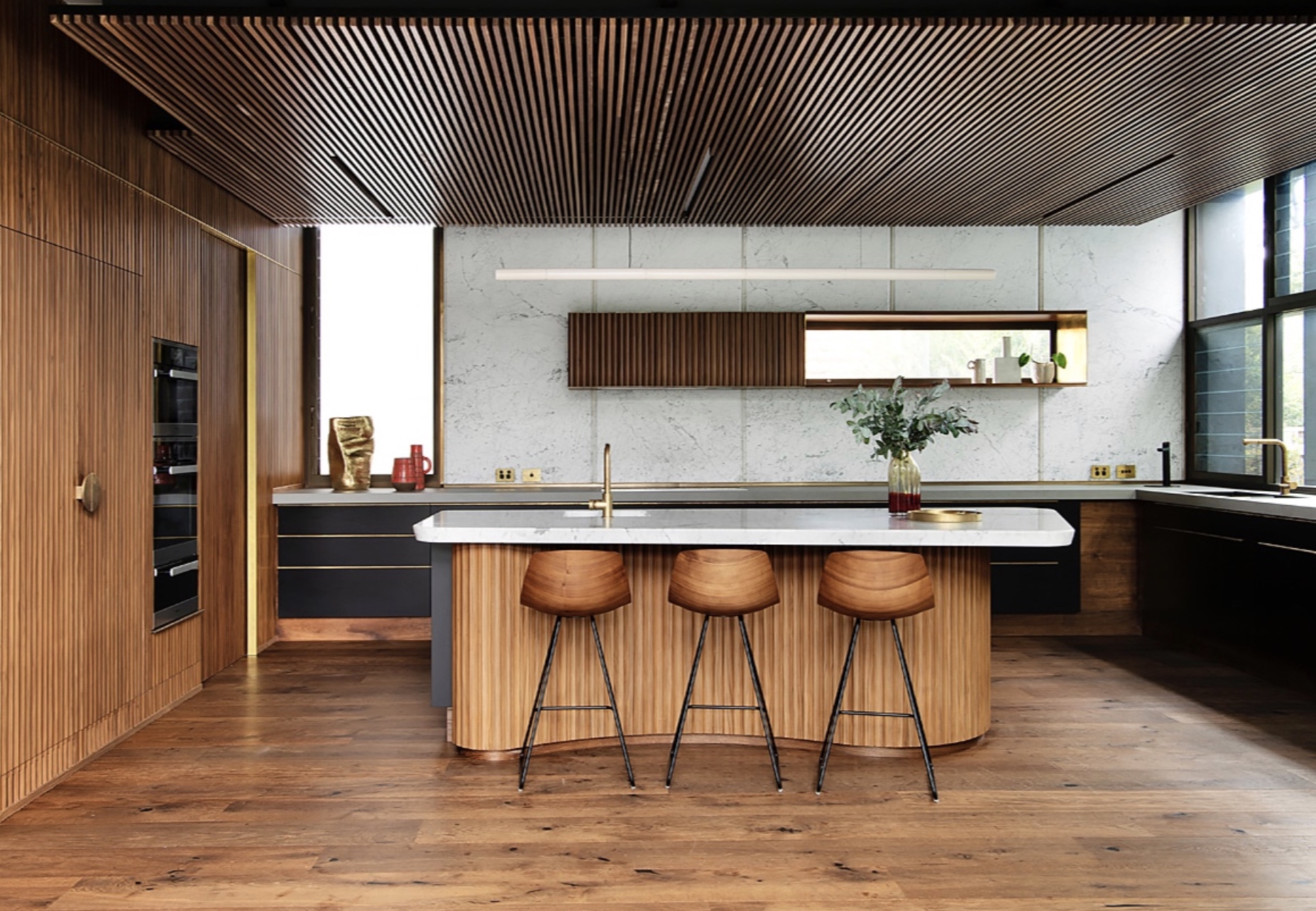 31. Add in a rug
You don't see it that often but rugs in kitchens really do work, especially if you're wanting to make your cool kitchen feel a little bit warmer underfoot. Keep your rug clean and appropriate (avoid overly fluffy rugs, as food may get stuck) and you've got a great option for your kitchen.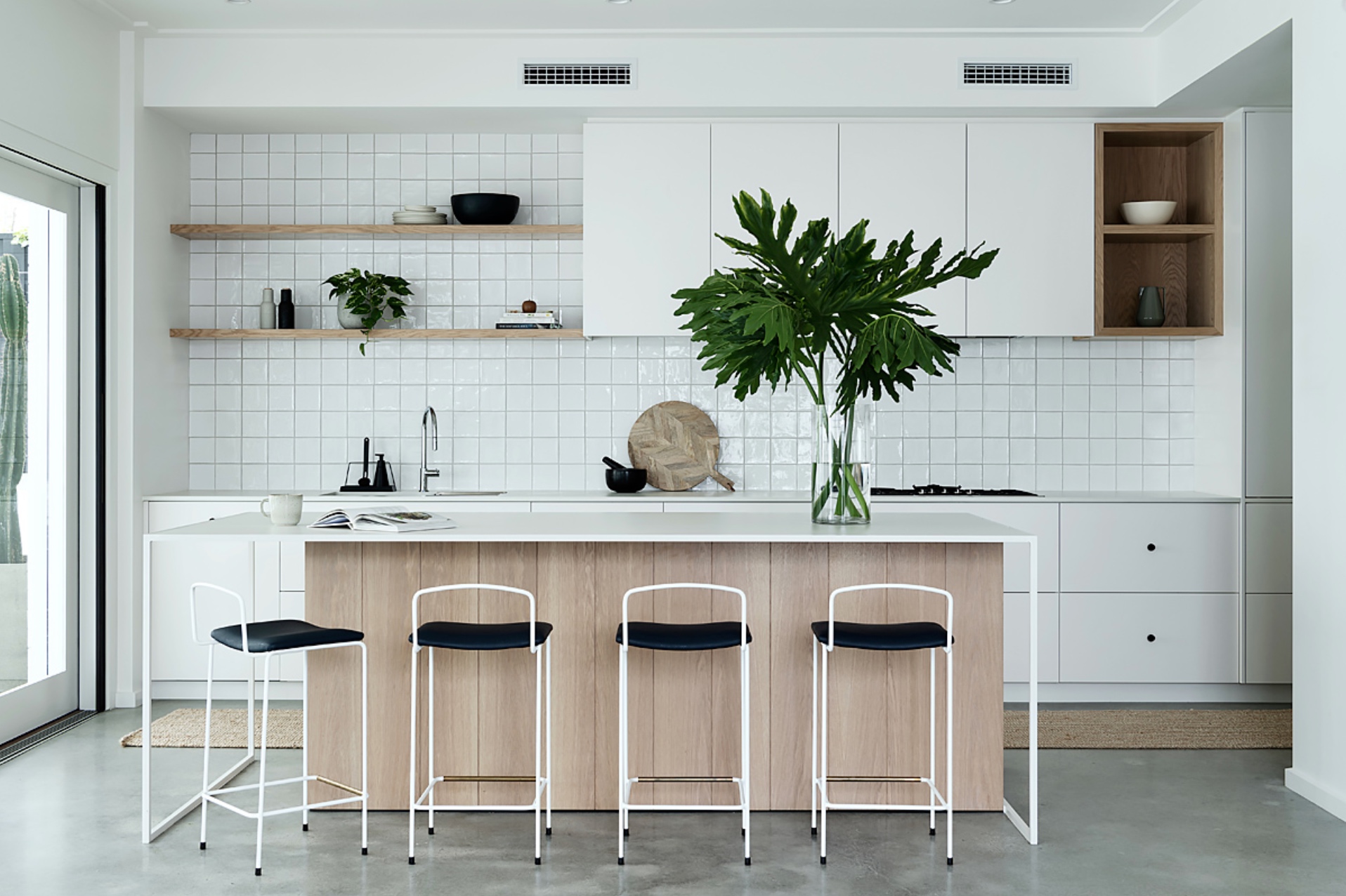 32. White and grey
Yes, white goes with a lot. But, if you're not into the white and gold or white and black look then white and grey is a great alternative. Most sinks, ovens, fridges and appliances are grey, so by designing your kitchen around these kitchen ideas, you're sure to get a look that will fit just about everything.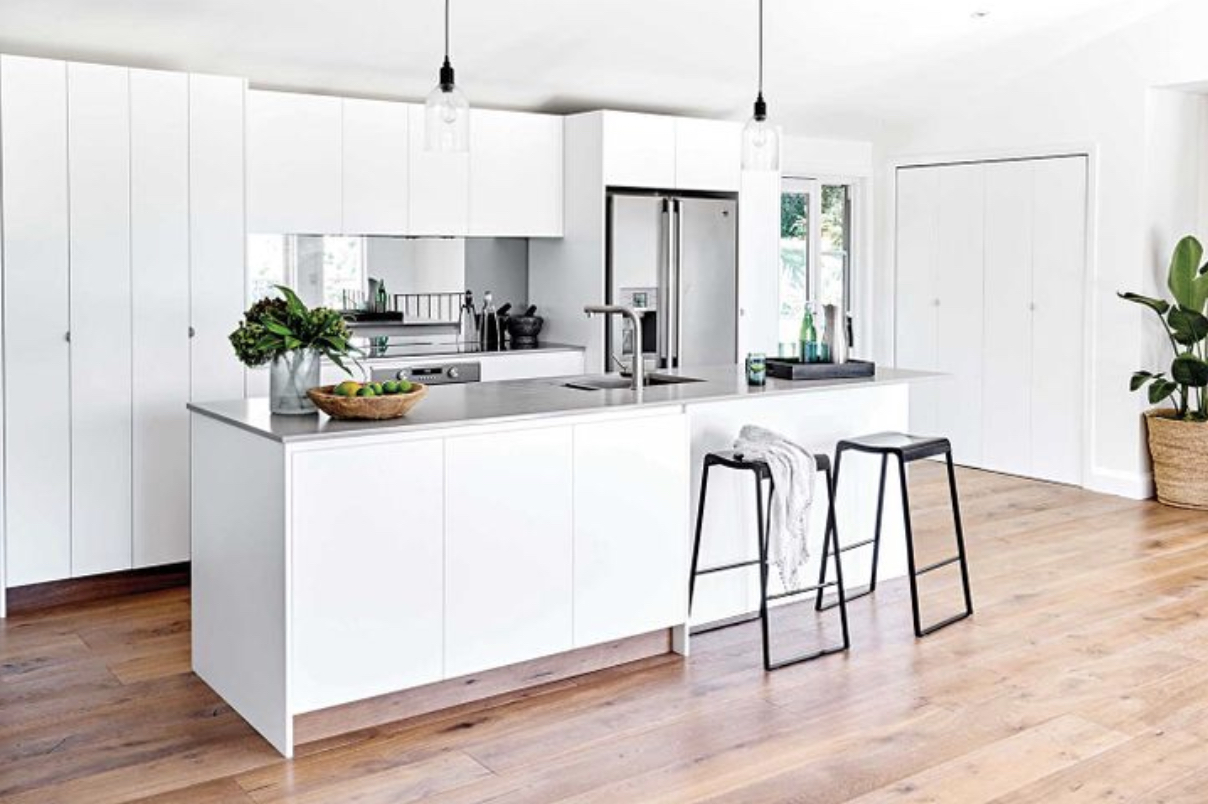 33. Double or nothing!
A good kitchen isn't made by the number of stoves or ovens, but if you're a big entertainer, then this will help you out. Double your ovens, double the stovetops… double the quality of your next kitchen.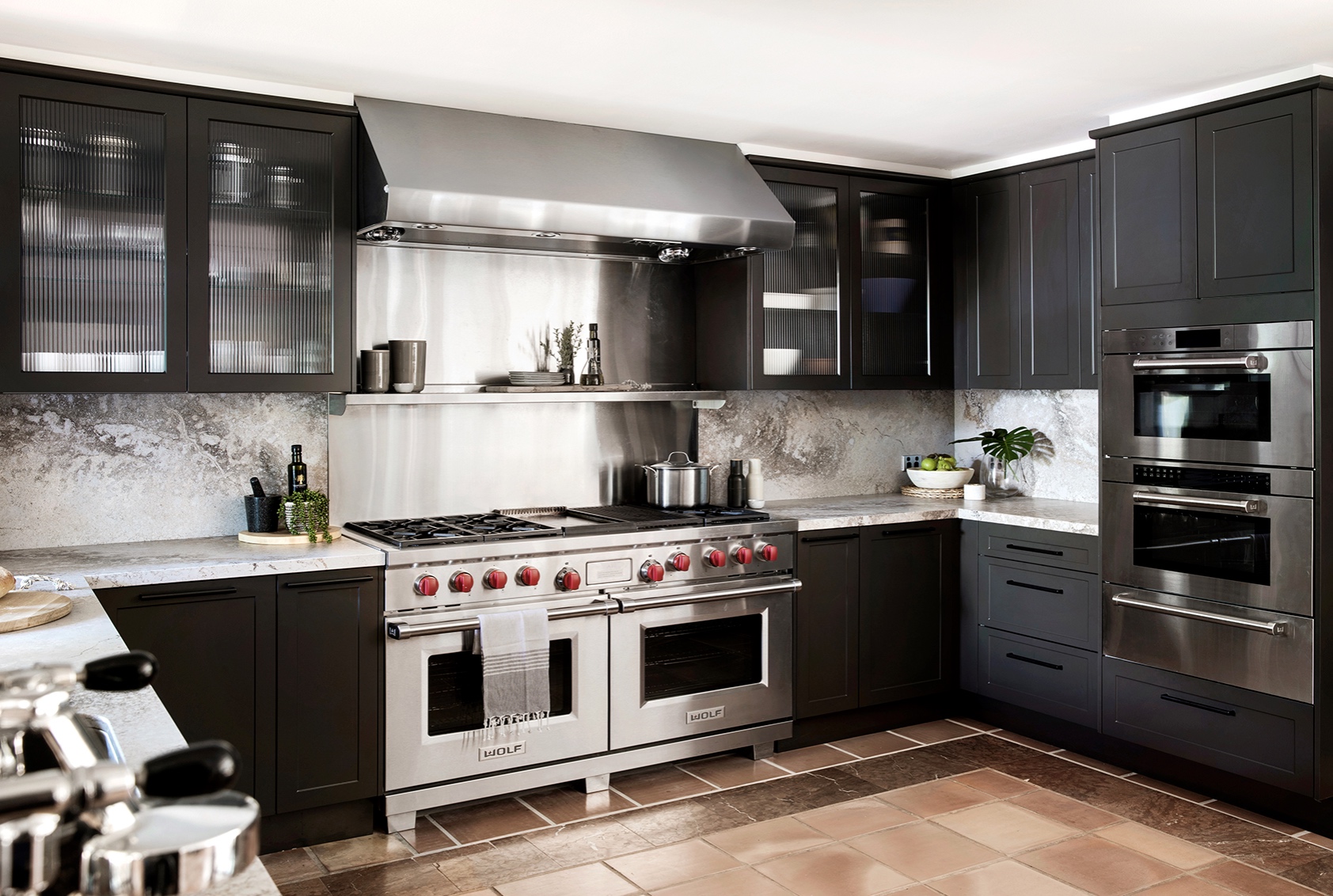 34. All white
Why not all white? This design works perfectly with the modern home, keeping the kitchen minimal but sleek. It's almost futuristic like!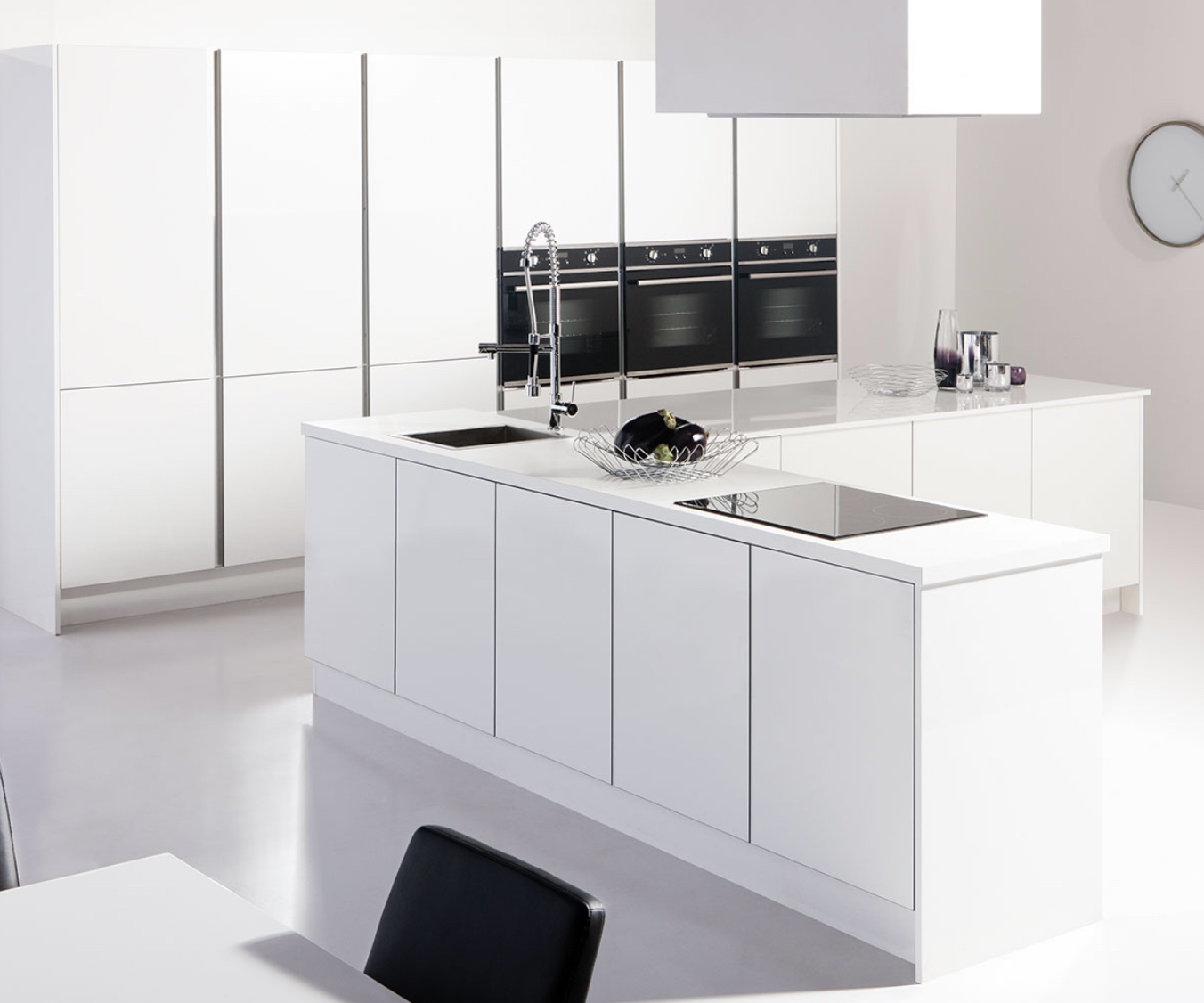 35. Silver and gold
These two favourite metallics don't have to clash. Make the best of both worlds and find that perfect blend, complementing your traditional silverware pieces with some high-end gold finishes.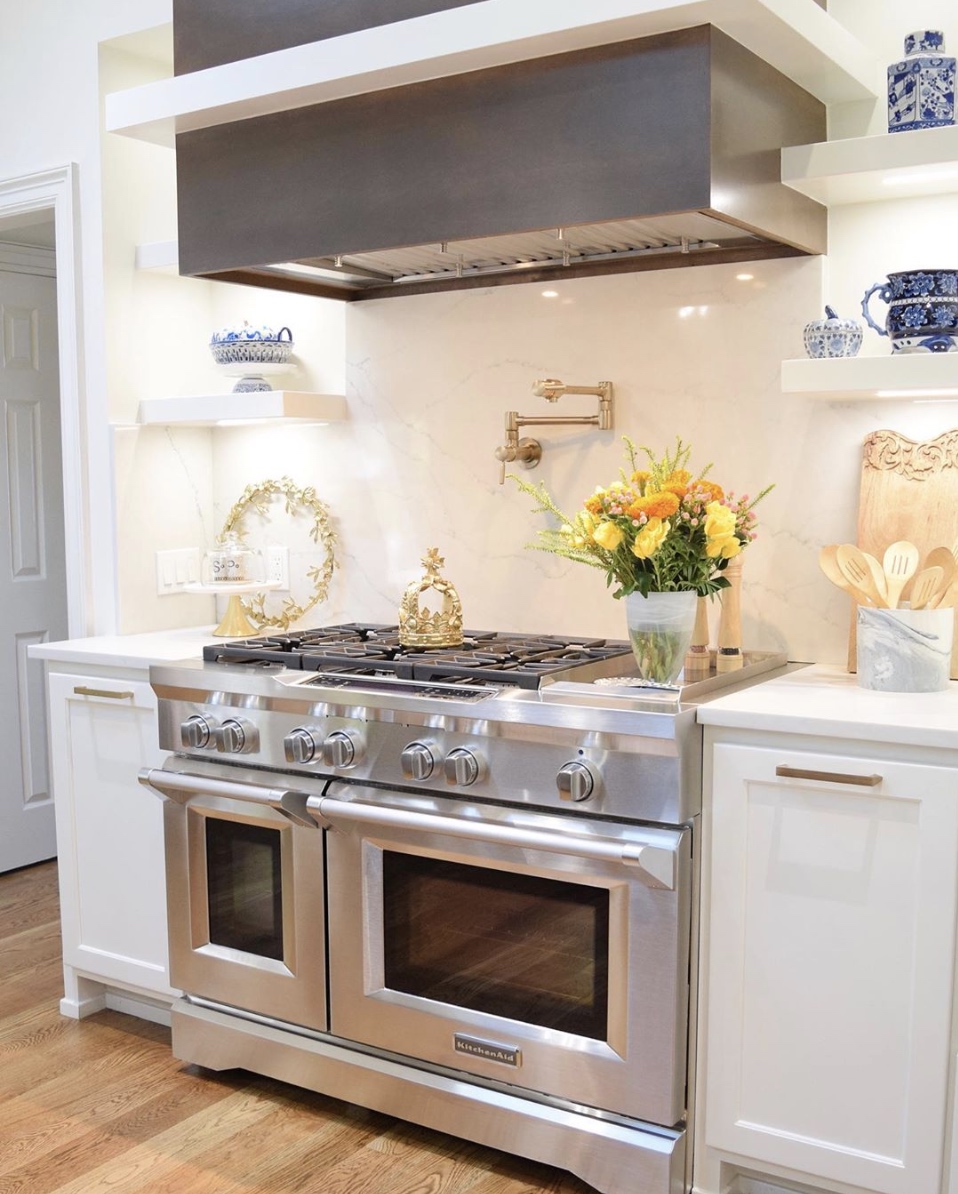 36. Patterned tiles
We've spoken about the patterned splashback but now let's show the tiles some love. This is a great way to add some flare to your kitchen. The right tiles will remain simple yet tie in all the base colours of your ideal kitchen.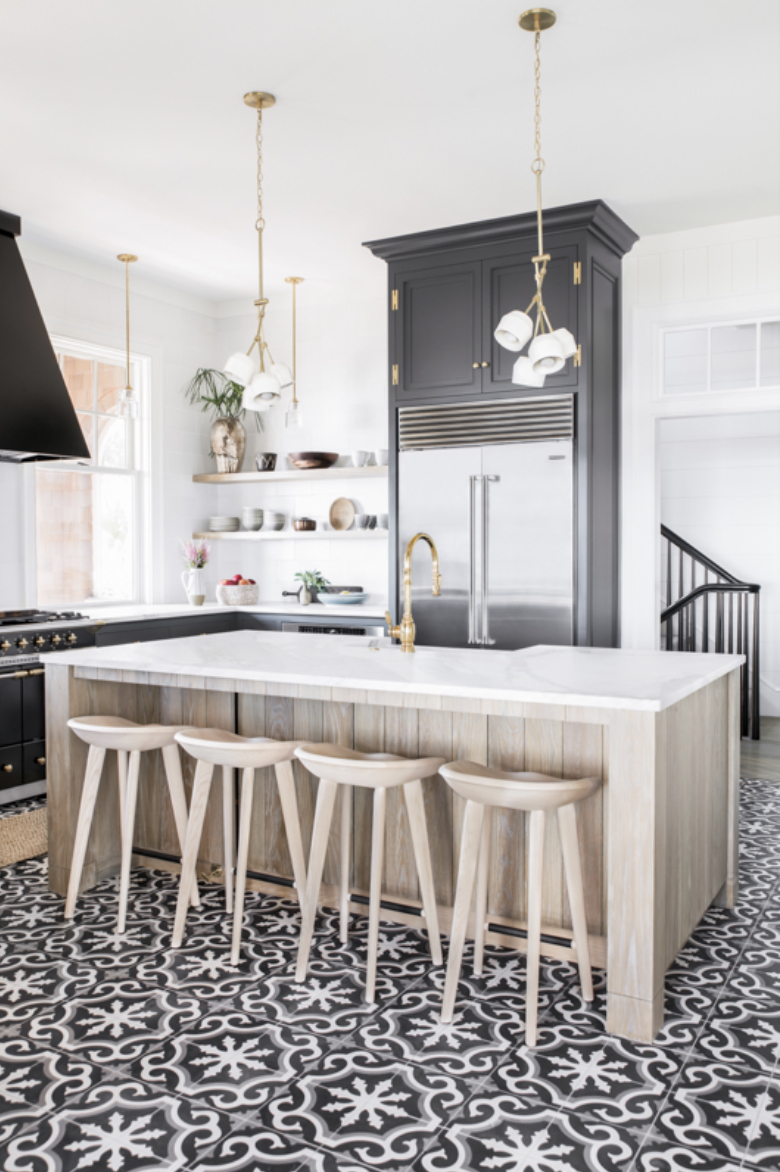 Need a hand with the tiling? It can be a tricky task, so find a floor tiler nearby to help out.
37. Symmetry is key
Bring your kitchen into the new age with a symmetrical design. This kitchen exuberates confidence and is perfect for the style-conscious perfectionist.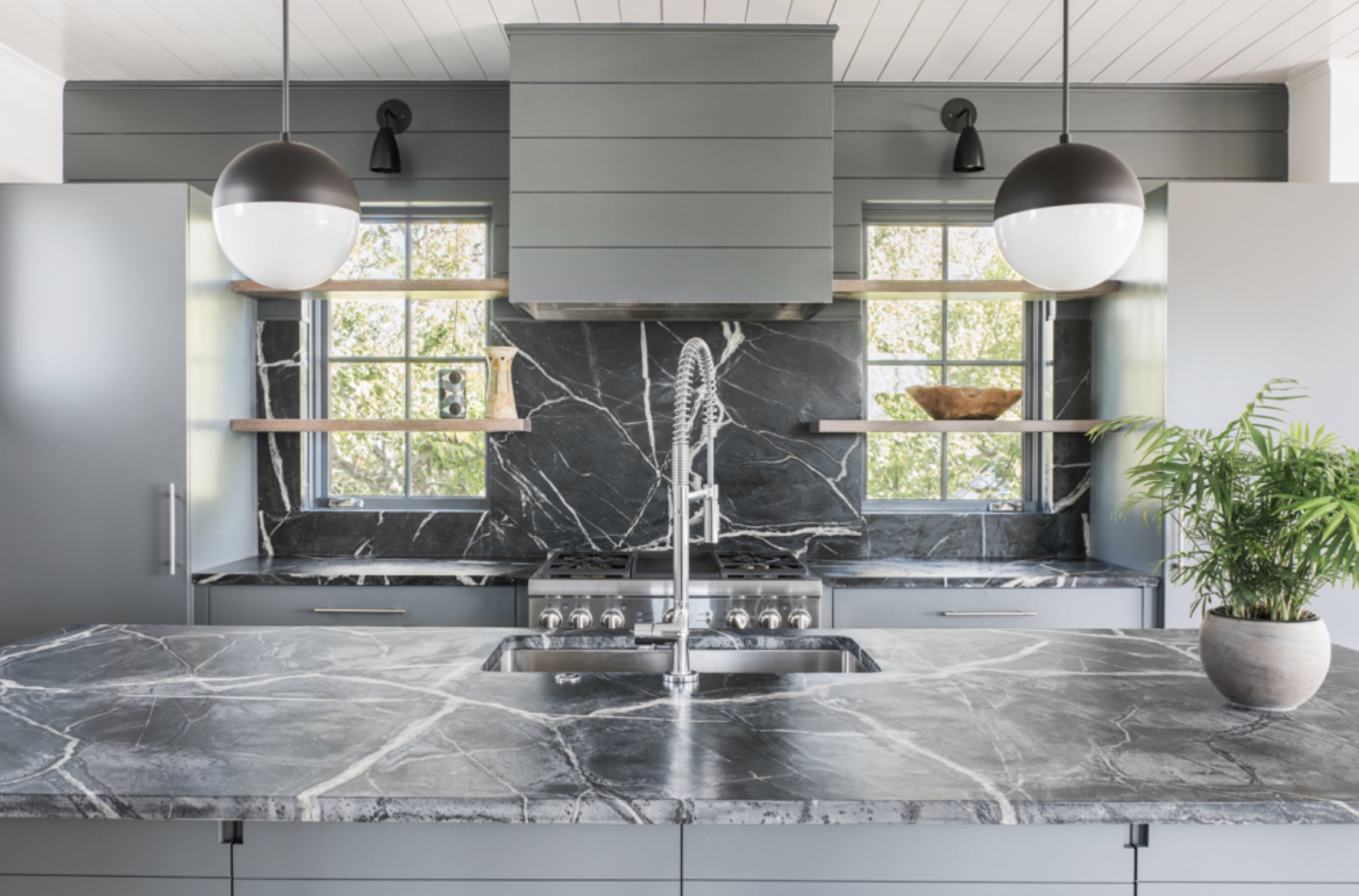 38. Overhead lighting
Overhead lighting is a key feature of any good kitchen. It's important you pick a piece that complements your style and shapes. That's why I love this design so much! The use of sleek rectangular beam lighting is just enough to make the room feel fresh without overwhelming the rest of the design. It does this by tying together the black throughout the rest of the room for a subtle finish.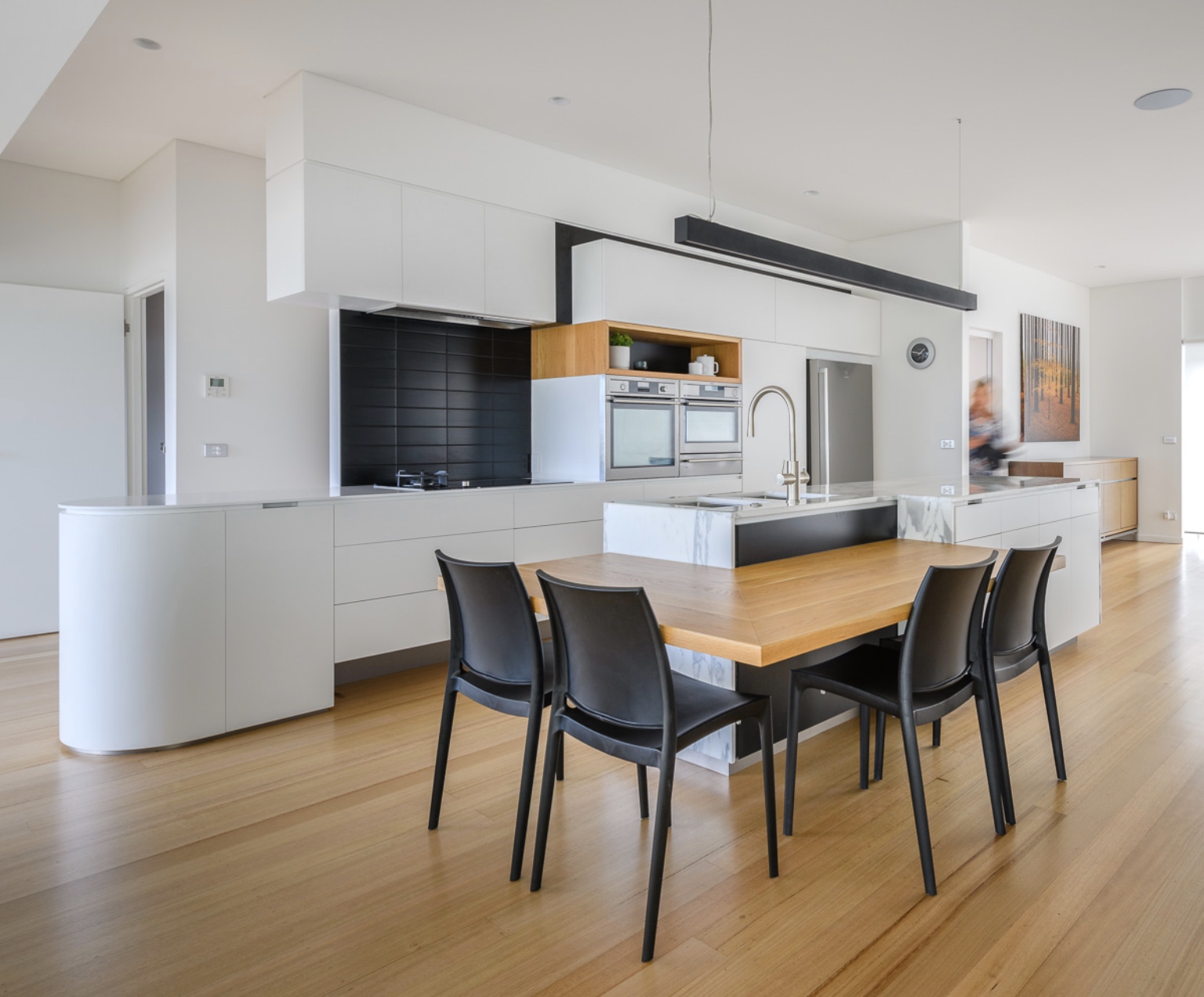 And I haven't even mentioned functional lighting design… but now that I have, head over to this article dedicated to kitchen lighting ideas.
39. In-built floor-to-ceiling cupboards
This is a great way to maximise your space. The in-built floor-to-ceiling cupboard really capitalises on the maximum storage of any area without cluttering the open space of your kitchen. And – you can even add in more storage with your kitchen island. Include drawers, cupboards or open shelving to place all of your excess kitchenware.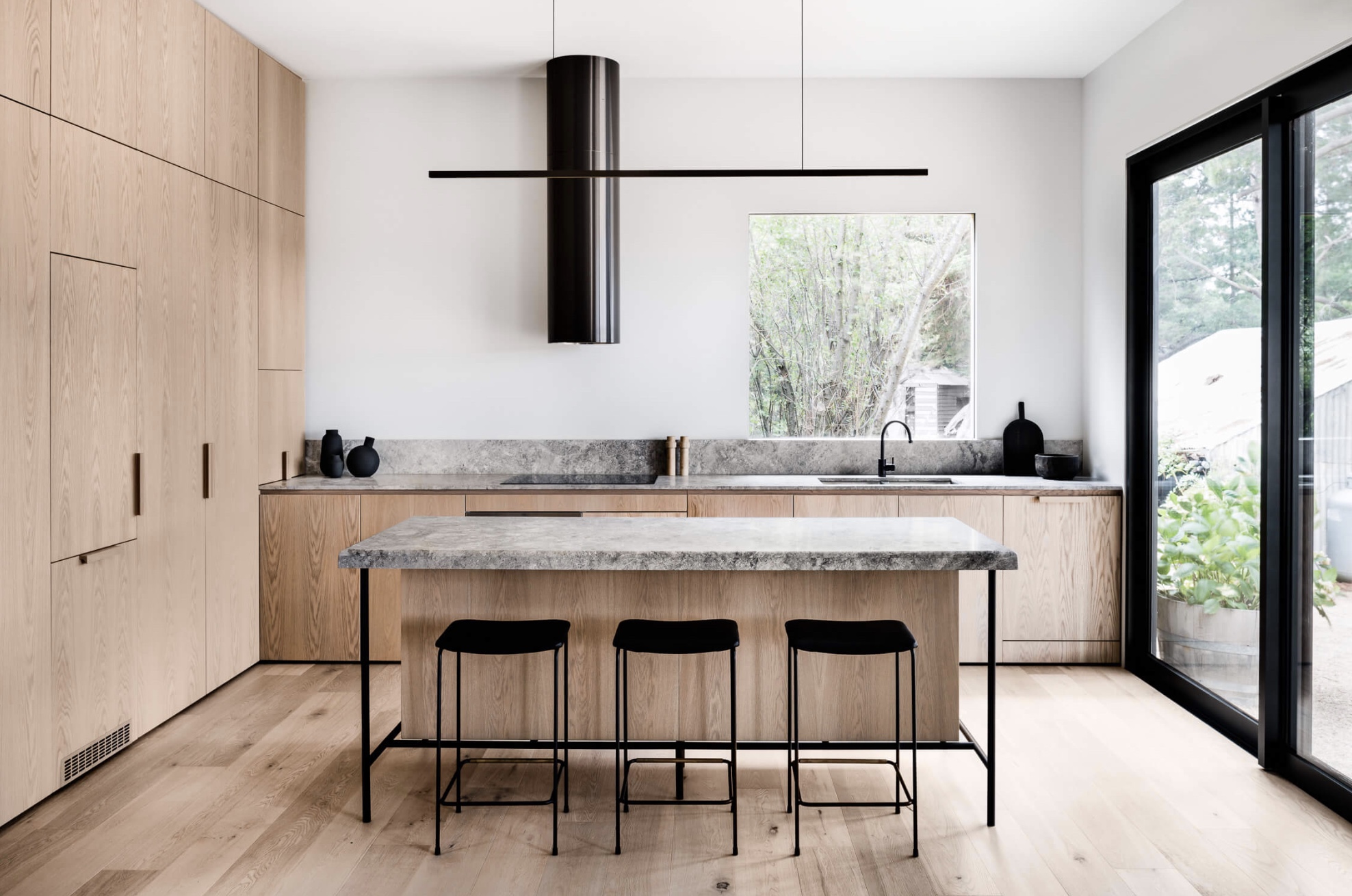 40. Angular ceilings
Bring some character to your space with some angular ceilings. This open-plan design, in particular, creates a unique openness to the kitchen and dining area that is just so inviting.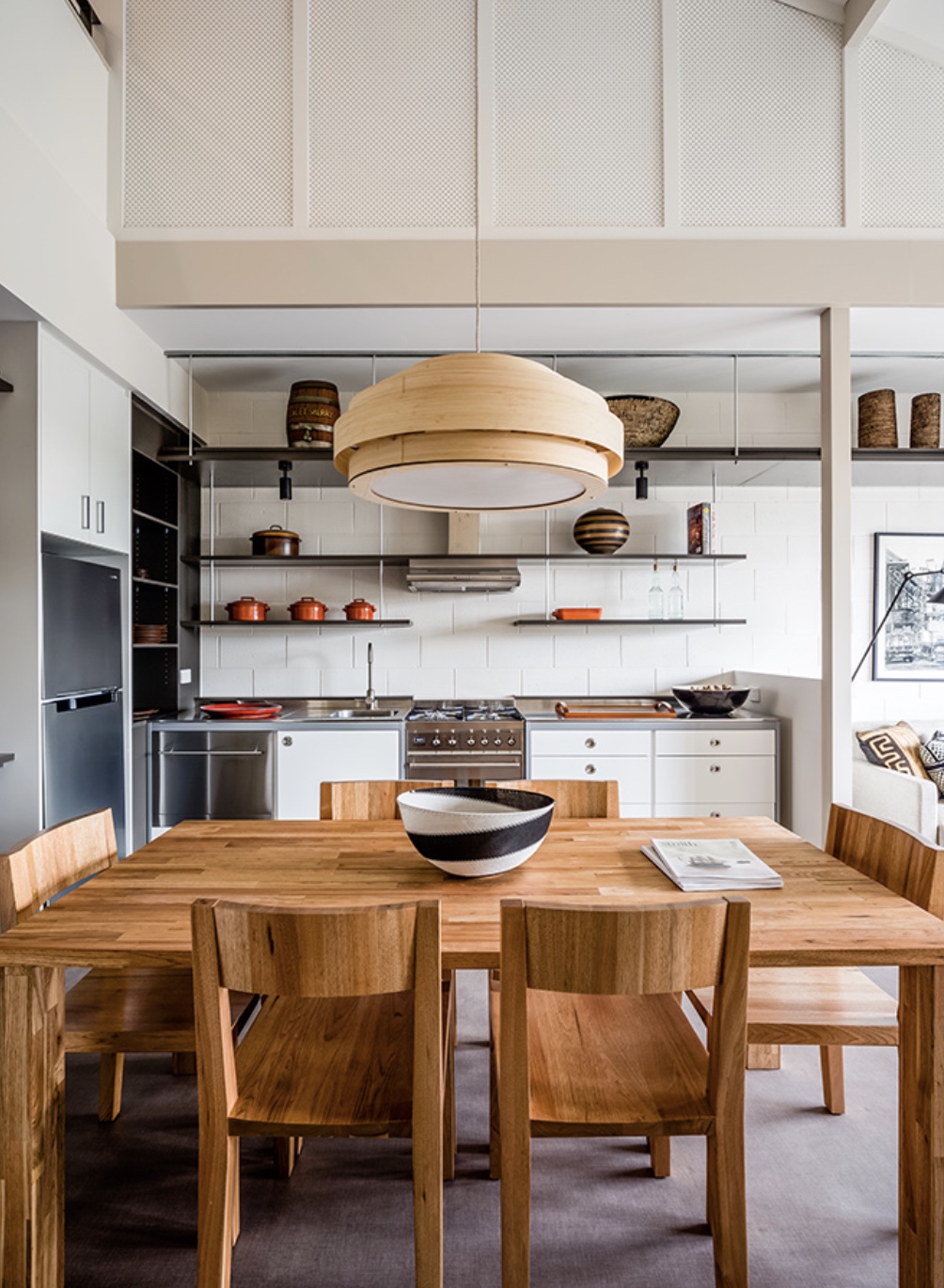 41. Choose the right skirting boards
Be sure to find your ideal skirting material. This should complement the rest of the colours in your kitchen. To tie your colour scheme altogether, you can style your skirting boards so they mirror your countertop.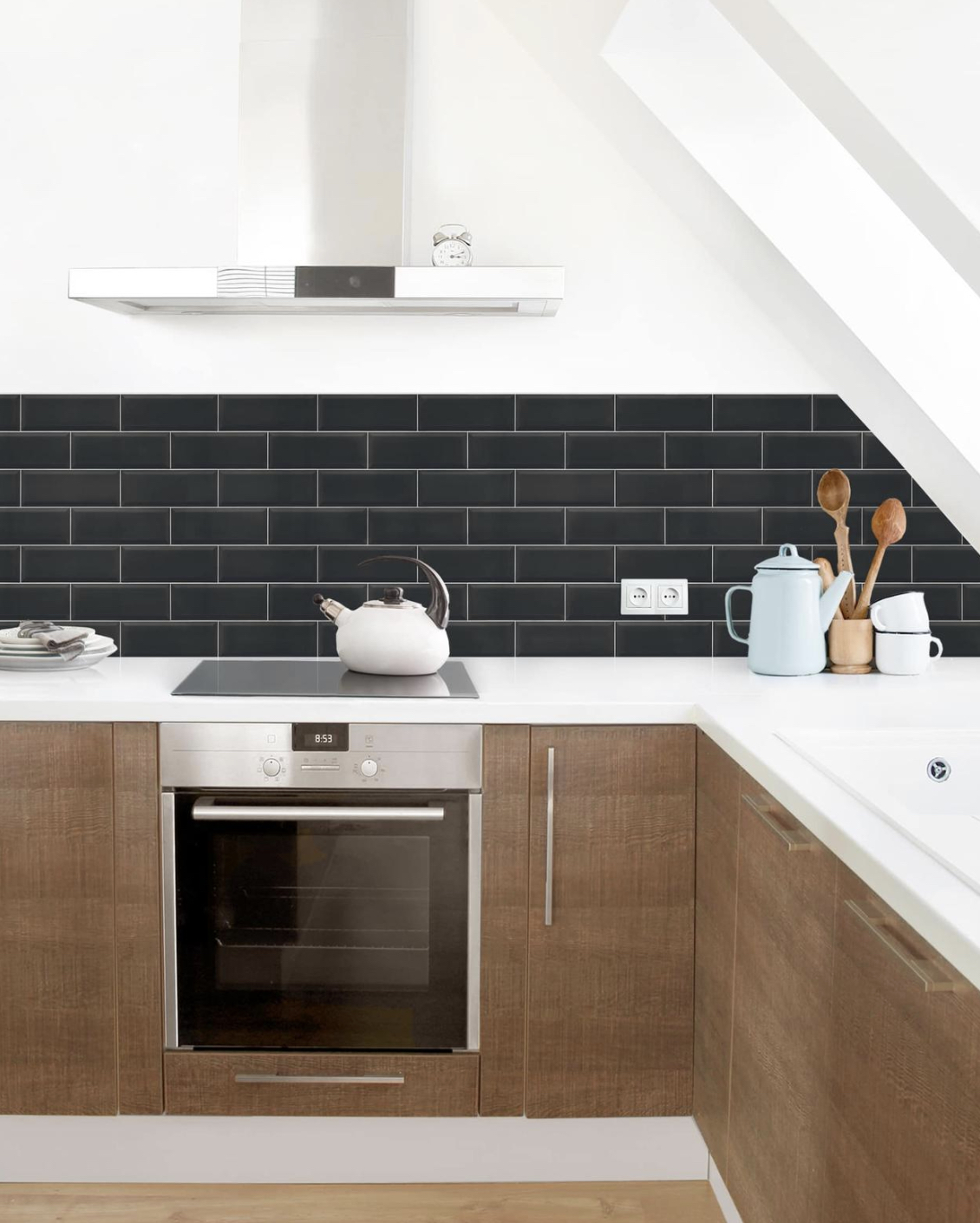 42. The winding kitchen
Today's kitchens are made to be open. One of the best ways you can open up your kitchen design is to set your benches against a longstanding horizontal wall with the island outstretched by a metre or so. This increases the flow of your house as a whole, making the kitchen an entertaining hub as opposed to a purely isolated room.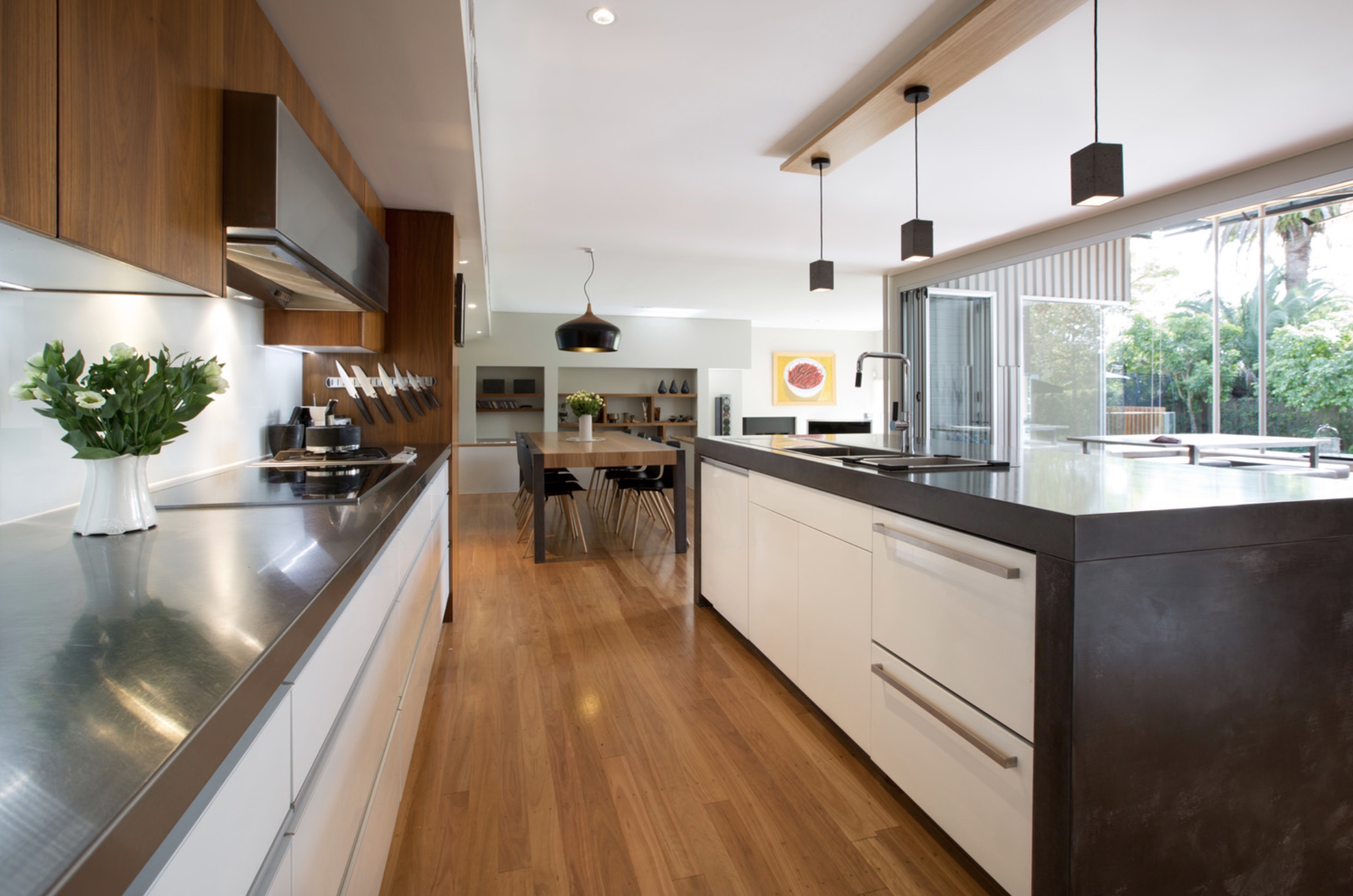 43. Brass finishes
If there's one design element that makes a kitchen high-end, it's brass finishes. They are all the rage right now, proving a hugely popular choice in residential and commercial kitchen designs. By adding brass finishes, you can easily spice up the luxurious aspect of your kitchen. And, if you're looking for colours to team up with brass – darker tones usually work best! Think shades of black, dark grey and chocolate.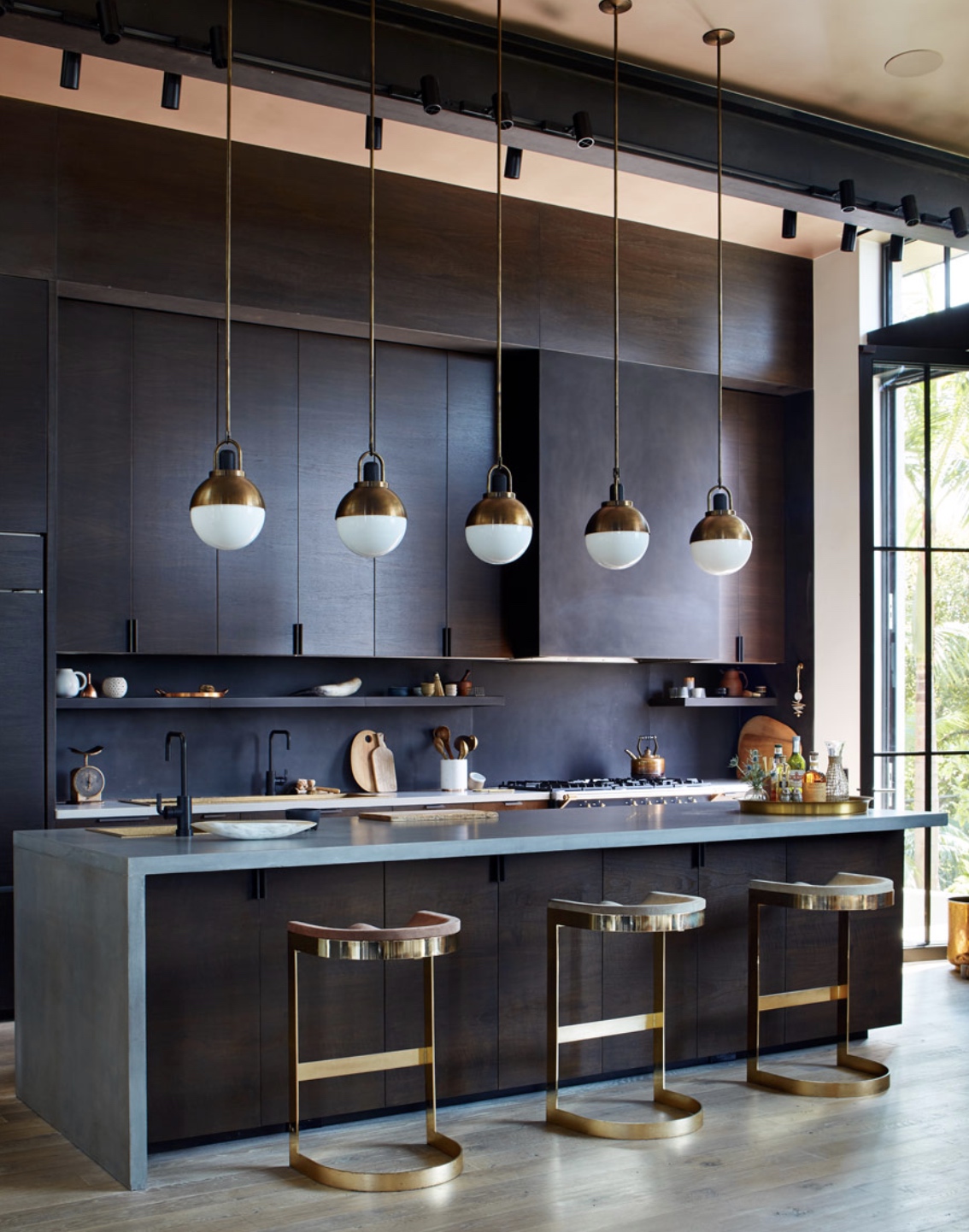 44. Separate your sink
Depending on your taste, a separated sink can really add some flavour to your kitchen's design. It enables the chef some space to breathe and, if the dishes need cleaning, it allows enough area to comfortably complete the job.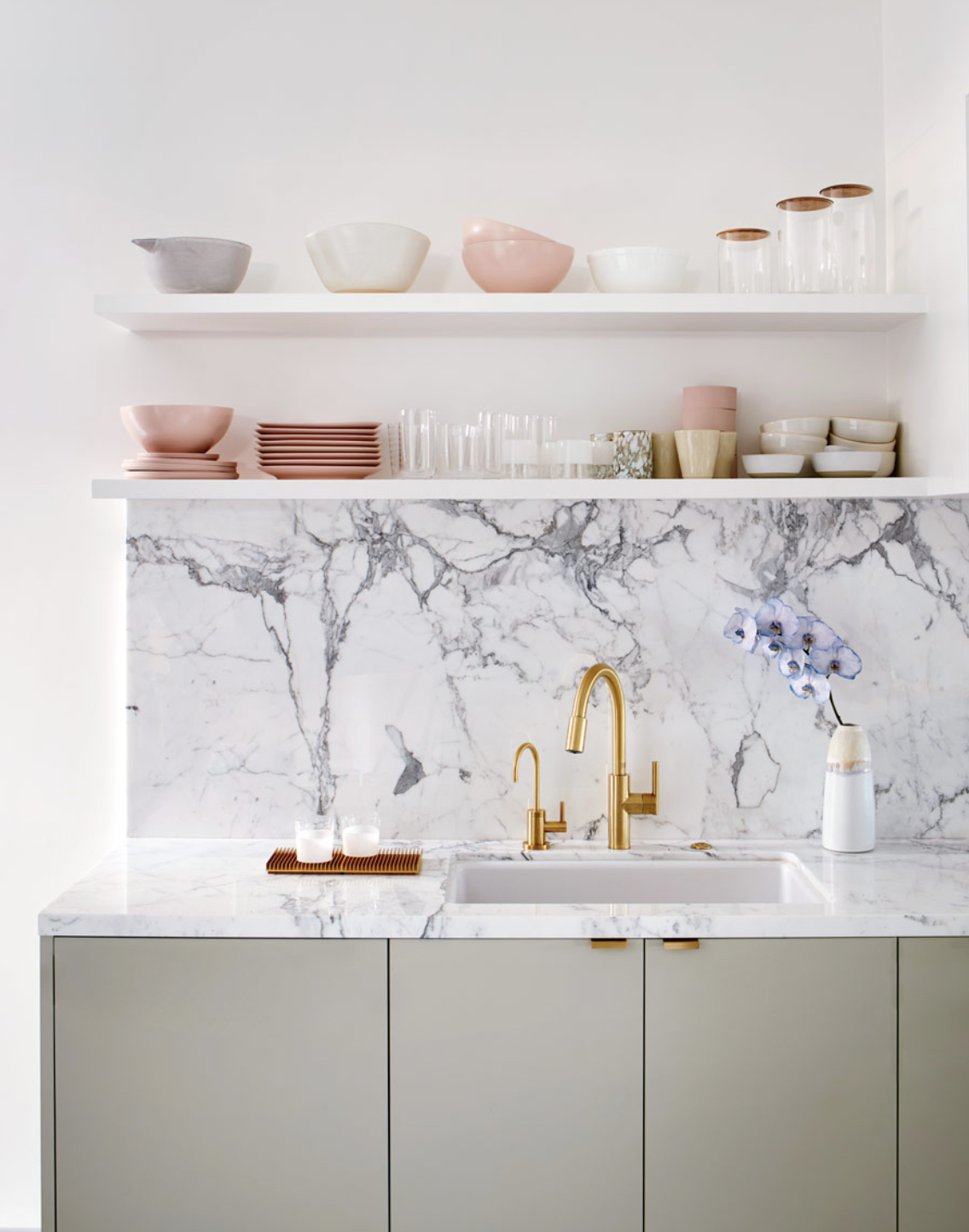 45. Blue tiles
While blue may not normally be the first choice for kitchen design, it can actually work really well in a well-designed kitchen. The nature of the colour invites an airy softness into the space, making it a place of joy over the sometimes depressing darker tones like black or grey.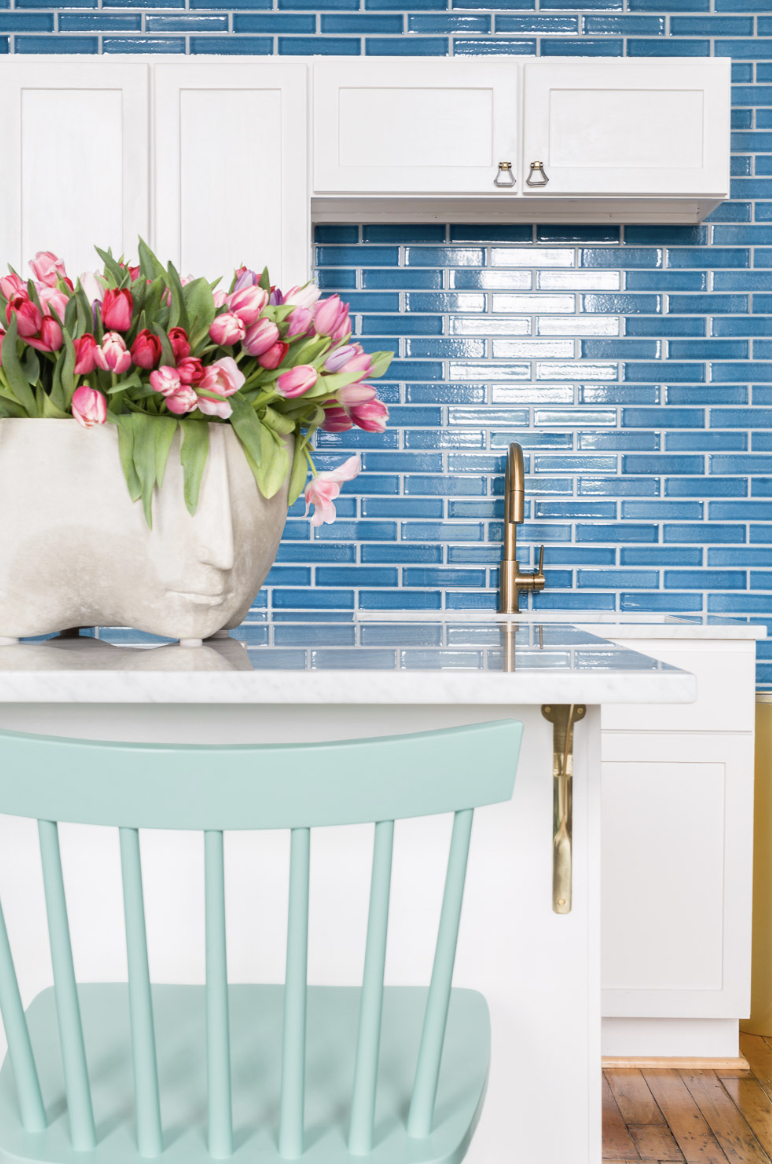 46. Cooking with fire
This is sure to make your kitchen stand out! While it may be used in traditional farmhouse kitchens over today's modern style kitchens, there's no reason why you can't integrate one in your home. Using a real stove fire to heat or cook your meals can bring some life to a usually electronically-dominated area. Contrast this with some darker tones and copper finishes and you've got a kitchen that shows heart.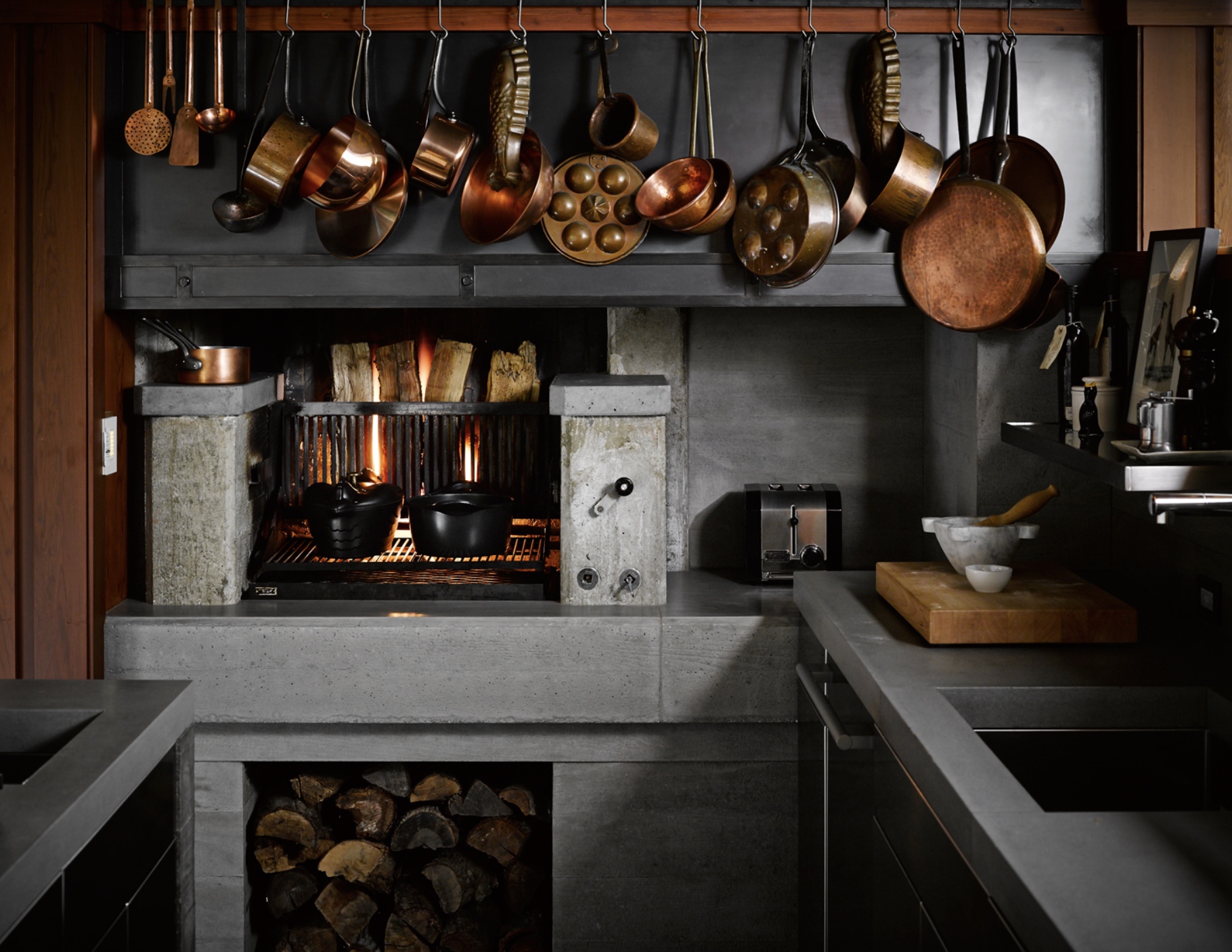 47. Consider an olive colour scheme
This combination of colours will make your kitchen feel like it's a jungle oasis. Complement your olive kitchen with some classically-styled cupboards, glass finishes, leather touches, and green overtones, and you're sure to impress your guests!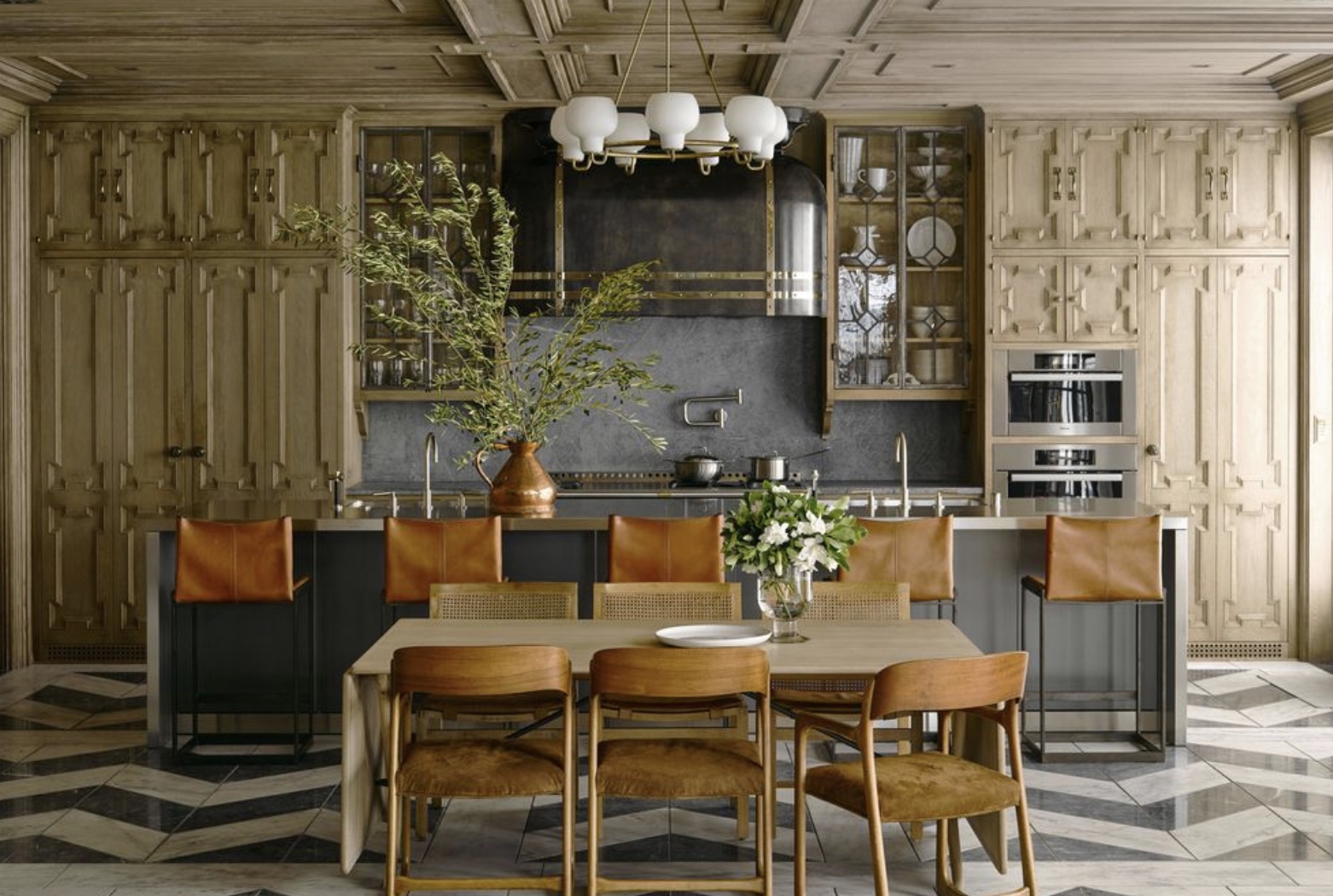 48. Glass cupboards
If you have a few favourite pieces of kitchenware, don't let them go unnoticed. Show off your most prized items in a gorgeous front-facing glass cupboard, like the ones in this kitchen design. By adding luxurious touches like glass and silver, you can create an elegant kitchen with ease.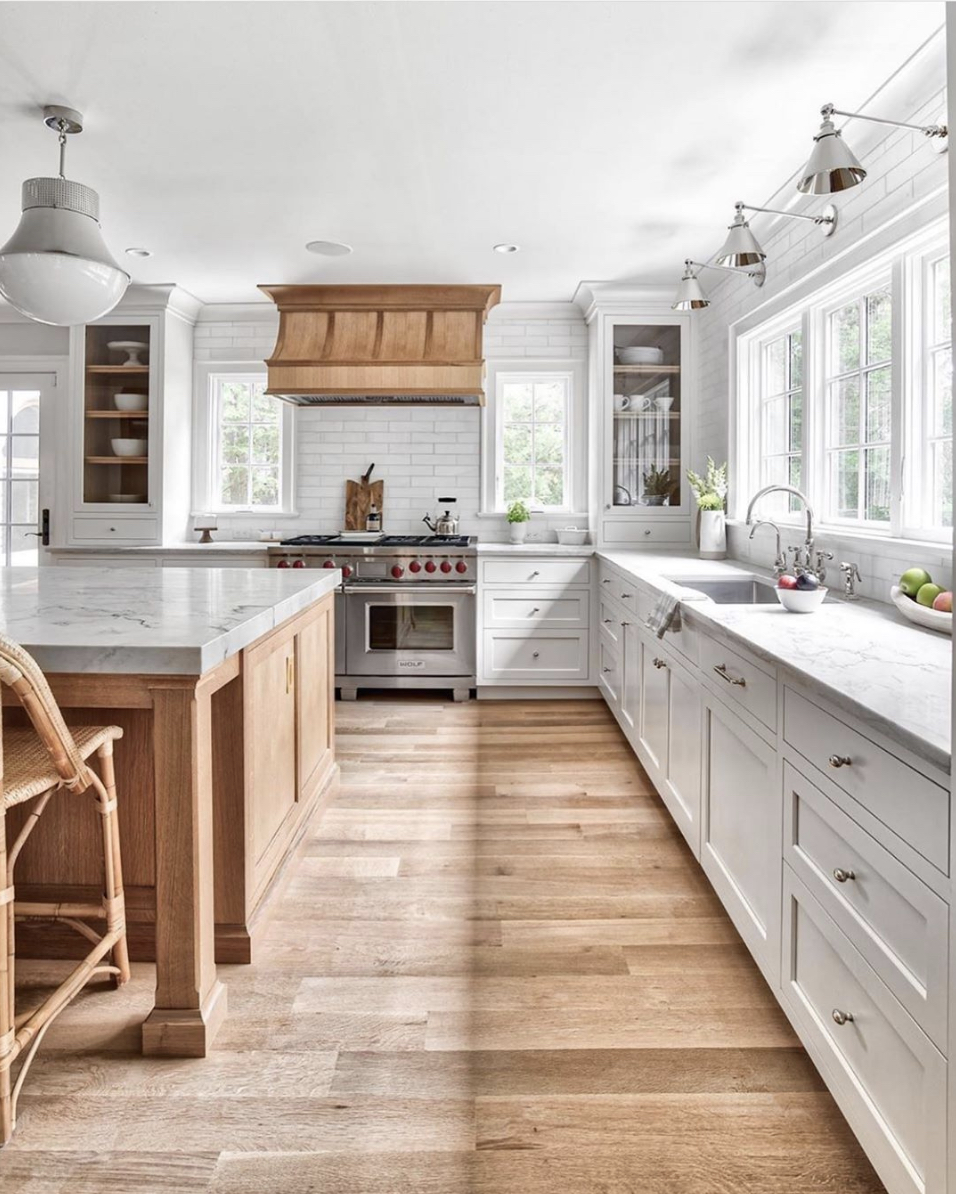 49. Beef up your island
This design is a great example of what it looks like to take your kitchen design to the next level. By strategically placing ovens, microwaves, powerpoints and cupboards, you can really optimise your large kitchen space.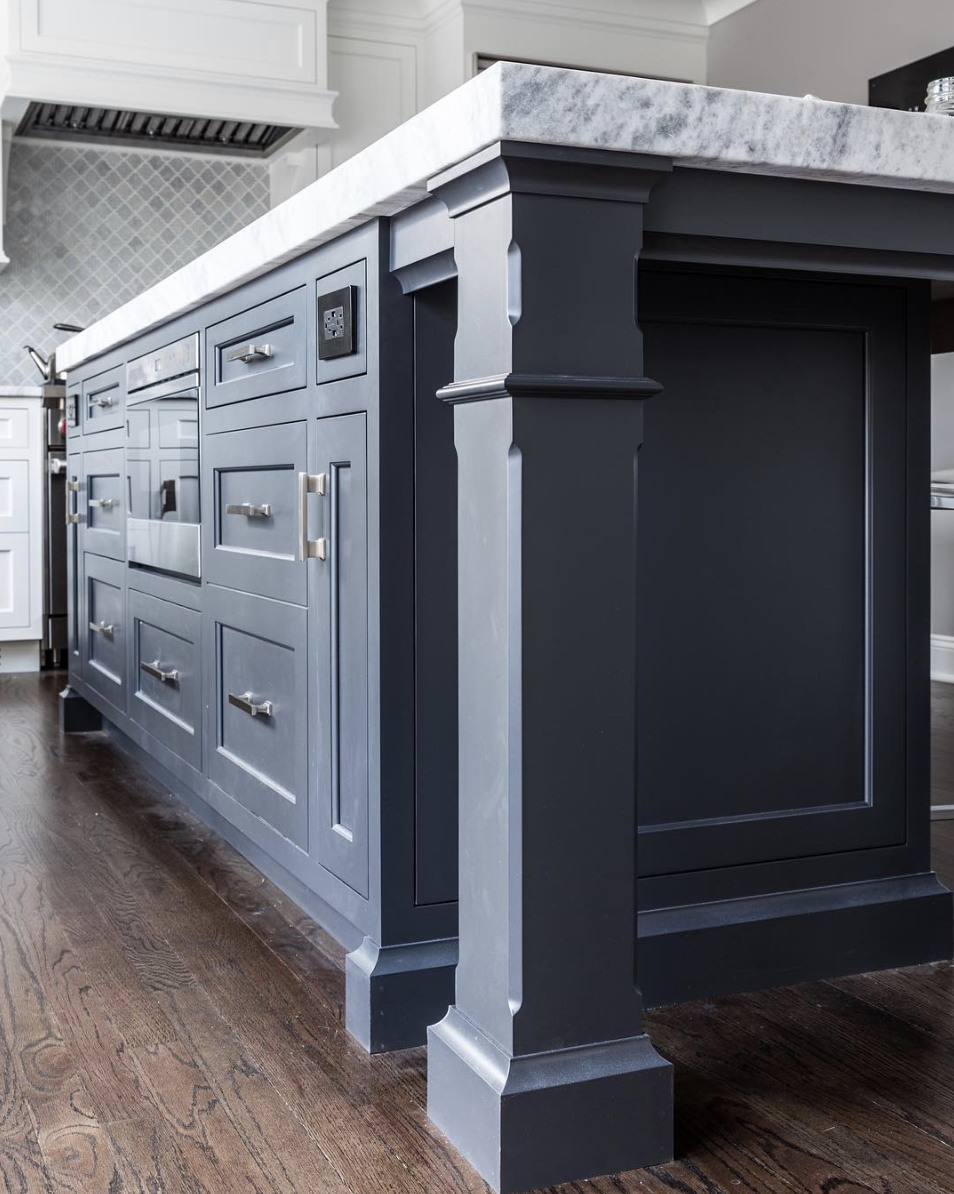 50. Art
Add some character to your kitchen with an artwork that reflects your personality. This could be a piece that's sentimental for your family, or it could be a fun design print that you love. Whatever you choose, make it yours, frame it, and place it somewhere central for all to see!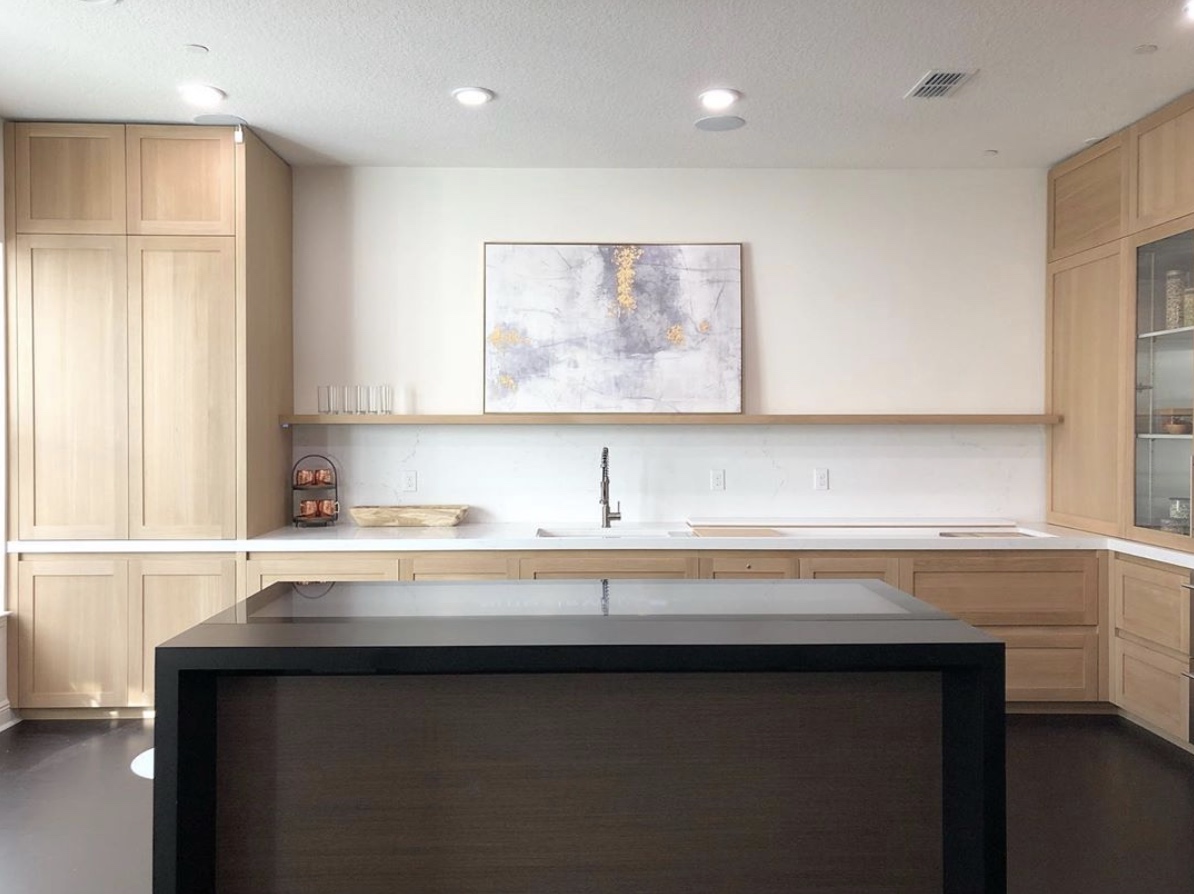 There it is, 50 kitchen renovation ideas, to get you started! I hope you've found something you can take away and put towards your new kitchen. So, what'd you think? Comment below and let me know. Now get out there and create the kitchen remodel of your dreams!