Looking for rear extension ideas? Well, you've come to the right place because we've gathered 22 contemporary rear extension ideas, all of which look gorgeous from the outside and create beautifully spacious new interiors.
If you've decided on a rear extension, there'll be a lot to consider, not least things like regulations and planning permissions. Once you've decided on an aesthetic and rear extension ideas that appeal, you'll want to check out the portfolios of well-rated builders,  drafters and architects to see which professionals align most with your vision and find out what they can do for you.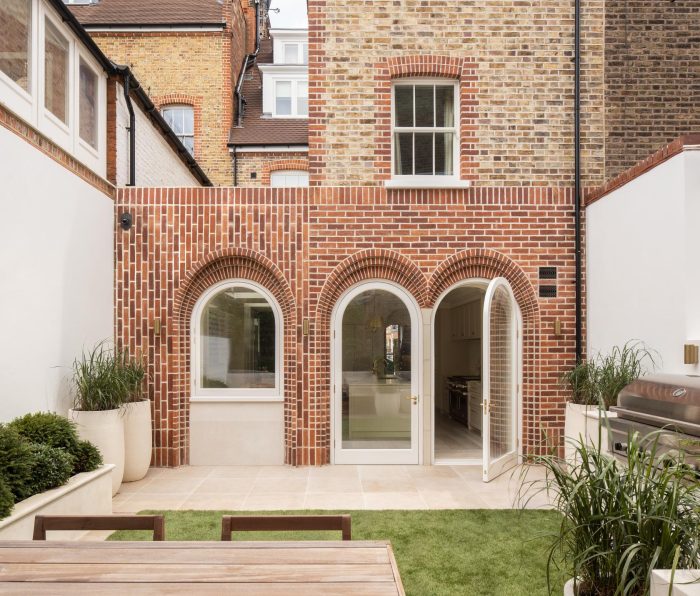 Adding rear extensions to period homes means being sensitive to the original home and integrate the addition well. Whether you want it to stand out or blend in, it's all about balance with the existing structure. A strong contrast for the extension can highlight original features well, on the other hand you could have your extension play a quieter visual role and clad it in materials that blends into your existing home's colour palette. In either case, things like continuing the same flooring in the new living space and out into the garden, or having window frames that match the original home, can help ensure the new volume fits seamlessly.
No matter which rear extension ideas are most attractive to you, invariably they will be all about adding floorspace, daylight and air flow to your home, without having such a large footprint that the garden is encroached upon.
Now, here are some examples of rear extension ideas that might inspire you too.
1. Old and new
It's sometimes hard to believe that a super high contrast, contemporary rear extension can genuinely work with a beautiful old heritage building. But the proof is in the pudding, there are so many wonderful examples across London. Although not everyone likes a lean-to type of glass box, it can act as a brilliant light source for new ground floor living and expanded kitchen areas.
2. Lovely materials
There's nothing like a gorgeous mix of materials for your rear extension. One respected extension is Gellatly Road, Lewisham by Delve. It features dark stained thin larch cladding, reclaimed heritage brick, concrete blocks, and Corten steel planters, bench and fence.  I also like the use of birch plywood in the kitchen interior as it always looks so lovely against dark timbers.
3. New materials, old forms
A simple method of combining old and new is to design an exterior in contemporary materials like zinc cladding or Shou Sugi Ban charred wood cladding and industrial steel Crittall doors, which contrast with classic Victorian brick. And then to have a pitched roof, which references the local historical context. A good example is Brockley House by SAM Architects. The large rear and side infill extensions to this semi-detached Victorian home in Lewisham, London were designed to create a series of open plan, interconnected living spaces. The appearance is highly modern with its mix of larch, black steel and herringbone paved patio.
4. Beachy vibes
A much admired two storey extension to the rear of a Victorian home is Hampstead Beach House by Hayhurst & Co. Clad in white-stained larch for a bright and beachy feel, even the window shutters are clad in the material, to camouflage them into the wall. Light, natural extension finishes like this look crisp and clean, and contrast beautifully with period brick exteriors.
5. Massive back doors
A popular part of any rear extension is a massive glazed back door, to connecting new living spaces to the garden as well as allow in as much light as possible. There's plenty of options when it comes to glazed doors, whether they pivot, stack or slide. But generally speaking, the larger the better! Check out the so-called world's largest pivoting door (at 3m x 6m tall) at Antwerp House in Belgium by Sculpt(it). This modernised townhouse contrasts its historical façade with a strongly contemporary glass box extension to the rear. Lots of glass, metal and concrete as well as boasting those rear doors, which essentially open the entire wall to the garden.
6. Butterfly roof
The inverted pitch roofs, aka "butterfly roofs", of historic Georgian and Victorian terraced houses appeals to many homeowners, and it can be very pleasing to add the distinctive roof silhouette to a rear extension as a nod to the past. Take a look at how it's done at Harcombe Road by Forrester Architects. As a bonus, on the inside the zig-zag roof shape creates exposed beams and adds plenty of volume and dynamism. Pitched roofs look lovely whether regular, inverted 'butterfly', or irregularly angled.
7. The glass box
Love them or hate them, the contemporary 'glass box' rear extension is here to stay, as it's a great way to add more season-proof 'outdoor' living space. And architects have found ways to marry the modern elements with the historical ones so that despite being dramatically different, the addition 'fits' the visual landscape. For example, to connect a black framed or black clad rear extension volume with its original building, it might be something as simple as painting the downpipes all black as well to create cohesion.
8. Partially glazed roof
Different leaves of a pitched roof can have different materials – like the butterfly roof extension of Forrester Architects' Harcombe Road extension. Apart from its distinctively shaped roof, which mimics angles and lines of the original building behind it, the leaves are each different. One side is roofing and the other has more glazing, all designed to work with the way the light plays across this space.
9. White and light extension interior
Another example of an interior of a contemporary rear extension that completely modernises a home is Max House in Islington (Paul Archer Design). It incorporates lots of glass and marble into a minimal, mostly white aesthetic interior for an airy, light-filled new living space that beautifully extends out into the garden.
10. Extension with sliding door
Another gorgeous rear extension that's received many accolades is Extension One, Islington by Denizen Works. This small terraced house in a conservation area of Islington, London, was given a major overhaul with a rebuilt rear extension, new side extension and kitchen rooflights. The extension is clad in soft black, bitumen-stained larch, an eco-friendly choice that makes a striking contrast to the rest of the home. There's grey limestone flooring through to the garden area for continuity, and a beautiful, oversized picture-frame style sliding oak door.
11. Beautiful contrasts
A white-painted brick exterior looks stunning when contrasted with a black steel framed, glazed rear extension. A lovely example is Maison de Maitre by Hans Verstuyft Architecten. This home in Ghent, Belgium has a starkly black and white exterior colour scheme.  Somehow, though, despite the strong differences in materials and colours, the two building elements don't compete. Instead, it's a lovely mix of old and new, and light and dark.
12. Wraparound windows
For something quite unusual, it's worth checking out the extension to Vegetarian Cottage by Cousins & Cousins Architects. The rear extension to the Victorian townhouse contains a dining room on the first floor and a bedroom on the second, creating a new building that both continues and disrupts the period aesthetic. In the unique hybrid, traditional bricks and windows were repurposed from a prior demolition, and then carved into the side are two floor-to-ceiling glazed walls. Eye-catching, but somehow also subtle.
13. Unusual glazing effects
Another interesting use of glazing is at Fulham House (a DIY design by owner Daniel Lee).  This flat roof rear extension to a London home again blends heritage brickwork with black steel frame doors that fully open the new living space to the garden. A basement office was constructed and its large skylight acts as a stage-like glazed floor out the back.
14. Complementary timber
Integrating new elements with the original architecture is what it's all about when it comes to extensions. And this can be done seamlessly through the clever use of complementary colours and materials. For example, another gorgeous modern extension to a Victorian home is Highlever House (Haptic Architects). Larch again has been used for the vertical cladding, this time untreated so it will weather to a textured grey over time. The variegated tones of the timber meld perfectly with the similarly marled colours of the bricks.
15. Exterior staircase
If your rear extension creates a new second storey, you may have room for a cantilevered balcony to extend out and make the most of the new living space. This was done beautifully by Tsuruta Architects at a home called Marie's Wardrobe. The addition of a black steel staircase to the exterior of the rear extension to this early 20thcentury home also adds interest and functionality. Black steel framing of the structure, windows and doors ties it all together well and adds a contemporary flavour.
16. Angled rear extension
Rear extensions tend to have nice clean lines and bold rectilinear frames. But take a look at what was done to an old rowhouse in Sint Niklaas, Belgium, known as Heritage House. This unique rear extension changed the direction of the building and cleverly created an angle that delivered more living space. The use of three dramatic pivoting doors creates the angled back façade. A patio and skylight connect the old and new buildings, while polished concrete floors inside and out ensure continuity.
17. Double-height glass box
For the most dramatic 'glass box' extensions, those that are double-height can create amazing, dramatic new living spaces. The cantilevered two-storey glass box at Primrose Hill (Archplan Architects) takes advantage of the soaring height of the glazed addition to install a lavish, interior green wall to enjoy from other internal rooms as well.
18. Patterns
The exterior of your rear extension is a chance to play with pattern, colour and texture. Good examples of how this is being done include Vestry Road by Oliver Leech Architects, where there's a stunning interplay of brick, timber and pavers. Or elsewhere, I spied an extension clad in sage-green stained herringbone timber slats, with the green blending into the garden as well.
19. Interlocking black steel frame
In some cases, the extension frame steelwork is intentionally salient. Normally, supporting steelwork is hidden but with extensions, its often celebrated in its rawness. The steel can act as a unifying element across the interior and exterior too. Take a look at the bold forms of Repoussoir by Con Form Architects. A striking feature of the rear extension to this Victorian family home in London is the exposed, interlocking charcoal grey steelwork. Other materials are kept consistent on both sides of the building as well, like a wall of London stock brick in the garden, and the fir flooring in a soft colour to match the patio paving tile.
20. White aesthetic
Love a bright exterior? A white exterior façade keeps things looking clean and cheerful, and also helps to visually enlarge the look of a narrow home. I like the improvements to a small-terraced home in Antwerp, Belgium, undertaken by Poot Architectuur. The small home's rear and side extensions were renovated with new exterior joinery and a new roof with glazed portions to envelop the interior with light. And all is connected through the use of white.
21. Unusual finishes
When it comes to choosing a material to clad your rear extension exterior, there's a wide range of possible materials—even spray-on industrial black rubber! Yes, that's the material used to coat the rear extension to an 1800s terraced house known as Janus House, by Office S&M. Normally used for oil rigs, the rubber provides a low cost, water and weatherproof, seamless finish, and a makes for a high contrast to original period brickwork.
22. Tiled extension façade
Apart from all the materials mentioned that are being used to clad rear extensions, tile is another option. I've seen some truly stunning work, such as the 3D tile used at Tile House by Proctor & Shaw, or the peacock blue glazed square subway tile at a London artists' home by Beasley Dickson. Here, the owners were pushing the boundaries of contemporary extension design, by revamping an Edwardian to have a 'carnival of colour' on the interiors as well as the exterior. The latter achieved by the attention-seeking glossy blue tiles. That all-important connection of contemporary and heritage is satisfied through the repetition of pattern across the two volumes.
And that's a wrap on my curation of rear extension ideas that you might consider if you are planning a rear extension. Personally I love the simple, timber clad ones. Especially the natural ones left to weather to a lovely patina, because I think it's really interesting for a building to change its appearance over time. Which of these ideas appeals to you the most? Drop me a comment below!