Side extension ideas: So, what are your push factors? You know, those reasons why you absolutely must have an extension. It may be that you have a growing family and there's just no longer enough space. It may be that your typical Victorian terraced house has a tiny, poky kitchen downstairs whereas you'd really love an open plan, spacious kitchen/dining space.
You may be motivated to increase the amount of light into your home, or to better connect it to the garden. It may be that you simply want to develop your asset and add value. Or it may be a combination of some or all these factors.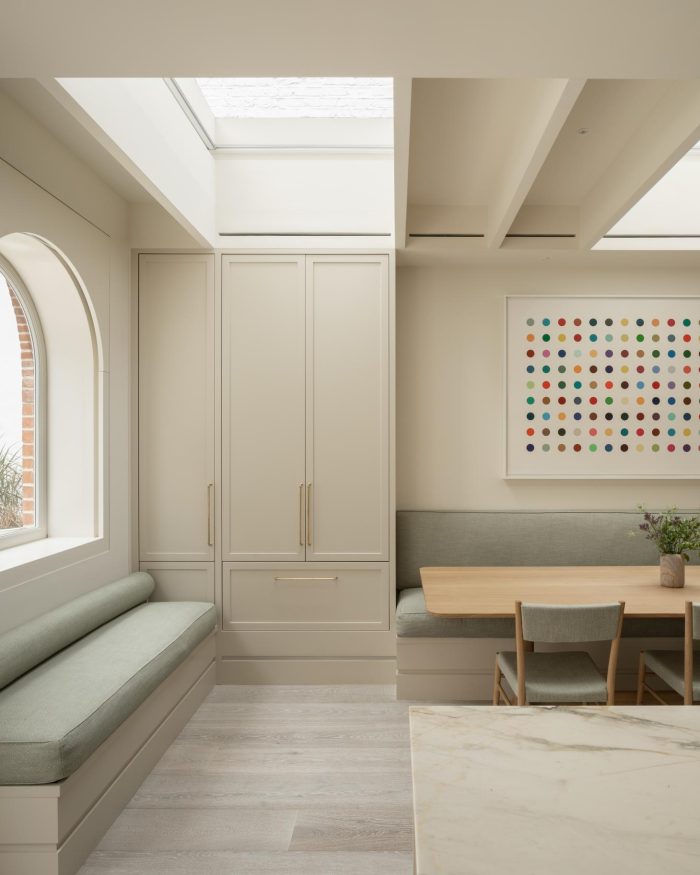 Whatever the reason why you need an extension, one of the most viable and economical options is the side return extension. A feature of many terraced, semi-detached and bungalow style homes, that small alleyway to the side of your home is just ripe for claiming new living space. Many homeowners are choosing to add a side extension in order to reconfigure the ground floor plan. It's the ideal way to create spacious open-plan kitchen and living areas downstairs. Side extensions are also great for gaining volume while improving your indoor-outdoor connection. But unlike a rear extension, a side extension doesn't eat into your garden space.
Blend old and new
When it comes to side extension design, the goal is usually to update a home for modern living with a new structure, while being sympathetic to the original, historic building. In some cases, architects like to combine existing structures with a strongly contrasting new addition. This is both for visual interest and to make clear that there's no desire to simply mimic the old home. Others prefer to update an older home with a new building that is distinctively modern but blends into the existing aesthetic more. Either way, the old and new are typically connected through common colours, materials or forms.
Are there any disadvantages to a side extension?
Disadvantages–or rather design challenges!–can occur when a side extension means you lose a side window. When you increase the depth of your ground floor space, the middle of the house can become darkened, too. But there are many solutions, from rooflights to a fully glazed roof and walls, to large sliding doors to the garden. Glazing is such a critical part of the equation when it comes to side extension ideas, to let in light and maximise views. You can also play with colour schemes to increase interior light, such as using pale, reflective paint or materials.
Another challenge to consider is that you don't want a side extension to turn a busy kitchen area into a thoroughfare. Choosing the right kitchen layout will make all the difference—for example a peninsular kitchen layout, or having a kitchen island that blocks foot traffic.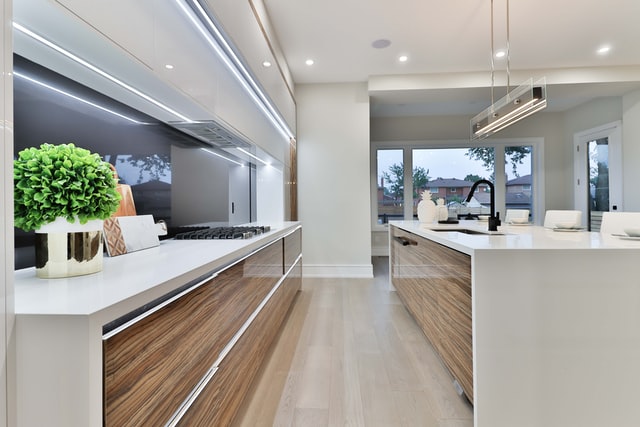 Do you need planning permission?
You probably won't need planning permission for a side return extension, under the permitted development rules. But this of course also depends on things like whether you live in a conservation area. Your local council, or your builder or architect, will help you assess the regulations around your side extension ideas.
Now, let's take a look at 25 side extension ideas, from small interventions to major transformations. What they tend to have in common is a respect for the heritage of the original homes, whilst taking advantage of contemporary architectural techniques to bring in light and create more space.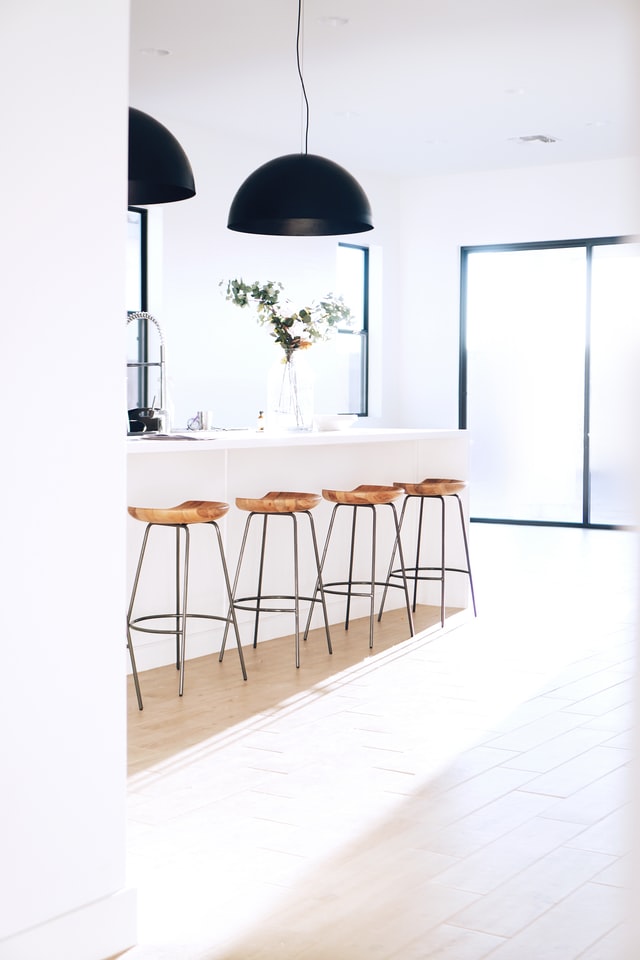 1. Neat and linear side extension
A streamlined, simple aesthetic appears to be solidifying as a popular contemporary design for side return extensions to period homes. Simply filling in the side return with glass, including glazed roofing, is the ideal way to renovate your small Victorian kitchen and enjoy a revamped, roomy and bright kitchen/dining space. Other popular modern elements of a side extension include a boldly framed glazed back door and window framing, and exposed metal beams on the interior.
2. Roof silhouettes
With a side extension, the aim is to infuse the home with more daylight and bring it up to contemporary living standards while staying sympathetic to its original features. This often means that while modern materials might bring the extension into the present day, the shape and angle of its roof might be pitched to match the historic roof silhouette. As an example, check out the extension to a large Victorian home known as Chetwynd Road, by Cousins & Cousins Architects. Its roof angle mimics the traditional shape but contemporary Blue Staffordshire brick ensures the new volume speaks of modernity.
3. Light-filled dining spaces
One of the major benefits of a side extension to a Victorian terrace is that it can convert a gloomy downstairs kitchen area into a bright and spacious open-plan layout. And yet it can be a very minimal intervention. I love the way Neil Dusheiko Architects have designed the extension to Gallery House in Stoke Newington. The slim new extension volume is connected to the existing building through the use of common materials, like reclaimed brick pavers indoors and out. They provide such lovely texture and warmth.
4. Warm timber frames
The doors to your side extension are a chance to make a major design statement. Whether you go for sliding or bi-folds, take the opportunity to highlight your new huge windows or door by installing gorgeous frames. Minimal, unfussy framing is the ideal and least distracting way to open the house to the garden. Clever extension design often also enables views to the garden all the way through a ground floor plan. Those views can be 'framed' with timber frames at the thresholds or portals.
5. Tiled side extension
It's a little uncommon to see ceramic glazed tiles used as cladding for a side extension. But it can look truly amazing. In fact tiles are a brilliant choice of exterior finish. Aesthetically, they add texture, warmth and interest to a façade. But the shiny tiles also cleverly help direct sunlight into the home. Check out who GKMP Architects finished the extension to a semi-detached home in Greenlea Road, Dublin. White and grey tiles look chic, especially against gorgeous iroko wood doors and frames. (If you need a tiler, you can find one here.).
6. Eco-friendly timbers
Larch is a highly contemporary choice of cladding material that has become quite popular. It's a great cladding material, not only sustainable but aesthetically pleasing due to its texture and warmth. It will also patina over time, and the colour can look different depending on the weather or the time of year (for instance, appearing more silvery in winter and warmer toned in summer). Opting for blackened larch, which is often hand-charred on site, is another possibility for a clean, modern aesthetic. Have a look at how it's done at ER Residence by Studio Hallett Ike, a side extension to a Victorian terraced flat in north London.
7. Gradient tile
Another option if going with tile is to create a beautiful gradient of colour, for a distinctive and unique façade. A lovely example is the tiled façade to a side extension of a home in Germany, known as Single Family House by Brandt Simon Architekten. A range of green-toned circular tiles is laid out in a repeating pattern with a gradient, with the organic-looking appearance designed to blend harmoniously into surrounding nature. An eco-friendly home, this renovation also makes use of cellulose (recycled paper) for thermal insulation and solar energy for heating.
8. Black brick side extension
For a side extension that is intentionally different to its parent home, some homeowners are opting for a strongly contrasting new volume. It may be that the pitched roof still matches the surrounding architecture, and that both volumes are clad in brick. However, the colour of the brick might be strikingly different. For example, the London Rowhouse extended by Archer + Braun utilises a sooty black brick for the new volume which contrasts boldly with the marled heritage brick.
9. Simple timber side extension
A very simple intervention can be undertaken to simply convert a side return into a covered passageway which can be used as an almost-alfresco dining area. The resulting enclosed corridor ideally has a glazed roof to maximise light in the new space. Converting your side return can be a cost-effective and easy way to create new living space.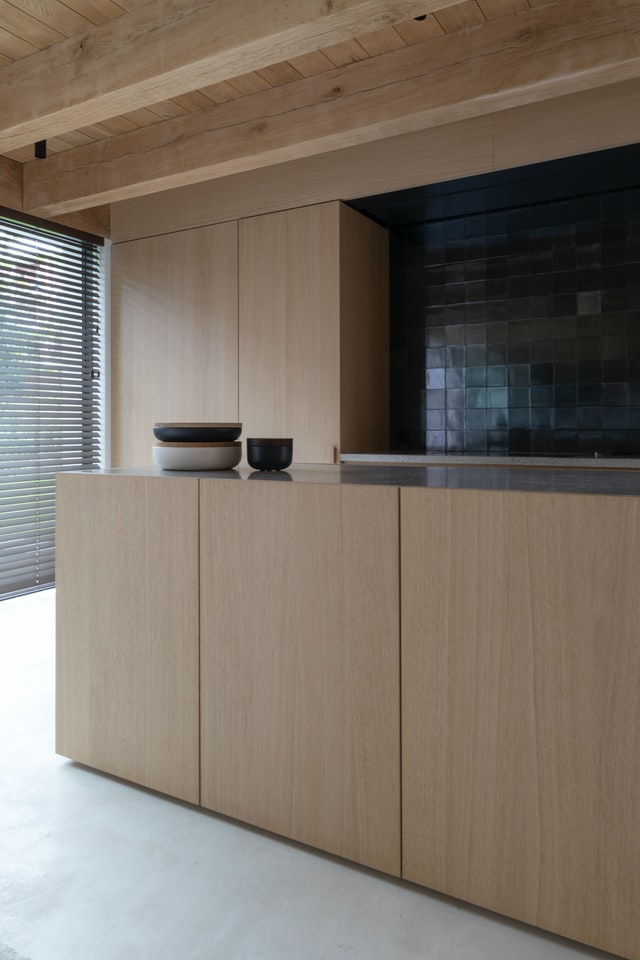 10. Colourful side extension ideas
A side extension can be a chance to have a little fun, such as by decorating the façade in bold patterns or colours. For example, architects CAN designed a side and rear extension to a Victorian terraced home in Brockley, where the extension is partly clad in Douglas Fir battens painted in blue and grey stripes. The playful colours and shapes evoke little British beach huts, and the grey battens match the ribbed render used inside the extension volume. (Love this idea? Find a painter to bring something like this to life.)
11. Disappearing walls
It's a common element of many extension briefs: open the house out to the garden. And there are various ways to go about it. But for something unique, consider the side extension at Frog Castle, by Scott Donald Architecture. This glass box extension to a period home makes the new building seem to simply merge with the garden, thanks to the creation of an apparently 'structureless' glazed corner.
12. Going green
If you want to enjoy your lush gardens to the utmost, a simple glazed side extension is key to opening the home out to nature. I like the design of Banana Tree House by Yard Architects. A touch of the tropics was brought to Southeast London when this three storey terrace home was remodelled with a simple glazed side extension that opened the home to the 'jungle garden' backyard. The side wall of the home was removed and infilled with a glass box extension that created a large kitchen/dining space and new patio with plentiful views of the luscious greenery.
13. Side return link
When a side extension is intended to complement rather than compete with the original structure, it may copy the silhouette of the heritage building while showing off modern design and materials. For instance the extension to the Grade II listed, 1867-built Providence Chapel in Wiltshire (Jonathan Tuckey Design) references the shape of the original home. But it also uses sustainable, stained larch cladding and contemporary, massive windows and doors. The new extension is also connected to the old one with a glass tunnel link in between which bridges the old and new buildings.
14. Glass insert side extension ideas
Side returns to Victorian terraced houses are typically quite narrow, so opting for a double storey extension really makes the most of the available square footage. To avoid having the new volume create too much darkness, glazing is a vital part of any side extension ideas. For a gorgeous example, see the side extension at Ruvigny Gardens by Syte Architects. Plenty of light comes in through a narrow band of glass that bisects the old and new elements.
15. Harmonious side extension ideas
Sometimes people prefer to clad their side extension in a brick that closely resembles the original building's brick. This means the design of the new volume can be very modern while still staying in context with, and celebrating, the heritage home. Original windows can be made to feel at one with new ones through the use of colour or material too.
16. Brick patterns
Bricks can also be laid in a variety of patterns, so that even if they are intended to resemble the original brick, the extension can still stand out as being a distinctly modern addition. The patterns created by the bricks also add lots of texture and interest to a side extension exterior. Have a look at the work of architects Bradley Van Der Straeten on Leytonstone House for inspo.
17. Blend finishes
One way to ensure cohesion between your old building and a new extension is to blend the exterior finishes. For example, the side extension might be finished with a particular timber which then also continues out to the garden via decking. This will create a harmonious feel, even if the rest of the materials used for the new addition are in contrast to the original home.
18. Double up
How high can you go? Planning rules mean that how high your can build your extension sometimes depends on your neighbour's "right to light". This easement in the law gives a long-standing (20 years plus) owner of a building with windows the right to maintain their level of illumination. In fact, though, multi-storey extensions with a lot of glazing will often be permitted as light can still travel and the neighbour's light may not fall below unacceptable levels. For instance, check out the double-height side extension at Sash House, by Tigg + Coll Architects.
19. Black steel
Industrial, black steel framing is popular for contemporary side extensions. It can create highly defined, framed 'snapshot' views of the garden. And somehow, black steel just suits original brick so well. You don't have to stick with black steel errything. See for example Beechdale House by Paul Archer Design, where the black framing on the side and rear extension is in contrast to the white framing of the upper windows.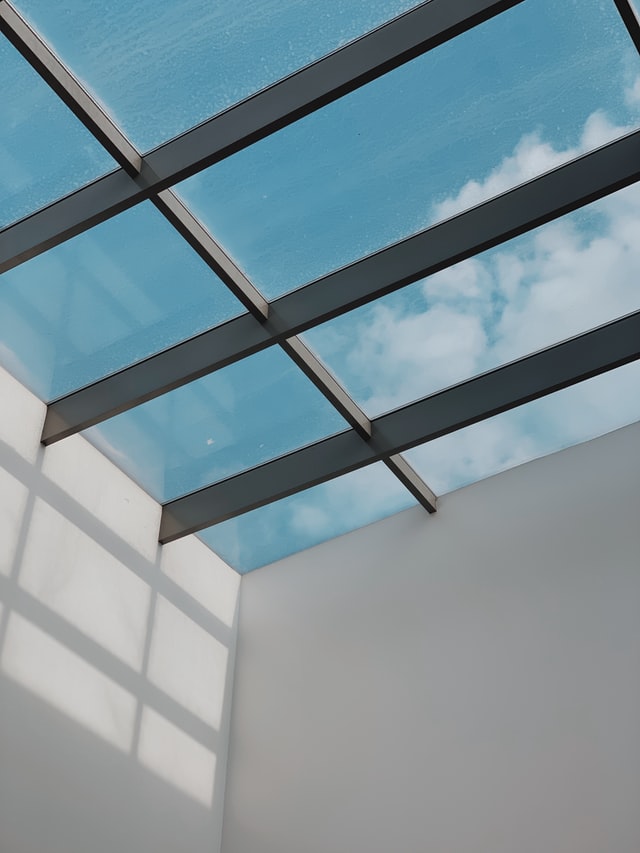 20. Modern love
Side extension ideas have changed quite a bit in recent years. Previously, there was more of a tendency to want to completely absorb an extension into an existing aesthetic. Whereas now, people are increasingly interested in combining the best of both worlds: their characterful historic home, plus an open-plan, contemporary extension. For an example of this blend of old and new, have a look at the extension at Shawbury Road by Plusrooms.
21. The lightness of glazing
A glazed side extension can look beautifully light and delicate. I'm loving the extension at Burrows Road House by Rise Design Studio. A new, sunny kitchen/dining space opens out to the garden of this north London terraced home, after the architects took down the side wall and inserted glazing instead. A slanted glass roof is supported by the boundary wall, which had its height increased using reclaimed bricks from the demolition.
22. Light-filled studio
As most Victorian homes are quite dark, many people are motivated to renovate their dwelling in order to bring in more light. That was the case with a Victorian home in Wales, The Glasshouse (Glen Thomas Architecture), which has had a "radically contemporary" update thanks to a new side and rear extension. A nine metre glass roof along the side allows for beautiful views of surrounding nature and of the sky, while Eucalyptus flooring adds texture and warmth to the extension interior.
23. Minimal interiors
A minimalist aesthetic really suits a side extension in order to maximise the sense of spaciousness inside. It might be frameless glazing for roofs and windows, which help create a streamlined, airy feel. Or it might be the use of pale timbers like oak, or polished concrete floors that gently contrast with original heritage materials. For inspo, see the spacious, light-filled entertaining space created at the Peckham Extension by architects Al-Jawad Pike. You might also like the beautiful white oiled oak-lined portals at The Lined Extension by Yard Architects or their side extension at Timber Frame Two, which features soft, unclad timber.
24. Strongly contrasting side extension
Some people prefer a side extension that makes no attempt to blend in at all. Instead, it might proudly announce its contemporary nature with a bulky steel frame and dramatically contrasting monochromatic colour palette. Strong contrast works, provided there are elements that tie the original building to the new. This might be through colours, shapes, patterns or materials.
25. Creating unusual spaces
Two storey glazed side extensions can be a way to create novel, loft-like interior spaces. The transparency can help generate a sense of cohesion and connection between the new spaces. And internal glass floors are a playful touch with plenty of visual intrigue. A great example is the much admired Brackenbury House by Neil Dusheiko Architects. Similarly, the House of Trace by Tsuruta Architects is celebrated for how the double-height 'glazed slice' on the exterior creates an internal two-storey lightwell.
And that's a wrap on my selection of side extension ideas. I love the look of the 'glazed slice' side extensions, and also those with more unusual cladding materials. Which is your favourite? Let me know in the comments!