Looking for chimney breast ideas? Your chimney breast –that part of an interior wall that projects out to surround a chimney– is an opportunity to get creative and make your fireplace really stand out. Whether or not your fireplace is working, you can turn its chimney breast into a fantastic focal point for your room. And those spaces either side of the chimney breast, the alcoves, also offer endless styling opportunities.
Refresh your chimney breast with paint or wallpaper, or clad it in beautiful organic materials or stunning tile—here are 22 chimney breast ideas that will inspire. Let's dive in!
1. Oversized and exaggerated
There's an increasing love of exaggerated, oversized, extra-wide chimney breasts and fireplace surrounds, where the chimney often appears to soar dramatically like a tower inside your home. Elongated plinths are popular, enabling cosy social zones as well.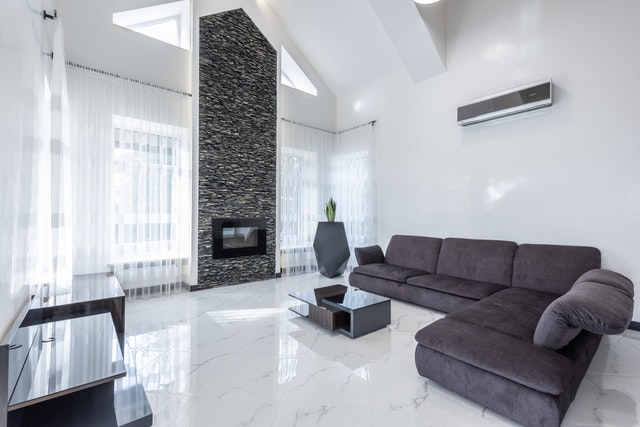 2. Concrete rendered
This is a popular look in contemporary homes. Rendering a chimney breast with cloudy grey concrete gives it more texture and interest than leaving it plain. A perfectly flat finish can look boring, whereas rendering gives a slightly tonally varied appearance that plays with the light.
3. Tiled
You can really spice up your chimney breast by tiling your fireplace surround with your favourite stunning tiles. Because it's a small area, it can be quite affordable to choose really special tiles to personalise and beautify your room. Some ideas for making tile the star of your chimney breast:
encaustic cement tiles in an Aztec pattern
glazed terracotta tiles–amazing in a monochrome setting
soft grey tiles–these blend very well with adjacent concrete and metal materials
white stacked tile or natural stone
variegated or Zellige tiles in ocean blues
tile an extra-wide chimney breast with a soft organic colour palette of greys, browns and blacks
tile the inside of the fireplace to add an accent colour (or simply a shinier, graphic black).
Tiles are such a lovely material to use for cladding a chimney breast, particularly if they have mesmerising tonal variation.
4. Timber and marble
Marble will never go out of style and always looks fab as a fireplace surround. It might just be a slab for the mantelpiece, in the centre of a timber-panelled or brick fireplace. Greyscale marbles really complement a monochrome décor and a black firebox, for a clean and sleek look. And when the fire is burning, marble looks even more beautiful in the flickering light.
5. Strong and modern
Love a bold contemporary look? Show off an oversized chimney breast made of black steel, with a cast concrete plinth (the bit the firebox is sitting on). If you extend the plinth all the way out to the sides you can create cosy sitting areas alongside the fire, or simply useful surface area. With a bold look such as this, go for neutral tones elsewhere in the room, and lots of natural materials.
6. White breast surrounded by bookshelves
If you plan on using your alcoves for display shelving, it's a good idea to keep the chimney breast itself quite plain as a contrast. If you are going for a rainbow of books either side of your fireplace, opt for a mostly white aesthetic for the chimney breast and the overall space.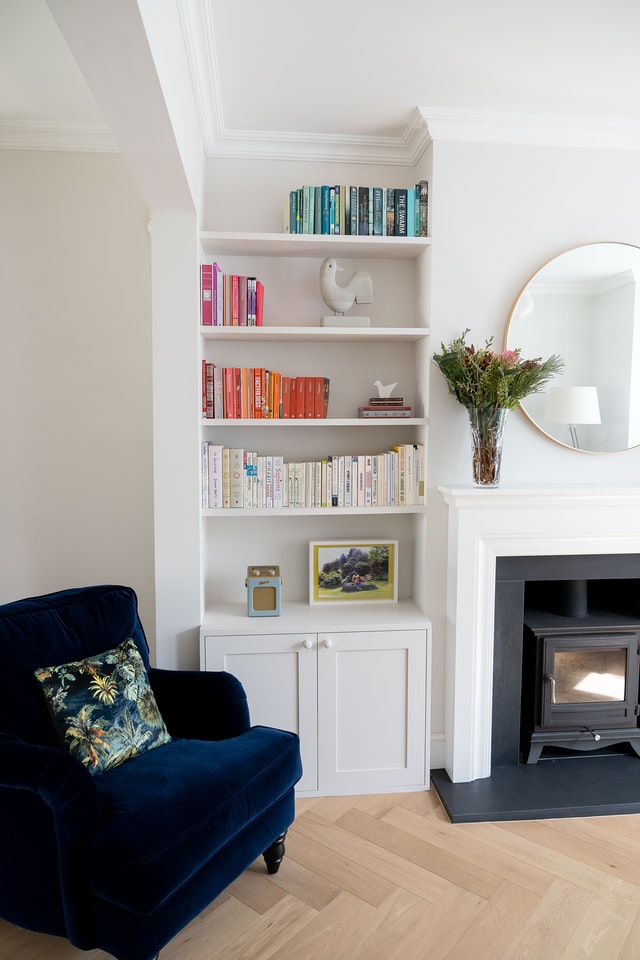 7. Black breast surrounded by bookshelves
You might also frame your fireplace with bookshelves painted black. Add in a mirror to reflect more light in the space, and a designer armchair.
(Need someone to customise shelving to fit your alcove spaces? Find an expert here.)
8. Floating chimney islands
Your chimney breast may not necessarily be flush to an interior wall. Sometimes, homeowners prefer to have a central fireplace which connects a number of separate spaces. Having a fireplace located in the middle of the room creates a double-sided fireplace 'floating island'. A linear design with pseudo alcoves is perfect for displaying books, curios or a woodstack.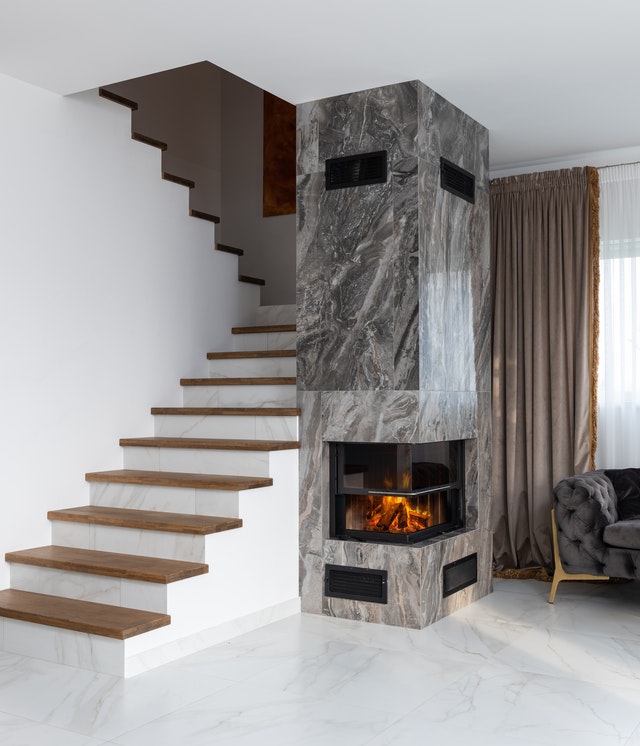 9. Paint it pink and grey
Make the most of a beautiful traditional fireplace by giving it a fresh coat of paint to highlight its intricate engraving and detailing. Love a bold aesthetic? How about a cotton candy pink-painted fireplace surround, standing out against a dark grey chimney breast and alcoves? Expert tip: when painting a fireplace surround, make sure to use high heat enamel paint.
10. Chimney breast feature wall
If you love colour and pattern, your chimney breast is the ideal place to experiment with a gorgeous strip of wallpaper. As you'll only need a fairly small amount of paper, you can often afford to splash out on something really cool, even a designer print. And if you go with wallpaper, a good trick is to pick out a wall paint colour from the wallpaper design.
11. Faux chimney breast
Tiles are another easy way to completely transform the look of your fireplace. If your modern fireplace is flush-mounted and doesn't exactly have chimney breast, you can simply create a faux chimney breast out of tile, to set the fireplace area apart from its surroundings.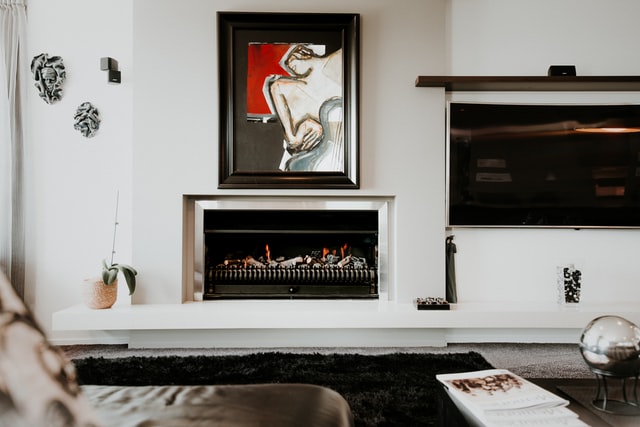 12. Dark and dramatic
For a characterful, moody living room with a modern Gothic aesthetic, paint your chimney breast, fireplace surround and alcoves all the same dark colour. This gives the illusion of a much larger space. Expert tip: when you're using a very dark paint colour, it's a good idea to keep the ceiling and mouldings white to prevent it feeling gloomy and cave-like.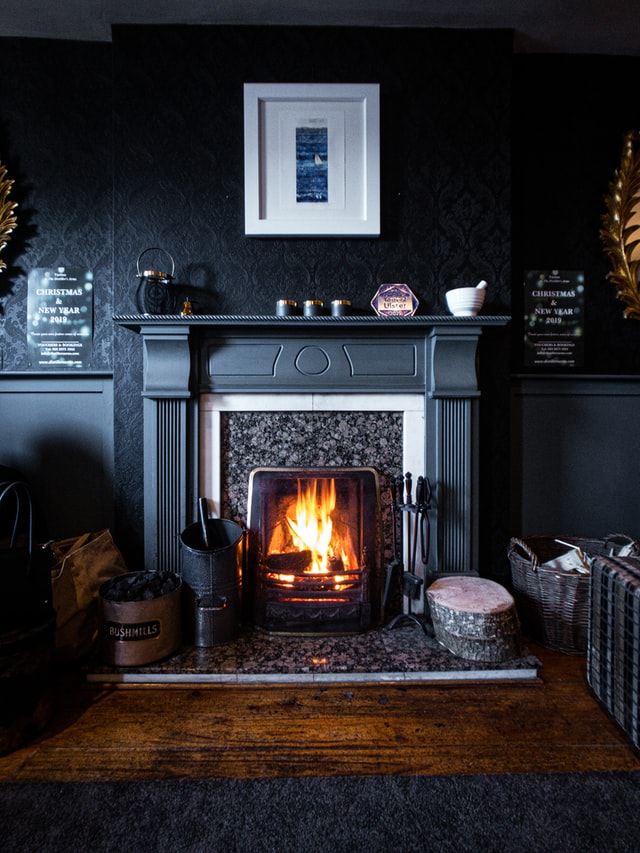 13. Salvaged brick
If you are planning to put in a new chimney breast, you might consider salvaged bricks which typically have a lot of tonal variation and add lovely texture to a room. The bricks also function as a heat shield. A statement cast iron firebox looks amazing against a brick chimney breast.
14. Brick facings
Another option is to tile your chimney breast and surround with brick facings. These are simply thinly cut bricks and are sometimes also called brick slips, brick cladding or (most descriptively I think) brick tiles. It's a way to get a brick look in the same way that you would apply ceramic tiles. If you love warm and earthy tones like this, make sure to also check out our blog on brown living rooms.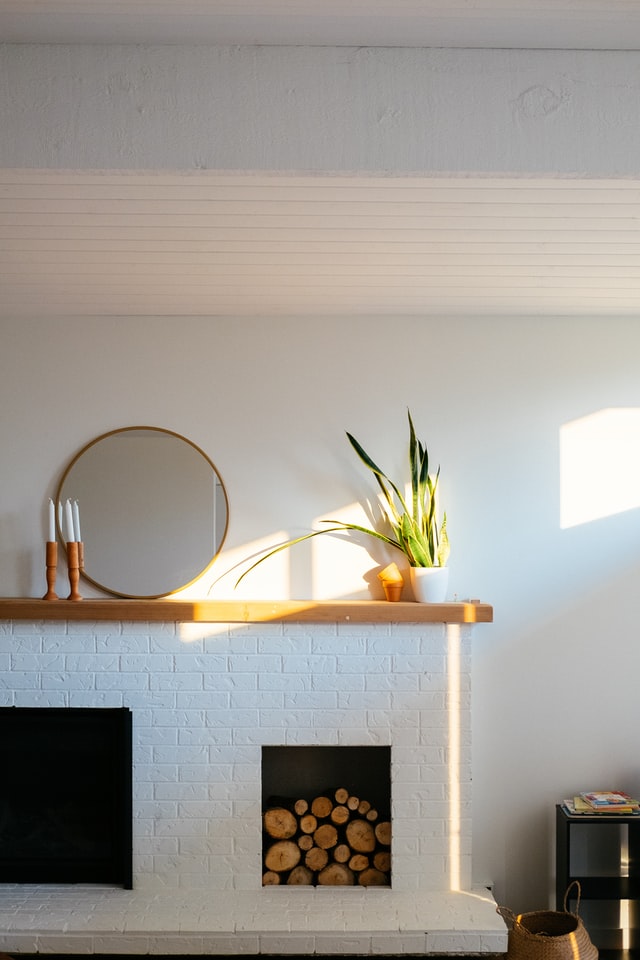 15. Greys and metallics
For something a little different, paint your chimney breast a lighter tone than the alcoves, which makes the alcoves recede and the fireplace stand out. Gold metallic paint for the mantle trim could match an antique gilded mirror and lend a little glam to the space.
16. Faux fireplace for kids
If your child's bedroom has a non-working fireplace, you can take the opportunity to create an enchanting vignette to stimulate a child's imagination. Go with a fairytale, woodland creatures type wallpaper on the chimney breast, and and you can stuff the fireplace with soft toys. The mantle is also a chance to further add a cute display of your child's favourite characters, books or artworks.
17. Blend the chimney breast in
If you love pattern mixing, why not try a combination of vibrant wallpaper for the chimney breast and alcoves, plus colourful tiles inside the fireplace? Extend the tile out in front of the hearth, too. Although these days, wallpapers are so much easier to DIY, if you aren't confident with achieving a neat result yourself, you can always enlist a local expert to help.
18. Artistic chimney breast
If you love a colourful maximalist look,  you can take advantage of your fireplace and chimney breast to deliver wild colours and patterns. Paint the alcoves a gorgeous complementary colour, and add a lavish chandelier to be even more extra.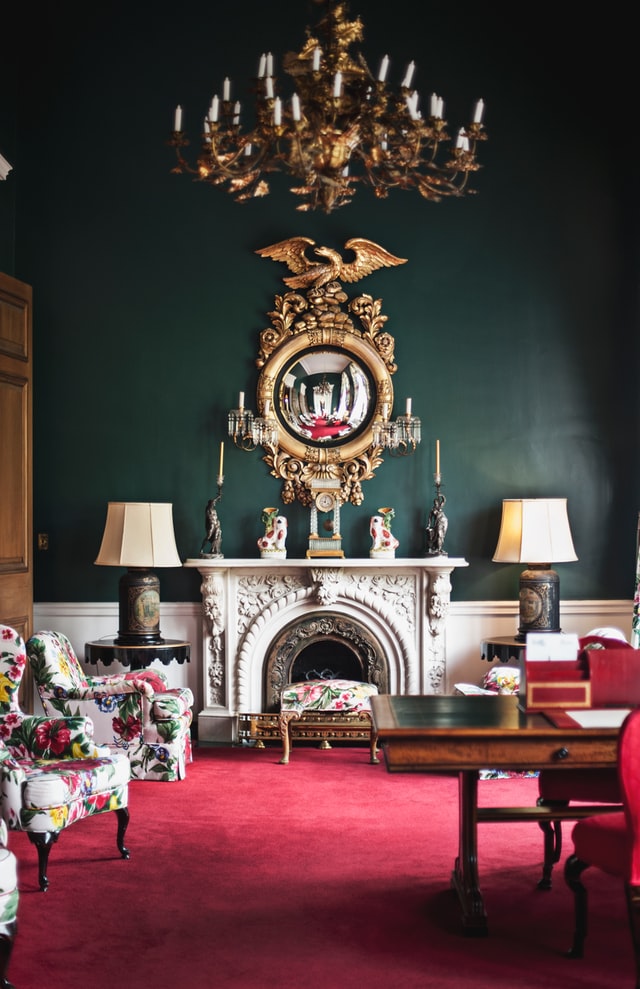 19. White
Or if you prefer minimalism, a look with clean lines and a monochrome colour palette will appeal. Create a beautifully light and airy living room with an all-white chimney breast that won't detract from views through alcove windows.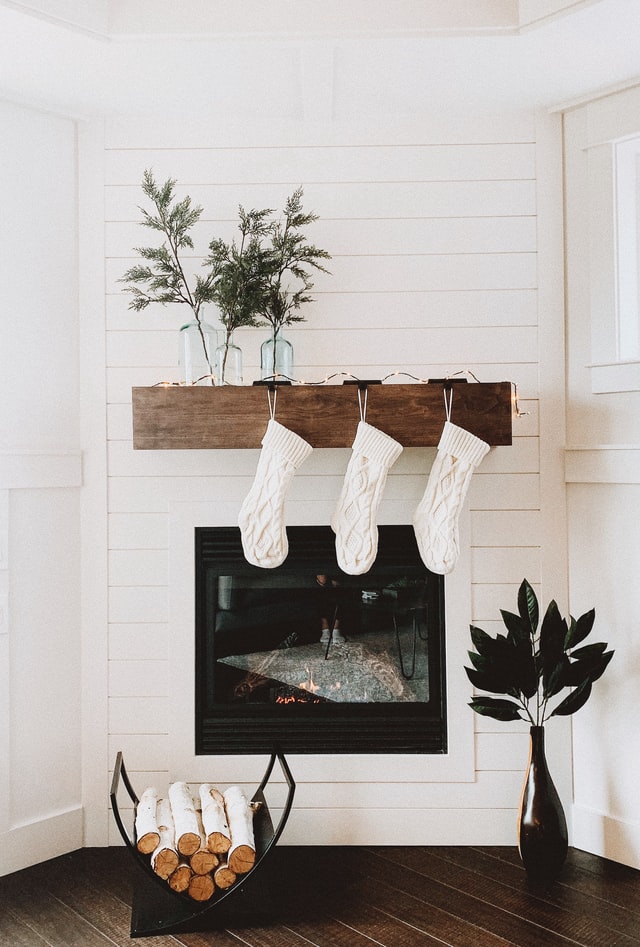 20. Add an extravagant mirror
Style up a mantelpiece with candlesticks, a vase and an oversized, vintage, patinaed mirror. If you paint the chimney breast the same colour as your walls, the focus will fall on the mirror and curated mantelpiece.
21. Build in a wood stack
A woodstack beside your chimney breast adds so much texture and interest to the space. And having a woodstack is always lovely to add warmth to the room even when the fireplace is not in use.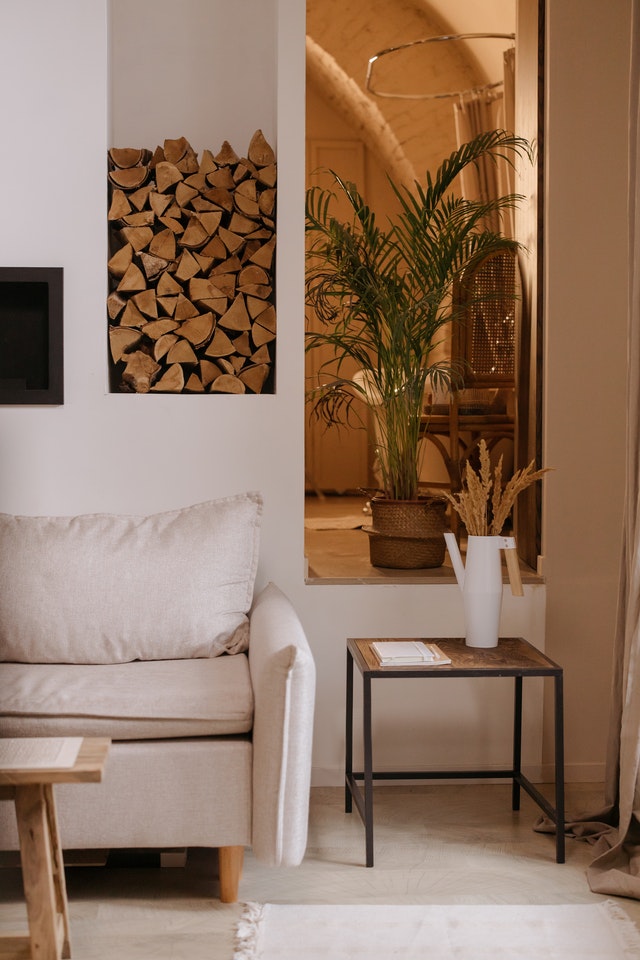 22. Non-functioning fireplace
Even if you have a non-functioning fireplace, that doesn't stop it being able to make a strong statement. You can always insert a little stove and have a vibrantly painted chimney breast. Or, will it with wood, just for ambience.
So there you have my favourite contemporary chimney breast ideas. I love heritage fireplaces with quirkily painted chimney breasts, but I also love the modern, oversized statement chimney breasts featuring beautiful, textured materials. Do any of these chimney breast ideas appeal to you? Let me know in the comments!
And if you need help with fireplace installation, you can find a local expert here.