There are loads of fridges out there for different buyers and different kitchens.
Whether you only have half a bottle of Sauvignon Blanc and some cheese slices, or you regularly stock up with a rainbow of fresh meat and veg, here are 10 of 2018's best fridges.
1. Miele K 28202 D ws
Miele is often considered to be the most reliable fridge brand. This freestanding model has dynamic cooling, which keeps every shelf at the same temperature, a sturdy handle, and an A++ energy efficiency rating.
RRP: £949
Where to buy it: John Lewis, Miele, Appliance City.
Best feature: The Dynamic Cooling is really helpful in a fridge this size, but a close second is the fact it holds 13 bottles.
2. Beko BL77
An integrated tall fridge with Quick Cool functionality for meat and fish, as well as 5 spacious shelves and door compartments. This is a fairly basic model but it still has a few fancy features, including a very essential wine rack and a salad crisper.
RRP: £429
Where to buy it: AO.com, Currys, Very.
Best feature: The door's reversible, so you can put it pretty much anywhere in your kitchen.
3. KitchenAid Iconic KCFME60150L
Designed to coordinate with the classic KitchenAid mixer, this fridge has a luxurious chrome finish. The Iconic holds 11 bags of shopping, comes equipped with Auto Defrost, and monitors temperature and humidity at all times.
RRP: £1,299
Where to buy it: AO.com, Very. 
Best feature: If you fill it with brand new food, it'll automatically drop the temperature.
4. Indesit TLAA10S
This is an undercounter fridge ideal for smaller kitchens. There are 2 adjustable shelves, a reversible door, and it scores an energy efficiency rating of A+. For some, this would be too tiny, but it's ideal for small families and compact kitchens.
RRP: £160
Where to buy it: Indesit, Appliances Direct, Currys.
Best feature: If you have to call fridge repair in London out, the parts have a 10 year warranty.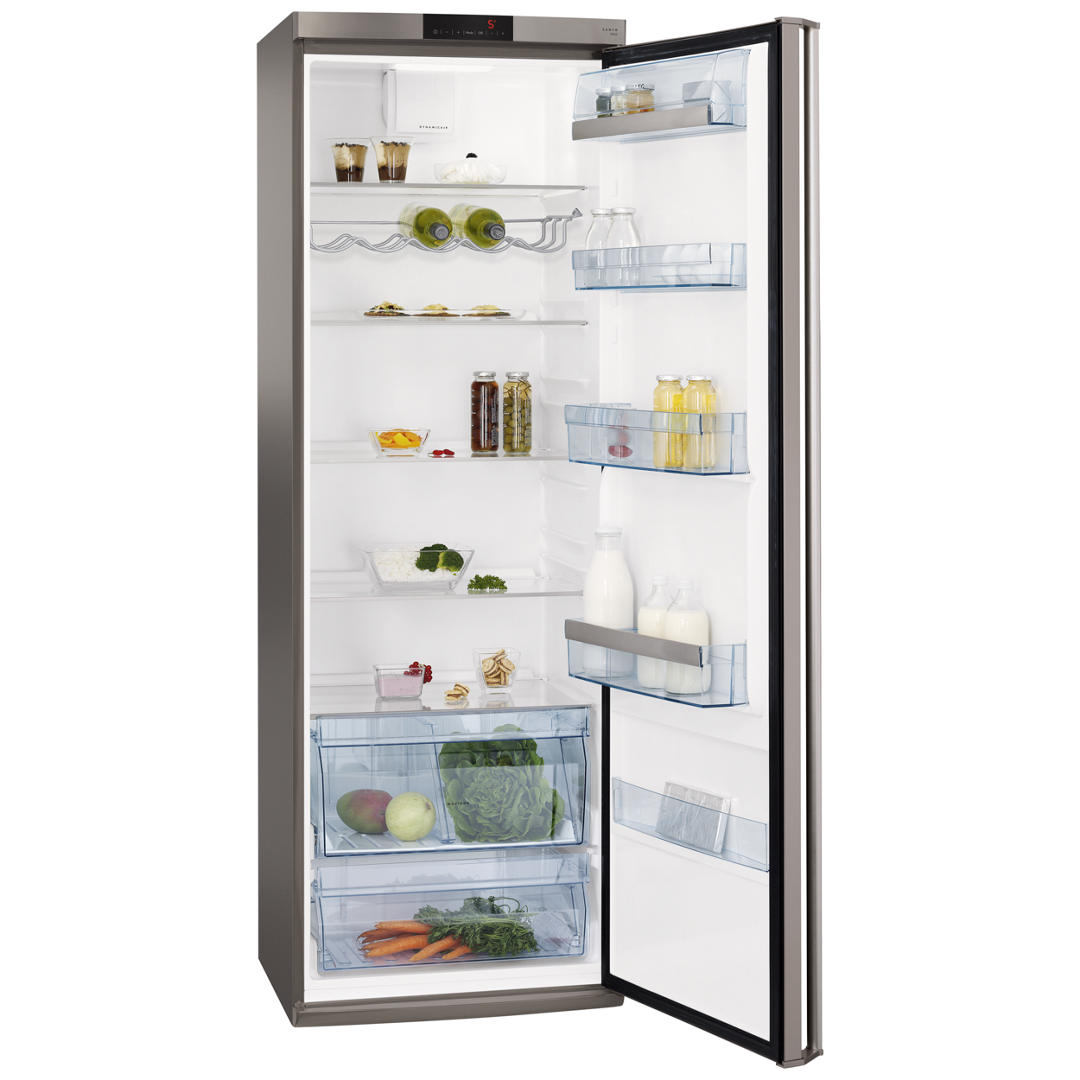 Source: John Lewis
5. BEKO UL483AP
Another cosy undercounter fridge – this Beko model is a similar price to the Indesit and has clever storage for its size. Reviewers are happy with what they get for the price, including adjustable shelves, a reversible door, and auto defrost.
RRP: £160
Where to buy it: Currys.
Best feature: The anti-bacterial door seal keeps your fresh food safe from any passing germs.
Want to keep your current fridge running smoothly for as long as possible? Find an
appliance technician
on Airtasker.
6. AEG RKE64021DX
This AEG larder fringe is winner of the Which? Best Buy. AEG's Dynamic Air technology keeps every shelf the same temperature, which can be adjusted with its LCD display. There are 7 adjustable shelves, 2 drawers, a wine rack, and a special dairy compartment for all those wine and cheese nights you'll be having.
RRP: £699
Where to buy it: John Lewis, Appliances Direct, Appliance City.
Best feature: If you'll be away for a week or two, Holiday Mode minimises energy consumption.
7. Samsung RR39M73407F/EU
This Samsung is a very quiet, spacious model. It's more expensive than some, but comes with a long list of clever features – frost-free technology, 7 door pockets, a cold water dispenser, and a premium stainless steel finish.
RRP: £789
Where to buy it: Currys, Appliances Direct, John Lewis.
Best feature: The frost-free setting does everything, from thawing out frost to evaporating the melted water.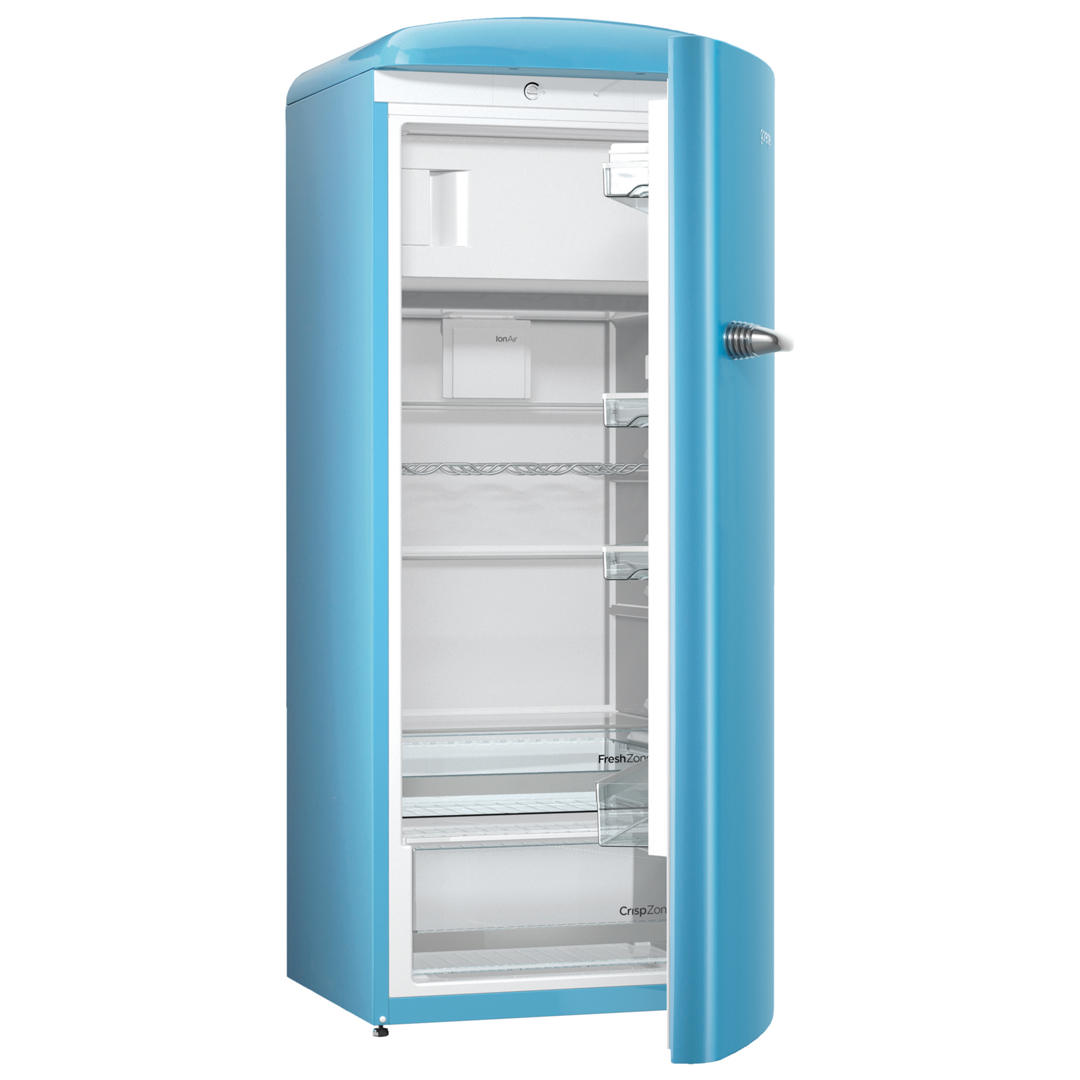 Source: John Lewis
8. Gorenje ORB153
If a standard white or stainless steel appliance just isn't your style, this Gorenje is a retro alternative, which comes in a dizzying range of colours. It's not without substance though, it scores an A+++ for efficiency, has adjustable shelves, and a fast cooling drawer designed to keep meat and fish separate.
RRP: £799
Where to buy it: John Lewis, AO.com.
Best feature: The CrispZone drawer, for keeping fruit and veg fresh, is apparently one of the biggest available.
9. John Lewis JLLFW1818 Tall
Reasonably priced and almost unanimously loved by reviewers, one of John Lewis' own brand appliances is one of the best freestanding fridges available. Its annual running costs are only £11.50, and the shelves and compartments are super spacious.
RRP: £549
Where to buy it: John Lewis.
Best feature: The cooling fan keeps everything the same temperature, which is impressive, considering it's nearly 2 metres tall.
10. Siemens IQ500 KS36VBW30G
This Siemens model can hold 19 bags of shopping – essential for big families or anyone who likes to shop like it's Christmas. The safety glass shelves are shatterproof and completely adjustable, there's precision temperature control, and retractable drawers too.
RRP: £909
Where to buy it: AO.com.
Best feature: The door alarm will remind any forgetful members of your house to keep it shut.
Problem with your appliance? Find fridge repair services in London on Airtasker.