Whether your old fridge freezer has broken down, or you just fancy a newer, shinier one, these are 10 of the best from 2018 ratings.
Choose wisely now and you'll be less likely to need appliance help or appliance technicians in the future.
1. Hoover Wizard HF18XK
This Hoover fridge can be controlled with your phone – sending alerts if there's a sudden increase in temperature. The fridge section is super spacious, with adjustable shelves, and the Super Freezing function cools the freezer down quickly.
RRP: £599
Where to buy it: John Lewis, AO.com, Very, Littlewoods. 
Best feature: The Hoover Sky Fan distributes cold air more evenly.
2. Samsung RB31FDRNSA
A 70/30 fridge freezer with a water dispenser, door alarm for the forgetful, and multi-flow cooling. The Samsung Digital Inverter Compressor constantly adapts the temperature, keeps humidity down, and runs quietly. Its parts have a 10 year warranty too, so freezer repair services will cost a lot less.
RRP: £559.99
Where to buy it: Argos, Currys.
Best feature: Easy slide shelves mean no more awkwardly reaching behind the salad dressing.
3. Siemens KG36NHI32
This Siemens is a frost-free model with an impressive A++ rating for efficiency. It has a total capacity of 320 litres (17 bags of shopping), an anti-bacterial coating on the walls, and plenty of varied storage.
RRP: £1,259.99
Where to buy it: AO.com, John Lewis, Appliance World. 
Best feature: The hyperFresh drawer maintains a lower temperature than the rest of the fridge, keeping meat and fish even colder.
4. Beko CFP1691W 50/50 fridge freezer
Chilled and frozen food have equal status in this freestanding fridge freezer. It's a more affordable model with Freezer Guard technology, an A+ efficiency rating, and a 129 litre capacity.
RRP: £349.99
Where to buy it: Argos, John Lewis, Currys. 
Best feature: The freezer drawers are transparent, so you can actually see what you put in there.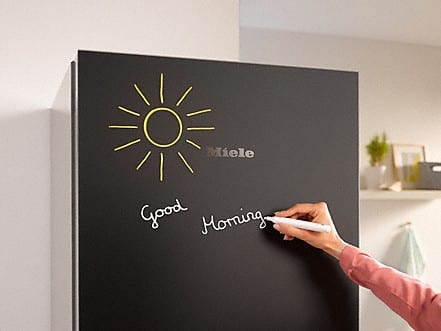 Source: Miele
5. Miele KFN 29233
This is an expensive one, but scores well according to Good Housekeeping. There's a digital display thermostat, 361 litre capacity, and a CompactCase drawer for opened packets and cut fruit. The limited blackboard edition has a special coating on it, so you can remind someone to buy semi-skimmed with pink chalk.
RRP: £1,699.99
Where to buy it: Currys, Miele.  
Best feature: The blackboard coating is cute and everything, but the A+++ efficiency score is the highest a fridge can possibly get.
6. Smeg FAB50L 70/30 fridge freezer
Famously retro, the Smeg fridge freezer is iconic. Reassuringly, it's got substance as well as style. The interior cabinets make the most of available space, it doesn't build up any frost, and there's a colder compartment for meat and fish.
RRP: £1,999
Where to buy it: John Lewis.
Best feature: It's bigger than it looks. This Smeg holds an impressive 484 litres of shopping.
7. Hisense RB335N4WW1 50/50
If you're not that into brand names, this Hisense model is under £350. There's no frost build-up, a constant flow of cold air, and a non-plumbed water dispenser. It's not the most energy efficient – £40ish a year in running costs – but it's economical everywhere else.
RRP: £329
Where to buy it: AO.com, Very.
Best feature: The super freeze function chills everything thoroughly, even when the door's been open for a while.

Source: Currys
8. Samsung RS50N3513S8/EU American-Style Fridge Freezer
With double doors and a water and ice dispenser, this Samsung model is a classic American-style fridge freezer. With a massive 500 litre capacity,  a freshness feature, and a door alarm, your big shop will last even longer. It's huge, so you'll need a spacious kitchen.
RRP: £949.99
Where to buy it: Currys.
Best feature: Upgrade to the Samsung fridge cam and you can check if you've got spring onions when you're in the middle of Tesco.
9. Whirlpool Supreme Fridge Freezer
This is Whirlpool's no-frost, fast-cooling fridge freezer. The space management keeps all your bottles, eggs, meat, and containers stored neatly. There's even a dedicated bottle separator so you can store more on the same shelf.
RRP: £529.99
Where to buy it: Amazon, Very.
Best feature: Sixth Sense Fresh Control. The temperature and humidity will automatically adjust depending on what you put in it.
10. Fisher & Paykel RF540ADUSX4
This is on the pricier side, featuring French-style American doors and a full extension drawer for the freezer. There's a water dispenser, automatic ice dispenser, and a dedicated deli storage area.
RRP: £2099
Where to buy it: Appliance City.
Best feature: If the door's been open for a while, it returns to the right temperature really quickly.
Problem with your appliance? Find freezer repair services in London on Airtasker.