*Us to literally any appliance in the kitchen*: 'you is kind, you is smart, you is important'
Because they are.
Picking the right oven early doors can save a whole load of time (and expense) later down the line, so it's important to get it right. With that in mind, it doesn't matter if you're prepping for Bake Off 2019, or more of a 'pierce film lid' kind of person – these 10 ovens are the best in the business worth forking out for.
Problem with your current oven, or need help installing a new purchase? Find trusted and
local appliance help
on Airtasker.
1. AEG BPE842720M SenseCook Electric Oven
A self-cleaning electric oven with super precise temperatures? Oh you bet. It's designed to fit underneath your worktops or at eye level, and features both dial and touch controls too.
RRP: £889
Where to buy it: AO.com, John Lewis, Currys.
Standout feature: The thermometer sensor will beep when your meat is rare, medium, or well done.
2. Smeg Portofino Aesthetic CPF9IPYW
Just as stylish as their famous fridges, this is a luxury range cooker with an induction hob. Its glass doors are quadruple-glazed for maximum heat retention, it cleans itself, and has 5 cooking levels. This is for serious cooks, and people who just like showing off a bit.
RRP: £2899
Where to buy it: RangeCookers.co.uk, Appliance City.
Standout feature: The soft close doors are super resilient and prevent damage. You'll be far less likely to need oven repair in London for this one.
3. Miele H2265B Active Oven
This Miele model is a big hit for parents because it has a cool touch door, loads of room, and 8 different cooking modes. Temperature is apparently accurate to 1 degree, so you always have the option of attempting a soufflé.
RRP: £749
Where to buy it: John Lewis
Standout feature: The extra large oven compartment – there are 5 shelf heights.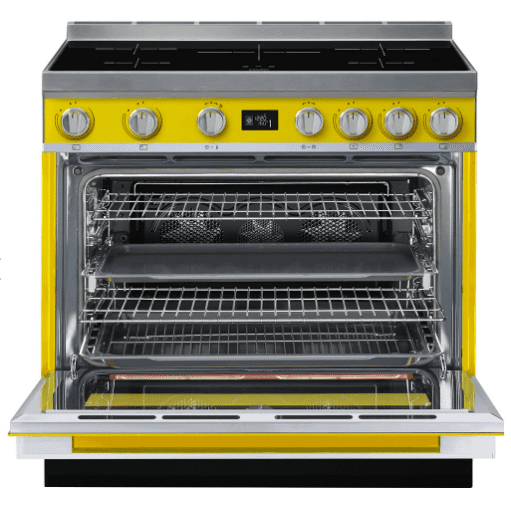 Source: Smeg
4. Rangemaster Professional Deluxe 110 DF
Available in 6 stylish colours, this Rangemaster is a big purchase that makes big promises. Heat up time is reduced by 30%, there's a multi ring hob, a hot plate, and double oven space. Definitely worth it for passionate cooks who want all the options.
RRP: £2,050
Where to buy it: Currys, John Lewis.
Standout feature: It's ability to multitask – cook three things at three different temperatures.
5. New World NW601DFDOL Dual Fuel Cooker
A grill, electric oven, and 4-ring gas hob for a really competitive price. The fan oven is supposed to cook your food evenly on every shelf. If you're still keen for a glossy red oven – but don't have a Smeg budget – this is a good option.
RRP: £430
Where to buy it: Currys, Argos, AO.com.
Standout feature: The coated interior makes it a lot easier to clean.
6. Hoover Vision Smart Oven
This is the ultimate digital oven. It has WiFi, bluetooth, a built-in camera you can check on your phone, and an interactive touch screen door. The price tag is obviously pretty big, but it's a level of customisation and interactivity you won't find anywhere else.
RRP: £1,499
Where to buy it: Currys, John Lewis, AO.com.
Standout feature: The door turns into a video screen on demand, so you can follow recipes while pre-heating. #2018.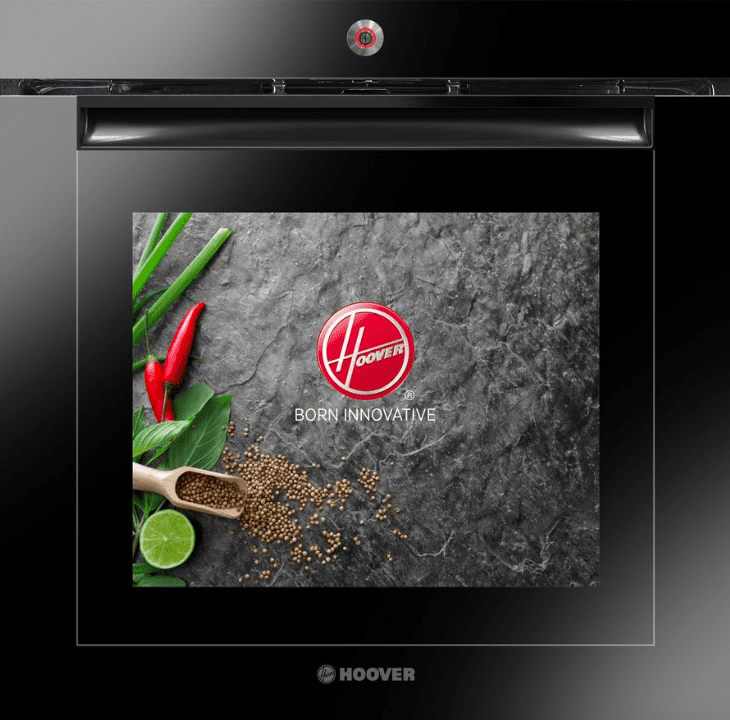 Source: Currys
7. BOSCH HBM13B550B
This electric double oven is super energy efficient, and has an extra large 71 litre capacity. 3D hot air cooking technology cooks meat and dishes from all sides, and the heat-reflective glass retains as much heat as possible. Plus, the EcoClean enamel coating virtually cleans itself.
RRP: £1,059
Where to buy it: Not available online, find a stockist on the Bosch website.
Standout feature: The top cavity can function as both a grill and an oven – handy for roasts and entertaining.
8. Beko BVM34400 multifunction Split & Cook oven
You can cook 2 dishes at the same time without spending a fortune on a double oven. This budget Beko is a 'Split & Cook' oven with a separate function for pizza, a soft close door, and easy to move telescopic shelf runners.
RRP: £370
Where to buy it: AO.com.
Standout feature: When you're baking muffins and roasting a leg of lamb at the same time, the flavours and smells stay separate.
9. Hotpoint Class 2 SA2844HIX
Despite its lower price, all temperature settings on this Hotpoint are accurate to 2 degrees. You can time it to automatically shut off, steam melts away burnt-on food, and keen bakers will love the dough proving function.
RRP: £259.99
Where to buy it: Currys, AO.com. 
Standout feature: The catalytic liners will turn to ash, so you just need to wipe the dust away when you're cleaning.
10. AGA Masterchef XL 90 Dual Fuel Range Cooker
For some, the AGA is the ultimate oven and range cooker. If you have a country kitchen and a large budget, the Masterchef XL 90 includes 5 premium quality burners, a multifunction cooker, and catalytic cleaning. All that's left is a family Labrador and a title in front of your name.
RRP: £3,075
Where to buy it: RangeCookers.co.uk, John Lewis.
Standout feature: If you think AGAs must equal high energy costs, you'll be surprised.  Both compartments score an A/A for efficiency.