The importance of good lighting in a home is hugely underestimated.
Lighting should never be an afterthought when you're decorating your home. In fact, poor lighting (or even mediocre lighting) can affect our emotions.
Let's face it, good lighting = good vibes. And you can enhance carefully decorated features of your home with some select ambient lighting.
So, how can you improve your home lighting game and transform your living space with a few small changes (and the help of electricians in London)?
If you want house to be lit (in every sense of the word), here are 5 lighting ideas to get you started:
1. Good old dimmer switches
Once you have your lighting plan in order, it's time to think about how to control it. Dimmer switches allow you to make the light softer or brighter, based on the occasion or your mood.
A little dimmer action can transform any room's ambience completely. And it can help you save energy as your lights don't need to be blazing on full capacity at all time.
Find electricians in London to help install your dimmer switches. This isn't something we'd recommend attempting as a DIY project.

Source: Pinterest – etsy.com 
2. Light up your staircase
When done well, this one can really bring the wow factor.
Not only is lighting your stairway practical (I mean come on, it never hurts to have a little extra guidance on the stairs), it can also look pretty impactful.
The easiest way to illuminate your staircase is by having lighting installed on the wall next to the steps. Another option is having it integrated into the steps themselves.
It definitely creates a cool (and somewhat mysterious) glow.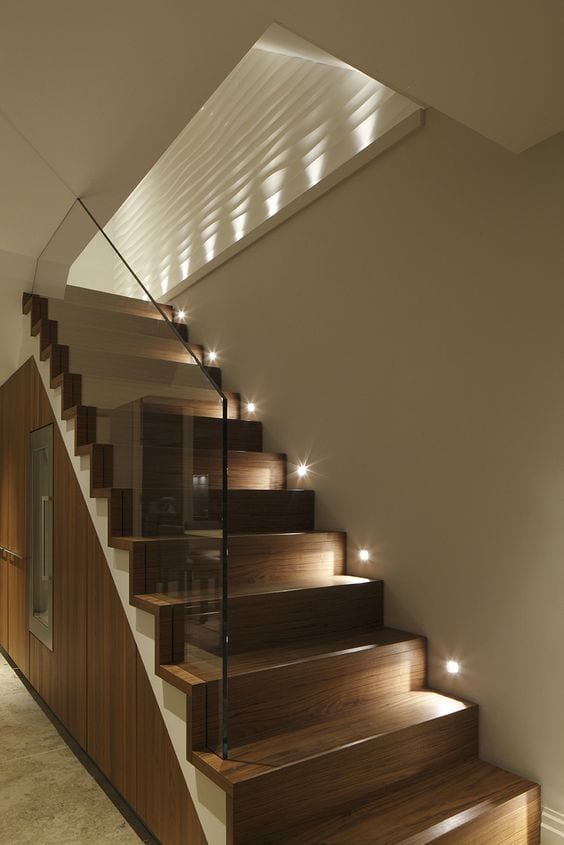 Source: Pinterest – johncullenlighting.co.uk
3. Fairy lights
Yep, the old classic fairy lights. They aren't just for teenage bedrooms or garden lighting.
With some clever usage, you can create beautiful little spaces with fairy lights. Some ideas below:
Drape around fairy lights around your mirror to create a cool vanity area.
Put strings inside mason jars to create DIY lamps.
Intersperse fairy lights with floaty fabrics for an ethereal effect.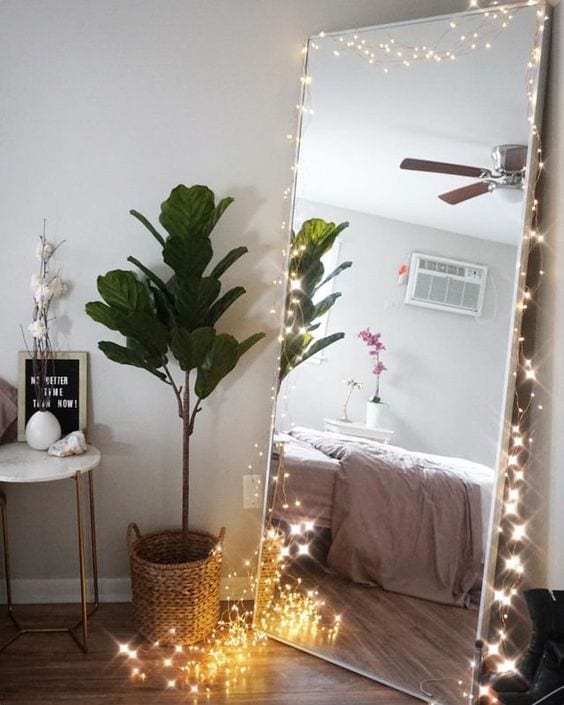 Source: Pinterest – calsnic.com 
4. Create DIY fixtures
If you want your lighting game to be truly unique, upcycle to transform regular household objects and appliances into quirky lighting fixtures.
Try some of the ideas below:
Recycle any cool empty glass bottles you have and turn them into fixtures, lamps, or even chandeliers.
Use household items such as buckets, baskets, and teacups upside down and turn them into hanging lights.
Think outside the box for a truly quirky lighting fixture that can also double as a great conversation piece. For instance, cheese graters (yes, cheese graters) can be turned into lamps in as little as 10 minutes.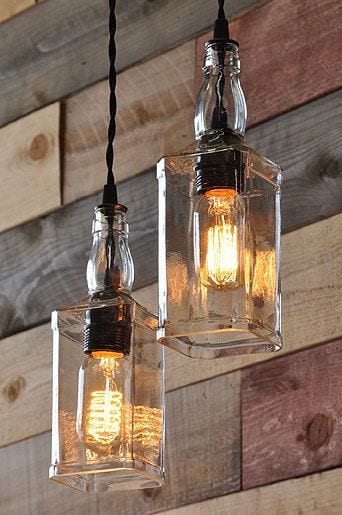 Source: Pinterest – idlights.com
5. 'Layer' your lighting
Source: Pinterest – rockmystyle.co.uk
What exactly is layered lighting, you ask?
Well, there's three layers you need to focus on:
Ambient lighting. This is the primary layer, which helps us see! It usually comes in the form of ceiling fixtures.
Task lighting. The clue is in the name. Task lighting includes all the highly useful lights that help you get specific stuff done, such as a desk lamp for working or under kitchen cabinet lighting for prepping your food.
Accent lighting. The final layer. Accent lighting is used to focus on any area or object that you want to highlight or enhance. For instance, recessed lights or wall sconces.
To decide what task lighting a room needs, make a list of all the different tasks you do in any given room and use it to plan your lighting.
You've found the perfect lighting – and now you need someone to fit them? Find local and trusted electricians on Airtasker.