Are you hunting for chic cloakroom ideas? Then you've come to the right place because I've gathered a bunch of cloakroom ideas that span a range of different decorating styles. There's sure to be something here that strikes a chord with you.
A cloakroom is a small toilet room, usually containing only a sink and a toilet. It's traditionally located downstairs, often contained in the understairs area of a home. These days though, a cloakroom can really be located anywhere in the house. But if you're going with a downstairs toilet, you'll need to bear in mind that there's specific building regulations for downstairs cloakroom. (For example, the rules are that a downstairs cloakroom must have an extractor fan.)
Cloakrooms are such a fun room to decorate. Because they're small, you can often afford to splurge on more expensive materials and finishes. And because they're often the only bathroom your guests will use, you can design them to be really impactful. So go ahead and dress your cloakroom to impress! Whether you choose gorgeous tile, fun wallpaper or a statement-making vanity or sink, there's so many ways to make this room dramatic and visually stimulating. On the other hand, you might prefer to go with a minimal, simple and calm aesthetic, with limited elements and an overall serene feel.
Now, here are 36 cloakroom ideas I love, from the light and minimal to the dramatic, bold and luxe. Let's get started!
1. Make it fresh and clean
Since your cloakroom is typically the only toilet that your guests will use, it's important that it's a pleasant experience to use it. The last thing you want anyone to feel is as if they're in an ugly, unsanitary, public toilet cubicle somewhere! So the best cloakroom ideas will be welcoming and full of "sparkling clean" vibes. Light colours go a long way to keeping it from looking dingy, but this doesn't mean it has to be boring. Why not try the neverfail combo of an all-white aesthetic, plus black accents, with a feature wall tile to lift it out of the ordinary.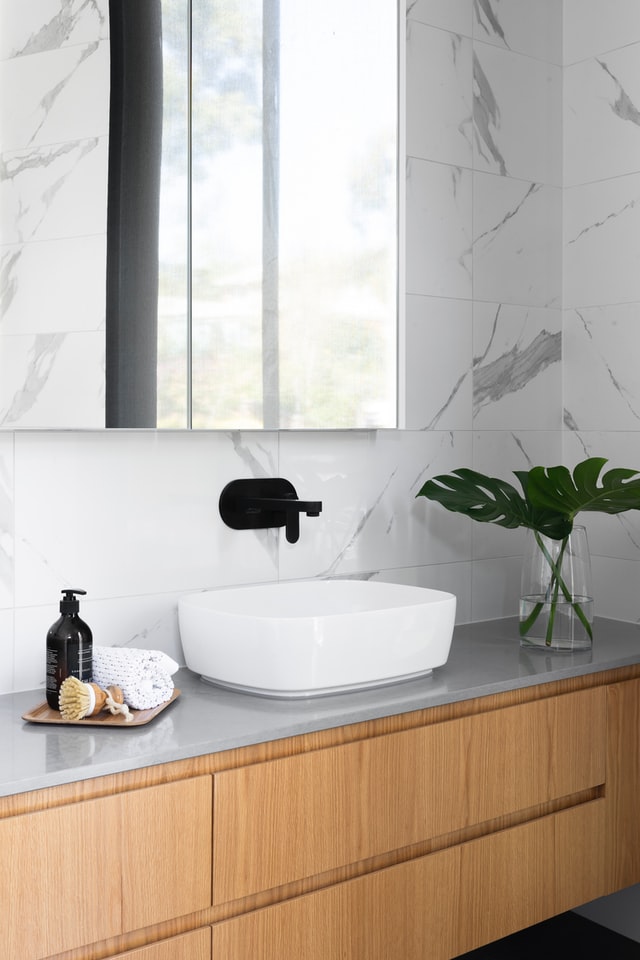 2. Give it five star feels
By nature your cloakroom is going to be small. But despite the lack of square footage, you can still make it an amazing space. One way to give your cloakroom "wow factor" is to use luxe, high-end materials. Though costly, these are often far more accessible with a room as tiny as a cloakroom.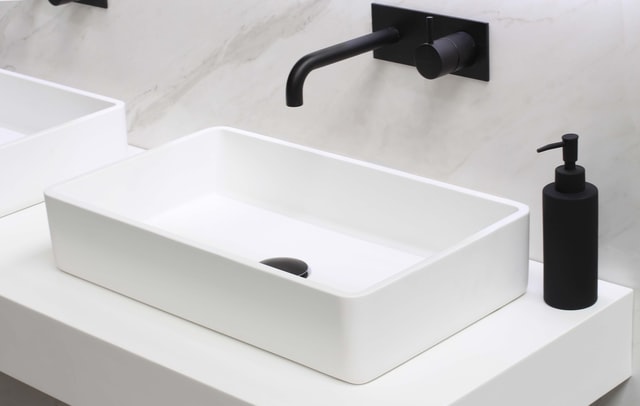 3. Bring in nature
Your cloakroom is a great space to experiment with wallpaper. Not only is it a small space, so there's less wall to cover. But it's also an opportunity to take bold décor risks and have some fun. After all, the idea of redecorating this small space if you tire of the look is not too daunting. These days, wallpaper featuring large scale flora and fauna is extremely popular, as people are keen to connect their homes more to nature. A botanical aesthetic ensures the space feels calm and restful, perfect for 'when nature calls'!
4. Go for warmth
An all-white cloakroom can look a bit clinical. Infusing your space with a warm colour palette can create a much more cosy and welcoming atmosphere. For a space rich in visual interest, try burnt umber tones and vertically laid subway wall tile.
5. Layer in texture
When it comes to cloakroom ideas, lots of interior designers talk about the cloakroom as being a "jewel box" space in your home. That is, it's a petite room that can be dramatically layered with luxurious materials or glamorous elements. And because it's such a small canvas, it doesn't have to break the bank. So you may be able to splurge on that gorgeous designer wallpaper and a custom Carrara marble basin!
6. Use bold materials
If you love contemporary design you'll know that there's a big focus on materiality at the moment (a good definition of materiality that I've seen is 'designing for more senses'). As such it involves the use of complex mixes of visually gorgeous, tactile materials. Therefore for modern cloakroom ideas, think generous expanses of stone, timber and concrete. So it might be a mix of European oak, sintered stone (an eco-friendly, engineered alternative to quartzite) and black steel. The result is anything but plain, despite a limited colour palette.
7. Make a statement
With a cloakroom often containing only enough space for a toilet and sink, it makes sense to focus on making a feature out of the sink space (I mean, you won't want to make the toilet a feature, right?). It may be through choosing a beautiful vanity and basin, or putting up a dramatic wall treatment with tile or wallpaper. Adding in a feature pendant light is another way to make a statement. But then keep all other elements minimal, because you don't want too many statement pieces in such a small space.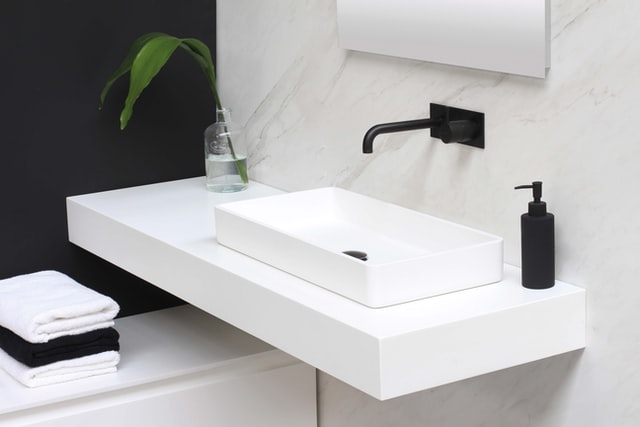 8. Tile the wall
Did you know subway tiles became so popular in the 1900s because Victorians were completely hygiene-obsessed, and subway tiles are very resistant to staining? I didn't either! But their visual appeal means they continue to be a go-to for bathrooms today. You can find them in so many colours now. And there are lots of ways to lay them, so explore your layout options.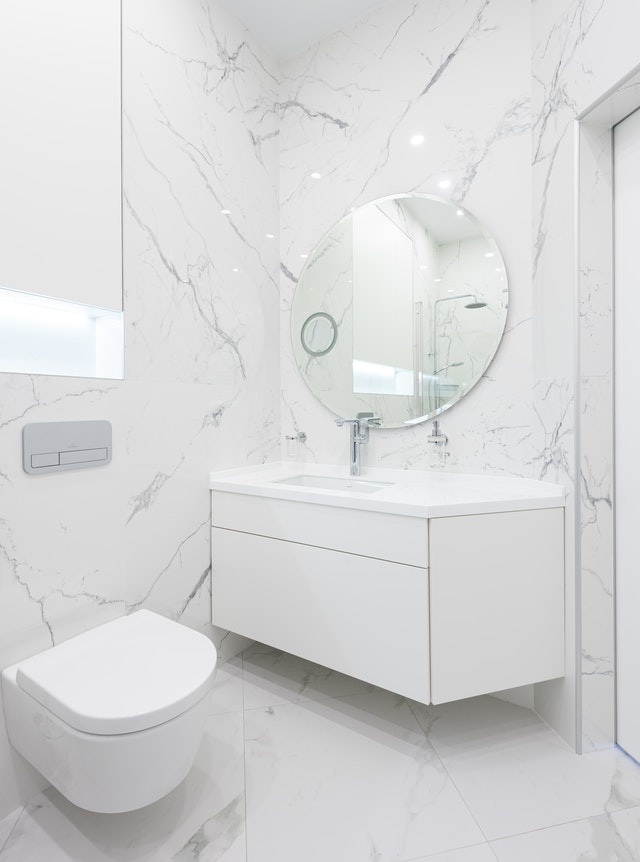 9. Add some whimsy
One thing I love about cloakroom wallpaper is it ensures the room is as far removed from "random toilet cubicle" as it possibly can be. And adding whimsical prints of flora and fauna brings a sense of escapism to the space.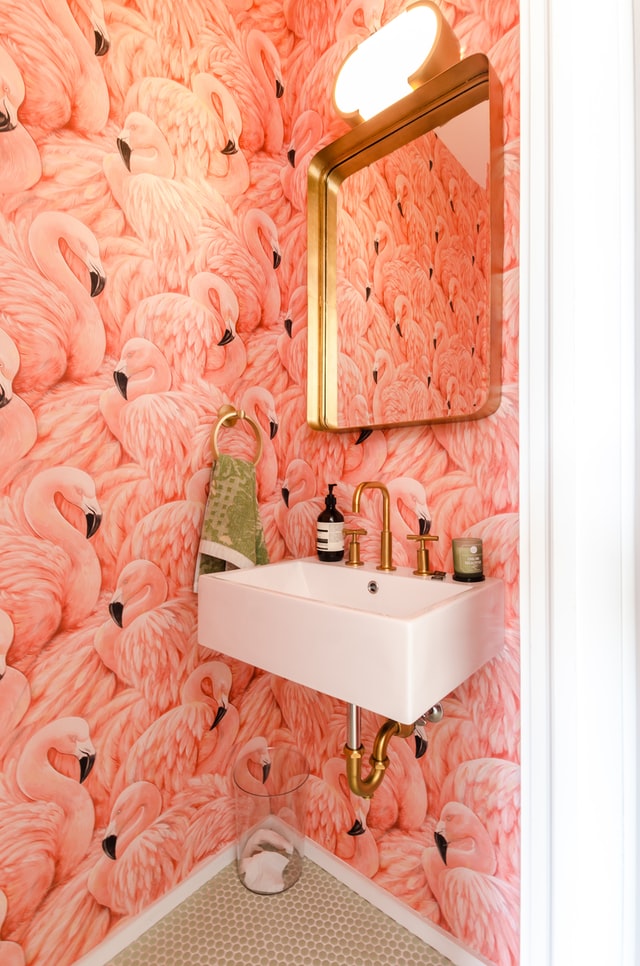 10. Tile a small splashback
If you are going with the wallpaper option, it's a good idea to tile up a little splashback above your narrow cloakroom sink. Pick out a colour from the paper to ensure things are harmonious.
11. Choose slimline elements
For the compact space of a cloakroom, having a narrow sink is a classic option. I love the tinted concrete ones on the market nowadays. But another idea is to have a corner basin, which will also take up less space. Not only do you want your sink to be streamlined and save space, but other elements should do the same. For example, wall-hung toilets with concealed cisterns. Or slim vanities/storage cabinets if you need somewhere to hide clutter.
12. Bring in colour and pattern
Even if you love an all-white or mostly white bathroom look, you can add a lot of interest with pops of colour and pattern. For instance a mostly monochrome cloakroom might be injected with a burst of orange, or some terrazzo, for personality and liveliness.
13. Take a risk
Cloakrooms are ideal for trying out exuberant design ideas, because they're tucked away and less visible than other rooms in your home. And since they're typically very small spaces, if you don't like your bold choices you can more easily renovate and try something else. Creating a showstopper moment is guaranteed to impress guests. It might be the ooh! factor of a wild colour clash, such as pink and orange. Or it might be pretty hex mosaic tile, a marble-topped vanity or gorgeous tapware all adding up to a sense of contemporary luxury.
14. Go for serene coastal vibes
For a relaxing, refreshing space, choose a colour palette of white and pale greys and feature wall-to-floor tile, then add a contemporary freestanding sink with a rustic timber base. You'll have lots of lovely texture thanks to the tile and you can add more with organic materials like woven baskets.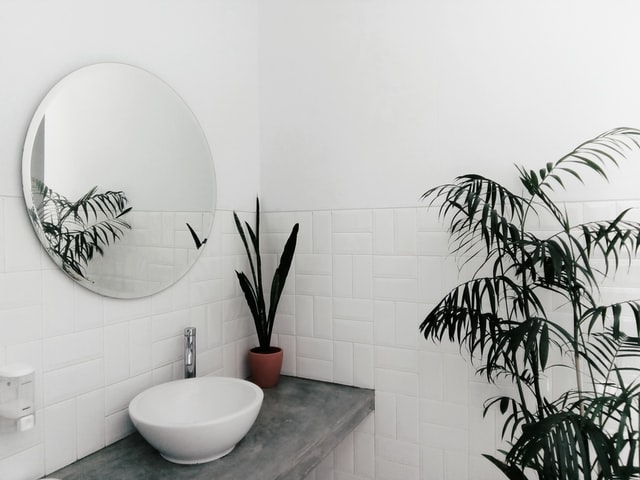 15. Go maximalist
If you're into maximalism then a busy, vibrant cloakroom may be your cup of tea. A cloakroom boasting feature wallpaper and a unique colour scheme is deliberately attention-seeking and sure to be a talking point with your guests.
16. Glam it up
If you want your cloakroom to look deluxe, you really can't go wrong with a marble vanity. Add navy blue herringbone tile and neutralise the cold tones by pairing with gold-toned tapware, mirror frame and lighting. Choosing extravagant, unusual light fittings is also a great way to imbue your room with personality.
17. Give Victorian a try
What do you think of the Modern Victorian trend? If you love the bold colours, visual intricacy and glam fittings of this style, why not decorate your cloakroom in this way. Pair a traditional style corner basin with double taps, an ornate gold-framed mirror, and large scale floral wallpaper in moody tones. Chequerboard floor tile will complete the look.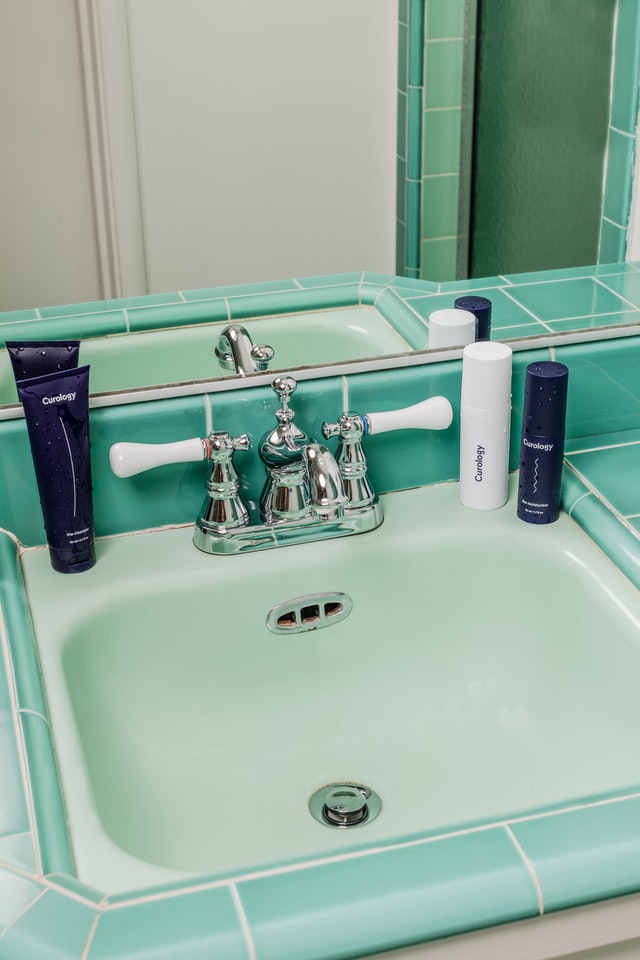 18. Make it farmhouse flavoured
Or perhaps you prefer the Modern Farmhouse look, which is much less fancy but full of character and charm. In that case, your cloakroom will still feature a vintage style of sink (wall-mounted with double crosshead taps). But you might modernise a chunky farmhouse basin by opting for a tinted one.
19. Add a bookshelf
This one's more for your family cloakroom users, because you don't expect guests to settle in with a good book on a toilet break during a dinner party! But for a frequently used small toilet, I think a book ledge or shelf is so functional. It's also a chance to display decorative items to give a plain space more character.
20. Try something different
Sure, it's a tiny space with a banal function. But it can also be a visually stimulating space that makes a style statement. When it comes to cloakroom ideas, go for drama with moody, darker colours, beautiful materials and large scale patterns. You could also choose an oversized mirror in an unusual shape, or a classic-shaped sink in an unexpected colour.
21. Tile with sparkling zellige
Make your cloakroom absolutely shimmer with zellige tile. Zellige is possibly my favourite style of tile. I just love the tonal variations, irregular edges and the glistening way they reflect light.
22. Be inspired by Art Deco
Want your guests to feel like film stars when they use your cloakroom? Then a glamorous, deluxe Art Deco-inspired cloakroom might be the way to go. Classic Art Deco styling is easy to achieve these days, with so many replica items on the market. Your vanity can be quite understated so that the attention falls on dramatic (such as teal mermaid ones..heavenly!) and ornate brushed-gold finishes. Look for shell style sconces (lights with triple bulbs provide the perfect movie-star dressing room illumination).
23. Add a bespoke feature
Your cloakroom really doesn't need to be minimalist and designers often suggest that instead, you "create an experience" for the user. It might be stunning handmade bathroom tiles, for example. Or, quite a few contemporary cloakrooms feature a piece of art. Whether it's a single, large scale artwork or a gallery of smaller images, adding some art is a surefire way to give your cloakroom extra personality. The small size of a cloakroom means there's more focus on the art, too.
24. Pretty it up
For soft, feminine cloakroom ideas, there's nothing like gorgeous floral wallpaper. For example, try pairing a blue and white botanical print with simple, white fixtures for an overall fresh and clean feeling. A complementary hand towel in darker blue floral print works well here. Speaking of towels, consider an integrated towel rail below the sink as these are a great spacesaving cloakroom idea.
25. Brave a black and white scheme
A highly stylised cloakroom look might feature a more unusual black toilet, matched to a black vanity and other black décor, set against a white or light neutral wall. This may be a good compromise if you like decorating with dark colours, but prefer a light-coloured background for a cloakroom.
26. Mix modern and retro
Love retro vibes? Fit out your cloakroom with fluted glass sconces, graphic floor tile and subtly-varying tones of the wall tile. Then bring it into the contemporary era with a statement sink. Set the basin in a floating vanity or one with narrow legs, as these take up little of the precious room.
27. Go for ultramodern design
Tall, circular, floor-standing basins are a pretty recent innovation. I've seen them made of all kinds of materials, but honed marble makes for a very classic aesthetic. Pair it with hexagonal feature marble tile on the walls, contemporary lighting and black tapware. You don't need much else for the space to feel luxurious and spacious.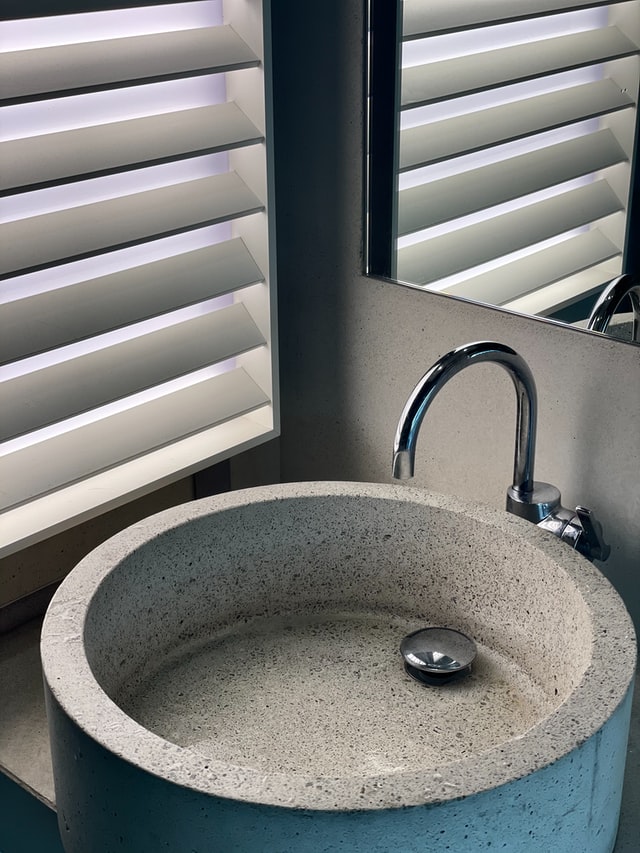 28.  Keep calm and go for simplicity
If you love a simple, clean, modern look then a classic contemporary cloakroom will probably tick all your boxes. Think bright white subway tile, black accents and streamlined elements (like a concealed cistern and wall-mounted freestanding sink). With limited, pared-back elements, you will have a comfortable and calm space.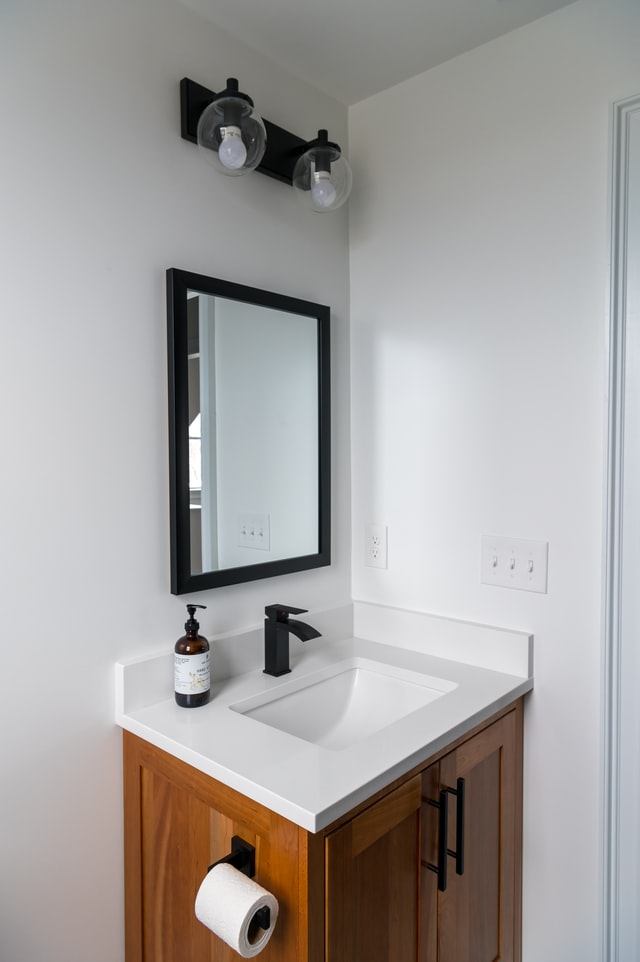 29. Or go for something wild
Your cloakroom isn't a room you spend a huge amount of time in (eg. no long baths) so you're less likely to tire of décor. This gives a certain amount of design freedom. Take full advantage of that freedom by creating an extravaganza of colour, pattern and quirkiness with wow factor galore. Go for geo floor tile and an ornate mirror, and paint the mouldings a vivid colour, like raspberry. Add bespoke, witty wallpaper and you'll have a cloakroom that is fun to use each time.
30. Layer your lighting
Changing up your cloakroom lighting is a relatively low-cost way to update your cloakroom. And while you're at it, add more lights! Rather than just have a single fitting, layering a mix of task and ambient lighting will improve both functionality and aesthetics. And there are so many amazing styles of lighting to choose from—the hardest part is picking your favourites! It's relatively uncommon for a cloakroom to have windows, but if yours does, consider silk Roman blinds which take up less space than curtains.
31. Reflect the light
When it comes to cloakroom ideas, mirrors are brilliant for creating the illusion of space by reflecting more light. If you have wallpaper, it will also beautifully reflect the pattern.
32. Go for classic white plus gold
A classic look for a cloakroom is to have a bright all-white aesthetic and give it a touch of traditional sophistication with gold-toned fixtures. You might also add a pane of ribbed glass to separate the vanity and the toilet, which will amplify the sense of sophistication.
33. Embrace darker tones
Don't be shy about using darker colours in your cloakroom. Fresh and white is lovely, but darker colour schemes have that innate mystery, elegance and sexiness about them. They often also suit a more masculine aesthetic. Consider matte black with a few white accents, combined with chrome metallics.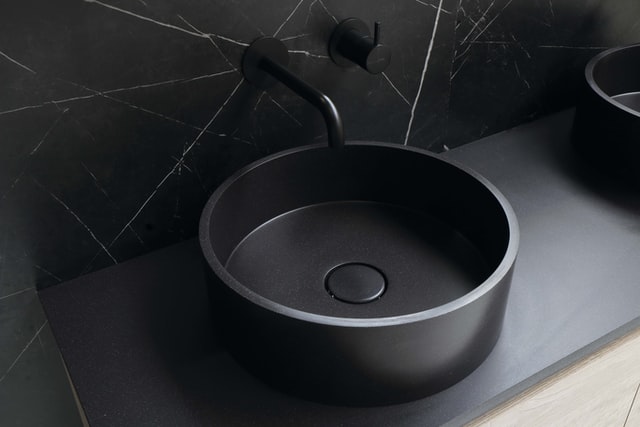 34. Commission a mural
Many people like the idea of having fun with their cloakroom. It's the perfect chance to be creative and explore something new. You might like to adorn your cloakroom walls with a colourful, whimsical jungle scene. Why not find a local muralist with a style that you love to create something unique in your cloakroom?
35. Invest in a statement sink
I love to steal from hospitality so the cloakrooms in French fine dining restaurant, "Bibo" in Hong Kong, definitely caught my eye. An idiosyncratic mix of Boho, Art Deco and five star luxury, the small toilet rooms here feature exposed brass pipes, parquetry floors and opulent painted ceramic sinks. Oh, and for that extra touch of class—both heated floors and toilet seats. Adding underfloor heating to your cloakroom is a generous and luxe touch that your cloakroom users will really appreciate!
36. Keep it simple
Decking out a cloakroom is a fairly simple affair, really. In considering the necessary elements, all you really need are a toilet and a sink. When it comes to cloakroom ideas, it's the choice of materials and finishes that creates the eye candy. A neat, clean and functional cloakroom can still be sophisticated; it's all in the details. Whether it's a unique colour scheme, such as a complex greyscale, or gorgeous tapware, a sculptural light fitting, or a dramatic mirror, you can infuse your cloakroom with personality and style while still keeping it lovely and streamlined.
I hope you've been inspired by this collection of cloakroom ideas. Will you be using any of these ideas if you are renovating? Or do you already have a cloakroom you love? Let me know how you've decorated it in the comments!