For all you city dwellers confused about what to do with your tiny flat balcony, consider building a balcony bar. Whether you have great views or not, it can help you make the most of your (no matter how minimal) outdoor space.
Why? Well it's somewhere to sit on a balmy summer's eve and enjoy a drink, or even dinner. And how great would it be to brunch al fresco on a lazy Sunday morning, in your pyjamas?
(No, building a balcony bar is not as complicated as it sounds. And hey, if you need an extra hand, there are plenty of handyman services in Brighton.)
How to make a balcony bar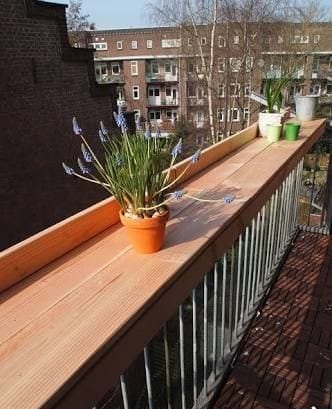 Source: Pinterest – balkon.bar
Begin by creating your counter top with slabs of wood
Start with gathering some slabs of wood and screw together to form a counter top.
Make sure you add a little lip at the top to protect anything you place on it.
Next, sand down the wood
So far, so good?
Stain or paint with your colour of preference
A light colour gives a more natural look, and a bright colour can add a touch of summer vibrancy (that you might just need as we approach the winter months!).
Keep it simple though, as anything too bold may clash with any styling you choose for the rest of your balcony space.
Add a top coat to weatherproof
Since your balcony bar is going to be exposed to the elements, add a clear top coat designed for the outdoors to keep it protected.
Construct brackets to hook onto balcony railing
Finally, construct the brackets which you'll need to hook your bar onto your balcony railing. Remember, your counter top can easily be removed as and when you need more space.
All done! Finish off with some bar stools and you're set to dine al fresco whenever you fancy it.
Style:
Outdoor textiles and rugs
It's time to cosy up the joint. To make your balcony space a little homelier, don't hold back on piling on the textiles. By layering elements such as rugs and plush cushions, you'll be more inclined to spend your time there.
Fairy lights
To add some ambience in the evening, fairy lights always work well at emitting a warm glow. Sure, you can light up some candles when you're dining but a little breeze could blow them out with ease.
They're much loved for a reason! Go for solar string lights for an eco-friendly option.
Add some green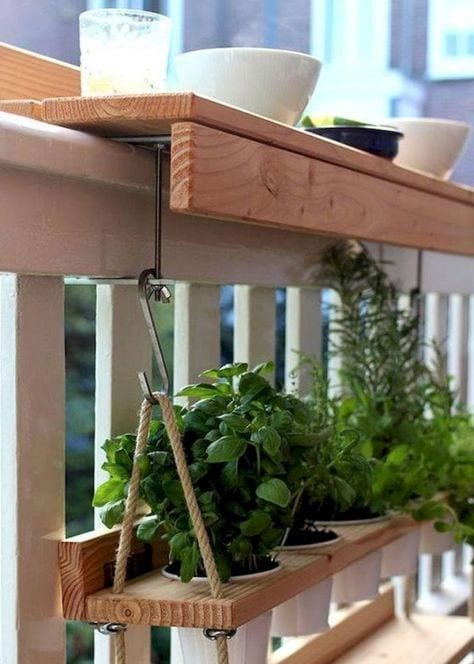 Source: Pinterest – homefulies.com
Add a little plant action into the mix. Hanging plants are a great choice for balconies.
Not only does the green look great, but you can also plant a mini herb garden to get some fresh ingredients without leaving your abode.
Or, you could even learn how to grow a full-blown balcony vegetable garden.
Need a little help with your balcony bar? Find trusted and local handymen in Brighton with Airtasker.