Victorian bathroom ideas:  Whether or not you live in a period home, you may be drawn to the classic, romantic aesthetic of the Victorian era (that is, the 1860s to 1900s). There's something so appealing about the sophisticated, dramatic and opulent Victorian décor style. And more people are opting to enhance even their contemporary bathroom space with elements of the historical style. The end result? A softly glam, gently elegant space that is layered with intricate detailing. Below, I've gathered 25 Victorian bathroom ideas, from the more traditional to "Modern Victorian" ideas, for your inspo.
Victorian bathroom ideas: How to get the look
Take advantage of any period features in the space, whether it's ceiling friezes, dado rails or deep skirtings. Decorative trims were very Victorian.
Opt for wallpaper, wall panelling or wall tiles.
Simple subway or plain square wall tiles are the most complementary to highly decorative floor tiles.
Floral and botanical wallpaper is an authentic choice, the larger the print the better. Don't be afraid of choosing something whimsical and witty.
Tiles, tiles, tiles. Have a statement tiled floor in traditional Victorian tile. Checkerboard, daisy, star, hexagon, an intricate geometric design. Everything goes these days, so go for your personal favourite! You could also go for a dazzling, multi-coloured feature floor with continuous encaustics.
Bring in a few pieces of vintage or antique furniture/décor.
A traditional radiator will also add authentic Victorian flavours to a bathroom.
Choose luxurious textiles with some kind of detailing, like fringing or scallop edges.
Finally, add in some kind of artwork or bust silhouette, whether thrifted or uplifted from vintage botanical books and framed. You could also go for something like pressed leaves, to fit the nature theme. Or just add a vase of fresh flowers!
So what's this "Modern Victorian" trend?
I think it was American stylist Emily Henderson who called the trend in 2018, before we started hearing about "Grandmillennials". But there's a fair bit of overlap in the two terms. Both styles are about mixing old with new, updating a classic look with modern styling. They're all about embracing the charm of a bygone era but keeping the comfort of modernity.
The original Victorian aesthetic was quite over the top in its opulence. By contrast, the modern spin has us blending elements of the style into a more contemporary setting. It's about enhancing your bathroom with traditional accents that bring in a sense of classic history. Then refreshing the look with modern décor and black accents.
You can scroll to the end for a quick rundown on the most authentic bathroom fixtures for this style. But first, let's jump into 25 examples of Victorian bathroom ideas.
1. Modern Victorian
As noted, the term 'Modern Victorian' refers to how people are blending period features (like patterned Victorian tile) with modern styling to create a distinctively elegant aesthetic. For example, floor tile brings the vintage while a modern freestanding bath and black accenting adds the modern.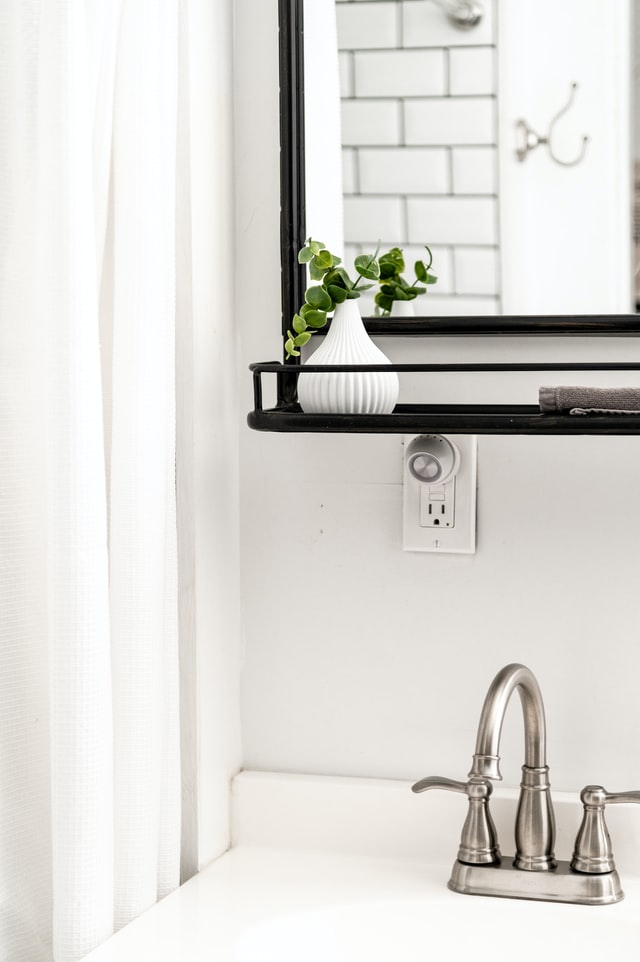 2. Beautiful geo tile
Tile is a big deal for any Victorian styled bathroom. All kinds of geometric patterns will infuse your bathroom with Victorian charm. So make tile the absolute hero of your Victorian bathroom with a mesmerising pattern, like metropolis star tile. The good thing is, there are no hard and fast rules for a Modern Victorian bathroom. Just choose the pattern that appeals to you the most! If you're going for coloured tiles, it's a good idea to connect the floor tile visually to some other element in the room. For example, select a wall paint that matches a colour in the tile.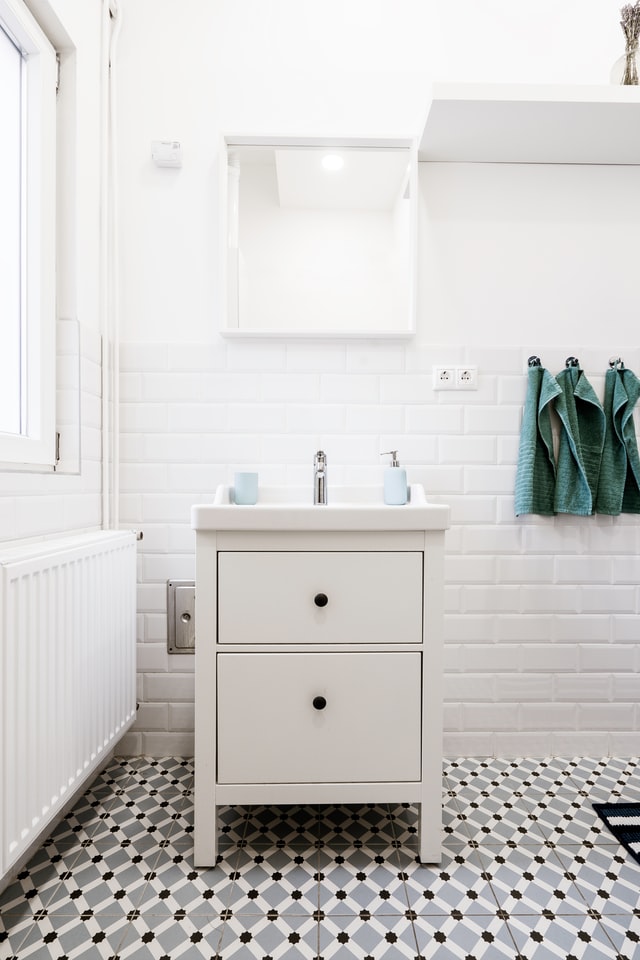 3. Pretty pastels
One of the simplest ways to add Victorian flavours to your bathroom is to paint the walls in soft, "heritage" colours. These are often released as a specific product line by paint companies, making it easy to select a hue that's true to the Victorian era. There are literally hundreds of heritage colours, usually pale tones from a muted palette, like a mix of dove grey and white. So you're sure to find one that suits your taste.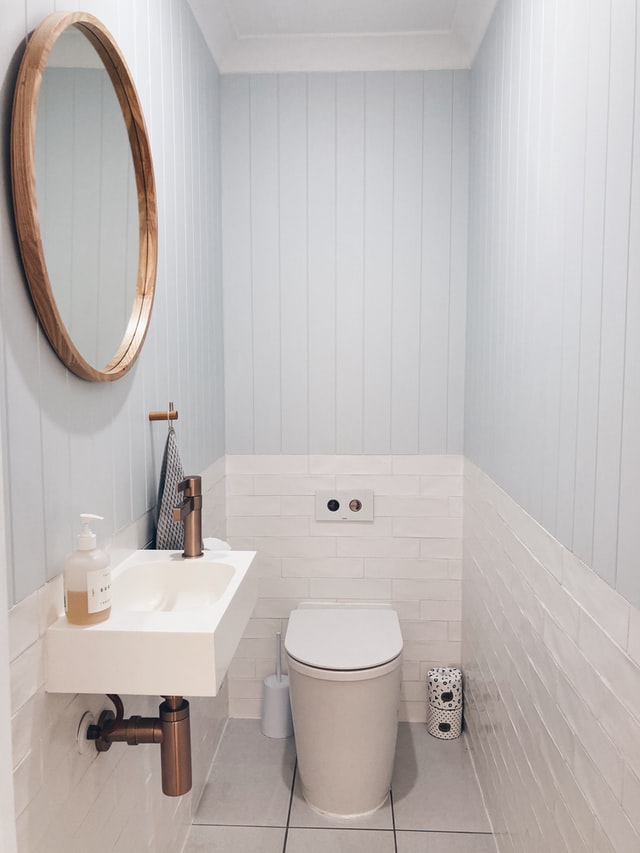 4. Washstands
When it comes to Victorian bathroom ideas, your choice of basin will go a long way towards recreating a traditional vintage look. A classic style is the wall-hung vintage basin + washstand combo. It's best to opt for traditional taps, preferably a pair. But if you prefer a modern mixer tap, you should still be able to find one that has a similar look to Victorian taps.
5. Half panelling
Panelling is a great way to infuse a space with vintage charm. For instance, paint a half-wall in a soft denim blue to complement a painted slipper bath. The same blue can be picked up in patterned floor tile, tying everything together beautifully.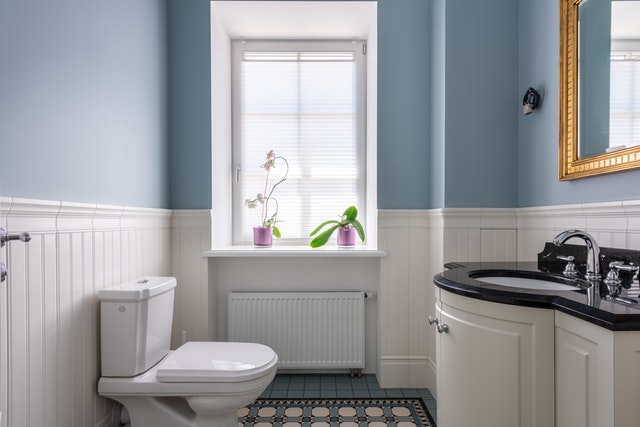 6. Pedestal sink
Another way to introduce Victorian style is to go with a pedestal sink. These have a classic, traditional look that blends perfectly with a vintage aesthetic. They can even be bought in toilet and basin sets, to make a new installation easy. Pedestal sinks can be quite small so they really suit a powder room. For a Victorian powder room, start with a clean white base, fancy it up with pretty floral wallpaper and gold elements and you'll have an overall luxe Victorian vibe.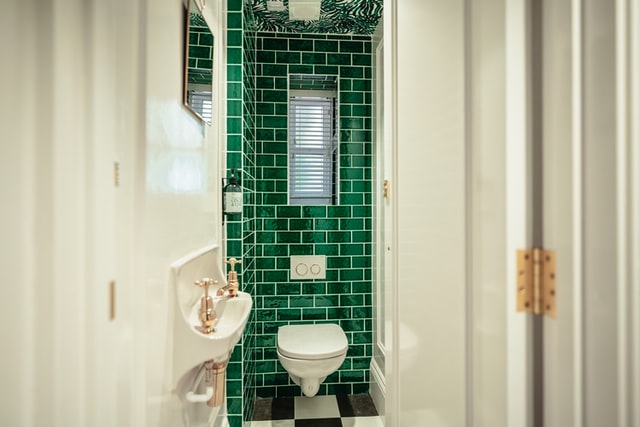 7. Wooden floors
It may surprise you to know at in the early Victorian period, wooden bathroom floors were standard. Later, the much more functional floor tiles came into fashion. If you like the look of wooden floors, but don't like the idea of timber flooring in a bathroom, then you could use wood effect tiles instead. Then simply add a clawfoot tub as well as some antique furniture pieces, to convey the desired vintage feels.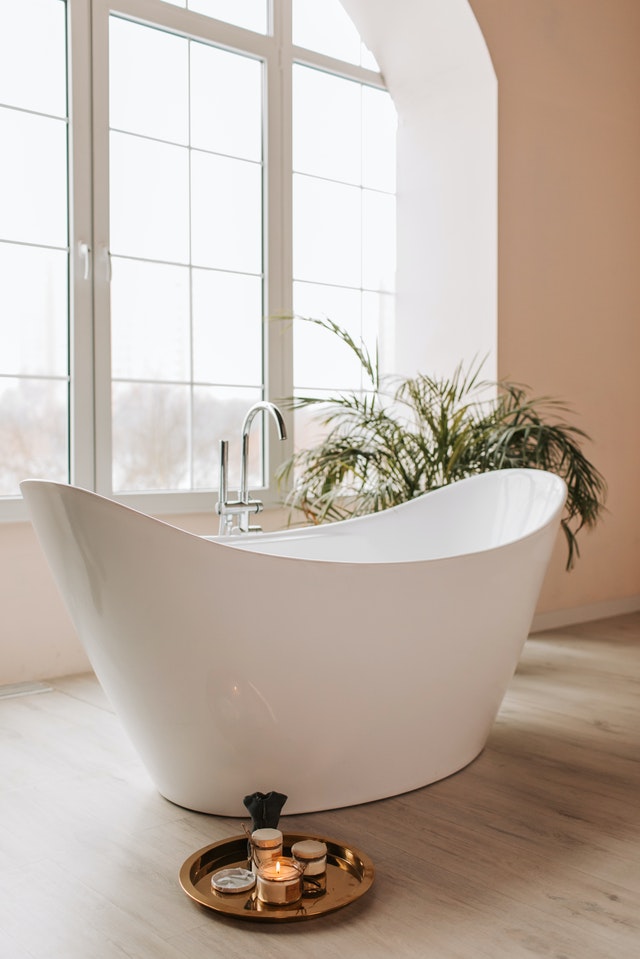 8. Traditional Victorian bathroom
For a traditional Victorian bathroom, aim to go lavish. Think deep colours, floral wallpaper, gilt-edge mirror, a crystal chandelier, or a fireplace holding a curated collection of curiosities. And of course a clawfoot tub with dramatic feet and exposed fixtures. It all feels opulent and very Victorian.
9. Minimalist Victorian
Can a modern Victorian bathroom look minimalist? It may seem impossible because maximalism is such a large part of Victorian style. But provided you are judicious with your use of elements, you can indulge a love for pattern and colour and still have a streamlined, simple setting. So a modern, minimalist Victorian bathroom might feature stunning floor tile against an expanse of white subway tiled walls. Then it might simply incorporate a slim profile washstand and make the focal point a classic clawfoot tub, but refurbished and painted a modern colour like teal.
10. Bold wallpaper
Victorians were quite obsessed with wallpaper! Especially floral and botanical styles. So adding wallpaper to your bathroom is a quick route to achieving a heritage look. With Modern Victorian bathrooms, designers are opting for larger scale, more abstract patterns. Or, look for quirky wallpaper with character. This will give a bit of playfulness to a classic Victorian bathroom. You could also go for a dark, moody coloured paper for drama. And wallpaper is perfect for adding pattern to the space, alongside tile. (Want a bit less competitive pattern? Grout your subway tile with white grout. That way the wall tile adds more texture rather than more pattern. Either way, make sure your grout is clean to make the most of your tile.)
11. Mix styles
Brass shower fixtures and tapware look the goods over a classic rolltop tub. But the rest of your Modern Victorian bathroom can feel quite contemporary. Such as with a graphic artwork, a ledge for your toiletries, stone flooring, and general minimalism.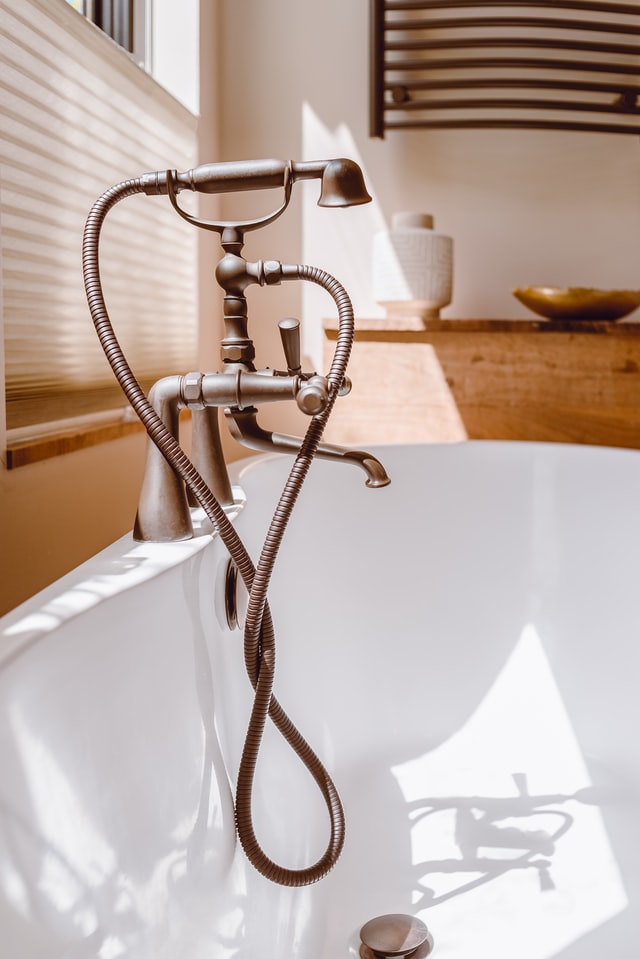 12. Old-fashioned farmhouse
Classic Victorian veers more towards the popular farmhouse look. There's quite a bit of overlap in the styles. Both celebrate olde worlde charm, but Victorian style is more grand, sophisticated and ornate. So a Victorian bathroom with farmhouse flavours has rustic, cottagey flavours. You might have a vintage shower/bath with gold-toned fittings, a lacy, scallop-edged shower curtain, and of course intricate, monochrome patterned tile.
13. Gorgeous original window
Obviously, if your home boasts architectural features like a bathroom porthole window made of intricate stained glass, then you're already streets ahead when it comes to styling up a Victorian bathroom. With an oversized focal point like this, other elements can be quite delicate, so opt for smallish pieces of antique furniture.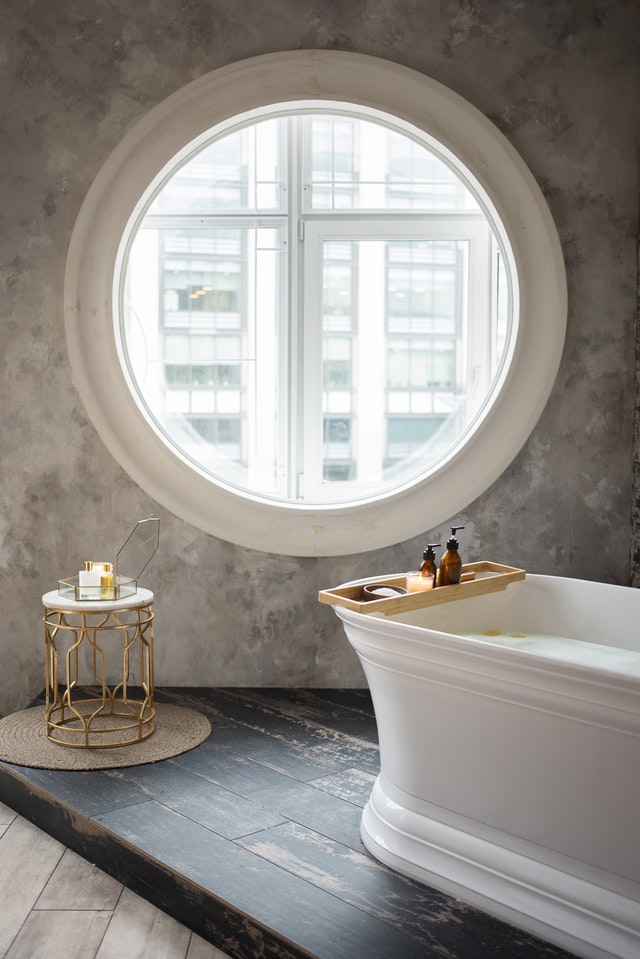 14. Panelling and tiles
Boldly geometric patterned floor tiles were very common in the early Victorian period, and distinctive tiling continues to be popular in contemporary bathrooms. Even if you aren't going for a strong Victorian aesthetic, vintage patterned tiles always create a lot of charm and character. Simply pair with half-wall panelling in a heritage paint colour and a rolltop bathtub with classic tapware for instant Downton Abbey feels.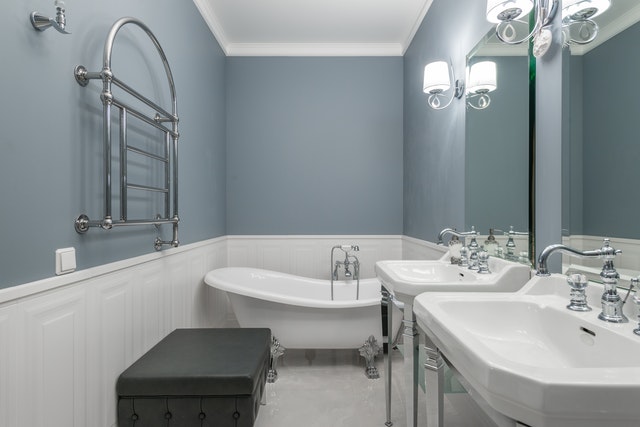 15. Contemporary + Victorian
Modern fixtures like a streamlined freestanding tub and a floating vanity with freestanding basin fit perfectly into a contemporary Victorian bathroom. Half-wall panelling and an extravagantly patterned floor tile bring the heritage flavours. When you have a lot of pattern going on on the floor, it's a good idea to keep the walls white and let the tile provide all the visual drama. Or, go for simple subway tile on the walls–a popular way to generate authentic Victorian feels.
16. Vintage elements
It's so easy to infuse a bathroom with a Victorian aesthetic. Starting with a white base, add a simple monochromatic tile pattern, a large freestanding tub, a dramatic arched mirror and sophisticated light fittings. Then introduce some antique elements in the furniture, like a narrow console table and or a vintage timber milking stool.
17. Victorian wet room or shower
Although shower stalls weren't common for Victorians, we can't really do without, can we? Choosing a frameless screen will help this contemporary element recede somewhat. And if you love the idea of a wet room bathroom, there's no reason why you can't incorporate this feature into a modern Victorian bathroom. It's still a good idea to go with the option of a pane of glass enclosing the shower/bath area, to limit the spread of water, especially if you have antique furniture in the space. (You may also like to read our blog on shower rooms.)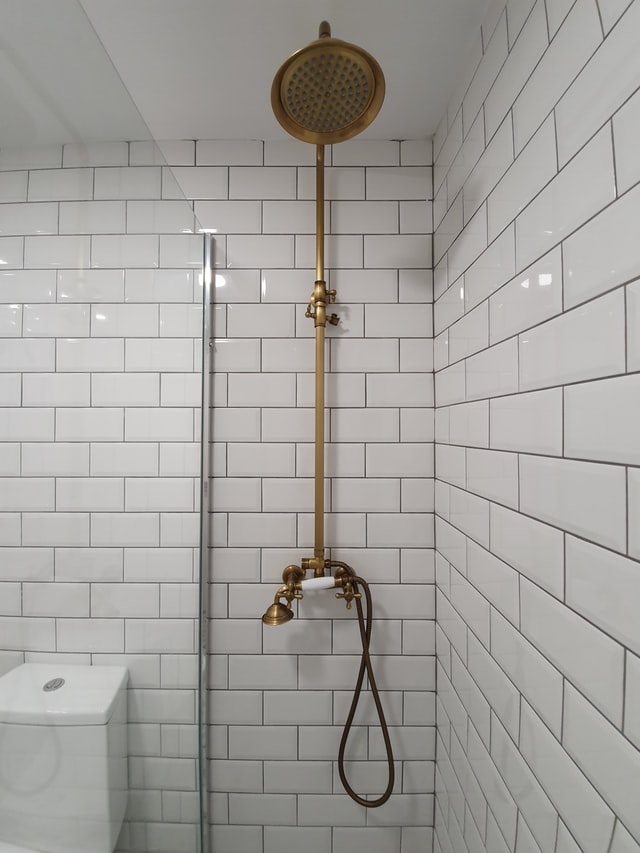 18. Play with styles
For a Modern Victorian bathroom, marry heritage tapware with a contemporary, Crittall-style shower screen. The screen also adds to the layered patterns created by subway wall tile and the patterned floor tile. When it comes to tile patterns, lots of people love tiny hexagons in daisy patterns. Hexagon tiles are less traditionally Victorian and slightly more Art Deco, but they work just fine in a Victorian bathroom.
19. Grand style
Modern Victorian is all about blurring the boundaries between traditional and contemporary style. So a blend might include a freestanding rolltop bath (Victorian) in a wet zone (modern). Tile, a framed portrait and brassware can also reinforce the heritage flavours for an overall opulent aesthetic.
20. Reclaimed Victorian
Making use of reclaimed original Victorian bathroom materials is a surefire way to authentically fit out your Modern Victorian bathroom. Renovate using salvaged materials such as an enamel bucket sink, a deck-mounted brass faucet, oversized tub, vintage curtain rod and original, reconditioned Victorian taps. Some interior designers love to go the whole hog for authenticity, for example sealing walls with beeswax to protect against moisture. Very vintage!
21. Enamel bucket sink
For a bathroom that's unequivocally in the Victorian category, choose an enamel bucket sink and brass fittings. Add floor tile, wall panelling and a rolltop tub to the mix, and your bathroom will feel very Victorian farmhouse.
22. Scallop edge textiles
One of the features of Victorian styling is that textiles are often embellished. For example, with fringing or other theatrical detailing. Another way of adding interest is to give fabric elements a scalloped edge. Even if it's just a scalloped-edge bathmat!
23. Fancy up a plain modern bathtub
It's possible to channel this style without having a freestanding vintage style clawfoot or slipper tub. You can change the appearance of a straight bathtub with bath panels, finding a style that gives you the desired vintage aesthetic. Or, continue with the floor tile up the side of the bath. And then make sure to pair it with a traditional pedestal sink for a more authentic look.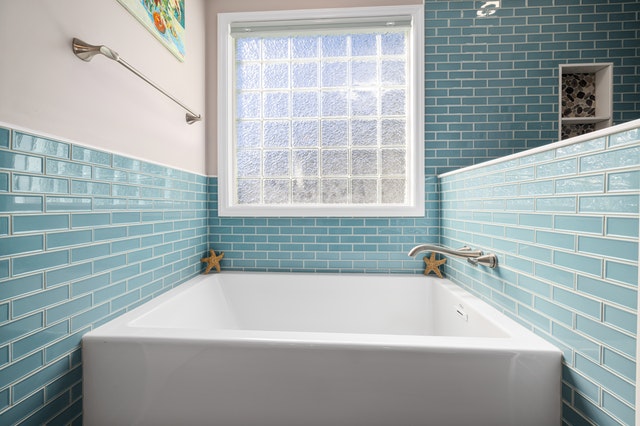 24. Curtains on rails
Get those vintage vibes with a shower bath over a classic Victorian style tub, with a curtain on a rail. You shower fitting will also look more authentic if it's an exposed thermostatic rigid riser, which suits the style well. A contemporary touch is to add hanging plants to your bathroom too.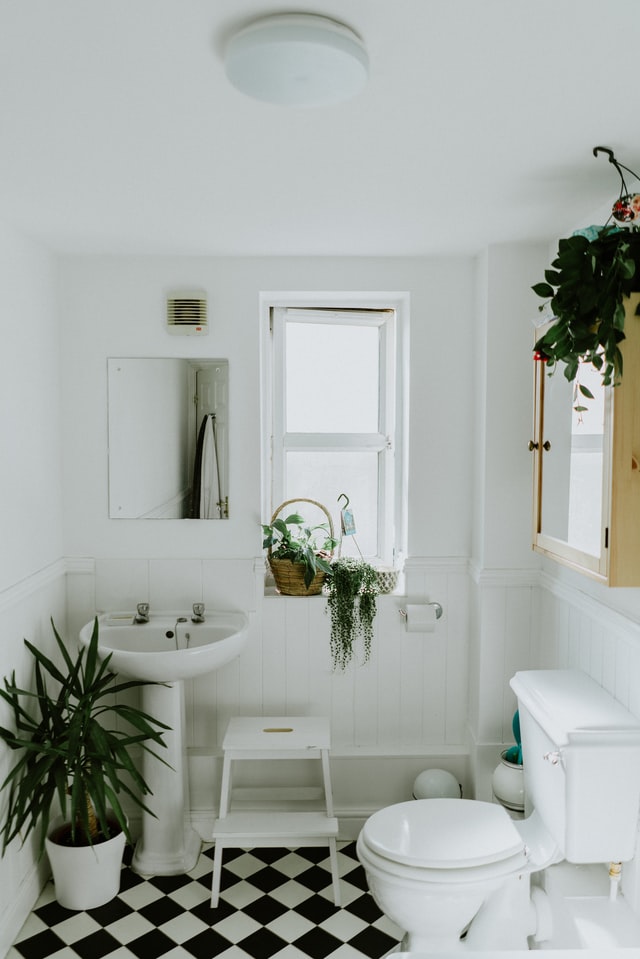 25. Traditional light fittings
Choose elegant, traditional light fittings—wall sconces are ideal. Brushed brass always looks the goods, as does fluted glass. Or, amp up the drama with an elaborate chandelier.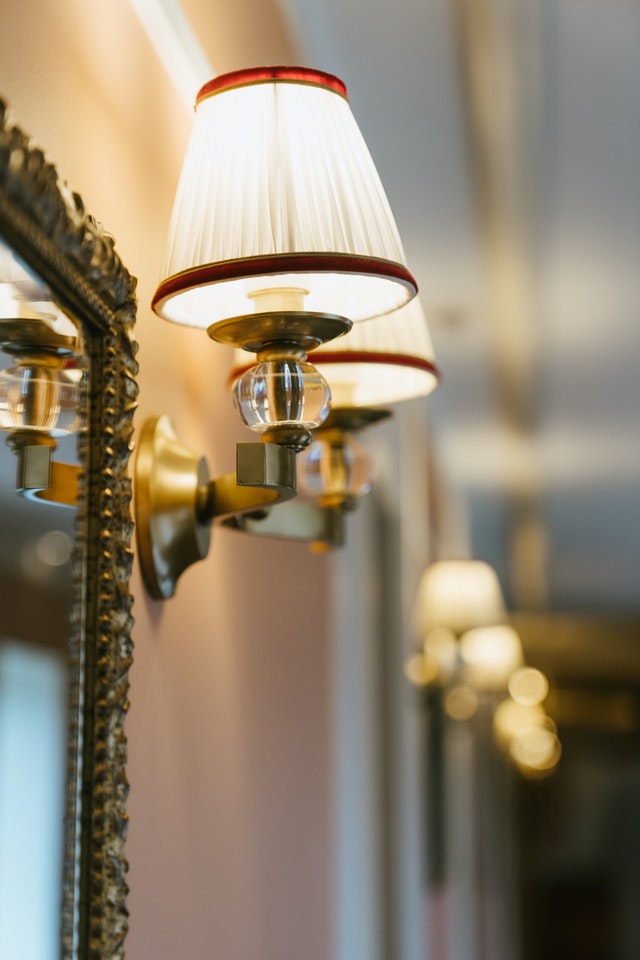 If you are interested in this style, I hope you found these Victorian bathroom ideas helpful. Would you consider incorporating selected Victorian elements into your contemporary bathroom, to create a Modern Victorian look? Let me know in the comments! Also, if you'd like to know how much does bathroom tile flooring cost, visit our updated tile flooring cost.
Victorian bathroom ideas: Sanitaryware
Certain types of bathroom fixtures instantly convey authentic Victorian vibes. The style of bathtub you choose will be a big factor. Freestanding baths were typically the hero element of Victorian bathrooms. Slipper, rolltop and clawfoot styles are perfect. Similarly, choosing period style taps and faucets will go a long way to establishing a signature Victorian look. Two tap systems are the most authentic, but you can also find mixer taps in vintage styles.
Also opt for traditional-looking, two tap systems for your vintage-styled basin. If possible, have a wall hung basin set in a washstand frame. Alternatively, look for a pedestal basin that has the traditional silhouette.
The style of toilet you choose will also help nail the Victorian aesthetic. High level toilets will give you the most traditional look—as will a traditional lever flush over a button.
Want some help updating your bathroom?
Look no further because I've got all the links you need right here. It's easy to find a local expert to handle your hot water system installation, or your electric shower or showerhead installation. There's also Taskers who specialise in repairing toilets or leaking showers, or who can deal with mould removal. Finally, you might just like a little help refreshing your bathroom space, perhaps with shower cleaning or with a professional mopping to have it all at its sparkling best.