One simple way to transform your kitchen's design without having to overhaul everything is to switch out your kitchen lighting. The chances are your kitchen lighting could do with a change to something slightly newer and modern.
When it comes to choosing your kitchen lighting, there are so many creative lights to choose from – from glamorous pendant lights to industrial lights to simple wall lights to black-and-white statement lights to dramatic chandeliers. But with so many options on the market, how do you decide which light is the best fit for your kitchen?
When it comes to picking a kitchen light you need to consider what colour your kitchen is, how many you need, what metal finishings you have and whether you're looking for feature or functional lighting.
Refer to your colour scheme
First, you need to consider your existing colour scheme. Make sure you choose light fixtures that match your current style and don't detract from it. You might want to think about whether you want something to blend in or stand out, which is down to personal preference.
Decide on the number of lights
Secondly, you need to decide how many lights you require to provide the right level of ambience. If you have a large kitchen, then you might need to consider a mixture of ceiling lights, wall lights and lamps. But if you have a smaller kitchen, then a simple ceiling light might do the trick.
Think about your hardware
Third, you need to think about your hardware. Do you have silver, brass or black finishings? It's important to match your lighting fixtures to your hardware for a consistent design.
Consider a feature light
Lastly, you need to consider whether your space requires a fancy standout feature light or whether it just needs some simple subtle lighting.
To kickstart your research, I've dished up 50+ kitchen lighting ideas, including pendant lights and functional lighting to help you find the right light for your kitchen.
1. Brass pendant light
Nothing makes a statement more than a large brass light shade. And this one is no exception. If you're going for a brass light, like this, then it's important to consider the rest of your kitchen. I recommend keeping things fairly neutral by using whites and timber, so your brass light can truly be the star of the show!
2. Glass pendant lights
If you want to choose something elegant, then simple hanging pendant lights might be the perfect option for you. I love how these lights come together in a pod of three, gently hanging down from black cord. And they look great hanging elegantly above the lush greenery on the marble-top bench!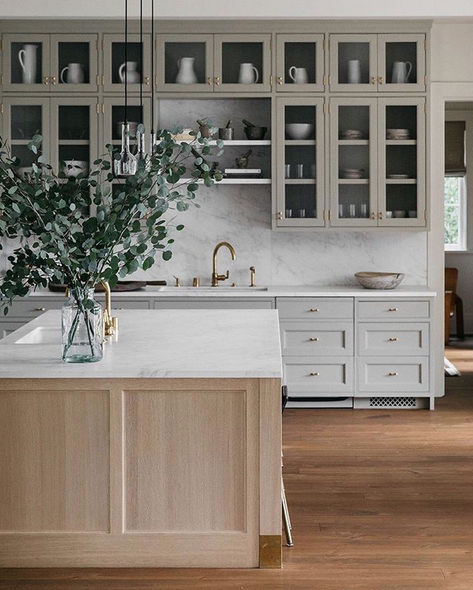 3. Polished nickel pentagon
How's this light for fancy? It's a hanging, open cage, polished nickel pendant. And it looks very glam in this modern marble kitchen. Combine the pendant with silver hardware, marble and white touches for a gorgeous final design.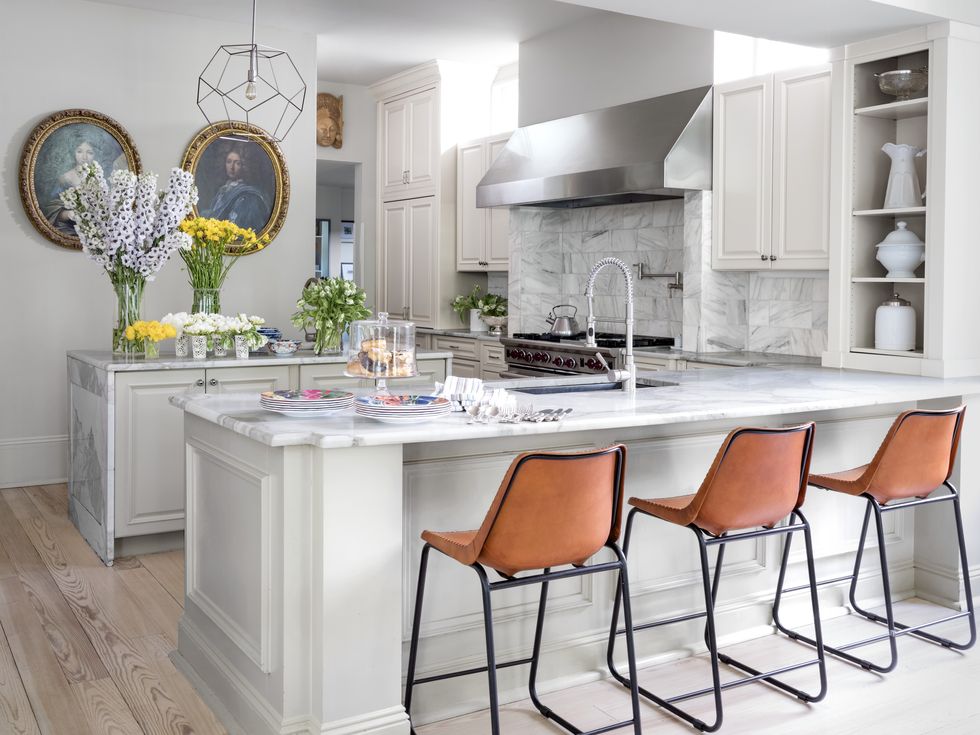 Need a new light put in? Find someone to measure up and take care of your pendant light installation.
4. White and gold
White and gold lights are a thing of Pinterest kitchen dreams. I really like the symmetry that's been created by the use of multiple hanging lights. And I love how the brass on the lighting fixtures has been tied together nicely with the brass hardware and brass fixtures on the white chairs.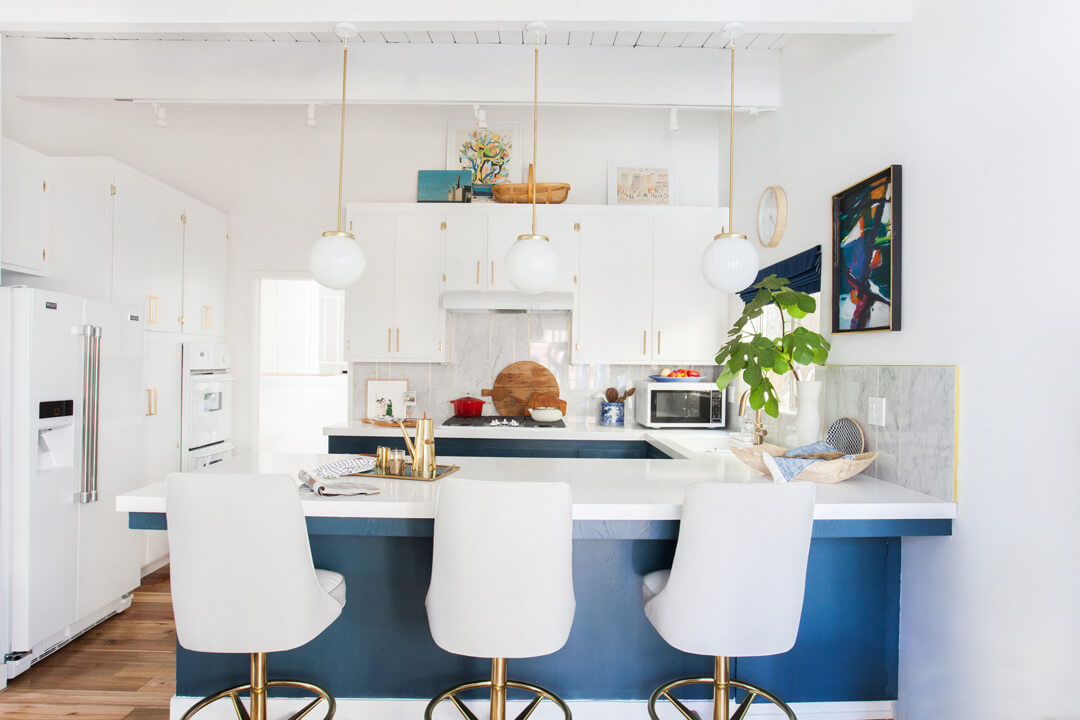 5. Brass and glass
Here's another brass option, but this time with glass. This is a stunning choice for a warm timber kitchen like this one. The brass chains hanging down from the ceiling creates a rustic farmhouse feel. And the straight edges, marble, leather and other brass touches make this a modern farmhouse kitchen design.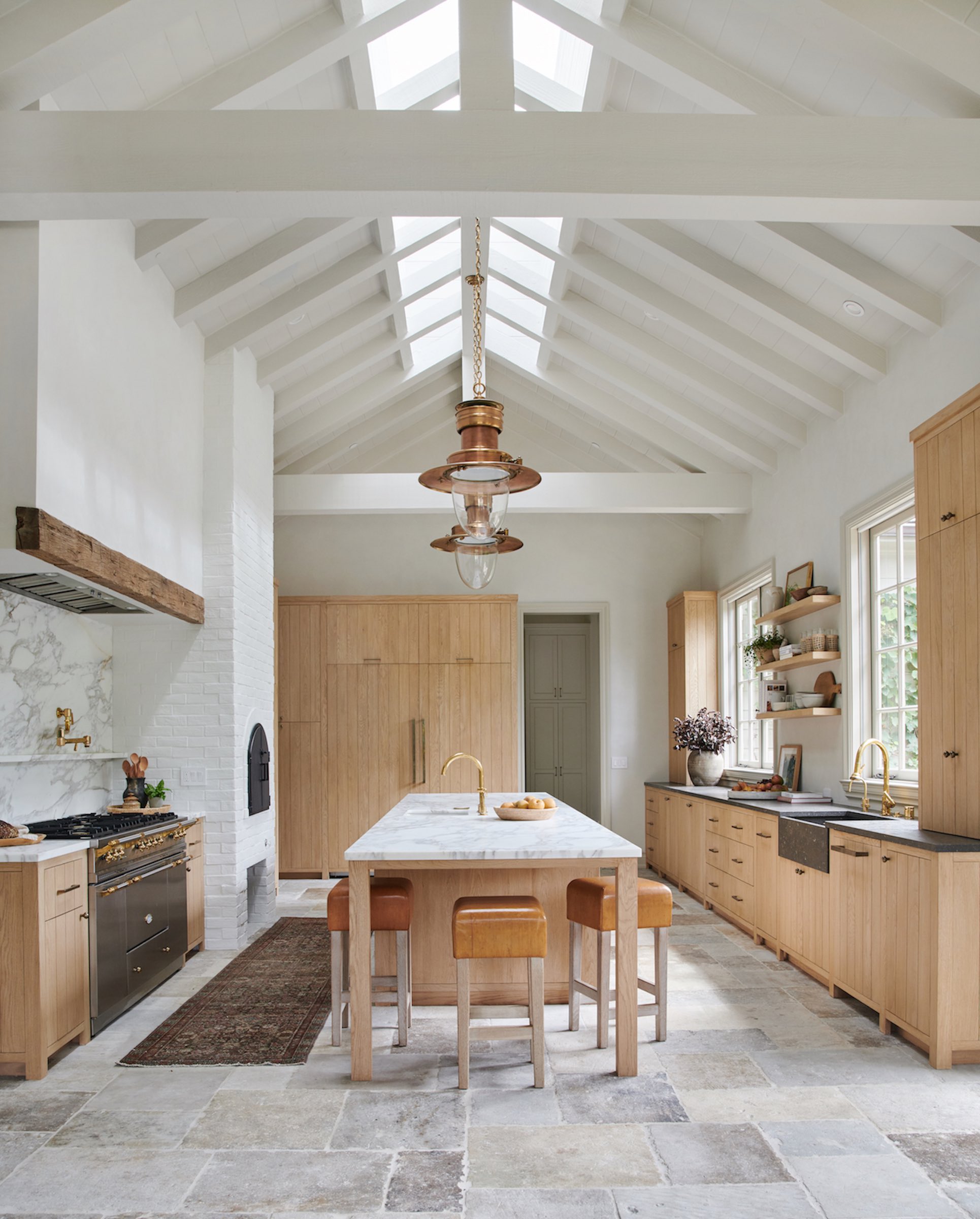 6. Black and glass
And here's another twist on the glass light. But this time, the glass is combined with black hardware. This is a great choice for a modern kitchen. The black hardware stands out against the clean white ceiling, and looks lovely teamed with the dark timber island and cream-coloured cabinets.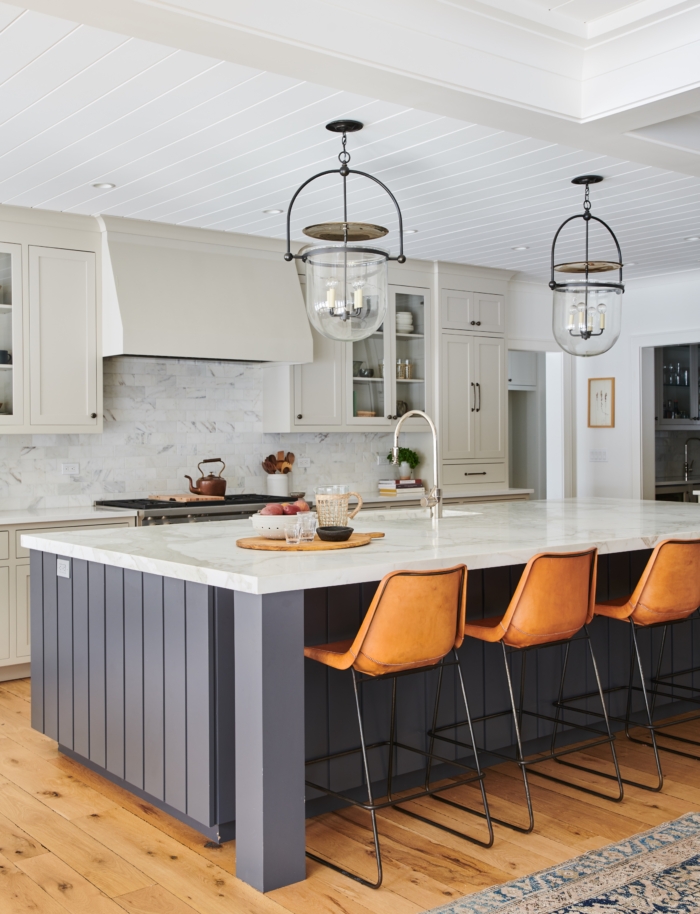 7. Brass dome
Brass, brass and more brass! OK, you're going to be seeing a lot of brass lights in this list because they're very in right now. But the luckily they come in so many different shapes, sizes and styles, that I can keep sharing them. Take this dome light, for example – it's textured on the outside which adds character to the space.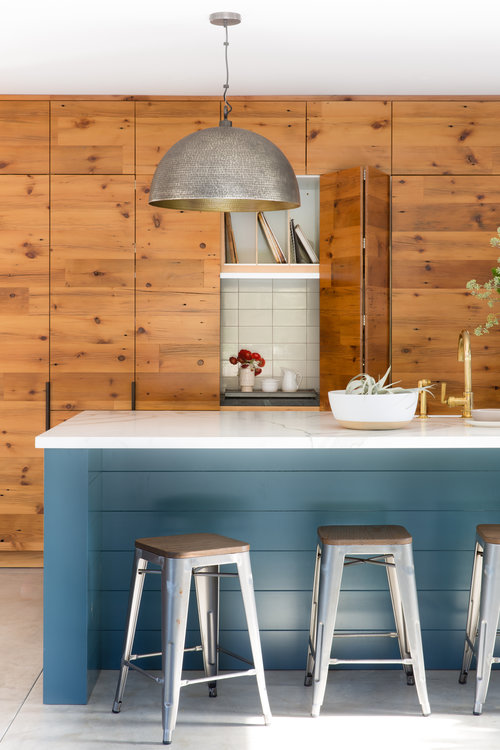 8. Extra-long brass pendants
These brass pendants are ultra-modern and sleek. I like how they've been positioned to hang directly above the large timber dining table. This creates a classy finish. And how gorgeous are the brass candle holders on the table? They tie the brass lights and hardware altogether nicely.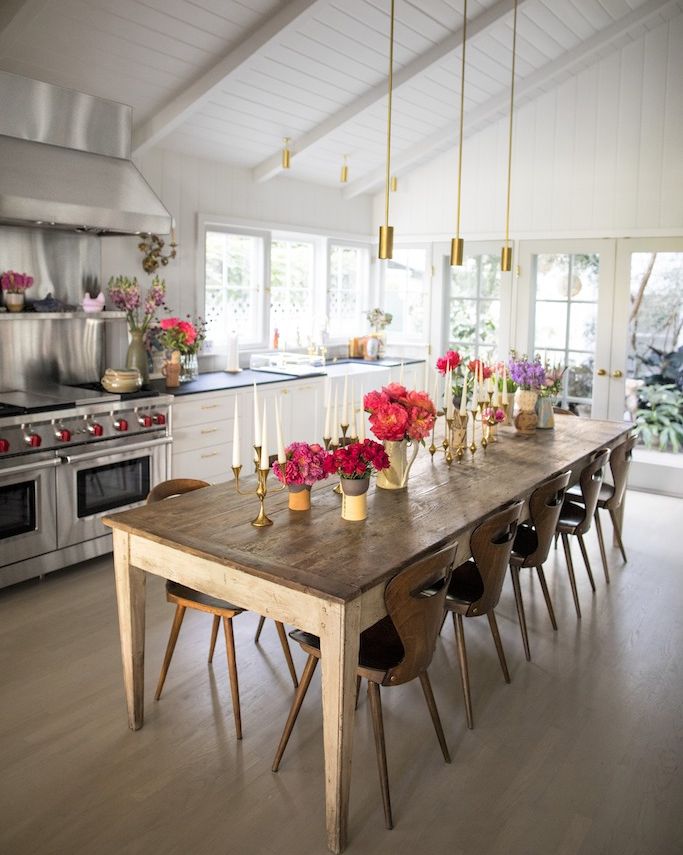 9. Classic lighting
These lights are a little more classic. While they can work in a modern kitchen, they're best suited to a kitchen that's an infusion of modern and traditional. And I think this kitchen hits both of these marks. The detailing in the cabinetry makes this kitchen design appear more classic, while the brass hardware and tapware bring it into the 21st century.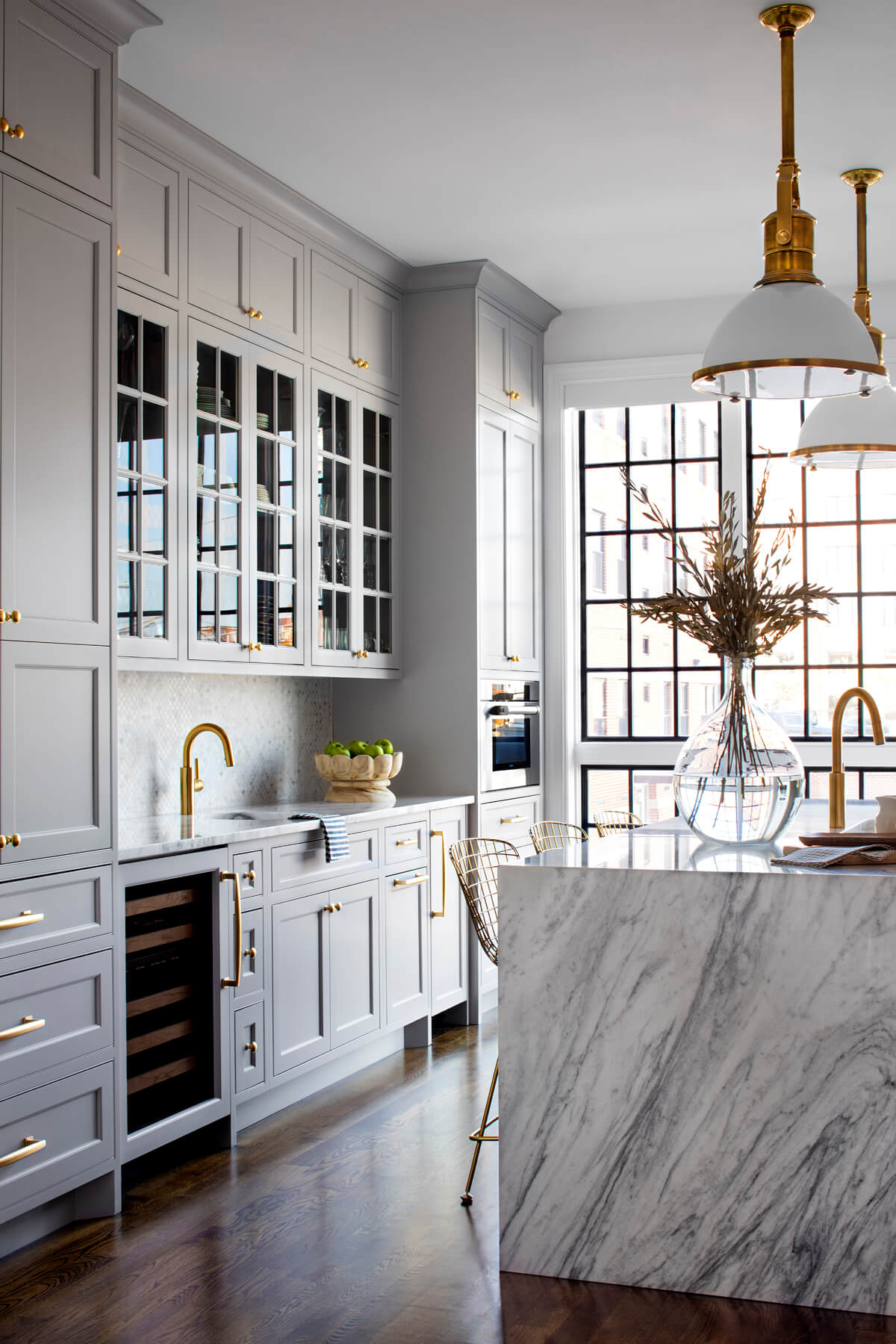 10. Circular black pendant lights
If you're looking for something that's modern yet out of the box, then these pendant lights might just be the right fit. They're an interesting circular shape and they add personality to the room. Not to mention that the slick dark colour provides the perfect amount of contrast against the light neutral cabinets and flooring.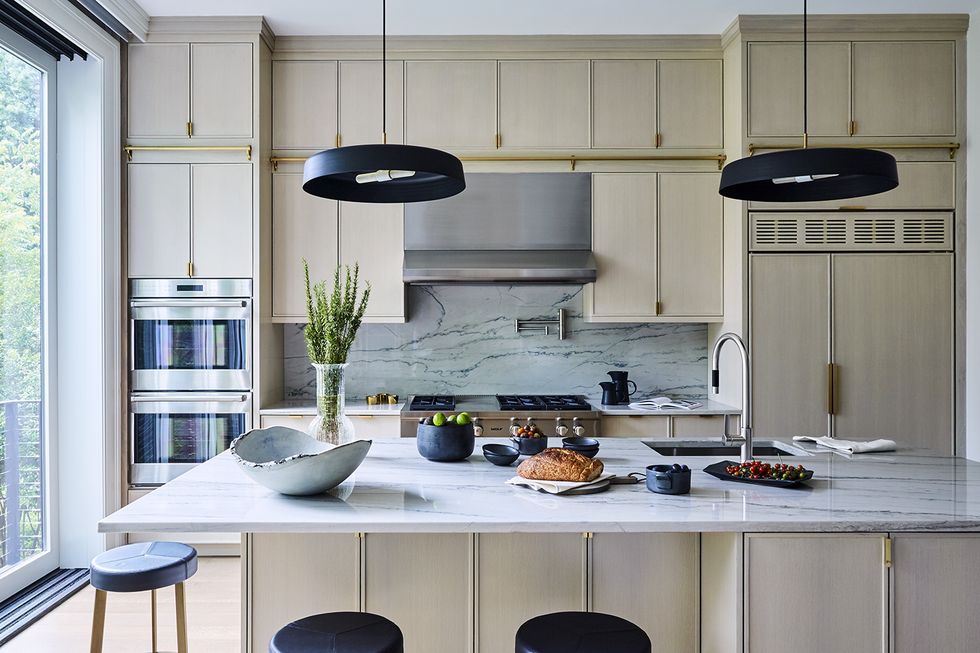 11. Pod of glass lights
Why install one light when you can have 16? This kitchen includes four  pods of four glass-encased lights, and I love the overall look. It can be difficult to fill a large kitchen. But if you have a big space, make the most of it by going all out with lights like these.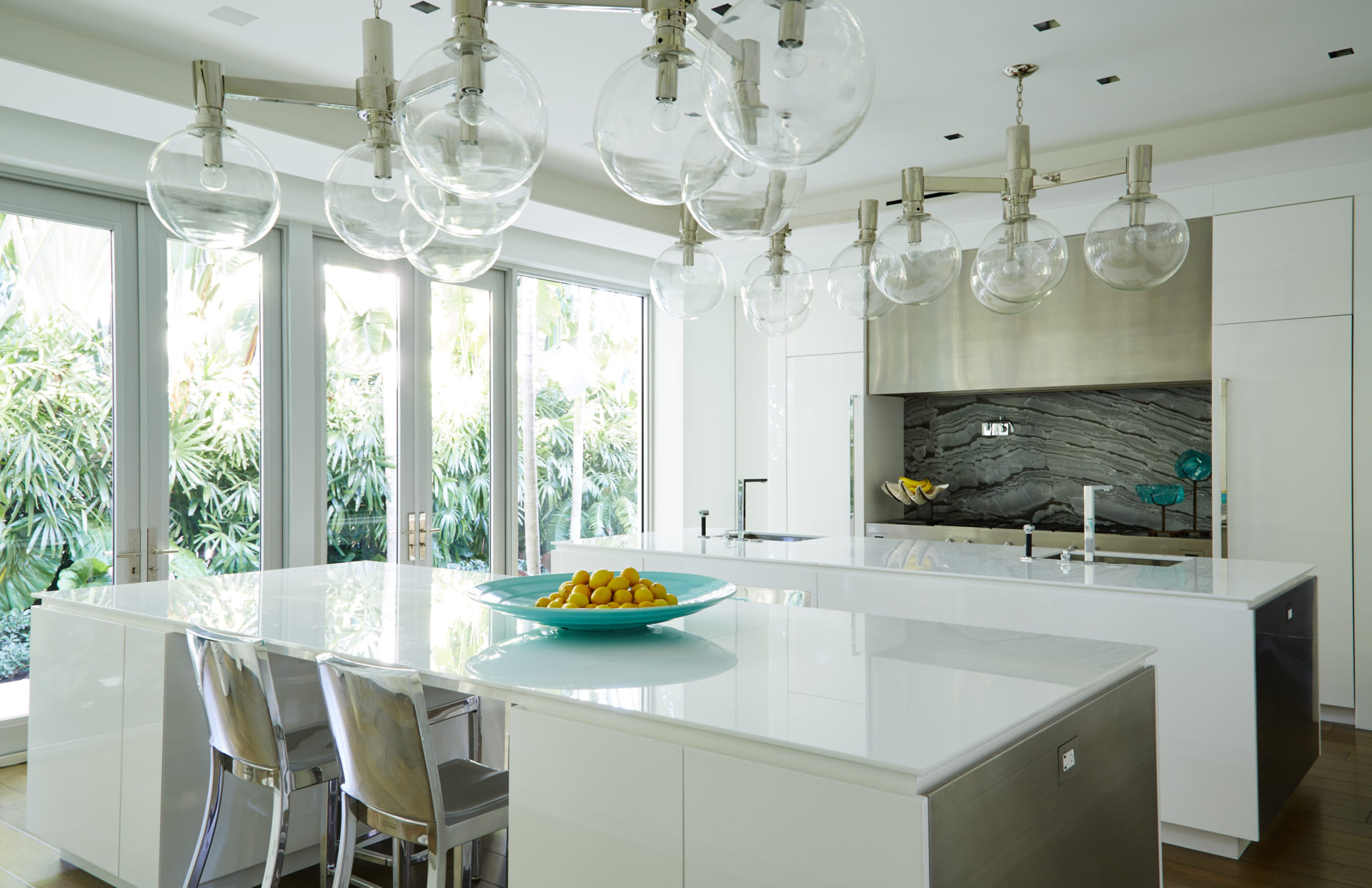 12. Rose gold pendant lights
This is another out-of-the-box design, and I'm here for it! The rose gold is absolutely gorgeous. If you're after something that adds a feminine touch to a mostly masculine slick-black kitchen, then these rose gold pendants are a great option.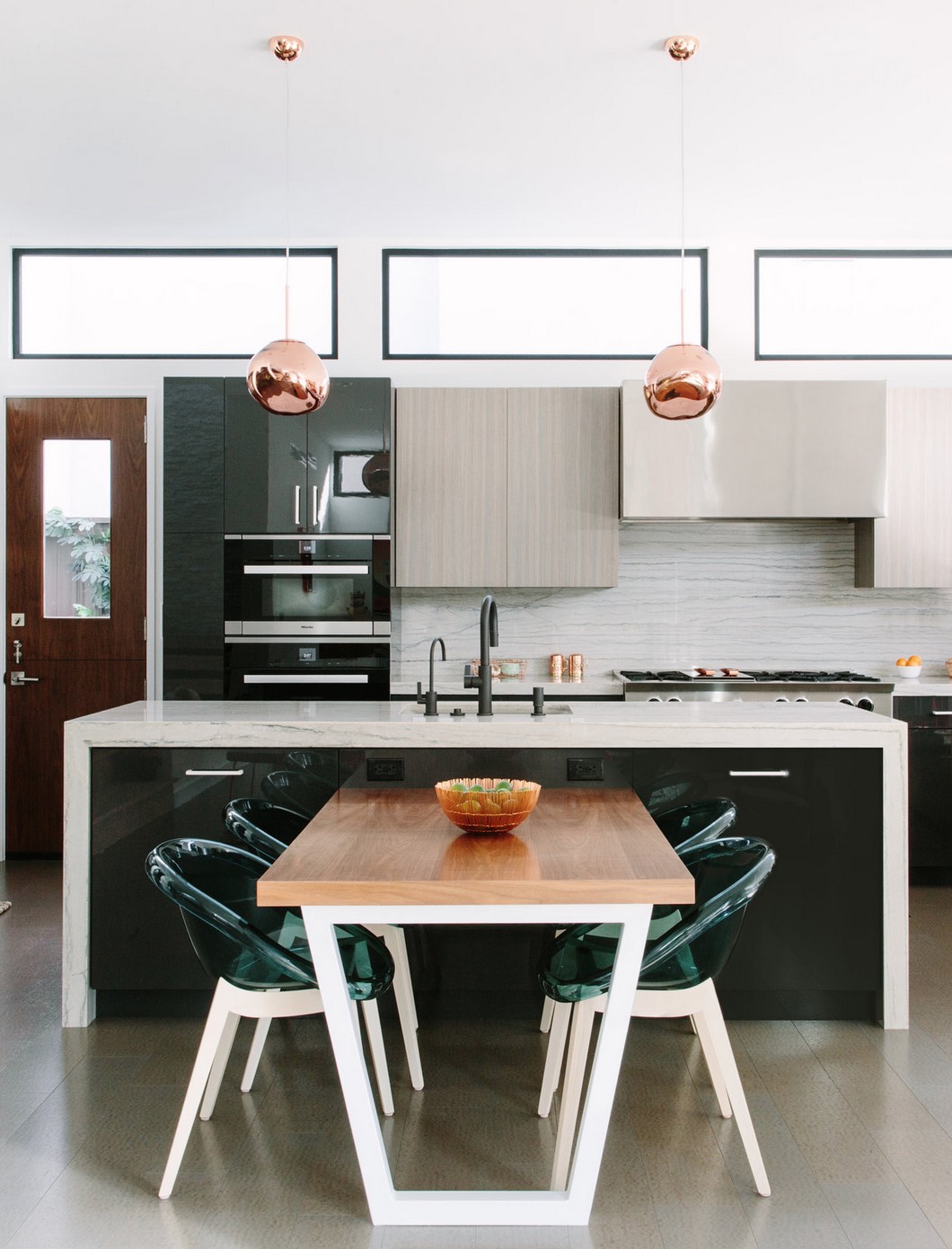 13. Multiple Edison bulbs
Light up your kitchen with an entire row of Edison bulbs encased in rectangular glass. This is a great option if you're wanting to add a statement lighting piece without detracting from the rest of your kitchen.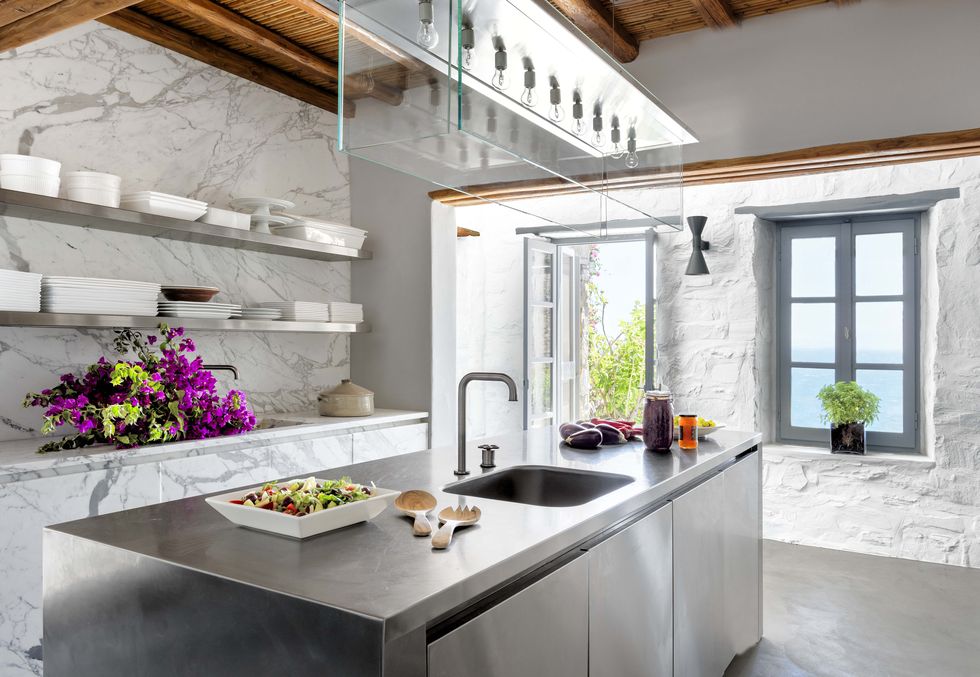 14. Ceramic pendants
With ceramics being all the rage right now, why not install a ceramic pendant light? This pod of white lights adds a layer of interest to this small kitchen without being too much.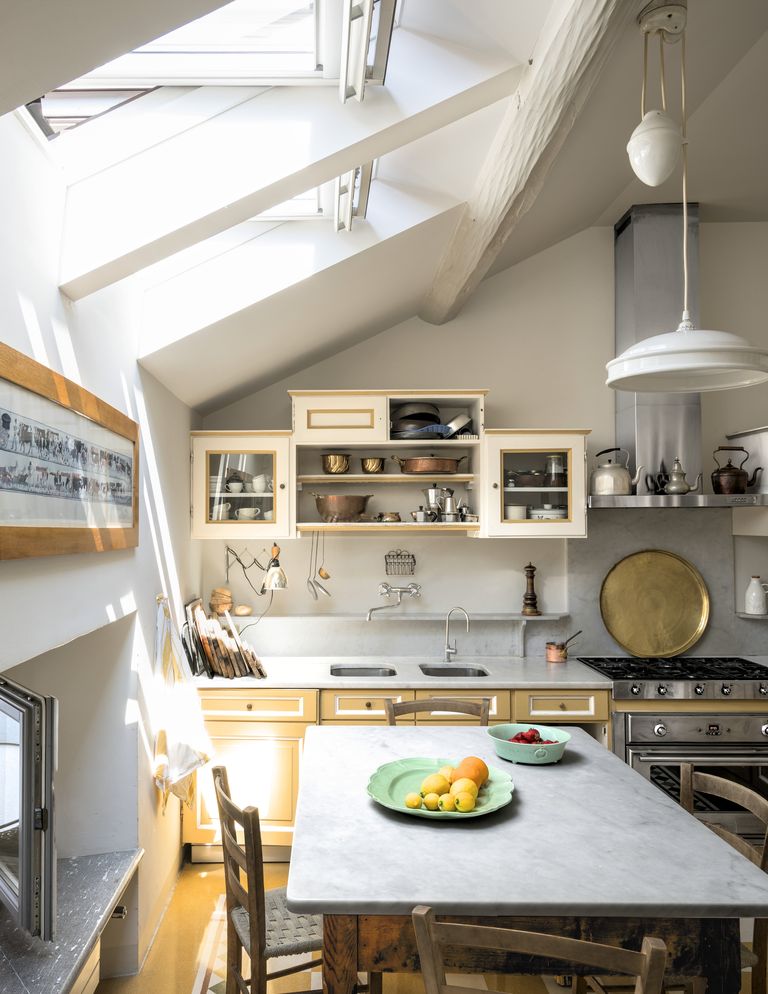 15. Rolleiflex pendant lamps
Want to add some life into your kitchen? Why not incorporate vintage Rolleiflex pendant lamps? These blue-and-white-striped pieces will add colour to your space while casting a beautiful warm glow.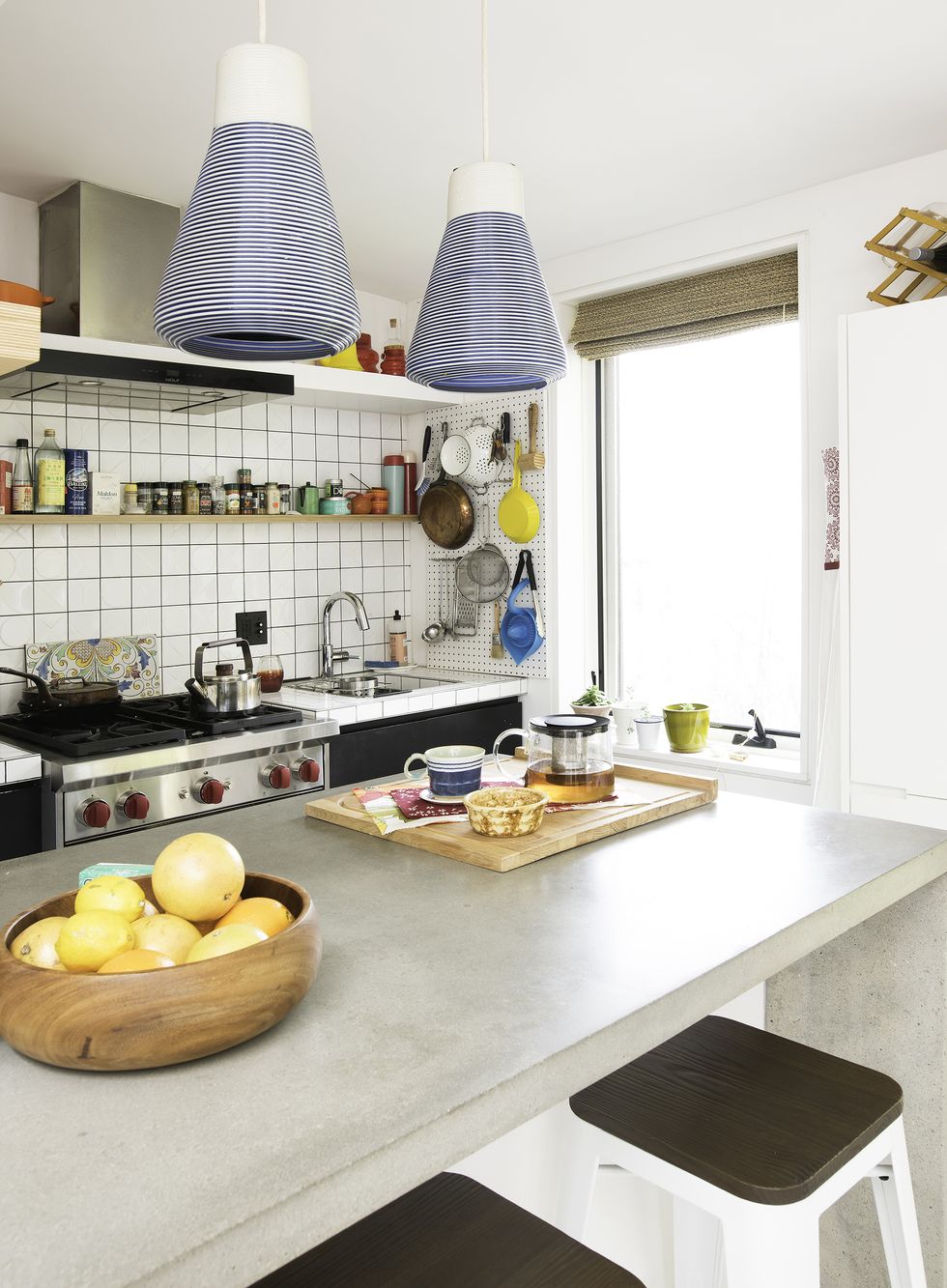 16. Black accents
If you're using a shade, you want to make sure it's not totally basic. Thanks to the black accents, these white shades are still neutral, but not at all dull. And the natural colour matches in with the timber, black and white throughout the rest of the kitchen.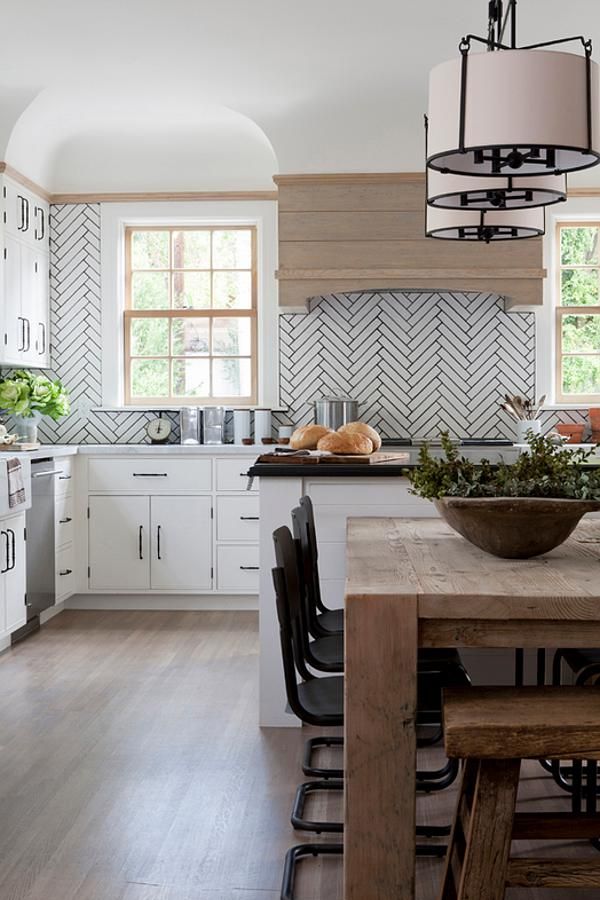 17. Metallic design
If you have an all-black or dark kitchen like this one, think about ways that you can spruce it up with lights. I love these gorgeous geometric shades – they add such a fun touch to the room!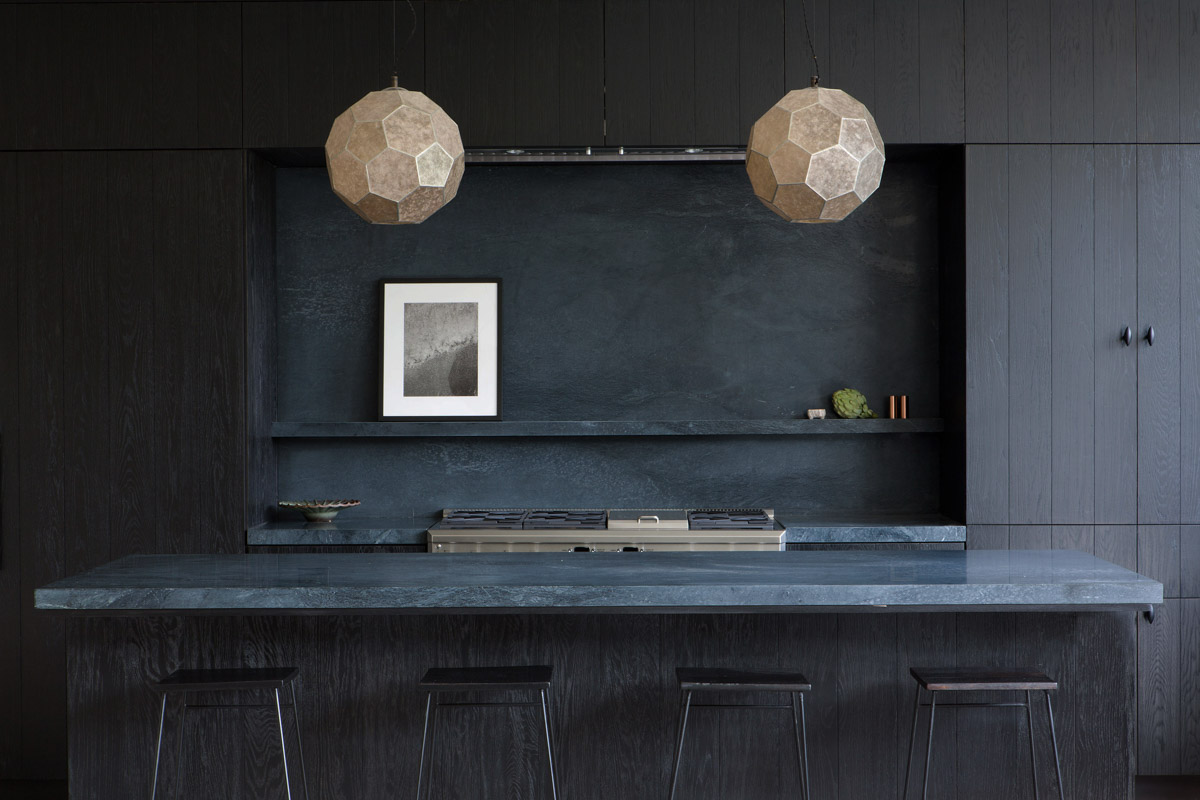 If you love this darker kitchen and fancy some more examples. Here are my favourite black kitchen ideas.
18. Light above the sink
When one won't cut it, choose a lighting fixture with multiple bulbs. You need light when you're doing dishes, too! Choose a fun hanging pendant like this white and black one. And, if that's not enough, add classic black lamps to your walls as well.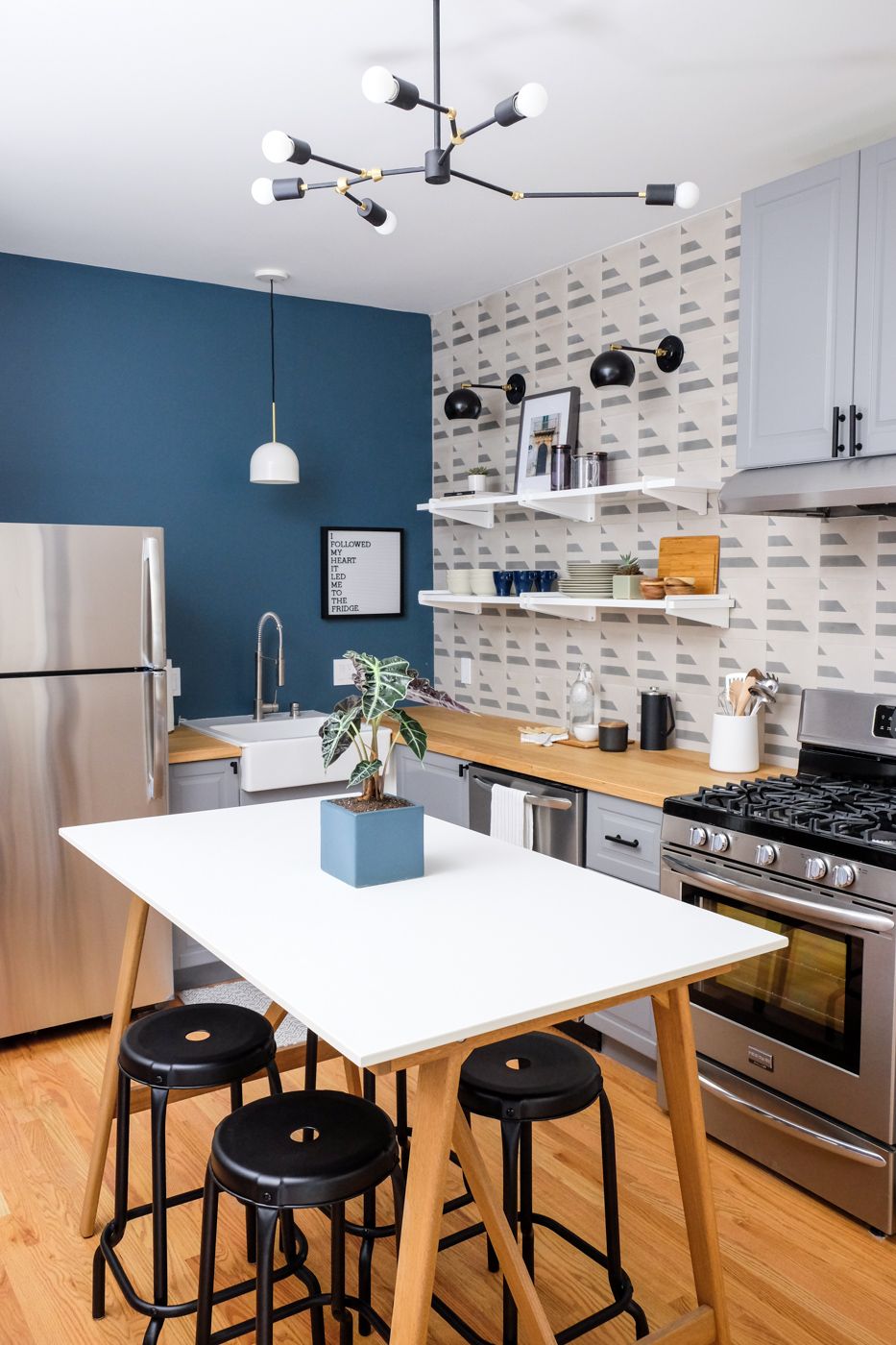 19. Country style
If you're going for a rustic kitchen design, choose lights that match. These white shaded pendant lights are the perfect option for this kitchen. The colour works with the rest of the kitchen while adding a point of interest.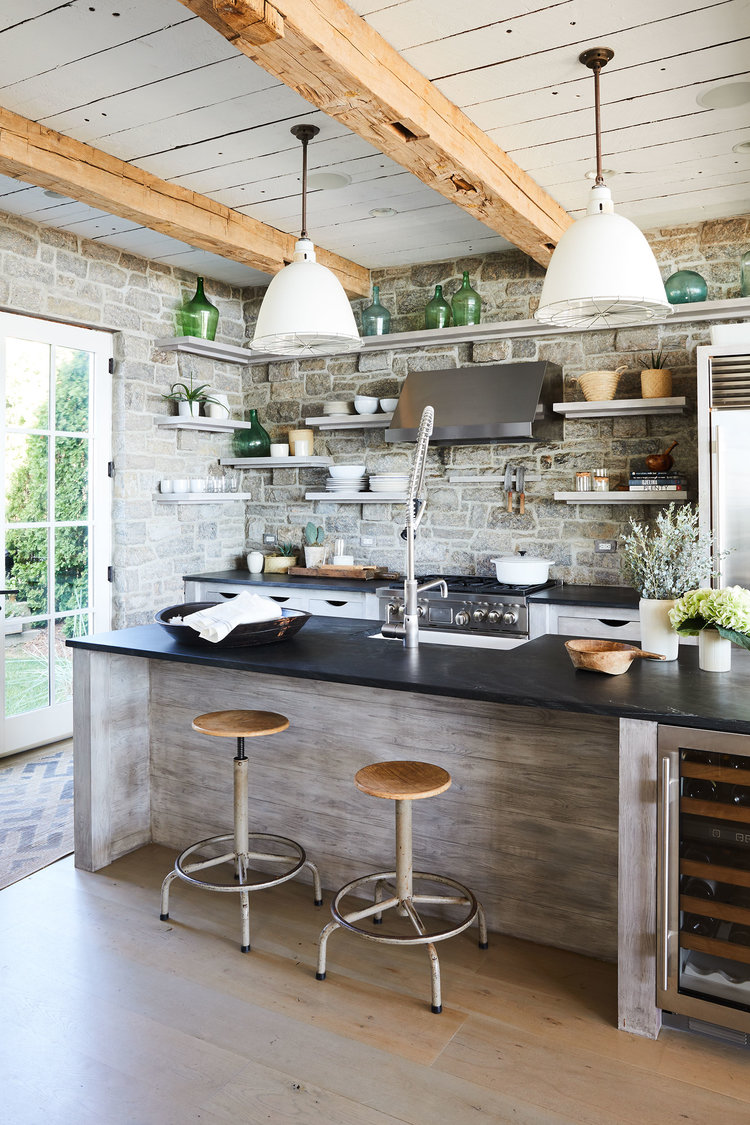 For more timber, natural stone and metal, you should take a look at these country kitchen and farmhouse kitchen ideas.
20. Cut-out lights
Forget boring pendant lights and choose something unique instead. This cut-out pendant light is a cute addition to a simple kitchen that uses plenty of natural materials. And it's sure to be a talking point for guests!
21. Elegant gold
If you like glitz and glam, then go all out with gold touches. These lantern-style hanging lights are a beautiful choice for this marble-and-white kitchen. And they tie together nicely with the cabinet hardware and tapware, as well as with the legs of the clear stools.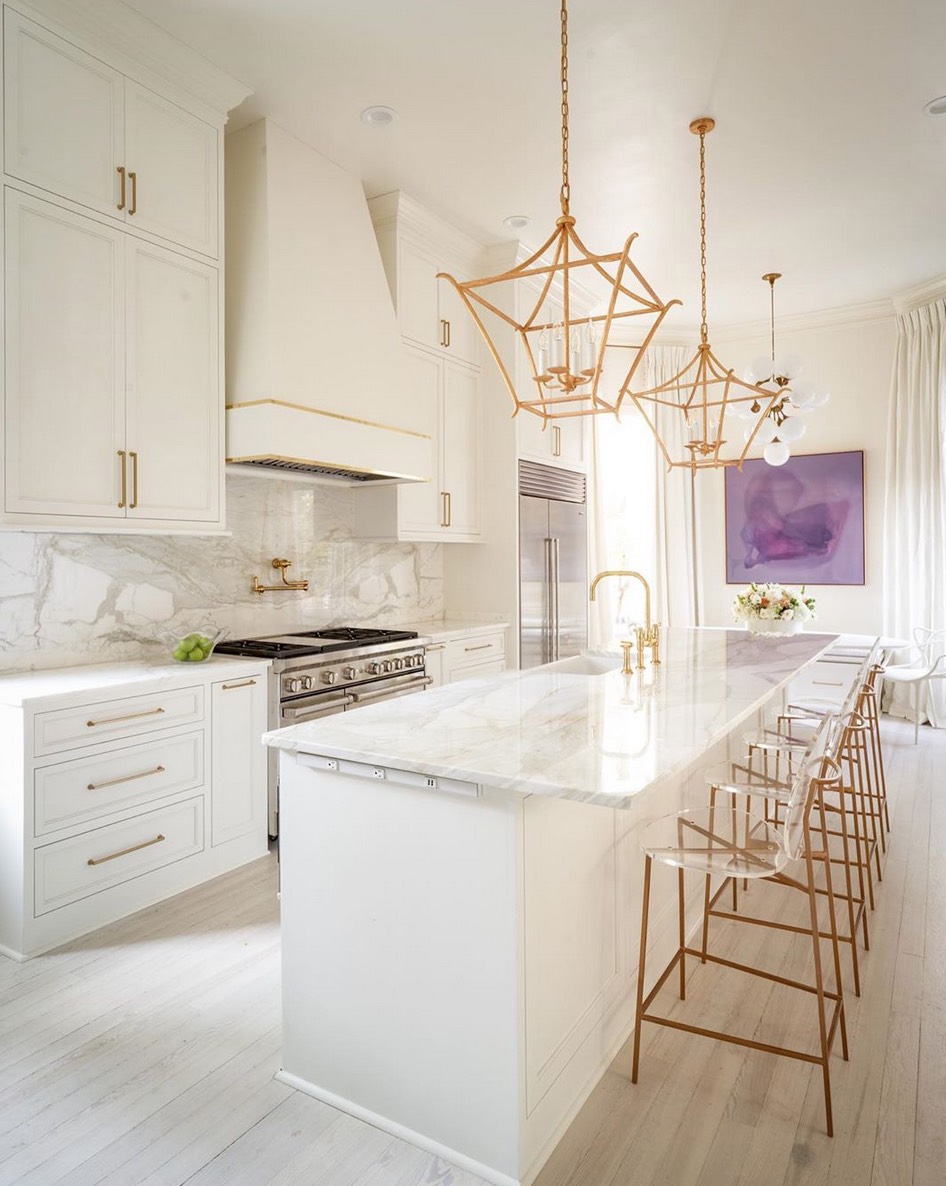 22. Chain
Add an industrial touch to your country style kitchen by choosing a hanging light that uses a chain or exposed electrical wire. This adds a layer of detail and intrigue to your kitchen design. And the black-and-white also provides a bold contrast.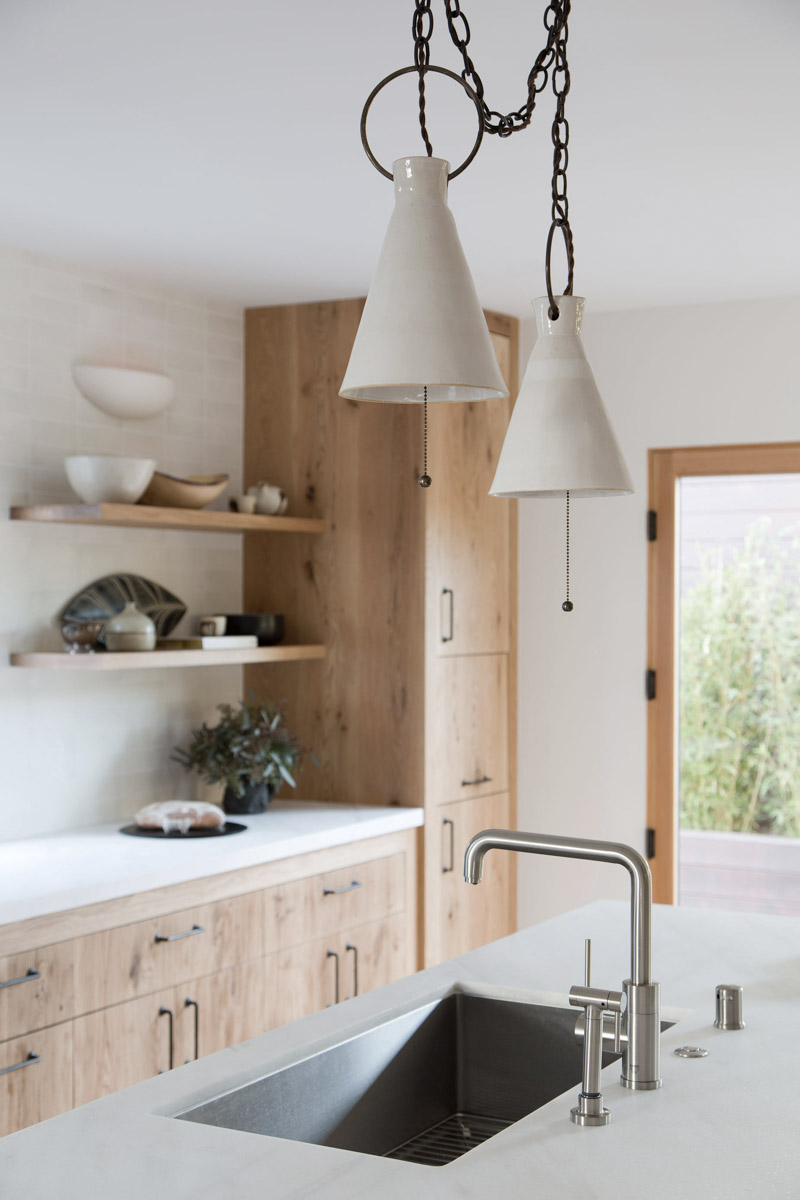 If the warehouse edgy look of an industrial kitchen might be the look you need.
23. Glass and silver
Go ultra-modern with a white kitchen with glass-encased lights. The silver hardware is a great touch for these lights, because it keeps the space simple and clean. I like how the lights over the island are different from the lights over the table on the left, yet they still have a very similar design with silver and glass.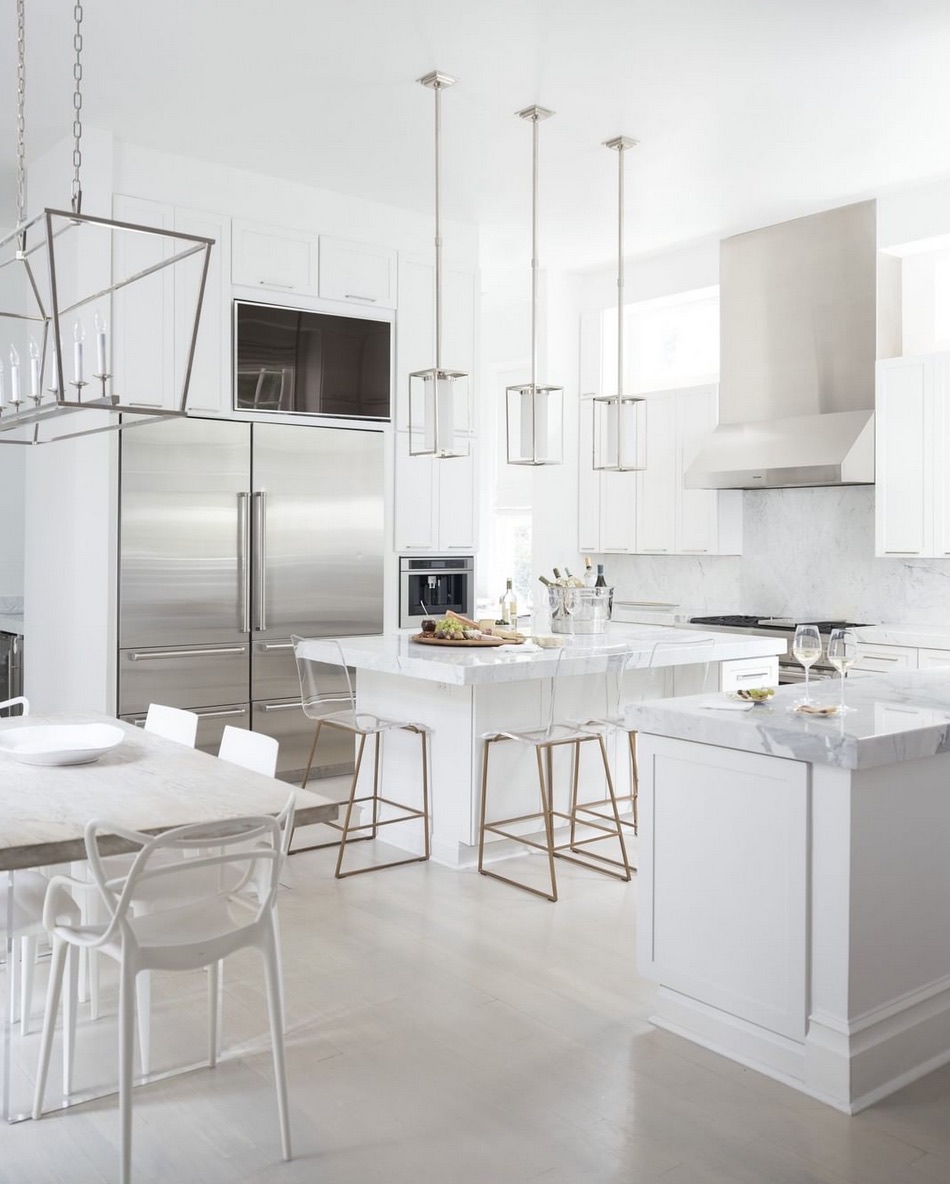 24. Classic bar light
If you're going for a classic kitchen, then you can't go wrong with a cylindrical bar light. The black touches on this light make it more traditional. And the colours work in well with the marble benchtop and the black leather seats at the island bench.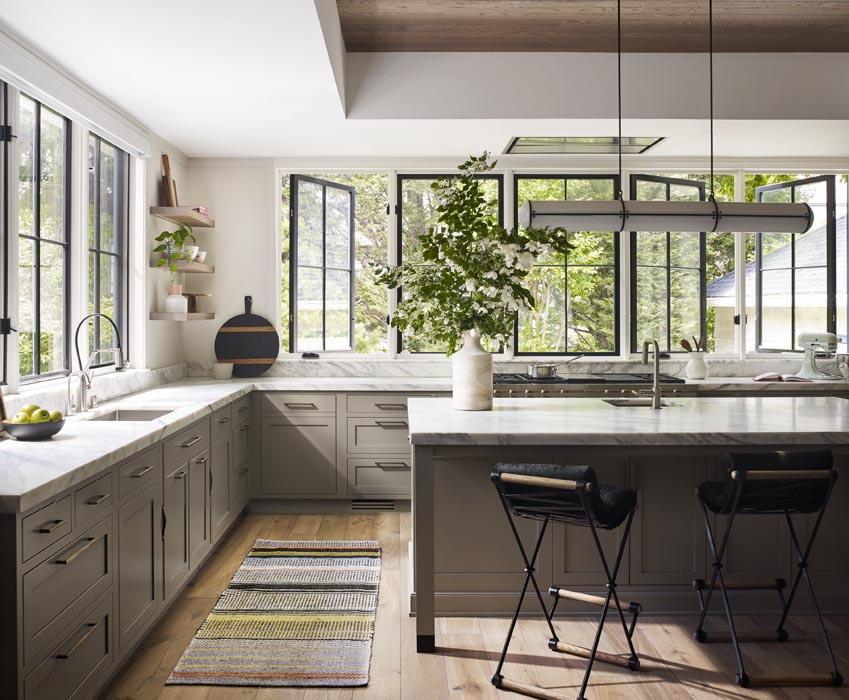 25. Orb lights
Glass orbs are a simple yet striking pendant that will look good in any kitchen. These are the choice for you if you're after something simple that won't detract from your kitchen design.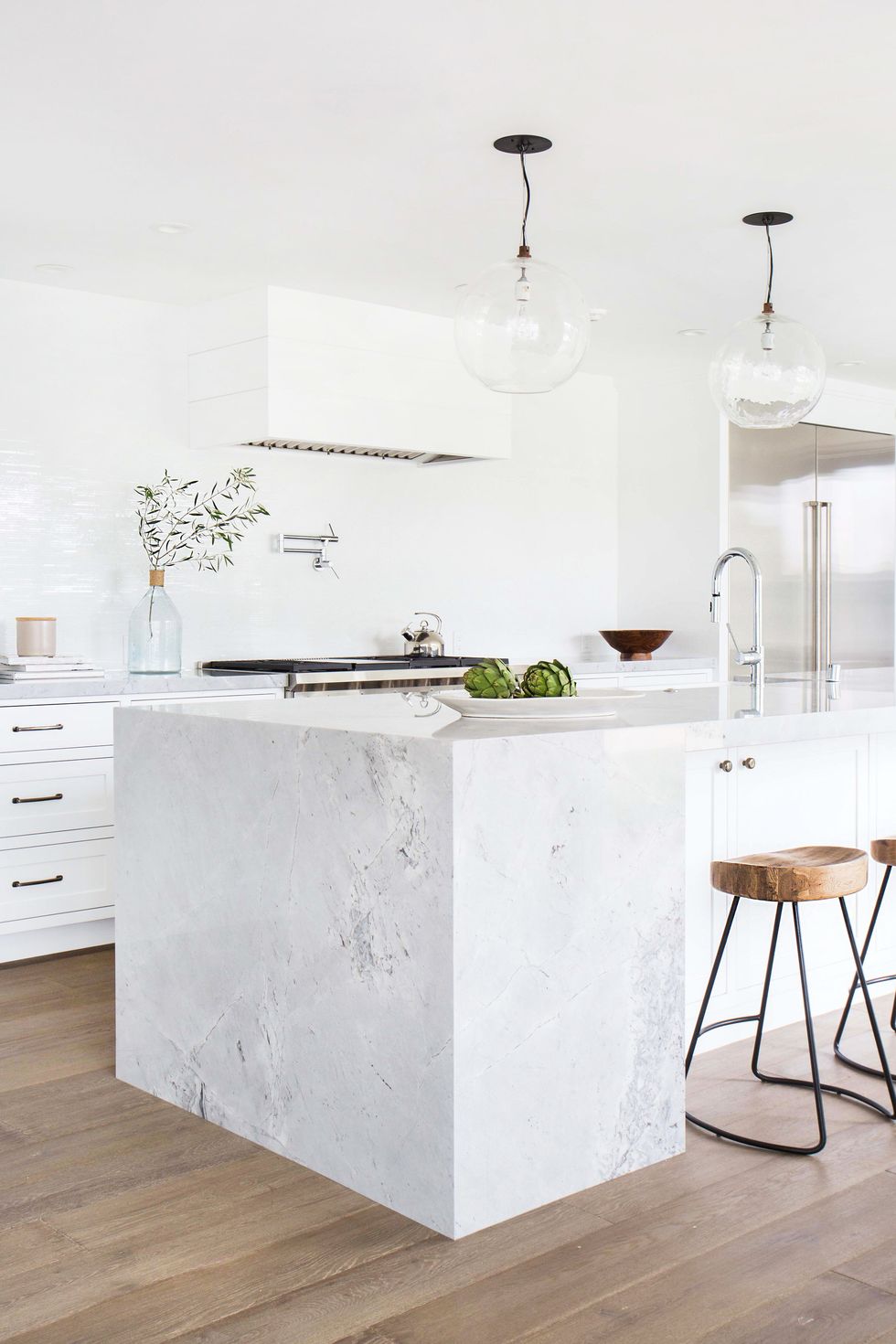 26. Glam it up
On the other hand, if you want your light to be the hero of the show, choose something fancy and fun like this light. I don't know exactly how many bulbs are on this fixture but there sure are a lot! The white colour means the light won't take away from the rest of the white kitchen but will add a gorgeous warm glow in the night.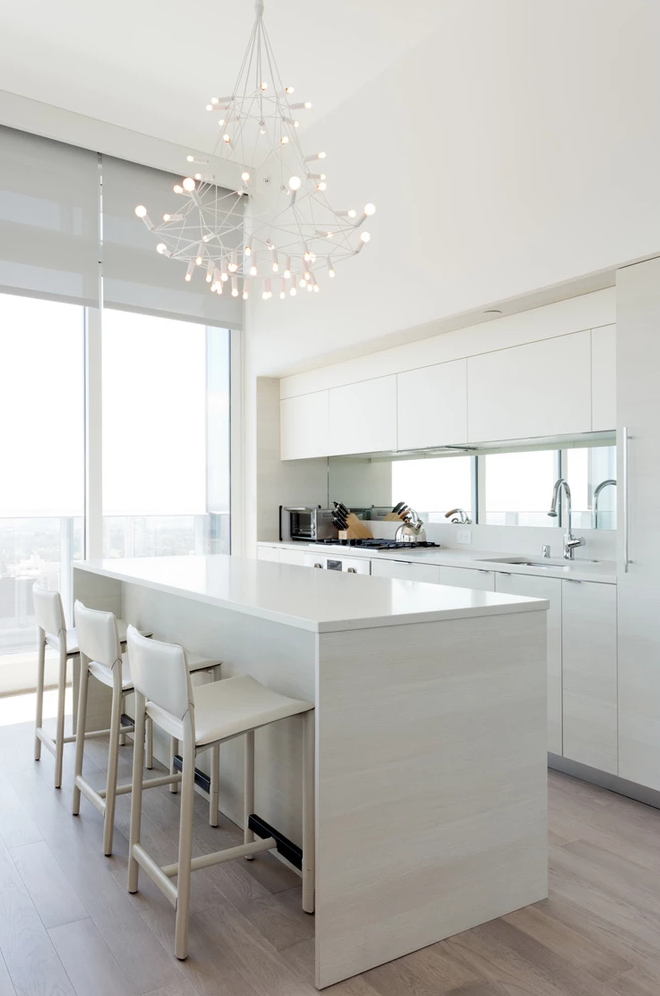 27. Put it in a box
Make an art piece out of your kitchen lighting by encasing your bulbs in hanging boxes. These rectangular lights make for a fun, fancy addition to your space. I like how the boxes are painted in the same grey as the timber wall at the back of the kitchen. This allows them to blend in seamlessly with the entire design.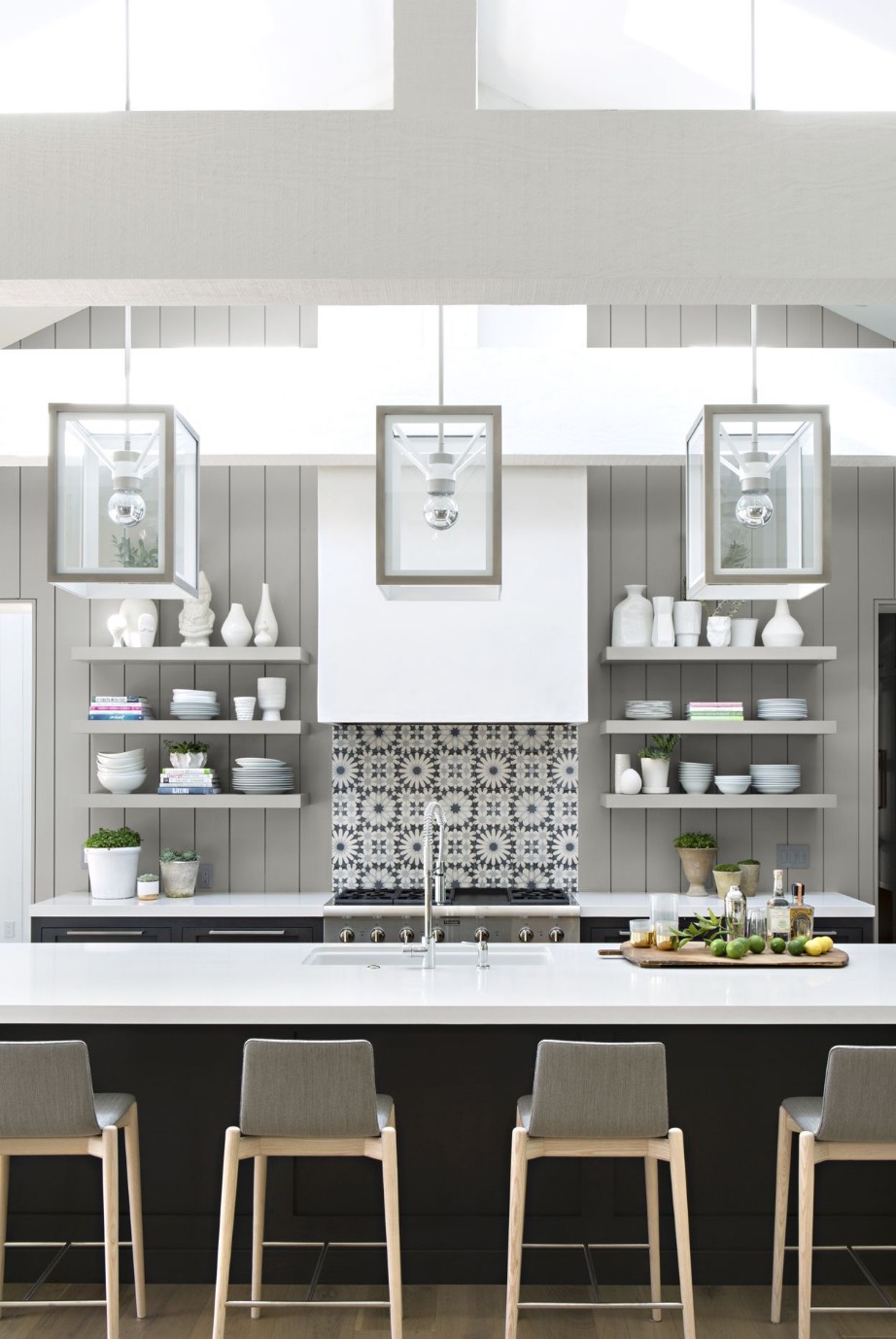 28. Large lantern light
While lanterns have traditionally been used outdoors, they've made their way indoors in recent years. And they can make a bold statement piece in any kitchen – whether it's traditional or modern.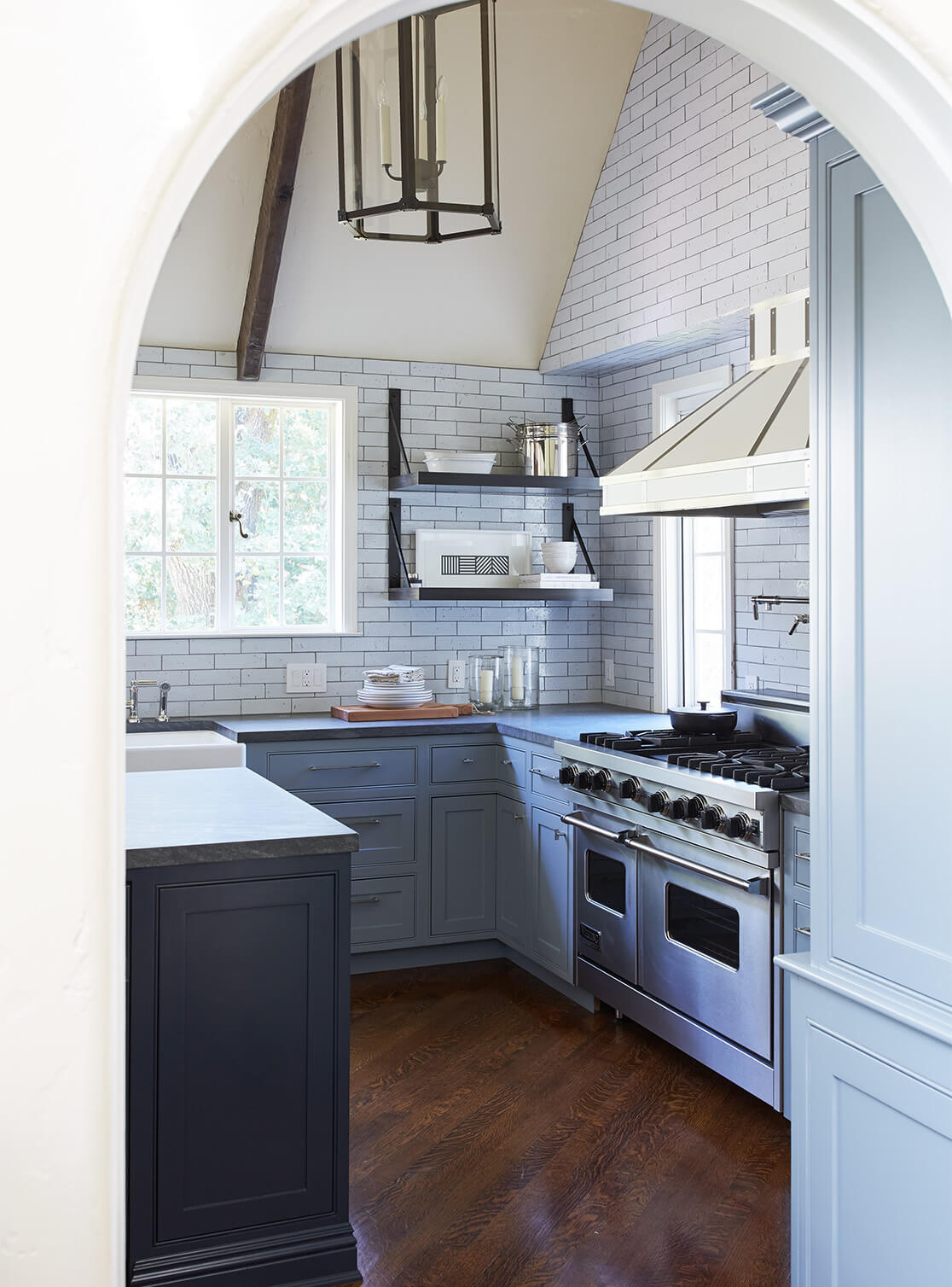 29. Gold chandelier
If simple and understated isn't your style, then your kitchen up with a fancy gold chandelier like this one. Now, you might think this should only be reserved for large, grand houses. But if you have a large enough kitchen, you can incorporate whatever kind of light you like!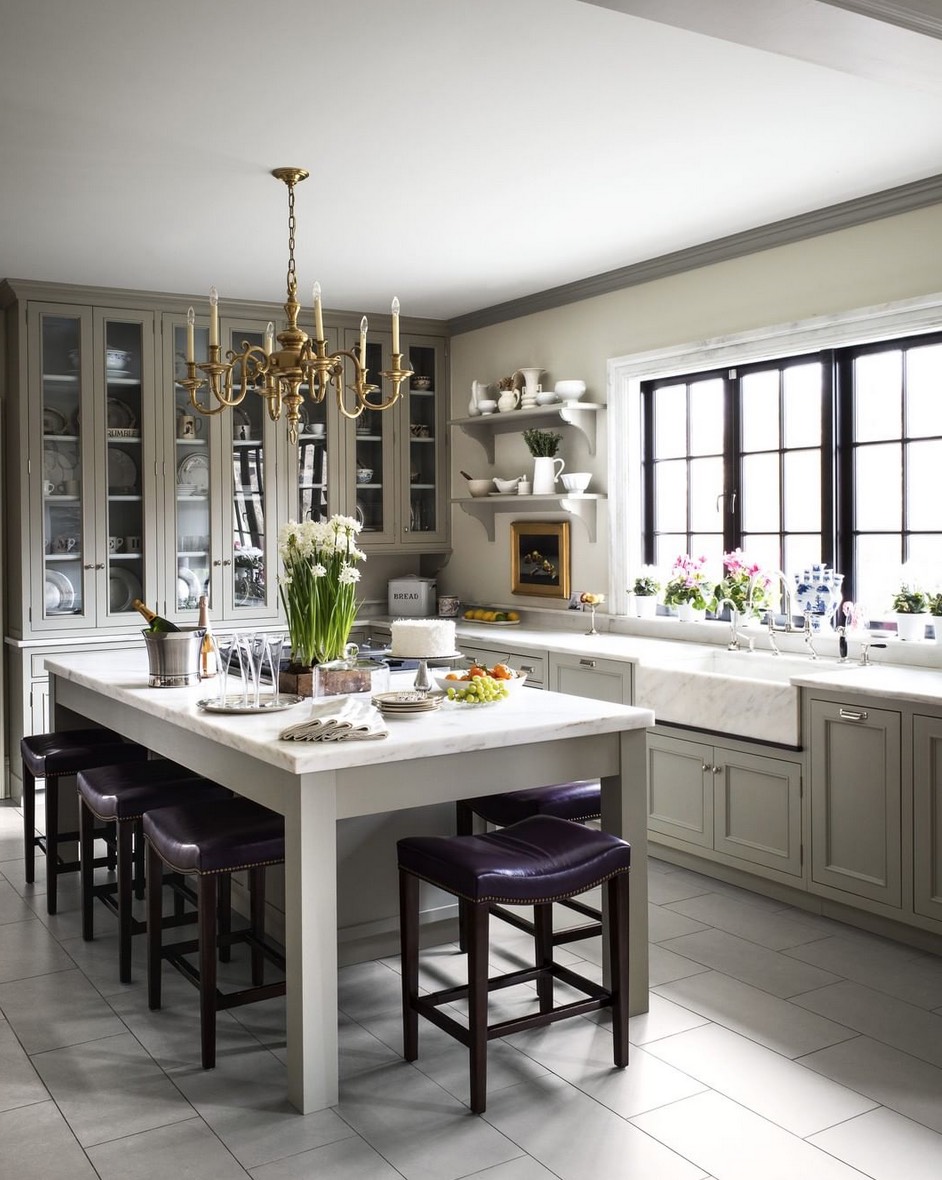 30. Two-toned pendant
While most pendant lights stick to one colour, this one combines two. The inside is brass and the exterior is white. I like how the brass peeps out from under the white cover. It's such a nice touch that adds interest to this blue-and-grey kitchen.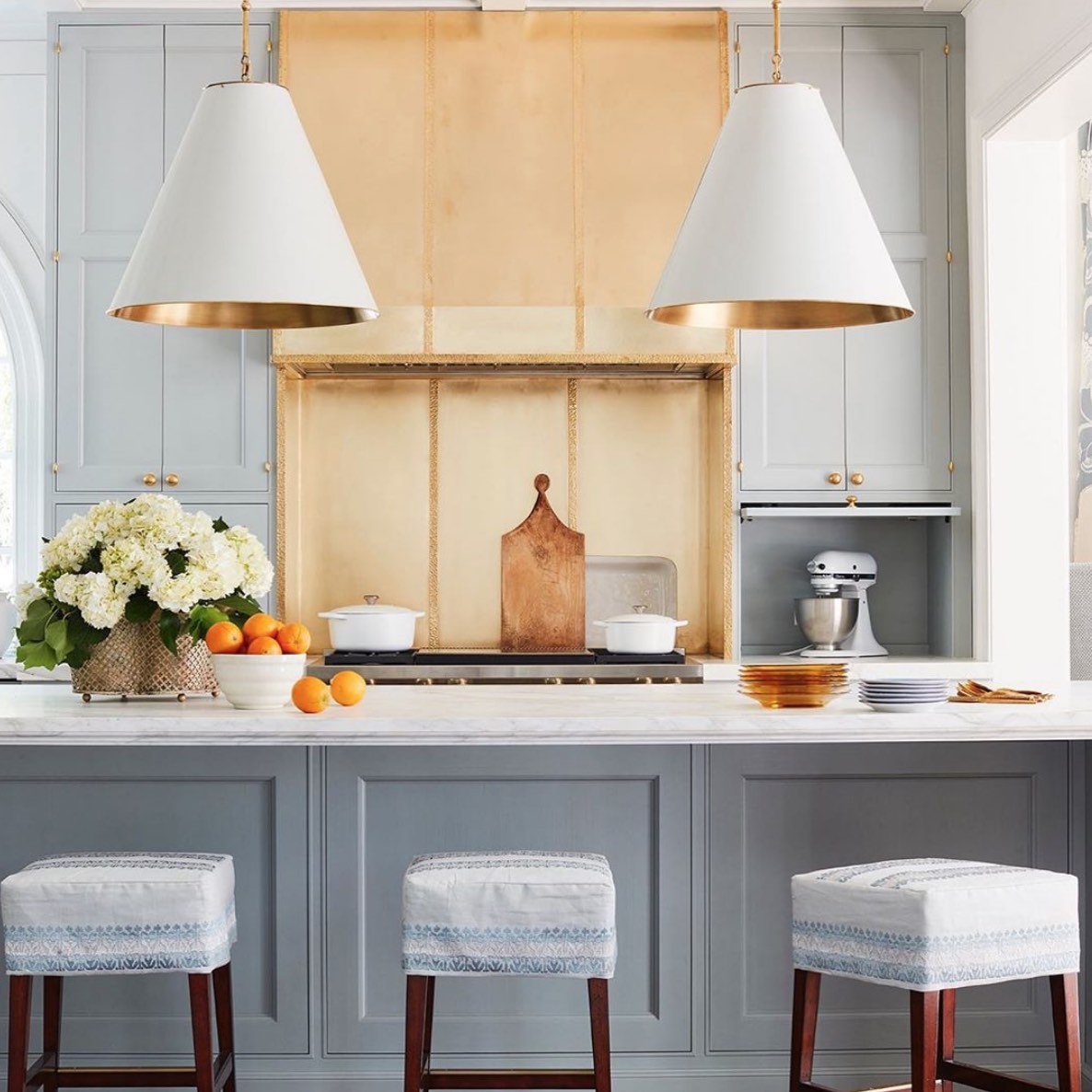 31. Circles and lines
Here's another brass number but this time it includes circles and lines. This just proves that you can have a lot of fun with lights. While you may be tempted to choose something simple and minimalist like everyone else, you can opt for a unique style that makes a statement instead!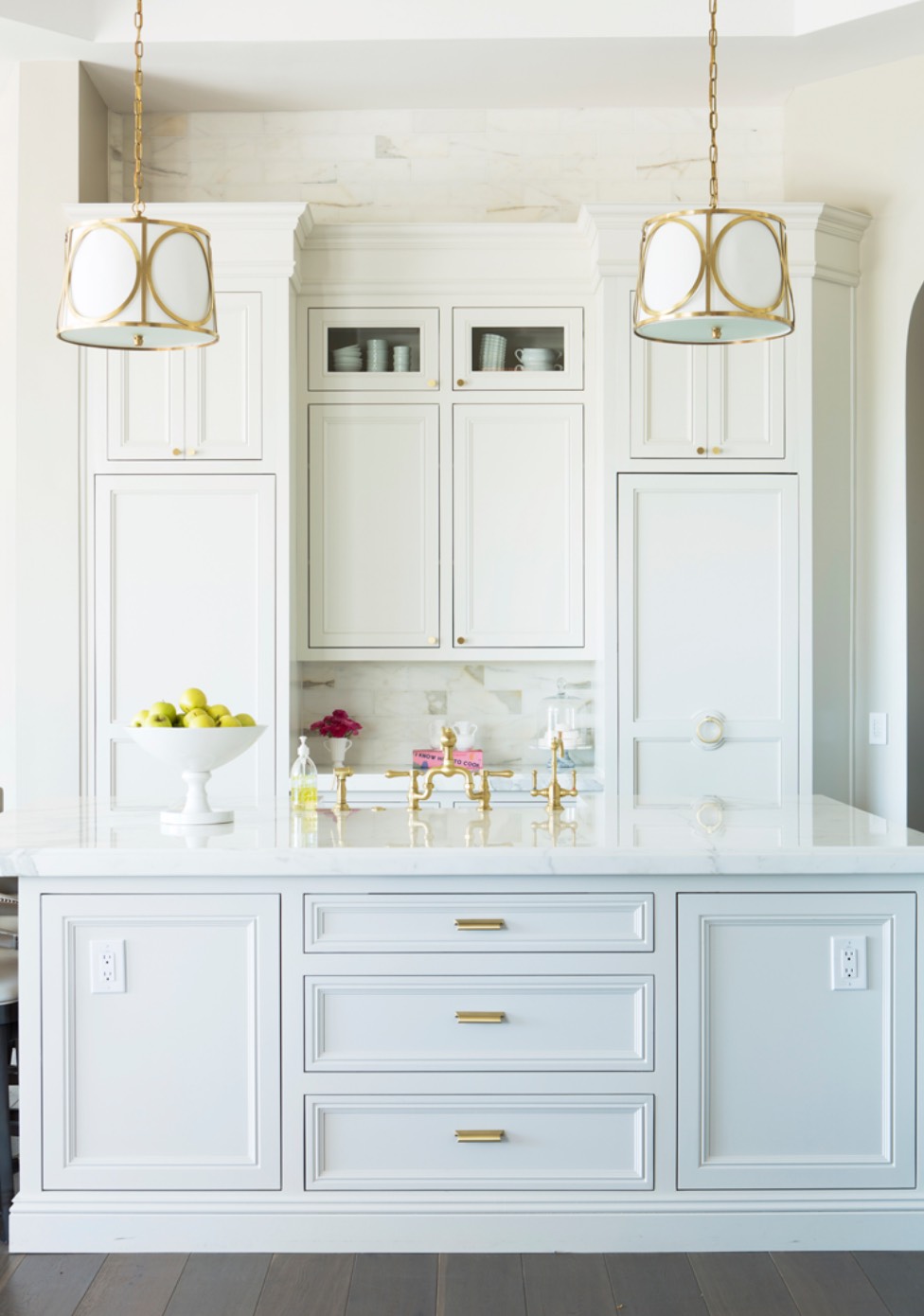 32. Large glass globes
Speaking of choosing something different, these large glass globes make a statement! The benefit of these glass globes is that the light will bounce off the glass and reflect around the room.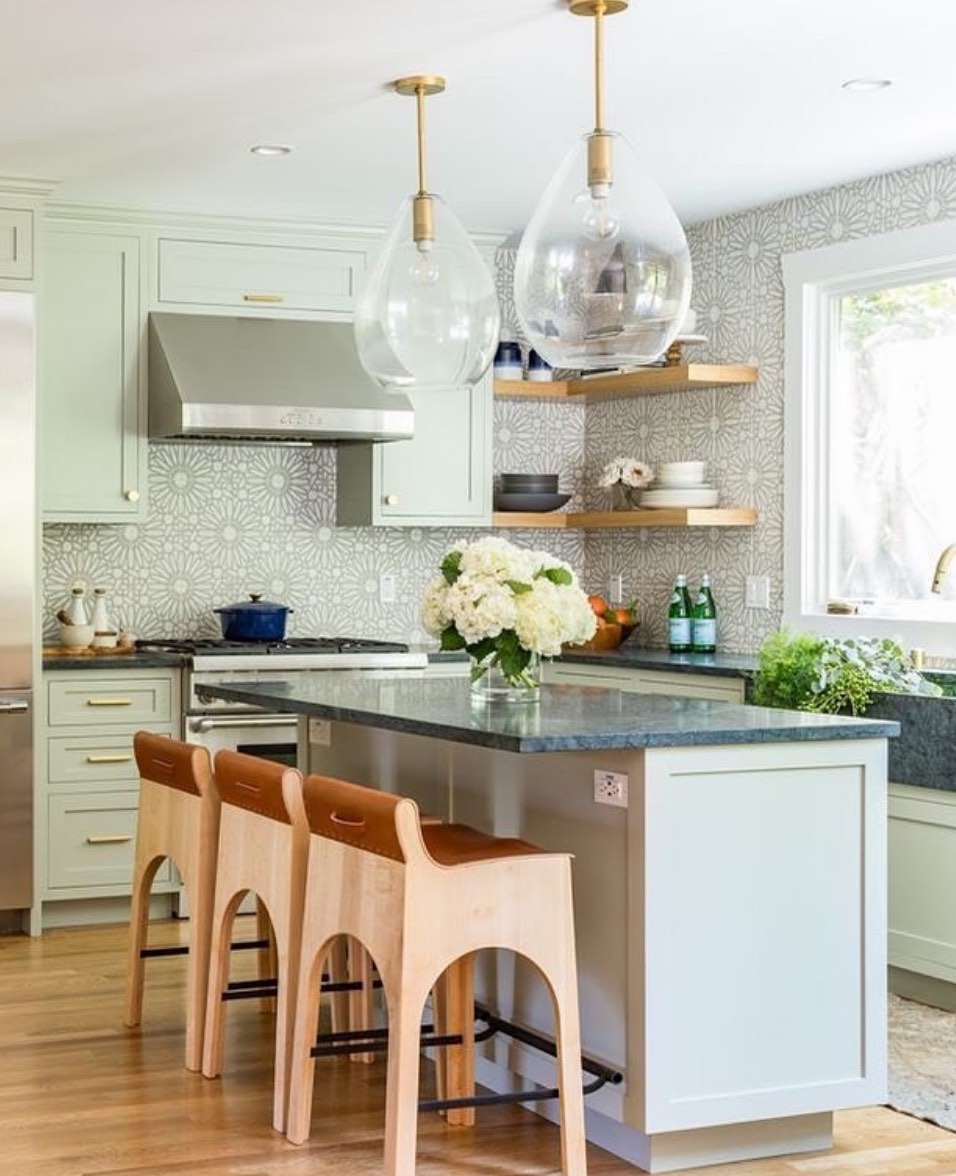 33. Black and brass
Like the white number from a few items earlier, this black globe has brass on the inside. To keep the colour scheme consistent, this kitchen design includes brass decor on the benches and shelves. There's the fun cocktail shaker, and then there's the little pineapple-style pourers.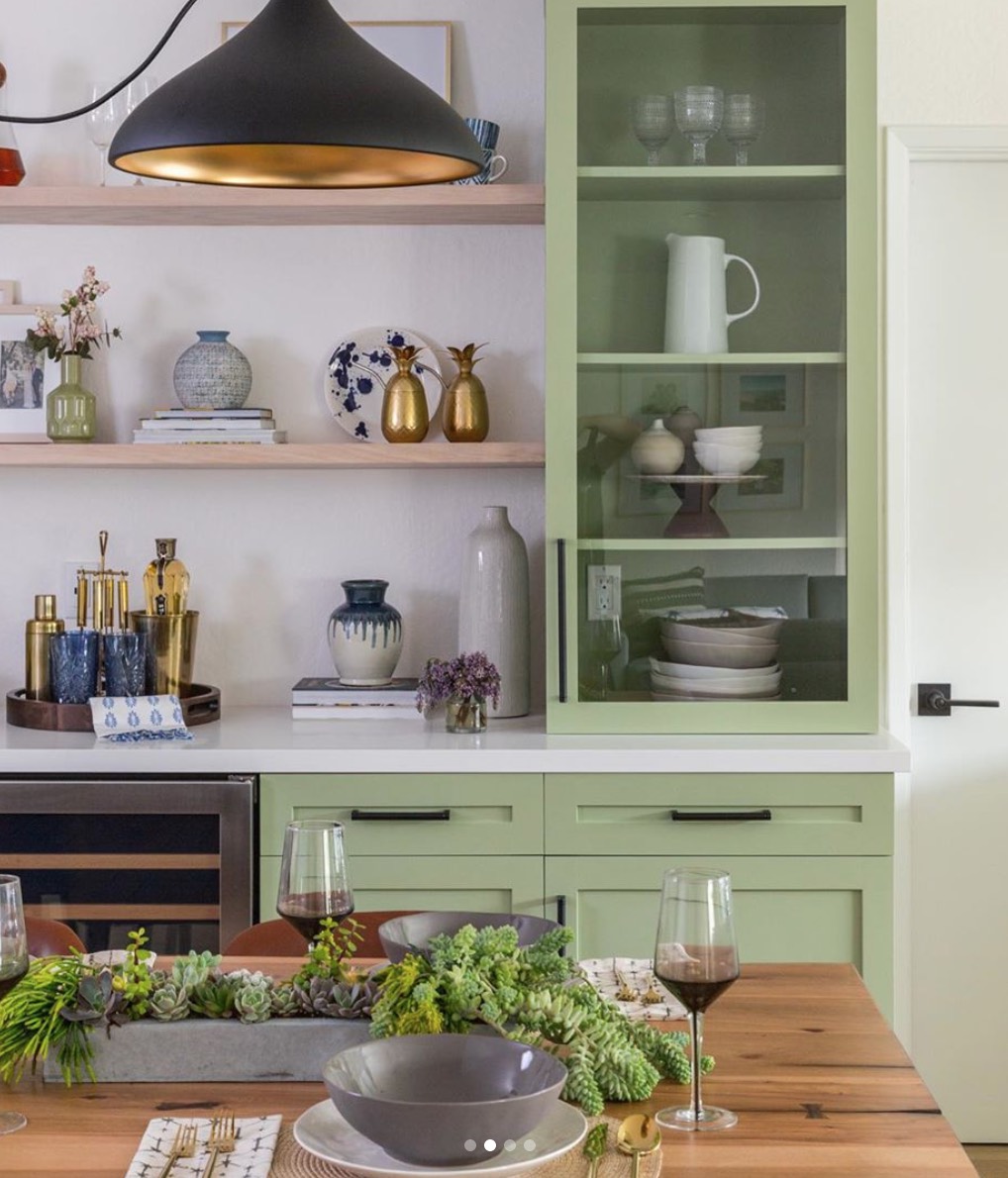 34. Singular bulbs
This is industrial design at its finest. If you want to recreate this look, then choose lights that are stripped back and simple. These hanging bulbs on the black electrical cord are as simple as you can get. I love how heaps of them have been dotted around the kitchen. And when they're turned on, they'll give off a gorgeous glow.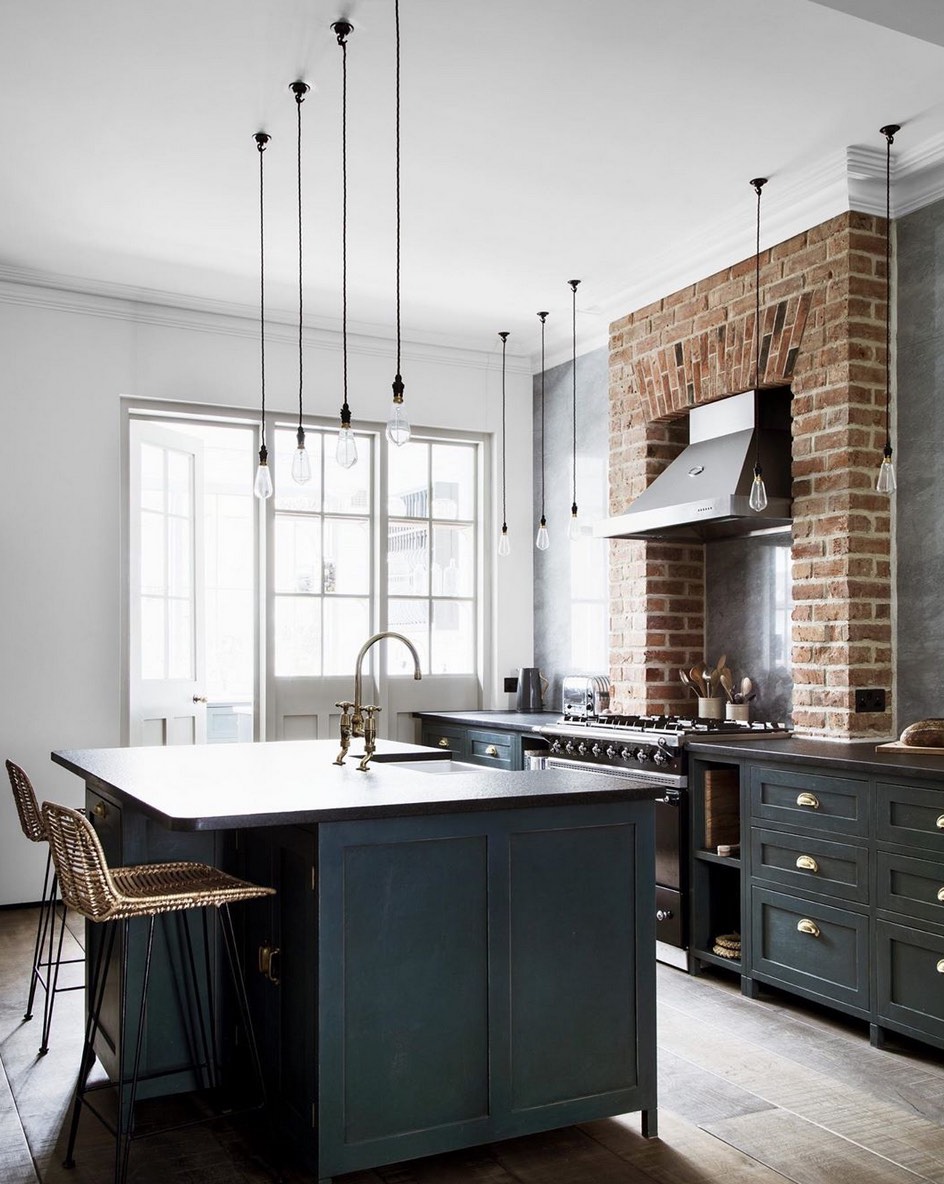 35. Pipe lights
Here's another industrial design. But this time, the lights have been incorporated into the exposed pipes. Isn't that cool? Each light has its own pipe that encases its electrical cord. What a fun way to light up your kitchen bench!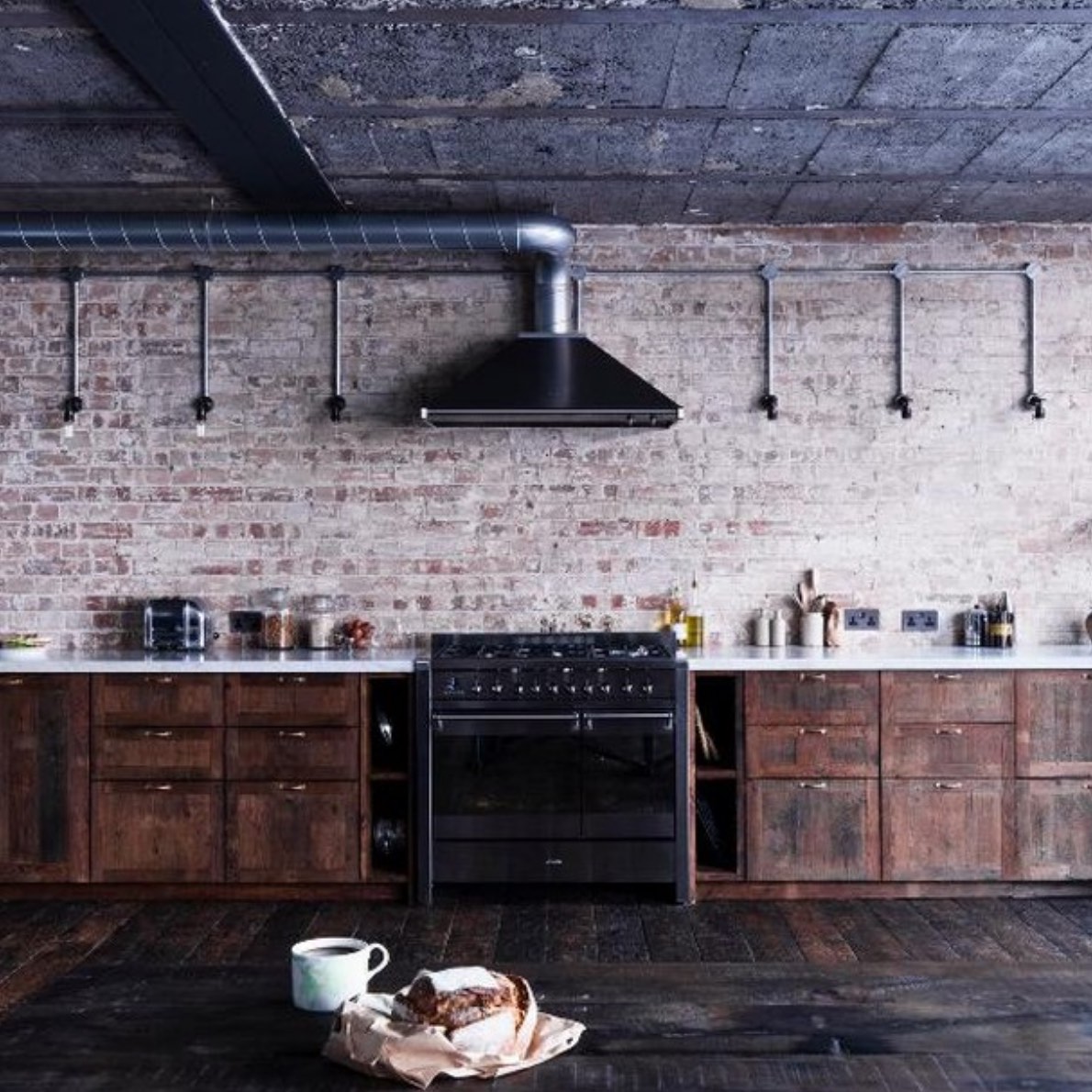 36. Tinted globe
If you want to add some light and shade to your kitchen lighting, choose a tinted globe. This allows the light to contrast against the rest of the white kitchen. And the silver looks great paired with this tinted glass.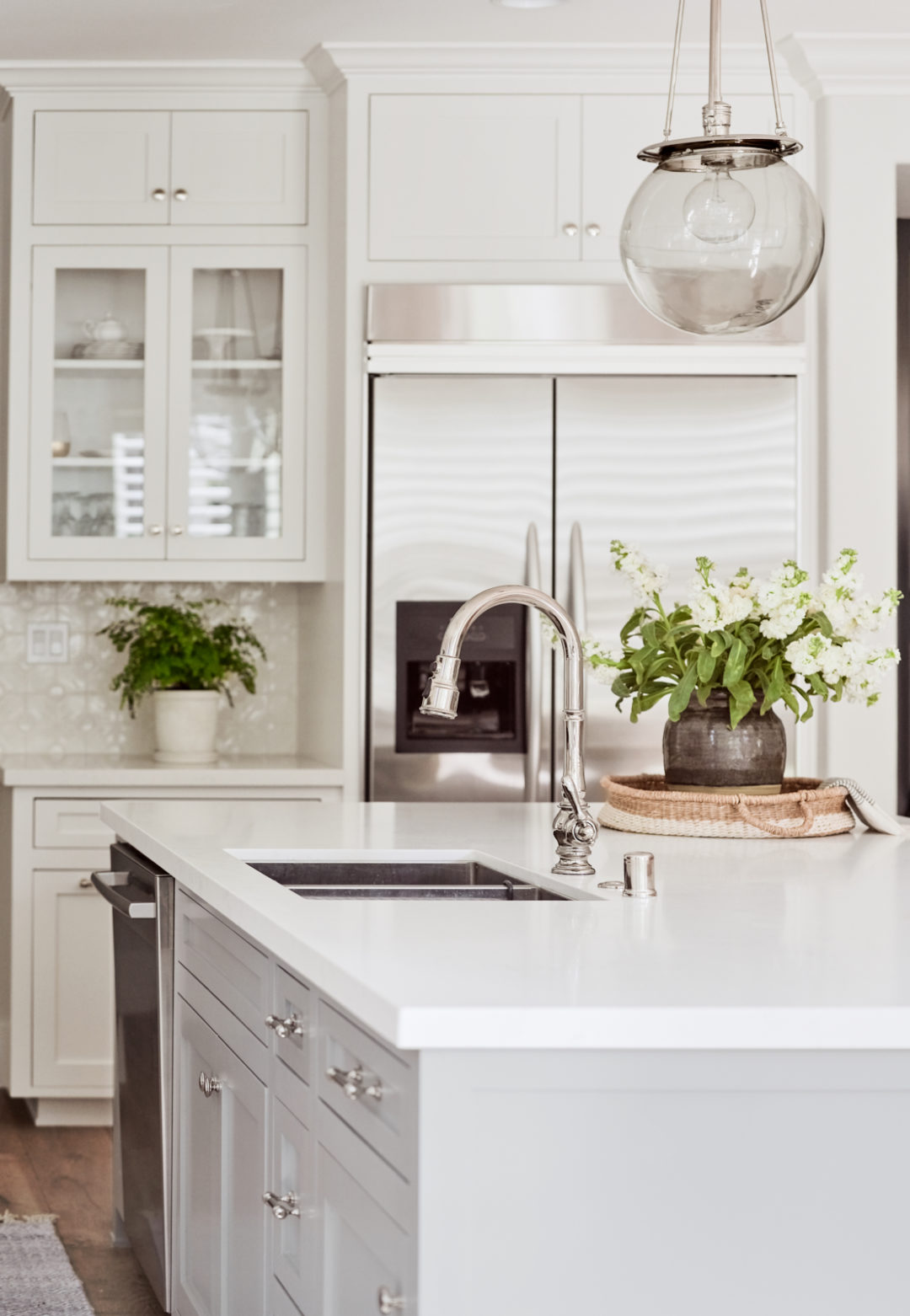 37. Brass globe
Yup, more brass! Are you sick of it yet? I hope not. This design isn't like anything I've ever seen before. It's a hollow, brass globe with lots of detail. And it adds plenty of texture to this clean timber and light kitchen.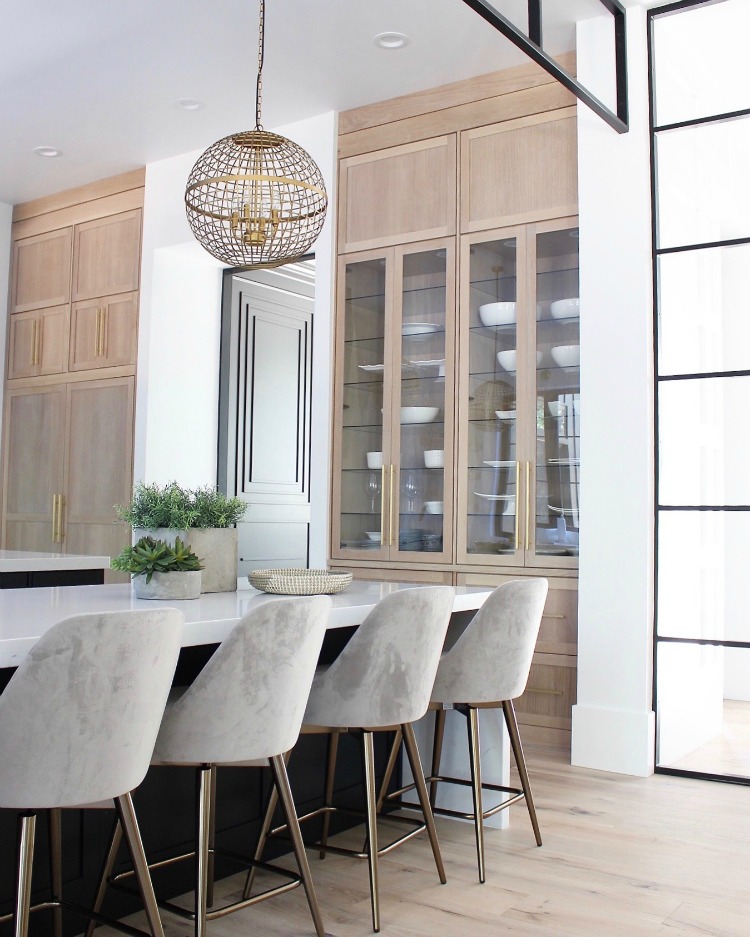 38. Trio of pendants
These trio of glass-and-brass pendants create a striking focal point for this kitchen. And I love how the brass has been intertwined throughout the kitchen, particularly with the brass stand holding the dark green velvet stools.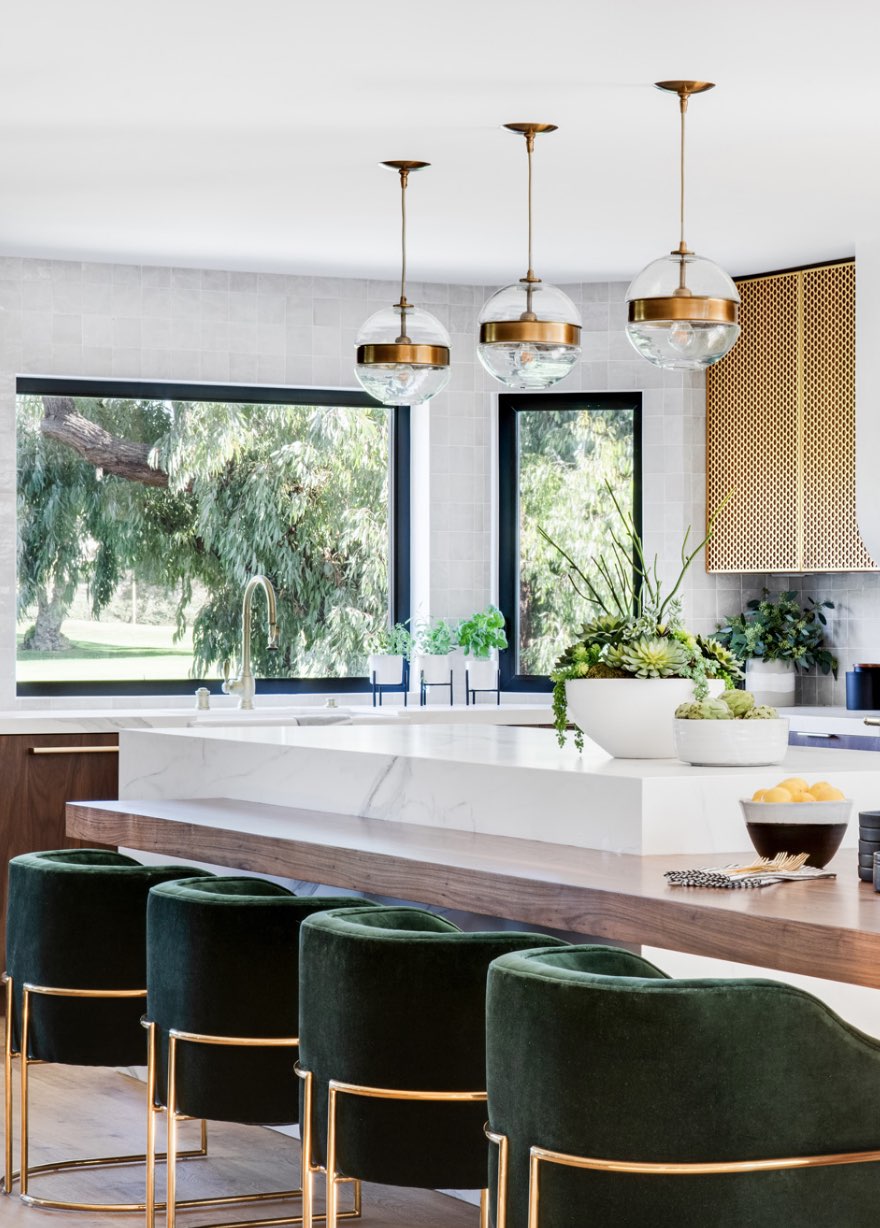 39. Spiky light
Fancy something different? Check out this black spiky light. While this light packs a punch, it also blends in with the black countertop on the left and the black cabinetry on the right.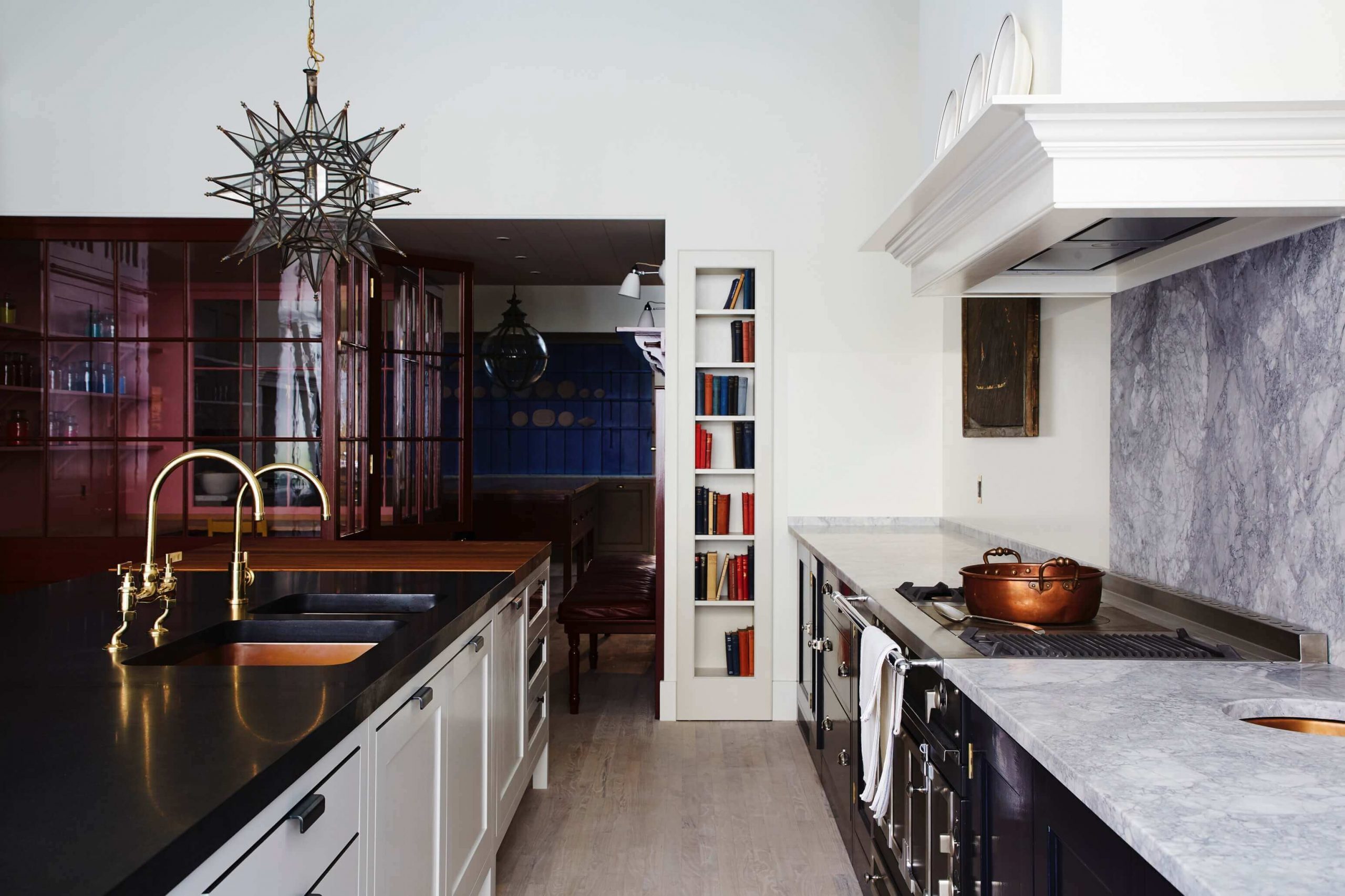 40. Detailed pendant lights
These fancy twisted pendant lights add character to this modern-traditional kitchen. If you're looking to recreate this design, you can ensure your home is warm and inviting by using pendant lights like these that have metallic copper tones as an accent in the fixtures and fittings. Copper is a natural and durable metal that will look wonderful in period or modern homes, and it'll be sure to last the test of time!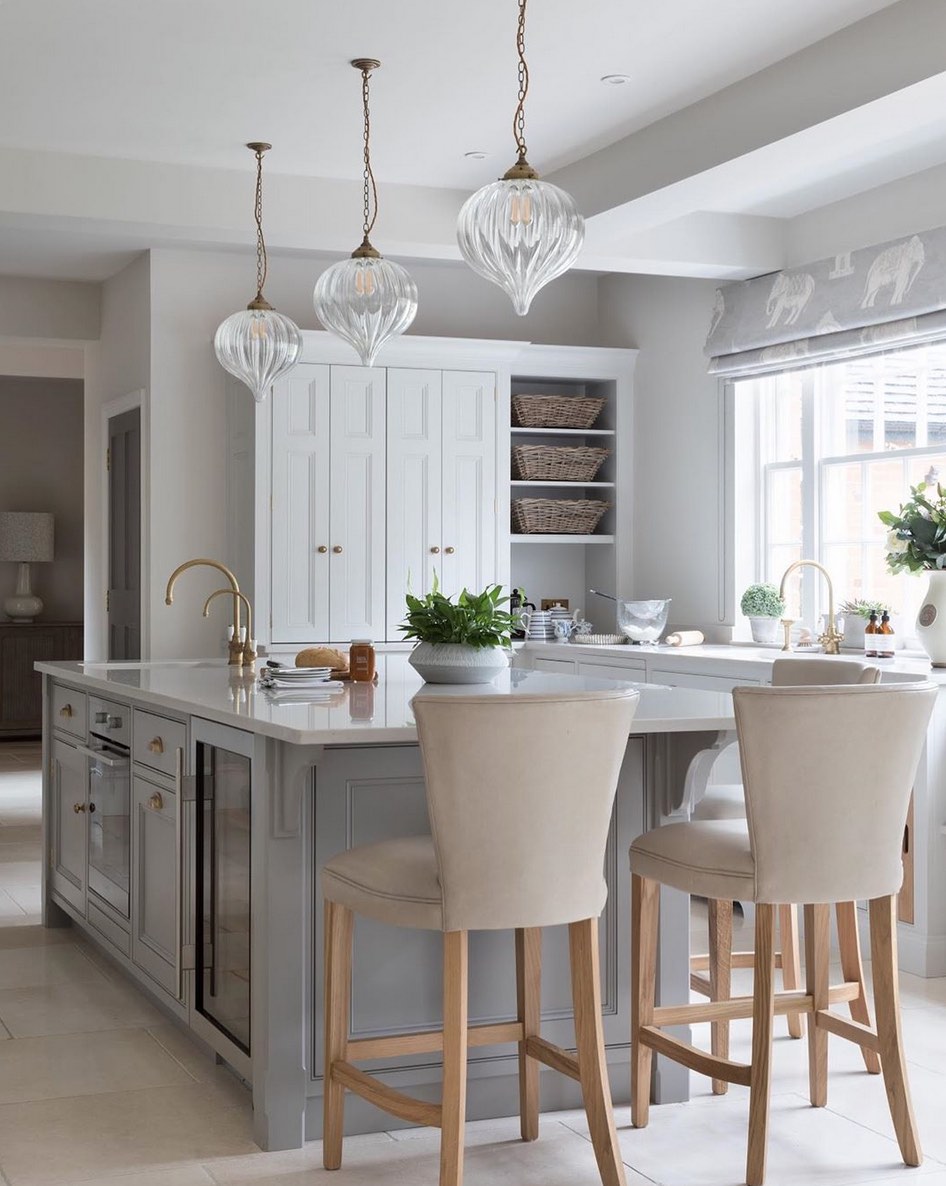 41. Wall lights
While hanging pendant lights are usually the focus of attention when it comes to kitchen lighting, it's important to consider wall lights. These understated beauties add light where it's needed the most – above benchtops and sinks. And they can be used to highlight important feature pieces like decor or paintings and prints.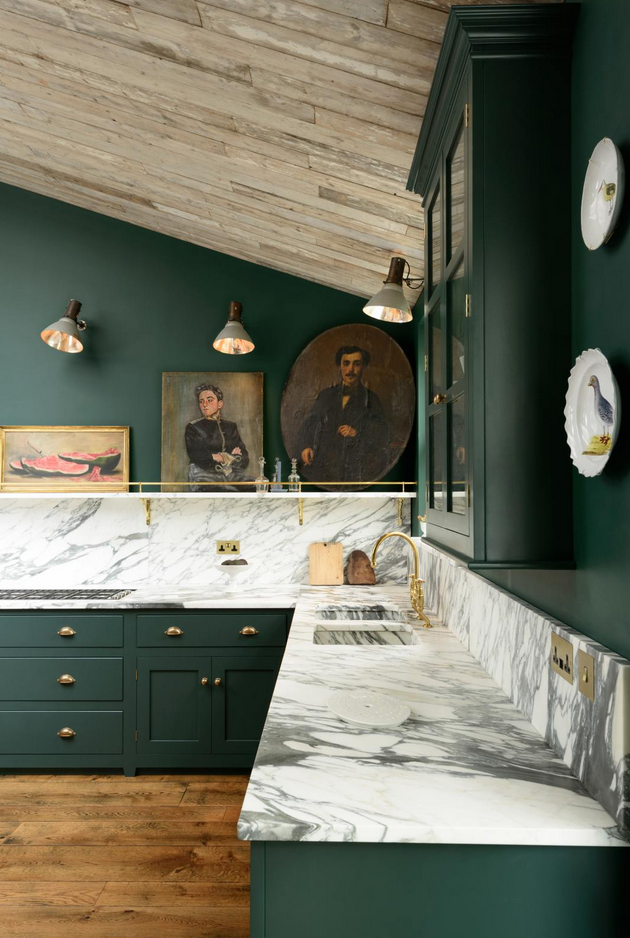 42. Feature piece
There's nothing like a fancy feature piece to catch the eye and make your guests exclaim "wow!" And I love this one. It almost looks like an outstretched tree branch with little branches sprouting out the sides.  The unstructured style makes it a great fit over the top of the structured rectangular dining area.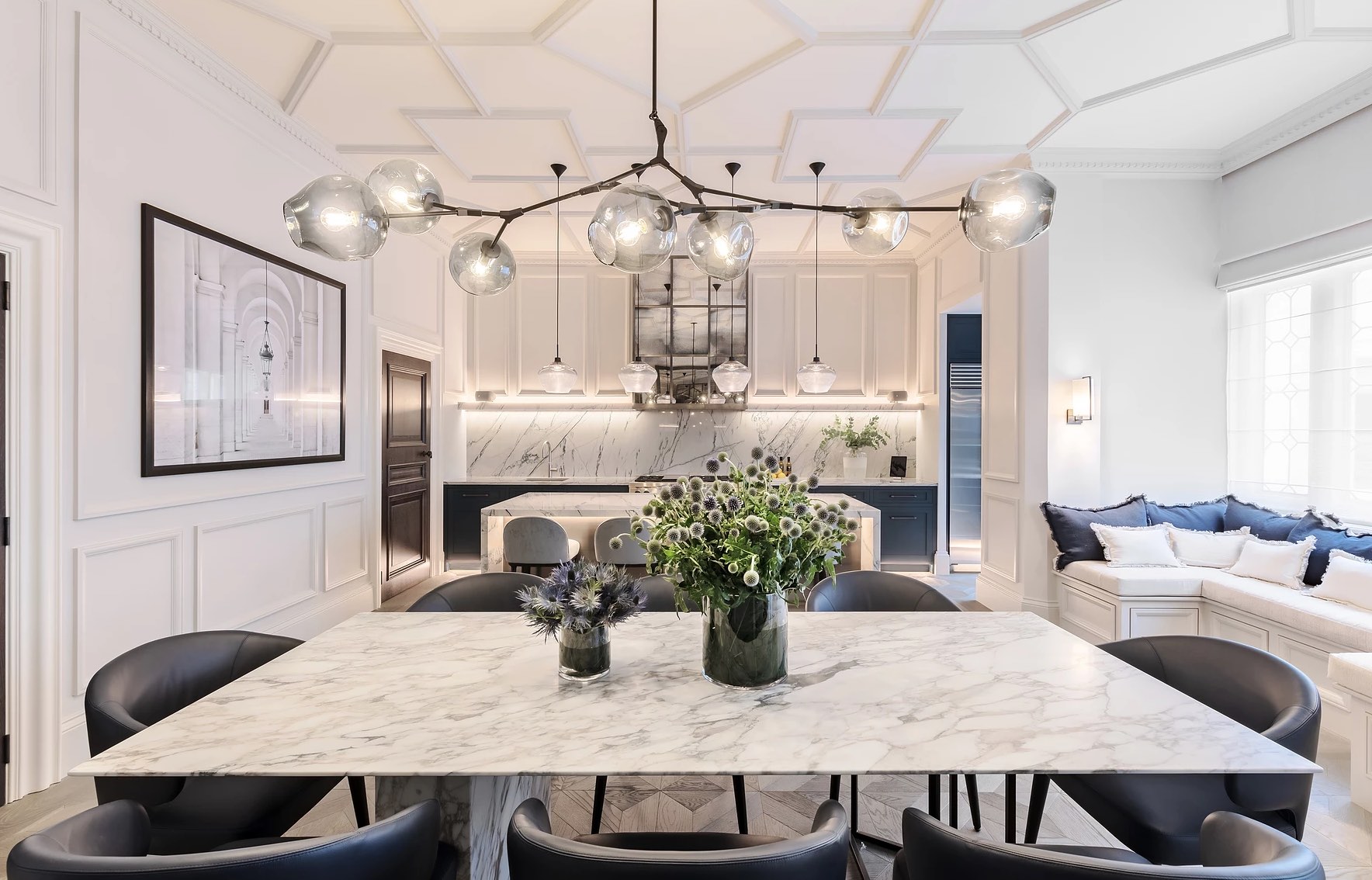 43. Dark green glossy pendants
If you want to choose coloured light shades, then it's important to first think about the existing colours in your kitchen. Take this kitchen's lighting, for example. The kitchen design is a light blue-grey and has touches of grey timber and neutral tiles. The glossy green light is a similar cool shade and it complements the blue kitchen.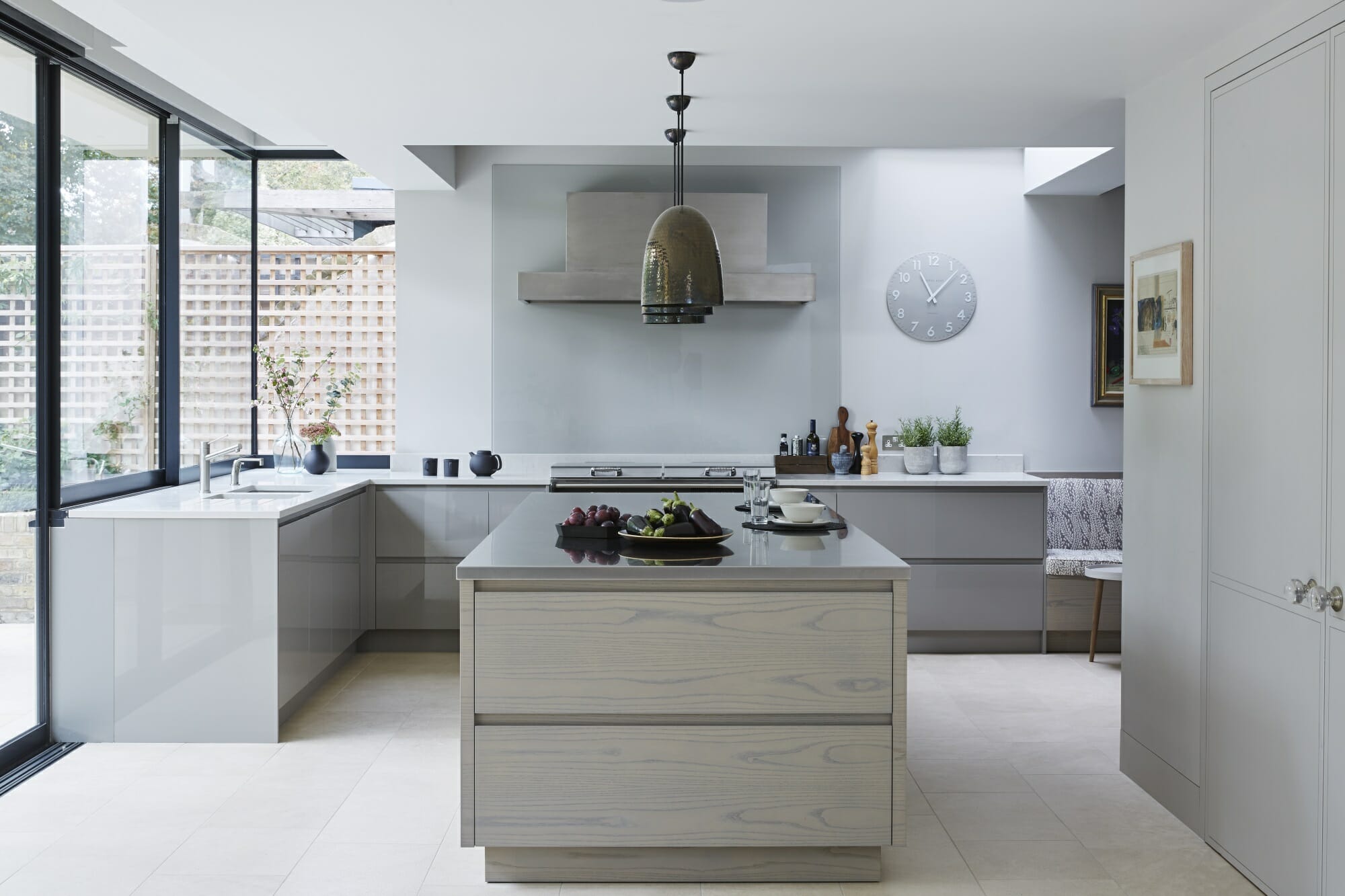 44. Dandelion chandeliers
While it's important to choose great lighting for practical purposes. You should also allow yourself to have a bit of fun. Choose something out of the box, like these dandelion-inspired chandeliers. These glass beauties look great surrounding the traditional kitchen island, and I bet they would look pretty cool in your kitchen too.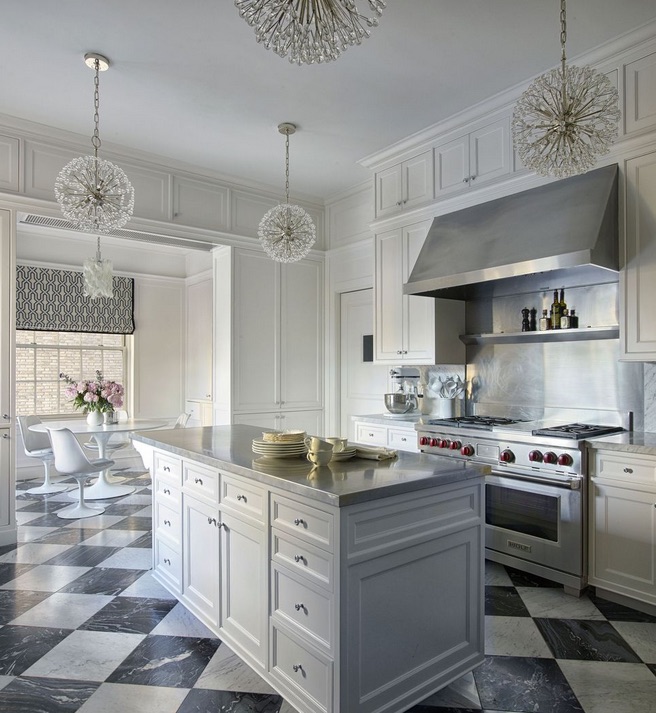 45. Single feature light
Sometimes less is more when it comes to lighting – especially when the piece makes a statement. And this is especially true for this lighting fixture. It's the perfect choice for this simple kitchen, because it adds style and character to the space!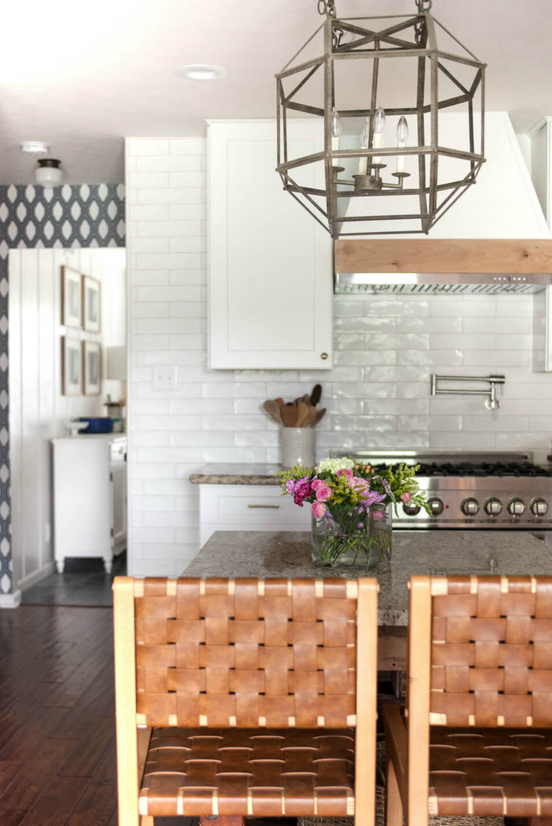 46. Rattan lamp shades
Over the last few years, rattan has had a renaissance, and there are no signs of the trend fading anytime soon. While there are so many ways to incorporate rattan in your kitchen, one of the most simple and effective ways is to install rattan pendants. They typically resemble upside-down baskets, and they are a more relaxed option than fancy chandeliers. And they add a boho touch to your kitchen. Whether you're into boho style or not, rattan is worth considering. However you use them, they'll look fabulous.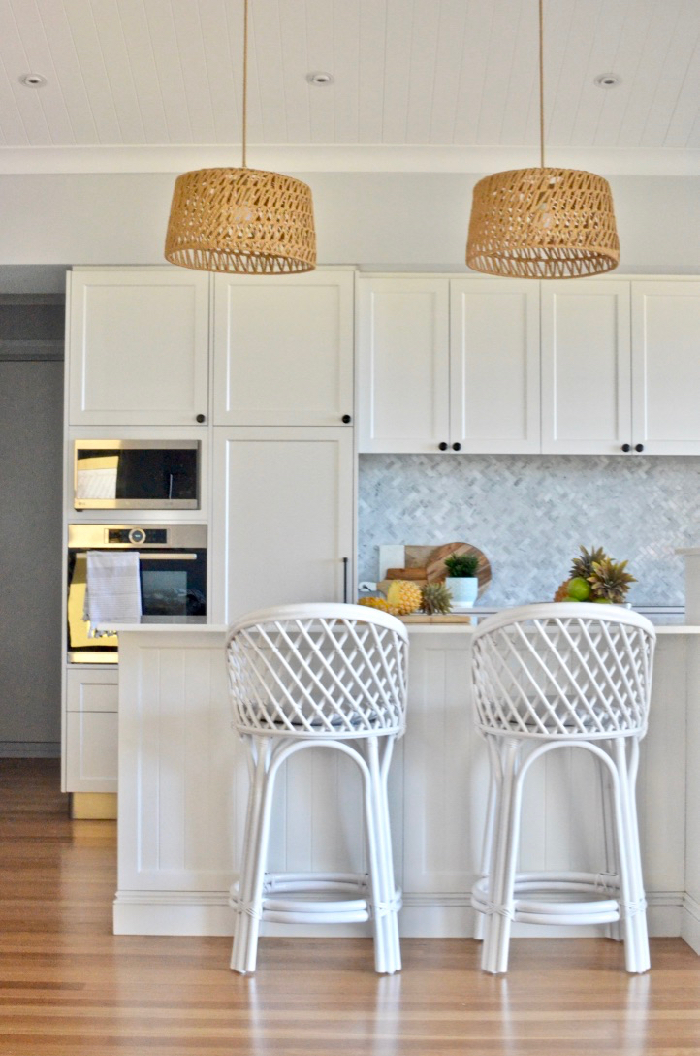 47. Light above the sink
Add atmosphere to your kitchen by placing your wall lights in strategic spots like above your sink, on top of floating shelves or in little nooks and crannies. Take this lighting fixture, for example. The gold light is not only a beautiful addition to the kitchen decor, but it would also add a gorgeous glow over the sink.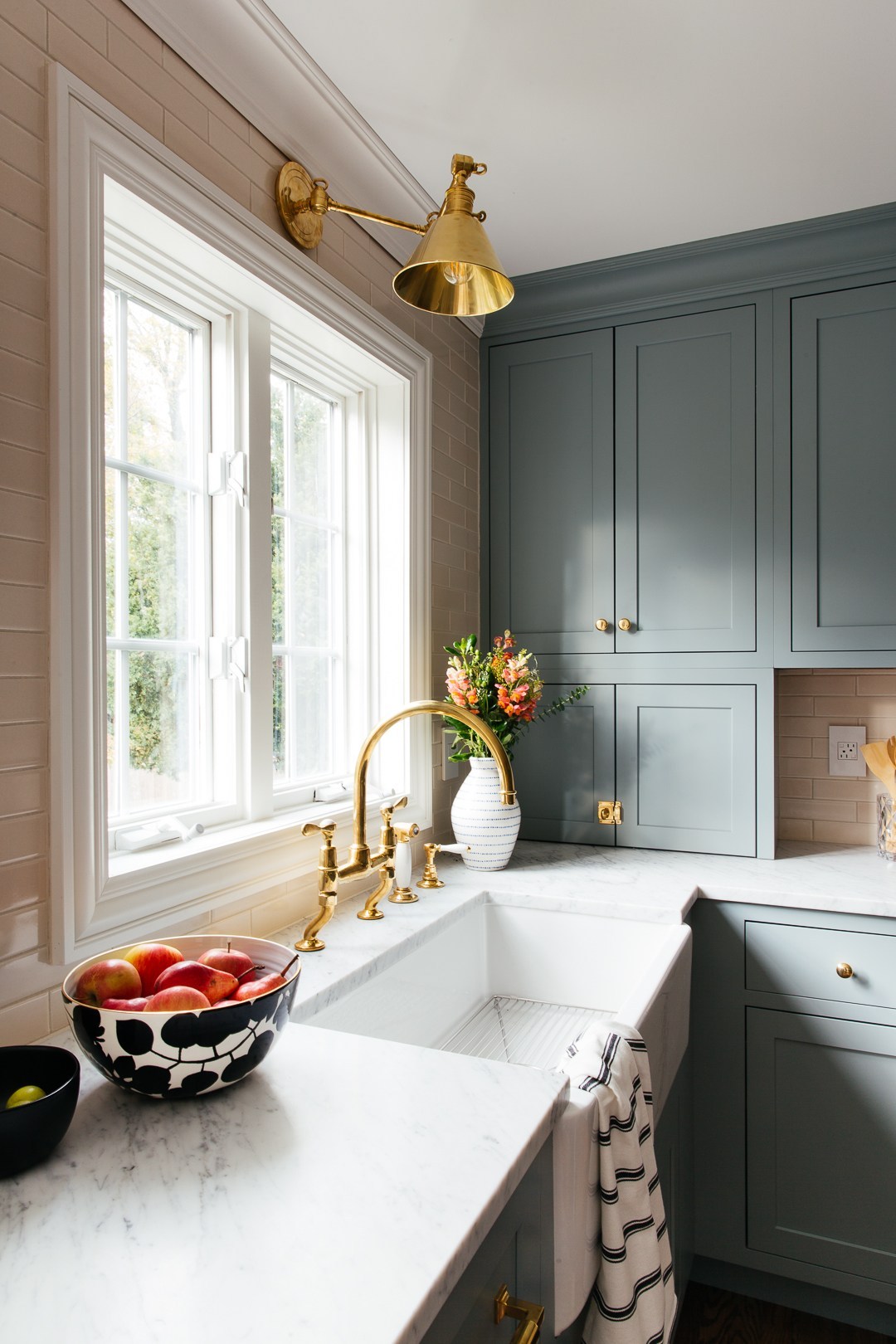 48. Spiky gold chandelier
Forget traditional lighting choices and choose something modern and contemporary instead. This gold spiky light is a fun choice to add life to your kitchen. And you can easily tie it into the rest of your design by choosing gold hardware and finishings.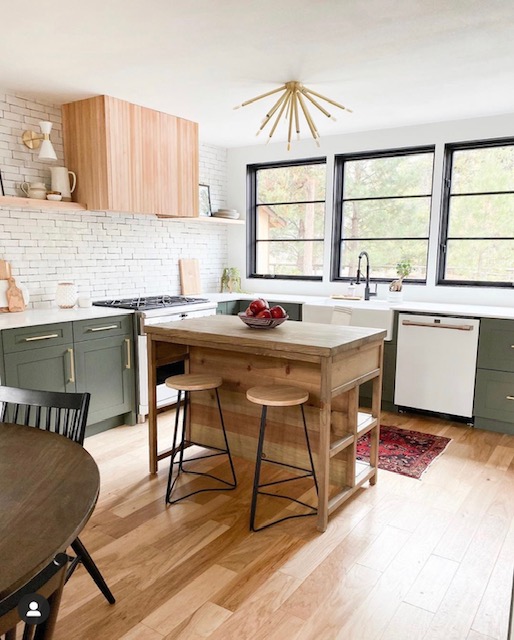 49. Small black wall lights
If you're looking for something more discreet that will light up your shelves then you should consider small wall lights like these. You can find them in a range of colours and styles – from white to black to brass and everything in between. Just make sure you choose a colour that suits your kitchen colour scheme.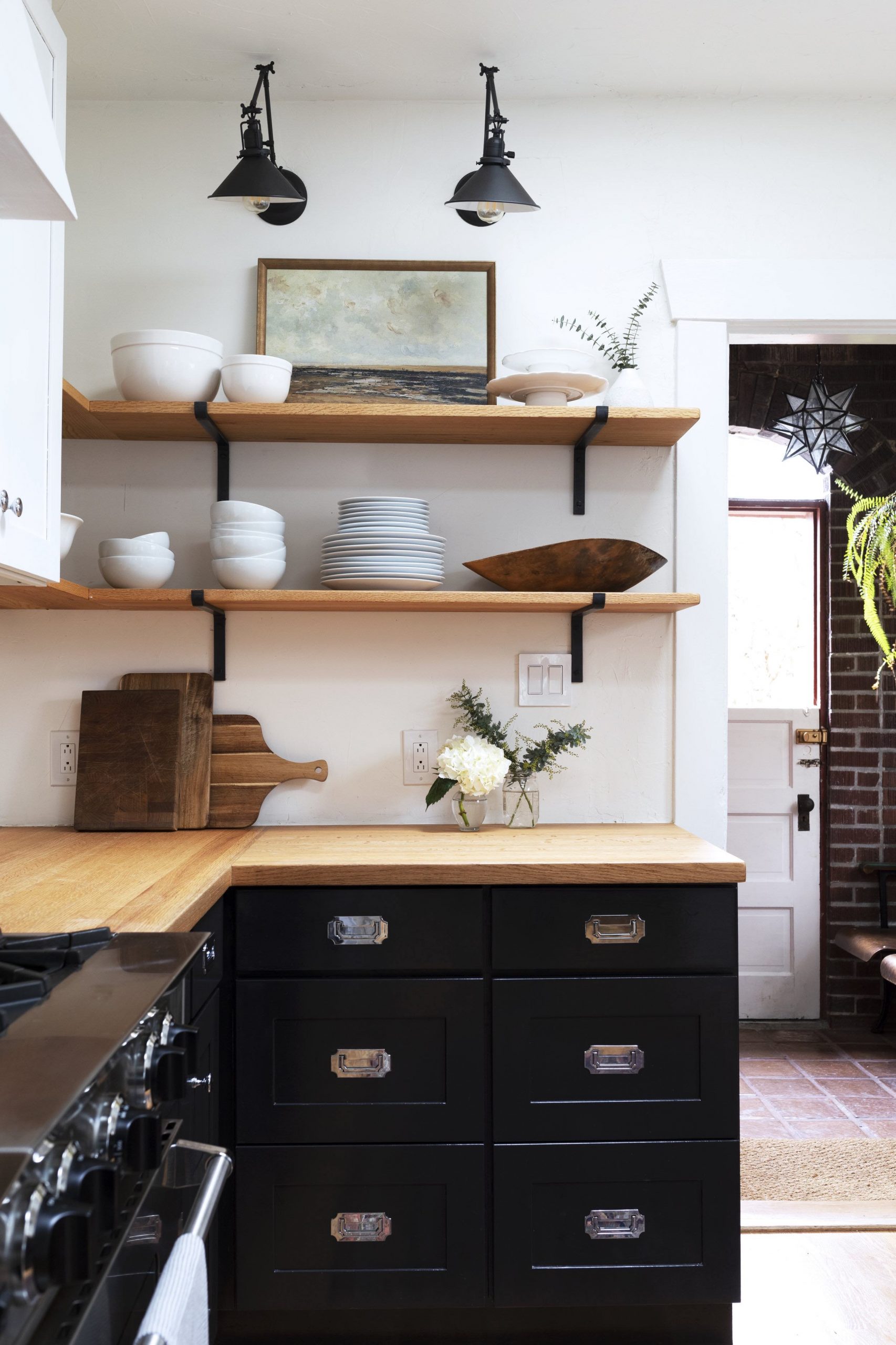 50. Black and white lights
How cool are these fancy hanging lights? If you're looking for something different, you can always choose something out of the box. These glossy black and white four-part lights stand out like a fancy art installation in this large kitchen. This just proves that lighting doesn't just have to be practical but it can be as effective as a picture on the wall or beautiful piece of decor on the bench.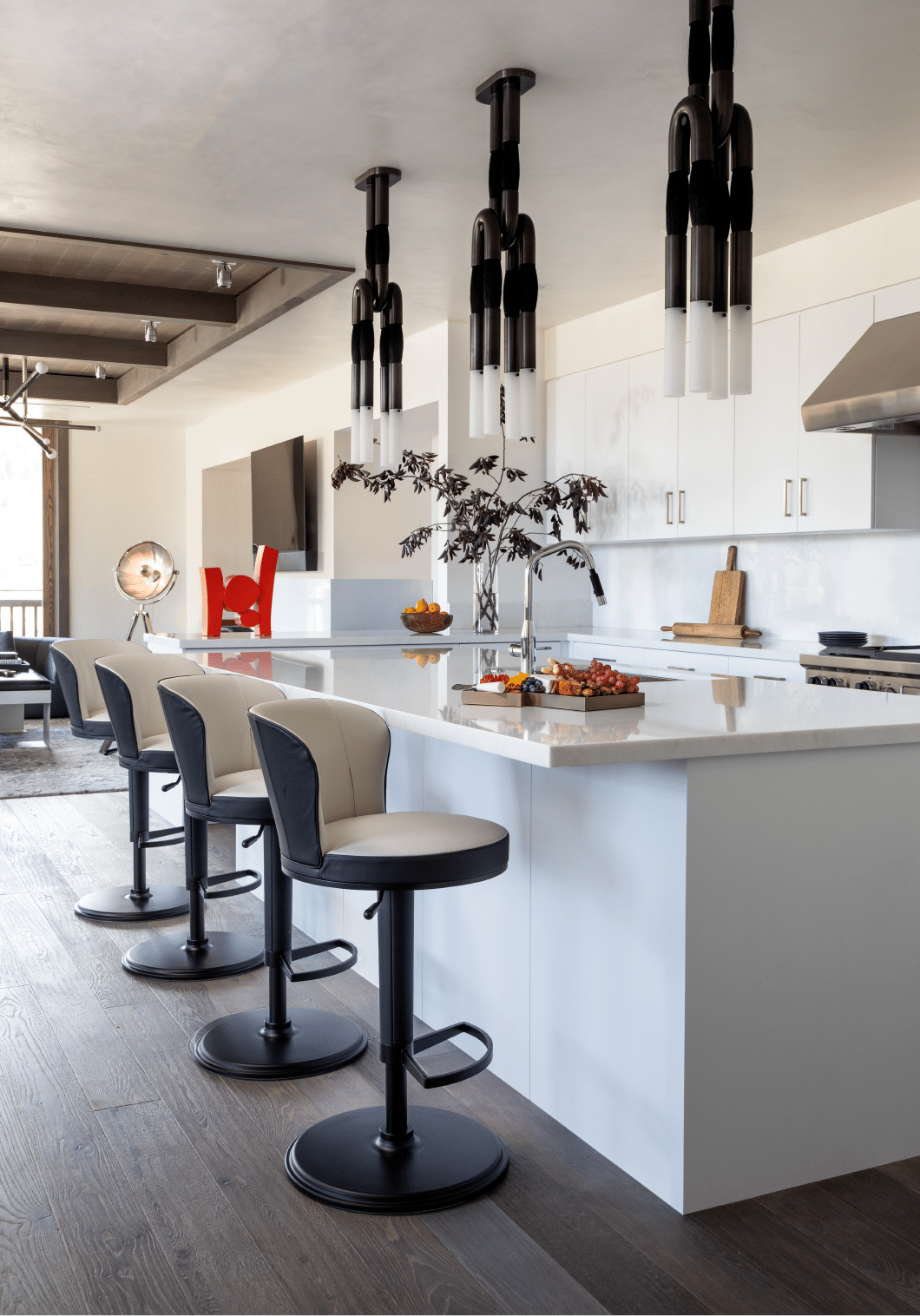 There you have it – that's 50 kitchen lighting ideas, including kitchen pendant lights, functional lighting, wall lights and more. Of course, you'll need to choose the best lighting for your unique space. And make sure the colours match up with your cabinets, benchtops, flooring and existing hardware.
Before you go, I'd love to hear from you! Which lighting fixture is your favourite? Maybe you prefer coastal rattan or ceramic white. Or perhaps your style is modern brass or multiple bulbs encased in clear glass. Comment and share your favourite! And if you think something is missing from the list, comment and share your lighting suggestions.