The dreaded galley kitchen! Just the name evokes narrowness, stinginess, corridors and chaos. But it doesn't have to be that way. Considering a small galley kitchen remodel? While you may at first think you'll just have to expose a wall and put in a kitchen island, designers say not so fast. The galley kitchen has its advantages, too, and it really doesn't have to feel claustrophobic. Some professional chefs even express a preference for a galley-style kitchen. There can be added safety and efficiency and the opportunities to be really clever about handy, bountiful storage.
Galley kitchen layouts
This style of kitchen takes its name from the kitchens on ships and aircraft. It's typically a narrow passage framed by two parallel walls or runs of units or counters. Usually an enclosed space without a dining area, seating can be incorporated as you'll see.
Galley kitchens can have a symmetrical look (where the length of runs and the arrangement of units are mirrored on each side). Or it can be asymmetrical (with a mix of tall and low cabinets and banks of appliances). Very narrow galleys usually favour an asymmetrical look to stay as streamlined as possible.
Galleys can be closed at one end with a wall, which means you have room for open shelving at one end. Or you might simply wish to hang a painting or mirror or paint up a family-friendly chalkboard wall. When they are open-ended and lead somewhere, this increases foot traffic. If that's the case, designers tend to enhance safety by having sinks and cooktops on the same run.
If you have a galley kitchen you'll really need to take advantage of small space design tricks. For example, dividing spaces according to function and grouping appliances behind a cupboard. Or by installing floating shelves and concealed cupboards. You may find the space appears less cave-like without upper cabinets or if you arrange all the cabinets in one space. The use of different materials and colours can also help break up the feeling of being in a hallway.
Maximising efficiency in a minimal space isn't always easy. But here are our favourite suggestions for using up all the space in the most welcoming and warm way possible.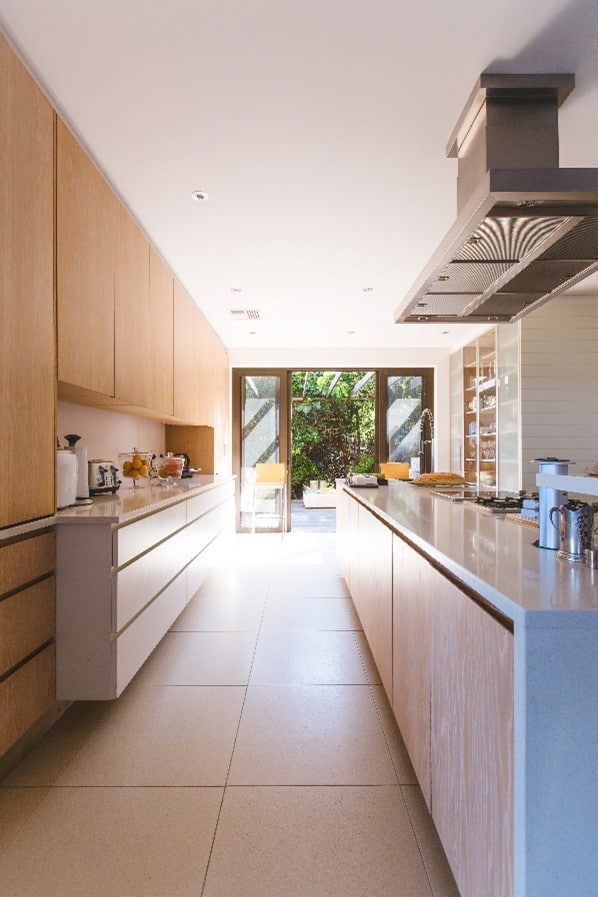 Galley cabinet ideas
There are many decisions to make when it comes to a galley kitchen remodel. Choosing your kitchen cabinets will come down to considerations of styles and materials. You'll need to decide on handles, cabinet lighting, specialised elements like bin drawers and corner cabinets.
For cabinetry, you basically have a choice of three types: stock, semi-custom and custom. The type you'll choose will depend on your budget and your aesthetic choices. But stock cabinets are usually the most entry-level price point. Semi-custom affords more styles and finishing options. And custom cabinets will give you the biggest choice of wood type, finishing and construction platform. To work out which options are most suitable to you, you may like to discuss your needs with an experienced kitchen cabinet maker.
Cabinets usually come in either flat panel or Shaker-style looks. Flat-panel is becoming more popular as sleek, streamlined and minimalist styles become a key look. However, modern kitchen design centres on 'balanced eclecticism'. This means aiming for a harmonious mix of varying eye lines, visual weights and modular layouts. And it means using a variety of materials to provide visual and tactile interest.
1. Flat panels
Unfussy and unashamedly modern. You can have handles on flat panels but push systems work best for a galley kitchen.
2. Shaker style
These are based around a five-piece design and are popular in farmhouse and Hamptons kitchens.
3. Open shelving
Decorators are still enamoured with open shelving. It affords the ability to make a strong style statement when filled with curated objects that are pleasing to the eye. And open shelving works wonders in the narrow galley kitchen. Whether metal, glass or wood, consider replacing your top cabinets with open shelving for a brighter, airier effect.
4. Floating shelving
Or you can add floating shelves with hidden brackets anywhere you have a little spare wall space. Floating shelves are a tried and true small space design trick. They allow you the opportunity to showcase your favourite kitchen items in a neat, unobtrusive way.
5. Concealed storage
At the other end of the spectrum are seamless cabinets with concealed storage. These provide a clean, streamlined integration of kitchen elements. When you install tall wall units or cabinets, the continuity can really open up the space.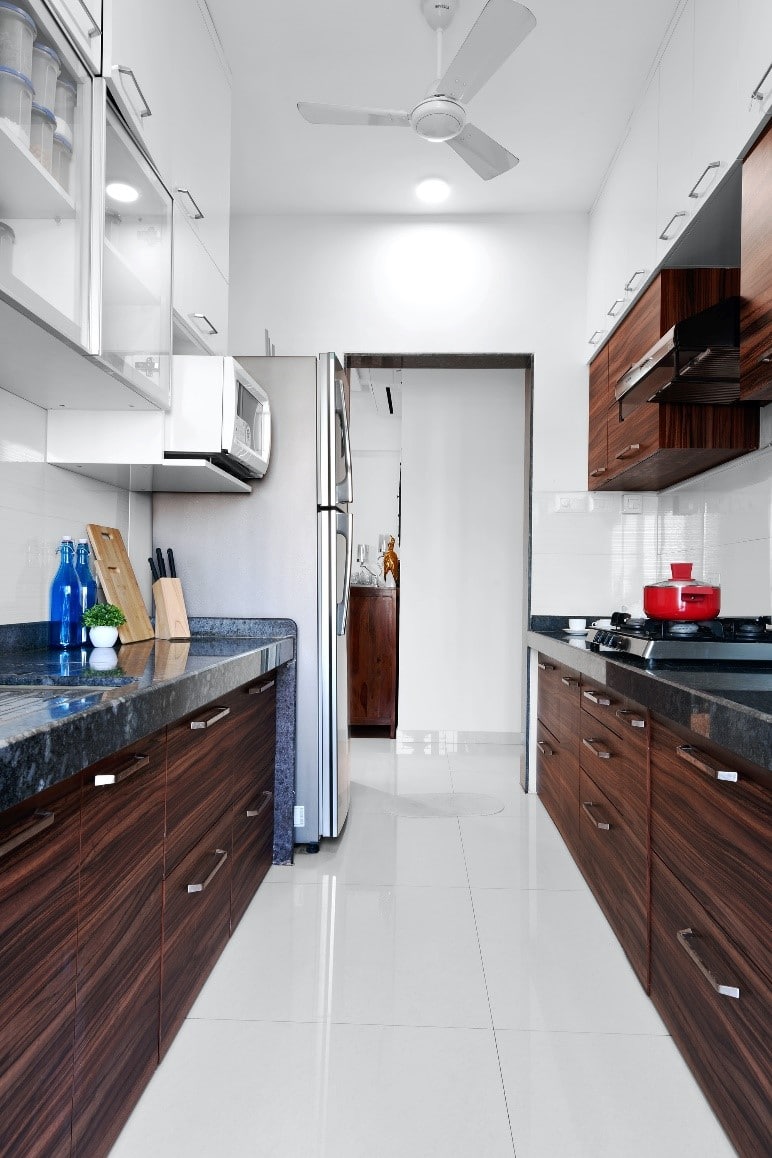 6. Ditch upper cabinets completely
A small space can feel claustrophobic with tall cabinets, so you might like to go with low cabinets only or consolidate cabinets into one place.
7. Add slim storage
Even if you only have a single galley, you can add a great deal of functionality by installing very narrow cabinets across the other wall.
8. Deep drawers
Instead of installing lower cabinets, you might like to go with deep, down-low drawers instead. This helps streamline a small kitchen and improves functionality. Rather than have to open doors and poke around, the contents can simply slide out to you. It becomes so much easier to find things than fishing around the gloomy back of cabinets. So consider installing drawers instead of lower cabinets when you're doing a whole kitchen remodel.
9. Integrated appliances and the 'appliance garage'
To really get a seamless look for your galley kitchen, hide your appliances in a cabinet, aka an 'appliance garage'. Getting things off the counters maximises your workspace. So plan to have as much stuff built-in as you can—for example, create a microwave drawer instead of having the microwave sitting on the counter. Luxury used to mean showing off your gadgets, but now it often means hiding your appliances.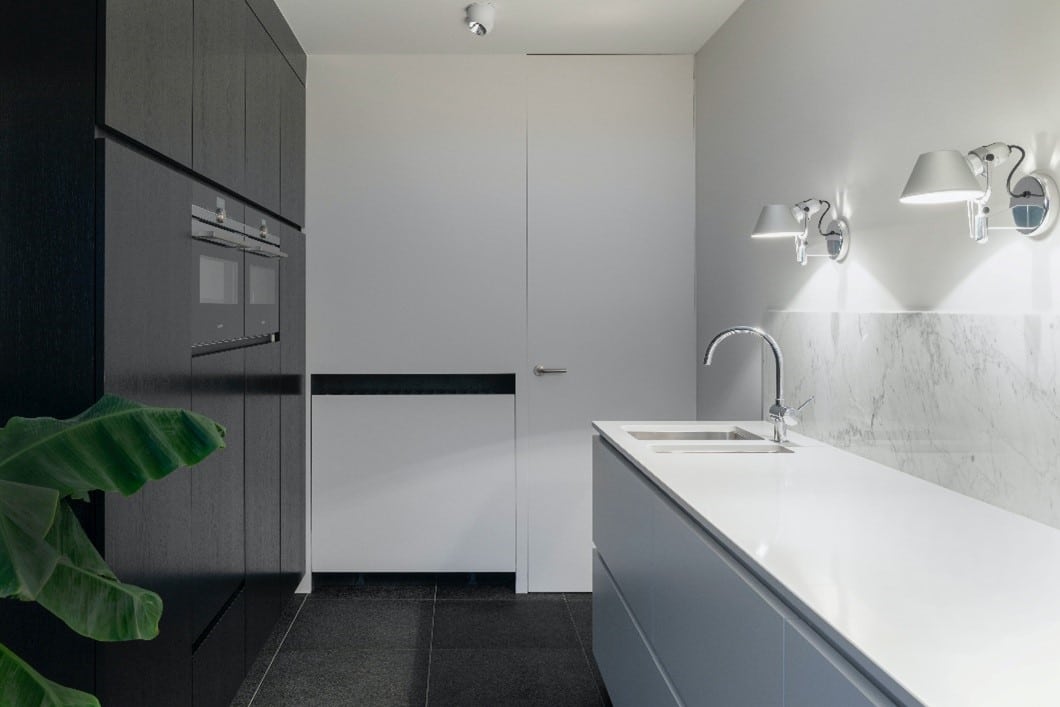 10. Enhance space
Maximise storage where you can, such as by hanging your pots, as you would see a real ship's galley kitchen. Take advantage of your entire available wall space, even if it means you may need a ladder or stool to reach high shelves.
For loads more kitchen storage tips and tricks, you may also like to see our blog on kitchen storage ideas.
11. Add a narrow island, trolley or cart
These work against the impression of being in a corridor, and provide useful extra workspace and storage.
Materials and finishes
12. Natural/organic materials
The strong move towards using raw materials continues. Think wood, leather, natural stones like granite and quartz, shiplap, rattan and jute. The use of organic materials plays into the general wellness and sustainability trends of our era. These materials promote a sense of connection with nature and create a calming atmosphere. And nowhere is this needed more than in a small, cramped space. Pared down, raw materials really shine and add warmth and depth to a kitchen. Go a step further and use environmentally-friendly recycled and reclaimed materials.
13. Warm woods
Beautiful timbers never get old and impart such rich warm tones and texture. Timbers like oak and walnut are endlessly popular and look beautiful juxtaposed with metals.
14. Mix materials
If you love contemporary design then a galley kitchen featuring a mix of bold materials may be ideal. Why not mix terracotta floor tile and stainless steel to a mix of concrete and timber.
15. White galley kitchen
The jury is out on whether all-white kitchens are done and dusted. Some experts reckon they've had their day but really, all-white is a classic that can never go out of style. Instead, the use of updated materials will generate a modern aesthetic. And when you have a tiny kitchen space, all white achieves the same sense of openness that knocking down a wall would. Keen to paint your kitchen all white? Find an experienced painter right here.
Keen to paint your kitchen all white? Find an expert to help you with your painting.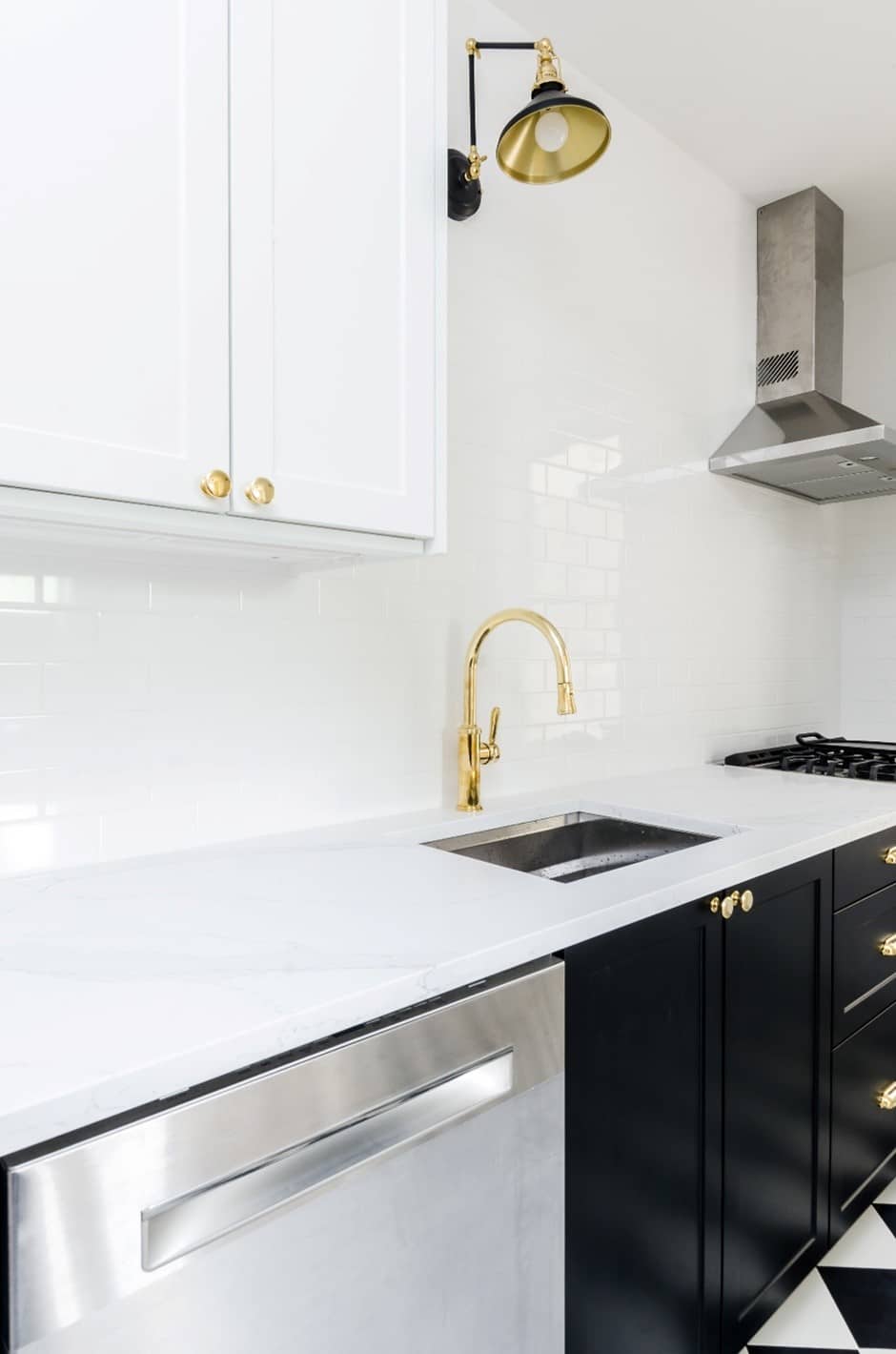 16. High gloss
To further enhance space by reflecting more light, choose high gloss finishes in pale colours or all white. You will also create a more streamlined, cleaner effect if you select cabinet doors and drawers without handles.
17. All black
The black galley kitchen is certainly having its moment in design circles. In any material, it looks inescapably modern. But you could also mix it with the naturals/organic theme to feel truly avant-garde.
18. Black and white galley kitchen
If an all-black galley kitchen is just too much though, incorporate lighter walls and ceilings for contrast.
19. Matte black accents
You might also consider just having black fixtures and hardware accents instead. These are very popular in kitchen design right now. Many people finding black fittings offer a wonderfully fresh accent colour. Black accents add drama without darkening your galley kitchen too much. Less stark are fixtures in pewter and gunmetal, which still give excellent texture and depth.
20. White and black
Another updated classic, a mix of black and white is perfect for a galley kitchen. It breaks up the feeling of being in a corridor, offers great flexibility and allows food (or the cook) to provide the colour and texture pops. When mixing light and dark, make your base cabinets the darker colour and the upper cabinets lighter. This helps the upper cabinets visually connect with the ceiling.
21. The asymmetric two-tone trend
Rather than mix light and dark vertically, you could also break up the space by having the walls different colours. Or, mainly white but with a few small touches of black in your kitchen accessories also works well.
22. White + wood + black as a formula
Steal kitchen designers' 'fail-safe' formula: mostly white, with wood tones and edgy black touches.
23. Coloured cabinetry
Not into monochrome and wood tones? You're not alone. More people are opting to create a kitchen that's a burst of gorgeous colour, with evocative coloured cabinetry. Moody blues and greens in deep tones or grey-washes are currently popular, working beautifully with metals. Or just choose your favourite colour!
Painting cabinets may seem like a simple DIY, but it can actually end up costing more and wind up looking like a dog's breakfast. It's much better to hire a professional painter. Someone who really understands the whole process. From paint stripping and other prepping to dealing with tricky joinery. Depending on how much work there is to be done, a professional can get it done in a very short time and for a reasonable price.
24. Metallics
For urban glamour, metallics work a charm.
25. Metallic inlays
Or you can get a more subtle but still luxe effect by installing cupboards with metallic inlays.
26. Mirror backsplash
A brilliant way to bring in more light in a darker kitchen.
27. Pops of colour
If you go with a monochrome look for walls and cabinets, add charm and personality with little splashes of colour. This might be in the upholstery, counter stools, light shades or rugs.
28. Coloured appliances
Another way to add small bursts of colour in a galley kitchen is to choose from the many-coloured appliances now available on the market.
29. Terrazzo
Love the speckled appearance of terrazzo? It can look really beautiful against muted, soft-toned cabinetry.
30. Galley kitchen seating
You may think a galley kitchen has no room for seating, but that's not the case! Many galley kitchens successfully incorporate seating in the form of a breakfast bar or nook, island or bench. As well as adding to sociability and comfort, benches and islands can also provide extra work surface area. When an island or bench replaces one of the parallel sides of the corridor, the family can be seated safely away from the cooking area.
Consider:
A parallel bench
Peninsula seating
A tiny table and chairs
A breakfast bar
A collapsible table
Or just add a stool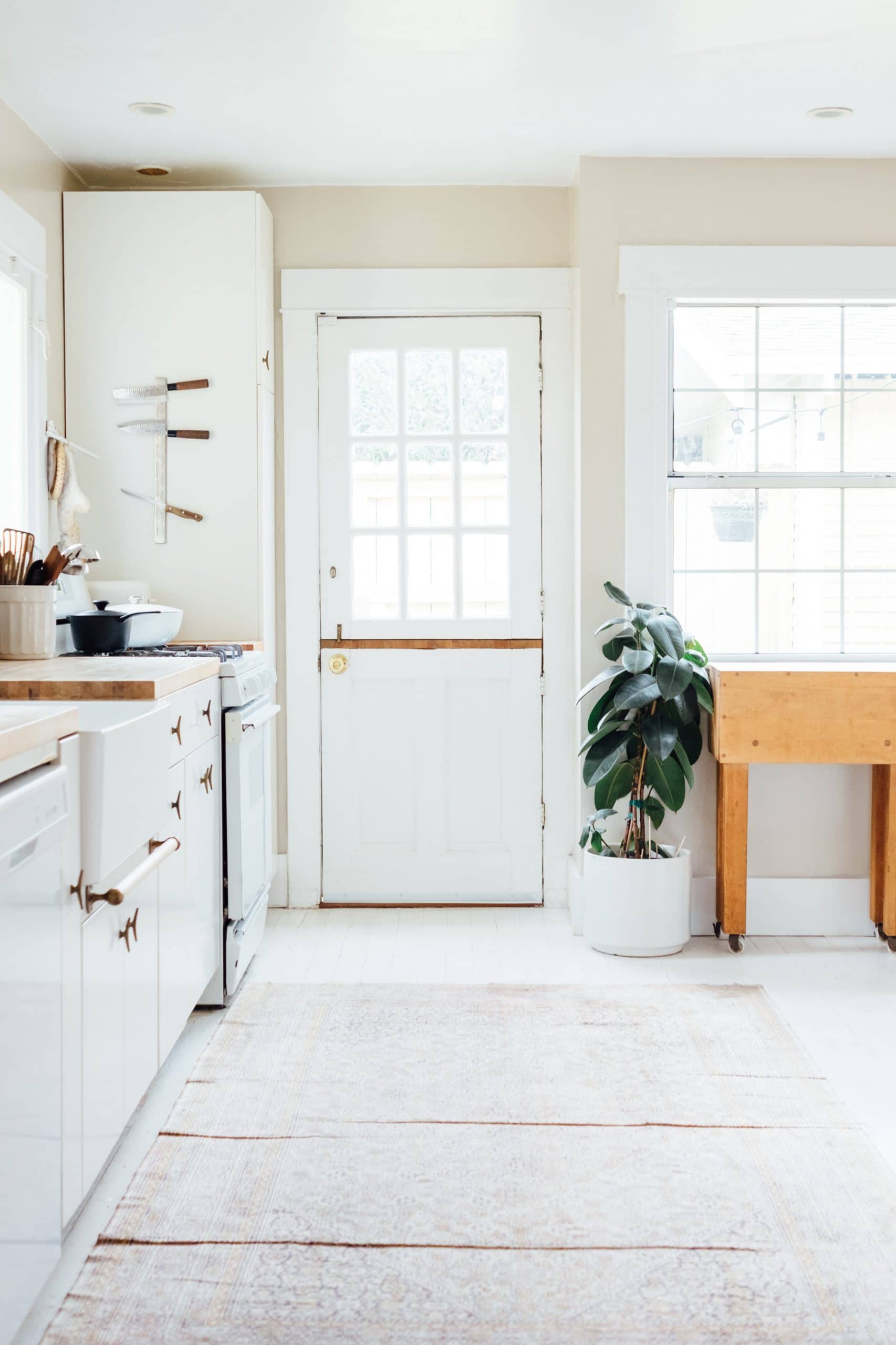 Galley kitchen lights
31. Statement lights
Oversized lighting strangely gives the feeling of having more space. So galley kitchens are ideal for a statement hanging pendant as well as task lighting. Decorative, sculptural lighting makes a tiny space feel far less utilitarian or dungeon-like.
32. Brass lights
Gorgeous brass light fittings can nicely tie in with cabinetry handles and tapware.
32. Functional lighting
When you're in a kitchen lighting design is so important but never more so than when you're in a galley style kitchen. In some galley kitchens, downlights are installed along one side and statement pendant lights down the other side. This ensures that the food prep area is always adequately lit.
Galley kitchen flooring
The use of decorative flooring elements is another way to distract from the size of the space. Having a pattern under your feet, whether with a rug or tiling, is attention-seeking. And when graphic patterns recede into the distance, they also create the illusion of elongating the space.
33. Geometric tile
Encaustic floor tiles look simply gorgeous against a monotone kitchen aesthetic.
If you are thinking of having your kitchen flooring redone and updated, find a flooring contractor.
34. Herringbone timber flooring
Nothing says luxe more than herringbone laid timber flooring.
Finishing touches
35. Rugs
One of the most popular small galley kitchen ideas suited to renters is to place a rug or runner in your kitchen. This allows you to infuse character and colour into your space while protecting the floor and providing comfort. A bright patterned runner can make all the difference in a boring, tired-looking galley kitchen. Try a heavy-duty, waterproof outdoor rug for convenience of cleaning, in a natural material like jute or sisal.
36. Glossy splashbacks
To brighten a galley kitchen, install glossy tiles which will reflect more light.
For more splashback design inspo, see our blog on kitchen splashback ideas. And you can hire a tradie who specialises in splashback tiling.
37. Layer in some art
Sure, it's a galley kitchen, not a gallery kitchen. Still, finding a spot for a little art is an easy way to add a splash of colour and interest to a plain space. It doesn't have to be an oil painting. Think framed photos, prints, vintage recipes or even a series of food tin labels a la Warhol. Consider lining the dead space above your upper cabinets, or hang a painting on the wall of a closed-ended galley kitchen.
38. Splurge
One of the perks of working with a small space is that luxe materials like marble countertops are just that much more attainable. You get the chance to enjoy the elegant sophistication of this strong, classic material in a small, more affordable dose.
39. The smart kitchen
Even a tiny galley kitchen can take advantage of innovations in digital technology for kitchens. It might mean WiFi-enabled espresso machine or other kitchen functions controlled by apps. Or it might be a specialised wine fridge, or smart lighting.
40. Add a skylight
Finally, if you need to add light to your galley kitchen, consider adding skylights. You won't regret it!
Getting a hand with the galley kitchen remodel
Need some help, or don't know where to start? If it's high time for a galley kitchen remodel, think about booking your galley kitchen reno through Airtasker. There are experienced kitchen renovators to take your job from idea to completion. Or tradies who can assist with specific tasks, such as help with rangehood installation or stove connection.
And for heaps more kitchen inspo and galley kitchen ideas, make sure you check out our previous blog on kitchen ideas.
How much will it cost?
Want some ballpark figures on your kitchen remodel plans? Here's a great starting point.
How much does it cost for: