As one of the hero natural materials in kitchen design, timber is just so versatile. It's ageless, comes in endless variations, and a timber kitchen will complement any interior design style, whether it's contemporary, industrial, farmhouse or Hamptons style.
You can use it in a myriad of ways, from timber kitchen benchtops, cabinets and counters, to timber flooring to ceilings and obviously, beautiful wooden furniture. I mean, who can resist timber floorboards? They're gorgeous to look at, feel great underfoot, are sound-absorbing and can be finished however you like. But have you considered using timber in your ceiling? I certainly hadn't!
One of the main reasons people choose timber for their kitchen is because this earthy, tactile material instantly adds warmth, richness and texture to a kitchen. But it's also favoured for its functionality and durability, making it a smart investment for homeowners.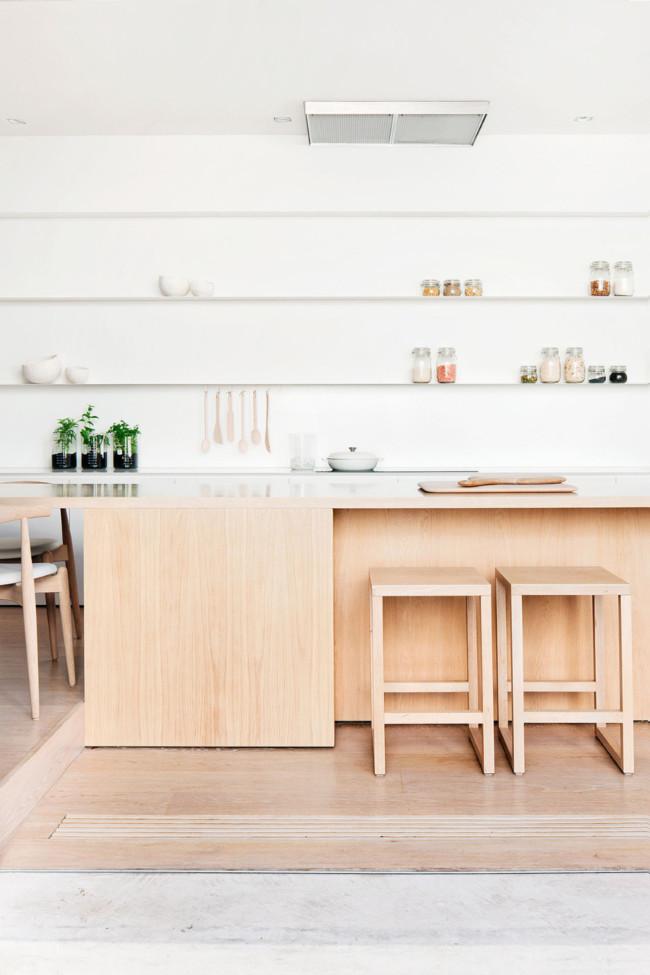 While the all-timber kitchen may be a bit much for some—and let's not forget natural timber can be quite expensive in large quantities—you can restrict it to just an accent to add that timeless elegance that the material brings. You can also choose timber veneers instead, or even melamine or laminate finishes that mimic timber.
Timber pairs so well with white, grey or black kitchens, really popping against white or creating a dark, mesmerising mood when balanced with blacks or greys. If you don't wish to add a lot of bright colour, timber can be an excellent choice to add warmth to a cool kitchen.
No matter which of the many different sustainable timbers you choose, add some beautifully designed timber elements—you won't regret it. Here, we explore over 35 ways you can introduce timber into your kitchen. Let's get started.
1. Timber cabinetry against black tiles
Timber softens the look of a hard industrial kitchen finish such as steel or dark tile. Here, a mix of matte and gloss black in the tiling and counters contrasts with the unusual timber cabinets and flooring.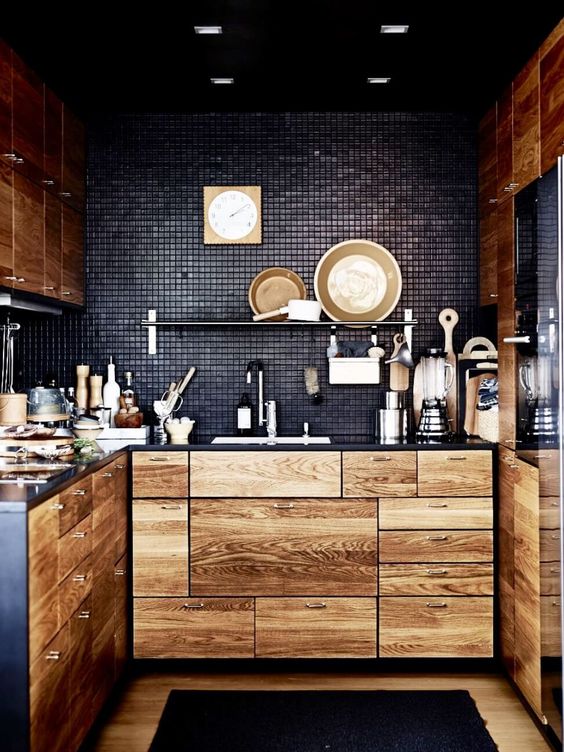 2. White with light timber
The white and timber kitchen is an absolute classic, blending the functional simplicity of the fresh white kitchen with the warmth and texture of raw timber. This gorgeous kitchen utilises 200-year-old reclaimed beechwood for the cabinet fronts and floorboards, with little black touches punctuating the look. If you're keen on this look, find yourself a local reclaimed wood dealer to source the perfect timber.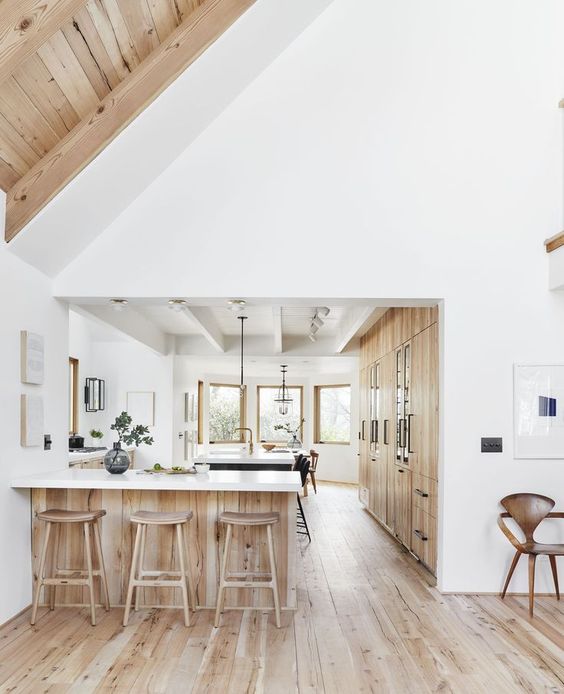 3. Rustic pale timber
The modern all-wood kitchen manages to be both rustic and minimalist. Here, a casually Boho pale timber and tiled design in earthy tones, with walls painted with limewash paint. The cabinets, faced with wood veneer, are inlaid with tactile hemp burlap, and the grain on the cabinets and island is deliberately contrasting.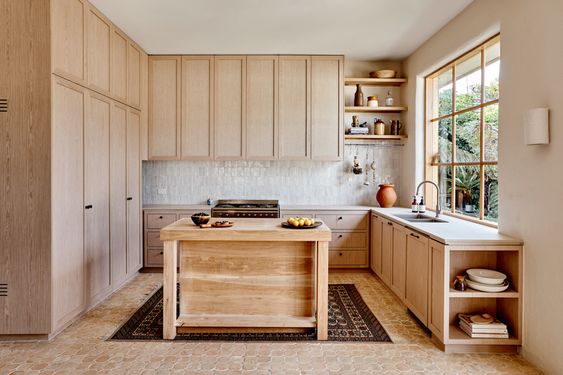 4. Industrial kitchen
A mix of contrasting colours and textures is a hallmark of industrial style kitchens. Here, you can see a classic juxtaposition of dark timbers with a pale stone splashback and white upper cabinets, enhanced by luxe, warm metal accents in the fittings. Contrasting the materials draws attention to the stunning features of each.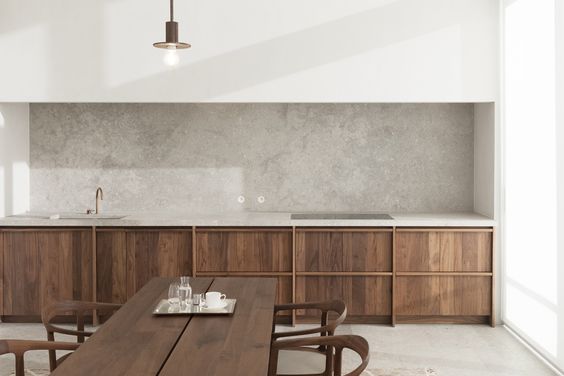 And just a quick zoom in on that tap please…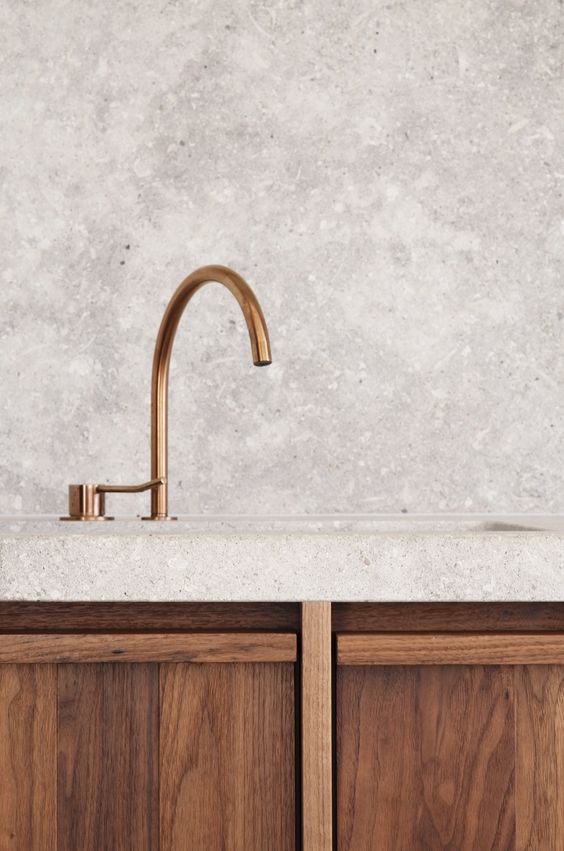 5. Timber with a 3D tile
These stunning grey 3D tiles perfectly complement the marble island and counters in this modern kitchen design, while adding texture and contrasting beautifully with the oak cabinetry.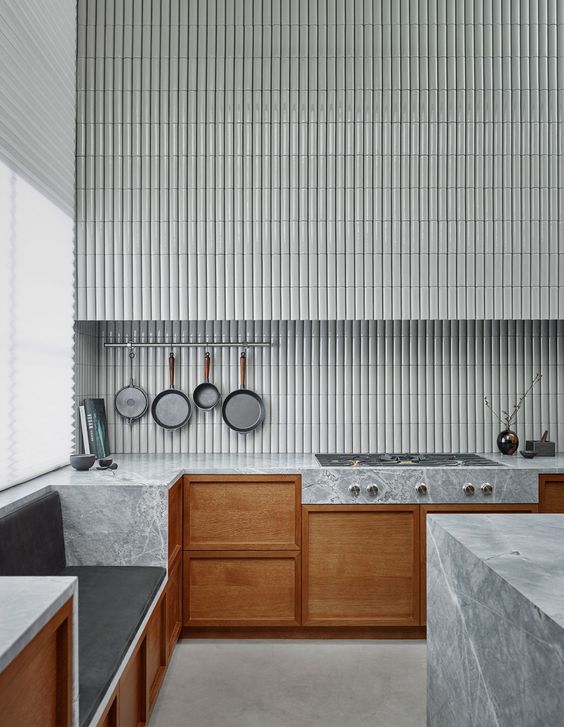 6. Light timber cabinetry
Choose blonde timbers like pale plywood or beech to evoke a contemporary Scandi feel.  The pale, neutral tones are perfect for open shelving, helping create a relaxed, clean and open feeling.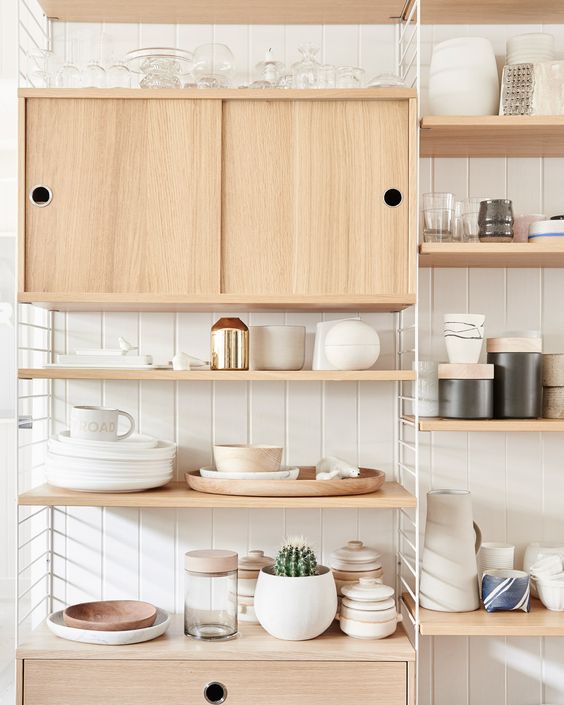 7. Timber and marble with floorboards
Can't decide between timber or marble? You don't have to—the freshest kitchen designs for 2020 simply incorporate both! This modern kitchen melds warm, raw timber tones with richly-veined marble for a stunning effect.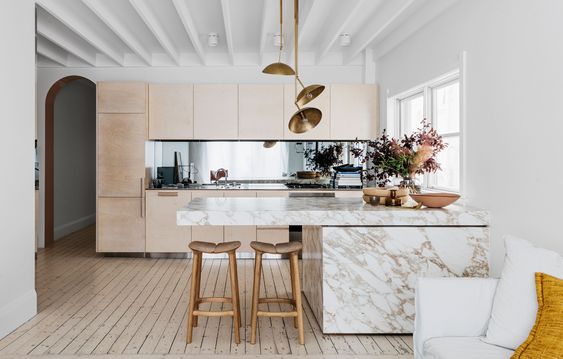 Source: The Design Files
8. White kitchen, dark floorboards
Is a timber floor too much with a timber kitchen? Not necessarily. Choosing different tones of wood breaks it up, such as this white wood kitchen with contrasting black-washed wooden floors.
The repetition of the white cabinetry and islands creates a sense of flow that connects all the elements.  If you have original hardwood floors that are showing their age, consider adding a coat of glossy black or white paint rather than resanding or ripping out floorboards. Why not discuss your needs with a local flooring expert?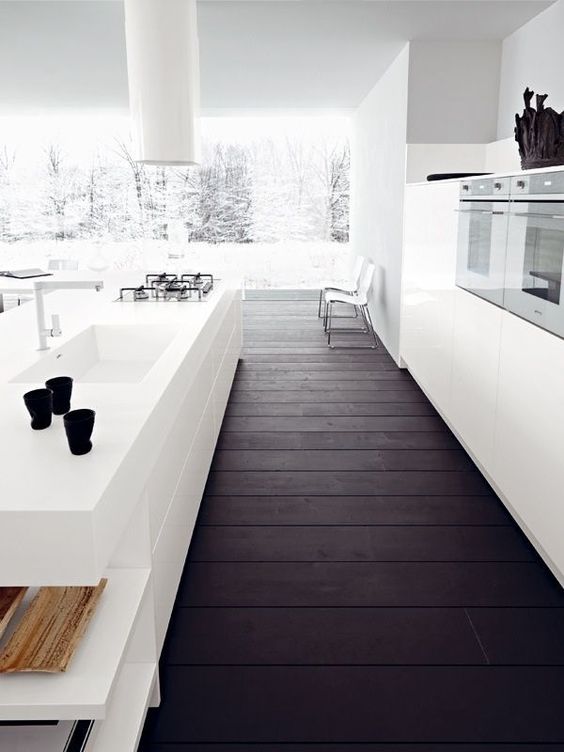 9. Timber upper and lower cabinets
Balance overhead timber kitchen cabinets with lower cabinets in the same timber. The black detailing in the sink and cabinet legs adds a touch of drama.
10. Exposed beam ceiling
If you are lucky enough to have beams to expose in your kitchen, take advantage of them! Exposed beams always provide a sense of rustic cosiness, as you can see in this warm oak kitchen belonging to a French Michelin-starred chef. The chef has used a liberal dose of timber in his kitchen, including a very long row of lower cabinets beneath the window, a natural wood dining table and wide plank timber flooring.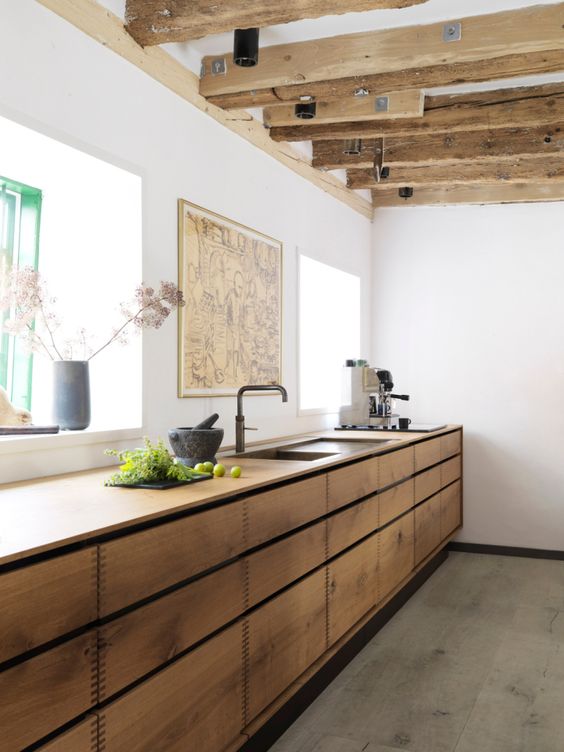 For more rustic kitchen inspiration, check out these farmhouse kitchens and country kitchen ideas.
11. White painted rustic beams
Exposed wooden beams also look amazing when whitewashed. Here, the kitchen feels incredibly spacious thanks to the white wall and beams really opening up the room.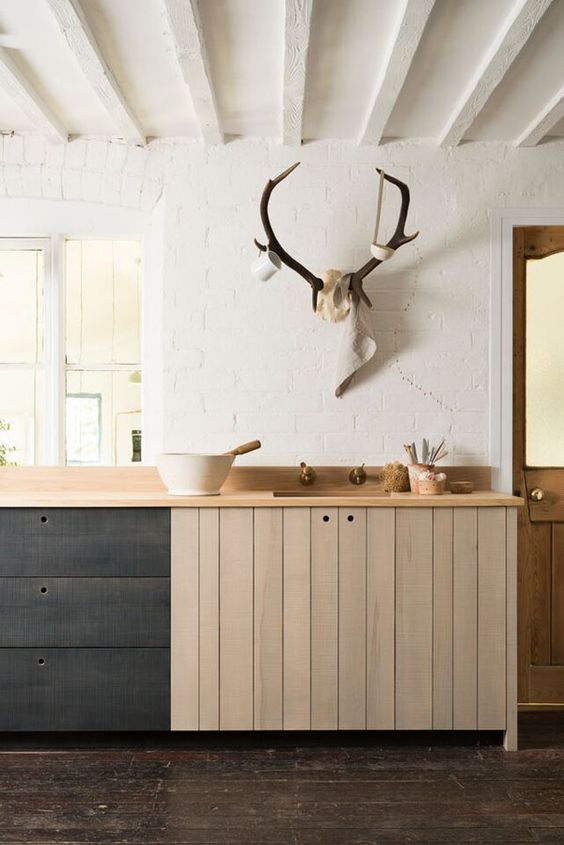 12. Timber between kitchen and dining
Connect a dining room with a kitchen with the clever use of a timber frame as a room divider.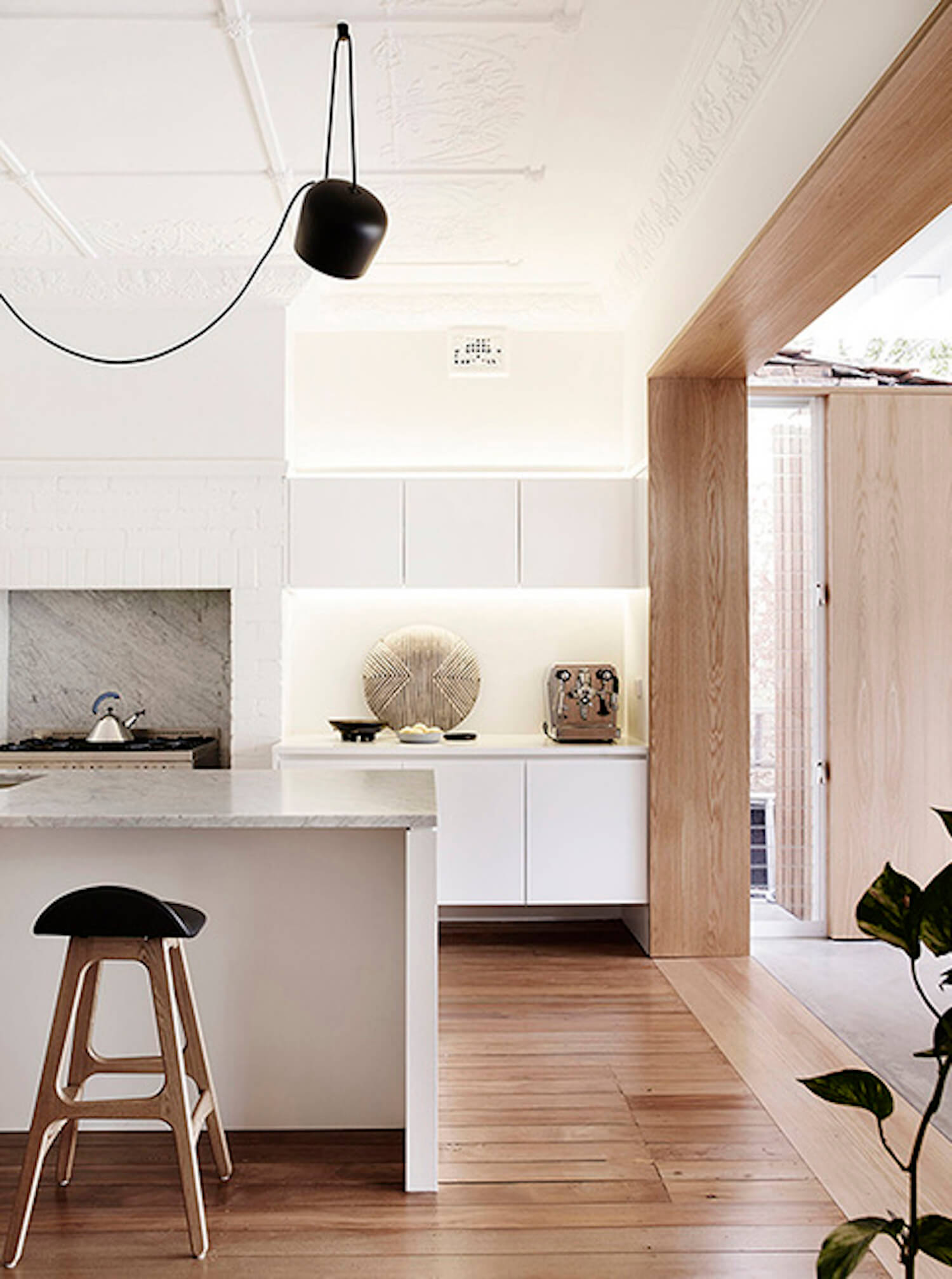 13. Bench seating
Timber can be added in unusual ways, such as the generous timber bench seating of this all wood kitchen. Along with timber floorboards, island, open shelving and door frame, the owners cleverly had a table made from some rare American chestnut recovered from a fallen tree. The built-in cabinets are made of cherry wood, and feature pullout shelves and antique-finish pulls.
14. Pastel painted cabinetry
Timber cabinets can be painted in any colour you desire. Here, a single row of lower cabinets is painted a pale mint green in this dreamy kitchen that enjoys high ceilings and heritage features. The minimalism of the kitchen is reinforced by the lack of pulls on the cabinets.
By changing the colour of your cabinets, it means you can constantly refresh your kitchen if you like. Get someone nearby to help with your cabinet painting.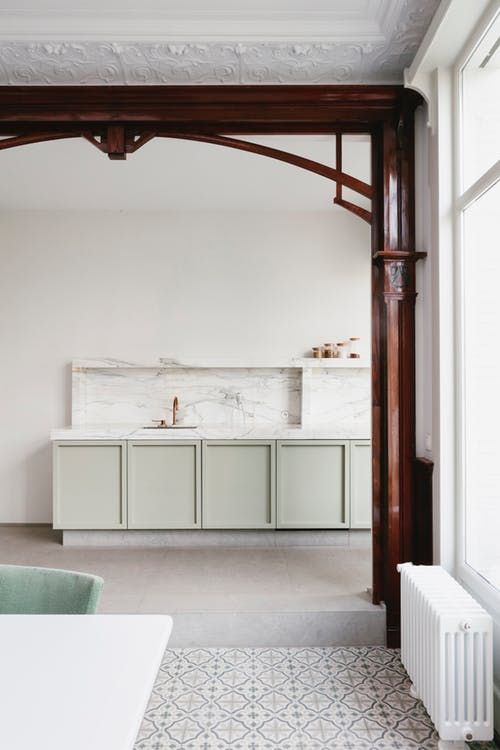 15. Fruit crate kitchen drawers
Love farmhouse style kitchens? Then you'll know the style revolves around the use of timber. You can instantly create a farmhouse vibe by adding a touch of vintage timber, such as these drawers which take the place of lower cabinets. They've been created by mounting old fruit crates only sliding tracks and topping with a reclaimed oak countertop.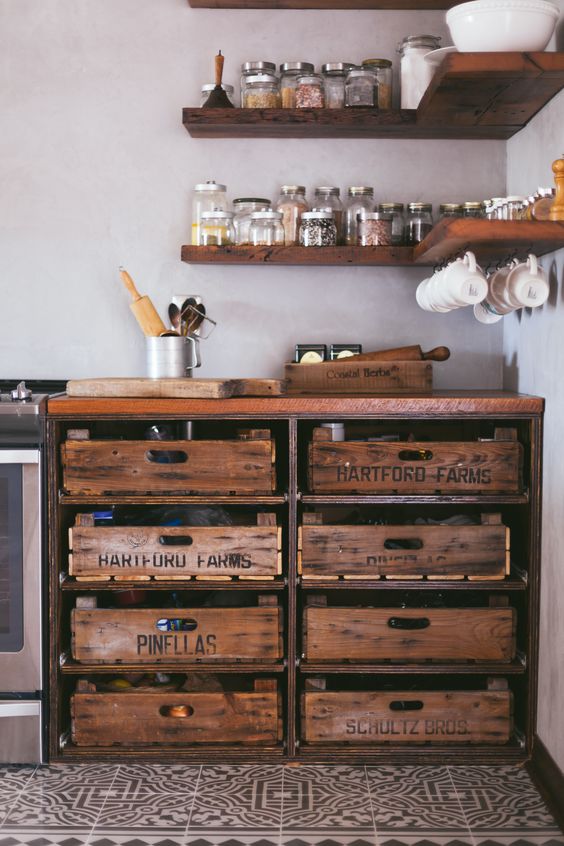 16. Timber backsplash
Rather than have timber cabinets, consider having a faux-timber splashback—get the look with one of the newer styles of kitchen wallpaper.  You might also like to check out our recent blog on kitchen splashback ideas.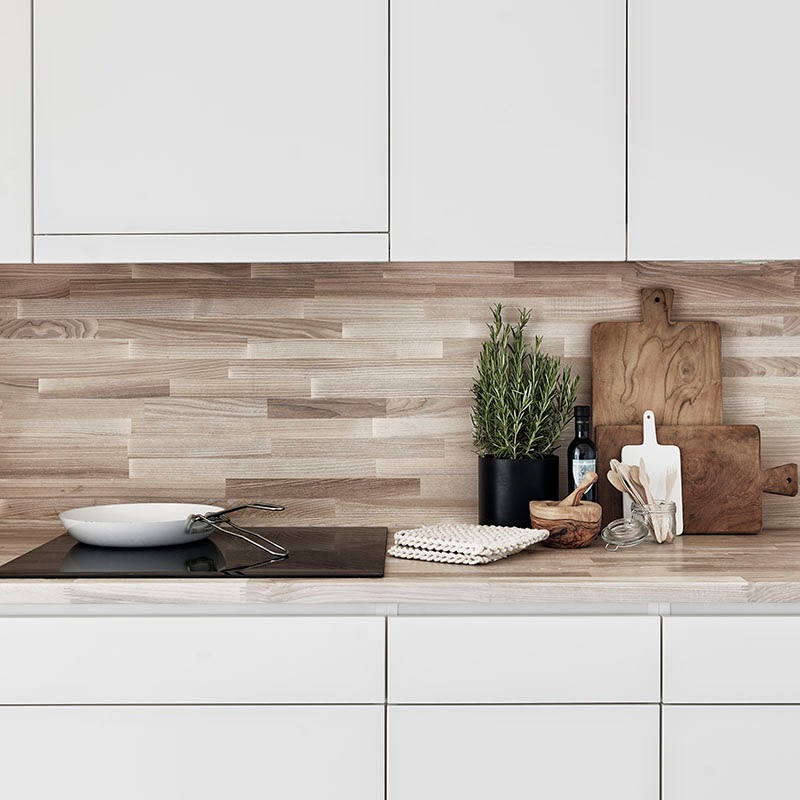 And if you prefer to go with real tile, you can hire an expert in splashback tiling.
17. Midcentury modern
Luxurious walnut is becoming popular as a timber of choice and is the perfect choice to create a mid-century modern look. It pairs well with brass or stone accents. While it can be expensive, choosing it as a veneer makes it much more accessible.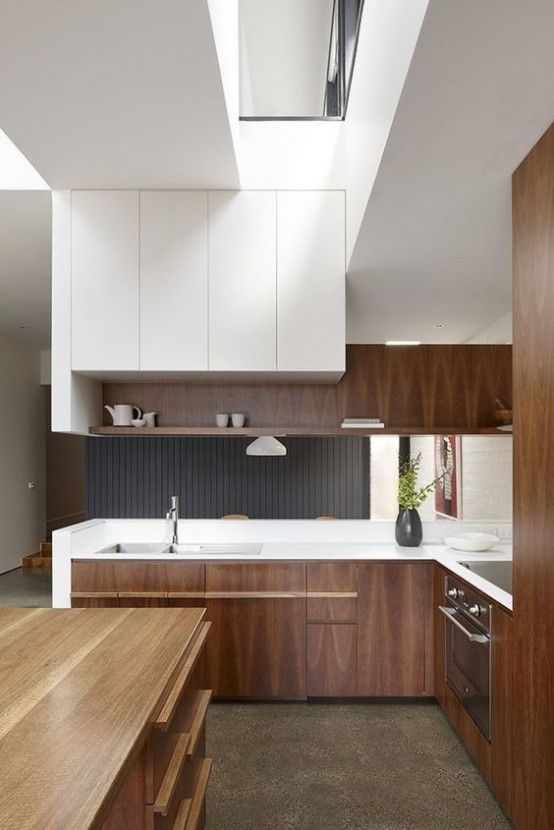 18. Nordic grey tones
This guesthouse on the Baltic Sea was designed by a Norwegian who wanted to combine modern architecture with sustainable natural materials. The result is a simple, minimalist kitchen in beautiful neutral grey tones.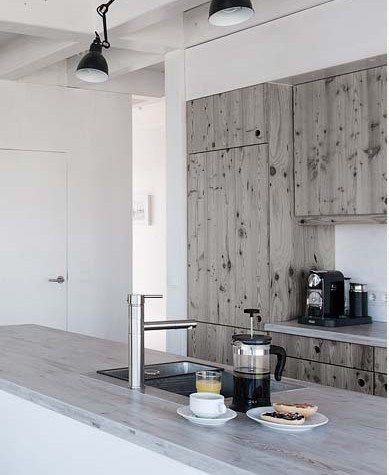 19. Wooden accents
Timber elements with a little natural wear and tear give off charm and personality. To incorporate timber into a modern kitchen, it's as simple as adding some subtle timber open shelving or a row of vintage bar stools.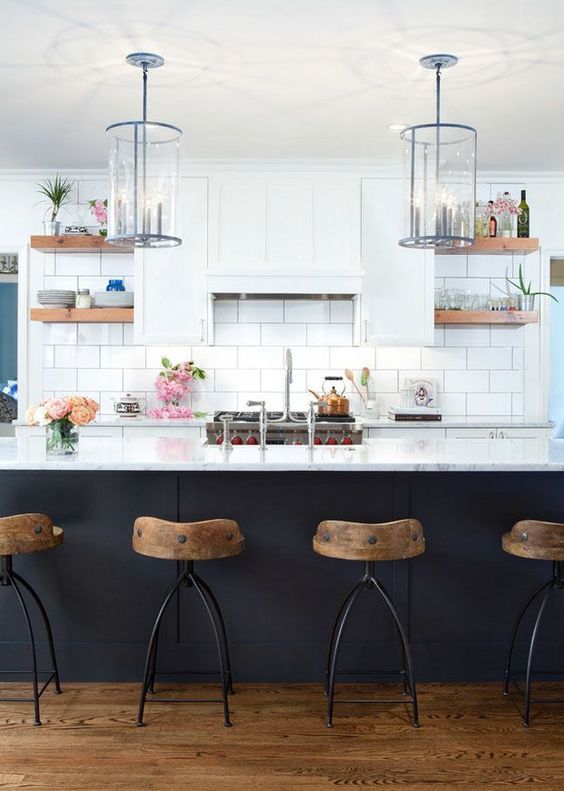 20. Rustic French kitchen
How simple yet effective is the use of timber in this charming French kitchen? Rustic farmhouse style converges with state of the art appliances for a functional yet romantic effect.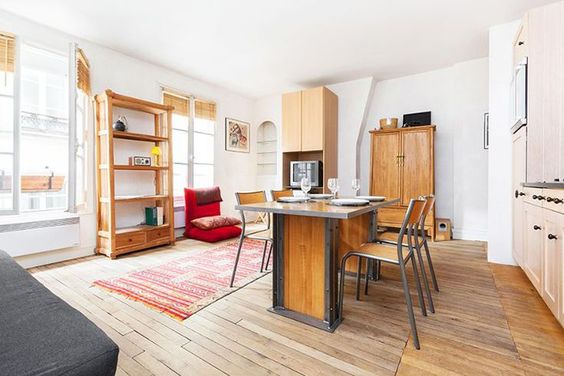 21. Timber beams and floorboards
Exposed timber beams and multiple injections of timber throughout this kitchen creates plenty of warmth and soul. The matte, wide-planked white oak flooring boasts a natural look and feel, with the blonde timber creating an airy vibe.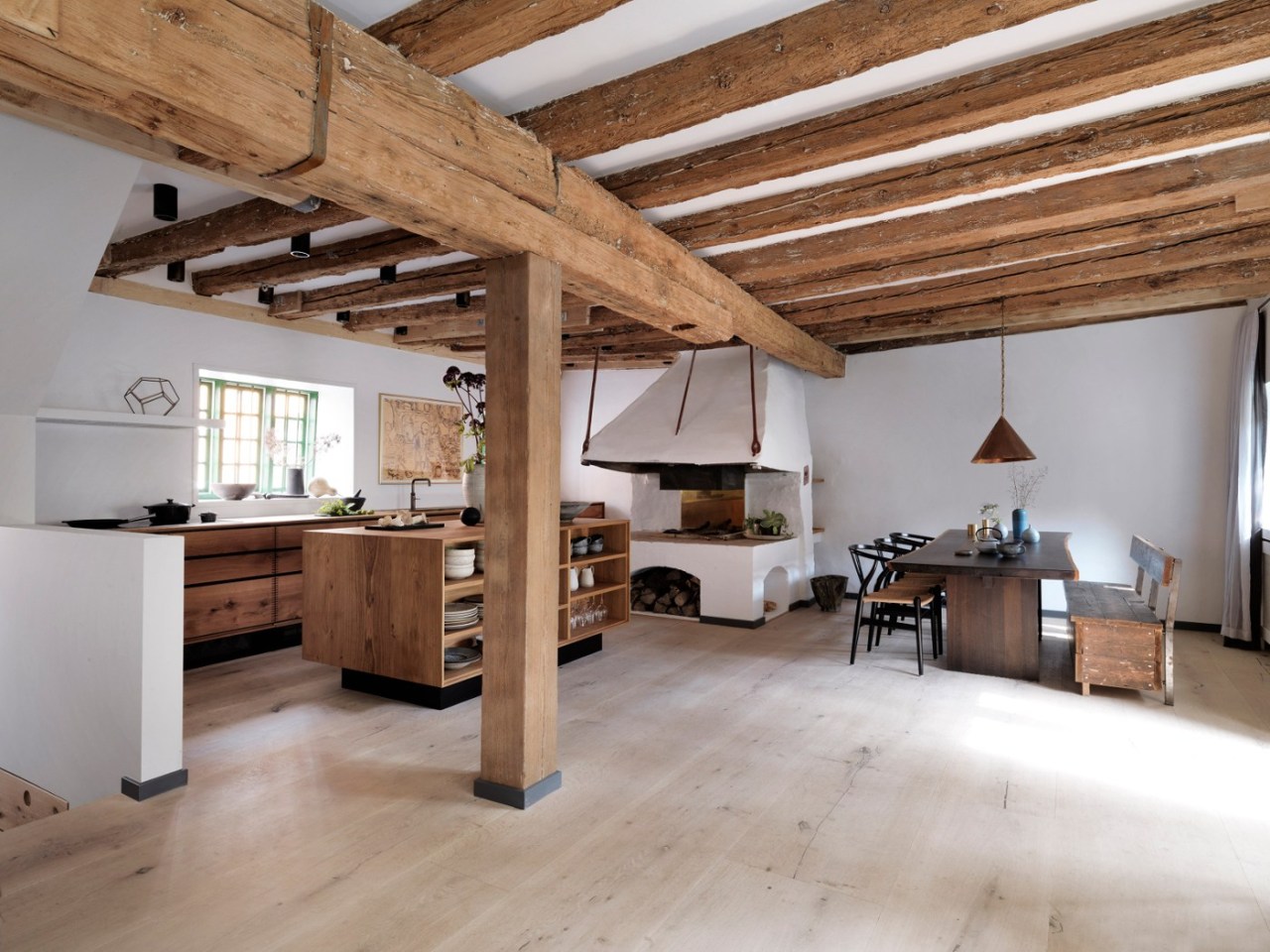 22. Playful feature
Oak is a popular light kitchen timber as it is so bright, cheerful and warm looking. Whether you go for oak cabinets, shelving or an all-oak kitchen—or create a playful feature from bespoke joinery—your kitchen will seem relaxed and modern.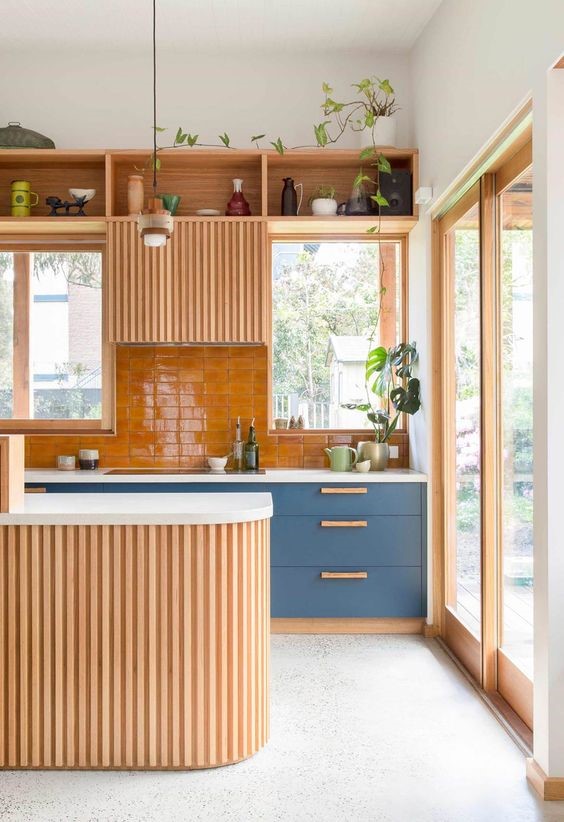 23. Vintage timber furniture
A black and white kitchen really comes to life when you add a little timber, perhaps in the form of some vintage timber furniture. You can also give it a modern, beachy vibe by whitewashing the hardwood floors, which looks especially effective with wide plank flooring. Then add some contrasting black accents (hardware, statement lamps and other accessories).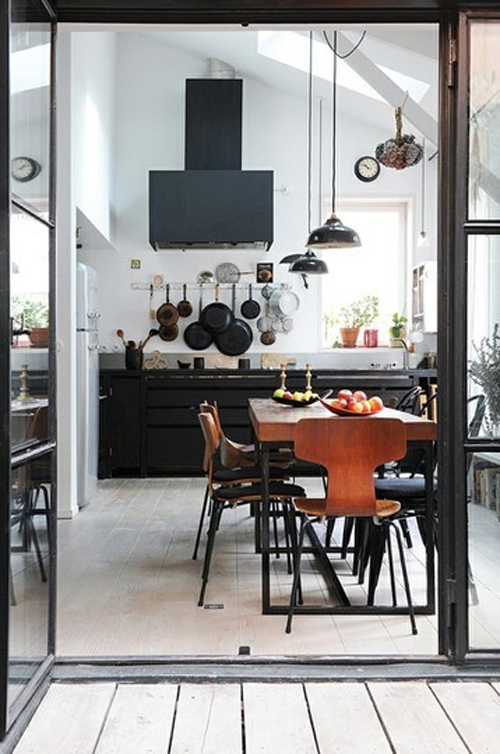 24. Eight oak trees
Have you ever seen a kitchen like this before? Created with timber from eight oak trees, this Munich kitchen also incorporates a single sheet of precision-cut stainless steel as a kitchen counter. No nails and no glue were used in this project!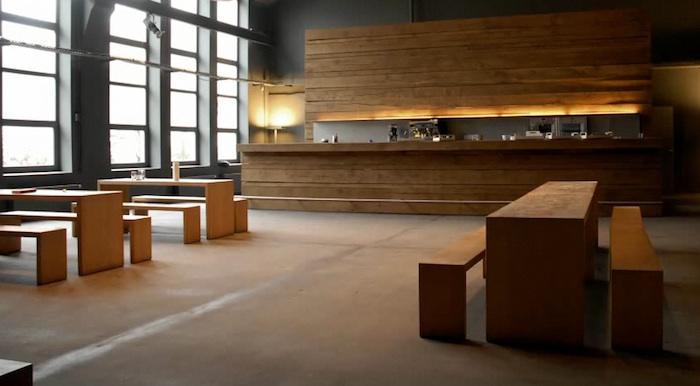 25. Organic countertop or island
A rough-hewn slab of natural wood with the patina of age makes a stylish statement in any kitchen. You may like to go with something with a simpler design though if the idea of cleaning the edges of this counter is just too daunting!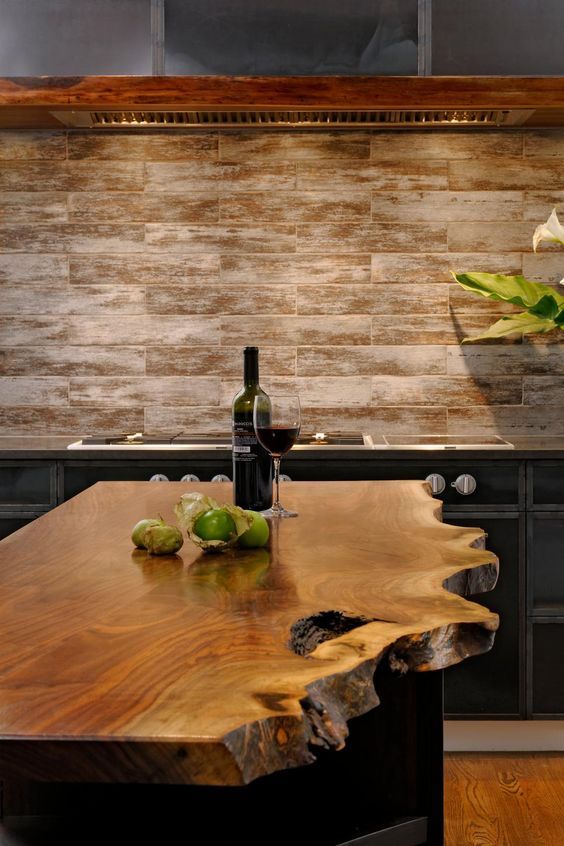 26. Timber and black
White kitchens will never go out of style, but there's been a trend towards a darker kitchen palette in recent years, with a rich matte tonal range as can be seen in this galley kitchen. Black timber kitchens have the added benefit of helping conceal mess and clutter, which tend to stand out more against a white backdrop!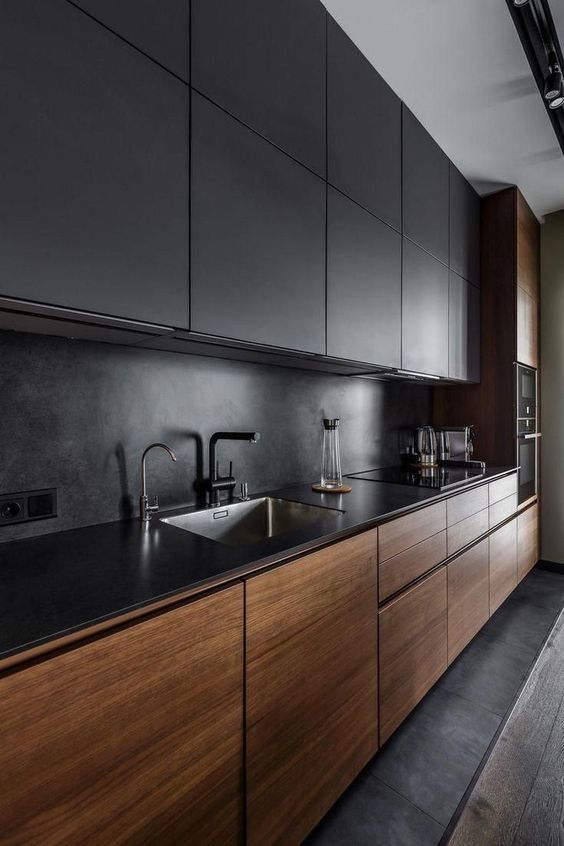 27. Whitewashed walls and floors
Whitewashed timber floors create a simple neutral look here, together with the addition of subtle hints of timber throughout the kitchen. The black and darker wood tones add contrast and prevent the white from appearing too clinical.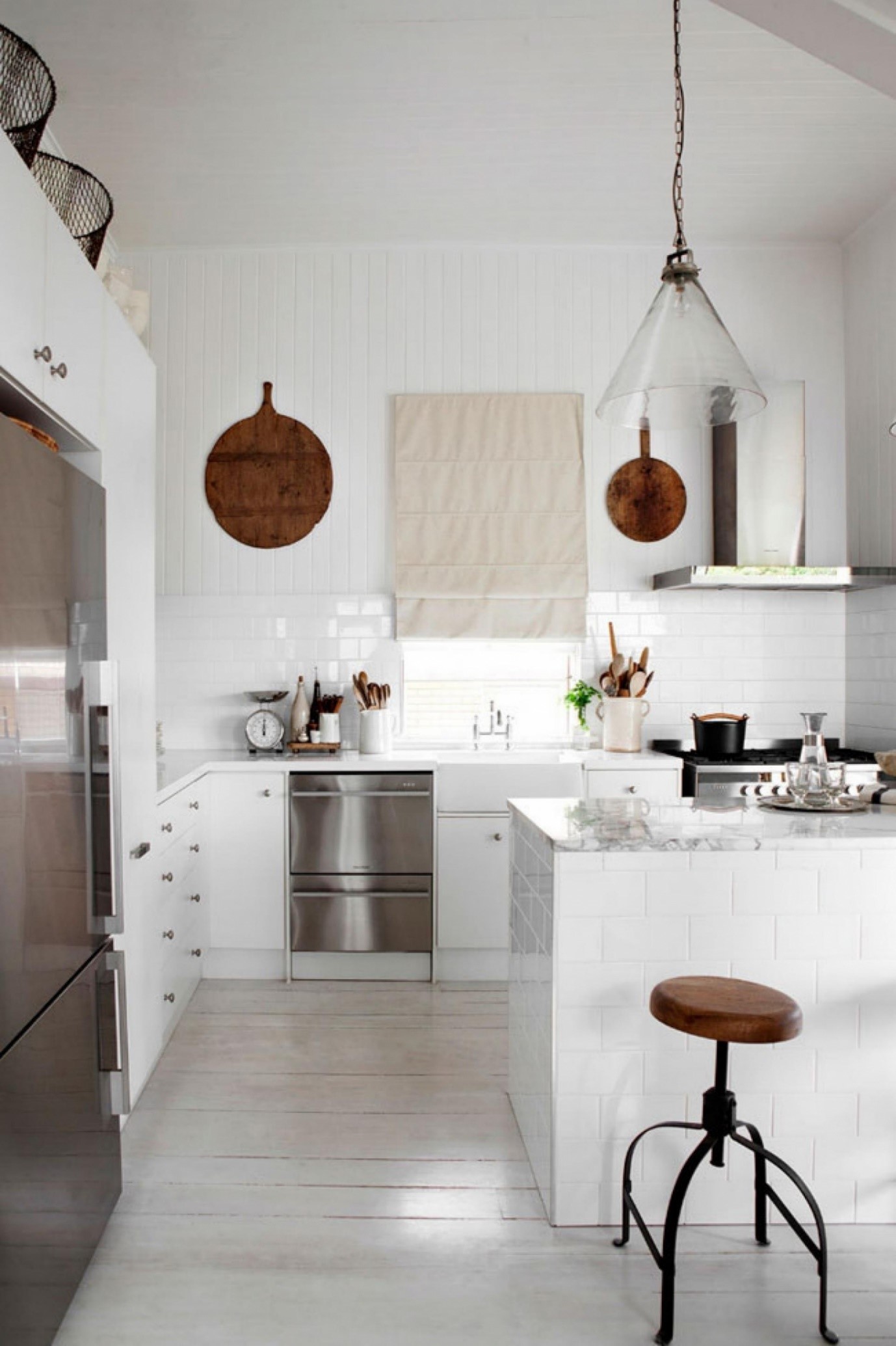 28. Wooden drawer organisers
If you have timber cabinetry, consider adding wooden drawer organisers. This clever kitchen storage idea features handmade organisers which can also be lifted out and used as trays.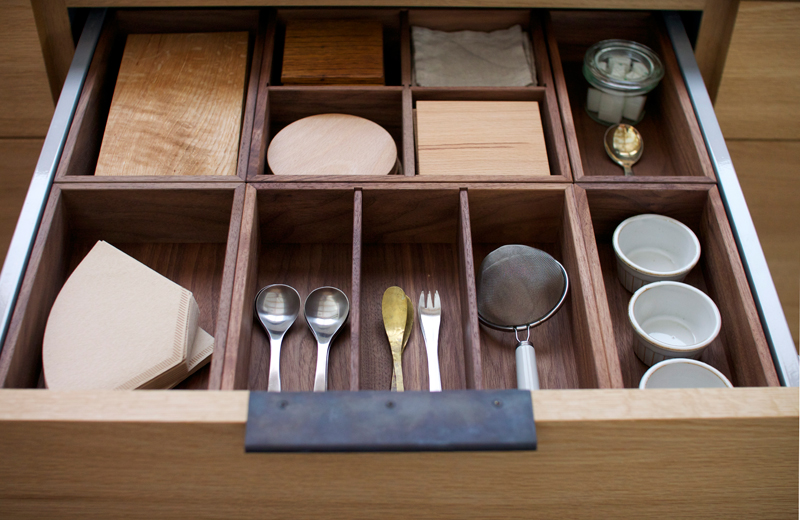 29. Timber kitchen island
There's nothing like having a show-stopping timber kitchen island! Here, a French kitchen in a former blacksmiths from the 1600s features an oak island that matches the oak cabinetry, with little black accents for contrast. The timber flooring also balances beautifully with the exposed overhead beams.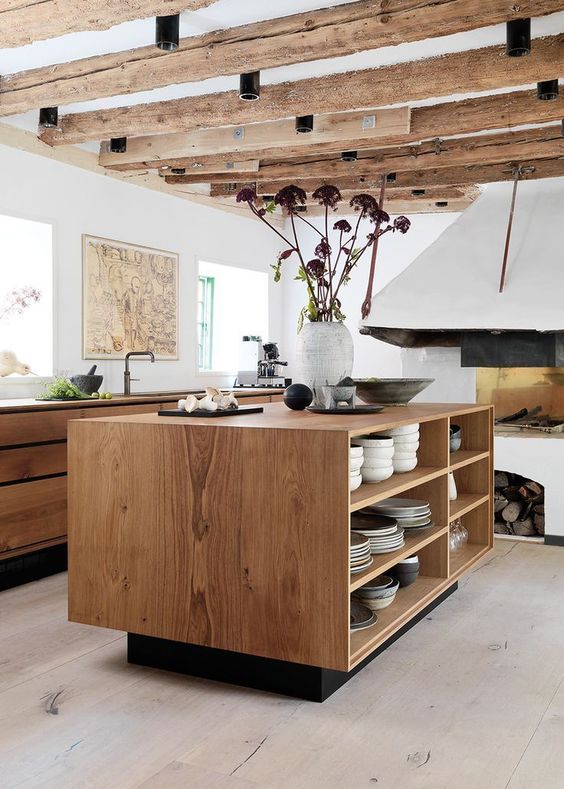 30. Wooden lighting
This kitchen features teak veneer on all its cabinetry, juxtaposed with a kitchen bench constructed from a four-metre slab of slate. (Remember that tropically sourced teak has some sustainability and ethical issues—so make sure to choose recycled or plantation teak.)  If you're going to go full-bore all-timber kitchen, pay extra attention to the details. Here, simple wooden lighting continues the theme and provides extra interest.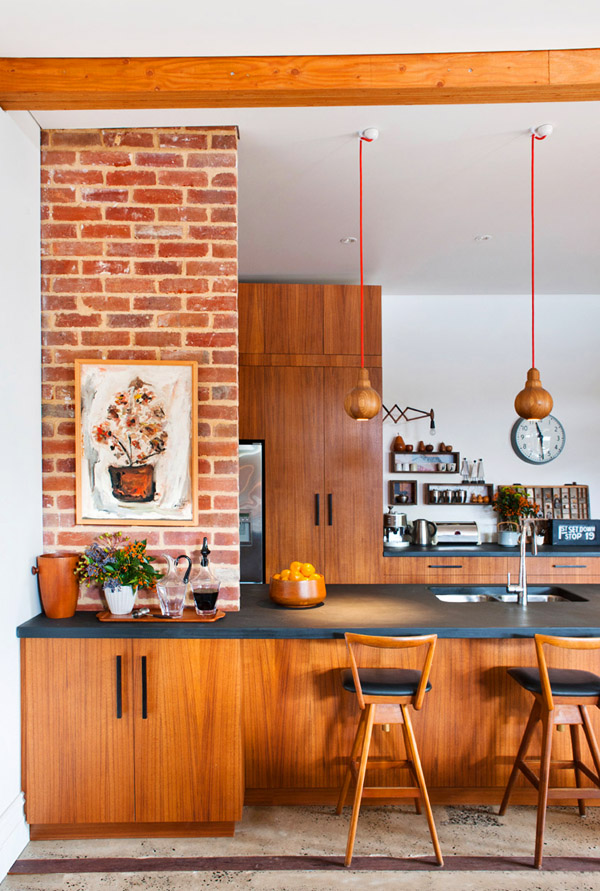 31. Raw and black
Raw blonde timber adds warmth and depth to this all-black kitchen. A mix of old and new materials creates a gorgeous blend of traditional and modern style.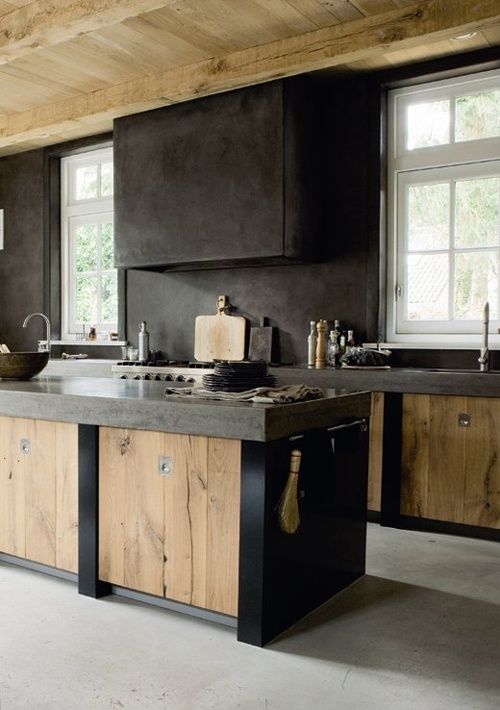 32. Timber shelving
There are so many ways you can use timber in your cabinets and shelving. Here an unexpected recessed shelving unit leads the eye upwards to the feature ceiling. Interested in custom kitchen shelving?
You might like to contact an experienced kitchen cabinet maker to discuss your ideas. Or, for a ballpark guide see how much a kitchen installation costs.
33. Timber and marble with flagstone flooring
While marble has long been popular in kitchens, contemporary designs are utilising more colourful natural stone than ever before. Here, soft pastel-toned marble provides a classic contrast to the rustic oak joinery and grey flagstone paving. The result is a mix of Scandi style, coastal vibes and understated elegance.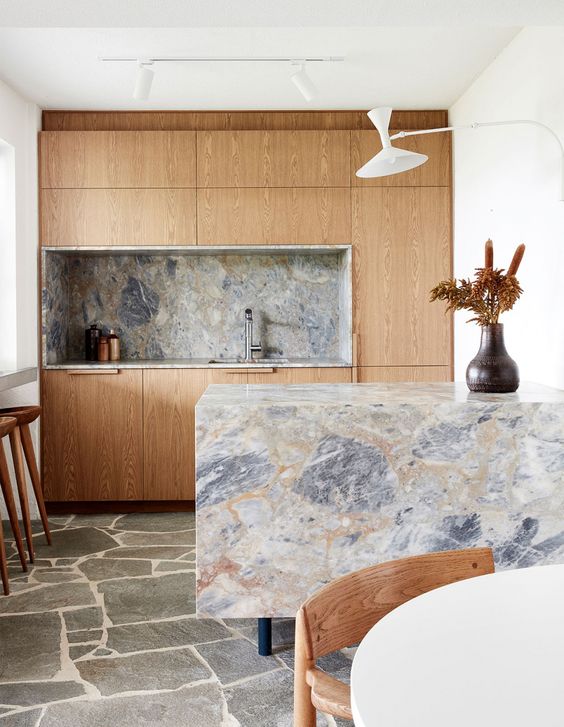 34. Retro blue timber and whitewashed beams
Timber kitchens don't have to be natural, earthy tones–you can have your timber cabinets painted any colour. Here, the cabinet front panelling had lines custom-routed into it before all being painted a gorgeous blue-grey and fitted with Tasmanian oak pulls. The coloured cabinets contrast with a super white quartzite counter and a white-washed structural brick wall and backsplash. Exposed beams convey the retro theme nicely.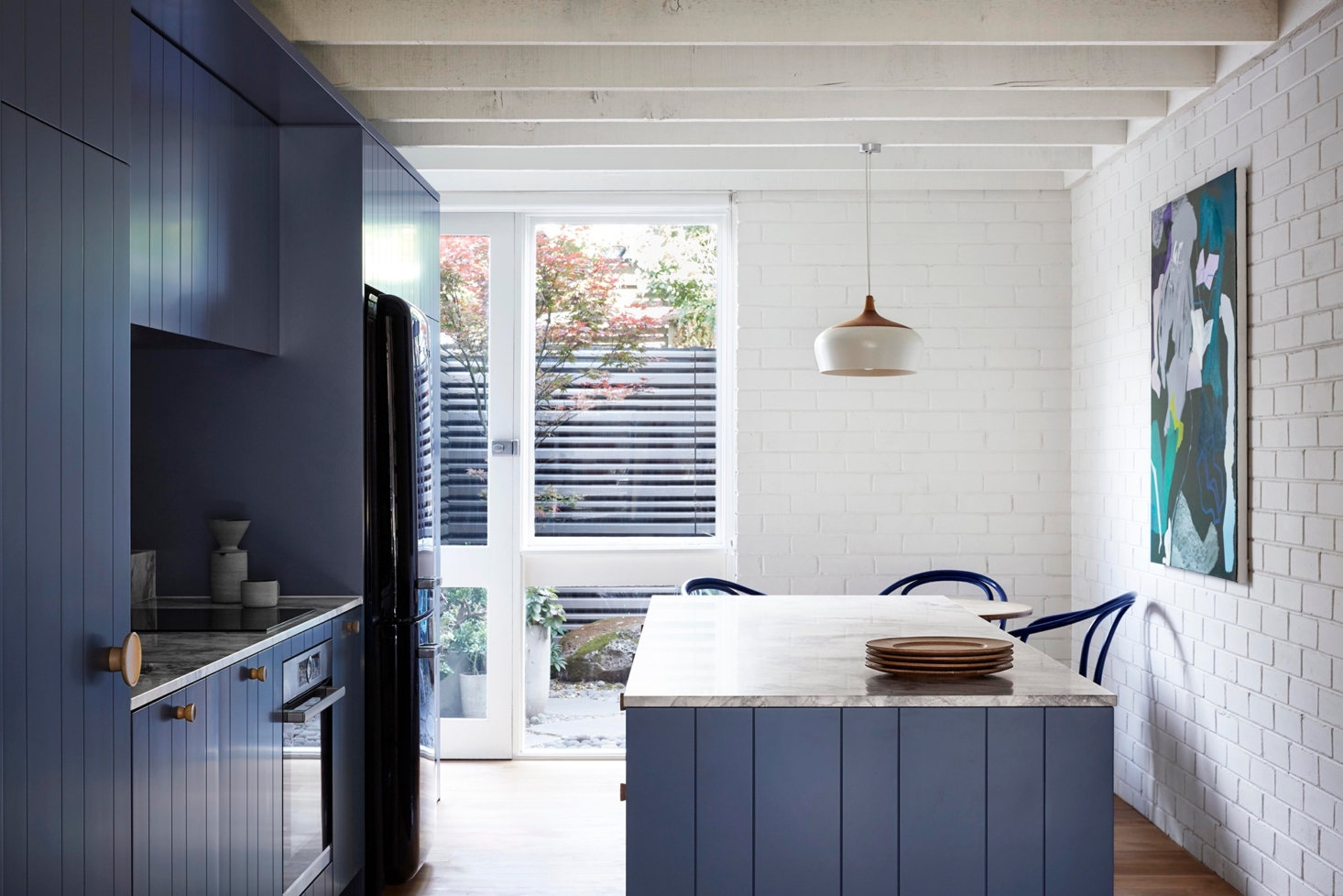 35. White timber benchtop
Even if you have a modern kitchen that's all-laminate, consider adding an injection of warmth by adding some small timber elements, such as these stools. Adding timber in the accessories only makes it very easy to change things up.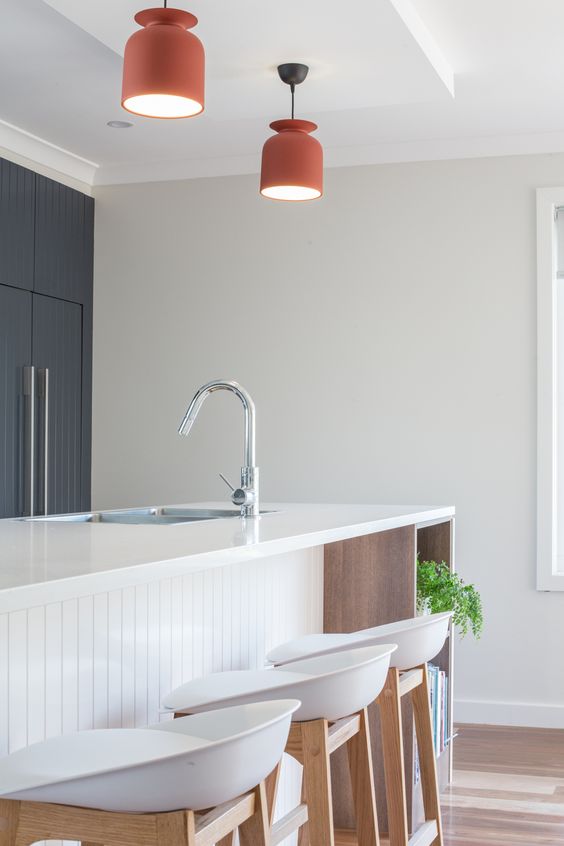 36. Wooden extractor hood
Visually connect your rangehood to the other timber elements of your kitchen with a striking timber housing around it.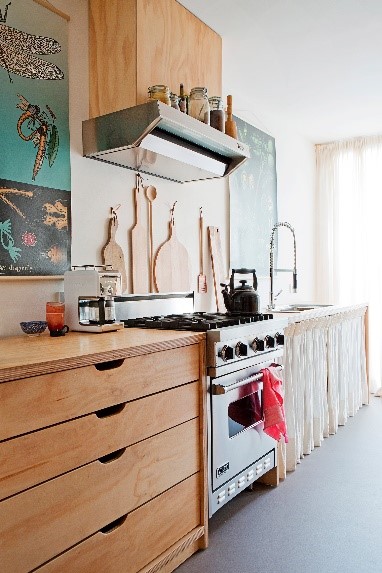 37. Recycled timber kitchen benchtops
Embrace the natural beauty of timber with a wooden bench or island. The natural patina of the timber looks particularly beautiful against black fittings and fixtures.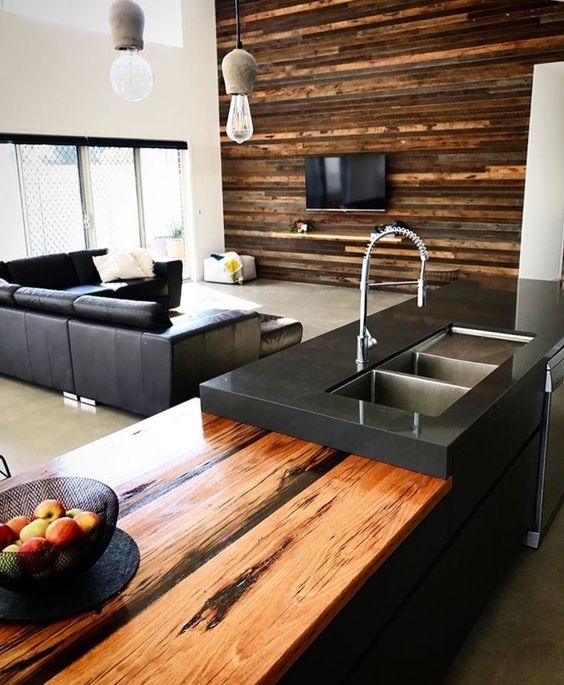 38. Mixed tones
Mixing tones create contrast and the perfect balance of light and dark. Here, gorgeous blackbutt-veneered cabinetry is juxtaposed with stainless steel splashback and marble island benchtop, with the timber adding warmth to the other, 'cooler' materials. You can also get the effect by combining two completely different timbers in the kitchen—choose a range of tones and grains for a unique aesthetic and feel.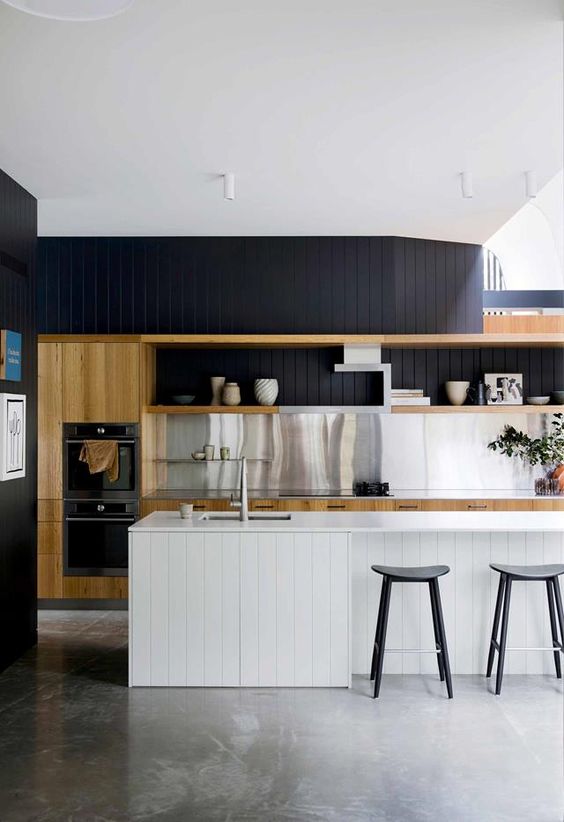 39. Parquetry
You can make a timber floor work with timber cabinets without having to exactly match the timbers. Parquetry flooring sometimes makes timber decisions easier, as it incorporates several colours, making it easier to find a colour that ties everything in together. Here, dark tones are repeated in the appliances and stainless steel modernises the look.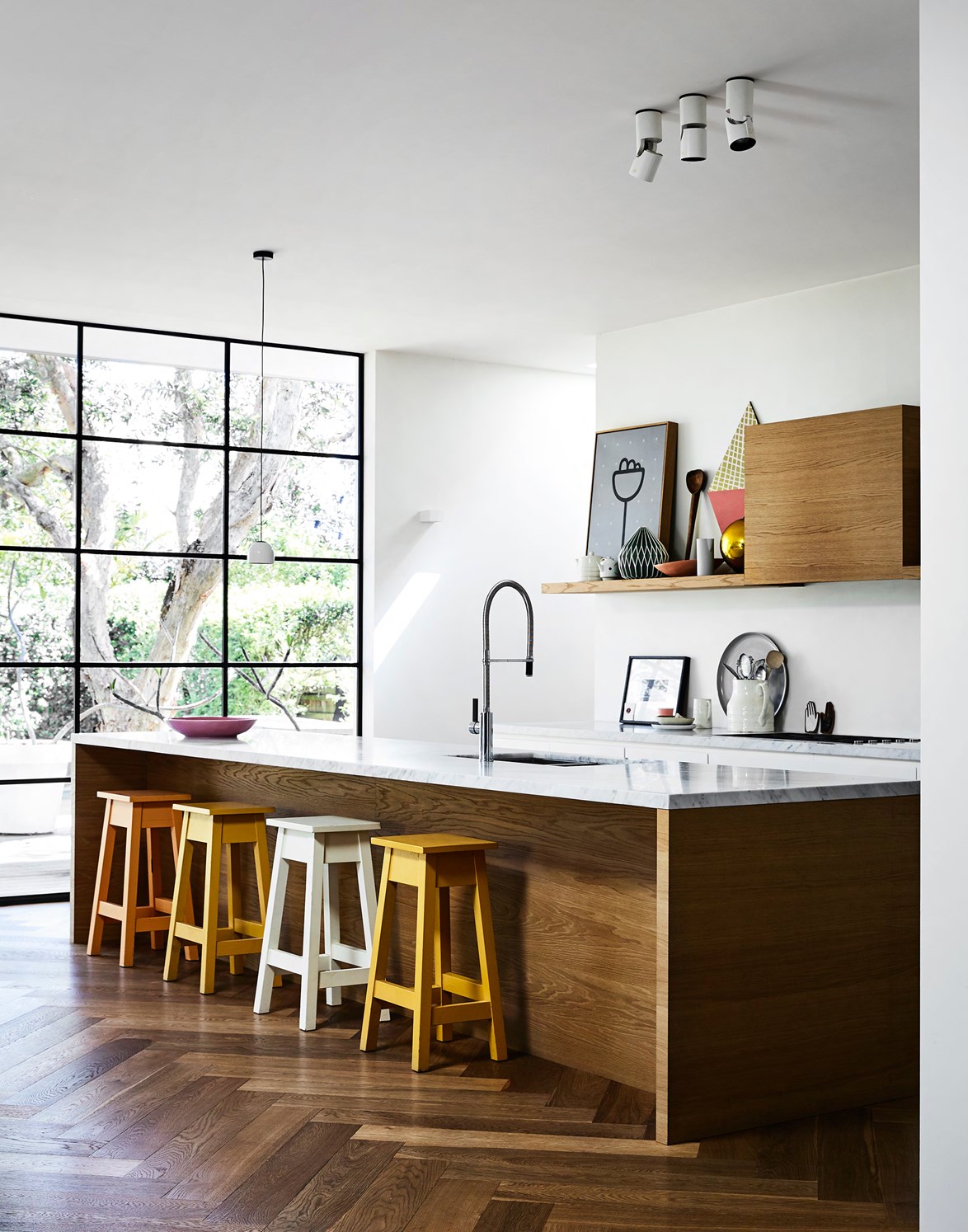 40. White cabinets, pale timber floors
An all-white kitchen looks stunning with light-coloured, natural finished timber flooring. The white provides the perfect foil to show off the beauty of the timber.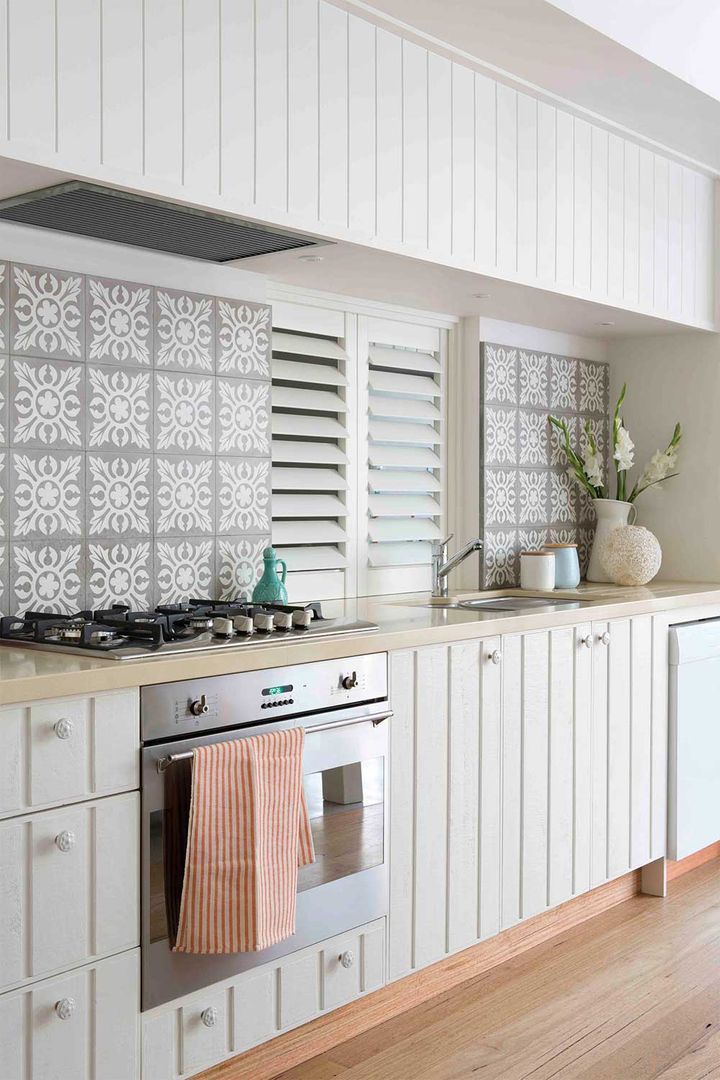 41. Dark timber and concrete
A muted grey splashback looks just gorgeous against the heavily patinaed timber cabinets.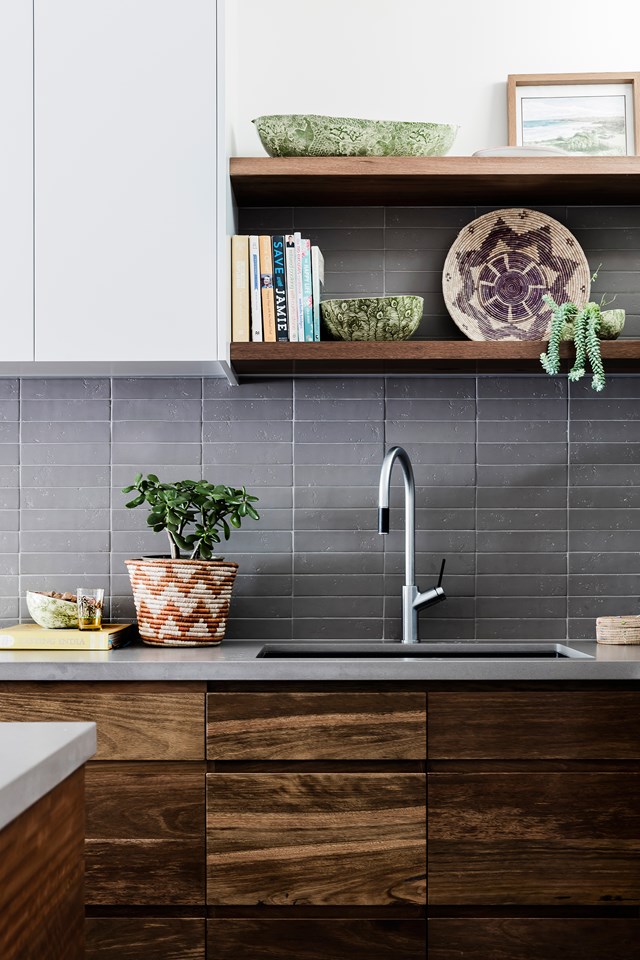 42. Feature panel ceiling
Feature panel ceilings create instant warmth and cosiness. If you are starting out your kitchen design from an existing feature ceiling, such as this racked timber panelled ceiling here, you can choose your colour palette for everything below based on the ceiling colour.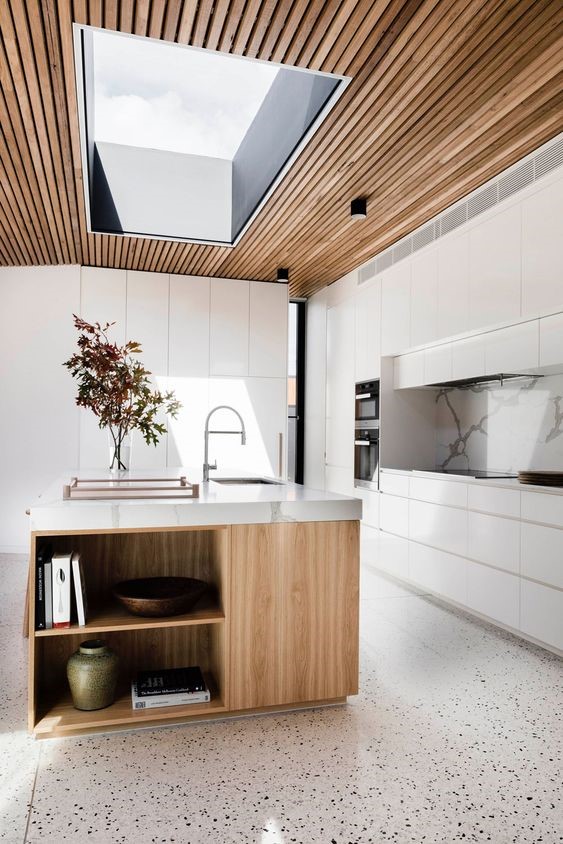 Add a subtle touch of timber or go for a total timber kitchen – it's up to you. Either way, you'll adore spending time in your timber kitchen for many years to come.
What's your favourite timber to incorporate into a kitchen design? Do you prefer an airy, light-coloured woods or do you favour a moody vibe from a darker timber? Let me know in the comments below.