Grey as a neutral colour is a great way to bring colour into the kitchen in a subtle way, working with many styles and materials. It will pair with almost anything, contrasts beautifully with a darker shade, and makes a great canvas for other colours. Although regarded as a relaxed neutral, it can also add touches of excitement and drama to your kitchen. One of the surprising effects of grey, which we often think of as exclusively a cool colour, is how it can actually warm up a space, especially with greys that have a hint of brown.
Choosing the right grey shade is tricky, as it really depends on the effect you are after for your kitchen. As noted, warmer greys (with hints of brown) tend to be more traditional, while cooler greys are more contemporary. There are so many different greys to choose from with so many different undertones—rather than just choose one shade, designers recommend selecting a suite of three or four greys and working from that palette so that everything remains harmonious.
With a grey kitchen, you will be on-trend and your kitchen will be looking gorgeous for years to come – so let's take a look at what your kitchen could look like!
1. Simply chic grey kitchen cabinets
The reason grey cabinetry has been coming into vogue is that grey is such a fantastic all-purpose colour, instantly conveying utility and chic. Here, dove grey countertops go beautifully with the powder grey kitchen walls and dove grey cabinets. I think this is stunning and simplicity at it's greatest.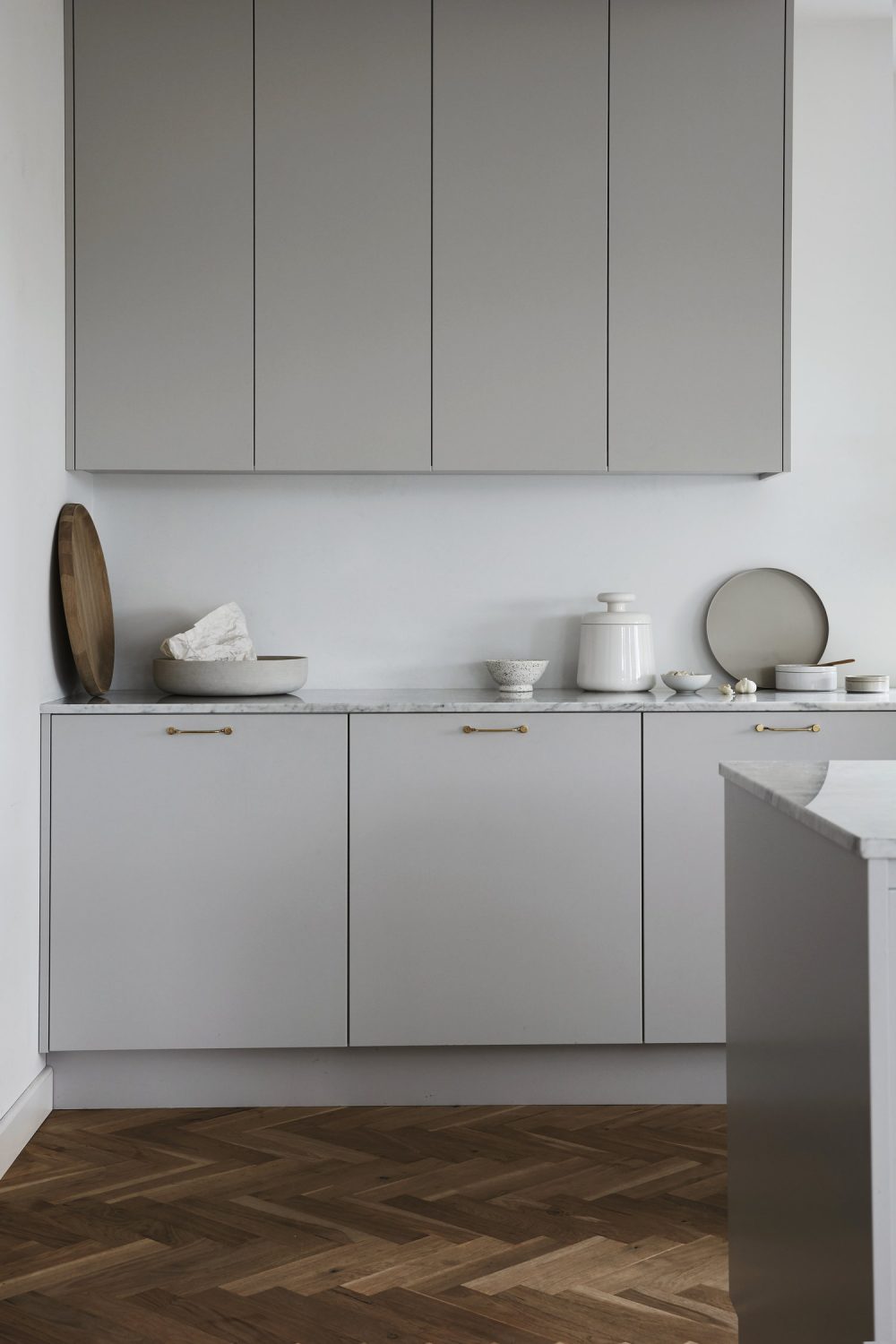 2. Beyond the pale
All-white painted cabinets are a beautiful and timeless classic, but kitchen designers have noted a subtle shift towards greys in recent times. Here, cloud-grey cabinetry is set off with black hardware and pulls and chic black pendant lights. Keen on painted cabinets? Find a tradie for your cabinet painting needs.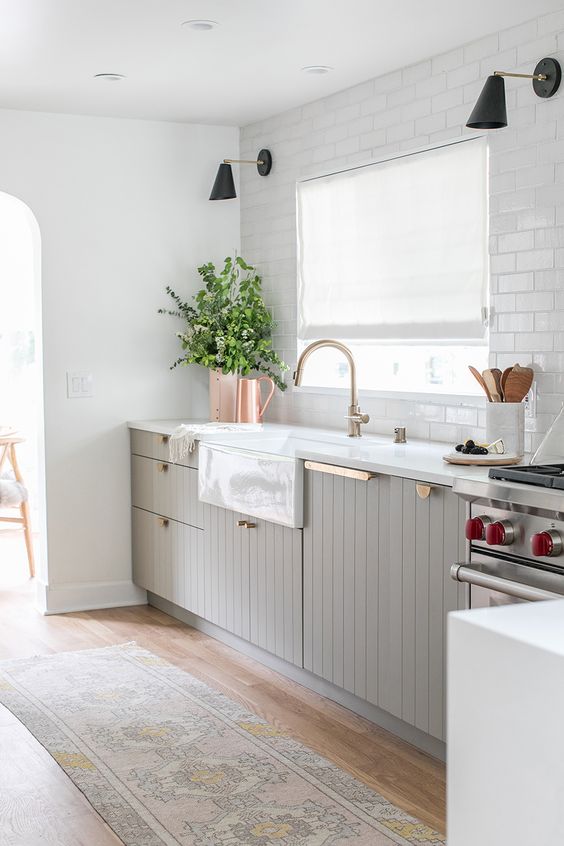 3. The soothing neutral
Neutrals are the best base colour palette to build on, and grey is a neutral that is admired for its ability to give space depth. A great alternative to the all-white kitchen when you want something a little less basic. This kitchen in French greys and marble shows that grey is anything but boring.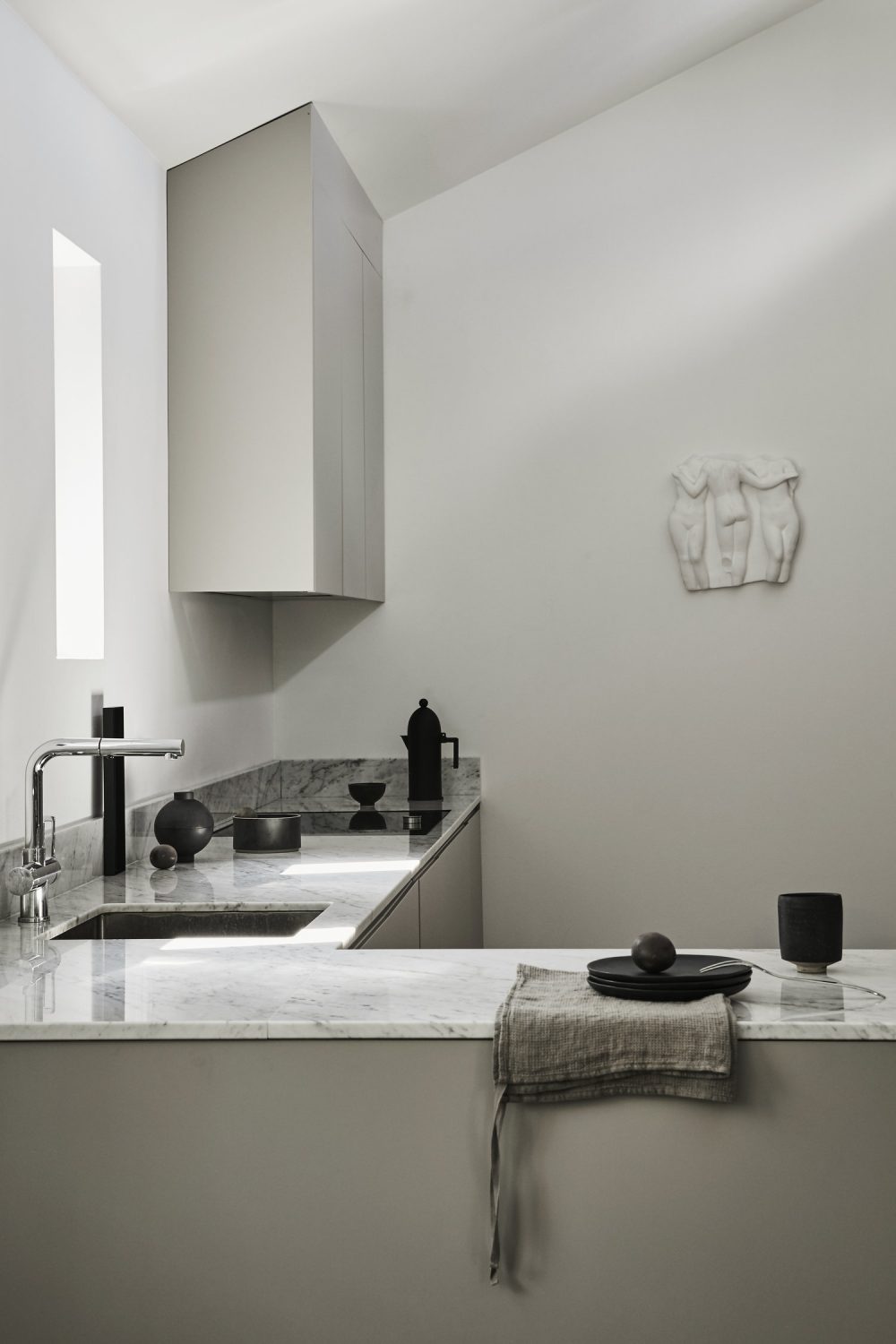 4. Paint it warm
Paint your walls or cabinets in a warm tone and then reinforce your grey aesthetic with complementary accents in other materials. Marble is a classic material for the grey kitchen, with its grey veining in a backsplash or countertop bringing in touches of the colour used for walls and cabinets.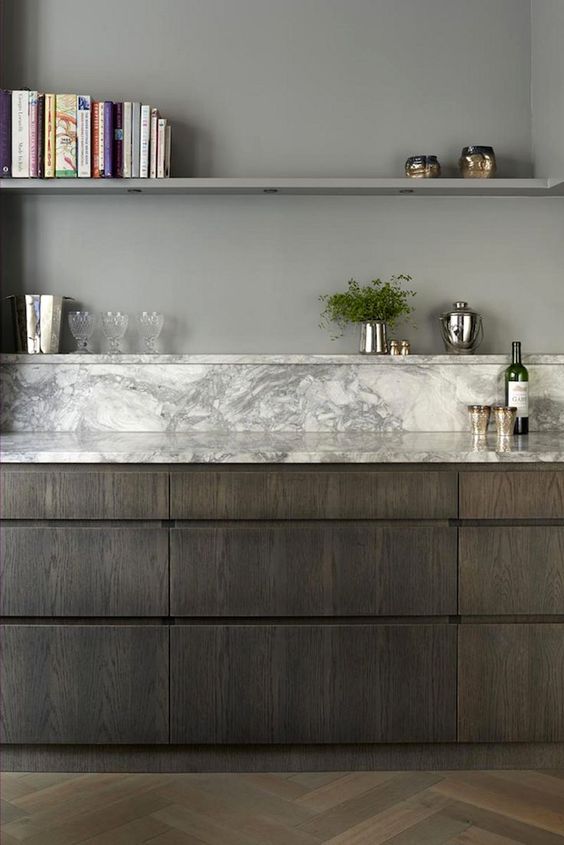 5. Light warm wood tones
Wood accents, whether in the walls, cabinetry or flooring keep things bright and fresh. Popular light and bright woods are beech, ash and pine. For a Scandi look, try this light grey wood cabinetry.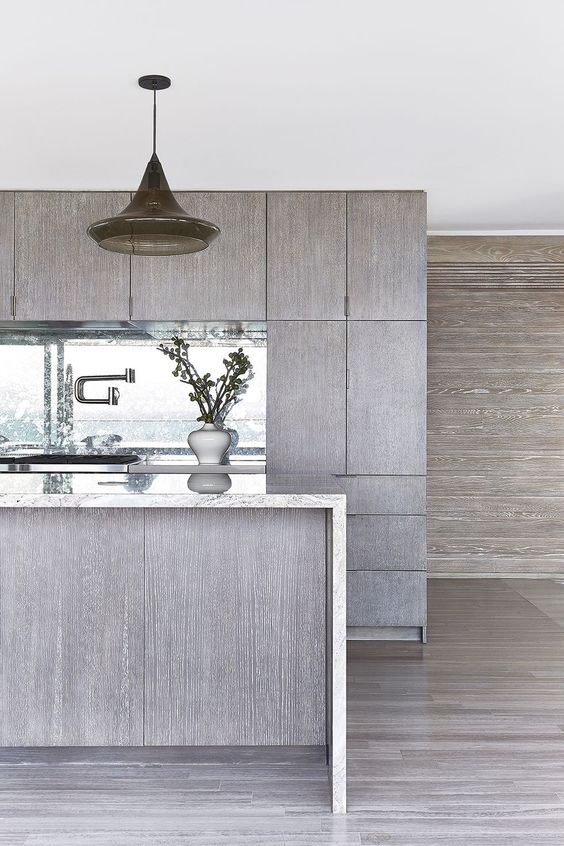 6. Minimalistic and Nordic
Grey is the perfect neutral for the Scandi kitchen, creating a uniform lightness that isn't as stark as white and allowing other colours to add zest in accessories.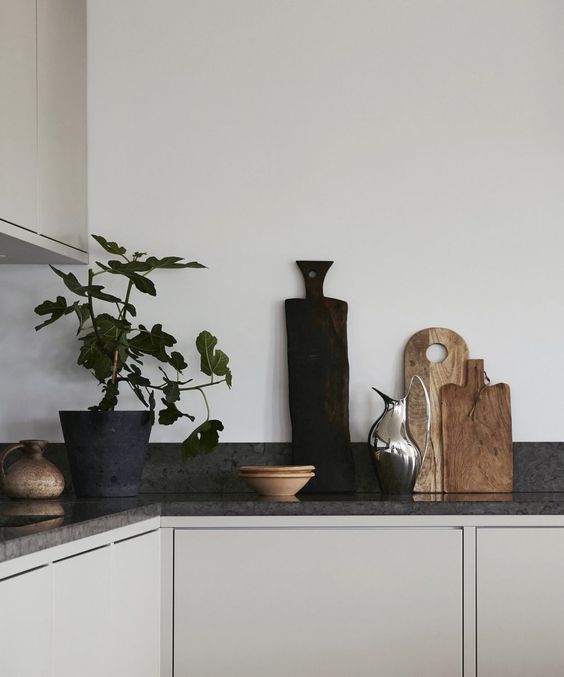 7. A neutral with depth
Here's a closeup of the inside of a pale grey cabinet in a Nordic-inspired grey kitchen. See how the pearly graphite grey paint works perfectly with the natural shadows?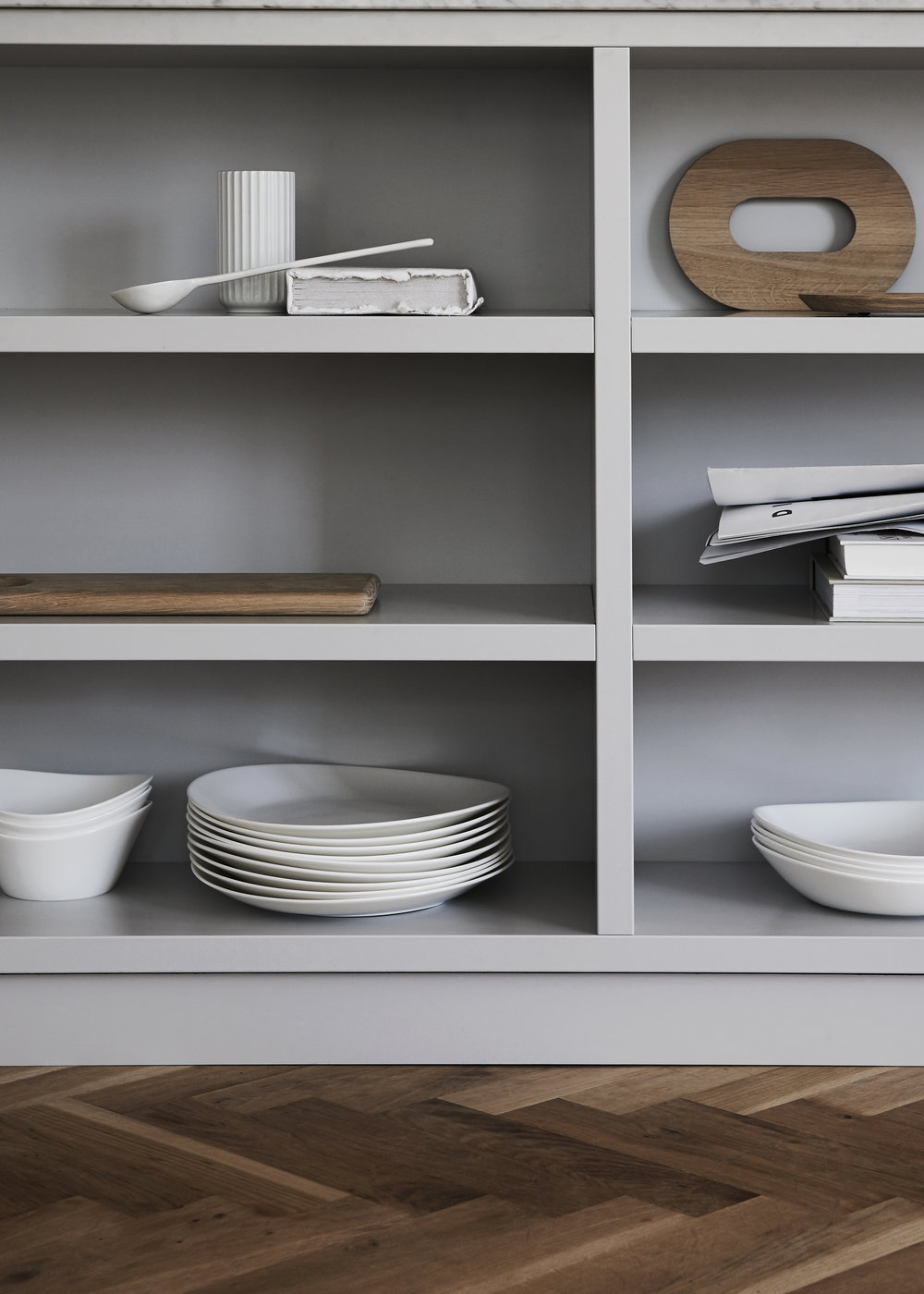 8. Layered greys
Designers suggest playing with a palette of three or four greys. Using a range of greys in a layered look is very popular in Scandi-style design: a darker grey is used as a grounding element, while lighter tones are added for interest and warmth.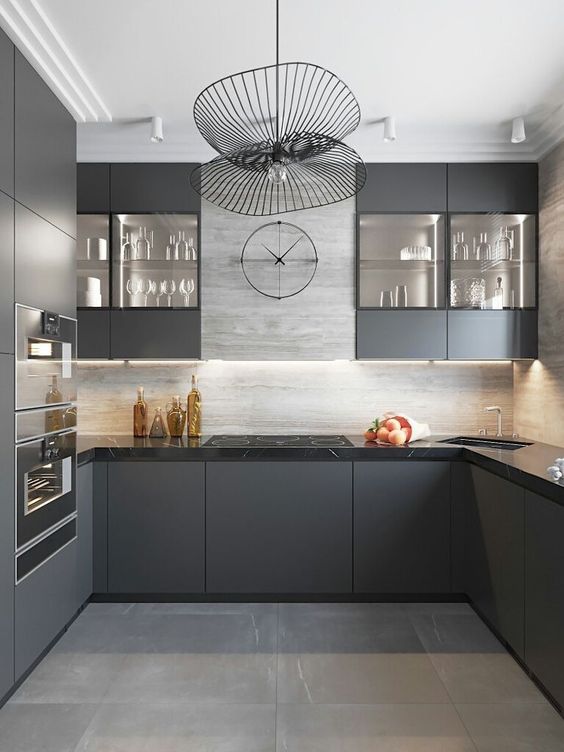 9. Go seamless
If you are going for the simplicity and practicality that is the hallmark of Scandi style, a seamless pale grey wall of cabinets is the perfect way to achieve those bare walls and sparse spaces that add up to "less is more".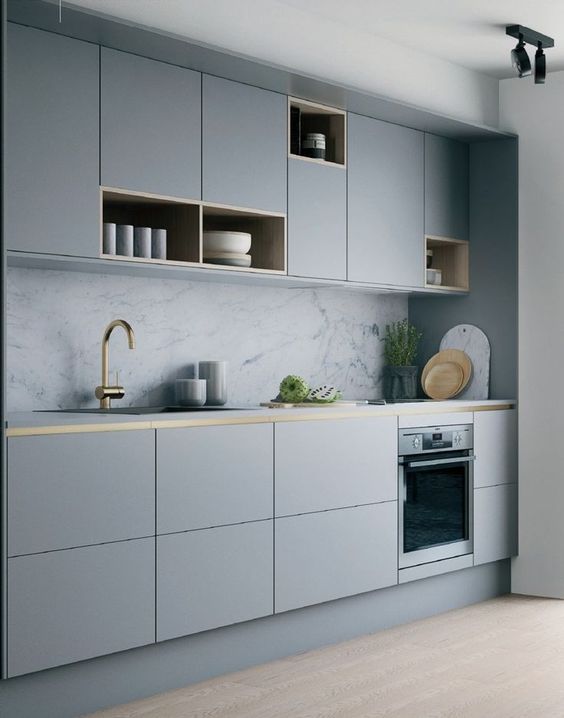 Something like this is a custom job and one best left to the professional kitchen cabinet makers.
10. Grey and white kitchen
Dark grey paint absorbs light so if going for very dark cabinetry, make sure you add plenty of fresh white in the palette and some gorgeous statement lighting. This is really important when there is a lack of natural light.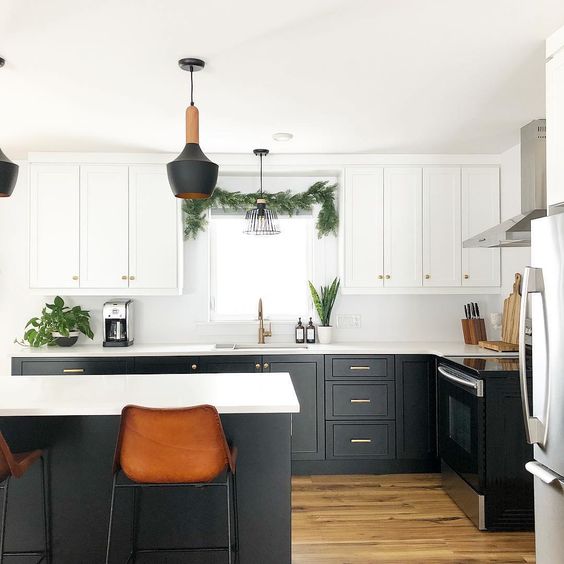 11. Balance light and dark
Aim for a perfect balance of light and dark when mixing grey lower cabinets with white walls for a chic effect. It means the room will appear much larger with higher ceilings.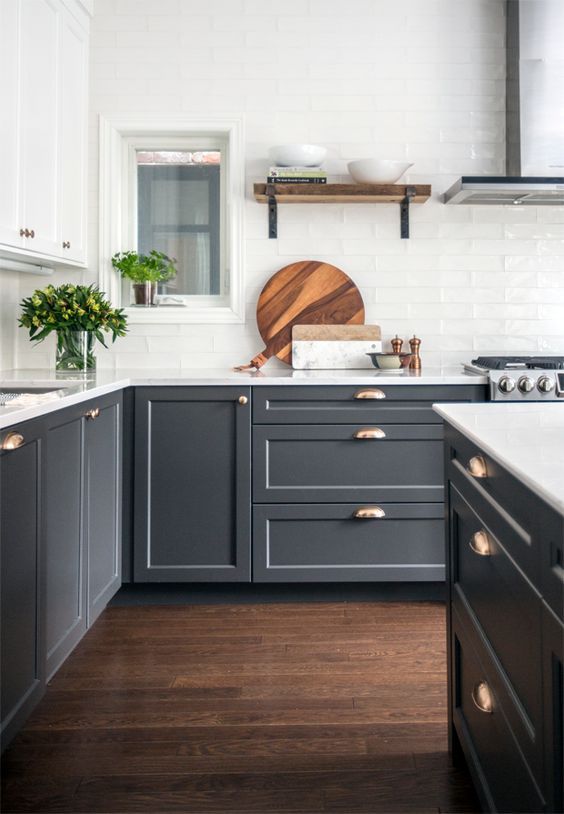 12. Totally tonal
You could paint your walls and cabinets a peaceful mid-grey and mix with black accents such as the open shelf here. But painting isn't limited to walls and kitchen cabinets—some people like to extend beyond just cupboards and paint integrated fridges, rangehoods or kitchen islands in their preferred grey.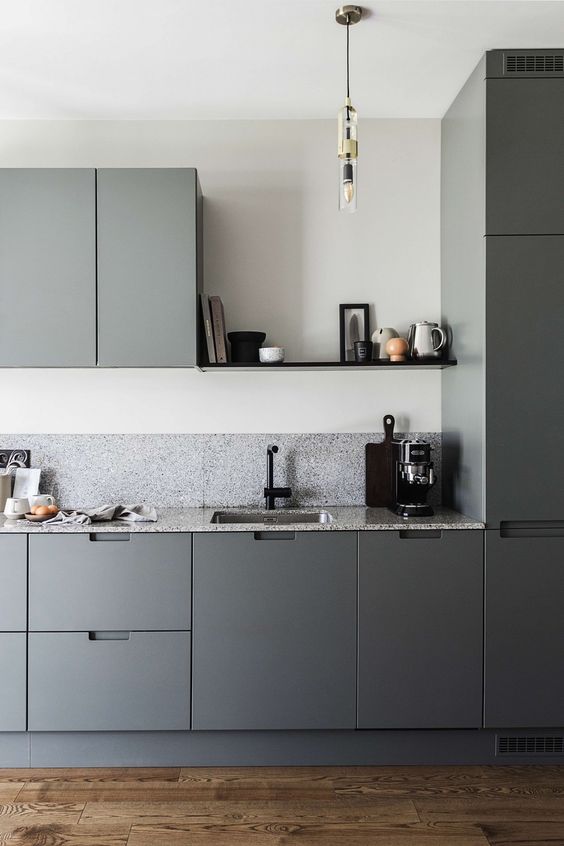 13. Fade to grey
This is actually a laundry room in real life, but the dreamy lilac-toned grey would translate beautifully into a kitchen. And how about those gorgeous tiles?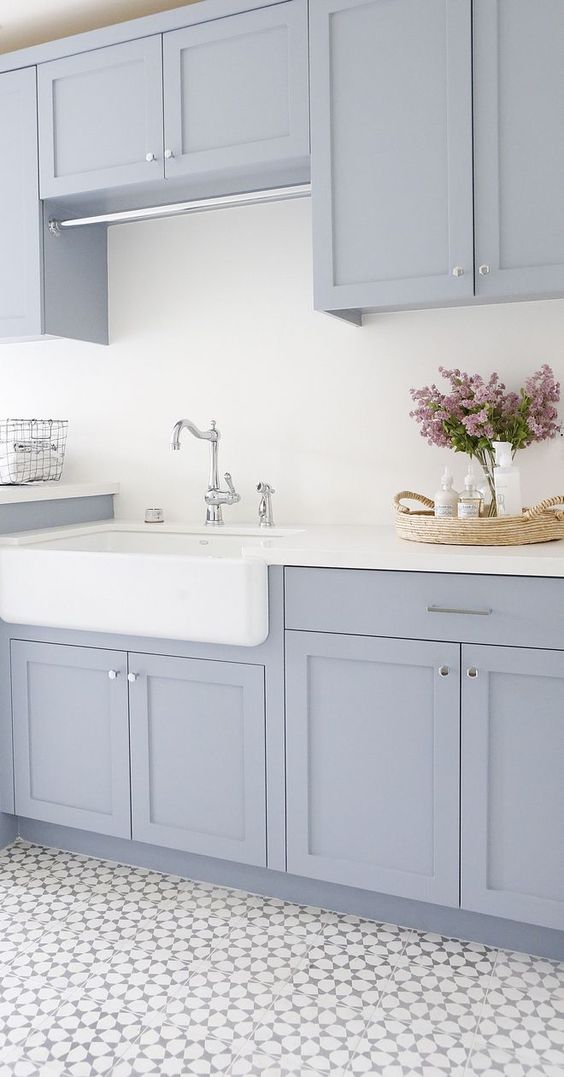 14. Mix it with vintage
If you feel your grey and silver kitchen lacks personality or warmth, try adding a statement vintage piece in vivid colour to act as a focal point and contrast beautifully with all the neutrals. When your vintage piece is going to be a stunning heritage stove, as seen here, then make sure you find someone to take care of the stove installation.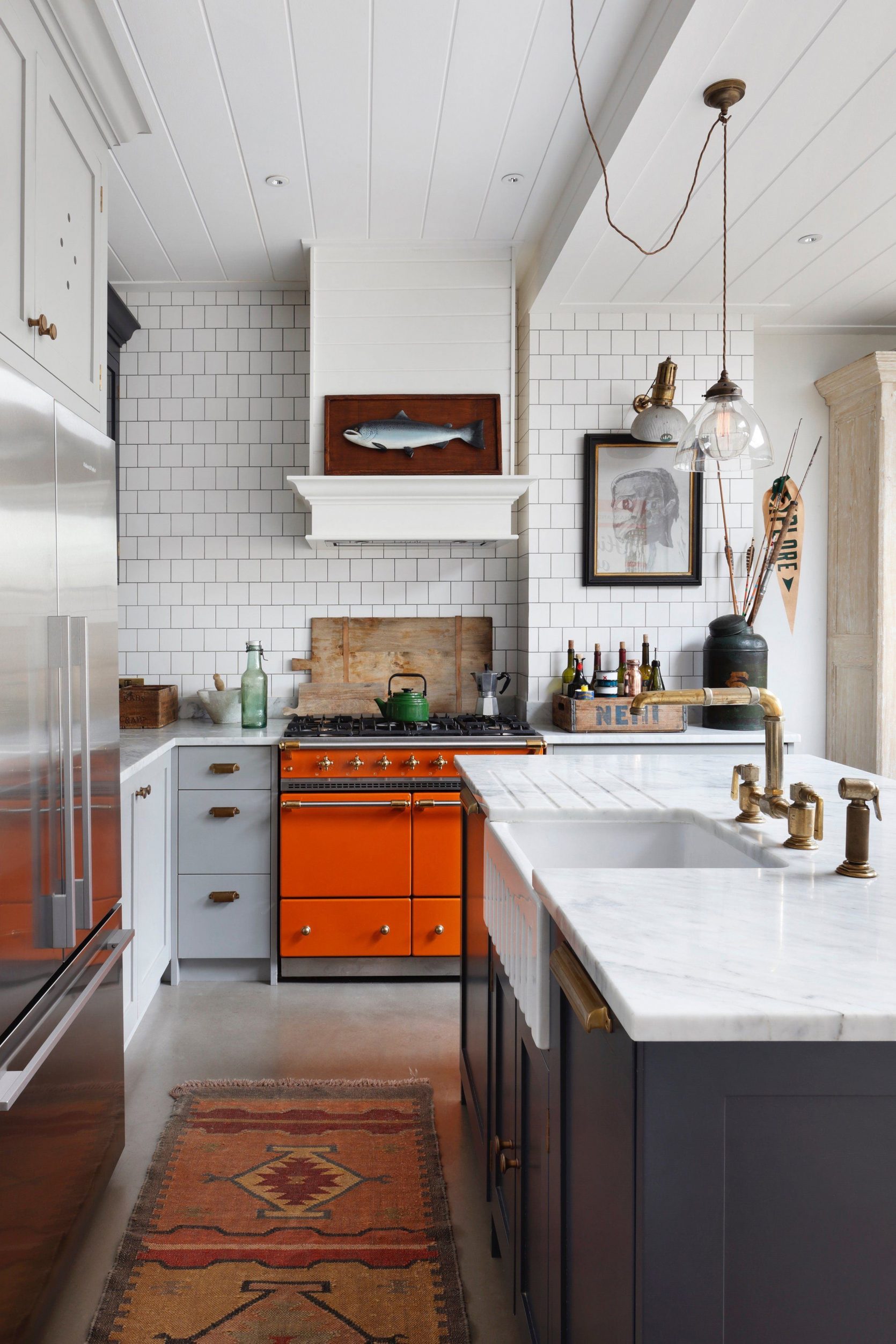 15. Add warmth with a rug
Rugs and textiles are often used to soften a hard, dense-looking space, or to warm up a dull palette. Here a classic grey kitchen is lived up with a rug that brings in some of the tones in the cabinetry.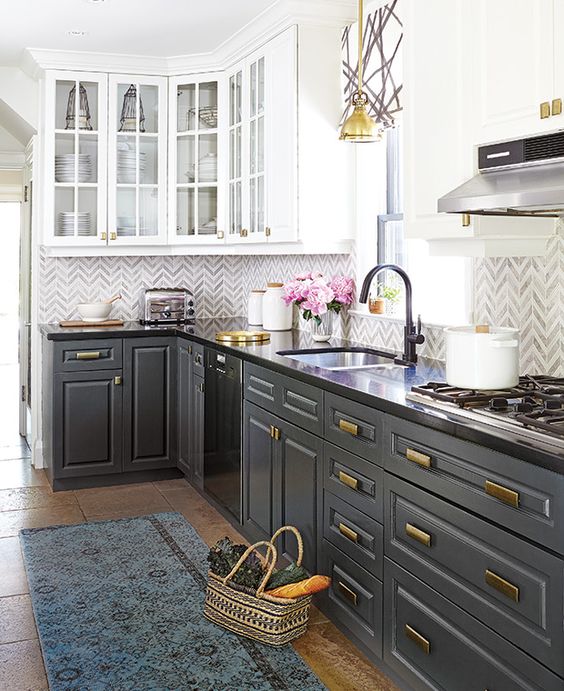 16. Flawless floors
A mid-grey tiled floor works beautifully with the white Shaker-style kitchen cabinetry and black accents here.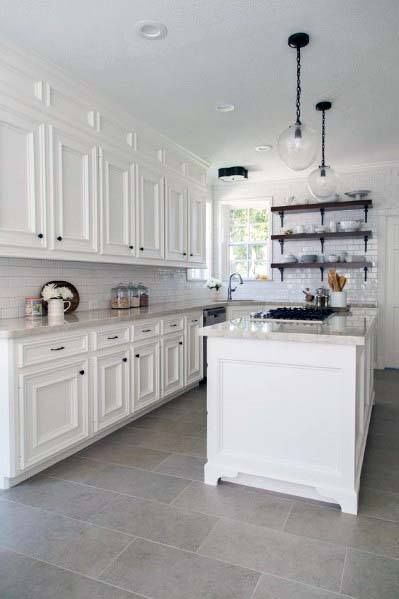 Actually, if you're a fan of a white kitchen, you might want to take a look at these wonderful white kitchen ideas which will have you desperate to renovate your kitchen.
17. Touch of grey
If you are firm on white cabinets, you can bring in the grey aesthetic in other subtle ways, such as by painting the inside of your butler's pantry.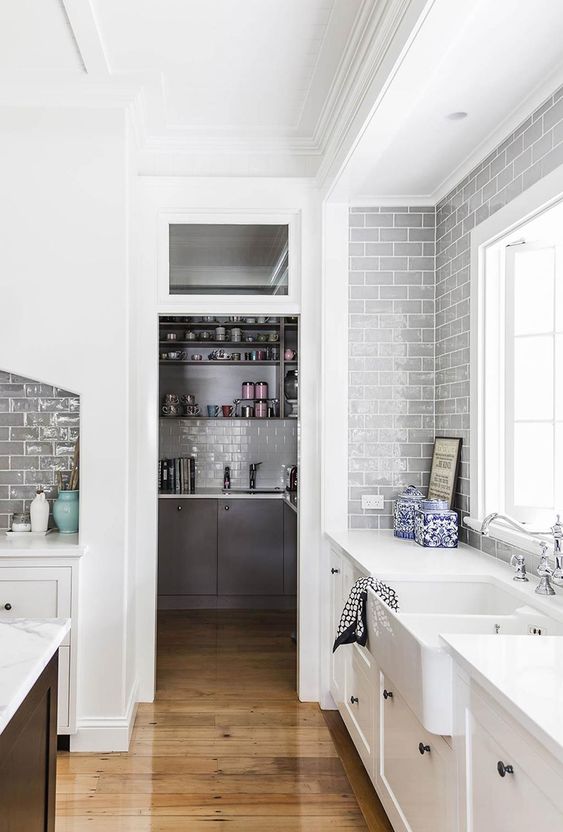 18. Mix grey with colour
Adding pops of other colours makes grey shine. You could try other neutrals (such as black, white or taupe) or bold shades of greens, teal or blue, or metallics as accents. Mixing metal finishes is an avant-garde look that may appeal to you (for example, having stainless steel appliances featuring antiqued brass hardware).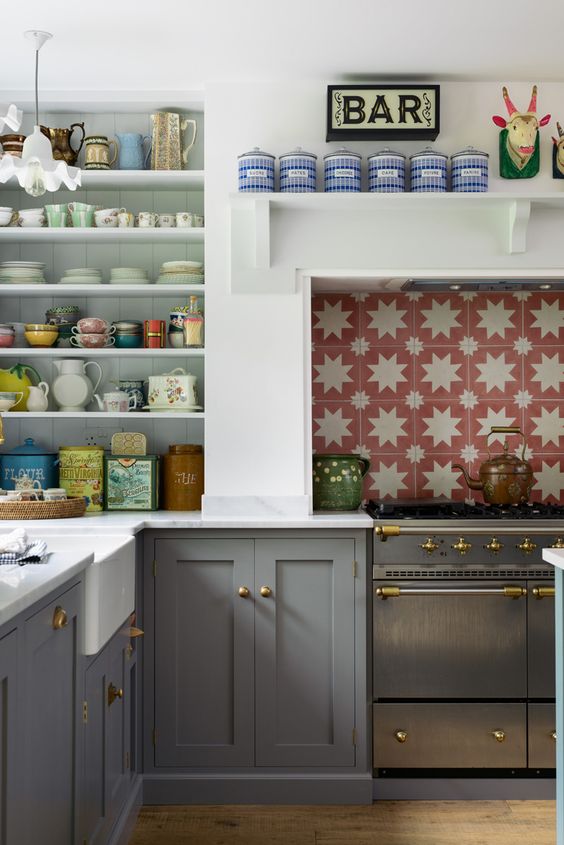 19. Mix it with metals
If you do decide to go for a very monochromatic space, incorporate a range of finishes for added texture and reflection. Here, grey stone and two-tone cabinetry are juxtaposed with bright chrome.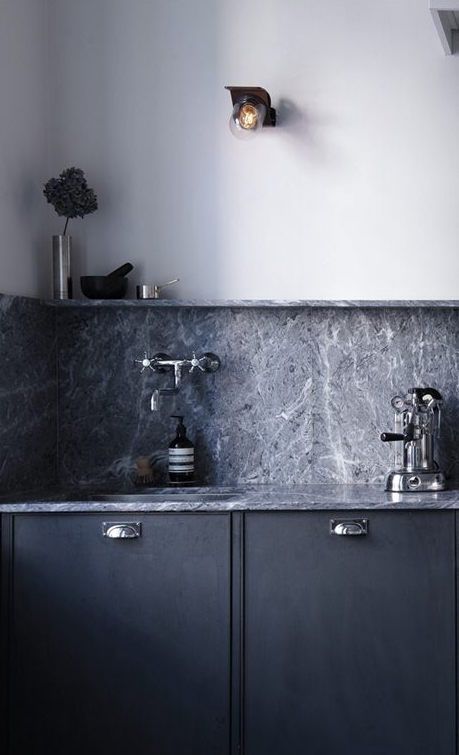 20. Two neutrals
Grey and warm wood are two neutrals that just go together perfectly. Here, a grey kitchen continues its theme in the grey chairs, with the wooden table complementing the countertop.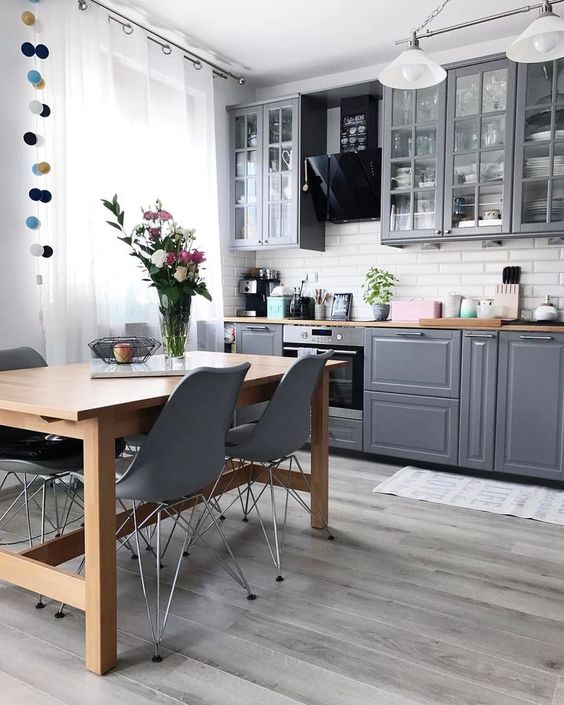 21. Try an elegant blue-tone grey
A colour that manages to be both traditional and modern, this almost-navy, dark matte storm colour does the job on these beautiful cabinets.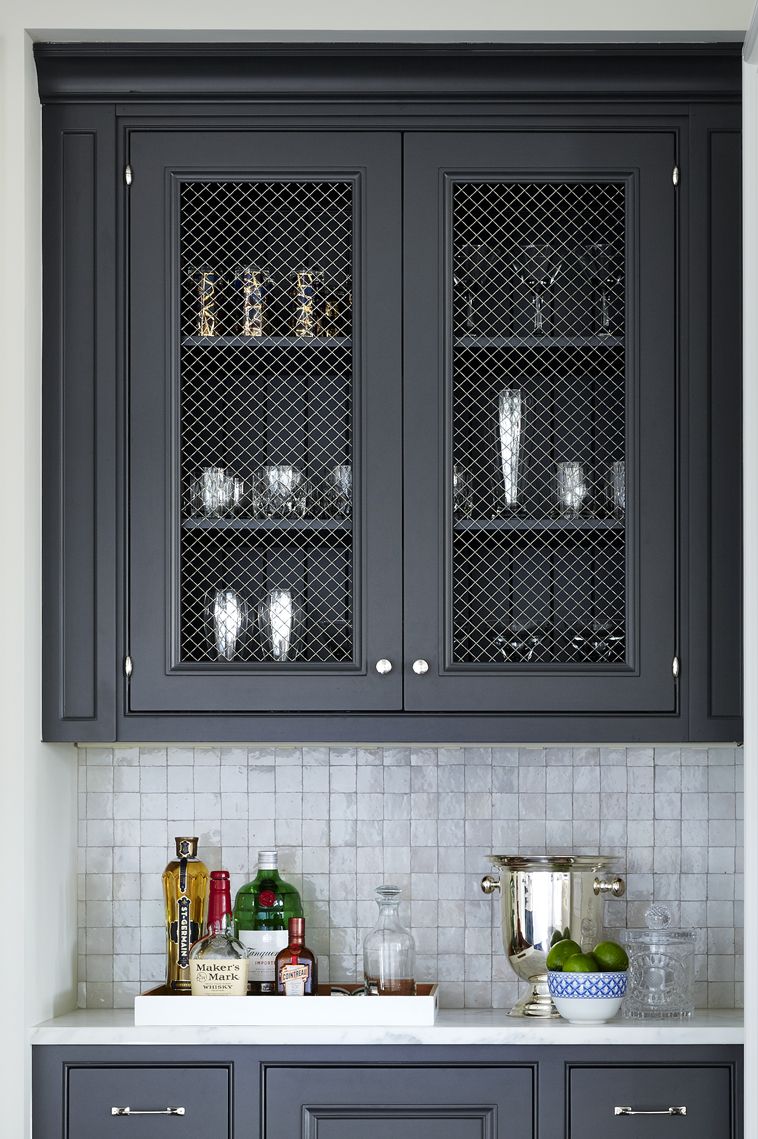 22. Mix it with a statement hood
Hoods have become something to feature, rather than necessarily something to try to hide or blend in. I think it's fair to say that the statement rangehood has officially arrived. And it offers another way to add drama or colour pops to a grey-palette kitchen.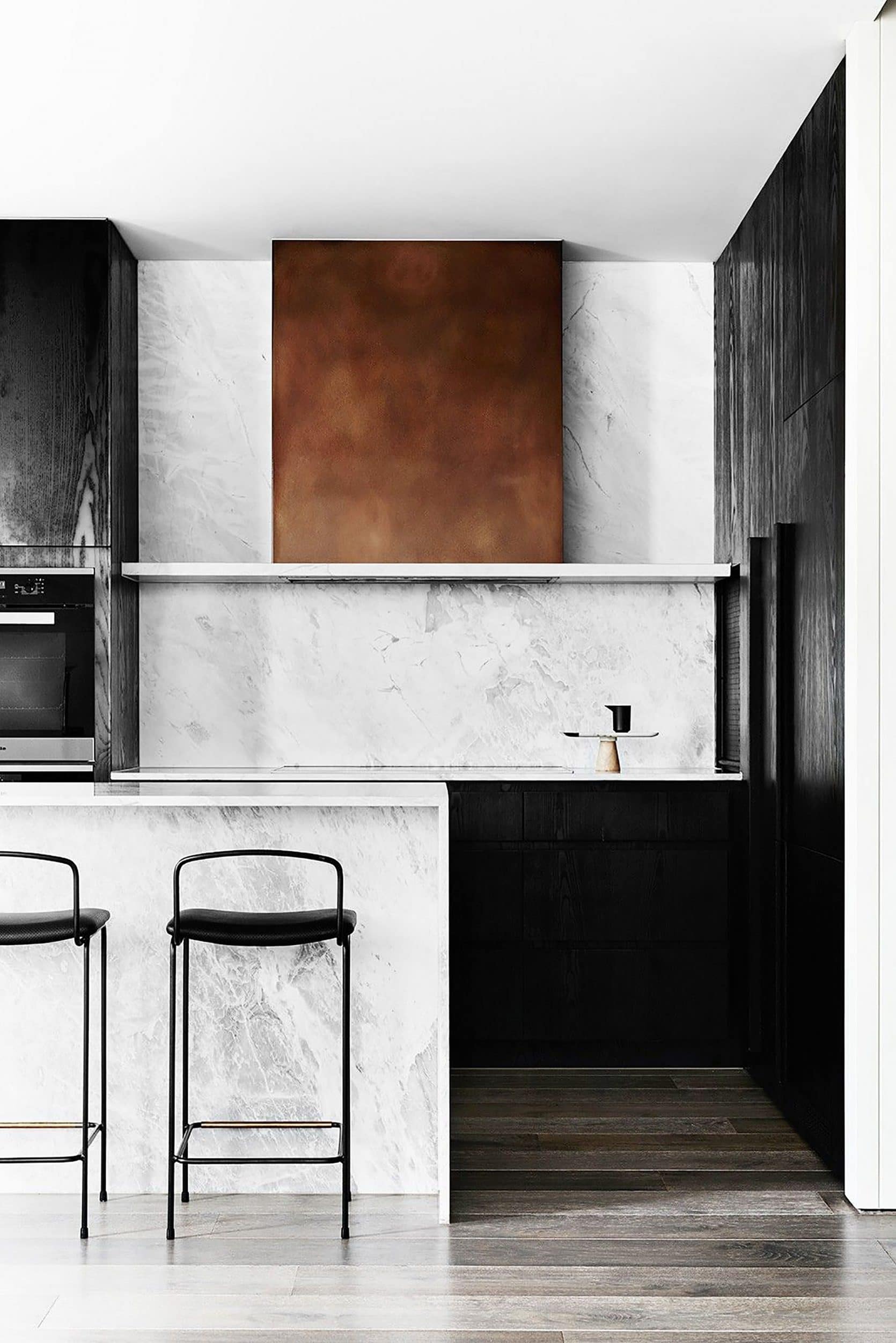 23. Grey kitchen counters
This seamless mid-grey kitchen features grey quartz counters which are becoming a popular style choice alongside concrete or marble for the grey kitchen.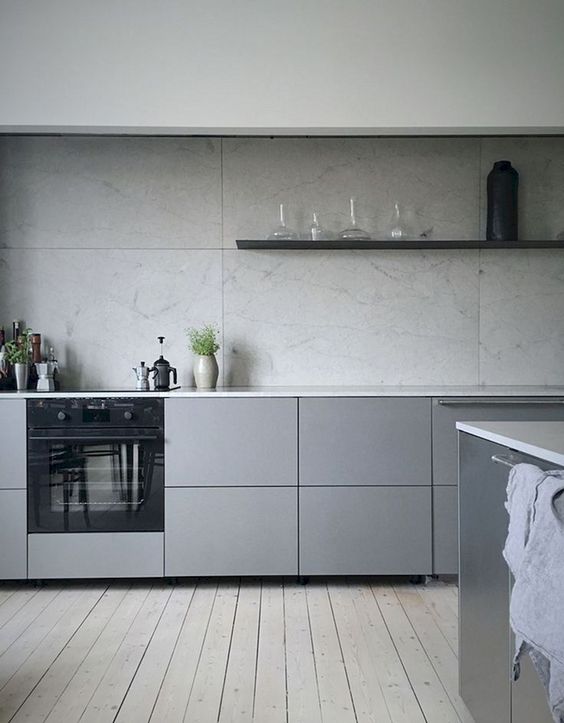 24. Mix grey with wood
Grey pairs with everything, but especially warm timbers. It really allows you to lean towards an industrial style design or even farmhouse kitchen design.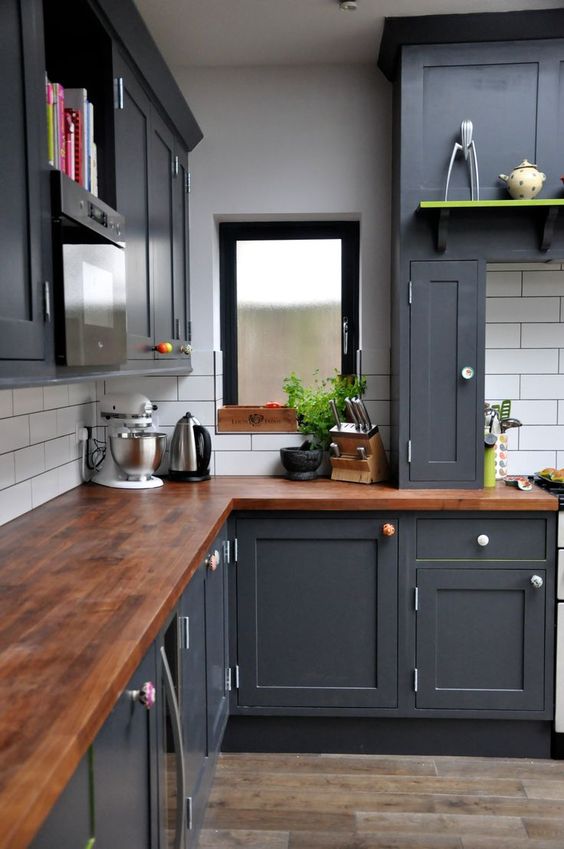 25. Add a mirror
Mirrors in kitchens are a newish trend but are becoming popular thanks to the fact that mirrors have such a way of brightening and enlarging any room, including the kitchen.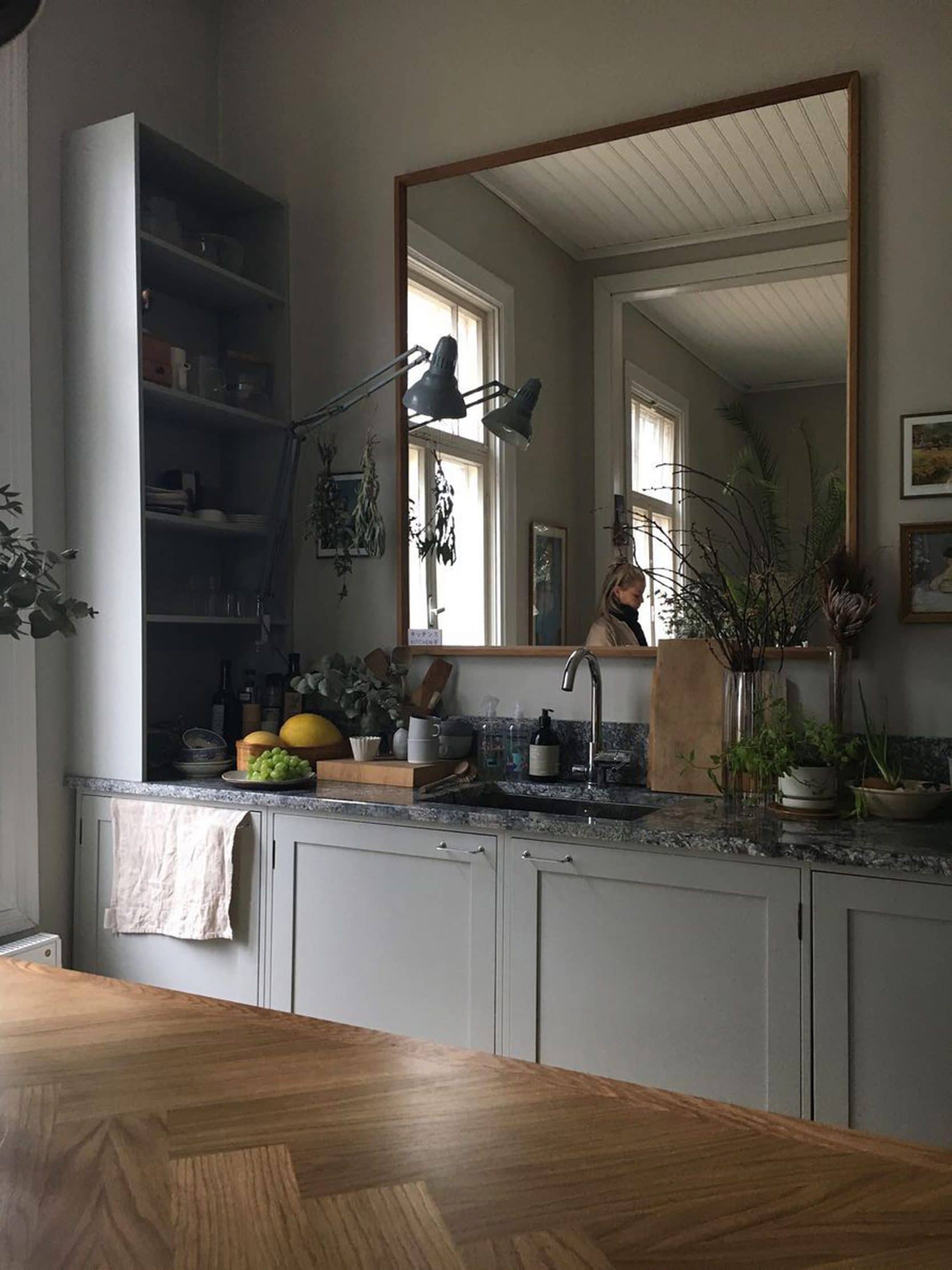 26. Tone on tone
When using several shades of grey, you can create a gorgeous tone on tone look that has depth and visual interest. Here, the space grey cabinets work harmoniously with the marble counter and splashback and the mid-grey hood. Look for ways to renew the tones in different textures (such as in reclaimed wood, patterns in monochrome, or elements of sparkle such as in natural stone quartz).
27. Grey and white kitchen
Combine a palette of crisp white and greys in charcoals and pewter.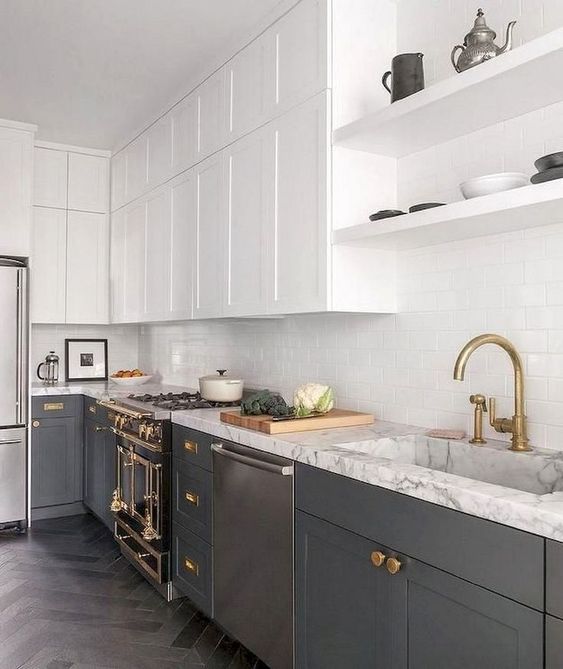 28. Grey gloss kitchen
Combine your favourite grey shade with a high gloss finish for a striking contemporary kitchen remodel. Perfect for the smaller kitchen, high gloss cabinets reflect more light and help the space appear bigger.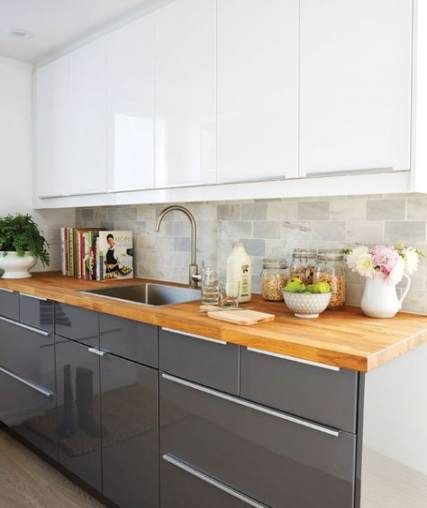 29. High gloss with grey
Or try high gloss white cabinets against a dark charcoal wall in a matte finish. You'll find it's quite a refreshing look.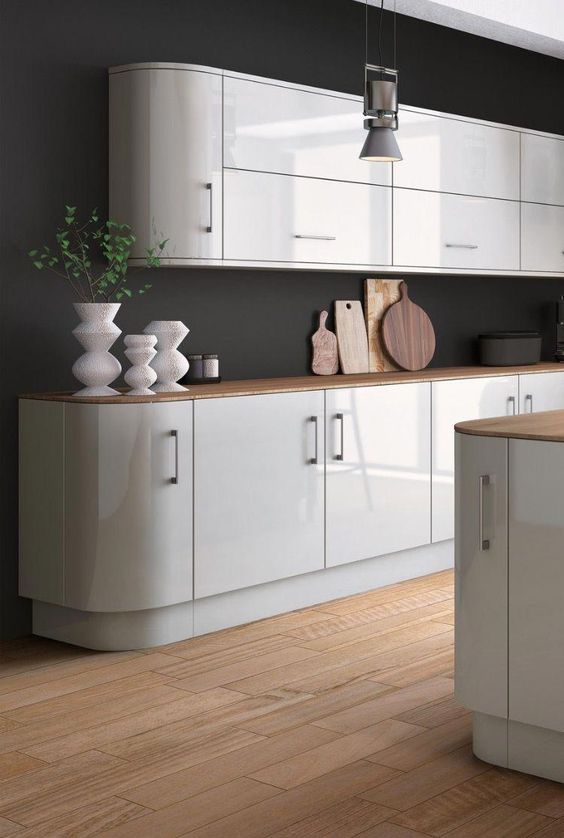 30. Oriental influence
It's not just the Scandinavians who love their clean lines and sustainably sourced materials—there's a distinctly Japanese vibe to this oak and grey stone kitchen, which also features leather drawer liners.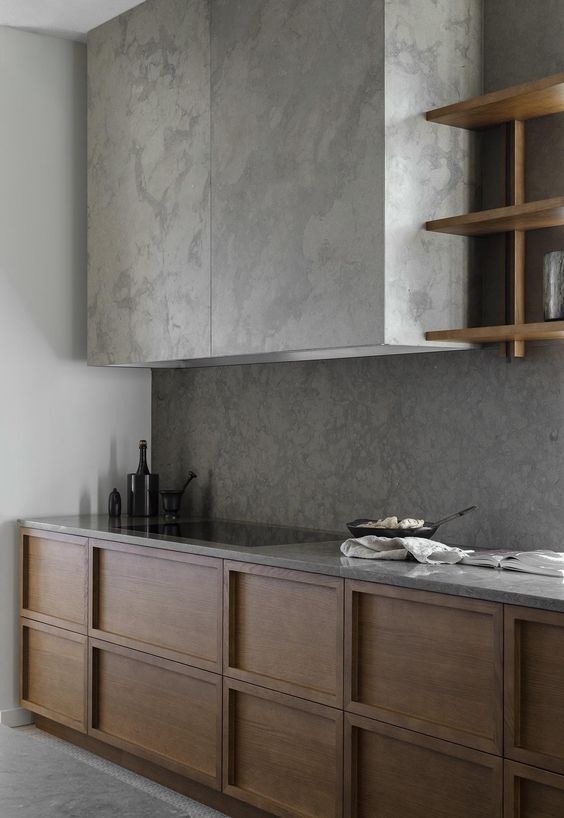 31. Bold as brass
Metal cabinet hardware and fixtures together with a grey kitchen spell glam and luxe. Here, the modernity of the dark charcoal cabinetry, white walls and white open shelves is contrasted with the traditional effect of brass fittings.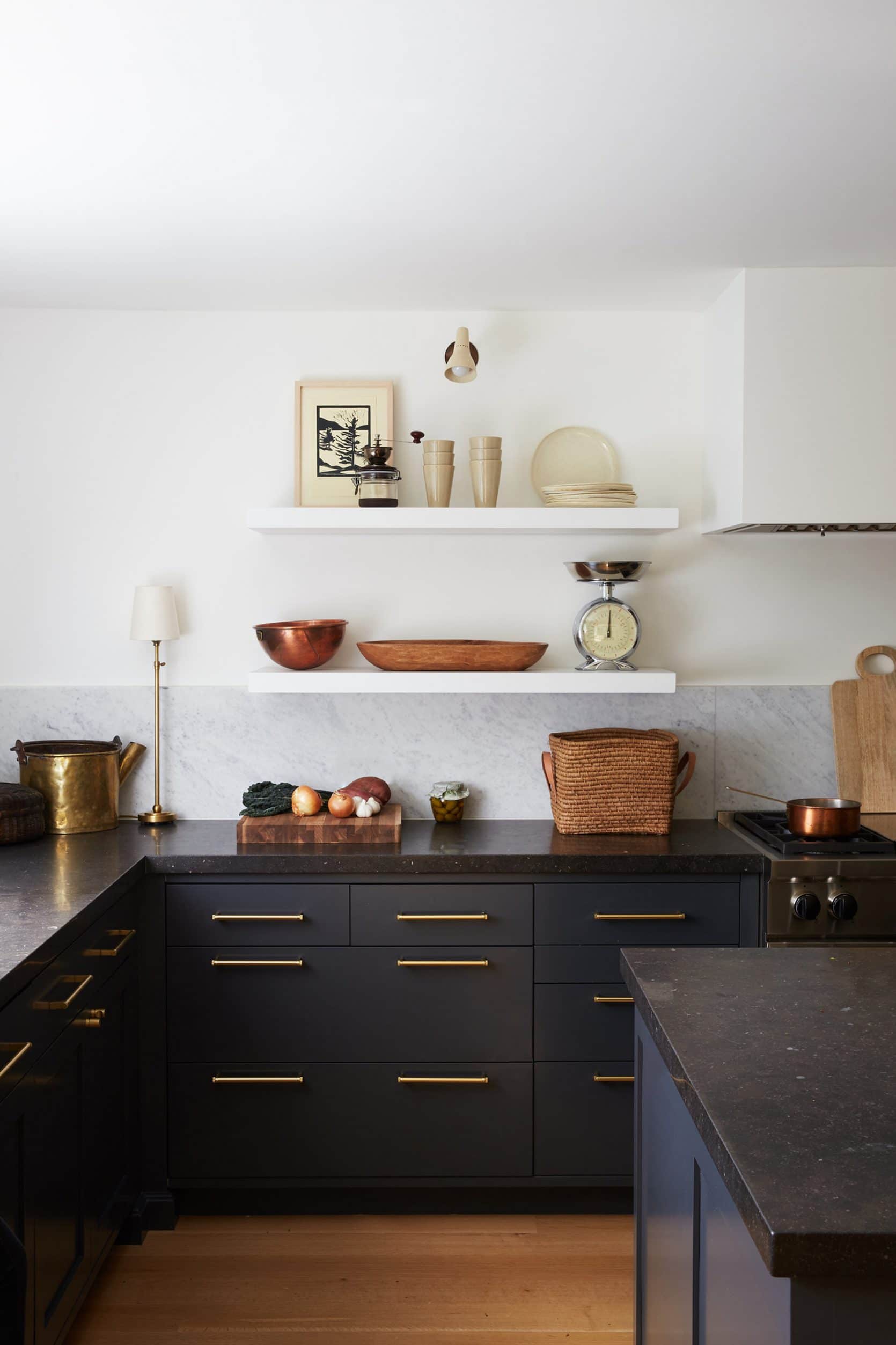 Grey kitchen tiles
Tiles are a great way to add texture in your kitchen or to use as a focal point. And if you need some more kitchen splashback ideas there are endless options you can go with.
34. Grey and white kitchen with tiling
A white kitchen is updated with powder grey cabinets and gold fittings and fixtures, with everything drawn together by the pretty splashback tiling.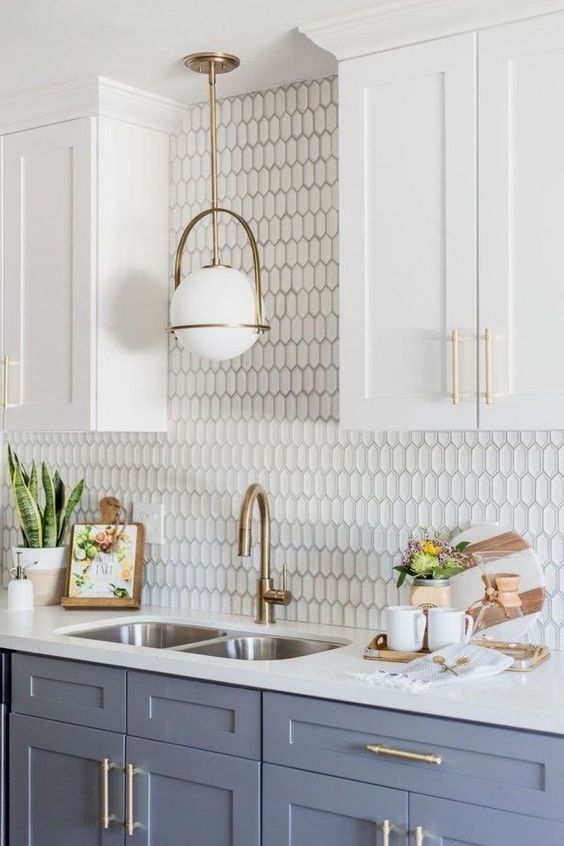 36. Intricate patterns
Abstract ceramic kitchen backsplashes are currently very popular and dark grey tones contrast superbly with both light and dark cabinetry.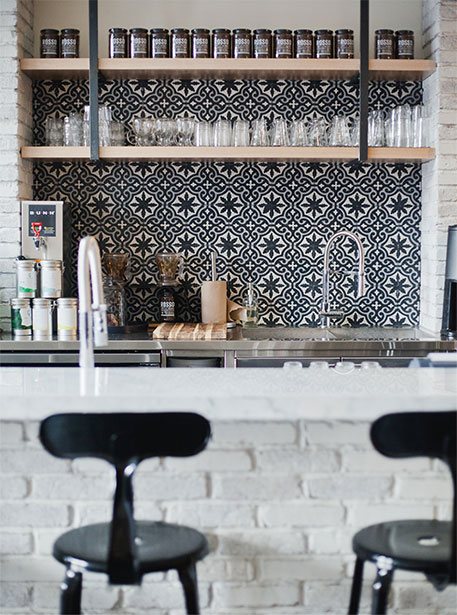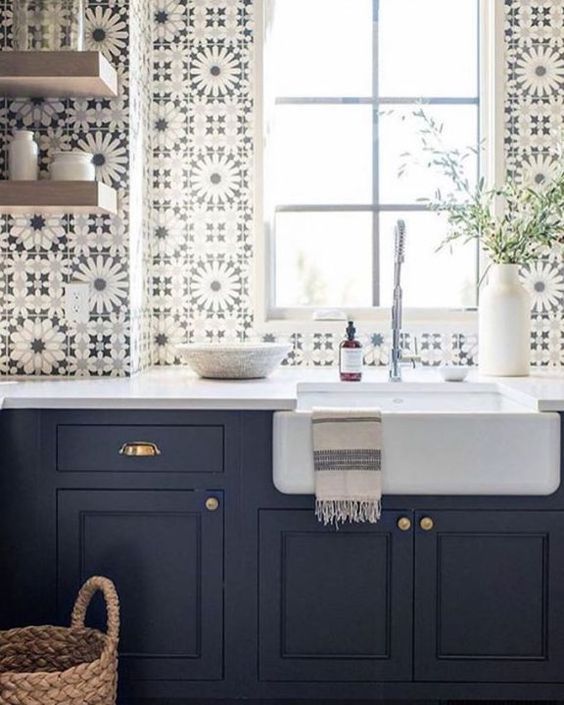 37. Subway tiles
Or try adding a gorgeous grey Spanish tile splashback to a predominantly white kitchen, giving it wonderful texture and a vintage vibe.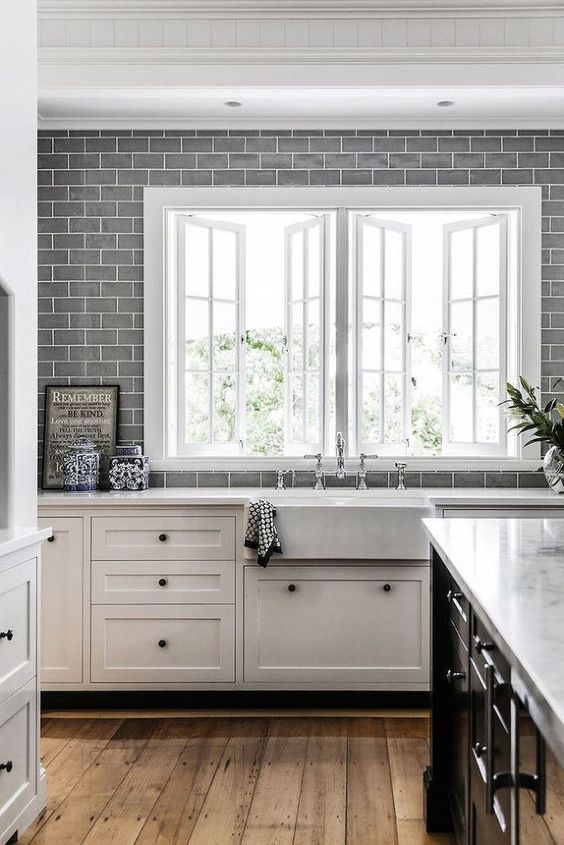 38. Chevron tile pattern
Another stylish option is dark, matte, large format chevron tiles paired with a light marble countertop.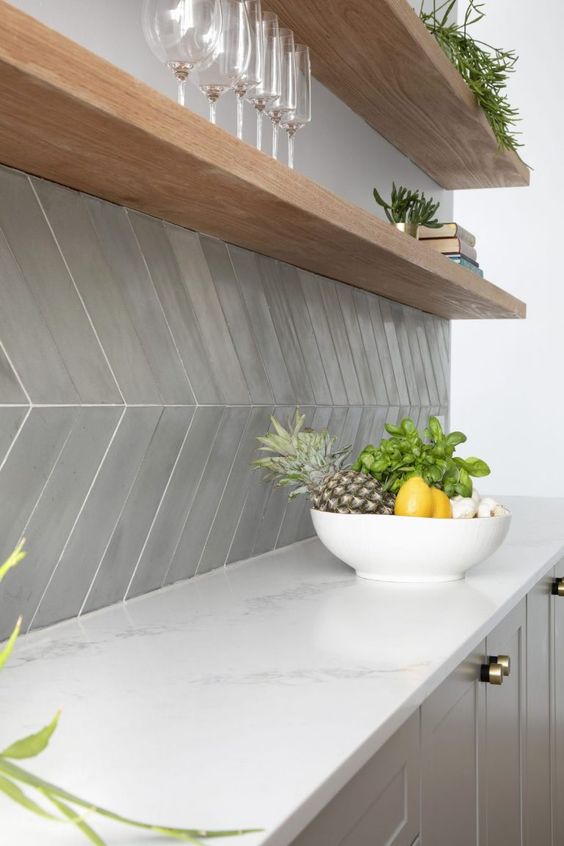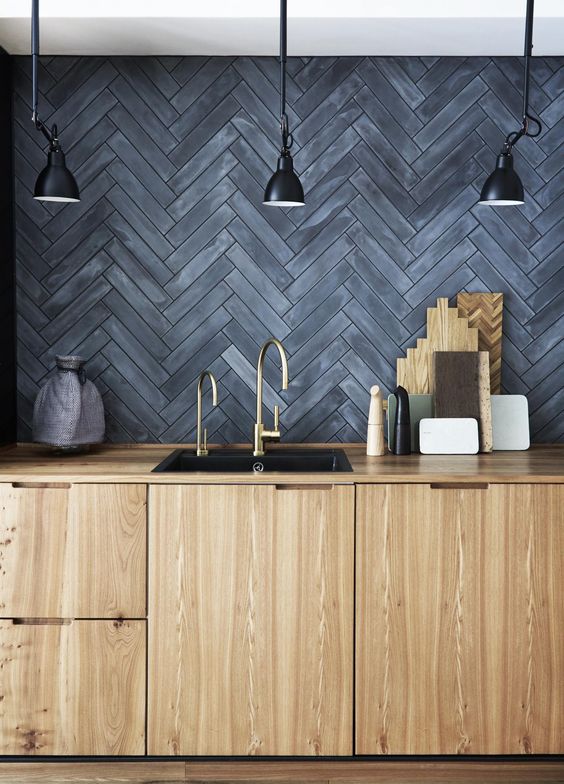 39. Herringbone splashback
And here is another pretty grey look, this time incorporating a pale geo tile splashback.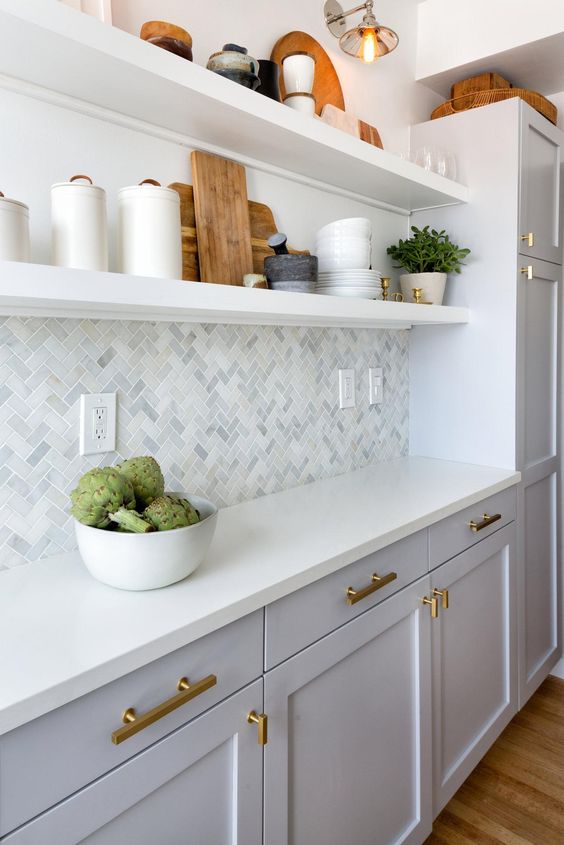 40. Unfinished edge tiles
Finally, how about this unfinished-edge tile look that contrasts its organic, raw edges so well with the neatly structured grey cabinetry?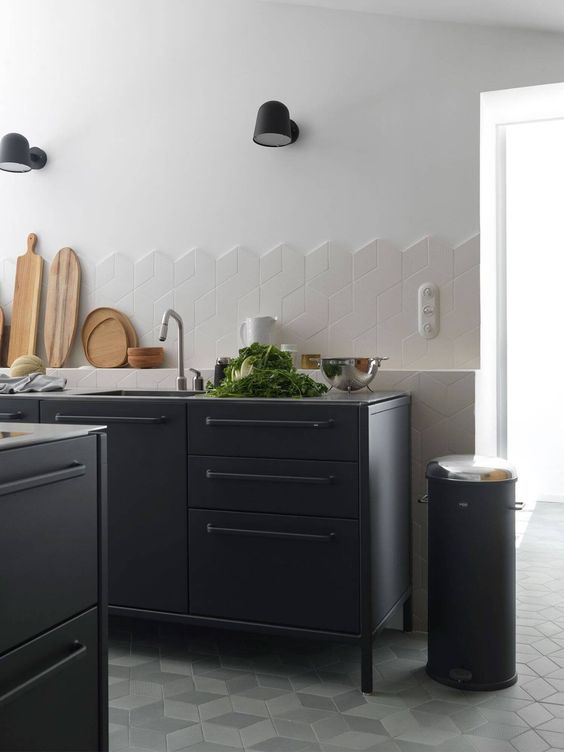 Although grey can sometimes seem austere or cold, it actually works really well both in contemporary and traditional kitchens. The trick is to pair it with warm materials like wood and stone or contrast it with bold accent colours. Or capture both grey and white in your kitchen cabinets, giving a modern aesthetic to a more traditional design.
Whether you decide to add grey walls, cabinets, counters, shelving or flooring, achieve grey kitchen perfection by pairing light, medium and dark tones of this soft, calm, elegant colour. Ranging from pale pebble shades to mushroom to cool slate greys, there is a shade of this gorgeous neutral for everybody.
Ready to get started on your grey kitchen project or want to browse through some more kitchen ideas first… Otherwise for prices when it comes to a kitchen renovation, here are the following guides: