After a kitchen that is modern, elegant, simple to maintain, versatile and professional-looking? Then the industrial modern kitchen is for you! Compared to farmhouse or traditional kitchen styles, the industrial kitchen is defined by a professional aesthetic and mimics the utilitarianism of a commercial kitchen used by trained chefs. However, the industrial kitchen is not typically minimalist, instead, it juxtaposes an eclectic variety of materials and makes heavy use of personalisation to give the space its character. 
Industrial style harks back to 1950s America when creative communities designed living spaces specifically to make their work/life balance easier. Often old warehouses were sourced for housing, featuring plenty of open space and large windows with abundant natural light. Homemakers embraced the use of tough and rustic materials like concrete and stainless steel and took advantage of their spaces' raw architectural elements, such as exposed beams or pipes. 
This aesthetic of unrefined, textural beauty married with functionality and efficiency has developed into the stunningly popular modern industrial kitchen trend. Typically sleek and stylish, but also incorporating vintage and salvaged elements, industrial style results in a space that's both edgy and full of warmth and individuality. 
The industrial kitchen is often also defined by its incorporation of highly professional appliances, often featuring built-in fridges and dishwashers. It's not uncommon to find multiple appliances nestled in together, such as two dishwashers or multiple under-counter fridges scattered through the space. Another favourite for chefs in industrial-style kitchens is induction cooking technology, such as cooktops with sous vide (a form of precision cooking using a bain maire), and serious pizza chefs will, of course, want a pizza oven for pizzeria-quality pies. 
Here we've gathered more than 42 incredible ideas to inspire you in your industrial kitchen design journey…
1. Raw simplicity
Industrial kitchens are known for their 'naked'–unfinished, unrefined, unpainted–walls. So if you have concrete walls or brickwork to expose, go ahead and leave them bare to achieve an instant industrial aesthetic.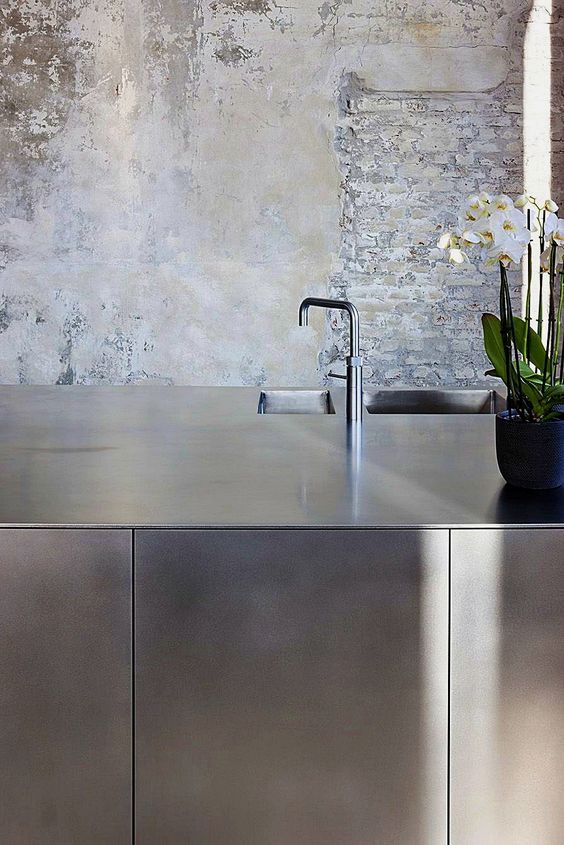 2. Embrace existing architectural features
Always reveal existing architectural elements such as exposed beams, metal pipes, air conditioning ducts, electrical systems and so on. These are elevated to being a design feature in industrial kitchen design, rather than seen as an eyesore to be disguised.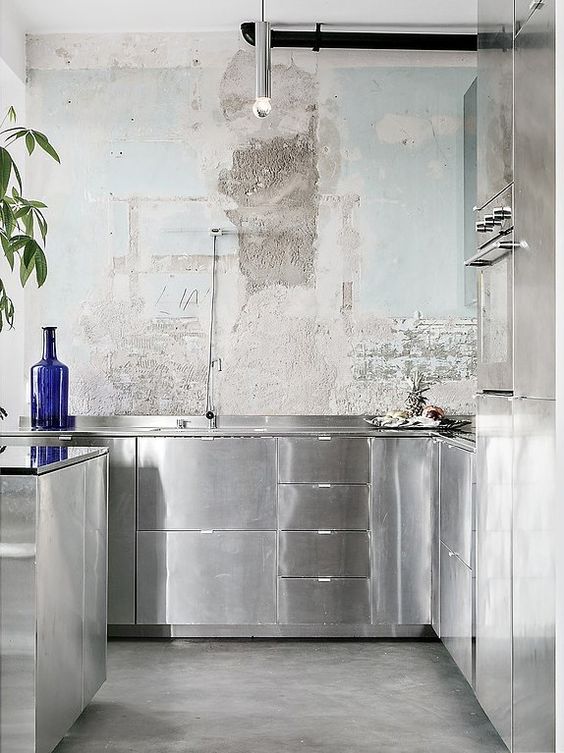 3. Take advantage of 'the bones'
You may have a naturally industrial space thanks to "the bones" of your building.  The bones of your space are its architectural features—think high ceilings, wooden beams, original floorboards, large windows. Industrial kitchens obviously work best in industrial-style spaces, but you can still model the aesthetic if you don't necessarily have a true industrial-style building.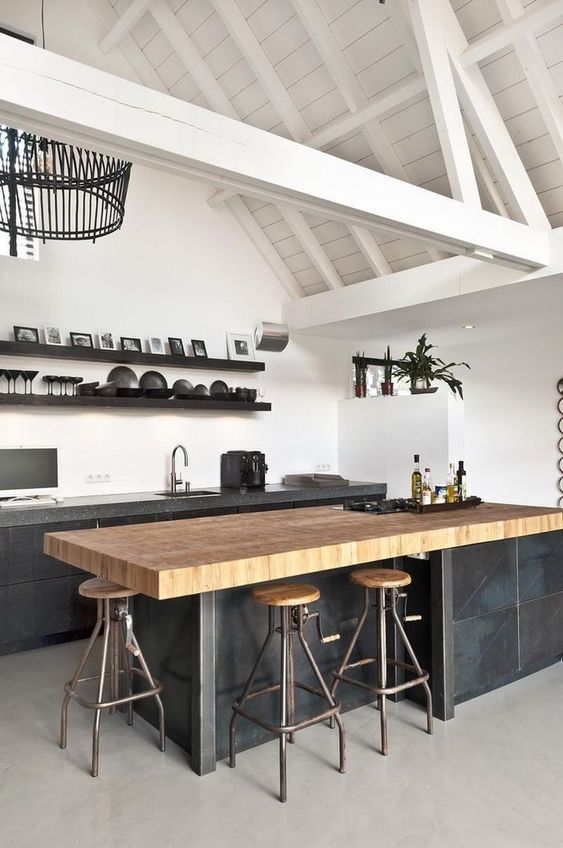 Looking to make some changes to your kitchen? Get a professional to give you some hints and tips with your next kitchen renovation project.
4. Maximise open space
Ideally, your industrial kitchen will have a high ceiling and lots of wide-open space, giving an airy feeling, but you can maximise the feeling of space with clever storage systems and the use of smooth steel work surfaces. Blending stainless steel with rustic timber open shelving is a great way to juxtapose textures while creating a light, open atmosphere, as seen here.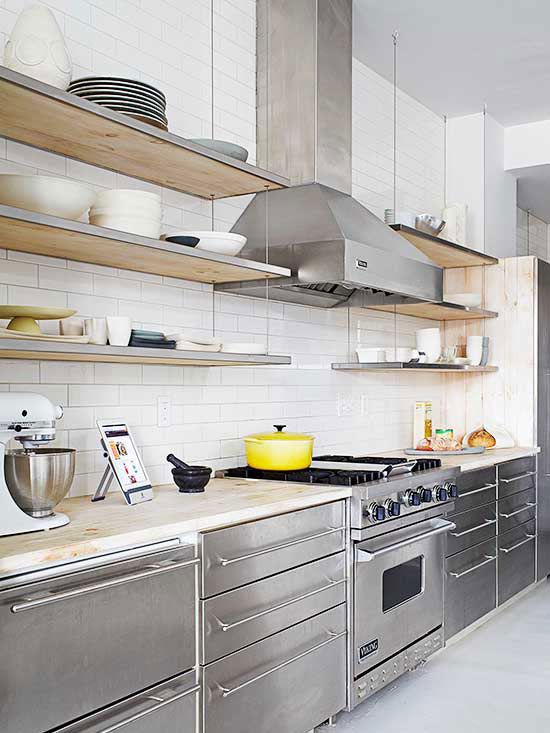 5. Install heavy-duty appliances
Heavy-duty appliances are essential in an industrial-style kitchen. In pursuit of that commercial aesthetic, it's necessary for your professional-grade appliances to really stand out and be noticed for the higher performance and superb functionality they offer.
Splash out on a five-burner range or install dual fuel models with convection and full extension oven racks—be aware that regulations around residential safety mean that a fully professional-grade range probably isn't possible, but you can definitely get a burner that delivers enhanced performance and provides a wide spectrum of heat settings to finesse your cooking. Whatever you choose, it needs to be high performance, extremely functional and durably finished.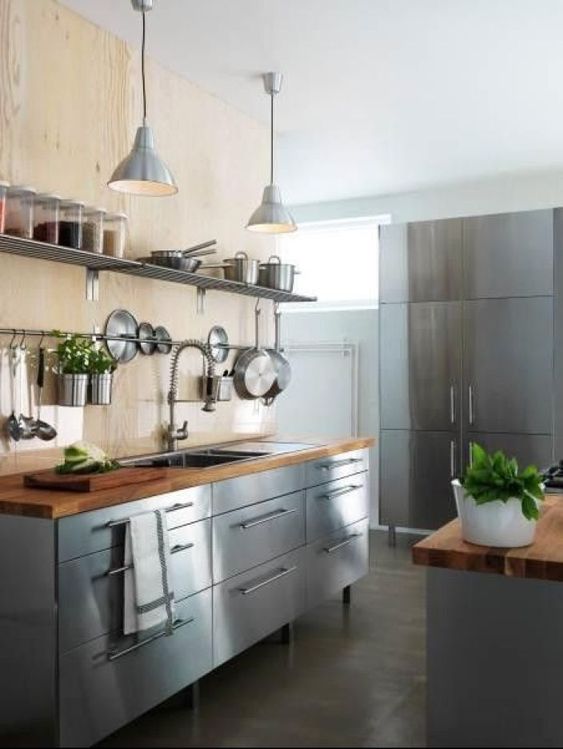 6. Expose brick
Exposed brick always delivers on charm and personality, so if you can remove the plaster to expose brickwork, do so. Make sure you test a patch first to ensure the condition and type of bricks are suitable.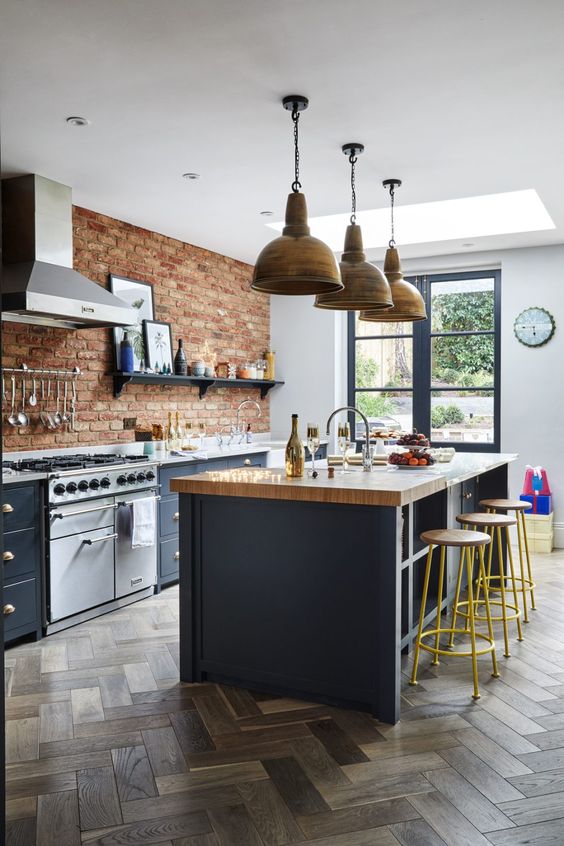 7. Expose pipes
If you have any copper pipes, put them on display! Copper pipes are a favoured way to add warmth and character to an industrial kitchen. You can even adapt them to make them work in your kitchen.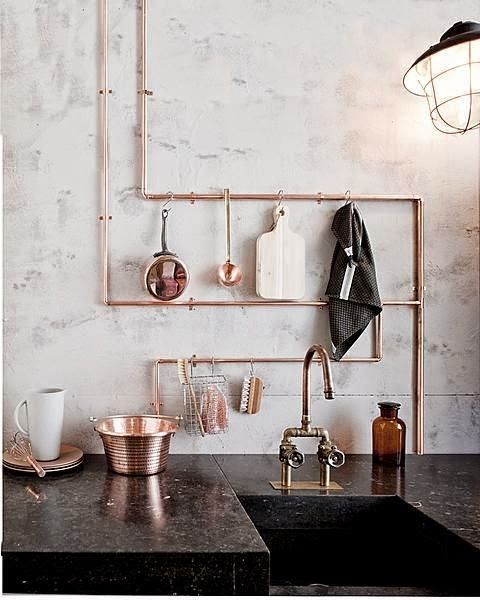 8. Focus on concrete
One material that screams "industrial" is concrete: its colour, texture and finish are all highly suited to the bold, utilitarian look. Use it to act as a focal point in your industrial kitchen, whether it is in the walls, the counter or perhaps a kitchen island.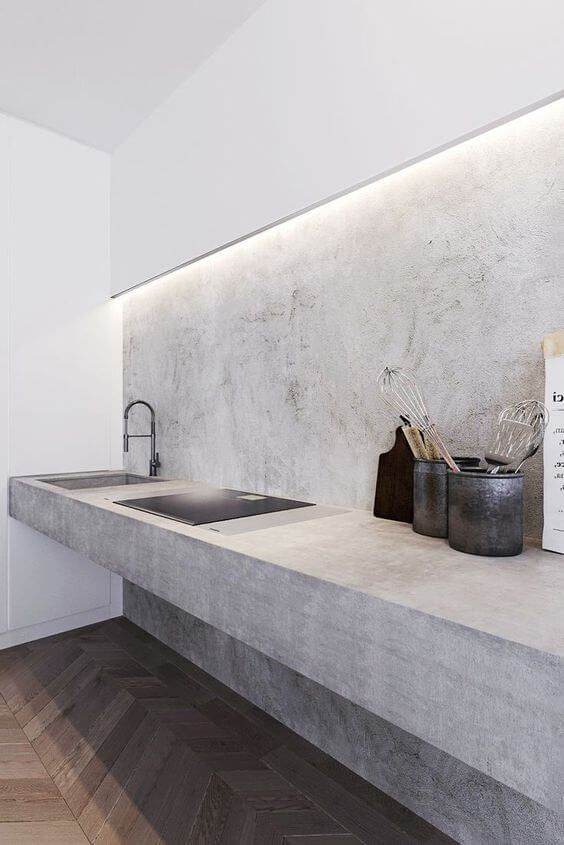 9. Juxtapose concrete and timber
Highlight the raw beauty of concrete by contrasting it with other materials such as timber.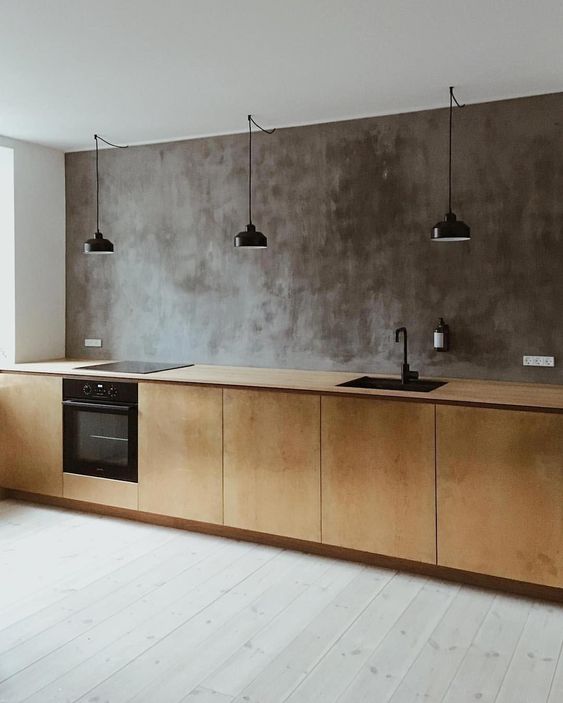 10. Combine a variety of materials
A key characteristic of the industrial kitchen is the eclectic combination of different materials to provide a range of textures and colours. So the industrial kitchen may boast a mix of stainless steel, concrete, marble metals and woods, all stimulating visual interest and allowing a high degree of personalisation.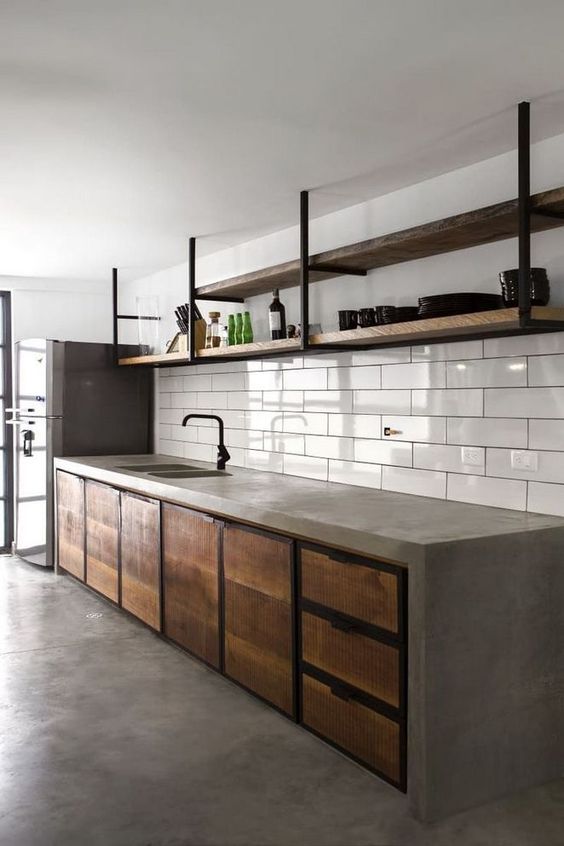 11. Use distressed metal
The use of distressed metal works very well in an industrial kitchen – check out this gorgeous cooktop featuring honed black stone backsplash, French metal and distressed black vent hood, surrounded by white quartz counters.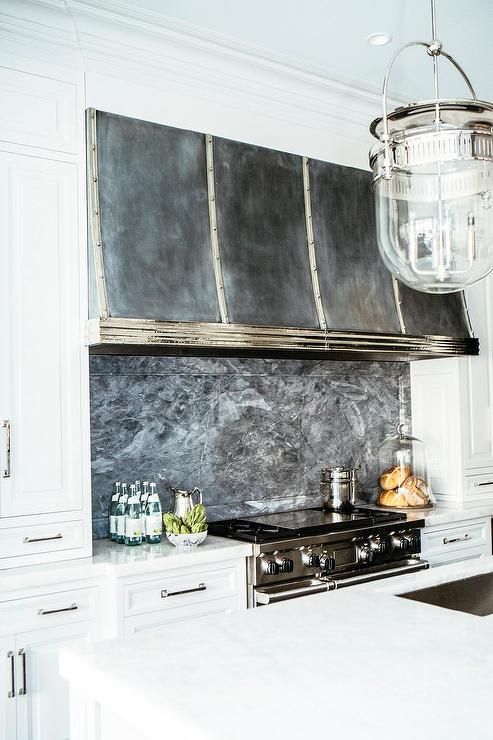 12. Gorgeous original floorboards
Original floorboards look amazing in an industrial kitchen as the warm timber contrasts so beautifully with other materials. Not lucky enough to have original boards? Consider recycled native Australian timbers like spotted gum or blackbutt.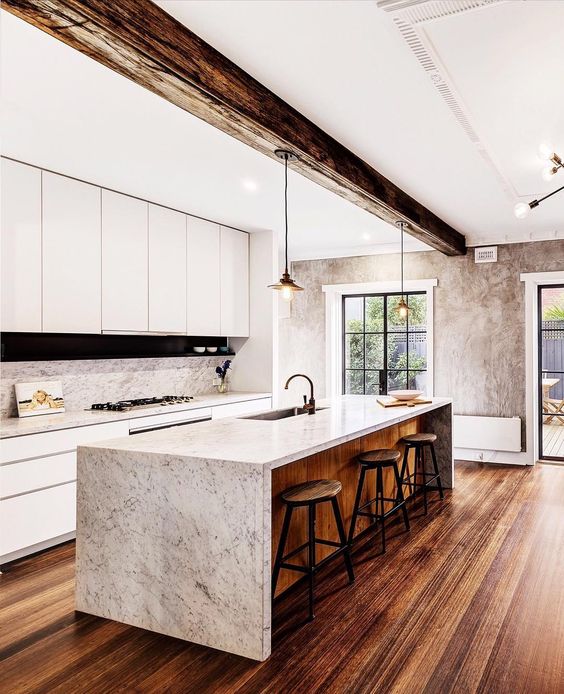 13. Stained concrete flooring
Polished concrete flooring is a common choice for the industrial kitchen, being very practical and durable and instantly conveying the industrial style. Stained concrete can be made more luxurious by the addition of underfloor heating (electric or hydronic, it's installed when floors are poured).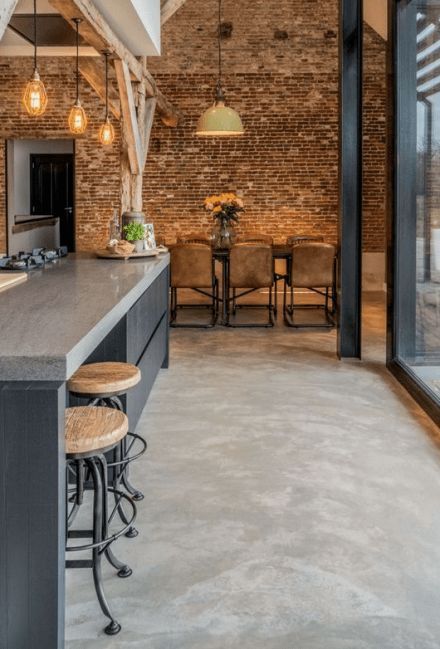 14. Mix black with brick
Many industrial kitchens feature the strong use of black, whether in flooring, cabinetry, counters or furniture. Choose bold black accents or even an entire black kitchen against a backdrop of exposed brick, as seen here.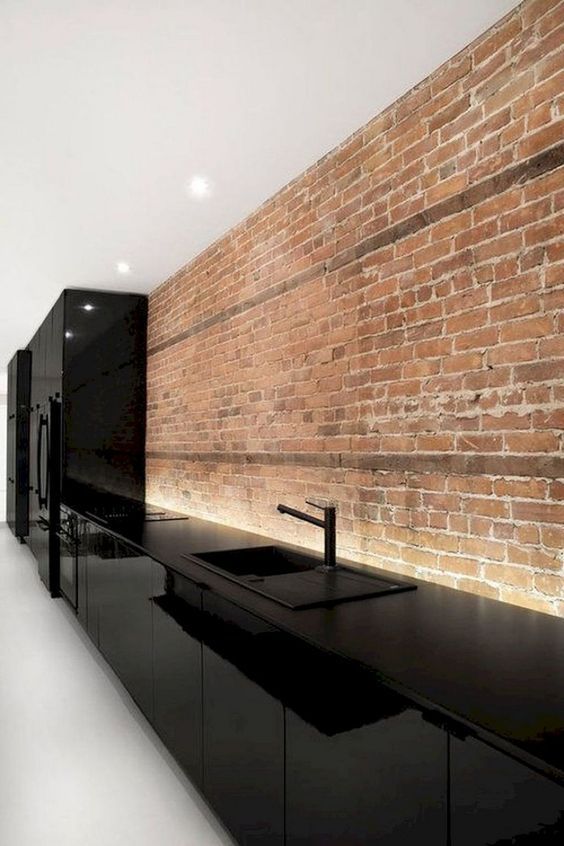 If you love this black kitchen but would like to see how it works well with other interior design styles, here's our 35 black kitchen ideas.
15. High gloss flooring
Another trademark feature of the industrial kitchen is practical flooring. Here, easy to clean, high gloss flooring mirrors the shine of all the stainless steel.
16. Pattern tiled floor
On the other hand, you can contrast your sleek stainless industrial kitchen with gorgeous floor tiles, such as these. The striking pattern looks superb against the plain surrounds.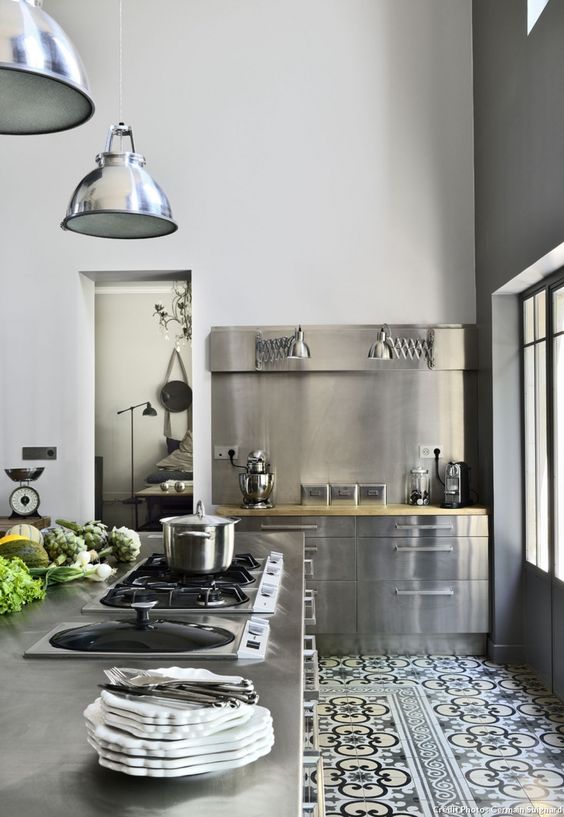 17. Beautiful brickwork
In terms of brickwork, a colour palette of tones of mid to deep brown suit the industrial look the best.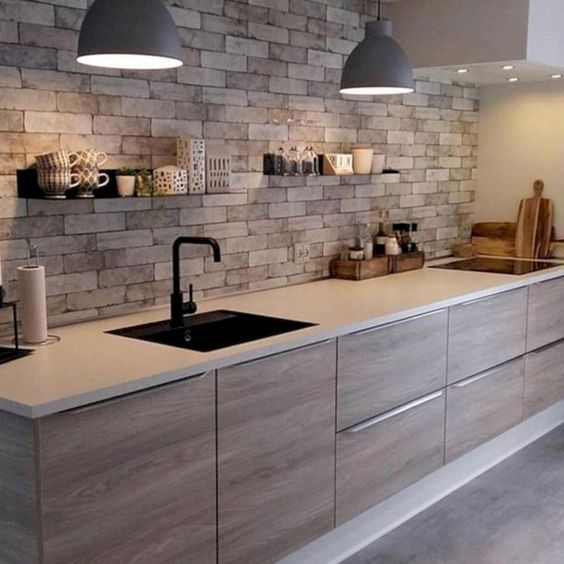 18. Stainless steel
One of the most prominent materials used in the industrial kitchen, stainless steel is hygienic and easy to clean. It can be incorporated into counters, drawers and cupboards, shelving, and freestanding islands.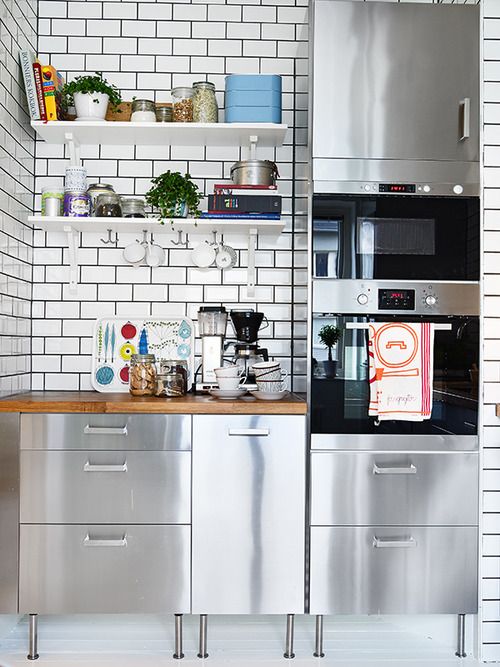 19. Open shelving
Open shelving is a strong element in industrial kitchen design, reinforcing the utilitarian, hard-working, practical vibe. Installing thin shelving, such as the dark timber shelving here, helps you keep your useful kitchenware within easy reach and can hold displays of vintage treasures to help personalise the space. These types of shelves can be tricky sometimes but luckily there is always someone who can help you out with your floating shelves installation.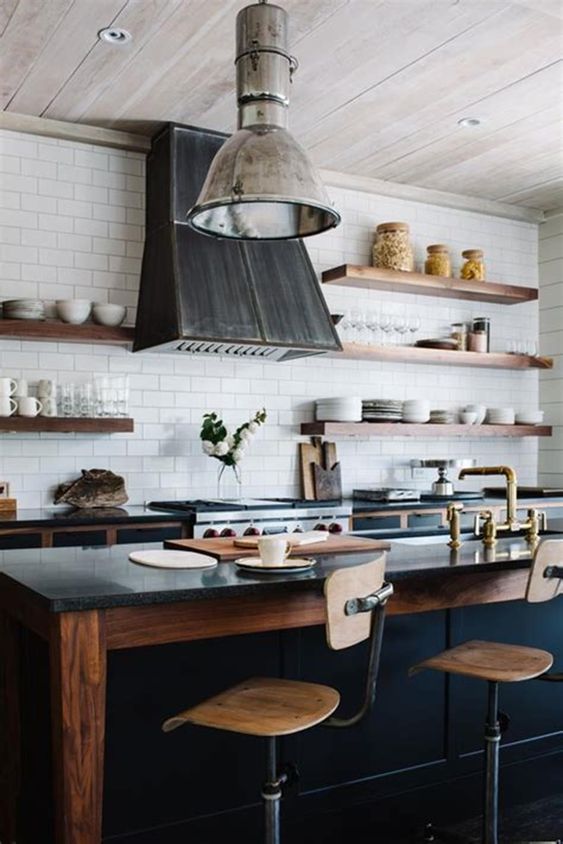 20. Mix closed and open shelving
An intelligently designed industrial kitchen will usually feature a mix of closed cabinetry and open shelving, to take advantage of the benefits of both and find a nifty place for absolutely everything. Open containers (racks, tray shelves, boiserie panelling) offer a world of possibilities and idiosyncratic styling.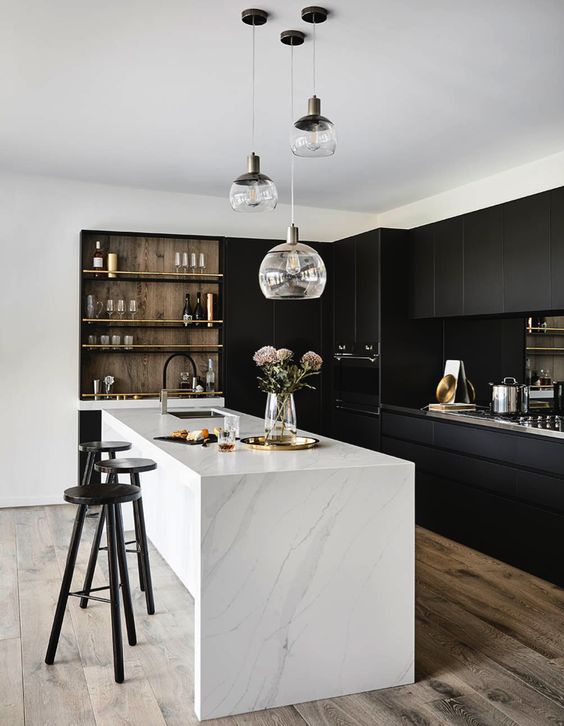 21. Add timber touches
Contrasting beautifully with many modern kitchen materials is timber, which brings nature in and provides warmth. Balancing the timber in the exposed beams, this kitchen's wooden countertops provide added personality and a sense of tradition while contrasting nicely with the modern subway tile walls.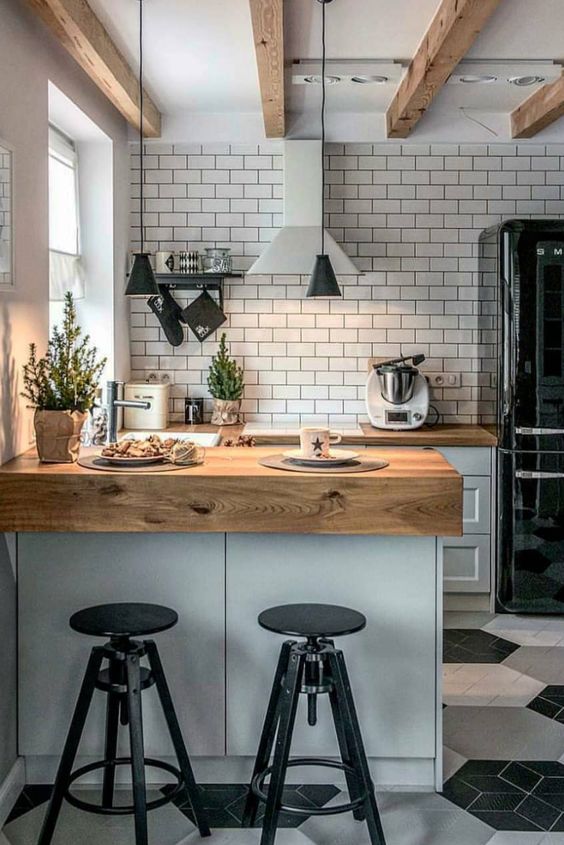 22. Mix warm wood with stainless steel
Using timber in an industrial kitchen is a great way to add rustic flavour.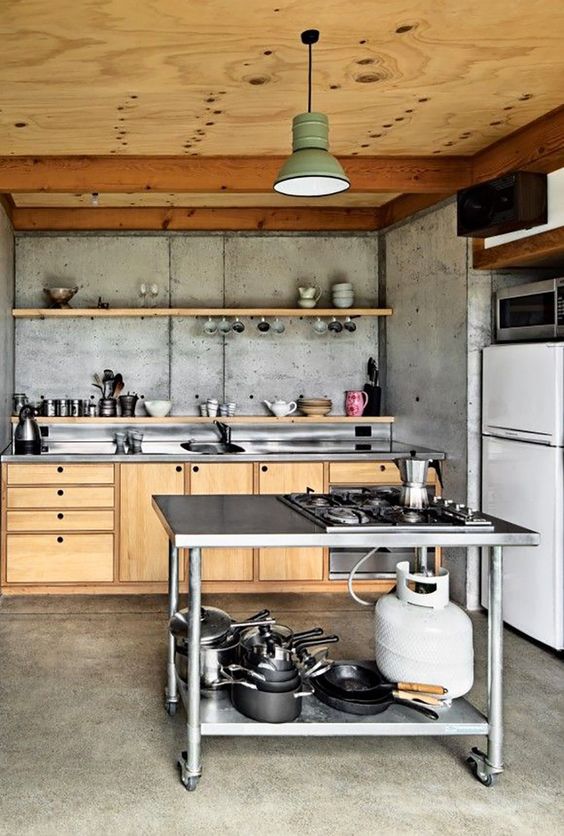 23. Mix pale timbers with black
Timber can certainly give rustic vibes, but it can also be incorporated in a more sleek and tailored way, such as in this kitchen's black wall panelling.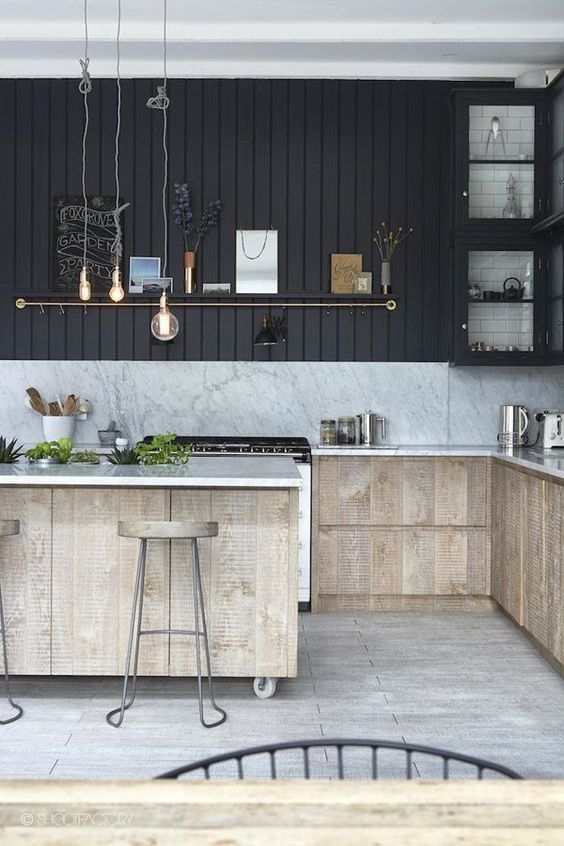 24. Easy clean surfaces
Cabinetry and countertops in an industrial kitchen should be as functional as possible, and be extremely easy to clean, as you'd expect in a commercial kitchen. Here, an easy-clean high gloss white finish on the cabinets is raised to another level with an unusual bronze backsplash.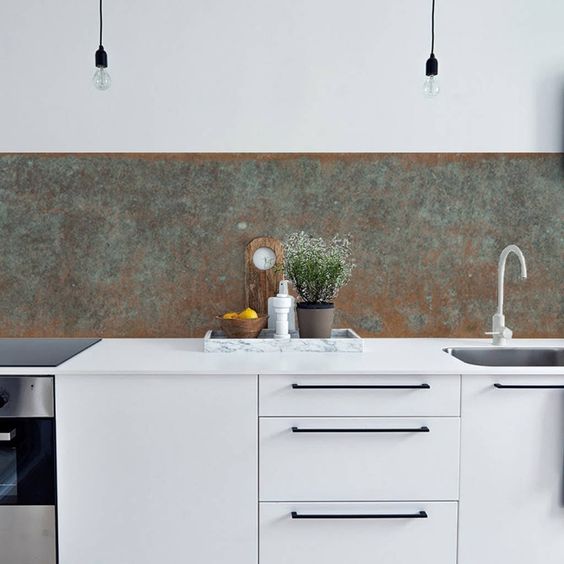 25. Walls with charisma
In an industrial kitchen, the walls should be a feature, whether they are naked as described above, or dressed up with luxe materials. You could even consider some of the heritage-inspired industrial look wallpapers on the market today, including those which can imitate cement or stonework.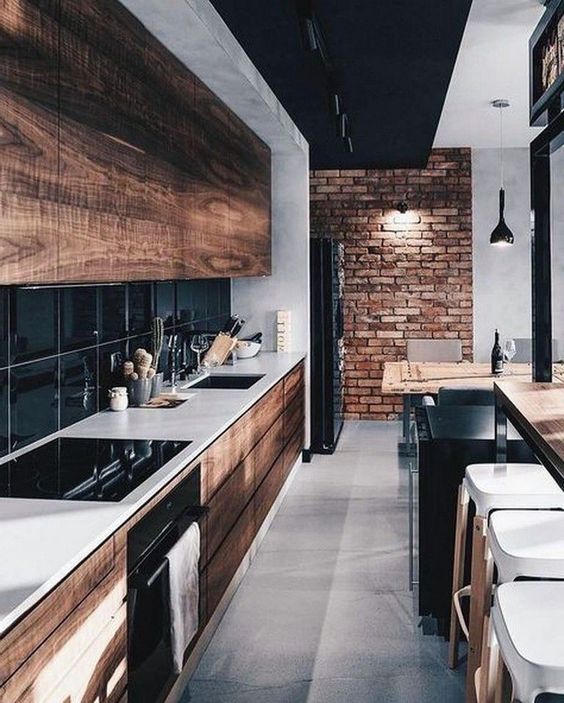 26. Pressed tin
Pressed metals such as tin are becoming more popular to dress up a feature wall of your industrial kitchen. Being metal, it complements the industrial aesthetic and can be left silver or painted in the colour of your choice. Whether used on a feature wall, the ceiling, a splashback or as cladding under a breakfast bar, pressed tin is another industrial-style you should consider for your industrial kitchen.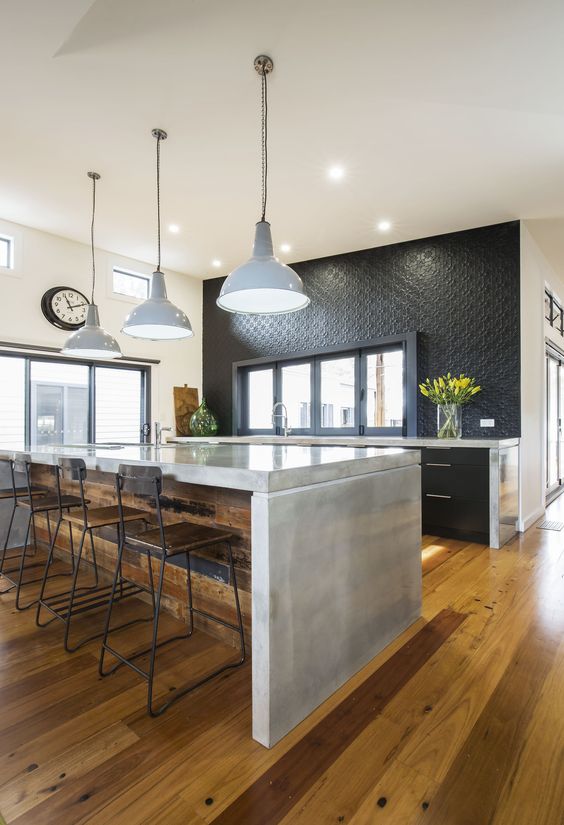 27. Statement lighting
Industrial style lighting is widely available and is easily identified by its fusion of classic design elements with extra functionality (for example, pulleys or scissor arms). Large pendant lights are popular and metal ones can even be painted in any colour you desire. Transparent glass pendant lights are also a popular choice, complementing other materials rather than competing. And when several pendants are hung in a row, the effect can be really dramatic.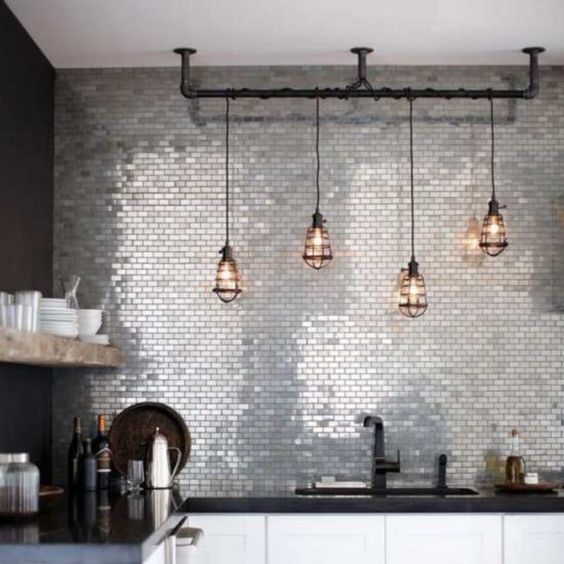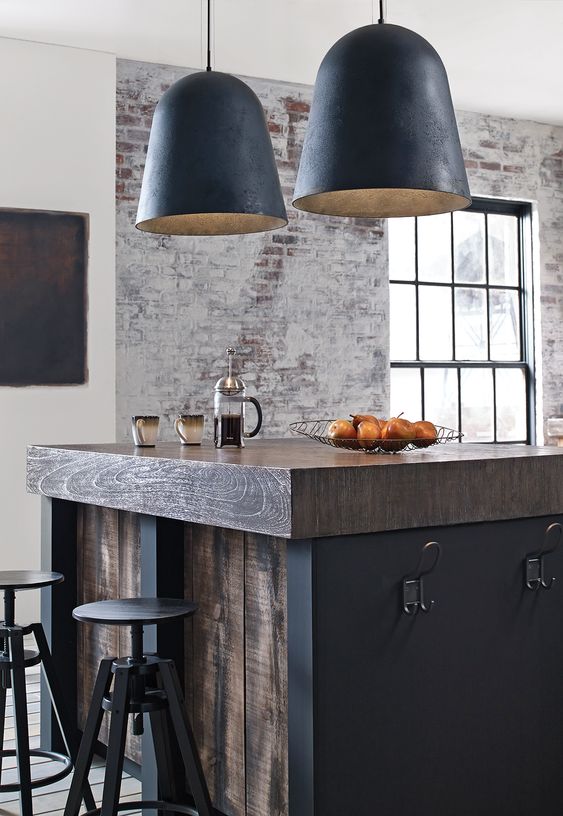 Putting up your expensive statement lights are best left to the pros, so get a helping hand with your pendant light installation.
28. Vintage filaments
Add industrial style by stringing vintage LED filament bulbs across the kitchen. Featuring the timeless classic bulb design with visible glowing filaments inside the clear glass, these are beautiful and very much in keeping with the Midcentury Modern roots of industrial kitchen design.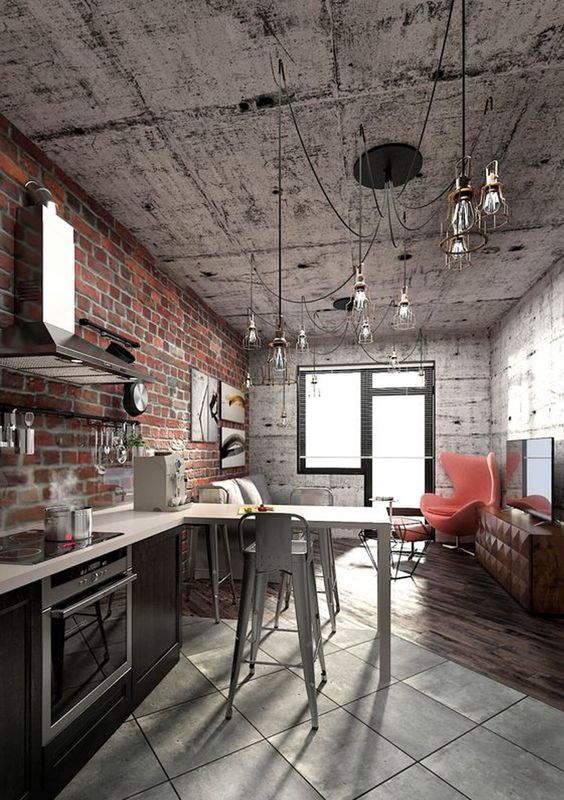 29. Metal and wood furniture
Industrial style kitchen and dining furniture usually takes the form of weathered and worn secondhand wooden tables together with metal chairs of some kind. This is because wood and metal reflect the industrial aesthetic so well.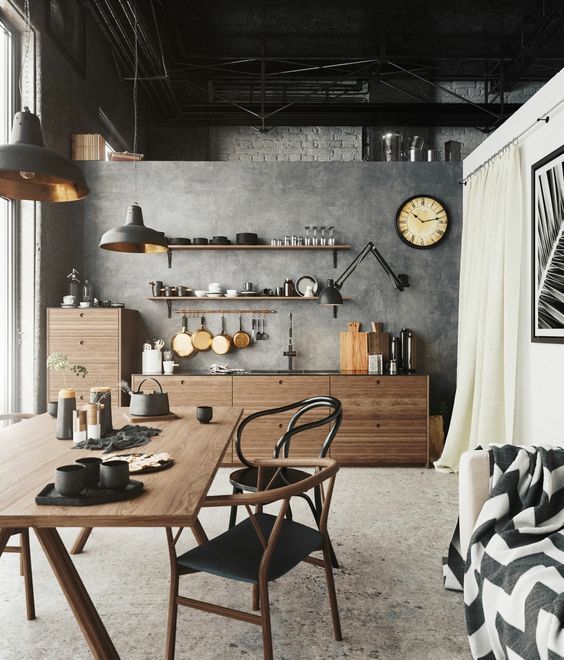 30. Vintage bar stools
You may even be lucky enough to scout out some true vintage Midcentury industrial style furniture at op shops or on Gumtree. Look for preloved original barstools such as those in this loft conversion.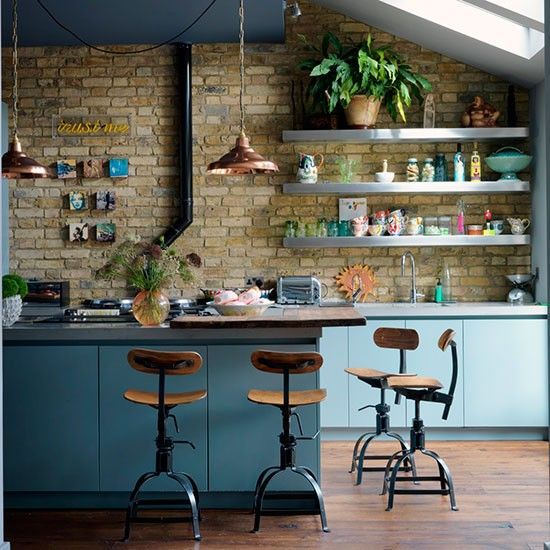 31. Freestanding stainless steel units
A modern, fresh industrial kitchen space incorporates plenty of stainless steel, and an easy way to inject industrial flavour is to add a freestanding stainless steel island or unit. Freestanding units are much prized in commercial kitchens for their versatility and flexibility and can even take the place of standard cabinets.
32. Industrial kitchen island
Naturally, your kitchen island doesn't have to be stainless steel – in particular, if you already have a lot of stainless steel in your kitchen, you could also try an old wooden or distressed metal table as an "island" to create a mix of materials.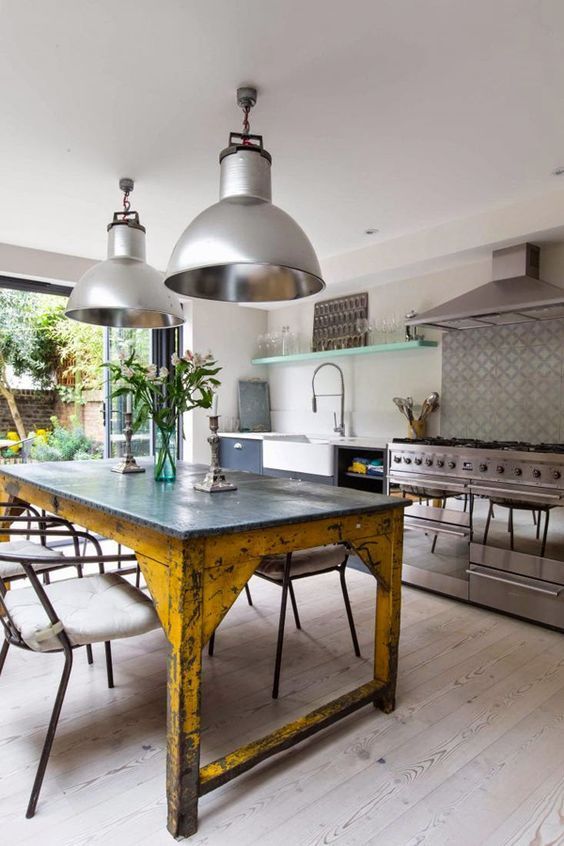 33. Pale green trolley
Trolleys with wheels have extra practicality as they can be rolled away. And this vintage piece which has had a marble top added looks great.
34. Polished concrete island
Here, the classic industrial kitchen material of concrete is given a new spin by being fashioned into a polished concrete kitchen island.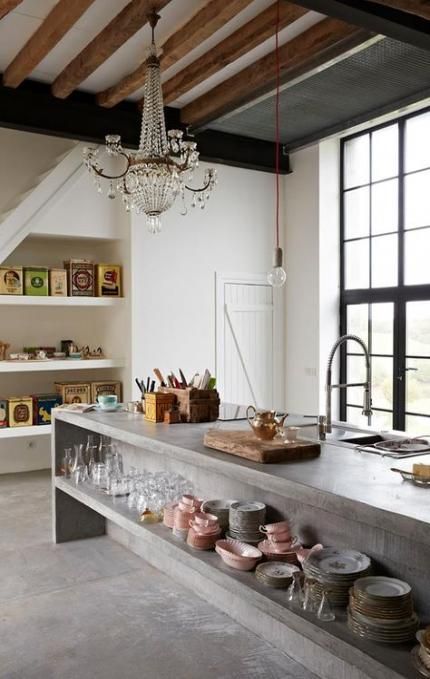 35. Functional farmhouse sink
Who would have thought you could get that industrial feel through a farmhouse sink? But the experts say to consider the farmhouse sink for your industrial kitchen because it not only looks stylish but it is big enough to handle any commercial-sized mess you make—the straight sidewalls and flat bottom offer more usable space as well as appearing modern.
Similarly, the taps and faucets of farmhouse sinks usually have clean, modern lines. You can also steal the idea of a wall-mounted faucet with a flexible hose from the commercial kitchen.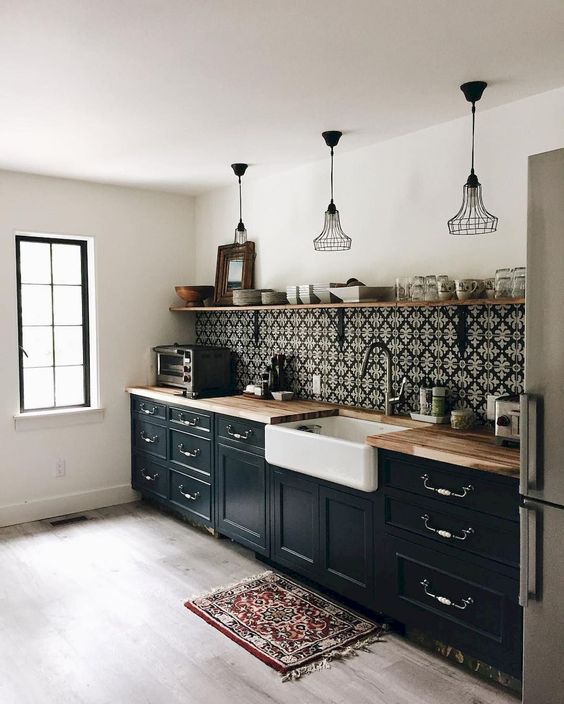 36. Introduce colour for character
The most commonly used colour palette in an industrial kitchen is a muted suite of natural colours (greys, browns and blacks). Inspired by reclaimed materials, these natural tones are often supplemented with dimmed-down tones of reds, yellows and even teals.
You can introduce colour in a range of ways, whether in a painted door, in textiles and accessories or in tiling. Here, gorgeous greenish-teal tiles take centre stage, looking stunning beside the green cabinetry, naked walls and the complementary toned floor tiles.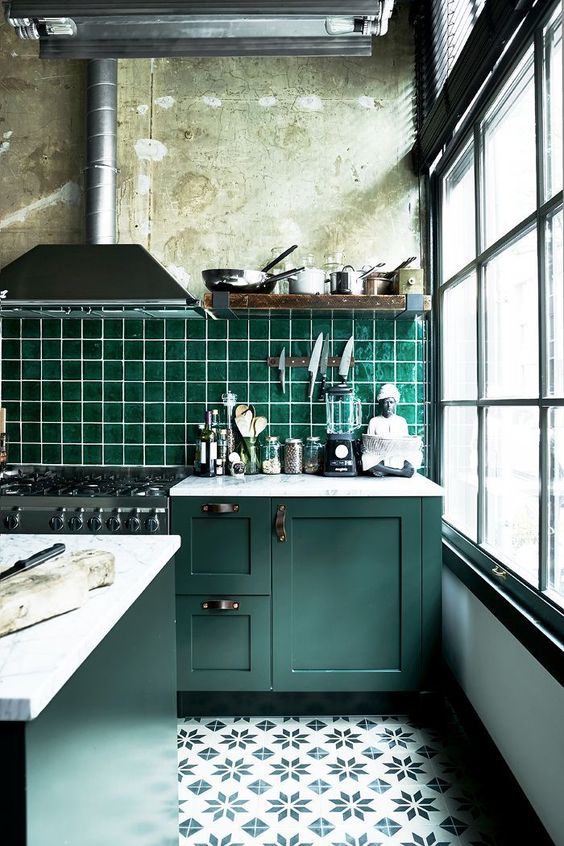 37. Coloured tiles add drama
Kitchen designers love to add coloured tiles to an industrial kitchen because the space is so often filled with the sometimes-clinical looking stainless steel. Adding colourful tiles makes the space more exciting and works against the depersonalised effect that steel can have.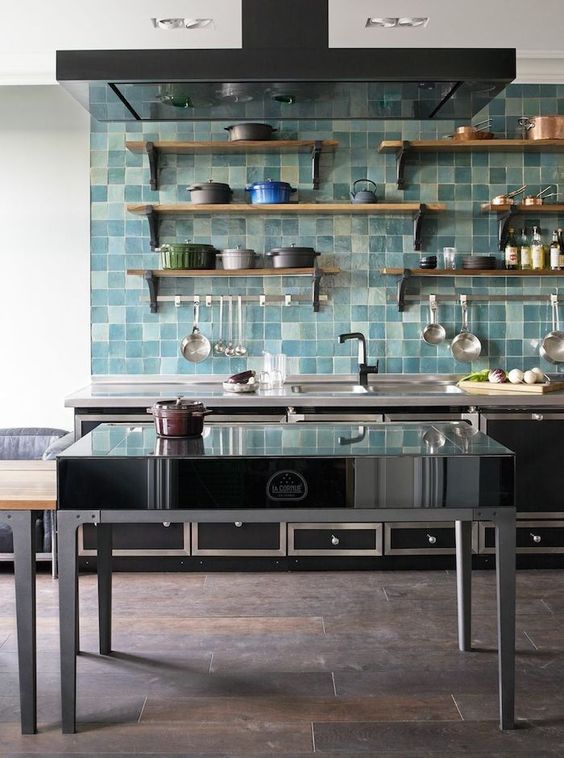 What about some more tile options? We've got you covered with over 35 different kitchen splashback ideas for your home.
38. Play with contrast and texture
Industrial kitchens are defined by their deliberate fusion of different materials for the contrast of texture, colour and look. For example here, metal cabinets contrast wonderfully with the tactile, organic wooden table and roof. Mixing very different materials gives a striking, graphic twist and creates a multi-layered, lived-in, used appeal.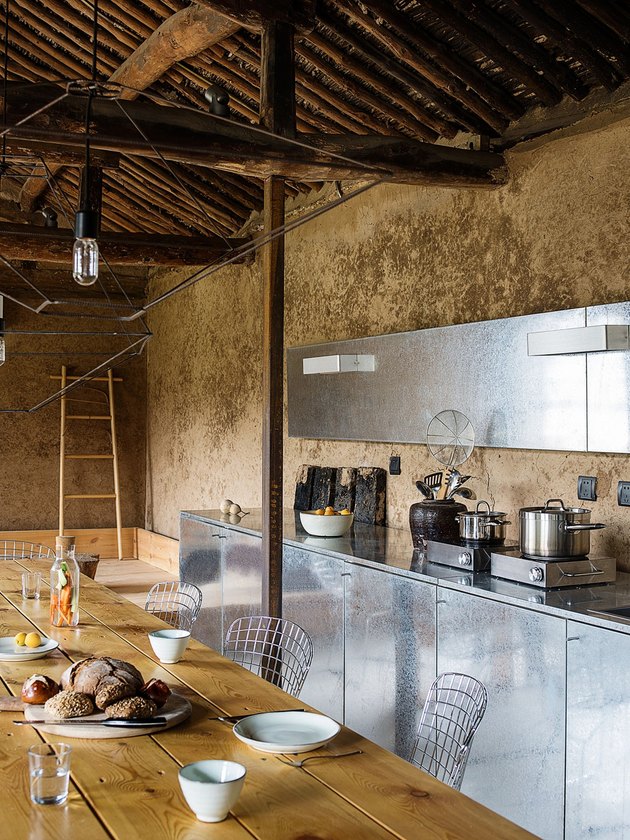 40. Create a lived-in, personalised space
Ideally, your industrial kitchen shouldn't come across as all shiny and new, even though the amount of stainless steel you decide to incorporate may well give that impression. Instead, industrial kitchens should best have a used, "lived-in" look. You can achieve this by adding touches of personalisation, such as a restaurant-style chalkboard pantry door with a strong vintage flavour.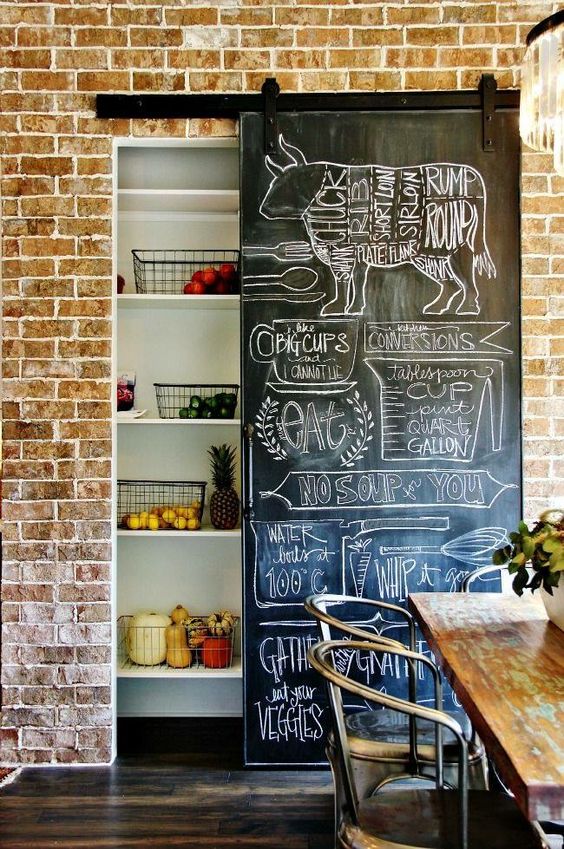 41. Be particular about the details
The details are important in an industrial style kitchen and can make all the difference when generating an industrial mood. Little things don't go unnoticed, like the robustness of knobs, or how heavy-duty handles are, or the quality of your extractor hood. Here, bronze coloured wired glass adds a touch of luxury to this kitchen counter and contrast beautifully with the black tiled backsplash.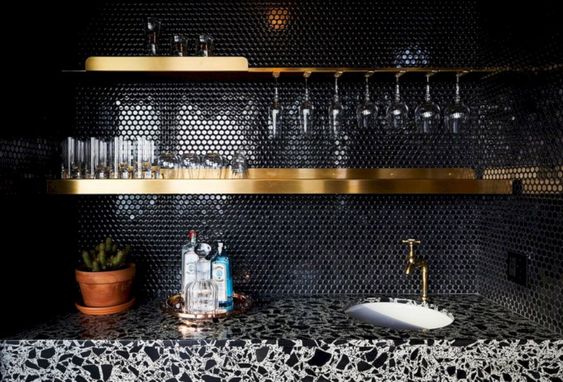 42. And finally…you don't need a full industrial kitchen to get an industrial look
Even if your kitchen space doesn't boast all of the elements that combine to create an industrial space, you can still get the overall effect through using the raw, unrefined, eclectic materials that have come to define industrial style. Combining timber, concrete, steel and stone materials, choosing a statement piece of vintage furniture, selecting commercial appliances, and incorporating dramatic lighting–all add up to an industrial kitchen you will love.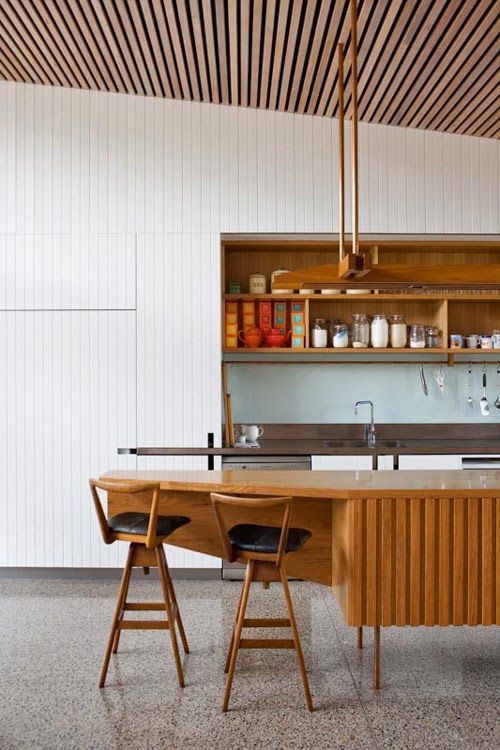 And if you have any feedback on this blog, I'd love to hear it. What are your favourite industrial kitchen design ideas?