You can't go wrong with a white kitchen. It's a timeless addition to your home. A white kitchen is fresh, clean, bright, and looks good no matter what the style. But there's more to it than just painting everything white. You need to mix colours and textures together to keep things from looking flat and bland, And that's why I've compiled my all-time favourite white kitchen ideas in the one spot for you.
A white kitchen provides the perfect base for you to decorate – whether that's with plants, pops of colour, or a bunch of flowers in a simple glass vase. When you choose a white kitchen, you can change up your decor anytime you like – giving the impression of a totally 'new' kitchen. It's the most versatile approach you can take.
And the design choices are endless. There's modern sleek, industrial, Scandinavian, cute and quirky, elegant and sophisticated, coastal and fresh, and so much more. We're looking at colour combinations, sinks. cabinet designs and that's just the first few ideas, so let's jump in.
1. Light and airy
This white kitchen keeps things simple and organic with a timber and white base. The timber adds touches of coastal warmth, while the white keeps things nice and clean.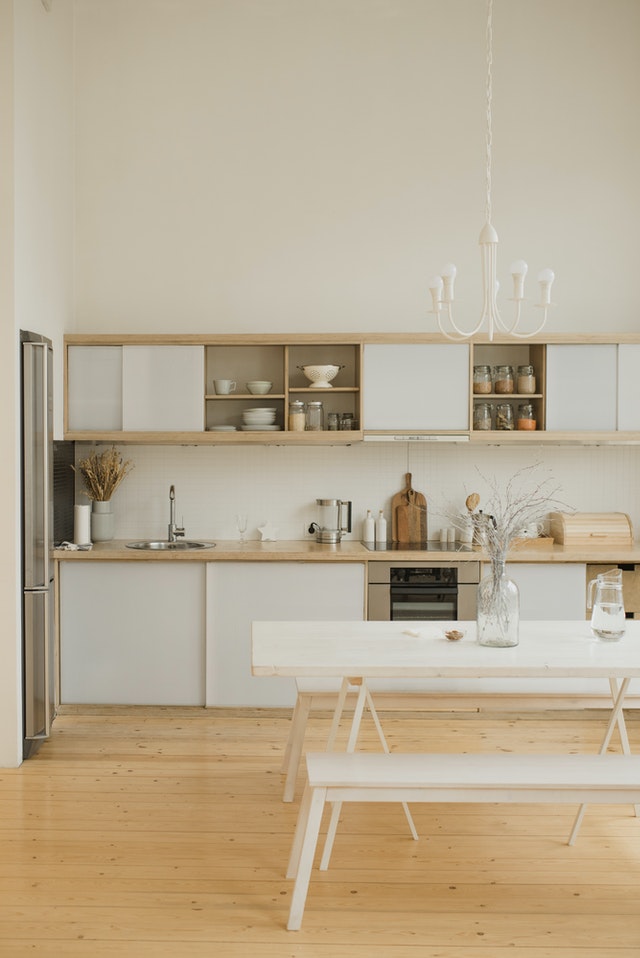 2. Modern black touches
Bring your white kitchen into the 21st century by strategically using pops of black. This kitchen avoids going overboard with the black but simply incorporates it in the lighting design, stools and window frames to create a polished finish.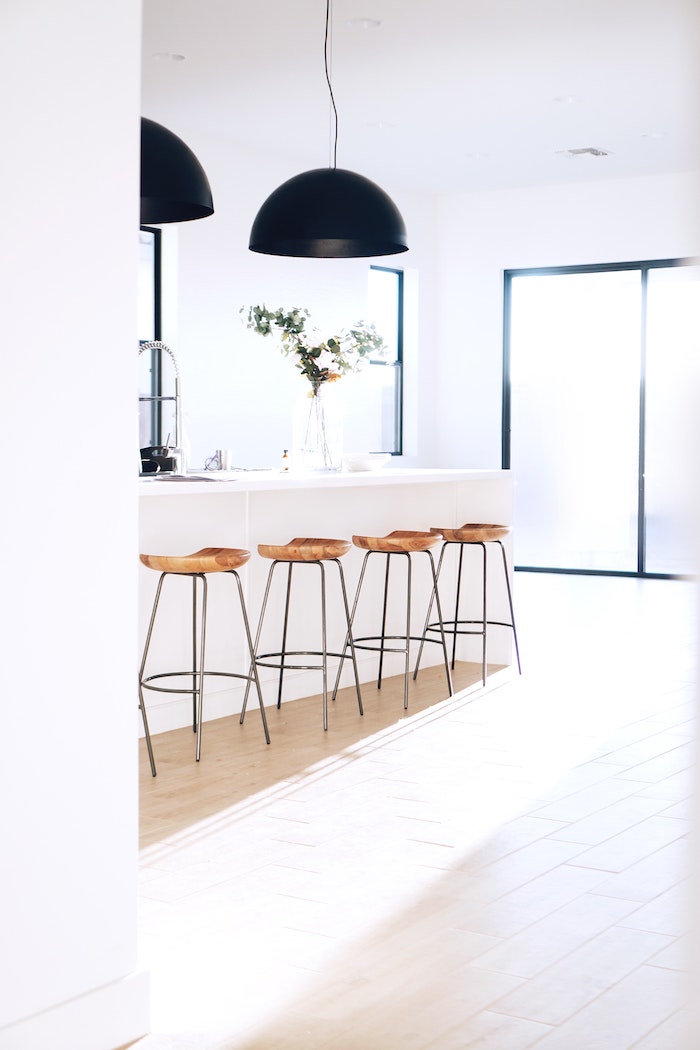 3. Navy and white
For a white kitchen idea that transports you to the French seaside, for a design that perfectly combines shades of blue, white and gold. Blue-and-white bistro chairs can be a lovely touch, bringing the key colours together in balance.
4. White marble countertops and grey cabinets
Want to create an elegant kitchen that will last the test of time? Then you can't go past this design. What makes this kitchen so beautiful is the attention to detail. There's the simple, practical cabinet design contrasting with the slick grey-toned marble benchtop, creating a simple but sophisticated space.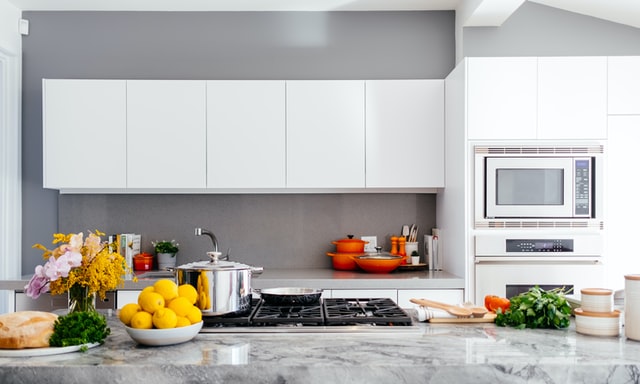 5. White sink
Add a farmhouse touch to your white kitchen by installing a white apron sink that juts out over the edge of your cabinet. This adds a traditional element and a whole lot of character to an otherwise very modern kitchen.
6. Black and white kitchen
Who says a white kitchen has to be all white? This black and white kitchen proves that you can break free from the ordinary. The black cabinetry with gold-toned handles gives an elegant touch to this space, complemented by the delicate gold pendant lights.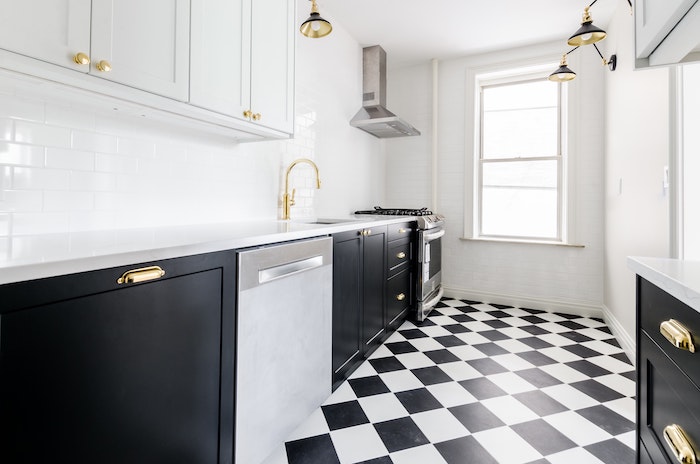 7. Old and new
Don't be afraid to combine pieces of yesteryear with slick, glossy modern elements. So your kitchen might include clean, white cabinets with industrial brass details, then you might add a glossy black fridge and then incorporate an old timber piece for a kitchen island in the middle. Even if your timber island is weathered wood, it can be modernised with a clean white benchtop in the same style as the rest of the benchtops. This helps to pull the room together seamlessly.
8. Grey and white kitchen
This is a timeless colour combination that will always look sophisticated. So if you want to spruce up your all-white kitchen, consider choosing grey cabinets or a grey tiled splashback. I love the glossy pale grey splashback tiles in this design. They add a layer of detail to this beautiful kitchen.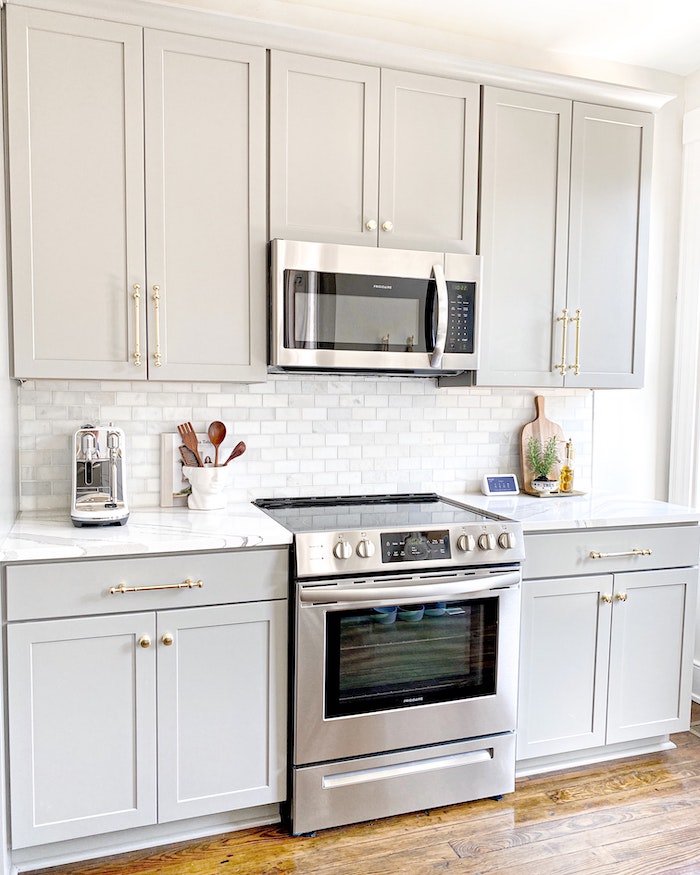 If grey and white kitchen tiles aren't for you and you want to add a bit more colour (or perhaps just a different tile shape), take a look at these different kitchen splashback ideas.
9. Show of your finest pieces
Don't let your most treasured pieces kitchenware go to waste. Show them off in all their glory by displaying them in a glass cabinet. A glass cabinet makes a beautiful feature piece wedged between two white enclosed cabinets. It gives you the best of both worlds – you can put your pretty items on display while hiding any mismatched or older pieces behind closed doors!
10. Brass touches
This kitchen is feminine and fresh! I know brass has been a huge trend for the last few years, but I honestly can't get enough of it. Brass always seems to fancy up an otherwise so-so space. And this kitchen is no exception.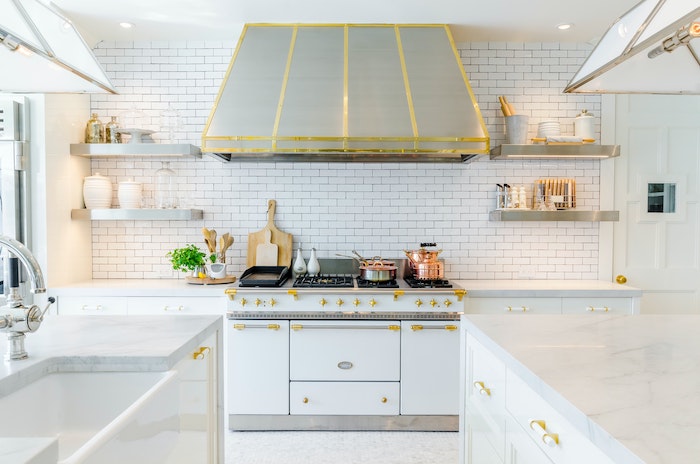 11. Floating timber shelves
An easy way to add warmth to an all-white kitchen is to include timber. And these floating shelves not only add colour, but they create a practical storage solution. Use this space to display your favourite decor pieces and art prints for everyone to see!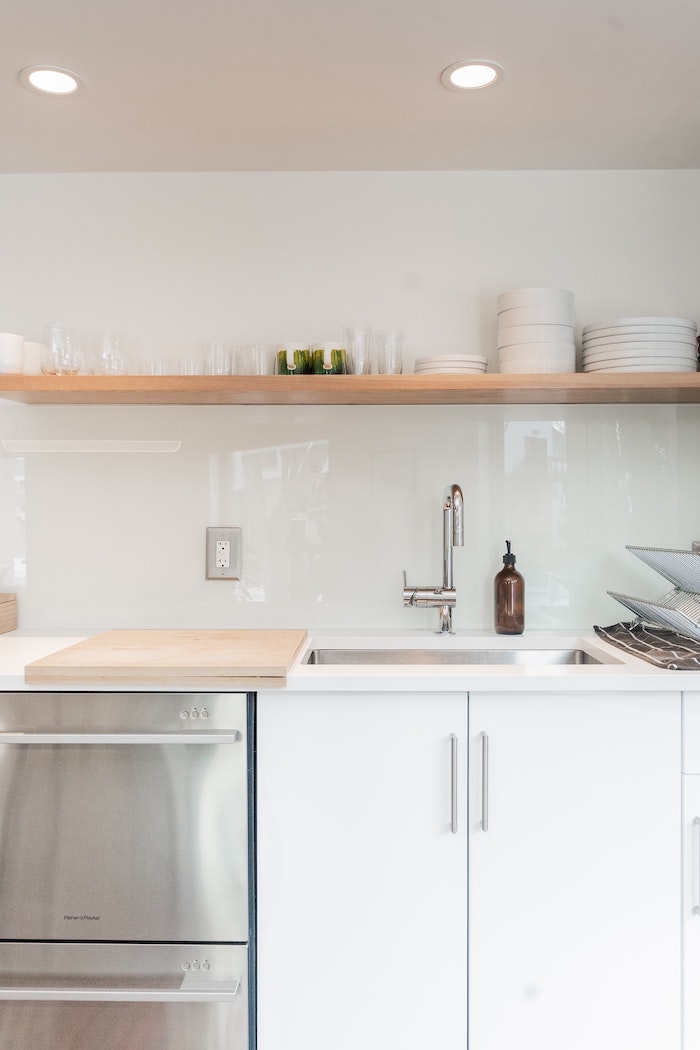 Putting up shelves is best left to the professions when trying to make sure that it's all level and can take the right load. Find a handyman to help with your shelf hanging.
12. White subway tiles
Subway tiles will never go out of style. Honestly, if you're looking for a way to instantly make your white kitchen look chic and finished, then you can't go past these beauties. Use white grout, like in this picture, or grey grout (to create contrast) to suit your style. It's simple yet effective.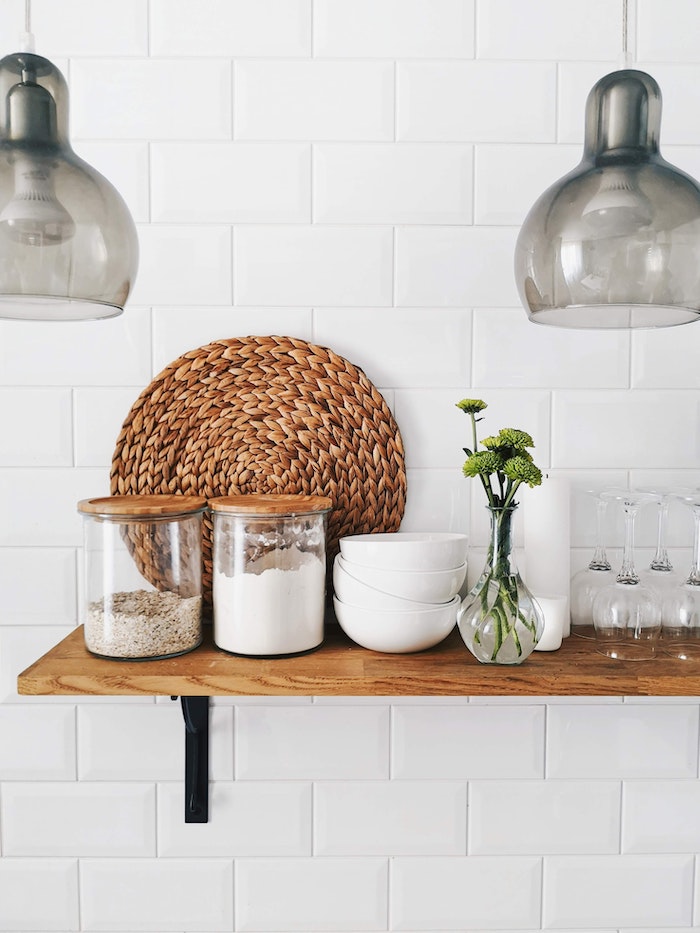 13. Marble overload
Are you a high glamour kind of person? Then your white kitchen simply isn't complete without a touch of marble – or a whole lot of it! This kitchen takes marble to the next level with a large glossy waterfall island. Adding to the glitz and glamour is the dramatic vintage style gold light fitting.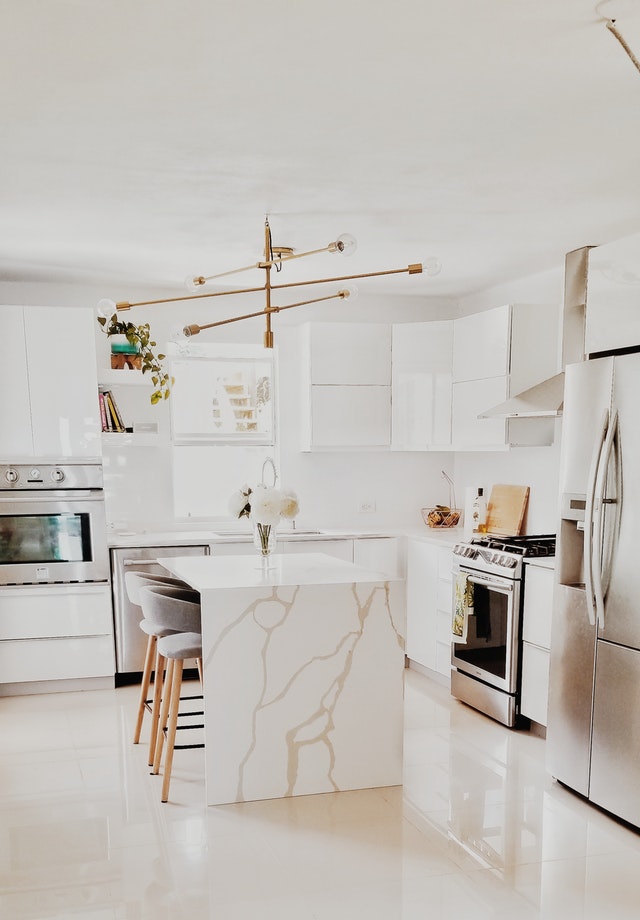 14. In-built wall shelving
This has the potential to look amazing – if you do it right. Now, a warning for the wise – you probably won't want to include an open cabinet if you have small children who could easily climb the shelves and pull items down. So this might be more suited to those of you with a more grown-up family.
Keep it from getting messy with the same jars filled with labels and arranged in perfectly straight lines!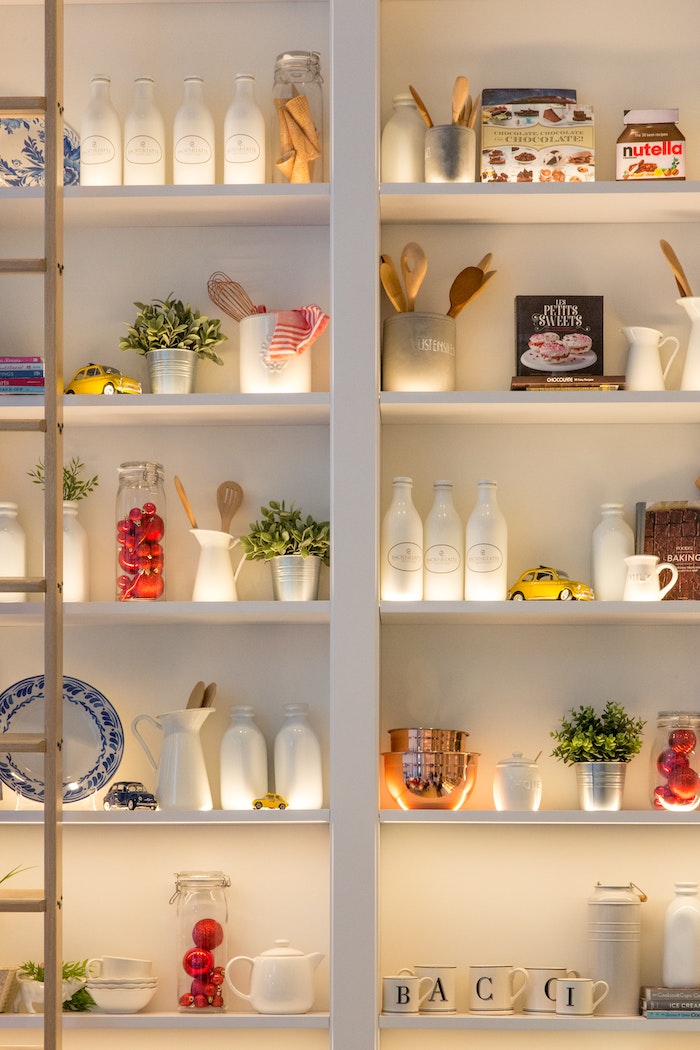 15. Dramatic pendant lights
Go all out with lighting by incorporating a striking design, like gorgeous silver-and-white pendant pieces. Opting for neutral colours mean the lights don't steal the show from the rest of the room but tastefully add another layer of interest.
16. White and green
Inject colour into your white kitchen with a fancy green cabinet piece. This is not only practical for all of your storage solutions, but it also serves as a focal point in your room.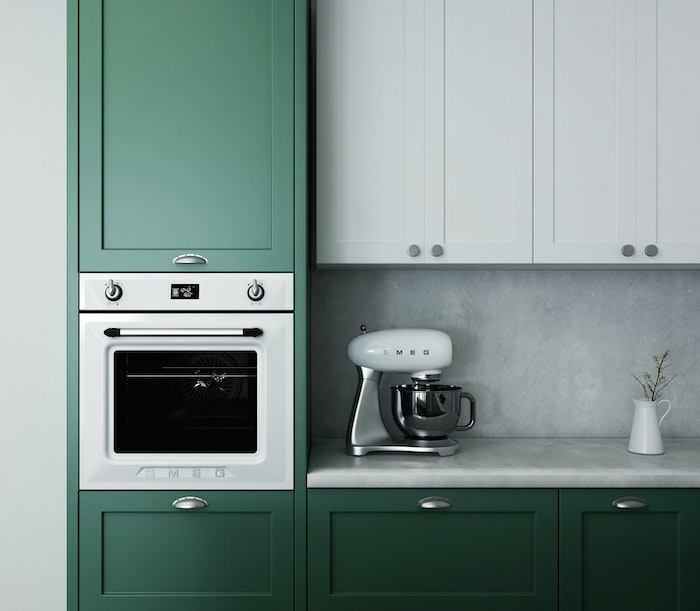 17. Two-toned kitchen
Add vibrancy to your white kitchen by adding a splash of another shade of colour. It can be something as subtle as brass detailing of wall lights or warm timber floating shelves.
18. Moody grey
Darken your bright white kitchen with tones of grey. This is one way to strike the perfect balance between feminine and masculine design for a gender-neutral space that will keep everyone in the family happy! Use white for the benchtops and kitchen cabinets while keeping the spashback and flooring a darker shade of grey.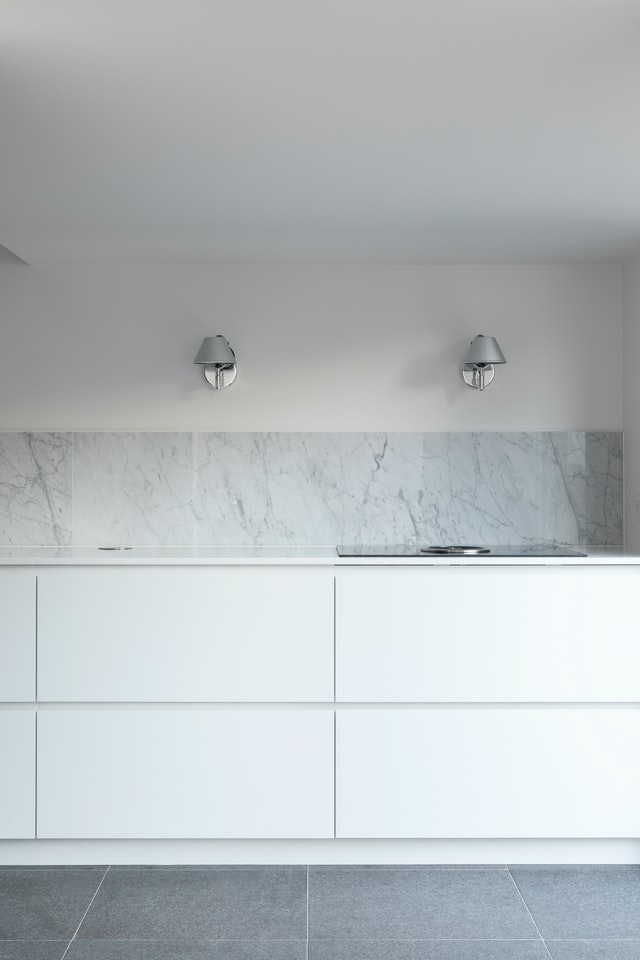 19. Concrete
Whether it's a concrete counter or poured concrete flooring, your white kitchen will get all the sophisticated industrial vibes when you introduce a concrete element.  Concrete gives spaces a very clean, minimal look. You can then fancy it up with lighting that's a little bit extra, such as brass-wire hanging lights.
20. Kitchen downlights
Want to add atmosphere to your gorgeous white kitchen? Then you need downlight installation. The lighting is both functional as task lighting when over the benches, and also creates warmth and ambience at night.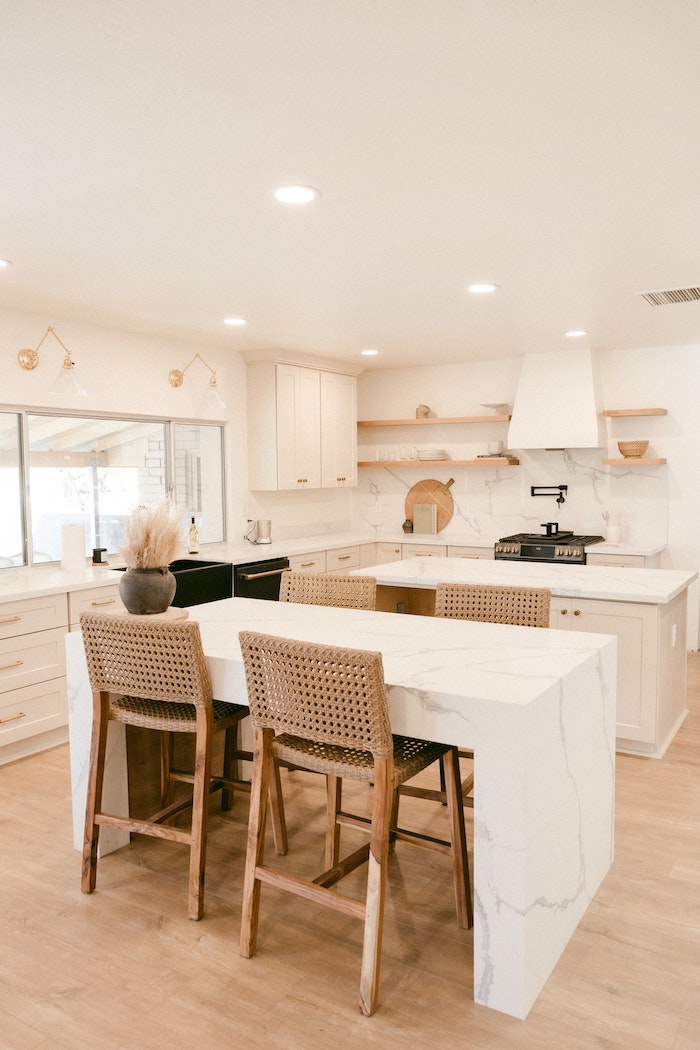 21. Patterned floor tiles
Add a statement to your kitchen by dressing up your floors! I love gorgeous mosaic tiles in shades of blue. They add so much character to a kitchen and make it feel very coastal.
22. Coloured chairs
Have a little bit of fun with your white kitchen by adding colourful chairs! Choose your favourite colours – this design uses peacock blue velvet stools under the kitchen bench. Go wild–adding something different with a bit of upholstery means that you can regularly refresh your kitchen.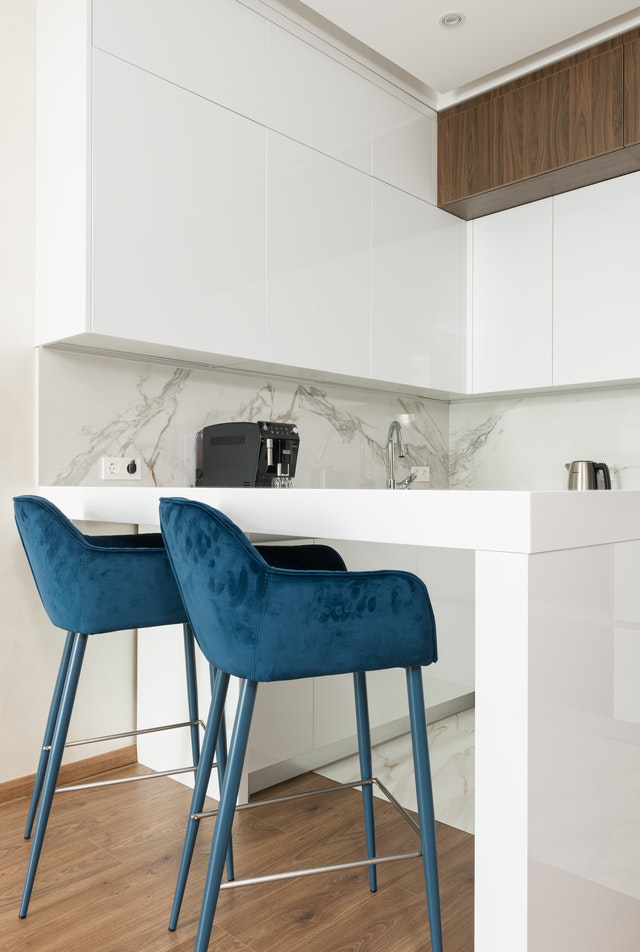 23. French bistro-inspired
Love France? Why not bring a touch of Paris to your home with a French bistro-inspired kitchen? I love the copper elements in this space- it adds a beautiful warmth to this otherwise plain white kitchen.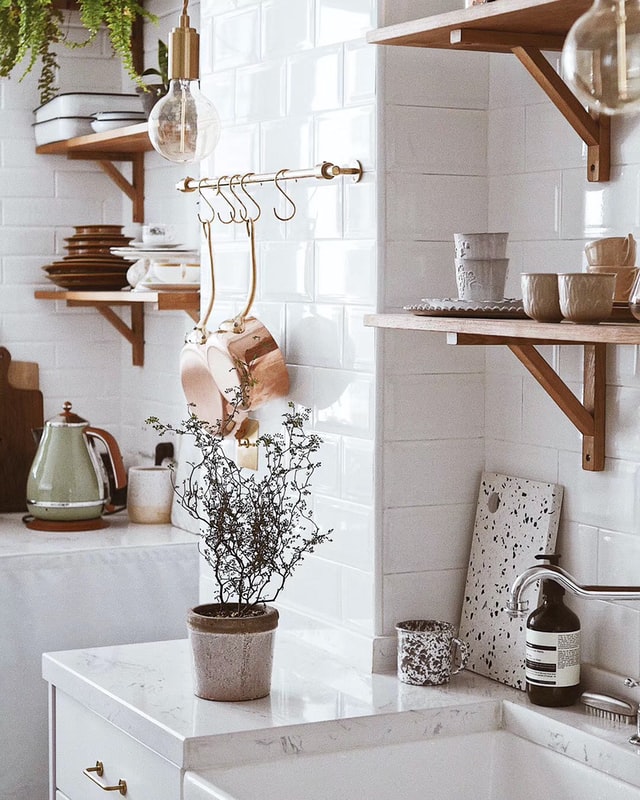 24. Copper hanging lights
You can also bring in copper to add warmth and detail to your kitchen by hanging statement copper lights above your bench space.  Picking out your favourite lights is the easy part. But you might want a hand with the pendant light installation especially if you need to evenly space three of them over an island.
25. Grey framed sink
When you're designing a white kitchen, it can be easy to get carried away with creating a sea of… white. But that doesn't mean you have to forgo the use of other colours altogether. A clever way to inject colour into your white kitchen is to confine it to a select area. In this design, a grey tiled splashback has been incorporated around the benches. The grey doesn't overpower the white but, instead, adds a lovely feature to this room.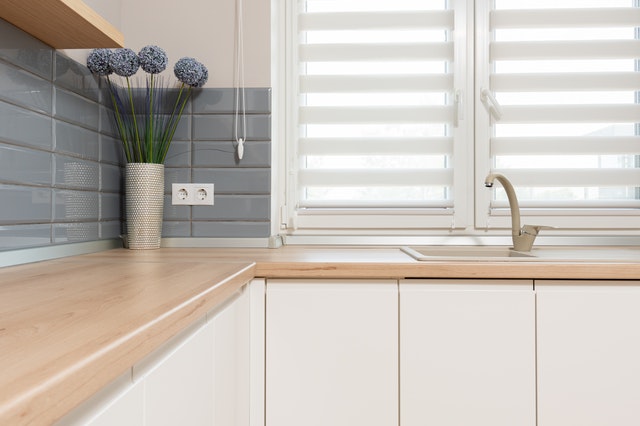 26. Little details
When it comes to designing our living spaces, it's easy to focus all of our attention on the big pieces – like the cabinets, benchtops or walls, or even the appliances like fridges and dishwashers. But in a white kitchen, it's the little touches that make all the difference. Flowers and potted herbs add life to the space. If you're wanting to keep things simple, stick to décor in green and white tones. This will keep your kitchen feeling more natural.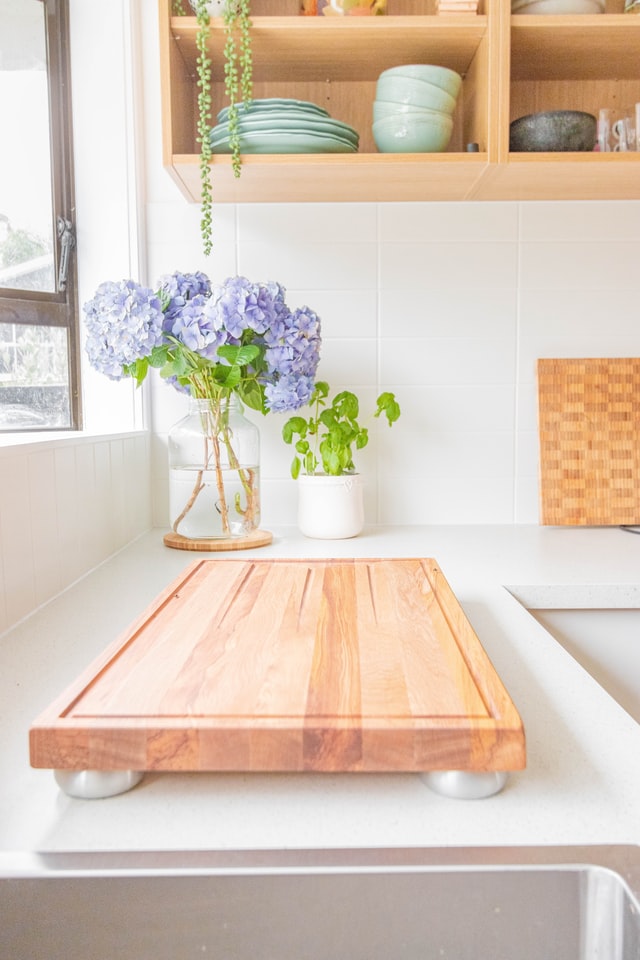 27. Refined stone
Stone and white are always a good idea, especially when the stone is a huge statement island in the middle of the kitchen. Perfect if you want a pretty impressive piece that draws the eye in, and adds a natural feature to the room!
28. Scandinavian inspired
If you're a minimalist at heart, then you're going to love this ultra-clean and streamlined kitchen.  If you want to create a minimalist white kitchen, stick to mostly white and use one complementary colour. In this case, the design incorporates a textured grey concrete floor which makes the perfect backdrop to the plain whites in the space. And how good does the timber furniture look on top of it?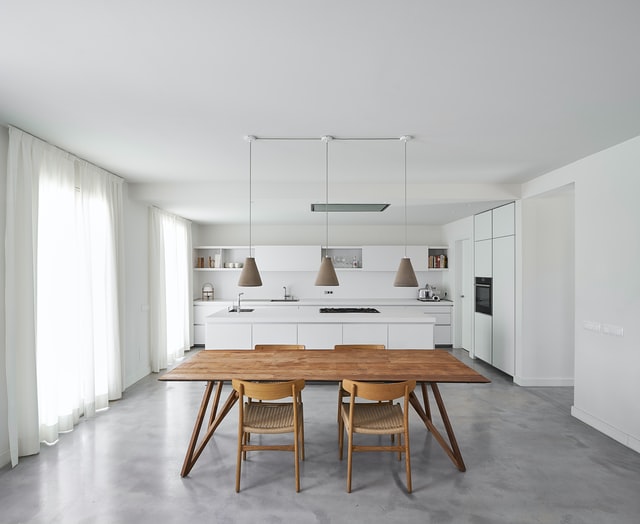 29. Light and bright
Maximise the light in your kitchen by sticking to neutral shades. This design is one to draw inspiration from – it uses simple beige-coloured textured tiles on the spashback, glammed up with the warm-toned tapware. I love the speckled beige-and-white benchtops.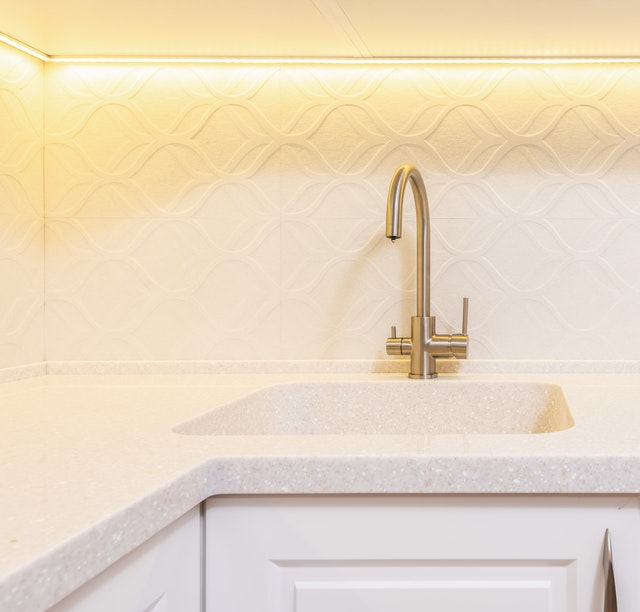 30. White kitchen with a green island
Green is such a calming colour, especially when surrounded by plenty of white. If you want to bring nature indoors, then consider incorporating a large island like this in the statement colour of your choice. I personally love the green, but any colour will do in a white kitchen!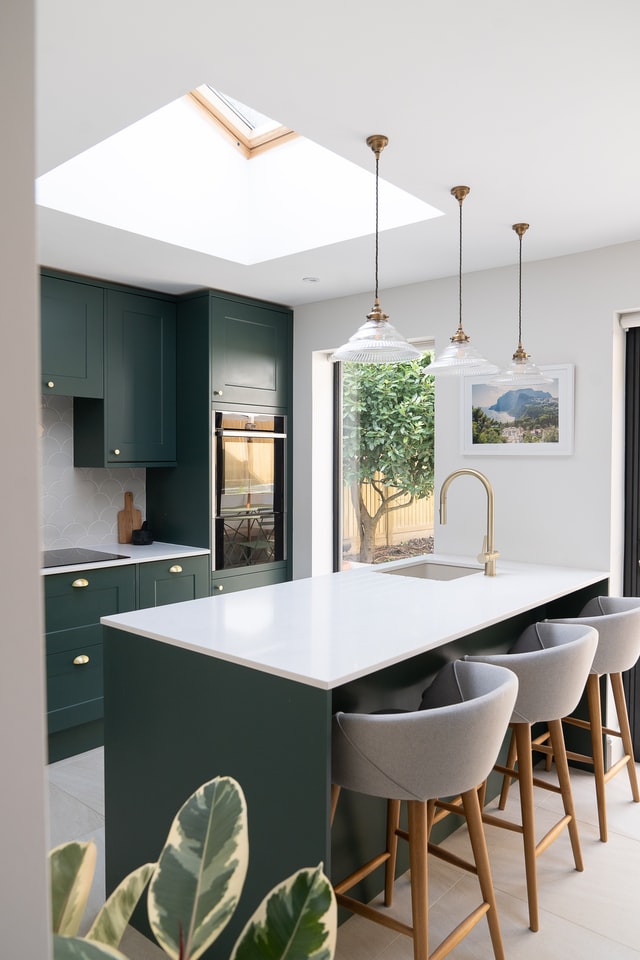 31. Statement tapware
Give your kitchen a touch of glam with a fancy faucet. I love this copper one, adding a lot of drama to this plain white kitchen. It takes the space from simple and basic to fancy and elegant.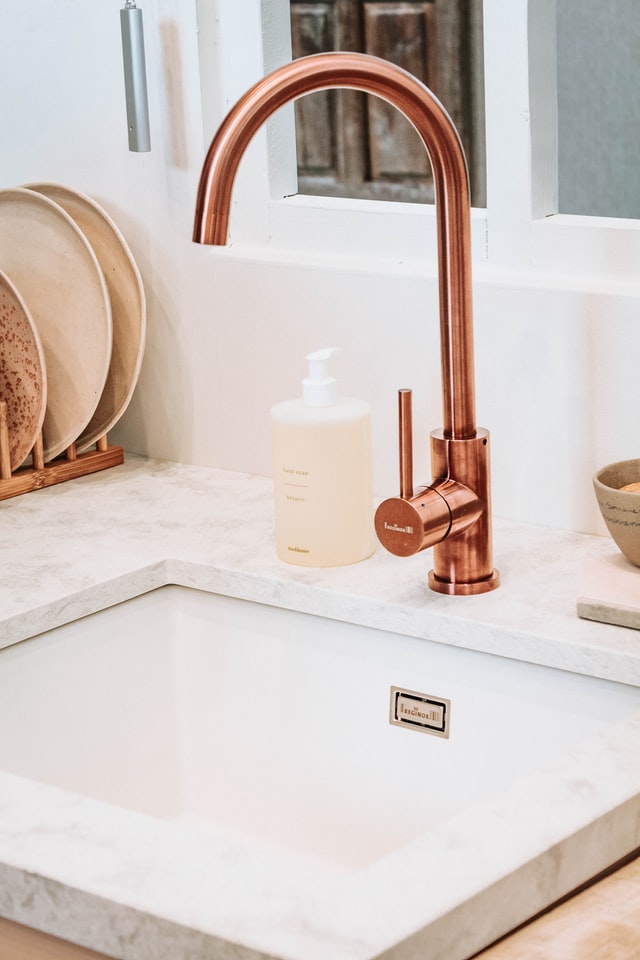 32. Modern white kitchen
If you want to create a modern white kitchen, then consider combining white with a mix of materials. This little eat-in kitchen spot features timber, marble, copper elements and cute penny mosaic tiles on the wall.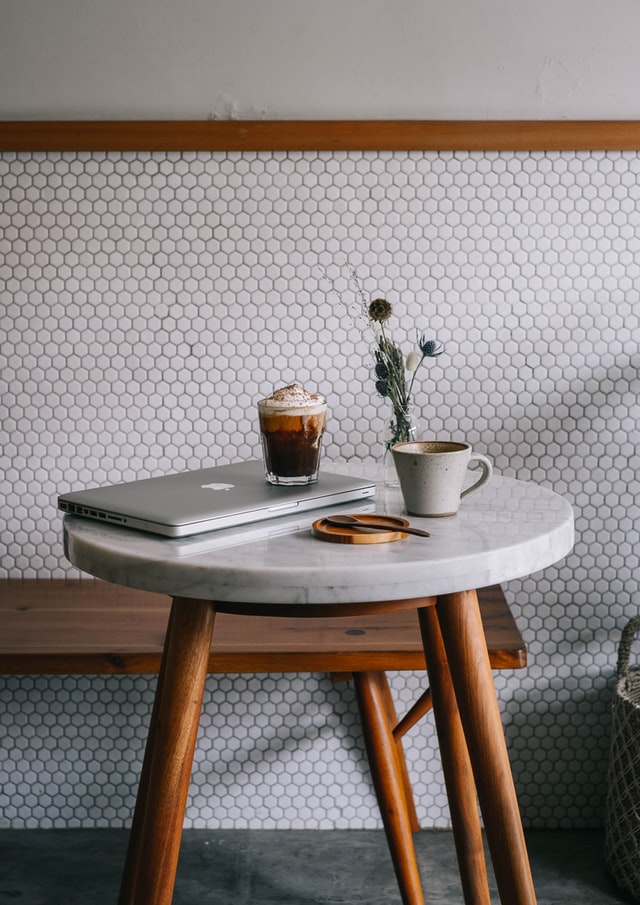 33. Simple and sophisticated
This medium-sized kitchen has everything you need! While the space is mostly white, there is still a theme going on with the steel. I like how the steel has not just been used for the sink, rangehood and appliances but has been integrated throughout the space with the use of steel holders and storage containers.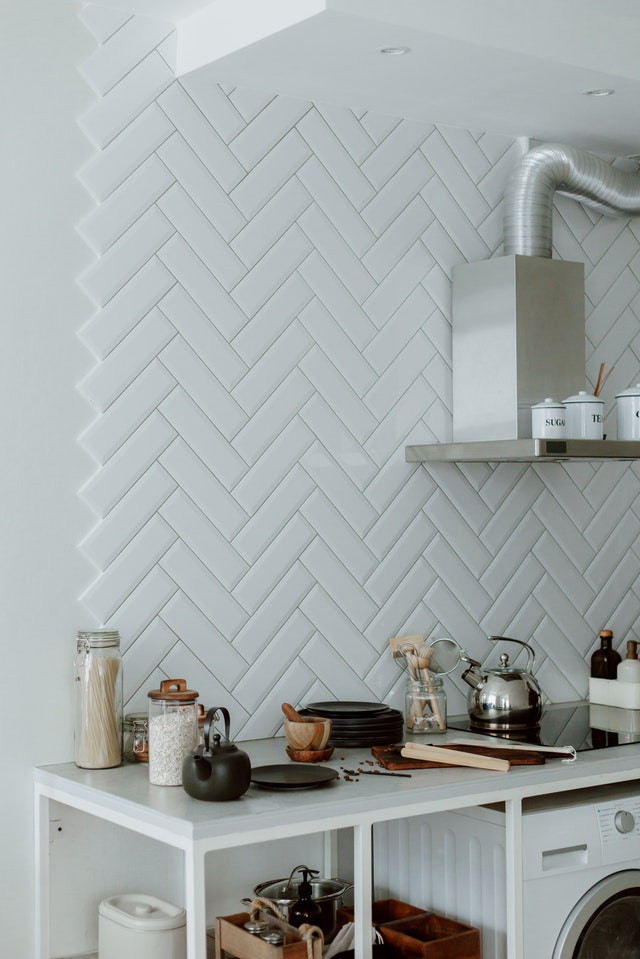 34. Hanging lights
Of course, lights are a must-have in your kitchen. And with a white kitchen as your base, you can go all out with your lighting design. A pod of hanging lights adds so much warmth to a kitchen. And adding downlights is always a great idea for added functionality and ambience.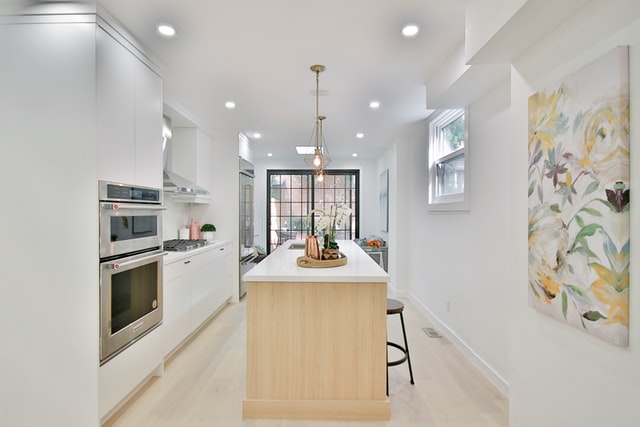 35. Rustic white
If you live in a farmhouse or want to create a rustic feel, then this is the design for you. It's your classic white kitchen with a twist – and that twist is timber with a vintage touch. The 'new' is brought in with a contemporary pot for the statement plant, and modern kitchen utensils and appliances. And the 'old' is incorporated with a Dutch door, farm-style brass tapware and a vintage drop-leaf table.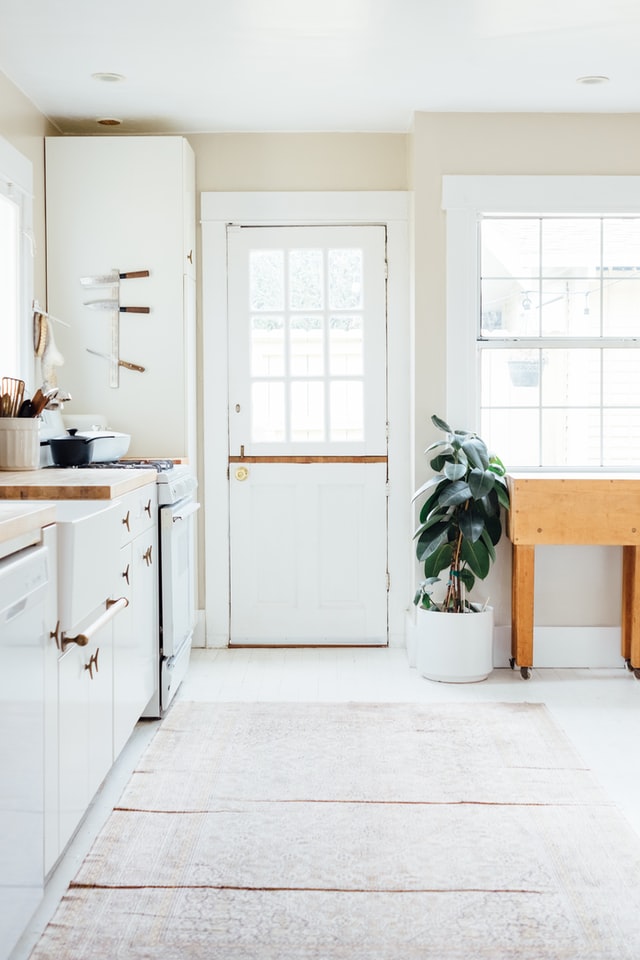 36. Add personalised decor
Just because you have a white kitchen, doesn't mean the benches have to stay that way too. Your kitchen really comes to life with all of the little pieces of decor and kitchen items that fill your shelves, bench space and even walls. Aim for an eclectic mix of recipe books, pottery pieces, beautiful glassware, storage jars, even simply a bowl filled with oranges or lemons. Or, hang some dried herbs on the wall for a practical and pretty touch.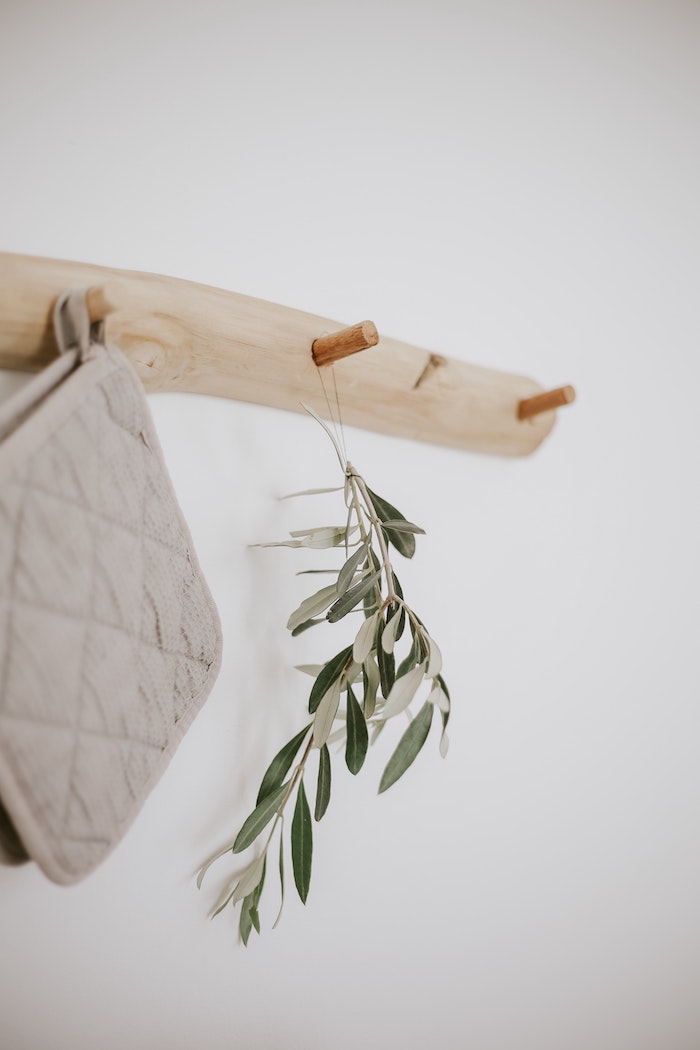 Are you ready to design your very own white kitchen? I hope you are! If you think I've missed any important design elements, I'd love to hear. Comment and share your favourite tips for a wonderful white kitchen.