When you're planning your kitchen, the first thing you need to consider is the layout and ask yourself the important questions like; where will all your appliances go and how much bench space do you need? And whatever your answers are, there's plenty of options to look at. Just to start with, there are L-shaped and U-shaped kitchens, and then there's also the handy kitchen island, galley kitchen and single-walled kitchen layouts which all have their own pros and cons.
But what do they actually look like? Let's go through these ## different kitchen layouts to find one that will suit your home.
1. Open plan kitchen layout
Today's modern homes have embraced open plan living as an alternative to closed-off kitchens. And it's become one of the most popular kitchen layouts because the integrated kitchen-dining space reflects how people live. Today's families want functional spaces that foster community and allow people to move about from room to room with ease. This is exactly the kind of experience an open plan kitchen should create.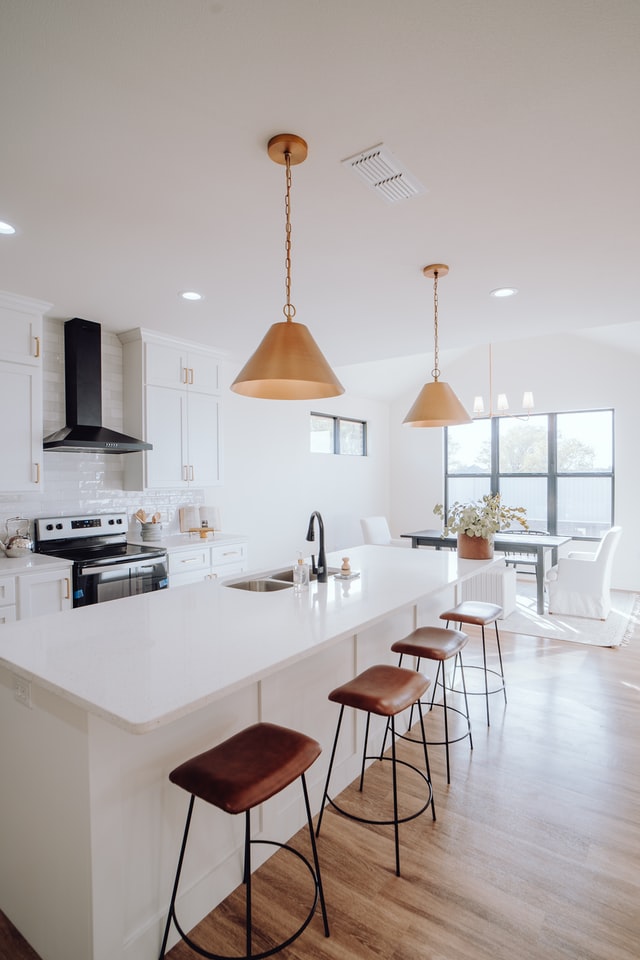 2. Island kitchen layout
Your kitchen should be a beautiful space to prepare food and entertain guests, but it obviously also needs to be a functional space. One way to make this happen is to create an island layout that allows you to place bench seats at the island. This is an easy way to accommodate extra people around the kitchen. It can be used as a spot to savour a cup of coffee or breakfast with the kids in the morning, or a place to enjoy a glass of wine paired with a cheese platter on a Friday night.
3. Stove and rangehood
When designing your kitchen, it's important to think about how your stove and rangehood will fit into the layout. Because it's such a big installation, it's a good idea to think about this first. Consider the size of your rangehood and stove and then determine the types of cabinets you'll need to fit around them.
4. Neat and tidy
This one-wall kitchen layout is simply stunning. The finishes look high-end and luxurious. I particularly love the use of marble here – it provides the perfect base for the rest of this neutral-and-black kitchen.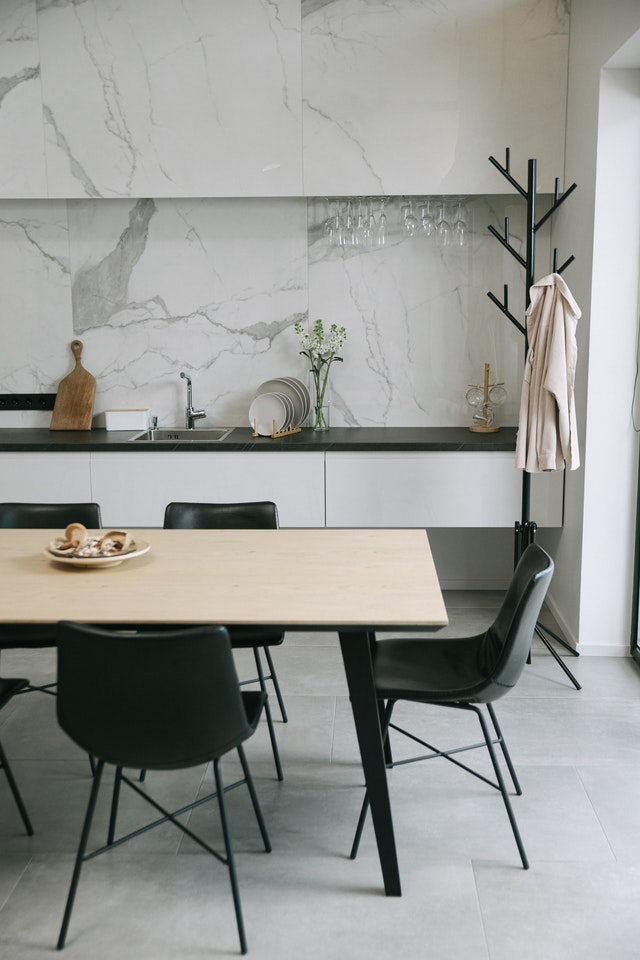 5. Smart use of space
Optimise every nook and cranny in your kitchen by installing clever floating shelves. Timber ones are all the rage right now. Not only do they look great, but they also provide a handy spot to store your favourite mugs, cups or jugs, or to simply display a pretty print or potted plant.
6. Colourful splashback
A splash of colour helps to bring a kitchen to life. So when you're planning your kitchen layout, think about where you can integrate an eye-catching feature piece or design. Installing a bold splashback is one way to do this. You can either tile it behind your rangehood and stove, or you can wrap it around the entire back wall of your kitchen.
Whatever you do, make sure you select a colour that either pop against your existing colour scheme or that fits in with the colours you've already got. This grey subway tiled splashback is a beauty, and I love the use of matching grey grout.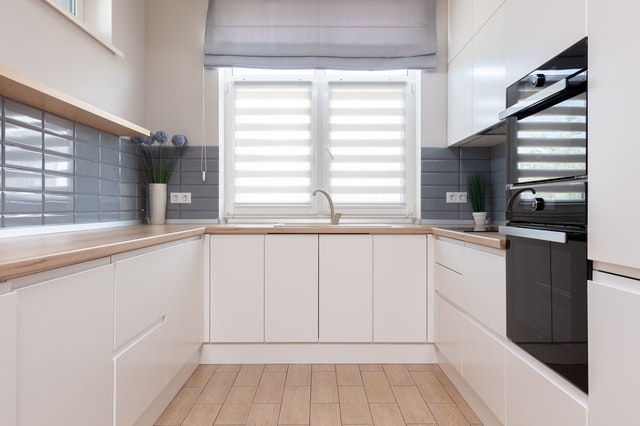 7. Choose a focal point
In large kitchens, it's important to have a feature item to draw the eye. For example, the focal point might be a huge stainless steel sink. These stand out beautifully under kitchen windows and against splashbacks.
8. Single-wall kitchen layout
If you have a small kitchen or a granny flat, think about installing your cupboards along one wall instead of in an L or U-shaped design. This means your kitchen will take up minimal space and won't overwhelm the rest of your room. Make sure you allow for plenty of cupboard space, so you can store away all of your kitchenware.
9. Small kitchen with island
If you have a small kitchen, then you're probably already struggling to find storage space for all of your dishes, kitchenware and appliances. The greatest benefit of a kitchen island is that it provides more storage space. So, if this is something you need – design a kitchen island that includes cabinets or shelving underneath or above it. There are so many nifty storage hacks you can implement too – think wine racks, coffee mug holders, hooks or hanging utensil racks. When it comes to your kitchen island, the options really are endless!
10. Long island
And if you have the space for it, why not make your kitchen island as large as you can. This is such a helpful place to store extra kitchenware. You can even take it to the next level by integrating your stove and sink into the bench. A kitchen island like this provides an additional area to prepare food and entertain. Plus, you can easily decorate it with a gorgeous bunch of fresh flowers or perhaps a glass dome filled with freshly-baked goods.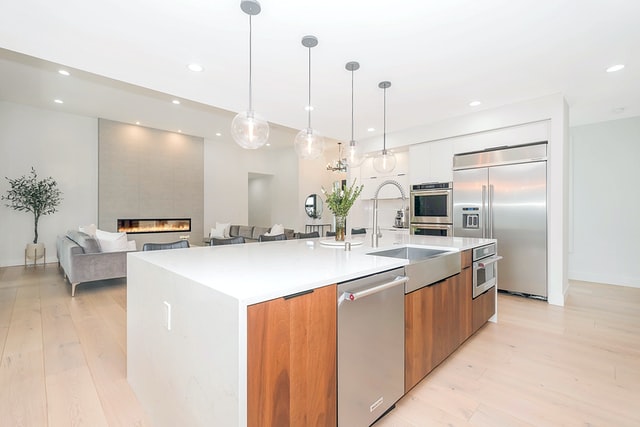 11. Frame your windows
Windows are key to a beautiful kitchen layout. And one way to highlight them is to frame them in a contrasting colour. Take this window frame, for example. The black steel frame stands out beautifully against the white and timber.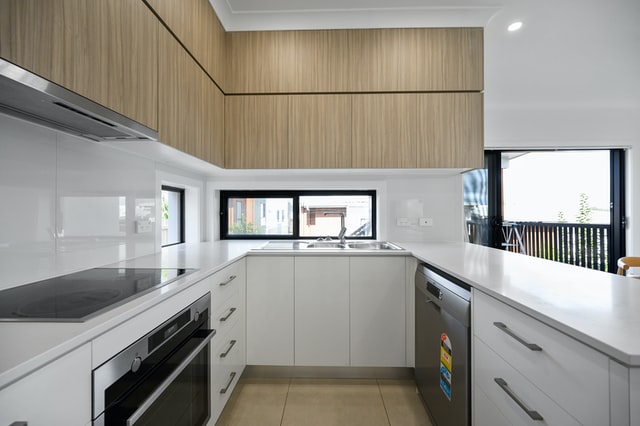 12. Lots of hooks
The little details in your kitchen are just as important as your overall design. However, these are the elements that are often the most overlooked. You can easily optimise your space by installing a handy metal bar with hooks for chopping boards, pans and cooking utensils. This keeps everything within arm's reach and frees up space in your cupboards and drawers.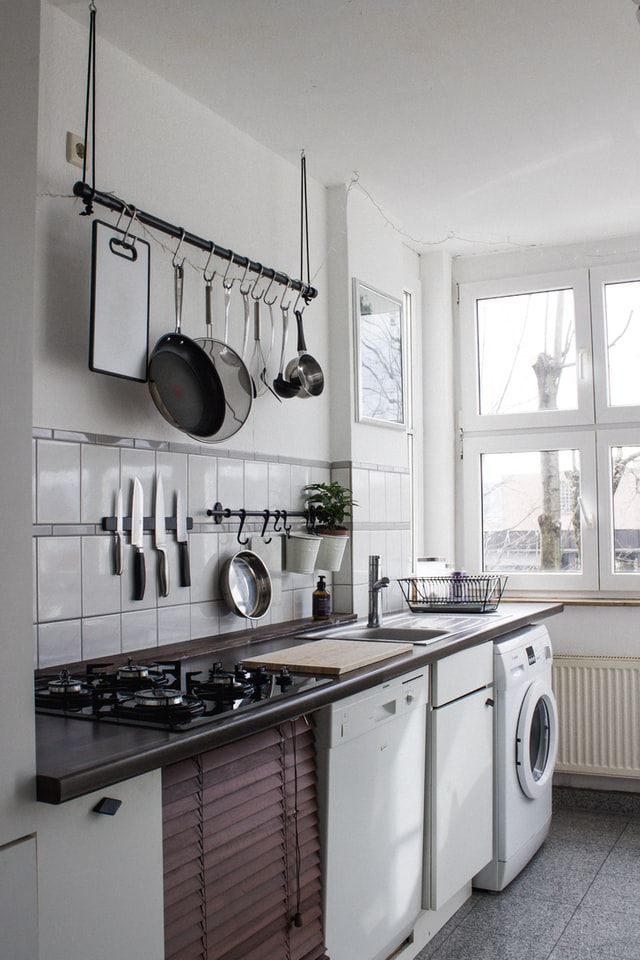 13. Use your window sill
If your kitchen has a window sill, I can bet it's probably just collecting dust. But you should put this space to work by using it to display your favourite plants, including succulents, cacti, or your favourite herbs. Your plants will get the natural light they need, and your kitchen will be infused with fresh green goodness!
14. Overhanging island
Need extra seats? Well, if you have an island, you can simply place stools underneath it. This provides an additional surface for enjoying casual dinner meals, drinking a cup of tea or coffee, or sipping wine with friends on the weekend.
15. Integrated seating area
Speaking of overhanging islands, this is a great example of an effective open plan kitchen. What's so great about this design is that it incorporates plenty of different seating spots, which increases the functionality of the space. As well as the stools at the white kitchen island, there's a large timber dining table with chairs too.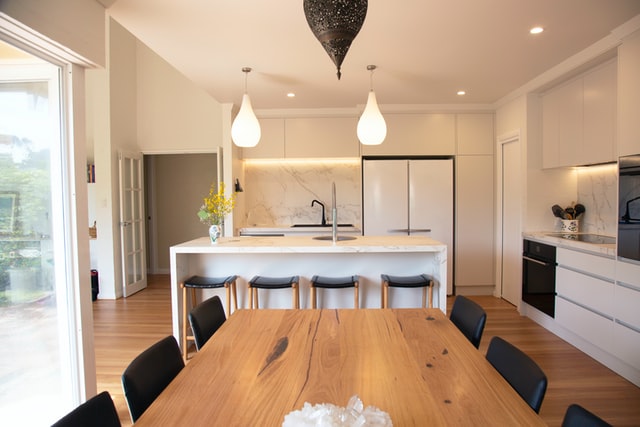 16. Plenty of shelving
The number one thing you need to consider when designing your kitchen layout is storage. You really don't want to get to the end of your kitchen renovation and realise that you've left out room for the pots or pans or your favourite pretty dishes. So when you're in the initial stages of planning your kitchen, consider how your layout can incorporate everything from low cabinets, glass cabinets, open shelves, floating shelves and drawers.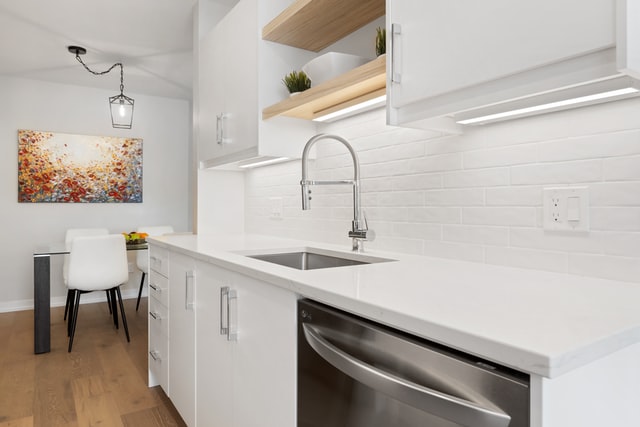 Here are some more kitchen storage ideas to make sure you're utilising the most out of your space.
17. Dutch door
If you're wanting to design a country kitchen, then you should consider a kitchen layout that reflects this. An easy way to transform your kitchen into this style is to install a Dutch door, which is a two-part door that can be opened at the top or opened as a whole. You can then frame your farmhouse kitchen layout strategically to make this feature shine.
18. Fill your space with a rug
Have you ever thought about how your kitchen feels? The feeling your kitchen provides will be greatly determined by two things. First, you need to consider the shades in your kitchen. Warm tones like beige, orange or red, will instantly make your space feel cosy, whereas cool shades like white, blue or green will make your kitchen feel cold.
The second thing you need to consider is your climate. If you live in a warm climate, your kitchen will also feel warm. But if you live in a climate that's cool most of the year-round, then it's important to think about how you can make your kitchen feel warmer. A simple way to do this is by adding a rug or two to your floor.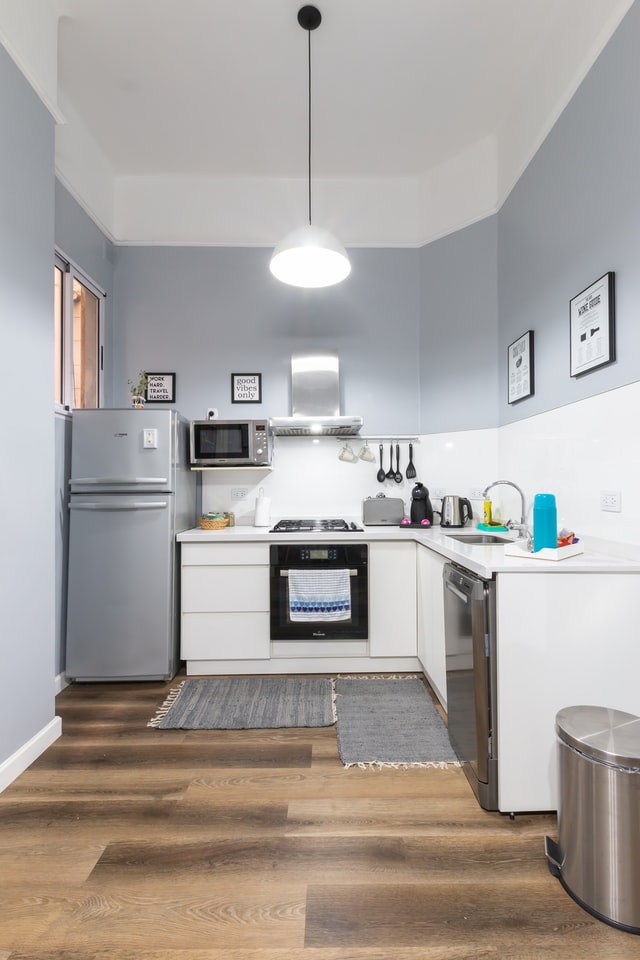 19. Mirrored splashback
In designing the layout of your kitchen, it's important to consider how the space will ultimately look and feel. If you have a small kitchen, you should think about ways that you can make it appear bigger than it is. One way you can do this is by installing a mirrored splashback. This is especially helpful if you have a window on the other side of the room.
20. U-shaped kitchen layout
If you have a medium to large-sized kitchen then a U-shaped design is a practical choice. You can install a rangehood in the centre of the room and design your cupboards around it.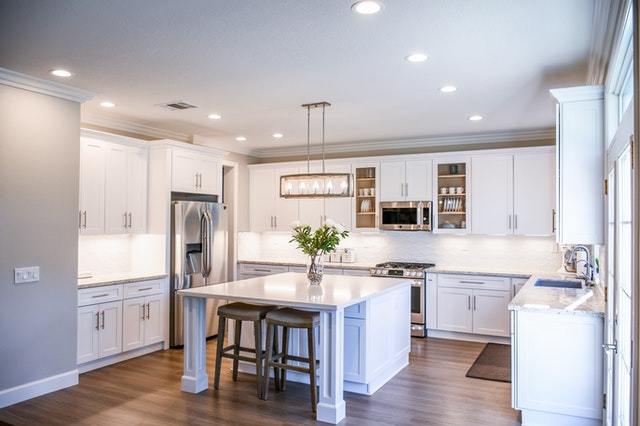 21. Small kitchen layout
If on the other hand you have a tiny kitchen, keep it all to one side of the room. And another way to maximise your space is to use plenty of white or neutral colours. This will open up your space and make it appear much larger than it really is.
22. Keep it consistent
When styling your new kitchen, make sure you keep the design consistent throughout the layout. This space keeps things simple with all-white cupboards with black handles, black marble countertops and white subway tile.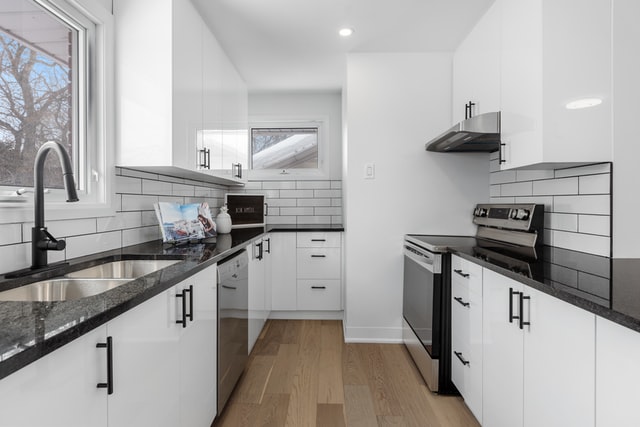 23. Small L-shaped kitchen layout
If you have a small space, then an L-shaped design will help you make the most of it. Remember, your bench space is just as important as your cupboards. So use it well by filling it with your most-used appliances, your knife block, and other pieces of décor like vases of flowers.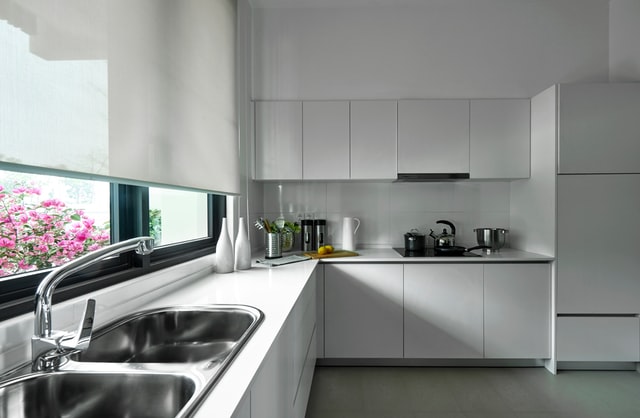 24. Patterned splashback
If you're designing an L-shaped kitchen, think about how you can make your edging stand out. One way to do this is by using tiles with a geometric pattern. The tiles follow the L-shape of your kitchen and make your countertop pop!
Want to see some more ideas for kitchen splashbacks? Take a look at these kitchen splashback ideas.
25. Clever lighting
When designing your kitchen layout, consider where you'll need to install lights. The most obvious spot is to hang a pendant light from the ceiling. The other most important place is to install lights in your wall. These provides much-needed brightness to your sink area as you wash the dishes or your benchtop as you prepare food.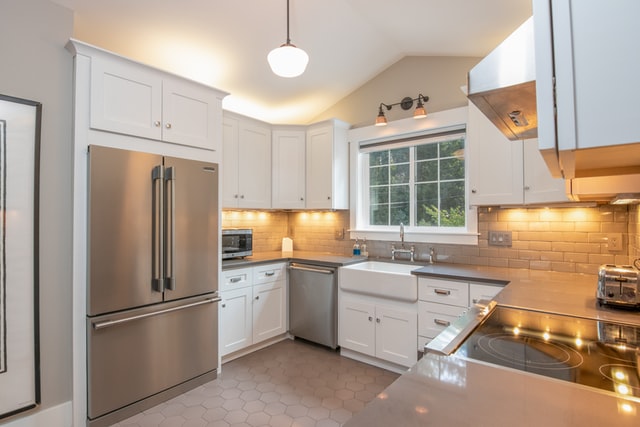 26. Cast-iron sink
Cast iron is a great option if you want a sink that's a little bit different but more gender-neutral. And the great thing about a cast iron sink is that it looks great paired with brass or gold tapware and cabinet hardware.
27. Huge rangehood
In a big kitchen, you can get away with large pieces like this rangehood. In fact, they can even serve as the feature piece for your room. Make your rangehood stand out by using a different material for the walls than the rangehood. In this kitchen, the rangehood is a simple stainless steel and the surrounding walls are designed with grey-green subway tiles with matching grout.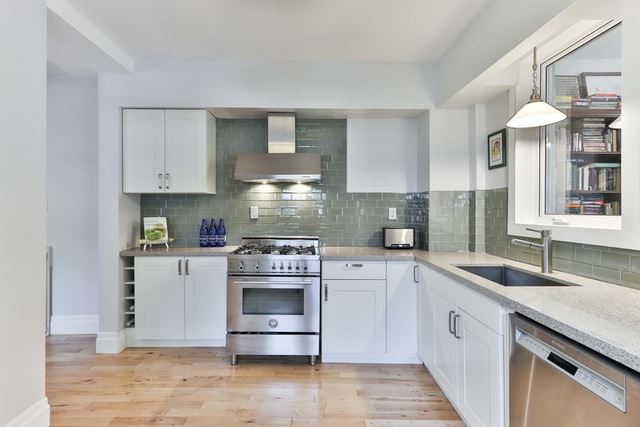 There you have it – 25+ kitchen layouts, including small layouts, open-plan layouts, U-shaped layouts and more. I'd love to hear which kitchen layout was your favourite. Comment and tell me which style you would implement in your home. And, if you have any more suggestions – I'd love to hear. Simply share them below!