When you're designing your kitchen it can be tricky trying to figure out which layout to go for. There's L-shaped, one wall, galley style, island kitchen or peninsula kitchens, to name a few. But no design is more practical than a U-shaped kitchen. If you're someone who values a lot of cupboard space, then this is the choice for you! The layout of a U-shaped kitchen makes it flexible and well organised. Plus, it allows for free-flowing traffic – which is a huge bonus if you have a big family.
It should come as no surprise that within U-shaped kitchens there are so many different ways you can style it because it's such a flexible layout. You can choose from any style, from Scandi through to industrial. So to help you make the right choice for your next kitchen renovation, I've pulled together my favourite U-shaped kitchen designs and ideas.
1. Classic white U-shaped kitchen
If you're someone who likes to keep things simple while incorporating a bit of detail, the classic white kitchen is perfect for you. And there are so many ways to style it. My favourite way to spruce up a white kitchen is to tile a wall filled with subway tiles. They always look great, especially with grey grout, which makes them stand out! And a marble benchtop is a nice addition that will make your design that little bit more luxurious.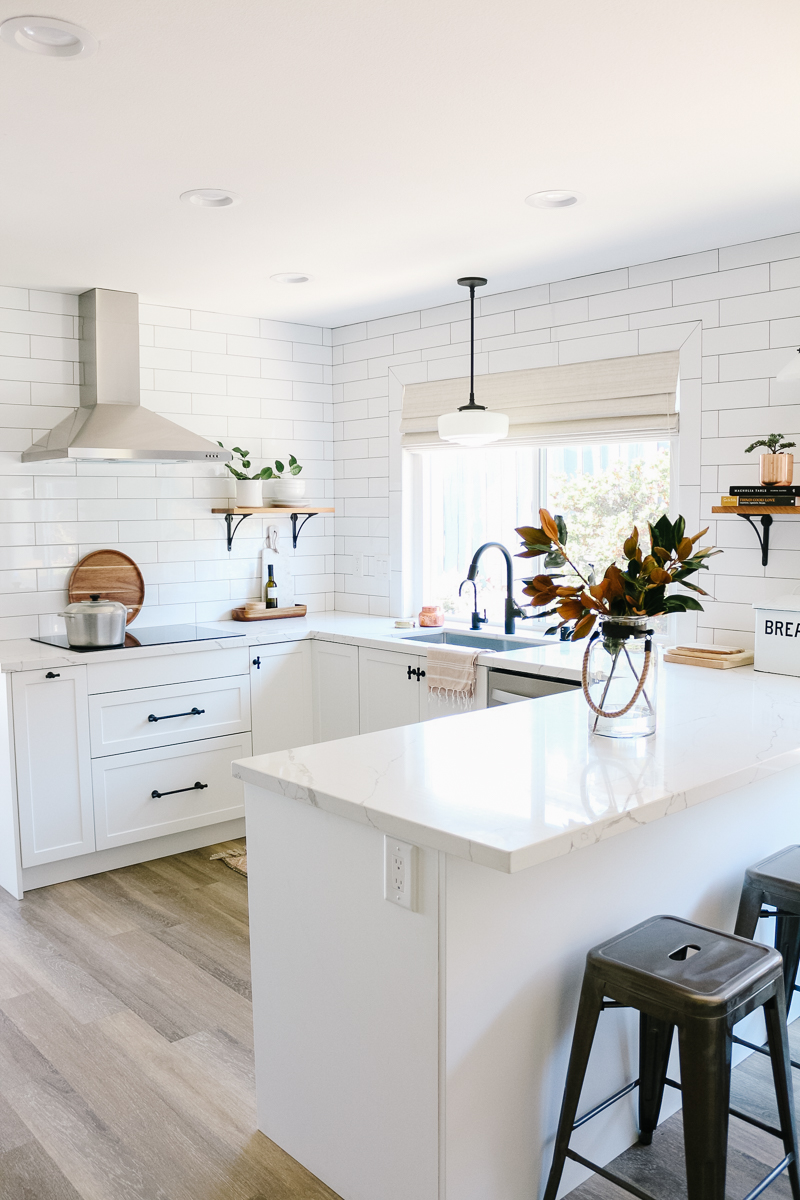 Picking the right grout colour can make all the difference to how your tiles sit within your room. Maybe even consider regrouting if you're thinking that you need a bit of a change.
2. Black and cream
Here's another simple U-shaped kitchen. It keeps things fairly neutral – with cream cabinetry and shiny black benchtops. But the contrast between the two colours makes for a great finish! And I love the addition of the small art prints on the walls – this helps to make the space more personal.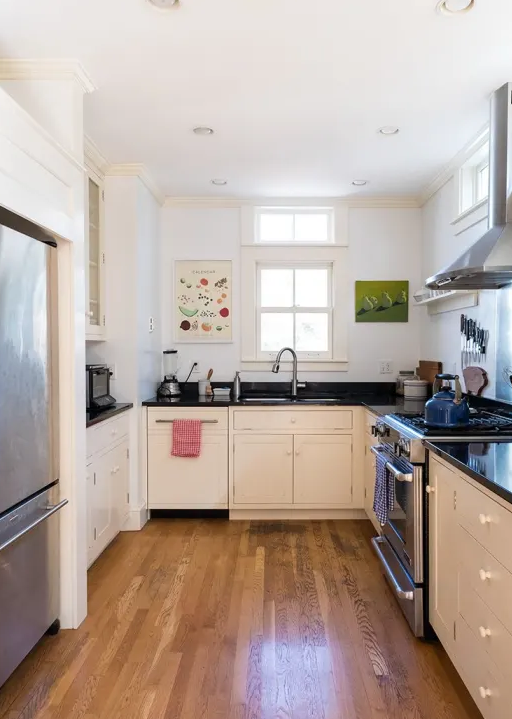 3. Marble splashback
Inject some serious style into your kitchen with a striking marble splashback. And this one is no ordinary splashback! It uses the ame marble from the benchtop to wraparound the entire bench and up the wall on the far side of the space. For a small kitchen, there is great continuity being showcased.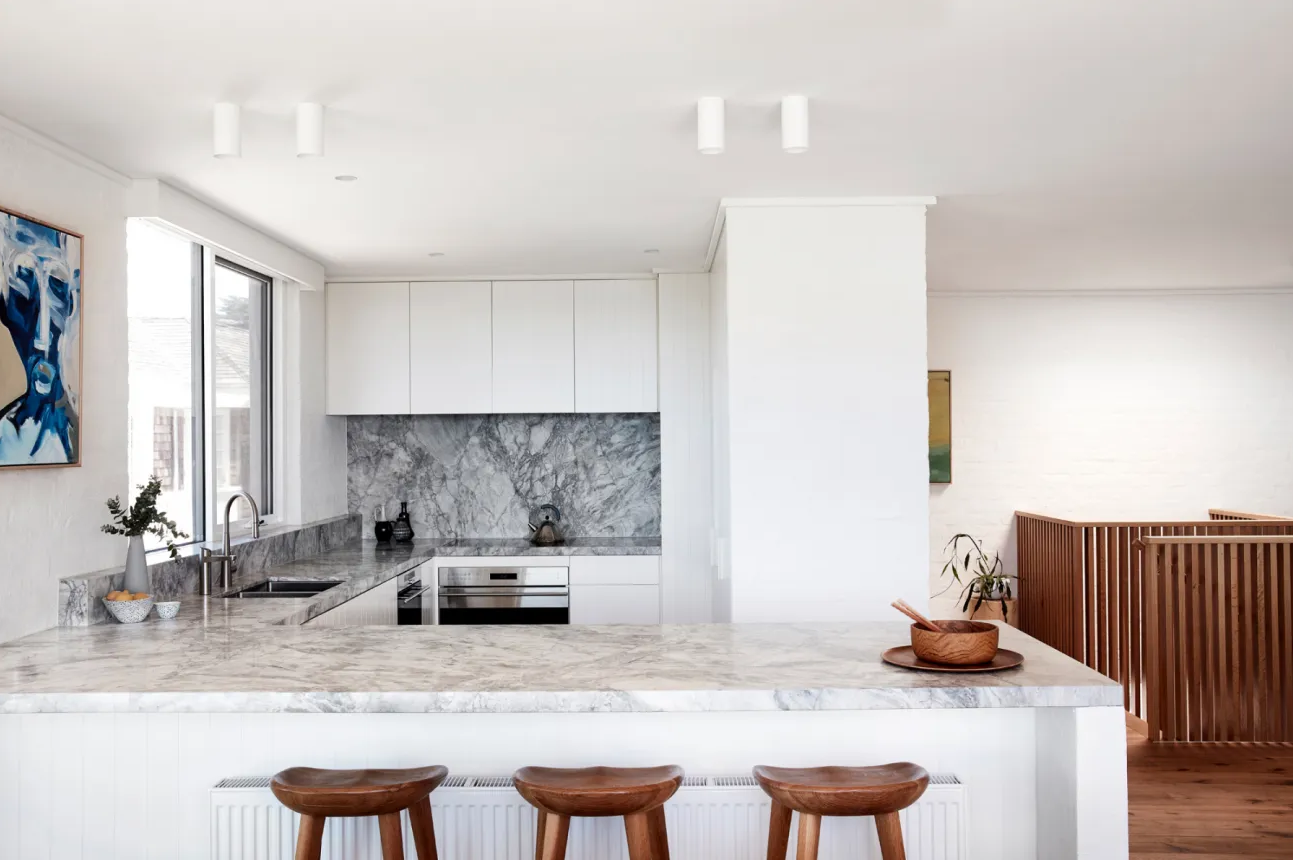 4. Island in the middle
Ok, so this might be more of an island-style kitchen or a W-shaped kitchen but there's no reason why you can't put in an island in too. It will instantly add bench space so you have more room for preparing food. And you can also include handy cupboards and drawers to provide more storage.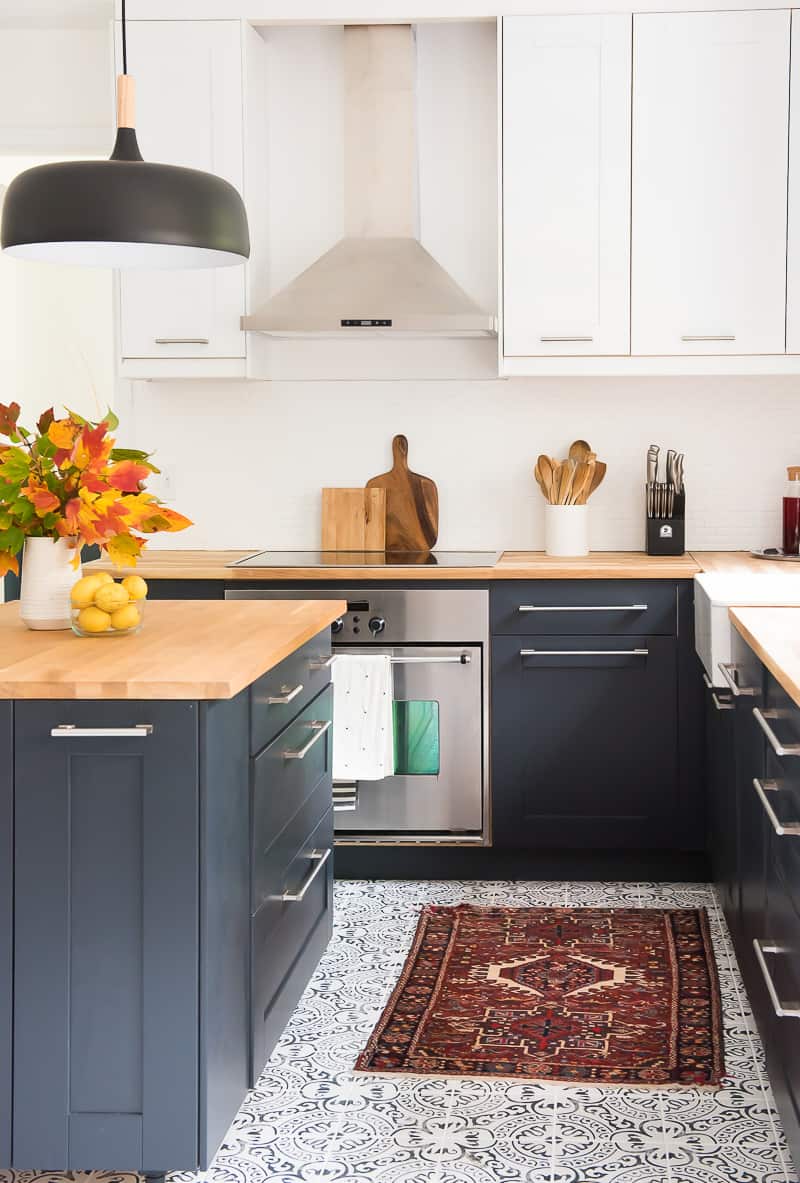 Actually, if it's storage you're after, take a look at these nifty kitchen storage ideas – there's bound to be one that will work in your kitchen.
5. Around the stove
Something that I love about U-shaped kitchens is that they give you the opportunity to create symmetry. And one way to do this is by shaping your kitchen around your stove and rangehood. This stove is a beautiful addition because it adds contrast with the stainless steel and a pop of colour with the blue-green front.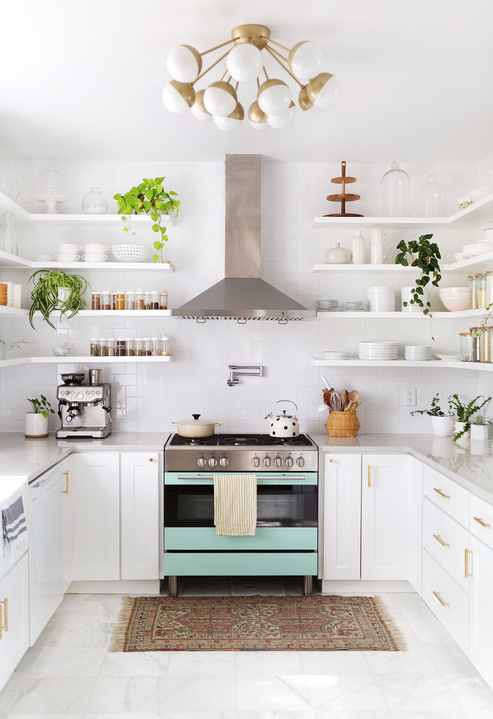 If you're getting a bespoke aga or stove put in. Make sure that you hire a professional to take care of the stove connection and rangehood installation.
6. Timber touches
I'm obsessed with this timber kitchen – it instantly whisks me away to the countryside. Just imagine cooking up a Sunday roast in this space with a glass of red in hand! I love how timber has been used throughout this kitchen. There are the wooden beams on the ceiling, the timber benchtops, and the lovely old timber table that's been repurposed as a handy kitchen island.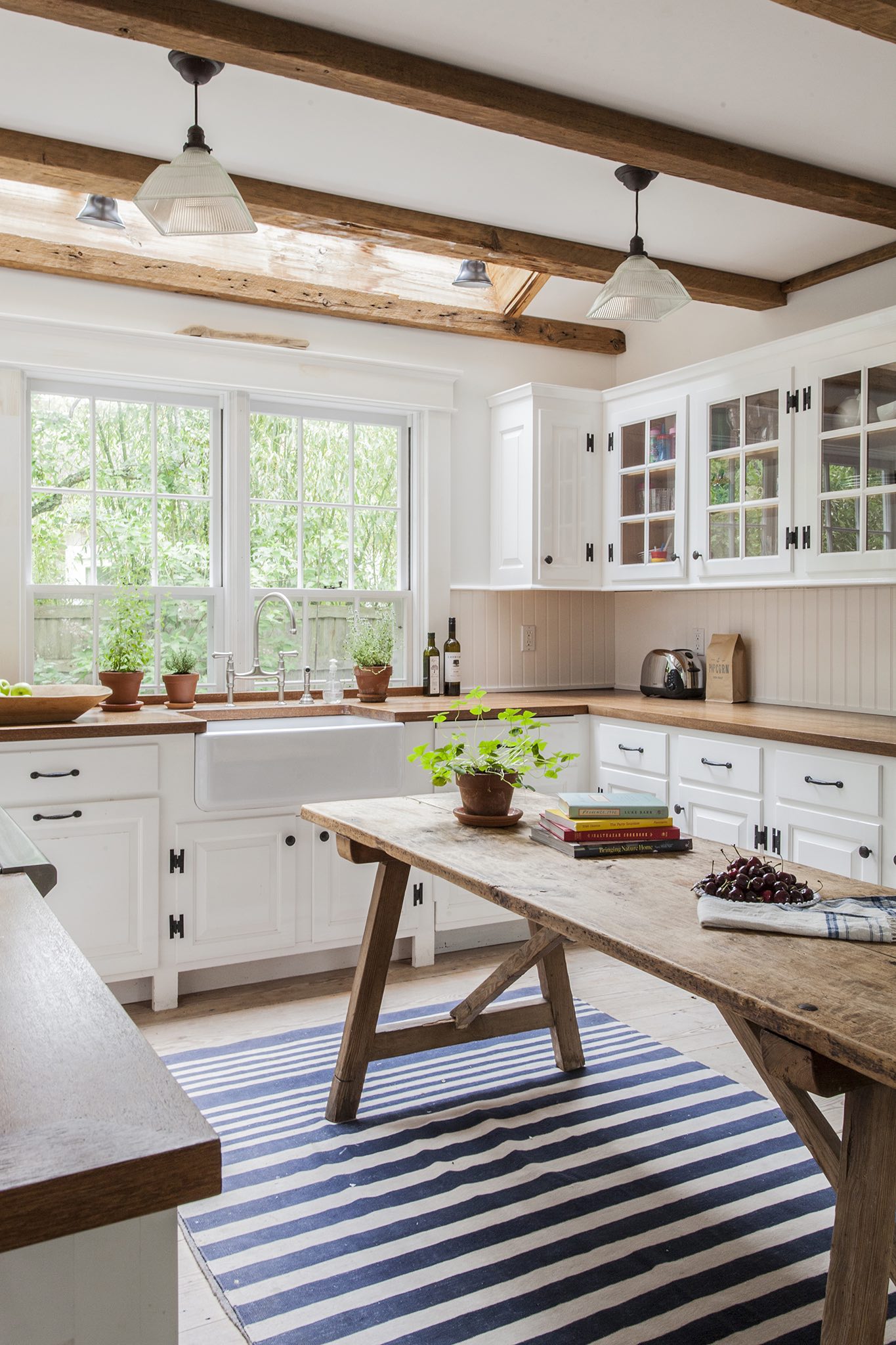 7. Using the full-height
I mentioned how symmetry can be used to your advantage in a U-shaped kitchen. But you can also break it up by situating your fridge and tall cabinets on one side of the kitchen and surrounding the rest of the space with benches. This helps to improve your kitchen flow, as two-thirds of the kitchen is dedicated to food preparation, and the other third is all about food storage and organisation.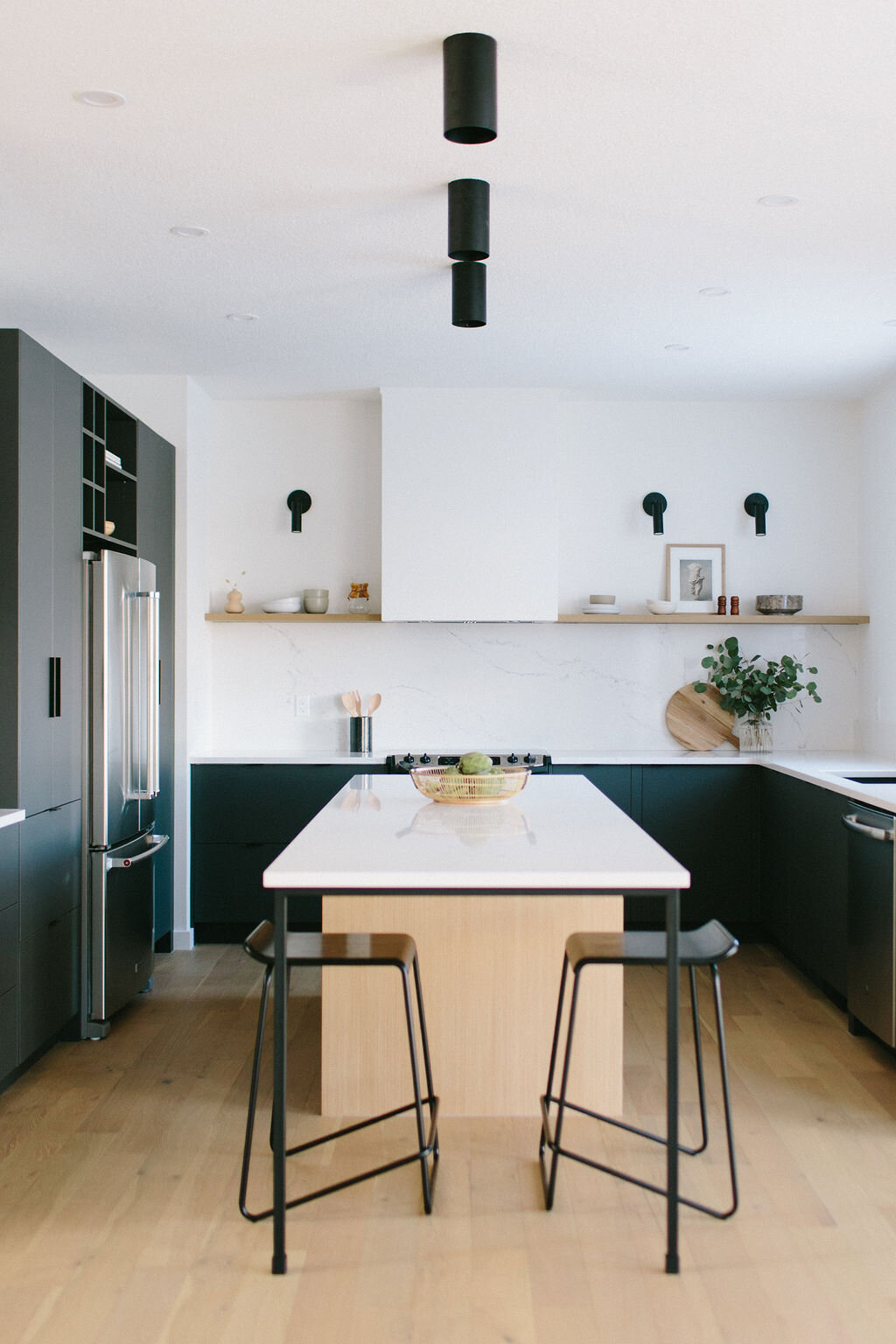 8. Light it up
I love a good statement light! They draw the eye and take your kitchen from simple to fancy. So if you've got a space like this, why not frame your benches, cupboards and appliances around some fun lights, like these gorgeous ones.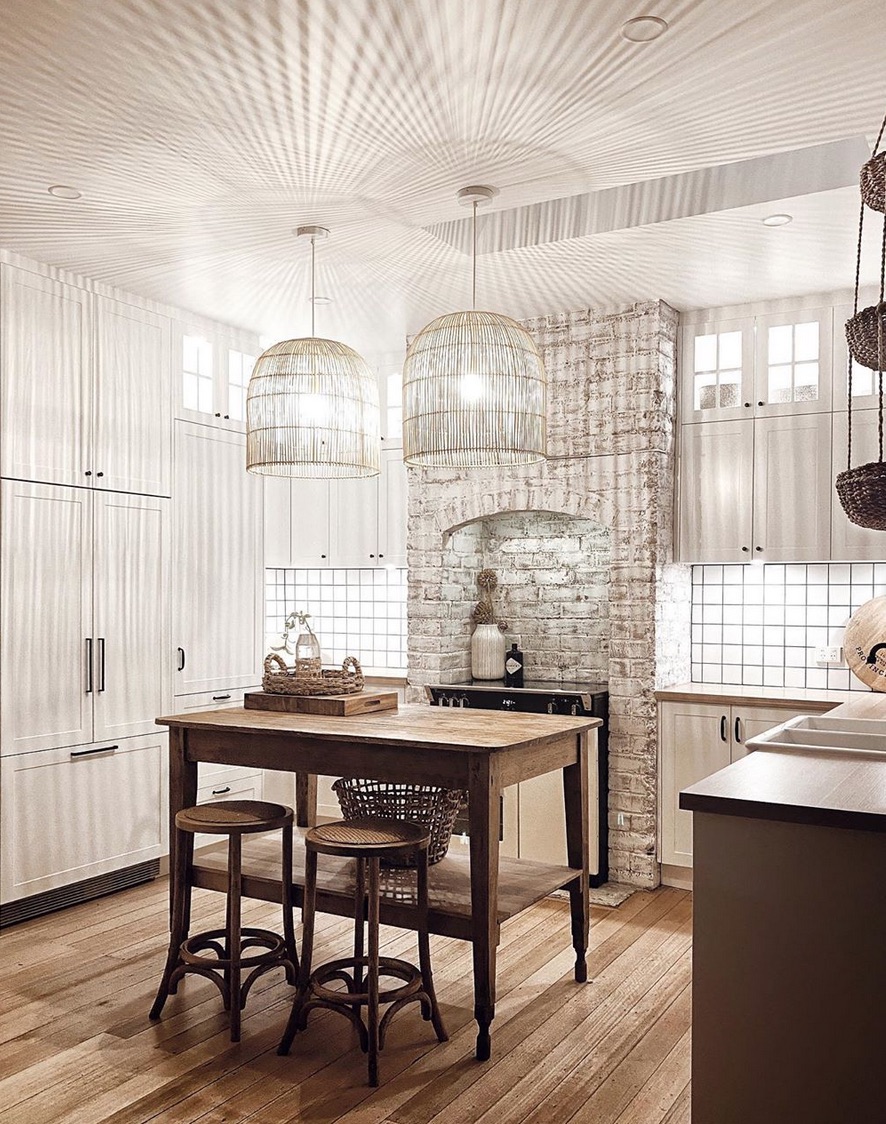 Ok, so I admit this is more pretty lighting than functional lighting… but if you want more of both (because that's ok too!) head on over to this article on kitchen lighting ideas.
9. Floating shelves
Storage is the most important part of any kitchen and U-shaped kitchens should always optimise space! One simple way to do this is by installing handy floating shelves, like these ones. Fill them from top to bottom with your favourite plates, mugs, bowls – and really anything that looks beautiful!
I love how this design uses a consistent colour palette – there are black, white, and shades of neutral rattan and timber.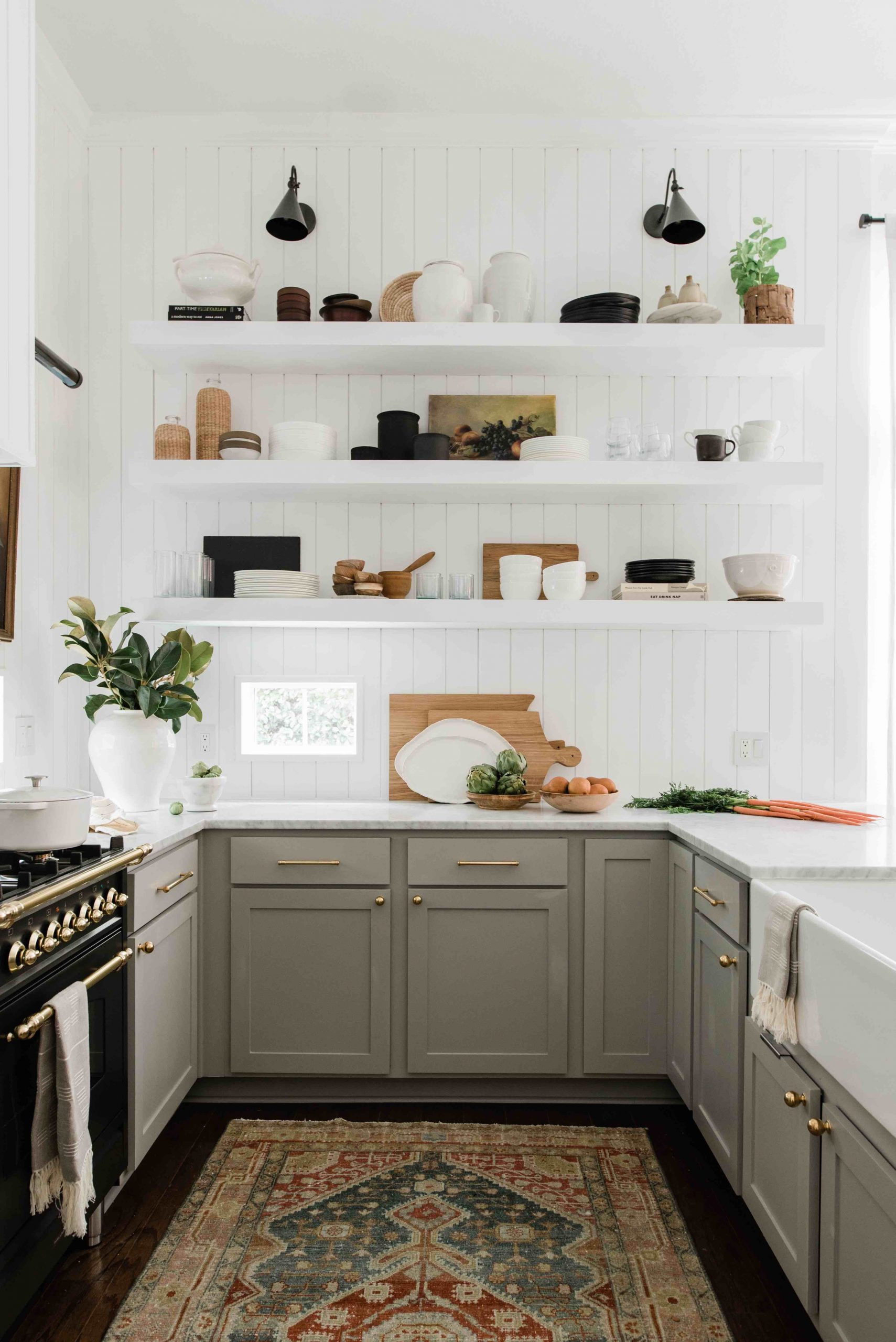 10. Pop of colour
Here's another fancy U-shaped kitchen that's been designed around an island. And isn't this one a beauty? I love the gorgeous light shade of blue. It really pops in this glam, all-white space. And how cute are the lights hanging down above it? They're a practical (and visually attractive) addition to this kitchen!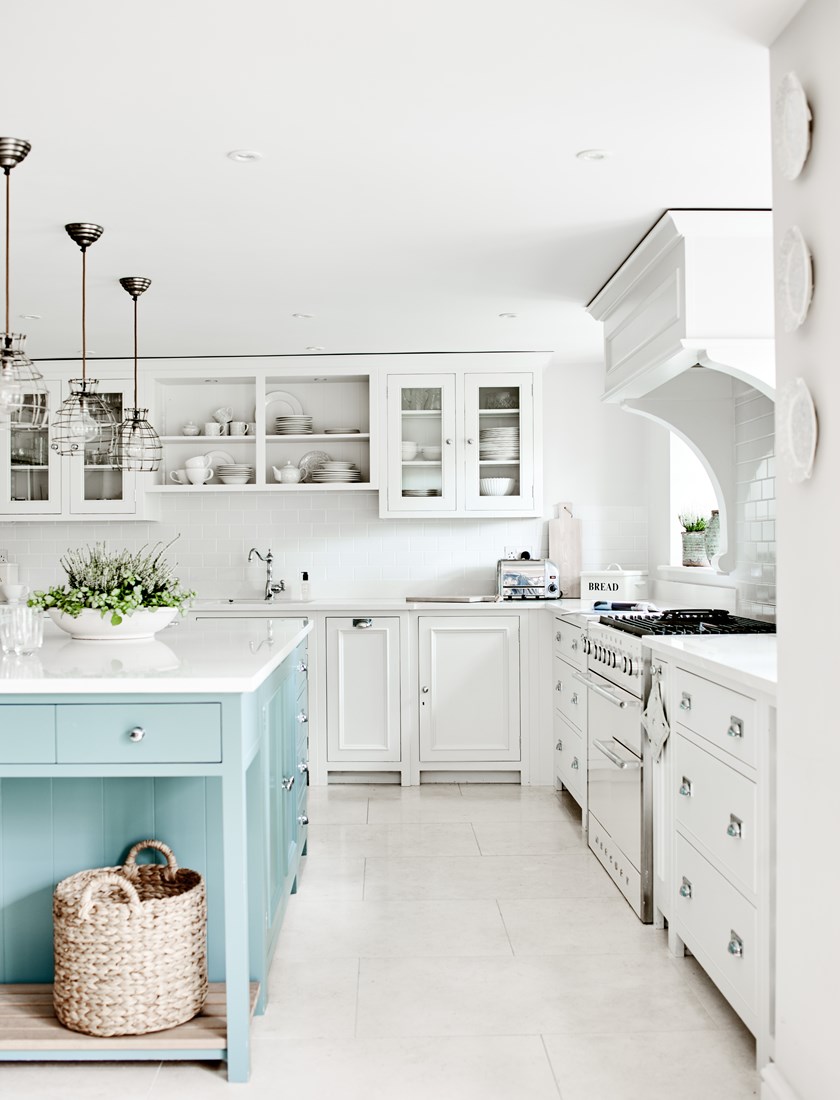 11. Keep it natural
This small kitchen makes the most of natural elements to create a modern, relaxed space. There's a mix of materials, including timber, brick, stainless steel, and more. My favourite elements are the exposed brick wall on the far side and the lovely three-part skylight that lets the natural light in.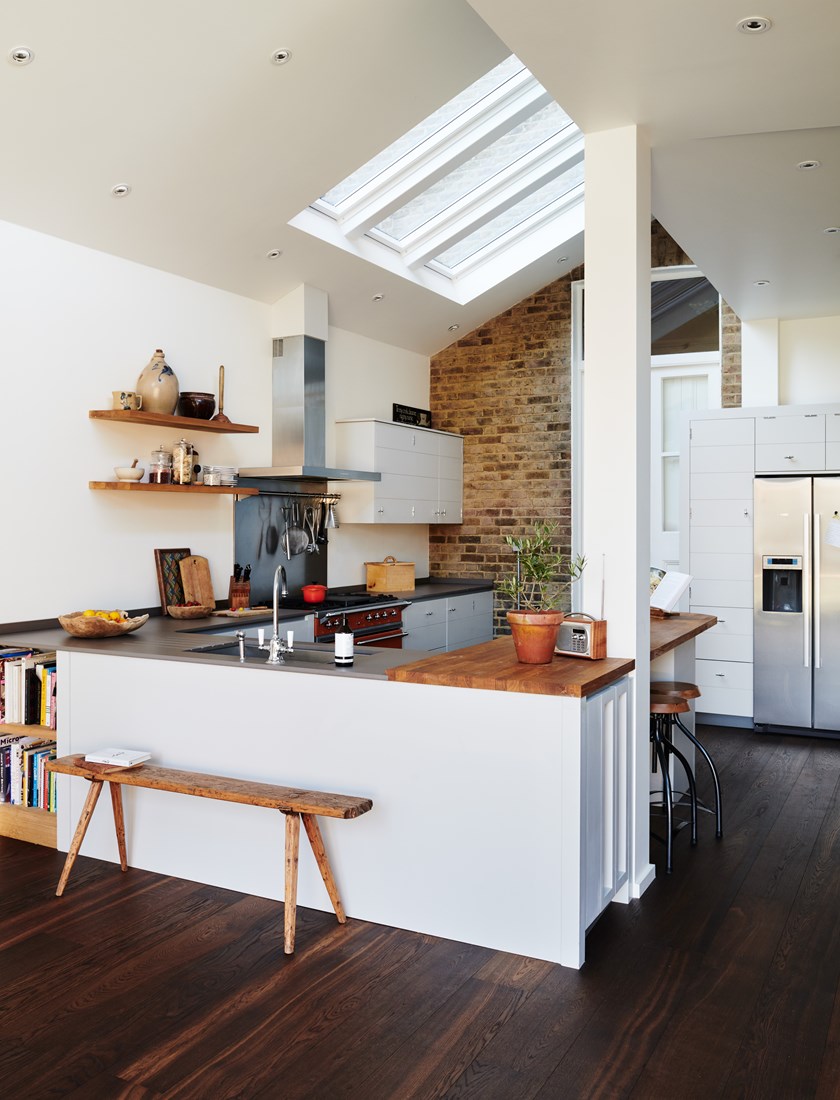 12. Shiplap kitchen cabinets
If you want to create something different and sophisticated, then you must consider shiplap cabinetry. This is the perfect, easy way to take your kitchen from basic to infused with character. I just love the clean lines! And the shade of grey is a perfect combination with the marble benchtop.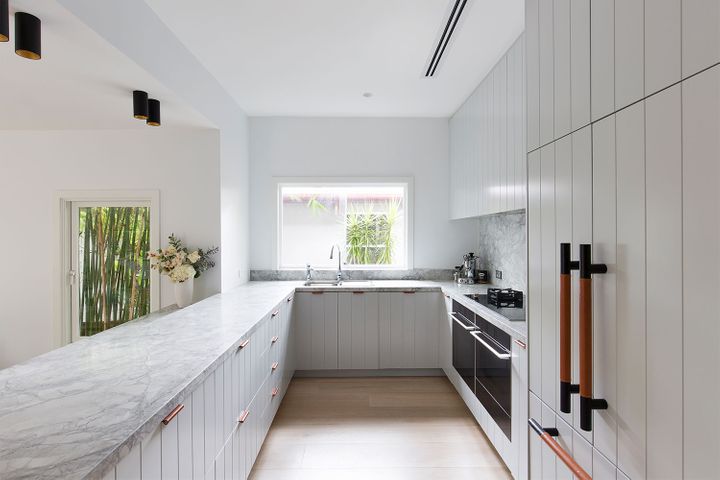 Getting a professional kitchen cabinet maker will make shiplap cabinetry easy to get installed.
13. Space-saving kitchen
If you have a small space, think about how you can make the most of it! The number one thing you'll want to consider is storage and bench space. This U-shaped design does both of these things so well. There's consistent, flowing bench space for preparation and lots of cabinets for keeping plates, bowls and other items out of sight!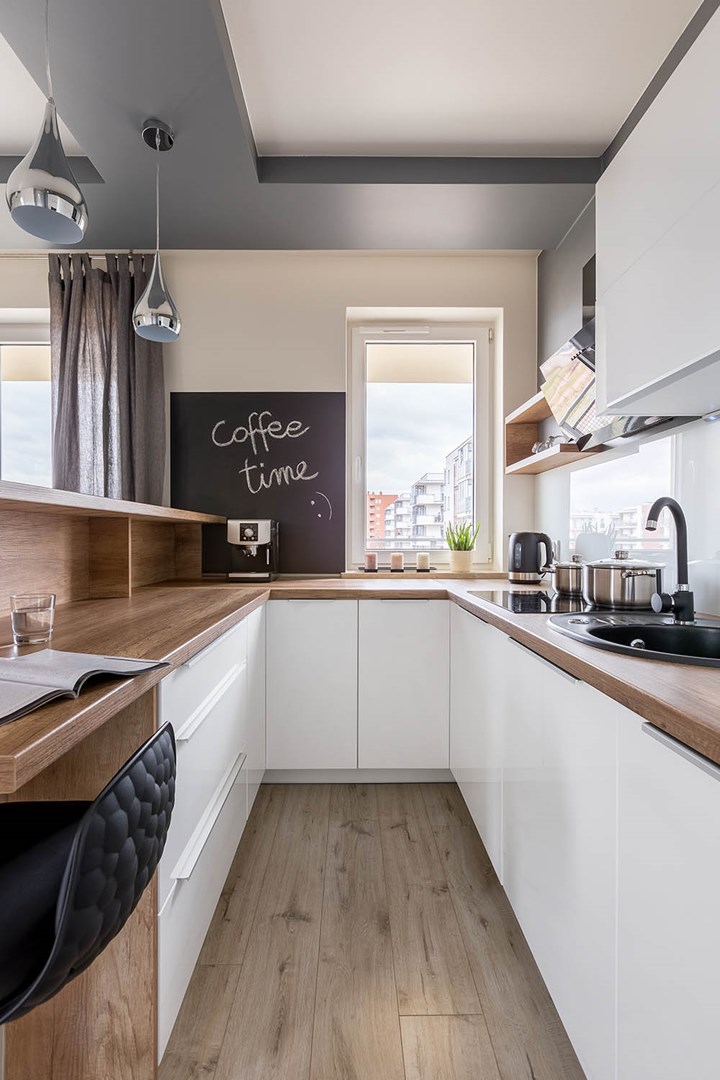 14. Quaint corners
Here's another tiny kitchen space… I love how the gorgeous colour of the cabinets. This design is an example of how you can make any kitchen beautiful, no matter what the size! The key elements here are the cute appliances, the hanging decor and the jug full of gorgeous purple tulips.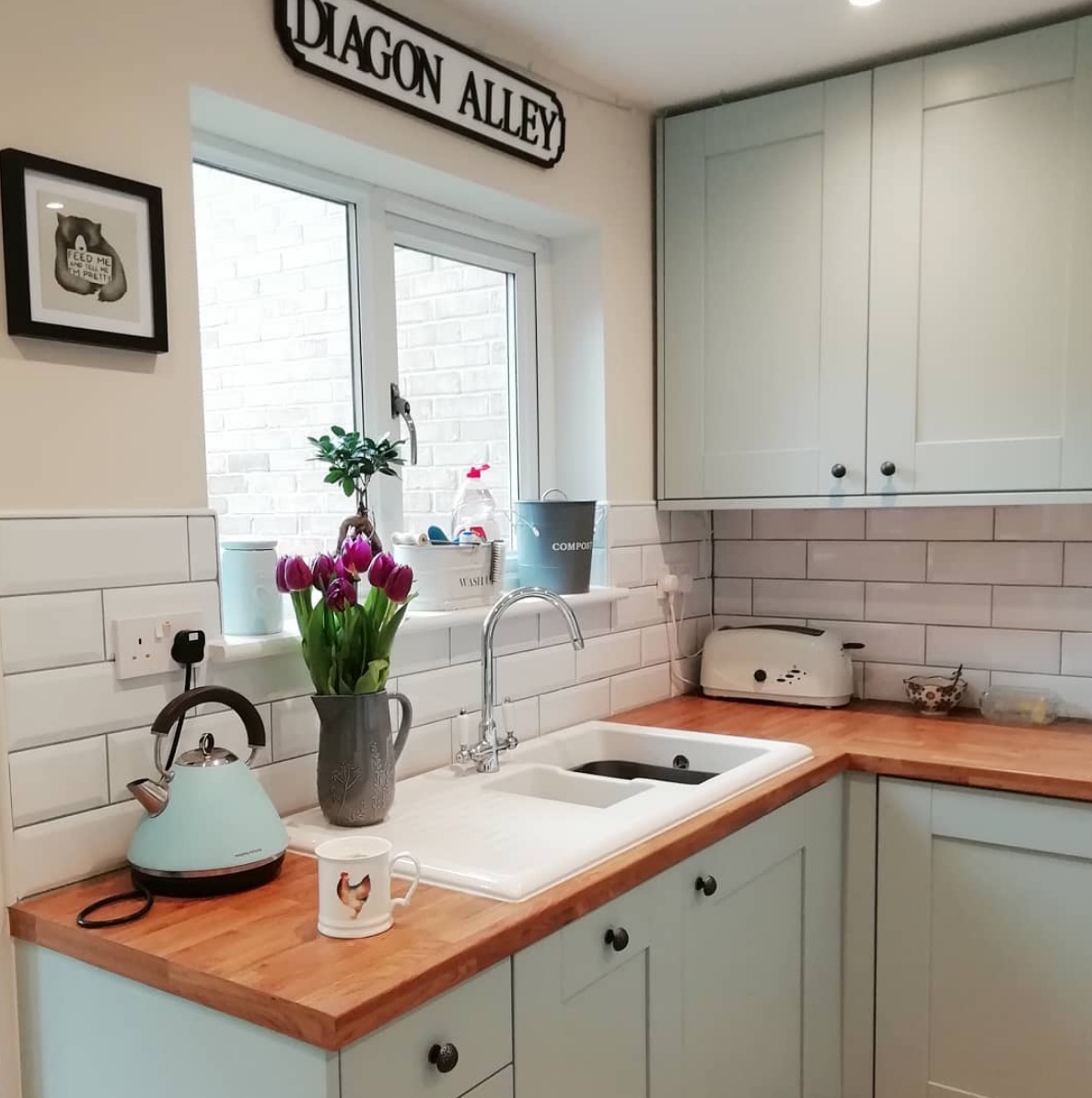 15. Lavish finishes
If you have a larger kitchen space and a budget to match, consider how you can make your kitchen feel more luxurious. Simple elements like high-end appliances, silver hardware and ornate details will make all the difference.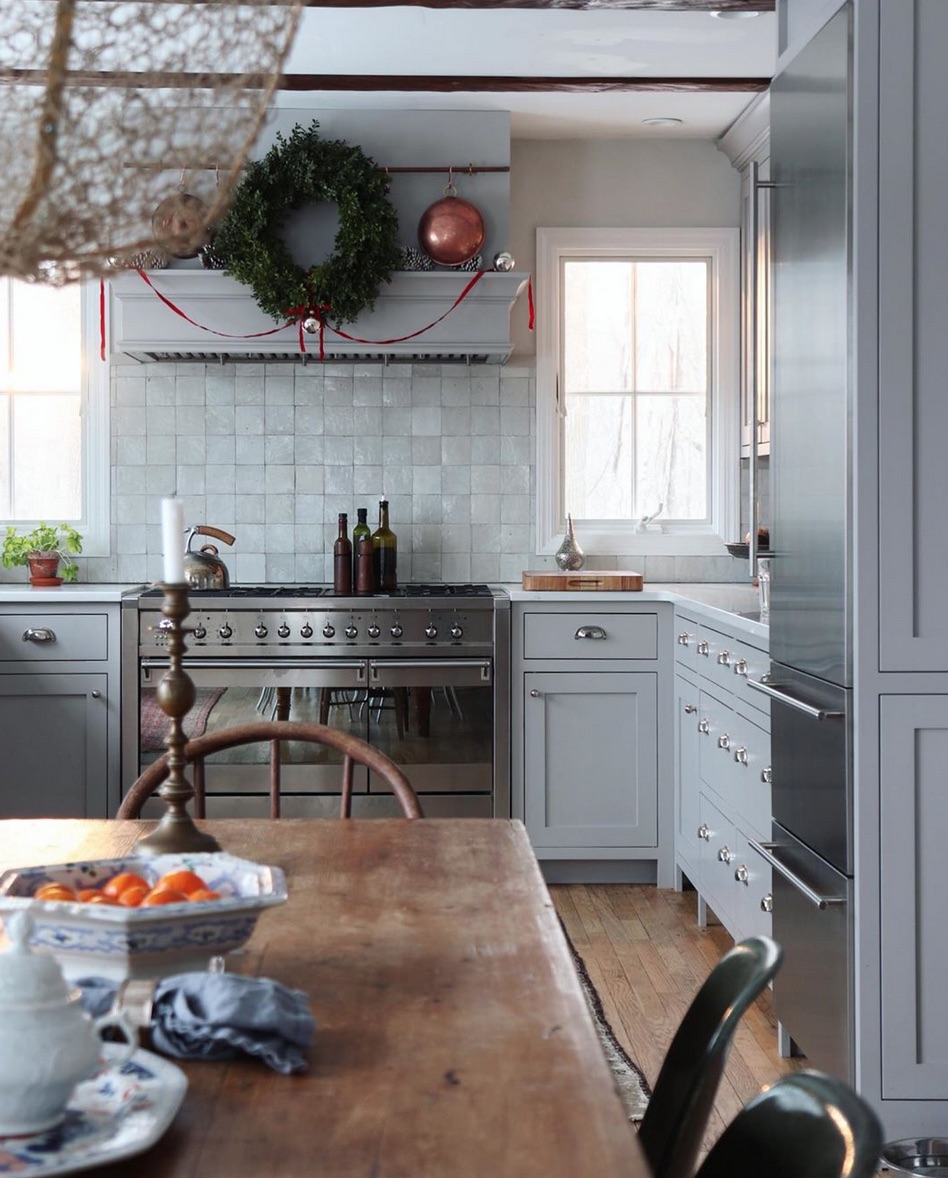 16. Boxy style
A simple way to make your U-shaped kitchen ultra-modern is to use plenty of shapes and clean lines. This design does this so well – it includes lovely sleek white cabinetry with a rectangular floating shelf and stainless steel appliances.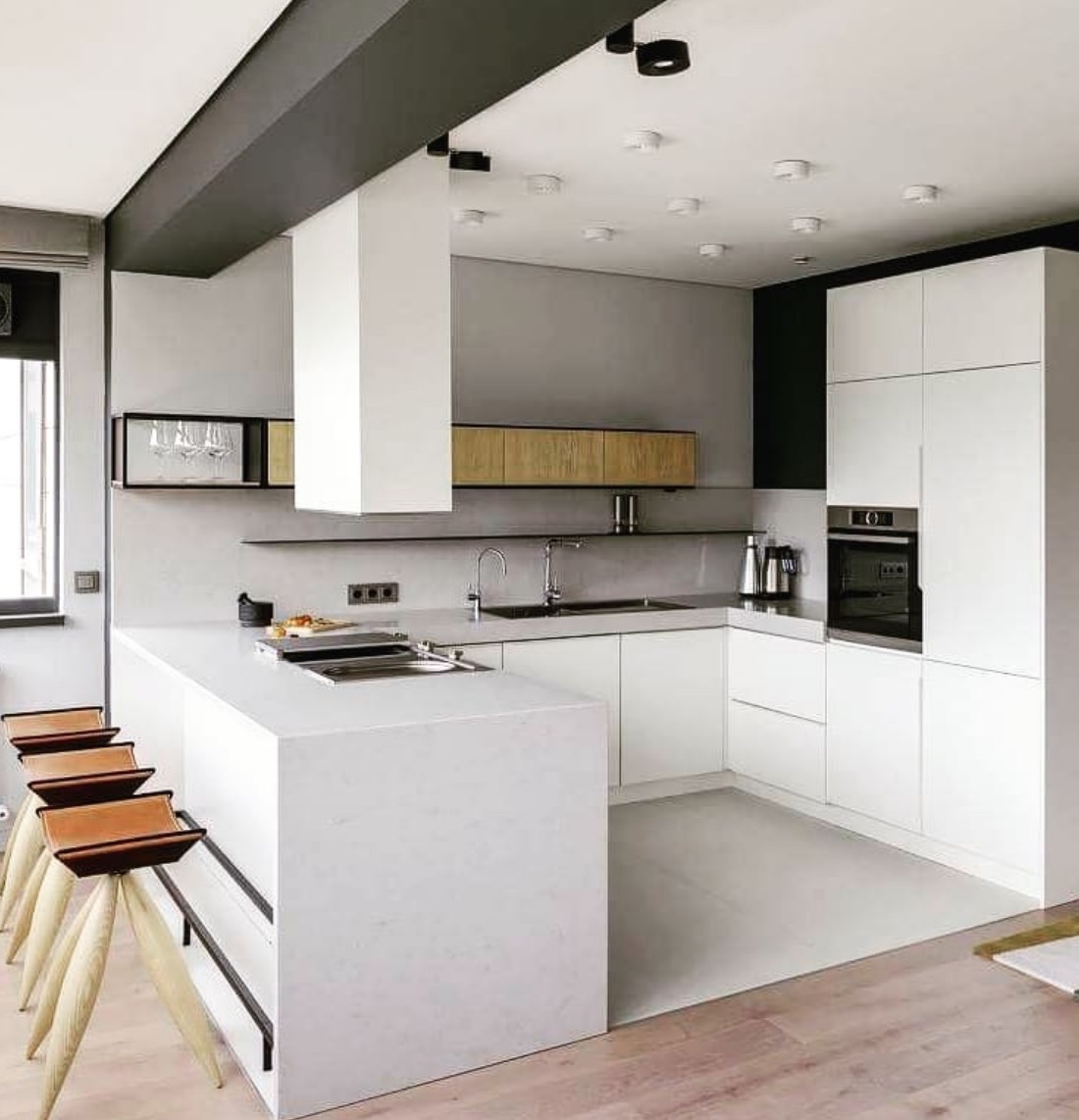 If you're thinking that this is the type of style for your kitchen. Here are 42 more industrial kitchen designs.
17. Practical seating solutions
Big entertainer? You're going to want more seats for when you have guests over! One way to create extra space is to make one side of your U-shaped kitchen a bar. Add stools around it and voila – you have room for your guests… or at the very least a spot to enjoy your morning coffee.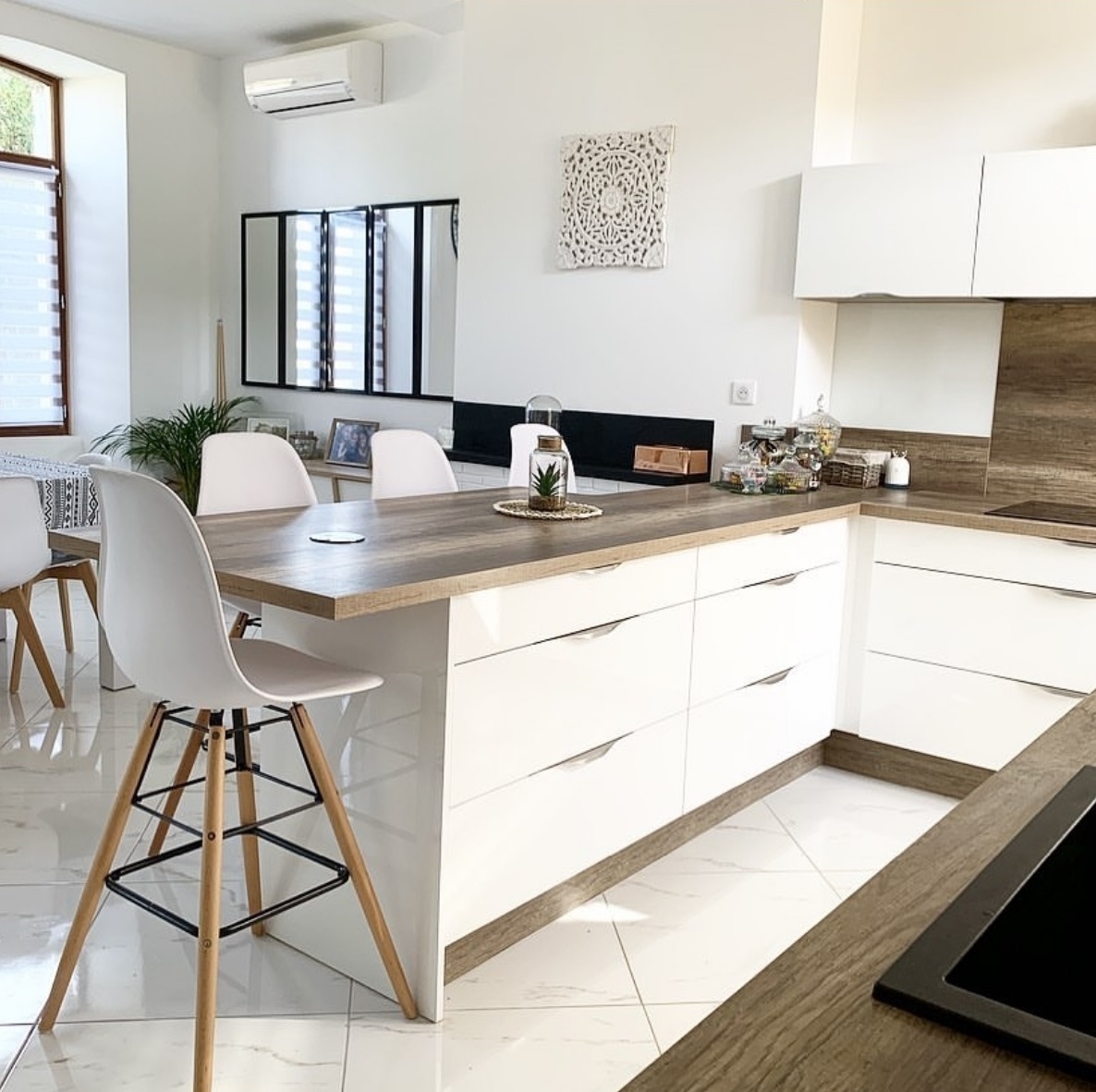 18. White and timber
If you're looking for a modern look that still incorporates a touch of classic style, then you've got to go with timber. It provides great contrast for shiny sleek white cabinets, softening it and warming up your space.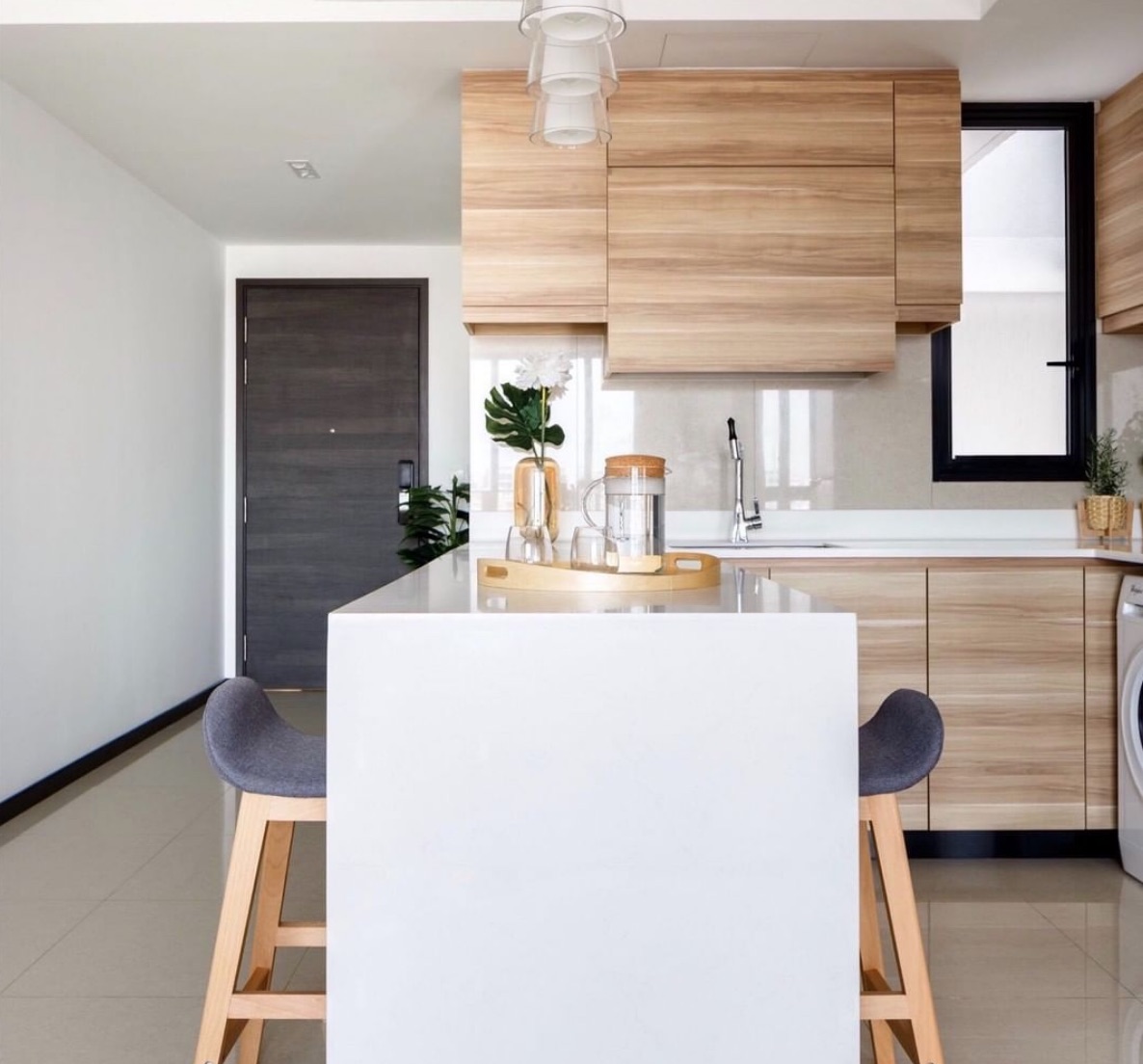 19. Pinky-beige tones
This is a colour you don't see very often, but it works great in this farmhouse kitchen. This space has so many practical storage solutions – my favourite of which is the mug holder on the right-hand side. I also love all the little decor additions that make the space look cosy, like the burning candle, mirror, plants and strategically placed tea towels.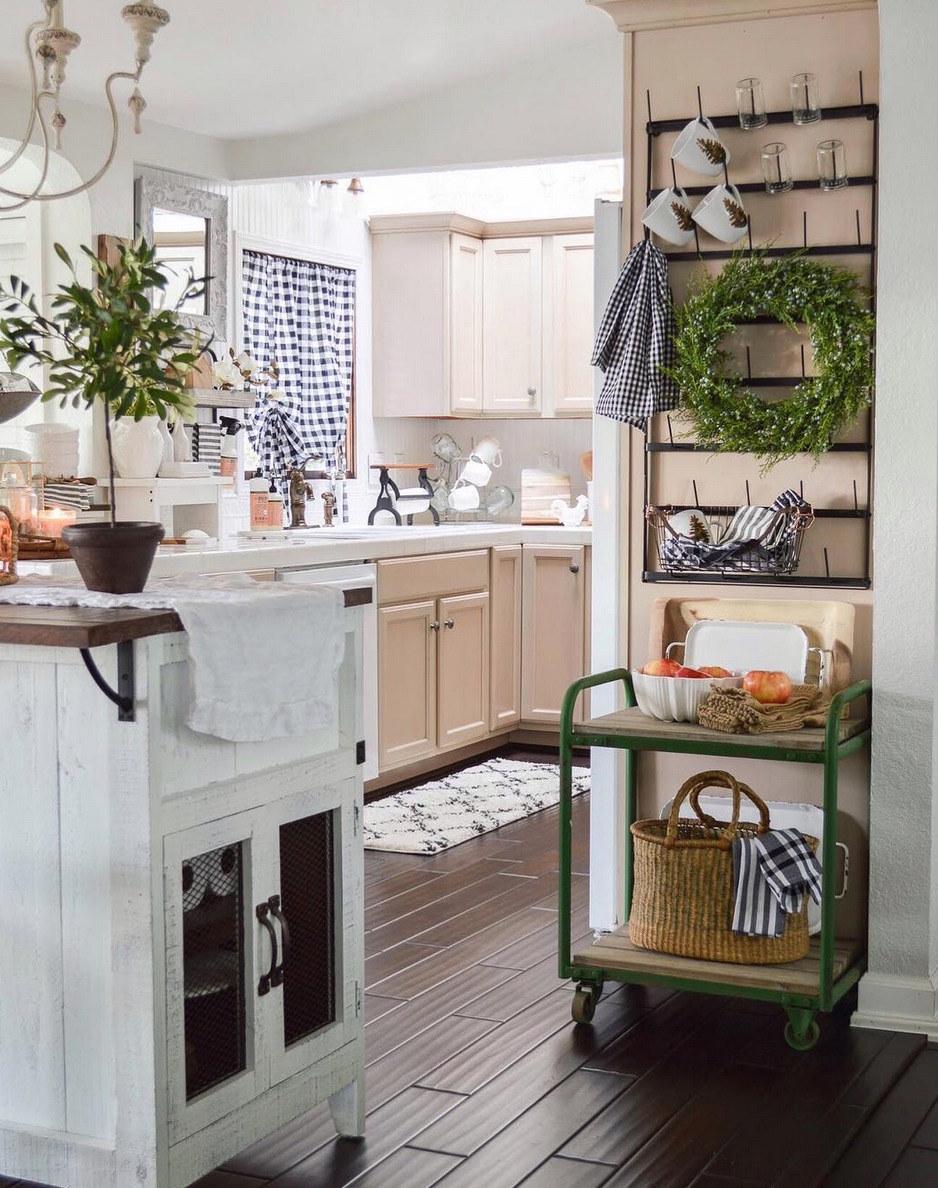 20. Open storage
How beautiful does this kitchen look? The open shelving makes it very natural and free-flowing. If you choose this design, you've got to be prepared to keep it ultra-clean and tidy at all times. Because if this section is a mess, it'll ruin the overall aesthetic of your brand new kitchen!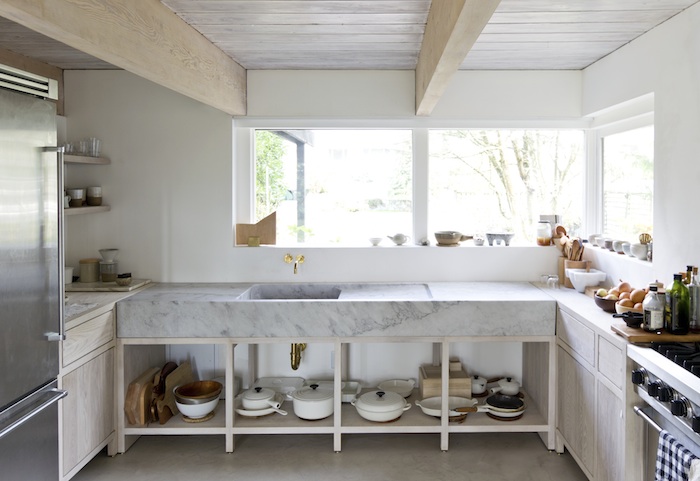 21. Oak cabinetry
This U-shaped kitchen is a blend of traditional and contemporary. First, the oak cabinets make the design very homey and comfortable. And then there's the slick green splashback, which injects colour, life and a modern edge to the space. Plus, the white floor balances these two colours by providing a cool touch.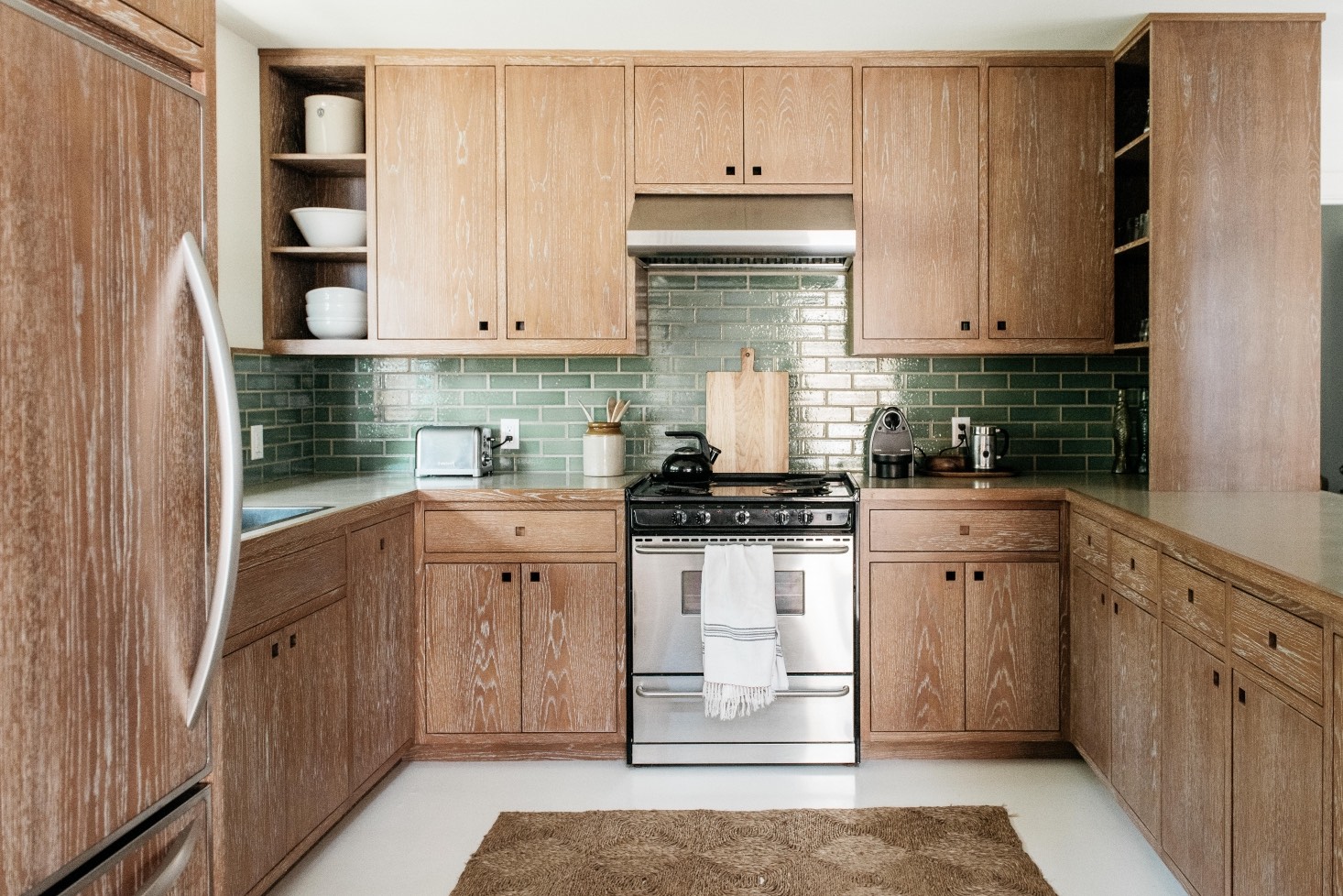 This cabinetry looks great and would work with a lot of different types of kitchen splashbacks depending on your individual style.
22. Statement kitchen
If you like your kitchen to make a statement then clashing colour and pattern might be for you. This kitchen uses a graphic print on the floor, a faux-timber finish of the wall with appliances and storage, and a wallpaper in forest print as the splash-back, which extends further into the room. Keep cabinetry white and simple so as not to visually overload the space.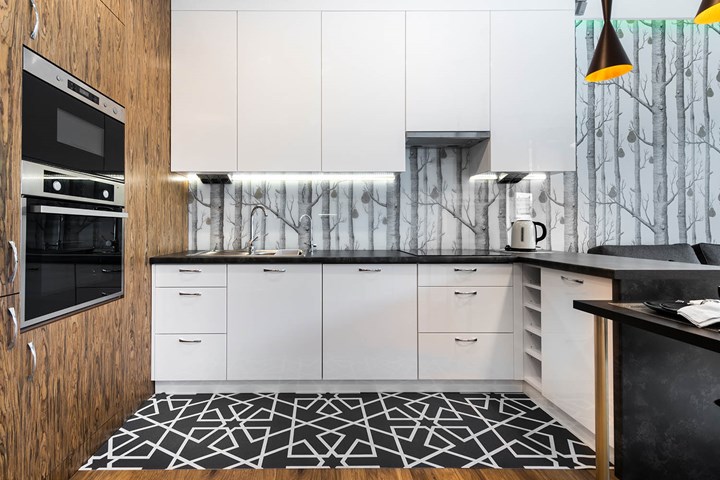 Here are a bunch of other kitchen wallpaper ideas that you might like to add to your kitchen reno wishlist.
23. Coastal blue U-shaped kitchen
Want to create a beach vibe without living by the beach? Go with a coastal blue design for your U-shaped kitchen. This setup is totally practical and the pop of blue adds life and colour to this space.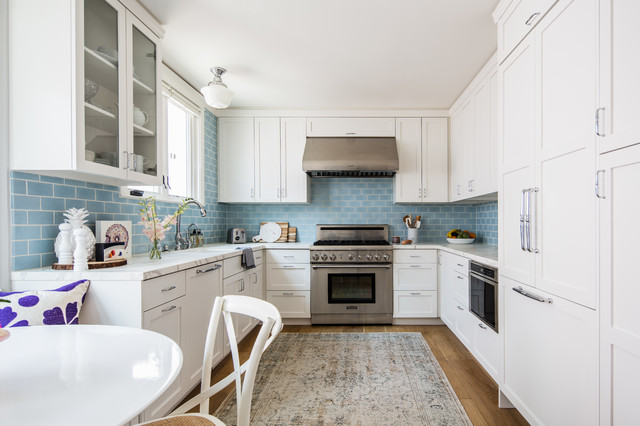 24. Shades of green
This is a very calming small U-shaped kitchen. Why? Because of the colour choice! If peace, relaxation and tranquillity are at the top of your must-haves for your kitchen environment, then use shades of green, blue and touches of purple to facilitate a calm space.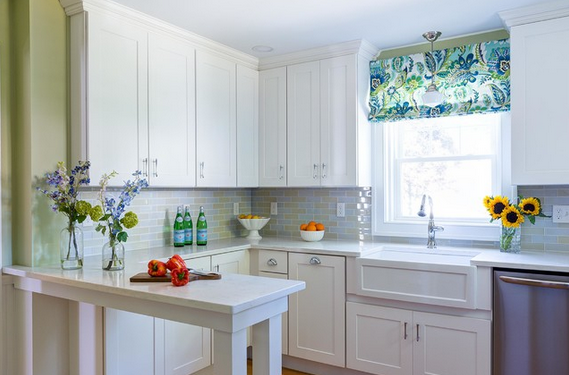 25. Designer appliances
Nothing makes a kitchen more polished than the right appliances. And this Smeg fridge is a hot option right now. You can actually find it in all sorts of colours – from pale blue to pretty pink. But I love white! It looks beautiful with this grey kitchen, using different patterns and finishes to keep it very soft.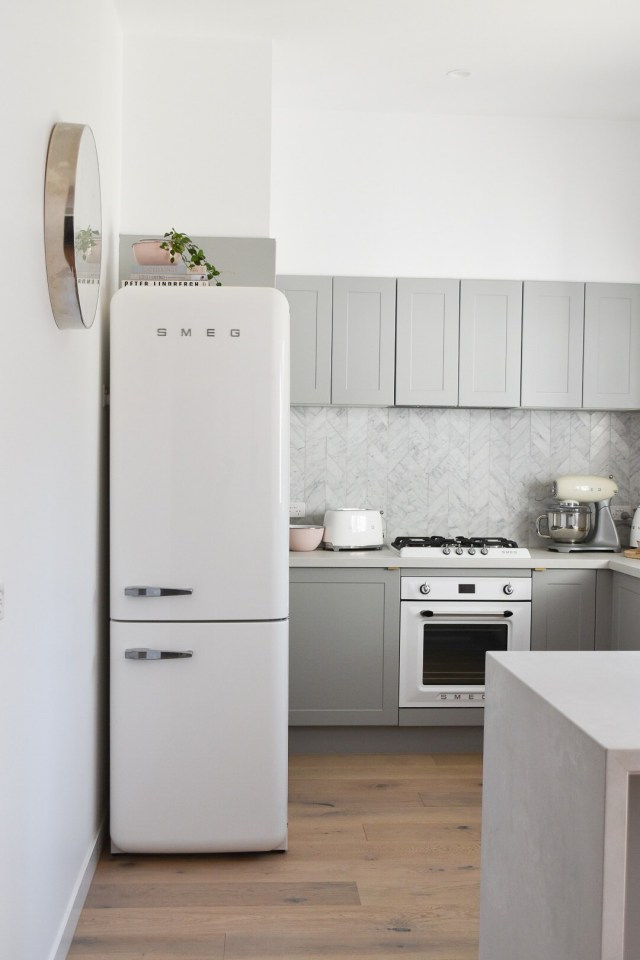 26. Statement pendant light
Atmosphere is everything, no matter what the room! You spend a lot of time in your kitchen so you may as well make it feel like a cosy part of your home. One way to create a gorgeous glow is by installing a statement pendant light like this one. This large silver piece is not only a huge standout but it will also cast just the right amount of light over the space, meaning it'll be easier when it's preparation and cooking time!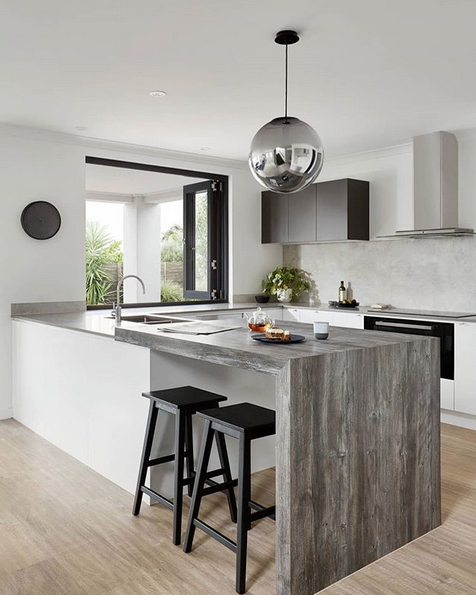 27. Clever storage
I've talked a lot about storage in this post, and there's a good reason too. One of the biggest mistakes people make when designing their kitchens is they forget to incorporate enough storage space. It's so important to have cupboards, shelves and drawers of all different kinds to keep all of your utensils, appliances and kitchenware tucked away!
I love the care taken to design this kitchen. There are so many practical solutions. There are the expansive dark timber cupboards, the floating shelves at the back and the closing timber cabinet on the right. This definitely gives a nod to a retro kitchen vibe.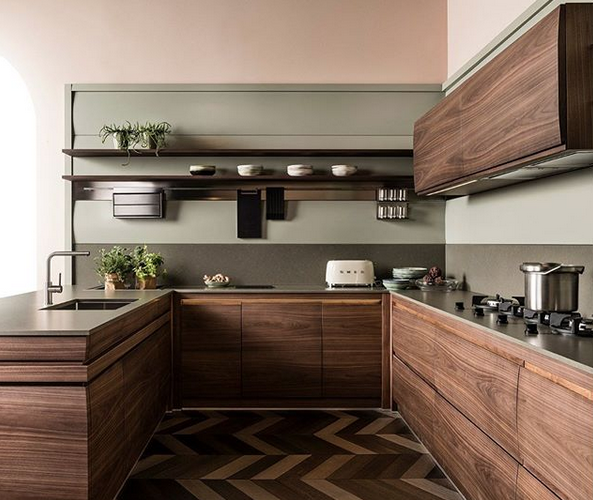 28. Gorgeous green
Neutral shades are great on their own – but they really get to shine when paired with a soft complementary colour. Take this green, for example. The lovely lacquered cabinets set this kitchen apart from other country-style spaces. And the timber countertops and flooring add the perfect amount of warmth this space needs.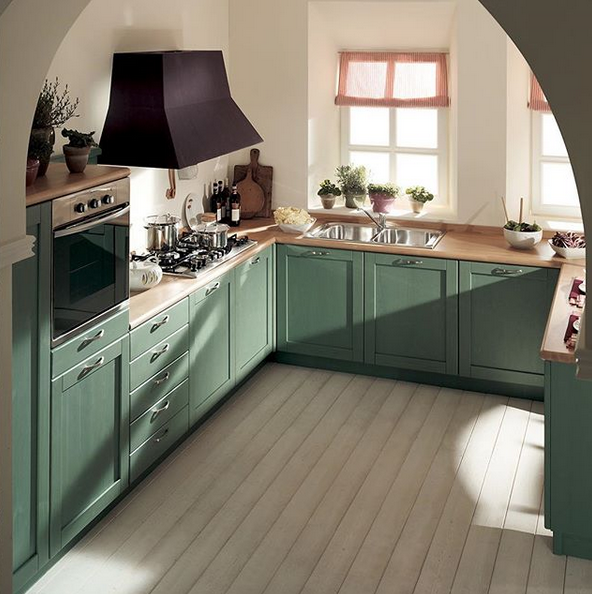 29. Dark and moody
While I'm a sucker for a light, white kitchen, I could be tempted to go to the dark side… especially by a kitchen like this!
If you want to use darker tones, switch things up a bit by using a pattern or texture like the grain in this black benchtop – it adds a subtle layer of detail. Plus, I love the exposed wooden beams – they add a rustic touch.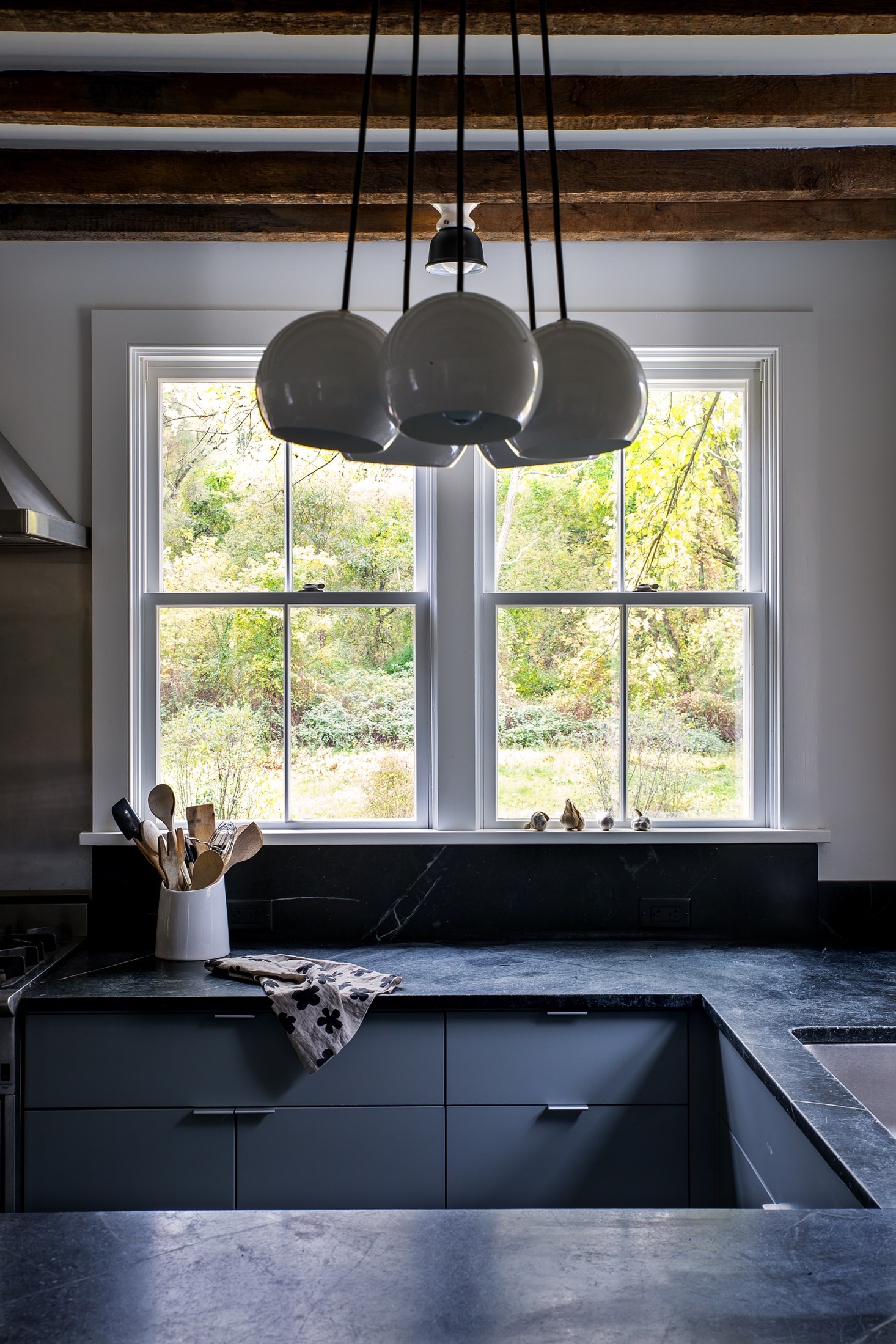 30. Shades of grey
If you've ever thought that grey is boring, then this design will get you to change your mind. It incorporates multiple shades of grey with textures, patterns and pops of colour. I really like the tiled wall – they're just simple subway tiles but they make a huge difference, especially when combined with light grout. And take a look at the hardware on the cabinetry – this finishes the design perfectly!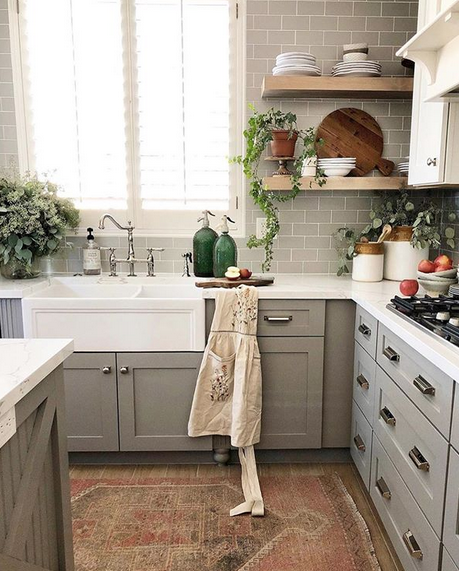 31. Warm cabin style
Here's a different kind of U-shaped kitchen. It uses one end as a breakfast bar! And the overall design mixes hip colour combinations with smooth cream cabinetry and striking red accents for a bold look.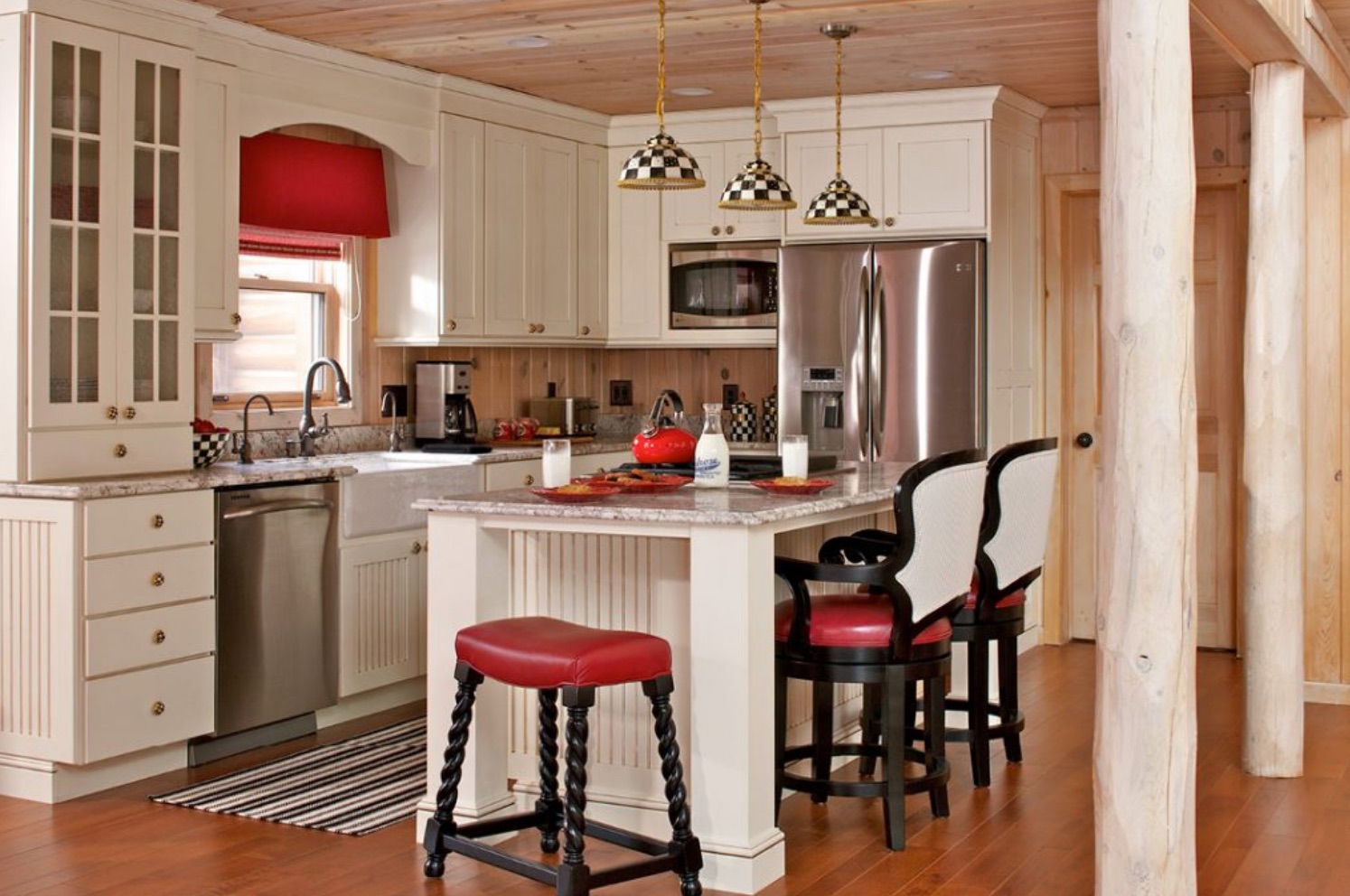 32. Add fairy lights
There's just something so magical about fairy lights. This simple addition to your kitchen can add so much character and warmth! Hang them around the top edges of your space, then switch them on and watch them sparkle.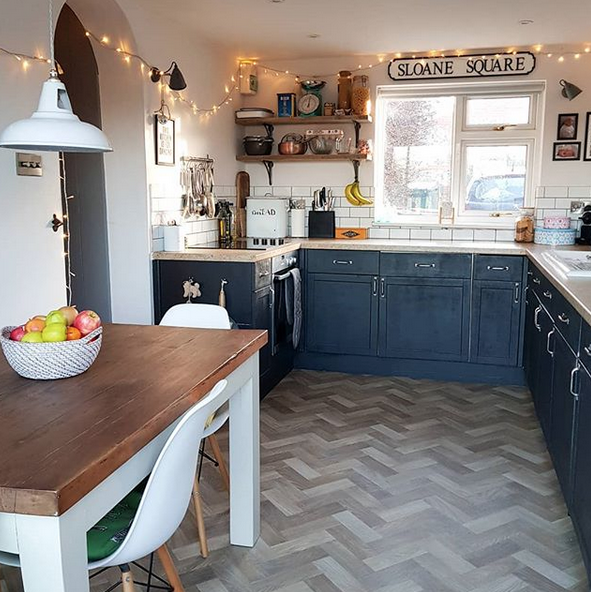 33. Space-saving
If you have a tiny home, then you'll understand the importance of optimising your space. The key to remember is to only include the things that you really need. The essentials should be a sink, stove and plenty of bench space. Everything else – like a fridge or microwave – should be incorporated in your cabinetry.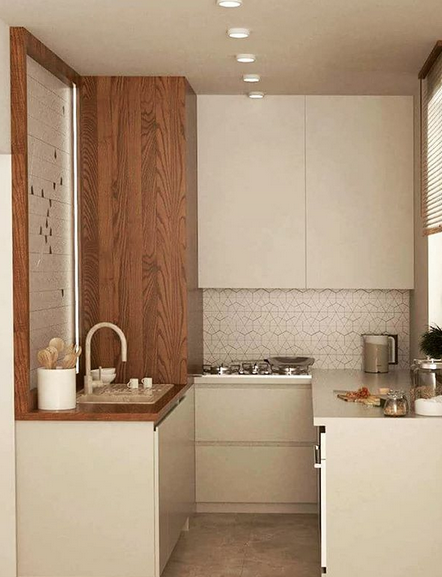 34. Cheery warmth
It's easy to only think of your kitchen in practical terms. While it forms a necessary part of your home, it can also be something that you truly make yours (just like your lounge room!). So forget boring and go all out by making your kitchen unique with touches of decor. In this design, I love the wreath (great for Christmas), planters and wooden chopping boards.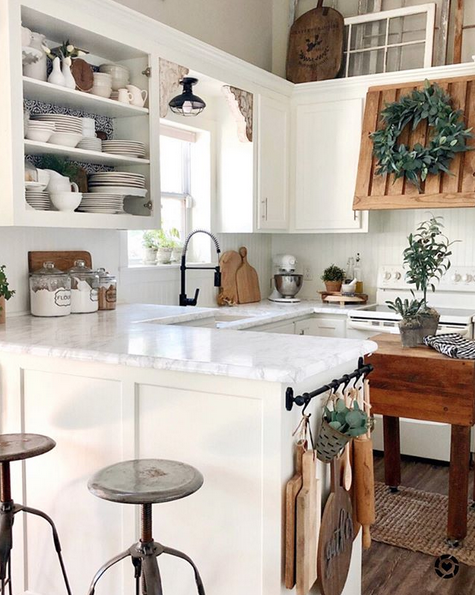 35. Scandi-style
Keep things chic and simple with a contemporary Scandinavian kitchen design. This is a style that will suit any home because the colour palette is so versatile. Think plenty of white, timber and other neutrals.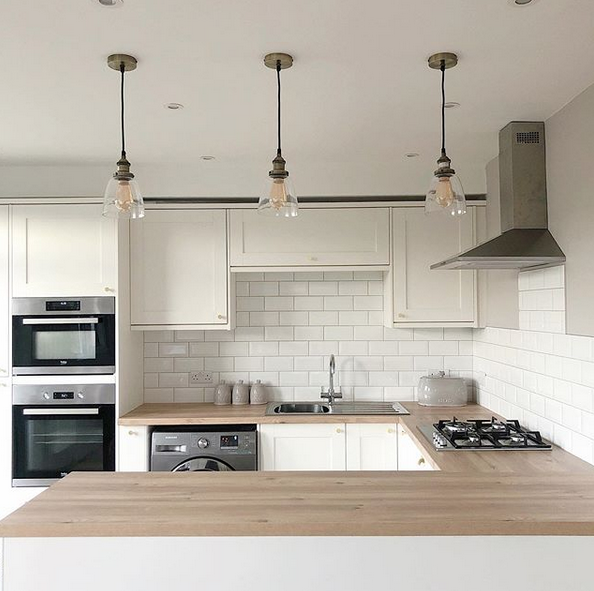 36. Tiny plant-filled corners
If you have a simple neutral colour scheme, then dress it up with plenty of greenery. This is a simple way to take your kitchen from boring to beautiful, and it doesn't require much effort at all. The best thing is that you can swap the plants in and out as you like! Head over to this article on the best indoor plants for your home to make sure you get the right one.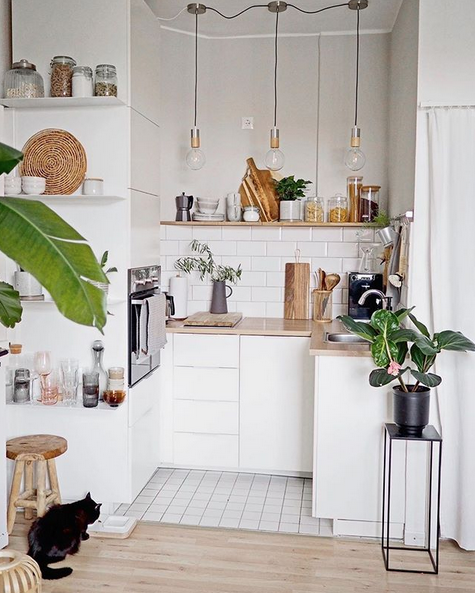 37. Timber everything
If you have a home in the mountains, embrace the log cabin life by designing your new U-shaped kitchen in top-to-toe timber! This will make your space feel warm, which is especially lovely when the temperature is low outside.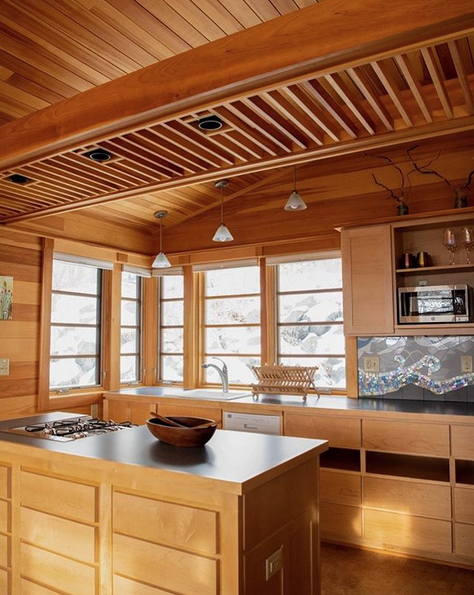 38. Neutral tones
Don't like too much colour but still want a character-filled kitchen? No worries! Match neutral tones with gold tapware, timber shelving and a lush marble splashback for a picture-perfect finish.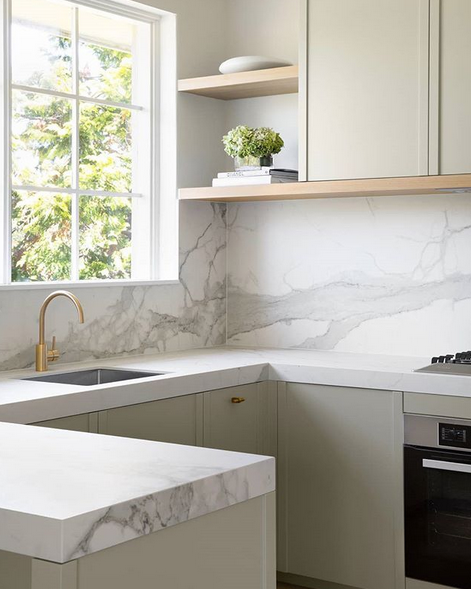 39. Ultra-modern kitchen
If you want to make your kitchen sleek and contemporary, then you can't go past shiny black cabinets. This will instantly up your luxury factor and make your space look glam. And then take your modern kitchen design to the next level with an expansive marble-style wall – stunning!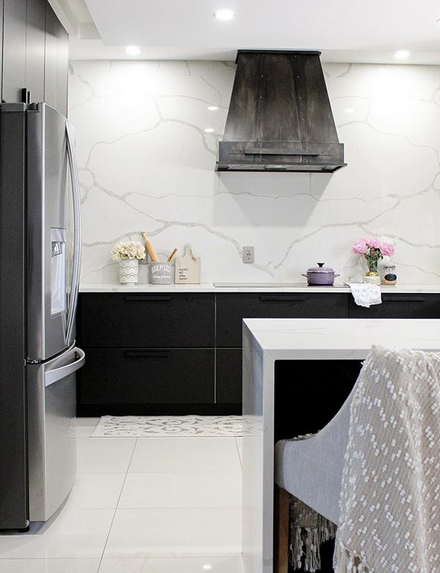 40. Mid-century modern
Here's a gorgeous space that uses the most of clean lines. This kitchen is very modern but the timber softens the overall design, making it look homely! I love the simple touches of the tray filled with cups as well as the three little plants along the bench. It's these details that make all the difference in finishing off your kitchen!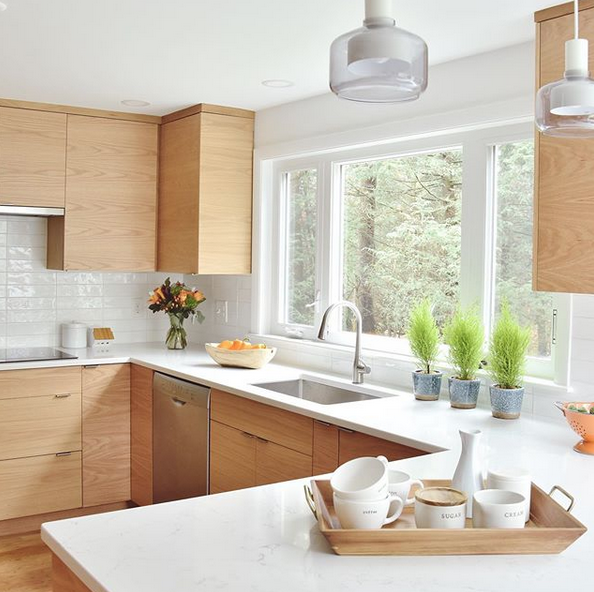 There you have it, i've covered everything from classic country spaces to sleek, modern benchtops, to character-infused shiplap cabinetry, to tiny space-saving U-shaped kitchens, and so much more.
Now, it's over to you! What type of U-shaped kitchen will you design? Comment and share your biggest takeaway. And if you have any other kitchen ideas, share them below!