One of the most economical types of kitchen designs is the L-shaped kitchen. It creates an easy and efficient workspace that allows you to place your appliances, lighting fixtures and cabinets along angled walls with an open space in the middle. You might think that it's a layout that can make a kitchen look smaller but like always, there's always a way to fix this.
So, let's take a look at a few main advantages to the L-shaped kitchen; the working triangle, open plan living and multiple entrances.
The working triangle
The most practical kitchen designs use the working triangle, and the L-shaped kitchen facilitates this well. A working triangle allows you to move with ease about the kitchen, so you can reach your sink, oven and stove and refrigerator. In an L-shaped kitchen, the working triangle is kept simply between two walls. Because you don't have to walk far to each part of the kitchen, meal prep is a breeze!
Open plan living
Today's home designs are created with open plan living in mind. This simply means that the layout is created to make use of large, open spaces for people to gather, instead of sectioning everything off into small enclosed rooms.
As an L-shaped kitchen only uses two walls, it opens up your space. This means that you can have your kitchen lead on to your dining room, living room and beyond, which makes entertaining easy!
Multiple entrances
Another advantage of the L-shaped kitchen is that its open ends allow for multiple entries and exits. This allows traffic to freely flow through the space, meaning more space and less stress when preparing food!
If these three benefits of an L-shaped kitchen haven't yet convinced you that you need to choose this design, then I'm sure a few examples will. I've compiled the best of 30+ L-shaped kitchens to inspire you to create one of your own.
1. Large and spacious
If you have a huge kitchen space, then use it well by fitting out every corner with luxury design elements. This L-shaped kitchen is a beauty, with marble-top benches, dark-green cabinetry and lovely timber shelving. But my favourite part is the gorgeous gold and black stove – it infuses the space with old-school character!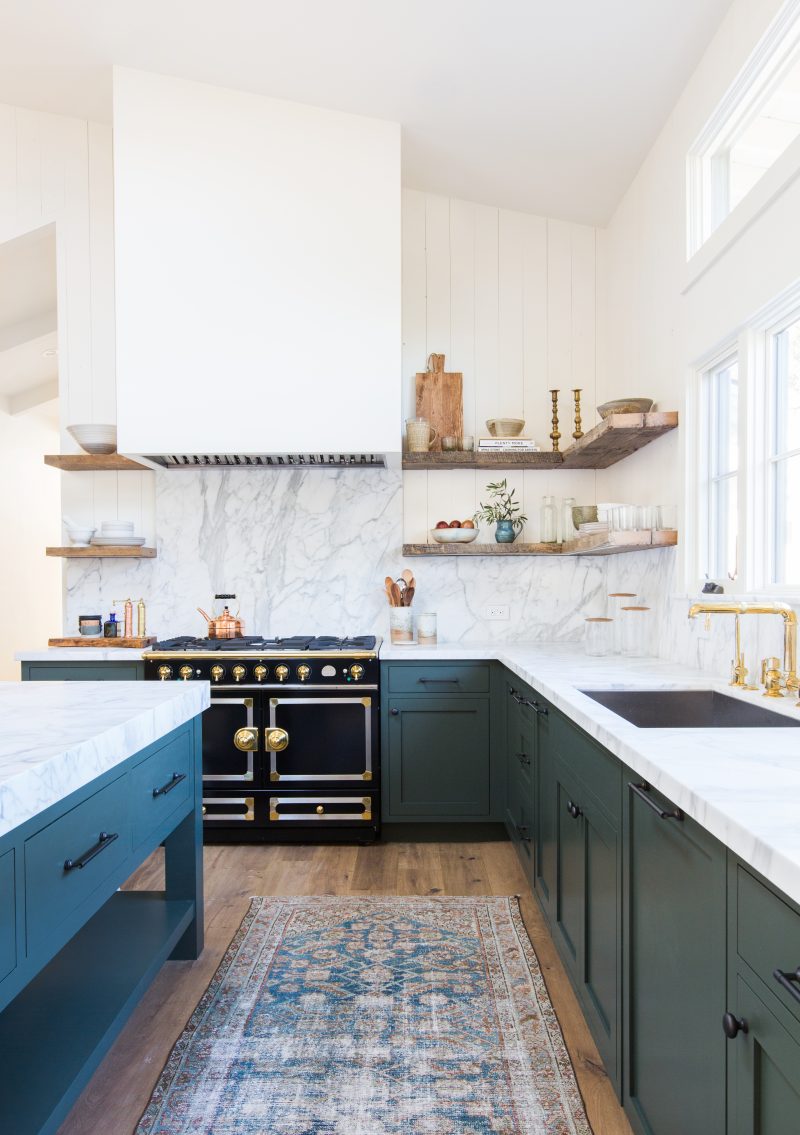 2. Add an island
Another great advantage of an L-shaped kitchen is that they are so flexible with the wrap-around design. This means that you can put nearly anything in the middle of the room. Take this kitchen, for example. It has a shaker style clean white design and a beautiful large kitchen island in the middle. This provides extra room for preparing food and entertaining.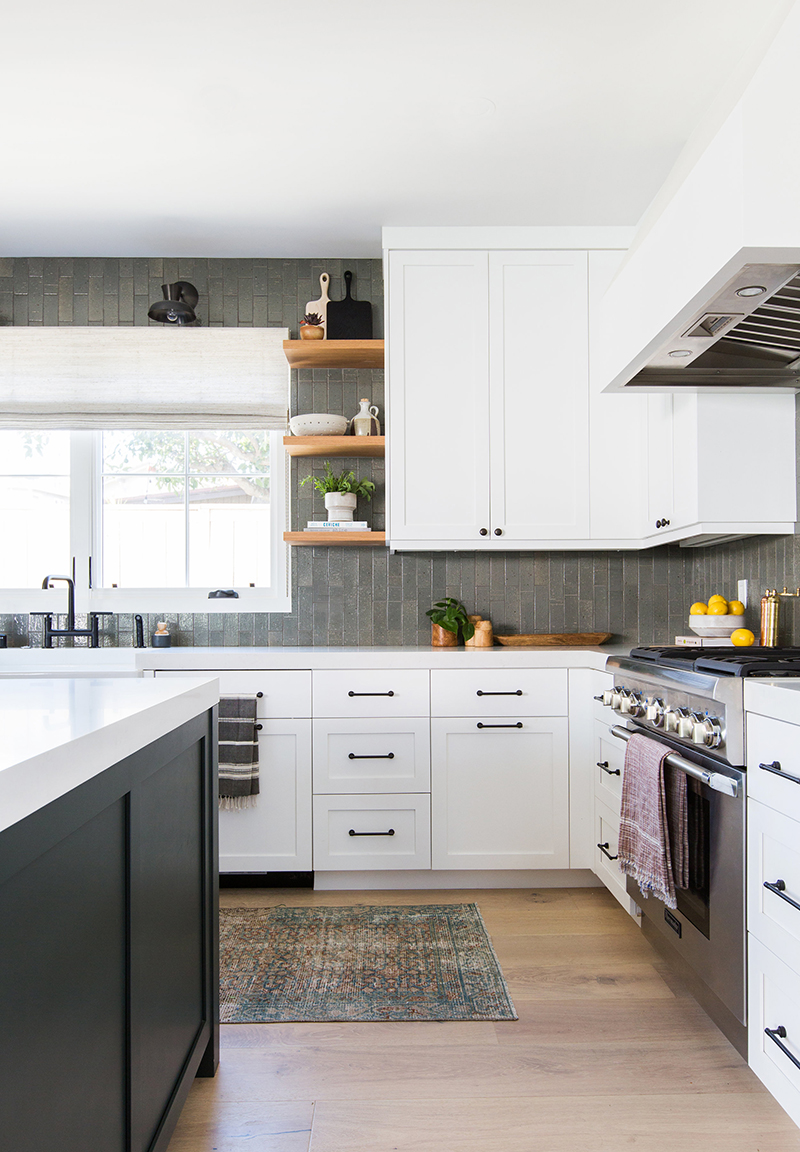 3. Tiny grey rectangle tiles
Add texture, colour and patterns to your L-shaped kitchen with a fancy splashback like this one. I love the simplicity of this kitchen. The palette is clean and fresh, using just two tones – white and light grey. This makes for the perfect foundation to build on! You can add splashes of colour with flowers and decor, or simply leave it as it is.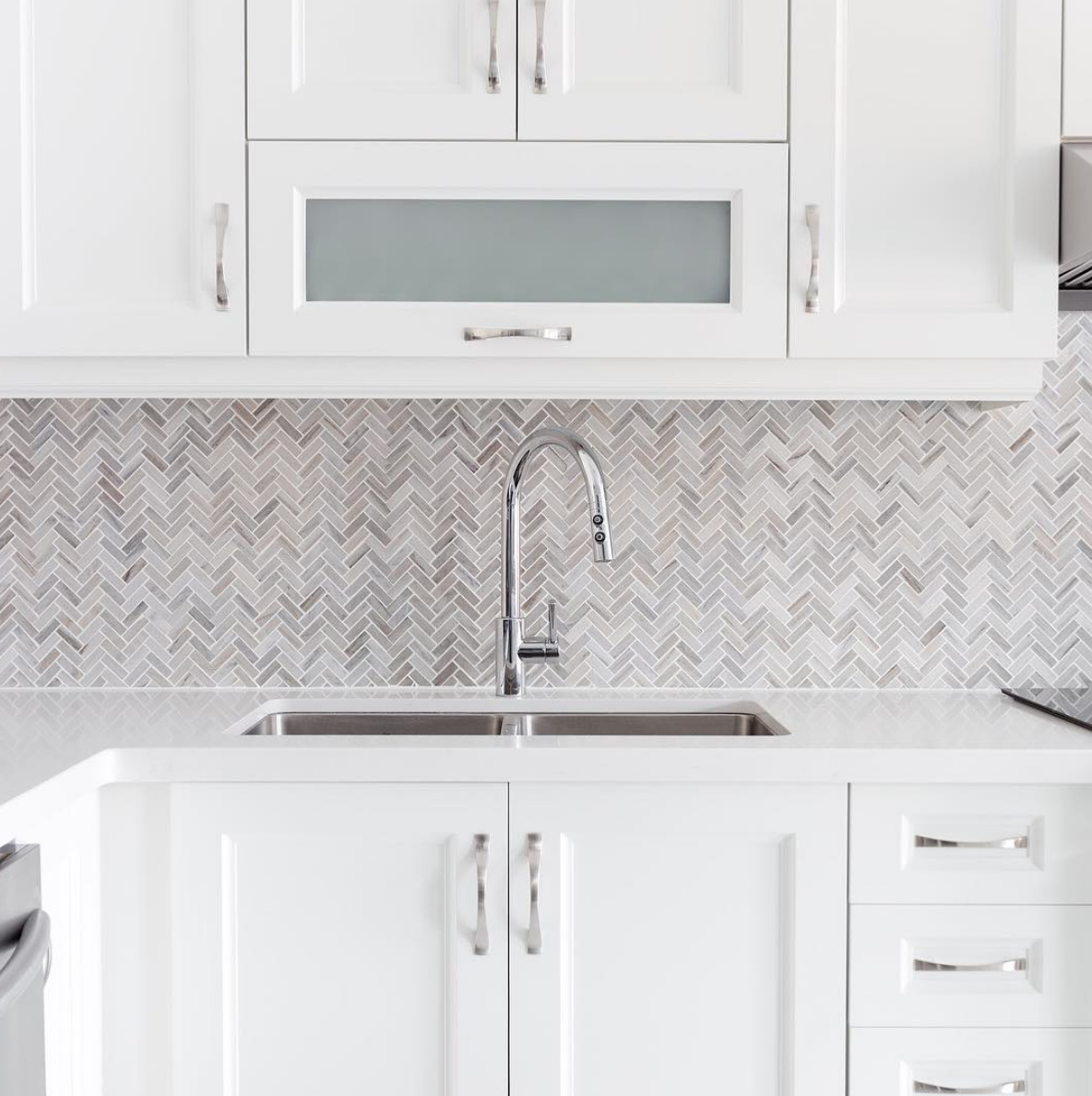 4. Scandi style
I love a good Scandinavian kitchen. I think this type of space is perfect for the minimalist at heart. The timber and white style looks great paired with other colours, and it also looks beautiful and fresh on its own. I like how little details, like the prints and baskets on the top shelf, have been added to make the space more personal and homey.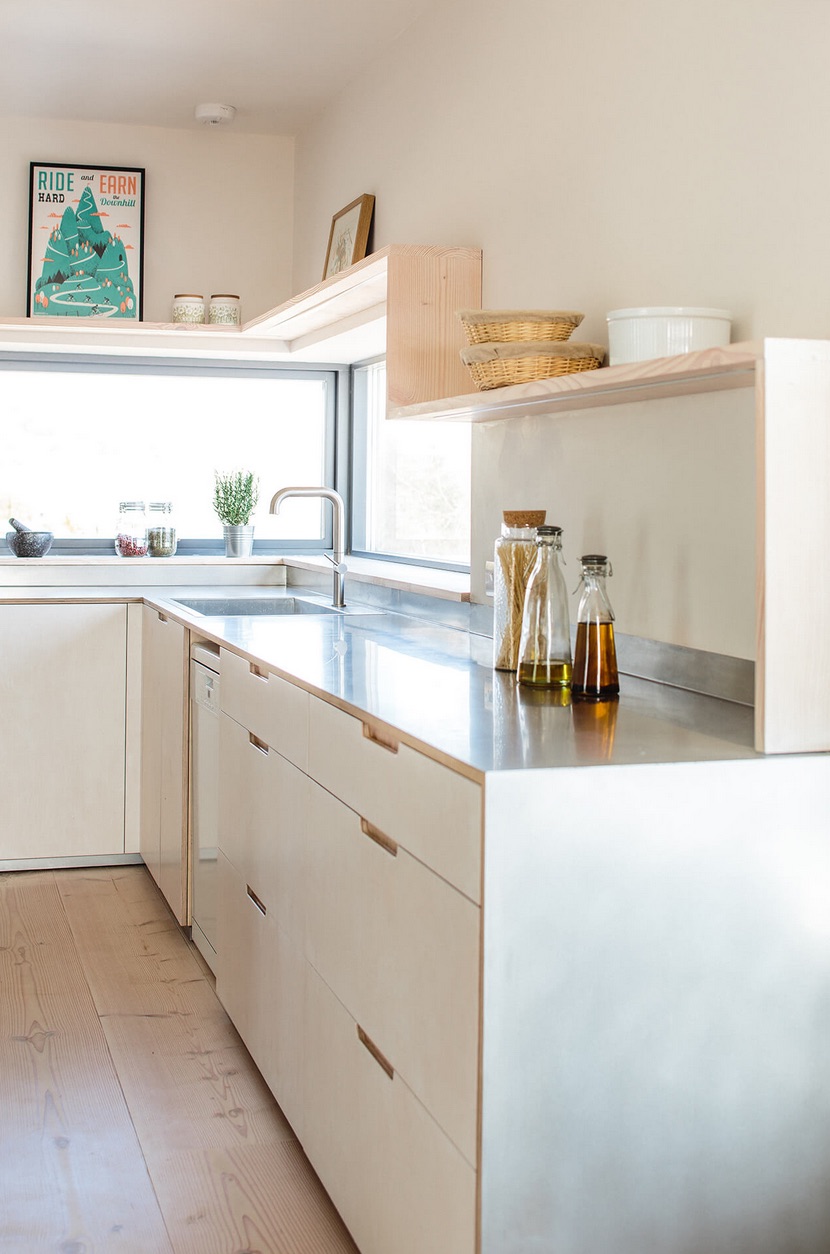 5. White and blue shaker style
If you're wanting to create a peaceful and calm L-shaped kitchen space, then it's well worth considering the colour blue. These cabinets fit in perfectly with the white timber walls and white benches, creating a clean and relaxing finish.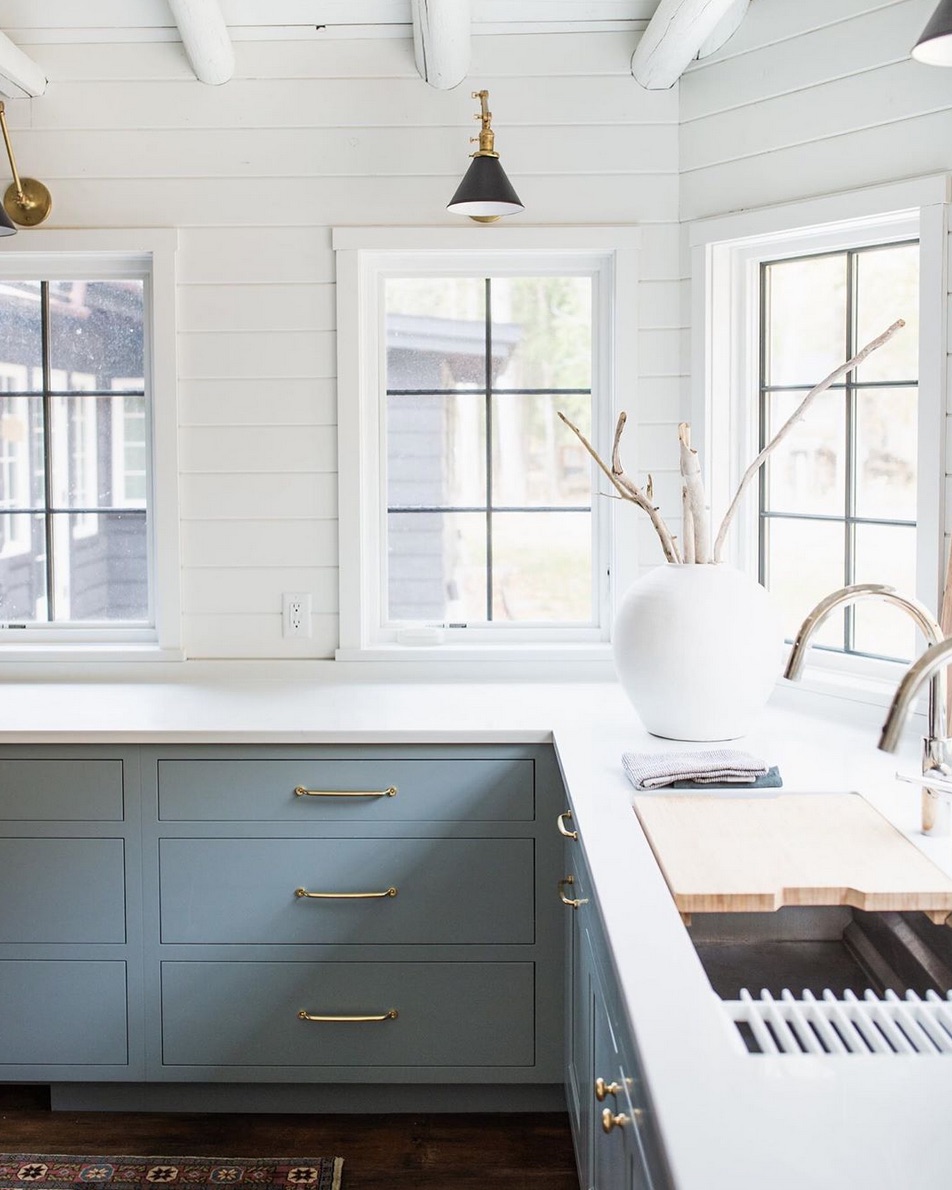 6. Exposed beams
If your kitchen has interesting design elements, like these exposed wooden beams, then leave them in! They will make your space look more rustic and  country style. And when paired with modern cabinets and countertops, they create a gorgeous contemporary farmhouse vibe.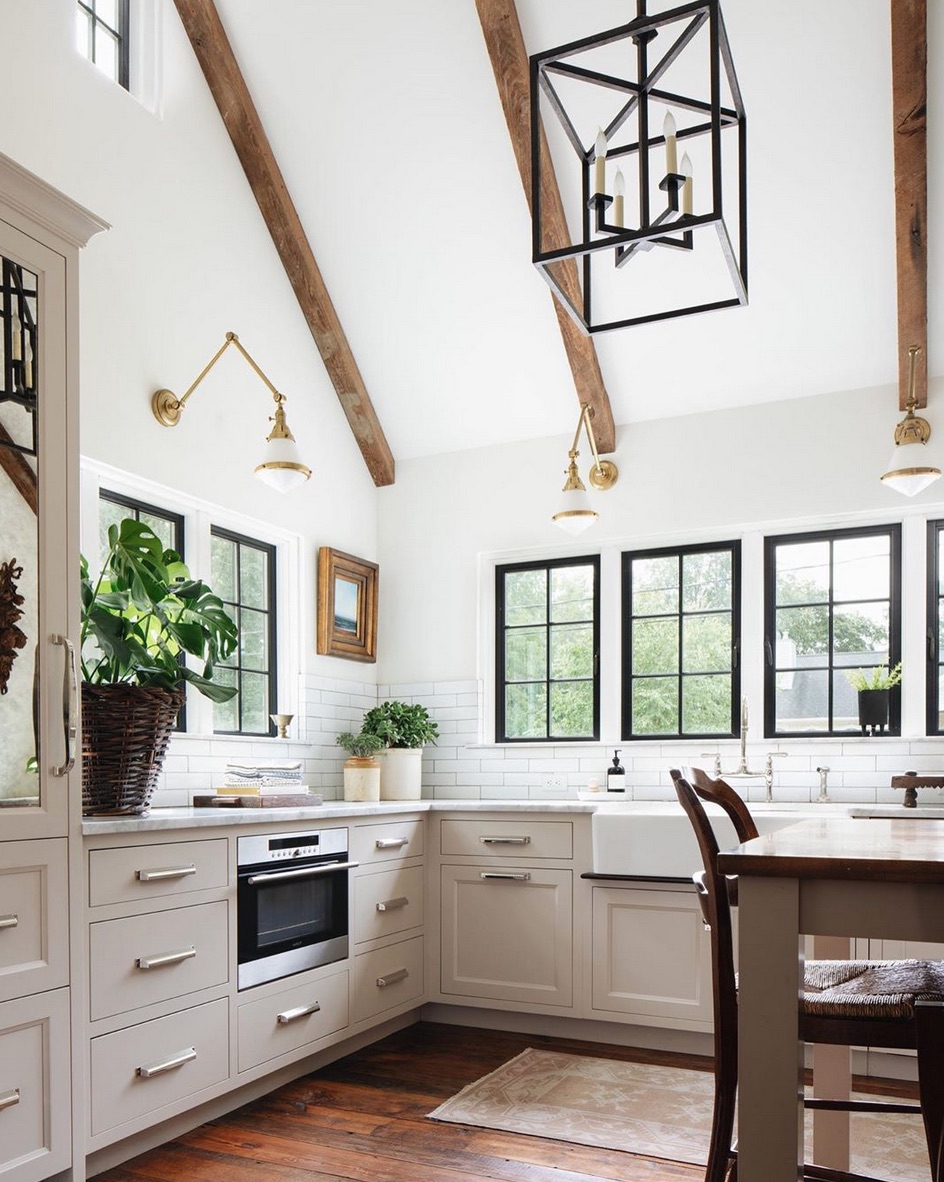 There are plenty of little touches you can add if you like a raw finish to your kitchen. So whether you like a country kitchen or farmhouse kitchen, I've got you covered.
7. Summer style
This light and airy ambiance looks like an upscale beach house. The counter seating at the kitchen island is a laid-back alternative to a formal dining room, and takes advantage of the gorgeous natural light that pours in through the windows. I also love the natural tones – light blue, grey and timber make for a great combination.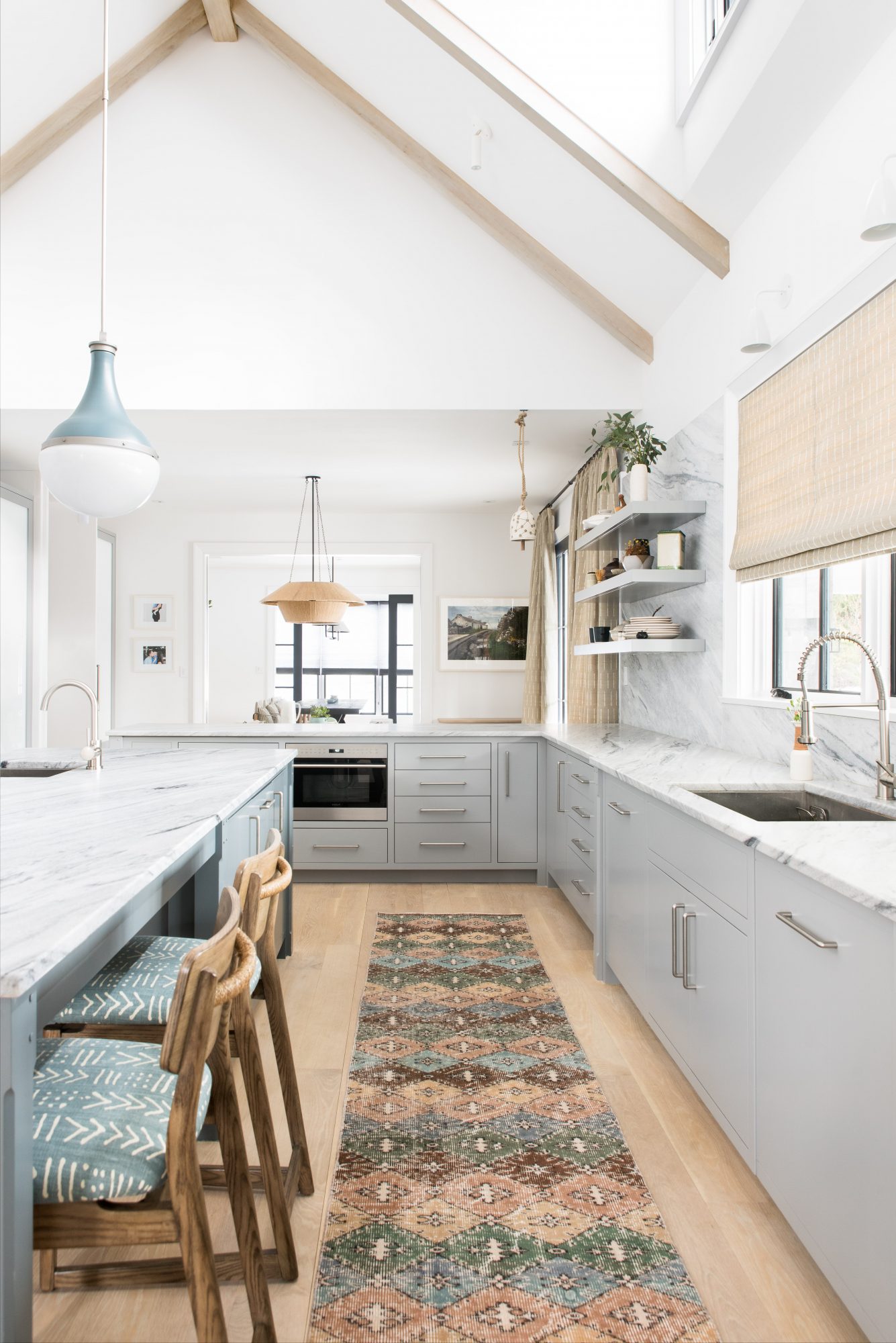 8. Small L-shaped kitchen
If you have a small kitchen or an awkward space, you can still make it work! This kitchen design is the perfect example of making the most of the space that you have. Think about how you can position your appliances so that they are all within reach, without sacrificing on bench space. I like how the microwave has been integrated into the cabinetry, leaving more room for preparation!
9. Dark and moody timber
This timber design is more mid-century than rustic country home, and I love it. I think it's a great example of how you can use timber without having to make your space rustic. The key to creating a modern mid-century kitchen lies in your finishes – and the gold tapware and sleek marble benches are just the right kind!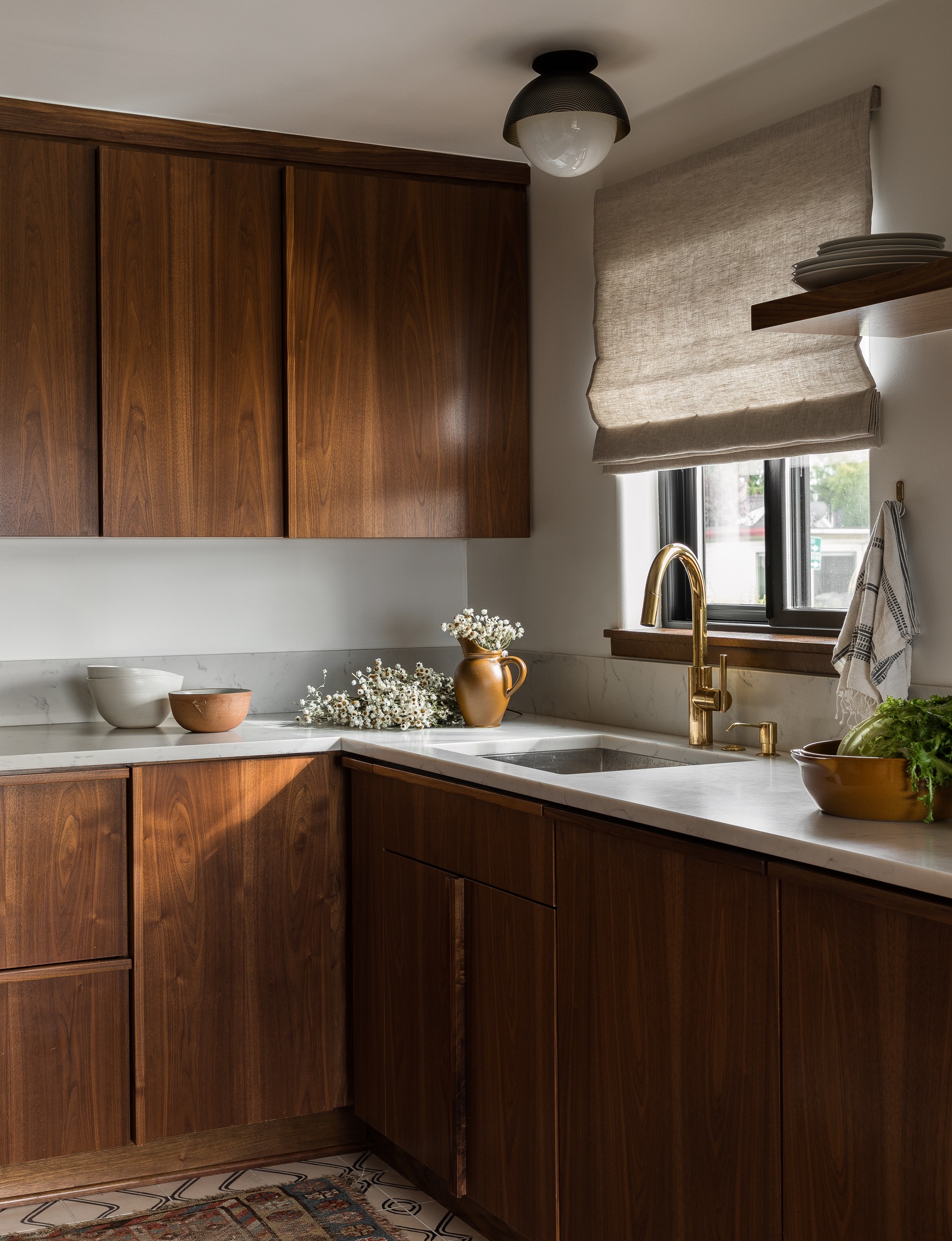 10. Green and dark
This L-shaped kitchen looks like it's straight out of a magazine. Every element of the design has been carefully chosen to fit together. The green is an interesting choice, but I think it works well in this space. And it looks really beautiful with the dark granite benches and splashback, and the brass handles.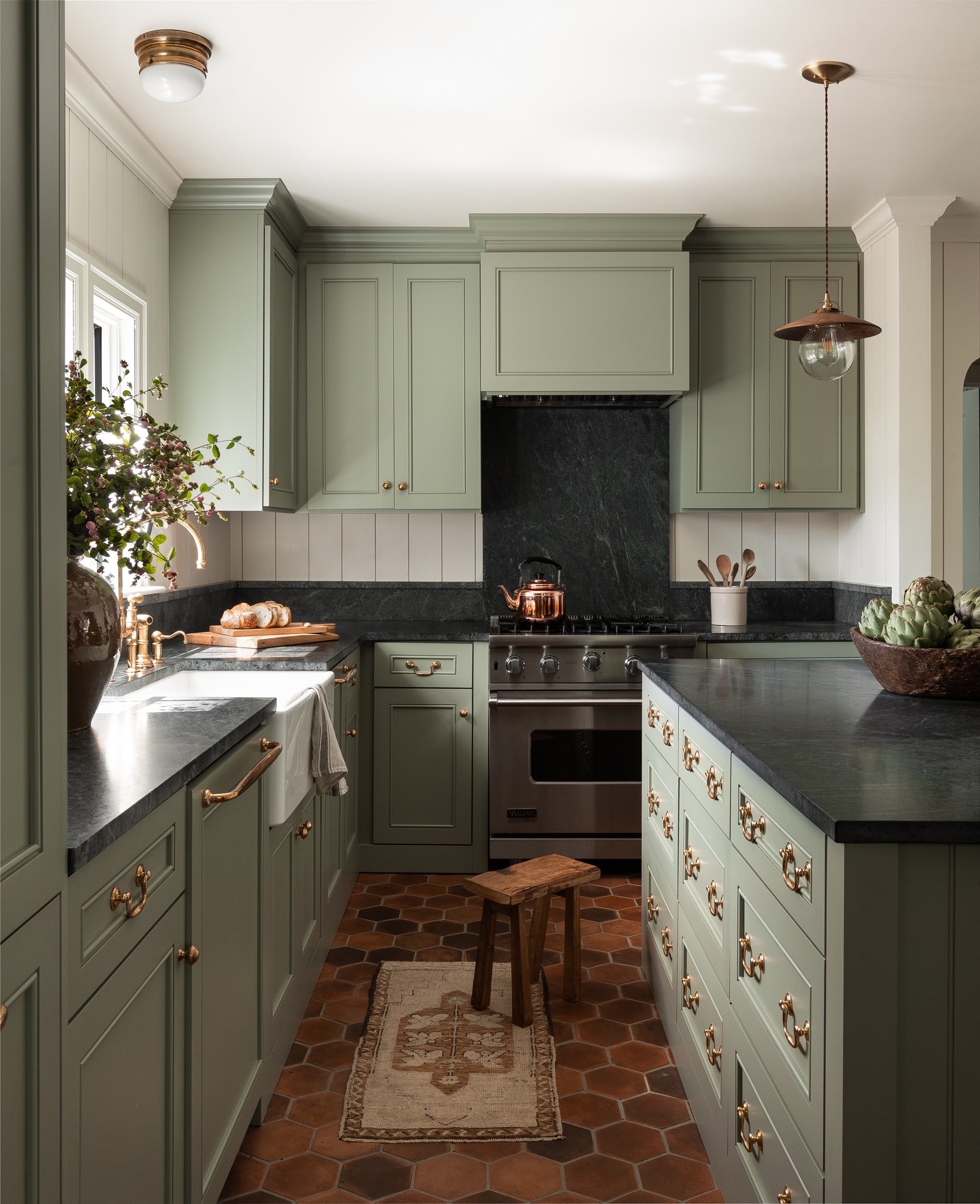 11. Brass and blue home-style space
How cute is the corner of this little L-shaped kitchen? It's filled with life and elements that make it like home. If you want to give your kitchen a more lived-in look while still keeping it stylish and clean, display items like chopping boards, plants and other pieces of decor.
My favourite bit is definitely the double-width farmhouse sink which has a chopping board over half of it (it's perfect when you need to quickly hide the dirty dishes).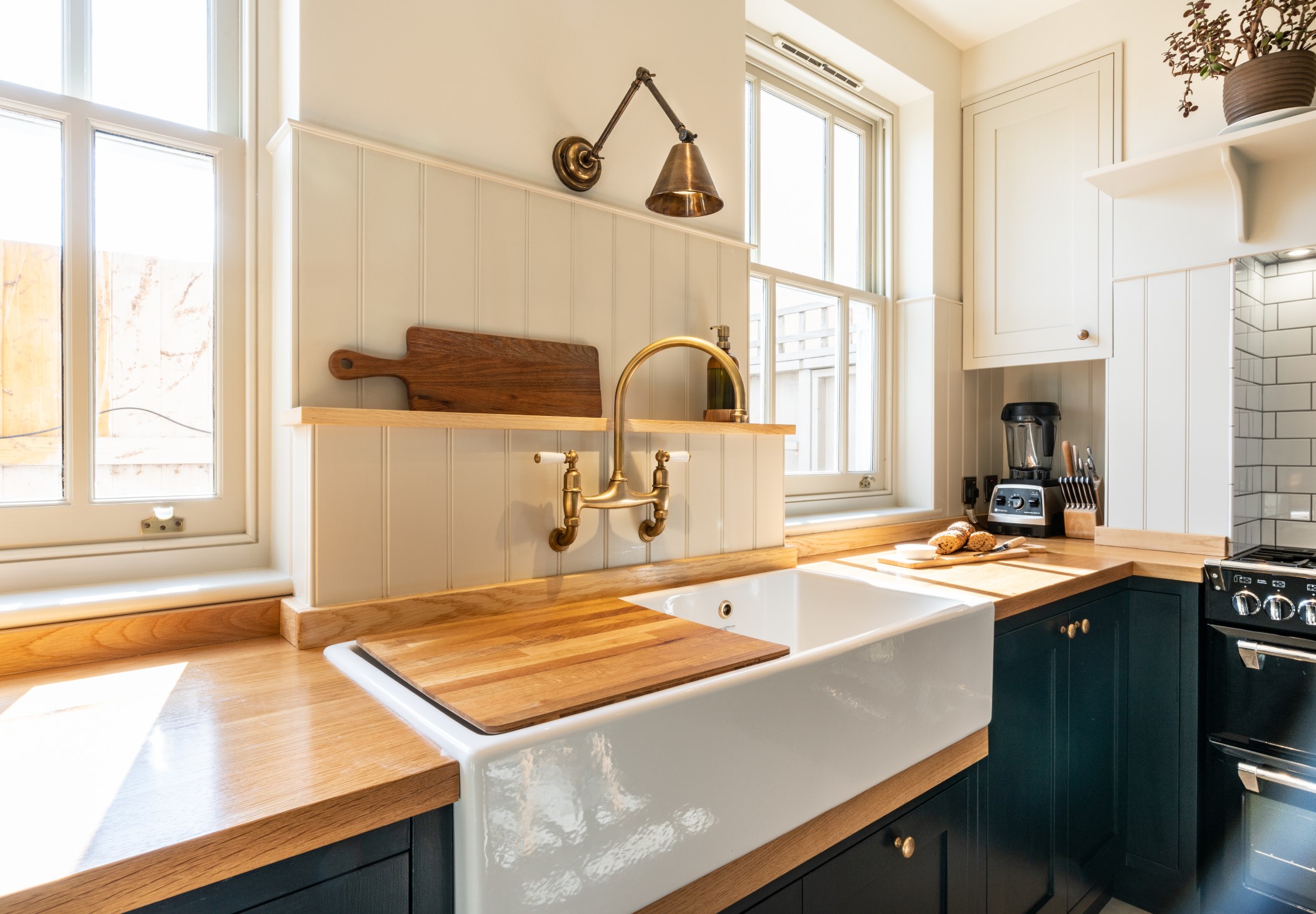 12. Refined grey
This is another small L-shaped kitchen, but it also uses the space really well. The stove, sink, microwave and oven are all within an arm's reach of each other, which is really practical for when it comes time to prepare food. And I love the brass rangehood – isn't that incredible? It's kind of like its own piece of art!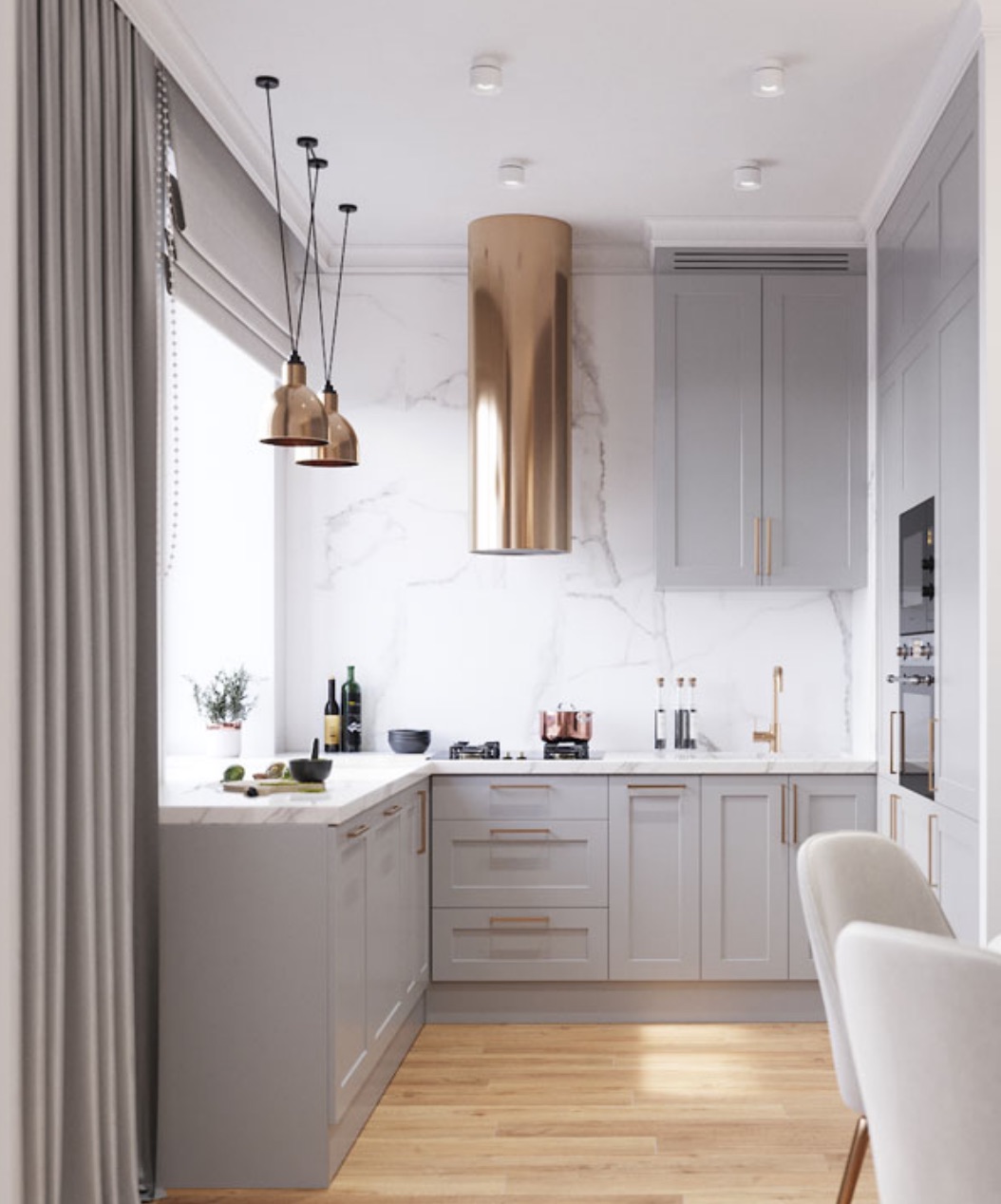 If you're after a unique rangehood and fan extractor, find someone to give you a tip or take care of your rangehood installation from initial planning to finished.
13. Fun splashback
Most splashbacks are fairly simple – there's the typical marble or granite, or the much-loved subway tile design. But have a look at these little tiles? They're tiny geometric boxes, and the way they are patterned makes them look like they're popping out from the wall.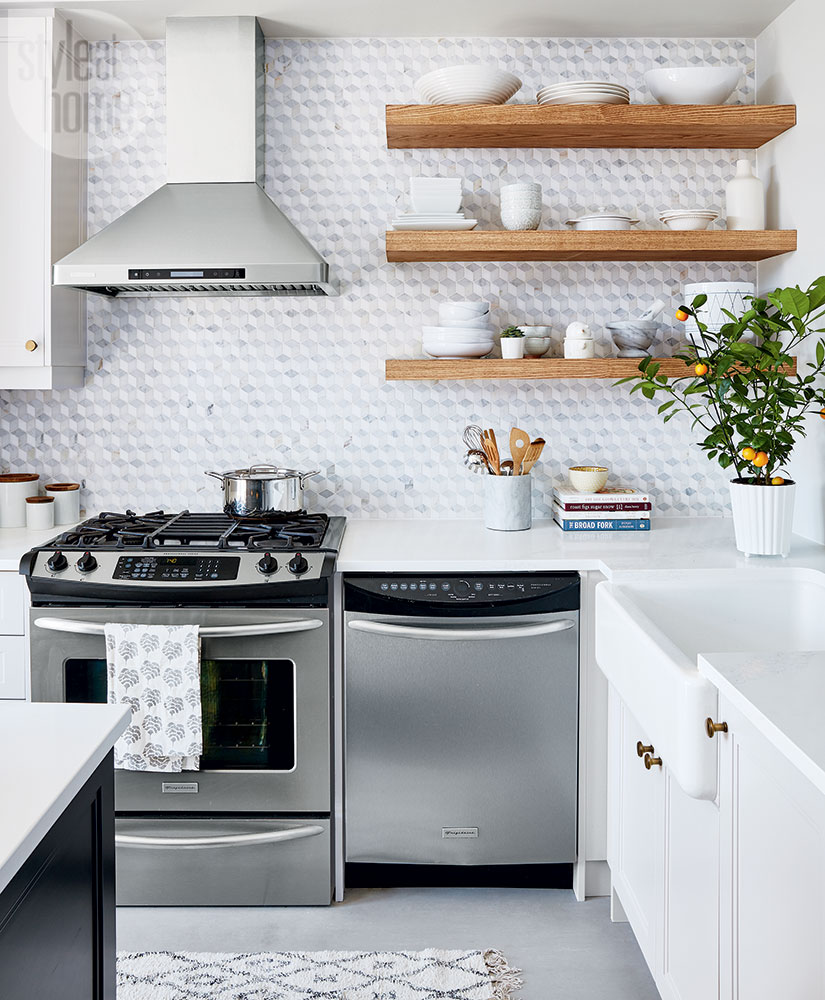 From different tile shapes to large sheets of marble and granite, there are so many different options when it comes to a fun backdrop for your kitchen. Here are my top 35 kitchen splashback ideas, which I can guarantee that you'll like.
14. Make the most of a small space
It can be so easy to make one little mistake and completely ruin the design of your kitchen, especially if it's a small space. But this design shows just how effective a small kitchen can be if it's created in an L shape. This grey space includes everything you could need, and within reach.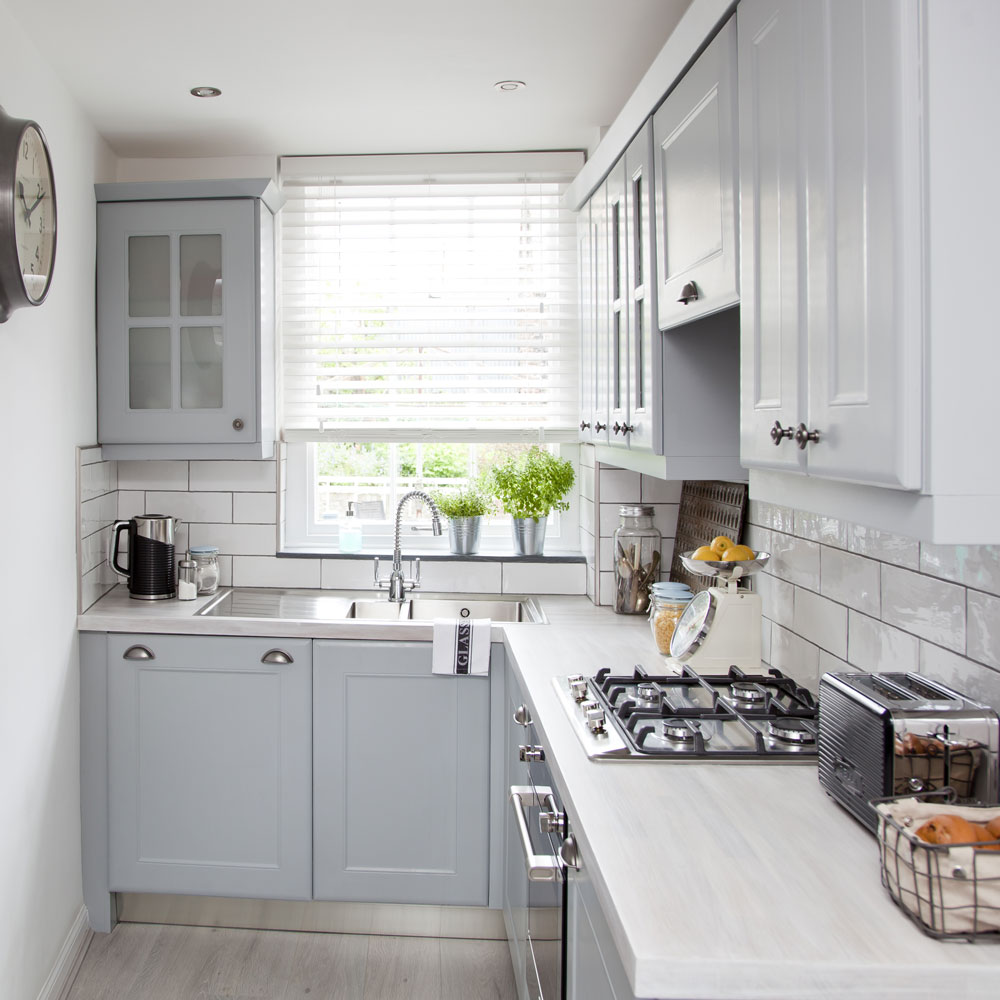 15. Open it up
L-shaped kitchens cater to open plan living where the whole family can be involved. And this small blue-and-white kitchen does this perfectly. It's smack bang in the middle of this home, and it incorporates the dining room on one side and a nice large floor-to-ceiling shelving unit on the other.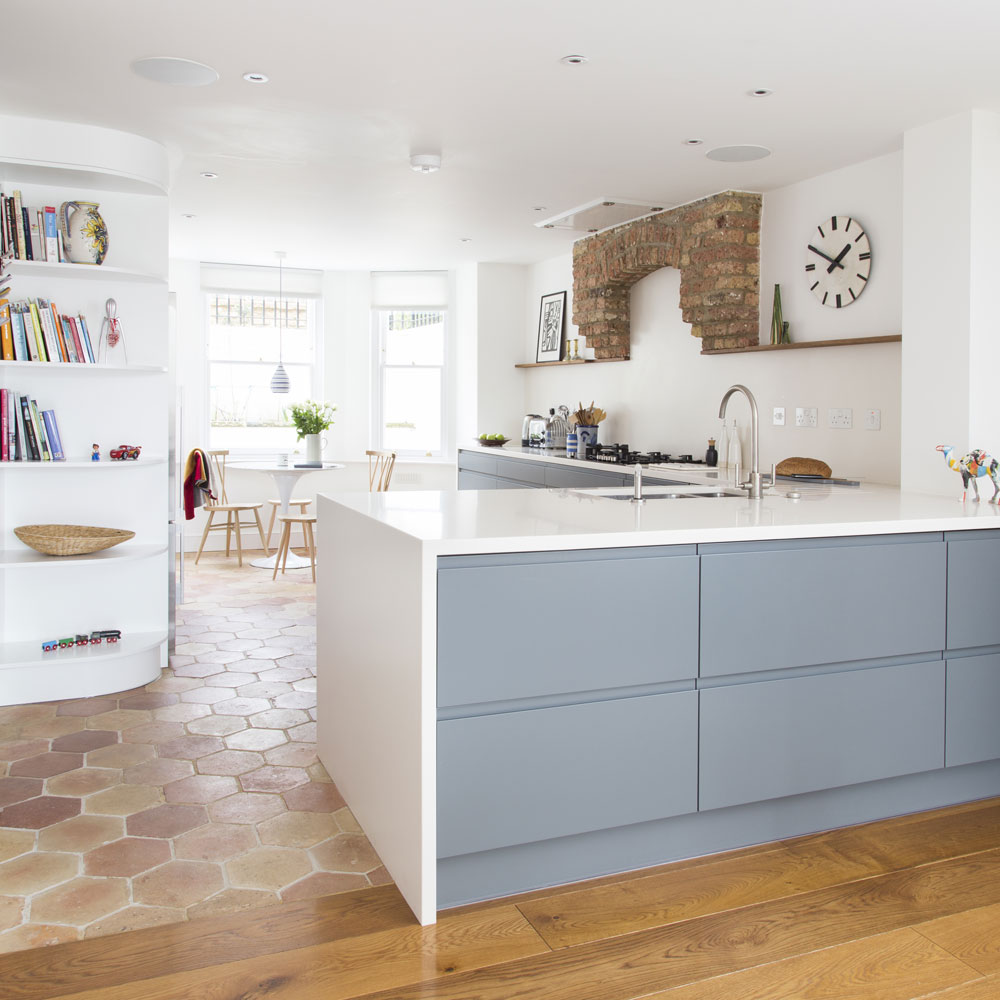 16. Pay attention to the little things
So often when you're designing your kitchen, you're looking at the big elements like cabinets, colour schemes and appliances. But the truth is that it's the little things that really help to complete your design. Take these rose gold canisters, for example. They add colour to a bench that's otherwise fairly beige and neutral.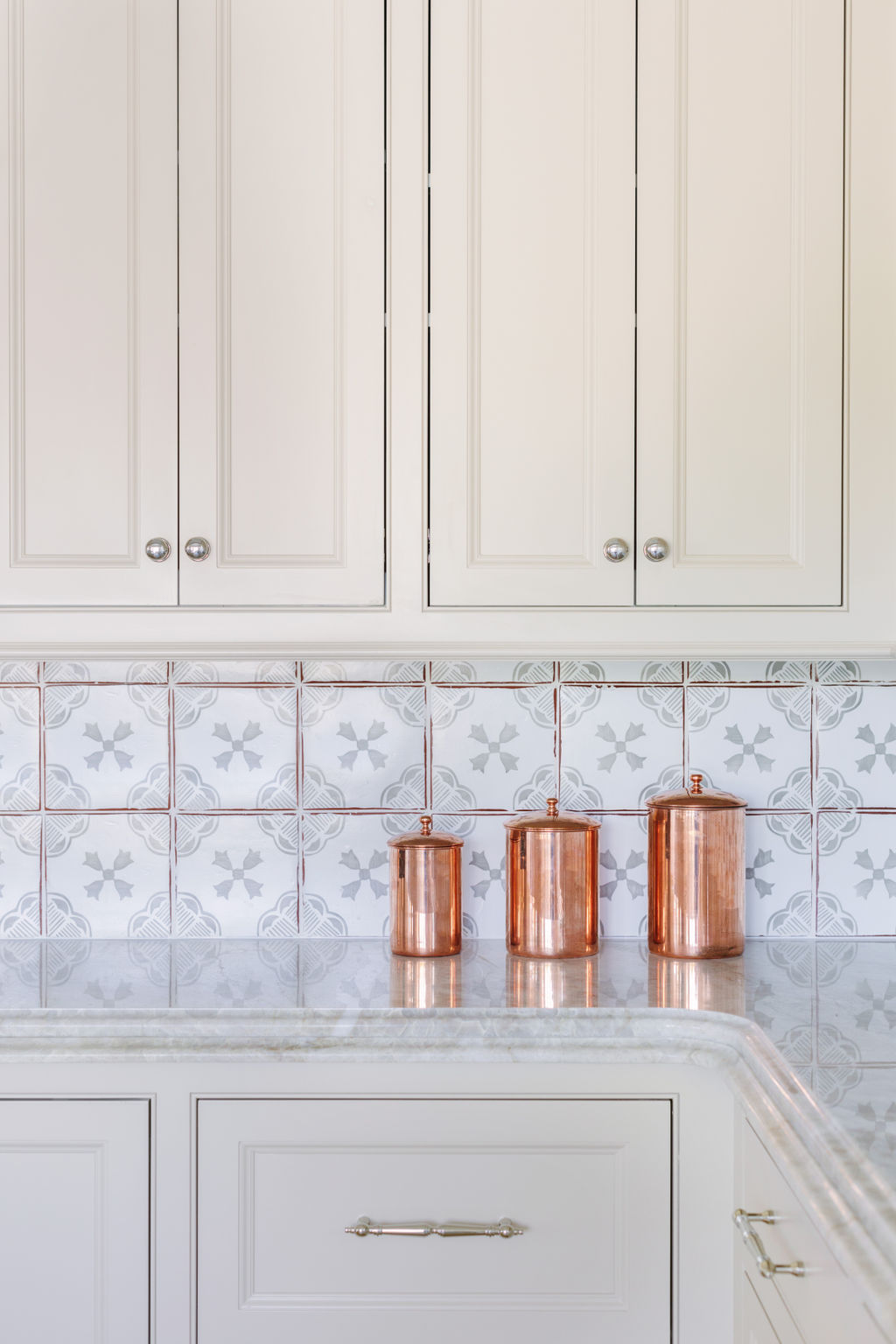 17. Integrated seating spots
As L-shaped kitchens are all about catering to entertaining, why not include some handy seating spots? This rustic farmhouse kitchen does this well with a bench seat in the left-hand corner, and the dining table right in the middle of the room. This means that family can come and go and gather together as you cook!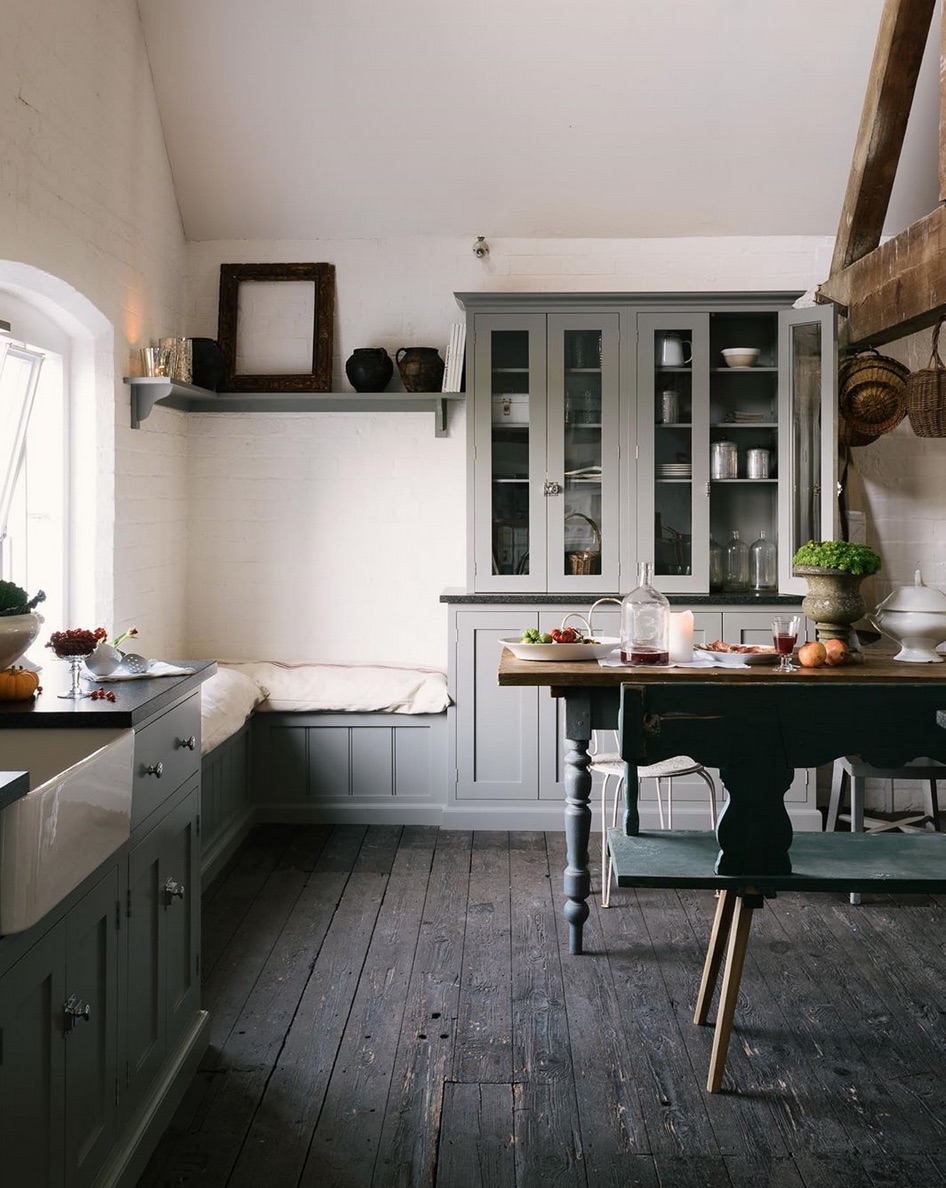 18. Statement lights
One way to fancy up your contemporary kitchen is to install fun feature lights like these lantern-style ones. Lights like this will be sure to draw the eye. And I love how these ones hang over the top of the white marble kitchen island, providing balance and interest.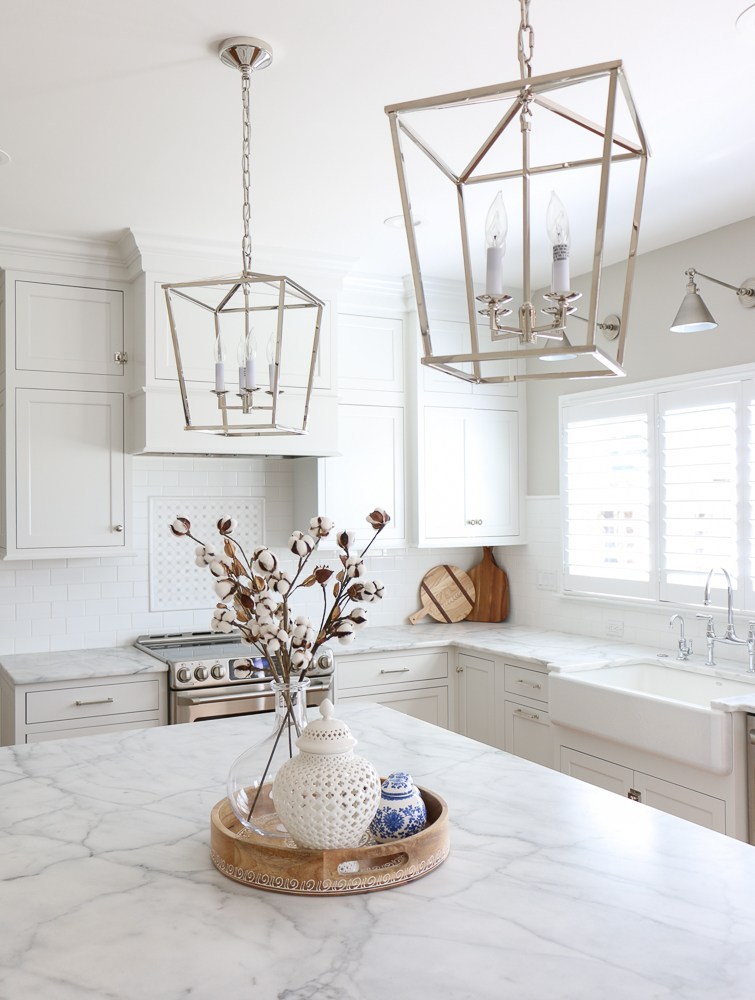 19. Subway tiles
If you're after a really simple yet effective splashback or feature wall for your L-shaped kitchen, then you can't look past subway tiles. These handy little things have become hugely popular in home design over the last few years. And it's no surprise why. They're versatile and they look good with anything!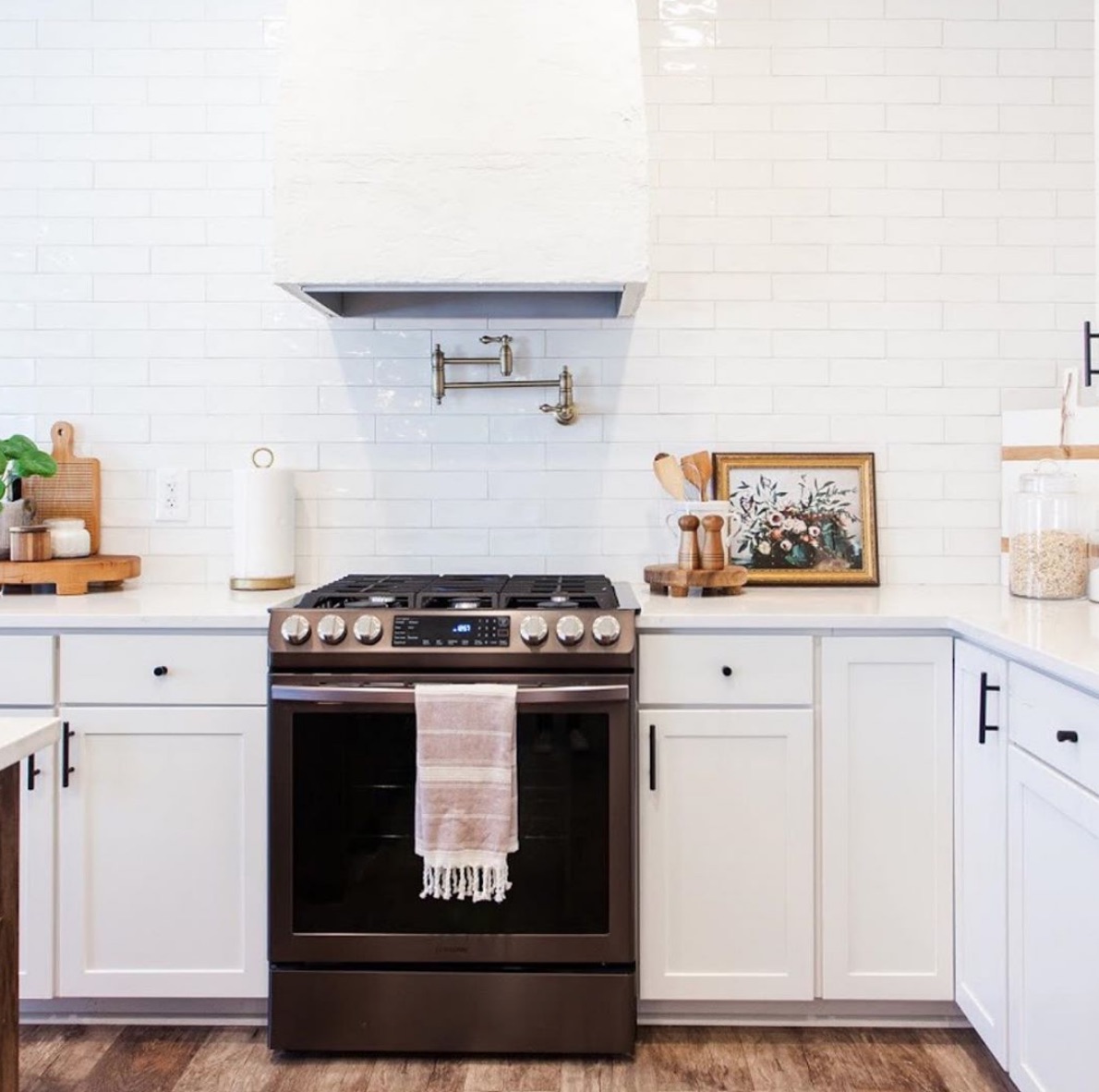 If you like how the white really makes this room so big, check out these other white kitchen ideas that you could add to your home.
20. Mint blue island
It's easy to use pastel colours very poorly in home design. Too much of the colour and you've got a childish looking space. Too little of the colour and the design remains bland. But not this kitchen! The mint blue cabinetry on the island isn't overpowering and it's not too little either. Instead, it injects the right amount of colour and life into this all-white kitchen!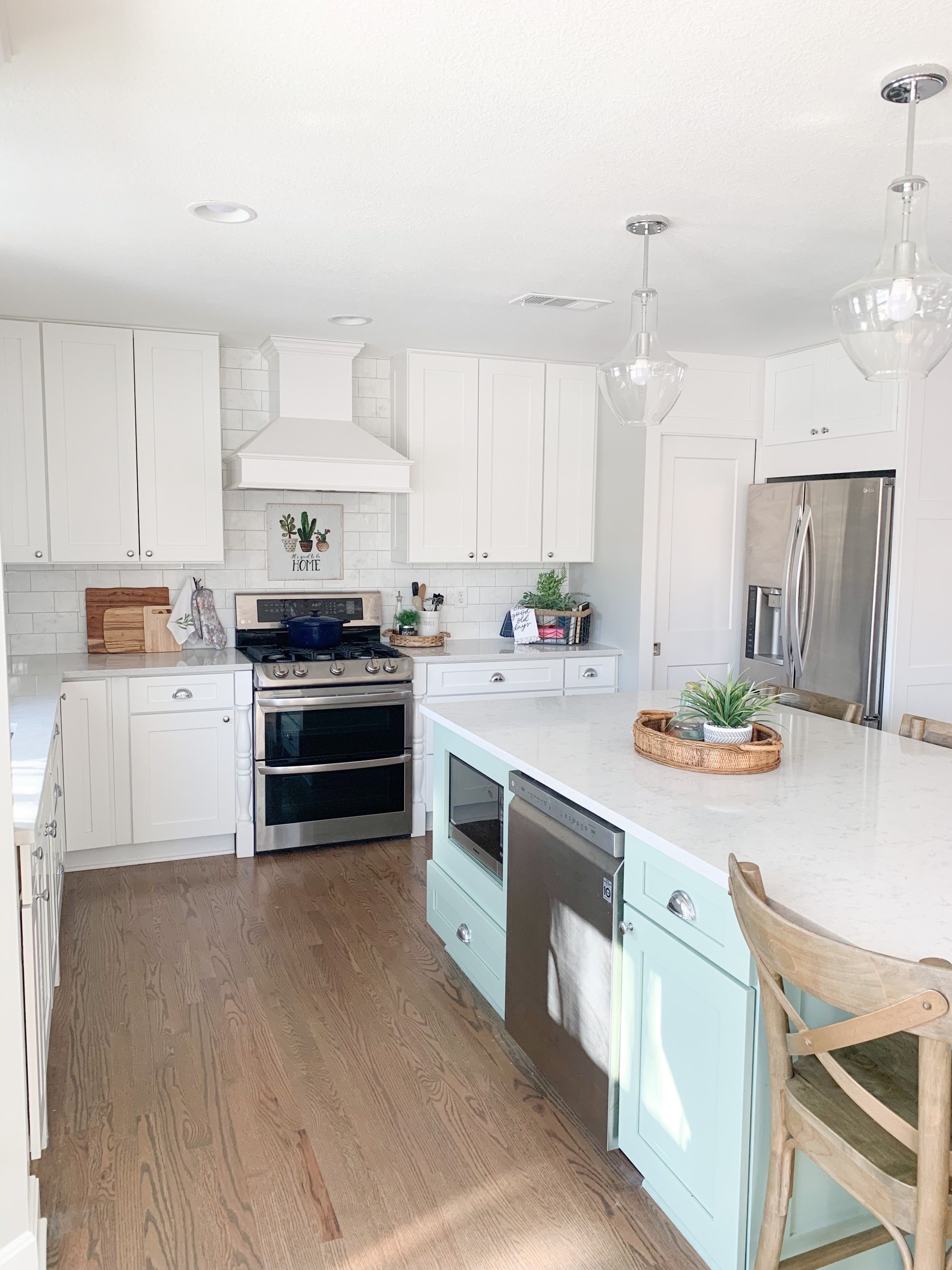 21. Use glass cabinetry
If you're on the lookout for kitchen storage ideas, consider glass cabinetry which will help you showcase your beautiful crockery and stunning glassware.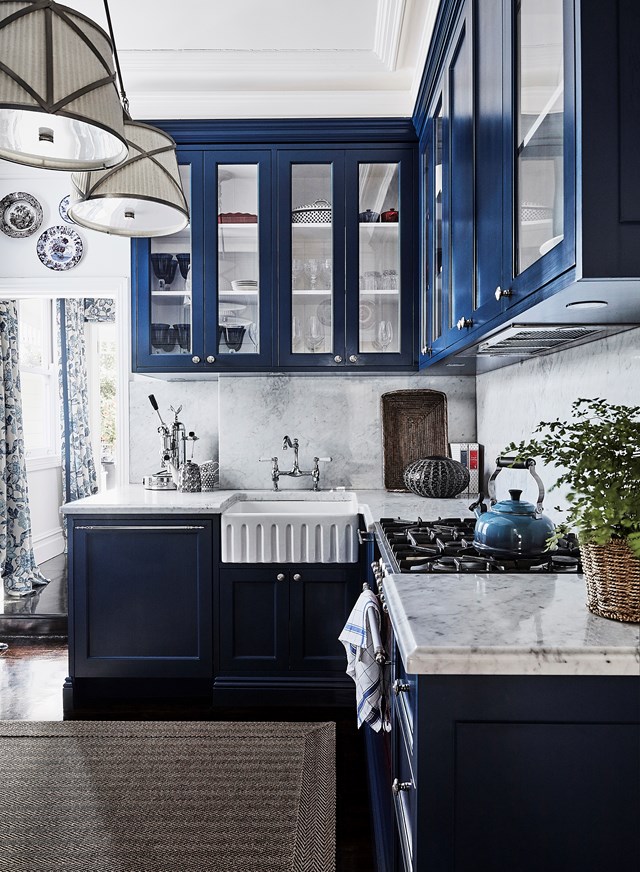 22. Tiles, tiles and more tiles
If you love a simple colour palette but want a little bit of extra detail, then this might just be the L-shaped kitchen design for you. The walls are covered with interesting geometric white tiles, which stand out because of the dark grey grout that holds them together. And this ties in with the shades throughout the rest of the kitchen – there's the dark grey flooring, the marble-style benchtop, the white timber cabinets and the stainless steel rangehood and oven. Gorgeous!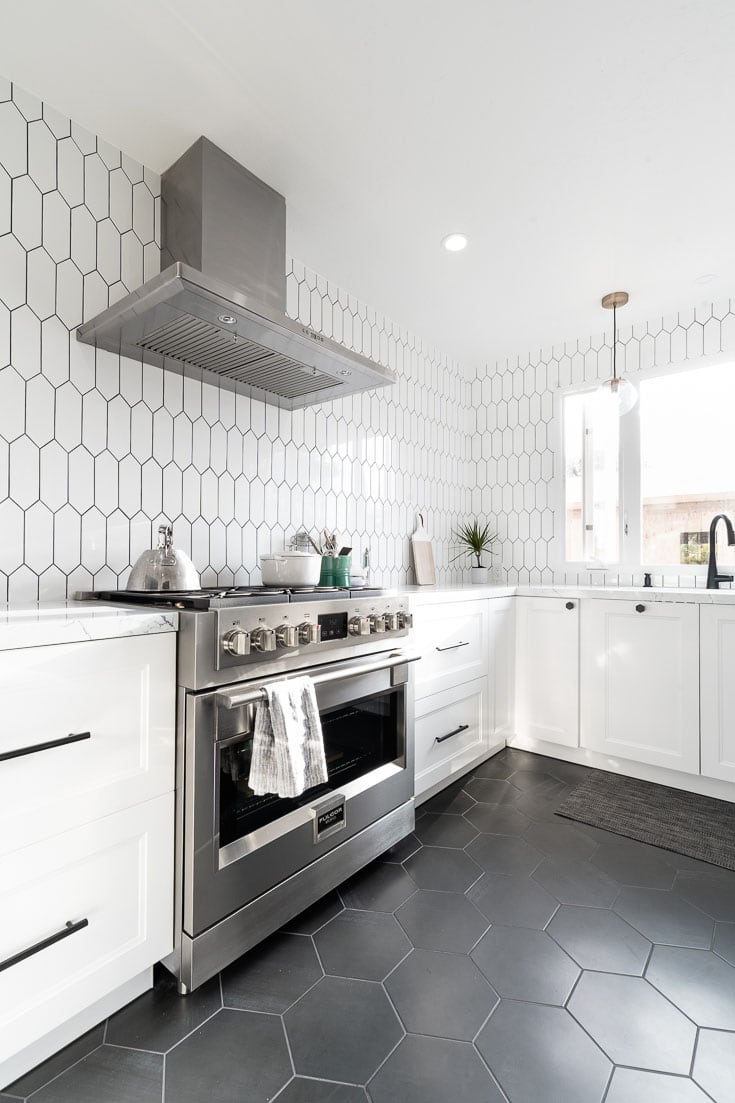 Have these floor tiles got you thinking? Well yes, there's actually a really kitchen flooring ideas out there which include timber, vinyl and even lino.
23. Blue dreams
This kitchen is what pastel dreams are made of. Seriously! Would you look at the stunning shade of blue? Combined with old-school textured tiles on the splashback and on the floor, this makes for a beautiful all-round design. And I love the white-and-silver ceiling lights on the left. They add another level of sophistication!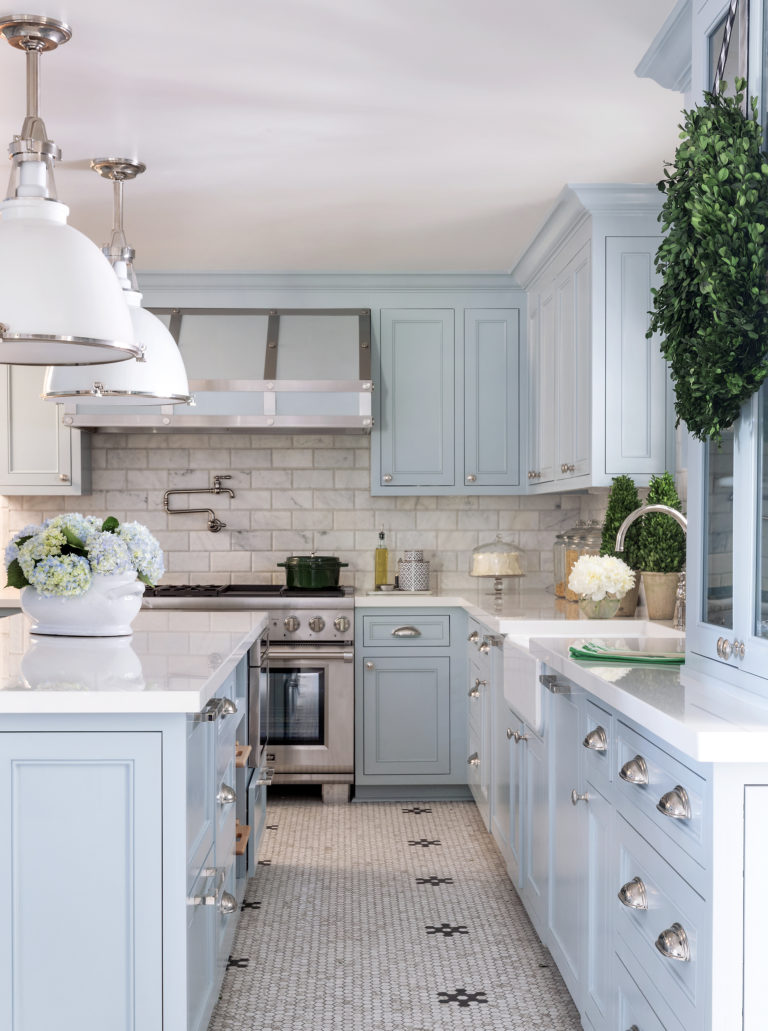 24. Different coloured island
As we've discussed, the benefits of an L-shaped kitchen are that you have room for a practical island. But just because you install an island doesn't mean it has to be the exact same colour as the rest of your cabinets. In fact, it can be totally different and turn into a key feature piece. Take this kitchen design, for example. It has a fairly all-white kitchen, and then there's the element of surprise – a dark green island!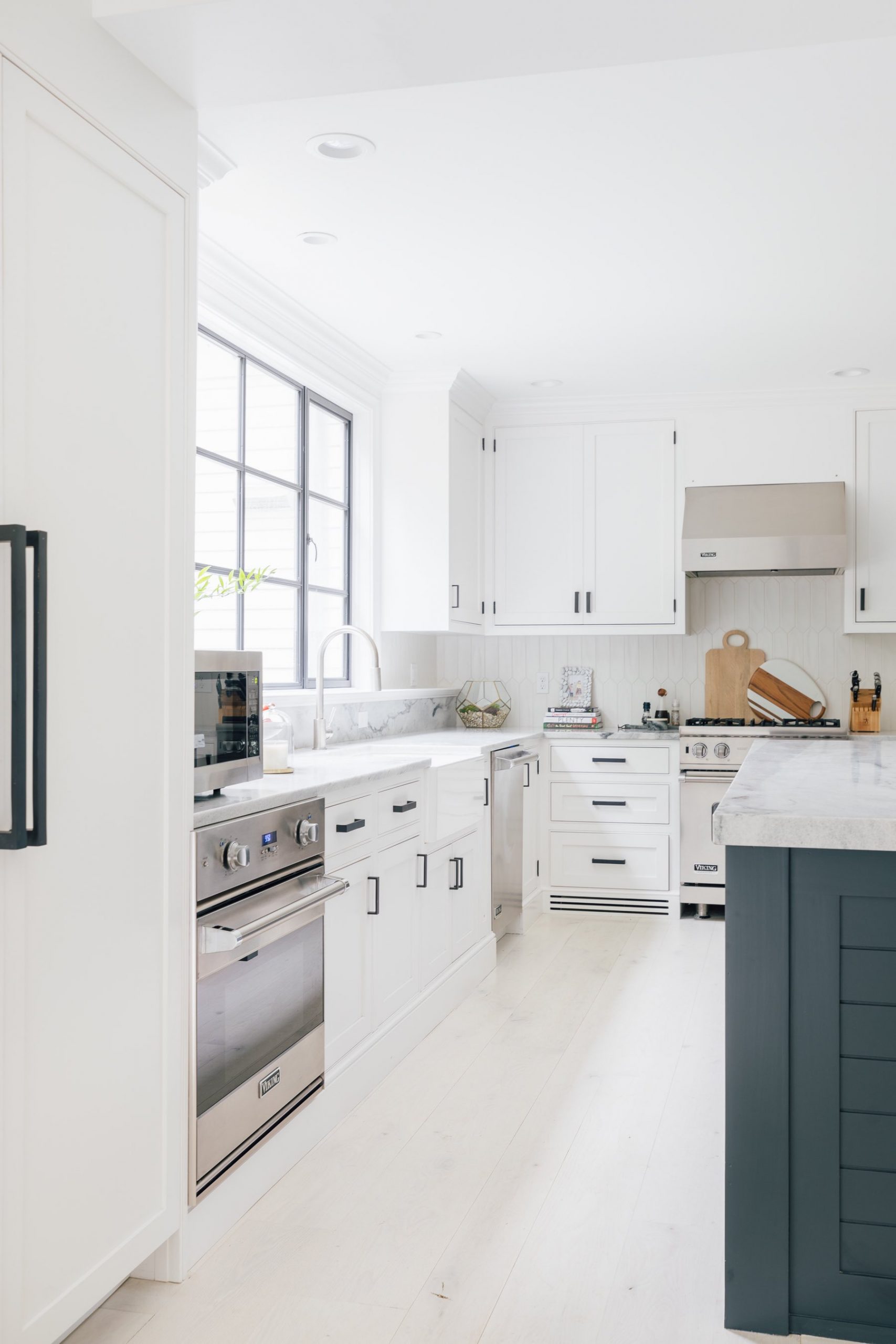 25. Statement rangehood
Now, you may think that a rangehood is simply just something that goes on top of the stove. But this couldn't be further than the truth. While it is a very practical (and necessary) addition to your kitchen, it's also something that you can have a lot of fun with. If you have a large kitchen space, think about how you can make a statement with your rangehood.
Take this one, for example. It combines a typical steel structure with brass edging, which makes it really stand out against the grey-and-white marble splashback and benches.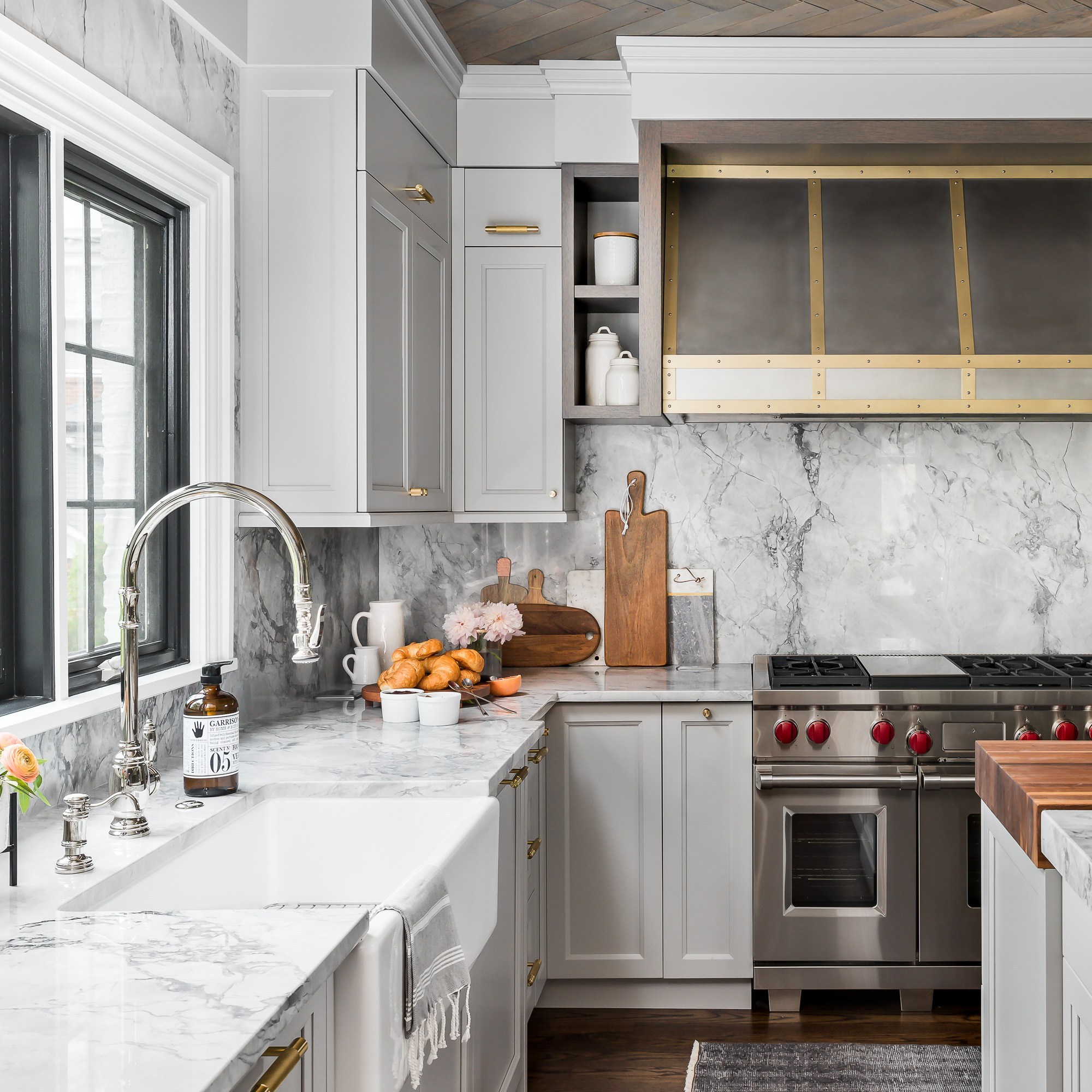 26. Marble splashback
The beauty of an L-shaped kitchen that uses two intersecting walls is that you can install a gorgeous wraparound splashback, like this one. I'm not only swooning over the marble splashback, but the entire colour palette is such a dream. The peachy top wall gives the kitchen a feminine touch, but the white timber cabinets, black table and black hardware make it more neutral.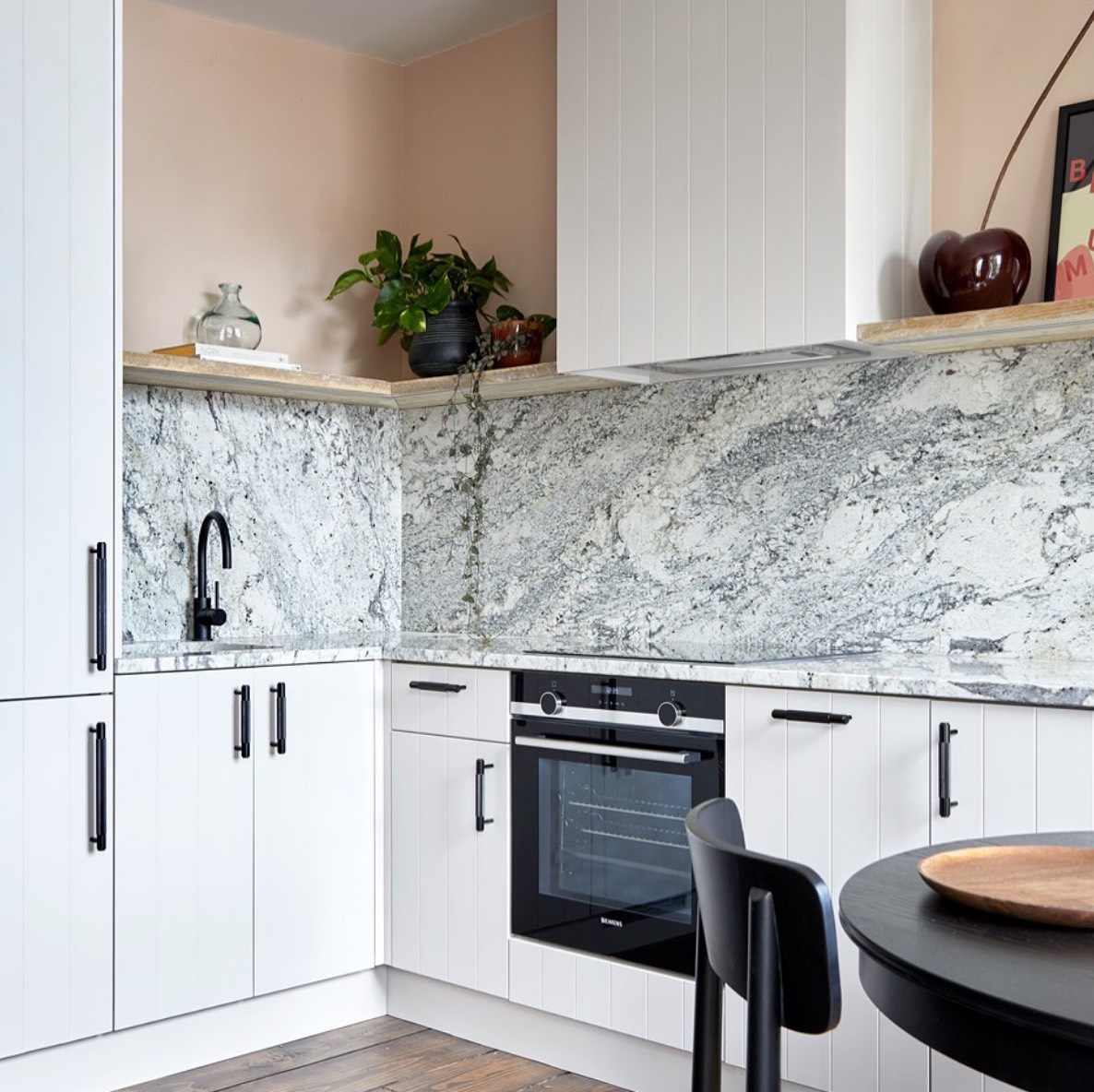 27. Dining table in the middle
This kitchen design is so smart because it makes use of the open-plan style of L-shaped kitchens. Instead of closing off the dining table behind a wall, this design brings the round Scandinavian-style table front and centre in the middle of the kitchen.
This is a really practical solution when it comes to dinner time because it's just a quick step away from the kitchen bench. And it's also a fabulous option for when you're entertaining because guests can gather around the table as you cook!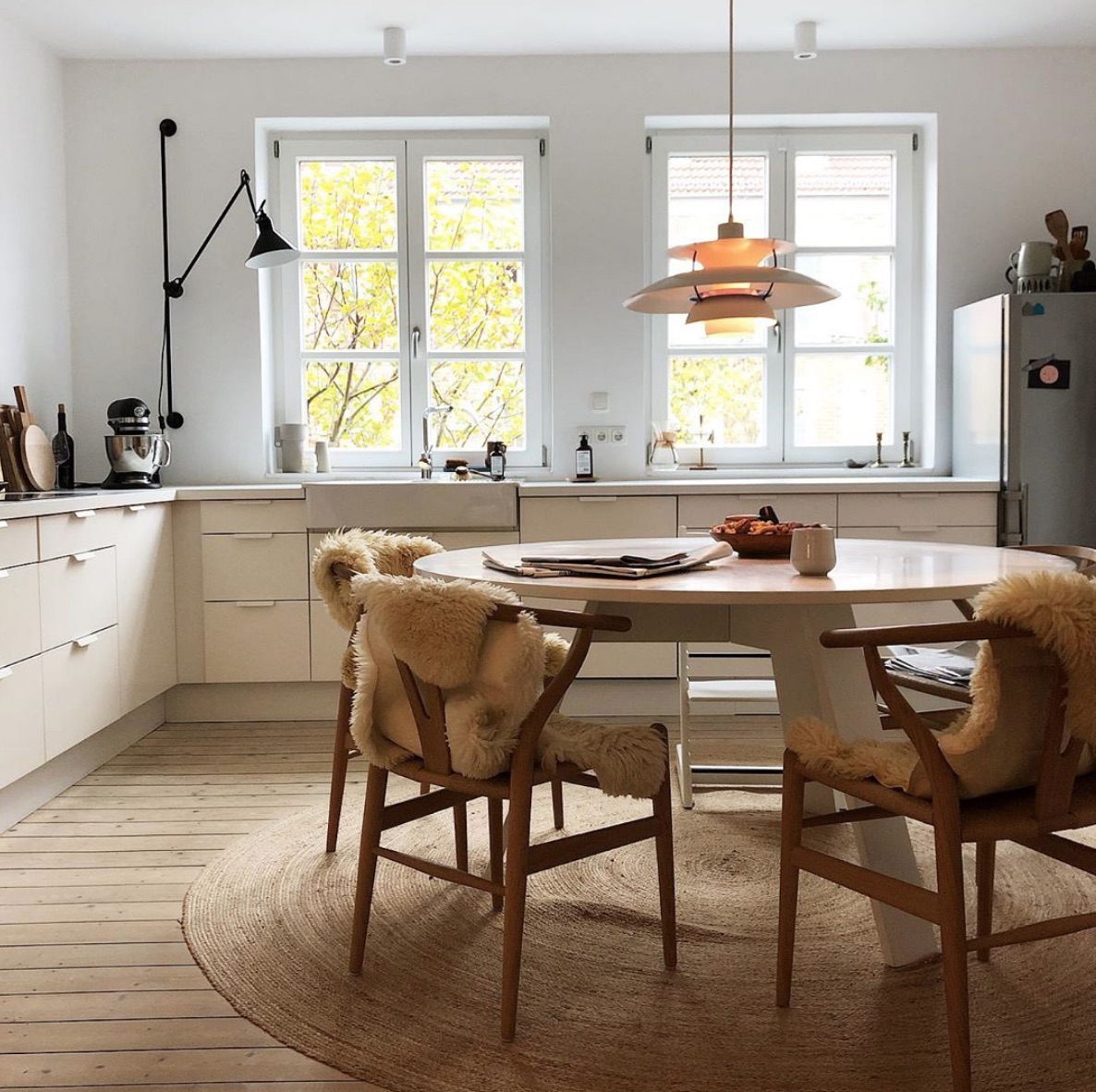 28. Table in the middle
I've said it before but I'll say it again. The beauty of L-shaped kitchens is that they allow for so much flexibility. Because they provide plenty of room in the middle, you can fill it with whatever you please.
In this image, this kitchen design includes what appears to be a vintage desk as a kitchen island. This is such a creative solution to the old island saga and a much more interesting one than so many other stock-standard choices. And I love the little black timber stools and mismatched white chair that's poking out under the far side of the table. This furniture choice gives the kitchen a vintage touch and makes it so unique!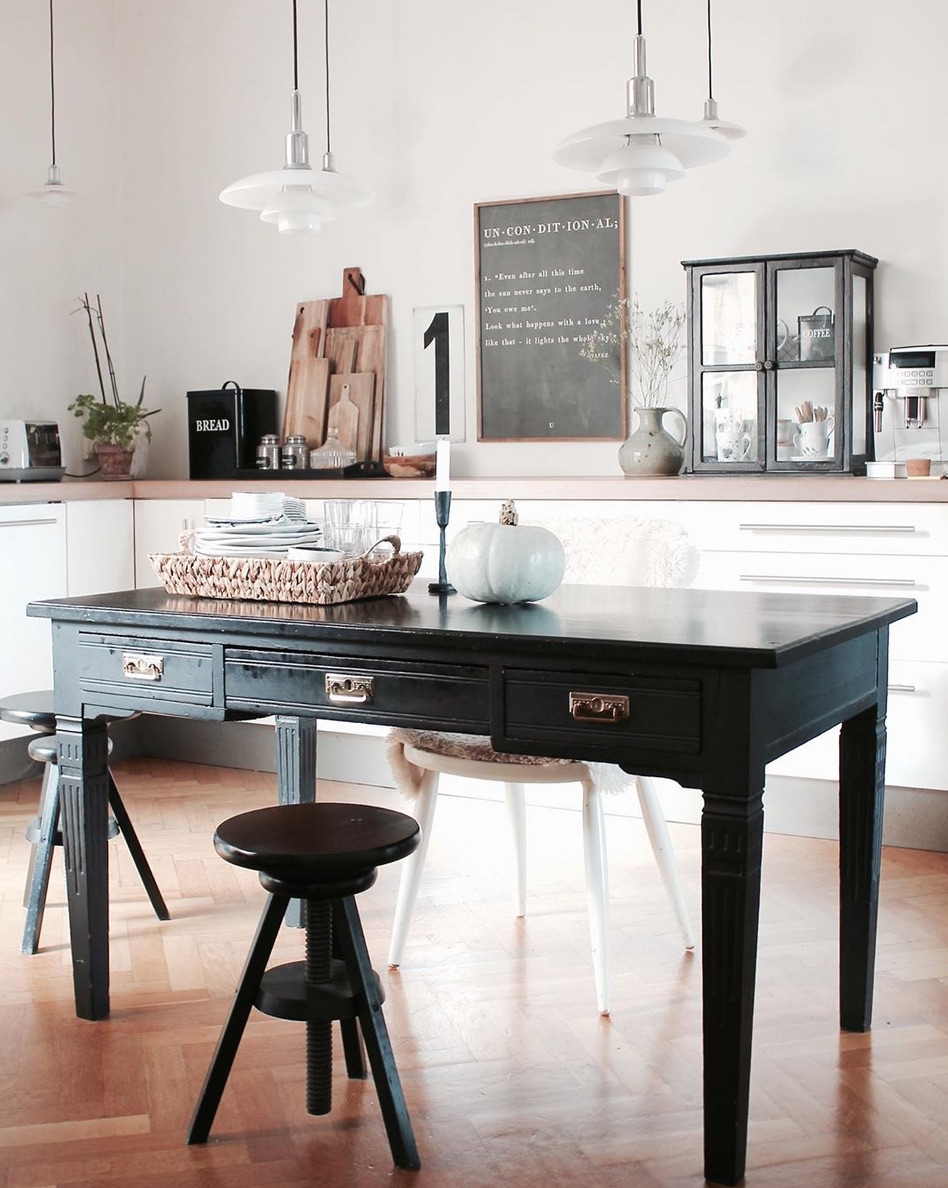 29. Navy and white
If you can't decide on what colour to use for your kitchen cabinets, why not use both? This kitchen is proof that you can combine two shades and make it work. If you're going to do this, white is always a great base to start with. From there, choose another colour that sparks your interest – think blue, green, black or grey. Honestly, you can make any colour work! Use one colour for the top cabinetry and the other for the bottom, and voila – you've got yourself a seamless kitchen design that's set apart from the rest!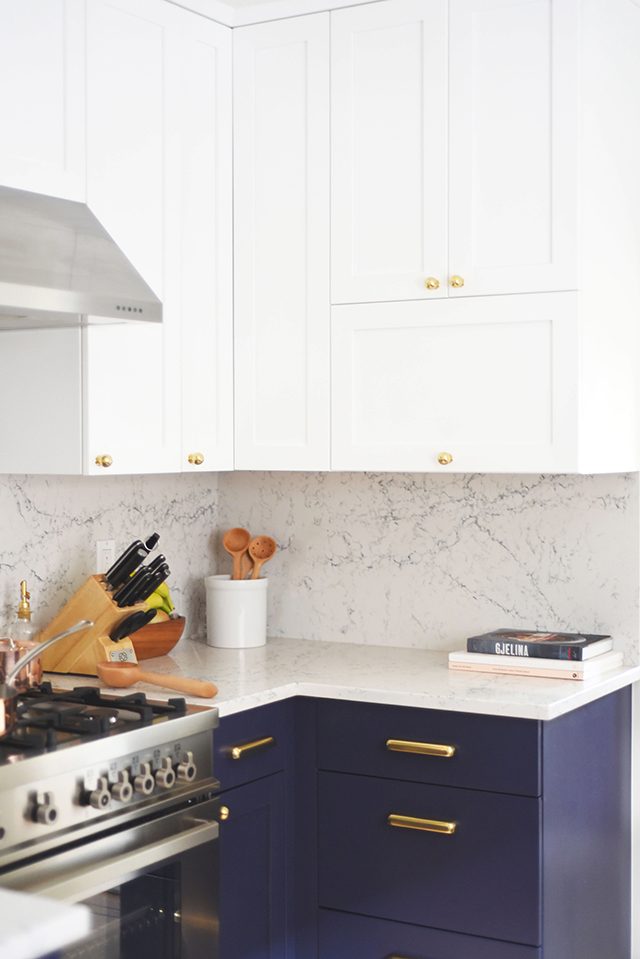 30. Modern grey
Alternatively, you could skip the bright colours and go for muted shades of grey and slick black instead. This L-shaped kitchen is modern and simple with grey cabinetry, glass cabinets, black benchtops, touches of stainless steel, and black appliances. And I love the textured cream splashback – it adds all the lightness you could need! This is the perfect choice if you're wanting to keep things refined and simple while infusing a bit of fun while you're at it.
Grey cabinetry is actually having a bit of a moment when it comes to kitchen interior design, as it allows people to embrace either lighter or darker finishes. You'll be surprised how creative you can be in a grey kitchen.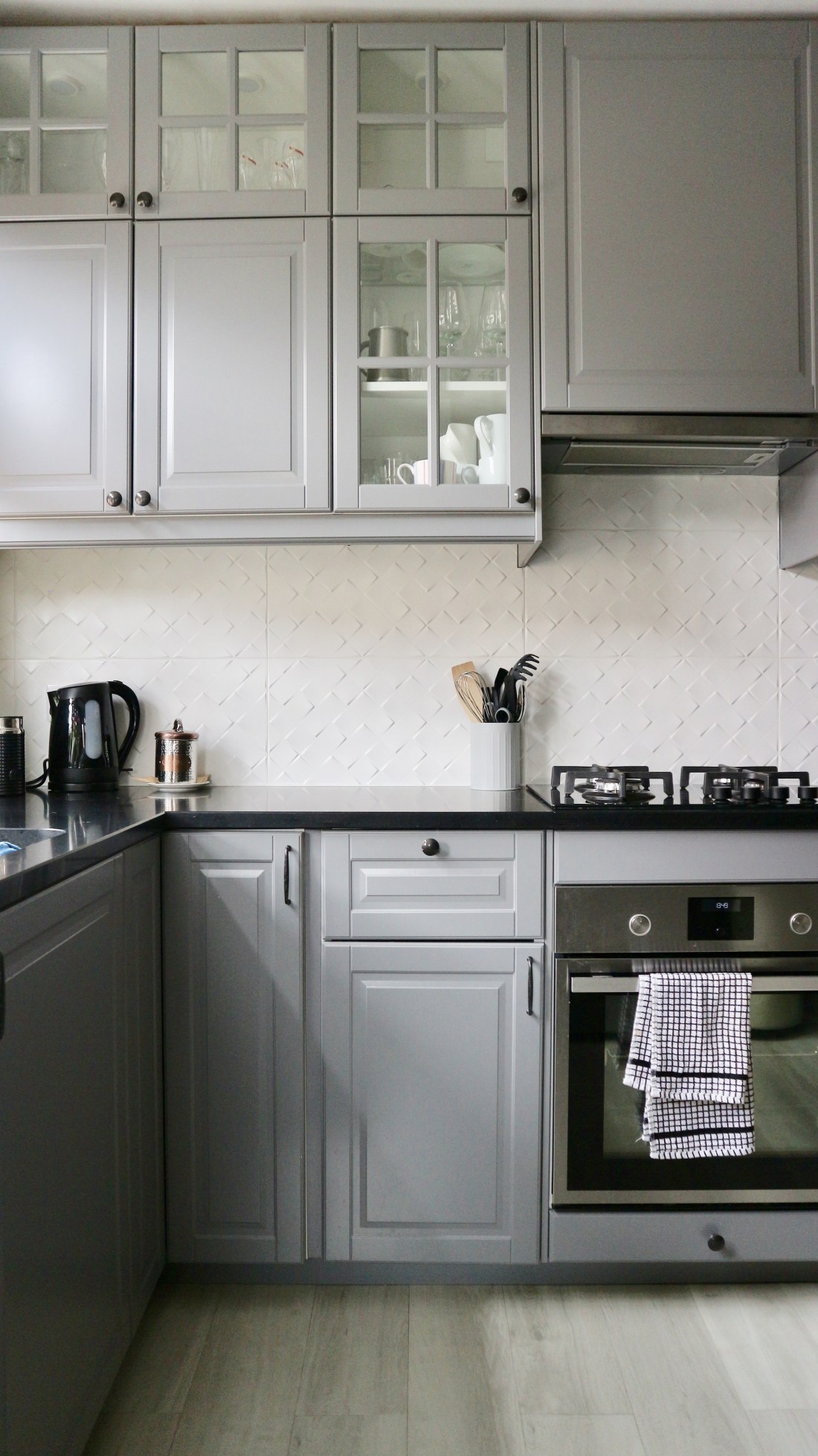 There you have it, 30+ L-shaped kitchen designs that cater to any taste and style. I hope this has shown you that there are so many ways to dress up an L-shaped kitchen. There are the rustic timber and farmhouse vibe, then there's the modern kitchen design, there's the Scandinavian minimal approach, and then there's a whole lot of designs in between!
Now, the choice is yours. Which design will you go with? I'd love to hear about which style you liked the most. Comment and share below!