What does luxury mean to you?  Lots of space? Expensive materials? Opulent decor? State of the art digital smart products? A hotel spa vibe? Luxury really means something different to each of us, but the common denominator is that it's all about the art of turning your bathroom into a place to escape for tranquillity and relaxation.
Creating an idyllic bathroom sanctuary with an atmosphere of calm luxury usually means a minimalist space focusing on a statement tub or statement vanity and sinks with the addition of high-end fixtures and fittings that suggest affluence. Above all, luxury bathrooms dwell on the use of stunning natural materials.
Let's jump in and take a look at over 35 examples of luxury bathrooms that have mastered how to evoke the feeling of a wellness retreat or day spa at home.
1. Simplicity
Less really is more. In bathrooms, luxury doesn't always mean excess. In fact it's often the lack of visual clutter that spells luxury and that's why so many luxury bathrooms feature heavily pared-back styling and a focus on just one luxury feature.
This is typically a freestanding tub with wow factor, but a feature vanity or feature tile wall is also popular. The aim is to create a simple, minimal space with clean lines and allow the luxe materials and stylish details to convey sumptuousness.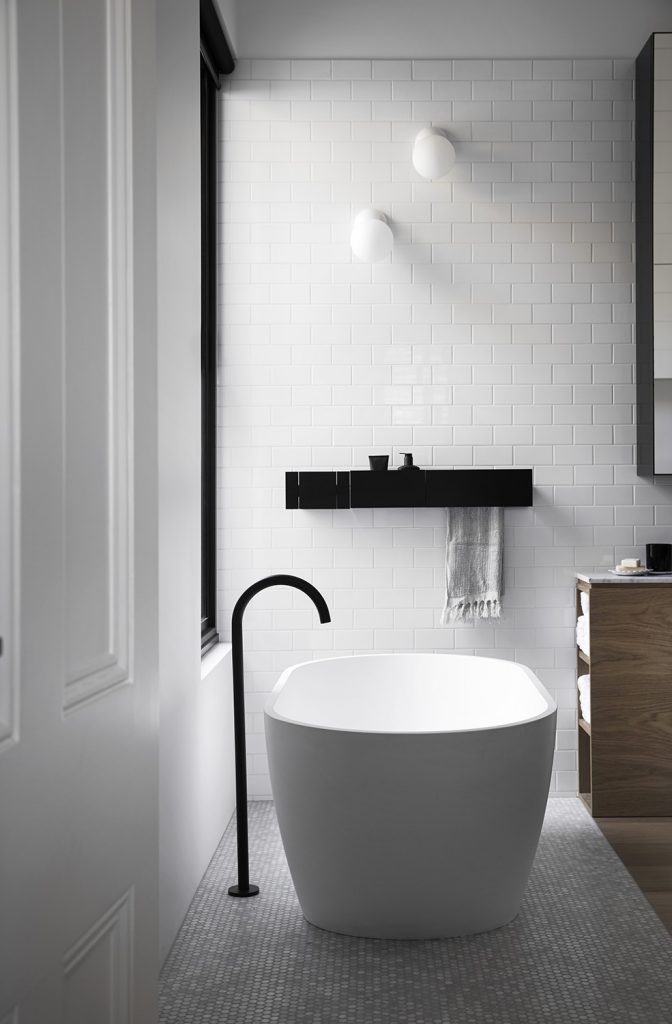 2. Comfort
One of the most important factors in creating a luxury bathroom is a focus on serious comfort. Start with an ultra-comfy soaker tub, add comforting elements like underfloor heating and heated towel rails, stimulate all the senses with scented candles and little organic touches such as flowers or plants.
Finally, make sure everything is within reach when soaking–in this blissful self-care retreat, the long ledge above the tub holds everything you could possibly need for your bath while keeping things looking airy and uncluttered.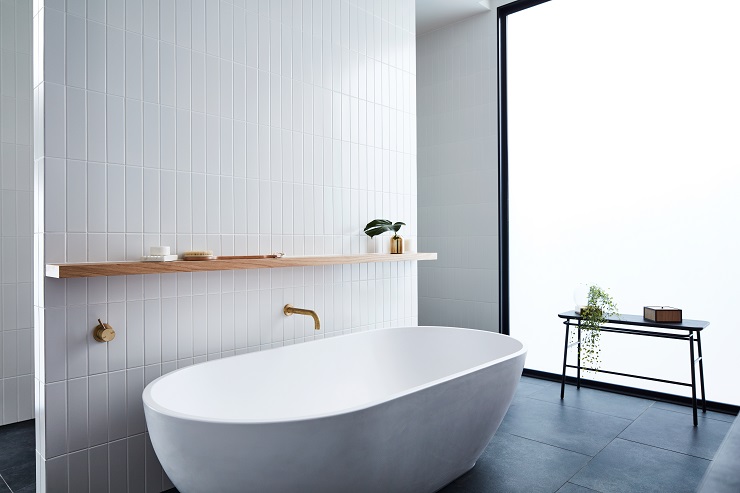 3. Spaciousness
Having an expansive, generous space to work with is definitely a hallmark of bathroom luxury. But if you haven't got quite as much room, you can fake it somewhat by using larger format or slab tiles. These have fewer grout lines and lessen visual clutter which helps to enlarge your space.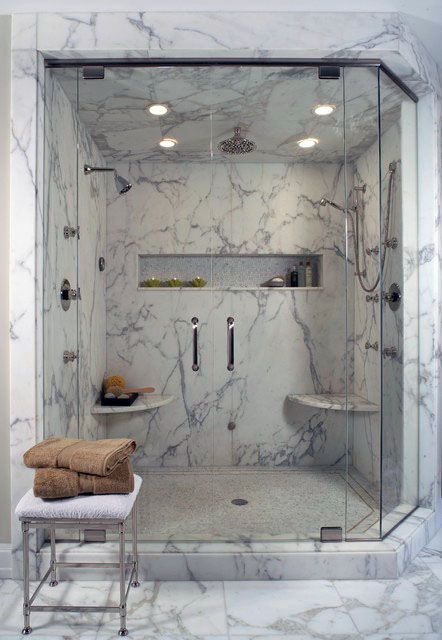 4. Artisanal
A direct route to conveying luxury is to embrace "impassioned making" and install a stunning artisanal statement tub or basin. Many luxury bathroom brands work in close collaboration with craftspeople and artists to create products rich with personality and passion, where often one artisan works on a product from beginning to end, hand-sanding and hand-finishing and polishing to produce a high quality, authentic product.
Imagine soaking your weary bones in this dreamy petal-shaped cocoon? The nature-inspired experience is enhanced here by the bold injection of nature with a tree-sized indoor plant, which also serves to visually balance the room's white space.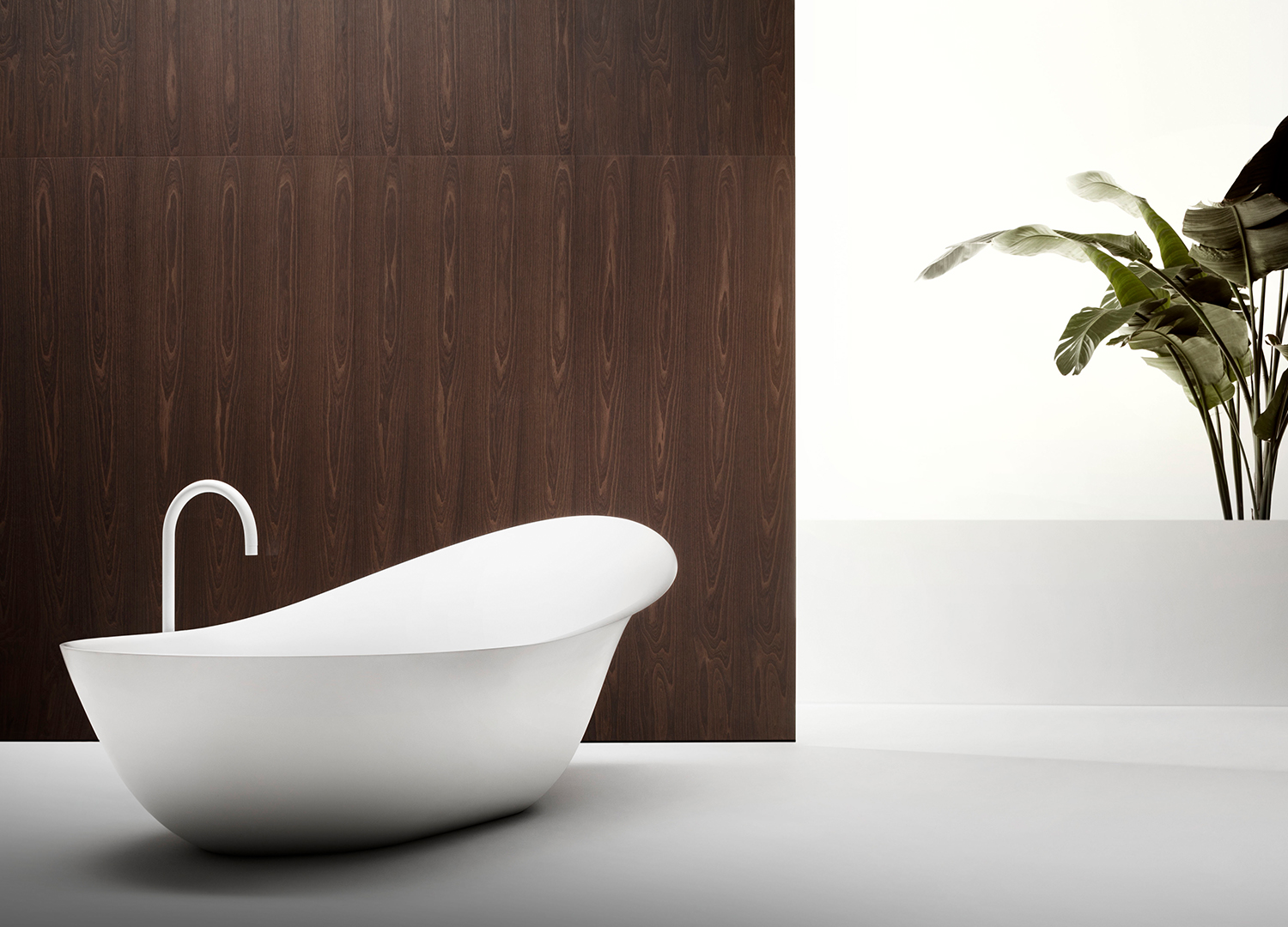 5. Smart bathrooms
Commanding your shower to start before you even get out of bed, and having it set at precisely your ideal temperature; changing up the temperature or volume while your hands are full; instructing your bathroom to play your favourite songs on integrated speakers; amusing yourself watching the water change colour; using a sensor-activated, self-cleaning toilet with a seat warmer…enhancing your bathtime experience is easy with the variety of voice and digital controls, apps and LCD screens on the market today.
As a bonus, smart showers, tubs and toilets are also designed to be extra water-efficient, so they're a smart investment as well.  Below, I love the bright flooring in the dark monochrome bathroom and the additional colour pop of the little Perspex stool.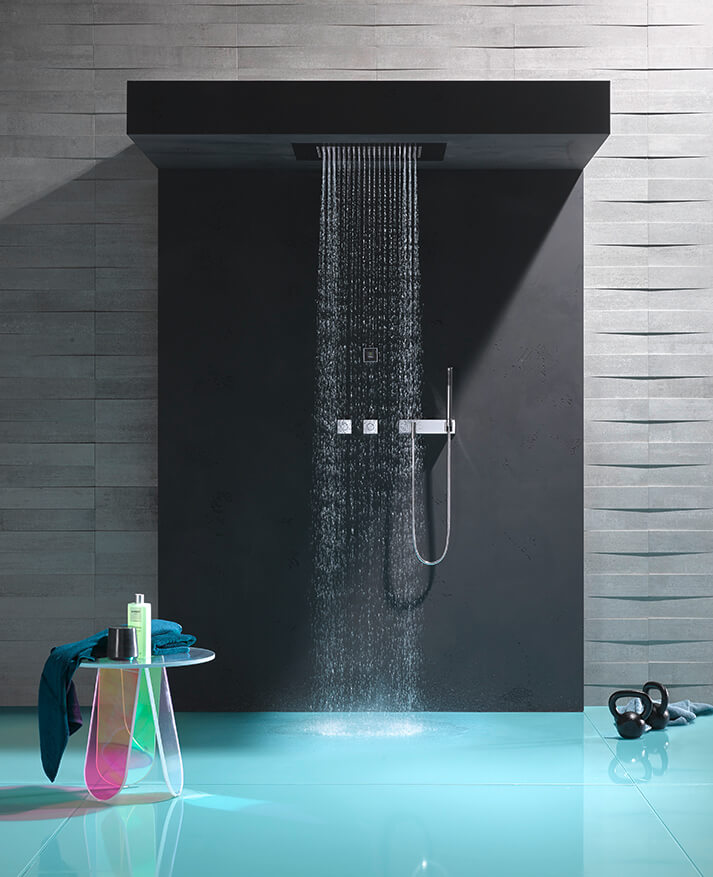 6. Sustainable bathrooms
Sustainability in design is sexy and so is choosing your bathware from luxury brands that celebrate innovation in their engineering and manufacturing processes and products. Just looking luxe is only half the equation—the best brands conspicuously pursue emission-free, low-impact, environmentally-friendly methods and materials while delivering high quality goods that look the part.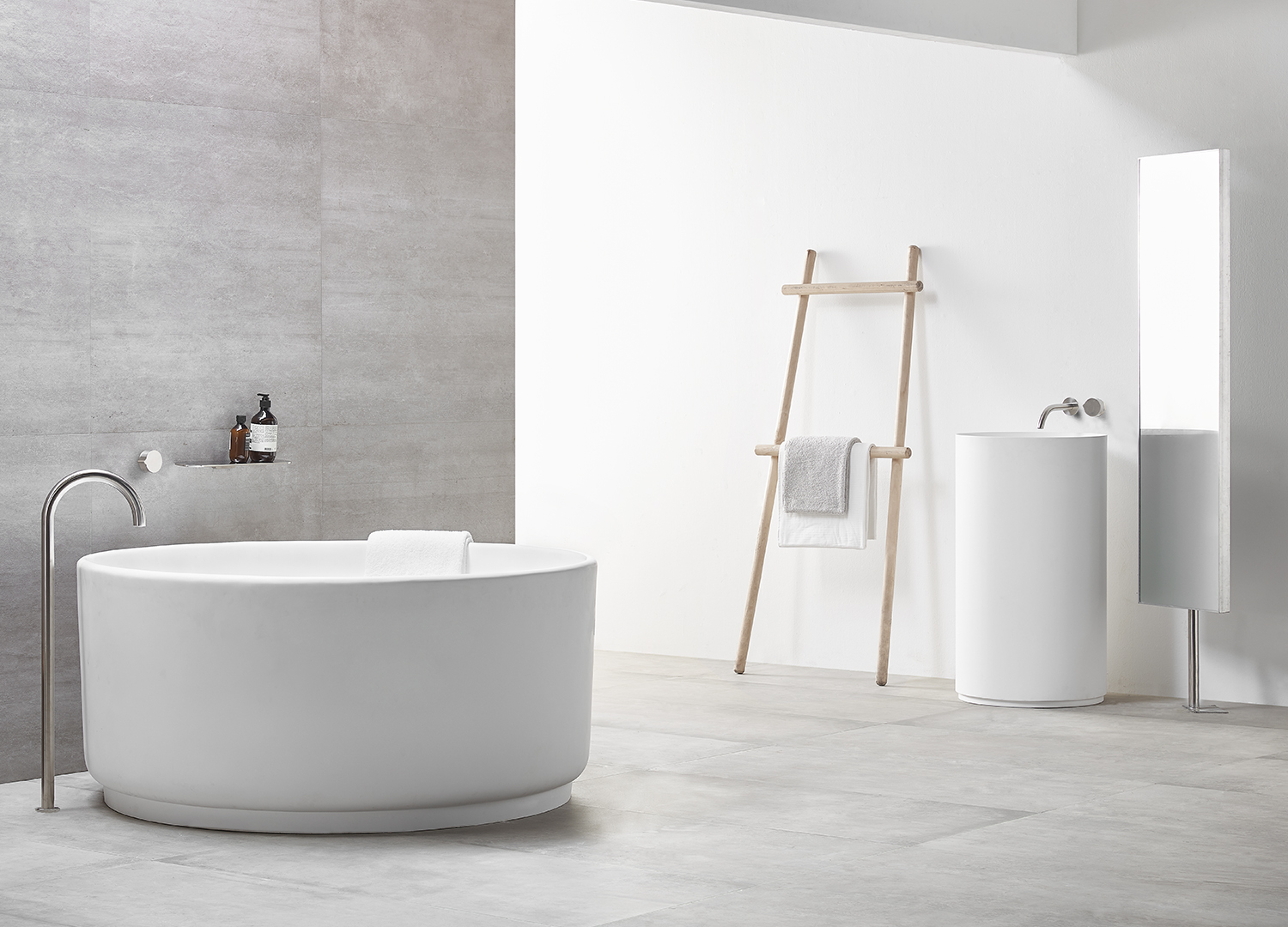 7. Gold bathroom
While a luxury bathroom certainly does not need to boast a solid gold toilet, adding some metallic touches is always a sure way to create an opulent atmosphere. In the modernist bathroom below, the designers aimed to create "special, surprising moments", incorporating this deluxe gold feature wall as a backdrop to the chic freestanding bath.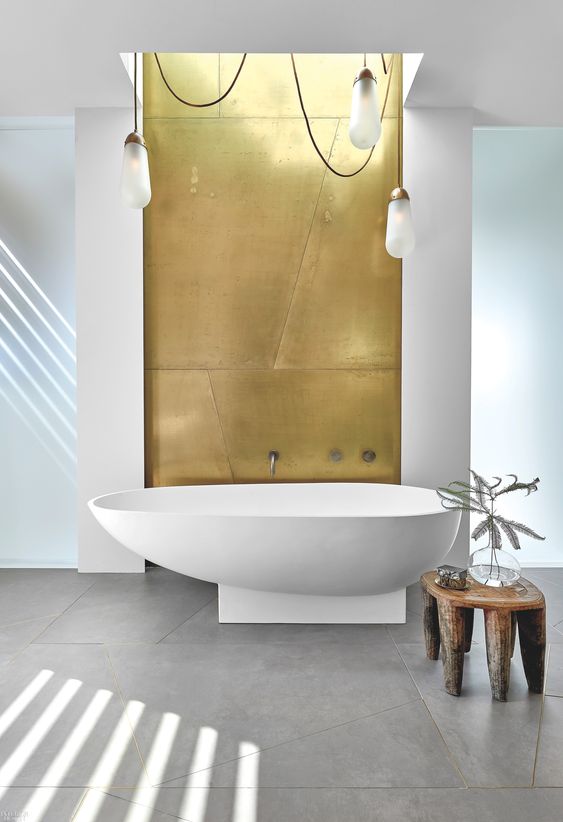 8. Chiaroscuro
Luxury dark bathrooms often make effective use of the chiaroscuro technique, the classic method used by artists like Rembrandt, Caravaggio and da Vinci, where contrast and balance between light and shadow create the illusion of more light.
Here, a dark and moody colour palette combined with terrazzo tiling and a black freestanding tub demonstrates how the chiaroscuro technique creates a visually stunning minimalist contemporary bathroom.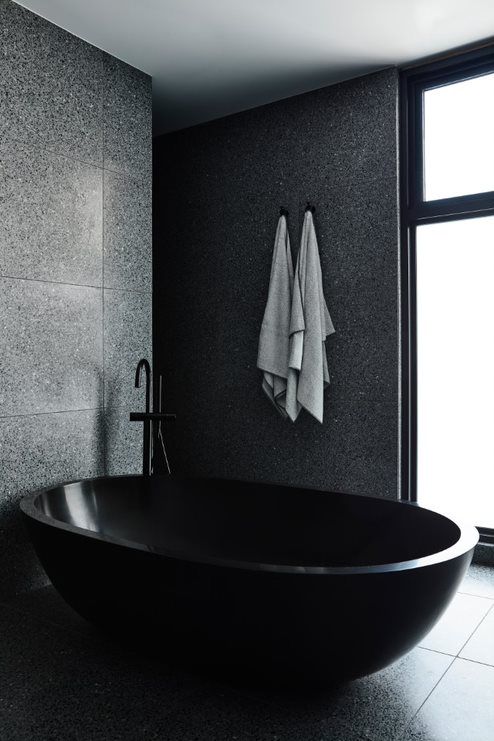 9. Neutrals
Luxury bathrooms tend to make use of a neutral colour palette which allows the focus to remain on the opulent materials and textures. Whether all-white or in soft nature tones that pick up the colours of the stone, timber or other natural materials, make sure to add in some plant life for a refreshing green contrast.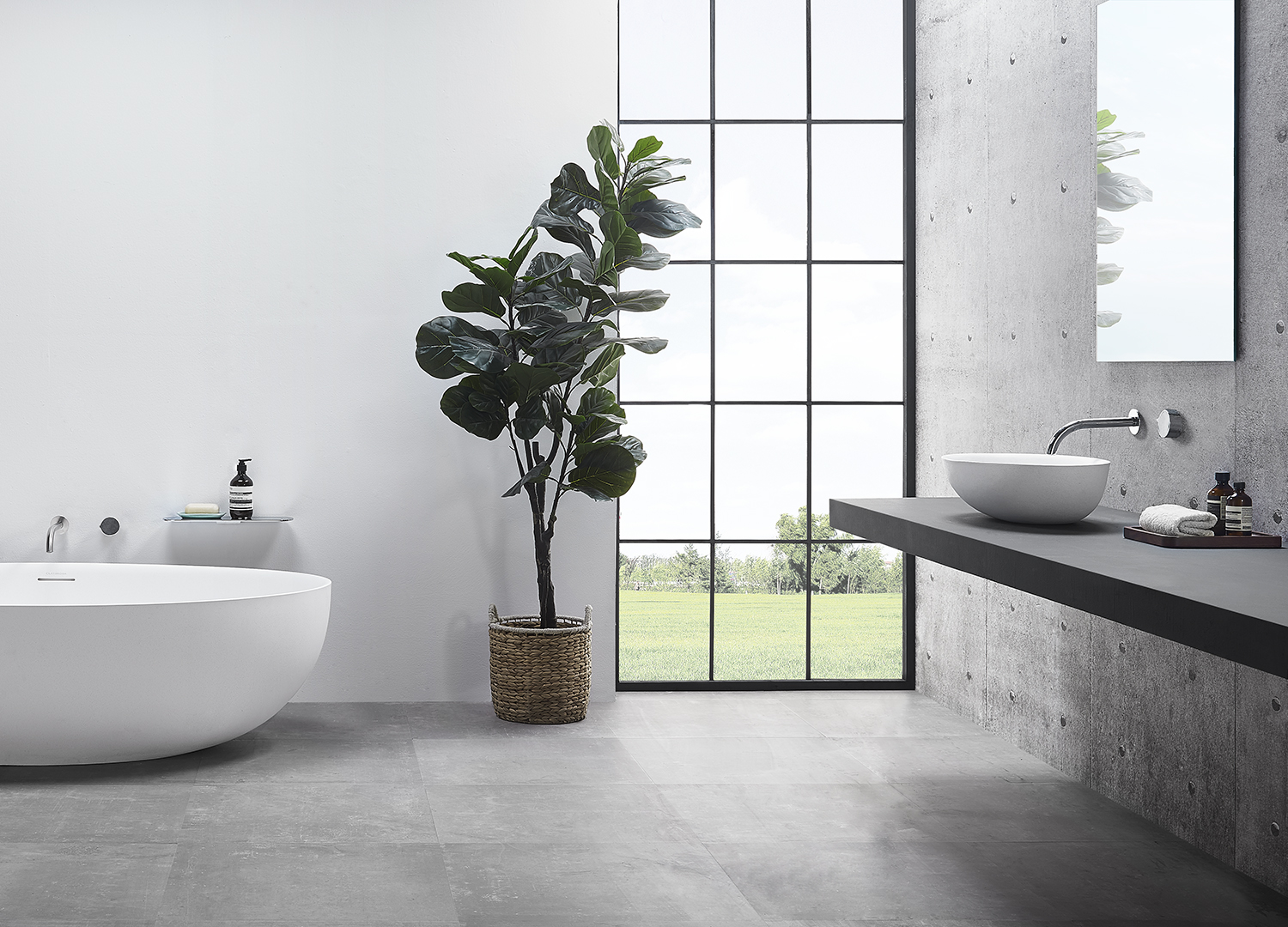 10. Organic
Another feature of modern luxury bathrooms is the incorporation of elements with organic, irregular shapes. This ties in with the wellness trend and the desire to include calming, nature-inspired décor, referencing the planet Earth and its processes. For example, the range of elongated, asymmetrical shaped bathware by Rogerseller, such as this Carrara marble sink mimicking the crater shapes caused by volcanoes.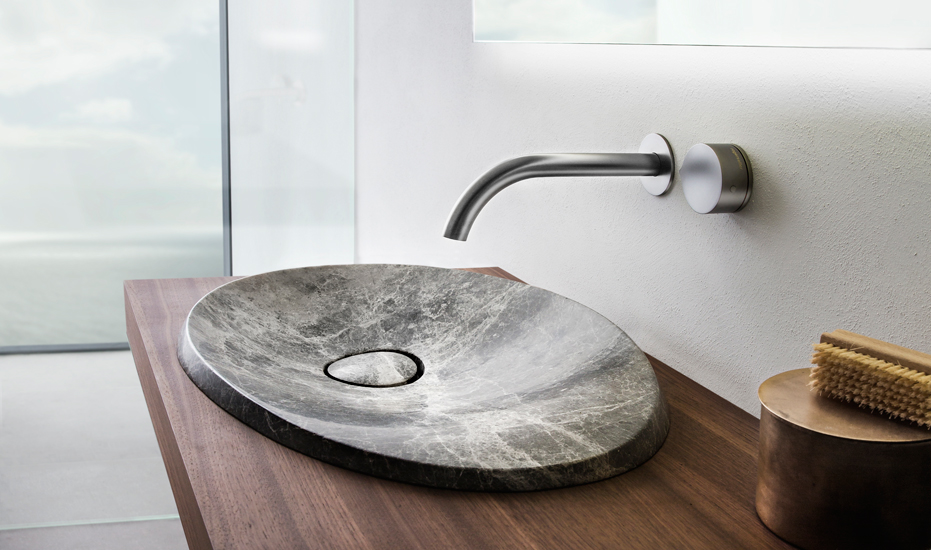 11. Materials
One of the most obvious things you notice about luxury bathrooms is their emphasis on beautiful materials. Other décor elements are often stripped right back so that the eye can simply take in the stunning materials with little distraction. The bathroom below is a perfect example—simple minimalism but with the lavish use of glass, stone, tile and warm metal.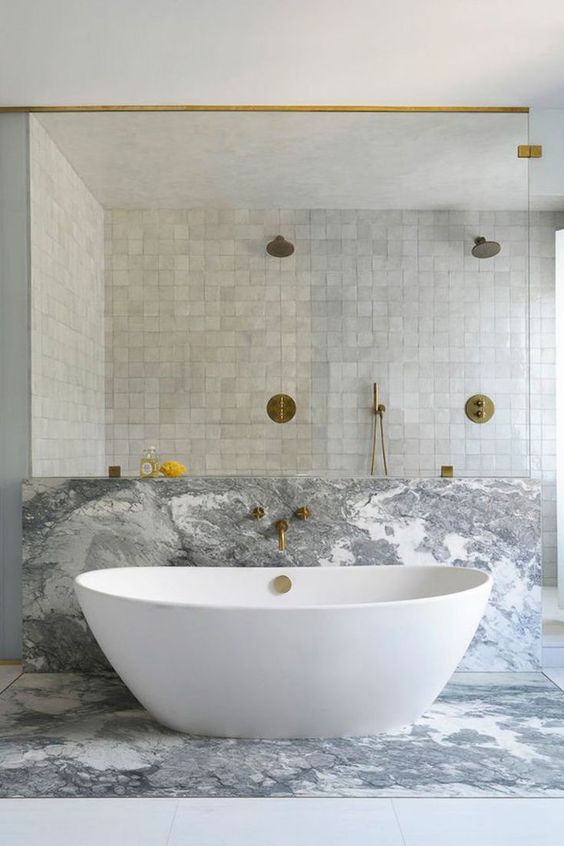 It's also a fantastic example of a Jack and Jill bathroom which is an important design feature in all master bathrooms.
12. Marble bathroom
Marble is naturally a luxurious material and especially so when large slabs of the stone are used. Here, a white tub rests on a raised platform of Carrara marble which continues up the feature wall. Having your bath or shower space up on a podium or step like this, with a floor-mounted spout, brings a sense of regality, perfect for the luxe bathroom.
The marble feature wall serves as a backdrop for the carved niches and the leather-framed mirror. Even the hamper here has a Carrara marble top so that it can double as bench seating.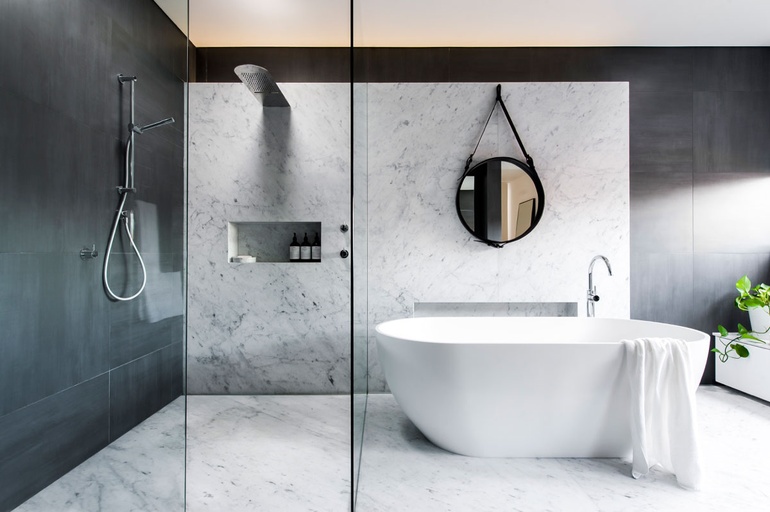 13. Concrete
Concrete bathrooms work really well for a luxury focus on contemporary innovation. This modern material is now being poured into a huge variety of products including tubs, sinks and vanities. Especially suited to a modern, minimalist bathroom, concrete contrasts beautifully with tile and terrazzo, and its contemporary nature is reflected in the addition of sleek, wall-mounted tapware.
Below, handmade-to-order concrete basins like this one can be made in a wide variety of colours and instantly convey the so-called industrial-luxe aesthetic.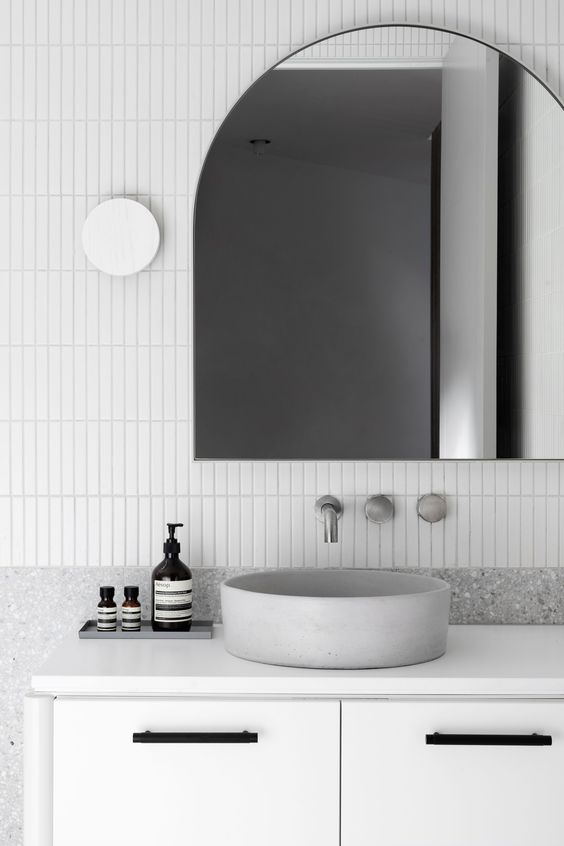 14. Tile
Walls of glorious colour and pattern provide a richly textured backdrop to your statement bathware, whether you go for porcelain, ceramic or marble tile. How gorgeous is this glossy peppermint-coloured ceramic subway tile combined with matte porcelain-marble wall tile in iceberg tones?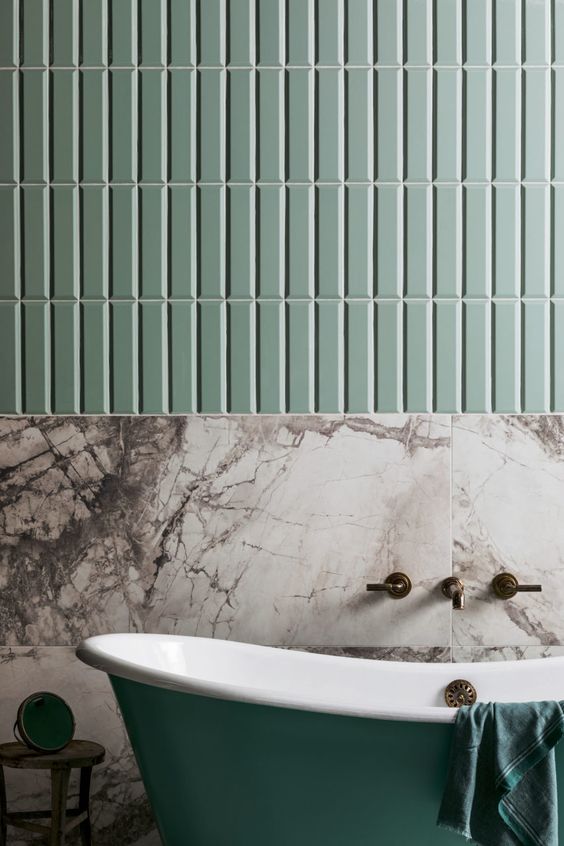 For plenty more tile inspo, see these bathroom tiles ideas and if you already got your tiles picked out, you can also find a bathroom tiler.
15. Timber – shower
With luxury bathrooms having an emphasis on real and natural materials, timber is the perfect choice for creating a luxury spa/sauna atmosphere, especially it's ecologically-certified timber or timber finish (that is, using water-based or natural oils and waxes). In the wooden bathroom below, wood is the star of the show—even down to the louvred shutters—with crisp accents added in white and chrome.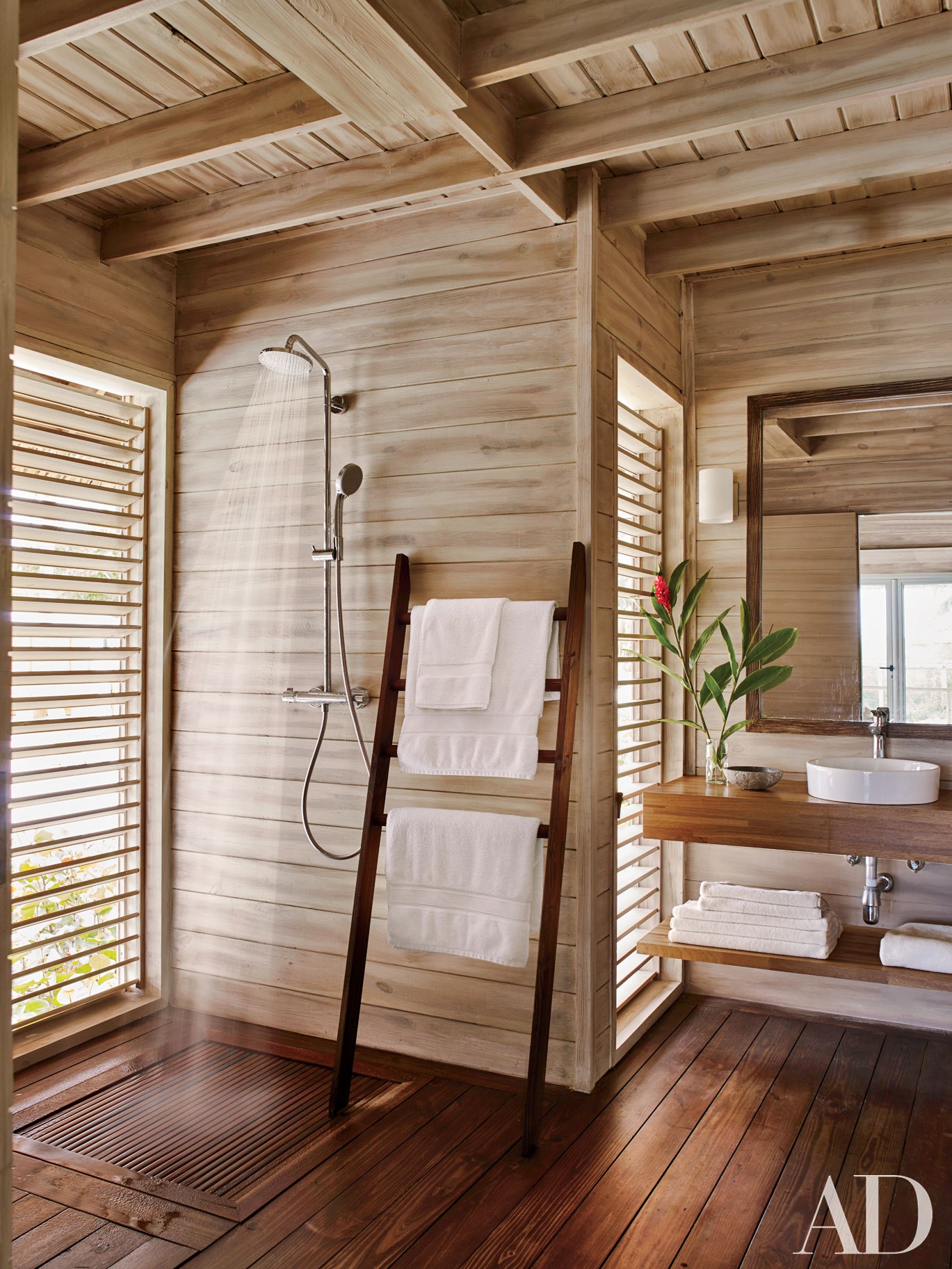 16. Timber – tub
Isn't this bathroom a heavenly slice of serenity? With its calming organic touches and tactile materials, it's perfectly designed for a relaxing soak that could almost be deep in a forest somewhere. The 'Shell' tub here is by architect Nina Mair and is sculpted from a solid block of walnut using a computer-aided milling machine. The tub is hand-polished and oiled "many times" and paired here with a copper-piping spout.
I love the contrast with the Perspex furniture and the soft lines of the rug. And the little aqua pendant light adds just a little touch of modernity—again contrasting with the moody candlesticks.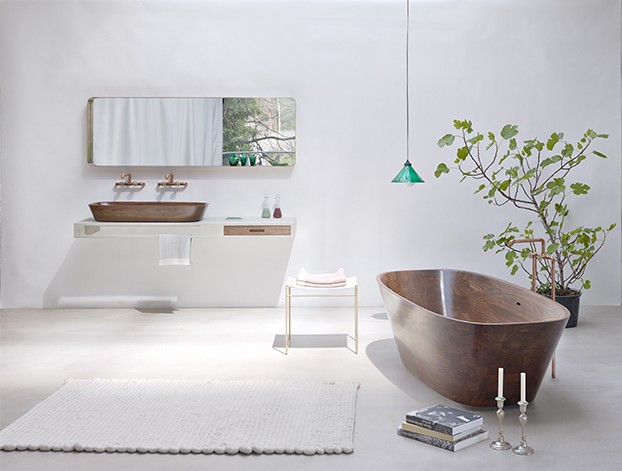 17. Concrete and marble
Fairy-floss pink concrete sinks contrast with black tapware and two kinds of tile (mermaid and large format marble wall tiles) for a pretty contemporary bathroom. The cold surfaces are warmed up by the pink colour tones and by the timber vanity, despite it also being topped in concrete. I love the clean lines, soft pastel tones and geometric forms in this subtly luxurious space.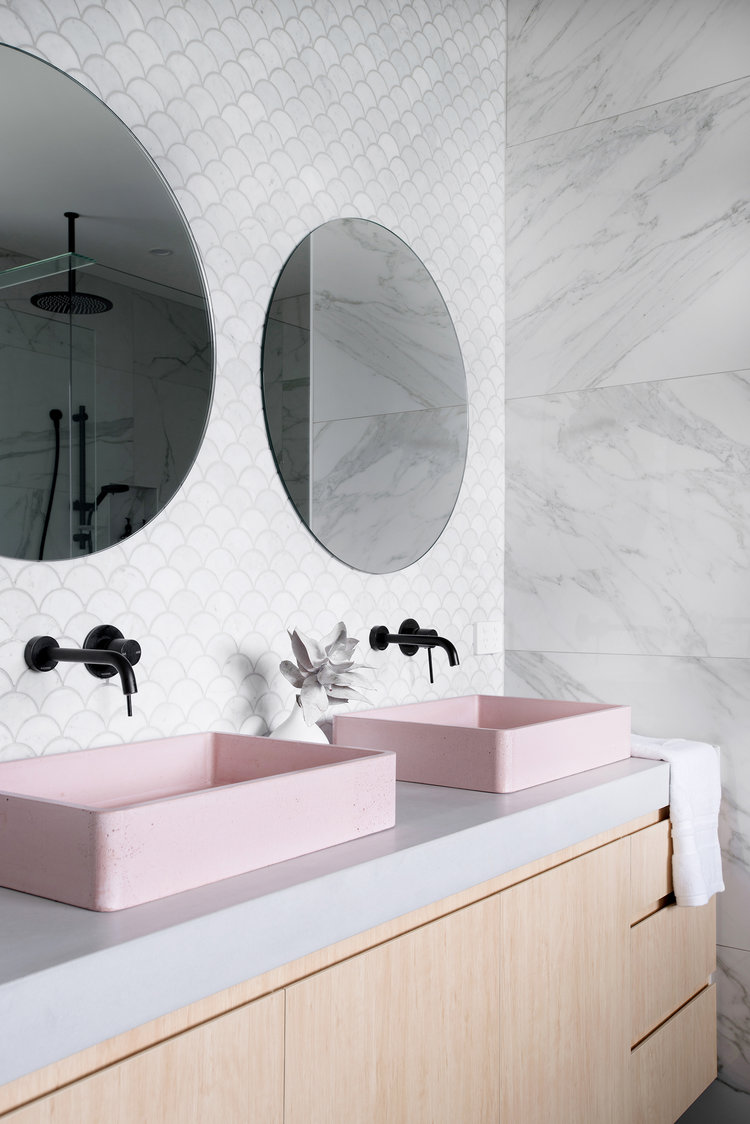 For help with a custom vanity, why not speak to an expert bathroom cabinet maker.
18. Glass and concrete
Iridescent glass tiles in ocean colours plus frosted glass blocks for privacy in the shower area, together with a cast-concrete bench, combine to create a functional, fresh and bright space in this Canadian all-glass-and-concrete home.
A large flush-mount ceiling shower together with a rainfall showerhead provides a generous, fully immersive shower experience, as expected from a luxury bathroom. Need expert help with showerhead or exhaust fan installation?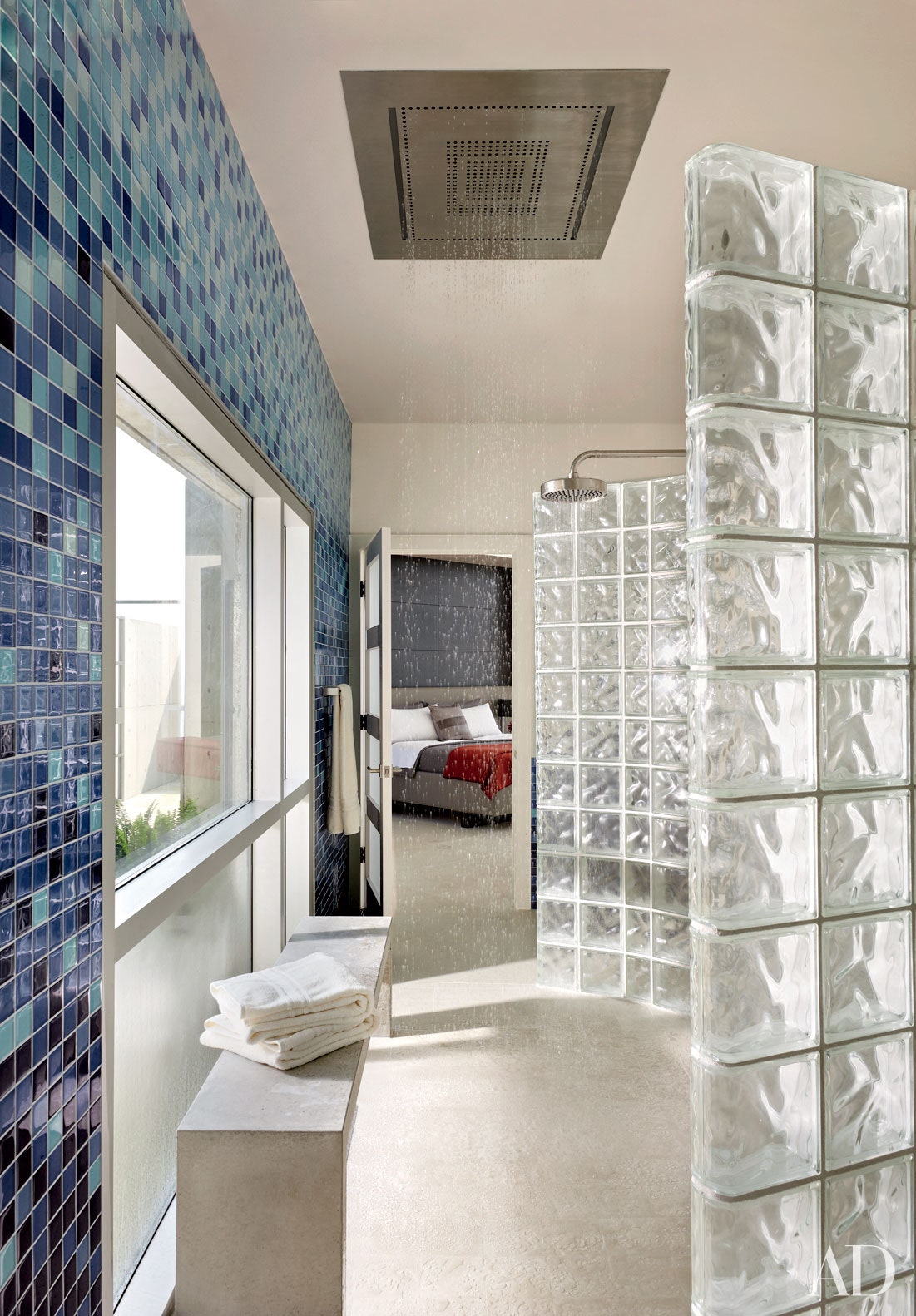 19. Antique
It's a truth universally acknowledged that traditional styling, vintage brassware, clawfoot tub, antique mirrors, furniture and light fittings will culminate to create a classic luxurious atmosphere, as seen in this Scottish hotel bathroom. I'd feel like I was living in a historical romance novel when using this Art Deco bathroom.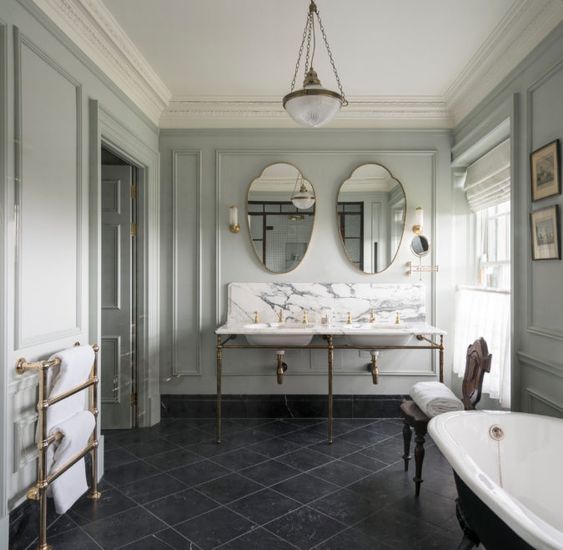 20. Modernist
Create a sense of luxurious sophistication by combining moody dark walls with a designer sink with minimalist hardware. Add a cool, avant-garde touch by using concaved mosaic wall tile in a rich colour like this bottle green. Increasingly popular in luxury bathrooms, three-dimensional 'relief' pattern tiles, or other textured tiles, give depth and interest to your space.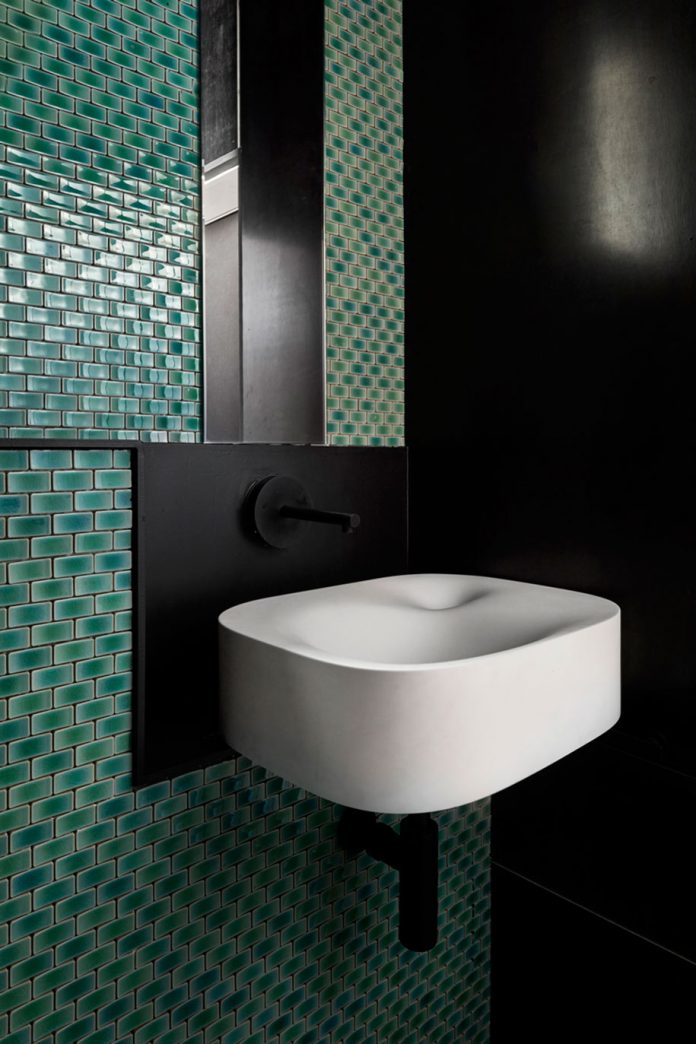 21. Fancy luxury bathroom
A bathroom that's a little bit extra here and at the other end of the scale to minimalism. The colour scheme is simple and monochromatic, but the antique-style furniture and classic clawfoot tub convey plenty of luxury and elegance. The gilded chandelier and sculpture really add to the Parisian glam aesthetic of this space. And how about that giant arched mirror?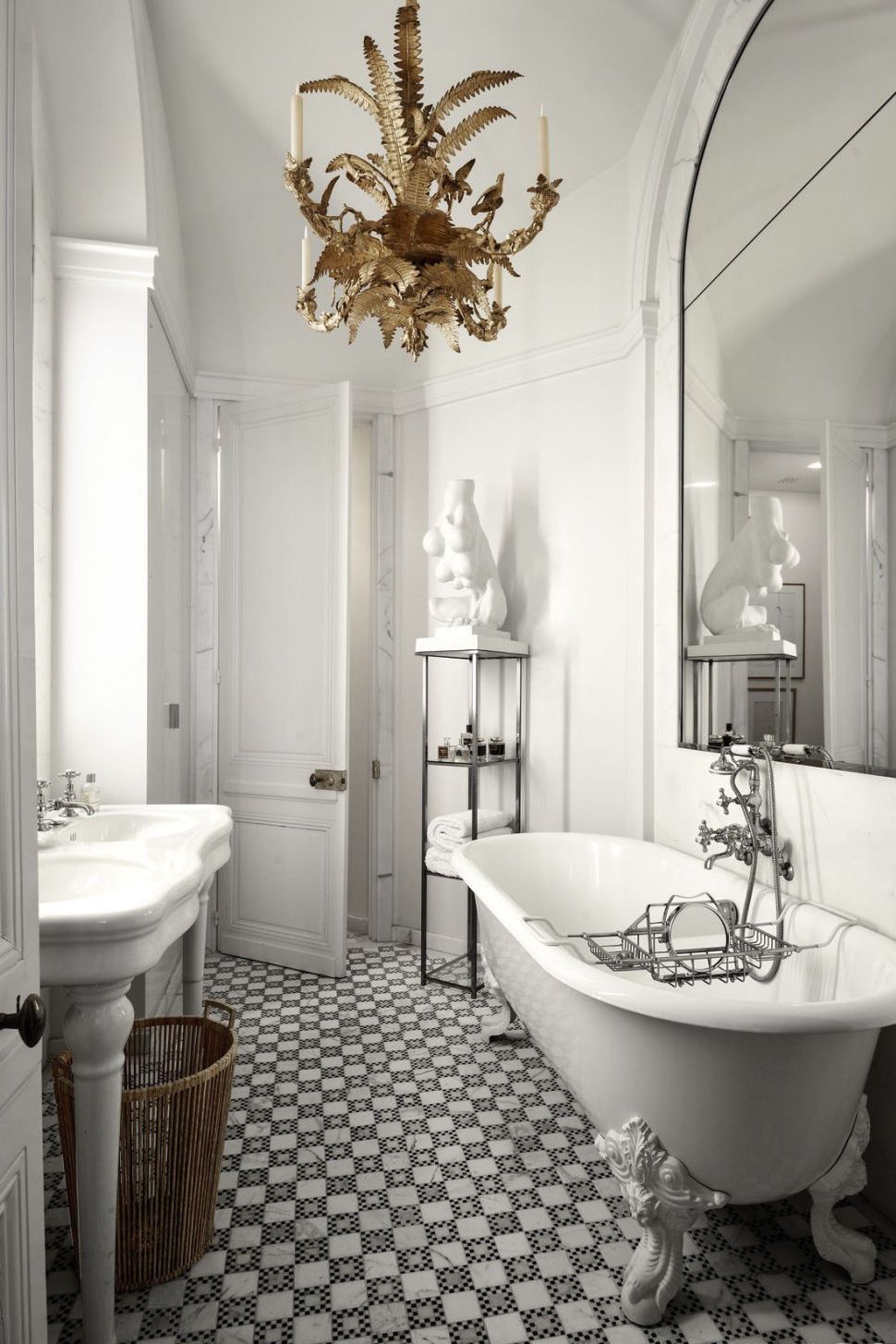 22. Sophisticated luxury bathroom
Update your basins and tapware for an instant luxe look. Coloured countertop basins are popular for making a statement, while changing up the tapware is a relatively affordable and easy way to add sophistication and glamour.  Matte black tapware instantly spells modernity but brushed nickel and brass or warm gold-toned fixtures also work.
I love the stylish grey panelling here and the backlit mirror that adds just the right amount of light in this darker-toned space.
23. Avant-garde
If you love a modern aesthetic and enjoy being at the forefront of experimental design, you'll love the intense colours and unexpectedly-shaped sinks and bathtubs created by the Italian company antoniolupi.
Celebrating geometry, form and colour, the tubs and basins are made from a transparent resin which is coloured in ten unusual colours that spark "infinite reflections". Eye-catching and creative, these unique designs offer a chance to really stand out.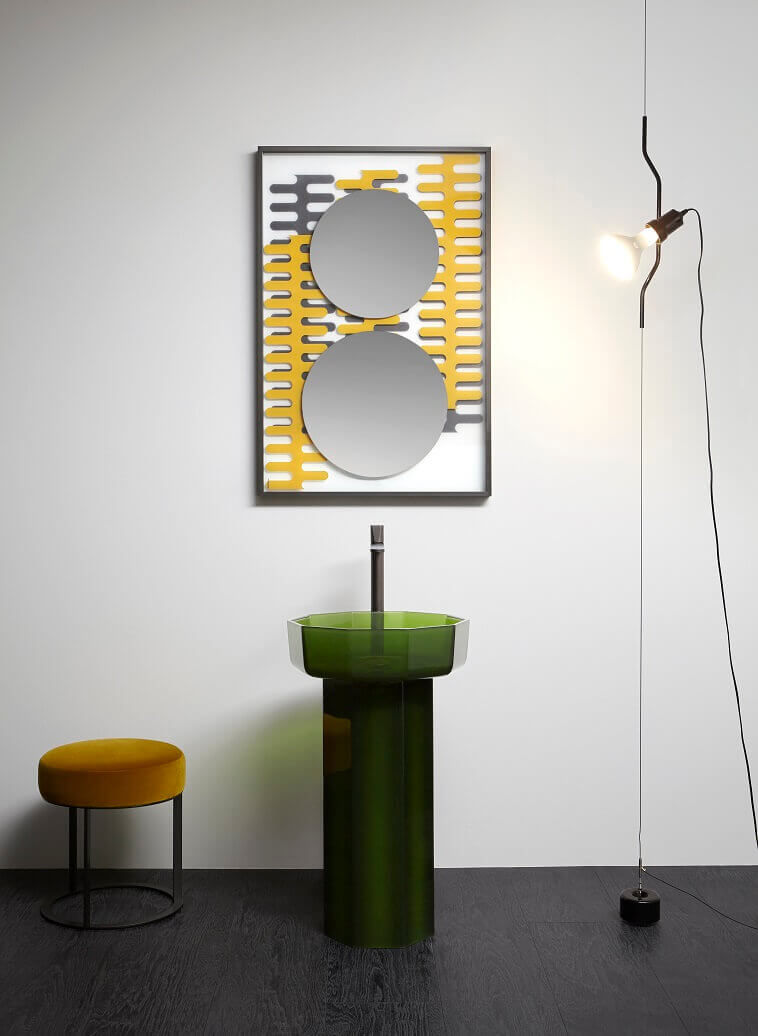 24. Vintage
If you want to create an elegant, glamorous atmosphere in your bathroom, source a fabulous vintage vanity or cabinet and make it the hero. Contrast it with a contemporary basin and mirror, add some pretty wall sconces and plant-life, and you have a luxurious space with loads of personality and character.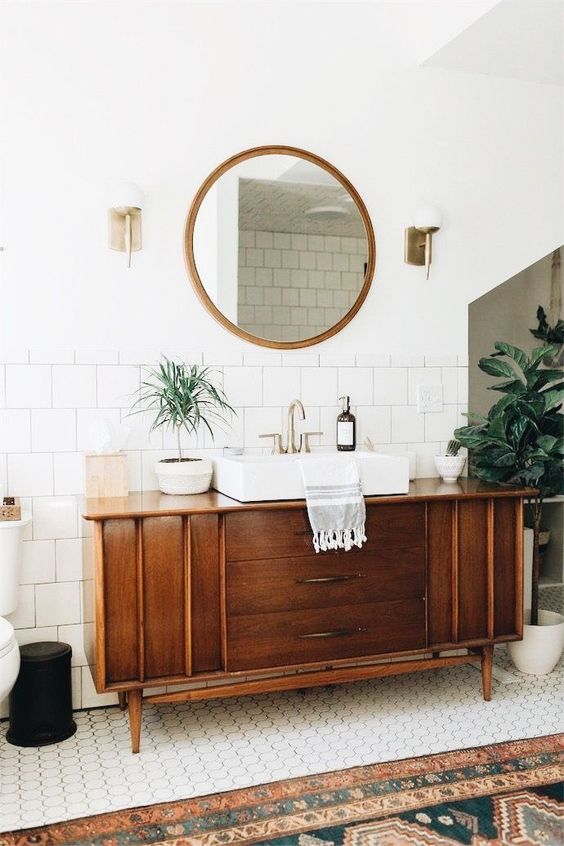 25. Coastal
Since bathrooms contain a lot of cold surfaces, it's also important to generate a sense of warmth and this can easily be done by adding timber, potplants and organic woven textiles like the gorgeous rattan pieces in this pretty beachy blue bathroom.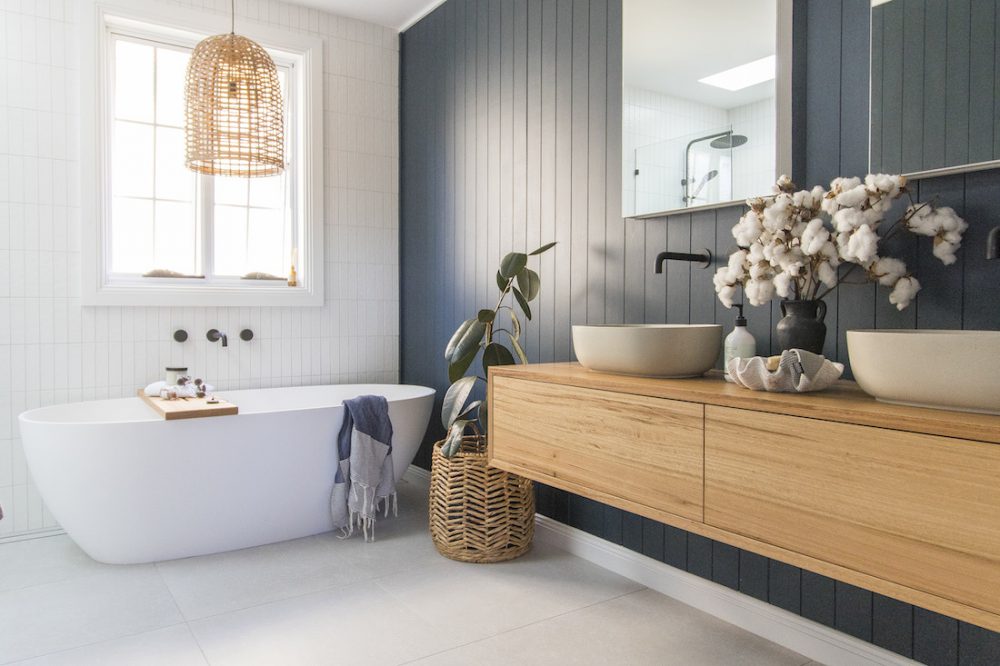 26. Hotel-luxe
This Great Gatsby-style hotel in the US industrial town of Williamsburg is an example of how to achieve the hotel-luxe look, with its classic silhouettes and mix of old and new décor elements. The classic brick-laid subway tile is a gorgeous teal and pairs so well with the brass fixtures and fittings and those clean, inviting white marble vanity tops.
Blending traditional and modern elements gives a sense of timeless beauty and modern-day luxury that the best hotels have—and that you can replicate at home.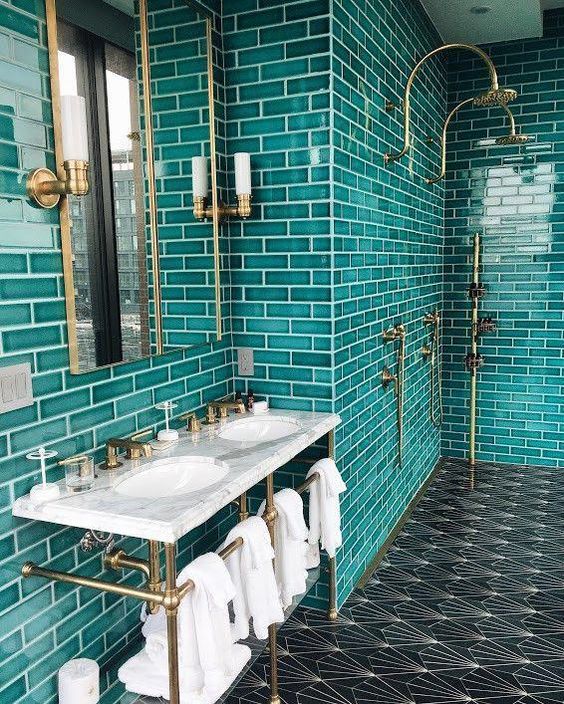 Love the floor tile here? Speak to an expert on bathroom flooring about how to create your dream bathroom floor.
27. Bold luxury bathroom
A luxury bathroom needs to be an Insta-worthy space or else it doesn't count, right? One way to incorporate loads of personality and style into your bathroom (and your bathroom selfies) is to inject the space with liberal doses of vibrant colour.
This modern bathroom clashes colour wildly but brings in harmony with the orange-tinted shower screen and frame matching the feature wall, and again the same tone reflected in the copper pot plant.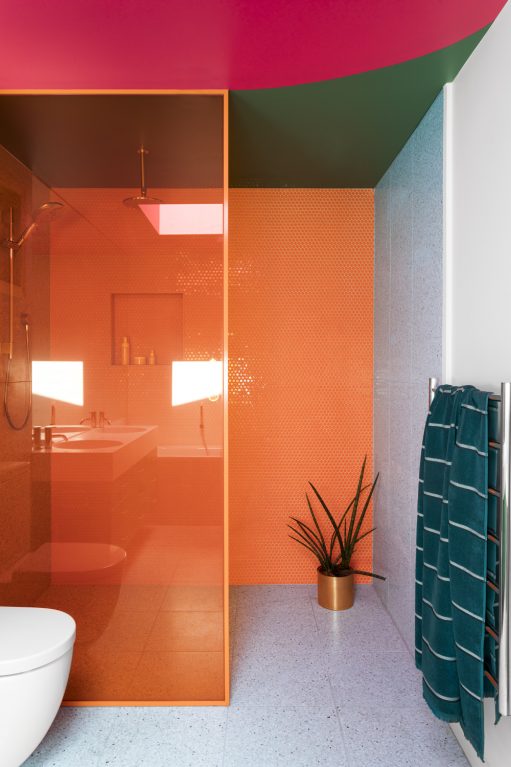 28. Classical luxury bathroom
It's easy to create a classically luxurious bathroom look simply with marble wall tiles, white cabinets and gold-toned tapware and fixtures.  How beautiful does this faucet look against the marble? I also love the witty vase—in the style of a Greek statue, it reinforces the classical styling in a light-hearted way.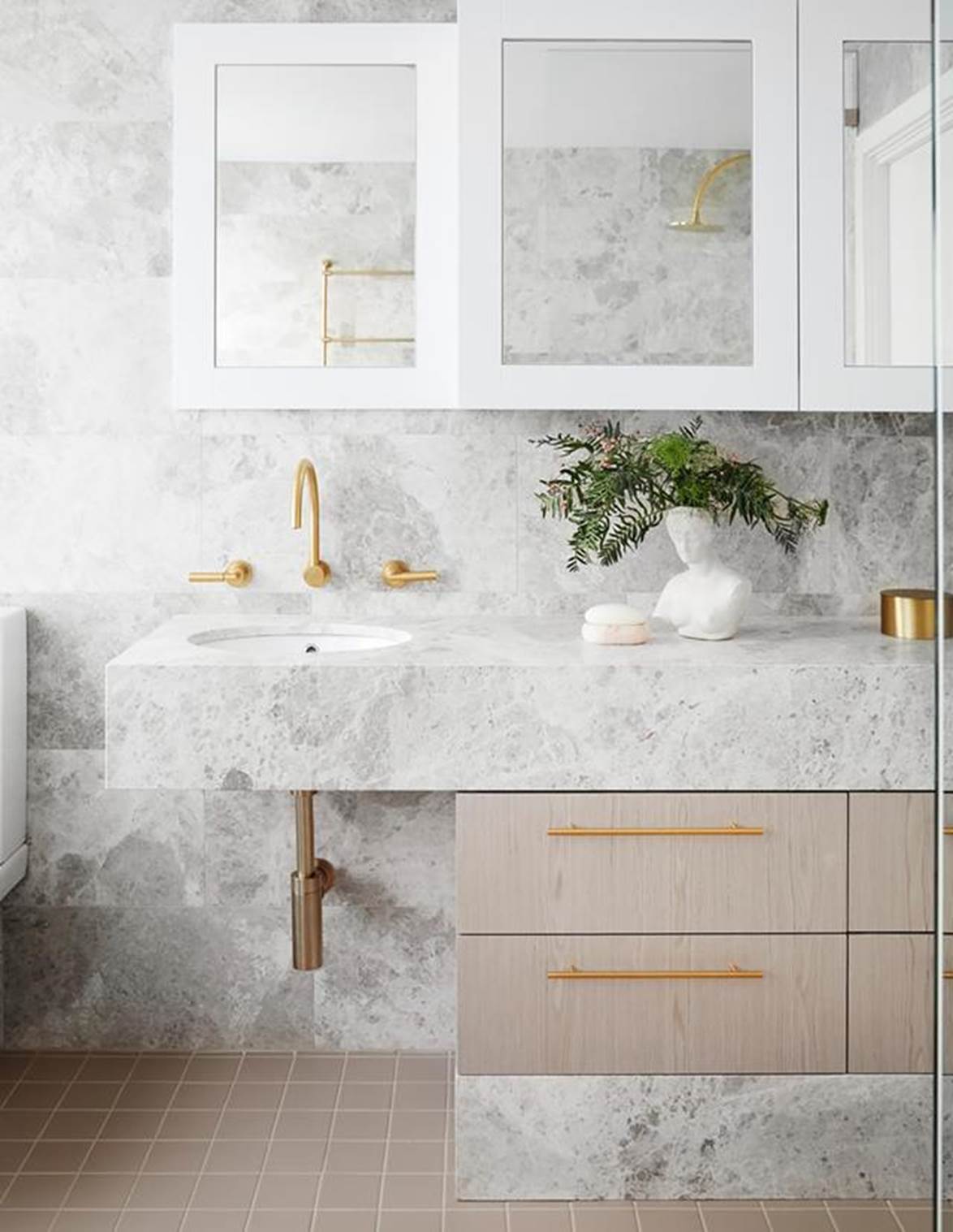 29. Chandelier
This bathroom is pure light—from those gorgeous windows to the delicate crystal and gold chandelier. It's really a luxury in itself having high ceilings in your home so if you do, celebrate them by drawing the attention upwards with a dramatic chandelier.  A minimalist bathroom like this truly benefits from an oversized or extravagant statement light to contrast with all the clean lines, here also balanced by a colourful rug.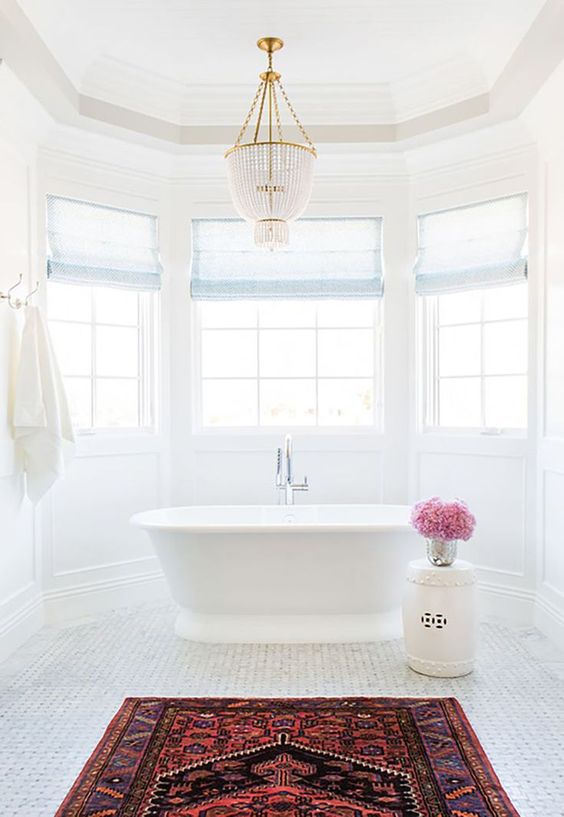 30. Storage
A luxury bathroom should have plenty of bathroom storage, whether in a huge bank of vanities, as seen below, or with recessed mirror cabinets or open shelving. This frees up floor space and keeps things feeling light and airy. Furniture is ideally floating or wall-mounted to add to sense of spaciousness. And to double down on the feeling of luxury, choose elaborate, ornate, gilded mirrors like these ones.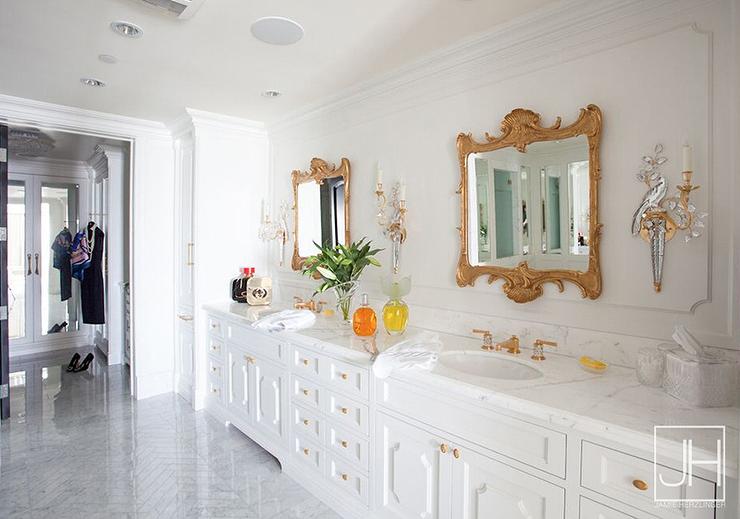 31. Plants
Style up your luxury bathroom with an extravagant pendant plant, such as this quirky air plant arrangement. Juxtaposed with neat and tidy contemporary décor, this wildly sprawling collection of plants is a conversation starter with plenty of visual interest.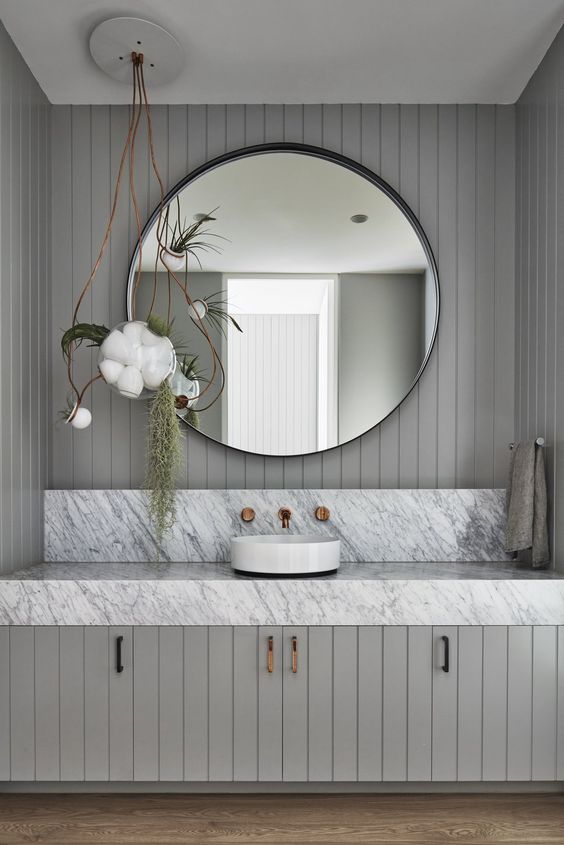 There are so many varieties of plants that love the hot and humid environment but make sure you get the right one. Here's our collection of our favourite bathroom plants.
32. Luxury light
Abundant light really makes a bathroom appear luxurious.  Make the most of your natural light, of course, but also plan feature and task lighting that will set the mood and bring a luxe feel. Pendant lights or decorative wall sconces, LED backlighting and undershelf lighting are all options to explore (and you might like to read our article on bathroom lighting for more ideas).
Here, that spa feeling is derived from making a feature of the large windows with some ethereal drapes, and by adding a large glass pendant statement light.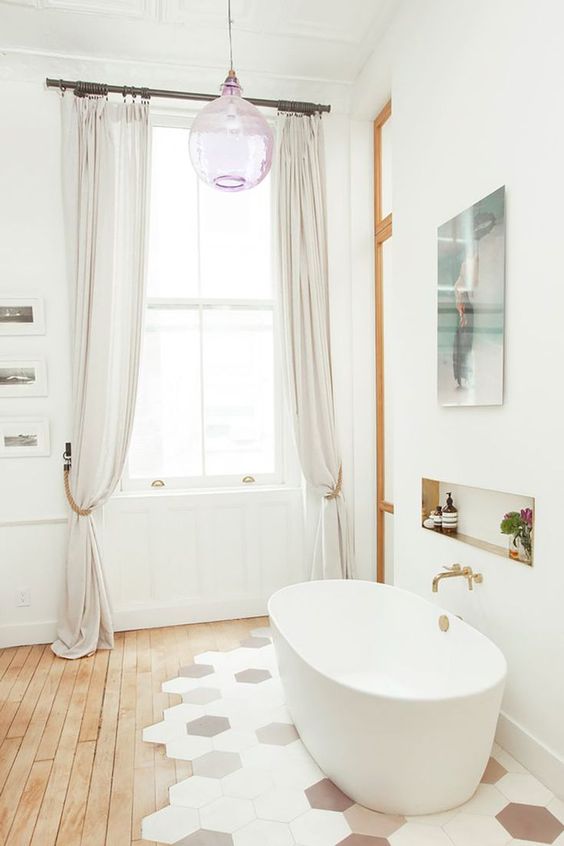 33. Windows
Luxury bathrooms tend to be infused with abundant light.  Take advantage of all the natural light from a large window (it helps if you also have a heroic view, but even your backyard greenery will do). With the window the focal point in the bathroom, just a few other striking elements are needed: a crystal chandelier, deep soak tub and a few curated objets d'art.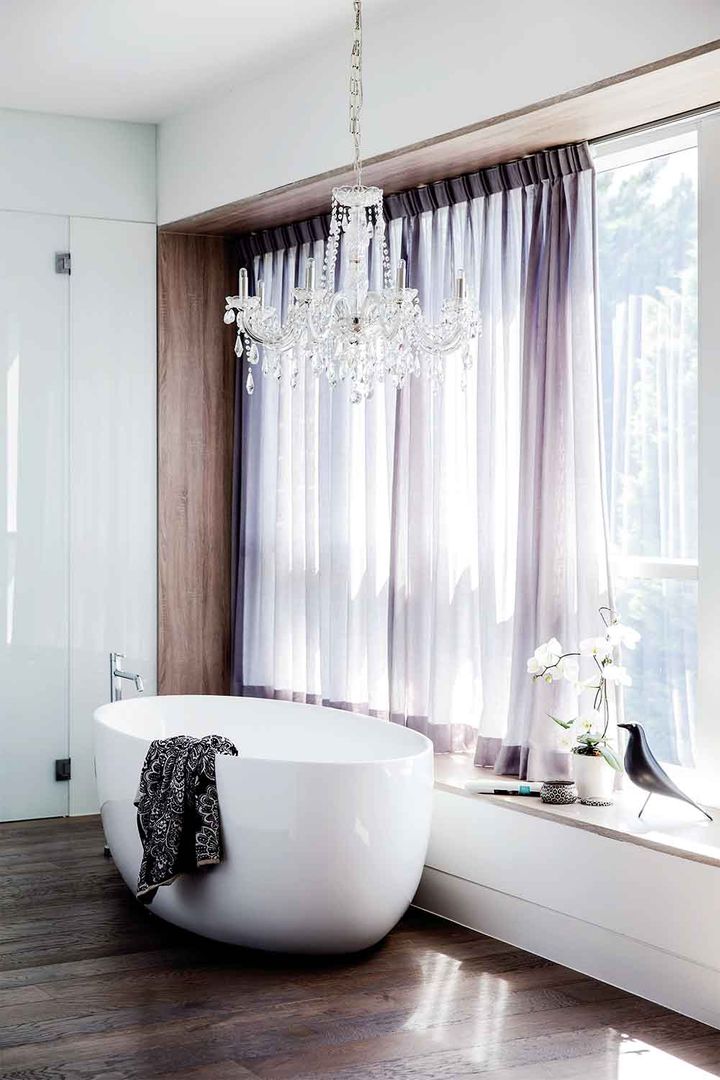 34. Skylight
A luxury bathroom should be bathed in light, both from natural sources and additional task lighting for self-care duties. Adding a skylight is an easy way to create that spa vibe and bring in more natural light (and it also makes night-time bathing that much more magical).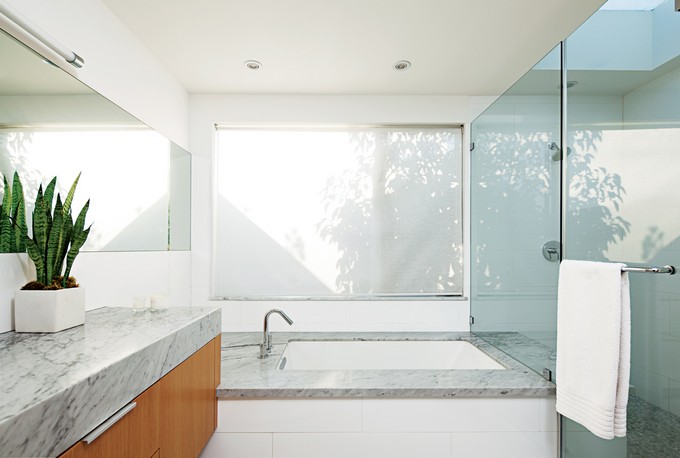 35. Understated
Simple and serene, this bathroom has everything you need and nothing more. Unfussy, honest and functional, it's the perfect example of a luxury bathroom styled as an idyllic retreat to unwind and pamper and clear your mind from the distractions of everyday life.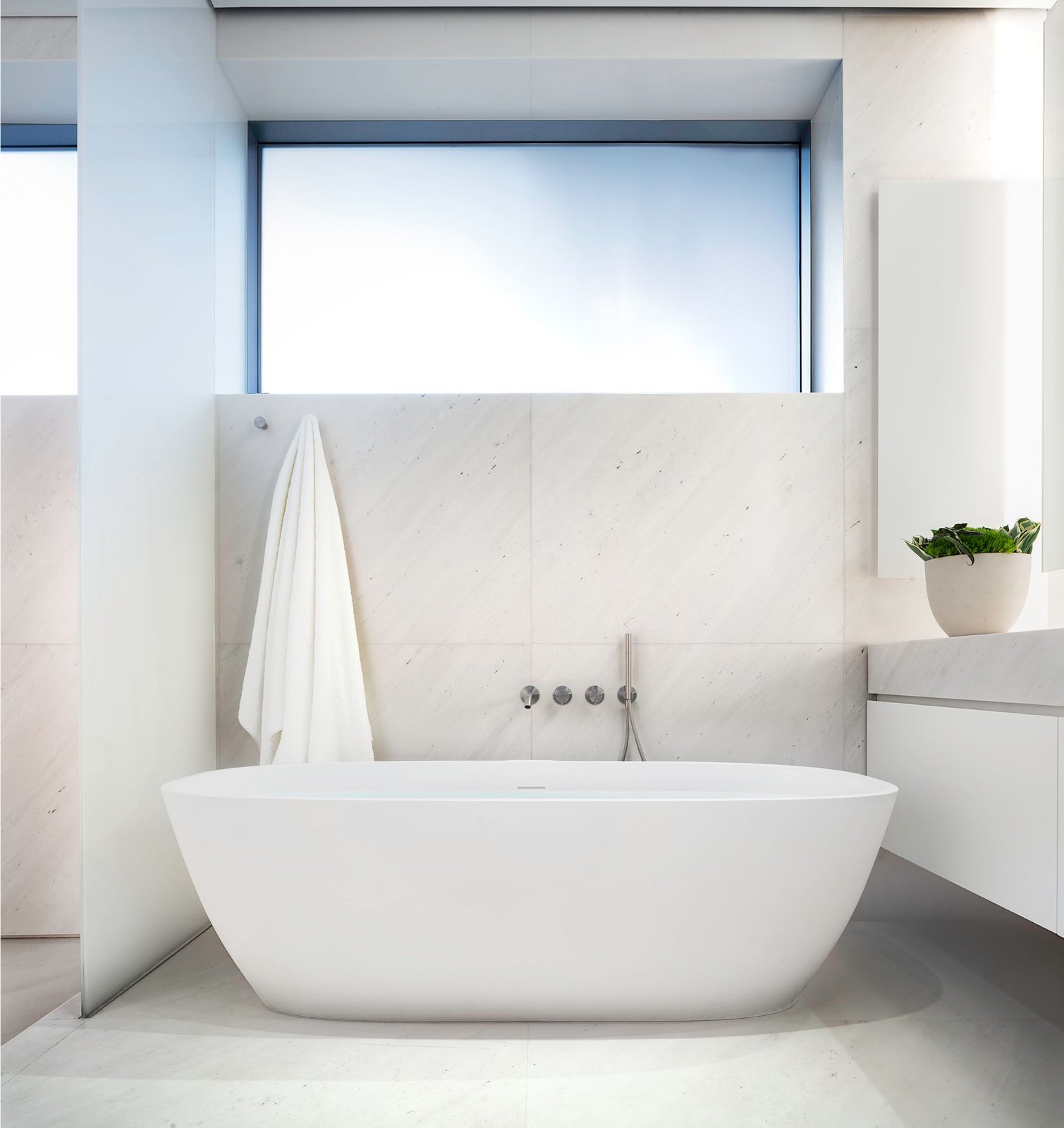 36. Overstated
An over-the-top, bold coloured or patterned bathroom tends to imply luxury for the simple reason that remodelling isn't exactly cheap and yet an intense design may tire or date faster, meaning gambling on potential future remodels. A bold aesthetic suggests an attitude of "I don't care, I want what I want and hang the costs!" It suggests throwing caution to the winds, being daring and extravagant—just what you'd expect from a luxury homeowner.
37. Fluffy robes
Don't forget the robes! If you're keen on the hotel luxe aesthetic for your master bathroom, reinforce it by hanging two white bathrobes on a rail and keep other décor hotel-style and minimal. Below, the stylish environs of the Hotel Calile in Brisbane.
As you can see, luxury is in the eye of the beholder. And it's not really about ostentatiously showing off–honestly, all that matters is that it feels luxurious to you!
I hope this has given you some inspiration for your bathroom remodel or build. You can always find an expert in bathroom renovation who will be able to guide you further. And don't forget to view our blogs on general bathroom ideas, master bathroom ideas and bathroom décor trends.
Already looking for a plumber? You can also view our price guides to find out how much a plumber costs generally, or, for example, how much mixer tap installation costs.
Now over to you – what does luxury mean to you? Let me know in the comments below!