Marble has been making a powerful statement in architecture and interiors ever since the dawn of civilisation—there's simply no denying the everlasting beauty of this natural stone. Let's take a look at marble bathrooms.
These days quarried in about 32 countries, the market for marble is mainly dominated by Italy, China, India and Spain. You'll often hear the names Calacatta, Carrara, Travertine and Arabescata used, but there are really hundreds of stunning marbles to choose from, in a kaleidoscope of colours. Being an organic, natural material, no two pieces of marble are the same, and this uniqueness forms part of its allure.
More experimental uses of the stone are appearing in recent years, and people are exploring applications beyond the traditional. Playing with texture, colour and imperfection are all still strong trends.
You can make marble the hero by swathing your space with it (if you can afford it that is!) but marble will also steal the show if you simply invest in a smaller element like a marble feature tile or a stunning marble basin.
Below, I've gathered 29 marble bathrooms ideas which will have you wanting to bring the precious stone into your home self-care sanctuary.
1. Enchanting mermaid tiles
Have we had enough of mermaid tile yet? I don't think so! Ever so pretty here in marble to complement the beautiful marble wash basin. This minimalist bathroom boasts the simplicity, clean lines and soft neutral colour palette that infuses Scandi or coastal bathrooms. But while it's beautifully pared back, the incorporation of marble also adds a touch of extravagance that lifts it out of the ordinary.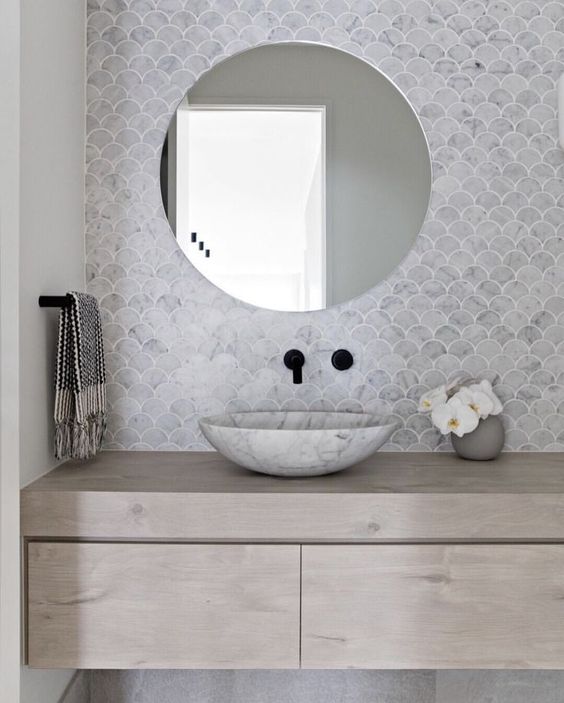 Need help laying a stunning wall of mermaid tile? Find an expert bathroom tiler.
2. Fifty shades of marble
Actually, there are hundreds! Well-known white marbles like Carrara or Statuary or black marbles like Nero Marquina are often desired for bathrooms. They just fit so well into an all-white bathroom and monochrome and dark bathroom aesthetics. But there are plenty of other marble colours to be found, such as beautiful greys, blues and burgundies.
3. In the pink
There's a huge variety of marble colours to choose from, including a wide range of pinks, from hot pinks to dusty pale roses. Pink creates a soft, elegant ambience and is symbolic of happiness and positivity. And it's an increasingly popular choice for marble bathrooms. Often quarried in Spain and Portugal, the most common pinks include Rosa Portugues (the pinkest). But there are also more neutral pinkish marbles like Rosa Zarci, Rosa Levante and Rosa Aurora.
4. Sophisticated wine tones
For a stunning powder room, add lots of dramatic flair with a creamy coloured sink with deep purplish veins. For example, Turkish Milas Lilac or Calacatta Viola. Pair with muted wall colours (navy is a great choice) and add warm hardware.
5. Deep, dark and mysterious
If you've decided to go for a dark and moody bathroom aesthetic, then one of the black marbles would be perfect as a statement, focal point. When you have dark walls with dark accessories and fixtures, adding black marble as a material is a good way to bring some lightness and texture back in through the veins. Below, a gorgeous dark marble vanity. Only a genuine marble expert can really distinguish between some of the more similar kinds but the designers tell me this is Belvedere marble.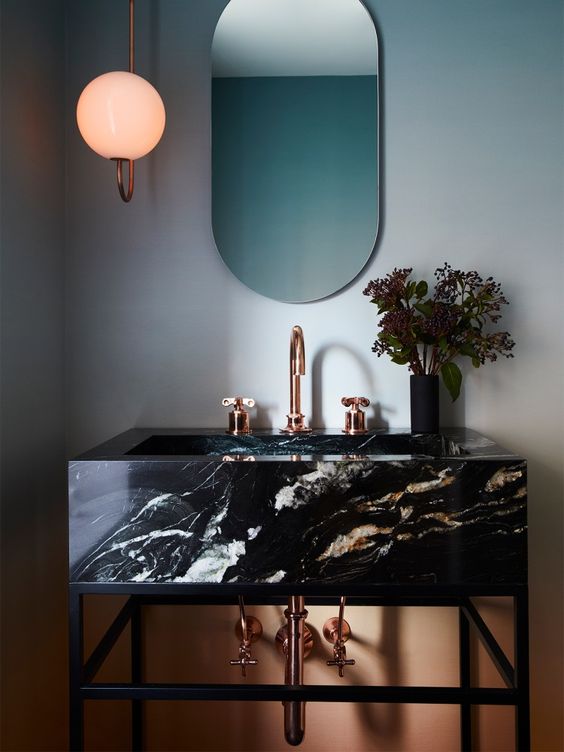 After a bespoke vanity? Find a bathroom cabinet maker to help you copy the style you love.
6. Cool stone, warm metals
For a traditional marble bathroom aesthetic, go for a white and grey tiled shower paired with warm-toned hardware. Using warm-toned tapware such as brass, gold or champagne is a great idea when incorporating marble. The warmth of the metal counteracts the innate coolness of the stone. The hardware also stands out much more against the marble, compared with silver finishes.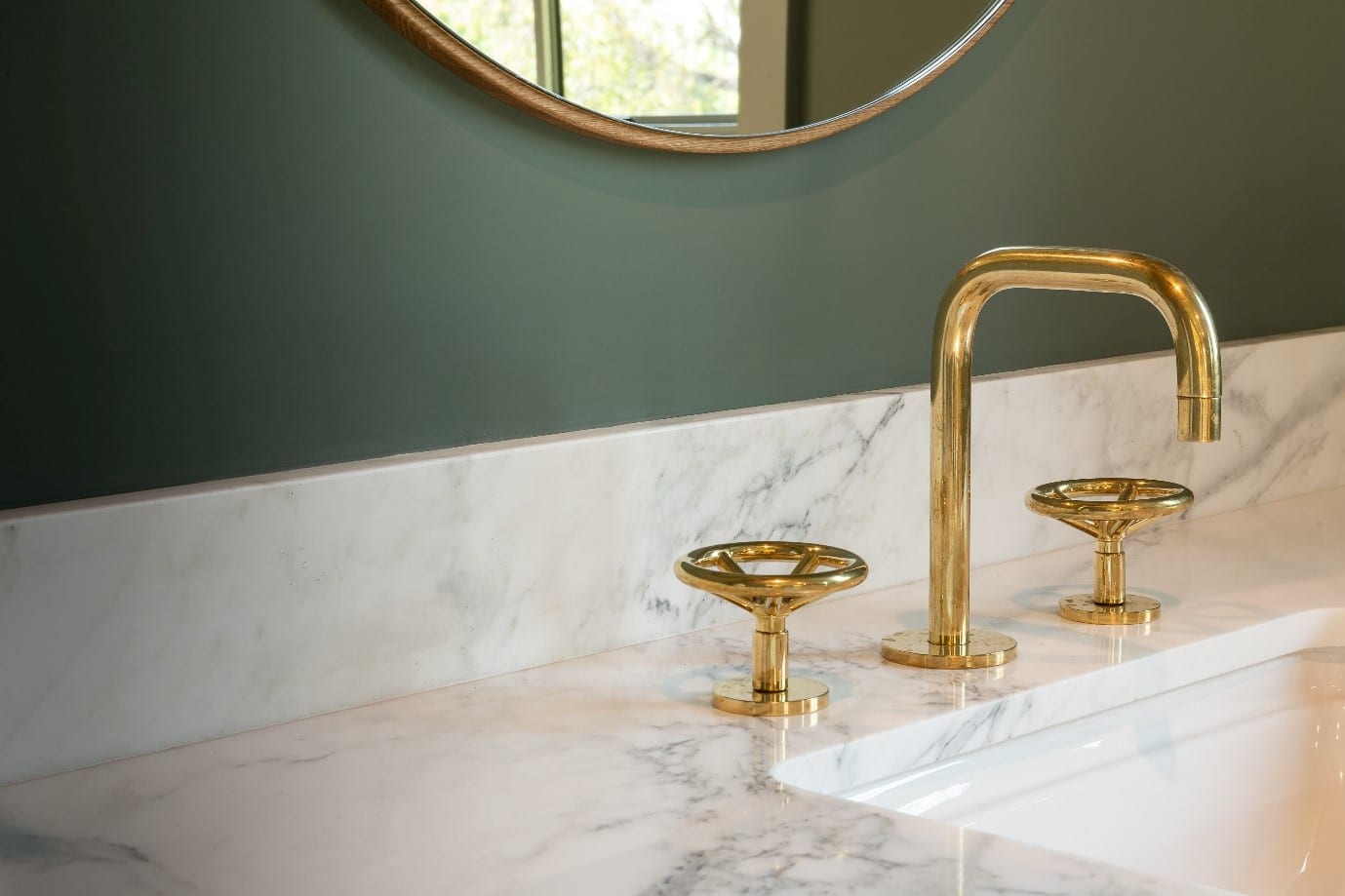 Installing a new shower? Find the right shower head installation expert to help–and don't forget the ceiling fan installation as well.
7. True blue
Blue is a colour that has been shown to have a profound impact on us both psychologically and physiologically, inspiring calm serenity and even lowering our blood pressure! A blue bathroom design will create a soothing environment that evokes the ocean. And marble achieves this even more so with its dramatic waves and seascape swirls. You might consider some of the South European blue marbles to achieve such a look.
8. Peaceful patterns
Carrara marble tiles will always look stunning in a bathroom, especially when laid in neat geometric patterns like herringbone or chevron. Here, cool tones in the grey and white flecked tiles and countertop contrast beautifully with the warm tones of the floating timber vanity and the pendant light. The soft lines of the tiles together with the rounded forms create a relaxed, minimalist, contemporary aesthetic. Love this stylish pendant lamp? Check out heaps more bathroom lighting ideas.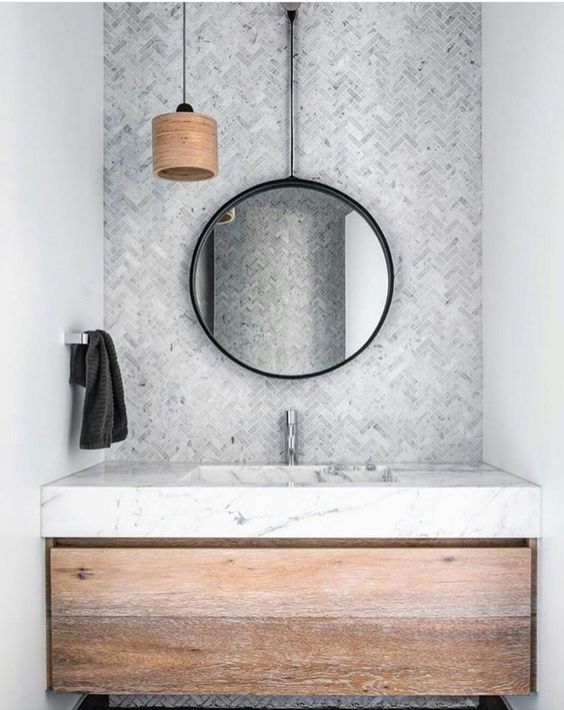 9. Dramatic walls
Marble walls really have that wow factor and will transform the simplest space. You might contrast a black marble with white veining in the shower with a white marble/black veined feature wall. Then keep it all unified with marble mosaic flooring.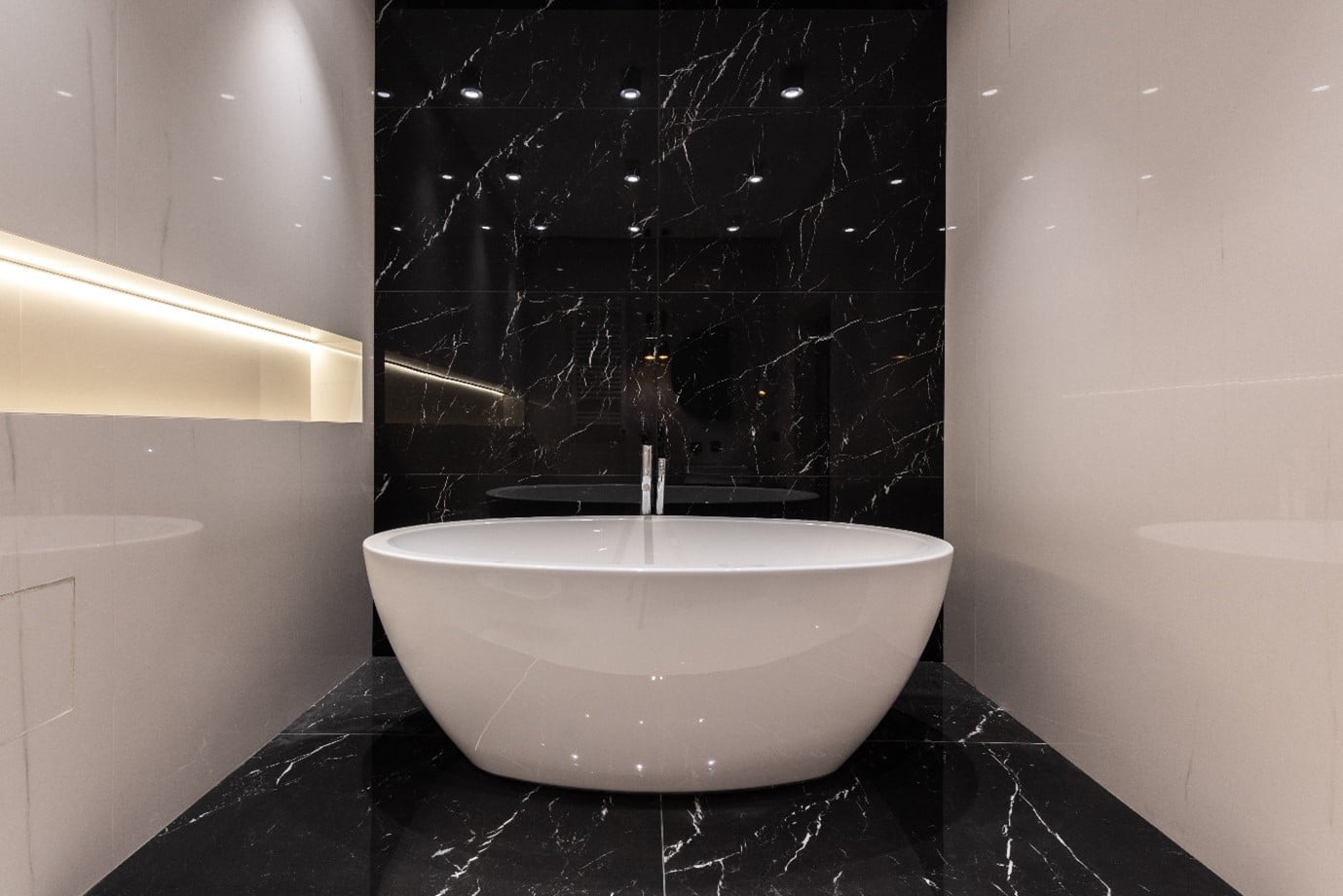 10. Dreamy greens
Another stunning option for coloured marbles is one of the mesmerising Indian green marbles on the market. Green marble differs a bit from other marble in that it has less calcite content and more of the mineral called serpentine, which gives it its brilliant colours. It comes a wide variety of shades, from pale seagreens to intense emeralds, and pairs beautifully with gold toned hardware.
11. Sophisticated and glamorous
Marble bathrooms can evoke the glamour of Hollywood's Golden Era. So if you love Mid-century Modern, try a classic black marble vanity paired with walnut wood, luxe brass steampunk hardware and exposed bulb pendants.
12. Onyx
A gorgeous alternative to marble is onyx. Onyx is in fact considered a sister stone to marble, due to having the same mineral content. A pink onyx sink, together with matching backsplash, looks striking paired with wall-mounted brass tapware. All you need to add is a bunch of pink flowers. How divine.
13. Marble on tap
Add a subtle tinge of luxury to your bathroom with honed Carrara marble disc taps like these by Wood Melbourne. The taps come on single or double backplates, with backplates either made of timber, marble or brass (either aged, sealed or raw). Described as "a pleasure to turn" because of the tactile nature of the natural materials, they look gorgeous with similarly minimalist gooseneck brass faucets. The makers note their taps must be installed by a plumber to ensure perfection—find a plumber, or you might like to check out typical plumbing costs and mixer installation costs first.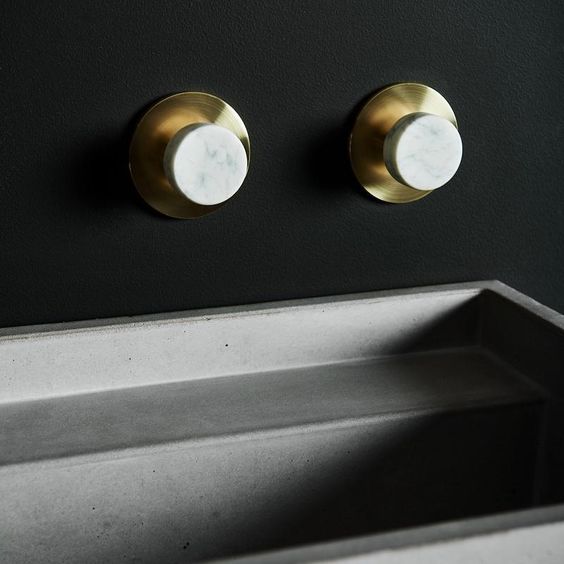 14. Mix marble tile with subway tile
Emulate a Victorian design aesthetic by running floor tile hallway up the wall and adding feature tile above it. Statuary marble tile provides a traditional flavour. Meanwhile vertically-stacked subway tile adds a contemporary feel, as does champagne wall-mounted tapware.
Have a marble bathroom featuring generous amounts of tile? Make sure it looks pristine by having a professional clean your tiles cleaned—find out how much grout cleaning costs.
15. Go with the faux
A more economical option than real marble is marble-effect porcelain or ceramic tile. It's also arguably more environmentally-friendly than real marble, as it doesn't involve quarrying the land. With digital technology, makers are better able to recreate the characteristic texture and 'veining' of real marble. So no-one needs to know you've gone faux. A large format marble wall tile looks the goods in a contemporary bathroom.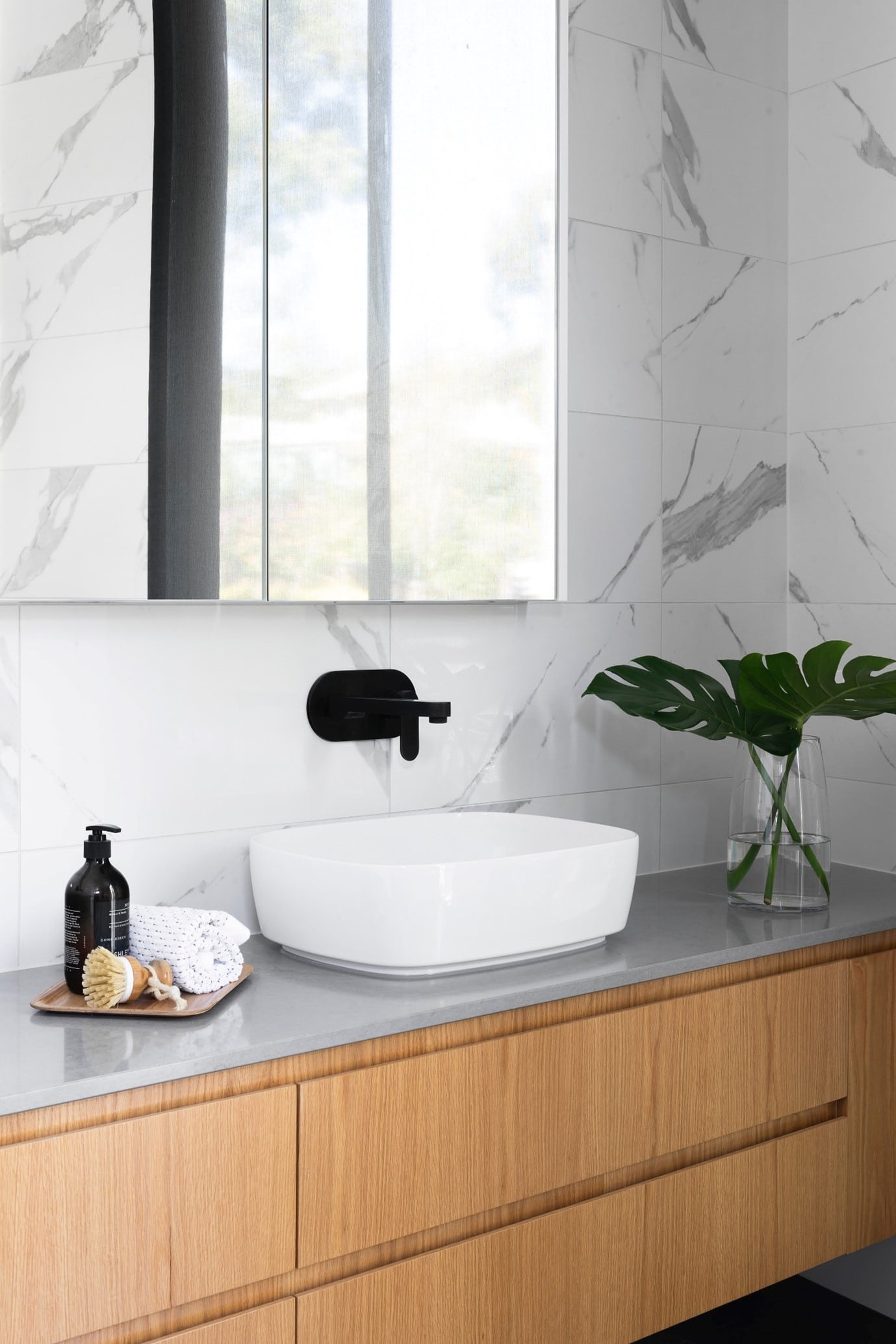 Love tile? Here are loads more bathroom tile ideas for inspo.
16. Scraps to frame a sink
Keen on the look of a marble bathroom but not so much on the high-end price tag? Marble scrap-yards can be sourced for discarded offcuts of marble that you can use to DIY a backsplash and add loads of character to a plain space. Other savvy home decorators utilise marble remnants to top bathroom cabinets, shelves or vanities for that luxe, refined flavour without breaking the budget.
17. Mesmerising mosaics
It's becoming more popular to lay Carrara mosaic tile in unique patterns. The flickering colours of hexagonal marble mosaic tiles are just as hypnotising as herringbone and other geometric tile patterns. The stone is also naturally cool and relaxing. And it makes a stunning textured background to modern black taps and, for instance, a contemporary concrete sink.
18. Basins that aren't basic
For a statement sink, take inspo from the Italian-designed marble drop wash basins on the market. Modern and elegant, they're typically made from valuable marbles such as Bianco Lasa/Covelano "Machia Vechia" quarried from the Italian Alps. This marble is considered so special because it has such a uniform crystalline grain. And, it has a strong chromatic contrast in its veining, giving it a refined, absolutely classic marble look. Add a striking floor-mounted tap—the result will be minimalist but so lavish at the same time.
19. Inlaid marble
Inlaid marble is created by a painstaking process of fitting together a puzzle of hand-cut and/or engraved tiny marble shapes into pretty patterns. It's great if you want to create a 1960s op-art aesthetic! And it's ideal for a dramatic powder room, where you might like to go a bit wilder than in your master bath.
20. The sky's the limit
A full feature wall of marble isn't within everyone's budget, but luckily these days you can get wallpaper that emulates it pretty well. This is basically the adults' version of sticking little fluorescent stars all over your kids' bedroom ceiling. Keep the rest of the décor minimal for the full 'bathing under the stars' experience. Interested in bathroom wallpaper? Check out our recent article for more bathroom wallpaper ideas.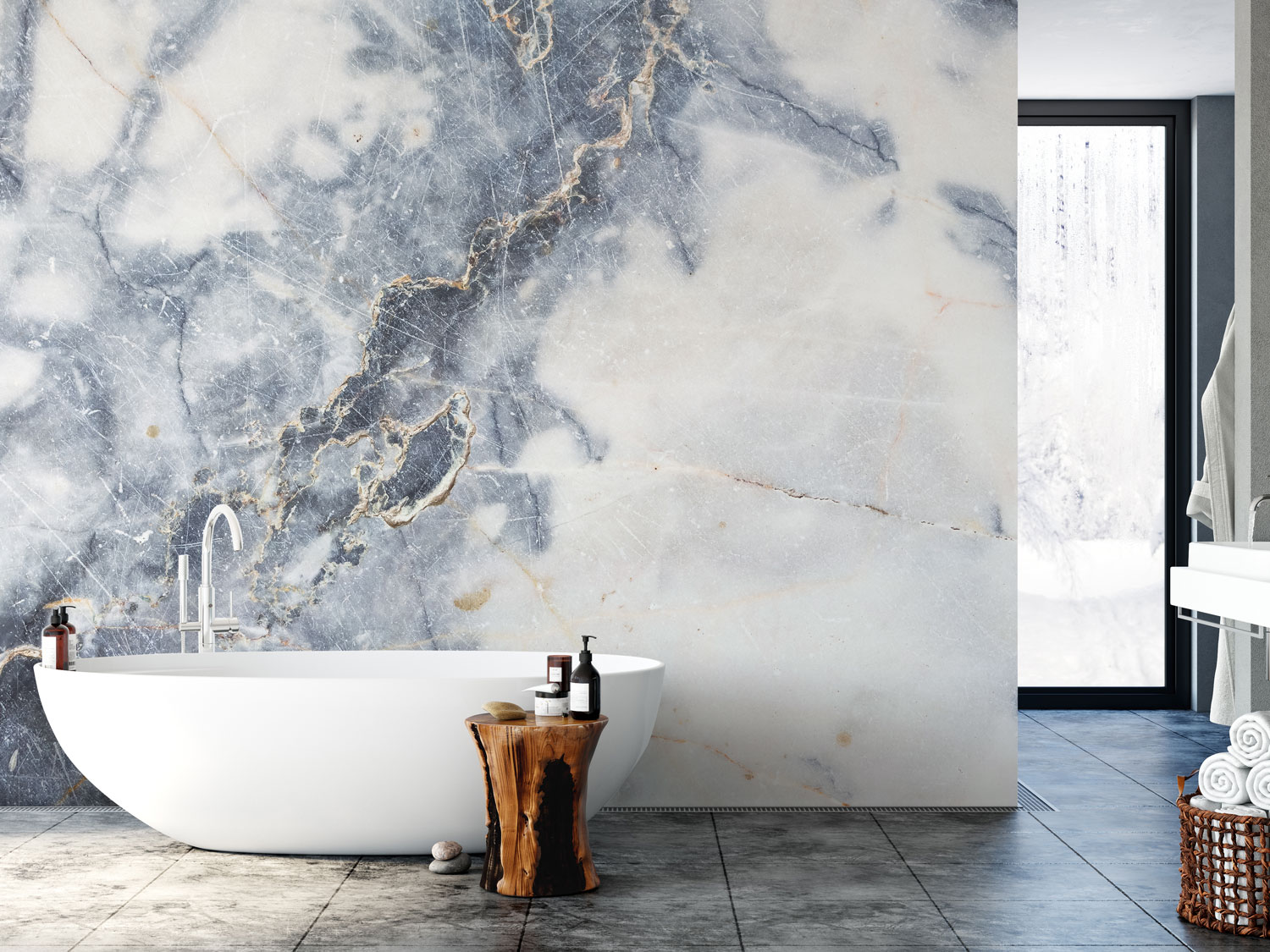 21. Warm it up
A classic alternative to white and grey marbles is golden-toned marble like Calacatta Amber. Traditional Carrara and Statuary marbles tend to have a cold feeling that requires warming up through the addition of elements like timber or warm metals. But Calacatta Amber brings its own heat. This kind of marble tends to have a milky-white background with fine, intricate golden veining. It's often chosen for more traditional bathrooms.
22. All the trimmings
Mix marbles for stunning effect. You might take Carrara marble penny mosaic tile to give a classically chic backdrop to a modern mirror, sink, and light. Then top your vanity with a striking slab of Arabescato marble. Arabescato marble is one of the most luxurious marbles on the market, prized for its stark monochromatic veining.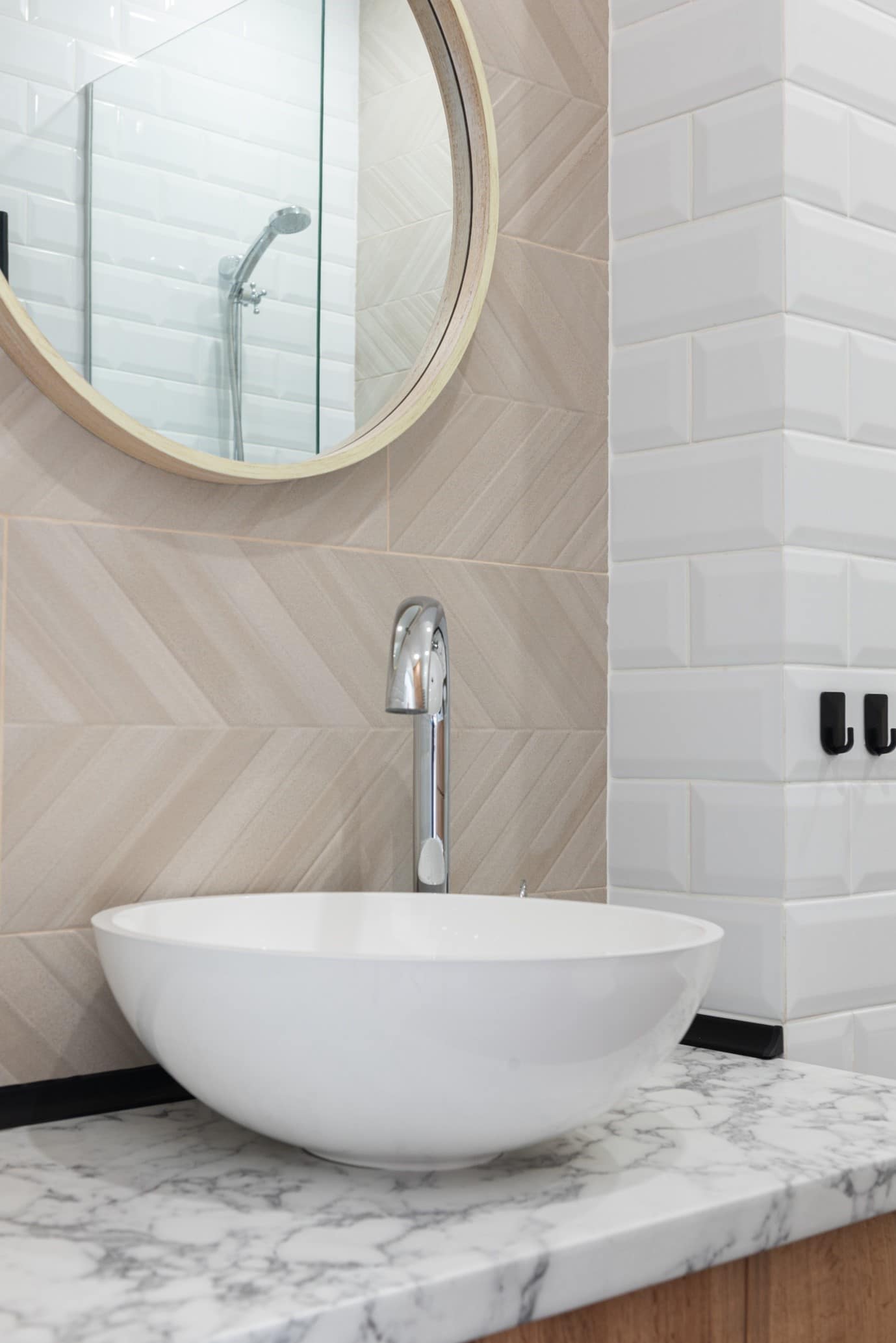 23. The strange lightness of stone
Having entire walls of marble isn't for everyone. Some prefer simply a stunning statement marble vanity or a marble countertop on a timber vanity. For an elegant minimalist en-suite, you might feature a breath-taking, timeless Carrara marble vanity and backsplash. Although the material is heavy, white Carrara marble always feels so light and bright.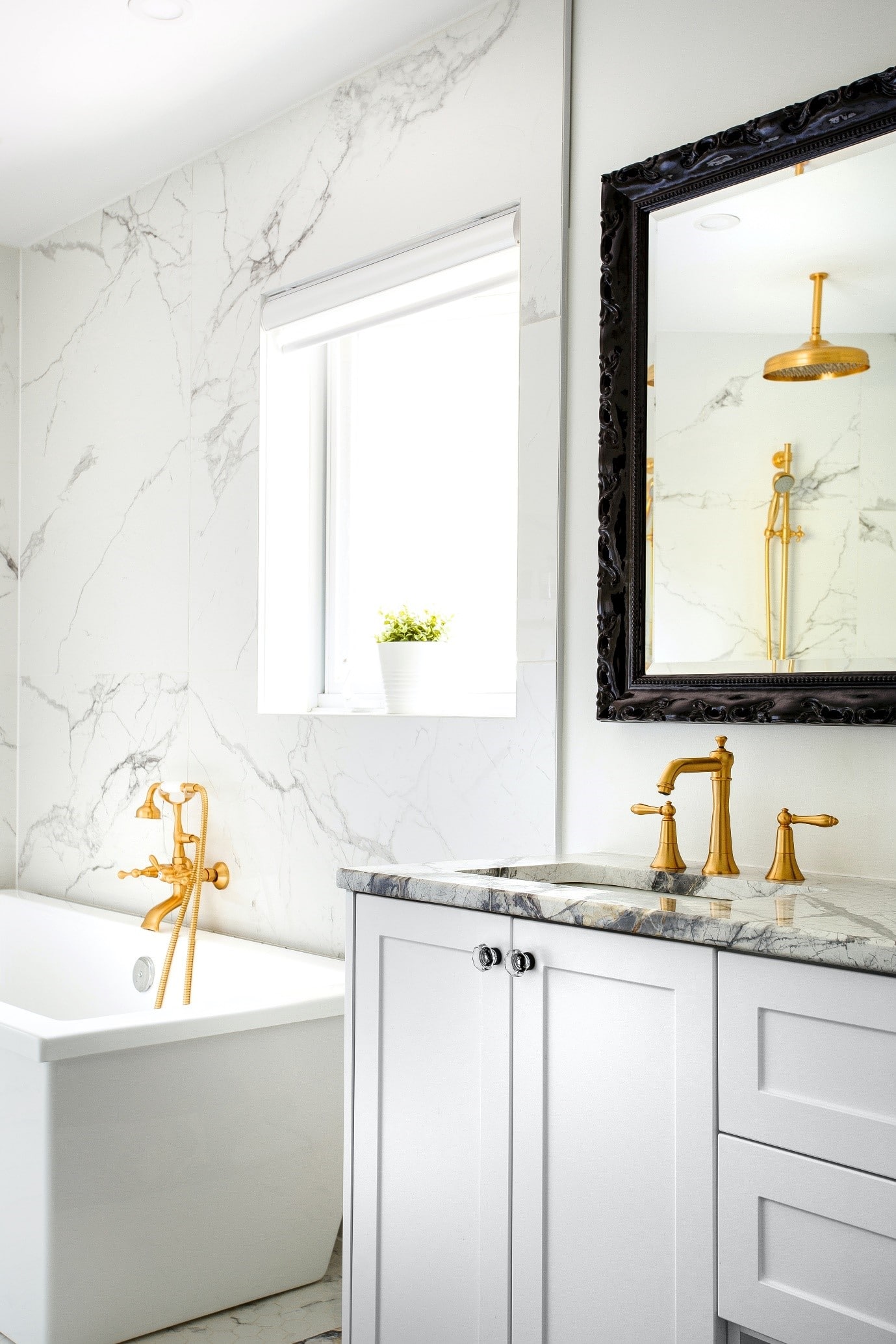 24. The colour purple
One of the more unique marbles is the gorgeous purple Cipollino Ondulato Rosso. It's been quarried in Northern Italy since antiquity. Streaked, swirled and highly ornamental, the marble was given the name "Cipollino", meaning little onion in Italian, as its patterns resemble the layers of an onion. It's a stone you will never tire of gazing at! To enhance a stunning statement purple marble like Cipolllino, consider using violet tones on the walls (tile, paint or panelling).
25. Modern love
Another beautifully coloured marble is the burgundy toned Calacatta Viola. This vivid marble is extracted from the Carrara quarries in Tuscany and is prized for its flowing burgundy veins and pink patches against a timeless creamy white background. It works so well as a classic contrast to contemporary elements like minimalist tapware and pendant lights.
26. Haute stuff
Marble + Chanel are a match made in heaven, both iconically representing timeless but modern beauty and classic, luxurious chic. So it's no surprise to learn that the late Karl Lagerfeld, erstwhile creative director of the fashion house, had started venturing into furniture design. He created a series of sculptural monochrome pieces made from marble, including mirrors, tables and fountains. The pieces were carved from rare Arabescato Fantastico (white marble with dark grey veining) and black Nero Marquina (which features white veining in paintbrush-like strokes). Coco would most definitely approve. Below, it's not a Lagerfeld, but it's in the same spirit: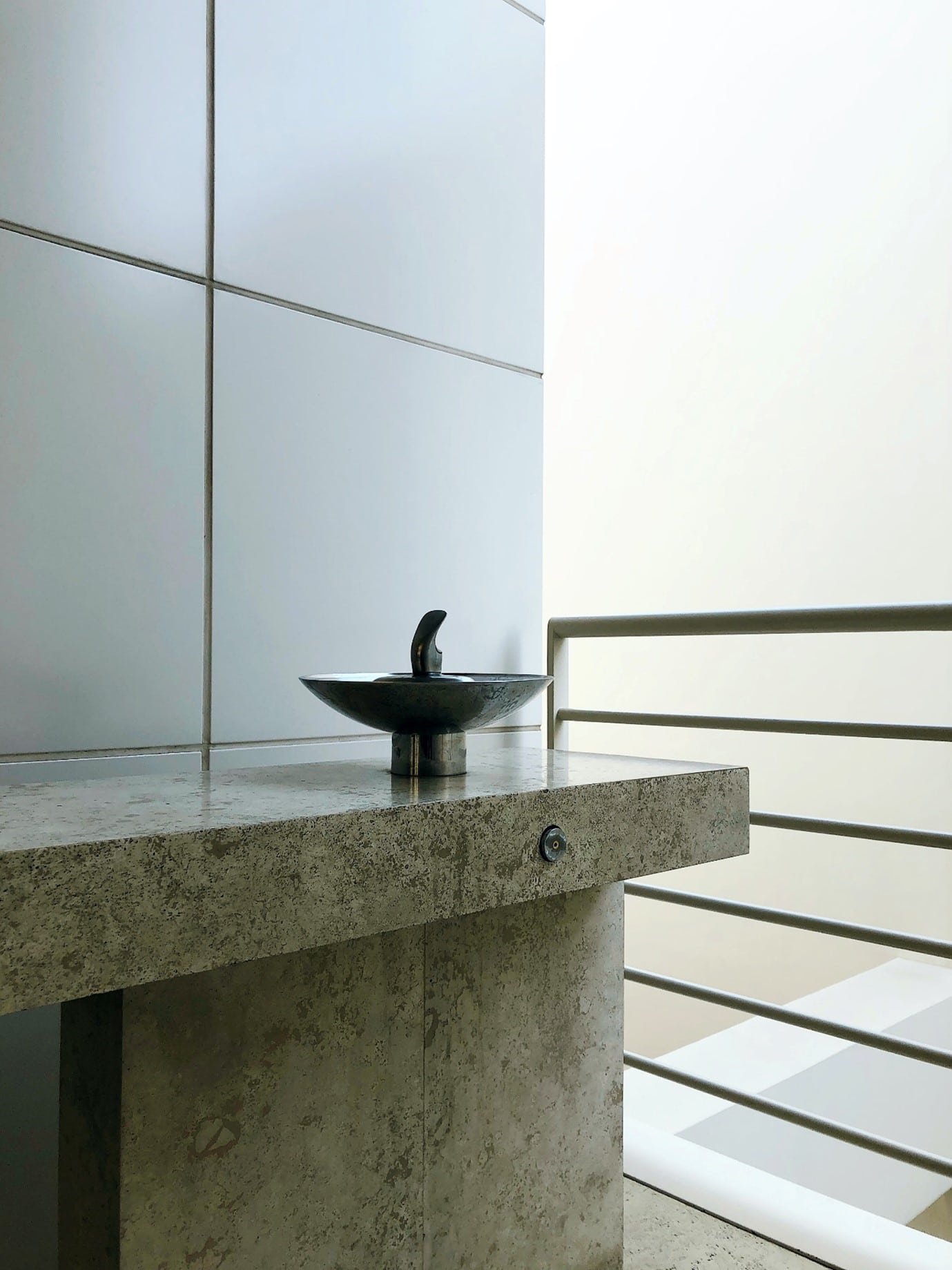 For more monochrome bathrooms, also check out our article on black and white bathrooms.
27. Beautiful beauty boxes
Add sophistication and class to your en-suite with marble accessories such as marble beauty boxes, vanity trays, brush holders and cosmetic containers. A marble makeup station is the perfect way to corral and showcase your favourite products on your vanity. You can go all out and buy real marble accessories, or choose faux marble ones made from acrylic that closely resemble Carrara marble which is both easy on the eye and the wallet.
28. Mini marbles
Introduce just a touch of marble to your bathroom for instant glamour and chic with small marble magnifying mirrors. An elegant update of an everyday functional object that will add sophistication to a plain space.
29. Altrock
Terrazzo is the popular composite man-made material made of marble chips set in concrete or resin—and it's still going very strong in bathroom (and other interior) design. But now there are even more eco-friendly versions emerging, including London designer Robin Grasby's "Altrock", made of 87 percent recycled materials including marble flour (the leftover powder that the marble industry discards as unusable). Grasby creates bespoke products, glittering and pigmented in custom colours, with the "artistically sustainable" material showing up in avant-garde bathrooms in London, Milan and New York. Worth checking out!
As you can see there are so many options when it comes to using marble in your bathroom—you certainly aren't limited to white Carrara walls, as gorgeous as they are! If you're searching for more bathroom décor ideas, why not take a look at our articles on general bathroom design ideas, bathroom trends, master bathroom ideas and get some ideas on creative bathroom storage as well. And when you're ready to press go, hit up an expert bathroom renovator to get the magic happening!
Meanwhile, let me know—which of these marble bathroom ideas is your favourite? I love the dramatic blues and purples myself!