We've all seen an abundance of white bathrooms, but what about stepping a little outside of your comfort zone and introducing some grey into your space? As a neutral and monochromatic colour, grey is timeless, calming and classy. Plus, bathrooms are often a place for relaxation and rejuvenation, so it really helps when your surroundings reflect the same calmness that you wish to feel. Not only is grey stylish but it also can help provide a relaxing space to get ready for the day or to unwind after a long day (fancy a bath, anyone?).
And the best thing about grey is that it's just so versatile. You can use it in so many different areas of your bathroom – consider the following…
Grey bathroom tiling
If you're looking to drastically change your bathroom, placing grey tiles on the floors or walls will give a different look to your bathroom and make it feel brand new.
Grey bathroom cabinetry
If your cabinetry is old and you're in the market to replace what you have, by all means, change it. But if you're just wanting a refresh, a fresh coat of grey paint will definitely do the trick!
Bathroom decor
By simply adding small decor items to your space, you can enhance contrast and bring depth into your bathroom – this is really important to break up the grey.
1. Mirror finish
Adding mirror finishes is such a clever way to incorporate some greys into your space. Just take inspiration from this classic bathroom. Plus, it also includes beautiful design elements like grey tiling on the floors and up the walls and grey paint and silver metallic finishes. This bathroom is all kinds of classy with the golden lighting whilst the large freestanding bathtub looks so inviting and relaxing.
2. Modern neutrals
A grey bathroom is inviting and homely when coupled with modern finishes and a neutral colour palette. The walls and floor can be tiled with a textured stone grey which can compliment the starkness of a white bath or slick white cabinetry. And to offset the neutrals, you can style and freshen up your bathroom with some pink flowers and greenery in the corner!
3. Mermaid vibes
It's no secret that I absolutely love fish scale tiles. They remind me of the most beautiful mermaids tail. And what better place to feel like a mermaid than your very own bathroom?! The marbled finish of the tiles adds texture and interest to the already captivating nature of the tile pattern.
Honestly, these tiles are the best and there are so many different colour schemes that you can do with mermaid tiles. To see what I'm talking about, here are some stunning bathroom tile ideas that you need to see.
4. Contemporary vanity
A grey bathroom can beautifully combine whites, blacks and greys altogether in a sophisticated, contemporary look. Having black cabinetry can perfectly set off a white benchtop and sink. The clever use of different patterned grey tiling on the walls is perfect in a modern house that wants to bring in a little art deco with curved mirrors and wall sconces.
5. Hamptons opulence
If there's one place in the world that I'm dreaming of visiting, it's the Hamptons. And this beautiful Hampton's bathroom is really giving me major wanderlust! I love how opulent and lavish this bathroom is with dark brown cabinetry, grey walls and marble floors.
This is a place that I'd happily spend an afternoon or two relaxing with a good book and a candle burning.
This look is timeless and works in almost any location around the world because it's extremely versatile. You can go ultra-glam Hamptons or just pair it back. See all the different variations of Hamptons bathroom design to find the right fit for your home.
6. Shiny tiles
Shiny tiles are something we often see used in pools so using them in a bathroom really gives a wet look and the feeling of being underwater. The shiny grey tiles can be used as a feature in your bathroom and it's just divine! A floating white vanity along with little white lampshades make a grey bathroom look seamless.
7. Wonderful wallpaper
Another great way to bring some grey into a bathroom is by choosing a patterned wallpaper and then matching your other surfaces to your wallpaper. The classic pattern of a grey and white wallpaper looks great with grey cabinetry, a white countertop, and silver metallic finishes. What a lovely place to brush your teeth and get ready in the morning!
There are no limits with bathroom wallpaper, do one wall or wrap it all around. Use it to make a standout guest powder room or to add a little bit of extra something to your master bathroom suite. But no matter what application you go with, you shouldn't do the actual installation yourself because there is glue and trying to line up designs. Instead, leave it up to a professional wallpaper installer to do the tricky stuff.
8. Big grey tub
My eyes are immediately drawn to the big grey tub which is the feature of this modern bathroom. The width and depth of this huge bathtub is one that you could put the kids and dog in as well as just stretching out and relaxing by yourself after a long day. The unique pattern of the walls along with the simplicity of the floor work beautifully with the grandeur of the bathtub.
9. Ring light mirror
Installing a ring light is a great way to bring some natural light into your vanity area, so you can easily do your makeup! A ring light works so well in an inner-city apartment as it injects light on a grey and dreary day. Speak to an electrician to make sure you get all the safety aspects right when you're in the installation phase of fitting your mirror.
10. Grey stone tiles
A grey stone tiled finish is urban, modern and minimalistic. And black details such as the taps, handles, sink, cabinetry and decor items give a dark and moody feel that enhances the overall contemporary feel. The element of a skylight can bring in oodles of natural light into the otherwise dark bathroom.
11. A cosy space
A good designer can utilise a small space fitting in the essentials. The bathtub and toilet can be framed by a grey planked half wall which separates the two areas. And timber can break up the whites and greys which works really well especially with a timber slab across the bathtub!
12. Moroccan tiles
Moroccan tiling is something that really makes my heart sing. This pattern is reminiscent of flower petals which brings a feminine touch however still has a hint of masculinity with the grey tones throughout.
Talking to a professional bathroom tiler if you want these beautiful tiles installed. Look for someone who can look after regrouting if you need that too!
13. Simple greys
This bathroom is pretty simple, however, the use of grey has given it a classy finish. The same tone of grey has been used for the walls, whilst the mirror reflects more of those spectacular greys around the room. The white toilet and sink have brightened up the space and the wooden cabinet brings some life into the overall bathroom atmosphere.
14. Grey feature wall
A grey feature wall that continues through to the flooring can work really well. You can even install a cutout shelf in the wall which is the perfect home for a little plant. Get two jobs done at once by watering your plant while you're in the shower! Having a large floor to ceiling window also bring lots of natural light into the space which makes the shower area light, bright and airy.
15. Farmhouse comfort
A  farmhouse bathroom is welcoming and calming with warm grey tones and family-friendly practicality. I love the way 'wet look' shiny tiles can be used in the shower room which visually separates the two areas. However, the same tiling can continue from the main bathroom area through to the shower recess which seemingly brings the two areas together.
16. Clean and bright
A beautiful design in a minimalistic space can certainly maximise a narrow bathroom space. Slick grey walls and grainy grey countertops work in perfect harmony together. Adding a glass shower screen can make a grey bathroom seem bigger and more open, especially with the bright light coming from a skylight above the shower.
17. Grey cabinetry
A homely space can utilise grey successfully through darker grey cabinetry, lighter grey walls and fuzzy grey bath mats which brings warmth and cosiness into the bathroom.
Having a clock in the bathroom is also a great idea as you can keep an eye on the time as you get ready for the day or a special dinner date.
18. Apartment living
Usually, in an apartment, you have limited space to work with and this bathroom has definitely made the most of the tight space. Combining your shower and bathtub gives you both options without comprising any space. The wooden cabinets and sink area is sleek and stylish and freshens up the abundance of neutrals.
19. Concrete jungle
Using concrete in a bathroom does sound a little odd but it all makes sense. Even though the walls and floors have been finished with concrete, there is tranquility about a concrete bathroom that almost feels like a tropical outdoor shower with a large shower head.
20. Pearl grey limestone
Grey limestone has the most beautiful pearlescent details coming through the natural characteristics of the stone. As the light is bouncing off the shiny surfaces, this brightens up a room beautifully especially with the contrast of black cabinetry and other dark details.
21. Homely master
A master bathroom should be all things cool, calm and collected. Subtle light grey cabinetry can be paired perfectly with the grey veining in white marbled tiles. The rest of your master bathroom can be mainly white which creates a calm and homely atmosphere and an overall colour palette that is timeless and will last the test of time.
22. Herringbone details
Wow, I just love the grey herringbone details of this floor that add a little something extra to the bathroom area. The other elements that have been used have a slight texture running through them which also creates interest. Using light silver finishes along with a grey towel will tie your grey intention together, whilst using decor items like touches of wood will bring in a natural element.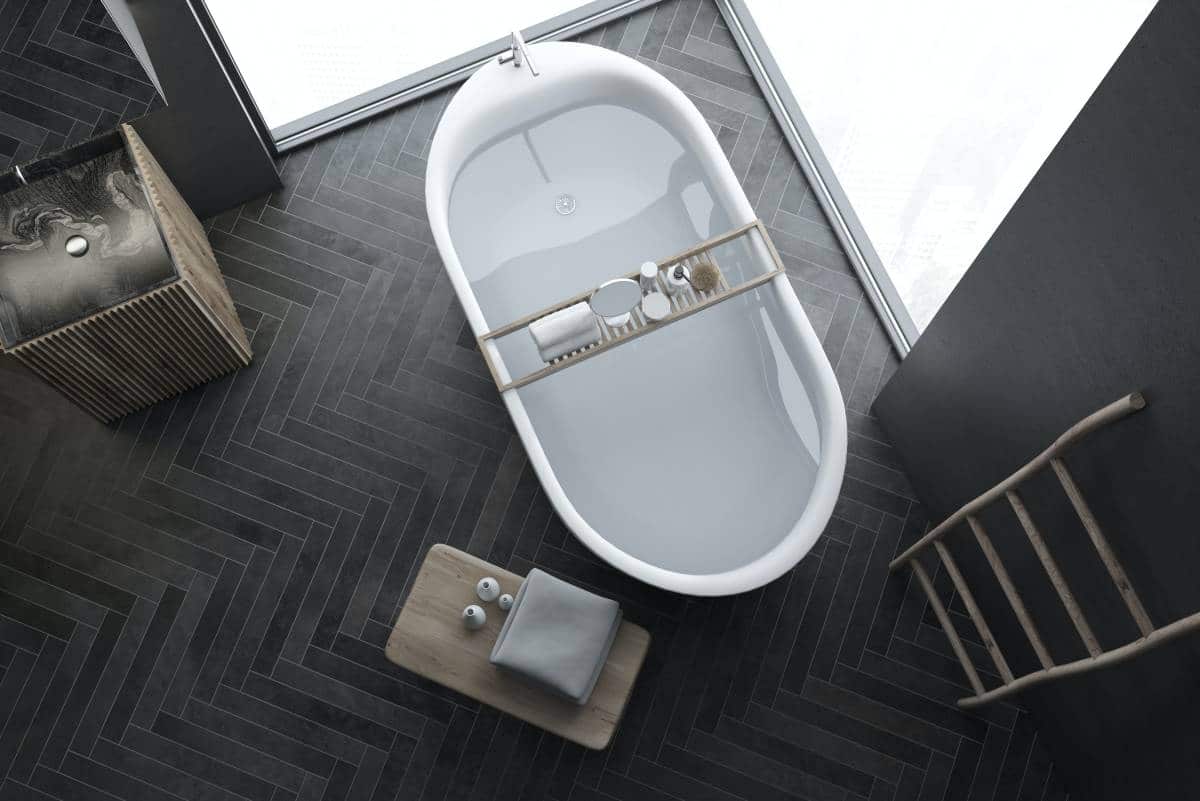 23. Marble coordination
Coordinating the tones of grey through marble finishes with the other features of your bathroom help to tie everything together. The same tones from the marble can be represented in the cabinetry, silver finishes, and striped shower curtain. And the pop of yellow in the floral arrangement can really bring a happy feel to the greyscale colour palette!
24. Patterned shower
Heavily patterned shower tiles work well with surfaces that are in block colours. Random and almost 'out of place' elements such as a blue towel, greenery, and a brown stool can give your bathroom more of a family-friendly feel. As we all know in a real family bathroom, things don't stay matching and uniform for very long.
25. Feminine touch
Elegant spaces can incorporate a feminine touch with the use of grey and white oversized floral wallpaper. Without bringing this touch of femininity in, any space would appear rather masculine with bold choices in grey cabinetry and large marbled tiling.
26. Charcoal grey
Charcoal grey plays a huge part in the composition of this bathroom. The design choices in this space remind me of a locker room, gym or even a spa bathroom with a minimalistic and practical approach. I particularly love the choice of a double sink which give a lovely luxe hotel vibe.
27. Grey warmth
The use of grey in a bathroom can be warmed up with warm coloured LED lights and timber finishes. Having built-in shelves is extremely useful as everyone in the family can have a shelf each or you could even categorise your shelves by putting face products on one, and hair products on the other.
28. Small space
A small space can be made to appear larger with the addition of a large mirror that opens up the bathroom. Timber shelving fixtures is a great idea as you could use these for storage or displaying your favourite decor pieces. An open rectangular vanity also coincides with the shelving as it houses the towels.
29. Light grey and airy
Having light grey finishes in your bathroom can give an airy and open space feel. Installing some greenery can add to the airiness of the space and brings a pop of colour into the room.
30. Tranquil greys
A tranquil and divine bathroom can be achieved with the use of various greys on the walls and floor. Plus, dark grey contrasts well against timber finishes. Timber finishes remind me of a sauna, so this bathroom design really creates a warm and relaxing space!
31. A place by the window
What a fabulous airy bathroom with amazing natural light coming through the windows! A touch of timber and wooden elements bring in a minimalist vibe to the whole space. The light grey floor tiling also works well with the textures and patterns of the wall.
32. Relaxation in simplicity
Clean, bold lines can give a functional bathroom a tidy, no-nonsense look. A recess in the wall gives a perfect spot to shelve bathroom products, whilst larger wall tiles are easy to keep clean. And a darker grey tone means the tiles will look as good as new for years to come!
33. Grey floors and walls
Grey on grey is a classic, timeless design. Add in other elements like a floating wooden and white vanity, highlighted by a modern hanging bulb light. Clever lighting under the cabinet can also lighten up dark grey tiles!
34. Grey with greenery
Hardy succulents and hanging vines really make a bathroom come alive. They love the moisture and steaminess and bathroom plants seem to thrive in this environment. Installing shelves provide extra space to add plants and other pieces of decor to a small basic bathroom.
35. On trend details
This Bali inspired bathroom has teemed the unique grey floor with a lovely wooden feature wall. The wooden bench doubles as storage space, whilst the burst of greenery from the plant is an amazing addition to this bold grey bathroom.
36. Urban greys
A sleek bathroom features lots of clean, strong lines and soft greys that almost seem white. Mirrored cupboard doors also have a dual purpose. The only downside is that fingermarks can be annoying over time – so keep it sparkling clean!
37. Grey tones
The brown tones in this marble benchtop and the tiled mirrored wall provide a perfect privacy partition for the bath area behind. This vanity shows you can fit two basins into a small area. Plus, I just love the contrast of the black lighting fixtures!
38. Silver finishes
Silver and grey pair perfectly together to create a very stylish and functional bathroom. Using shelves to display minimal knickknacks bring a personal touch! And installing lights over silver-framed mirrors give a clear vision for gazing at yourself.
39. Subtle grey
With greys so subtle, a bathroom can look almost white… But don't be fooled – having lightly speckled grey flooring give the design a lovely definition. While your room may be small and cosy, you can use clever sleek fittings to make it look larger than it really is.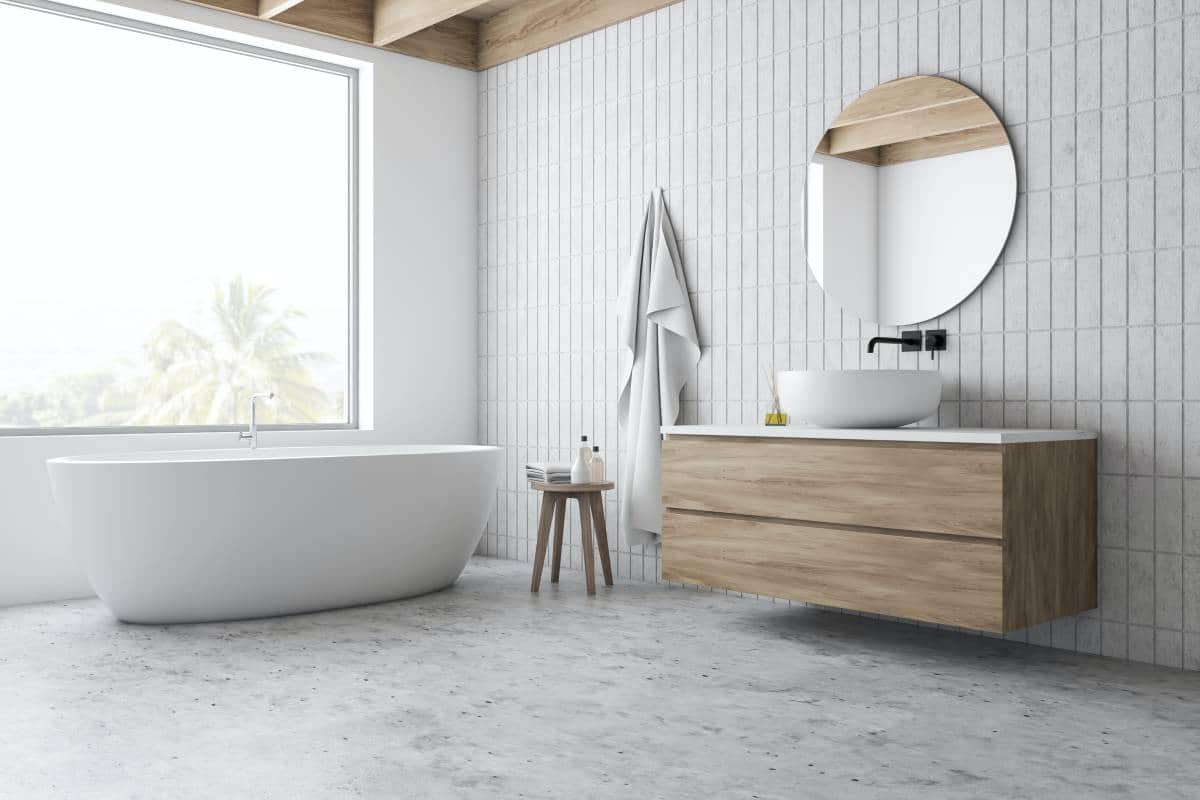 40. Speckled walls
A speckled wall behind a lovely round mirror gives a subtle softness against stark blacks. Include a white vase, flowers, and a white fluffy towel to add a beautiful homely touch!
Whether you're looking to bring some calm into your bathroom, trend up your space, or go for a full bathroom renovation, grey is the colour to use! My favourites are the different tiling options like the fish scale, herringbone and Moroccan styles. What are your favourite ways to incorporate grey? Let me know below!
And if you're a bit of a grey fan in home design, take a look at these grey living room ideas and grey kitchen ideas.