Home

/

Appliance Installation Cost Guide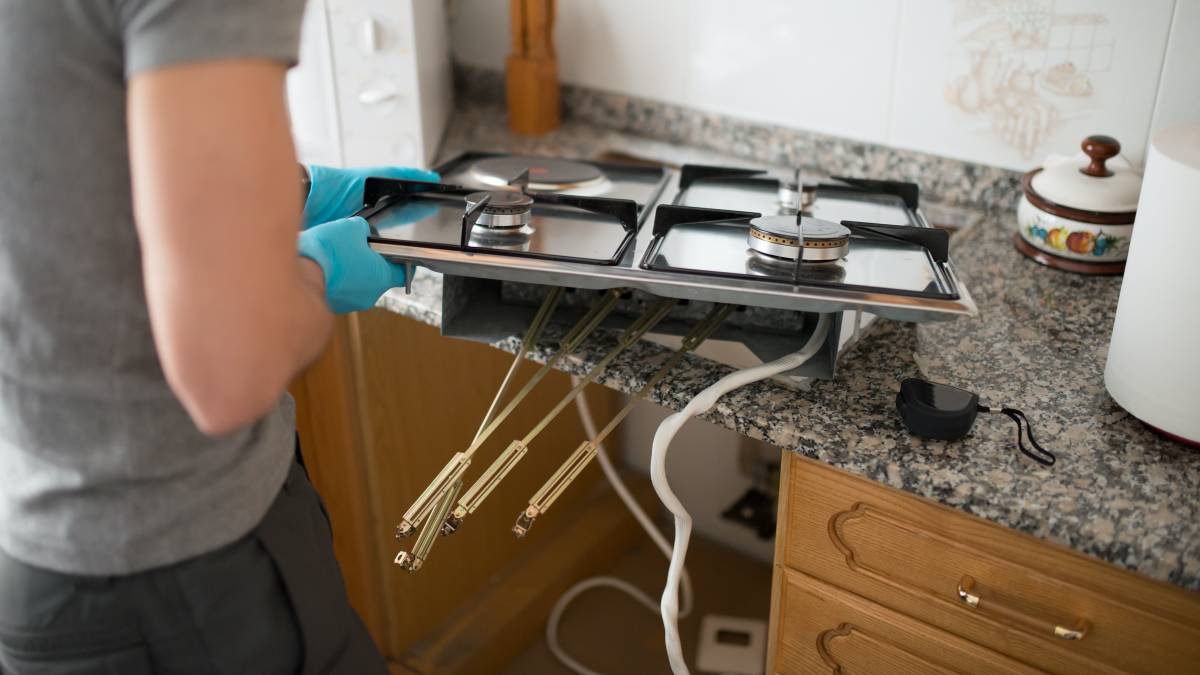 How much does appliance installation cost?
Get a free quote now
Post to find a price. It's free and only takes a minute.
Price guide
$70 - $500
Find appliance installers, fast

Post a task with your price in mind, then get offers.

It's free and takes only a minute.

See how it works
Life is much easier with efficient home appliances. But when your trusted machine breaks down and with no hope for repair, you're bound to buy a new one. But how much does it cost to install a new appliance?
Appliance installation costs at least $70 per hour. However, professional installers can charge a fixed fee instead of an hourly rate, depending on the size, brand, and type of appliance. 
Appliance installation can be tricky, especially when dealing with big and bulky stuff. With this guide, get to know the average price for appliance installation costs.
Appliance installation price list
| | |
| --- | --- |
| Appliance | Average costs |
| Washing machine | $70 to $180 |
| Dryer | $80 to $200 |
| Fridge | $90 to $150 |
| Stove | $100 to $280 |
| Dishwasher | $100 to $200 |
| Cooktop | $120 to $500 |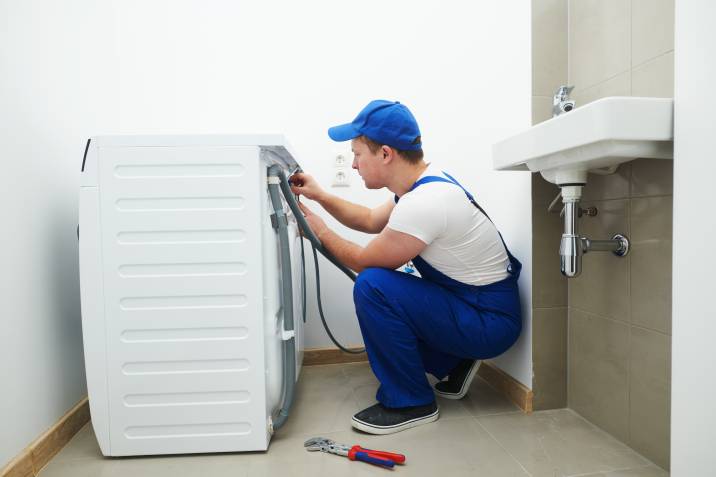 Factors that affect appliance installation costs
Location
Your location will also dictate the overall price. Some companies offer free delivery for nearby areas and discounted installation rates depending on the price of the appliance. However, if your location is far from the place of purchase, expect delivery and installation costs to be higher. Check out the table below to see the average costs of appliance installation per state: 
| | |
| --- | --- |
| State | Average installation costs |
| Australian Capital Territory | $50 to $400 |
| New South Wales | $50 to $400 |
| South Australia | $50 to $300 |
| Victoria | $50 to $200 |
| Western Australia | $50 to $200 |
| Queensland | $50 to $330 |
Number of appliances
The number of appliances you will have installed will affect how much the installation costs. An additional fee is usually charged for every additional item if you have more than one appliance. However, some tradespersons offer discounts when you have three or more home appliances installed at once or in one day.
Job complexity
The total appliance installation price also differs depending on the complexity of the job. If the installation would need additional work, such as electrical work, new gas lines, or appliance removals, the installation cost would naturally increase.   
For example, if you need to consult an electrician regarding electrical wiring, they charge around $140 to $180 per hour. These tasks make the appliance installation job more complex and might also need the expertise of a contractor. Hence, the higher the costs. 
Type of appliance
Appliance direct installation cost differs per type of appliance. Smaller, plug-and-play appliances start at $60 per hour. 
For example, dishwasher installation costs could reach up to $230. If you recently bought a smart appliance, prices can also go higher since these are more complicated to set up than ordinary appliances.
Minimum fee
First, some installers ask for a minimum fee or flat rate before proceeding with the job. This can range from $60 to $150 and is used to factor in the cost of travel and other admin expenses.
Carpentry
If you just moved into a new house and are installing new appliances for the first time, you might need carpentry to fit and assemble new fresh buys. As expected, this will also add up to the total costs. 
Different types of appliances and their installation costs
The cost to install appliances includes unpacking, removal and disposal of the old unit, as well as a warranty. However, clarify this with your installer before proceeding with the job to avoid any surprise expenses.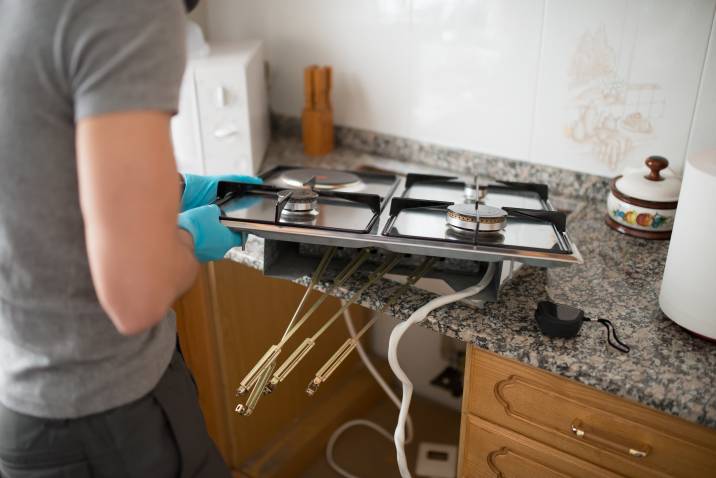 Cooktop
The price to install a cooktop ranges from $120 to $500, and it is one of the more expensive appliances to position in your home. Costs can still go up if the countertop needs amendments or new venting. Generally, the price already covers unpacking the item, assembling, and disposing of old packaging.
Dryer
The cost to install a dryer starts at $80 to $200, including wall mounting. This price includes unpacking and disposal of used packaging, assembly, connection, and testing.
Fridge
Fridge installation costs around $90 to $150. The cost can increase for more modern refrigerators with ice makers and their own dispensers if you require a water line set up. As with other appliances, the price usually includes unpacking, assembly, and cleaning up old packaging.
Stove
Like other kitchen appliance installation costs, stove installation is higher, ranging from $100 to $280. Prices can still increase if repairs and fixes on the kitchen cabinets are needed.
Washing machine
The cost to install a washing machine is between $70 to $180. This includes the removal of an old appliance, unpacking, and assembly. However, if you need to do some repairs, expect to pay more.
Dishwasher
Installing a new dishwasher costs around $100 to $200. This includes unpacking, assembling, removing an old appliance, plumbing, and checking if the appliance is operational. If the installation of new pipes and cabinet repairs are needed, costs can still go higher.
Post a task for appliance installation
It's natural to think about cutting costs with things like this. However, it takes a certain level of skill and expertise to ensure that your appliance's installation is done correctly. One mistake might cost damage to your newly bought appliances, which might lead to more expensive repairs.
This is why it's best to leave this task to the pros. Take the stress out of installing a new appliance by posting a task on our platform and connecting with a reliable appliance installation professional!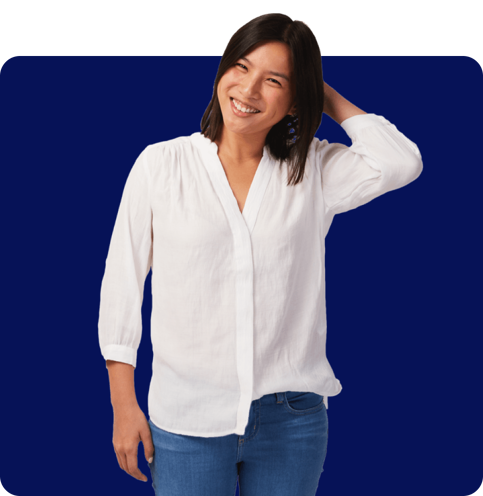 FAQs
Yes, definitely! Some traders also offer reduced rates for installation jobs with more than three appliances.
Professional installers can help install your appliances. But if more complicated electrical, carpentry, plumbing, and engineering are involved, you can hire a contractor with the right experience and expertise in the field.
The time it takes to install an appliance varies depending on the appliance's size, type, build and location. It could take as quickly as an hour to deliver and install plug-and-play appliances. However, it could reach up to three hours or half a day for more complex installations.
It's free and takes only a minute.