Home

/

Earn Money as a Tattoo Artist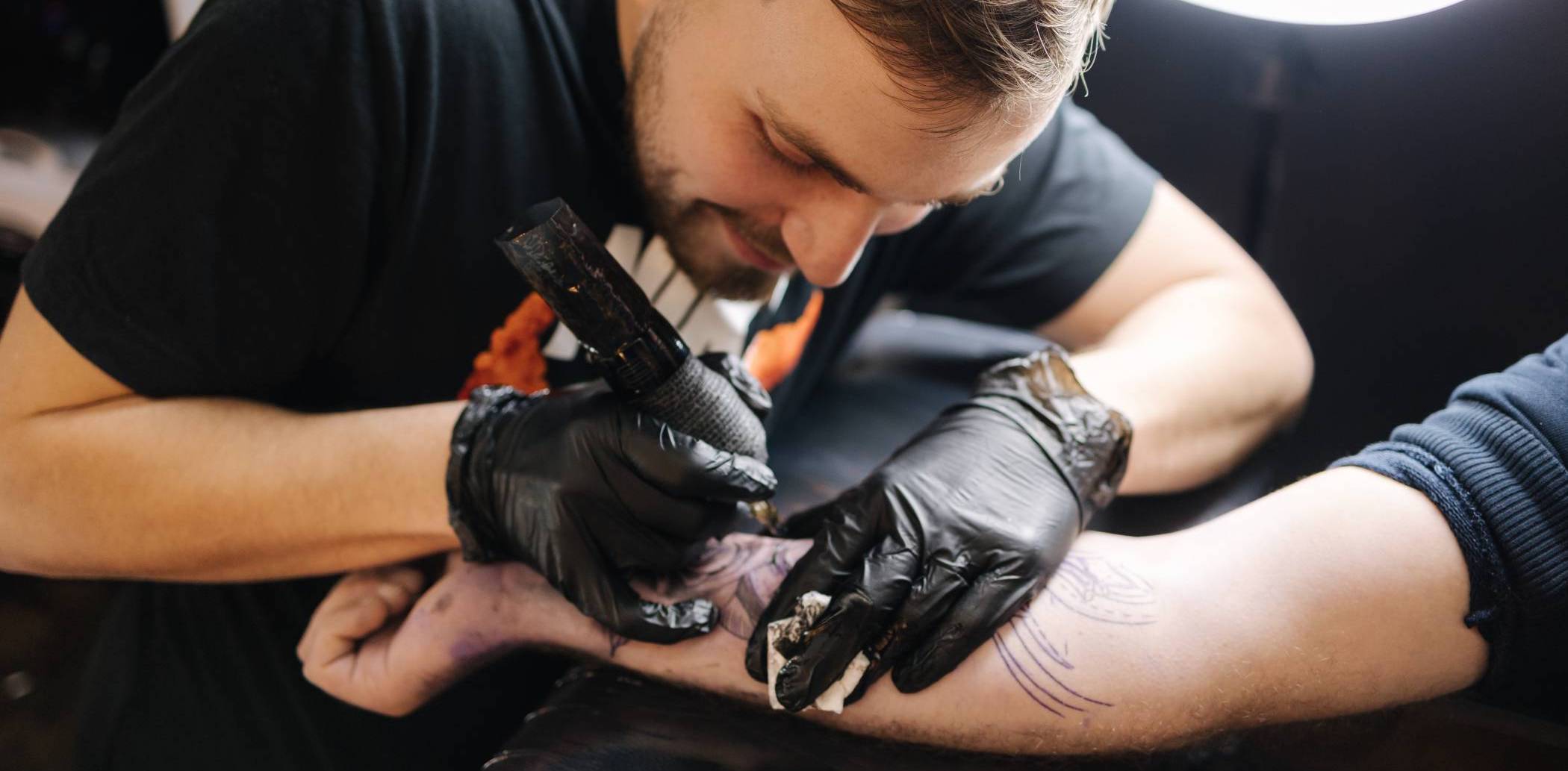 How to become a tattoo artist (& 4 ways to earn money from the craft!)
Interested in inking and making a living out of it? Read our ultimate guide on how to become a tattoo artist!
Find your next client
Tattooing is one of the oldest art forms known to humans. Getting them was a way to show one's status, a rite of passage, devotion to a culture or religion, a talisman, and more. Nowadays, anyone can freely get a tattoo as a form of self-expression and body art. A tattoo artist, also known as a tattooist, decorates a customer's skin with these tattoos. 
In this guide, we've covered all you need to know about becoming a tattoo artist. So read on and see if you're up for the inking challenge!
How much do tattoo artists get paid?
On average, tattoo artists earn $25 per hour. The area where you'll work will affect how much you make. 
| | | |
| --- | --- | --- |
| State | Average hourly rate | Average yearly salary |
| Pennsylvania | $33.06 | $68,769 |
| Alaska | $32.18 | $66,941 |
| New York | $31.02 | $64,522 |
| Massachusetts | $30.92  | $64,311 |
| California | $30.71 | $63,870 |
5 steps to becoming a tattoo artist
No federal law regulates the profession, so tattooing regulations will vary from state to state. It's always best to check with the state you plan to practice at on specific requirements and certifications.
Step 1: Get certified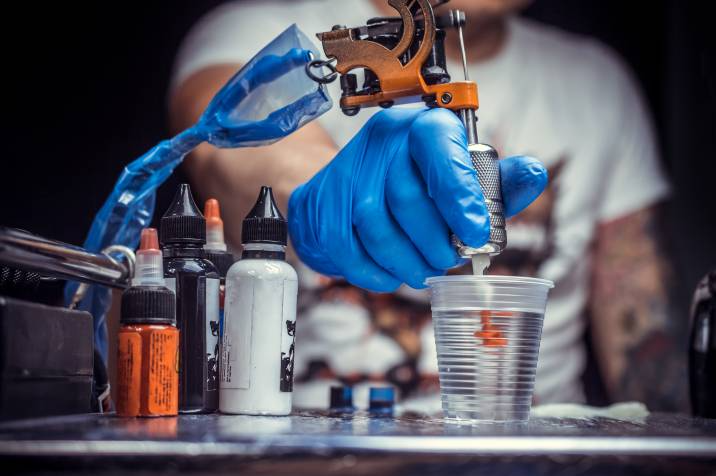 Depending on where you plan to practice, different states require specific certifications to tattoo. Across all states, you will be required to get the OSHA Bloodborne Pathogens Certification for Tattoo Artists as part of the federal OSHA 29 CFR 1910.1030 Bloodborne Pathogens Standard. 
This will cover topics like bloodborne pathogen terminology, modes of transmission, exposure control plans, universal precautions, hepatitis B immunizations, engineering and work practice controls, the anatomy of the skin, infection controls in a body art studio or clinic, and other material crucial to the tattoo artist and clients safety.
Other states may require you to get certified in first aid and CPR. 
Step 2: Find an apprenticeship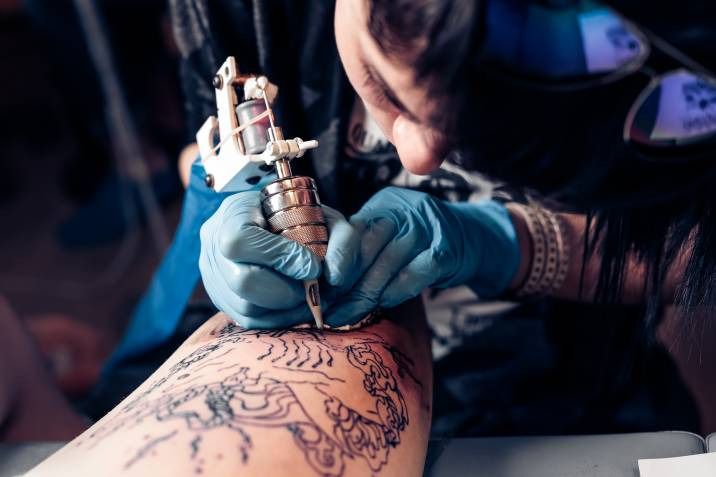 Becoming a tattoo artist means you'll need some background in art. There is no specific education on how to be a tattoo artist, but one way to get started is to find an apprenticeship with a tattoo artist in your area. This not only helps you get used to the tattoo equipment, but you'll also get to network with clients and fellow tattoo artists. 
Apprenticeships can last as long as one to three years. During this time, you should be able to learn how to use a tattoo machine. You may also choose to go to school to learn to tattoo.
Step 3: Build your portfolio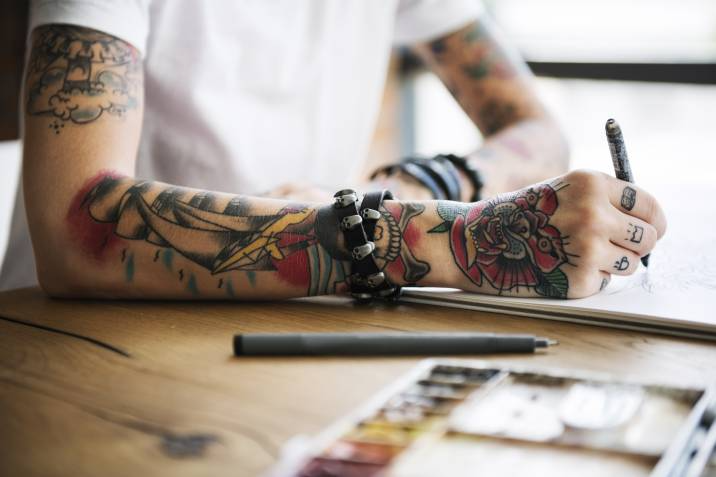 You may need to practice on synthetic skin before you're allowed to work on real skin. Some upcoming tattoo artists may even offer their services for free for the first few years before they get used to tattooing. Once you're used to tattooing, start building your portfolio showcasing your work. Tattoo parlors may require at least 30 tattoos to hire you. 
Build your portfolio by building your website or posting your best work on social media.
Step 5: Take the state test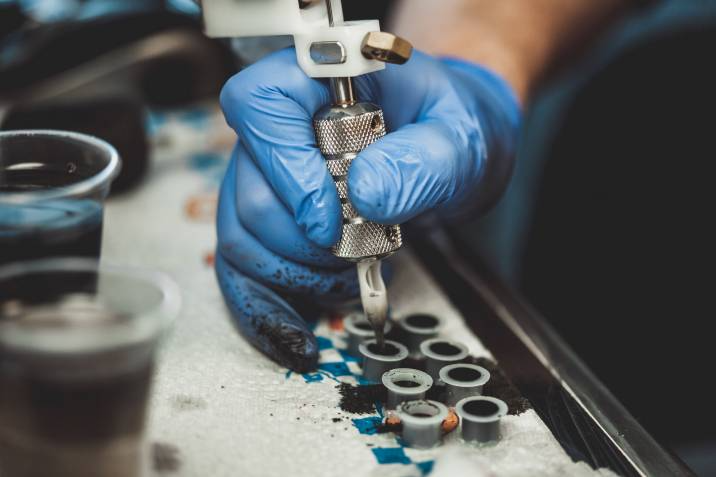 Some states may require you to undertake a written exam, usually intended to fulfill the state health department's standards, and help you get your tattoo license. Costs and requirements will vary by state, so it's always best to inquire. For example, a tattoo license in New York will cost $100 for two years.
Step 5: Start inking
Once you've completed the paperwork for different requirements and certifications, you can start inking clients!
How to market yourself as a tattoo artist
You'll need to market yourself during your first few years to get clients. Network offline and online as much as possible to get the word out because many people still rely on word-of-mouth when getting their tattoos.
Post your work on social media platforms like Instagram or TikTok to let people see how you work and the types of design you do. You can also attend tattoo conventions and contests to meet other artists and potential clients. 
How do I make more money as a tattoo artist?
Here are four ways you can start bringing in the big bucks in your career journey as a tattoo artist.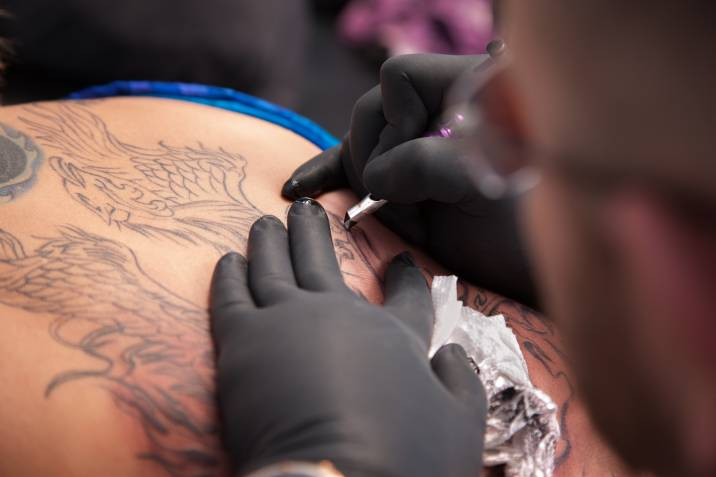 Open your own studio
The tattoo industry is booming and expected to increase by up to 9.6% between 2022 and 2027! With the growing demand for tattoos, put up your own studio and market yourself to potential clients through offline and online efforts.
Do note that specific tattoo shop requirements must be met before you put up your shop.
Sell your designs
Many people want to get tattoos but don't want or know how to design them. If you love to create art, why not sell your designs? You can post your original artwork online through social media or by hosting them on a website.
Create a tattoo blog or vlog
You can create a tattoo blog or vlog to do videos or write. Popular topics focus on tattoo aftercare and other things like piercing and tattoo designs.
Having a blog or vlog can allow you to monetize your content. Some of the best ways include selling ad space, sponsored content on social media or your blog or vlog, affiliate marketing, merchandise, YouTube Ad services, and more.
Learn and offer permanent makeup
There are more ways that people use tattoos in their daily lives. One of which is through permanent makeup. Many people get permanent makeup to reduce or remove makeup from their routines. Permanent makeup is cosmetic tattooing where micro-pigments are deposited on the face to create the look of makeup. Permanent makeup can be done on the eyebrows, the eyes as eyeliner, the lips as lip color, and even scar camouflaging. 
You may also become a microblading artist. Microblading is an eyebrow tattooing technique to create hair-like strokes for realistic-looking brows.
Start earning more from tattooing today!
Some advantages of being a tattoo artist include exercising your creativity and the flexibility of owning your schedule. So use your skills and share your talent with the world by making offers and showcasing your skills on Airtasker! Sign up now to start earning more today.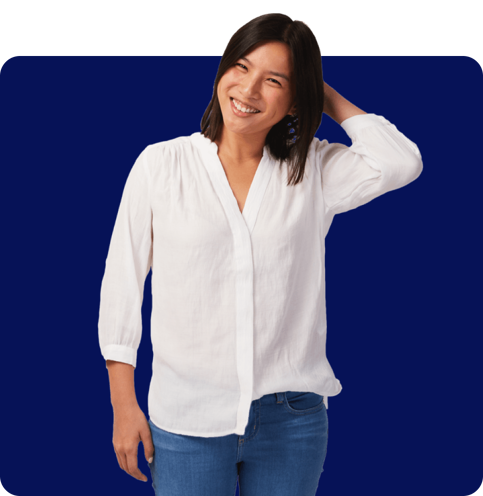 FAQs on becoming a tattoo artist
While you can get started on tattooing, it's best to have some art background before you consider becoming a tattoo artist. A tattoo artist needs to have a steady hand and the know-how to make designs since there will be tattoos that need good line work. Understanding color theory and perspective is also good since many tattoos require these skills. 
If you want to pursue becoming a tattoo artist, start practicing how to sketch and draw to improve your skills.
Nearly all states have their own tattooing laws or regulations. Check with the state you plan to work at on the requirements to become a tattoo artist. In some cases, if you fail to comply, you may face criminal and civil fines. Failure to comply with your state's tattooing and safety licenses may cause you to lose your license.