Home

/

How to Properly Clean a Hotel Room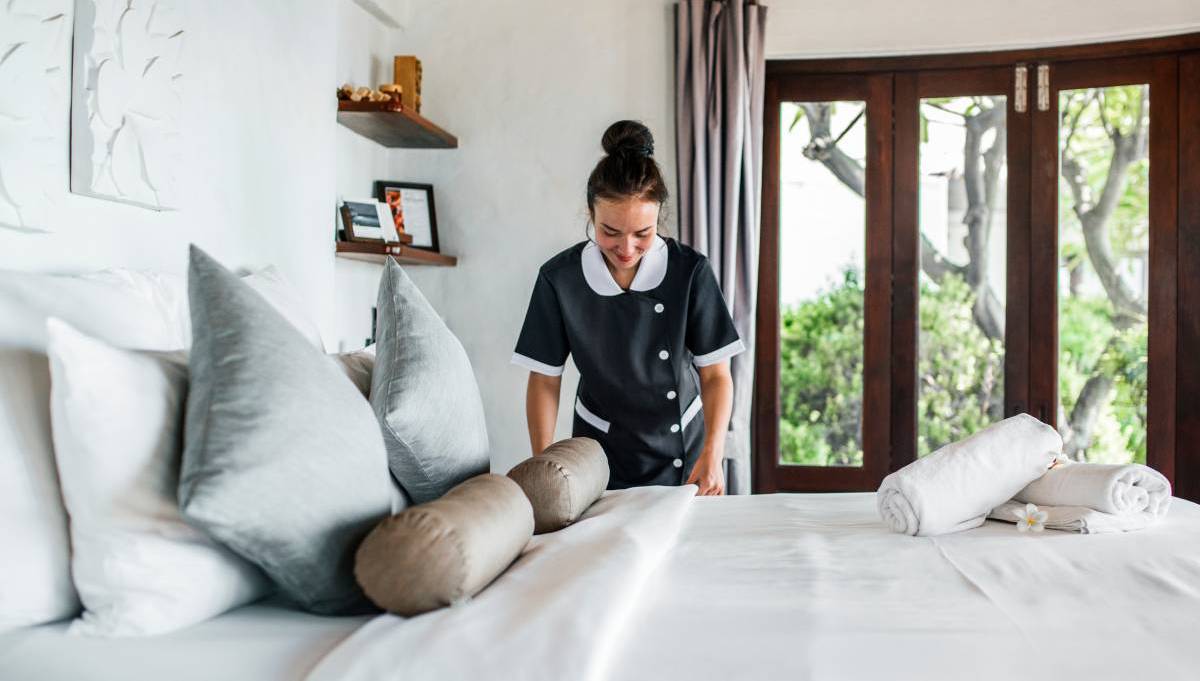 How to properly clean a hotel room
Try out these tips to efficiently clean hotel rooms.
Explore cleaning jobs
After a long day of travel, hotel guests look forward to staying in comfortable, inviting hotel rooms. Good housekeeping is vital to keeping guests happy and maintaining your hotel's stellar reviews. 
How can you clean hotel rooms properly and efficiently? A complete system is key! Here are some tips to help you quickly and thoroughly clean hotel rooms. 
Note: In the US, the American Hotel & Lodging Association enhanced the hotel industry's commitment to cleanliness and safety due to the pandemic. Hotel employees are encouraged to get vaccinated against COVID-19. Soap, water, and sanitizer should also be accessible at all times. 
Tools you need to clean a hotel room 
A typical housekeeping cart will include the following: 
Mop and bucket 
Floor, surface, and bathroom cleaners 
Cleaning cloths 
Bleach 
Paper towels 
Furniture polish 
Scrubbing brush 
Air freshener and sanitizer 
Protective gloves 
Vacuum cleaner 
Toiletries, towels, and other hotel-provided items
How to clean a hotel room properly
1. Make your presence known before entering.
First, ensure your housekeeping trolley has everything you need, such as gloves, disinfectant, trash bags, and more. Once you are outside the hotel room that needs to be cleaned, it's best to knock first and announce your arrival—just in case a guest is still inside. 
2. Open the windows to air out the room.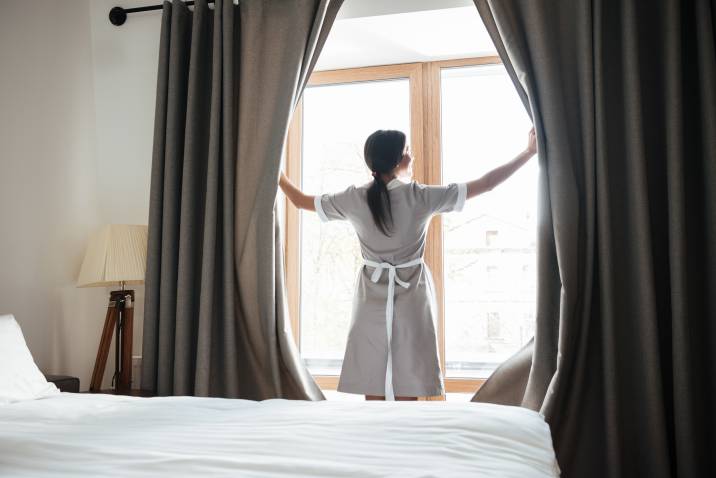 Ventilation is essential. Open windows and balcony doors, including the room's main door, to let in fresh air (especially if the hotel is located near the sea). This is a vital step so the room won't smell of chemicals after you clean it. 
3. Strip the bed and remove linen.  
If a hotel guest is staying for more than one night, you don't necessarily have to remove and change the sheets. But in cases when they request it or when you're preparing the room for a new guest, remove the pillowcases, blankets, and bed sheets and place them in your housekeeping trolley. 
Inspect the mattress for stains or any visible damage. In case of damage, make sure to report it to the hotel's maintenance department.
4. Remove trash and other foreign items.
Empty trash bins and remove any trash from drawers and closets. Don't forget to remove used hotel items such as mugs too. If the previous guest accidentally left valuable things like a watch, it's best to bring this up with management so they can come back for it. 
5. Dust the room and wipe surfaces. 
The next thing you need to do is dust all surfaces. This includes electricals like phones and televisions since they tend to attract a lot of dust. Sanitize tables, cupboards, and closets. 
6. Make the bed according to hotel procedure. 
If the bed has no damage, replace the pillowcases, sheets, and bedspread. Ensure there are no stains, dirt, hair, or holes in the linen. Follow the hotel or establishment's bed-making procedure and arrange pillows accordingly. When applicable, replace decorative pillows as well.  
7. Pay special attention to the bathroom. 
Now that you're finished with the bed, it's time to tackle the bathroom. Ensure that everything is disinfected, including the hairdryer. Evidence of the previous guests, such as hair, fingerprints, and mirror smudges, should be gone. The tiniest detail is important!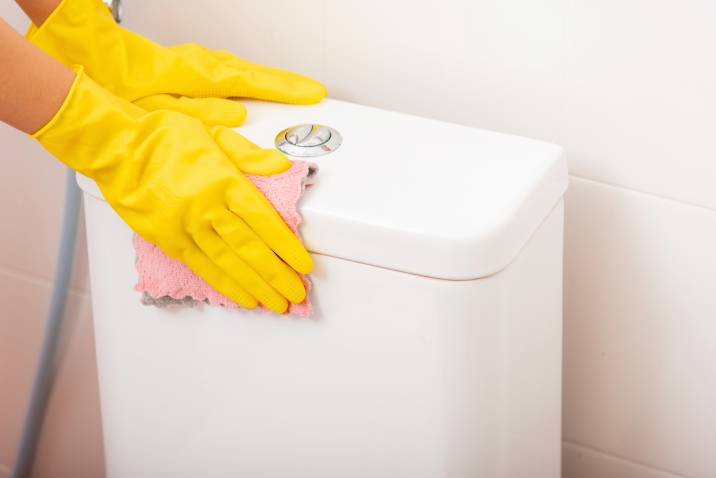 Here are more specific steps when it comes to cleaning a hotel bathroom: 
Remove towels and mats. 
Empty the trash bin. 
Clean the shower or bath area.
Clean the sink area and taps. 
Clean the toilet. 
Dust surfaces and wipe the towel rail. 
8. Replace the towels and hotel toiletries.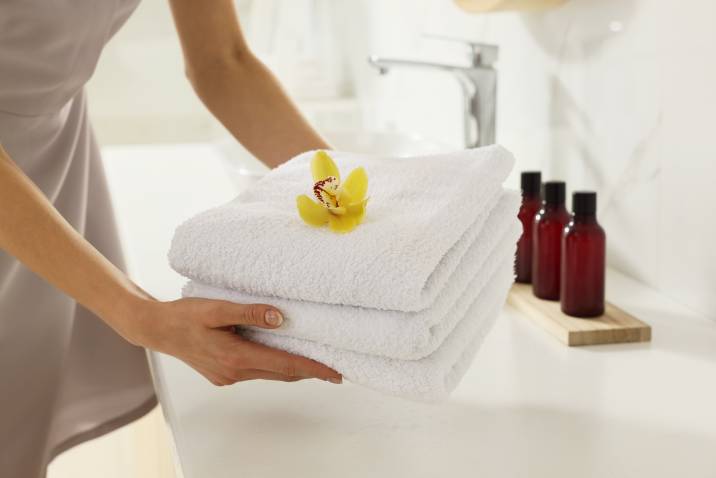 Guests expect their hotel rooms to be fully stocked with their basic needs. Depending on the hotel, these could include fresh towels, bathrobes, hotel slippers, laundry bags, pens, notepads, hotel menus, coffee, and the like. 
9. Vacuum, sweep, and mop the floors.
Clean the floor last to avoid sweeping or mopping a second time—in case dirt falls on the floor while you do other cleaning tasks. Hardwood floors must be swept and mopped, while carpets must be vacuumed. Remove any visible food spots and stains to prepare the room for the next guest.
10. Do the finishing touches. 
Before leaving the room, give it one last look-through. Are the windows and balcony doors closed? Are the toiletries complete? Are all the lights working? These are just some of the things you need to ask yourself before leaving and moving on to clean another room. Also, if needed, reset the air conditioning to the hotel's default temperature.
---
And there you have it! We hope this quick guide will be helpful as you clean a hotel room (or other bedrooms, for that matter). If you're a professional cleaner looking to earn extra money, you can also find local cleaning jobs on Airtasker.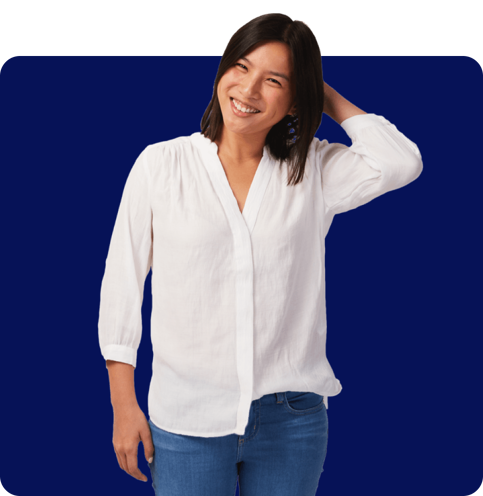 FAQs on cleaning hotel rooms
It usually takes 30 to 45 minutes to clean a hotel room, though this can vary depending on the size of the room and how clean or messy the previous guest left it. If the room just needs a basic turndown service, it will usually take less time to clean.
Deep cleaning usually includes:
Vacuuming the mattress 
Cleaning walls, window glass, and draperies, and
Ensuring all furniture is spick-and-span from the inside out. If you spot any damaged furniture, inform the hotel's maintenance department as soon as possible. 
A room will sometimes need a deeper cleaning than just daily housekeeping. A hotel's off-season, when there are fewer guests, is the most ideal time to deep clean hotel rooms.