Home

/

How to Clean Wine Glasses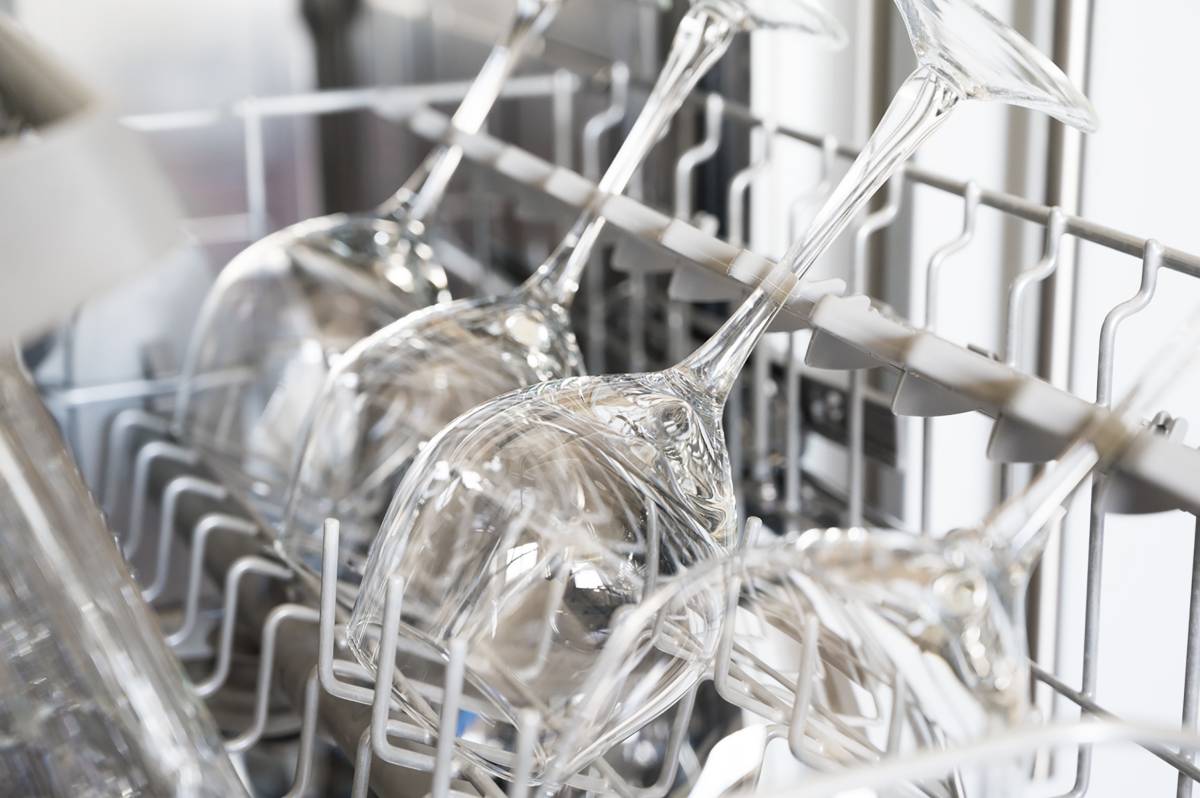 Find commercial kitchen cleaning, fast

Post a task with your price in mind, then get offers.

It's free and takes only a minute.

See how it works
Always having clean wine glasses come in handy when you have guests over, especially on short notice or whenever you feel like having a nightcap all by yourself. 
Aside from the obvious, clean wine glasses are essential for enjoying the full flavor of your favorite bottle of wine. A cloudy or stained wine glass can affect the aroma and appearance of your wine. This can alter how you discern your wine's taste, smell, and color. 
That being said, what is the best way to clean your wine glasses? Read on to get a few tips for cleaning wine glasses yourself.
What you need to get started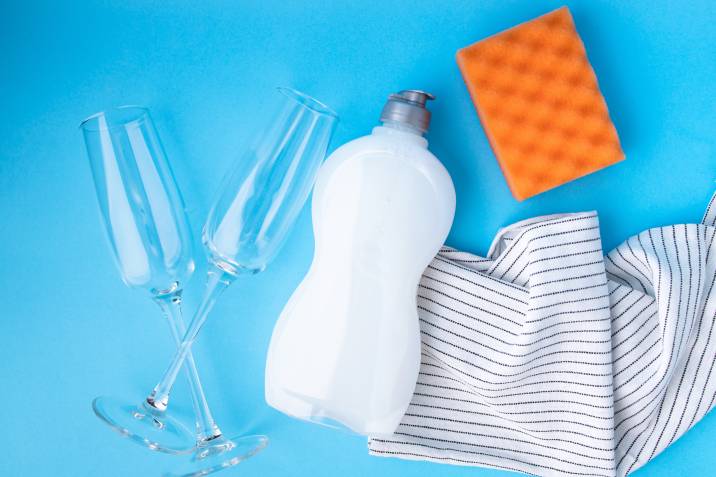 Here are a few things that will come in handy when cleaning wine glasses: 
Unscented dish soap - You should have no problem washing wine glasses with soap. Just remember that a little bit goes a long way. 

Hot water - You can skip the dish soap and use hot water instead, just like wine connoisseurs. Still, the choice is yours.

Vinegar - You can also replace dish soap and clean your wine glasses with vinegar.

Sponge - Use a sponge dedicated to wine glasses only. Don't use something that has been used for the dishes. We can't stress this enough.

Bottlebrush (optional) - This is optional but comes in handy when scrubbing the inside of your wine glass.

Decanter cleaning beads (optional) - Used to remove hard-to-reach and tough stains. It's optional but nice to have if you drink a lot of red wine.

Polishing cloth - Preferably the lint-free and microfiber kind. You'll need this if you want your wine glasses to sparkle and shine.
How to wash wine glasses by hand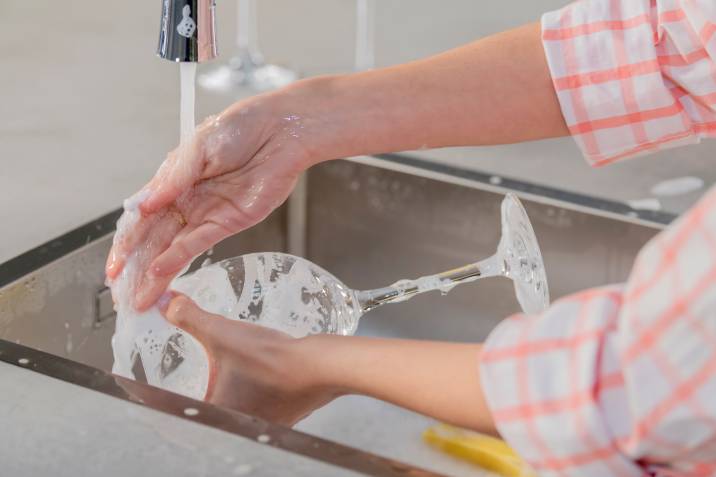 If you're just cleaning up after yourself or don't have many glasses, washing your wine glasses by hand is the way to go. It's still the best way to clean your wine glass, remove wine glass stains, and make cloudy wine glasses clear again. 
Hold your wine glass by the bowl and never by the stem. A thin or fragile stem can twist or snap if you put too much strain on it.

Soak the glass in hot water with a drop of dish soap in the sink or a separate bowl. 

Using your sponge or bottle brush, gently scrub the glass inside and out. You can also swirl some hot water and dish soap if you like. 

Use decanter cleaning beads if your sponge or brush doesn't work on stubborn red wine stains. Gently swirl the beads with a little hot water and dish soap until the stains come off.

Rinse the glass thoroughly in hot water and make sure to eliminate any soapy residue. 

Dry and polish immediately once done. 
These steps may seem tedious, especially if you're new to enjoying wine the way it should be. If you're having some guests over, you can consider hiring a house cleaning expert at Airtasker for an extra pair of hands.
How to wash wines glasses in the dishwasher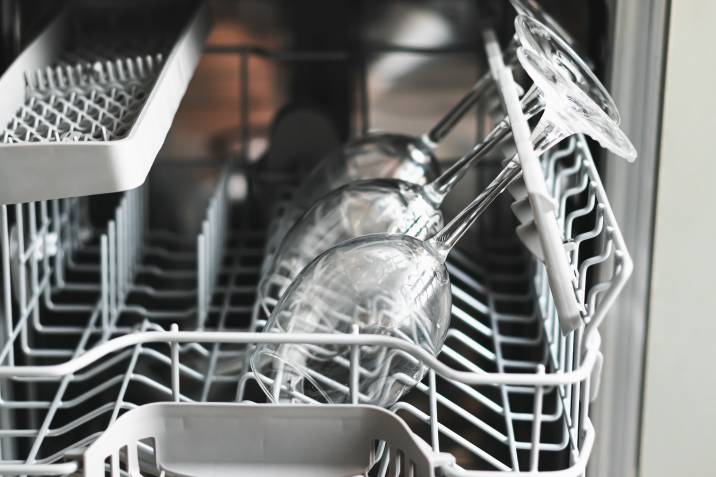 Wine glasses are best washed by hand, but you can always wash your wine glasses in a dishwasher. 
If you're hosting a social event or managing a commercial kitchen, washing wine glasses by hand isn't time-efficient. You'll need to use a dishwasher or hire commercial cleaning services to help you out. 
Here's how to put wine glasses in the dishwasher carefully:
Load your stemware carefully on the top rack of your dishwasher upside down.

If your glasses are too tall, you can adjust your rack to accommodate their size. Otherwise, carefully load them to the lower rack instead.

Wash your stemware on its own. You wouldn't want to risk cracking your glasses from stray cutlery. 

Don't allow the glasses to touch one another to avoid scratches. If your dishwasher comes with clips on the racks, you can use these to securely fasten your glasses.

If you use soap, stick to the unscented kind and use as little as possible.

Use the air-dry setting. This may leave some water marks, but you can polish them afterward. Avoid heat drying, as this dulls your glasses over time.
Tips for drying and polishing your wine glasses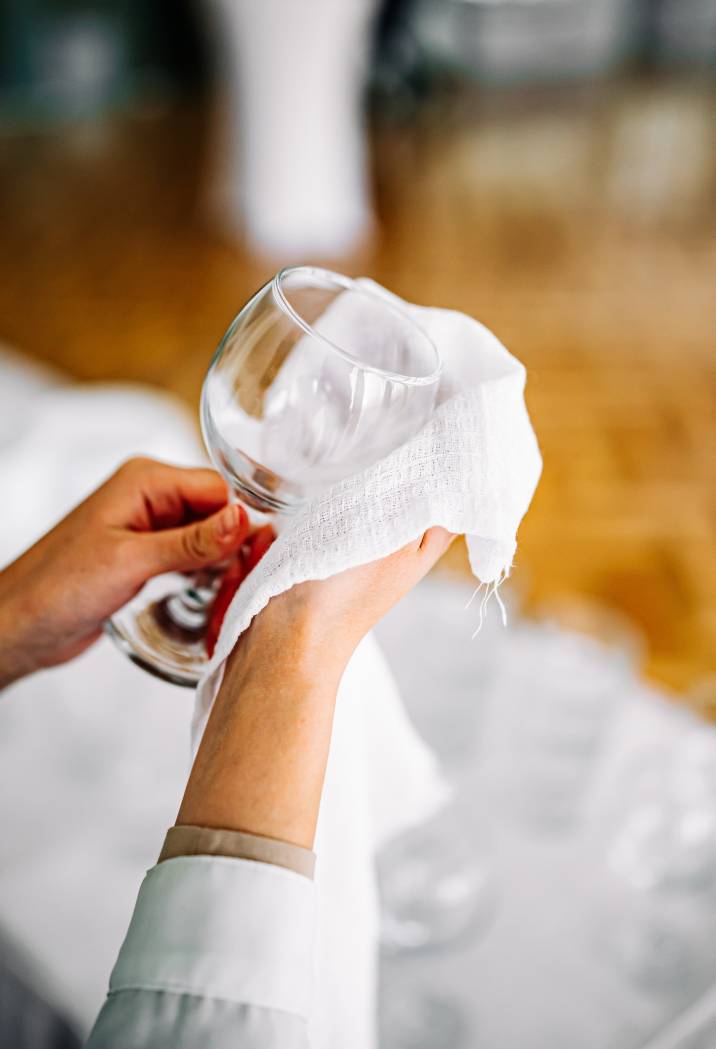 Here's how to dry wine glasses:
If you wash your glasses by hand, dry the glass immediately to get clean wine glasses without water stains. Stains may appear if you leave your glasses to dry by themselves.

If you used your dishwasher, your glasses might have already been air-dried. You may encounter some cloudiness and water spots. So it's important to polish by hand to clear your cloudy wine glasses.
Regardless of how you wash and clean your stemware, drying and polishing by hand is still the best way to make your wine glasses sparkle.
Here are some extra tips for drying and polishing your wine glasses:
Always use microfiber polishing cloths or towels that are lint or cotton-free.

Make sure to never use fabric conditioners on your polishing cloth. The greasy, slick residue from the fabric conditioner may stick to your stemware and alter the taste of your wine.

Use two cloths, one for each hand, to avoid smudging the glasses with your fingerprints. 

Steam the glass by holding it above some hot water, then gently polish the glass by hand as you dry it.
Should you hire a professional for your kitchen cleaning needs?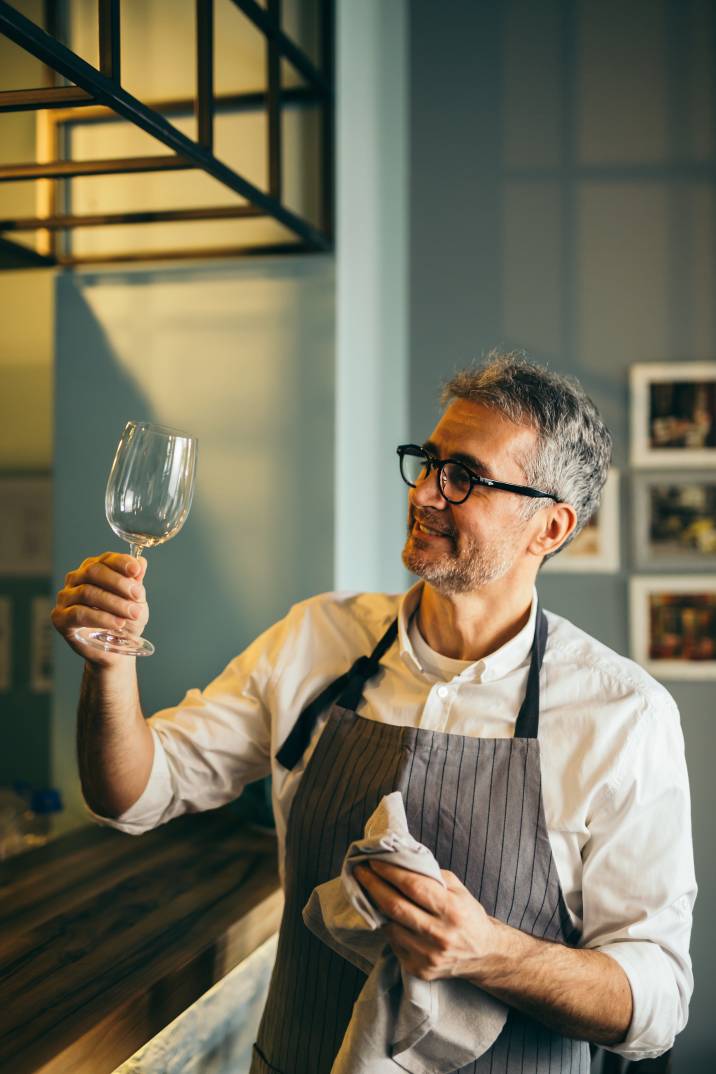 If you're passionate about wine tasting and new to the scene, it's always great to learn how to properly clean your wine glasses yourself. If you prefer a personal touch and want to learn from an expert, you can always hire a professional house cleaner to show you the ropes. 
However, if you're running a restaurant, we understand that you would prefer timely, cost-effective solutions from commercial kitchen cleaners to hit the ground running. 
Find professional home and kitchen cleaning services near you on Airtasker. We can connect you with several Taskers in your area for all your home and commercial kitchen cleaning needs.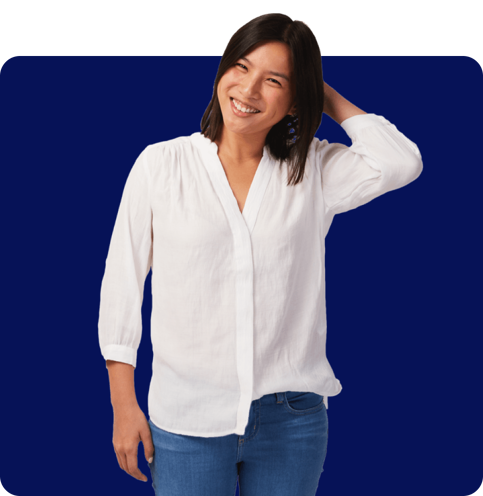 FAQs on cleaning wine glasses
Cleaning wine glasses with vinegar is a cinch. Follow the steps below to get crystal-clear stemware.
Warm a bottle of white vinegar by submerging it in some hot water. You can fill up your sink or a bucket. Leave it for a minute or two. 
For multiple glasses, fill your sink with warm vinegar. Use a bowl if you're just cleaning a couple of glasses. 
Carefully soak the wine glasses in vinegar for an hour.
Once done, gently scrub your glasses with a sponge or a bottle brush.
Rinse your wine glasses thoroughly with hot water.
Dry and polish your stemware using the steps mentioned above.
Cleaning yellowing wine glasses requires more effort:
Use a solution of equal parts water and vinegar. Pour it over your yellowing wine glass, and soak overnight.
In the morning, pour out the solution. Wash your glass with a sponge and unscented dish soap, and rinse with hot water. 
Dry and polish your glass once done. Repeat the overnight soaking method until your glass is clear. 
If the stain is still there, we have a few more tricks for you: 
Cut a lemon in half, remove the seeds, and use it to gently rub the stains on your glass. Wash and rinse the glass, then dry and polish. 
Or you can use baking soda and gently scrub it on the yellow stain using a sponge. Rinse with water and white vinegar. Dry and polish your glass once done.
It's free and takes only a minute.