Home

/

Electric Car Service Cost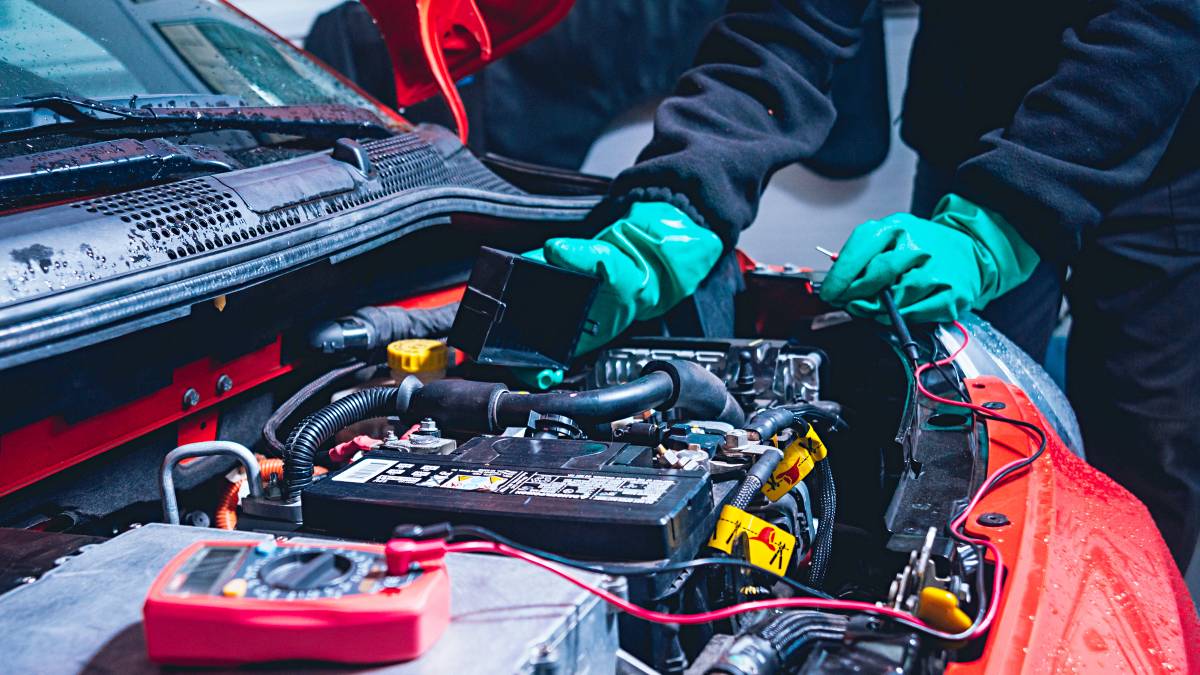 How much does an electric car service cost?
Get a free quote now
Post to find a price. It's free and only takes a minute.
Price guide
$252 - $2,032
Find electric car service, fast

Post a task with your price in mind, then get offers.

It's free and takes only a minute.

See how it works
Do electric cars need servicing? Even with all the high-tech equipment that enables them to run efficiently, EVs still need periodic maintenance and servicing. You probably think that EVs cost more to maintain, considering that they're more advanced than regular petrol or diesel cars. Surprisingly, the average electric car maintenance cost is 3 cents per mile. Meanwhile, the maintenance cost for a gas car is 6 cents per mile. At 15,000 miles per year, EV owners spend only around $450 on EV maintenance costs. However, the average electric car service cost per visit is higher at $306 compared to $189 for regular vehicles.
Certain parts, such as the lithium battery, electric motor, and regenerative braking system, are costlier to repair and replace. Since EVs are more high-tech than regular cars, EV servicing and repair costs for these components can be much higher. However, EV owners save a ton on electric car maintenance and running costs. Since EVs don't have a traditional internal combustion engine with moving parts, this means less maintenance and more savings. You won't ever have to worry about fuel filter, oil, and fluid changes.
What's the difference between car service and maintenance?
Most people use the terms vehicle service and maintenance interchangeably. Both mean getting work done on your car, but there's a slight difference. Simply put, vehicle maintenance is the scheduled service intervals your car needs to ensure it runs in tip-top condition. On the other hand, vehicle service entails getting your car fixed or inspected outside your regular maintenance intervals, primarily for unexpected mechanical or electrical issues. 
List of EV service costs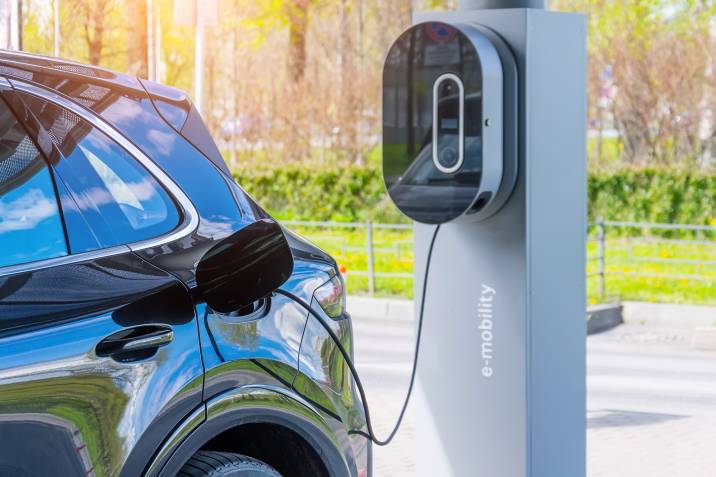 Here's a quick table of electric car service costs per make and model: 
| | | |
| --- | --- | --- |
| Vehicle make and model | 5-year EV maintenance cost | Yearly EV maintenance cost |
| Jaguar i-PACE | $1,258 | $251.60 |
| MINI SE | $1,566 | $313.20 |
| Volvo XC40 Recharge | $1,950 | $390 |
| Hyundai Kona Electric | $2,298 | $459.60 |
| Chevrolet Bolt EV/EUV | $2,885 | $577 |
| Ford Mustang Mach-E: | $3,657 | $731.40 |
| Kia Niro EV | $3,060 | $612 |
| Tesla Model 3/S/X/Y | $3,115 | $623 |
| Audi e-tron | $6,236 | $1,247.20 |
| Porsche Taycan | $10,159 | $2,031.80 |
What makes EV maintenance costs low?
Here are a few factors affecting electric vehicle maintenance costs:


Low running costs
Driving an EV saves you a lot on gas. Driving 15,000 miles per year would only cost you an average of $550 or $45 per month on electricity bills. The same distance would cost around $1,300 on gas-powered cars.
What car parts need maintenance?
Electric vehicles still need regular maintenance. But because they have no internal combustion engine, you only have to worry about the following: 
Tire rotation

Cabin air filter replacement

Cooling system flushes

Transmission fluid replacement

Windshield wiper replacement
What parts don't you have to worry about? 
As mentioned earlier, because EVs don't have a traditional internal combustion engine, you save more on EV maintenance because you don't have to spend on the following:
Tune-ups

Engine oil change

Fuel filter change

Coolant change

Spark plug replacement

Transmission fluid replacement
What factors affect electric car service costs?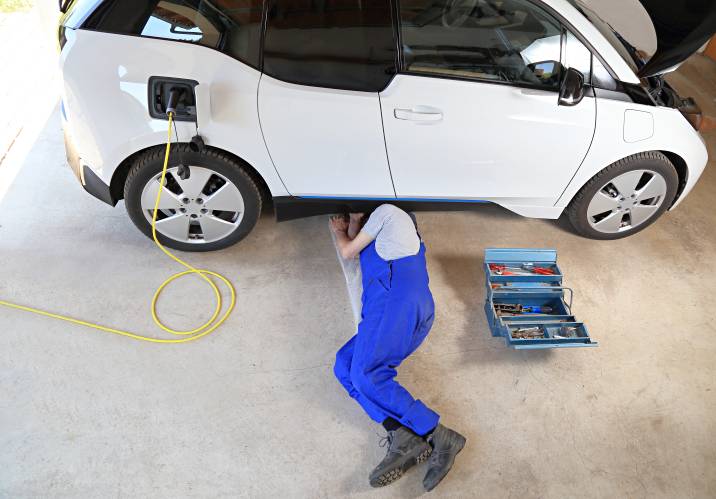 Here are a few things that affect EV servicing costs: 
Vehicle make and model
An EV's make and model also affect its maintenance costs, just like its gas-powered counterparts. Luxury cars from Porsche and Audi will cost more to service than small or consumer-friendly cars.
Investment in new technology
Electric cars are still a fairly new technology compared to conventional cars with internal combustion engines. Sadly, this adds to the overall electric car service cost. To properly service EVs, repair shops have to invest in additional facilities. Moreover, mechanics and auto electricians require additional training to handle advanced technology. 
Expensive electronic components
Electric vehicles are loaded with sensors, driver assistance systems, and other advanced technology that's generally more expensive to replace when broken. If you need to repair any of these parts, expect higher EV servicing costs.
Vehicle battery
Your battery is arguably the most important component of your electric car. A new battery can cost between $5,000 to $10,000. Thankfully, most manufacturers provide an eight to 10-year warranty or up to 100,000 miles.
Post a task for electric car service and maintenance
Looking for a qualified EV mechanic or auto shop has never been easier. Airtasker can connect you with nearby mechanics or auto electricians for all your EV maintenance needs. Through its comprehensive rating system, you'll find the best Tasker for the job.
Simply post a task by indicating the job specifics and then wait for offers. Be sure to indicate the following: 
Vehicle make and model

Issue/s encountered

Warranty status

Mileage

Other important info
As long as you provide all the essential details, Taskers should be able to give you an accurate quote on the total electric vehicle service cost. Log on to Airtasker today to book an EV mechanic near you.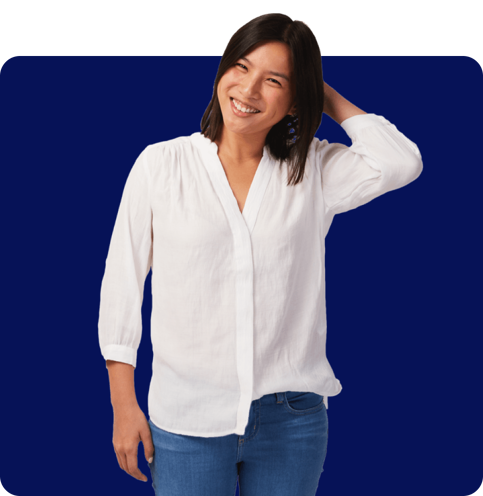 FAQs
An EV requires at least an annual maintenance check on its system and the rotation of tires. Depending on your manufacturer's prescribed service intervals, you can also get your car checked twice a year.
Major repairs, especially for collision damage, cost more. Studies show the average electric car service cost is $4,041 vs. $3,191 for non-EV models among small and non-luxury cars. Mid-size and luxury EVs cost an average of $8,037 to service vs. $5,242 for their non-EV counterparts.
It's free and takes only a minute.