For a quick and satisfying reno, updating your kitchen window curtains or blinds is easy and affordable. Even more so if you've decided to forgo any window treatment at all and only need to revamp the space to better take advantage of a gorgeous window frame or view. These kitchen window ideas are not only gorgeous but often very practical too.
If going with curtains and blinds, finding the right material is everything and will depend on personal taste and your chosen décor style. But it also depends on the amount of light you are working with: in kitchens with minimal light, you'll be wanting less opaque fabrics and materials and considering designs like valances rather than full drapes. Ultimately the goal is to create a bright, chic and streamlined look in your kitchen, with practical easy to clean material especially if it's in a splatter zone.
But if you're still deciding between curtains or no curtains, I've got some gorgeous bare kitchen windows that simply look beautiful unadorned or ones that utilise the windowsill space for décor instead.
Here are 40 kitchen window ideas that are all in great taste—enjoy!
The no-treatment treatment
So first let's take a look at kitchen window ideas that don't involve curtains or blinds. Lots of people are opting for keeping kitchen windows bare if privacy is not an issue. Here are some stunning examples.
1. Let there be light
One of the main reasons people decide to keep windows naked is to allow the full amount of available light to flow in. This Amsterdam home shows off a stunning all-white aesthetic (give or take the odd dab of colour), without curtains or blinds detracting from the clean, streamlined window. And when your kitchen window looks out on lush greenery, why hide it?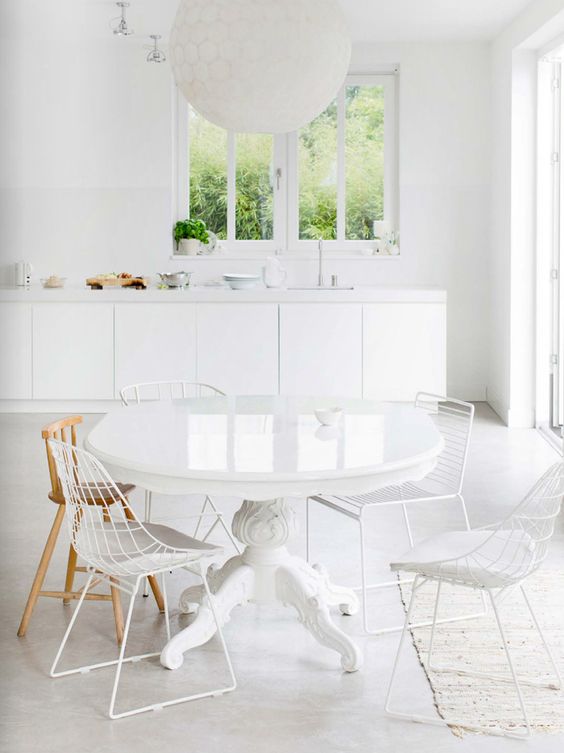 2. Arch kitchen window
Another reason to ditch the drapes is if you have a stunning architectural window in your kitchen, like this lovely arched one. The spherical glass and brass pendant repeat the curves, as do the gooseneck faucet and traditional drawer pulls. While arches feel vintage, this little farmhouse kitchen is also given contemporary flavour thanks to the 'greige' (aka the new neutral) subway tiles framing the window.  Have a window expert help you find and install gorgeous ones like this!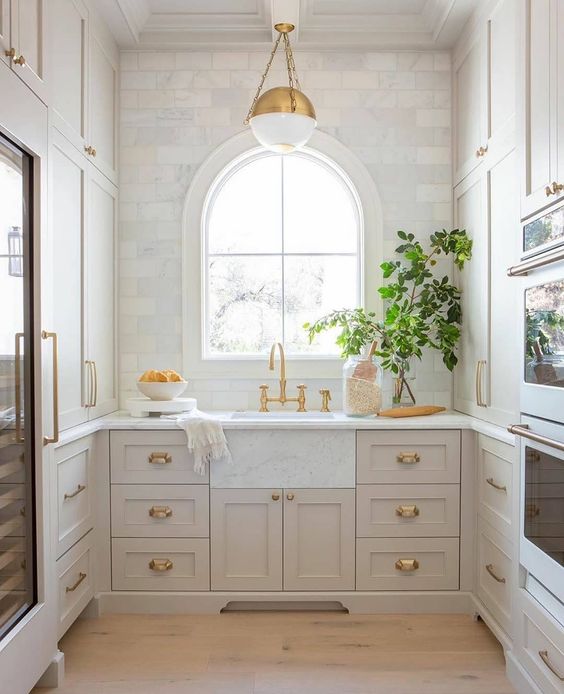 3. Don't spoil your view
Blinds and curtains would only interrupt the view outside of this bright and modern entertainer's kitchen. The banks of white cabinets frame a long horizontal glass backsplash that allows the cook to enjoy the tranquil verdant view.  See more kitchen splashback ideas to see some alternative options too.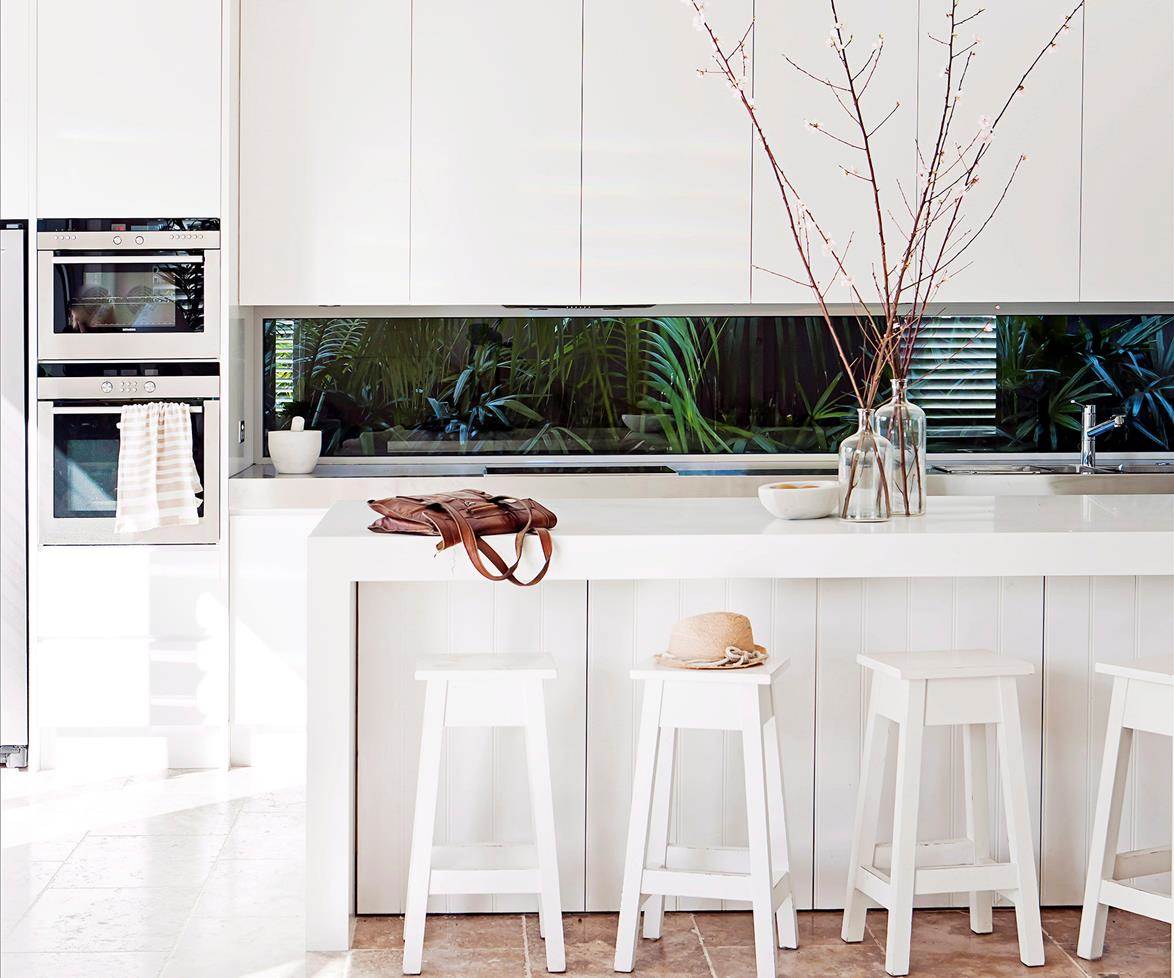 4. Use the windowsills for decor
When you don't have curtains or blinds in your kitchen window, you can make the most of the unobstructed windowsill space for styling. This bare, almost monastic kitchen leaves the windows unadorned so they allow in all the light, and takes advantage of the sill space for cookbooks and small decorative items. If you're looking for kitchen window sill ideas, I've got more inspo below.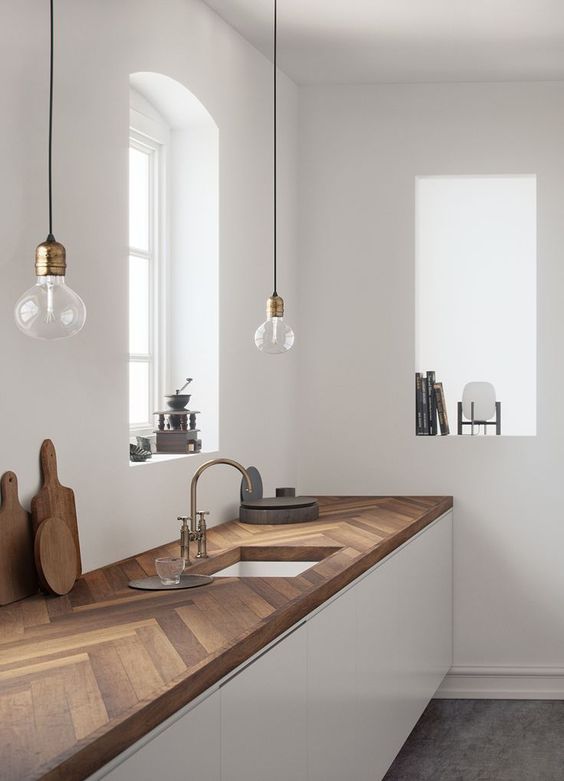 5. Show off luxe materials
A strongly contemporary look is to mix beautiful natural materials and finishes like glass, metal, timber, tiles and concrete. How gorgeous is this kitchen, with birch plywood cabinetry, honed concrete benchtop, stainless steel sink, matte black tapware and glossy subway tiles?  Similarly, the glass and steel louvre windows are attractive enough not to need any embellishment.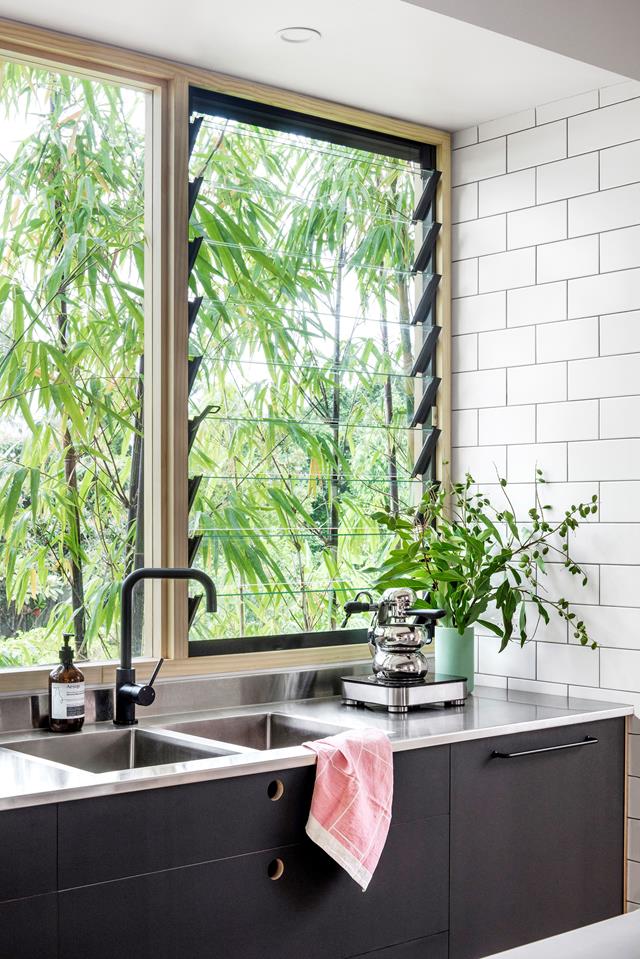 6. Look out to your kitchen-garden
Here's another contemporary kitchen with a large, long narrow window running the length of the wall and highlighting the home's garden. Once again, there's no need for blinds or curtains, the slim timber frame is decorative enough. These long kitchen windows peering out onto backyards really foster a strong indoor-outdoor connection too.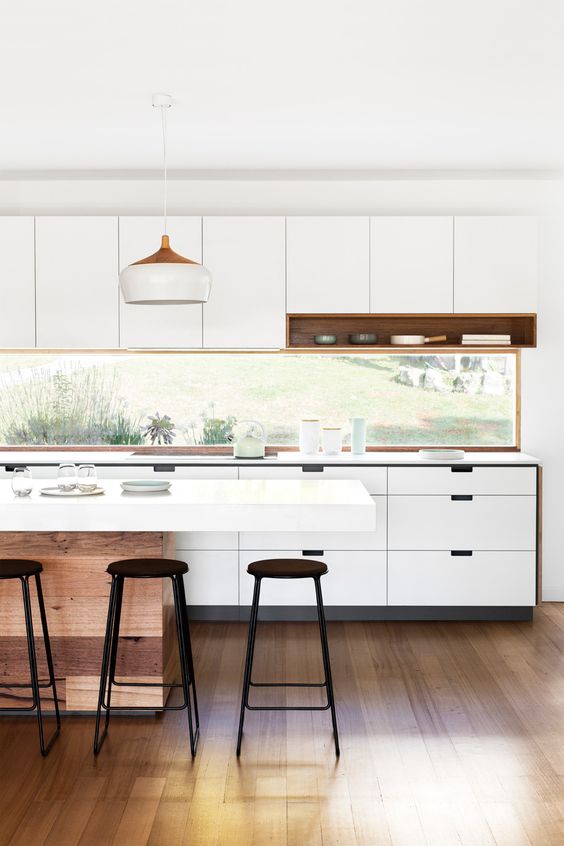 7. Dress it up with black trim
If you have a white or light neutral colour scheme in your kitchen, you can give it a chic update by painting your window trims black. It's a high contrast contemporary look that especially suits windows without curtains, providing a finished look and defining the windows without introducing the clutter of fabric.
When you are going for a naked window look, you want your windows to be truly sparkling clean. These windows are no walk in the park to clean, so sometimes it's best to leave the hassle to window cleaners.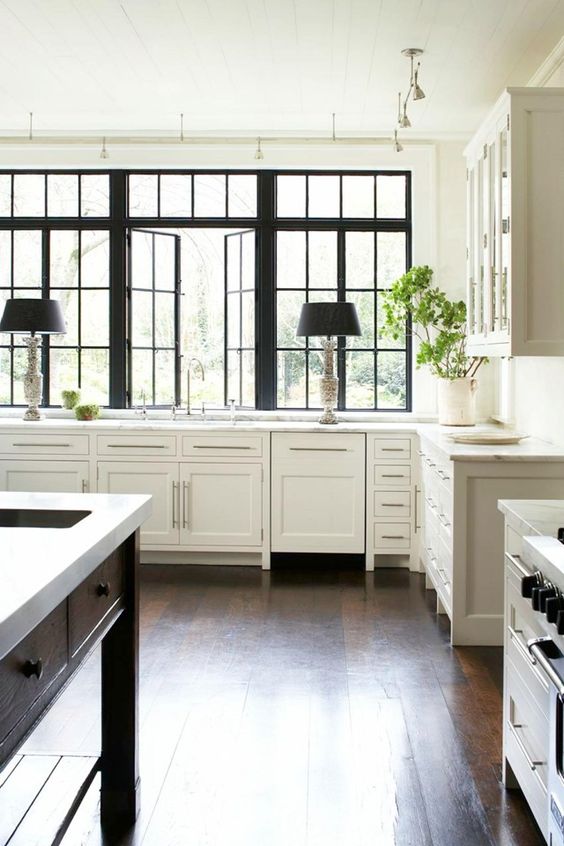 8.  Go for a glass splashback window
Modern kitchens with a layout that includes a long horizontal window are often designed so that the sink and prep area is along with the window, with the glass acting as a backsplash.
A glass splashback is a lovely contemporary alternative to tiles, and has the benefit that you won't have to clean grout! And once again, eliminating traditional window treatments means you can fully enjoy your garden view.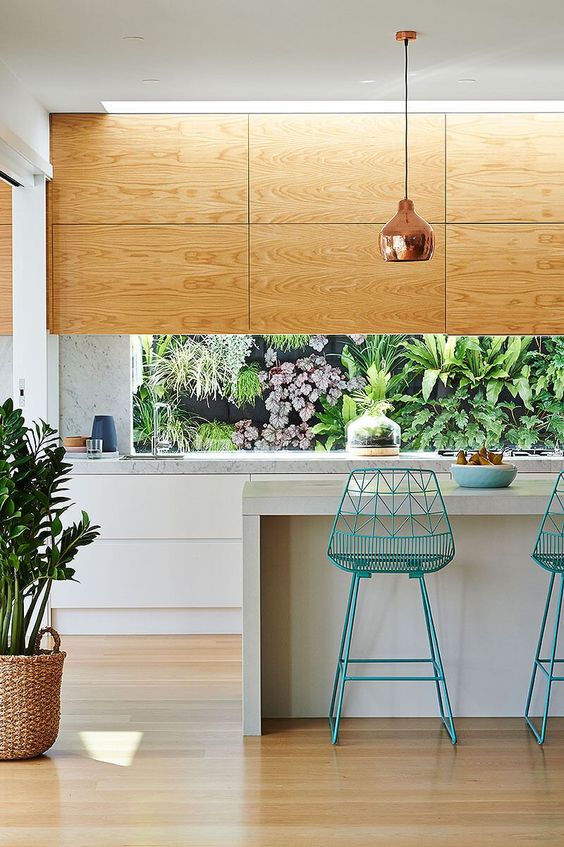 9. Blend black and white and greenery
Black interiors have been popular for some time and are still going strong. They just give a chic and contemporary edge to any décor style, including a modern farmhouse kitchen as you can see below.
Here, the windows are kept fresh and bright white, allowing the focus to fall on the graphic pendants. Potplants are always wonderful kitchen window sill ideas and can grow more freely without blinds or curtains limiting them.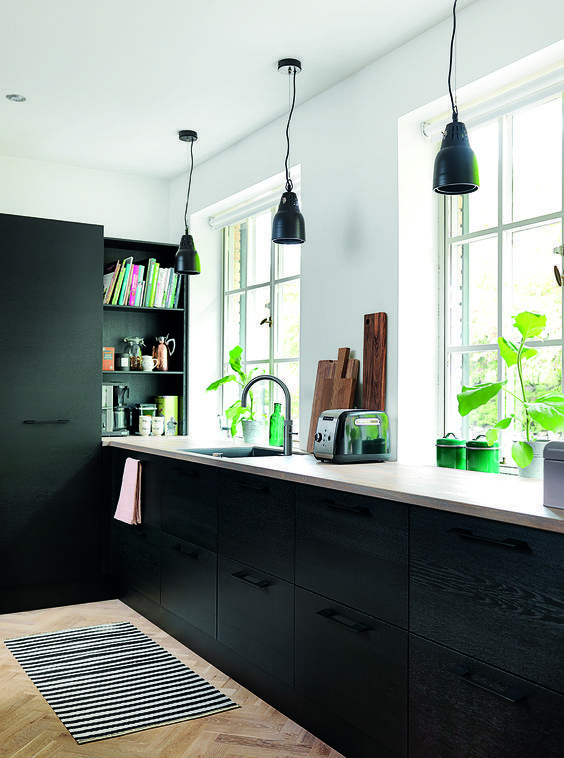 10. Enjoy a view of plants
This quite small kitchen looks airy and spacious thanks to the massive backsplash window and the generous skylights. Even if your kitchen only looks out onto a basic and plain courtyard, take a tip from these homeowners and install a trio of oversized container plants to stand in front of your window. These can also act as a privacy screen if necessary.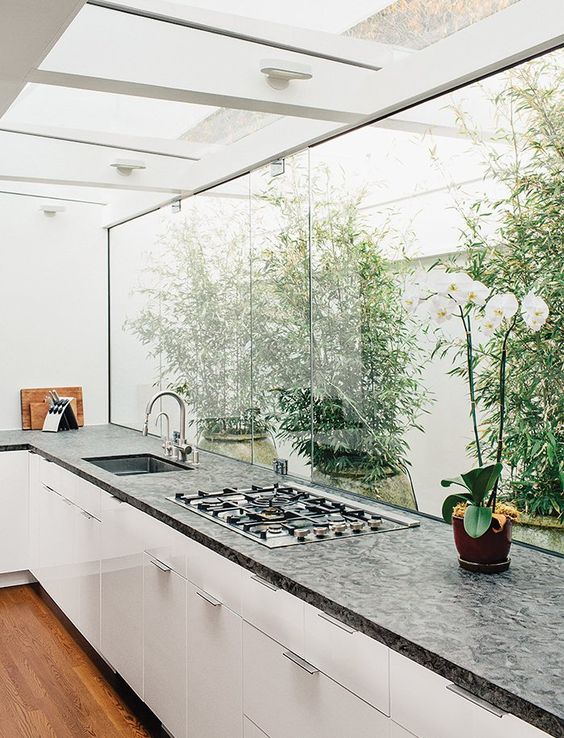 11. Go bold with black steel
Here's another example of a modern kitchen featuring black steel frame windows which require no embellishment. I love the hinged window design here—the windows were some of the original features of this converted warehouse that the homeowners decided to hang onto when renovating. Once again, for kitchen window sill ideas you can't go wrong with potted plants—ideally, herbs!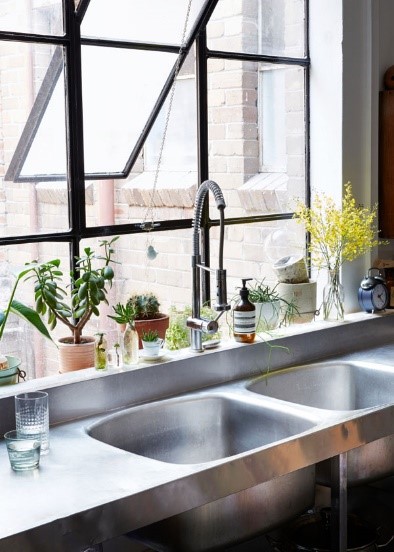 12. Contrast busy colour with plain white
This happy kitchen-dining space is full of colour bursts, beautifully contrasted against whitewashed floors and walls. Keeping the windows free of curtains or blinds, and simply painted crisp white, is a good idea when working with this much colour. The white window frame also creates a nice backdrop for the vivid metal pendant lights.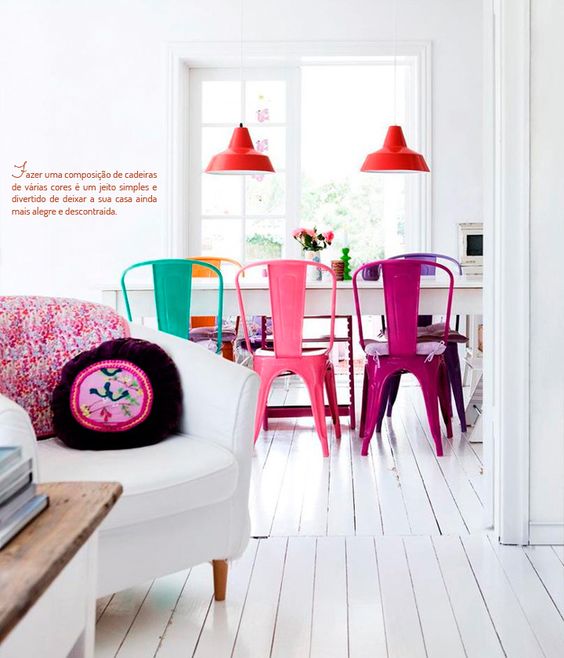 13. Use the frames for colour
This is such a stunning modern farmhouse kitchen, with an unusual colour palette. The naked sash windows have been painted in a soft bottle green which matches the green soapstone countertops, with the green offset by the pale dove grey kitchen cabinet and wall paintwork. This is another way you can introduce colour into your kitchen without necessarily going down the blinds/curtains route.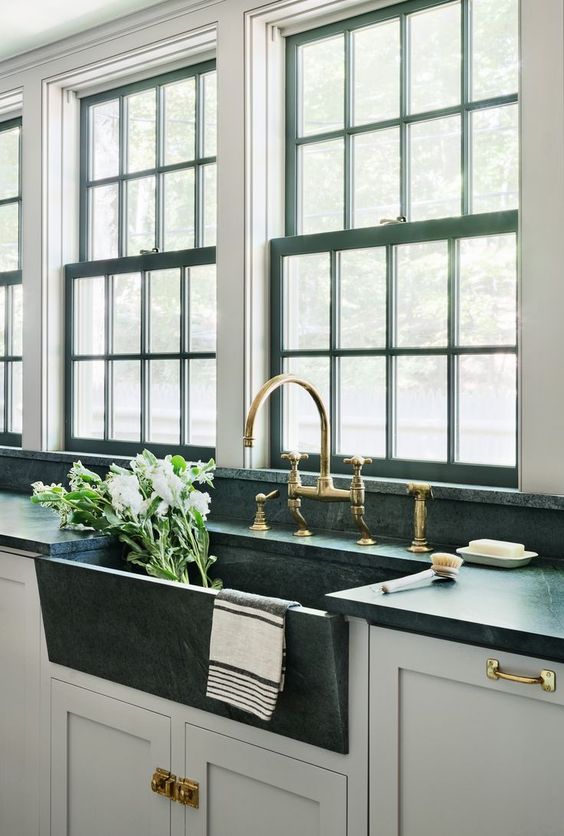 When the focus is squarely on your kitchen window, it goes without saying that your frames should be in tiptop condition. You can get someone to give you a hand with any frame repairs or other general window repairs that you might need.
Kitchen blinds and curtains
But sometimes you just want more privacy or maybe just less sunlight so blinds or curtains will be desirable. Safety may be an issue if your window is near your stove, so streamlined choices without fluttering fabric are the best option. And simple, unlined styles are usually easier to launder at home.
At the moment there's a bit of a vibe about coarsely woven blinds, whether organic material like linen, fibres like bamboo, or woven wood. Here's a selection of gorgeous kitchen window blind ideas.
14. Mix modern linen with vintage
Here's a sophisticated kitchen-dining room in soft neutral tones, with a blend of modern and vintage elements in a mix of eras. I love the whitewashed, mirrored vintage armoire and the chandelier, with further vintage elements being the mid-century Saarinen tulip table and wire mesh chairs. With all the ornate and patterned décor, the simple contemporary linen blind is a refreshing contrast.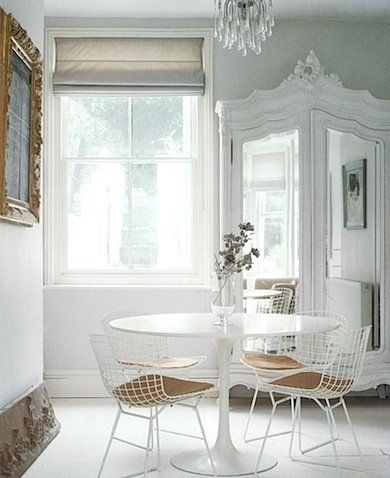 15. Go for woven wood blinds
Current trends in kitchen window treatment ideas involve the copious use of organic fibres, including woven timber. These blinds add a dose of warmth and tactile texture to a monochromatic colour scheme, like in this modern farmhouse kitchen. I like how the upper windows are left bare to ensure maximum light flow, while the lower windows can be covered for privacy.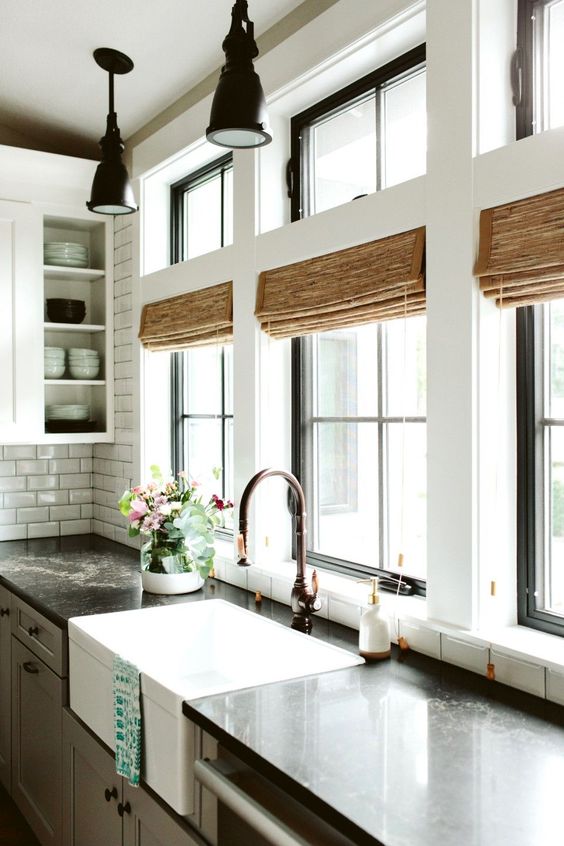 16. Choose fresh and clean Romans
Kitchen window blinds don't need to be a blackout fabric, in fact it's usually better if they aren't. Opaque blind like these grey Romans will give you privacy but still allow plenty of light through.
This Scandi style kitchen shows how lovely a simple window treatment like this can be, with muted soft natural tones and the knobby texture of a coarsely woven fabric. Keeping the blinds permanently half-drawn will ensure you have window sill space to style up, too.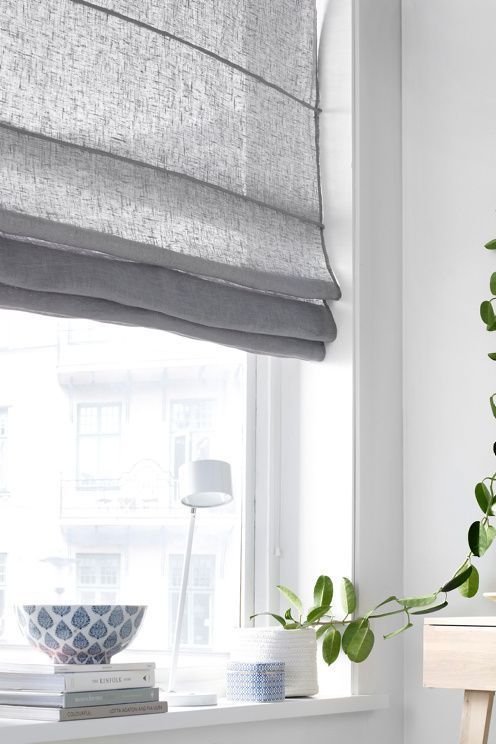 17. Or sheer white curtains
While blinds and shades are practical and have that streamlined, uncluttered look, traditional kitchen curtains can still look completely lovely. Sheer white curtains will take the edge off the sunlight and give you a little privacy but still remain unobtrusive and airy. How pretty is the upper leadlight window too?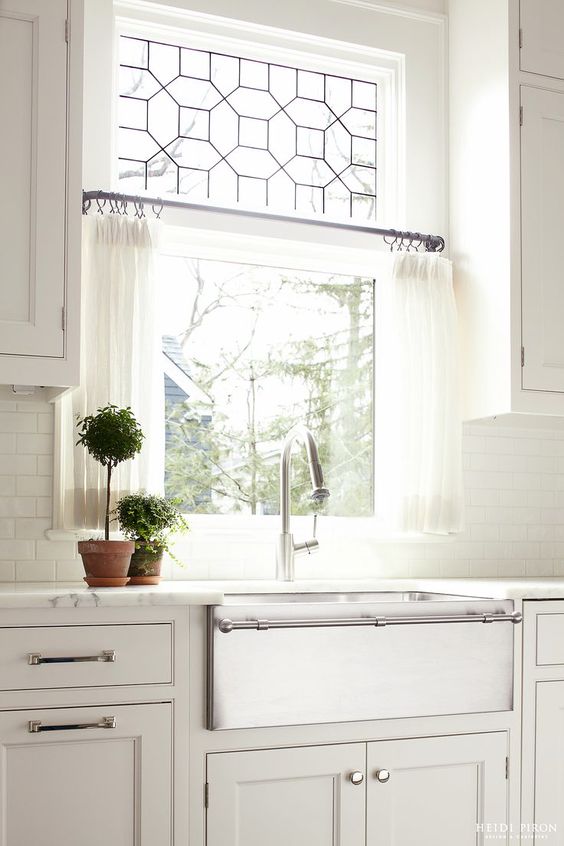 18. Pick organic materials
This modern family kitchen has coastal farmhouse vibes, thanks to its mix of fresh white and timber, glammed up with marble benchtops and brushed brass hardware. The standout feature is the cornflower blue and white Moroccan tile backsplash, and the bamboo blind complements it perfectly. Organic fibre blinds suit a range of decor styles, giving earthy warmth to any setting.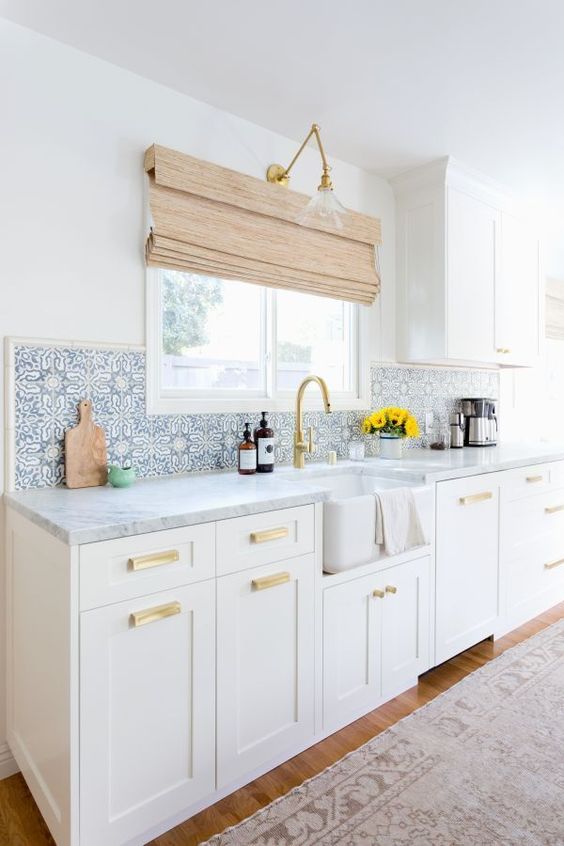 19. Go for gingham
When it comes to kitchen window treatment ideas, you can't go past the classic, never-fail country charm of gingham, in any colour or check size that you like. Here, an oversize buffalo plaid style in barely there pale grey and white, adding a dose of pattern to an otherwise all-white space. I love these subtle white sconces too, perfect for the country kitchen aesthetic.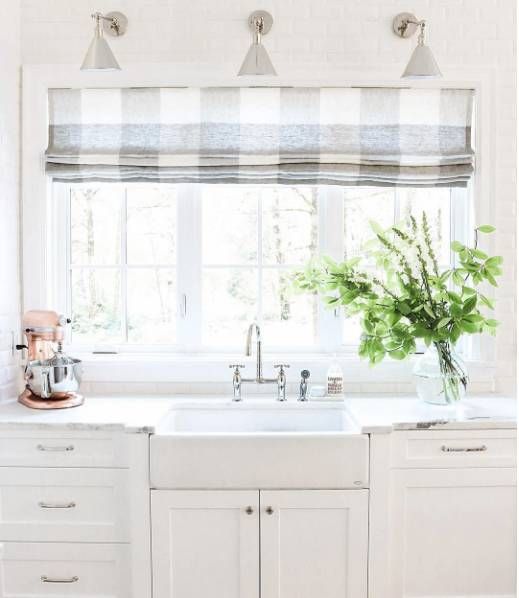 20. Have linen shades
Coarsely woven fabric with a textured grain is a chic and classic choice for your kitchen window treatments. I like these simple shades that look just casually arranged, with their random asymmetrical length. Linen in natural tones is always timeless and elegant, whether it's washed or raw, and will add understated sophistication to any décor.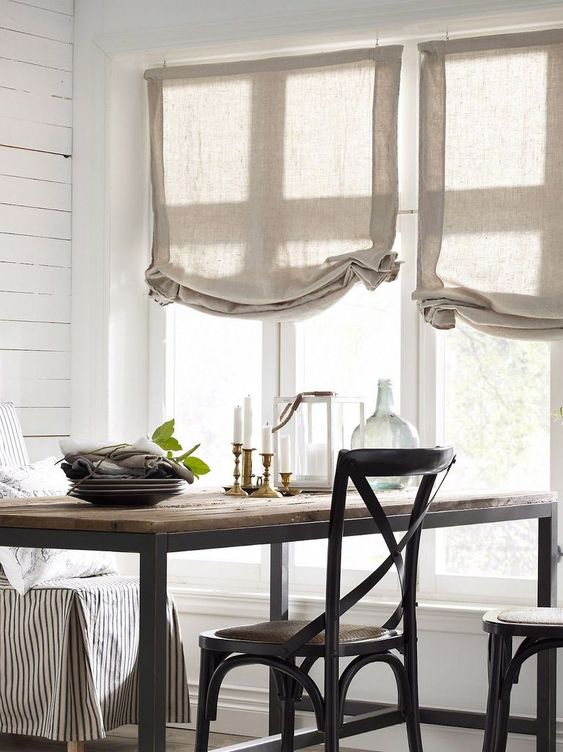 21. Mix old and new
Economical and basic plastic blinds don't have to look cheap and nasty at all, just look at this lovely kitchen window in an English farmhouse. Minimal white shutters do their job while adding a modern touch, which contrasts beautifully with the vintage brass jug and pewter pots. For kitchen window sill ideas, dwarf fruit trees are very apt for your kitchen.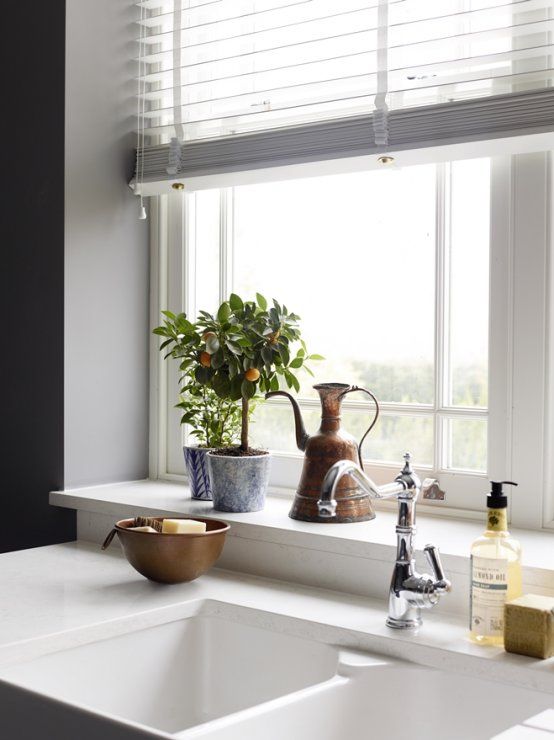 22. Or add ethnic print
Curtains which are essentially valances are ideal for kitchen windows. I love this characterful use of a Toran (being a decorative Hindu door hanging) to generate Boho vibes and add colour and pattern to this kitchen. I love that the flaps of these fabric pieces are intended to resemble mango leaves which are believed to absorb negative energy from your home.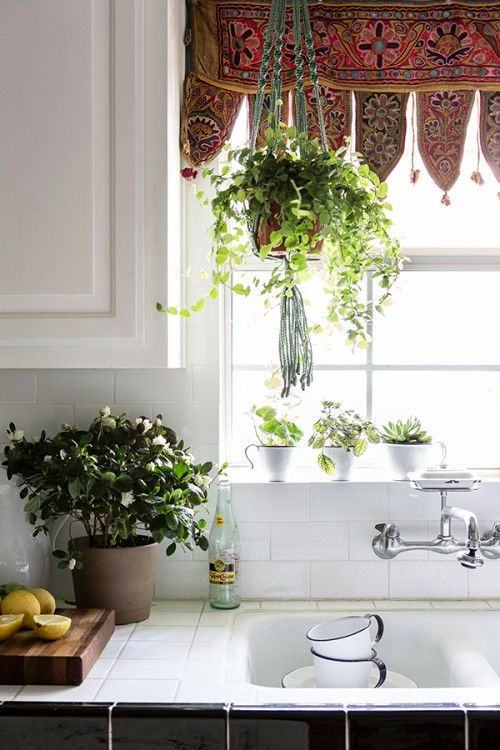 Kitchen window decoration
23.  Use plants as curtains
Instead of curtains or blinds, you might also like to try using use plants as window treatments. Here's a gorgeous 'plant curtain', with tendrils of this silver dollar vine affixed to the kitchen wall with white electrical tape—this can be gently moved as the plant grows.
Certain climbing plants are best for this kind of look because they are lighter and will grip better onto their support so ask your nursery for their recommendation. Learn more about the best indoor plants for your home.
24. Go Boho
And this Brisbane apartment has a similar-looking effect, this time created by vines cascading from a plant in a hanging basket. This is perfect for Boho, Jungalow/Kinfolk or even Scandi style interiors, infusing lots of natural charm, colour and movement into a space.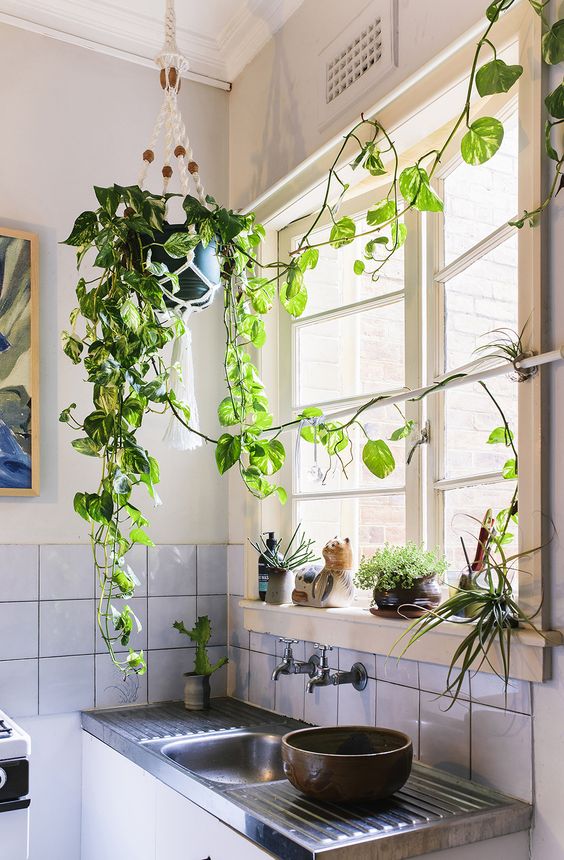 25. Add rustic jugs
More kitchen window sill ideas here that involve plants as décor, this time a densely placed collection of potplants and cut flowers in galvanised steel and ceramic containers and set atop a slab of marble on the sill. I like the time-worn, rustic aesthetic with the vintage faucet and taps and timber benchtop, merging beautifully with the contemporary subway tile.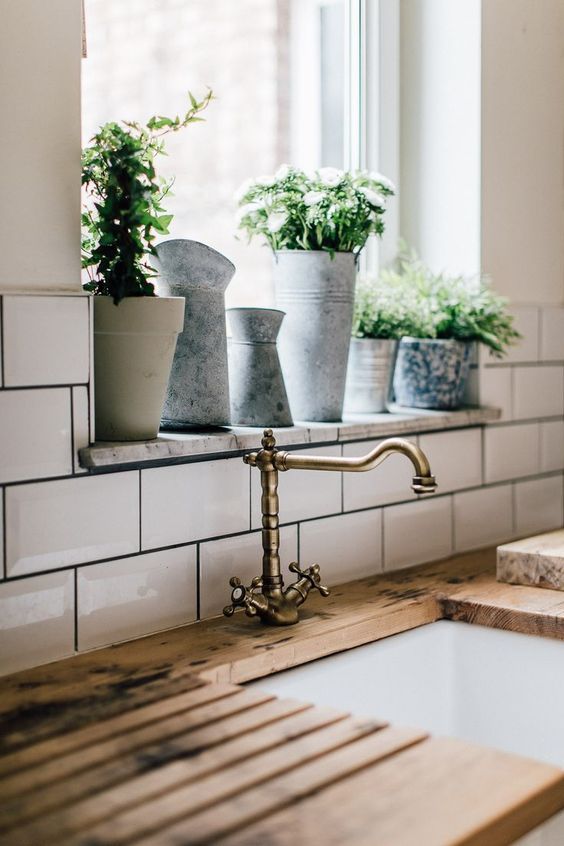 Use the window for shelving
Another option for kitchen window treatments is to banish blinds and instead, install glass shelving. Obviously highly practical, it's also a chance to showcase your favourite kitchenware, especially glassware which will look amazing in the light too.
26. Glam it up with glass and brass
Shelving is such a great way to use the kitchen window space constructively. I love this entertainer's kitchen, with its blend of contemporary and classic elements. Beautiful, lightweight looking brass shelving holds all the glassware, which adds sparkle and shine to the space, while the materials are echoed in the cute wall sconce. How about that brass detailed sink set in the marble countertop though? Pretty amazing.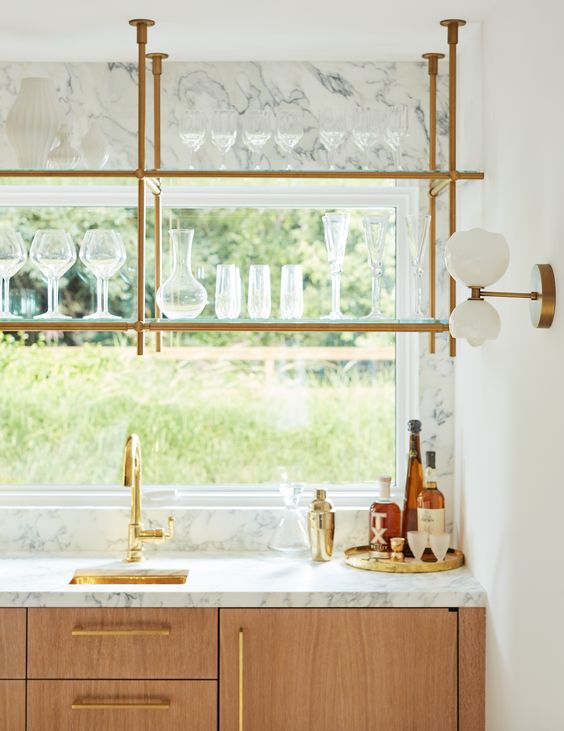 27. Make it modern with black metal
Here's another stylish glass shelving set up, this time with black iron bars for a modern kitchen look. Again, there are some traditional elements–here it's the white Shaker cabinets and the polished nickel gooseneck faucet and tap.
These contrast with the more modern black marble benchtop fitted with a stainless steel sink. I love the symmetry of the row of bottles too, which make it feel like a restaurant (it's actually someone's basement bar–I'm very jealous!).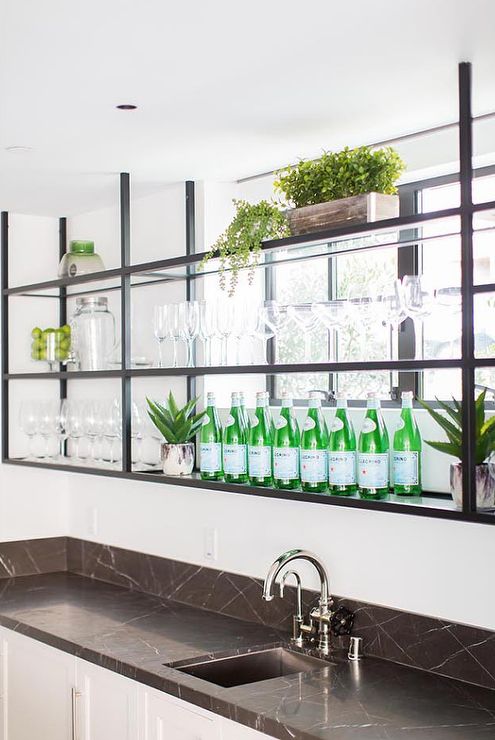 28. Hang pots and pans
Glass shelving can keep your most used items visible and within easy reach, and you can even add a row of hooks to your curtain rod (sans curtain) for hanging your pots. This look is perfect if you have a galley kitchen, to get that authentic 'ship's galley' vibe, and to really take advantage of every spare inch in a small kitchen.
Need more inspo for kitchen layouts? We've got kitchen layout ideas, and you might like to look at U-shaped kitchens too.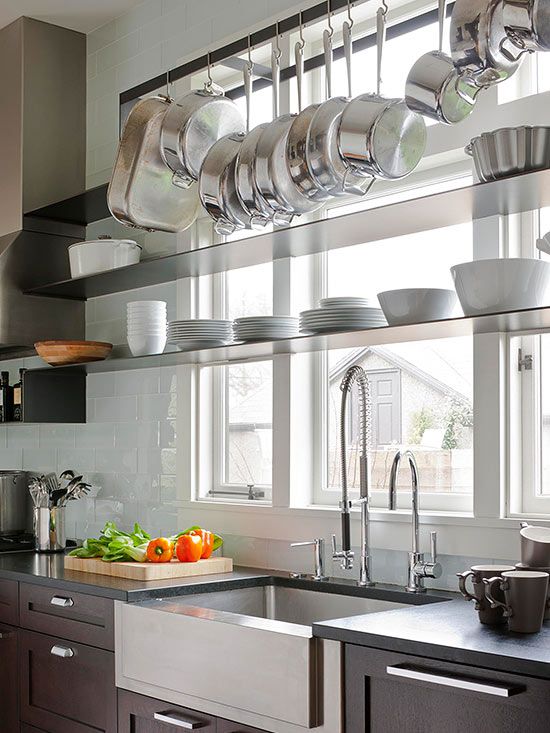 29. Install rustic wooden shelving
An alternative to glass shelving is simple timber shelves. Here, the wooden shelving gives this kitchen lots of lovely Nordic farmhouse flavours. Filled with plain white crockery, it feels clean and practical, while the timber tones look beautiful in the sunlight.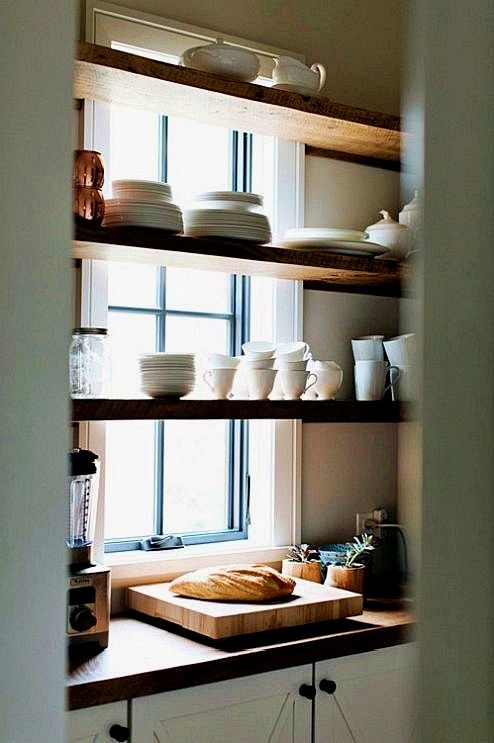 30. Create cottage charm
This is the kitchen in the renovated boutique accommodation, Red Brick Barn near the Goldfields in Victoria, which is full of precious salvaged vintage décor from around the world. An eclectic mix of reclaimed treasures, there's many layers of nostalgia and history in this home. Enhancing the window space here is a weathered, sky blue timber hutch to hold plates, and I love the collection of retro kitchenware on the wide window sill.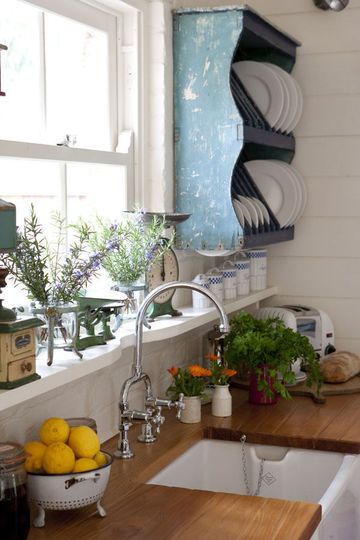 31. Hang herbs
My final example of ways to utilise the kitchen window space for functional storage is this bright and sunny kitchen, featuring double rows of hanging potted herbs. Incorporating a simple set of plastic Venetians behind the plants allows you to moderate the amount of light your plants get, if they don't like the full sun all day. I like the silver metallic dip-dyed pots which fit into the kitchen's grey and white colour scheme too.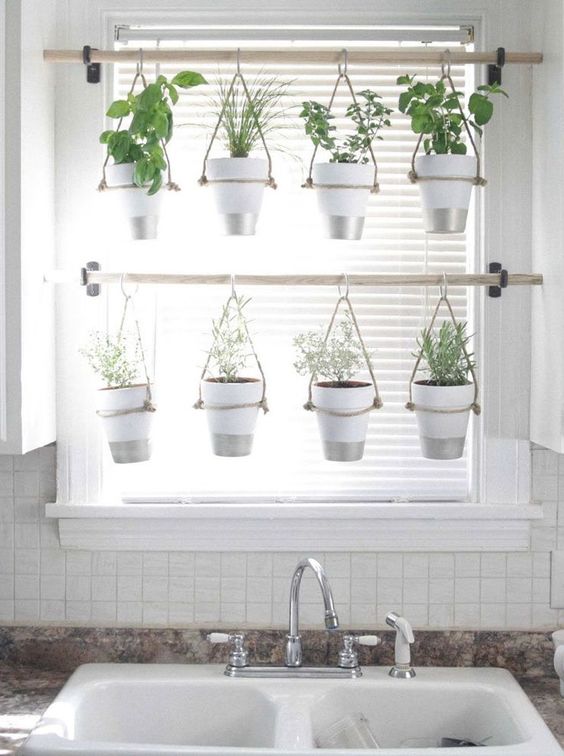 Breakfast bars & serveries
A specific type of kitchen window is the servery window. These open up completely (whether hinged, accordion or bifold style) to create a new indoor-outdoor dining space. Kitchen serveries are becoming more popular as they just suit our lifestyle so well, enabling alfresco eating and entertaining, and letting in loads of fresh air and light to boot.
Even if you don't have a servery window that opens up, you can still create an eating nook inside by extending out your window sill.  Here are some of the breakfast bar and kitchen servery window ideas I found that look especially enticing.
32. Extend the window sill
A timber benchtop butting against a window sill creates an extended space that's perfect for propping a couple of bar stools against to use as a breakfast bar. I like the task lighting here with these coloured industrial-style alloy pendants but here are more kitchen lighting ideas to take a look at too.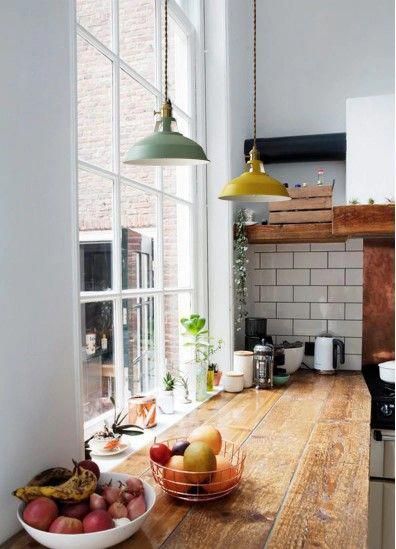 33. Black servery
This renovated Queensland worker's cottage painted fresh white has a gorgeous kitchen servery, with striking black accents in the window frame, bar stools, indoor and outdoor light fittings and even the plant containers. I love how the black servery window frame gives such definition to the functional space, and how the plants lend a fresh colour burst to the scene.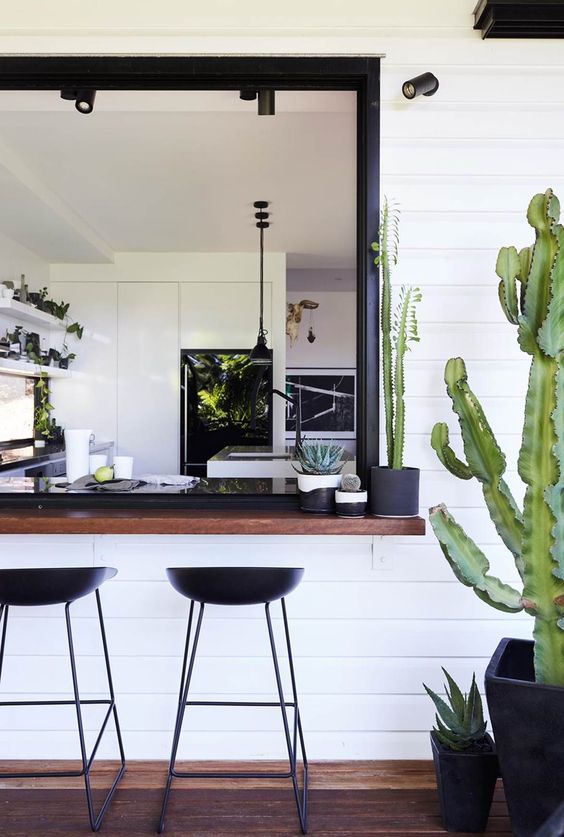 34. Consider bifolds
So clean and fresh, the small modern kitchen of this beach shack opens out to the garden with white bifold servery windows featuring black hinges that complement the matte black tap fittings. Lots of white, lots of timber and with plant life as almost the only décor—this kitchen looks like it would be so relaxing to cook in.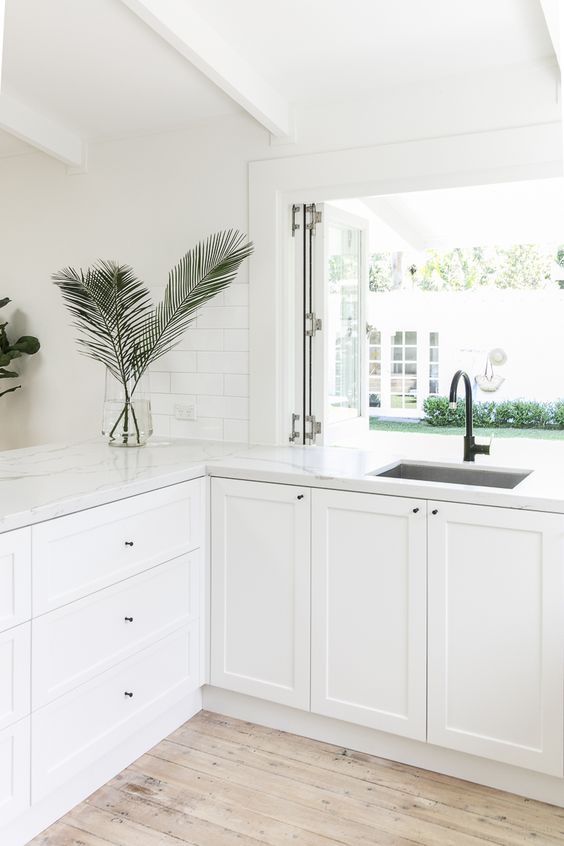 35. Set up a breakfast bar
Here's another example of a simple breakfast bar in a fairly narrow kitchen. I'm loving the materials used in this space—that timber inlay in the cabinets which complements the prep area countertop as well as the slab of timber for the bar. And cool stone underfoot is a lovely feeling in a kitchen. Being able to tuck your barstools away under the breakfast bar is also a handy feature.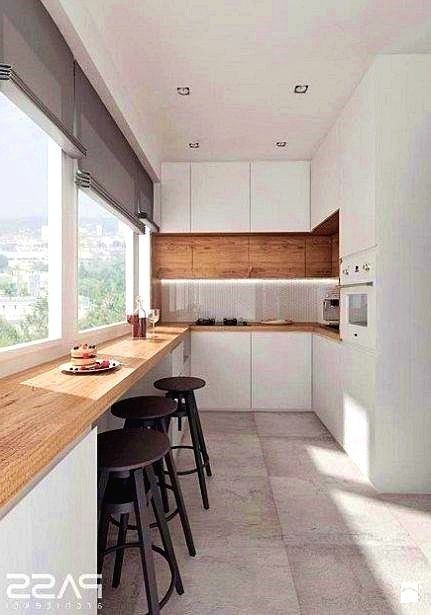 36. Windowsill seat
This is an unusual kitchen window idea as window seats are not all that common in kitchens. But I can see it being really handy. The timber bench seat also adds a complementary warm touch to an otherwise all-white coastal farmhouse or even Hamptons look.
37. Bright minimal servery
When it comes to kitchen servery window ideas, the aim is to create an open, airy space that seamlessly blends the outdoors and indoors. This one ticks the boxes! I like the café style hinged window—if you needed to create shade for your outdoor dinners, this style of window in another material would be ideal. To change up your kitchen window to transform it to a servery window, find a window replacement expert to create a custom look for you.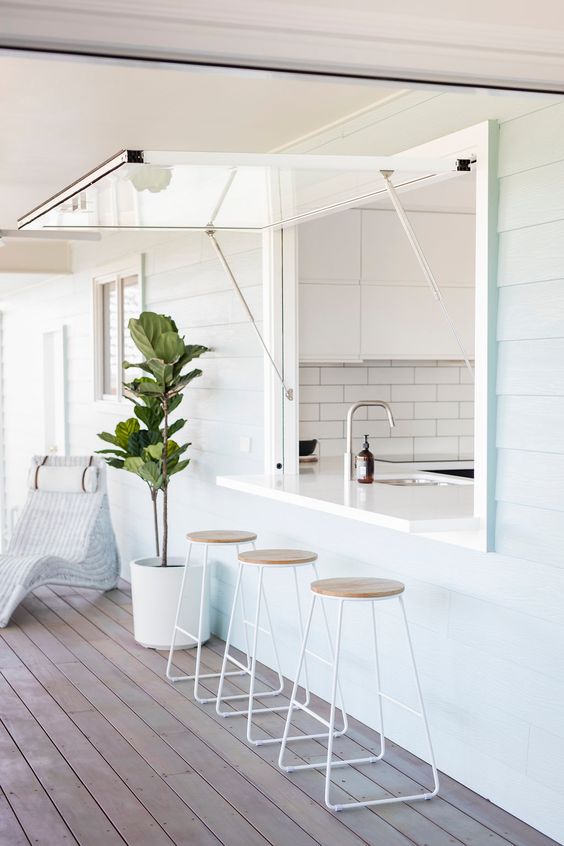 38. Go large
Most kitchen servery window ideas involve the installation of a decent-sized window that is able to open up to create a servery area. But in this modern Californian home, the entire kitchen wall has been converted to windows that fold all the way away. An oversized servery window like this is perfect for people who love to entertain!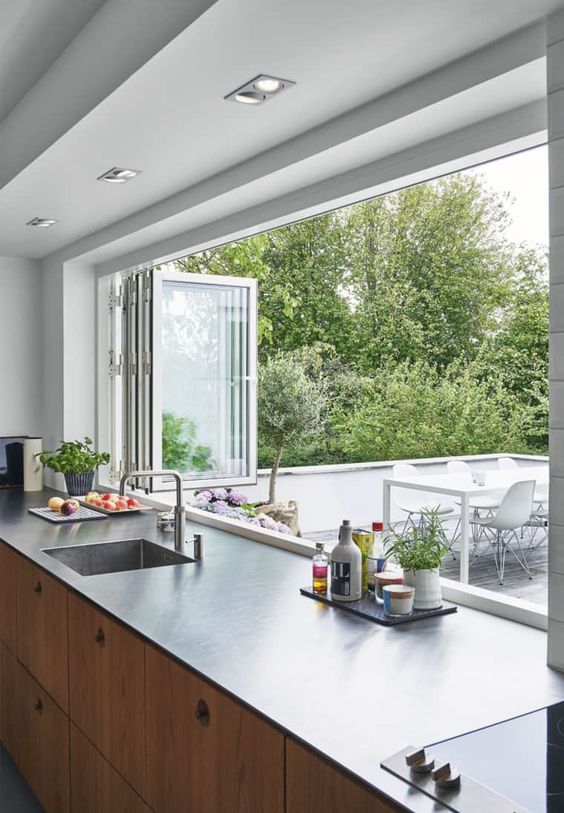 39. Maximise the outdoor connection
Since kitchen serveries are intended to create a harmonious interaction between indoor and outdoor social spaces, it makes sense that you often see them in coastal style homes that tend to appeal to people who love the outdoors.
The servery window in this whitewashed, beachy home swings outwards and probably also provides a handy windbreak since the home is right by the coast. You can't really beat an alfresco kitchen servery with ocean views, can you?!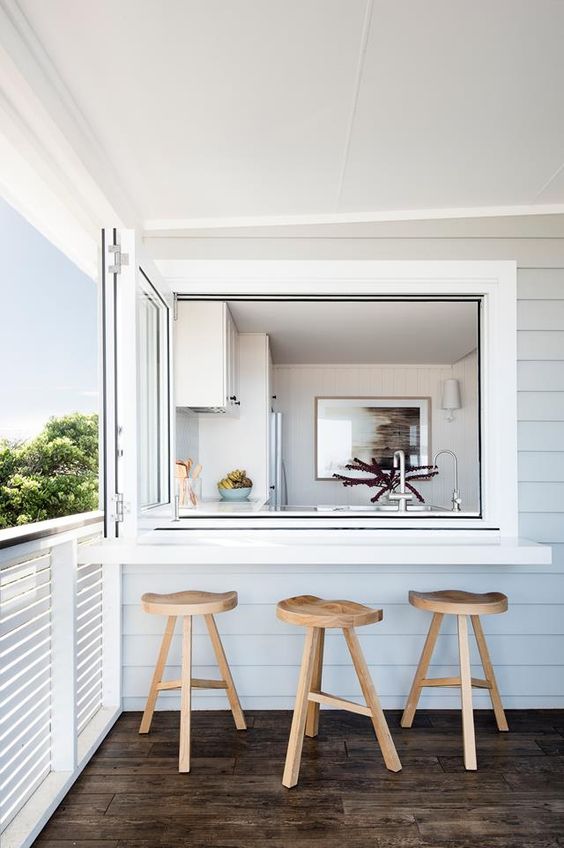 40. Windowsill bar
Lastly, this is a cute little breakfast nook. A small kitchen window is transformed into a tiny spot to enjoy a cuppa and enjoy your garden view, simply with the addition of a wooden shelf, with the timber attached to brackets mounted to the window trim. You can place it at a table or bar height depending on your preference, then simply add your favourite chairs or stools.
So there you have 40 kitchen window ideas that beautifully enhance the spaces they're in. Personally, I always thought curtains were non-negotiable for all house windows including kitchens, but now I see the light (literally). I think I'm going to try growing trailing plants as kitchen window treatments instead. What are your favourite window treatments for a kitchen and what works for you at home? Let me know in the comments!