Country kitchens have been around for a long time as beautiful, large spaces for the whole family to enjoy. And in recent years, they've been re-emerging in new ways. While the traditional country kitchen is still a much-loved design, new modern country kitchens focus on a modern rustic touch that's still cosy.
So we're going to dive into 25+ country kitchen designs, but before we do, let's start off with the foundations of a country kitchen.
Materials
Country style kitchens generally use natural materials like wood or granite. They focus on fine craftsmanship to create a warm, inviting kitchen where guests will feel comfortable to spend a lot of time. Traditional country kitchens often use design elements like stencilling or vintage signage.
Colours
Like their materials, country kitchens can stick to neutral and natural colours like white, cream, beige and grey, or they can include rich colours like gold, deep red and olive, or they can incorporate a bright or pastel colour palette.
Patterns
For added interest, country kitchens traditionally include patterns like plaid blankets and tweed. But there are so many other patterns that can be used! A mix of stripes, florals and nature prints also look stunning against a natural, rustic room.
Antique details
If you're going for an ultra-modern country kitchen style, then you might want to skip this element. But if you're wanting to create a more traditional feel, adding antique details will do the trick! You could replace big pieces of furniture like your dining table or chairs, or you could switch out cabinet handles for antique ones. And you could add little details like signs, clocks or vases.
The good thing is that you don't have to buy antique-look items brand new. You can find truly authentic antiques by heading to your local second-hand store or op shop. There's bound to be something that you can reuse!
Let's take a look at ways to style a country kitchen.
1. Put everything on display
Country kitchens are not minimal, so you don't have to worry about putting every single item away. Hang your pots and pans, display your chopping boards, place a potted plant on a cake stand, and position a beautiful kettle on the stove. It's these little details that will make a huge difference to the overall look of the space!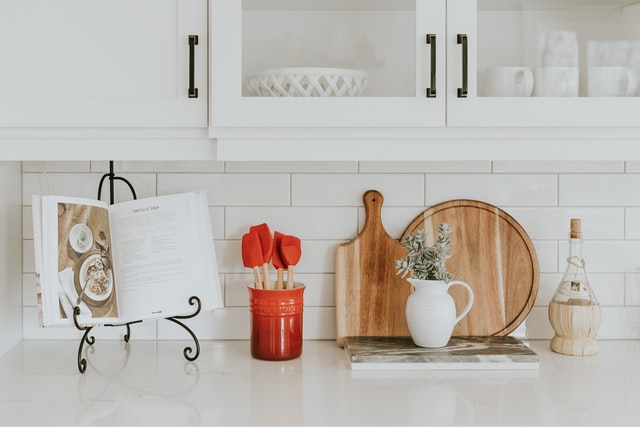 2. French country kitchen
Escape to the French countryside with a gorgeous blue-and-white country kitchen. Decorate your space with mismatched pieces, like coloured pots and pans on the walls, mosaic tiles, hanging woven baskets, and a bunch of fresh pink roses.
3. Marble and natural wood
Nothing says modern design more like a beautiful clean marble benchtop. And this is one way to bring your country kitchen into the 21st century. I love how the wooden counter base injects a whole lot of character into this lovely space.
4. Exposed stone
You can make your modern country kitchen rustic by retaining any exposed bricks or timber that are a part of your original home design. This makes your space feel a lot more natural, while adding character and detail.
5. Combine white and natural wood
This colour pairing is a match made in heaven. Timber kitchenware pairs perfectly with white benchtops. Or you can use white floating shelves and stack them full of bowls, plates and your favourite mugs. When it comes to the bench, put a few chopping boards and jugs of utensils on display.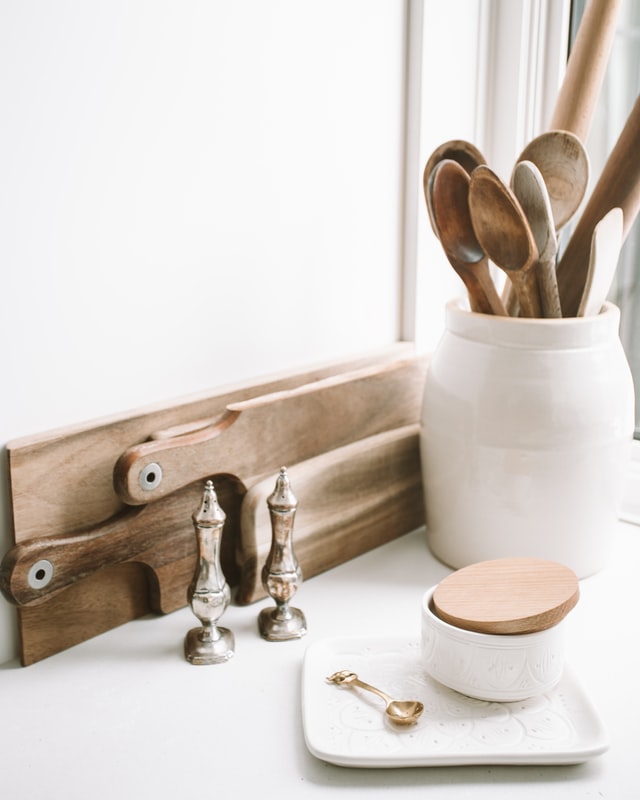 6. Make space for everyone
The great thing about country kitchens is that they are designed with entertaining in mind. So if you have a big family or simply like to have a lot of guests around on a Sunday afternoon, you have to make sure you have room for everyone. One simple way to do this is by installing an overhanging timber benchtop and adding bench seats underneath. You can also buy stackable stools that you can leave packed away in a corner or cupboard to bring out when you have a full house.
7. Practical island
How great is this kitchen island? It's such a practical storage solution because it's got room for almost anything There are two large open spaces on either side for seating and storage on the other sides for holding larger dishes and pots, plenty of cabinets and drawers. The huge timber benchtop is perfect for preparing food.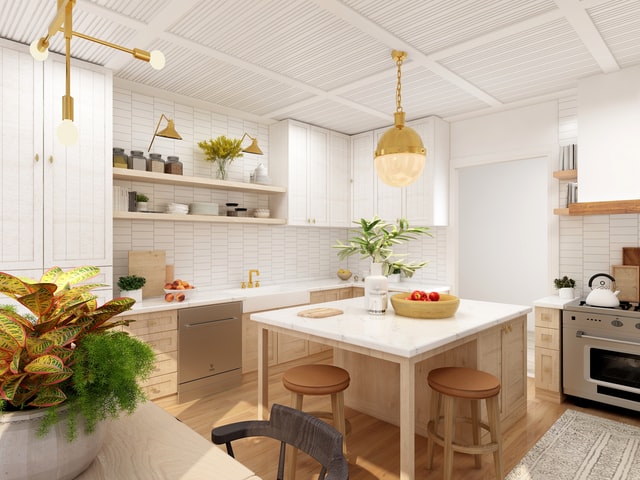 8. Coloured aga stove
If you want to make a statement with your country kitchen design, then a statement stove like an aga may be the choice for you. It would be perfect in a country cottage kitchen. It has all the feeling of yesteryear but can also be paired with contemporary touches for a more modern finish.
9. Display your plates
In a traditional country kitchen, less is more really isn't a thing. It's a kind of design that really goes by the 'more is more' mantra. Have any hero or vintage dishes? Put them on display!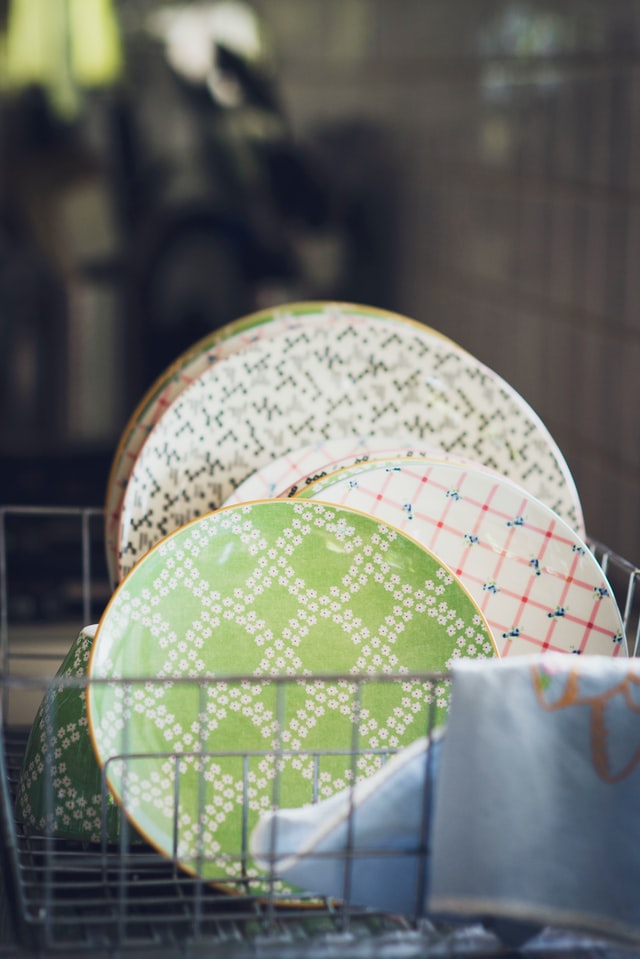 10. Brick splashback
A brick splashback can add a whole lot of glowing warmth to an otherwise cool space, as well as being very country. But this is just one example, I've got plenty more kitchen splashback ideas that you should take a look at. That way you can pick the right one for your home!
11. Natural wood
Strip your country kitchen design back to the essentials by using natural timber throughout your space, like a raw timber kitchen table or counter. Add sleek white benches and white island cabinets to provide a beautiful finish. You can also inject colour into a space like this by adding a large bunch of greenery or flowers on your island, and by placing fruit and pot plants around the room.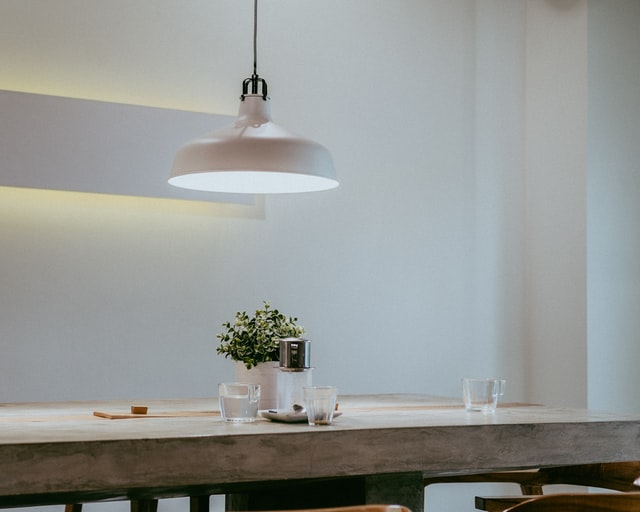 12. Mismatching chairs
One way to add an instant country flair to your modern kitchen is to incorporate different types of chairs around your table. For example, black timber chairs mixed with rattan and brown leather chairs at the table, as well as black stools under the bench. It means that you always have the flexibility to accommodate guests.
13. Dark timber country kitchen
Make a statement by using dark timber throughout your kitchen, such as for your cabinetry and flooring. If you really like a darker kitchen and looking for some more examples, we've actually put all here with these black kitchen ideas.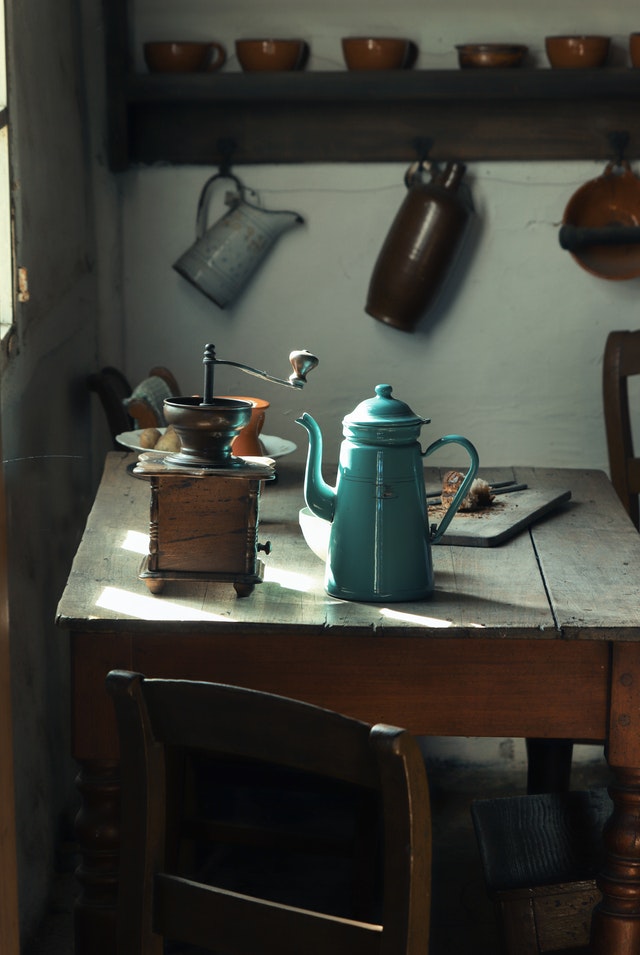 14. Put your fruit on display
As I said, country kitchens do not keep everything neat and tucked away. So display your fruit and veg in fruit stands and bowls. This not only makes your space feel more lived in, but it also adds a lot of warmth and colour.
15. Open shelves
This is one way to add character to your kitchen while keeping things practical. This simple farmhouse kitchen's open shelves display a mixture of white décor and bits of greenery, but pretty pantry canisters also work.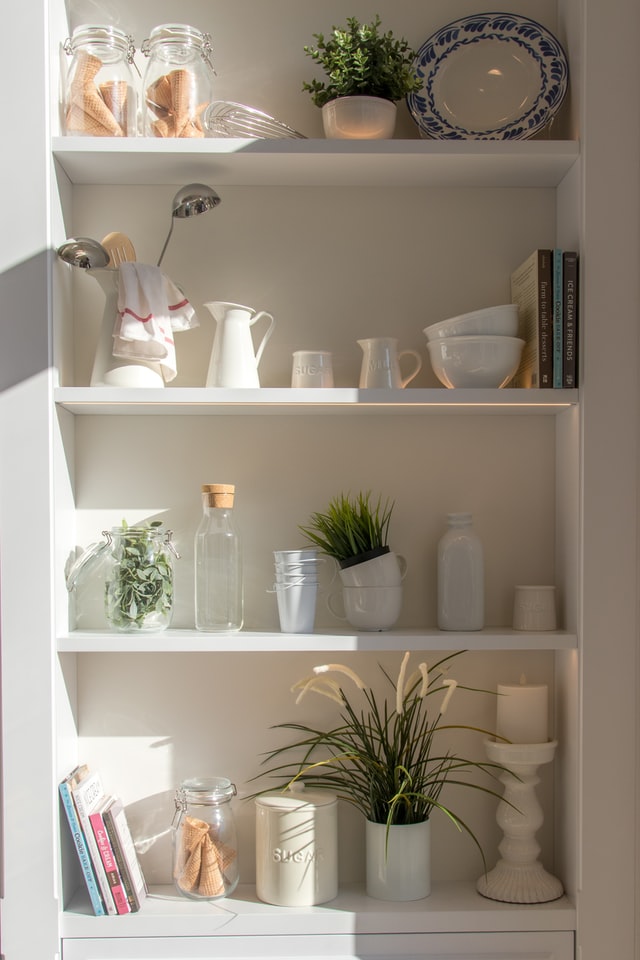 16. Brass hardware
There's nothing like brass hardware to make your kitchen design pop! And it looks beautiful with white cabinets and a clean stone benchtop. Cupboard moulding can also add another layer of detail and bring a country touch to your kitchen.
17. White subway tiles
Subway tiles have been popular for a long time, and they aren't going anywhere! If you want to create a country kitchen, the good news is that you can use white subway tiles, like these ones. I particularly love how they have dark grout in between them, which comes together nicely with the timber floating shelves.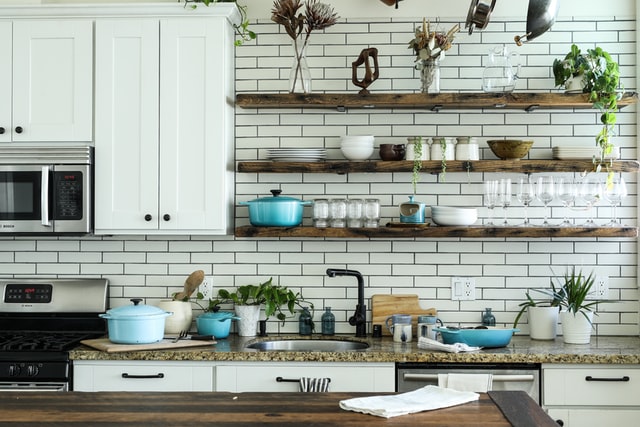 18. Chalkboard menu
Make your country kitchen rustic with the addition of a timber enclosed chalkboard. This is a great place for planning out your menu for the week, making a note of your shopping list, or even writing out your household chores.
19. Statement lights
Another great kitchen idea is to add a little bit of pizazz with some statement lighting. And these lights certainly add a whole lot of character and style to this kitchen. If you're wanting to make a statement with your lighting, just make sure you tie the colour and design into another aspect of your kitchen.
If you love this kitchen and want some more inspiration, here are plenty more kitchen ideasfor you.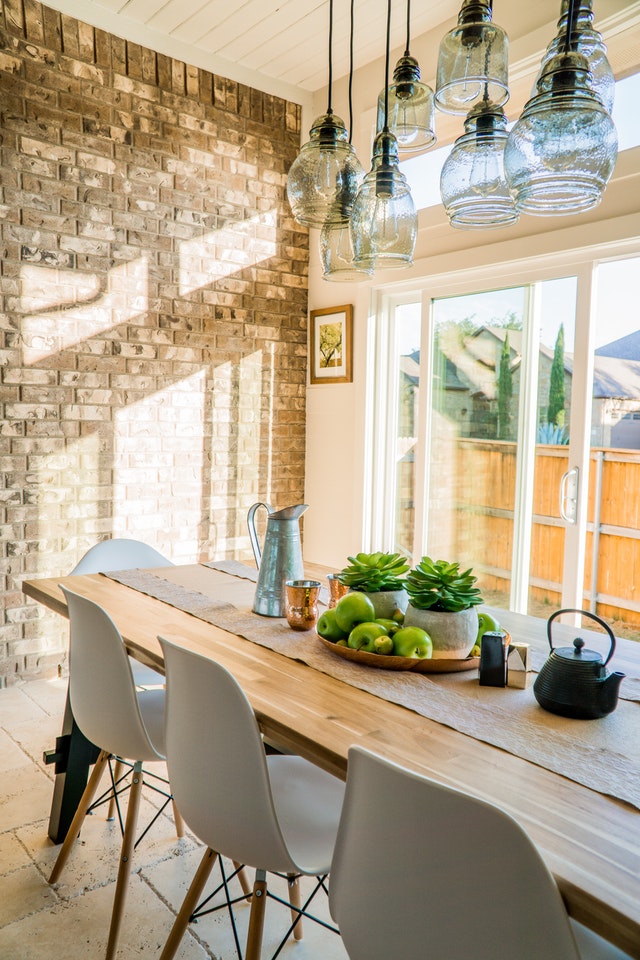 20. White décor
There's nothing more country style than a whole lot of white kitchenware. So fill your space with it! If you love light and bright in your home, here are a bunch more white kitchen ideas to think about for your next renovation project.
21. Timber and black
Take a walk to the dark side with a black-and-timber kitchen. If you want to recreate this look, stick to two colours. So it might be black cabinets and rangehood, and then there's the warmth of timber floors and benchtops and lots of woven baskets.
22. Add some copper
Copper is a beautiful way to make a statement in your country style kitchen. It doesn't matter if it's old collectables or brand-new.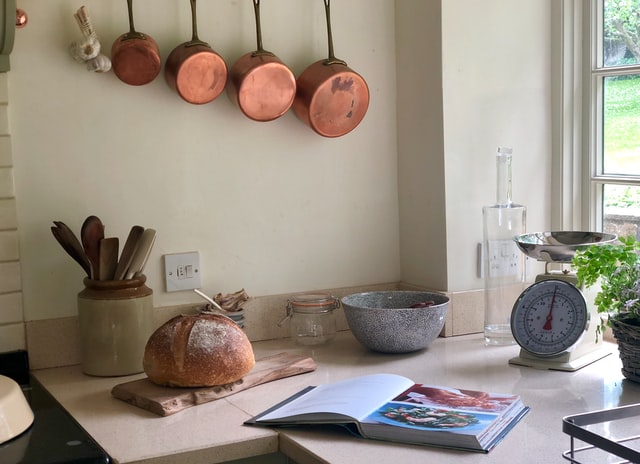 23. Olive tones
Olive green is a colour that you've probably seen a lot of lately because it's one of the most popular choices right now. And with good reason – it looks beautiful! Using olive green can make a country kitchen feel fairly traditional, but you can add sleek finishes to give it a modern touch. And a fresh vase of flowers on the dining table adds warmth to an otherwise cool room.
24. Add flowers
Make your kitchen instantly more country style simply by adding fresh flowers. Wild, unstructured florals and greenery will make your space look cosier while adding a touch of colour and style.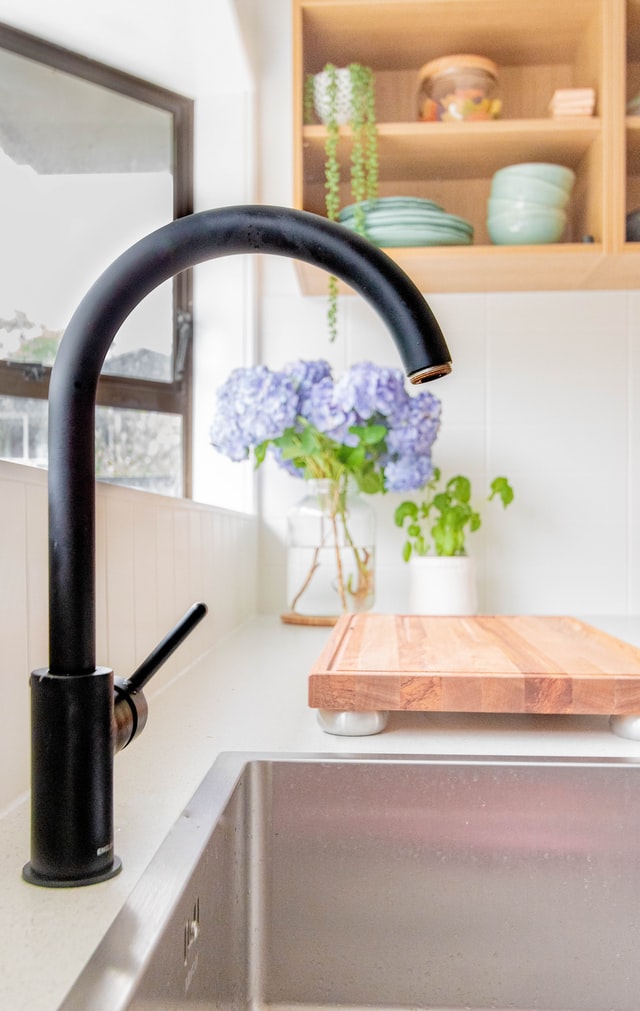 25. White rangehood
Country kitchens are made for cooking up a storm. And you'll certainly be able to do that with a statement rangehood like an all-white one. An all-white design is chic and modern, while you can add a rustic touch with little touches of timber and wood, such as with an exposed ceiling beam and utensils on the bench.
26. Island bench
You've simply got to have an island bench in country kitchen design. And a timber-topped island is not only country but always very beautiful. It adds a layer of warmth and colour to any kitchen which is otherwise very white and simple.
27. Display your cutlery
We've already established that country kitchens typically have a lot of things on display, including pots and pans, vases and more. But have you ever considered putting your cutlery on show? Or, you could add a pottery jug of wooden utensils. This adds a lived-in feel to your space while injecting a whole lot of character.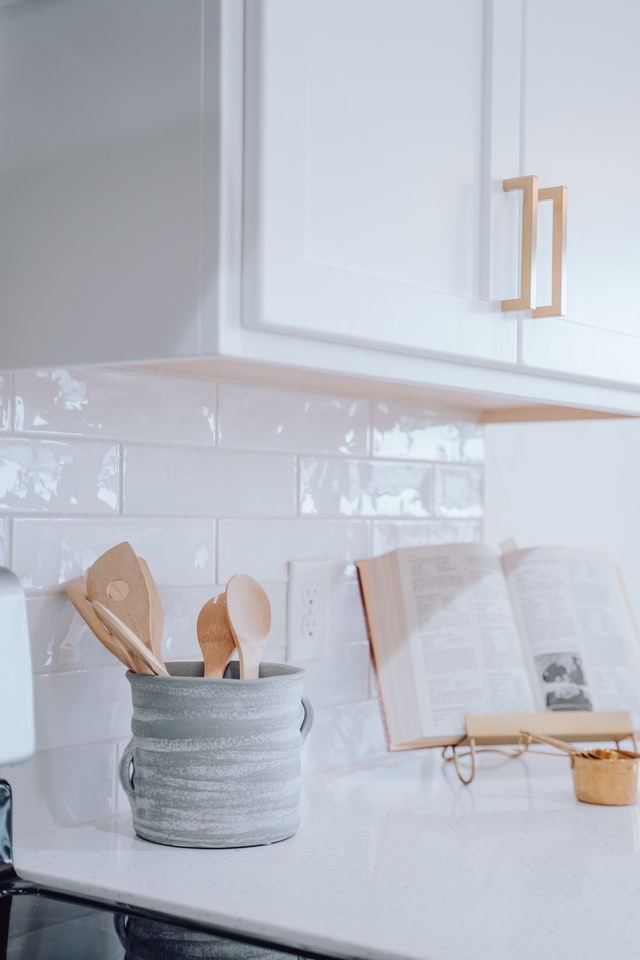 And there you have it, 25+ country kitchens, including French and modern styles. I hope this inspired you to create the country kitchen of your dreams! If you have any more country kitchen ideas, I'd love to hear them. Comment below and share them with me.