The kitchen is the heart of your home. And if you love having people around, there's no better choice than a farmhouse kitchen design. A farmhouse kitchen is synonymous with entertaining. Think plenty of seating around the kitchen island, rustic decor, a good bottle of red and a heap of food.
In this post, I'm going to share 35+ fabulous farmhouse decor ideas. But before I do, I want to highlight a few key elements of a farmhouse kitchen, so you know just what to look out for!
Neutral colours
These kinds of kitchens are usually bright, light and airy. Think natural timbers, floating curtains and plenty of white. The good thing is that, whether you have natural light or not,  you can keep the light and bright feeling going by using neutral colours as the base of your design. In particular, choose lighter shades of whites, creams and greys for your cabinets and splashback.
Natural materials
When it comes to materials, it's important to layer natural elements on top of your already neutral foundation. Timber, especially warmer varieties, is the most common choice for your furniture and countertops. It's a great choice, because you can use it in both traditional and modern farmhouse kitchen designs.
Industrial and antique elements
Finish off your farmhouse kitchen design by adding industrial or antique elements in your lighting and accessories. The vintage flair of these pieces will make your space a little more traditional. But if you're going for a modern farmhouse kitchen, use these items sparingly, as they can make your room feel a little bit too old school.
1. Add a rug
If you want to make your modern kitchen more farmhouse style, then adding a rug will do the trick! A simple coloured rug will instantly make your space feel cosier, and it will also add some colour and texture to your kitchen.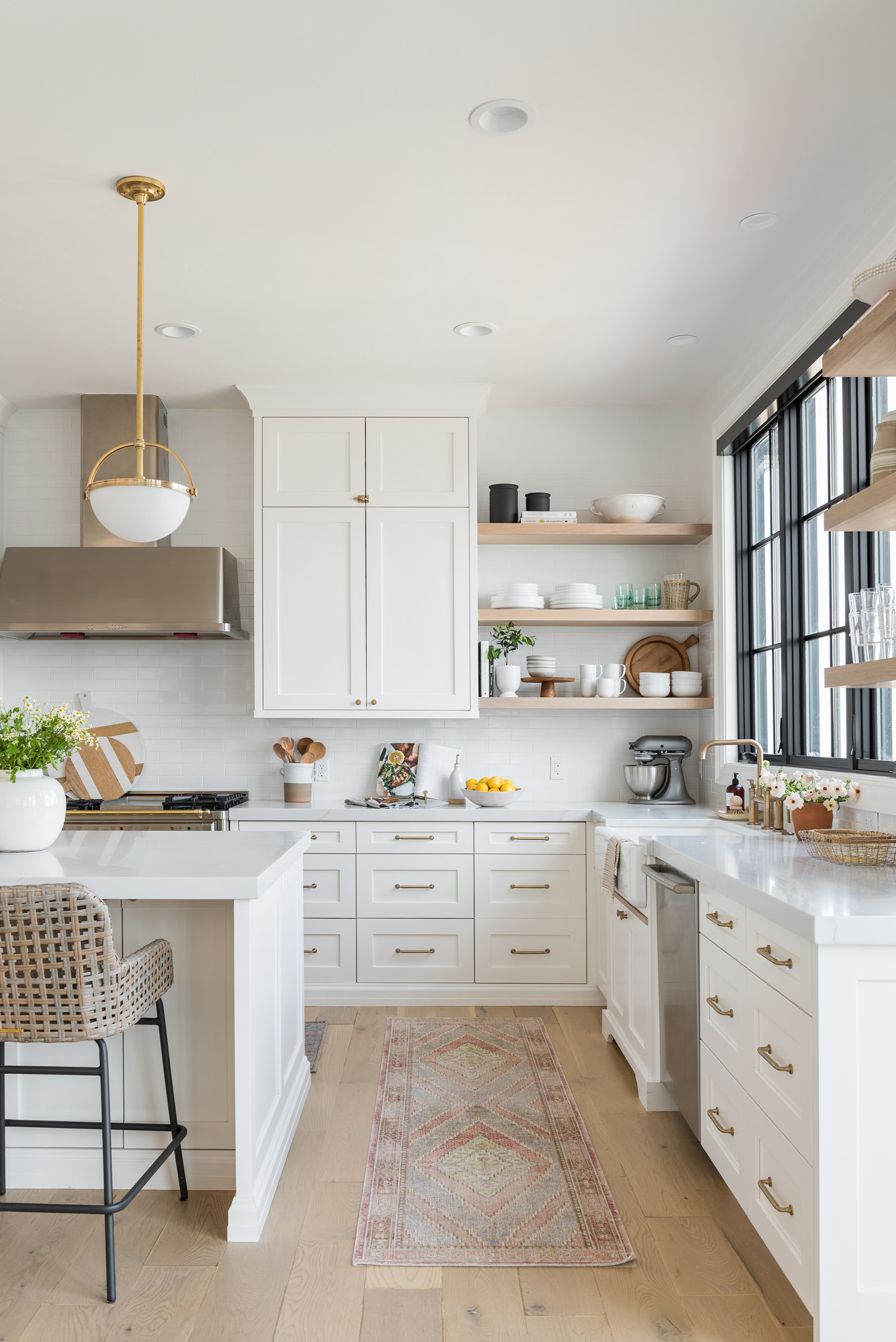 2. Mix lights
A good farmhouse kitchen should combine design styles – and this one does it so well. The first thing I notice when I look at this picture is the different hanging lights. The ones above the bench top are enclosed chandelier-style lights and the ones above the dining table hang in a pod of bulbs. So, when it comes to designing your farmhouse kitchen, don't be afraid to mix and match!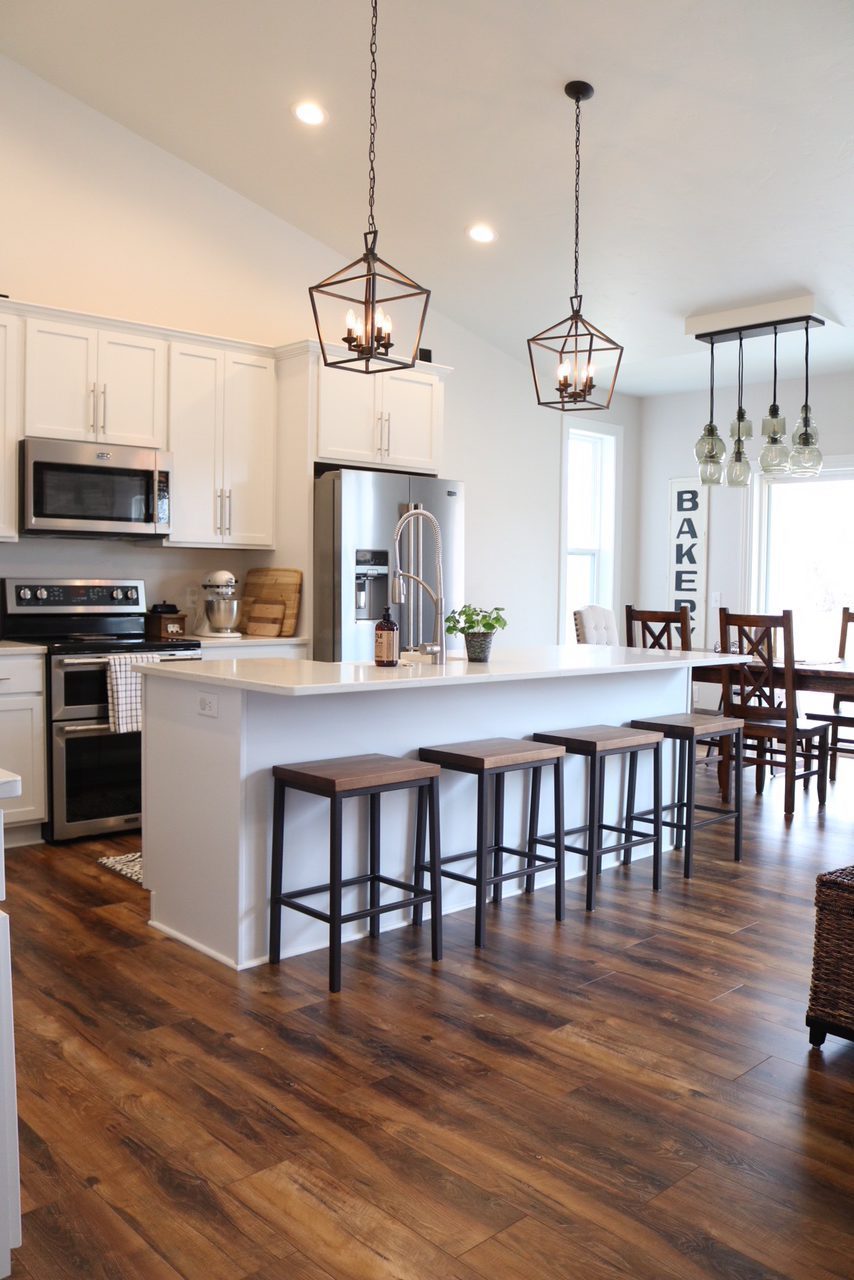 3. Warm timber and white
This is one of the most striking farmhouse kitchen designs I've ever seen. I love the honey-coloured wood and how it stands out beautifully against the crisp white bench top. And the addition of black with the rangehood and ceiling lights adds a lovely touch.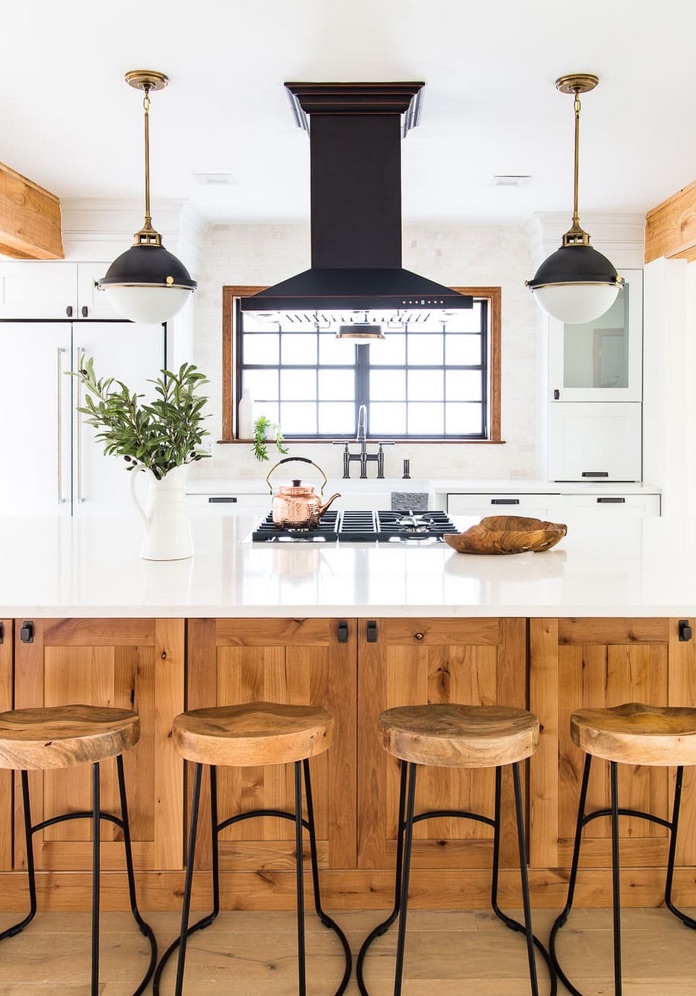 4. Floating timber shelves
Put your pretty kitchenware on display with floating timber shelves, like these ones. I love how this space has been thoughtfully curated, with lettered mugs, a terrarium, canisters, glass bottles and other little items. It's these personal touches that make all the difference to your kitchen!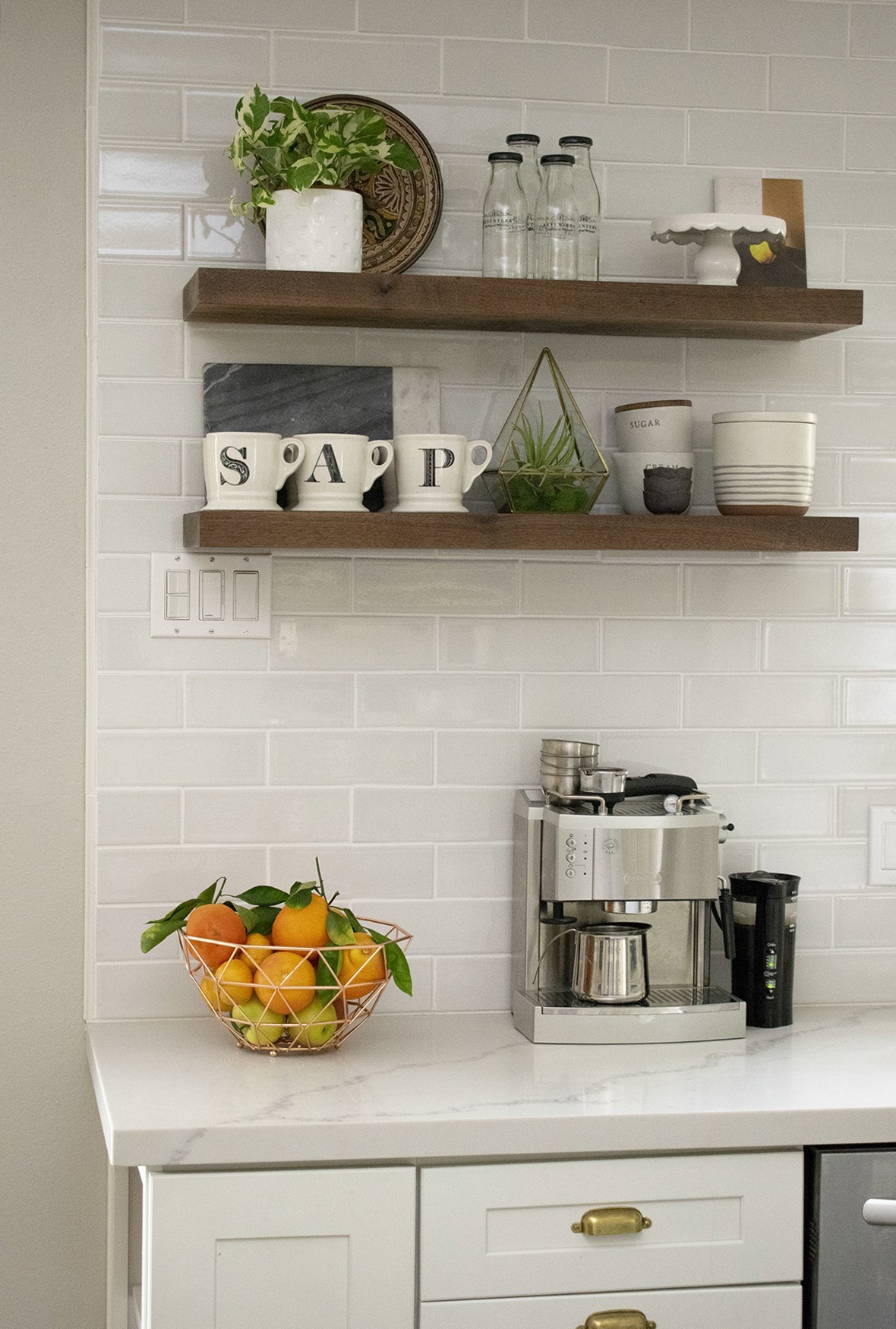 5. Timber chandelier
Add in a statement light with a fancy chandelier like this one. I love how it's so different to anything you would typically find in a homeware store. And the timber style ties in nicely with the floating timber shelving on the far wall.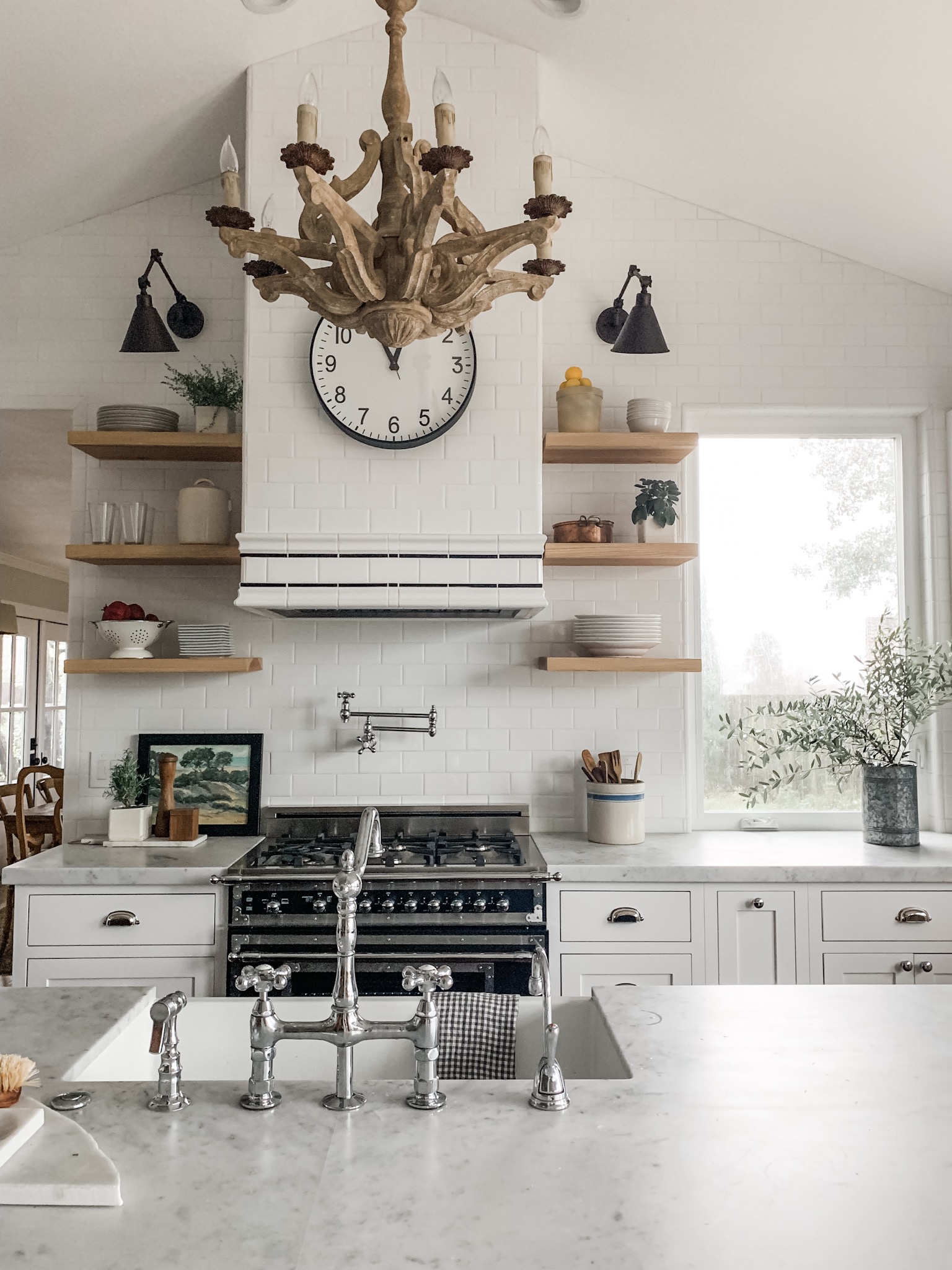 6. Industrial farmhouse kitchen lighting
Add a modern touch to your rustic farmhouse kitchen with industrial brass-and-black lights. And the exposed electrical cord adds character that you often wouldn't find in a traditional kitchen.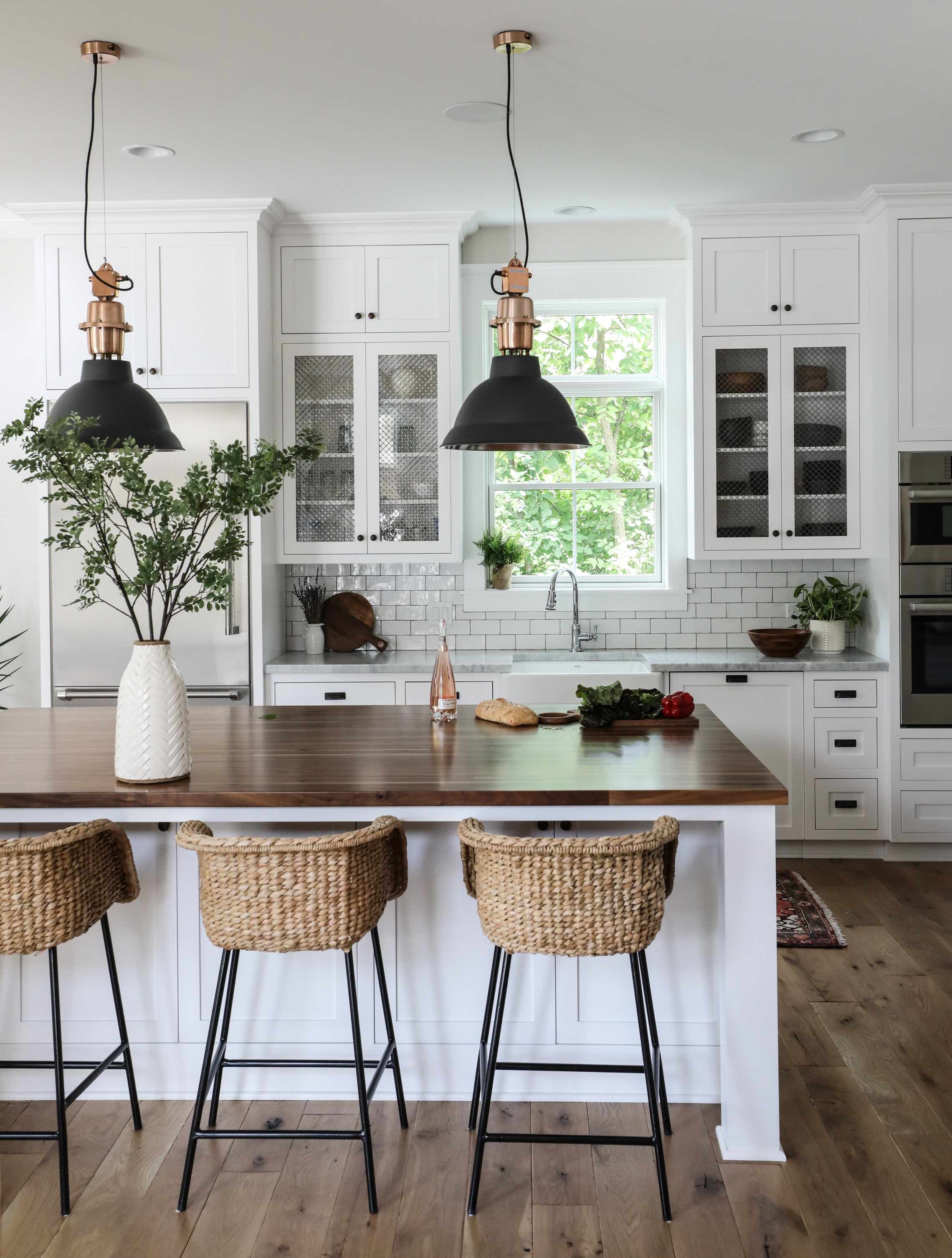 If you think it can sometimes be a bit hard to change over your lights, by finding and electrician nearby you can have it all done within hours.
7. Black fittings
Speaking of black, check out the fittings in this kitchen. While black has been a popular choice over the last few years for brand new kitchens, it can also be added to more traditional kitchens for a contemporary touch. You can do this with light fittings, tapware and handles on your cabinets.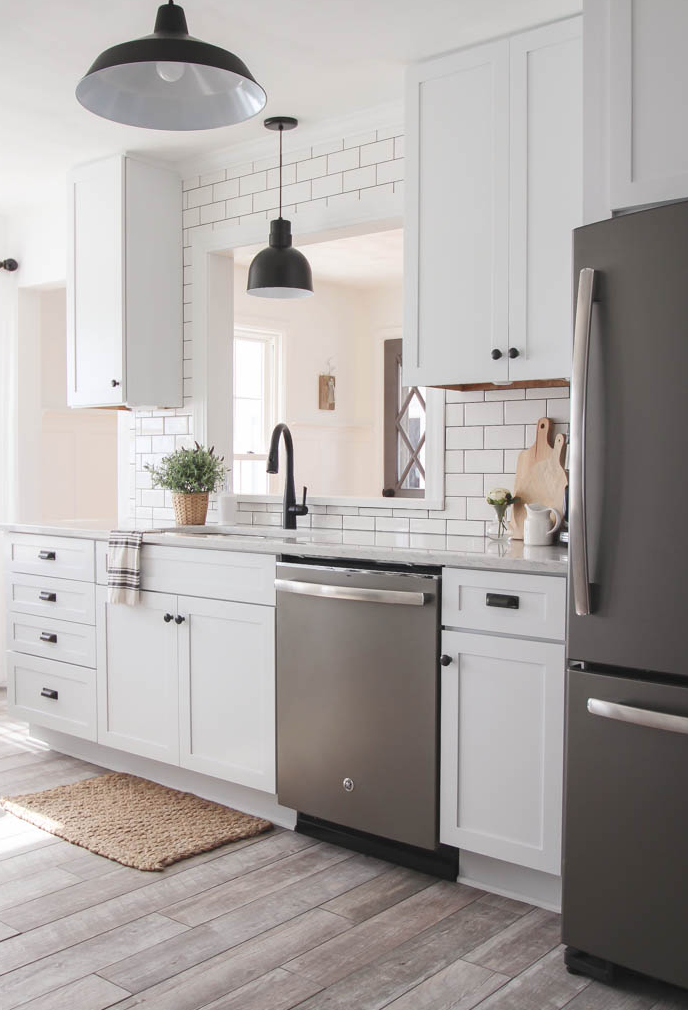 Looking at some other ways to introduce black through your home? Here are 40 beautiful black kitchen ideas which you could do in your home.
8. Shades of blue and timber
How cool is this kitchen? While it's not your typical farmhouse kitchen, it's infused with colour and character. And I love how the design incorporates different shades of blue. There's the bold, bright blue of the island, and then there's the darker navy blue of the cabinets on the far side of the room. And the timber adds a touch of much-needed warmth.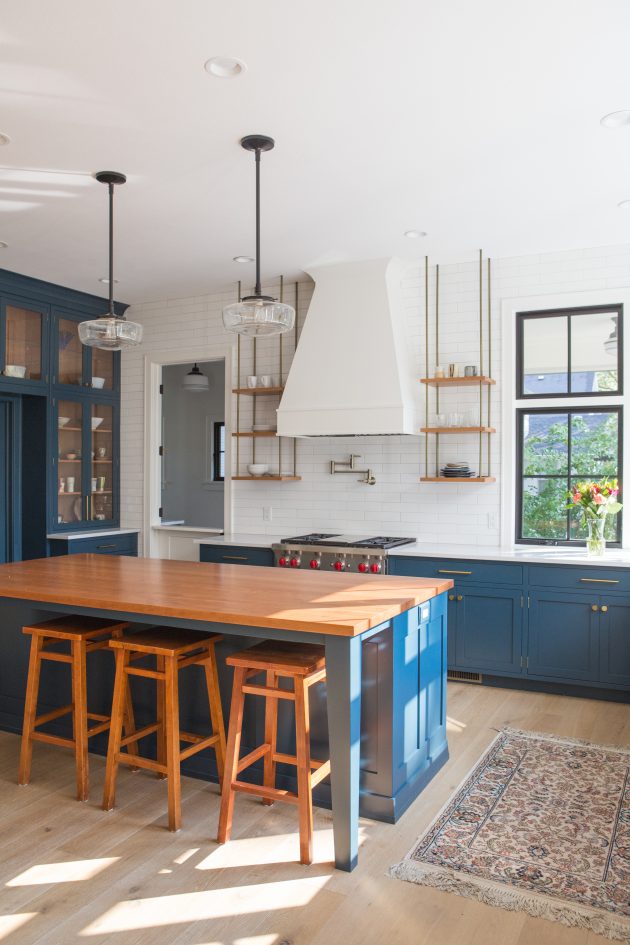 9. Flowers galore
Adding fresh flowers to your kitchen is one way to instantly make it more rustic. I love how these white flowers have been placed in all different kinds of vases – from broad white jugs to small potted plant holders. While you can use flowers of any kind, white unstructured florals and greenery always look best in this kind of kitchen.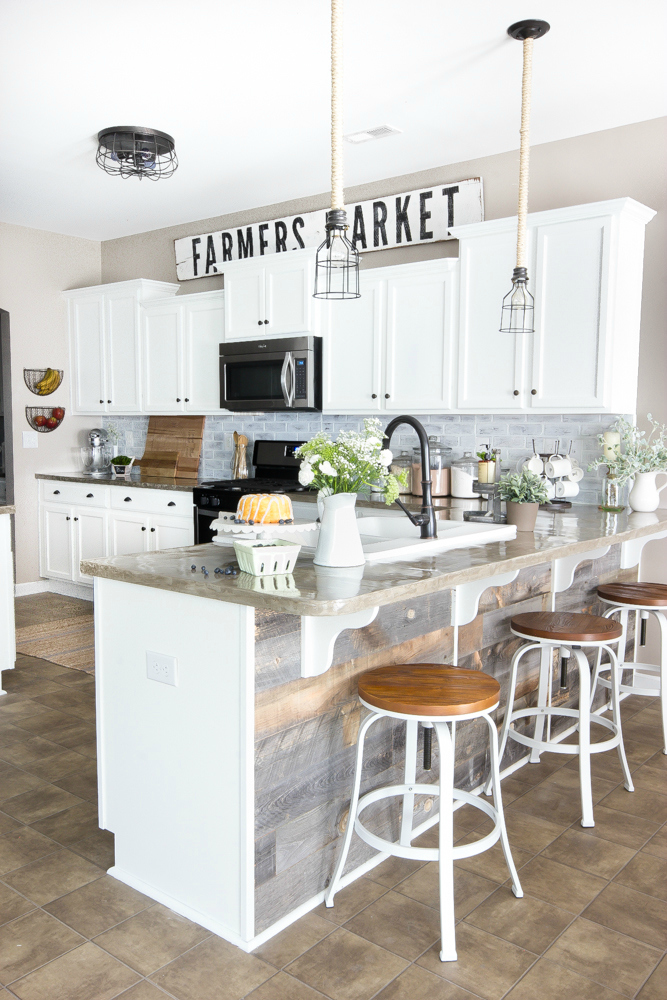 10. Rope
This lighting fixture is so interesting! And rope is a great natural material to add in to any rustic farmhouse kitchen. I love how it looks combined with the black lantern-style light holders.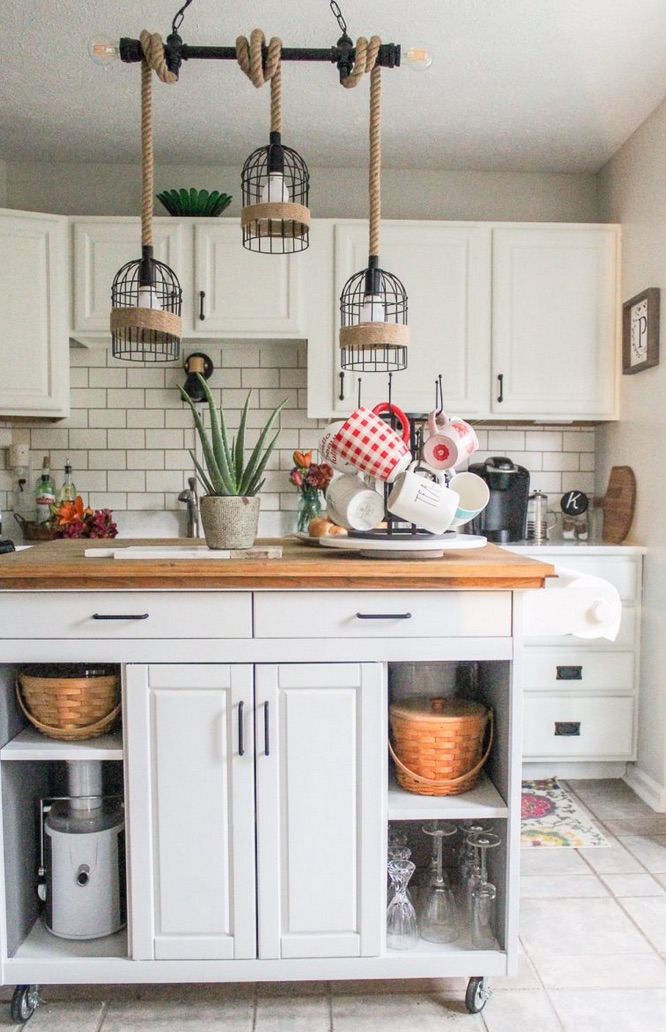 11. Dark farmhouse kitchen cabinets
Take your space to the dark side with slick black appliances and farmhouse kitchen cabinets. This space is beautiful, cool and inviting. But if you're going to go this dark, just make sure you've got plenty of windows for natural light. And pair your dark cabinets with a white or cream tiled splashback for contrast.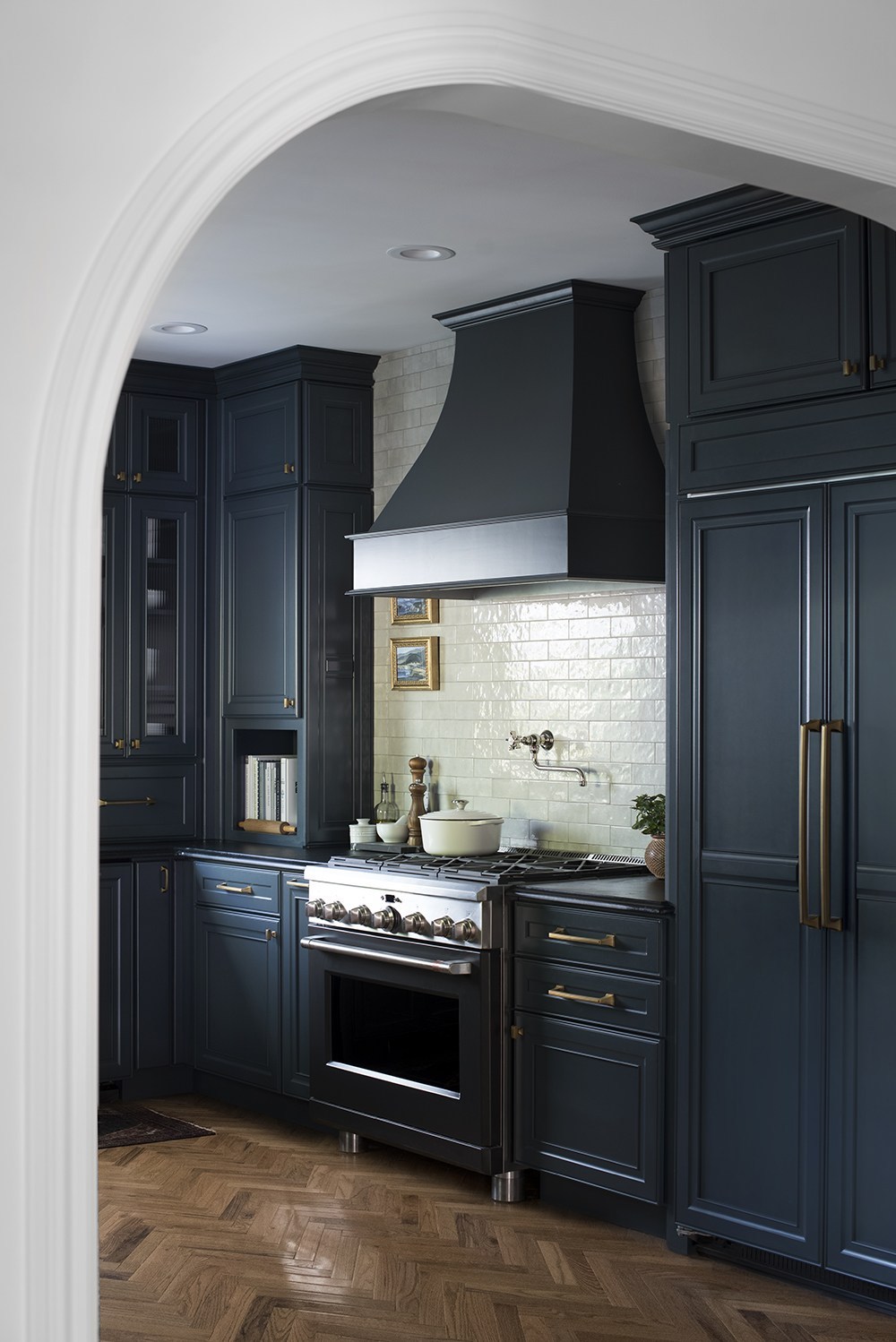 12. Modern neutral
If a modern farmhouse kitchen is your kind of style, then take inspiration from this one. I love how it sticks with the neutral colour scheme of a traditional farmhouse kitchen while incorporating a modern touch with fancy black hardware and lighting design. I also think the black-and-timber stools add a nice design touch while creating plenty of room for guests!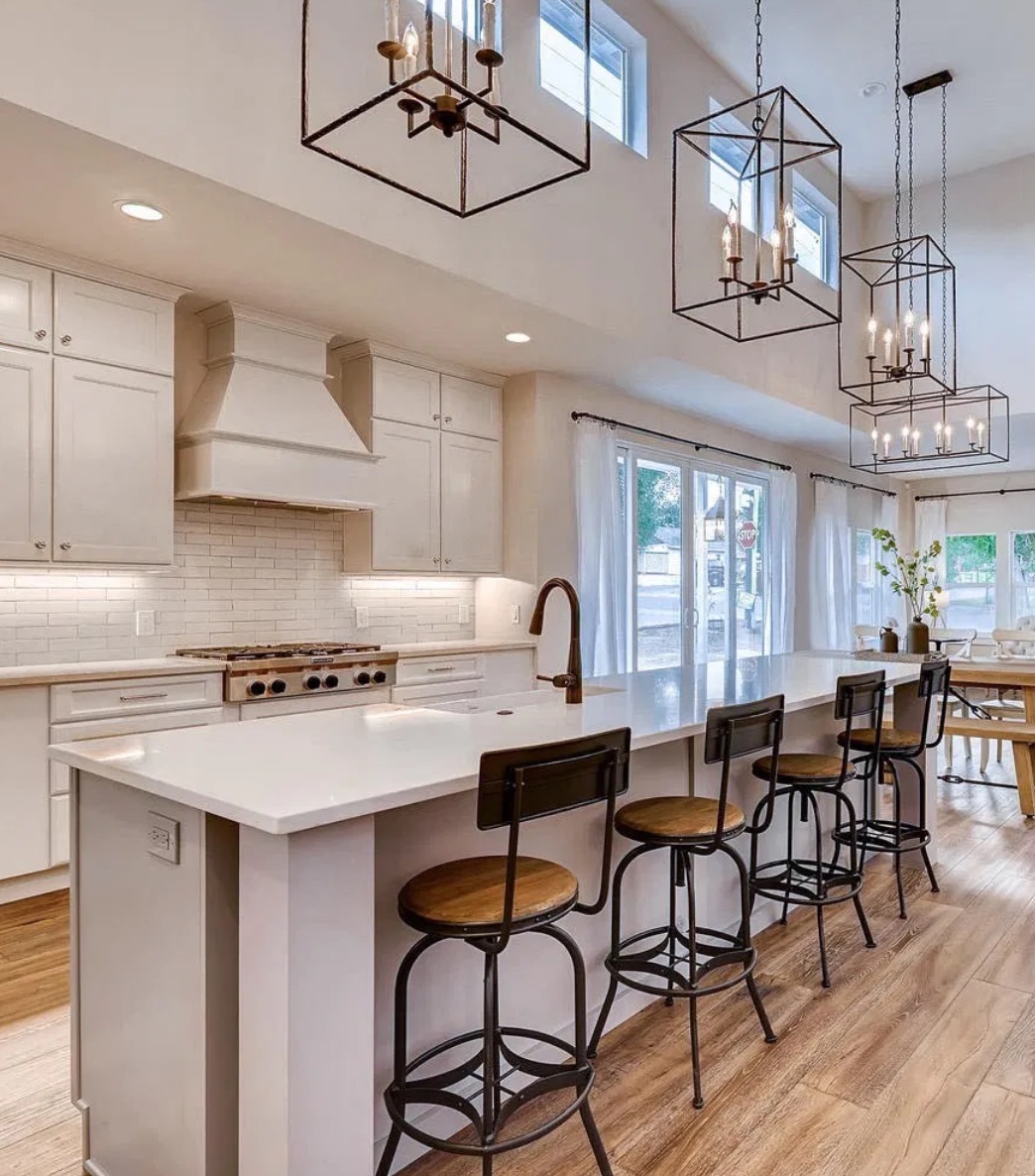 13. Farmhouse kitchen island
Take a look at this farmhouse kitchen island! I love how it uses two completely different design styles to create a rustic yet modern look. The white cabinets and white stone bench match the rest of the kitchen, while the dark timber panelling matches the flooring and adds a rustic touch. I like how the rangehood uses this same kind of timber to tie the style altogether.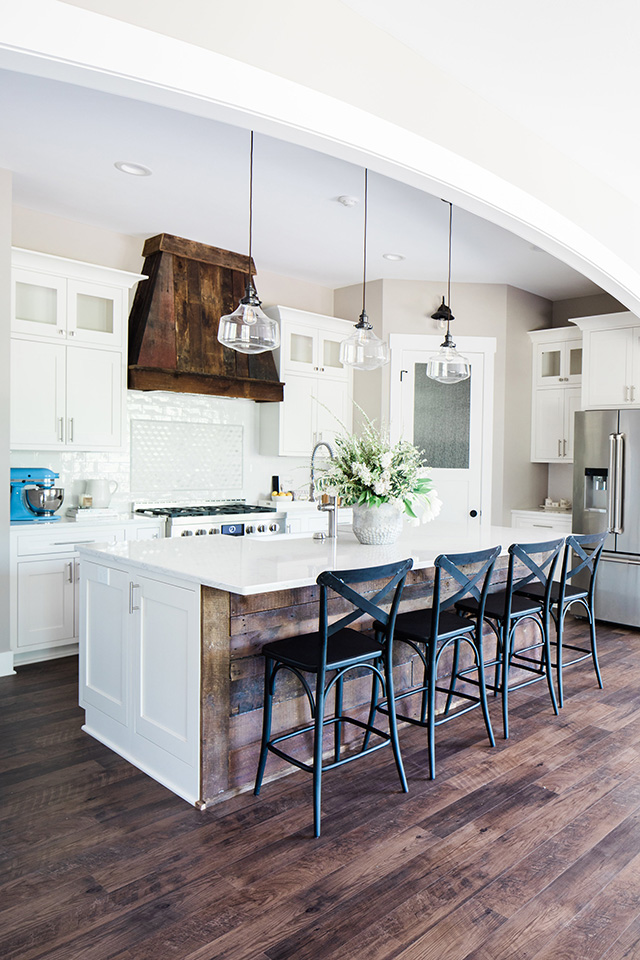 14. Pops of pink
It's the little pieces of decor that can make all the difference in creating a homely farmhouse kitchen. And this design is no exception. I love how it has a clear colour theme – light green, white, timber, and pops of pink. I think the pink items on the floating timber shelves make all the difference to this design, creating a fresh, warm finish.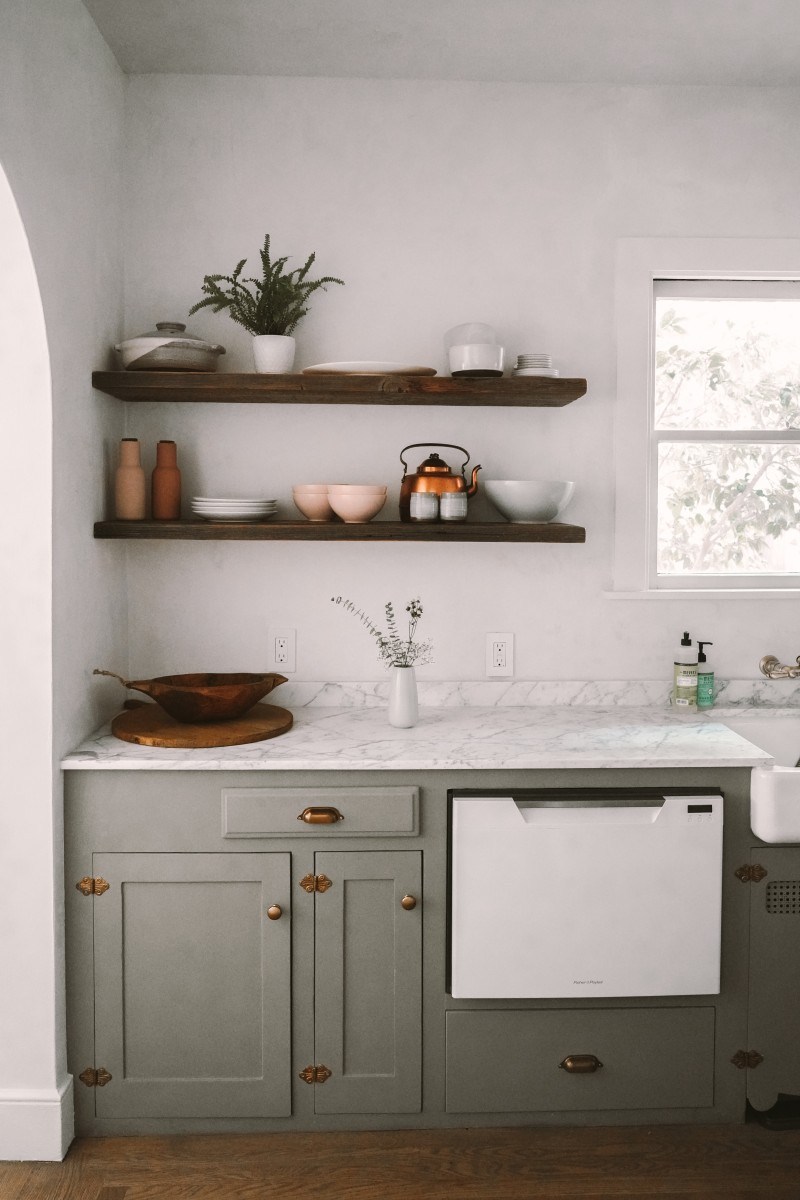 15. Patterned feature wall
If you love a fun pattern, then you're going to want to add this one to your farmhouse kitchen ideas list! A fancy feature wall, like this sun-patterned one, will add so much life to your kitchen. If you like colour, choose something in a bold, loud print, or if you prefer something more neutral, go with a grey-and-white design like this one.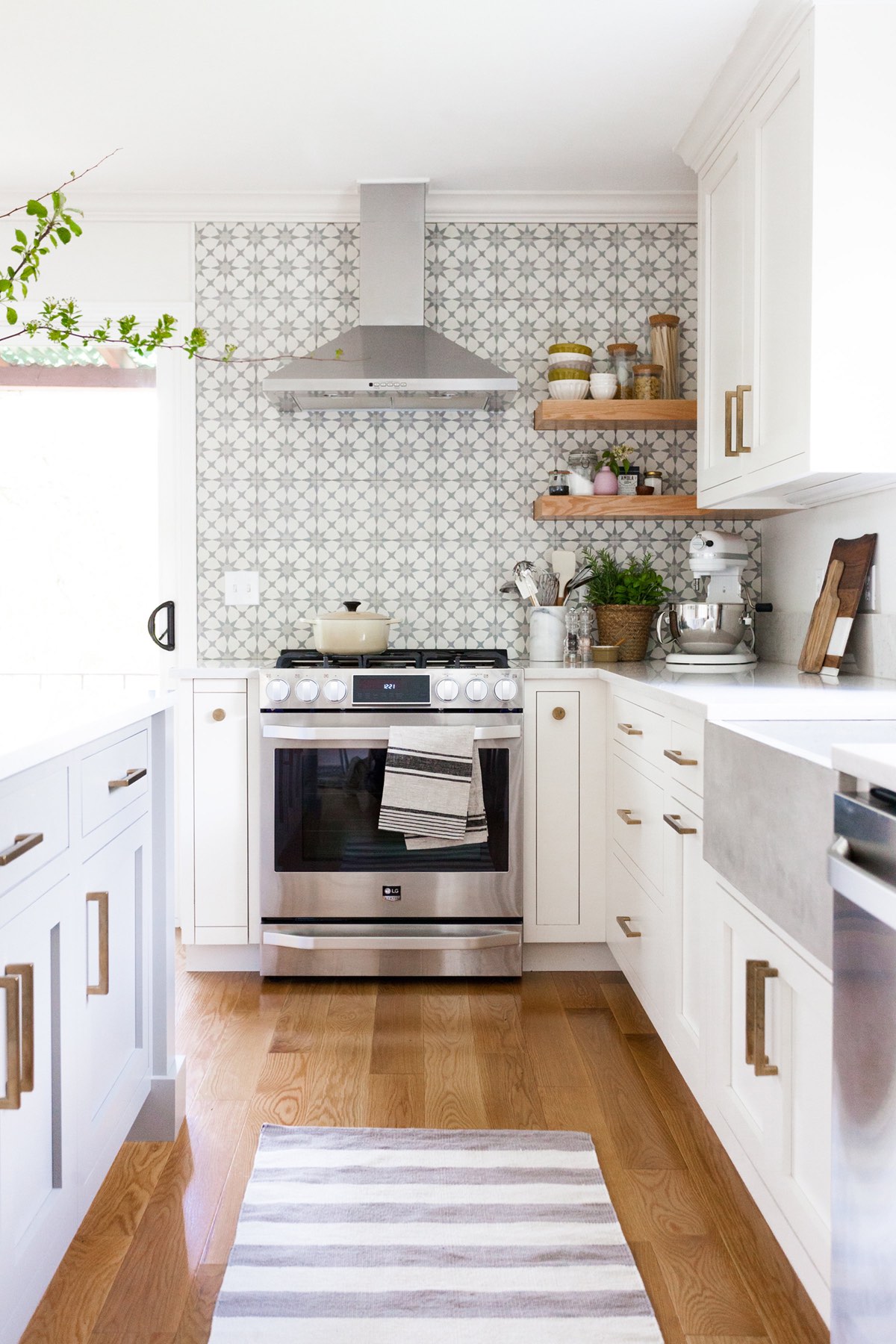 16. Tiled wall
Add texture and detail to your modern farmhouse kitchen with an entire wall (or two) of white subway tiles. This is a great way to add interest to your space while keeping your colour palette neutral.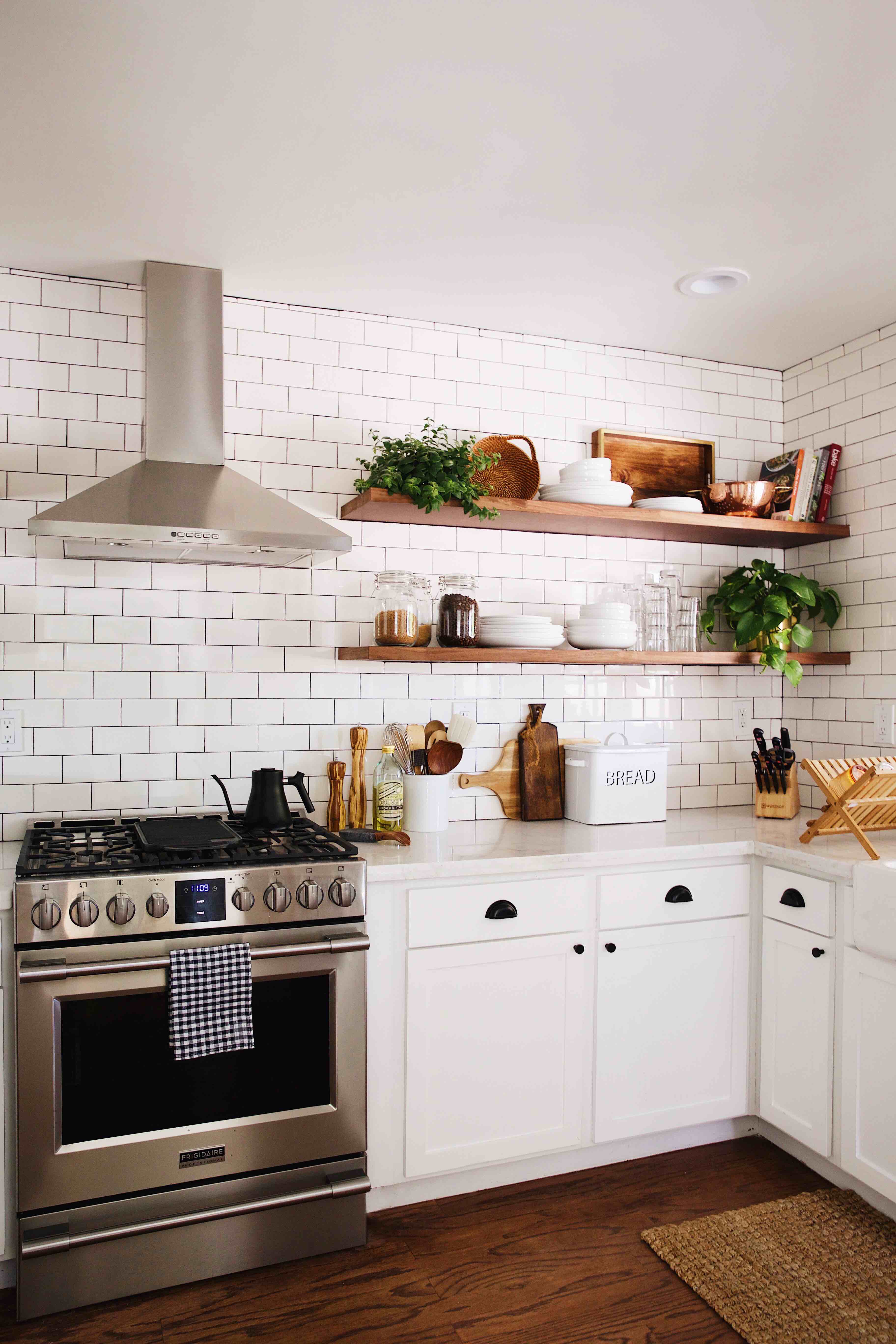 Don't forget to get an extra helping hand when you're ready to tile. Splashback tiling is something that can instantly lift your kitchen.
17. Gold and glam
If you like the finer things in life, then you might like these gold-enclosed lights as well. I love how they take this large farmhouse kitchen from simple and clean to fancy and fabulous. If you're wanting to recreate this look for yourself, hang multiple lights with brass, gold or silver hardware for a dramatic effect.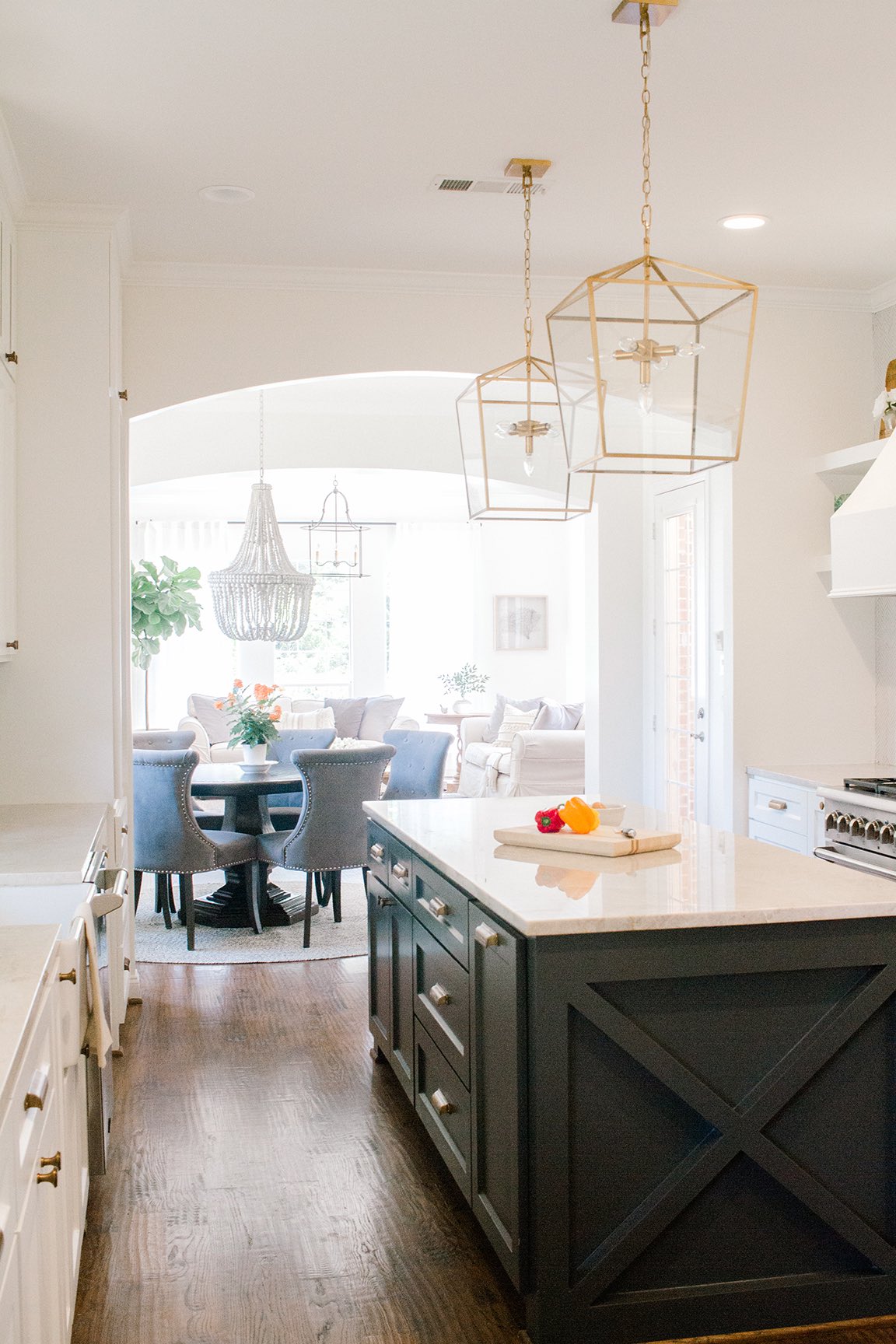 18. Bench stools
If you love entertaining or have a big family, then you can't go past bench stools. They are a practical addition to your kitchen that you'll use for years to come. I love how these white stools have backs on them, making them perfect for people of all ages!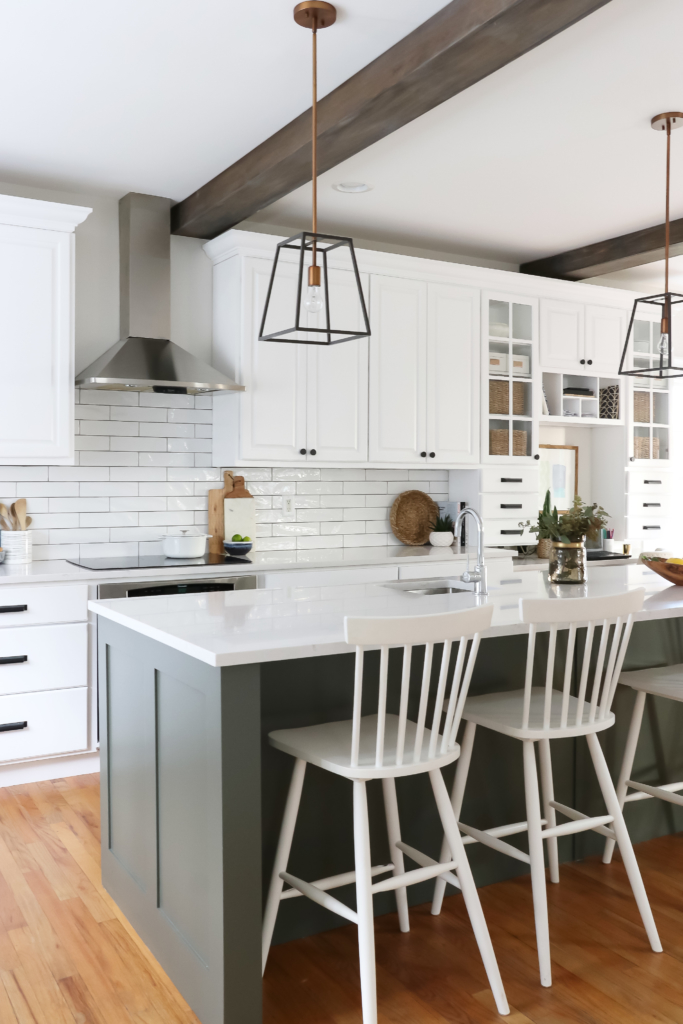 19. Exposed brick
If you have exposed brick in your home, make the most of it by letting it be the hero of your kitchen. It's not only a mainstay of farmhouse design because it adds a rustic touch, but it also adds warmth and colour to your space. I especially love the mix of materials in this kitchen – there are the timber floating shelves, white subway tiles, smooth marble benchtop, stainless steel fridge and dark stools.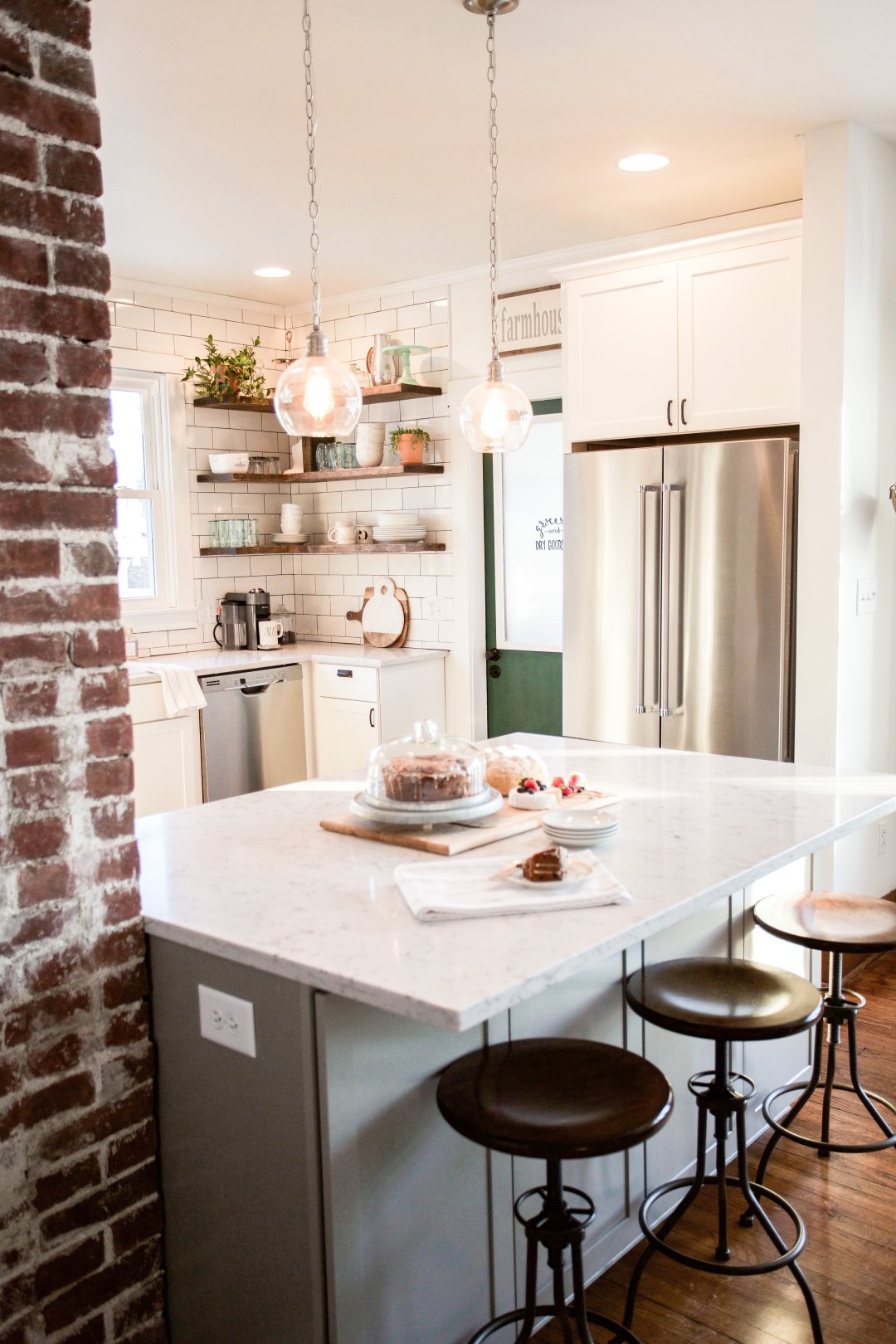 20. A statement stove
If you're wanting to make your farmhouse kitchen a little fancier, then why not consider a statement stove like this one? I love how it uses so many different materials – from dark metal to brass to timber encasing the rangehood.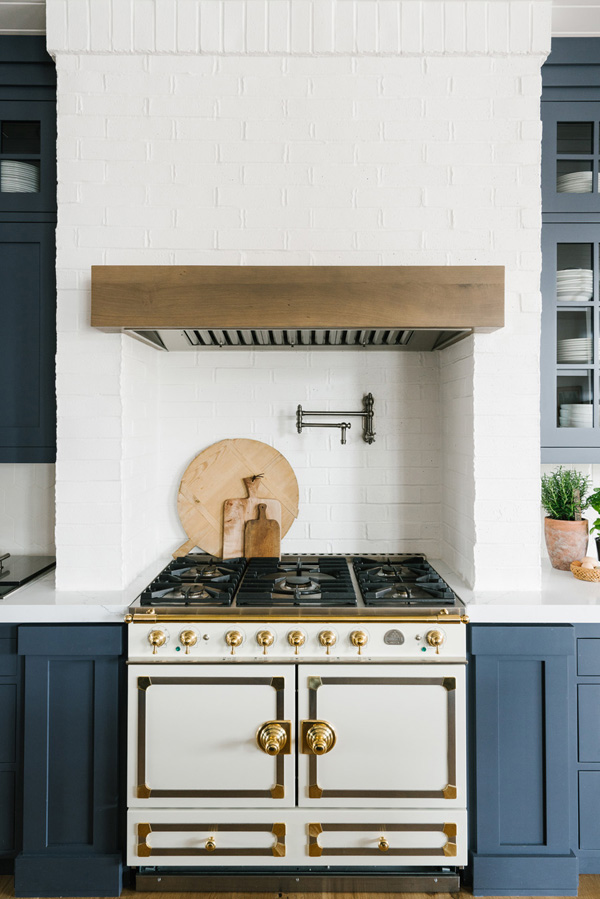 21. Open shelving
One of the hallmarks of farmhouse kitchen design is that it uses open shelving with decor and kitchenware on display. And this kitchen is no exception. I particularly love the island in the middle of the room. The design allows for open shelving on one end, where you can add jugs, bowls and anything else. And the right side of the island has been designed with just enough space to place timber stools underneath – perfect for hosting guests in the kitchen as you cook!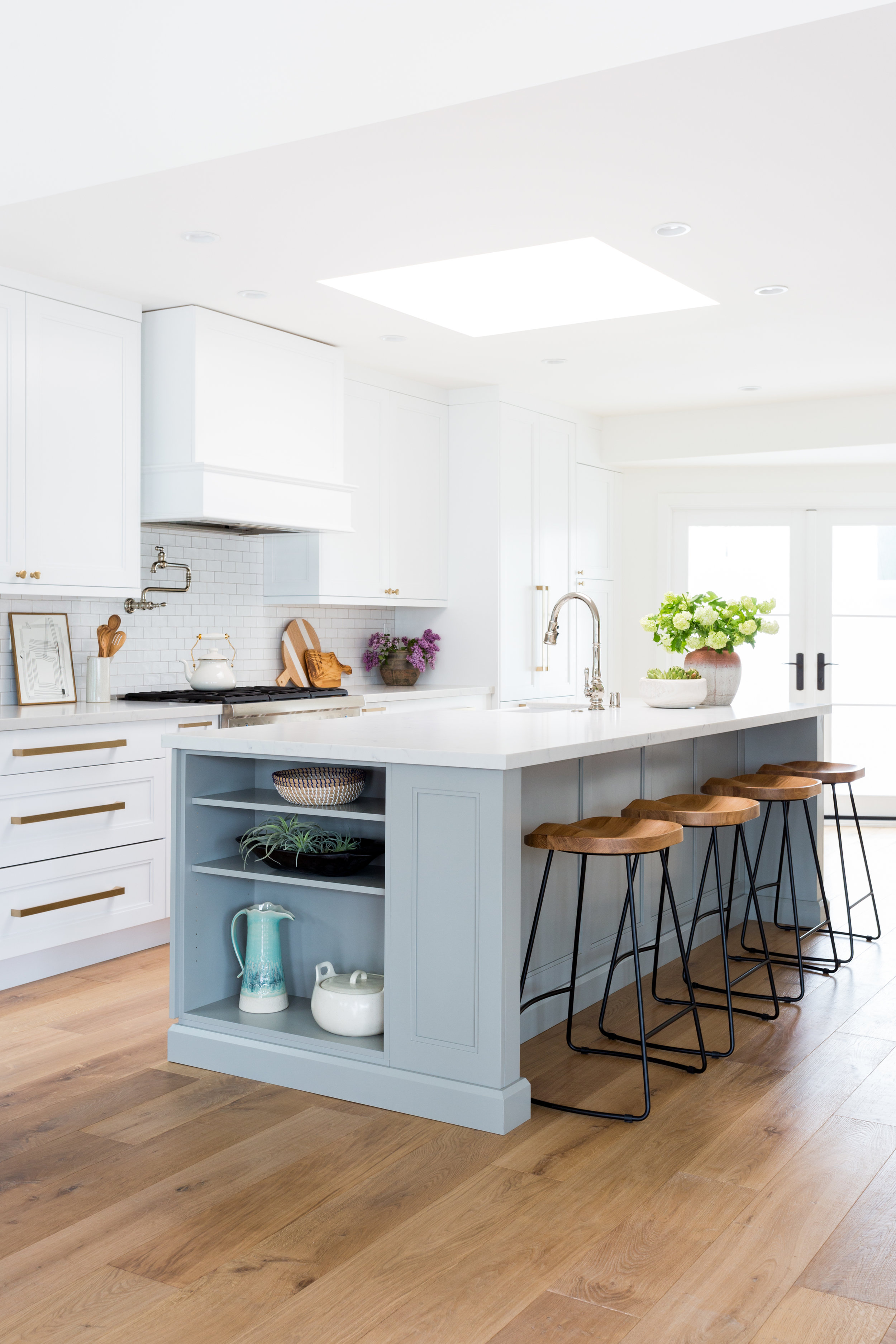 22. Soft blue
How cute is this kitchen? It's teeming with farmhouse style, especially with the blue-checkered material hanging over the kitchen windows. I love how all different shades of blue have been incorporated in this kitchen, with a very light blue for the cabinets, a slightly darker blue for the curtain, and a deep blue with white stripes for the tea towel that hangs over the sink. This just proves that you can use one colour in so many different ways.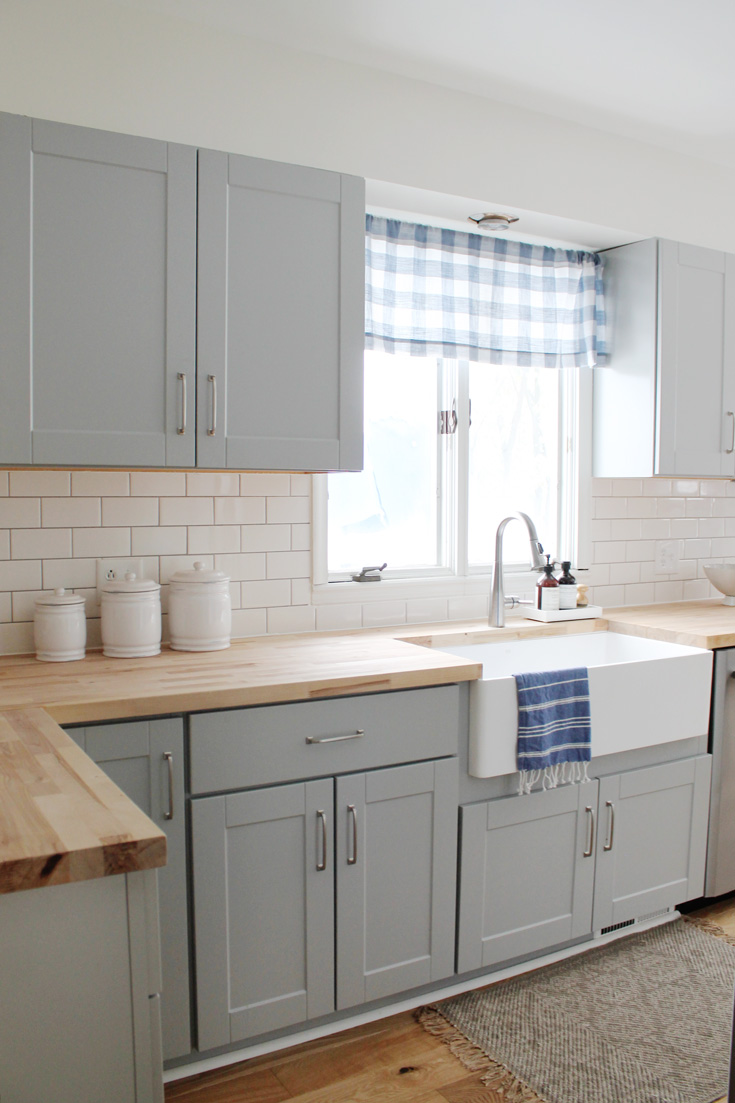 23. Shades of timber
This is a typical farmhouse kitchen design, not just because it uses timber but because it has plenty of light neutral colours. While timber is a mainstay in any farmhouse kitchen, you don't just have to stick to one colour. I love how this rustic farmhouse kitchen uses a very light timber for the island and has a dark, almost chocolatey, finish for the flooring.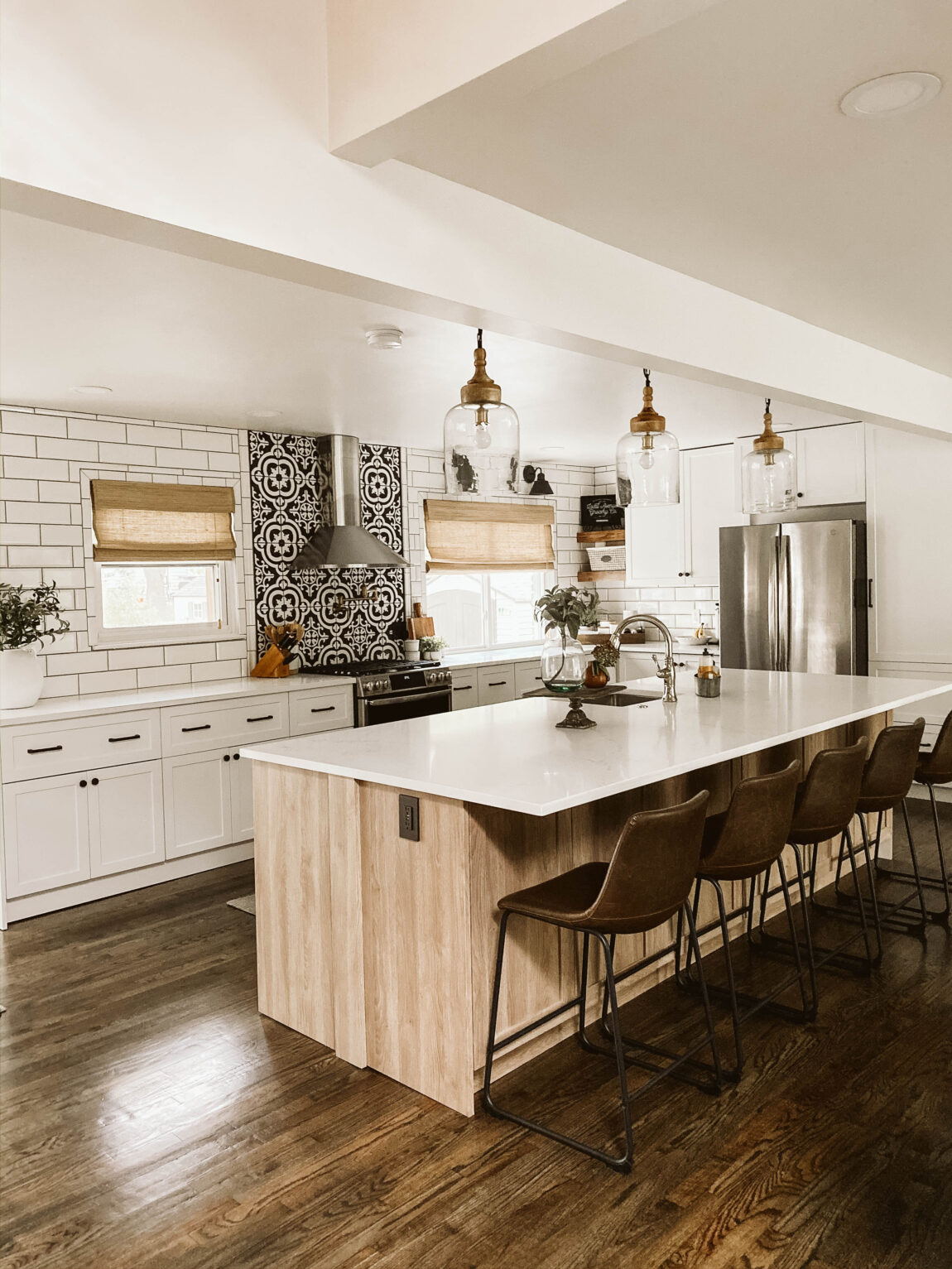 24. Grey-green farmhouse kitchen
If you're looking for something a little bit different, then this might be the style for you. These green-grey cabinets look slick and modern, especially when paired with the stainless steel and white that's incorporated throughout this kitchen.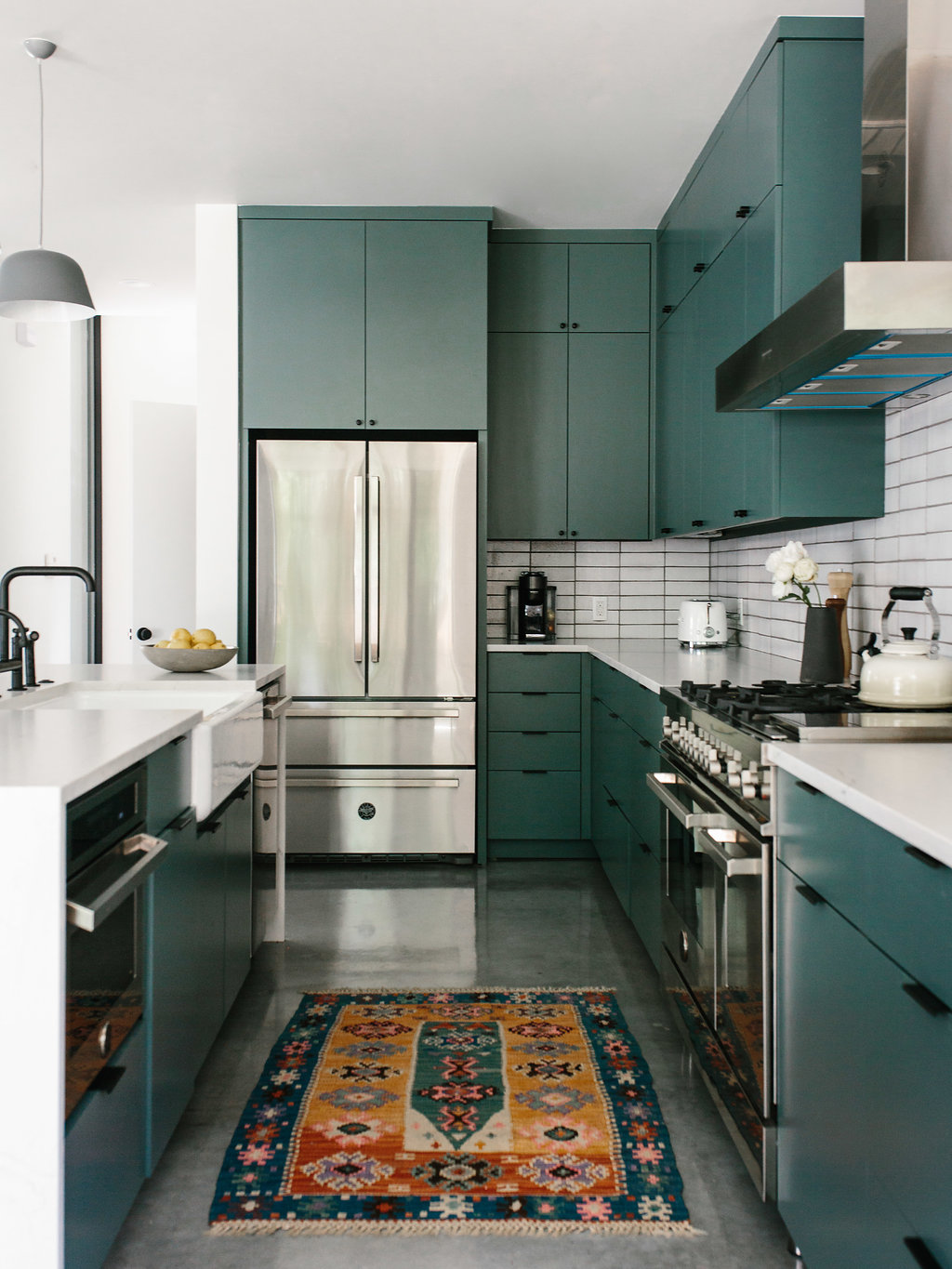 25. Pop of pink
Just because you're choosing a farmhouse kitchen design doesn't mean you have to sacrifice on colour. Have a little bit of fun with a soft pink design, like this one. I think the pink looks gorgeous with the brass hardware. And the pink-and-purple rug adds another layer of colour.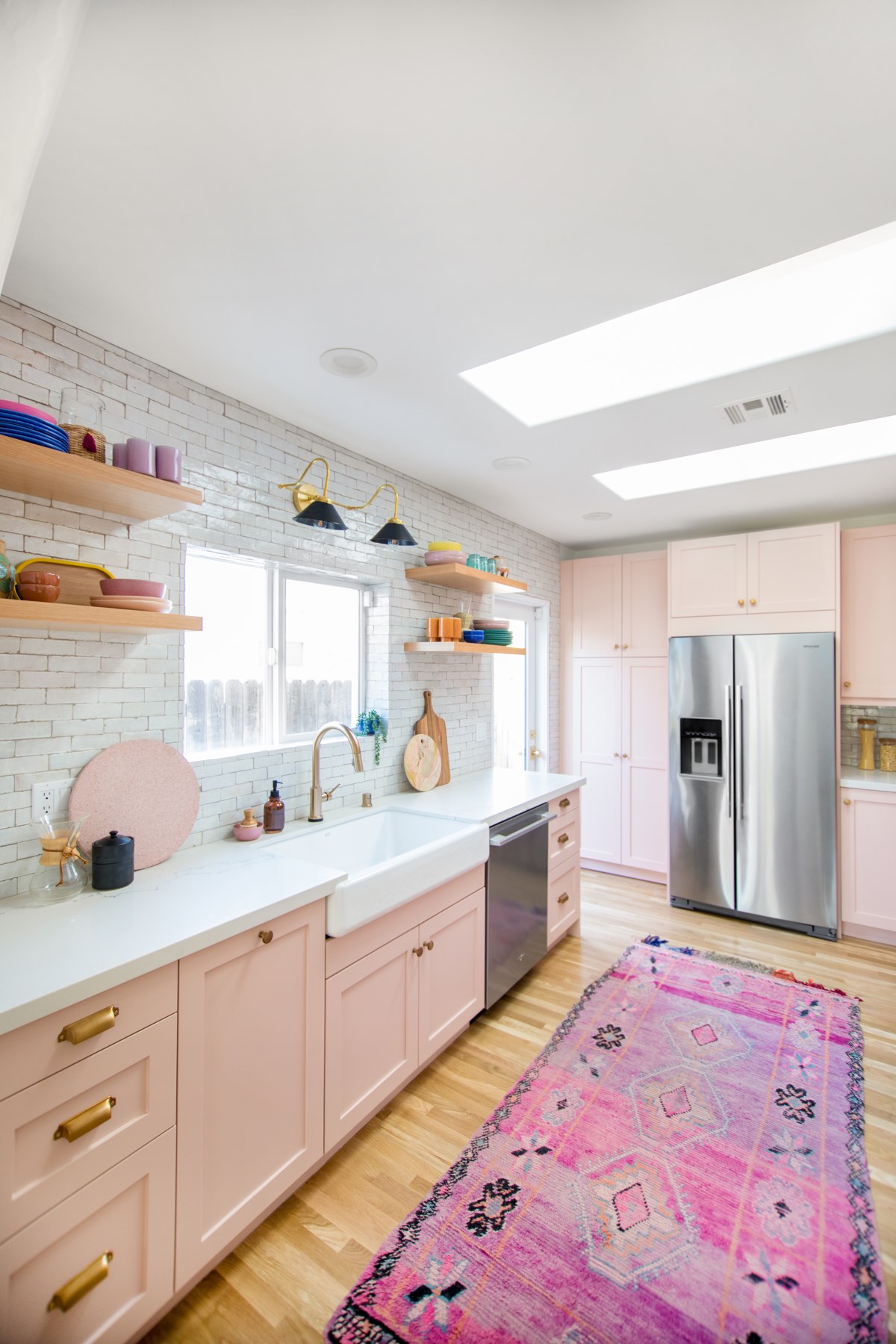 26. Rustic and organic
This kitchen is a layering of white, black and wood to create a modern organic look that has plenty of warmth. I particularly love the oak wood flooring – it has plenty of warmth with a touch of rustic texture, and looks great with the timber and cream cabinets.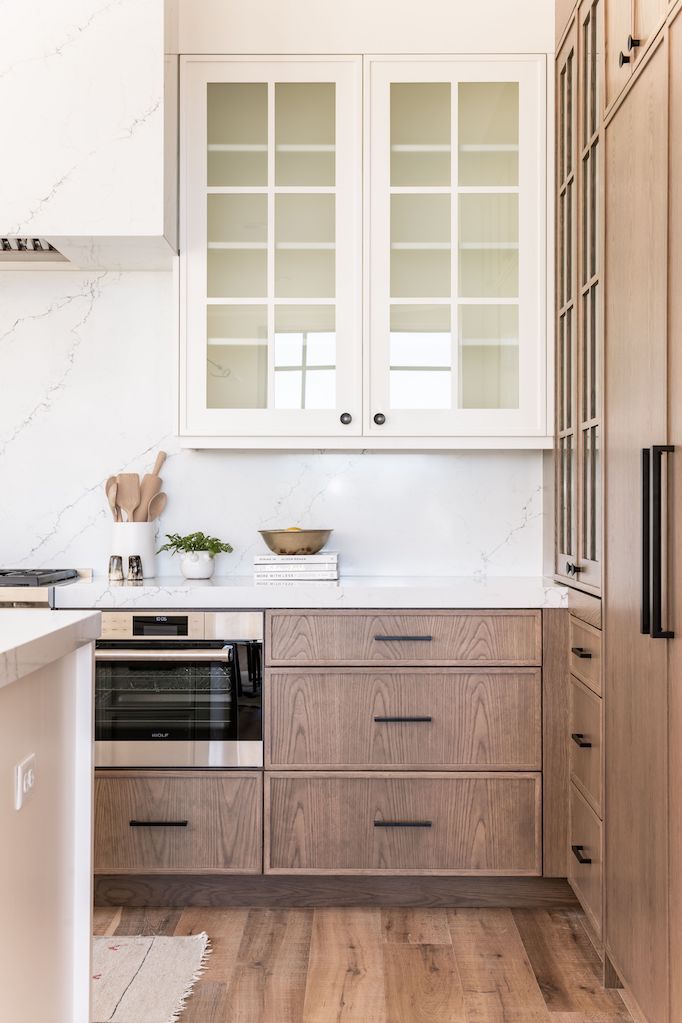 27. Tiled splashback
Get creative with your farmhouse kitchen by including a gorgeous tiled splashback. I love how this one includes a mix of white, dark grey and light grey tiles. This keeps things relatively neutral, while still adding a lot of character to the space. I love how the splashback starts from the benchtop and climbs all the way up the wall behind the glass cabinetry.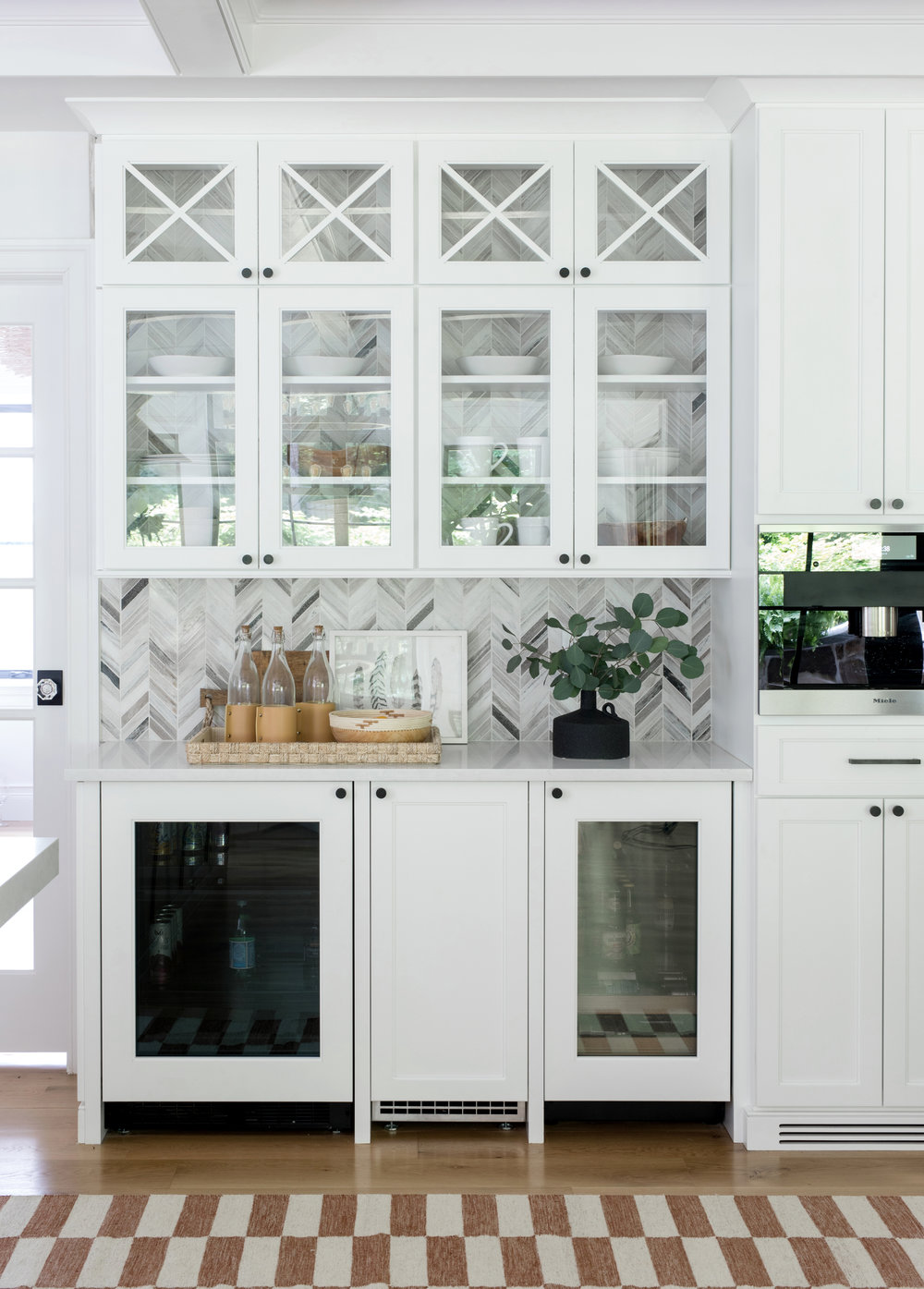 28. Statement ceiling light
If you're looking to do something a little bit different with your kitchen design, then why not include a stand-out light like this one? The brass and black colours really pop against the all-white kitchen. And the colours tie in beautifully with the brass-and-gold stove.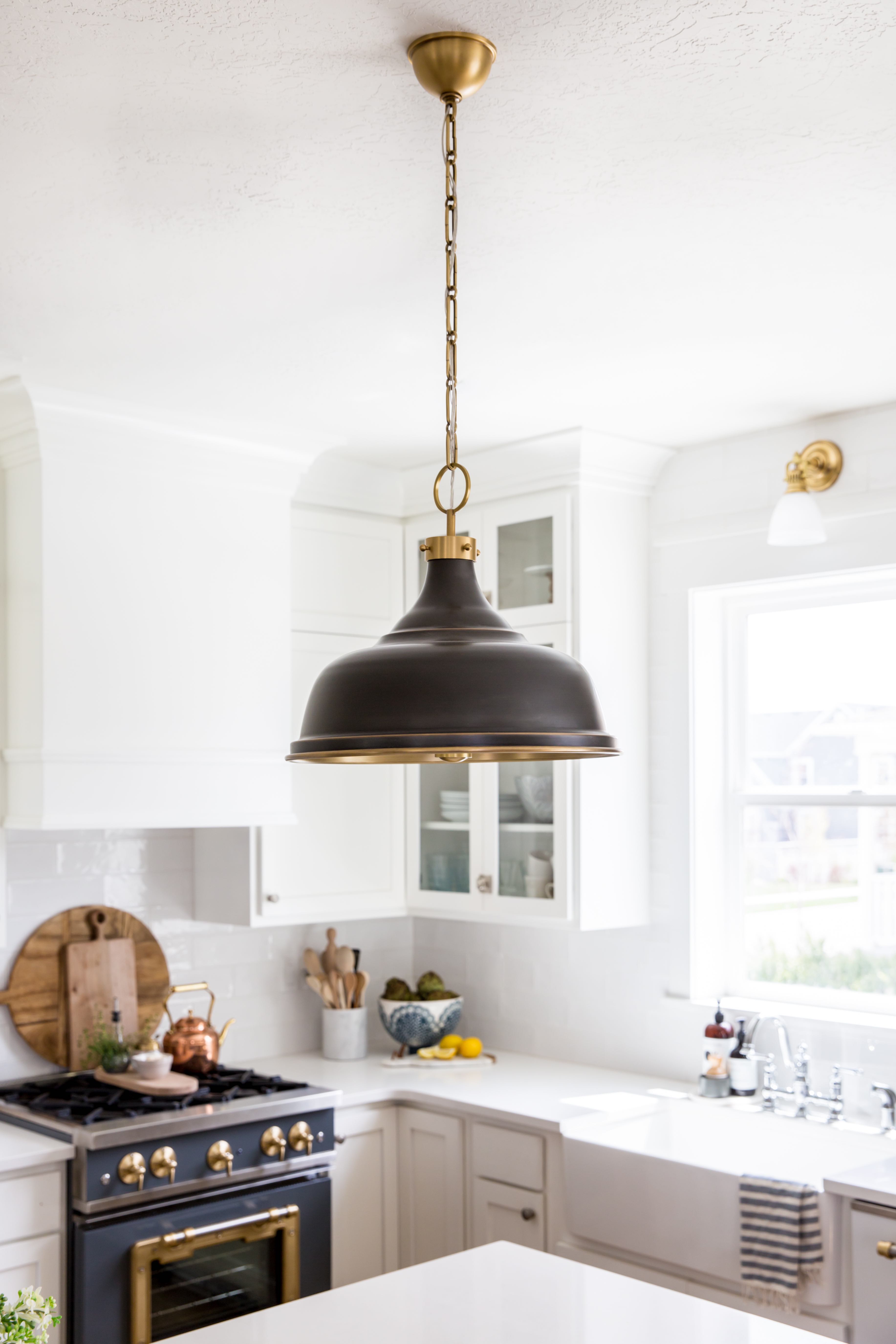 29. Dark and moody
While farmhouse kitchens are traditionally white, with neutral accents, this one breaks all the rules. The slick black cabinetry looks beautiful, especially paired against the backdrop of a black-and-white stone splashback.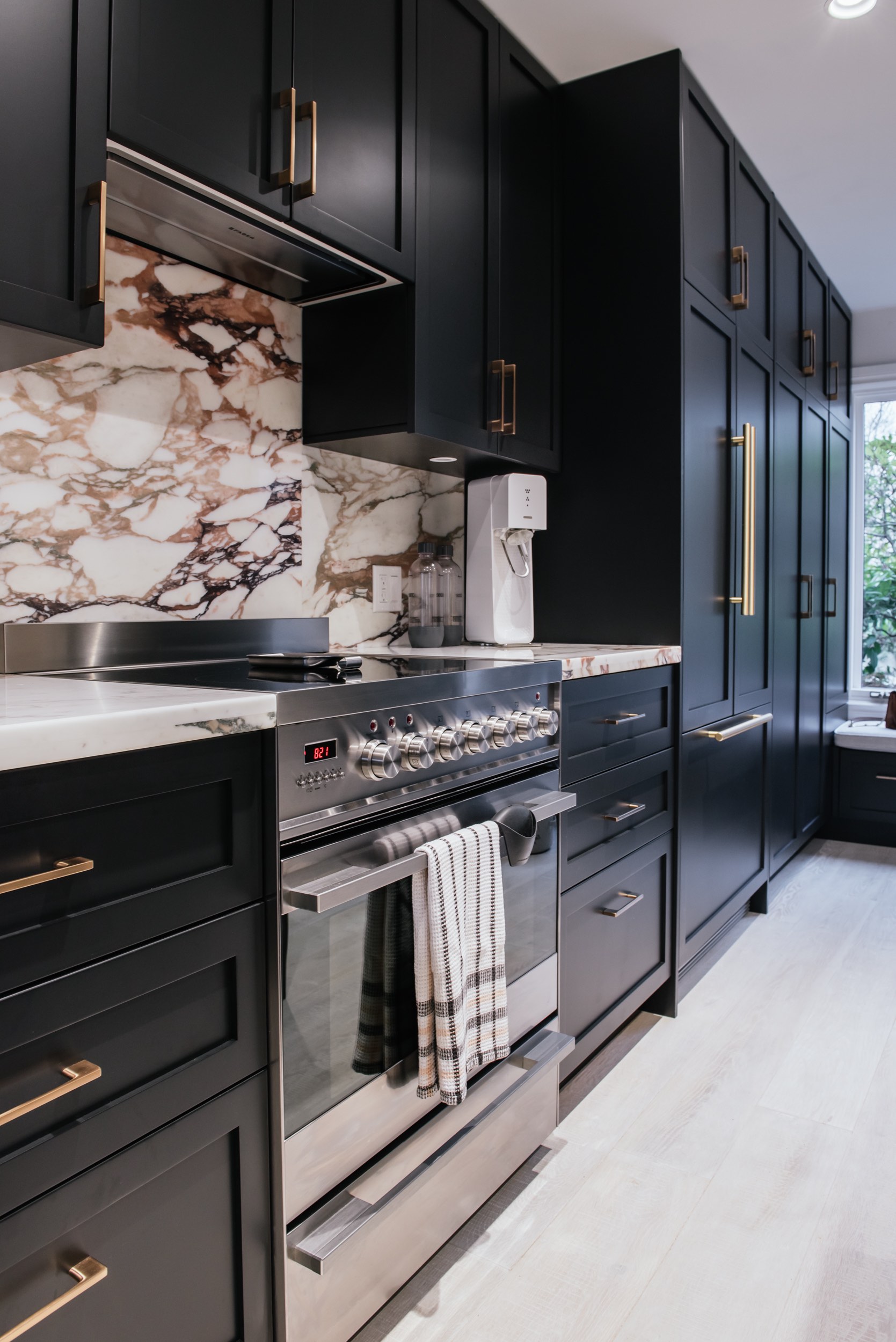 30. White and bright
Brighten up your modern farmhouse kitchen by using plenty of white, like this one. I love how the cabinets, benchtops and walls are all a clean white, while the deep green island adds a pop of colour, and the brass hardware adds a warm glow. Finish off this design with a bowl of fresh oranges and a vase of lovely flowers or greenery.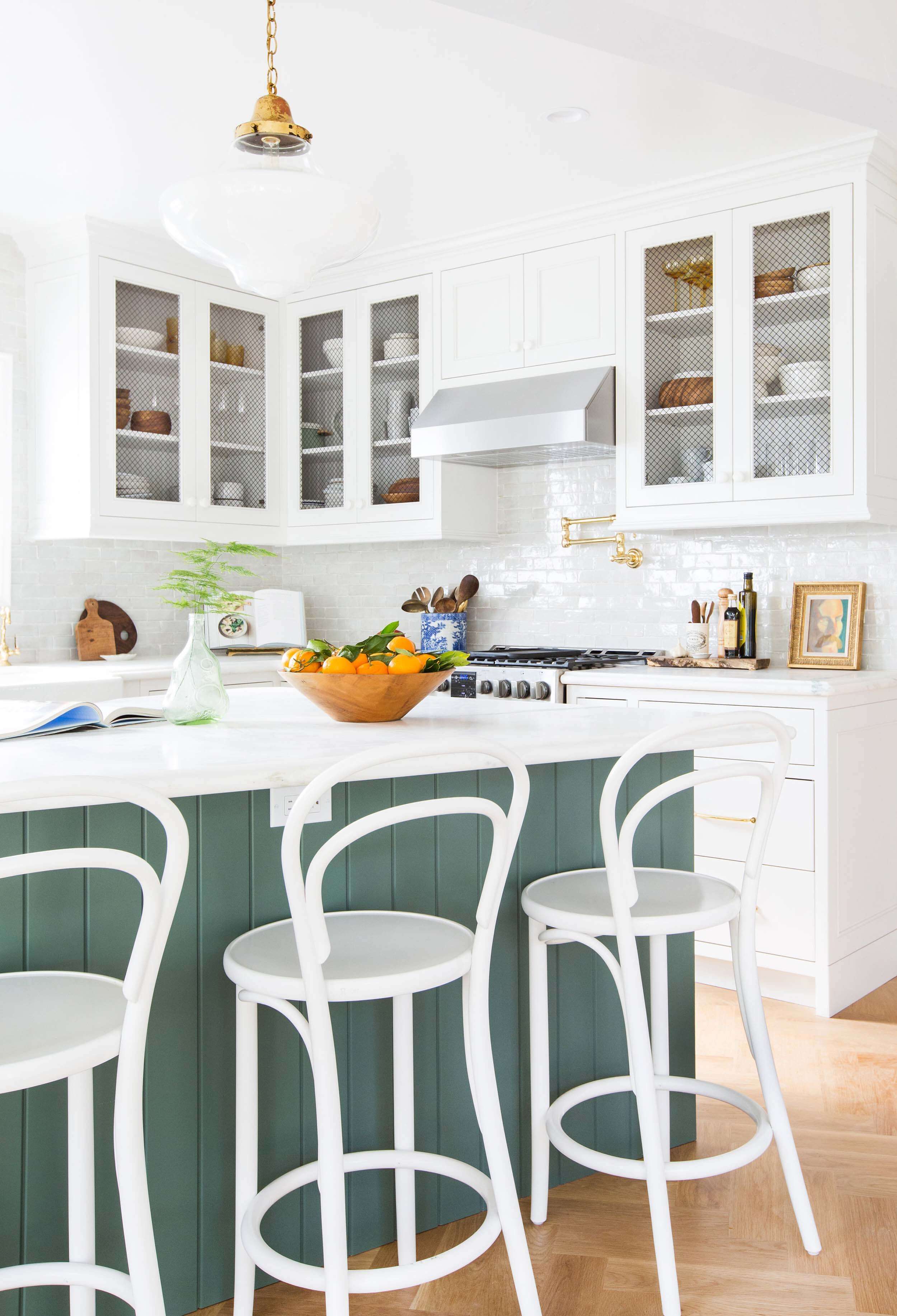 31. Maximise space by hanging your decor
One way to add decor to your kitchen is to install a floating shelf in the corner. This serves as a place to hang items like tea towels and plants, while also a bench for placing bowls, prints and other pieces of decor. It also allows you to make your space more personal with decor that truly exudes your family's style.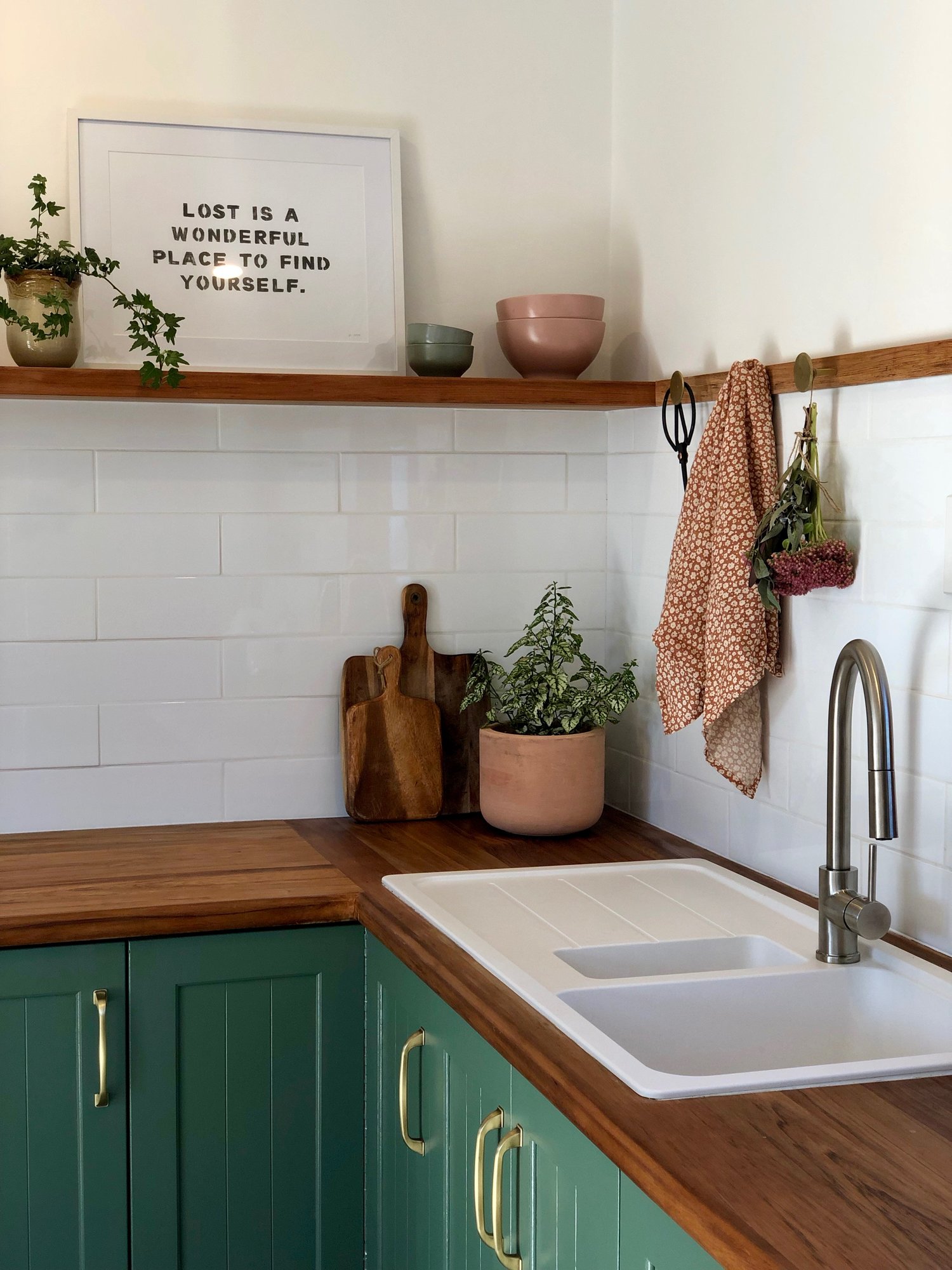 32. Add flowers and fruit
A really simple way to inject colour and life into your rustic farmhouse kitchen is to add a vase full of bright flowers or a bowl of fruit on your benchtop. Instead of using a vase, you can also use a rustic white jug, like this one. It will make your kitchen look a lot homier and inviting.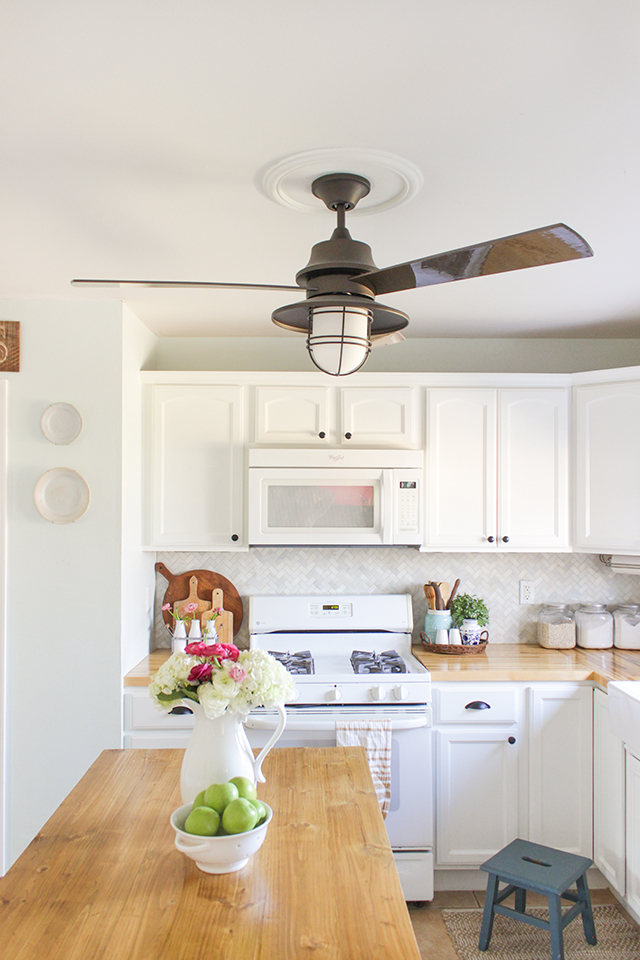 33. Chopping boards
One really simple way to decorate your white farmhouse kitchen is to arrange smooth, timber chopping boards on your bench. This is a good option for the minimalist or the person who likes to keep a clean, uncluttered bench without too many colours or patterns. Place your chopping boards at the back of your bench or behind your stove, for a lovely finish. For extra colour, add a touch of greenery by incorporating a vase of flowers or a beautiful, fresh wreath like this one.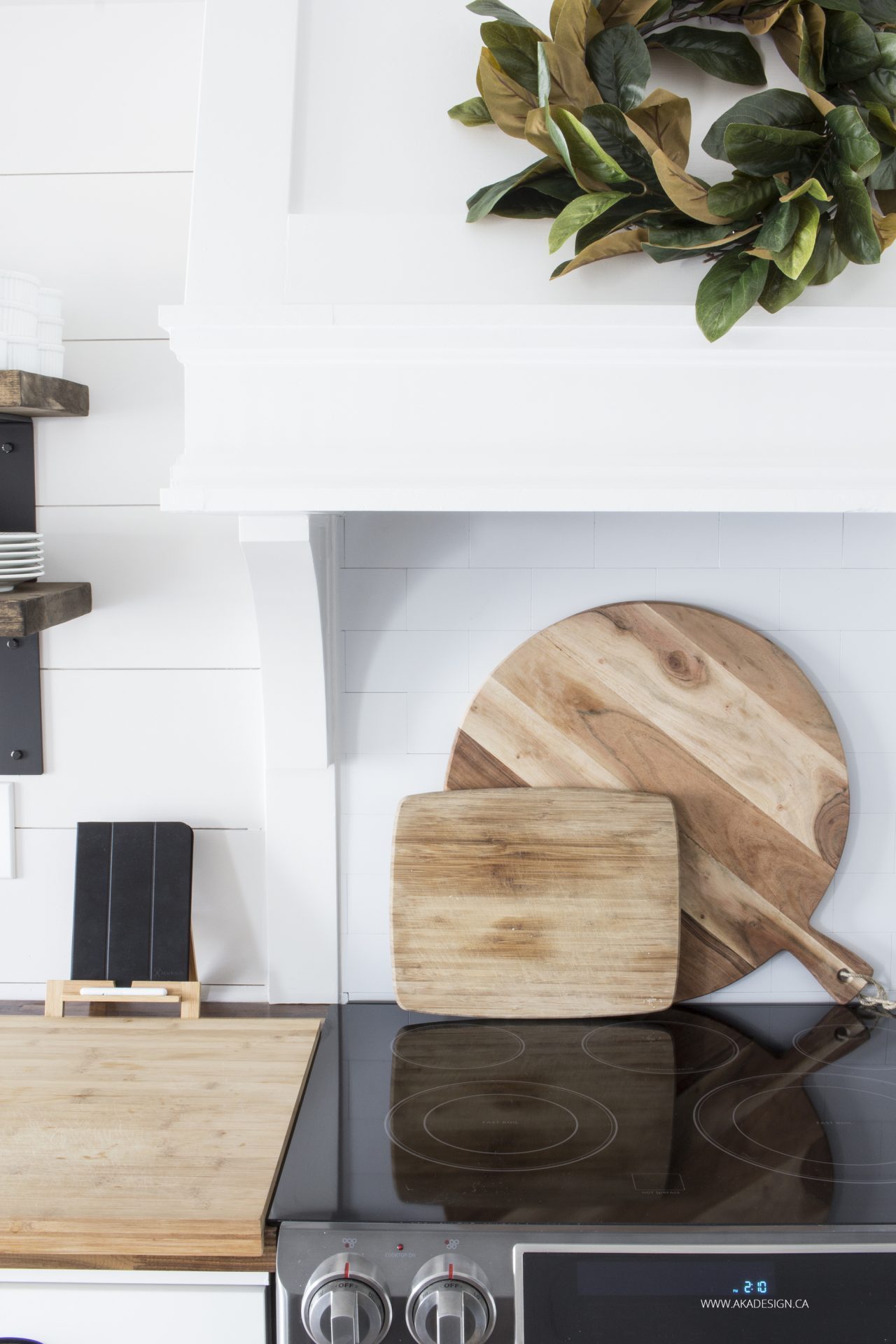 34. White subway tiles
White subway tiles have shot on the design scene in the last five years, and there's a good reason why – they look amazing with almost anything! I love how this particular kitchen design keeps things simple with white subway tiles with grey grout and white cabinets. And the open shelves have been tastefully decorated with greenery, a gorgeous Magnolia Table cookbook, and other pretty little items.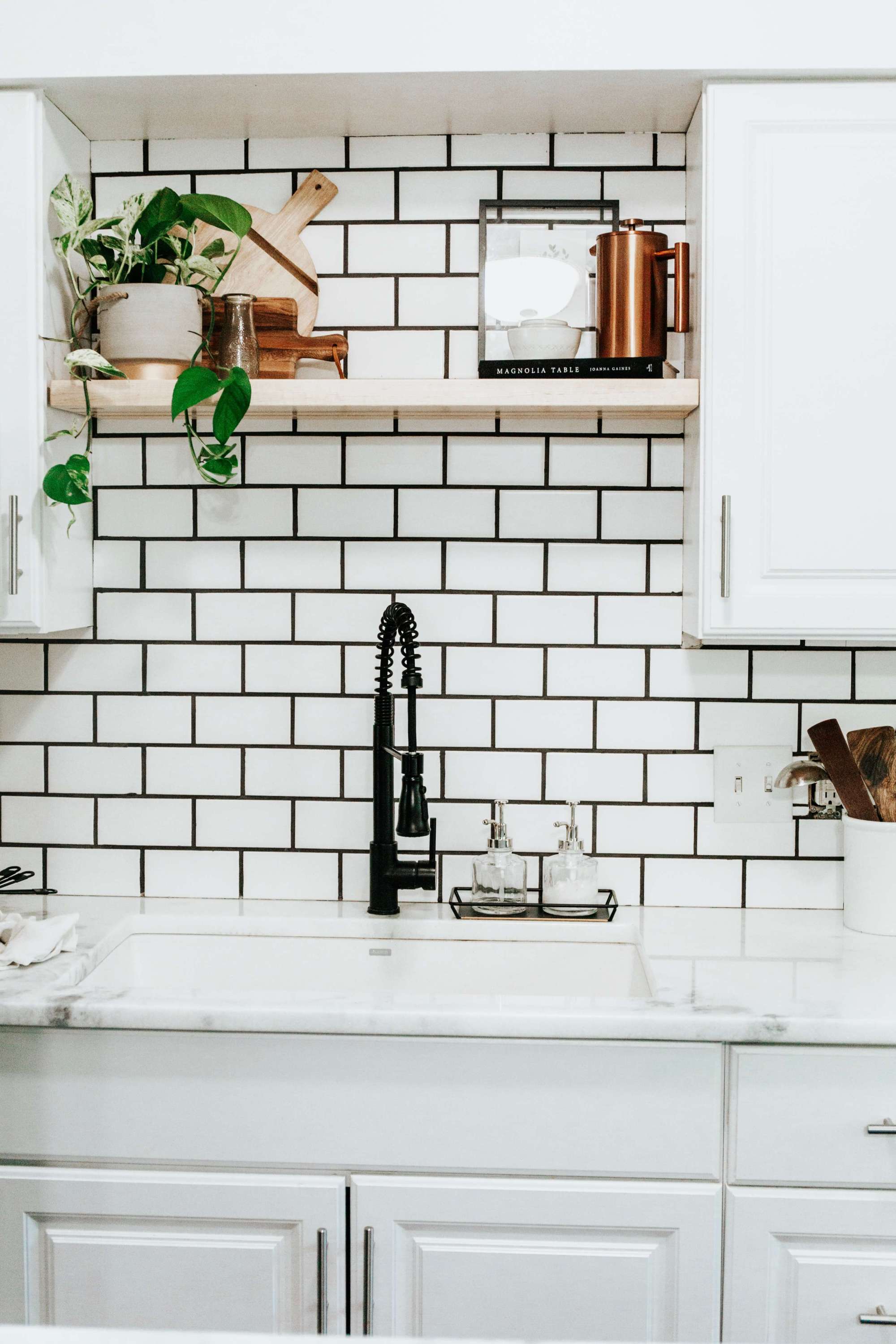 35. Modern farmhouse kitchen
Make your farmhouse kitchen design modern and fresh by keeping it all one colour. In this design, white is the colour of choice. But white is always a good option, especially when paired with light timber. I love the light timber tops of the stools underneath the bench. You can easily recreate this style by going all out with white and adding in a few choice colours and textures.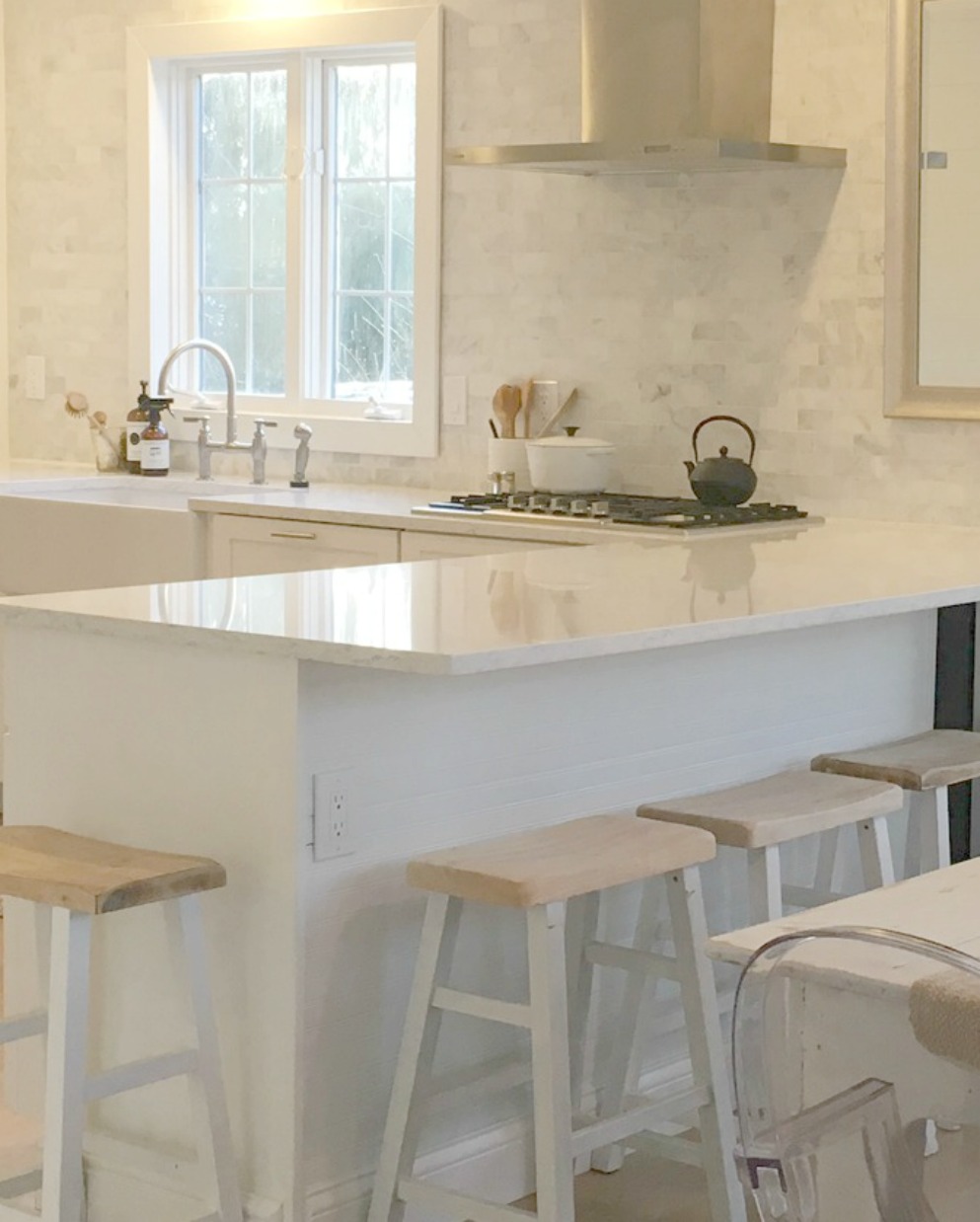 There you have it, 35+ farmhouse kitchen decor ideas with everything from more traditional kitchens to 21st-century modern designs. If you have any more ideas, I'd love to hear them. Comment and share your ideas for a beautiful farmhouse kitchen!