Home

/

Earn Money with Photography

How to make money with photography: 24 gigs to try
Here's a snapshot of different tasks you could be doing!
Browse photography tasks
Whether as a hobby or as a career, photography may be one of the most creatively rewarding pursuits you can have. And, no matter your experience level, you can turn it into a passion project that allows you to earn money.
If you're looking to grow your portfolio or want extra income doing photography, there are various gigs you can explore using your existing tools and set of skills. This ultimate guide should help get you started!
24 gigs to earn money with photography
1. Set up a photography blog
Blogs can become sources of passive revenue streams for photographers, especially if you also have a knack for writing. With content like reviews for photography gear, tips for taking photos, or tutorials, you'll be able to expand your reach to photography enthusiasts everywhere. You can eventually monetize your blog through ads, affiliate marketing, or work with brands to create sponsored content.
2. Create a Youtube channel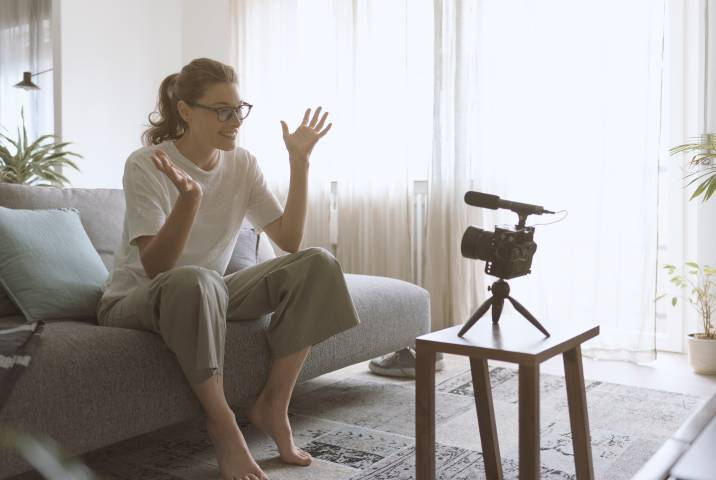 Like a blog, a photography-focused Youtube channel is another way you can make money with photography. Photography is a visual medium, so you can easily translate your photography content into video format. You'll need to establish a following before you can earn from your videos, but Youtube has 2.6 billion active users every month—it's only a matter of finding your audience. 
3. Amplify your socials
If you take great photographs, posting them on social media sites (such as Instagram and Facebook) might earn you a significant following. While not a steady source of income, you could leverage your social accounts to gain brand deals, sponsorships, or affiliate marketing deals.
4. Sell digital products
One great way to earn money through your technical knowledge of photography is by creating and selling digital products. Ebooks, photo presets, and Photoshop templates are some examples of products that you can make and market on digital platforms—maybe even your blog or website.
5. Sell prints of your photographs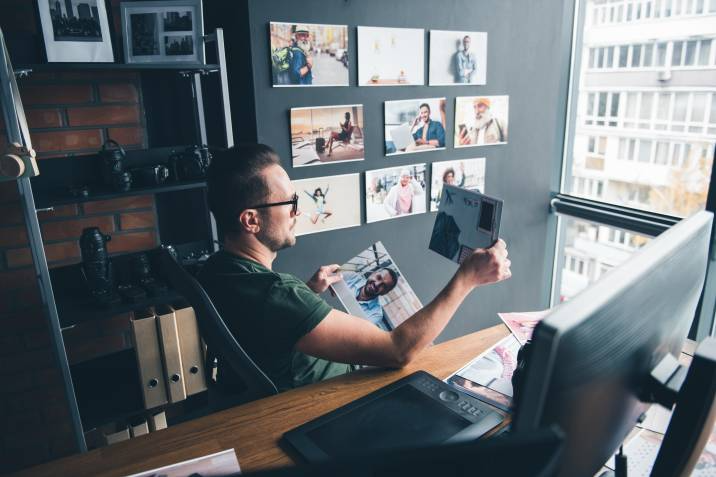 People will always appreciate a good piece of art, so you might consider selling physical or digital copies of your photographs. You can head to craft fairs to sell your prints, offer them to cafes and restaurants, or use an online platform like Etsy. If you want to sell digital copies of your photos, you can use your website or through platforms like ImageKind.
6. Licence your photos on stock photography sites
Another passive way to earn extra income is by contributing to stock photography sites. You can sign up for sites like Shutterstock, BigStock, Dreamstime, or iStock, and submit high-quality images according to each site's guidelines. You can also upload photos on your Flickr account and get them licensed through Getty Images.
Tip: The market for stock images is highly saturated—get yours noticed by making your photos as unique as possible and optimizing your description with as many relevant keywords as possible.
7. Enter photography contests
No matter your skills or experience, you can try your luck and join photography contests and reap cash prizes. While there are tons of photography contests you can explore, some of the most popular include:
8. Self-publish your work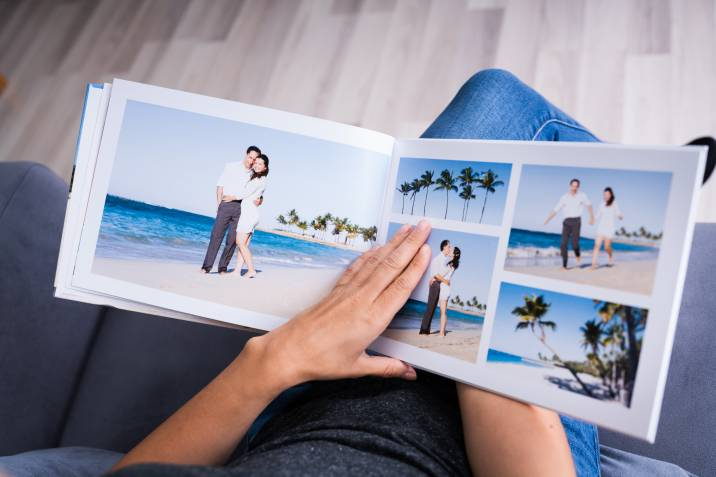 If you have a sizeable body of work, you might be able to compile them into a coffee table-style art book that you can aim to sell. If publishing a book is too long-term a goal, you can start by making mini zines that feature your photography. Look for craft fairs or conventions where you can sign up to sell your stuff.
9. Create city guides and sell them
Want to learn how to make money as a travel photographer? One of the easiest ways to earn extra income from photography is by creating a city guide. Along with great shots of famous spots and landmarks, you can bank on your knowledge as a local to add tips that tourists will appreciate.
10. Put up a local exhibit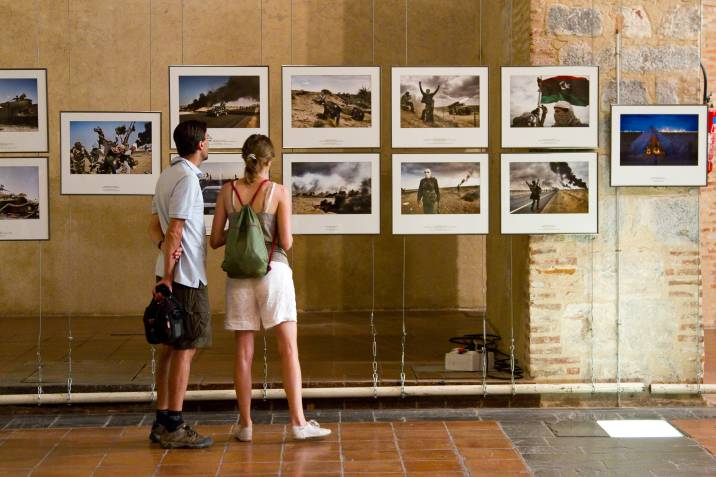 Organize a local exhibit, whether at a public or privately owned gallery, which will allow you and fellow photographers or artists to showcase your work and put it up for sale. 
11. Teach photography online
Teaching basic photography classes in your spare time is a great way to use your expertise to help aspiring photographers improve their skills. If you have experience organizing photography workshops, you can start to offer classes online. Check out sites like Udemy and Skillshare, which both have extensive resources on photography. 
12. Offer editing and retouching services
While not exactly a way to make money with a camera, offering editing and retouching services relies on a keen eye for detail and technical know-how you may have developed in your experience as a photographer. If you're savvy with editing software like Photoshop, this will make a great option for earning additional income. 
13. Shoot events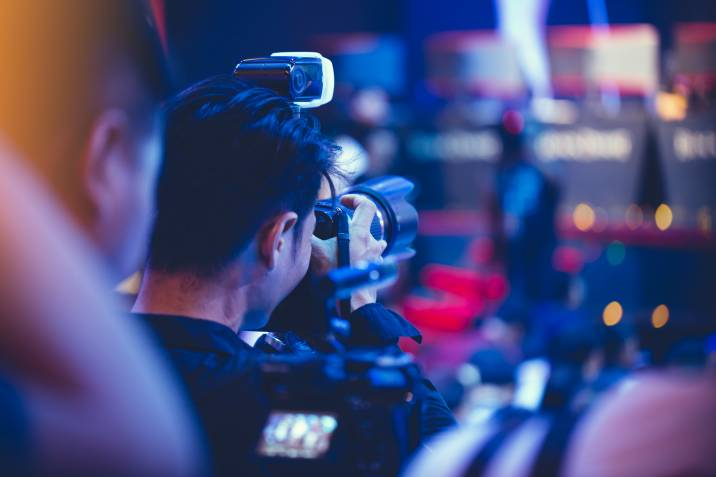 There are various events you can lend your photography services—music events, conventions, company events, and special occasions. Taking on these kinds of gigs also helps you build a more diverse portfolio.
14. Get creative with merchandise
If you have a crafty side, you don't have to limit yourself to selling prints of your work—you can make other merchandise and feature your photographs. T-shirts, mugs, postcards, calendars, button pins, stickers—the possibilities are endless. While you can produce and sell your merchandise yourself, you can also explore sites like Society6, which deals with most of the legwork for you. 
15. Freelance for magazines, newspapers, or websites
Build your professional portfolio by freelancing for publications or websites in your area. Reach out to your local newspapers or magazines to see if they need event coverage. While it might not always be a steady income stream, these occasional gigs will build your reputation and establish business relationships that could land you more jobs in the long run.
16. Take snaps for local businesses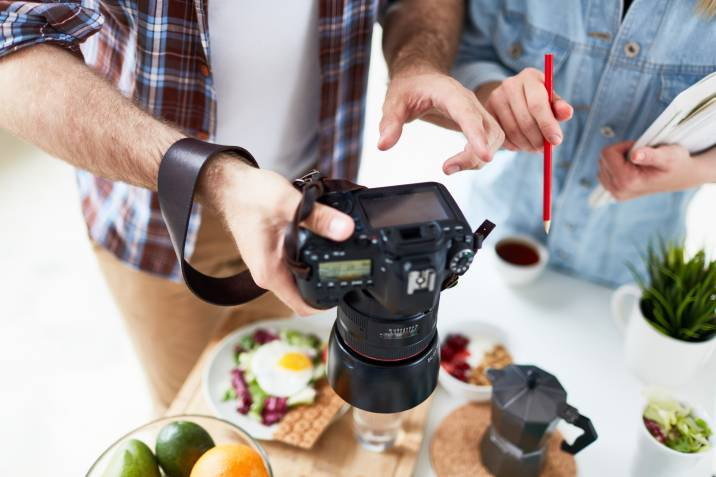 If you're building out your portfolio, try to get leads from local businesses that might need the services of a photographer. Whether it's a coffee shop looking for someone to snap their new menu items or a fitness studio wanting photos for their advertisements, it might surprise you how many small businesses need professional photography services.
17. Organize photo excursions
This is an awesome way to tap into the community of photographers and photography enthusiasts in your location. Organize a trip, excursion, or photo walk where you can also share tips on your craft. You might be able to charge a small participation fee.
Tip: Consider an exhibition as a culminating activity for participants so that you can get your work seen as a collective.
18. Take portraits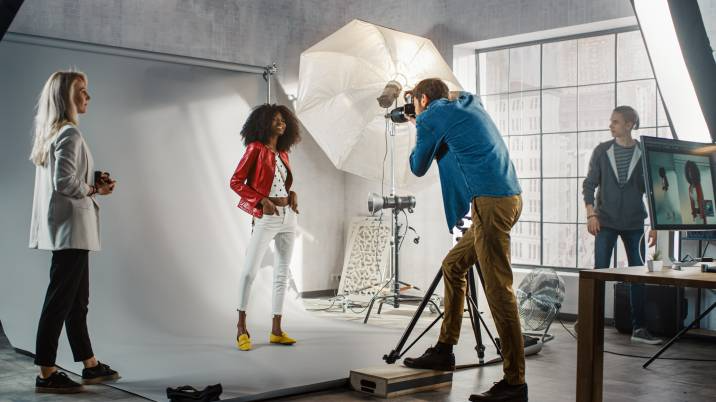 One of the most in-demand photography services is shooting portraits. Luckily, you don't always need your own studio to take good portraits. Clients typically need images of themselves for their sites or profiles on LinkedIn. Some commission portraits for personal reasons—maternity and newborn shoots, pet portraits, and other life event shoots are a few examples.
19. Land gigs as an assistant photographer
This is a great way to make money as a photographer or photojournalist, especially for those that want more experience. Reach out to local photographers you may know to see if they need a second shooter for their photo shoots or events. A bonus is that you'll be able to network around your local community of photographers.
20. Accept commissioned photo shoots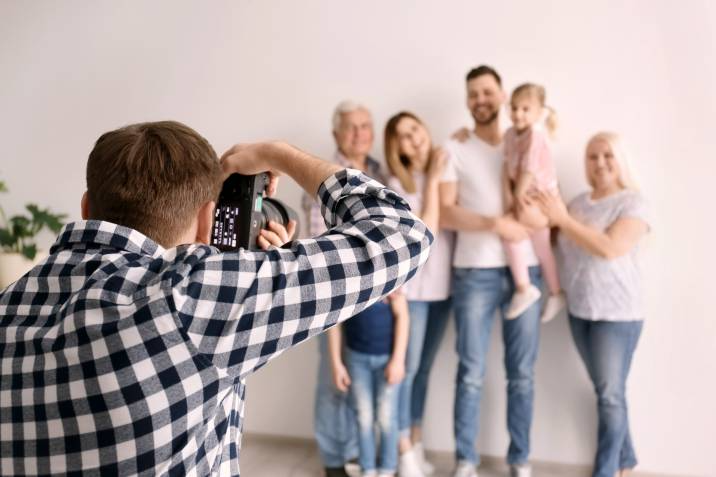 You may already have worked on formal paid photo shoots. One way to do photography as a side job is to offer your services on such shoots by building your network with creatives you work with. These could be fashion and glamor, lifestyle, or corporate shoots.
21. Teach basic photography workshops
Similar to the previous tip, teaching basic photography workshops banks on your photography know-how and coaching skills. Help budding photographers refine their skills with targeted and practical classes.
22. Photograph products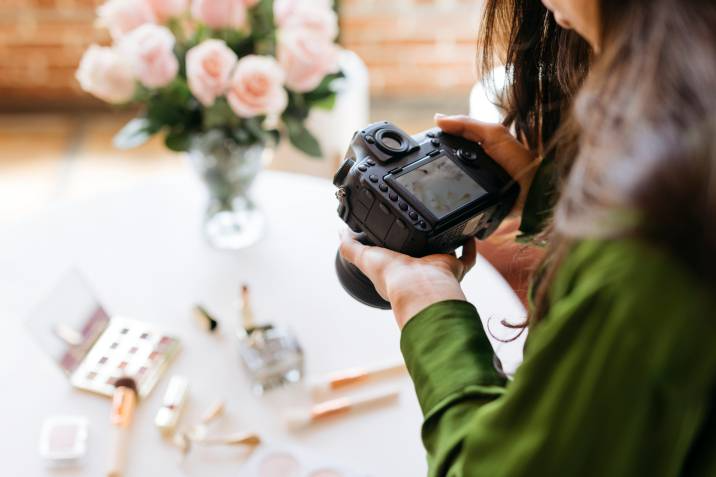 With the popularity of e-commerce, online stores needing high-quality images of their products make viable sources of photography work. 
Tip: For product photography, you might want to invest in specific equipment like a camera with a macro function and light reflectors.
23. Offer consultation
If you're an established photographer, you can start to offer critiques to beginners, and lesser experienced photographers for a minimal fee.
24. Cover weddings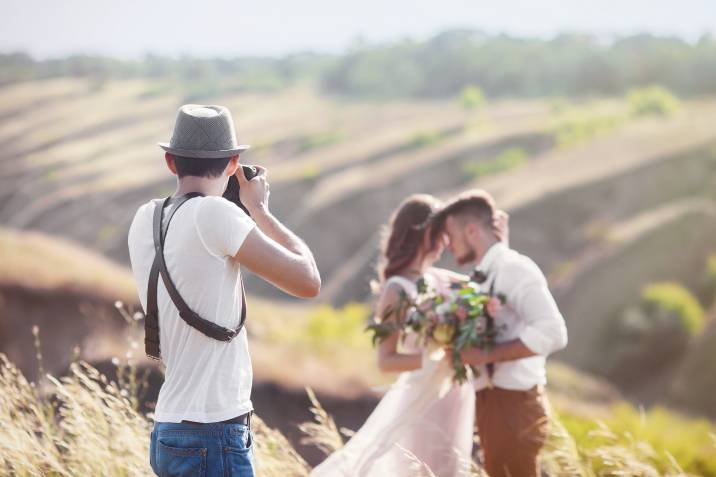 Wedding photography coverage is highly in demand and is one of the most lucrative ways to make money taking pictures. Some photographers specialize in this area and work in teams to cover the entire event. 
Tip: If you'd like to focus on wedding photography, consider constructing a wedding-themed website that showcases your portfolio. Meanwhile, if you're a beginner, a great way to get clients is by highlighting your portraiture—this shows you can take people-centric photos intimately.
Photography niches you can try
From the tips above, you can tell there are many ways to make money with photography. You might be asking what kind of photography makes the most money—which heavily depends on your skills, location, and opportunities. However, some of the most profitable niches you can explore are:
Wedding photography: People who want to remember their big day will have considerable budgets to spend on coverage. While wedding photography is a lot of work and may require you to work with a team, it is a good specialization.

Portraiture: Taking portraits of individuals, families, or even pets is a great way to boost your income, requiring minimal effort and equipment.

Architectural photography: This niche fulfills businesses' needs to cover building interiors and exteriors.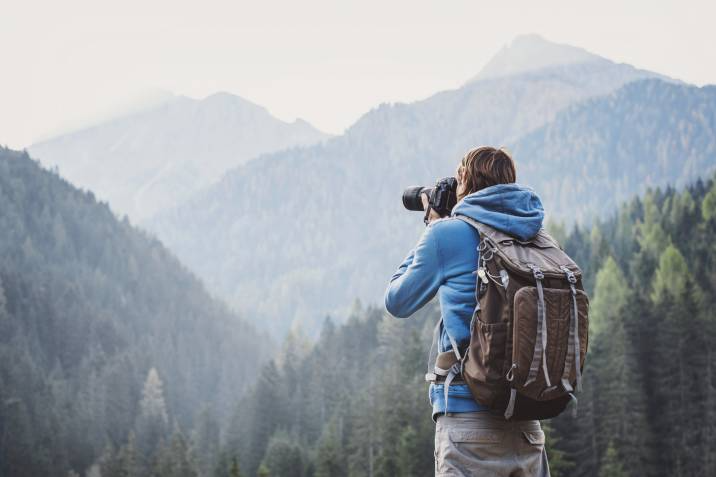 Landscape photography: If you're interested in learning how to make money with landscape photography, you would need to truly master this craft. While fewer photographers pursue this niche professionally, one way to earn income from landscape photography is by selling photographs.

Street photography: Is it possible to make money from street photography? The good news for budding photojournalists and street photographers is that you can earn profitably by selling jpegs to news agencies and publications. 

Corporate photography: Explore how to earn extra income from corporate photography by taking company headshots and product images.
3 tips to get more jobs as a photographer
Here are a few last things to keep in mind when you start earning income from your photography skills:
Know when to invest in equipment.
Your iPhone can take you far when pursuing street photography or even product photography, but if you want to specialize and build your rep in certain niches, you should be willing to invest in high-quality cameras and other tools.
Keep your portfolio updated.
Try to book as many jobs as possible and include your best shots in your portfolio. An impressive portfolio is key to winning gigs and clients.
Your potential clients should be able to access your work if they're interested in your services. Besides your portfolio, consider a website that features some of your photographs and leverage your social pages like Instagram to give your audience a glimpse of your skills. 
Shoot your shot
If you need leads on where to find cool photography gigs, check out Airtasker and explore photography jobs. With clients that have diverse needs for photography services, you'll be sure to find a match that also lets you work at your own pace and time. Find your next gig today.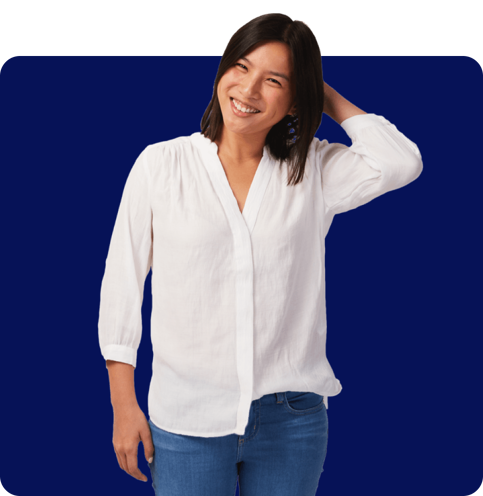 Frequently asked questions
Most beginner photographers get their start by taking photos of close friends and family. This could be during birthday parties, a professional headshot for work, or fun pictures for social media. Once you've built a decent portfolio, you can put this up on your social accounts and start applying for freelance gigs or having your friends recommend you to their network. With hard work and faith, you'll make a name for yourself in no time!
Some of the most profitable photography niches are wedding photography, portraiture, architectural photography, landscape photography, street photography, and corporate photography. Pick a few you want to specialise in and build your portfolio from there!