Home

/

How to Build a Pergola
Find pergola installers, fast

Post a task with your price in mind, then get offers.

It's free and takes only a minute.

See how it works
Learning how to build a pergola really isn't as hard as you may think. It's actually a bit of fun and can add value to your home while boosting curb appeal and making it easier to entertain without having to worry about the weather.
Pergolas are a cost-effective option that will improve your backyard and can be constructed out of a range of materials, incorporating various styles to suit your home. You can build and decorate to suit your tastes and home, and have a little fun by adding seats, cushions or carpet to create another relaxing space that is also great for entertaining!
What is a pergola?
In most cases, a pergola is composed of four beams to provide shade or a roof for an outdoor area. Your pergola can be open or closed depending on the layout, but usually, they have two to four open sides.
Constructed from a variety of different materials, a steel or timber pergola is the most common option as an extension of your home. You can get creative, choosing to decorate with vines or a curved arch. You also have the option of a freestanding or attached model.
Just don't confuse a pergola with a gazebo despite the fact they are closely related. Gazebos are always round in shape and provide more shade and protection than a pergola as they include both flooring and a roof.
Pergola design options
Pergolas are relatively cheap and easy to design for a good fit for your backyard. The design options include:
Attached to the house

: 

An attached pergola is an extension of the home with at least one of the sides sharing wall, flooring, or beam with the home. A great option for privacy while still allowing sunlight and a breeze to come through.

Freestanding Pergola

: This version is not connected to any other structure and is perfect for the front, side, or back of your home. Treat it like a garden nook to relax in, and you can even lay a path to it from your home for an added effect.

Pergola with built-in deck

: If you want to level up (literally) you can build your pergola on a floating deck to make it more of a statement piece. Add a few chairs and a dining table, and you have yourself a fresh new outdoor dining area. Actually, if you're thinking of adding a floor, find someone nearby to help with decking.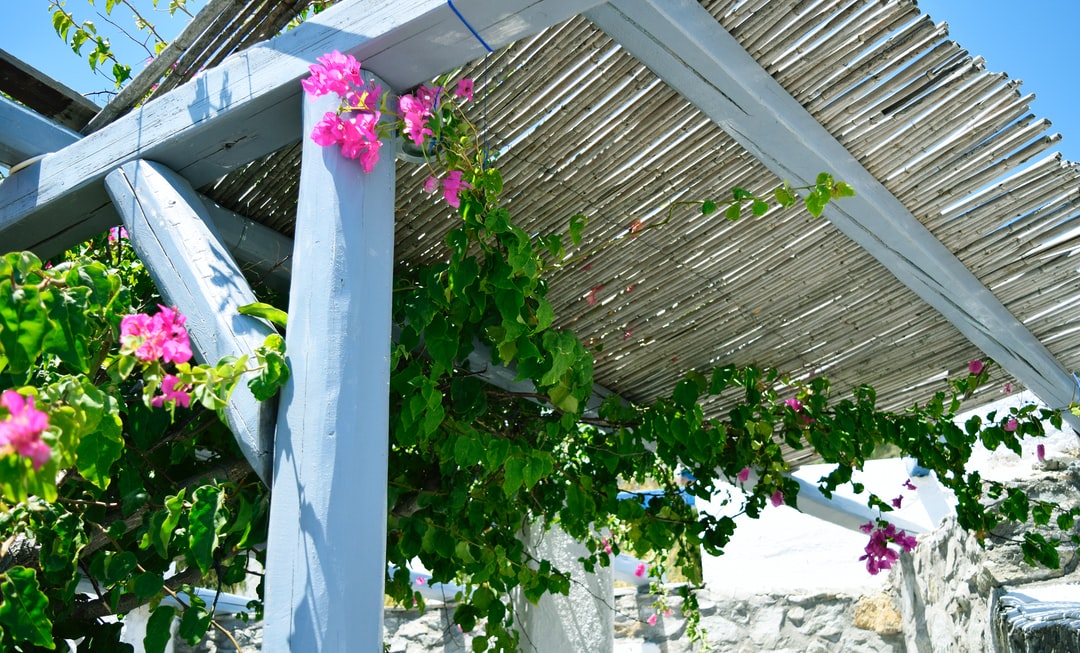 My Foto Canva

Construction materials needed to build a pergola
Four long beams, usually 4×4 (standard) or 6×6 

2 x 4 beams, 

2 x 6 beams, 

2 x 10 beams

Hammer

Ladder

Shovel

Circular saw

Drill

Galvanised deck screws

Screwdriver

Spade
What are the steps for how to build a pergola?
Building a pergola is more straightforward than you may think. You can adapt these instructions to customise your build for something bigger or taller and vary the materials for your look, but these steps will give you the core basics for how to build a freestanding pergola.
Consult with your local council to ensure any regulations concerning backyard renovations are et, so you are not made to rip down your new pergola down the track.

Identify and mark out the area that the pergola will occupy.
Stain or paint any materials you are planning on using before you begin construction.
Dig four holes, one in each of the corners of your designated area roughly two feet deep and nine inches wide.
Put some gravel in the hole to absorb moisture.
Sit one of the beams in the hole, straight and upright.
Pour pre-mixed quick-dry concrete in the hole and allow it to dry, repeat this action for all four beams.
Cut the 2×10 beams and fasten them to the posts to create a roofing base.
Cut the smallest beams into rafters and attach them to the top beams.
These steps are the simple core requirements, from here, you can alter and decorate; however, you want. Using a shade cloth on the roof is an easy and cost-efficient way to create a little cover. Choose a dark-coloured fabric and add some fairy lights for effect.
You can also research some potential design ideas to determine what kind of material and look you will go with. If you really want to make this an easy process, you can buy a DIY pergola home building kit which will give you everything you need and save you the effort of planning.
Alternative pergola options
If you want something a little more robust, add a flat roof to your pergola for more significant shade and protection from the elements. This way, you can decorate beneath the pergola with carpet or outdoor furniture and pillows, creating a comfortable entertaining area for family and friends. 
If you have a deck or patio that extends out from your home, the pergola can be used as a transition piece, or you can build one to cover your pool or jacuzzi. This is a great way to add privacy and shade to your pool while also keeping it cleaner from falling leaves. 
Pergolas as transitions
In some cases, pergolas are used more as a decorative statement than a functional addition to your home or yard. You can use a pergola to accent a home by putting textural materials on the exterior, and throughout the pergola. Many people use it as a structure purely to hang lighting to create a welcoming and softening transition between a home and its deck areas.
You can even use it to hang plants and pots to increase the greenery of your yard. Pergolas a great for vines, you can train your foliage to wrap its way around the wood, creating a visually stunning planter.
Bryan Agua

Ready to build that new pergola?
Hopefully, you've found the information in this article helpful in how best to construct your new pergola. DIY work can be a fun and rewarding experience with plenty of benefits. If you want a little help, find someone to help build your pergola.
If you are feeling like a little DIY work, you may be interested in our tips to build a deck to go with your new pergola and some alfresco dining ideas for your home. We also have plenty of decking, patio and backyard ideas to increase your enjoyment of your space and the value of your home. Happy building!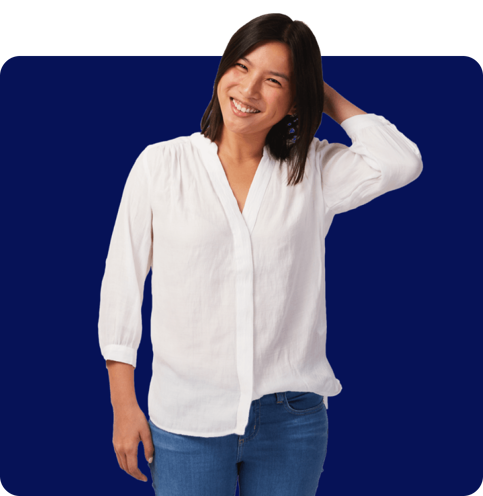 Building Pergolas FAQs
Wood is the most popular material used for pergola construction. It is cost-efficient, easy to work with and durable when it comes to outdoor conditions. Considering which type of wood is essential. You can use any wood you'd like, but there are some options that will offer a more professional-quality structure. The best wood choices for your pergola are: 1. Pressure Treated Wood – low cost 2. Red Cedar and Redwood – more expensive but offers the benefit of being naturally protected 3. Tropical Hardwood – costly but offering a stunning look 4. Modified Wood – the best choice when it comes to price, aesthetic and reliability
Your pergola can be as large or small as you would like, but your existing architecture will often determine the best size. You don't want a structure that towers over your home, or more importantly, neighbours fence. An ideal pergola will be in scale with your home's design to help it feel integrated, particularly if it's against your house. In this case, the placement of your windows and roofline will let you know how high your pergola should sit. The way you plan to use the space also plays a role in determining the size. You'll want to ensure you have enough floor space for things like chairs and a table, big enough to accommodate your family or friends if you plan to entertain. The minimum height of a pergola is often no lower than 7'6." This will allow ample headroom. A standard pergola sits around the range of 8-10'. A lower ceiling makes for more intimate gatherings, while a more extensive roof is better suited to match a larger house. If you plan to include lighting inside, you'll want to have a little more height.
As pergolas spend their time outside and are exposed to all of the elements, their lifespan will vary based on the material used. The quality of construction is also a factor that will play a part. A metal pergola will often last around five years as they are susceptible to rust, which is why they are not a popular choice. Pressure-treated wood, on the other hand, can last up to 12 years; however, it is crucial to note that wood is vulnerable to both rot and mould. You can get the most out of your wood by re-staining it every year. A vinyl pergola is the best option in terms of longevity as it is entirely impervious to the elements. It also won't require any yearly maintenance and can be cleaned with a simple hosing down.
It's free and takes only a minute.