The average pet groomer salary in Australia is around $41,053 per year or $20 per hour, according to Salary Expert. These figures apply to dog groomers who work in salons and pet stores. Meanwhile, self-employed dog groomers may earn much more, depending on the amount of work they do in a given period. 

Whichever the case, a pet groomer's salary may vary depending on the location and the groomer's experience level. 
There are many different career paths in pet grooming, which means there can be significant differences in a pet groomer's salary. Let's dive into the topic a little more, so you can understand your earning potential before shifting to this new career.
What does a pet groomer do? 
Pet groomers typically handle general care and styling for dogs and cats, from cleaning to clipping.
Grooming can be quite a physically demanding job, and you'll spend long periods standing or crouching. You'll also be handling different animal breeds, and you can work in a salon, mobile van, veterinary clinic, or kennel.
Pay structures for pet groomers 
Pet groomer wages are not standardised and can often be a little more complicated than an hourly wage or salary. A pet groomer can be compensated in one or more of the following methods. 
1. Hourly wages
Hourly wages are common for full-charge groomers, pet bathers, and assistant pet groomers. Employees of major pet salons or self-employed groomers who do not work with commission often earn with this pay structure. 
2. Salary wages
Salary wages offer a guaranteed compensation per pay period and are usually for management and full-charge positions in a salon. Most salaries are based on an hourly wage and consider the expected number of hours per pay period.
3. Commission wages
Commission is a popular form of compensation in which a groomer earns a percentage of the fees charged to the pet owners. The commission is a formula for business owners who cannot make salary guarantees, and the rates can vary significantly.
4. Service package rates
Pet groomers may also offer service package prices. You can take a look at our dog grooming cost guide for an even better understanding of what your earning potential could be as a pet groomer.
The benefits of being a freelance pet groomer 
When considering a pet grooming career, it's worth giving some thought to working in a freelance capacity, as opposed to looking for a job at a salon or vet clinic. There are certain benefits to working freelance that can make the extra hustle in finding your own clients worthwhile.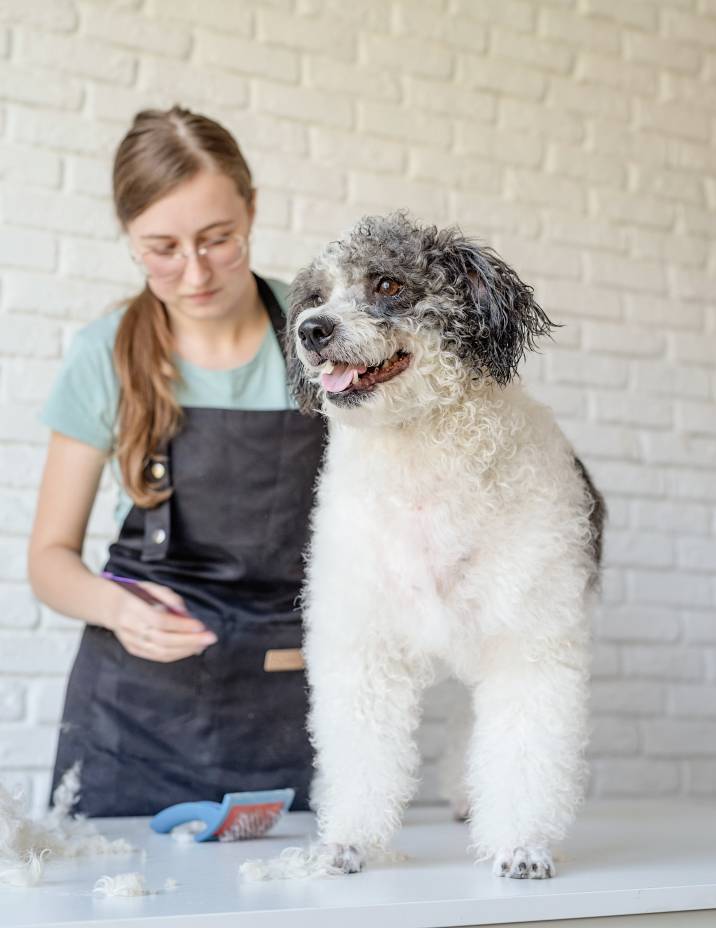 The benefits of freelance pet grooming include:
The ability to be your own boss

Choosing your own hours/days of work

Working from wherever you like (e.g. mobile, your own salon, or at home)

Setting your hourly wage and not having to pay a certain amount to an employer

Taking as many holidays as you like
However, some downsides need to be considered as well:
You are responsible for finding your own clientele, which means you'll need to dedicate a certain amount of your time to business development. 

You will be responsible for your own superannuation. 

There is no sick leave; If you don't work, you don't get paid. 
Can you make a living as a pet groomer? 
Yes, it's possible to make a living as a pet groomer. There will always be work for pet groomers. You can find full-time work in a pet grooming salon or vet clinic. Also, you can earn an uncapped amount if you work in a freelance capacity or start your own pet grooming business.
Start earning money as a pet groomer
If all the above information sounds appealing, you may be the type of person who'll make a great pet groomer! Check out pet grooming jobs near you, and start earning money as a pet groomer. By being a Tasker, you get to be your own boss, set your price, find clients close to you, and build your pet grooming roster. 
| | |
| --- | --- |
| | Also read: Your Ultimate Guide to Dog Care – Everything you need to know about caring for a dog, from grooming to training  |