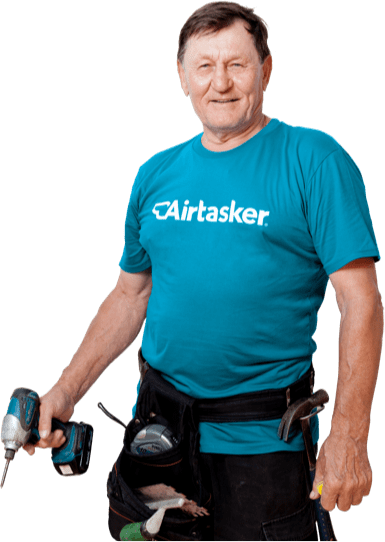 Earn up to €2,900 a month on Airtasker*
*Based on the median top 50 Tasker's monthly earnings.
You're the boss
Choose the tasks that you would like to complete for the people that you're happy to work with. You're in control of your own schedule and creating your flexible work-life balance.
Payments
You can get started on completing a task straight away knowing that payment is secured via Airtasker Pay. A Service Fee is automatically included to cover variable transaction costs.
How to start earning
Browse tasks
Search for tasks nearby that match your skill set by using filtering for location, distance, completing in-person vs. remotely, and by searching keywords. When you find the right task, make an offer!
Start browsing tasks
Make an offer
It's important to make sure your offer is at a fair price, taking into account how long it could take and what skills are needed. This could well be higher or lower than the task price. Just make sure you let the Poster know why in your offer.
Do the task well and get paid
Keep talking to the Poster regularly so that they know what's happening. When it's done, make sure you request for the payment to be released and leave an honest and true review for the Poster.
Improve your profile
Posters will look at your profile and reviews so you've got to make a good first impression! Upload a photo, write a nice description, and list the skills you're great at. An awesome profile instantly improves your chances of your offers getting accepted.
View profile
FAQ
What type of tasks are available?
There's a huge range of tasks on Airtasker. From home-based tasks such as cleaning, gardening and handyman tasks; to office-based tasks, such as marketing, graphic design and web development tasks. There are also a bunch of interesting tasks as well, for example, wedding help, cake baking or costume making.
A Poster will let you know if the task needs to be completed in person or online.
How do I get paid?
You can start working on the task knowing that your payment for the task has been secured with Airtasker Pay from the Poster. When you complete the task and request payment, the Poster will be notified to release the task payment. This is then securely transferred to your nominated bank account.
Airtasker automatically deducts a service fee when the payment is released to include variable transactional costs and also ongoing maintenance costs to continuously improve and develop the Airtasker platform, maximising your opportunity to earn more.
Who will I be working with?
You're your own boss, so it's totally up to you! When browsing tasks, you can look at the Poster's profile and past reviews to see if you would like to help them.
Can I get task alerts?
Of course! Set up task alerts in your account settings and we'll let you know when any new tasks appear that match your interests.
How do I get assigned to a task?
Here's a few tips to dramatically increase your chances of getting assigned. When you make an offer, make sure you say why you'd be great for the task. Also, spruce up your profile by filling all the categories and getting as many badge verifications as you can - Poster's love full profiles!