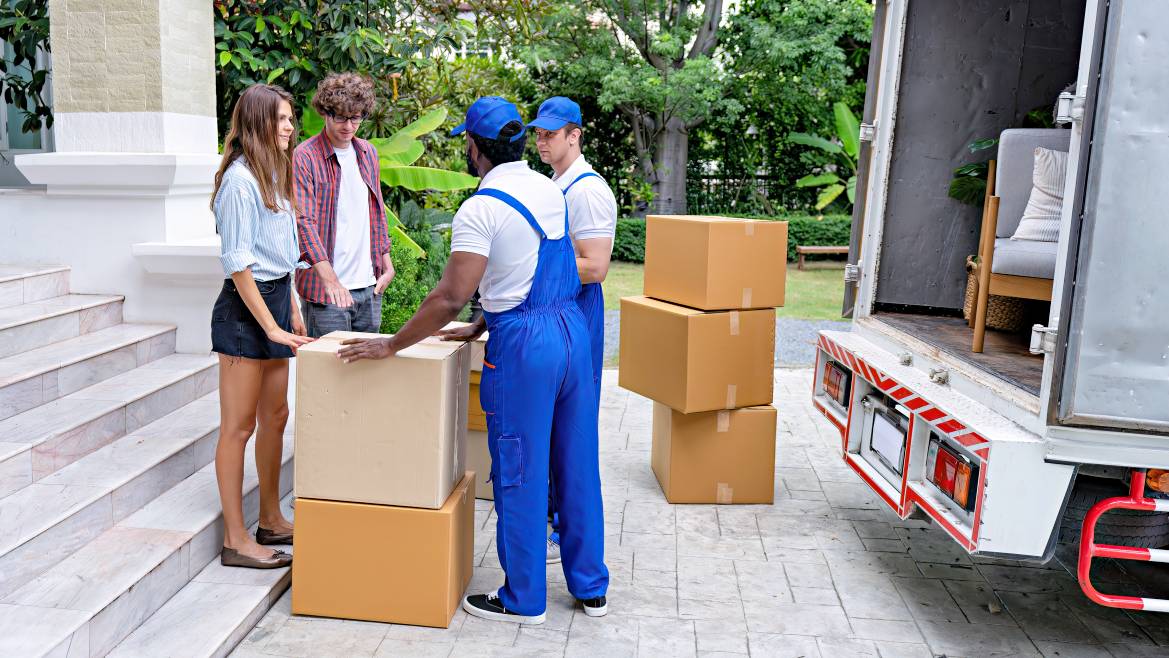 How much do removals cost?
Get a free quote now
Post to find a price. It's free and only takes a minute.
Price guide
€1,465 - €1,700
Find removalists, fast

Post a task with your price in mind, then get offers.

It's free and takes only a minute.

See how it works
Last Updated on July 17, 2023


Relocating to a new house or simply decluttering? Get some help to avoid undue stress. The average removal company costs in Ireland are between €1,465 and €1,700. 
The actual price depends on many factors. Removal quotes often consider specialist equipment and packing materials used, the number of items to transport, whether you have fragile items, and other add-ons such as storage services. 
Read this guide to learn more about removal firms, including what they do, the services they offer, and how to hire them.
What do removal companies do?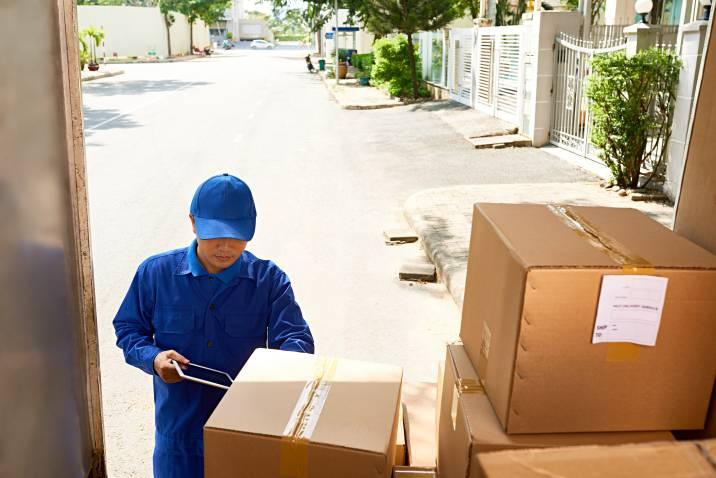 A removal company assists you (whether you are an individual or a business) in relocating all your belongings from one place to another. In particular:


A removal company works closely with its clients to plan and coordinate the entire moving process. For instance, professional movers conduct a pre-move survey to determine the scope of the job, accurate quote, resources needed such as labour and packing materials, and timeline.



They assist in packing items securely and efficiently, using appropriate packing supplies and techniques. This may involve disassembling furniture, wrapping fragile items, and labelling boxes for easy identification.



A removal company provides vehicles and drivers to transport the packed belongings from the current location to the new property destination or a storage facility. It handles the logistics, such as route planning, to save money and time.



An office or house removal company often offers temporary storage for a bit longer until the new space is ready.



Upon arrival at the new destination, most removal companies unpack and set up the items per the client's instructions. They may reassemble furniture, arrange appliances, and declutter and organise the space.



Removal firms may provide additional services like cleaning the property before or after the move, offering insurance coverage for belongings, or arranging the disposal of unwanted items.
Removals price list
How much does a removals company cost in Ireland? Here is an overview:


| | |
| --- | --- |
| Removal services | Cost |
| Local removals (within the city) | €100 to €200 per hour |
| Long-distance removals (within Ireland) | €100 to €300 per hour |
| International removals | €1,000 to €3,000 |
| Packing materials | €50 to €100 |
| Storage (self-storage) | €45 per month |
| Storage service | €50 to €100 per week |
Factors affecting how much removals cost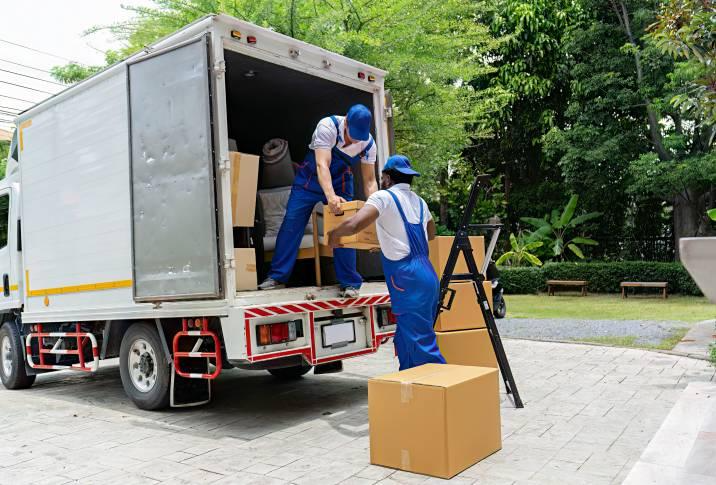 The numbers above are estimates that can already help you get started with budgeting for relocation expenses. However, if you do not want hidden extra costs or choose the right company wisely, consider these other factors.


Property size
Many removal companies account for the property size during the pre-move survey. This is because most people or offices relocate with most of their belongings. It then affects packing costs, the type and size of the vehicle, and the special equipment and tools to use. It even dictates the skill to look for in a reputable moving company, such as the ability to dismantle and reassemble furniture pieces.
In Ireland, the average sizes of homes are less than 90 square metres, which means they are smaller than other houses in Europe. In other words, your moving costs are likely to be lower than, say, Luxembourg, where properties can be over 120 square metres.
Meanwhile, the average price of hiring moving companies to transport office supplies and equipment in the country might be cheaper than in the nearby UK, especially London. Offices, after all, are more affordable in Ireland. Here is a detailed breakdown of how much you will likely spend on a moving company based on property sizes:


| | |
| --- | --- |
| Property size | Cost |
| 1-bedroom house | €700 to €1,000 |
| 2-bedroom house | €1,000 to €1,500 |
| 3-bedroom house | €1,500 to €2,000 |
| 4-bedroom house | €2,000 to €2,500 |
| 5-bedroom house | €2,500-€3,000 |
| Office (50 square metres) | €500 to €700 |
| Office (100 square metres) | €1,000 to €1,500 |
| Office (200 square metres) | €2,000 to €2,500 |

Items to move
The average removal costs also vary greatly, depending on the items you wish to transport:


| | |
| --- | --- |
| Items | Cost |
| Sofa | €50 to €100 |
| Single bed | €50 to €100 |
| Dining table with chairs | €50 to €100 |
| Coffee table     | €30 to €50 |
| Dresser     | €50 to €100 |
| Wardrobe     | €100 to €150 |
| Medium-sized bookcase     | €30 to €50 |
| Nightstand     | €30 to €50 |
| Chest of drawers     | €50 to €100 |

As expected, the furniture removal costs are higher for bigger or bulkier items. It explains why you will likely spend more on a dining set than a single nightstand or a coffee table.
However, the nature of the furniture also influences the overall price. For instance, removing fragile items such as antiques might cost €10 to €20 each, excluding an extra fee for packing service, insurance, and storage. Removing white goods can also be costlier because they are prone to staining and dents and scuff marks are usually obvious.


Location
The distance travelled also has much say about the removal service cost. Usually, transporting furniture short distances within Ireland (or less than 50 kilometres) can cost you €2 per kilometre. It drops to €0.45 per kilometre the longer the vehicle travels.
If you are on a shoestring budget, compare different companies based on their fixed rate per destination or location. Usually, the quote already includes costs such as petrol and labour. 
Note, though, that several factors can also affect the cost according to distance. Consider Cork and Galway, for example. These two administrative cities are near Dublin, but the price is higher in Cork than in Galway despite being closer to the capital. It could be because the latter is more accessible than the former.


Labour
Nothing beats a stress-free move courtesy of hiring a removals team, especially when you are relocating with kids. Every extra cost makes it worth it when you do not have to deal with all the packing and unexpected problems along the way.
Much of the relief is due to the crew working behind the scenes, from doing the pre-move survey to planning office and house removals, packing the most delicate item you own, and delivering furniture to your preferred location.
How much do removals cost if you include labour? It depends. On average, professionals charge between €100 and €200 per hour. Expect to spend a significant amount if you hire them for trips that will take a day or more, as well as weekends and holidays. However, many now offer all-include full-service packages with fixed rates.


Additional services
Lastly, average removal costs vary greatly according to the additional services you need. Typically, a removal company offers:


Van service

Storage

Packing services

Cleaning


Let's talk about each below.


Van service
This option is suitable if you prefer to self-pack but require a vehicle to transport your belongings someplace else. Besides the distance travelled to the destination property, the relocation expenses also depend on the van size.
A small van is around 2.2 cubic metres, while a box-body vehicle measures 15 cubic metres. The interiors of extra-large vehicles can be over 630 cubic feet. This means that if you are planning to haul an equivalent of a 3-bedroom house, you must pick one of the largest vans in the fleet.
It will cost you more than opting for a smaller vehicle in the short term. However, in the long run, it saves you and the team time and effort.


Storage
The actual removal costs can also go up or down depending on whether the removals team should keep your items for a while. In Dublin, self-storage is around €45 per month, but bigger spaces command a higher price. For instance, an 80-square-foot unit is almost €100 every 30 days.
Some removal professionals already include the storage fee for your relocation expenses, but fragile furniture pieces might incur additional costs. Antiques and designer bags, for instance, might need temperature-controlled rooms.


Packing service
How much does a removal company cost if you include packing? Packing costs range from €50 to €100, depending on the supplies these experts should use. Cardboard boxes are usually cheaper than bubble wrap, which you need for highly delicate items. They may also spend on fillers to prevent the objects from shifting during transport.
Other factors that can lead to extra costs in packing are:


Picking and packing option, where the team must identify and sometimes group items before they can load them into the vehicle

Waste packaging regulations

Self-packing (the company might charge you more for insurance)
Reducing the average cost of removals
The average cost of a removal company in Ireland can get high. Use these tips to help you save money:


Declutter your items. Sell or donate those you no longer need.



Get smart with packing, especially with clothes. For instance, you can place socks inside shoes or roll shirts to fill more into your luggage.



Book house removals services in advance, preferably three to six months. This way, you have more time to prepare for your move.



Ensure that you can secure a parking space for the vehicle. If not, pick one that fits the garage's destination.



Get rid of the unexpected costs. Ask for a comprehensive breakdown of relocation expenses from the removal specialists.



Compare various packages and services. Consider at least three to five firms before you choose.
Post a task for removal services
Another perfect solution to your relocation worries is working with the ideal removal expert. Airtasker helps by connecting you with contractors in Ireland. Find one with these tips:


Create a free account.

Post a detailed job description to help contractors get an accurate idea of what you need. These include your location, destination, types of items to transport, budget, timeline, and extra services, whether packing, junk removal, or cleaning.

Wait for quotes and compare their estimated removal services cost.


To further vet your Tasker, ask if they belong to recognised organisations. Check if they also provide a guarantee of delivery in case of delays or follow a loss-and-damage policy.
Moving is stressful enough. Do not let your choice of removalists make it worse. Hire a reputable team through Airtasker, where you can view profiles, read reviews from previous clients, and interact with many contractors easily.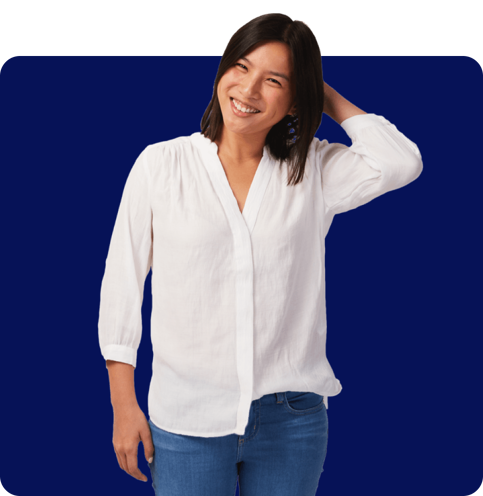 FAQs about removal companies
Yes, a removal company can also dismantle beds and other bulky furniture. However, this is often an additional service. Most removal services only include loading, moving, and unloading belongings.
Yes, removal specialists can pack for you as part of their add-on service. The costs can vary, depending on the number of items to pack and the types of materials and equipment to use.
Moving plants requires special care and attention, as they can easily get crushed inside the truck. Plants might also dry up or become crumpled because of temperature changes. That said, not all removal companies offer plant moving services, and those that do might charge additional fees.
It's free and takes only a minute.