Home

/

Outdoor Gazebo Installation Cost Guide
How much does an outdoor gazebo cost?
Get a free quote now
Post to find a price. It's free and only takes a minute.
Price guide
$2,000 - $5,000
Find gazebo repairs & installation experts, fast

Post a task with your price in mind, then get offers.

It's free and takes only a minute.

See how it works
Are you thinking about creating a social space in your garden or yard? Consider getting a gazebo. Not only can installing a gazebo provide a space for shelter, dining, socialising, and other activities, but it can also boost your curb appeal. 
Gazebo installation costs around $2,000, on average, depending on several cost factors. If you're going for a custom and more intricate gazebo, it can rise to $20,000 or higher. 
Let this guide walk you through the different factors affecting outdoor gazebo costs to help you manage your expenses for this project!
Average cost of building an outdoor gazebo
Gazebo installation labour costs vary on where you live. It usually depends on the area's cost of living. Here's a look at the average prices when getting professional labourers across Australia.
| | |
| --- | --- |
| State | Average cost for 3 metres |
| New South Wales | $4,500 |
| Victoria | $3,000 |
| Queensland | $3,500–$5,000 |
| Western Australia | $2,000 |
| South Australia | $3,000 |
Factors affecting the cost of an outdoor gazebo installation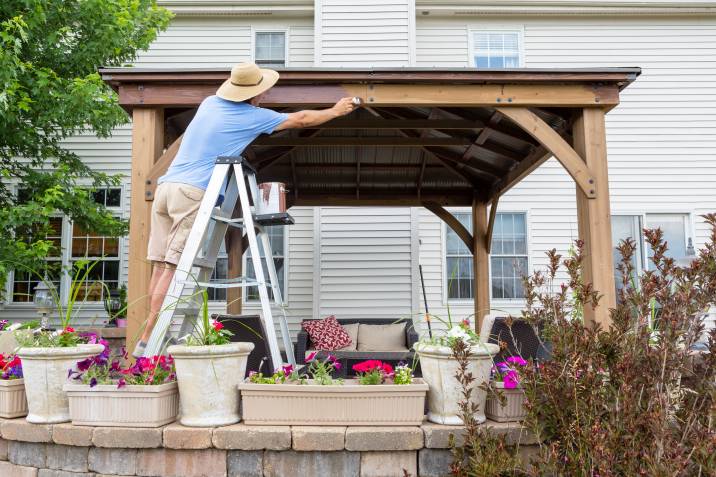 Materials
Wood, metal, brick, and vinyl are the main building materials for gazebos. Generally, brick and vinyl are more expensive than metal. However, the price of metal solely relies on the form you choose, with brick often being the least costly option.
Shape
How much to build a gazebo will also depend on its shape. Common structures like round, oval, octagonal, rectangular, or square are less expensive. On the other hand, less common shapes like L-shaped and dodecahedrons can be in the pricier range.
Size
The size of the gazebo is a major cost consideration, as larger versions take more materials and work to construct.
Roof installation
While prefab roof kits are more economical, installing a custom roof on your gazebo would cost you higher.  This is because it may take extra time when you hire someone to build, design, and install a custom gazebo, and additional labour costs may apply.
Screening or enclosing
The costs for basic gazebo screen kits are generally cheaper. On the other hand, it will be more expensive for more complex construction projects with patio enclosure-like designs. Of course, the total costs for screening or enclosing still depend on the materials used, the project's size, accessibility, and other variables. 
Land preparation
A patch of levelled land free of plants and other obstacles is required before a gazebo can be installed on your property. Consider this additional cost unless your ground is prepared for such construction.
Construction plans
Construction plans are essential to ensure you build the gazebo you envisioned, as it gives your builders a better picture of the construction details and how you want the result to look like. It specifies the timetable for construction and installation and the budget that must be followed. You can also think about including paving from the house to your gazebo to connect the indoor to the outdoor area. Creating a construction plan will add to your total gazebo costs.
Labour
Although it can get quite expensive, gazebo installation labour cost includes the preparation of the land and the actual construction. If your gazebo isn't too big and labour-intensive to construct, you can estimate lower labour costs and fewer days to complete. 
Permits
Certain regions require building permission before installing a gazebo, and it also depends on the size of the structure. Local building codes determine where on your property you can construct the gazebo and how tall it can be. Before starting any construction, speak to the city's officials and your contractor regarding permits and building regulations. 
Extra features
Including luxurious and entertaining features in your gazebo can increase your enjoyment of the space as well as the overall costs of your gazebo installation.
Common types of gazebo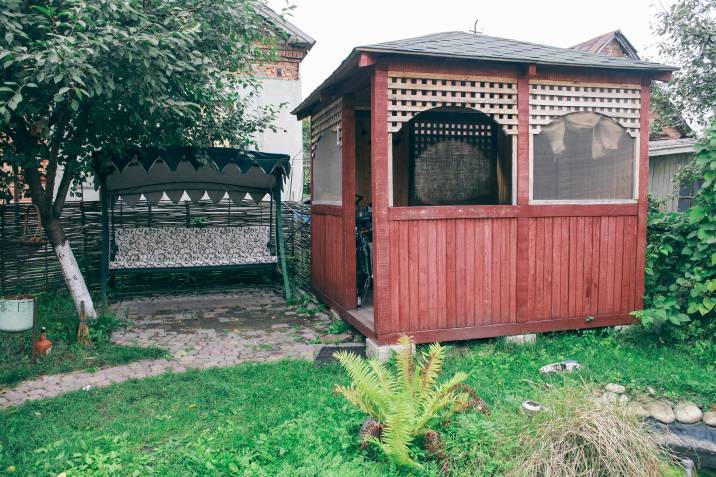 While there are countless patio gazebo design options, you only need to be aware of three basic gazebo types to make a sound decision: 
Hardtop gazebos 
These are constructed of durable materials such as wood, steel, vinyl, aluminium, or polycarbonate, usually used as permanent outdoor gazebos. Most of these are chosen for their year-round properties, as they keep cool in the summer whilst weathering the rainy season. 
If you want to expand your living area outside and are willing to invest in regular maintenance, a hardtop gazebo will provide you with years, if not decades, of comfortable outdoor living.
Soft-top gazebos 
Soft-top gazebos feature a fabric roof, a foldable and easily storable aluminium or plastic frame, simple mesh walls, and mosquito netting. They are lighter and less expensive but less durable than solid-material gazebos.
Pop-up gazebos
Pop-up gazebos are temporary and portable. They take only a few minutes to set up and take down. They have pre-built aluminium or steel frames with mesh sides for wall panels. Pop-up gazebos offer the majority of the advantages of more permanent gazebos for a fraction of the price, even though they are not meant to be left outside all year. 
How to save money on gazebo installation
Gazebo installation can run costly if you don't plan for the project properly. Here are a couple of ways you can cut costs and enjoy the extra space in your property:
You may have your outdoor property and backyard paved to ensure the surface is smooth and level way before the gazebo installation. If you already have a clear, level spot on your property for installation, you wouldn't need to spend on your land preparation. 

You may opt to install a gazebo kit by yourself. But remember the caveat that it takes a lot of time and effort to do it yourself. You also need to make sure that the kit is of good quality and that every step is done correctly, or else it will incur more costs in the long run. 
Whilst you could install your gazebo yourself, hiring a professional will be more cost-effective. They can ensure that the gazebo is properly assembled and secured and offer advice on how to make the most of it. They take a huge burden off your shoulders by having the necessary skills and experience to install it for you, so all you have to do when it's finished is enjoy your new gazebo!
Post a task for gazebo installation
After knowing the factors affecting the average cost to install a gazebo, the next and most crucial step is to post a task and find a qualified gazebo installation expert. Include your budget, location, preferred type, and other important details to receive a more accurate quote when posting a task on our platform. 
Once your post is up, keep your eyes peeled for Tasker offers in your area that you will receive within minutes! Take a look at their profiles, ratings, and reviews. Choose the Tasker that matches the job well, and you'll have your gazebo installed in no time!
Find gazebo repairs & installation experts, fast
Post a task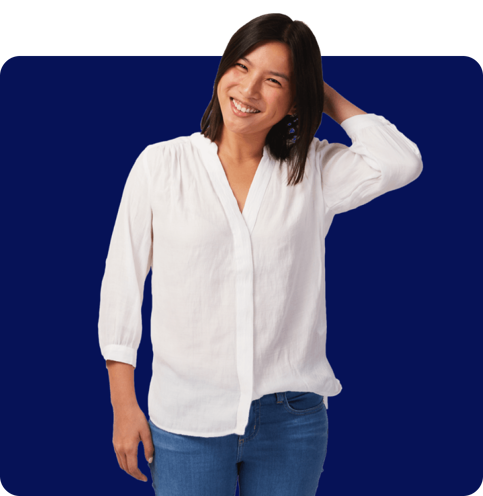 FAQs about outdoor gazebo installation
It depends on the material but a quality, well-built gazebo can last for ten years or more. As a general rule of thumb, timber gazebos will stay in place longer than metal ones. Fabric canopies are the shortest-lived gazebo components, lasting a couple of years at best. Cheap canopies may only last for about six months, depending on how much they are exposed to the elements.
Yes, you can leave your gazebo up all year, depending on the material it's made of. Many homeowners recommend that only hard-top gazebos be left up all year. The soft top gazebo can only be removed and stored indoors; the frames must remain standing. 
Permanent gazebos are structures that are built to last. They are typically made of wood, plastic, or composite materials, whit the floor and roof made of shingles, shakes, and metal, and are anchored to the ground to withstand wind and weather. 
In terms of structure, pergolas are less cluttered and more elegant than gazebos. Pergolas can offer a full or retractable roof, but many only provide partial shade with sporadic beams spaced widely across the top.
Meanwhile, a gazebo can provide more shade and protection from the elements. A gazebo's roof covers the entire structure and often has enclosed sides. Before making a choice, consider your budget, design preferences, climate, and intended use of the space.
It's free and takes only a minute.